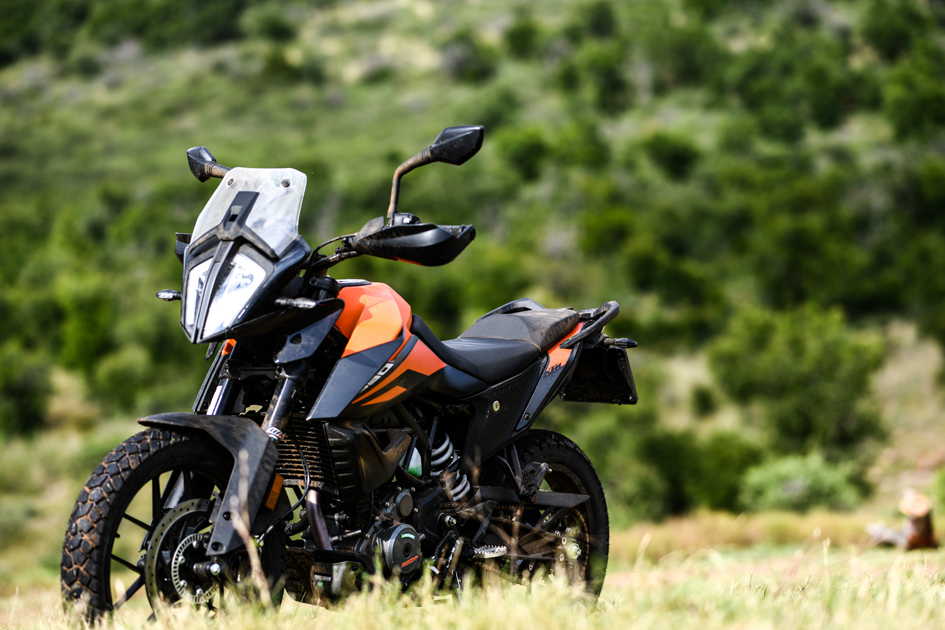 It was with a fair level of anticipation and excitement that Bjorn and I took a drive out to Sun City for the launch of KTM's littlest Adventure, the 390. Bjorn, having owned, and enjoyed a 390 Duke, was keen to sample the bike in Adventure guise, and I am a fan of small, agile versatile bikes, so the 390 seemed sure to tick those boxes.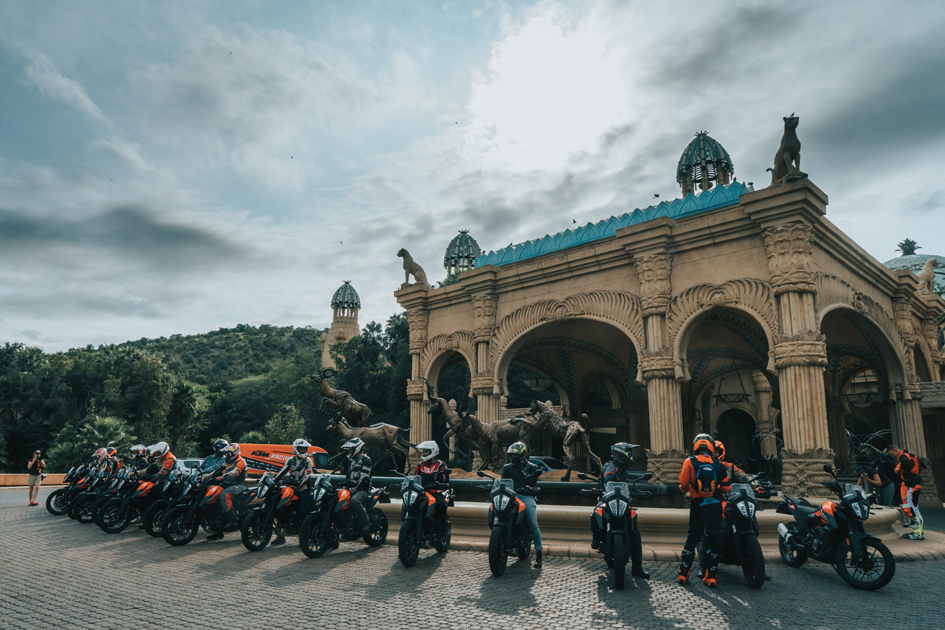 After settling into our sumptuous room in the Palace at the Lost City, we freshened up and headed off to the outdoor amphitheatre after sunset for a technical briefing on the new bike, as well as a "state of KTM address" by Franziska Brandl, KTM SA's excellent "Chief in Charge".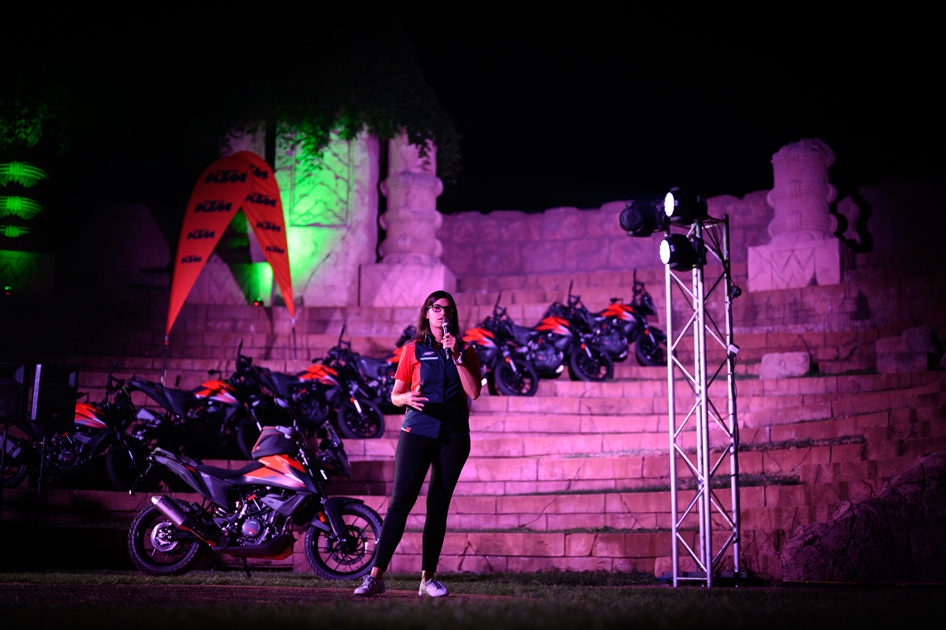 A dramatic scene awaited us at the amphitheatre. On either side of a "big screen" at the bottom level, were new 390 Adventures in a V formation to either side on each step up. The bikes all had their headlights on and were spaced with military precision to create a dramatic scene in the near dark.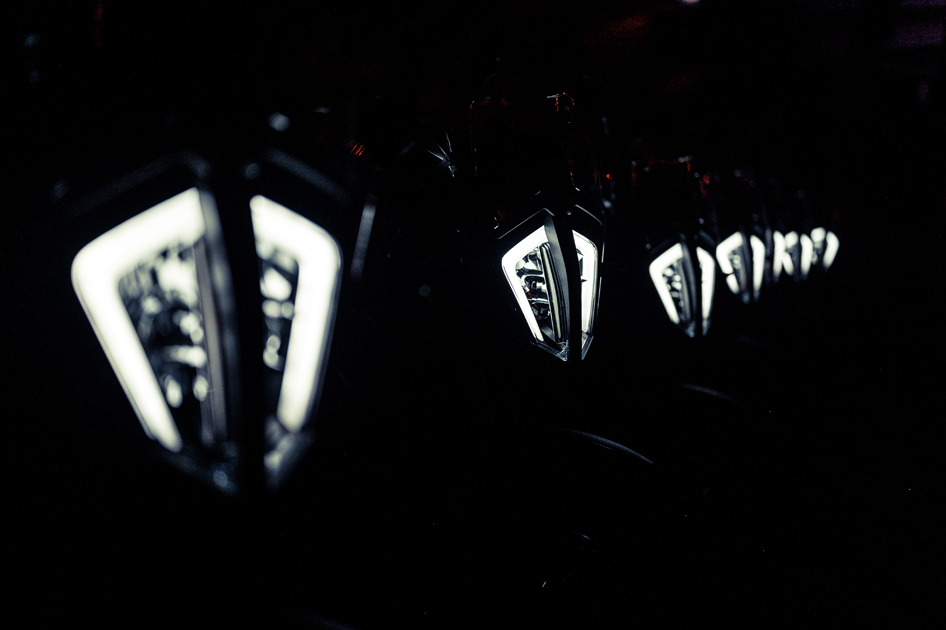 Two spotlights were focused on two pimped out 390 Adventures on either side of the screen. Styling is pure KTM as we currently know it, with the characteristic "transformer" style headlight and pointy side panels. A bunch of plump orange cushions were arranged for us to lounge on as we got the low down on the new bikes.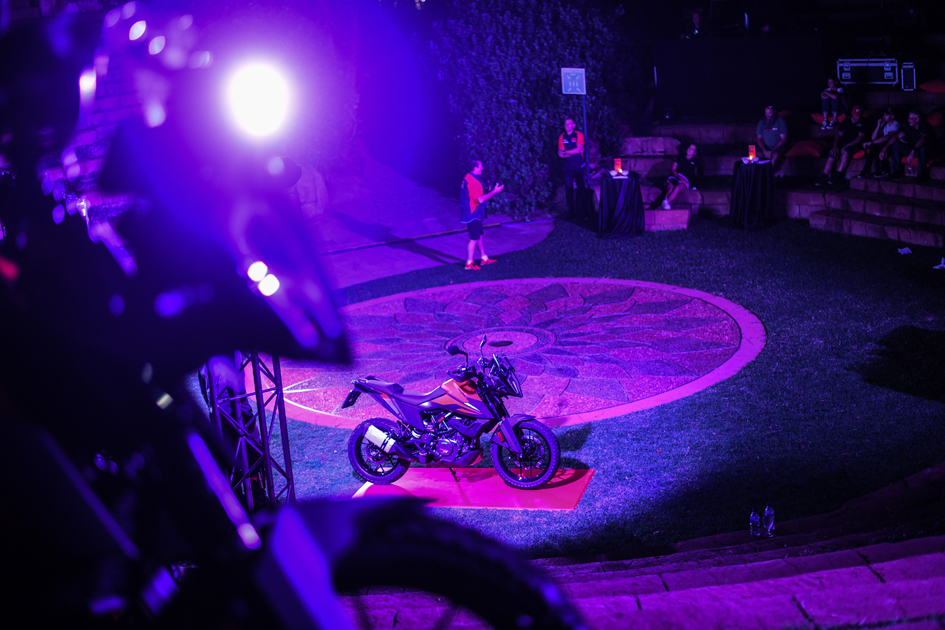 Bottom line is that KTM globally is going from strength to strength as a major part of the Pierer AG Group, which includes KTM, Husqvarna motorcycles and e-bikes and Gas Gas, amongst other brands such as WP. Group annual turnover now exceeds 1.5 billion Euros!
Louwrens Mahoney, off-road racing legend, and new KTM SA Marketing Manager gave us the rationale behind the bike, before handing over to the SA Dakar legend, and KTM dealer, Alfie Cox, who took us through epic KTM's of previous generations, like the all-conquering 950s and 990s.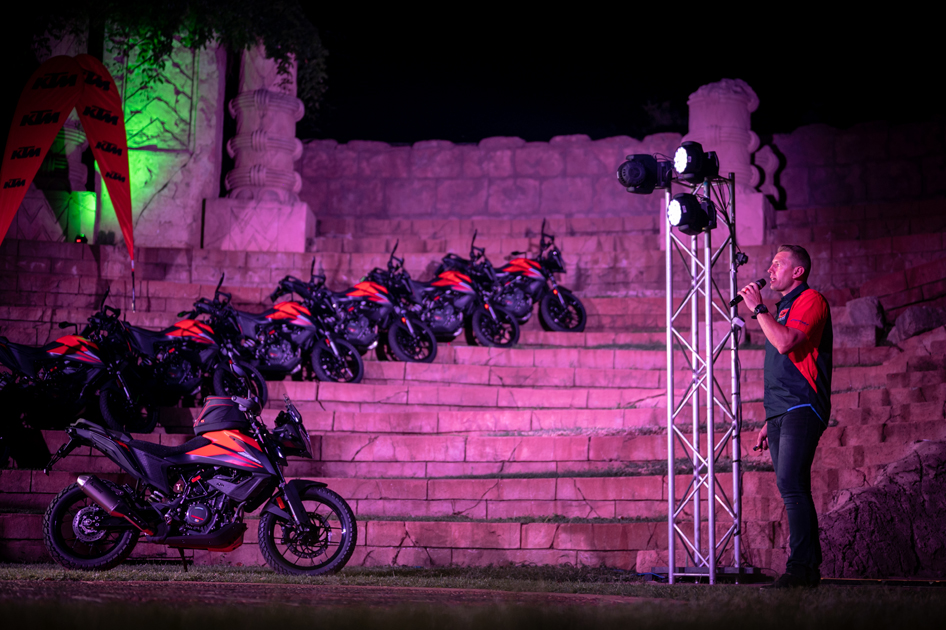 The 390 Adventure is obviously an important bike for KTM in that it gets entry-level Adventure bums on seats. Once you are part of the Orange family it is not likely that your motorcycling future will not always have a serious orange tint! Over and above that, as we found out after riding the bikes the next day, it brings real Adventure bike-ability to the masses at a really affordable price point.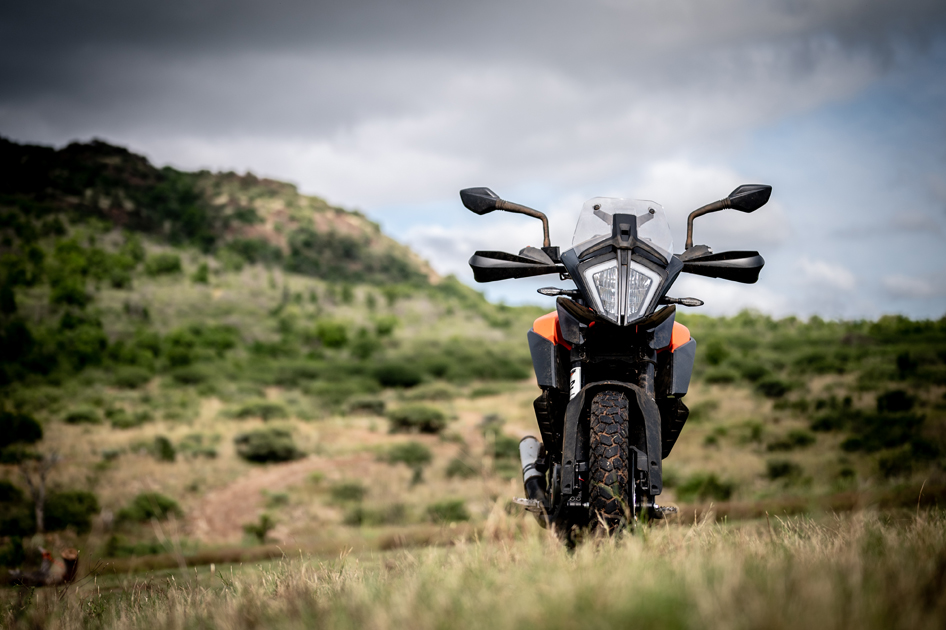 At a yummy outdoor dinner, surrounded by the amazing "Lost City" vibe, we were regaled with tales of Dakar during the "big bike" era by Alfie. Those were heady days indeed! Joining us for dinner was Brett Hoppe, General Manager of Sun City and long time friend of KTM SA and an accomplished enduro rider in his own right. Brett gave us privileged access to parts of the Sun City setup, allowing for some amazing riding the next day.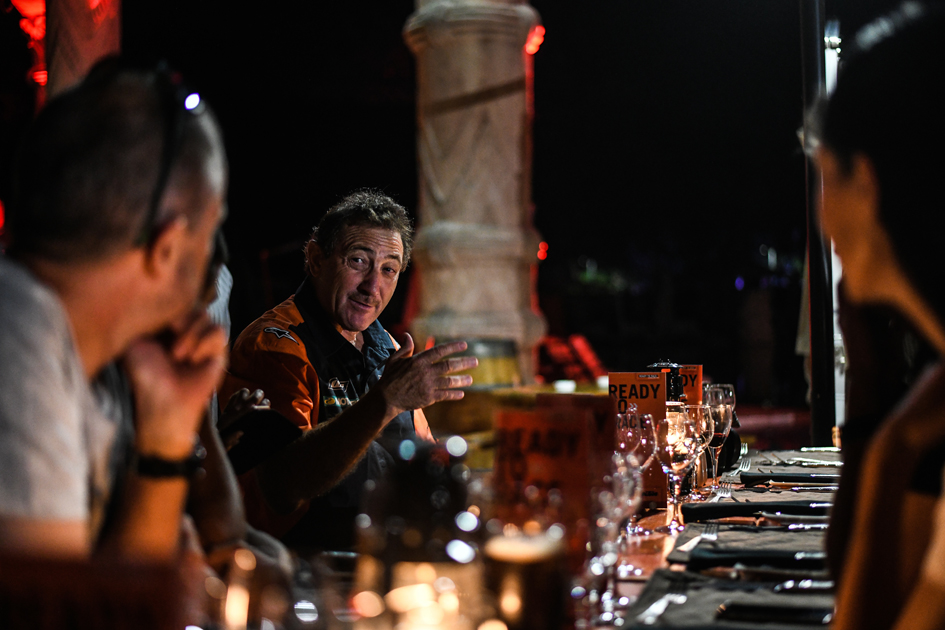 After an early breakfast, we hopped on the bikes for an outride under leaden skies and the blessing of cooler weather. The first 40 odd kays were on tar and I immediately was impressed by the 390 motor, which has been geared slightly lower in Adventure guise, making it even more punchy in the mid-range. The bike is light, at around 158 kg's and very agile. In fact, with the wide handlebars, it is almost twitchy until you grow accustomed to it.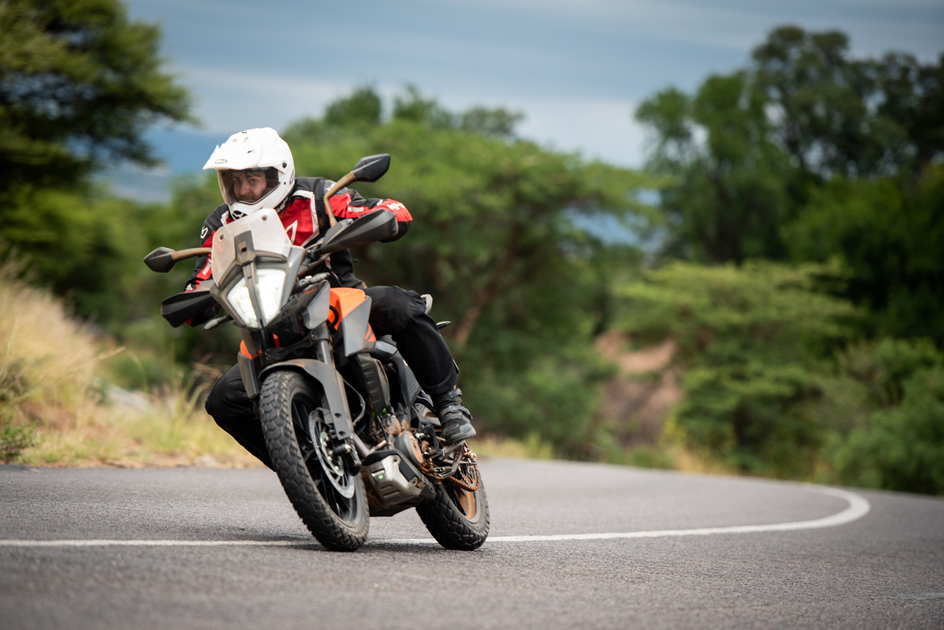 The dash is a TFT display and easy to read in all light. ABS works on the back and front brakes unless "Offroad ABS" is selected which then allows back wheel lock up for offroad duty. The front ABS is still on and works incredibly well on the dirt as you learn by experience to trust it.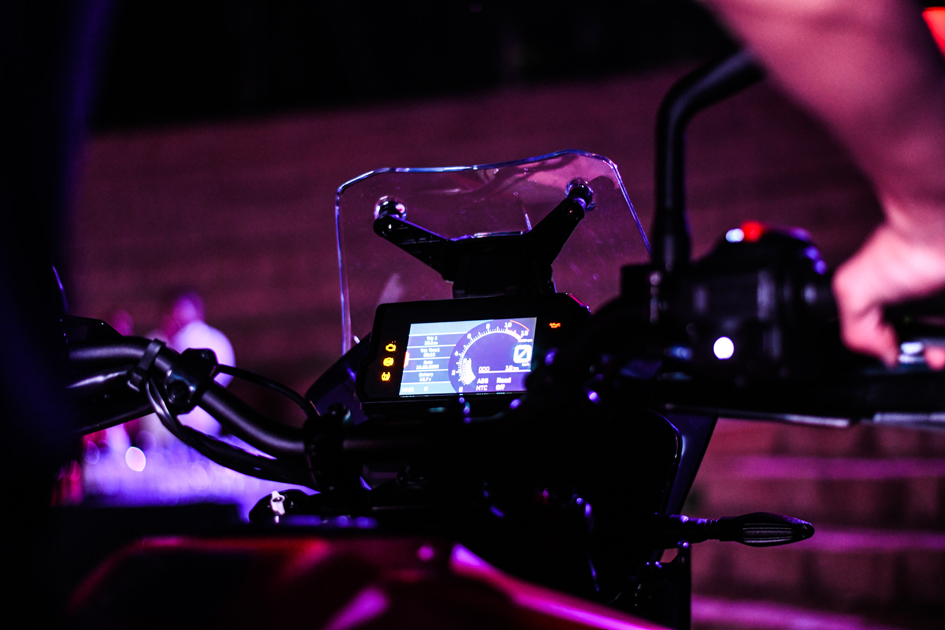 Same can't be said for the pesky Traction Control which has to be switched off again every time the bike is switched on and off. To be honest, in my humble opinion, the Traction Control serves no purpose on the 390 other than to steal power when you need it. During the course of the day, I became an expert at switching it off! Probably Euro 5 bureaucrats to blame!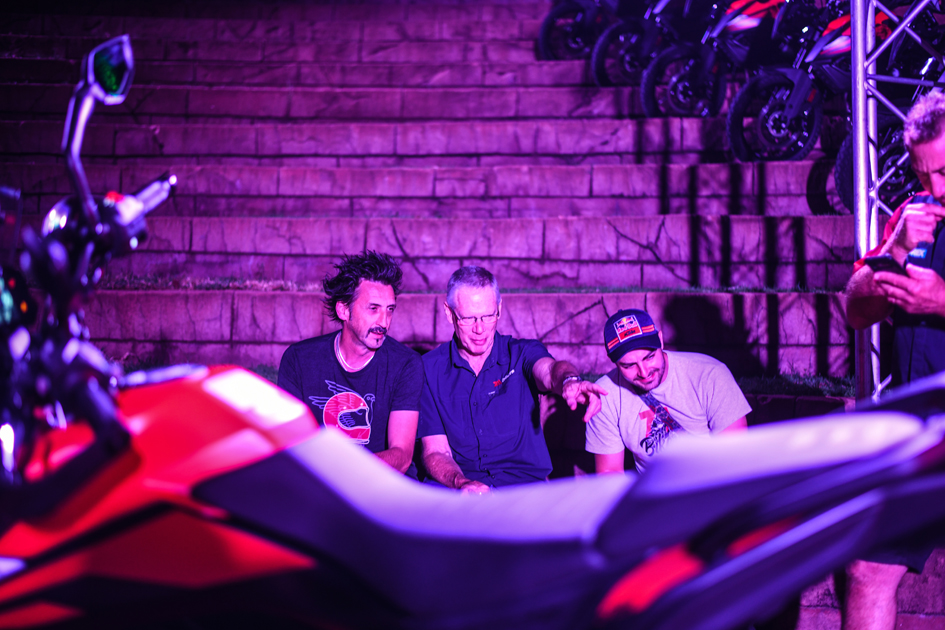 We rode a combination of sandy, muddy and rocky roads, all of which proved no obstacle to the little Adventure with it's fully adjustable front WP forks and Preload and Rebound tunable rear shock. Travel is a modest 170mm but it keeps the seat height relatively low yet delivers a satisfactory ride across most terrain. Only huge jumps will overwhelm it but I don't see this ever being a problem for all but the most stupid potential owners.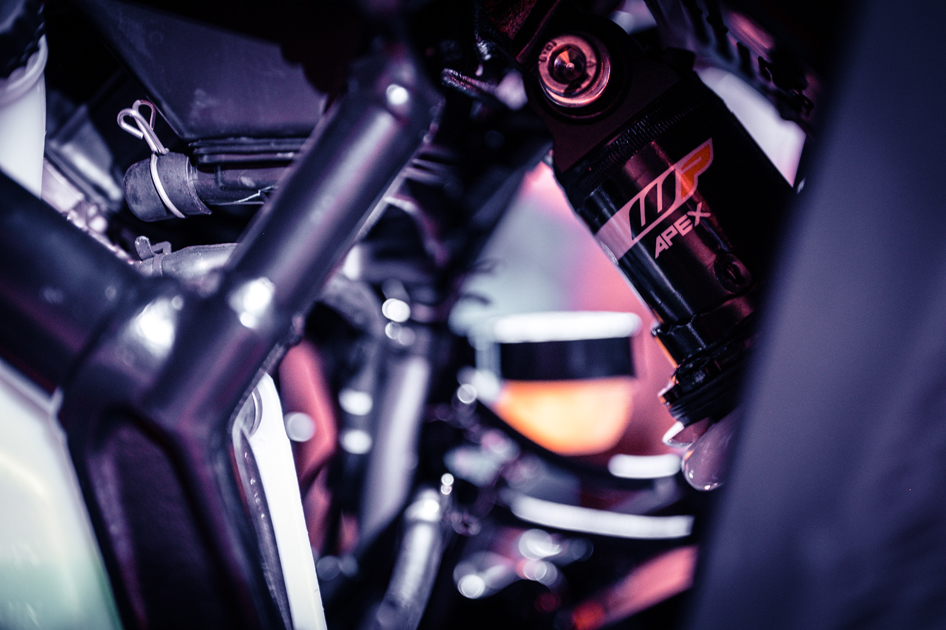 Really impressive on a bike costing significantly less than R90k. You will see from the pics that the 390 runs "mag" wheels. Don't fret. they are tougher than a tough thing! Not one dent or any issue on any of the test bikes, despite hitting rock lurkers flat out. Remember these bikes only weight 158 kg's, so mags are just fine, with the benefit of being able to just plug, bomb and go if you get a puncture.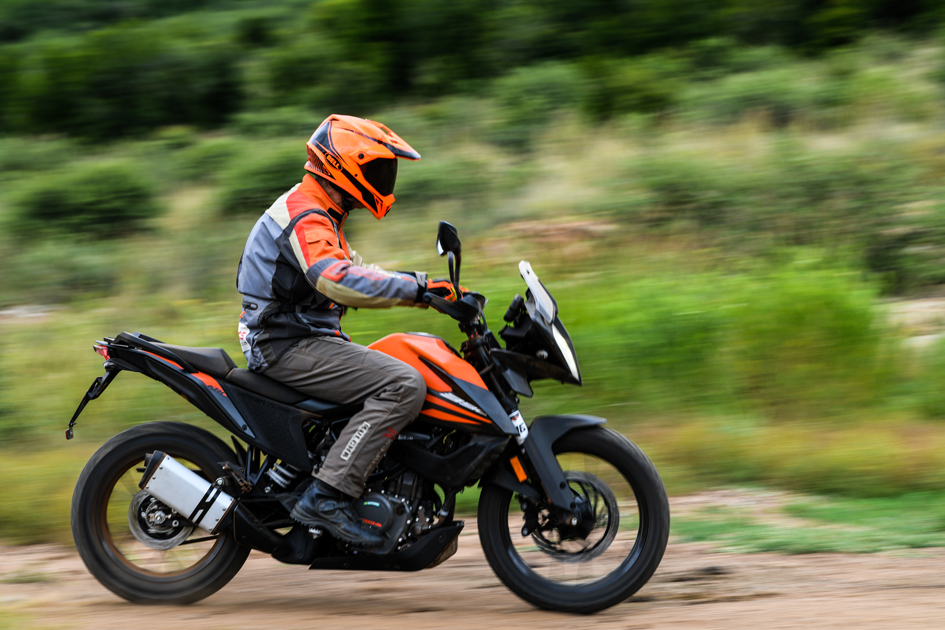 After lunch at the Bakubung Lodge, we were in for a real treat in that we were granted access to the mountain bike track through a mini-game reserve adjacent to Sun City. Riding on the narrow twisting single track through sand, over rocks, across ruts and rear-wheel steering on gravel roads, reaffirmed the fantastic versatility and fun factor of the 390 Adventure.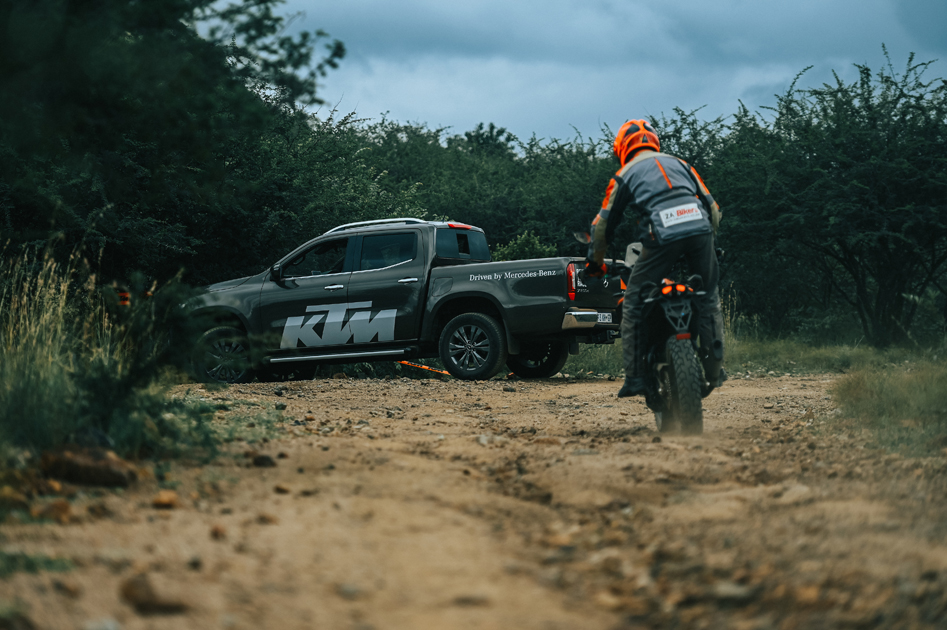 We returned to the Palace as a rainstorm broke over us, dirty dusty and grinning to a man. For the purpose of this story, both the well-known adventurer, Skinny Van Schalkwyk and our podium placed 2020 Dakar lady, Kirsten Landman, who also accompanied us on the ride are considered "honorary men". Riding behind Kirsten, very briefly, I should add, as she steamed past me, was a revelation. Super smooth and accomplished she is.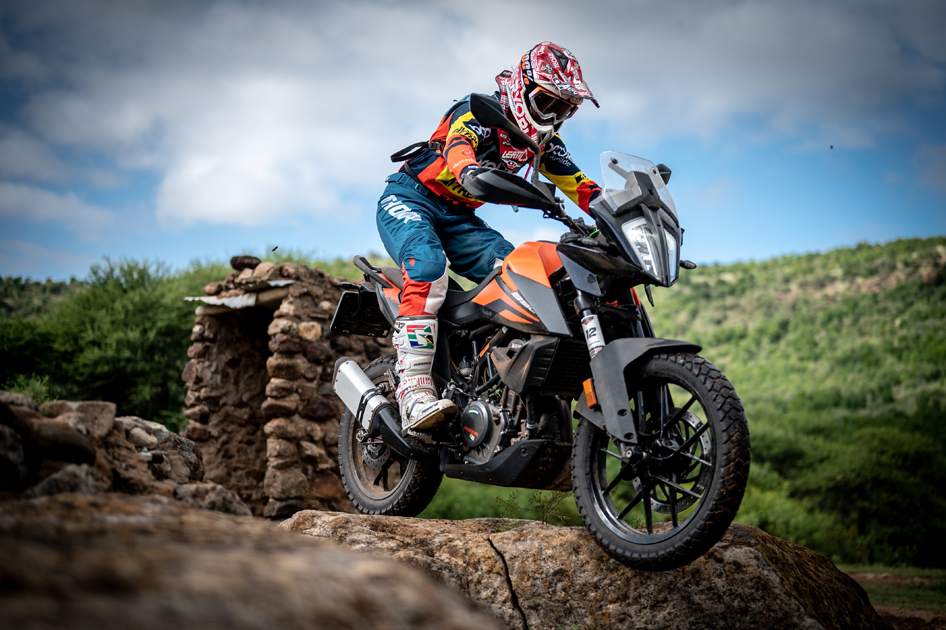 War stories related to the days ride over dinner and then to bed, capped a day doing what we all love best. Riding motorcycles makes all the world's issues, even the odd virus, seem so much more bearable. This latest and littlest KTM 390 Adventure is a most worthwhile addition to their adventure family. Well done team orange, you have done it again! Another home run!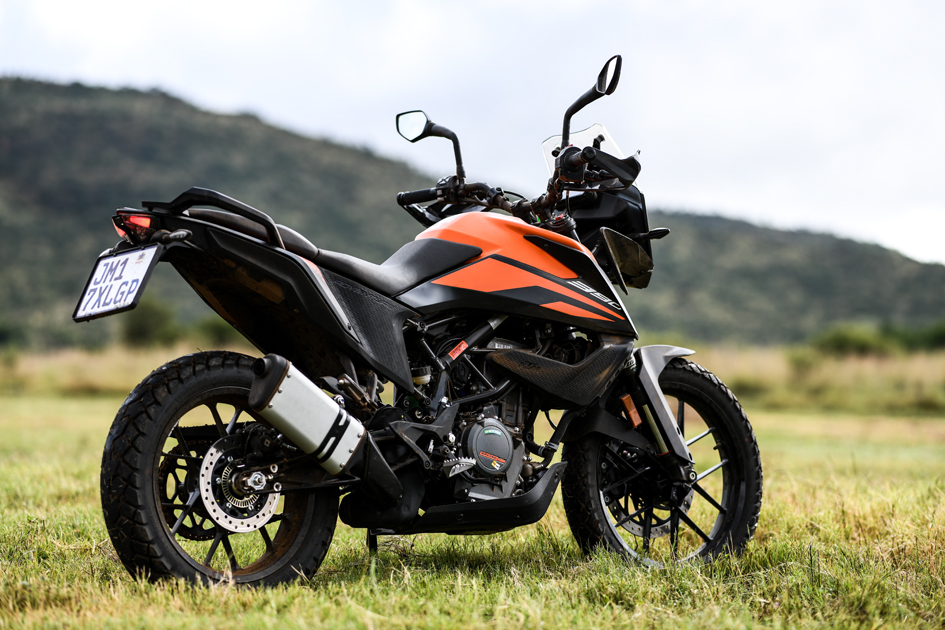 For more information visit – www.ktm.com/za
KTM 390 ADVENTURE
For more information on the bike that we tested in this article, click on the link below…