As some of my close friends are aware, I have relocated my family to the Eastern Cape. More specifically Jeffreys Bay. As a family, we enjoy the people, places and opportunities this corner of the world brings to our souls and minds. As a result of this move, I spend roughly two weeks in Gauteng for every two weeks in Jbay, as we affectionately call it.
So it happened that lockdown was announced while on one of these stints in Gauteng. I had been away from home for a little over two weeks and was relieved when Safair, my domestic flight carrier gave me the opportunity to change my flight to an earlier date. I selected the last possible opportunity back to Port Elizabeth International, as there were still a few loose ends to tie up in Gauteng.
Safair's SMS service allowed me to book in 24 hours before my flight, which had become my custom by now. This is the part where the story gets interesting. I was scheduled to leave for PE at 06h00 on the morning of "lockdown". I got a hunch to check my emails only to find out that Safair had cancelled my flight! It was 9 pm in the evening and there was nothing I could do, other than to evaluate my options early the next morning.
Knowing that I stand in a well-established friendship with Jos Matthysen, owner of Ducati SA, Simon Morton my Editor in Chief, suggested I make that one of my first calls. One thing I do not like is to use those close to me for a favourable outcome. I was not raised that way, which made it hard for me to make that call.
Nonetheless, I approached Jos at around 8 am on "D-day" at World of Motorcycles in Centurion, packed and fully kitted for the trip home. Jos listened to my predicament for no more than a few seconds, then spurred into action by making arrangements to help me. This is something I have become accustomed to when working with highly successful businessmen. They usually take no longer than a few seconds to evaluate a situation before making a firm, confident decision to act accordingly. This has been Jos's style for many years now.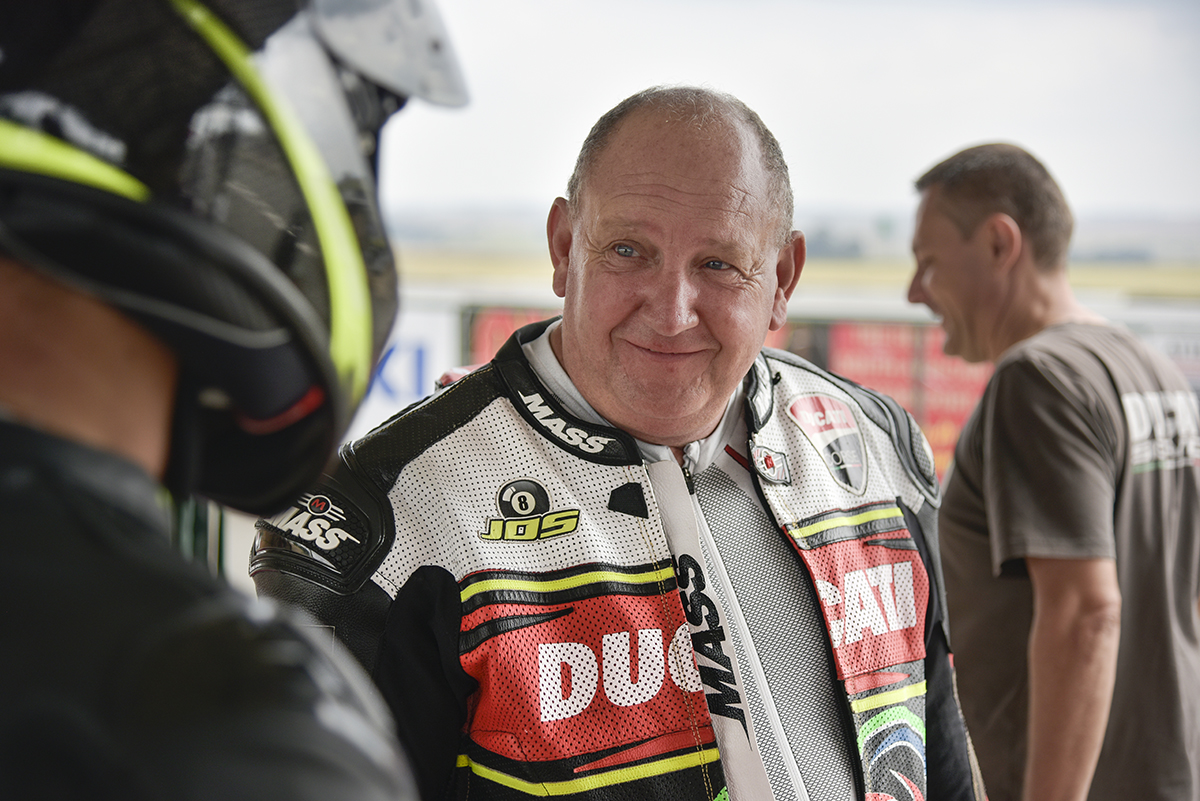 I was handed a beautiful, red, pre-owned Ducati Multistrada 1200 Enduro, complete with panniers and top box. Jos's only condition was that I keep myself safe and enjoy the ride. I was humbled by this gesture of goodwill in a time that was difficult for everybody, especially so, business owners!
With half the battle won, I rushed to the filling station, filled the bike and jumped on the highway. This is my favourite, private world…. a place where I can meditate and reflect on the happenings of the last few hours and the people that make my life such an amazing journey, filling it with colour and beauty.
The journey down to PE had never before been this enticing! The world was green, buoyant and lively. Almost like nature knew it was handed a rest for the next few weeks. My concerns about dense traffic conditions and slow service delivery at the three tollgates never materialized, as the whole journey turned into a pilgrimage of sorts.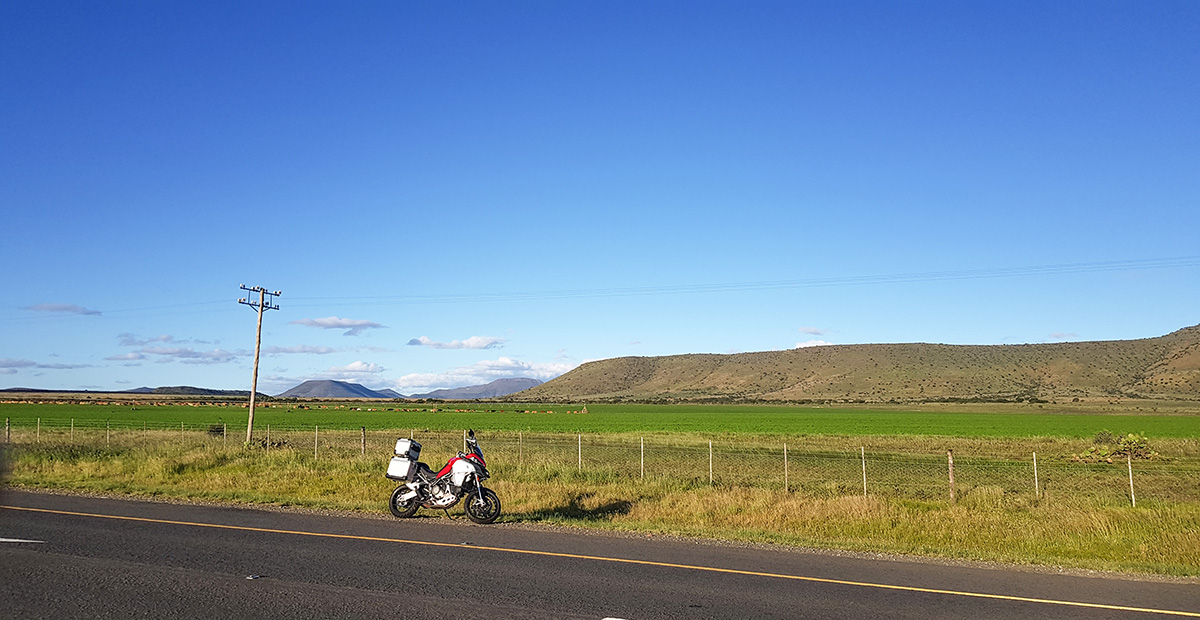 The portion from Colesberg, through Noupoort, left me speechless and sometimes breathless. On the way to Graaff-Reinet, I always defect left to Cradock, Cookhouse, Port Elizabeth and then Jeffreys Bay. I would advise the reader to try this route when next deciding on such a trek. Beauty turned into heaven, as I progressed towards my final destination. The sun was now busy setting lazily and the shadows grew taller. The one thing I did not have, was the luxury of time. I sped past a thousand late afternoon, softly toned photo opportunities that simply blew my senses wide open.
I reached my home in Jbay at around 8 pm to the excited cheers of my Angela and Megan, 11 and 9 years old respectively. They rushed into my arms as my wife Belinda stood by with camera in hand. Over time I have had many homecomings, yet few have been sweeter than this one. Now we are looking forward to a time of reflecting, family enjoyment and becoming human again.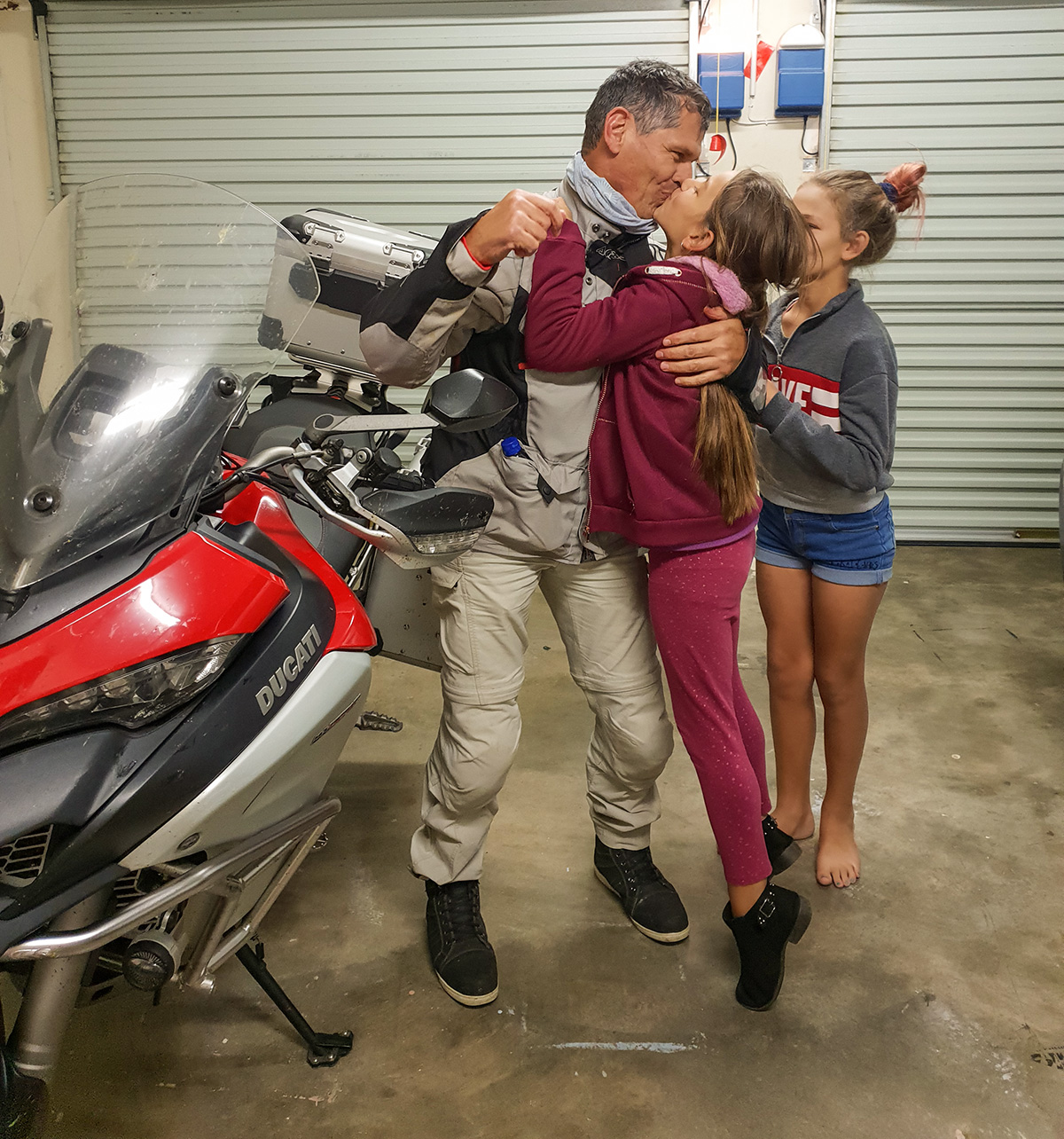 And the Multistrada 1200 Enduro, you might ask? Late that evening, kids safely in bed, I took the opportunity to go downstairs into our clean and tidy lock-up facility. I remember standing there, gazing at this red beauty, tainted with bugs and dust, standing proudly and content, ready to serve at the press of a button. Little does she know how significant this journey was, little does she know that she brought me home safely to my loved ones, the most precious possession I have. She did me proud with not one beat skipped! She handled like only an Italian could. She propelled me forward with 160 horsepower on tap and scrubbed speed with stability and power. But the most outstanding feature was how comfortable she made me on this long adventure. The wind protection was perfect, the seat comforting and the handlebars felt like marshmallows in my hands.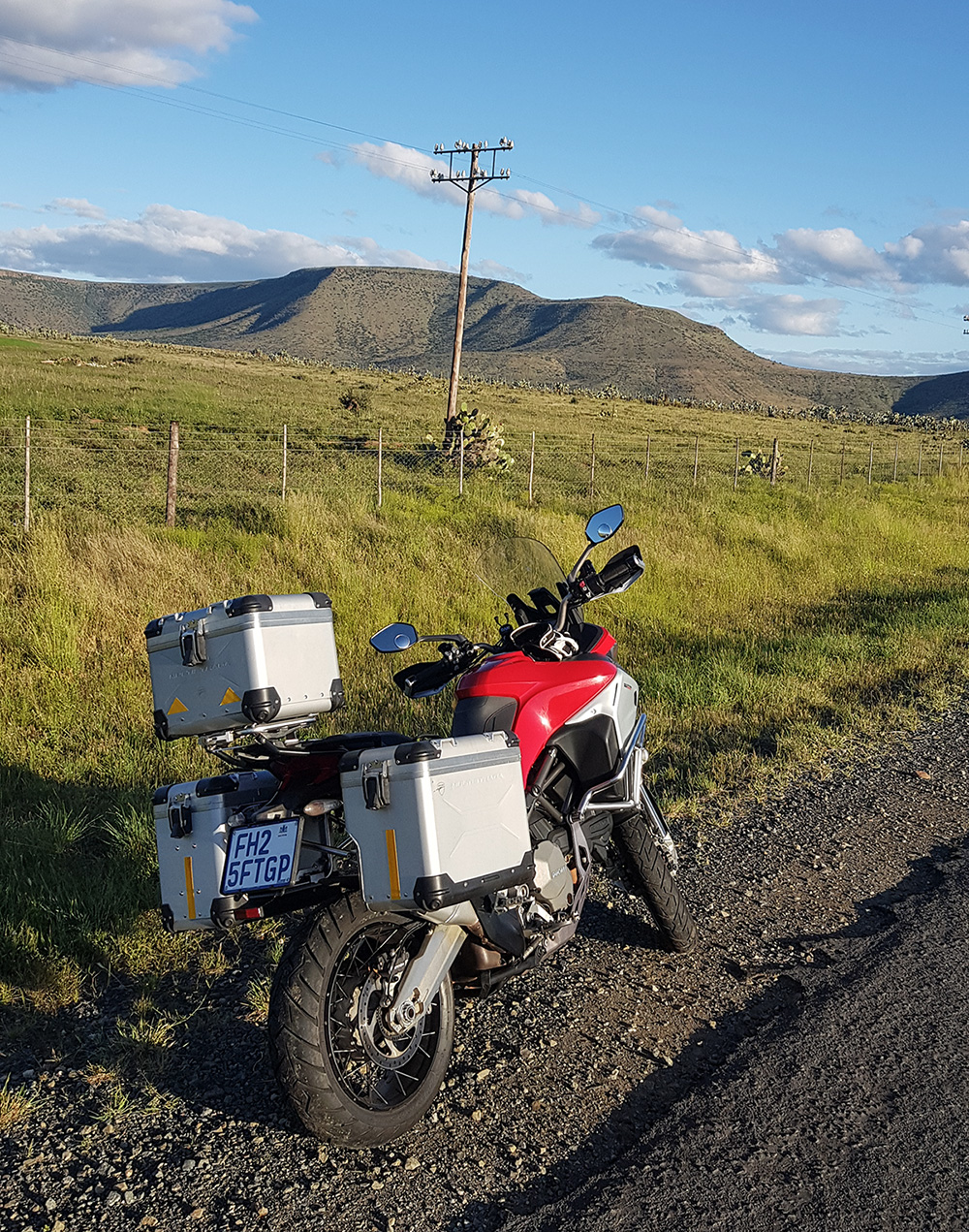 So, in retrospect, I want to encourage the reader that good things still happen and good people still exist. In fact, in a time like this, we will see goodwill all around, we will see men and women opening their hearts and minds to new things, people and ideas. We are approaching our finest hours… yes, the best is yet to come!!
Thank you Ducati South Africa for reuniting me with my family.