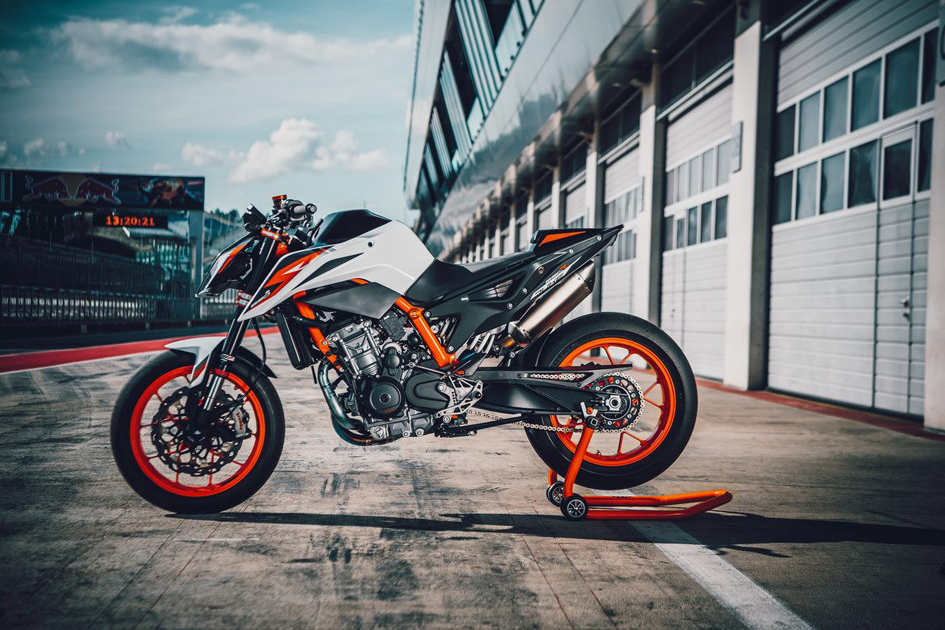 KTM first pulled the covers off the new KTM 890 Duke R at EICMA last year. But last night, we got a closer look at this wild upgrade to the 790 Duke, by way of a social distancing-approved online press launch.
The live stream was little more than a press release in video form and didn't reveal anything major, but it did give some insight into what makes the 890 Duke R so special. So we've trudged through all the marketing blurbs and specs, to bring you the highlights.
For starters, the 890 Duke R will be sold alongside the existing 790 Duke, as an 'R' model. In KTM's language, 'R' simply means that it has a higher level of spec—so the basic recipe here was to take the 790 Duke, and make it better in every possible way.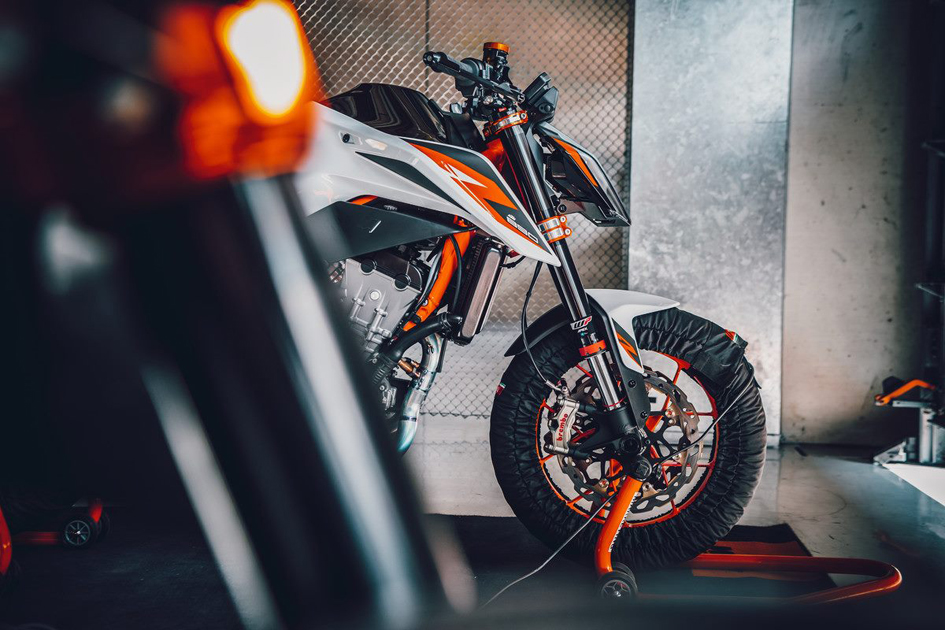 Looking at engine numbers alone, the 890 makes 89 kW (121 hp) over the 790's 77 kW, and 99 Nm of torque versus 87 Nm. Peak power hits at 9,250; peak torque at 7,750 rpm. It's a pretty significant jump in output, which almost has the 890 eyeing out bigger sport nakeds.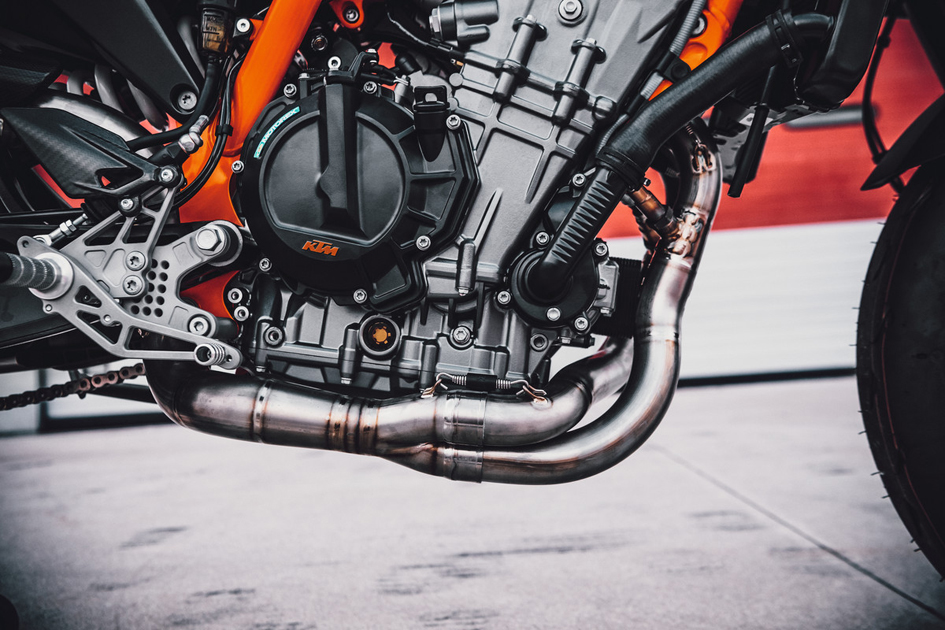 To get there, KTM bumped the parallel twin's capacity from 799 cc to 890 cc by taking the bore from 88 to 90.7, the stroke from 65.7 to 68.8, and compression from 12,7:1 to 13,5:1. They did more than just add more cubic centimetres though—the 890 motor's packing quite a few internal upgrades too. Changes include bigger intake and exhaust valves, and camshafts with a more aggressive profile for increased lift.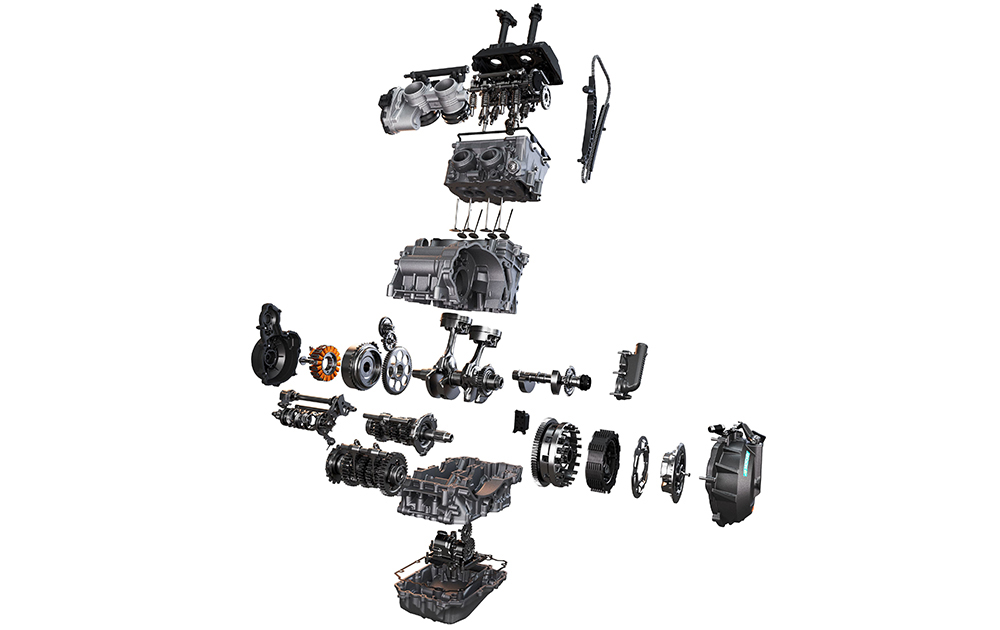 The crankshaft's different too, with a 20% improvement in rotational mass—which also has an effect on cornering stability. The connecting rods and pistons are lighter too (even though they're bigger). Everything from the balancer shaft to the throttle bodies has been improved. KTM even revised the fuel injection with extra sensors that measure manifold pressure and adjust the mix accordingly.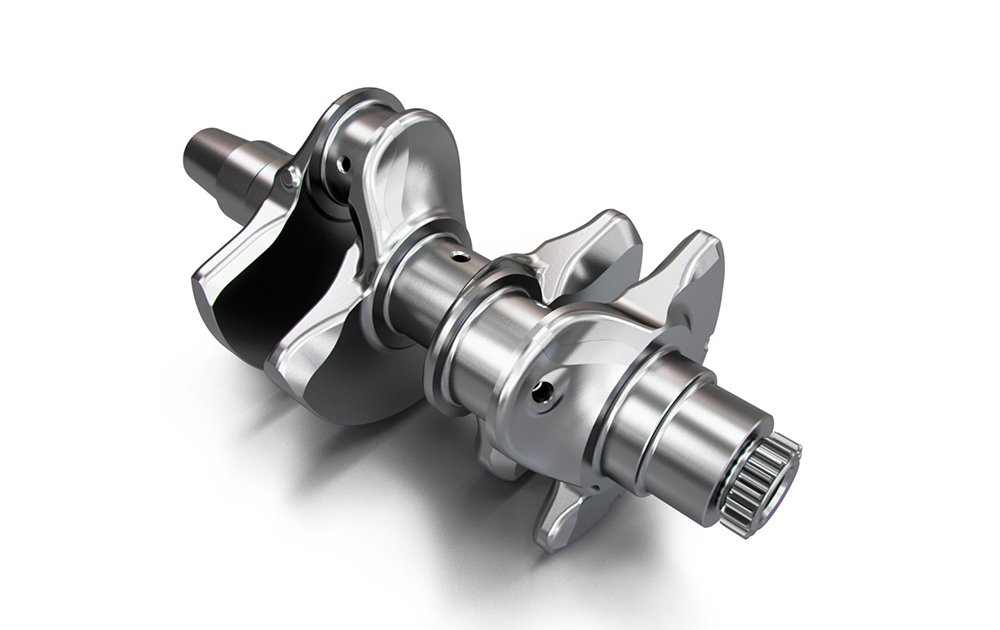 Heck, even the distance the gear lever has to travel, and the spring it uses, are different, making for quicker shifts. A quick-shifter is not included on this 'R' model as standard (it is an optional extra, though).
On the electronics side, the 890 Duke R gets cornering ABS and traction control by way of a new six-axis IMU. It's a fancier, twin sensor version of KTM's previous traction control, with anti-wheelie and corner stability features that can be disabled for advanced riders.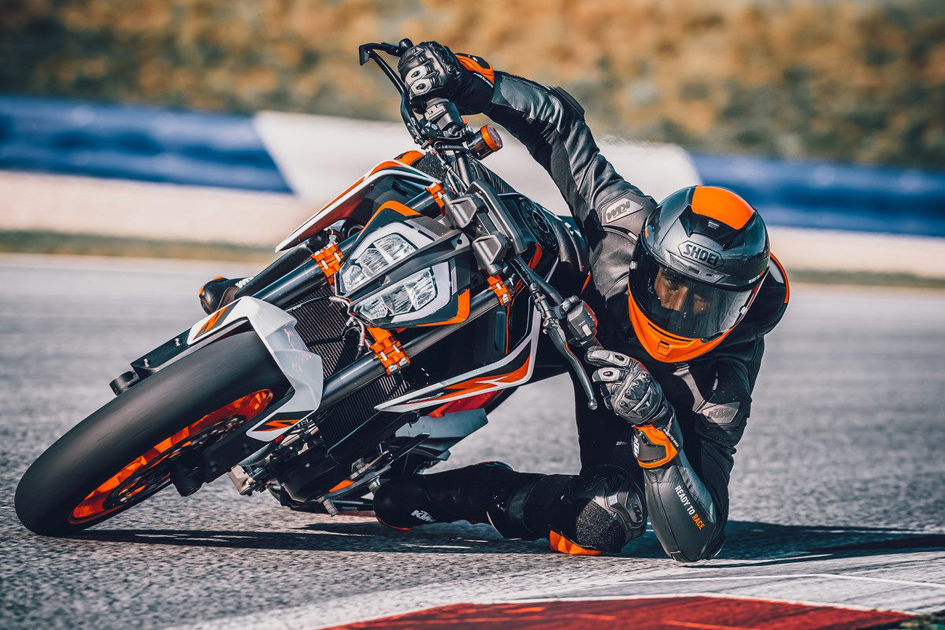 You get three riding modes (from rain to sport), with a fourth 'track' setting. It's very customisable too, with a nine-level 'slippage' gauge that lets you manage traction, anti-wheelie and throttle control levels. There's a slipper clutch too, and an optional 'motor slip regulation' system that takes over in low-grip situations. So even though the KTM 890 Duke R is a street bike, there's clearly a bias towards track use here.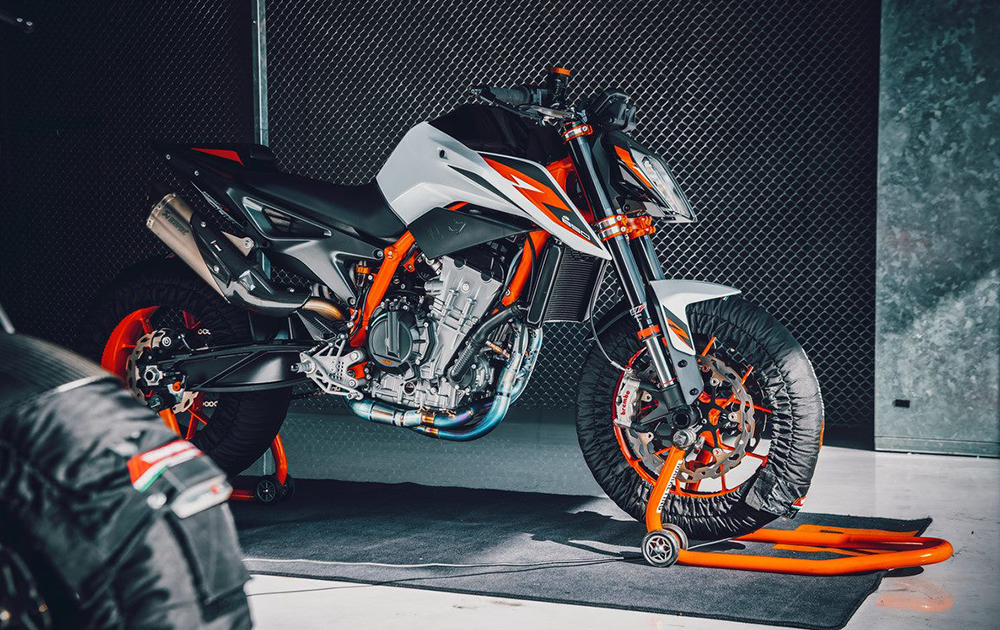 The 890's new suspension makes a strong case for track use too. It's got WP Apex suspension at both ends, with a full range of adjustability. You can set damping, preload, compression and rebound on the forks, and high and low speed compression, rebound and preload on the shock.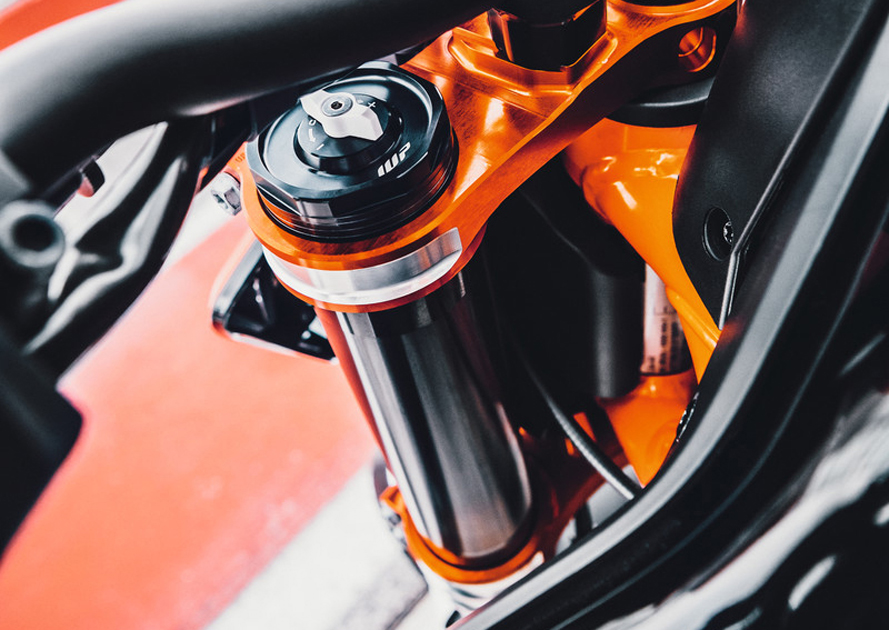 The 890 has the same amount of suspension travel as the 790, but a ride height increase of 15 mm. KTM say that this places the swing arm at a steeper angle, which makes for better anti-squat behaviour. The steering stem's been revised too, and the seat height now sits at 834 mm.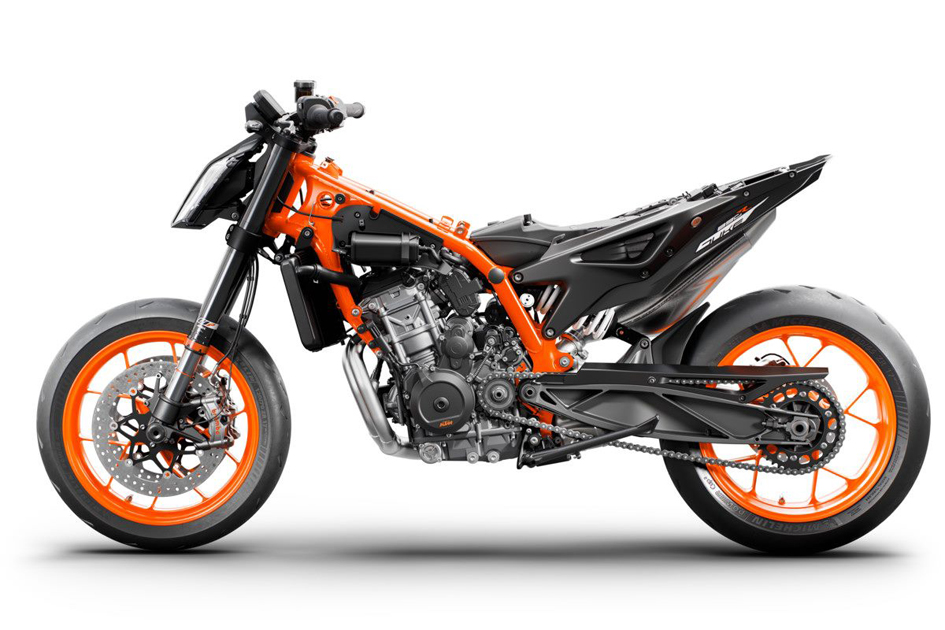 KTM upgraded the 890's brake as well. It's got Brembo Stylema calipers up front now, with weight saving considerations like aluminium carriers, to bring the entire braking package's weight down by 1.2 kilos. The front discs are now 320 mm units, and even the levers have a higher level of adjustability.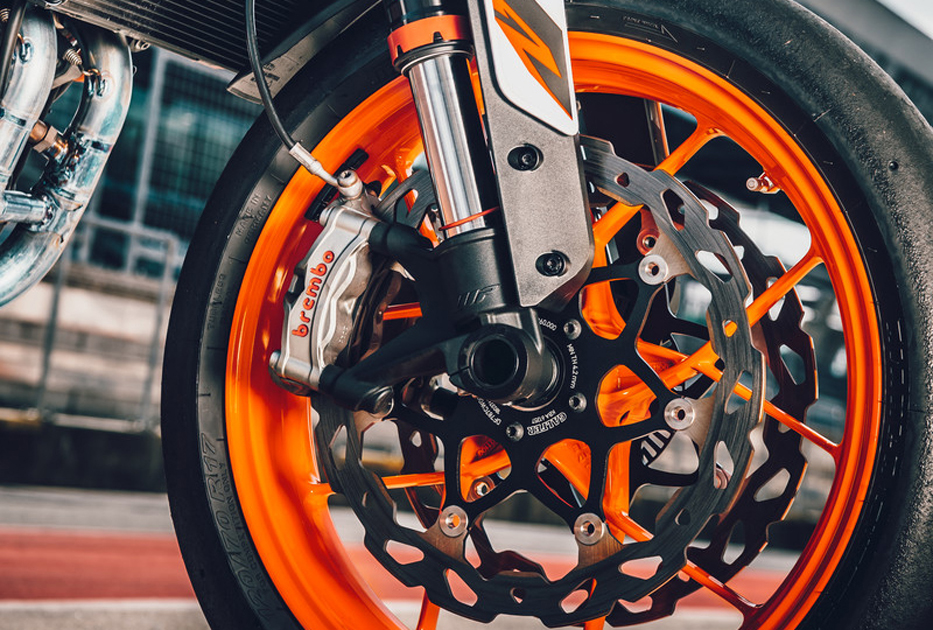 At 166 kg dry, the 890 weighs 3.3 kg less than the 790. And it comes with better tires too—Michelin's Powercup IIs.
Other than the orange frame and white body panels, the 890 looks a lot like the 790 at a glance. But KTM have actually tweaked the overall rider ergonomics. They've pushed the bars down and forward, and the (now larger) foot pegs back and up, for a more aggressive riding position. There are no passenger pegs either, and the rear seat is now covered. But the TFT display in the cockpit is the same as the 790's.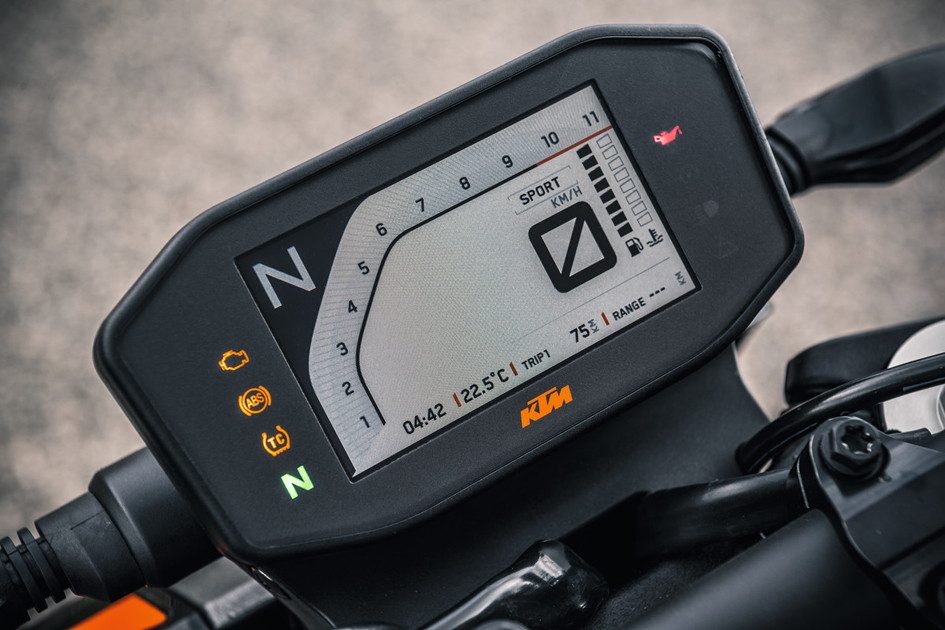 Naturally, KTM have a bunch of extra hop-up parts in their aftermarket catalogue too. You can get everything from orange CNC-machined triple clamps, to bar-end mirrors and upgraded foot pegs. There are also two exhaust options from Akrapovič: a slip-on, and a full titanium race system that frees up another five horses.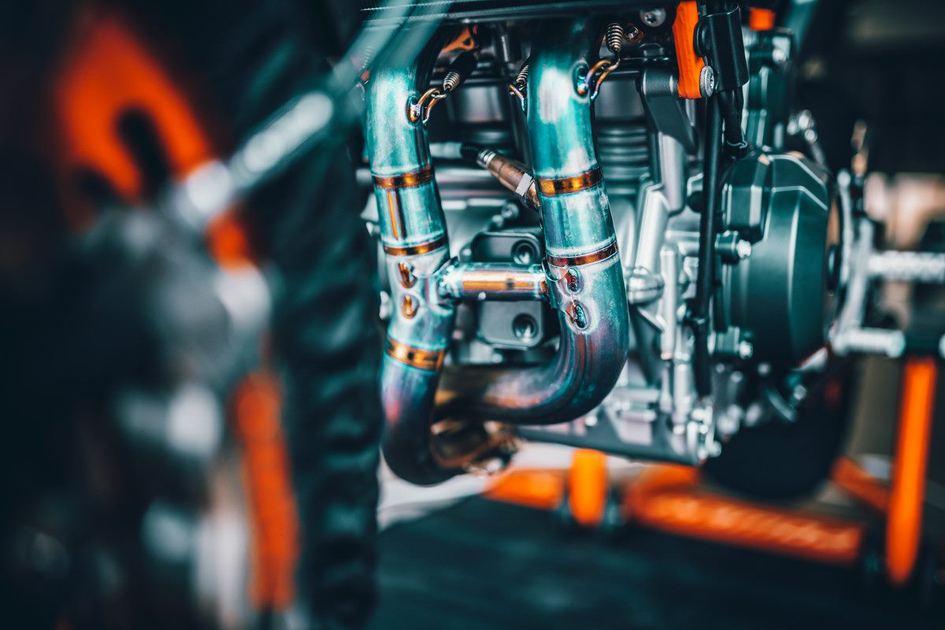 KTM South Africa expect the 890 Duke R to land around the first week of May, at a price of R 178,999—R 23,000 more than the 790. For many customers, that's going to put it in 'might as well spring for the upgrade' territory. It'd be nice to see that Akrapovič slip-on included in that price, but it's still a lot of bike for the money.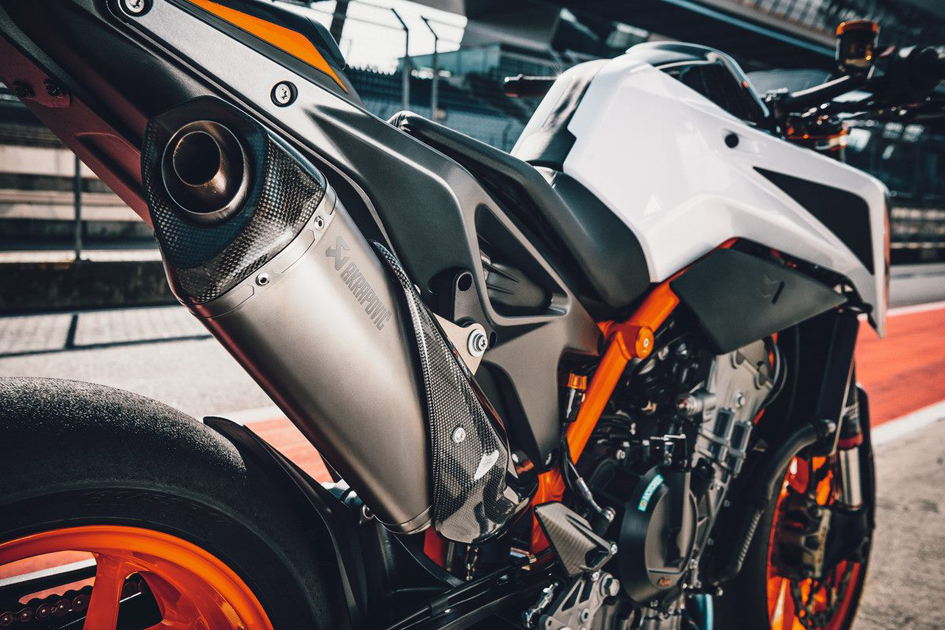 We've spent time on the 790 Duke, and love it for its explosive acceleration and fiesty handling. Looking at what's gone into the 890 Duke R, we're counting the days until lockdown ends and we can swing a leg over it.
For more information visit: www.ktm.com