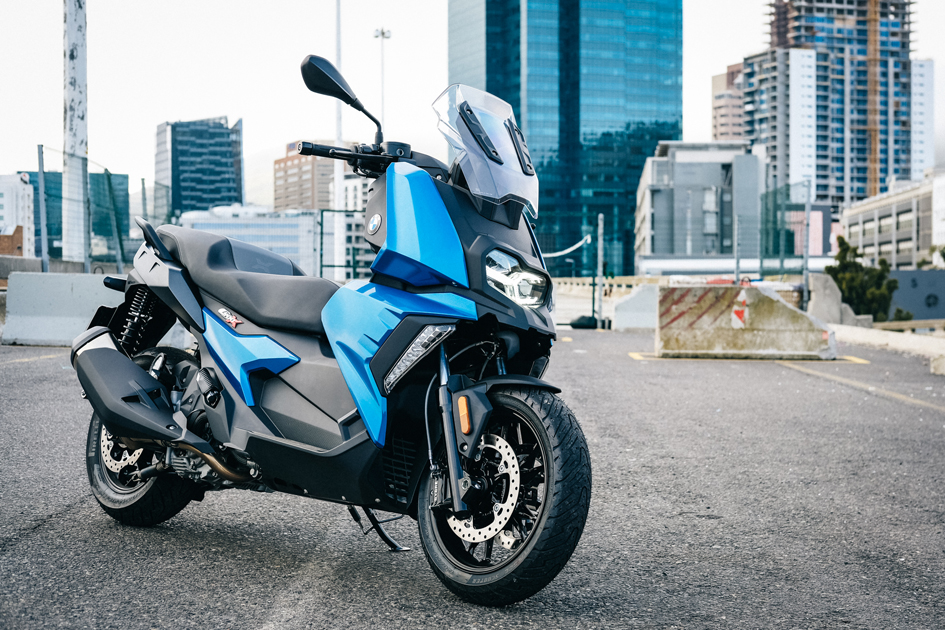 Scooters were my gateway drug into motorcycling. First it was a 50 cc Honda Express pyppoegie that I got around on when I was fresh out of high school. Then, many years later, it was a 150 cc Vespa ET4 that my wife and I would spend entire summer weekends on.
I eventually jumped up to bigger bikes with clutches and gears, but always missed the ease-of-use and laid-back nature of scooters. So when my buddies at the Woodstock Moto Co. organised a scoots-only ride a while back, I wrangled a BMW C 400 X from my local dealer and tagged along.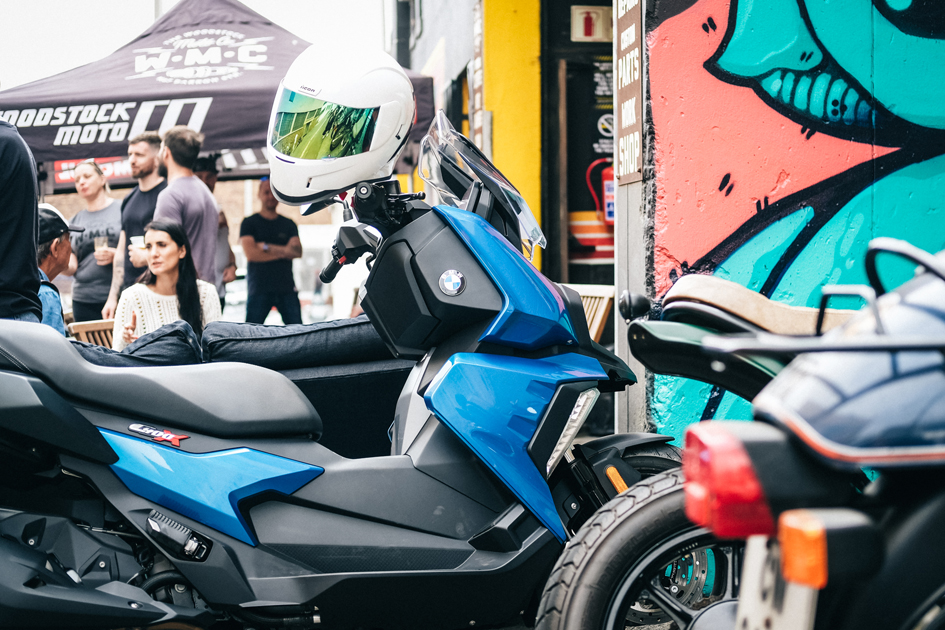 That ride only gave me a quick spin on BMW's mid-sized scooter—not nearly enough time to sink my teeth into it. Luckily, another chance to ride the C rolled around a few weeks ago, but this time I had it at my disposal for four days.
Scooters are traditionally city bikes, but I did everything on the C. Everything. In the short time I had it, I managed to rack up almost 300 kilos.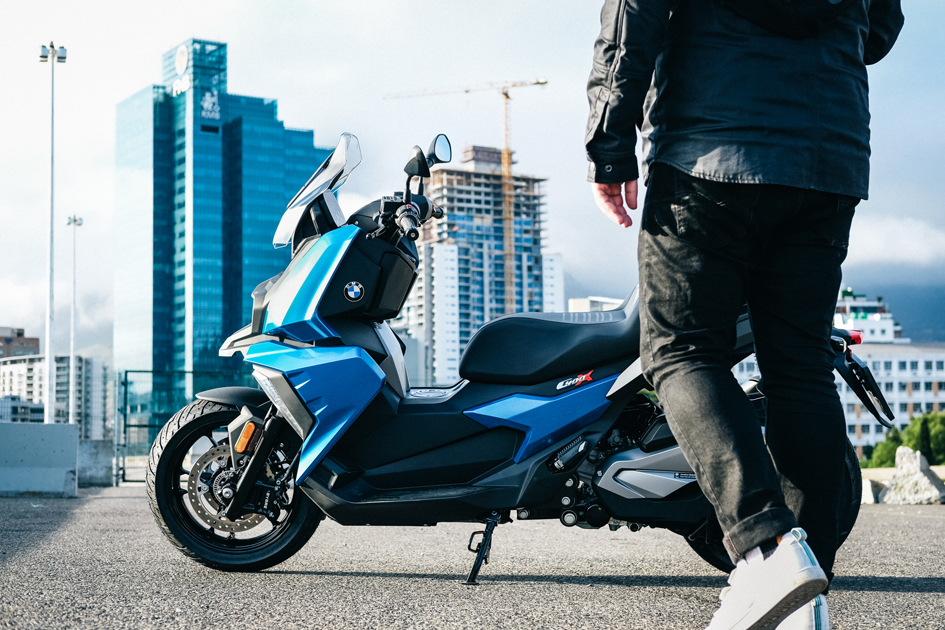 One minute I was running errands around the suburbs, the next I was munching highway miles on my way into Cape Town's city centre. I went on a ride around the peninsula with mates on their 'proper' bikes, popped into my favourite cafes, ran more errands and racked up more highway miles.
With a 350 cc motor powering it, the C 400 X doesn't qualify as a maxi-scooter, but it's got more pep than the more common 200 and 300 cc offerings on the market. BMW claim a max output of 34 hp and 35 Nm, with a rated top speed of 139 km/h.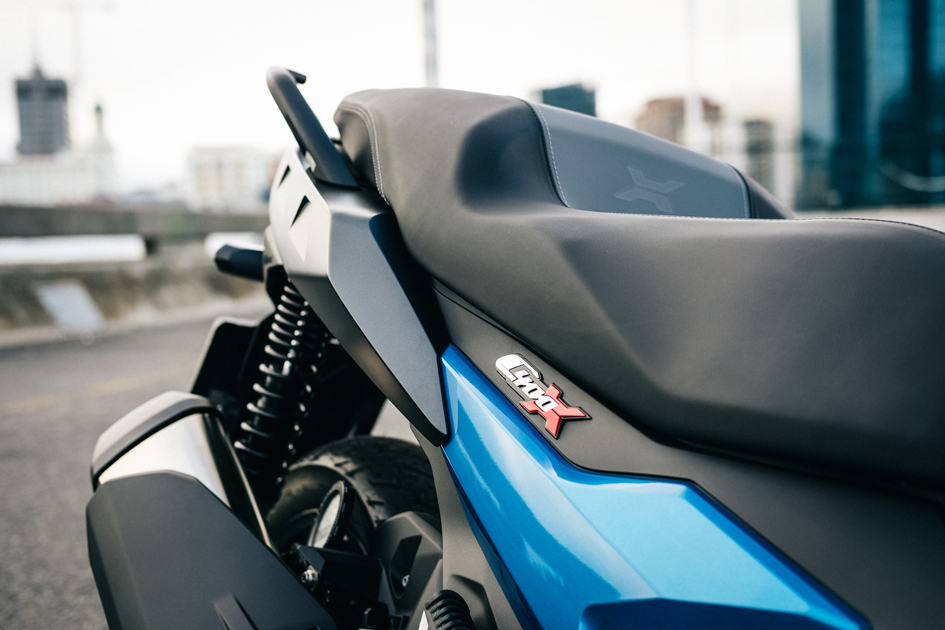 Power's sent to the back wheel via a centrifugal dry clutch, a stepless CVT gearbox and a gearwheel set. It all runs pretty smooth, and ramps up nicely as you roll on the throttle. The C 400 X pulls well off the mark (relatively speaking), is zippy through traffic, and is more than adequate for highway use—even with all 120 kg of me lumped on top of it. I'm also pretty confident that BMW's top speed claim is somewhat modest.
It handles alarmingly well too, even with a curb weight of 204 kg. That's partly thanks to the wheels, which are a combination of a 3.50×15" up front, and a 4.25×14" out back. But it's also down to how well balanced the C 400 X is, and how easy it is to pitch over. Hustling through the multiple turns of Cape Town's coastal Victoria Road was a cinch, and I had a bud that was trailing me comment that he was shocked at how far the scoot could lean over.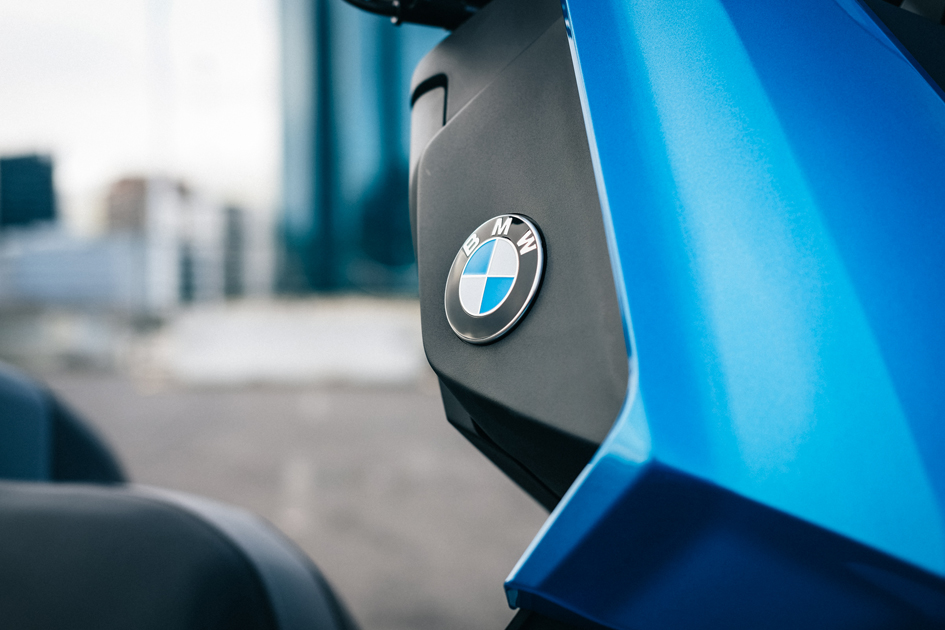 The suspension grips the road pretty well, but can get a little unsettled on really poor road surfaces if you're too enthusiastic. (Oh, and the rear shocks are adjustable for preload.)
BMW have kitted the C 400 X with ByBre brakes—Brembo's small bike and scooter-specific line. There are two 265 mm discs up front with four-piston calipers, and a single 265 mm disc at the back with a single piston floating caliper. They're plenty strong, with enough feel for stop-start riding in the city.
ABS and ASC (automatic stability control) are standard issue, and are only intrusive when you really overcook things.
The C 400 X scores really high on ergonomics too. Despite its compact proportions, I never felt cramped, even with my 1.86 m frame. The stepped seat is extremely comfortable, and the foot boards include little 'steps' up front, which means you can alternate your foot position to suit your riding style.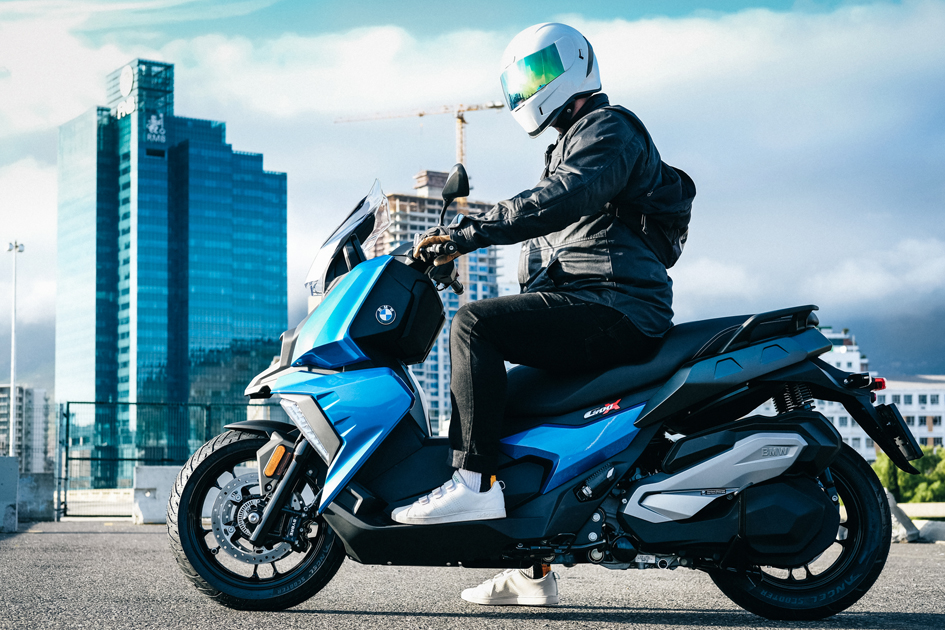 Since it's targeted at urban users, the C has all the stash space you'd expect from a scooter. There are two small cubbyholes up front—one of which has a power port in it too, along with a rubber tray to stop your phone from sliding around. Both open via push buttons that only work when the bike is unlocked.
A button lower down releases the seat, to reveal a storage space that spans its entire length. There's enough space to toss a few things in loose, but there are also some specific ways to pack it. There's a cleverly shaped section in front, designed for an open-face helmet. And the back half features BMW's 'Flexcase' system, that can expand when the bike is parked to hold all but the biggest full-face.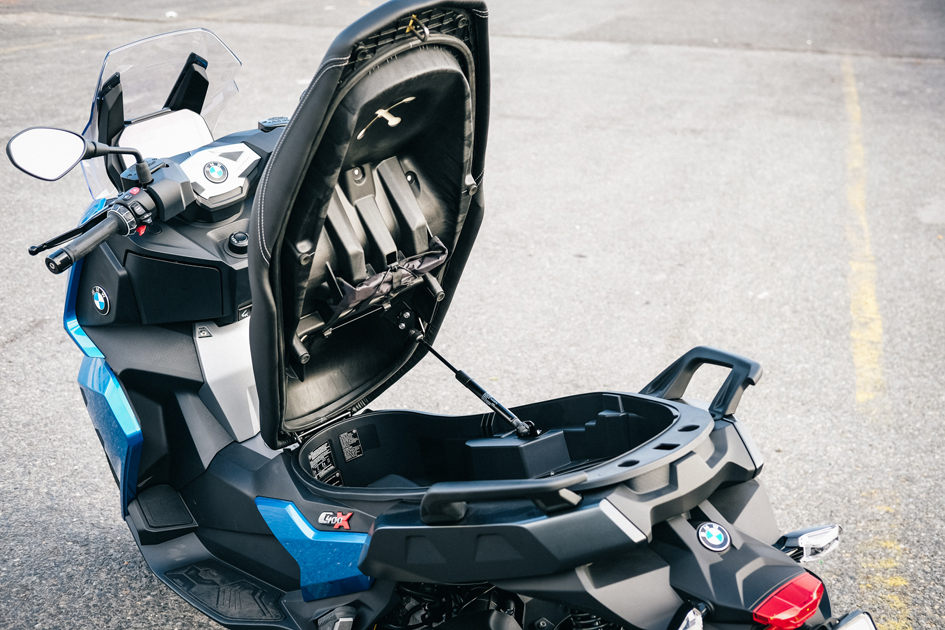 The bike won't start if the Flexcase is expanded, because it's too close to the rear wheel then. So that means that if you want to carry your passenger's helmet around for them when they're not on the bike, it has to be an open-face. There's also no shopping bag hook (a scooter staple), but that's because the BMW's fuel filler cap is between your feet.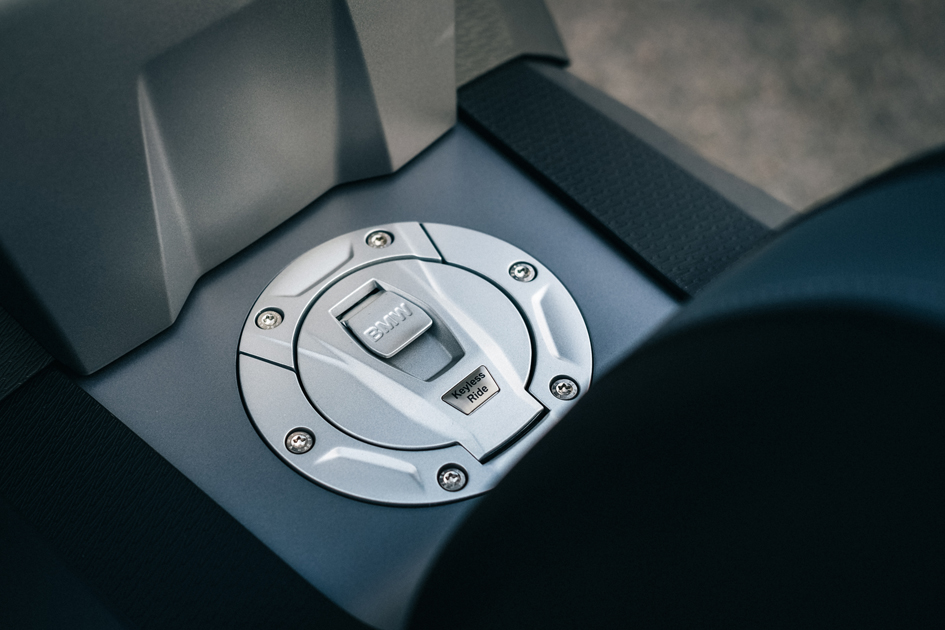 Overall though, the C 400 X's storage is mega useful. It was handy for the basics, like stashing away extra layers on a cold day that got warmer. And when my daughter and I went out on it, there was enough space to store my open face, her full face, our gloves and a couple of extras. The rear seat and grab handles are pretty substantial too, and there's an optional top case if you need more capacity.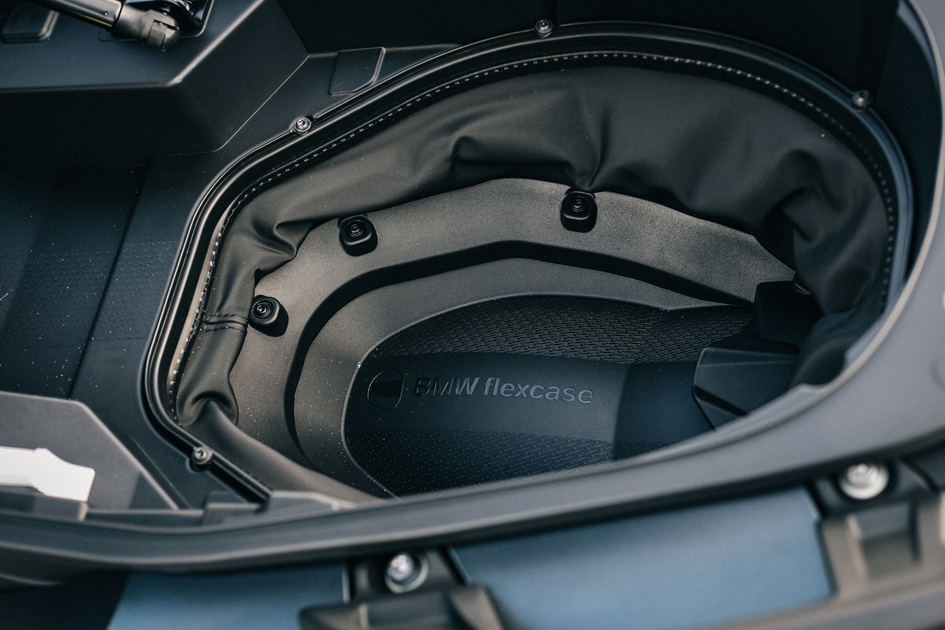 The model I tested had a few optional extras fitted out the box—including a keyless ignition, and a full colour TFT display with BMW's full Bluetooth connectivity suite. The TFT display seems overkill at first—after all, it's the same size as the one on BMW's bigger bikes, but with less info.
Speed takes centre stage, with a temperature readout in the bottom left corner, and the current time in the bottom right. There's a small info space in the top right corner, where you can switch between your odometer, trip meter, fuel capacity, range and a few other stats. There's an 'urban' mode, that has a sort of rev counter in the middle; it's cool to look at, but ultimately silly.
With so much empty space on the primary screen, it would have made sense to make something like fuel capacity a permanent feature. But once I connected my iPhone to the C via the BMW Connected app (which was a walk in the park), the TFT screen really came into its own.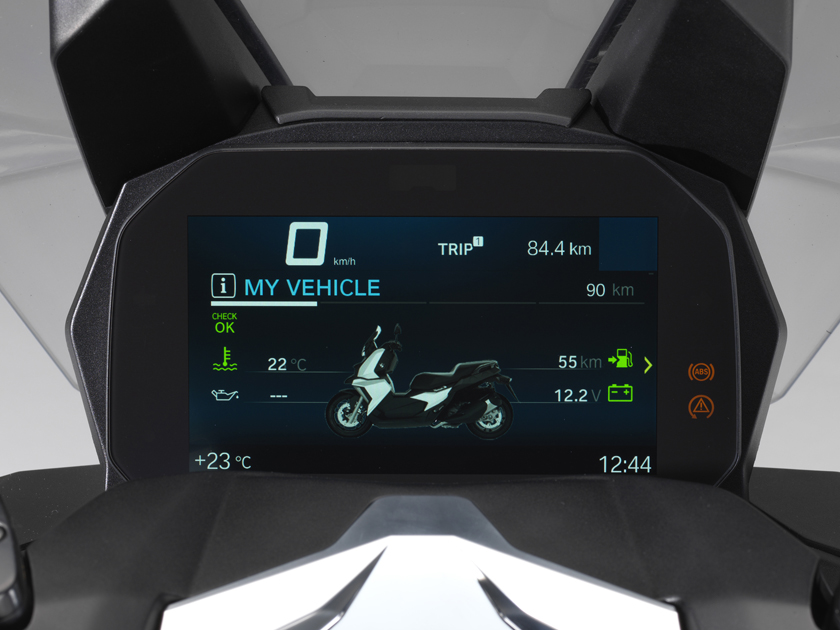 Since I don't currently have a Bluetooth comms system installed in any of my helmets, I didn't test out the media and calling functions. (They link up your phone, scooter and headset, so that you can listen to music and take calls in your helmet, with all the relevant info displayed on the screen.)
But I did play with, and love, BMW Connected's navigation feature. It uses the phone as a GPS with BMW's proprietary maps loaded, then pushes turn-by-turn instructions to the TFT display. The design and layout are great, and it's super user friendly—especially with the handlebar-mounted jog wheel.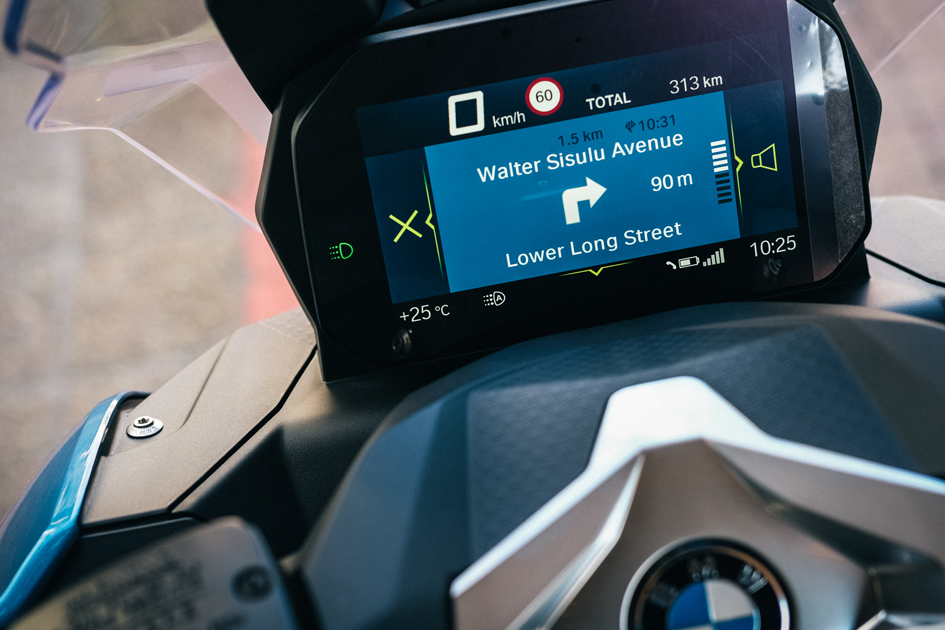 The screen will also show you your phone's battery level, and the current speed limit. And on the app, you can check the C 400 X's current fuel capacity and range. There's a weather feature too, and graphic that shows you when your next service is due.
Another nifty feature is 'Rides.' The app tracks you every time you ride (if you allow it to), then records each trip. You can not only see where you went, but track your stats along the way—including speed, trip time, and even when you engaged the ABS.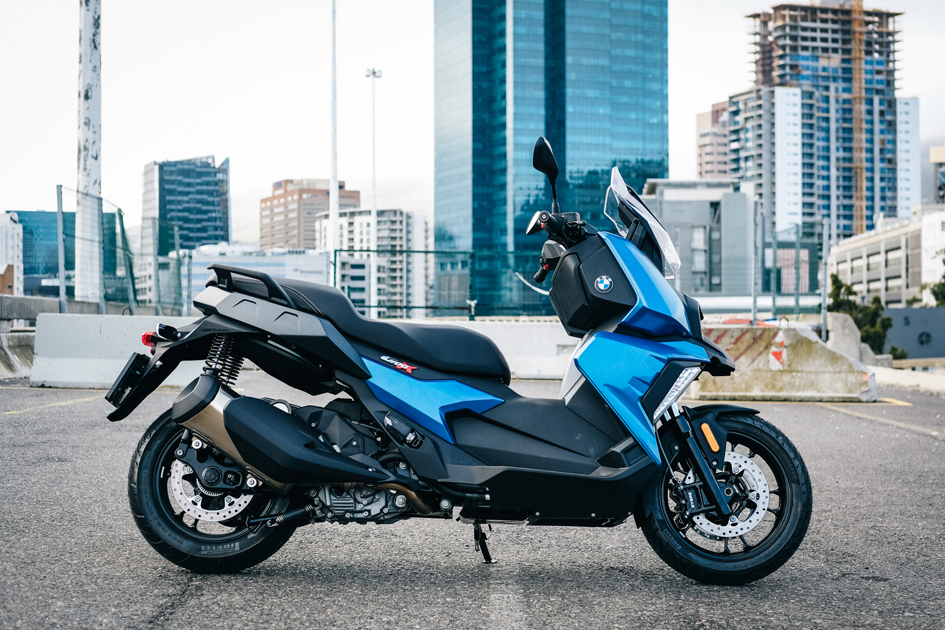 It's worth noting that all of this—the app, the display and the buttons that help you navigate everything—is the same stuff you'll find on bikes like the R 1250 GS. It's a top-shelf vibe that carries through to everything from the switchgear to the petrol cap, and the various trim bits that are peppered throughout the C.
As scooters go, it's super well built. And it's uber-cute too, with a quirky look that conveys the Bavarian marques signature Teutonic aesthetic. There's even a hint of GS in there—check out the front beak, and the LED headlight that's been lifted straight from the F 850 GS.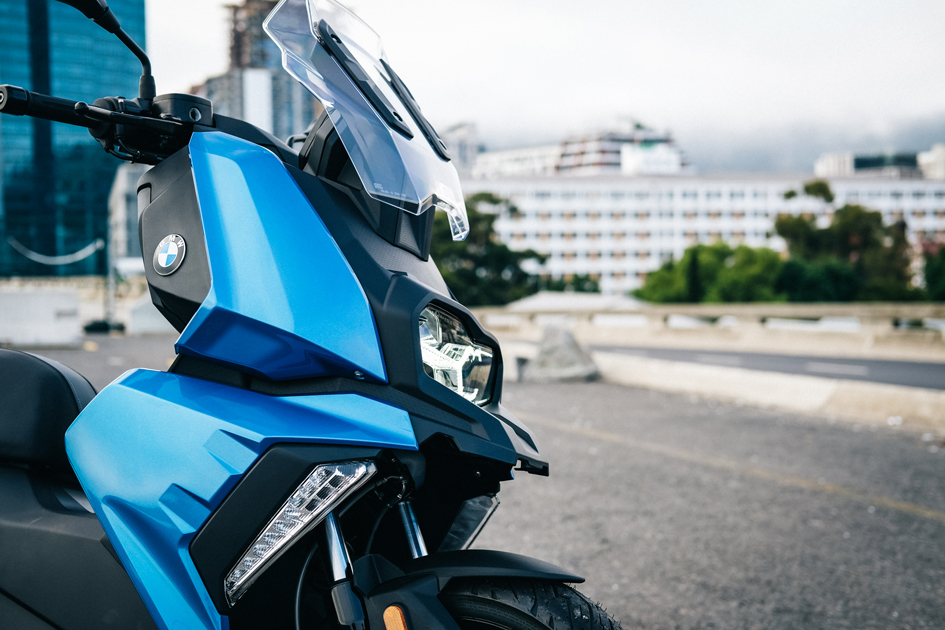 Wherever I took the C 400 X it pulled looks, nods of approval, and even a little envy. Sure, bigger bikes are faster and can go further—but there's something undeniably appealing about the twist-and-go nature of a scooter. I fielded countless questions about the C 400 X's power, packing space, and fuel consumption. (BMW claim about 28 km/l, but I wasn't being gentle, and got closer to 22.)
Things went south when friends asked about the price though. At R 125,000 as tested, the C comes in at a premium. You do get a lot for your money—especially when you factor in all of BMW's proprietary tech and connectivity features, and how solid of a scoot it really is. But it's still a hard sell, particularly for riders that think of scooters as budget beaters, rather than primary modes of transport.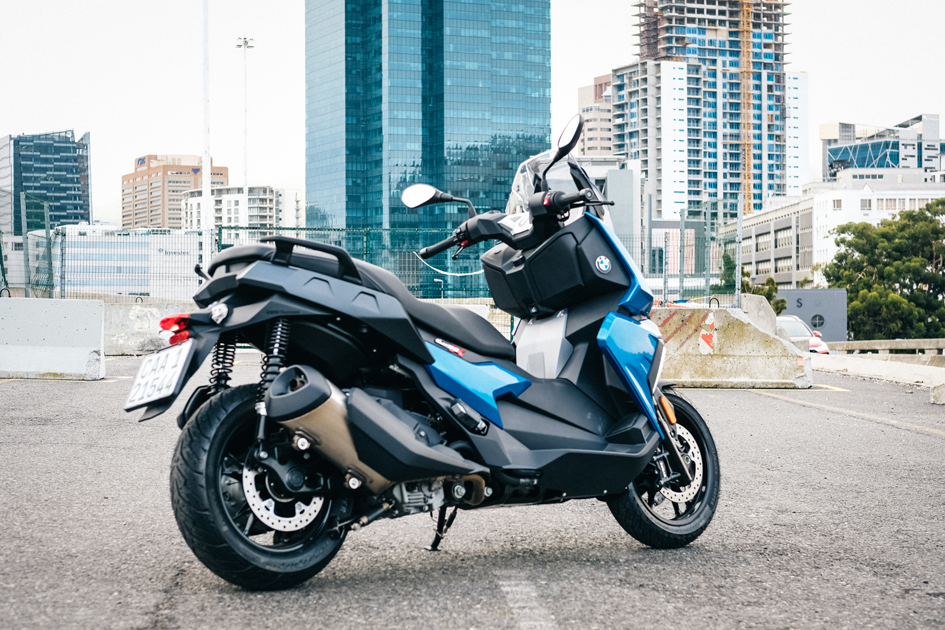 I didn't dwell too much on the numbers while riding the C 400 X though. I was too busy having fun, looking for excuses to go riding, and remembering what got me hooked on this lifestyle in the first place.
for more information visit: www.bmw-motorrad.co.za