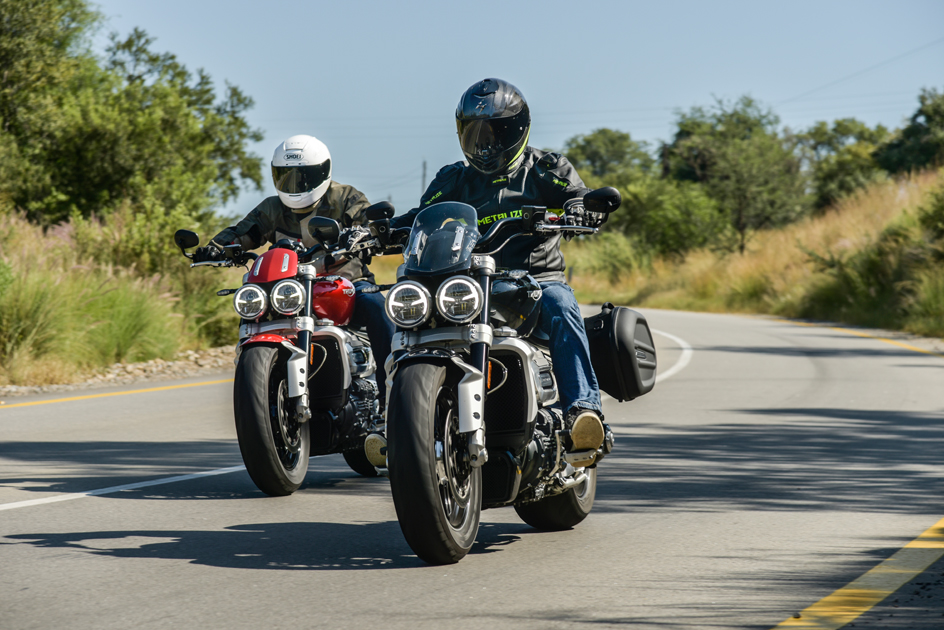 Recently, the ZA Bikers crew had our opportunity to sample the newly launched Triumph Rocket 3. The timing was actually very good, as, unbeknown to us, there would be a Nationwide Lock-down looming in the days ahead.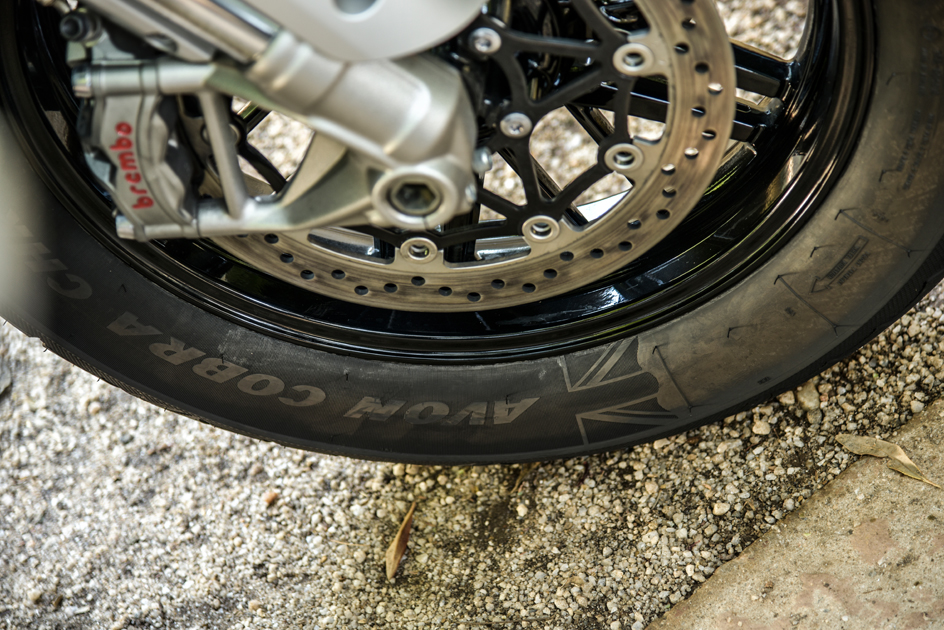 Bruce Allen, CEO of Triumph Motorcycles SA, took time out of his busy schedule to host our ride via scenic backroads towards the "Ou Pastorie" in the small Magalies settlement of Skeerpoort. We felt quite privileged, as Bruce is a hard man to get quality time with. It seems that being the point man at Triumph SA guarantees a full daily schedule.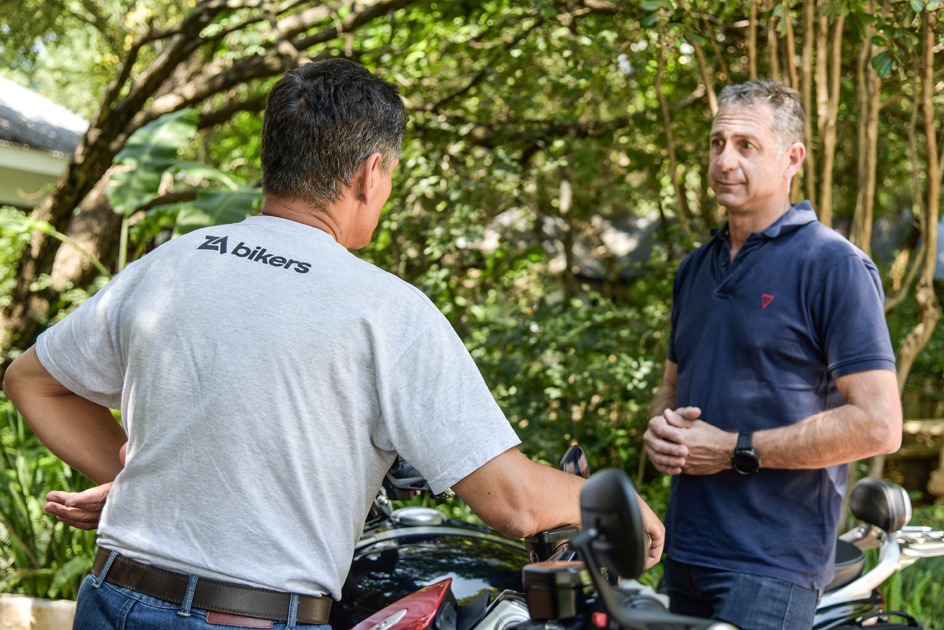 In this piece we will elaborate some on these awesome new machines, communicate briefly about Triumph's immediate future plans and also revisit the occasion when the first SA lady, to our knowledge, straddled the seat of these big beasts. So hang on and enjoy the read!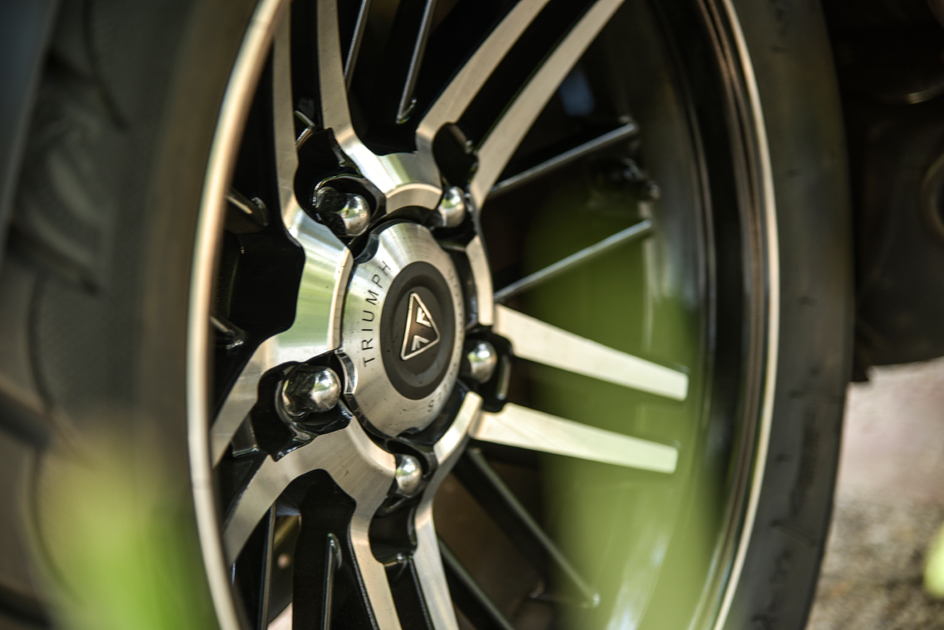 Saying that these new bikes are "big beasts" are both correct and wrong, in some paradoxical way. In physical size and appearance, both the R and the GT are big. But then comes the "acid-test", which is the test ride. Man, this is where these bikes will sway many archaic paradigms. They ride like nothing we could expect. Despite the huge tyre sizes (150/80-17" Front and 240/50-16" Rear) these bikes roll and change direction like any modern-day cruiser.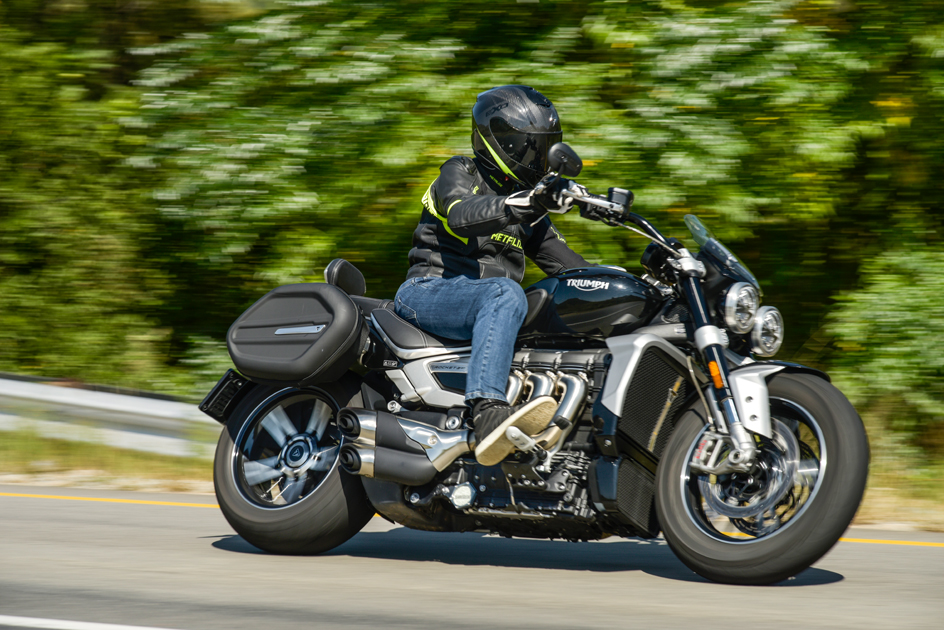 They handle like they were not supposed to, if I can be allowed to express my surprise in that way. The engineering and thought that went into accomplishing this, must certainly have been a challenge, to say the least.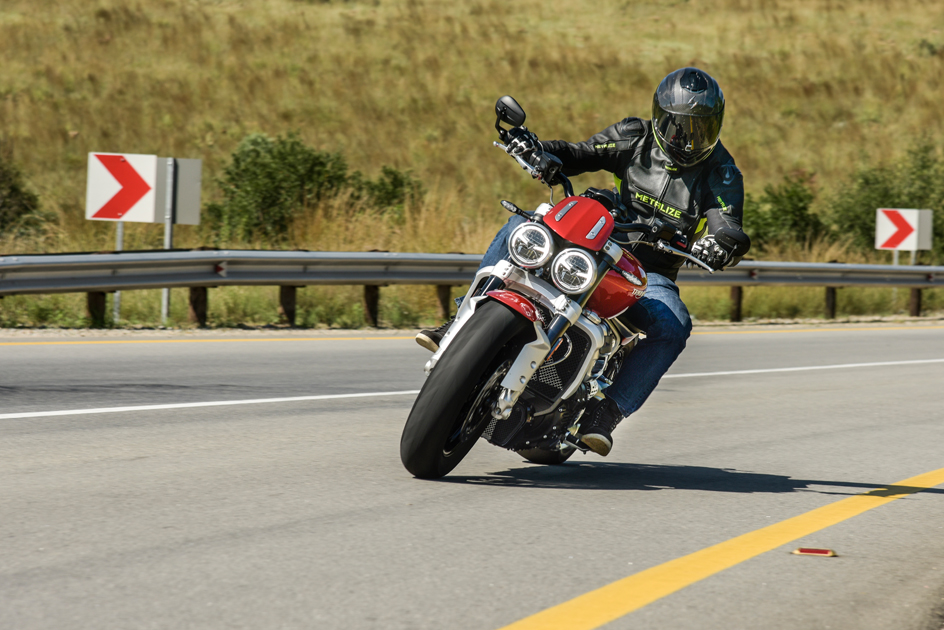 With 165 Horsepower and 221Nm of torque on tap, very little needs to be said about the engine performance, other than "Wow"!! It sees 200km/h at the blink of an eye and is as stable as a rock at these unintended speeds.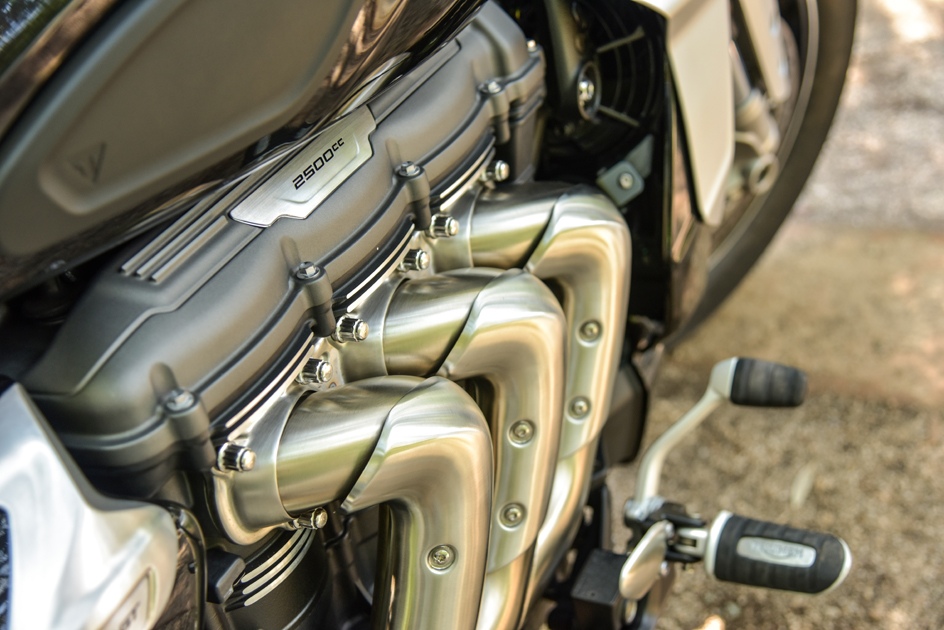 The burbling sound the exhaust creates on the downshifts and closed throttle is soulful music to the ears. I would not even consider an aftermarket performance pipe. The Brembo Radial Monobloc calipers do a great job at halting the 295kg's of pure muscle with what feels like little effort.
Rocket R or Rocket GT?
Not to ponder on this question for a moment, would seem unfair. So let's begin…. There are two derivatives of the Rocket 3, namely the Rocket R and the Rocket GT.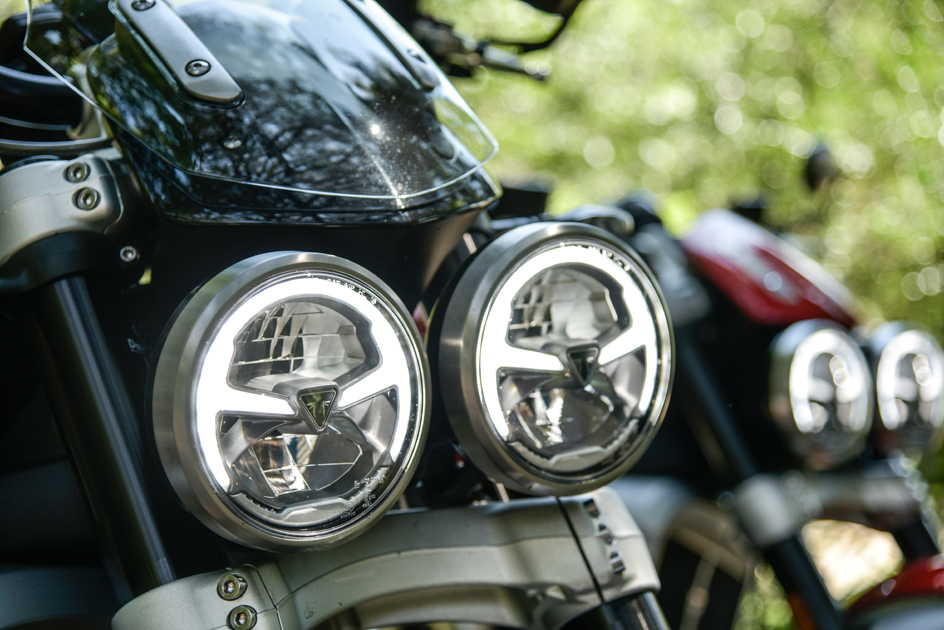 "R" is the designation for "Roadster", meaning minimalistic, naked and fuss-free, while "GT" designates "Grand Tourer" or "Gran Tourismo" as some like to call it. This essentially means that the GT features touring style handlebars, a slightly higher windshield and more forward footpegs.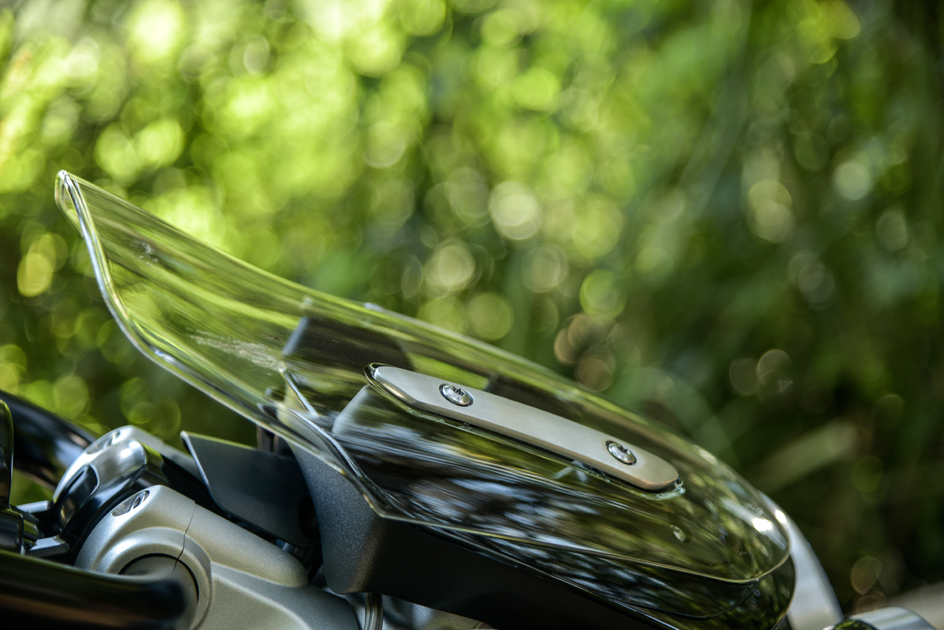 Seat height on the R is 773mm versus the slightly lower 750mm on the GT. Cruise control, fully adjustable Showa suspension all-round, TFT Display and Keyless ride are just some of the features that come as standard equipment.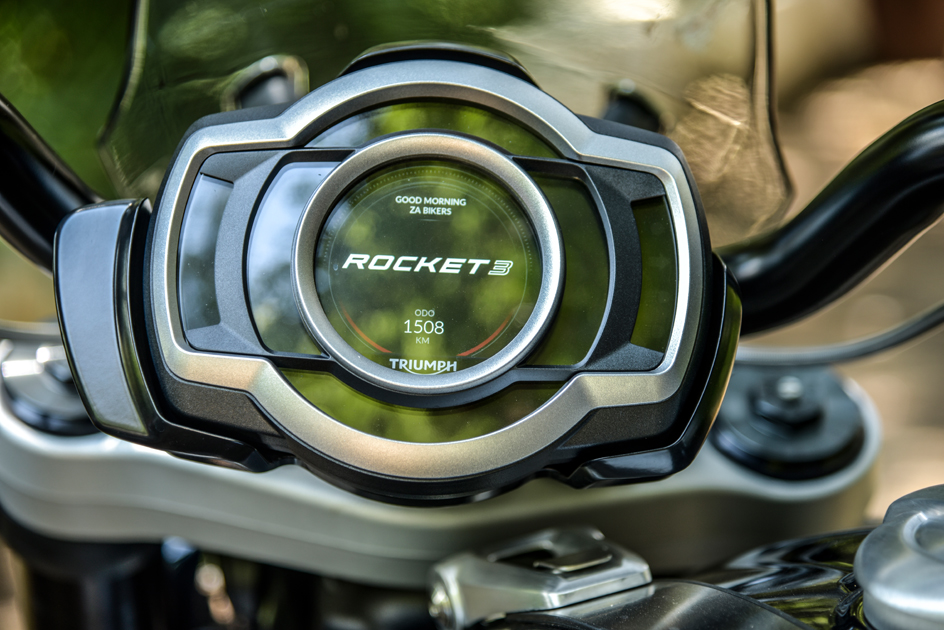 An ideal setup for me, would be the "R" model with the "GT" handlebars. I felt more comfortable with the neutral footpeg position. Having said that, the "R" model footpegs have 2-way height adjustability and the "GT" has 3-way horizontal adjustability. There is a handy, "on board" toolset to affect roadside adjustment, if necessary.
Ashley James, Sales Manager
The very popular and ever-smiling Ashleigh James, Sales Manager at Triumph SA, became the first lady to ride these specimens. At 1,82 meters, Ashleigh is quite tall, yet skinny in build. I am saying this, because even as an experienced motorcyclist, she was quite nervous before getting on board.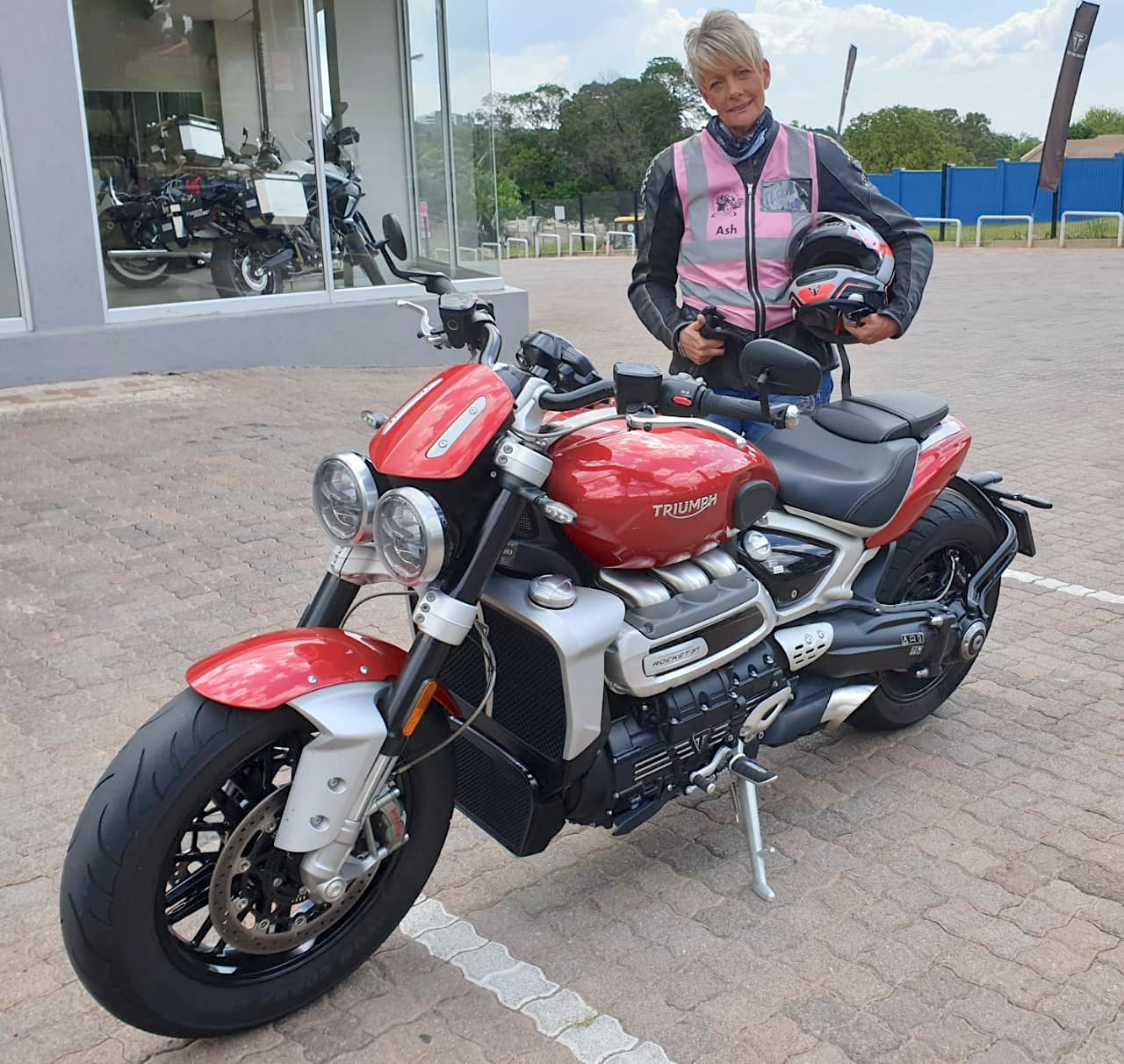 Her apprehension soon faded as she experienced the light, nimble handling and low-speed manoeuvrability. She was smiling on every pic that she posted on social media. That certainly epitomises a bike that is easy to live with.
Personally, I think Triumph could barely have done a better job when designing and building this bike! It delivered way beyond my expectations and is certainly better than their valiant first attempt back to 2004. The most outstanding feature to me personally, is the "drop-dead" gorgeous looks. Both look almost sporty in appearance and the uncluttered design should win an award of some sort, if I had any say in that. Both are objects of true beauty.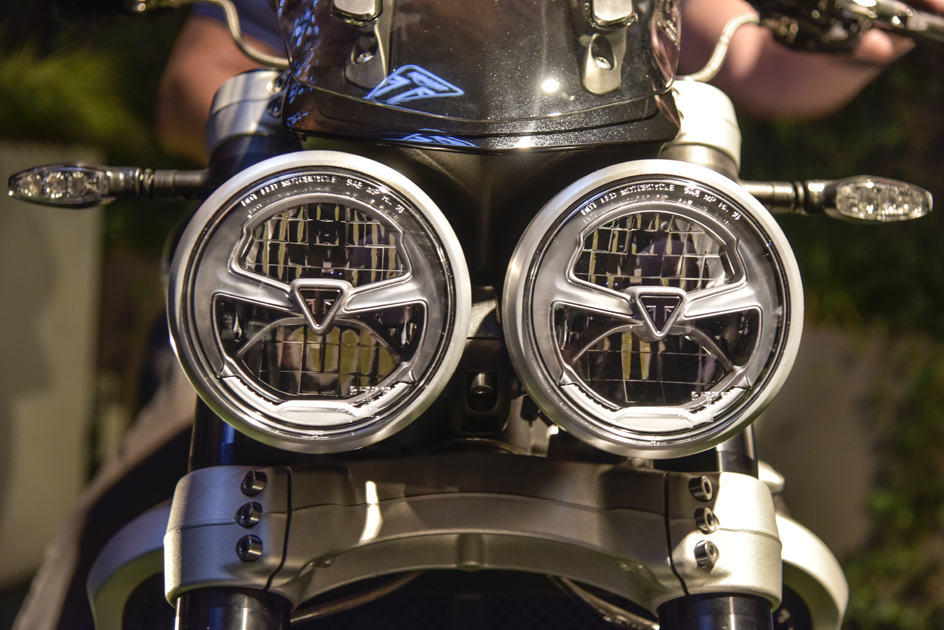 As a final word on the ride itself, you have to sample these bikes to appreciate them. I could easily hop on either and go for a ride onto the ever-elusive "horizons' crest".
CEO Bruce Allen on his future plans
The time spent with Bruce Allen, the local CEO was certainly very insightful. We had not spent much time with him in the past and was eager to elicit as much information from him as possible. He strikes me as a straight-talking, to-the-point kind of guy. His product knowledge is on par with anybody in the know and so is his vision for elevating his beloved brand to the next level.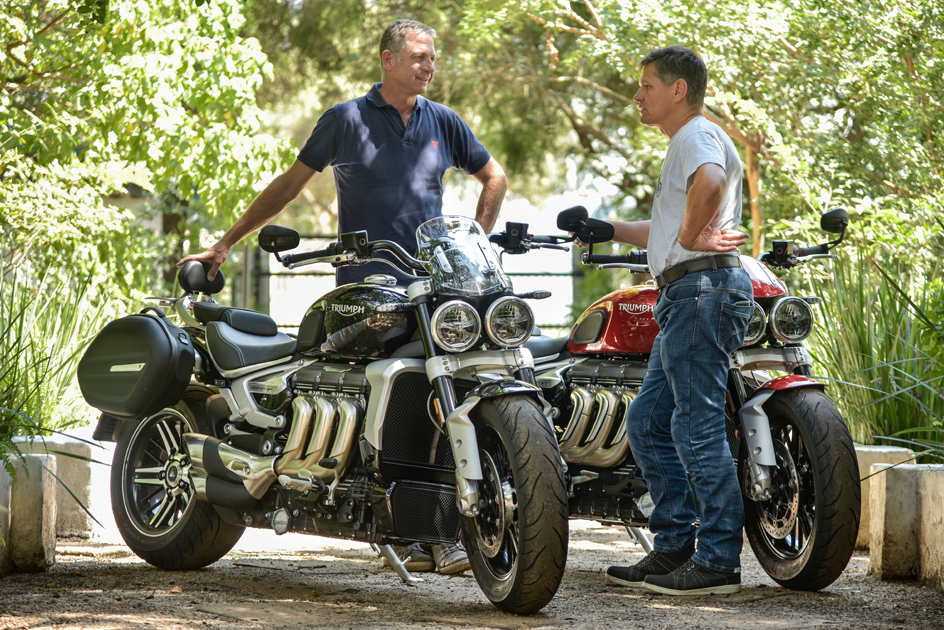 Construction of their new stand-alone showroom is underway, a mere stone's throw from their current location, C/O South and Dartfield roads, Sandton. Bruce seems very excited about this new development. Other developments that Bruce elaborated on quite a bit, is the opening of a full-blown dealership in Cape Town. Plans are not cast in concrete yet, but as far as we could surmise, things should start taking shape early 2021.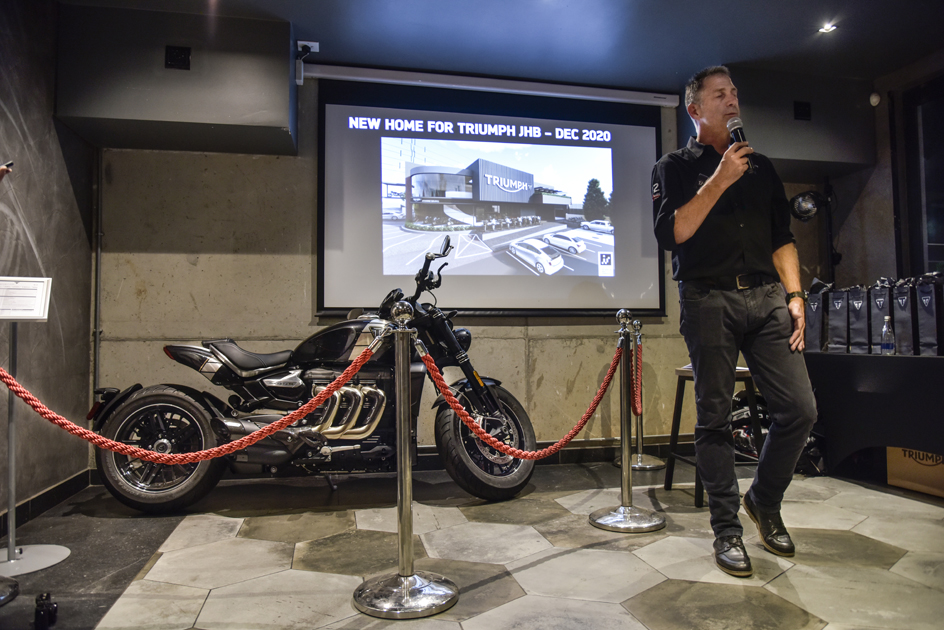 We wish Bruce and Triumph all the best for their future plans. As I write this conclusion, we are still very much in Nationwide "Lock-down" to curb the spread of the COVID-19 virus. Who knows the impact it will have on our local economy? Who knows the impact it will have on our citizens? All that is clear in a time like this, is that we need new vision, strong leadership, entrepreneurial thinking and solid faith in our abilities. Roll on 2020…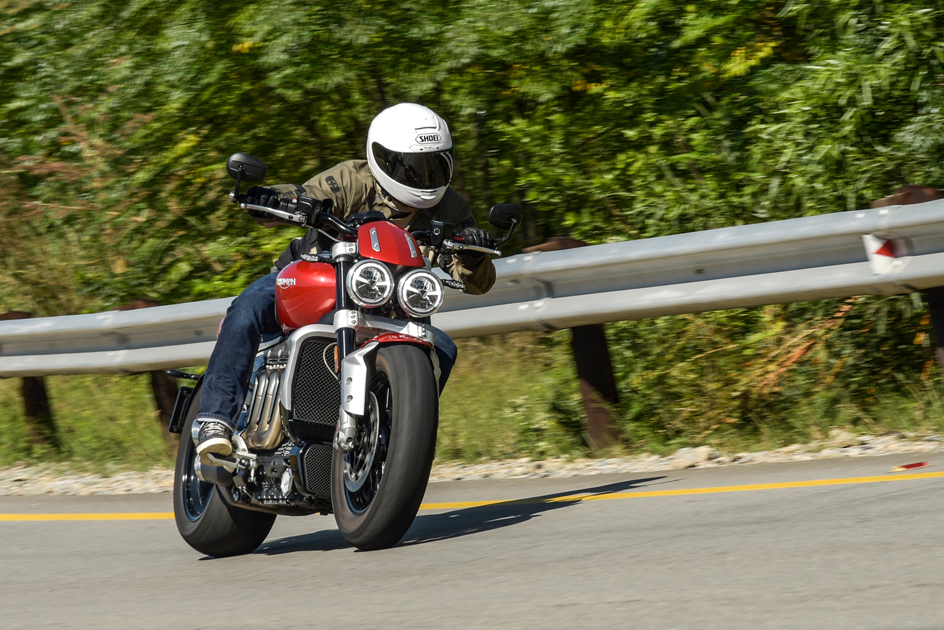 For more information visit: www.triumph-motorcycles.co.za
Triumph Rocket 3 GT/R
For more information on the bike that we tested in this article, click on the link below…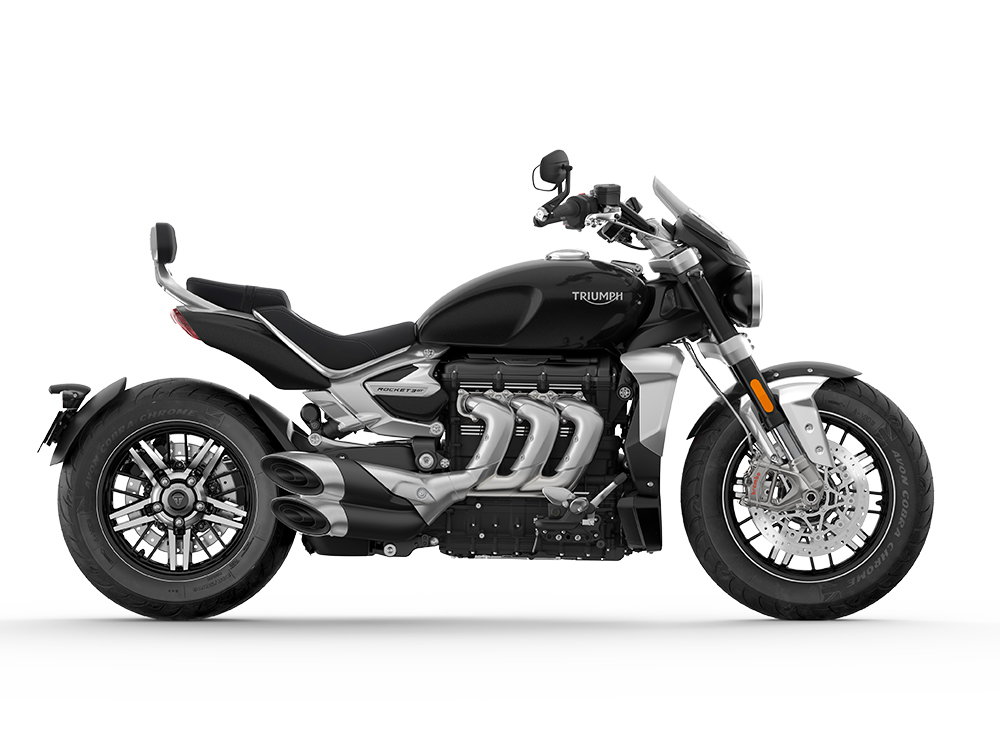 2021
Triumph Rocket 3 GT
Pricing From R370,000 (RRP)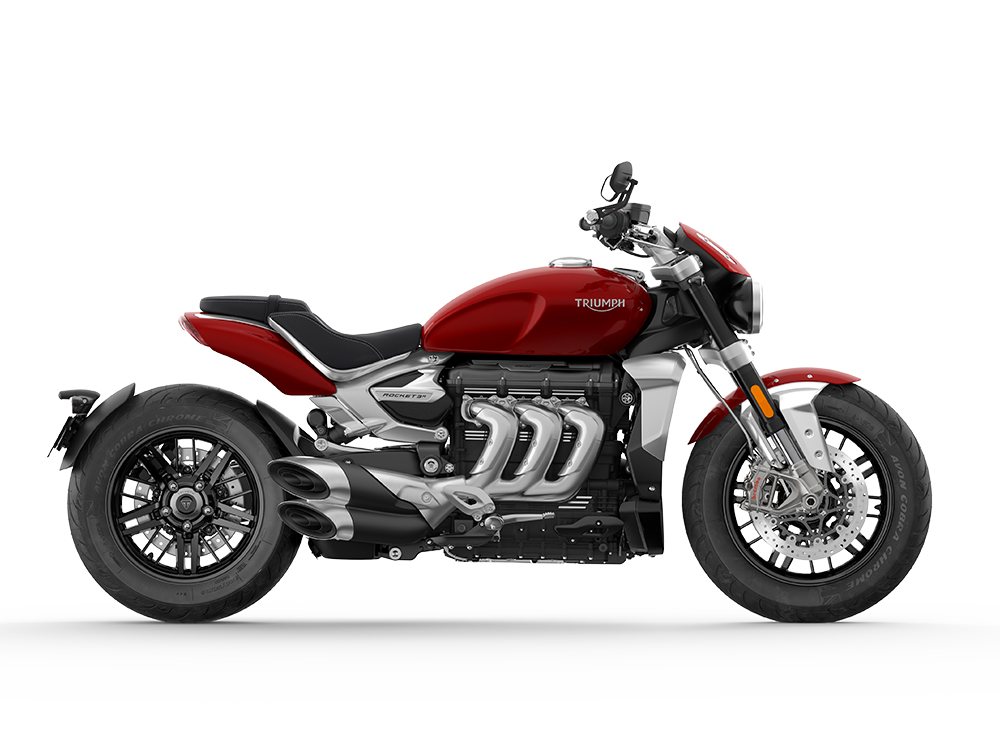 2021
Triumph Rocket 3 R
Pricing From R355,000 (RRP)