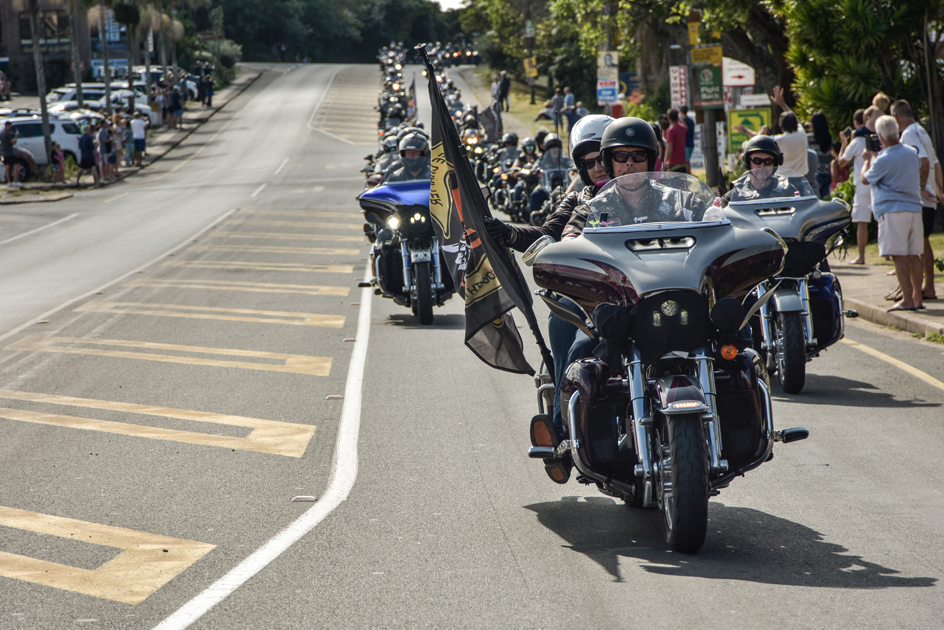 This COVID-19 lockdown is not all bad you know. It gives one a chance to get to things that we typically don't get to with our self imposed crazy "normal" lives. I have always had an interest in recent military history, so I hauled out my book on the Selous Scouts [the legendary Rhodesian Special Forces unit] to catch up on some reading. Paging through the book, which is kind of a pictorial history of the Rhodesian civil war of the '60s, '70s and just into the '80s. looking at some of the photos, it struck me that a few of the more prominent members were South Africans, not "Rhodies". Two guys, in particular, got my attention. Chris Schulenburg is perhaps the best known, as one of only two members of the Rhodesian armed forces to be awarded the Grand Cross of Valour, Rhodesia's highest award for bravery. The other was a guy named Dale Collett.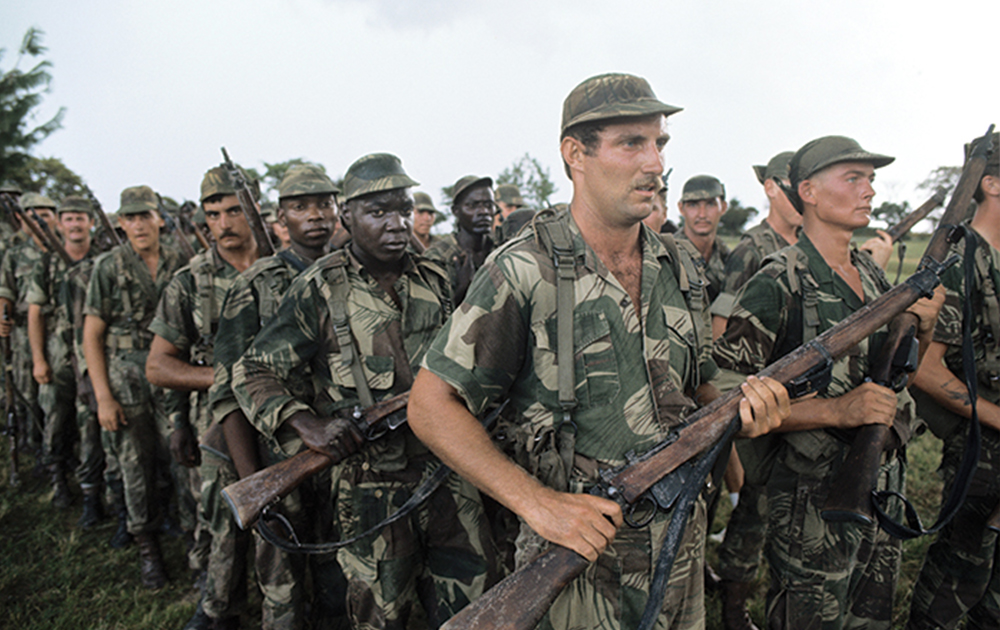 Dale grew up in the Karoo and was schooled at Kingswood College in Grahamstown. He matriculated in 1969 and two years later he joined the Rhodesian army where he rose to the rank of Lieutenant. He was one of the first members of the newly formed Selous Scouts. In 1974 he was awarded the Silver Cross of Rhodesia, for "Conspicuous Gallantry and Leadership in Action". In 1976 he was shot during a raid into Mozambique and suffered a severed spine which left him wheelchair-bound. Not one to bemoan his fate, he worked with the SANDF Special Forces in 1980 and '81, who awarded him The Chief of the South African Defence Force award in both those years.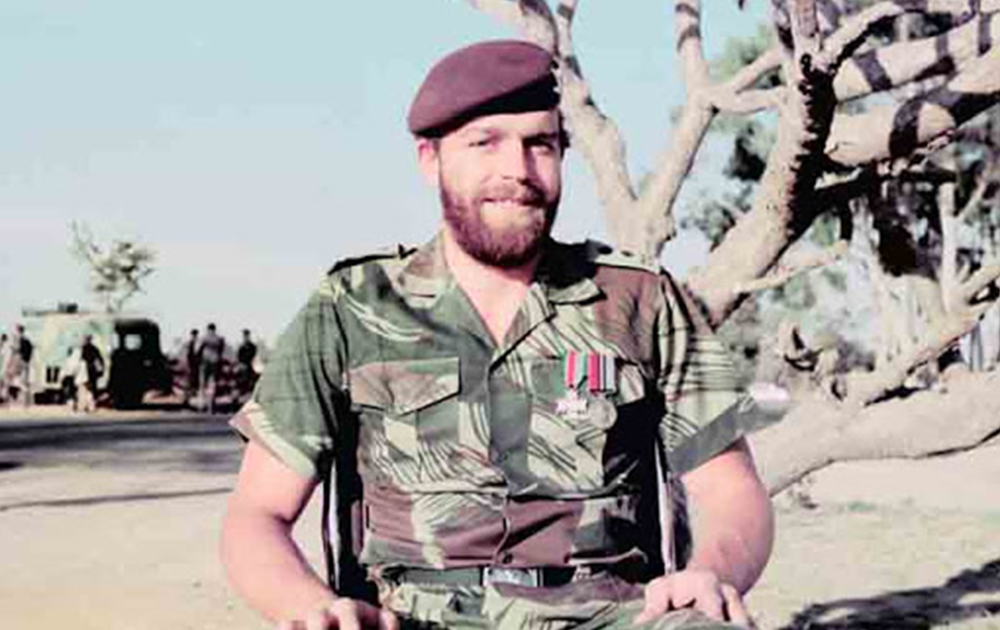 Now, why do I tell you all this? Because here is the thing. I believe that a lot of current riders have got into biking for the unique "Band of Brothers" experience that is primarily also found in the military. Some of us served in the military and whilst younger riders didn't, I believe in the heart of most men there is a yearning for adventure. A yearning, for a "brotherhood" experience. This can take on many forms, amongst which endurance sports also rate high. As men, we seem to need to take on challenges and conquer them together. There is a saying in Karate, that blood is thicker than water, but sweat is thicker than blood. As bikers, we sometimes sweat and bleed together, which forges a bond amongst us that we find hard to explain. Not surprising then, if there is any substance to my hypothesis, that a number of these ex-military types take to motorcycling in later years. So it was with Dale. But hang on Dave, didn't you say he landed up in a wheelchair? Yes indeed, but I also told you that he had good old fashioned guts in bucket loads.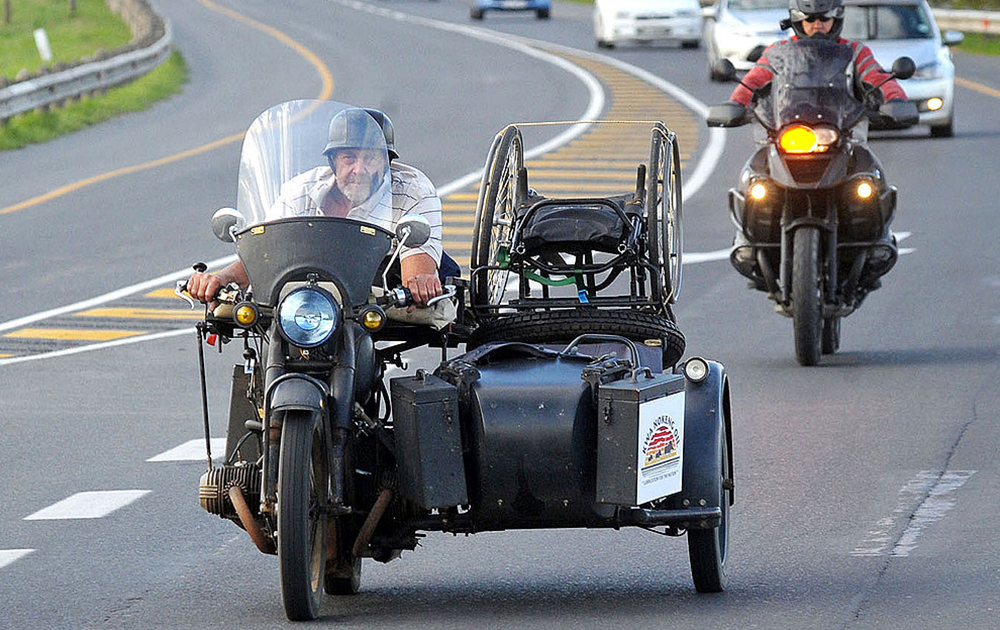 It seems, from what I can glean from media reports that Dale, in 2014 was living in Gaborone in Botswana. Ever the adventurer, he imported a Chinese version of an Ural sidecar rig. He then made a frame that enabled him to lie on the seat on his stomach and ride the bike. Always a man to fight for a cause, he decided to ride to Cape Town and back to raise funds for a local children's charity. To make matters even more incredible, Dale had a leg amputated two years earlier after suffering serious injuries when a cottage roof collapsed on him. He was renovating the cottage at the time. He also has very limited use of his left arm due to a torn shoulder tendon. Flip, you can call him handicapped but you can't call him disabled!
Dale raised over R100,000 with his trip. An added incentive was visiting his two sons who were living in Cape Town at the time. He described the ride as a "life-changing experience". Dale subsequently moved to SA where he renovated a derelict smallholding and tries to live a self-sufficient life. In these trying times in which we live, his words ring loud and true, "the problem in life is that very few of us take the bull by the horns. Get on the bike and ride! Stop dreaming about it, just do it". Well guys, when I see a life so fully lived, despite impossible odds, I am truly humbled! Dale, I salute you, you are a true man amongst men.
Band of Brothers [Part 2]
This part of my band of brothers story, also has it's origins in that most beautiful of countries, Zimbabwe. This story, however, has just unfolded. This is about a youngster who grew up in Central Zimbabwe and in around 2000, moved to the Zambezi valley in the north of the country. Those of you that have been to that part of Zims will know that it is a wild and rugged country, hot as Hades in the summer and not much cooler in the winter. It teems with big five wildlife. It is beautiful. Together with a couple of mates, he started riding dirt bikes in this area. So who is this fellow? Graeme Sharpe, that's who, the first Zimbabwean to finish the Dakar rally on a motorcycle.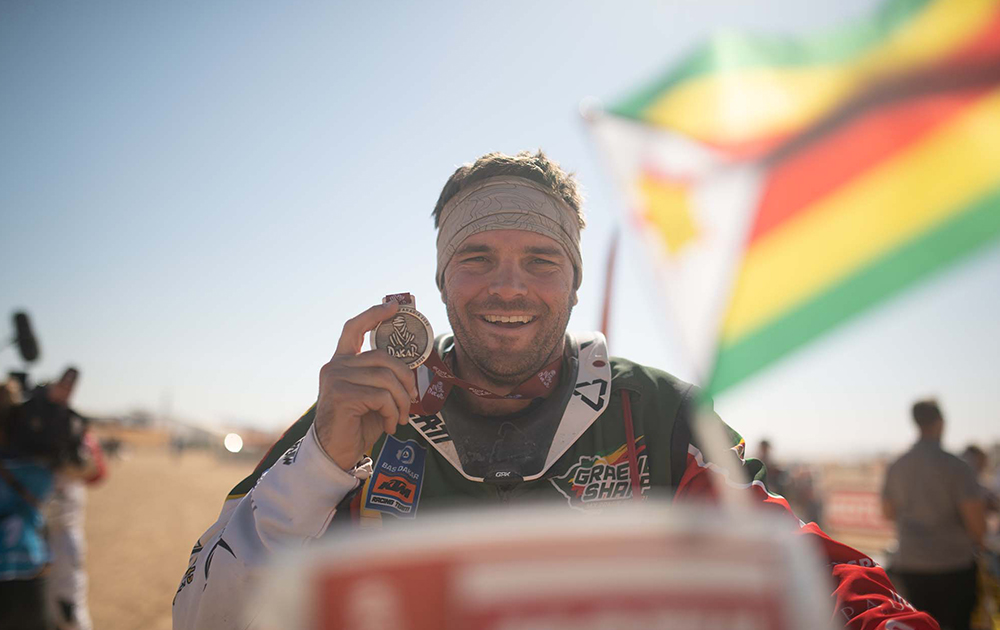 Riding bikes off-road in the Zambezi valley presents some unique challenges. You have to contend with violent thunderstorms, flooded, crocodile-infested rivers, bushfires and the big five, especially elephant. Plenty of elephants! If lions, leopards, rhino's or buffalo don't get you, a black mamba or two just might. I certainly understand why you can get to ride pretty fast in those circumstances. After finishing his schooling, Graeme spent 10 years overseas. Initially in New Zealand, then the UK and finally in the US of A. It was at the end of his time in the US that he found himself on a support crew at the 2013 Dakar. It was there that he met David Reeve, Darryl Curtis and Riaan van Niekerk. Some serious bonding took place with his Southern African soul mates and it was then that G just KNEW that he had to do this Dakar thing.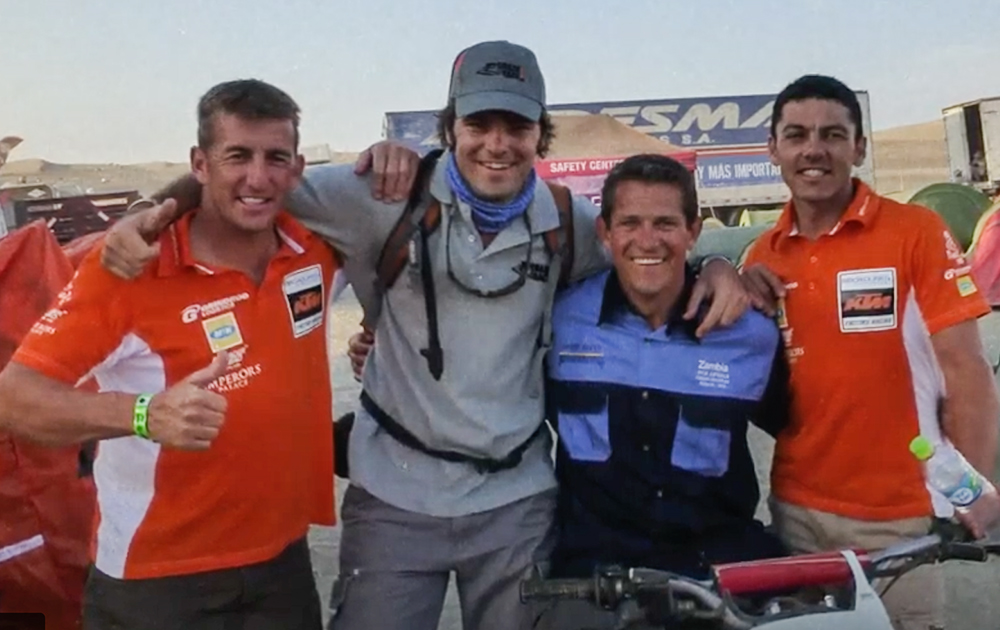 2017 was a crazy year. Injuries, international rallies, ongoing Zimbabwean economic woes and political unrest. Definitely not the kind of environment which is conducive to planning an assault on the Dakar. As time passed, things slowly came together. Graeme reckons that he would have struggled to get to the start line in Saudi without the support that he got from the likes of Joey Evans, Gillian Dykes, David Reeve and the Kalahari Ferrari, Ross Branch.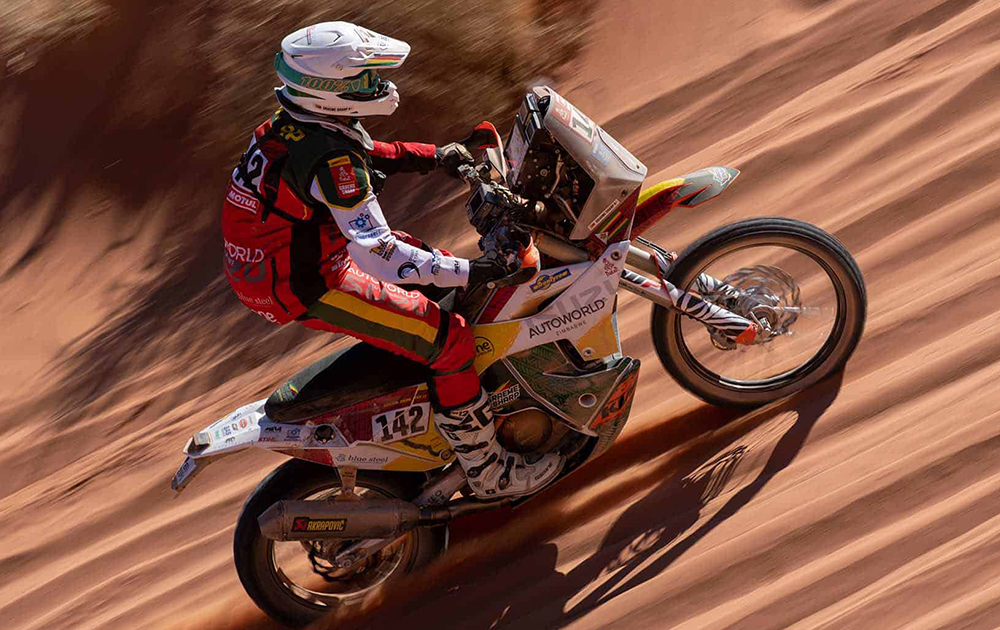 Who will forget Graeme putting his own race finish in jeopardy to tow Ross, assisted by Kirsten Landman, to his bivouac after blowing a back wheel? This is the band of brothers mentality I am talking about. Keeping your brothers back no matter what the personal cost. Graeme's BAS Racing team were spectacular. Total commitment to their riders. Together they rode a calm and calculated race. Riding within himself and making no mistakes, he brought it home. First Zimbabwean to finish the Dakar on a bike. Reflecting on the Dakar, Graeme says that for him it was about the experience. The journey.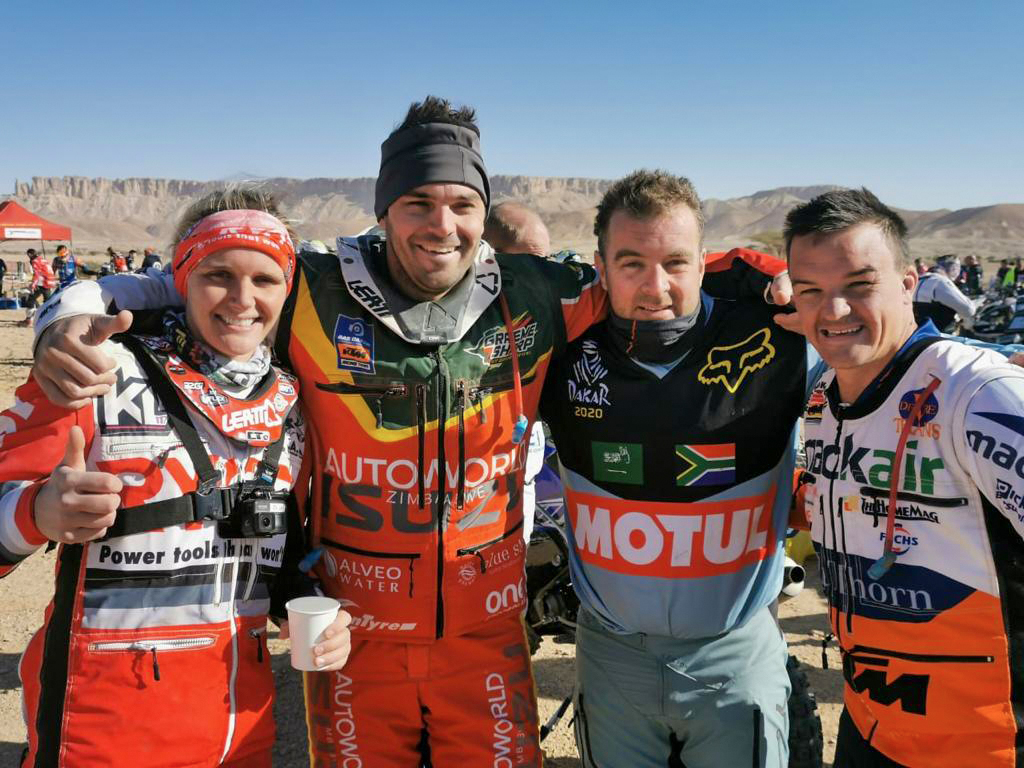 There is so much wrong in the world we live in. We have never had access to so much information and yet been so incredibly stupid in the way we apply it, or don't apply it. But then we look at the types of guys that feature in these stories and we realise that all is not lost. People who will push through no matter what the odds and revel in finding solutions and not excuses. It is people like this that raise a standard that we need to gather behind. Folk that remind us of old-world qualities that will never go "out of fashion". These are the people that remind us that no matter how bad our situation may be, the sun is going to shine again if we just believe!