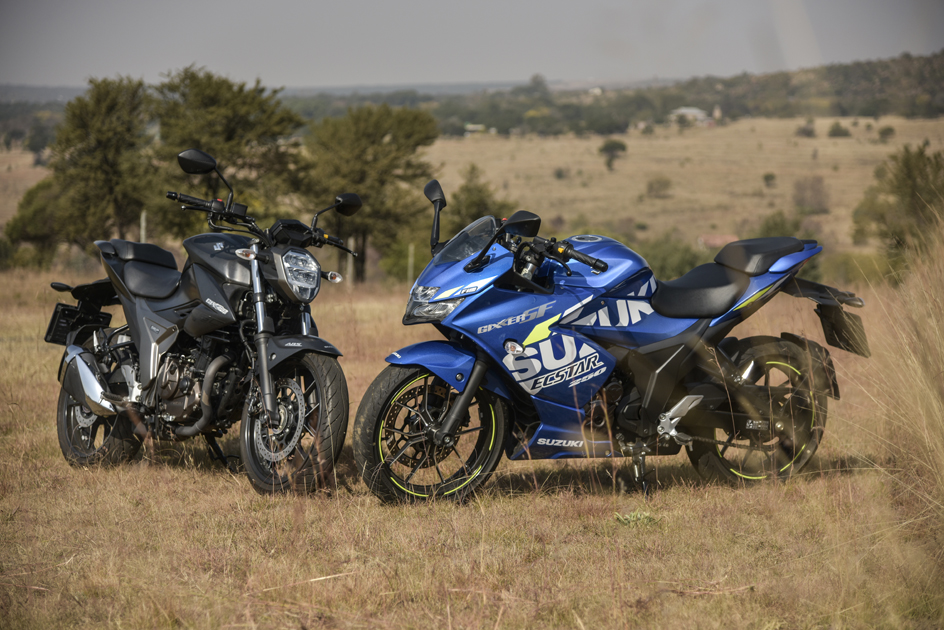 I have plied my trade for the past 37 years as a Financial Adviser. After 6 years with little or no growth in growth assets, COVID-19 has compounded our woes and given us a massive financial "klap". As a third world emerging economy, already suffering the consequences of a Moody's downgrade to "junk status" of our government bonds, South Africa is staggering and struggling to stay on its financial feet. We need as individuals, to look seriously at how we have been living our lives. It is an open secret that, as a nation, we tend to want to live champagne lives on beer salaries. How can we make our hard-earned rands go further? Maybe we need to re-look at our commuting motorcycle options. To this end, we got hold of two brand new kids on the town and around the block, Suzuki's 250 Gixxer twins, the faired SF and the naked plain Gixxer.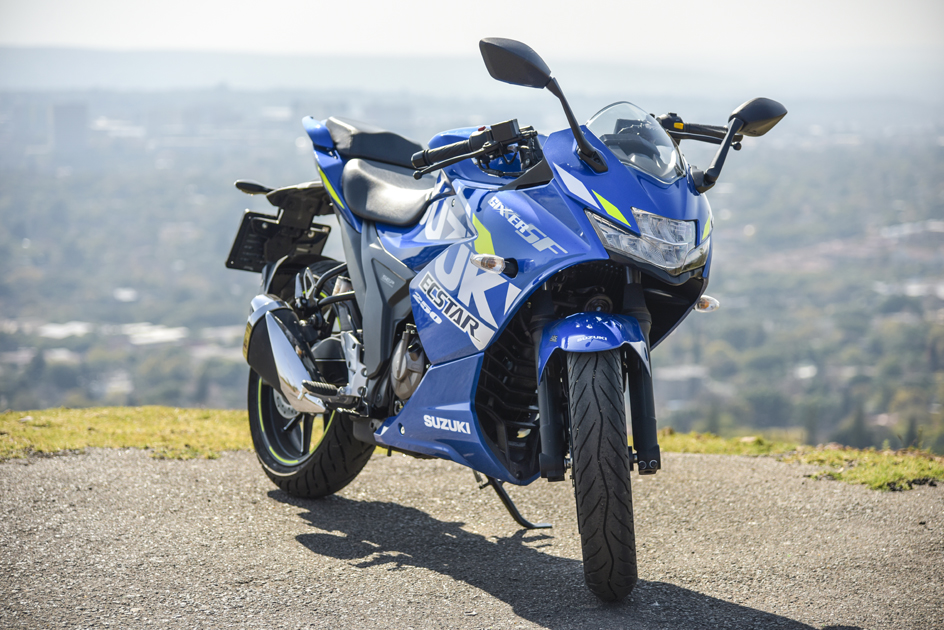 I hate to break it to you but you cannot pony up over R250 000 for a motorcycle as a "commuter", and come up with an even vaguely credible justification for your purchase. If your wife believes your story, you certainly married her for her looks and not her brains! My parents made do with only one car for most of their lives yet we insist that we need two cars, mainly because both spouses these days work in order to keep the "wants" list topped up. Traffic congestion in recent years has made motorcycle commuting extremely viable, especially if you can buy a top-notch commuting motorcycle for less than the cost of a medium-priced mountain bicycle. Enter the quarter-litre Suzuki's.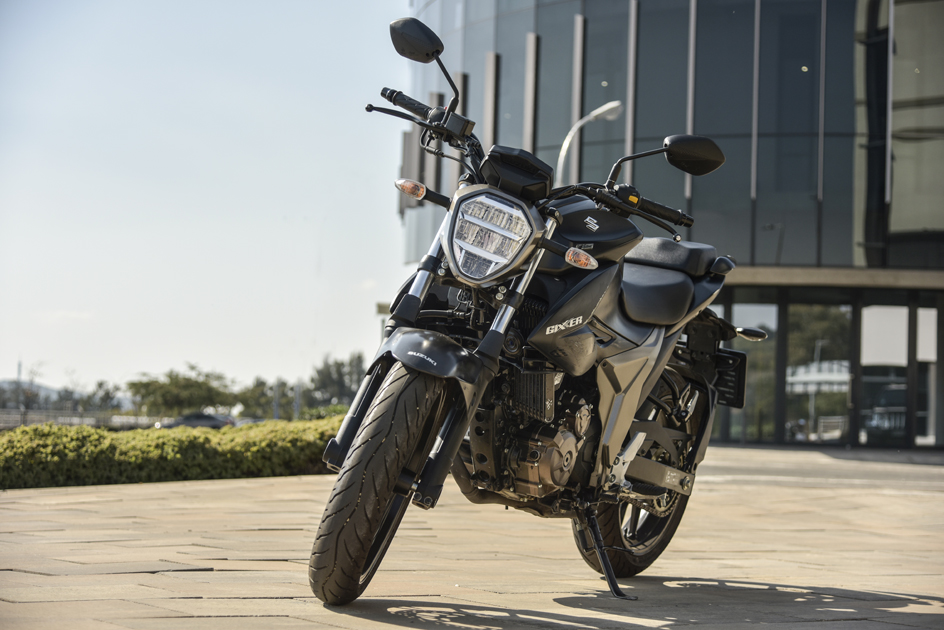 Suzuki went back to the drawing board with the design of their multiple award-winning 249cc, 4-valve, overhead cam motor for the new Gixxers. It features "oil cooling". The motor looks water-cooled in that it has no cooling fins, yet if you inspect the big radiator you will see that it is actually an oversized oil cooler. This brings simplicity to the design, dispensing with the cost, weight and maintenance of all your typical water cooling plumbing. The little single pumps out a healthy 26,5 PS @ 9300 rpm and 22,2 Nm of torque @ 7300 rpm. Power is transmitted via a slick-shifting 6-speed gearbox. Wheels are 110/70-17 upfront and 150/60-17 at the back.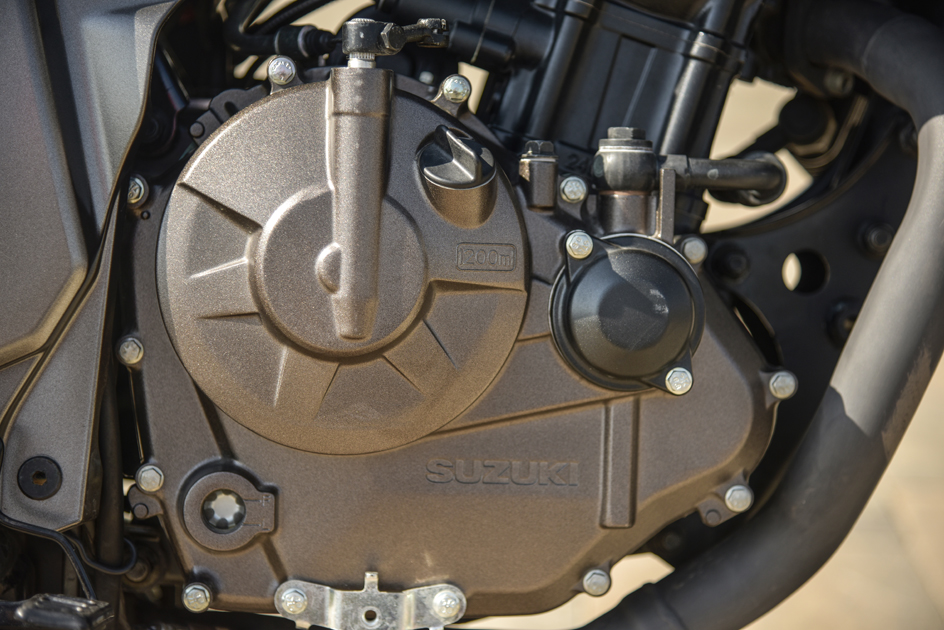 Seat height is a comfortable 800mm and with a weight of 161 kg's for the fully-faired SF and 156 Kg's for the naked Gixxer, they are easily managed by riders of all sizes. Both models sport tubeless alloy wheels, making puncture repairs a doddle. Suzuki has paid particular attention to fuel economy. The bike will return up to 40 km/L if ridden with some restraint, which is pretty typical of peak hour greater urban commuting, where highway speeds seldom exceed 90 to 100 kph. 12 litres of fuel takes you pretty far when sipping fuel as frugally as that.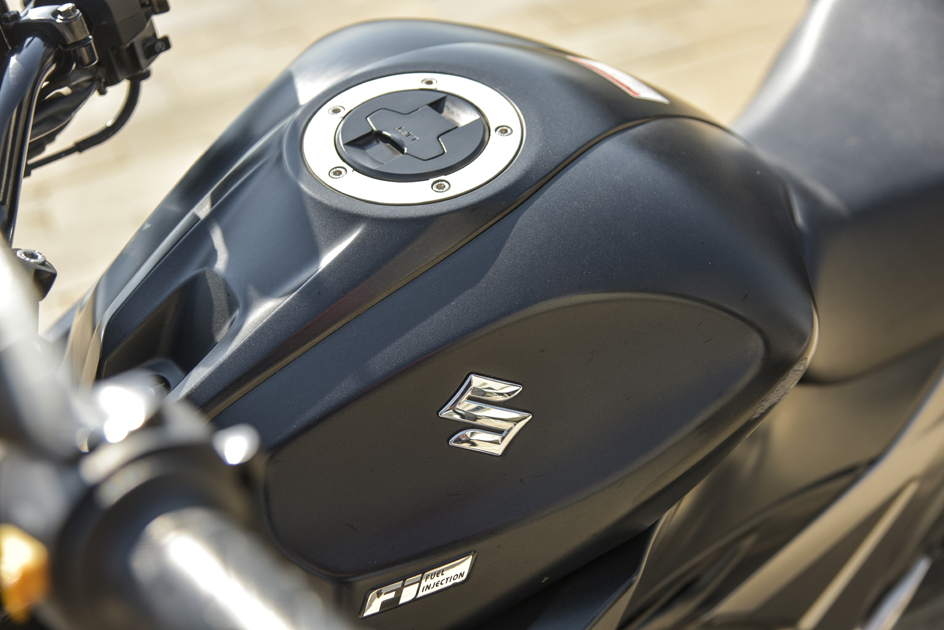 Fact is, the Gixxer twins are a blast to ride. Very refined, comfortable and perfectly neutral steering. ABS-equipped brakes [single discs at both ends] are totally up to the task of stopping you safely and securely, time after time. The bikes really don't have any vices. They are not fast, yet deliver usable real-world performance totally in keeping with their intended purpose. New riders will not be intimidated with the linear acceleration and easy handling. The old adage of riding a slow bike fast certainly applies. When you let the hooligan in you loose, the Gixxers become willing accomplices.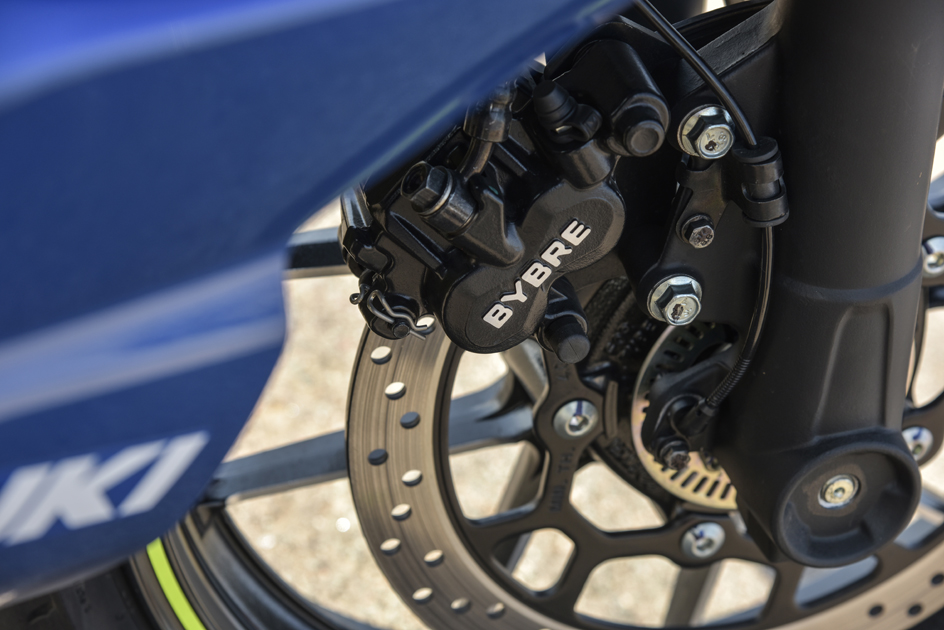 Taking a cruise in the country is well within their capability, as long as you're not in a hurry. If you wring their necks you will see just shy of 150 kph, but in reality, 120 is a practical top end, achievable pretty much everywhere. So where does all this leave us? Your fuel saving alone, as compared to the cost of running that second car, will buy you this bike.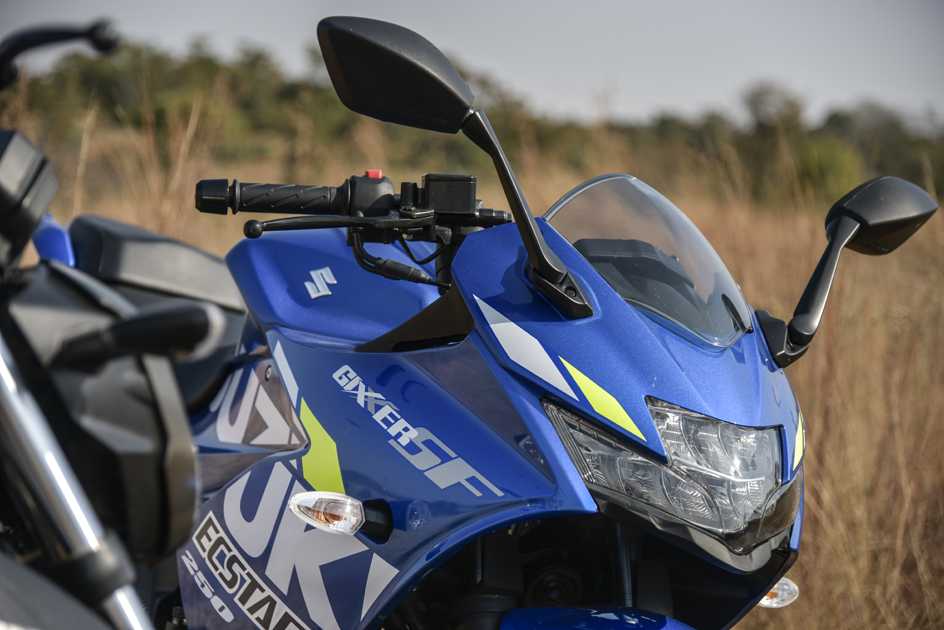 The SF will set you back just shy of R50,000, with the Gixxer crazy value at around R45,000. Just to put this into perspective, a Kawasaki 250 Ninja cost R45,000 new in 2010! This brace of Suzuki's offer unparalleled value. Obviously the naked Gixxer makes huge sense as a commercial unit. Suzuki should, and deserve, to sell them both in spades!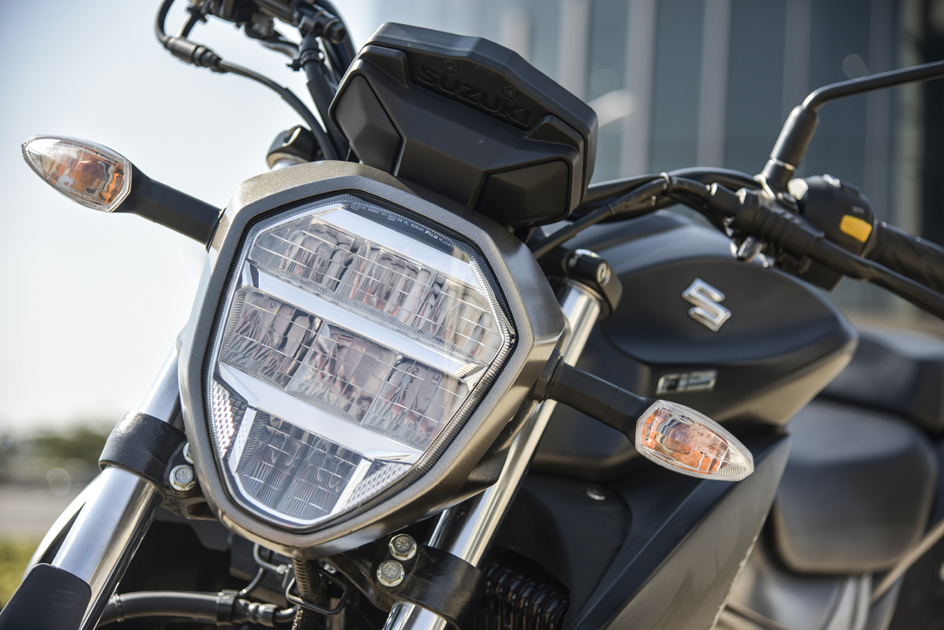 Lights are LED, the instrumentation is digital, thoroughly modern and the overall styling is great. The SF looks like a shrunken version of the bigger GSXR's, whilst the Gixxer is angular and modern. Suzuki seem to have a glut of back mudguards because they have fitted three to each of these bikes. A conventional one jutting out from under the seat, a hugger and a BMW GS style, swingarm-mounted third chap for just in case. If it was my bike, this one would be off like a sweaty sock!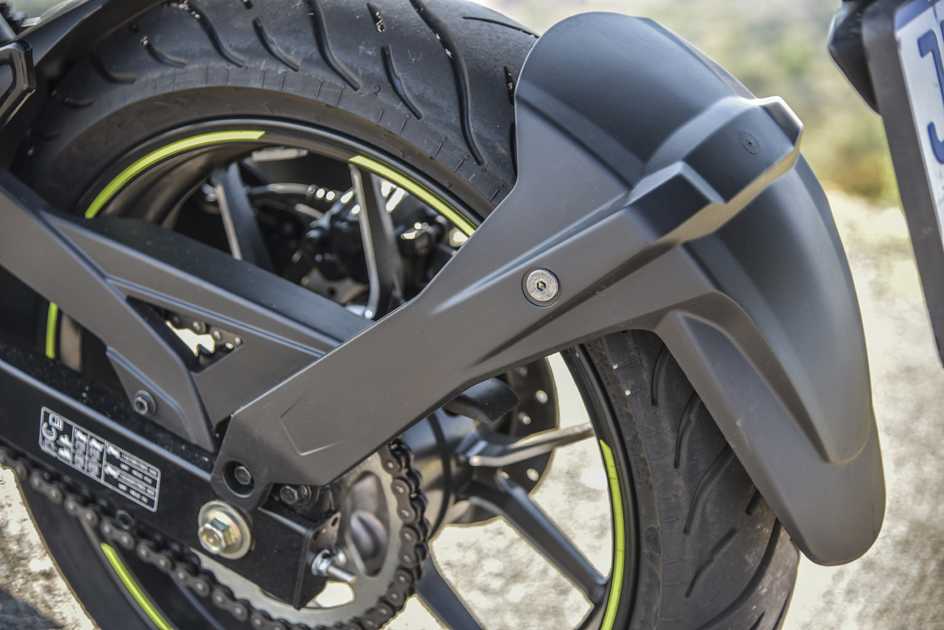 So there you have it. For very little money you can have a reliable, frugal and fun commuter that is a blast to ride through the urban landscape, styling as you save shekels. Pop into your nearest Suzuki dealer to arrange to take one for a spin. Could just rejuvenate your life while it saves you a whole lot of loot.
For more information visit: www.suzukimotorcycle.co.za
Suzuki GIXXER SF 250
For more information on the bike that we tested in this article, click on the link below…