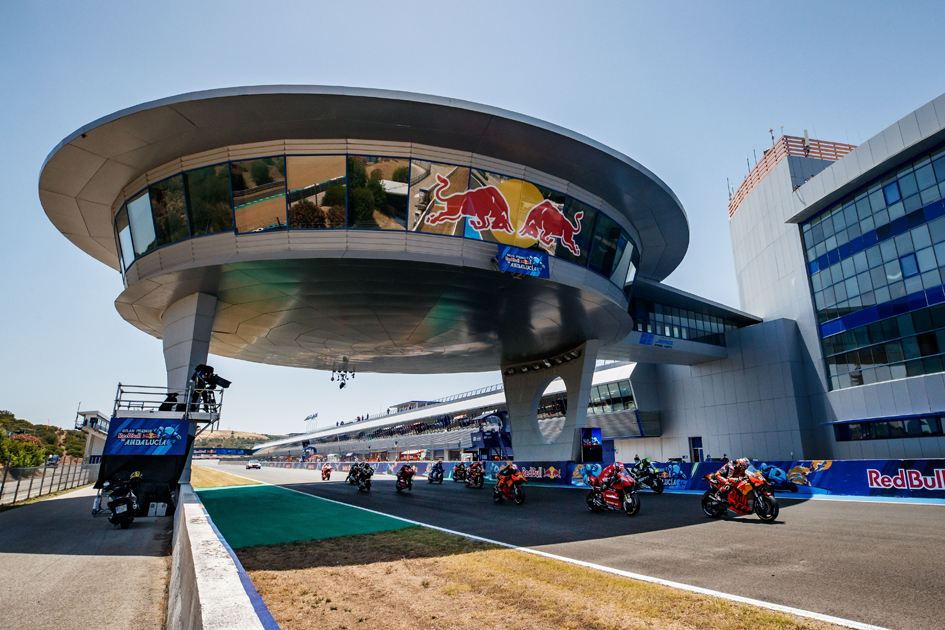 A return to Jerez this past weekend was a chance for many riders to hit the restart button and get their 300 HP missiles dialed in for round two of the 2020 MotoGP Championship. Brad Binder brought the pace he'd already found at the previous race weekend, and set the 3rd fastest time during free practice, securing a Q2 qualifying for Saturday. A 1'37.596 lap secured 9th position on the starting grid, a further improvement from last week's qualifying.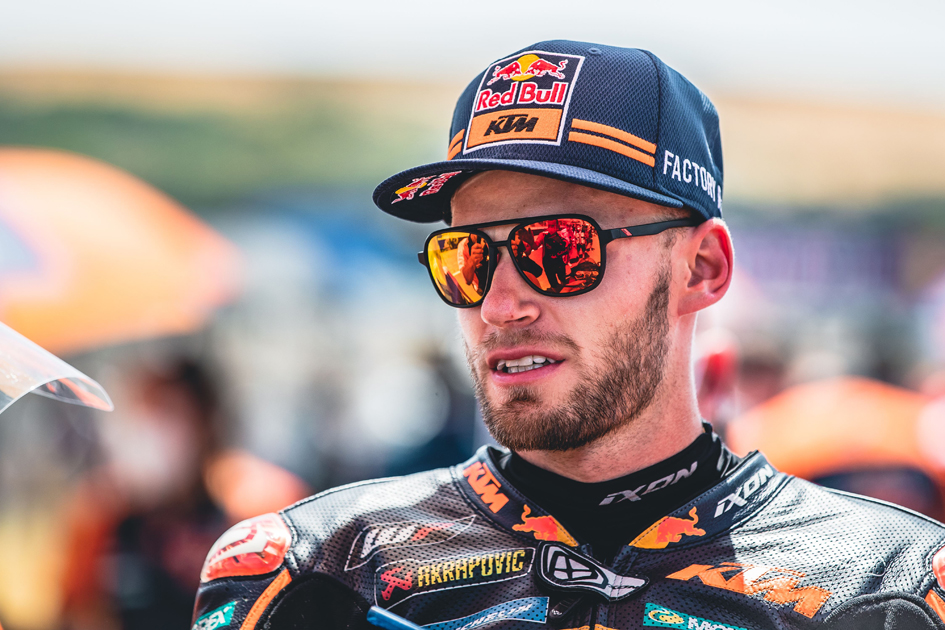 The Michelin man was thrown into a fiery furnace, with the air reaching 40 and the tarmac reaching 59 degrees Celsius. There was drama in the first turn, with a dive on the inside from Danilo Petrucci forcing Brad wide and into Miguel Oliveira, ending his race and pushing number 33 to the back. Some bad déjà vu for Brad and his fans, but this is racing and our favourite rookie didn't throw in the towel.
A clearly pissed-off Brad quickly charged through the pack from last position on his trusty RC16, setting lap times equal to the leaders for the second Sunday in a row, on his way back to 12th. An unlucky combo of turn 13 and lap 13 ended the South African's GP, with a massive high side.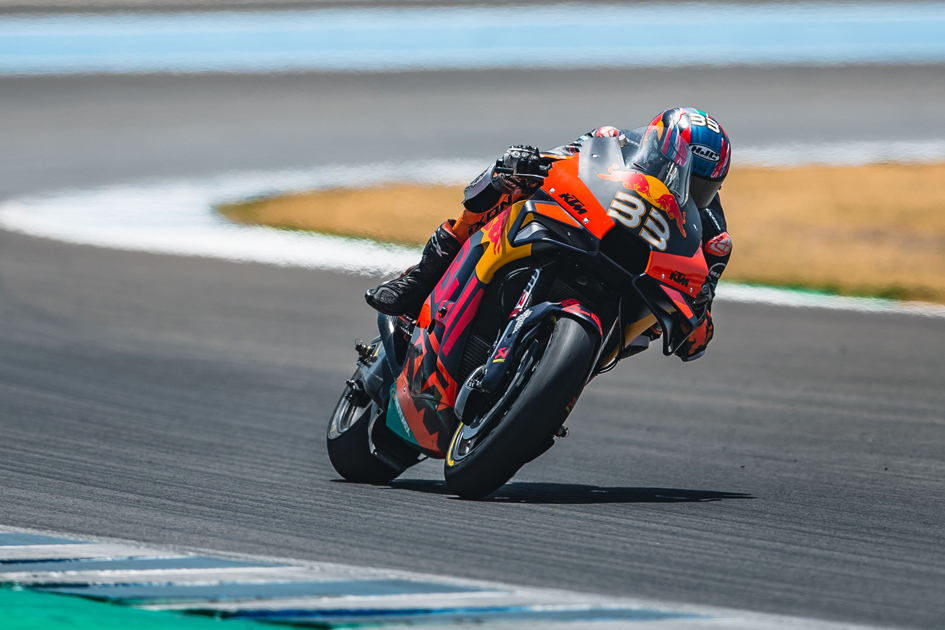 The race barely continued after lap 15, with heat exhaustion and melting Michelin rubber starting to become a massive concern. In the end, only 13 competitors finished—including Red Bull KTM's Pol Espargaro, who settled into a steady pace to clinch 7th.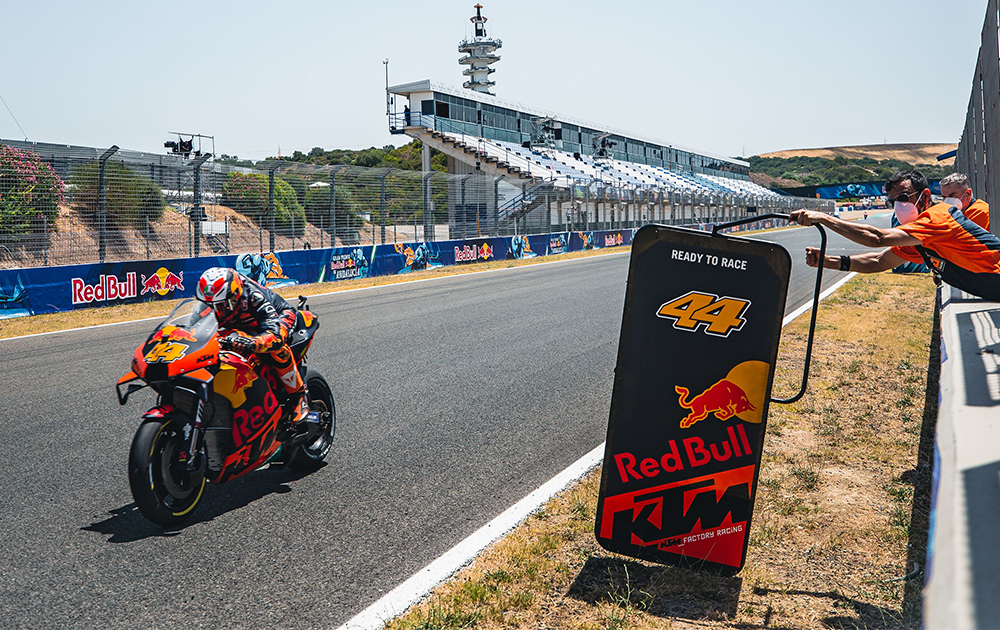 All eyes were on 21-year-old Fabio Quartararo, who pulled an unattainable lead early on, winning his second consecutive race and solidifying himself as a championship favourite. Maverick Viñales had a hard time, battling exhaustion (and his teammate) to finish second. The third step of the podium however, was clinched by the 41-year-old living legend, Valentino Rossi; The Doctor's 199th podium in the premier class.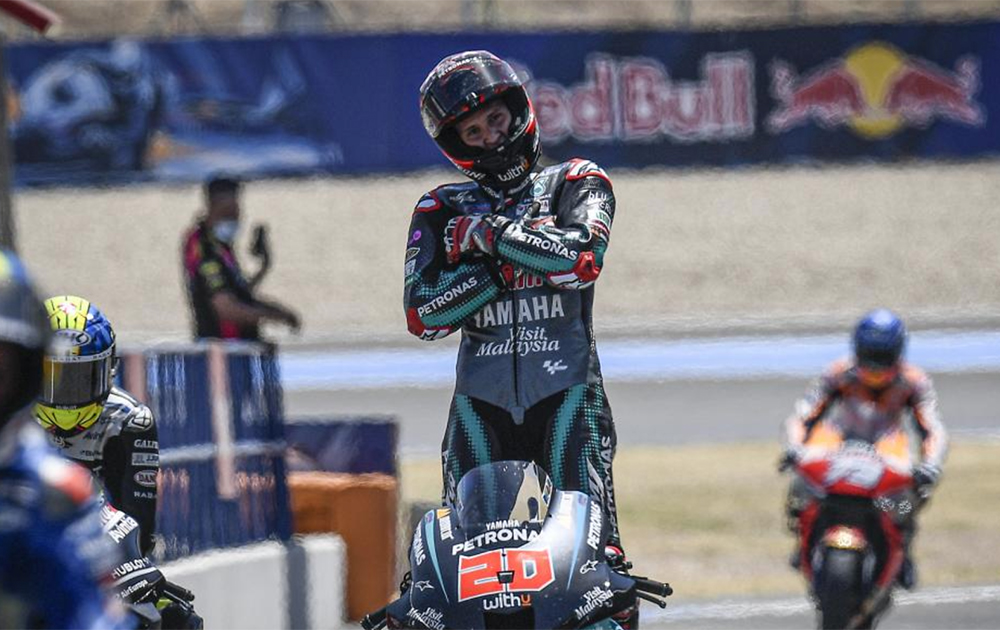 Brad Binder: "Today definitely did not go to plan and the worst thing was that I destroyed the race for Miguel. He'd had a great weekend up until then and I'm sure he would have had a strong race. Really sorry about that. I had a good start and I didn't see Danilo on the inside and when I picked up it was already too late: I couldn't avoid Miguel. When I saw the crash I was really worried so I'm glad he's OK. After that my race was already difficult. I tried my best to track my way through the field. I kept working and pushing and coming into the last corner I tucked the front and I tried to pick it up but it gripped and high-sided. Luckily I'm OK and we'll try again next time."
Mike Leitner, Red Bull KTM Race Manager: "The weekend in general was very positive and we were very optimistic for the race but this is how the sport is sometimes. It was sad to see Miguel and Brad out of the running on the first corner but we have seen many problems at this turn over the years. Brad pushed and showed great speed again until he went a bit too hard into the last corner. We're happy the riders are all fit and can go to Brno without any problems. Pol is up to 5th in the championship now and we saw that many bikes had serious problems in the conditions but we were able to finish. We'll take this 7th position as a positive and we worked hard for it. We'll go to Brno hoping for another good week."
The next round will take place on the 9th of August in Brno, Czech Republic.
Results MotoGP Gran Premio Red Bull de Andalucía 2020
1. Fabio Quartararo (FRA), Yamaha 41:22.666
2. Maverick Viñales (ESP), Yamaha +4.495
3. Valentino Rossi (ITA) Yamaha +5.546
4. Takaaki Nakagami (JPN), Honda +6.113
5. Joan Mir (ESP), Yamaha +7.693
7. Pol Espargaro (ESP), Red Bull KTM +17.488
DNF. Brad Binder (RSA), Red Bull KTM
DNF. Miguel Oliveira (POR), Red Bull KTM Tech3
DNF. Iker Lecuona (ESP), Red Bull KTM Tech3