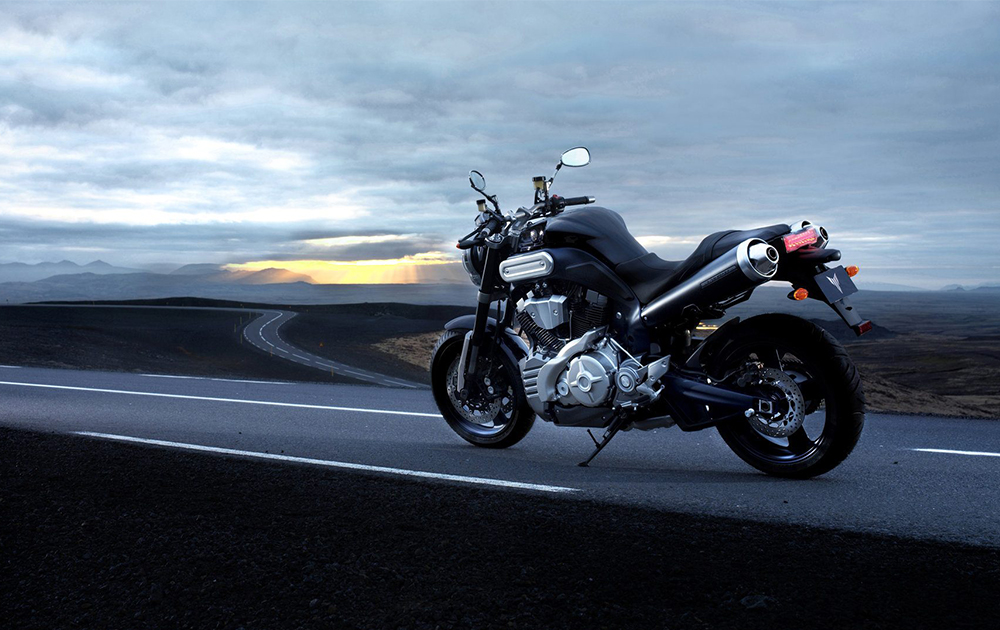 Yamaha's first incarnation of the MT, the MT-01, was born in 2005—a holy matrimony between a 1,670 cc v-twin and a supersport chassis, that paved the way for the 'MT' lineage. In more recent times, the MT-07, MT-09 and MT-10 are all worthy successors, sticking to the 'Masters of Torque' philosophy with their Crossplane motors and agile ride dynamics.
Does Yamaha's new pint-sized MT-03 deserve a seat at the MT table? We swung a leg over one to find out.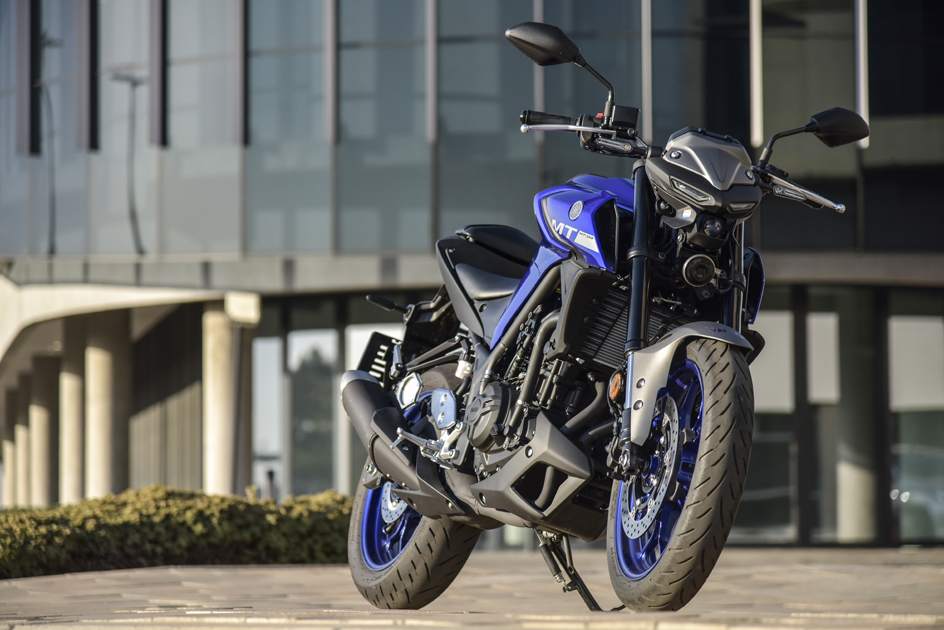 Sharp, striking and ready to pounce, the MT-03 demands your attention whether you like it or not. From the familiar 'Decepticon' headlight assembly, to the sharp air intake covers and flashy rim paint, this little guy is duded-up. If aggressive styling and immaculate build quality are your thing, then look no further.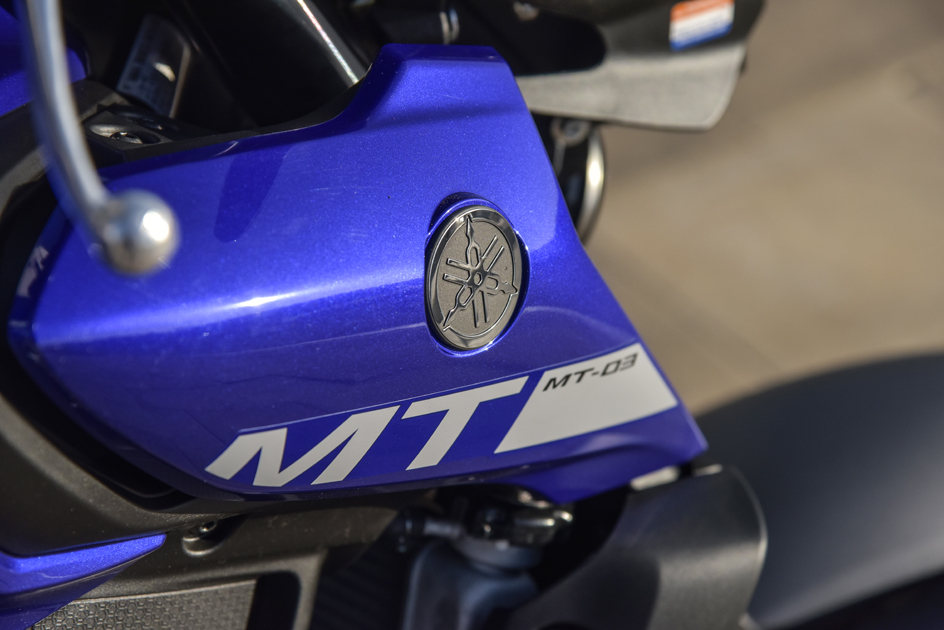 Rather than start from scratch, Yamaha have based the MT-03 on the existing YZF R3. So it uses the same revvy 321 cc, in-line two-cylinder motor, with an output of 41 hp at 10,750 rpm, and 20 Nm of torque at 9,000 rpm. This translates into a comfortable and easy bike to ride in town, and a smooth, under-stressed ride on the open road.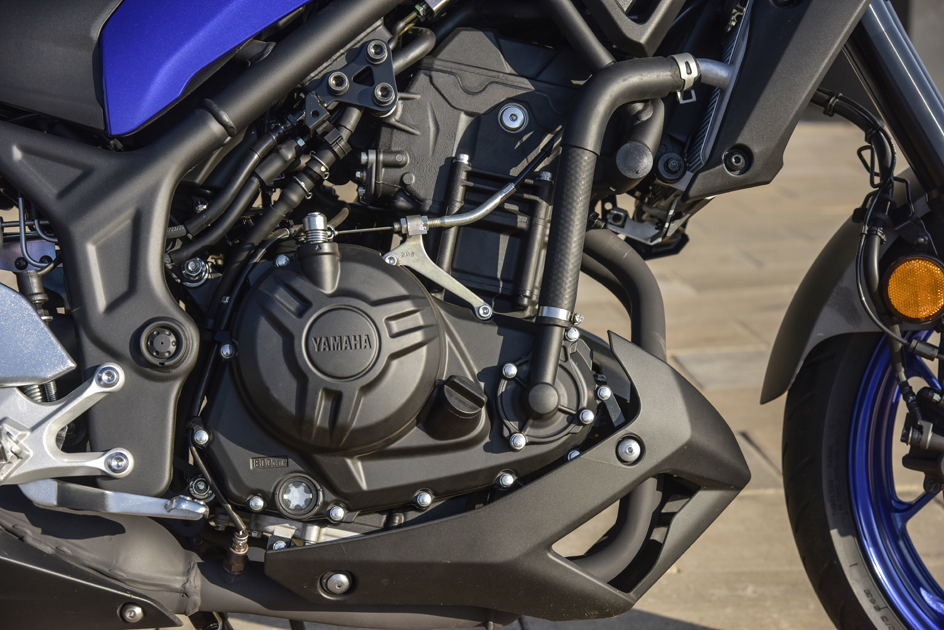 While the chassis is the same as the YZF R3's, Yamaha have tuned the ergonomics to suit the MT form. Clip-ons have been swapped for wider street bars, providing an upright riding position, and the tank's been redesigned. Yamaha decided to go with a softer spring and a tad more preload than on the R3, and on my commute, these minor changes made for an enjoyable urban expedition.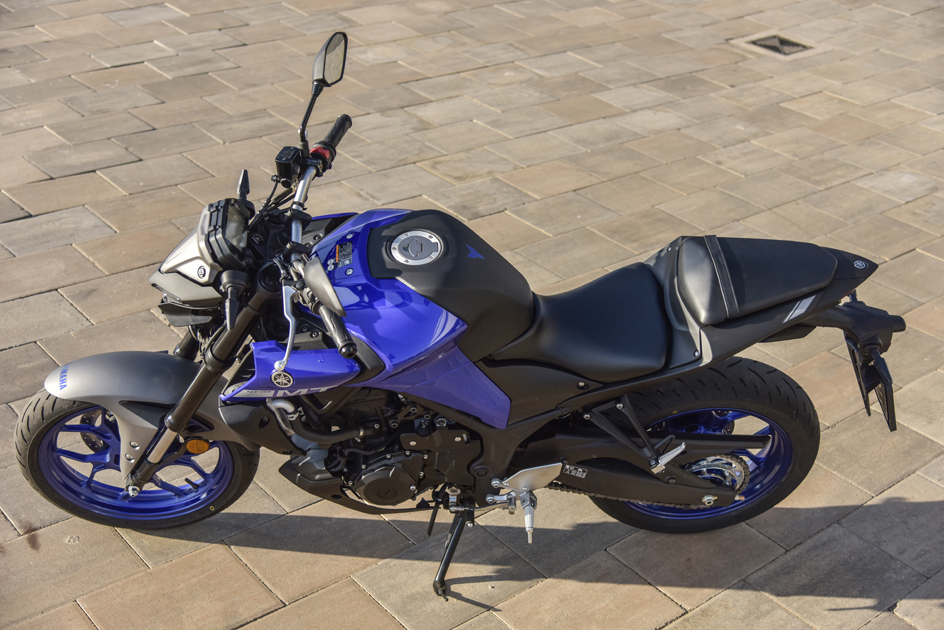 The cockpit remains compact, but has gained a comfier overall feel. A simple down to earth LCD display is all you get, with a button that lets you scroll through your trip metre, average km/L and current km/L. I personally feel that a TFT dash would be more engaging for younger riders, and I would have preferred the select button on the switchgear rather than the dash.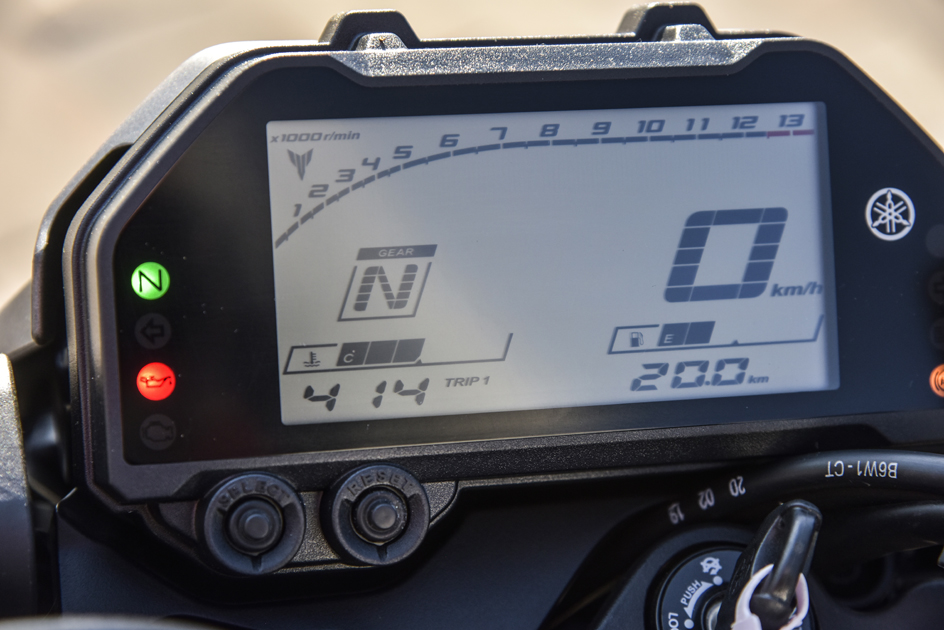 Yamaha definitely takes their 'Dark Side of Japan' tag line seriously, because the MT-03's headlights don't only look sick, but work insanely well too. This little henchman has a pair of thin, angled LED 'eyebrows' where headlights would normally be, with a round main light cleverly tucked into the centre of the front cowl. Skinny LED turn signals are another nice touch from Yamaha, adding to the minimalistic design.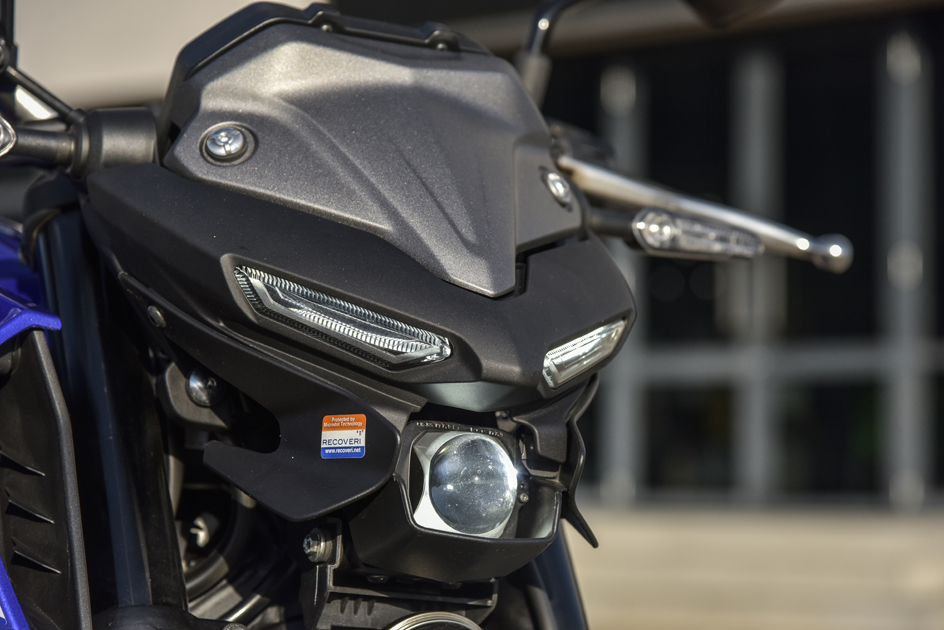 My favourite attribute of the YZF R3 is its remarkable handling, and with the same KYB suspension setup, the MT-03 is as much of a hoot to ride. Yamaha's engineers have really hit the sweet spot, so the non-adjustable damping is of no concern, and the KYB shock has a seven-way spring-preload hand adjuster. Whether you're negotiating city streets or diving into your favourite corners, the MT's sturdy front end has your back and inspires confidence.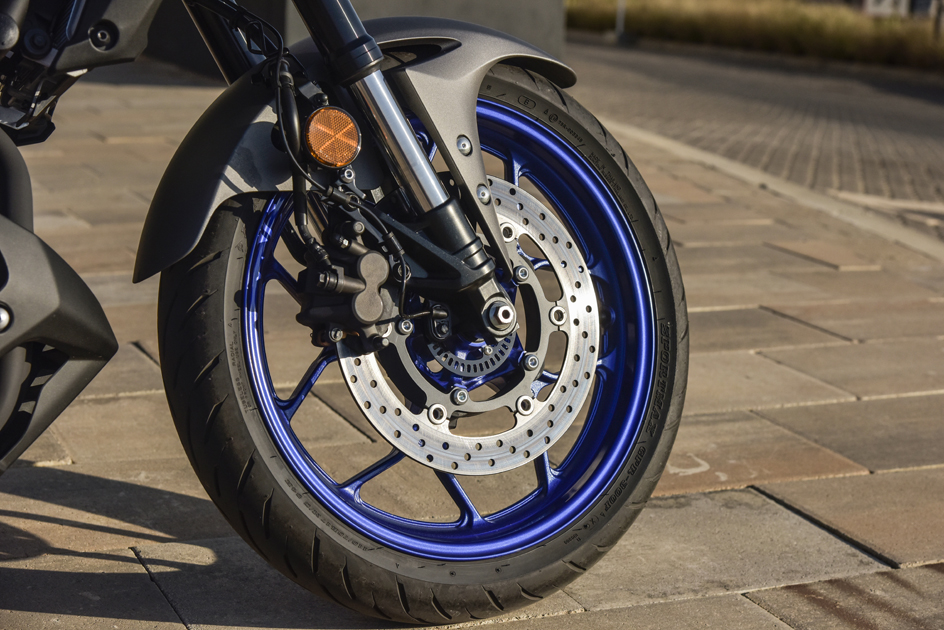 When the road ends, the MT-03's single 298 mm rotor and two-piston Akebono caliper get the job done. The brakes have a very progressive feel, which lends itself to beginner riders who aren't looking for an unsettling sharp bite. The ABS works well too, but can't be disengaged for a more engaging ride.
With a broader top half and slimmer rear tank area, it feels as if you are sitting lower in the bike compared to the YZF R3. This allows you to grip the tank easier, which in turn makes changing direction less of an effort. With a 14 l fuel tank, I managed to eke out 298 km (21.3 km/L) on a sporty commute, which I'd say is a respectable mileage.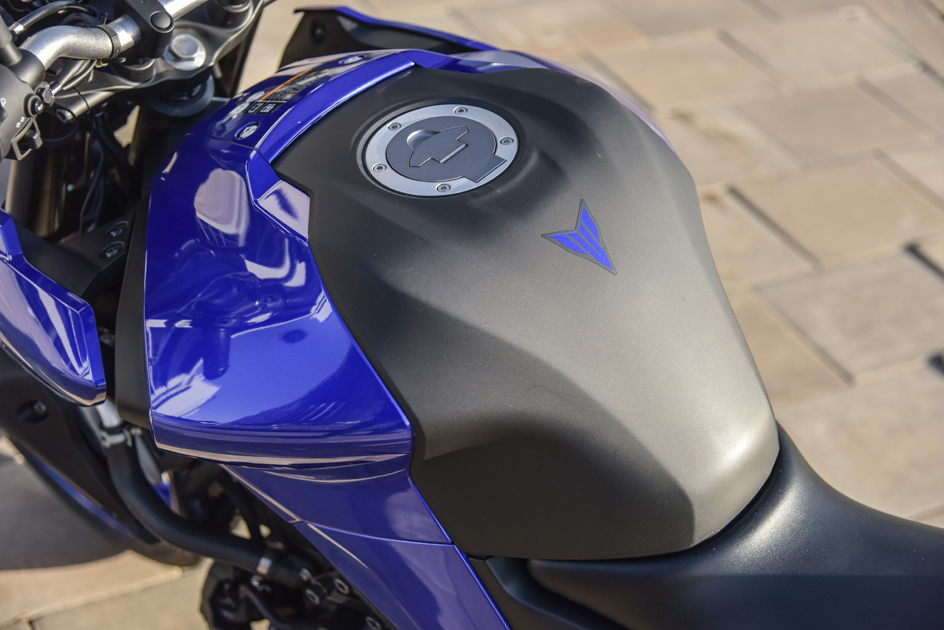 The MT-03 might look like an evil robot underling, but it actually has an easy-going character that makes it perfect for newer riders. A low curb-weight (168 kg), light slipper clutch, low seat height (779 mm) and wide bars make up the perfect package.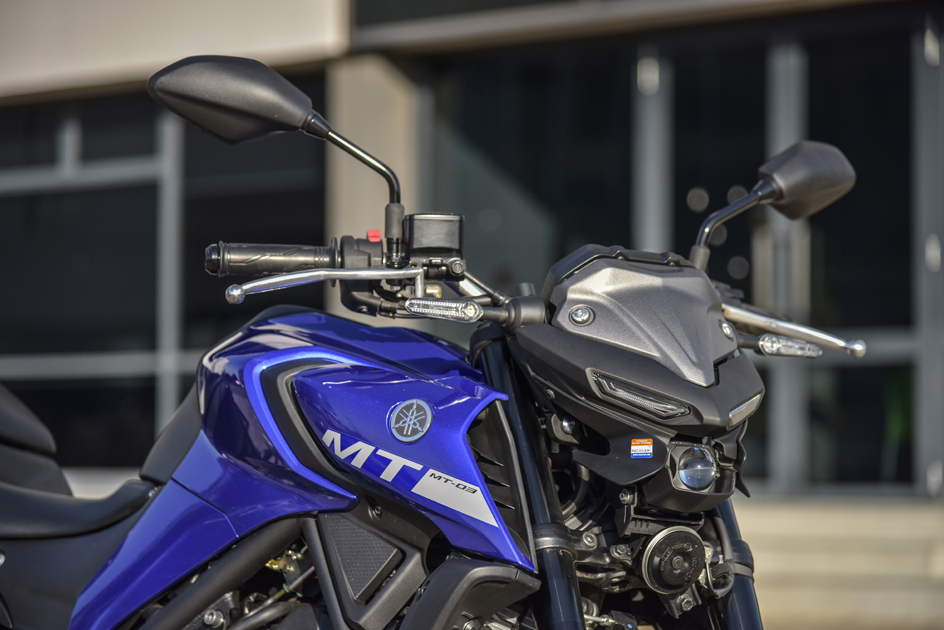 So, does the MT-03 deserve a seat at the table? For the most part, yes. The MT-03 lives up to the family name by bringing the torquey yet high-revving 'Masters of Torque' personality to the lightweight naked segment… with one caveat. To truly earn the MT moniker, I would have preferred gearing that leans towards low-end grunt for the urban sprawl.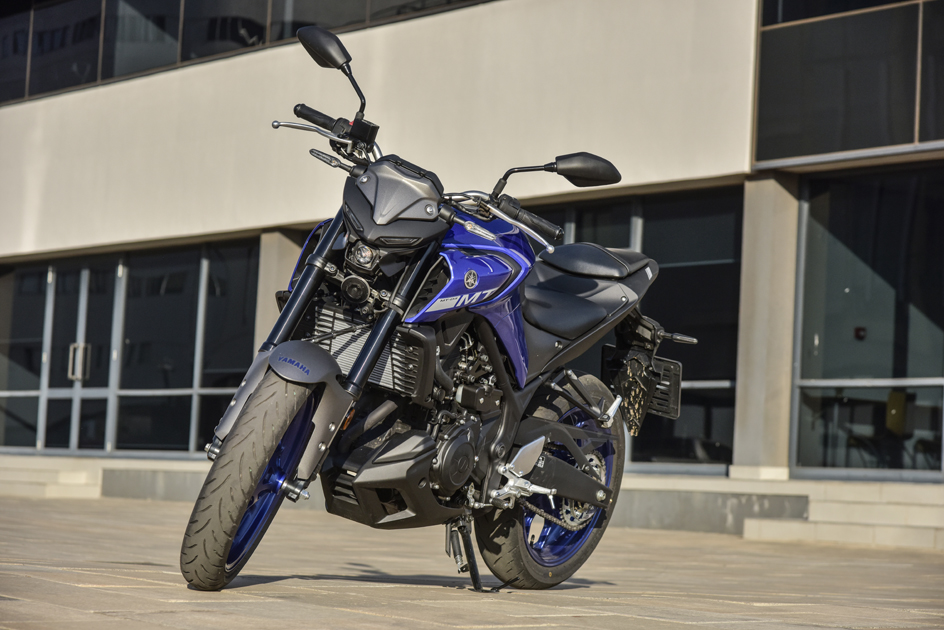 It's an easy fix: slap on a 43 or 45 tooth sprocket, and that peppy MT nature will be at your disposal. I would also fit a more breathable slip-on exhaust out the box to ramp up its mischievous nature, or nag Yamaha to replace the 180 degree crank with a 270 degree crank (like the on MT-07).
Those niggles aside, the MT-03 is a well-rounded package that hits the spot, but it does come at a premium. The MT-03 will set you back R94,950, which is noticeably more than most of its competition—including its sibling, the YZF R3. But its overall build quality, ride dynamics and peachy motor do make a strong case.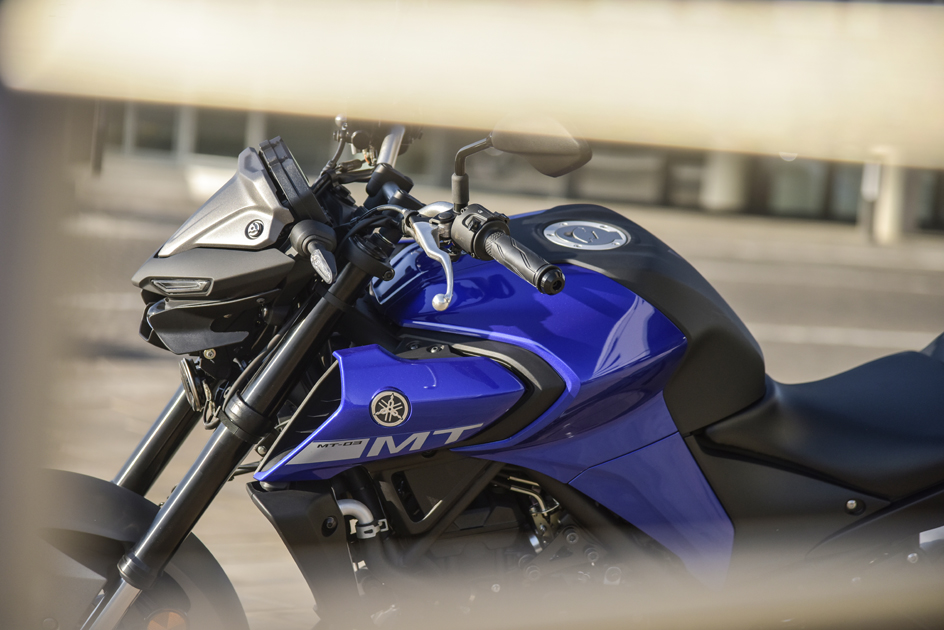 We'd have trouble picking a colour though: would it be the traditional 'Racing Blue,' or the grey and red 'Ice Fluo' paint scheme? I think I'll pick the latter…
For more information on the Yamaha MT-03 visit – www.yamaha.co.za
Yamaha MT-03
For more information on the bike that we tested in this article, click on the link below…