Suzuki has always taken a particularly pragmatic approach to adventure motorcycling, this is reflected in their V-Strom heritage. They do not see any wisdom in taking a 236 Kg motorcycle down single track, through rivers and up gnarly hillsides, they make a great range of dirt bikes to do just that in a most enjoyable fashion.
They just don't get that in South Africa there are no pills for stupidity, we pull barbed wire through our bums for bragging rights! The typical conversation in SA goes something like this: 'Hey Boet, guess what I just did with this roll of barbed wire?'. Rather than ask why, in all that's Holy you would want to do that, we retort: 'Strue? bet I can do it faster!' Fact is, we do stuff with adventure bikes that they were never designed for. Over the years the manufacturers have cottoned on to our lunacy and started building bikes that are better at doing that type of stupid stuff.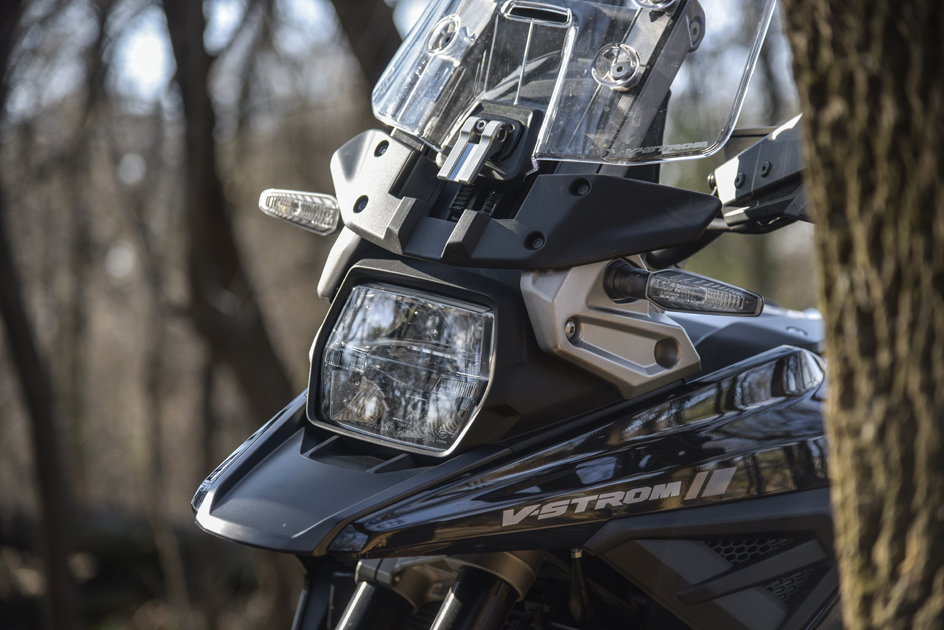 Suzuki's V-Strom remains high on practicality and common sense, the latest version of the V-Strom pays homage to the DR Big of the early '80s, with a slab-sided beaky presence which, for me, is a winner. Previous 'Strom's lacked the brand identity which the 1050 now has. Speaking 1050, the engine retains the familiar 90 degree V-twin that had its origins in the TL sportbikes from the late '90s.
Over time the engine capacity grew to 1037 cc from its original 996 cc. The latest motor is significantly tweaked with new cams, bigger 49 mm throttle bodies and bumped compression, this equates to more power, now up to 106 hp and slightly more torque, albeit at higher revs. These tweaks endorse what Suzuki is trying to achieve with their V-Strom, which is, build a competent, comfortable sports tourer, with gravel road ability. A 15% bigger radiator makes sure that it keeps its cool no matter how tough the going gets.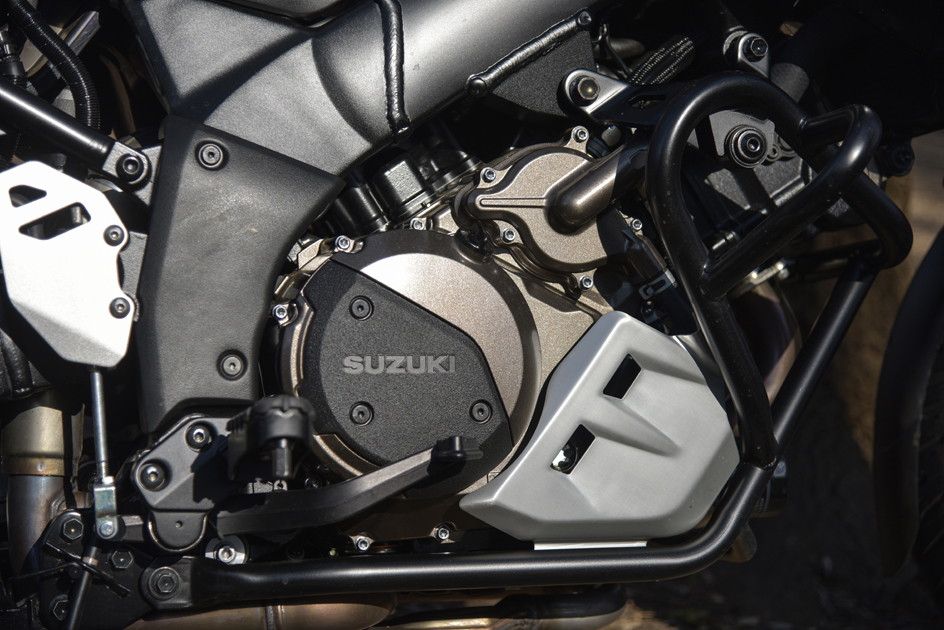 The electronics package now has a fly by wire throttle with cruise control, which is a first for a Suzuki motorcycle. Three selectable engine modes modulate the throttle response according to road conditions and 4 levels of traction control allow for a greater or lesser degree of safe rear-wheel steering on loose surfaces.
ABS has two levels but engages both wheels albeit less aggressively in 'off-road' mode, and all of this is controlled by a 6 axis Bosch IMU. Suzuki's Easy-Start, Hill-Start Control and Automatic Idle Speed Control all assist the rider in tricky situations and makes the big 'Strom more stall resistant. A clutch assist system effectively emulates a slipper clutch function.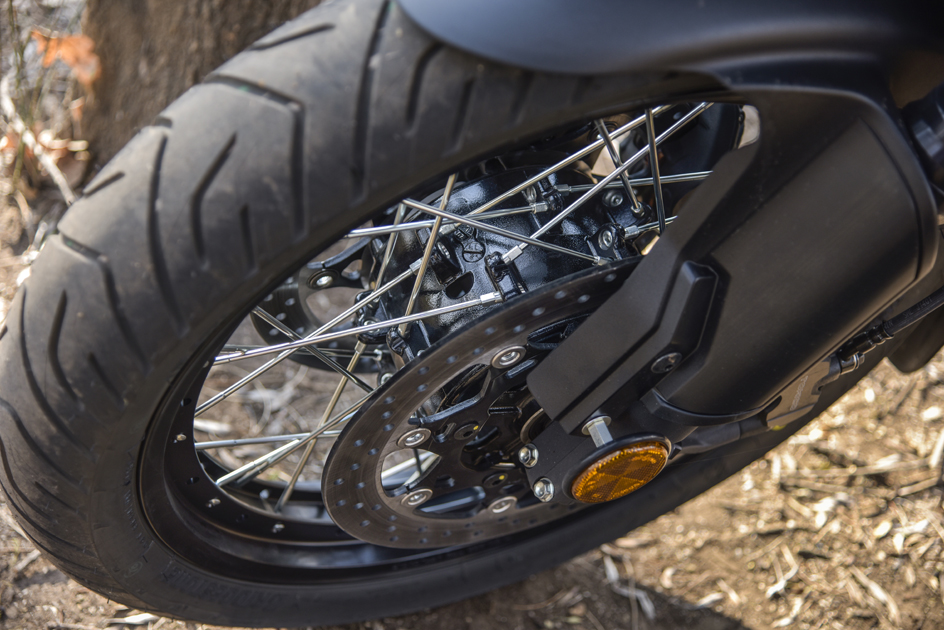 Wheels are spoked and tubeless, Hooray!, with Bridgestone Battle-Ax adventure tyres on a 150/70×17 rear and 110/80×19 front. Suspension is by KYB with 160 mm of well-controlled damping adjustable travel in the 43 mm front forks, the rear shock spring rate is stiffer and makes for a supple yet firm and controlled ride over most surfaces. Preload and rebound damping can be adjusted, 165 mm of ground clearance allows for covering broken ground that is not too hectic.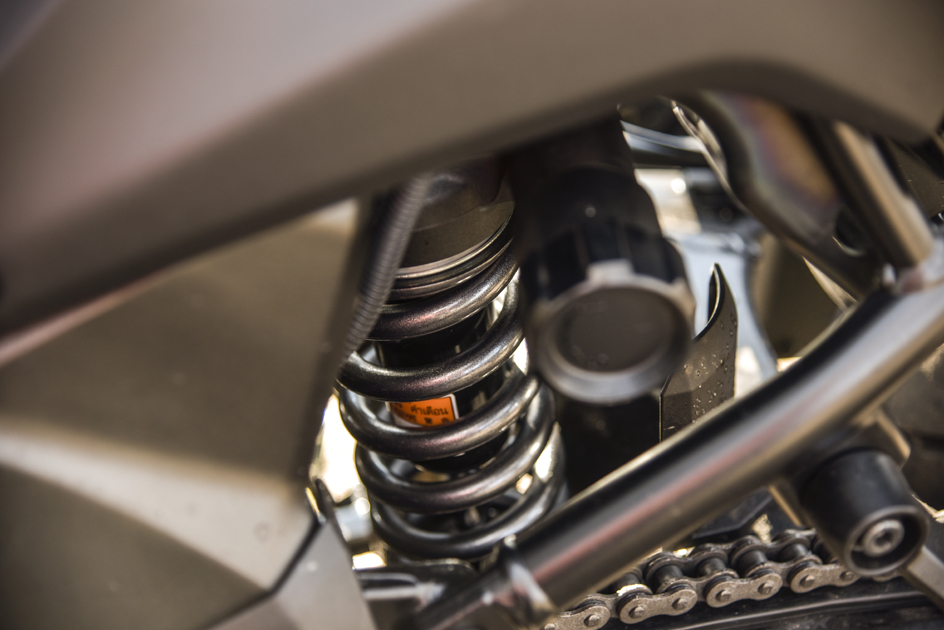 The lack of a bash plate suggests, that it would not be a good idea anyway. Footpegs have removable rubber inserts and are wider too. Brakes are Tokico calipers upfront with 310 mm discs and, curiously, a Nissin caliper chomping a 260 mm disc at the rear. The initial bite is sharp, maybe a trifle too much for dirt, and then adequate to haul in the big Suzook.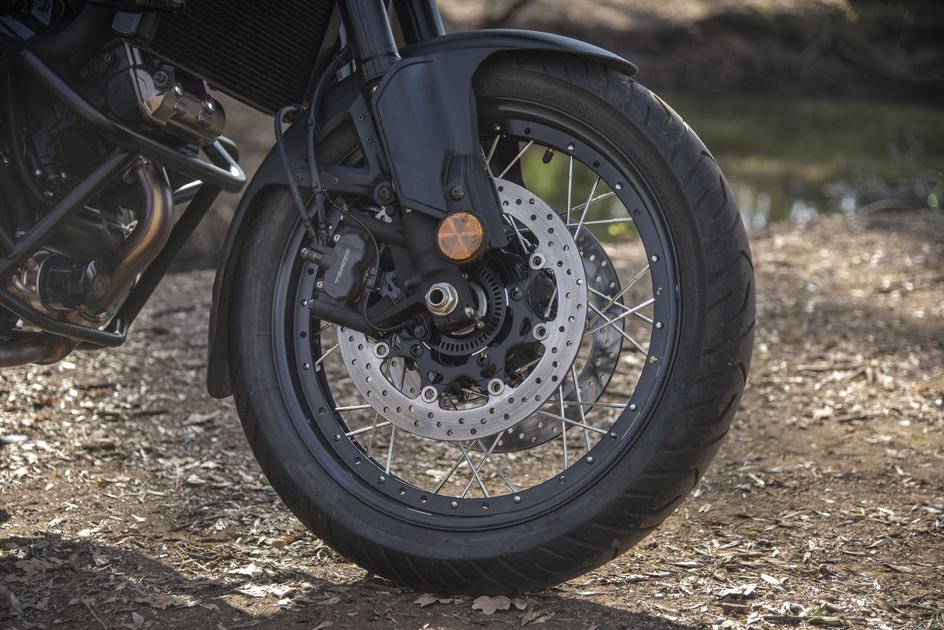 The benefit of less suspension travel is it gives you a lower seat height, which makes the bike more practical for day-to-day ease of use. The bike is really planted through the bends and is actually a lot of fun to squirt along in a spirited fashion.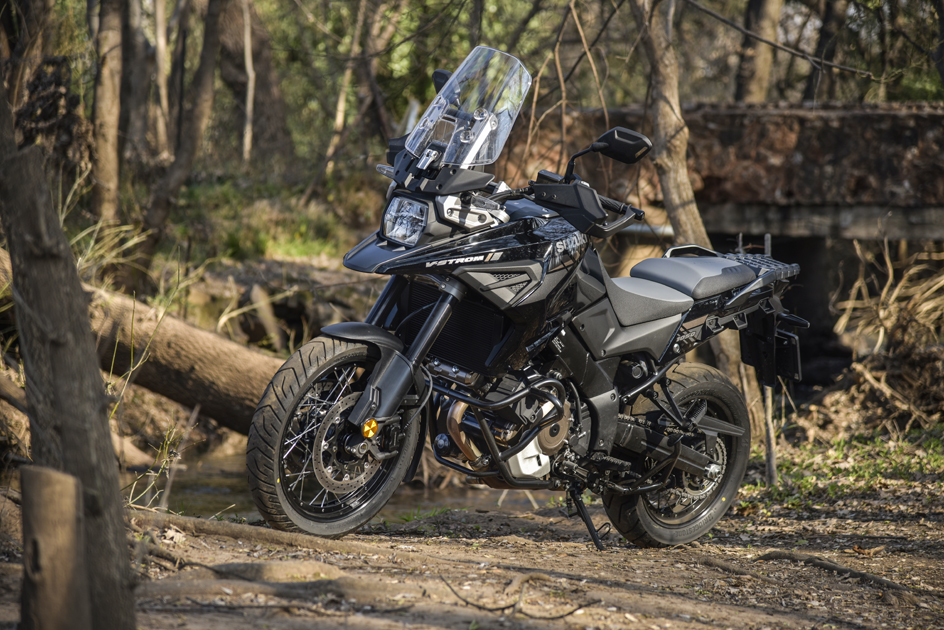 The refined motor is smooth despite not having any balance shaft, courtesy of good primary balance from the 90 degree V. Whacking the throttle open elicits audible intake honk followed by power coming in with an almost turbo lag like power delivery. This could be due to the more top-end hit that the hopped-up motor has.
In a way, this is not a bad thing as it allows the rear wheel to find traction before pouring on the power. Feeding the power on gradually seems to negate this trait, it is more a characteristic of the bike than an irritation.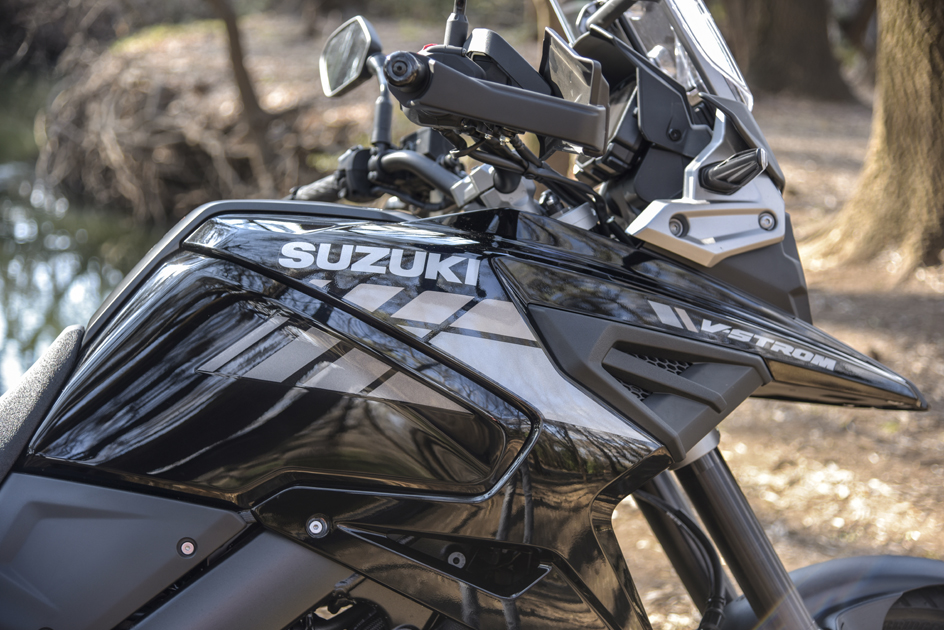 A spirited dash through the Magaliesburg saw fuel consumption of around 18 kays per litre, giving a reasonable range from the 20-litre tank. The windshield is effective and can be easily adjusted manually by releasing an alloy lever and moving it to the required height, this can, for safety sake, only be done once stopped.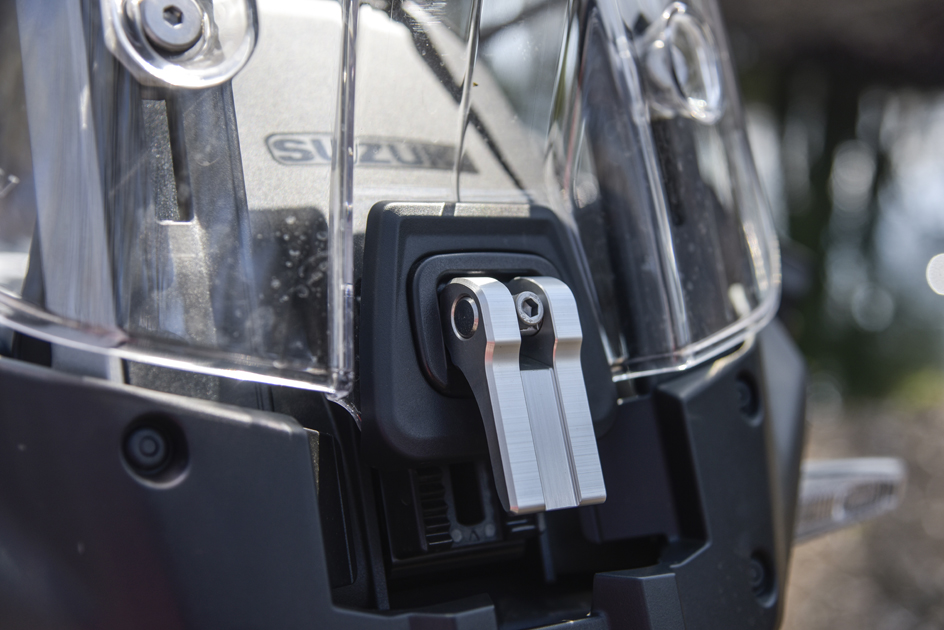 I found the dash a little cluttered, but the LCD display was clearly legible in all light conditions and tells you all the info that you need. A handy USB port lives in the cockpit with a 12V socket under the seat. Super practical!. The subframe allows fitment of the familiar plastic panniers from the existing V-Strom, or if you want a more robust offering, there is a frame mount and alloy boxes available ex-factory.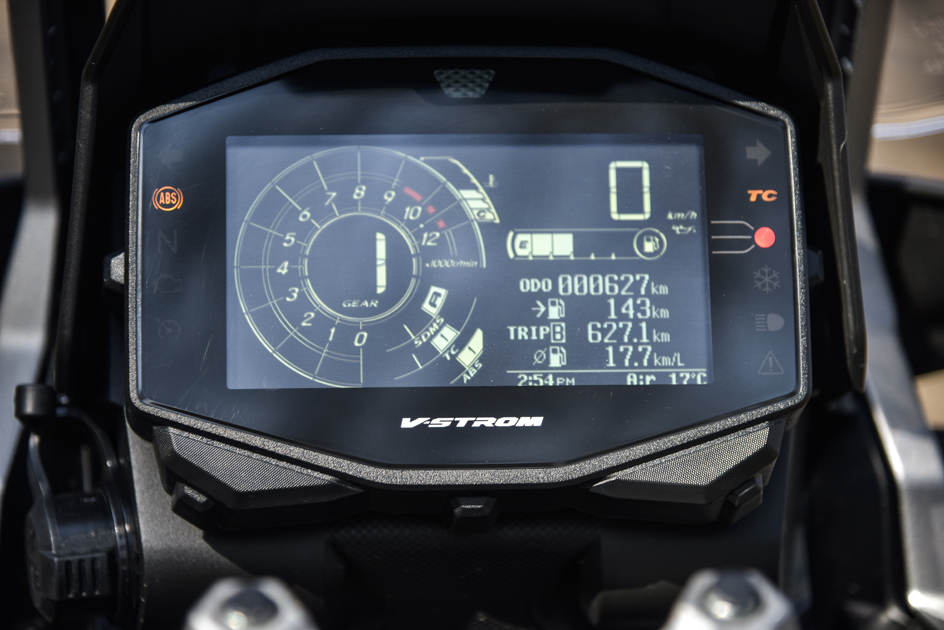 The big 'Strom is what I would term an 'honest bike'. It consistently offers way more than its practical, conservative, chassis specs may suggest.
You get absolute bulletproof reliability in an extremely balanced package. If you put your ego in your pocket and honestly list the attributes that you need in a sporting adventure bike, then the Suzuki is always going to be a really strong contender.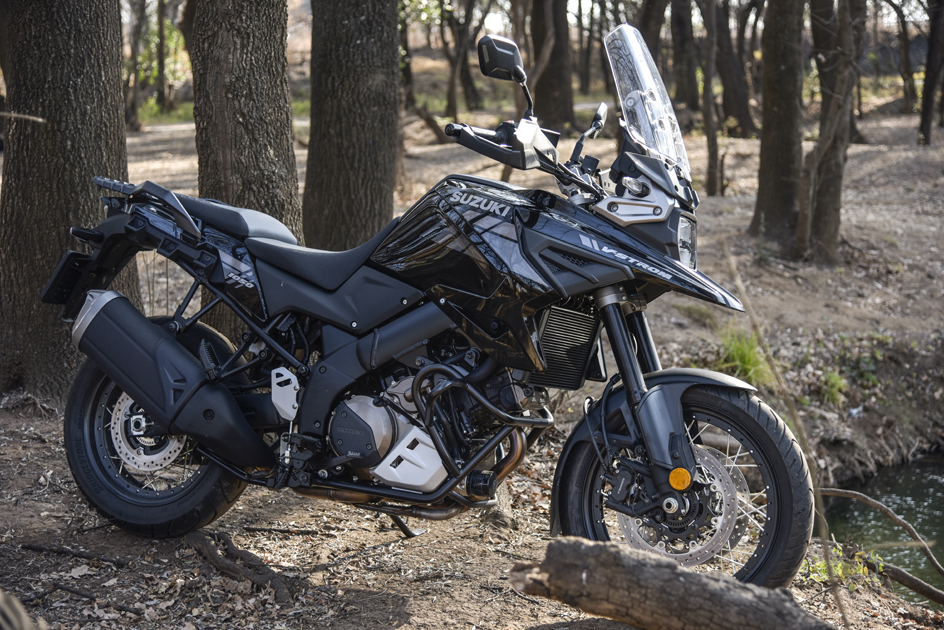 As a long-distance, comfortable, all-road mile muncher, or round the world traveller, it makes a compelling statement. If the 1050 XT can't do it, then you shouldn't be doing it on a big bike in the first place!
At around R 230 000, it represents fair value in what is a very competitive sector.
For more information visit – www.suzukimotorcycle.co.za
Suzuki V-Strom DL1050XT
For more information on the bike that we tested in this article, click on the link below…