Some die-hard petrol heads believe that anything that doesn't vibrate and make noise, isn't a 'real' motorcycle. If that's you, then you're probably not interested in an E-bike with pedals that looks like a vintage board tracker. But you should read on anyway, because the Vintage Electric Scrambler is one of the most interesting electric bikes on the market right now.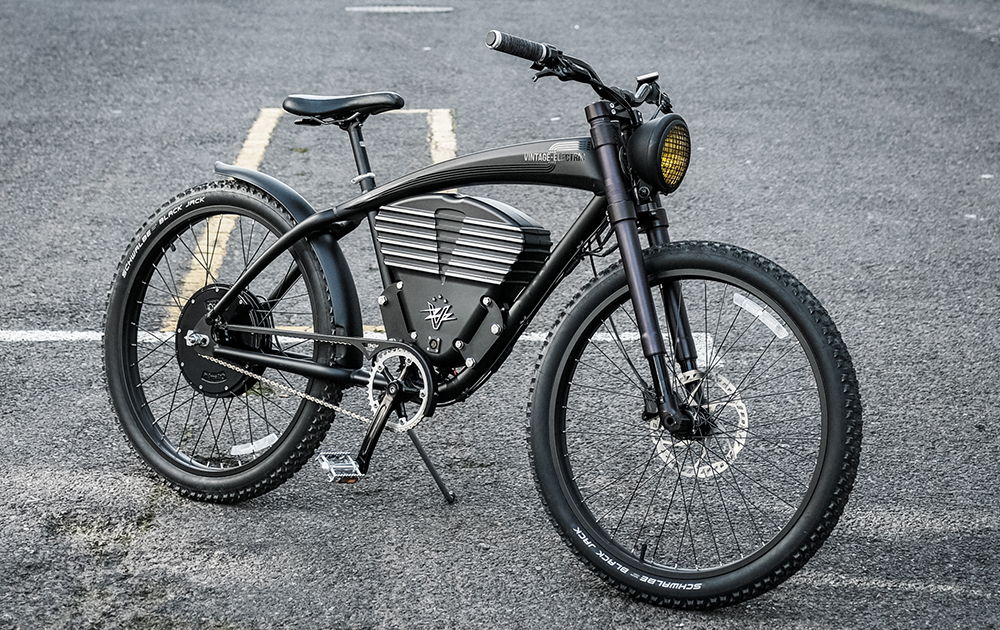 Its pedal-assist electric hub motor, and limited size, speed and range, put the Scrambler squarely in city commuter territory. But with a highly refined aesthetic, top-shelf finishes and premium price tag, it feels more like a luxury item than a mere runabout.
There's no getting around it: the Vintage Electric Scrambler isn't cheap. It's one of the top models in Vintage Electric's catalogue, coming in at R 129,000 in stock trim, with an optional 'race mode' for another R 2,850. (That pricing is also subject to exchange rate fluctuations.)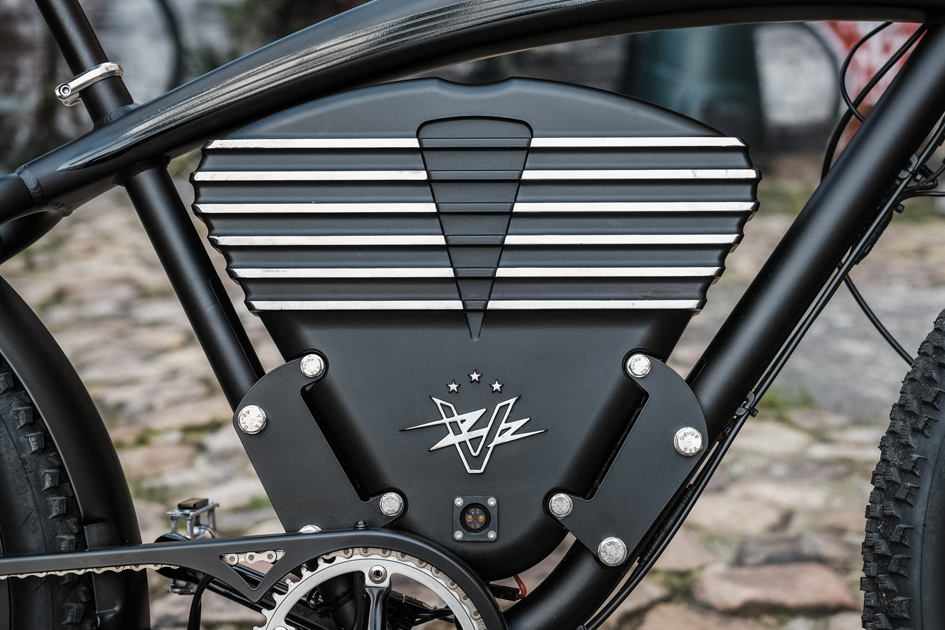 That puts it in the same ballpark as a BMW C 400 X or a Yamaha MT07. But if those are the bikes you're comparing it to, you're probably not the target market.
Vintage Electric is imported into South Africa by classic and exotic car specialists, Crossley & Webb. Their Cape Town showroom is an automotive mecca, and their clients not only have impeccable taste, but are well-heeled too. And the Scrambler doesn't look one bit out of place parked between a Ferrari and a Maserati on C&W's floor.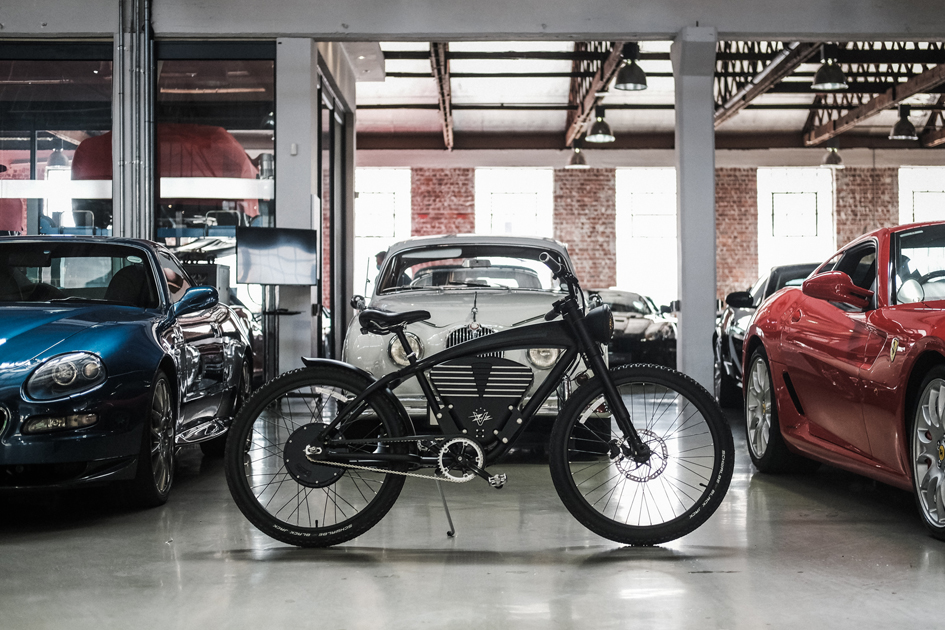 A friend quipped that he could build an electric bicycle with the same specs for a fraction of the price. He probably can, too… but it won't look or feel nearly as classy. The Scrambler is borderline art—nailing the retro vibe without descending into cliché territory, and built to a high level of finish.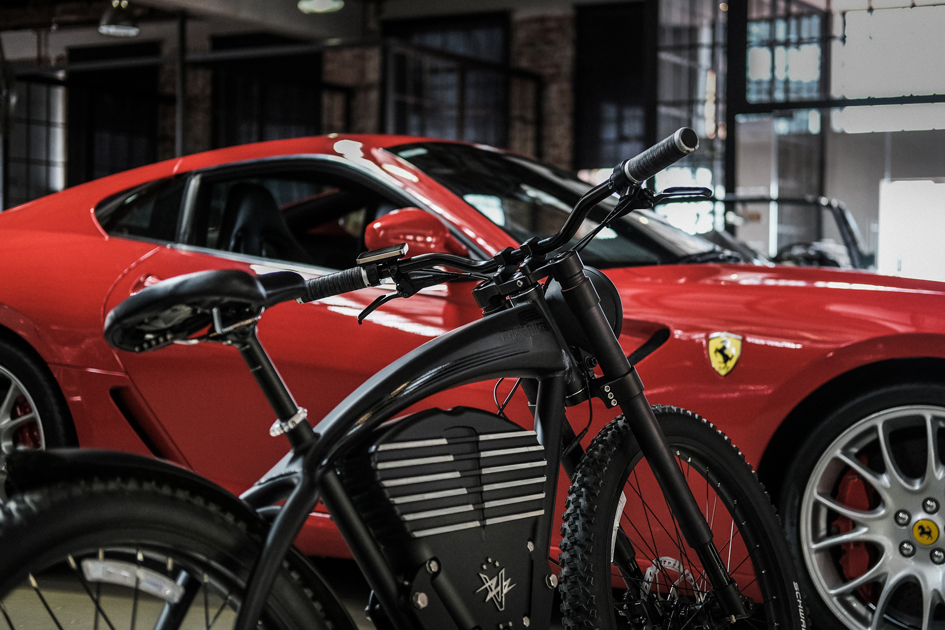 The Scrambler's silhouette is reminiscent of old-timey board trackers, thank's to its hydro-formed aluminium frame. But the real standout is Vintage Electric's proprietary battery box—a sand-cast aluminium unit that echoes V-twin motors, right down to the polished fins. It holds not only the battery, but the controller and other electric bits too, like the Scrambler's charge port.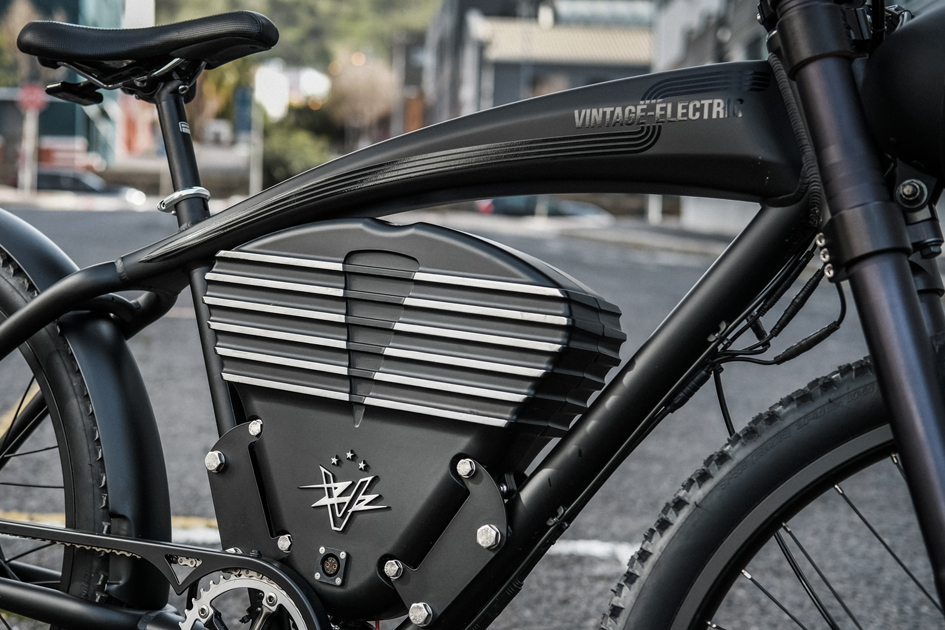 Most of the finishing kit is a mix of off-the-shelf mountain bike components, with a few custom touches. There's a vintage-style LED motorcycle headlight up front, with a small LED tail light tucked under the seat. The Scrambler also gets CNC-machined direct-mount handlebar clamps, a nice wide set of riser bars, and a generous rear mudguard.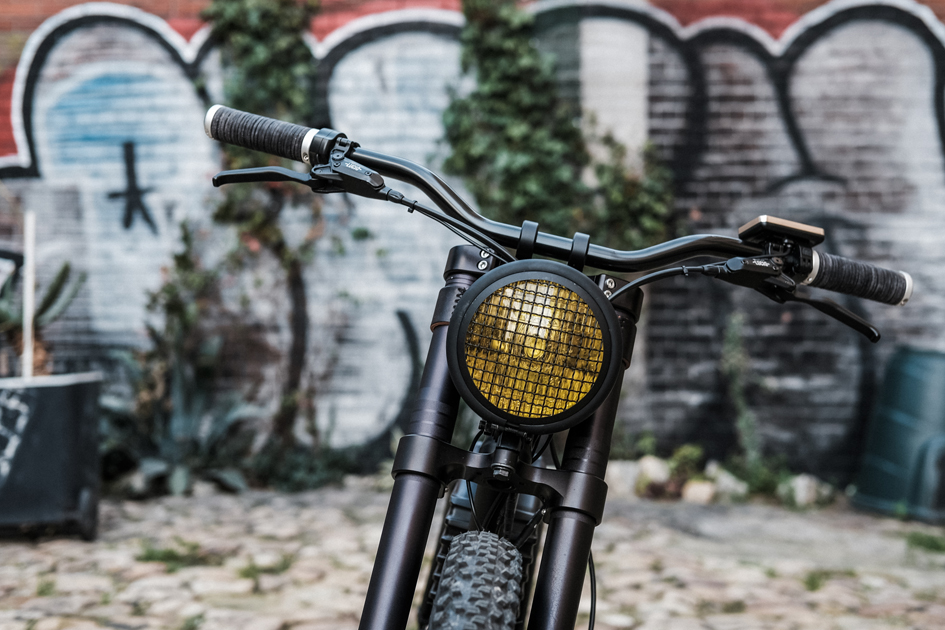 Everything's wrapped in a stealthy black finish, with subtle graphics on the frame's top tube that remind me of the AMF Harley-Davidson logos of the 70s. The seat and grips feature leather trim, and there's even a set of neatly-stitched leather fork bumpers, to protect the frame at full lock.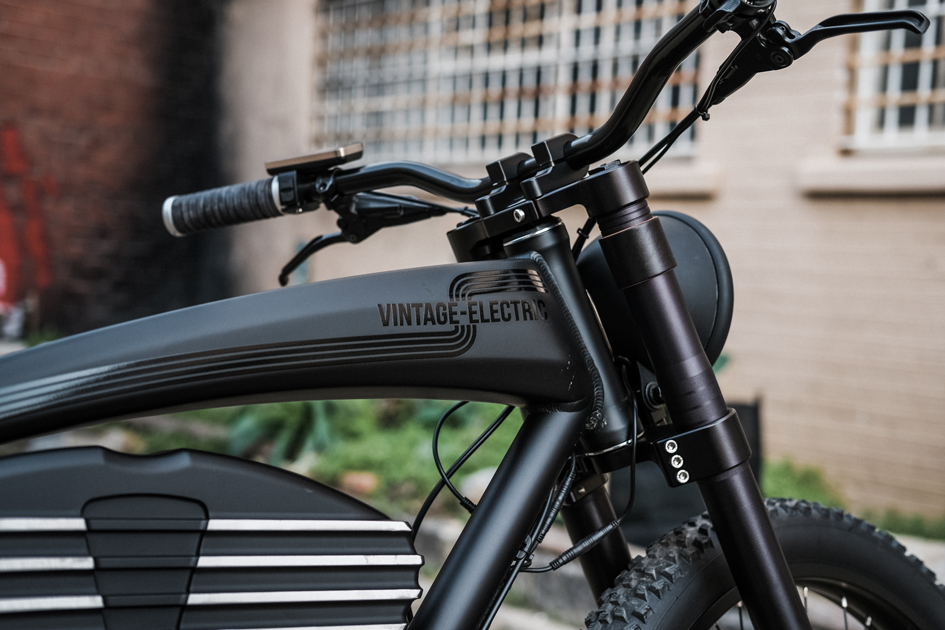 Vintage Electric place the Scrambler as their 'go anywhere' model, so the running gear's specced for dirt and asphalt. It rolls on wide 26" wheels, shod with 26×2.35" Schwalbe Black Jack knobblies. The frame's a hardtail design, but there's a set of upside down forks up front, offering 60 mm of travel.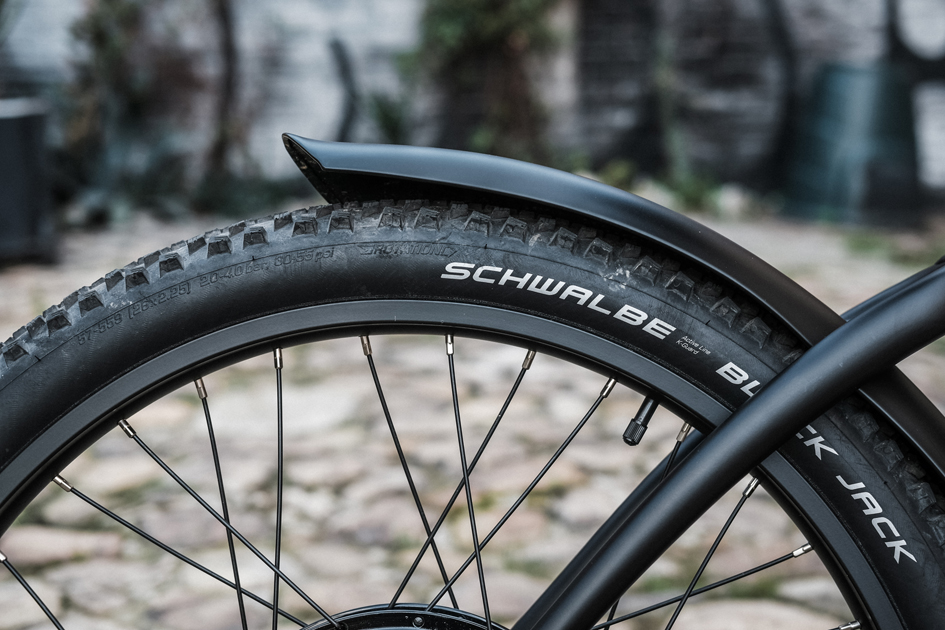 The hydraulic disc brakes are Promax Lucid units, with a regenerative braking feature built into the rear brake lever (a feature that puts a little charge back into the battery under braking). There's a small LCD display on the left, and a thumb throttle on the right, but they both fit in well with the bike's design, and even the requisite wiring is neatly tucked out of the way.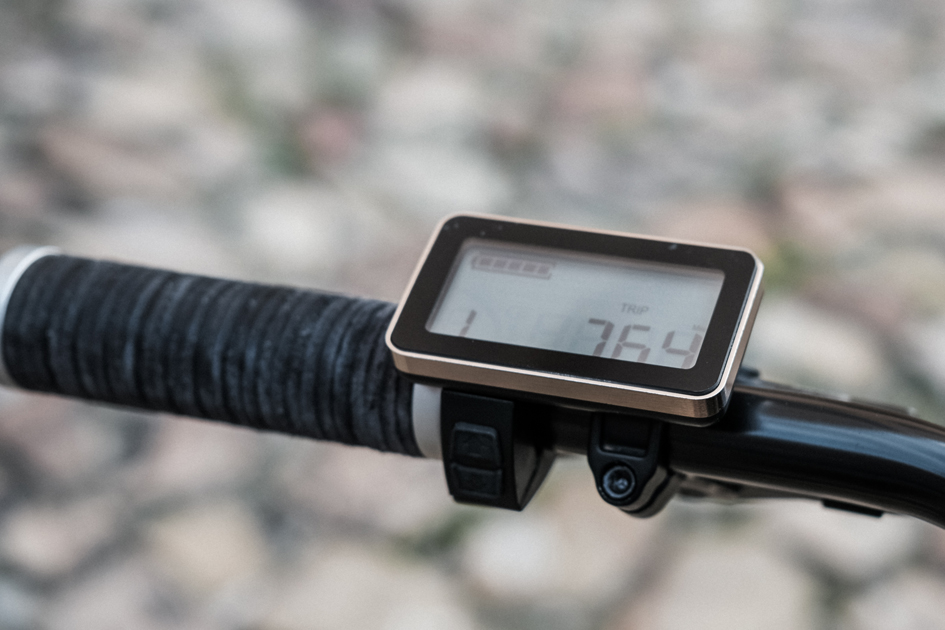 The Scrambler's motor is a 3000 W rear hub unit, limited to 750 W until you plug the 'race mode' dongle in. It's a pedal-assist system, and it's dead simple to use: switch it on, then use the plus and minus buttons to set your level of pedal assistance. As you crank the single-speed drivetrain, the motor will add as much boost as you've asked it to. As for the thumb throttle, it works at any speed—so you can use it to pull away, or to add some top end.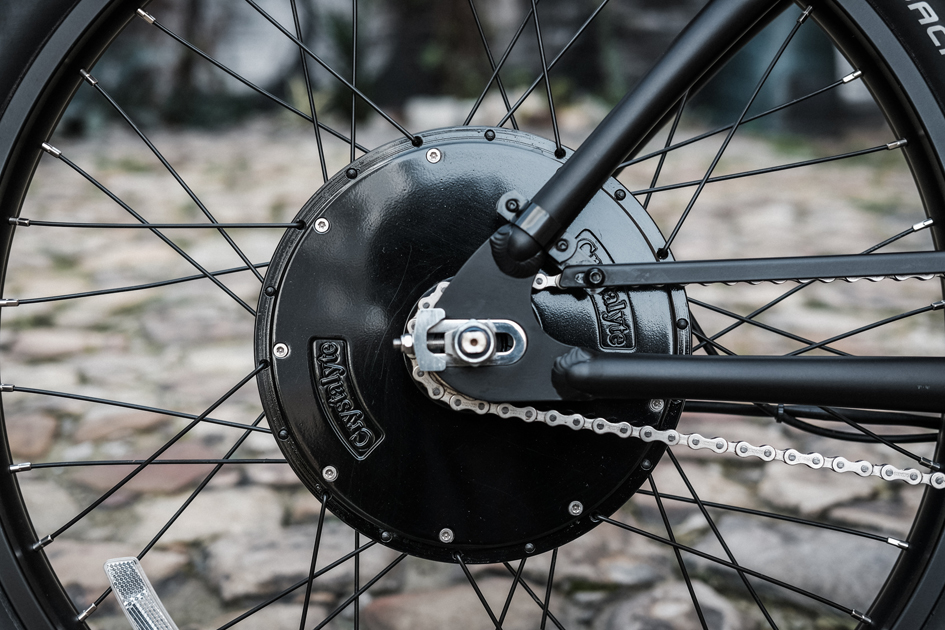 I found it best to add a little thumb throttle to start out, crank the pedals up to speed, then switch to the thumb throttle at the top end again. Riding like this, I got the Scrambler up to a top speed of 55 km/h on a flat road (faster than the Honda Express I used to commute on when I was 19).
Vintage Electric claim a top speed of 58 km/h in 'race' mode, so considering I weigh in north of 120 kg, 55 is close enough to the mark. And while it's not the sort of acceleration that'll pull your arms out of their sockets, I was surprised at how zippy it actually is. The top speed in 'street' mode is listed at around 32 km/h, and the best I could do while pedalling with pedal assistance on (sans throttle) was a hair under 30 km/h.
The Scrambler's relatively compact proportions, combined with chunky tires and wide handlebars, make it an agile tool for urban exploration. I spent half a day cruising around Cape Town's CBD and Woodstock, and relished the fact that I wasn't confined to just the street. Bike lanes, sidewalks and back alley trails all meshed together into one city-wide gymkhana, with the Scrambler happy to change direction and pick a new line on a whim.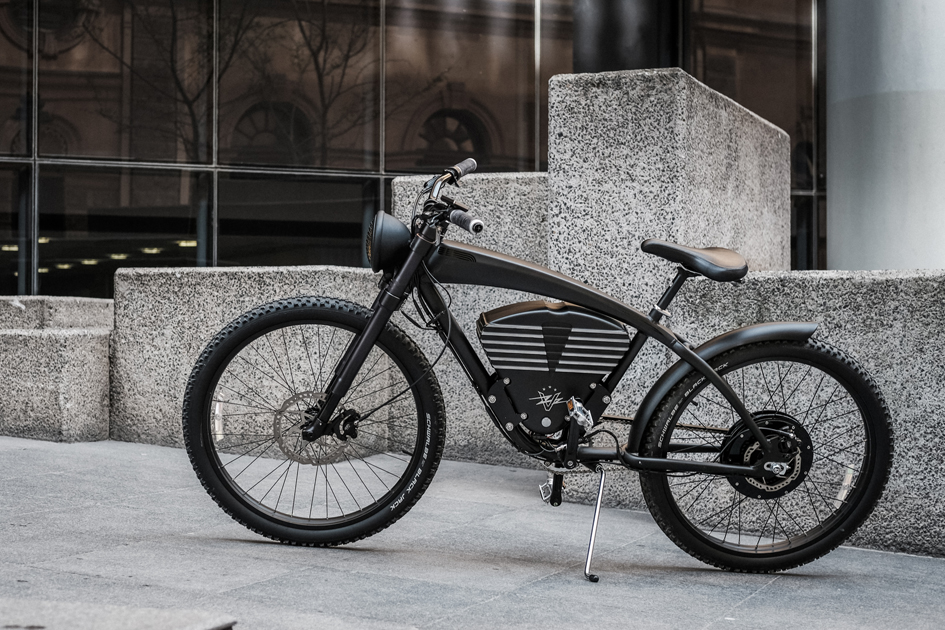 The chunky tyres and dual density seat add a fair amount of compliance to the ride, and the front forks do their job well enough. But if you're a big guy like me, the lack of rear suspension becomes painfully apparent as soon as you try to hop a curb too enthusiastically.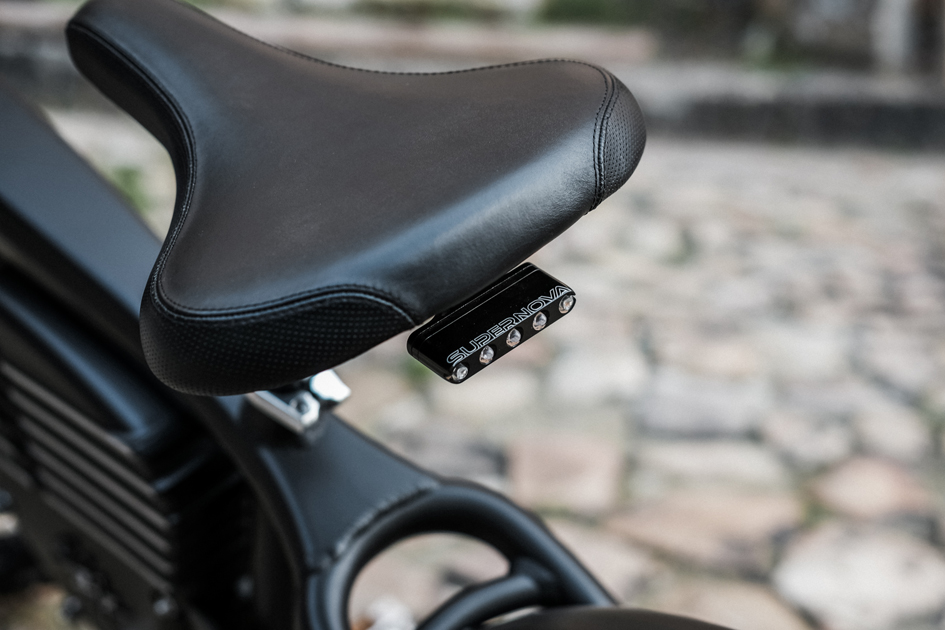 The 48 v 23.4 Ah battery takes a claimed 4.5 hours to charge, and is reportedly good for anything from 64 to 120 kilos, depending on how you ride. I didn't have time to test its range properly (nor did I charge it myself), but I managed a good few hours of riding without running into trouble. And seeing the regenerative braking add bars back onto the battery level indicator was a trip.
With nothing to do on the day but put the Scrambler through its paces and take photos, I spent my time exploring parts of the city I hadn't seen before, and hunting for new locations. It played on my nostalgia too, reminding me of how I used to go literally everywhere on my skateboard as a kid.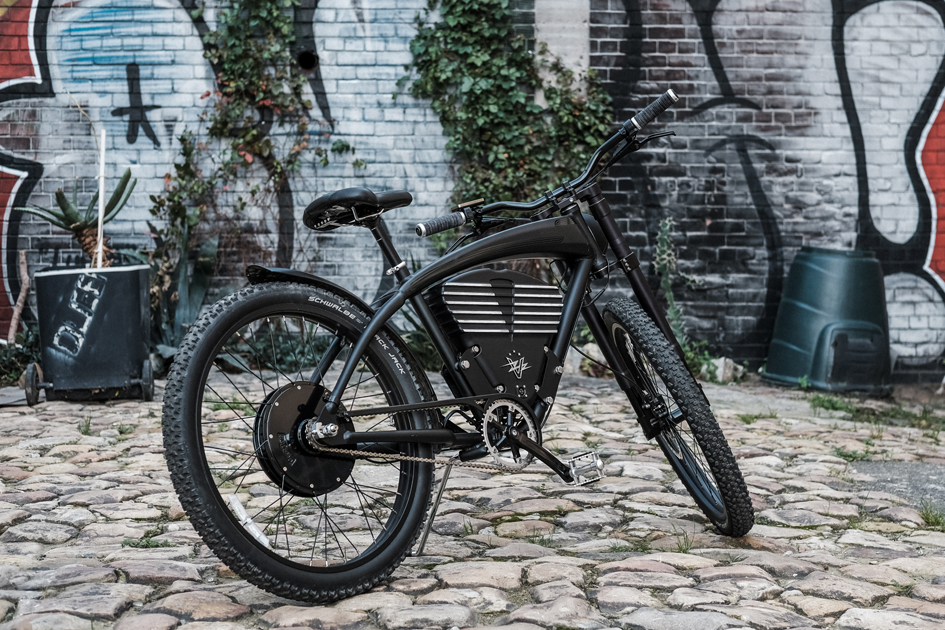 More swish than a garden variety E-bicycle, but not as powerful as a full-sized electric bike, the Vintage Electric Scrambler occupies an interesting space. It probably won't draw seasoned motorcyclists away from their big machines, but it is likely to attract new riders with its charming looks and ease of use.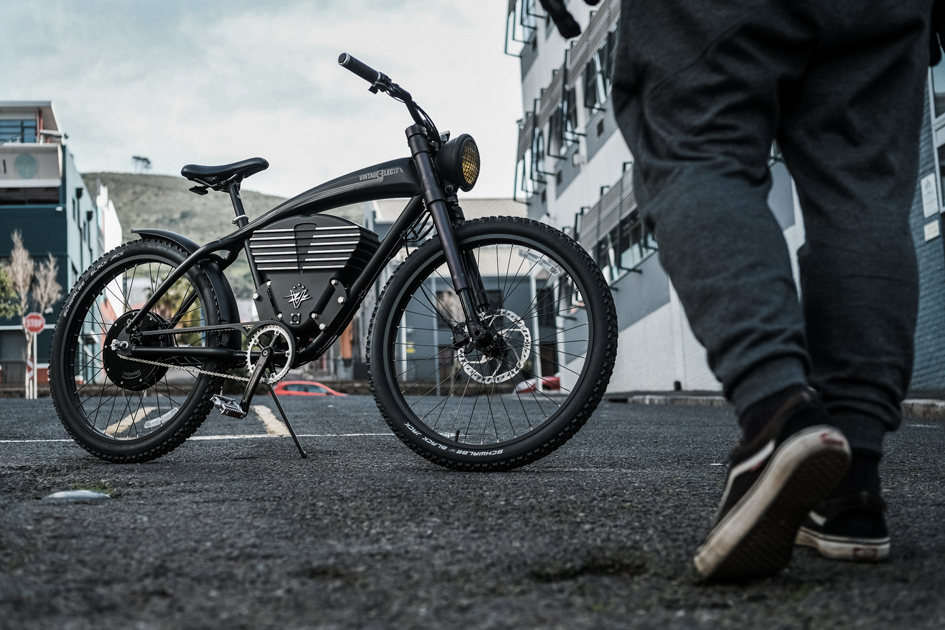 If you can wrap your head around the price, the Scrambler's a great pick for scooting around town in the week, and cruising down both boulevards and dirt roads on the weekends. And the fact that it'll look just as good charging in your living room as it will hopping from cafe to cafe, doesn't hurt either.
For more information visit: www.crossley-webb.com