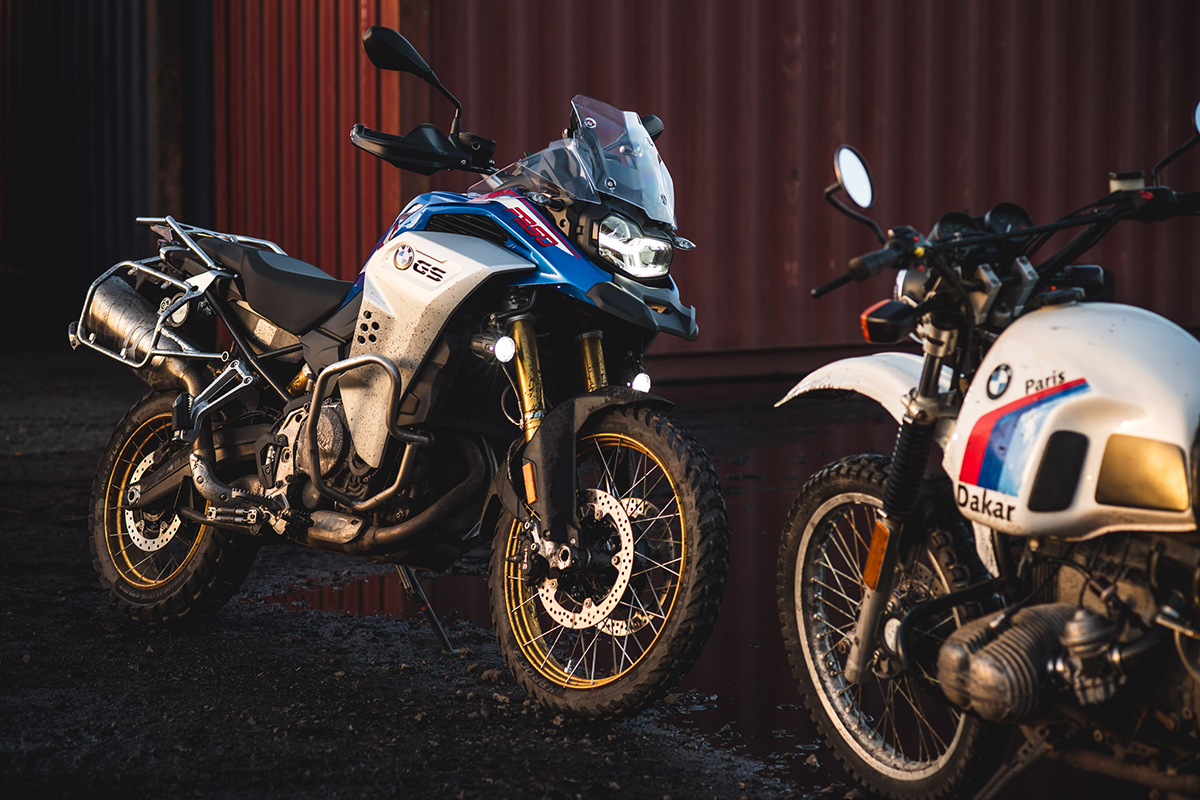 Today's adventure bike market is jam packed with options—but forty years ago, it didn't even exist. Sure, the Yamaha XT500 was around, but it was really just a scrambler with lights. It wasn't until BMW Motorrad released the R80G/S in 1980, that the idea of a true big-bore travel enduro was born.
By cramming an R80 boxer motor into an R65 frame, and adapting the package for off-road use, BMW built the first motorcycle specifically designed for distance riding… across any terrain. BMW created the R80G/S as a desperate bid to attract new buyers—but they unintentionally launched an entirely new market segment in the process, and a model designation that still exists in their lineup today.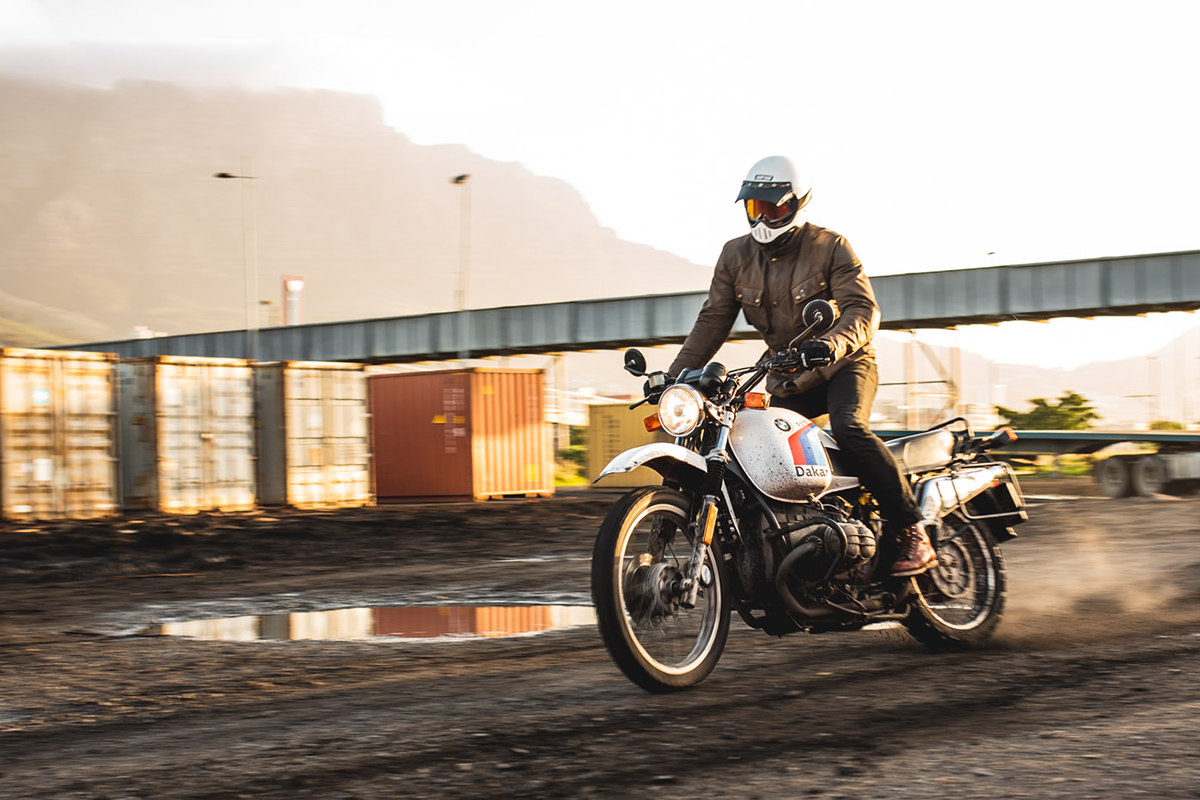 If you don't know by now, 'G/S' stands for 'Gelände/Straße' (German for 'terrain/street'). It was an inspired move by BMW: the GS range has gone on to be the marque's biggest seller, and now includes six models across four different engine and chassis platforms. And one of those models is the BMW F 850 GS Adventure.
Purists are probably losing their minds right now—because if you're going to compare a new GS up to an old G/S, you should technically pick the R 1250 GS, right? Maybe not. They might both be powered by boxer motors, but the liquid-cooled, shift cam-equipped 1,254 cc motor in the 1250 is a far cry from the 797.5 cc airhead in the R80.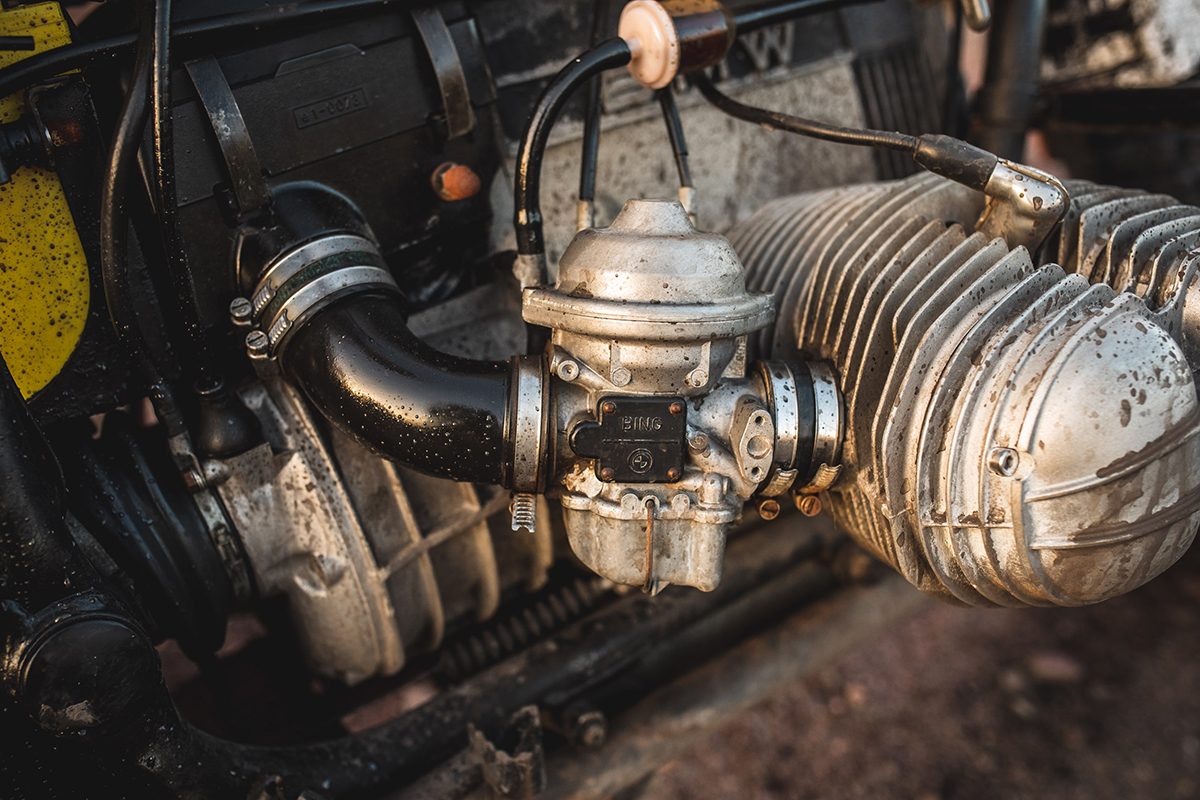 They do both embody the same idea of big-bore adventure riding, and both motors have that unmistakeable boxer vibe… but they're ultimately very different animals. After all, the R80G/S took multiple victories in the Paris/Dakar rally in the 80s. And while I wouldn't want to take it over sand dunes now, the R 1250 GS has also grown to a size that limits its capability in technical terrain (unless you really know your oats).
Go far enough off the beaten track, and the F 850 GS and F 850 GS Adventure make much more sense, for most riders. They're lighter, have more suspension travel and a bigger front wheel, and still make ample power for touring. Even the organisers of BMW's in-house off-road competition, the GS Trophy, agree—they picked the F 850 GS as the bike of choice for this year's event.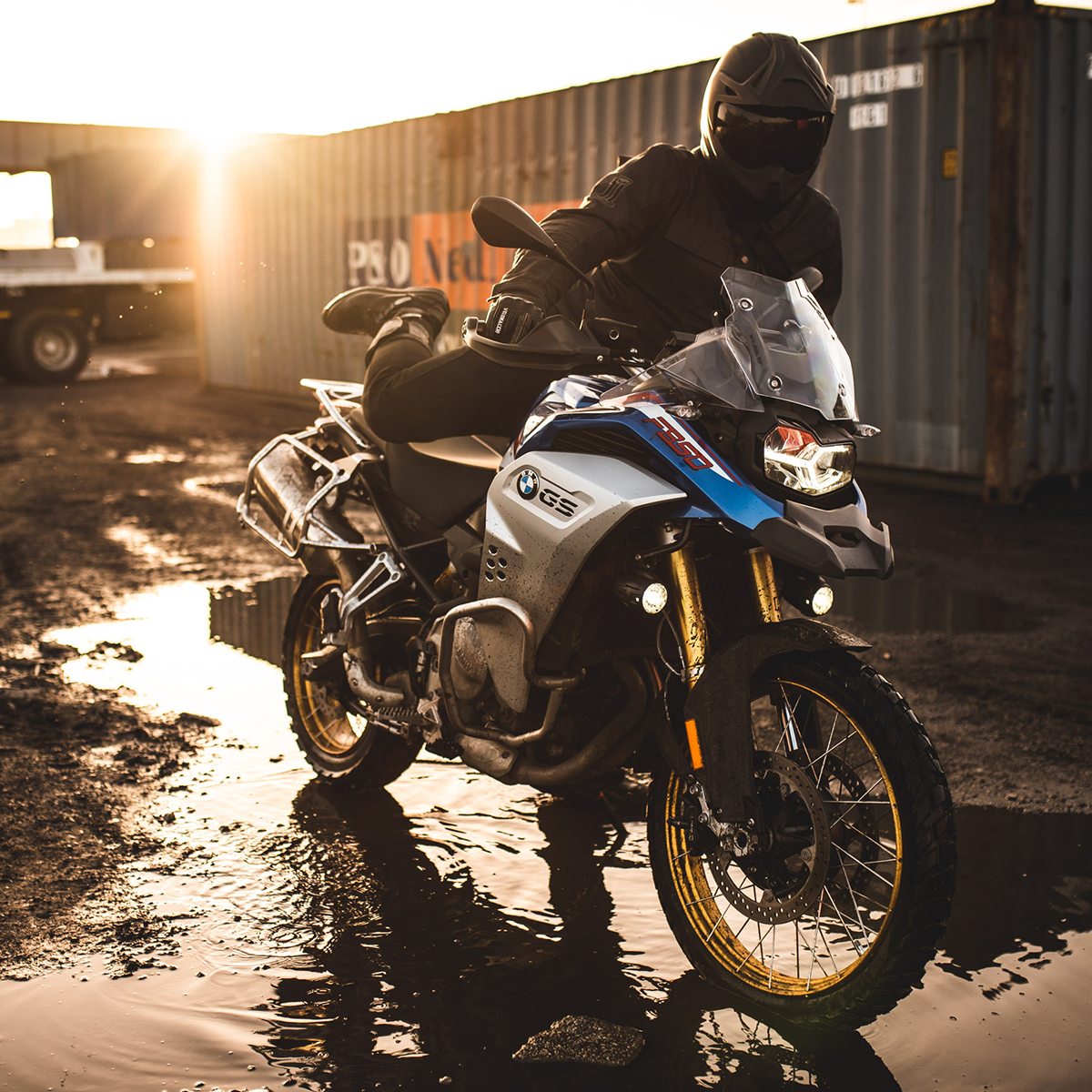 Besides, it doesn't really matter which modern GS you pair the older G/S with, because the technology has come such a long way. The F 850 GS Adventure has rider modes, switchable traction control and ABS, electronic suspension adjustment and a TFT display, with BMW's full Bluetooth connectivity suite. The classic G/S? It has a starter button and a choke.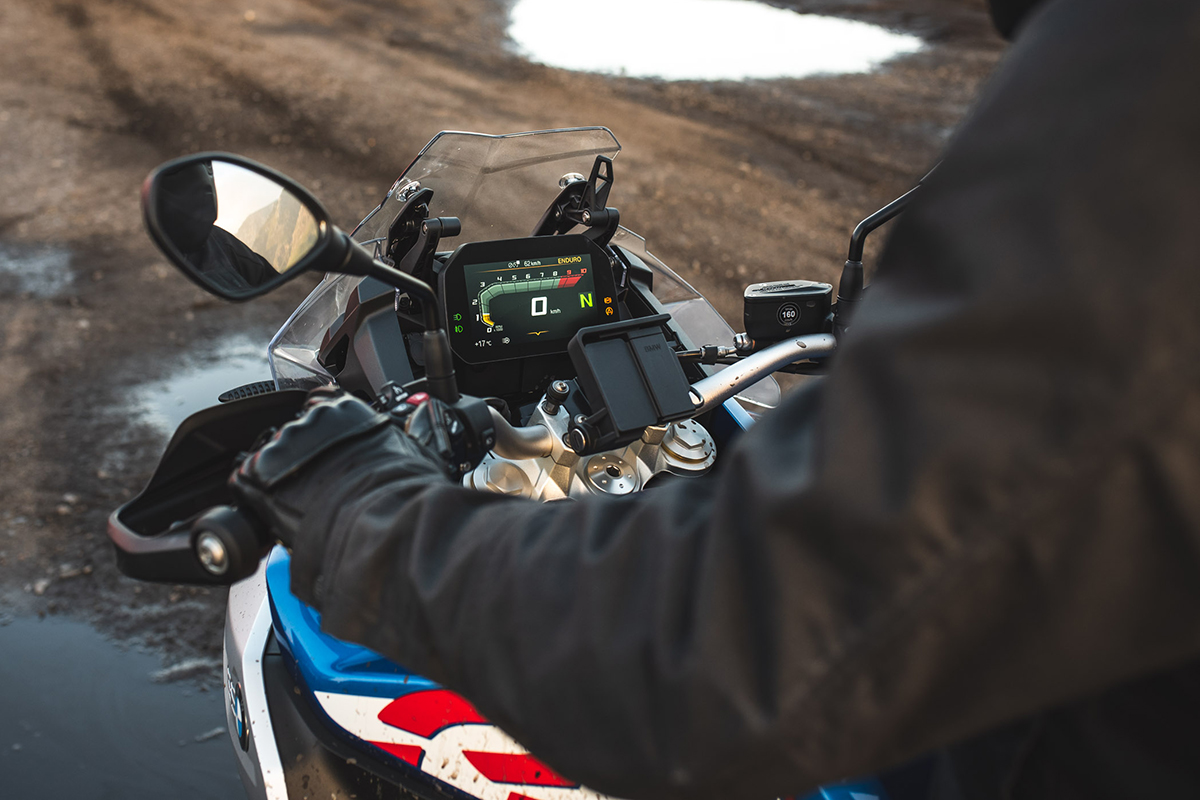 But then, that's the charm of it. An old boxer is perfect for anyone that feels like modern motorcycles have become too complicated. I'd own one in a heartbeat if I could afford to, but good second hand examples cost an arm and a leg, and are hard to come by, too.
This handsome G/S belongs to a friend, Bernard Geldenhuys, who was all too happy to bring it out and get it dirty. It's mostly original, save for the missing headlight nacelle and the oversized Paris Dakar-spec fuel tank.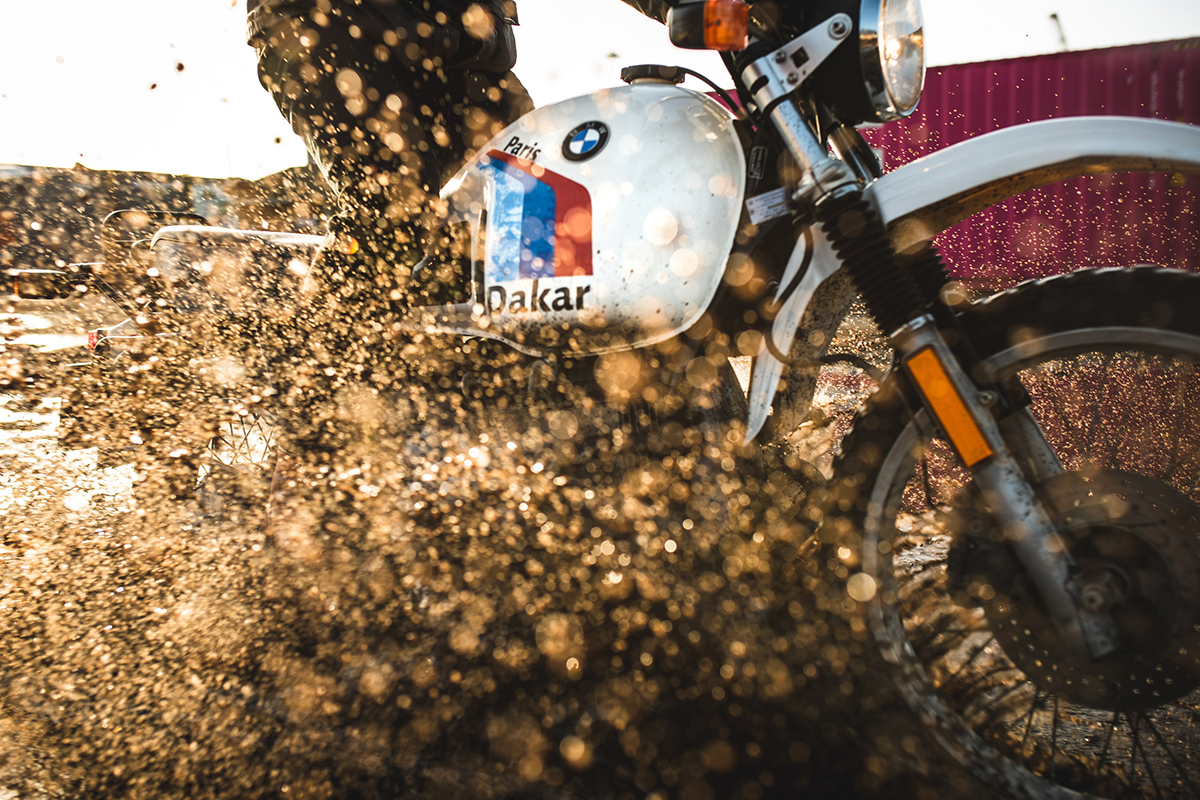 I've ridden this exact bike, and it feels just like you'd expect a 40-year-old boxer to. It's full of character, but lacks the punch of the 1,000 cc models from that era, and its big wheels and tall suspension make it feel a bit squishy on the road. But it's robust, reliable and capable, and hella charming, too. Bernard hadn't ridden his in months when the call came to join me, but it fired up without protest, and had no qualms spinning around in the dirt for the sake of good photos.
On the other hand, the 850 is a testament to just how far BMW have come with the GS range. I've ridden both the 'regular' F 850 GS and the Adventure model, and they're both highly capable machines.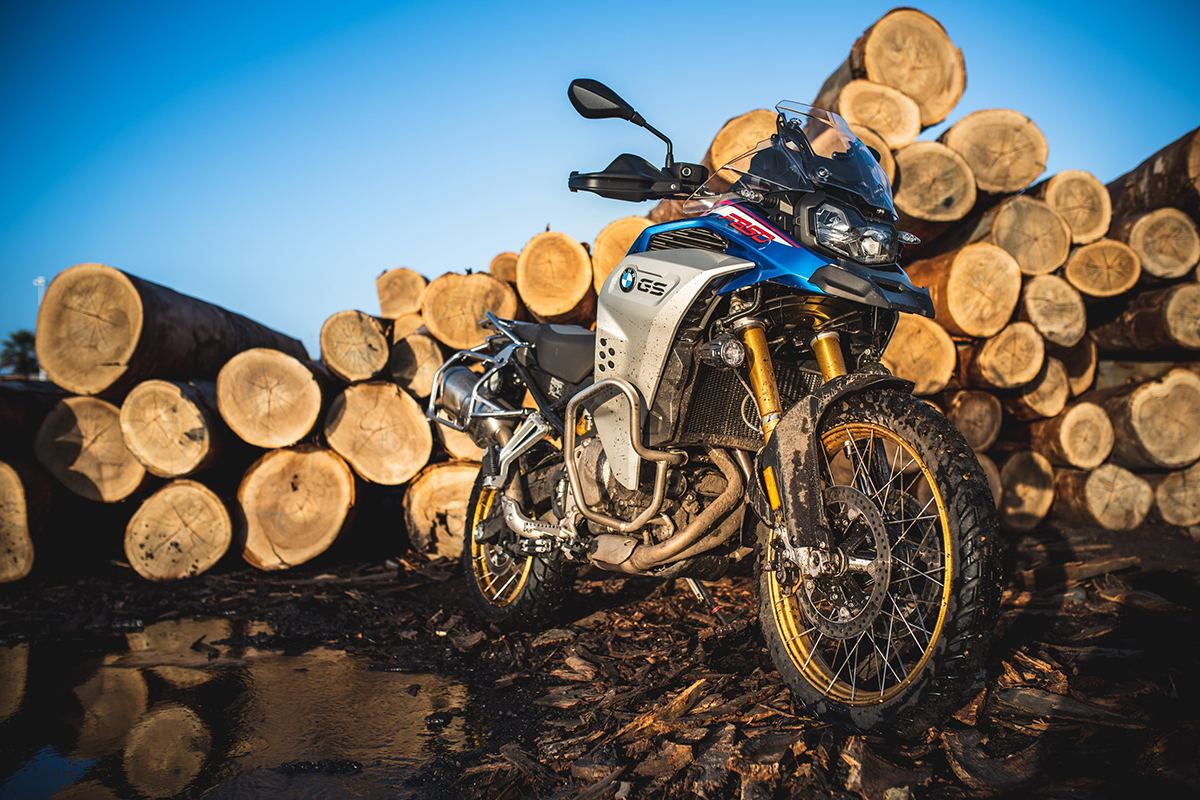 The new GS is powered by a 853 cc parallel twin, good for 95 hp at 8,250 rpm, and 92 Nm at 8,000 rpm (that's plus/minus twice as much as the R80G/S). If you're familiar with the previous F 800 GS, this ain't that—BMW have changed the firing order, so the new motor is infinitely more lively.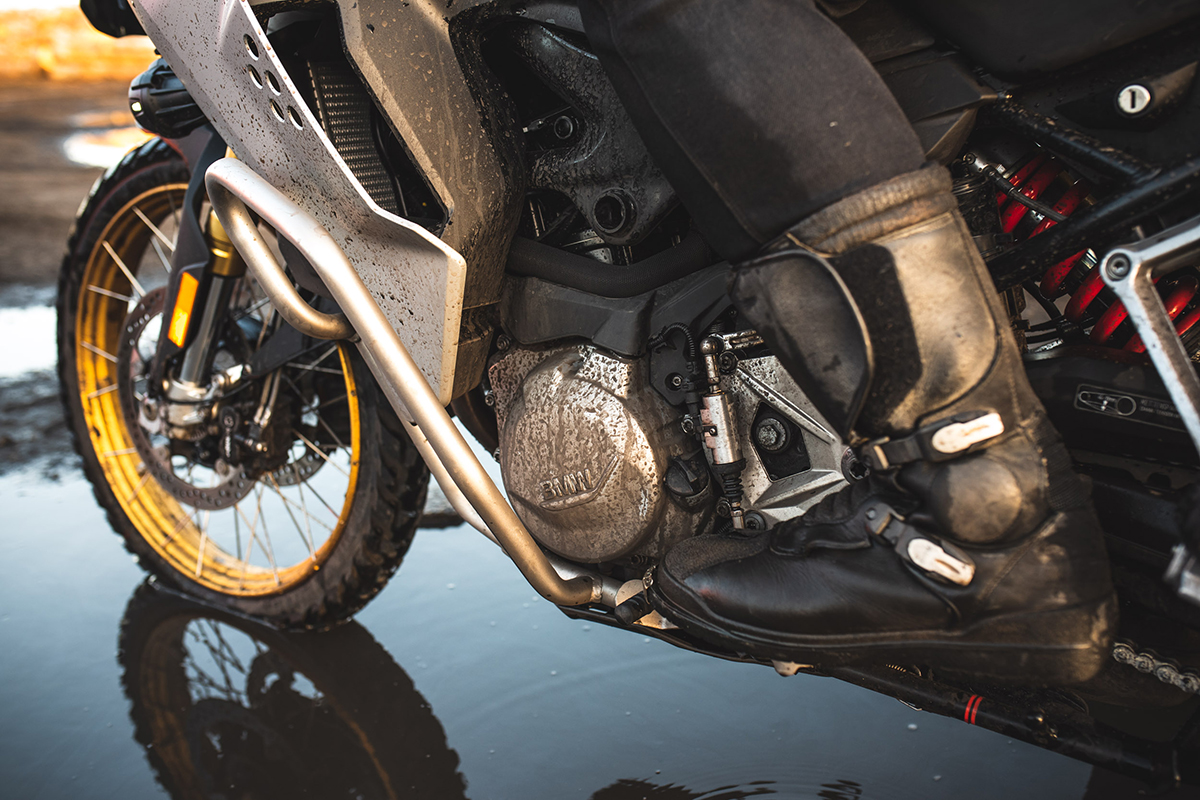 It spins up with a satisfying grunt and makes oodles of usable power, both at the low and high ends of the rev range. BMW did a good job on the gearing, and my test bike came fitted with a quick-shifter too, for clutch-less up and down shifts.
The Adventure model has a few upgrades over the base model 850, plus BMW South Africa also typically sell their bikes with a selection of optional upgrades fitted as standard. This particular unit's full outfit included crash bars, luggage racks and LED spot lights, along with a 6.5" TFT display and an adjustable touring screen. It also came with four of BMW's five available riding modes—which is a real pity, because the omitted 'Enduro Pro' mode is tons of fun in the rough stuff.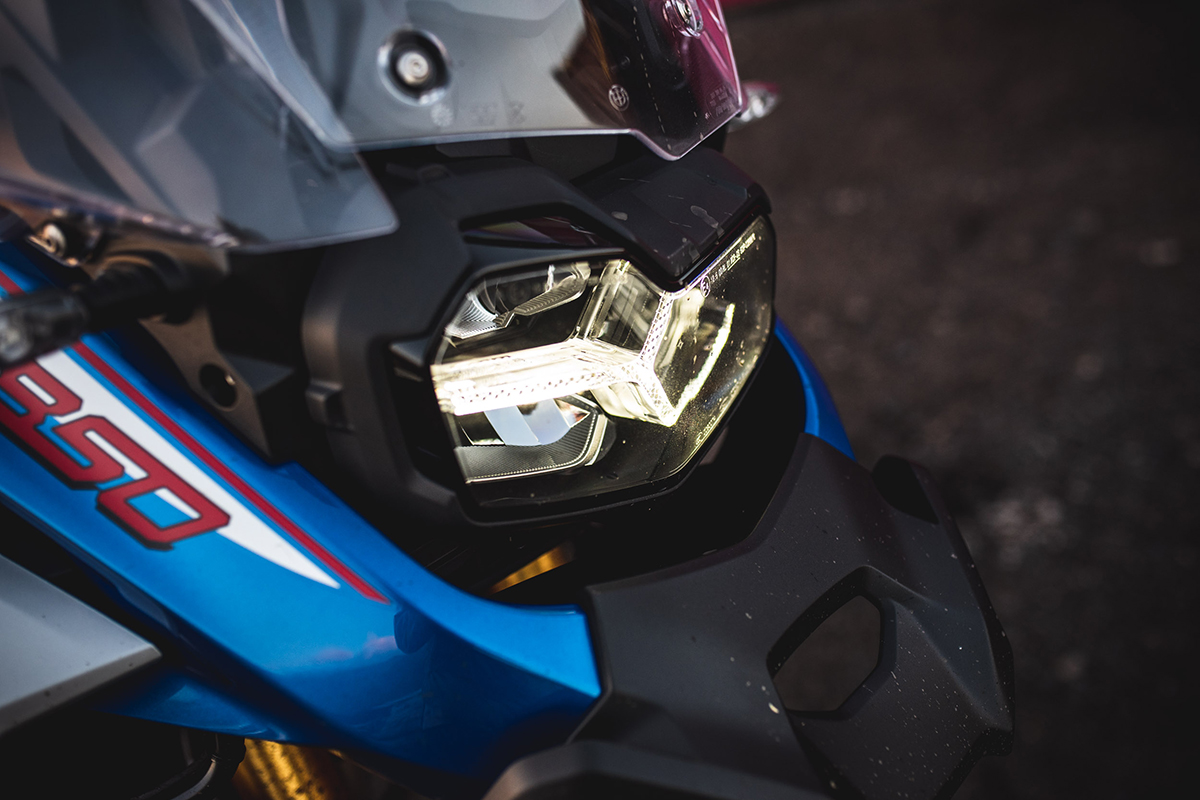 But the Adventure's most distinguishing feature is its 23 l fuel tank and surrounding plastics. With 8 l more than the standard 850 it can not only go further, but it's also physically bigger, with a much more striking visual presence. The extra capacity and other add-ons come with a weight penalty though, adding up to a total curb weight of 248 kilos (that's almost 40 kilos more than the R80G/S).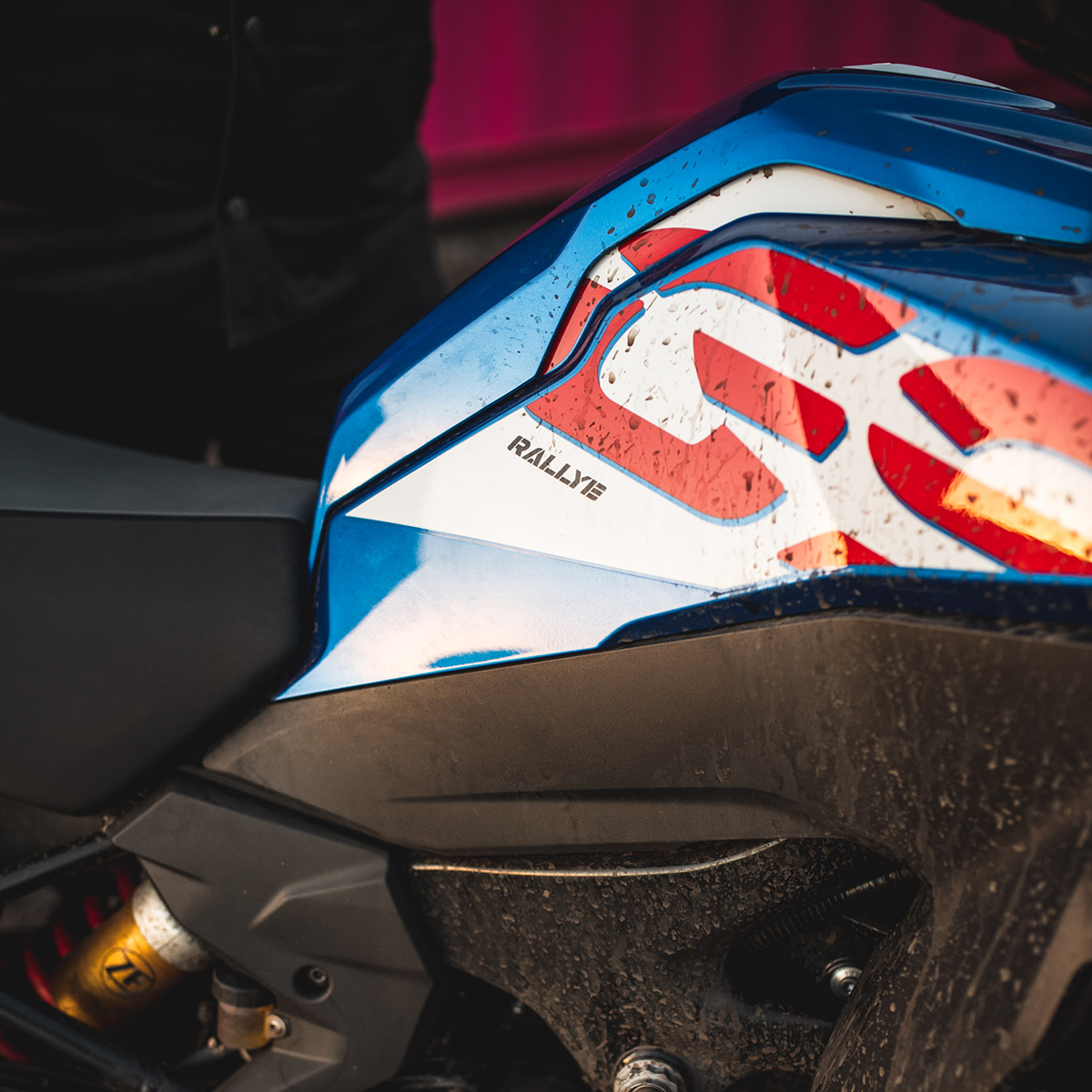 You'll feel that extra heft in some scenarios. The BMW can hustle through corners with the best of them, but if you push it too hard, that big tank works against the stock suspension. Add that to the combo effect of the skinny 21" front wheel and the aggressive Metzeler Karoo 3 tyres, and the bike feels a little vague in turns.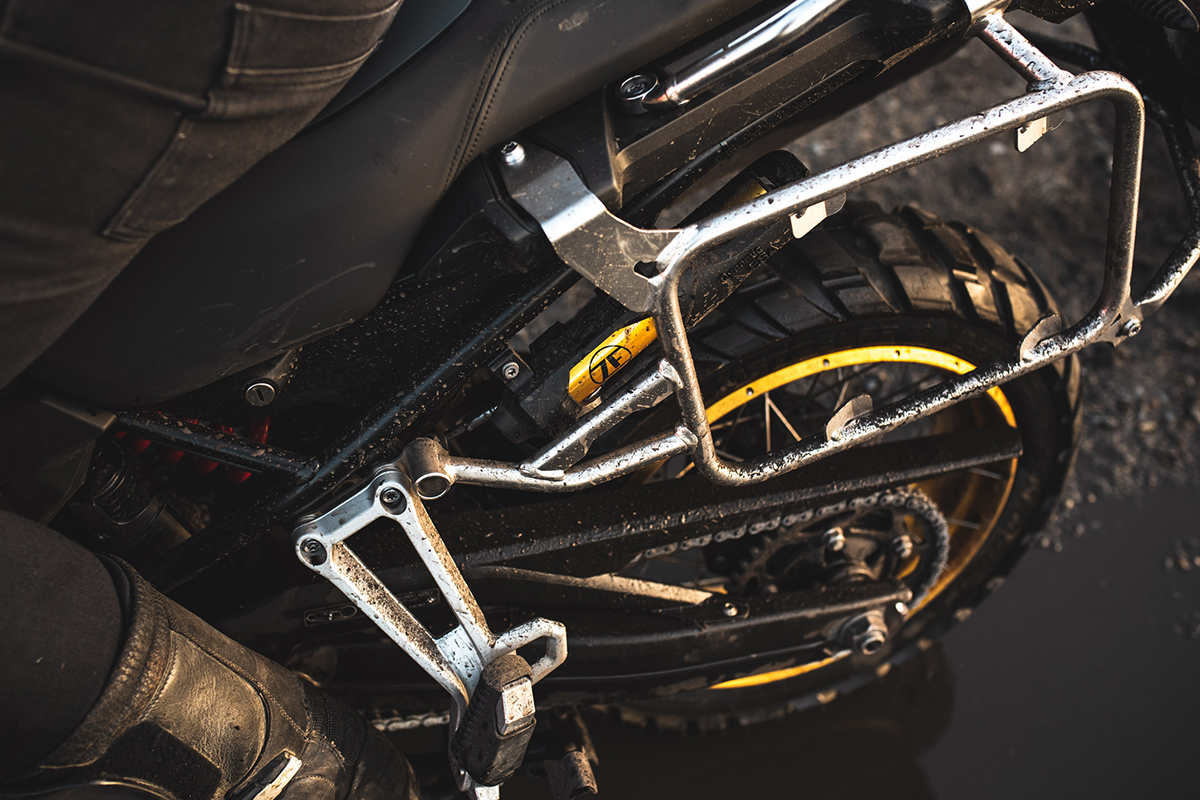 But the Adventure gets away with its chunky build most of the time, mainly because BMW have nailed the ergonomics. The handlebars sit exactly where you need them, the serrated foot pegs keep your feet planted, and the tank tapers perfectly at the back, so it's not too wide between your knees. The model shown here features the 'Rallye' trim, with a slightly more bench-like seat that adds a little height too (this one sits at 890 mm).
Take it onto dirt, and the Adventure is surprisingly composed for its size. It handled everything I threw at it during my test, from loose gravel roads to tight and rocky tweespoor. And if the ergos are great for on-road riding, they're even better off-road—perfect for standing up and letting the bike shuffle around underneath you.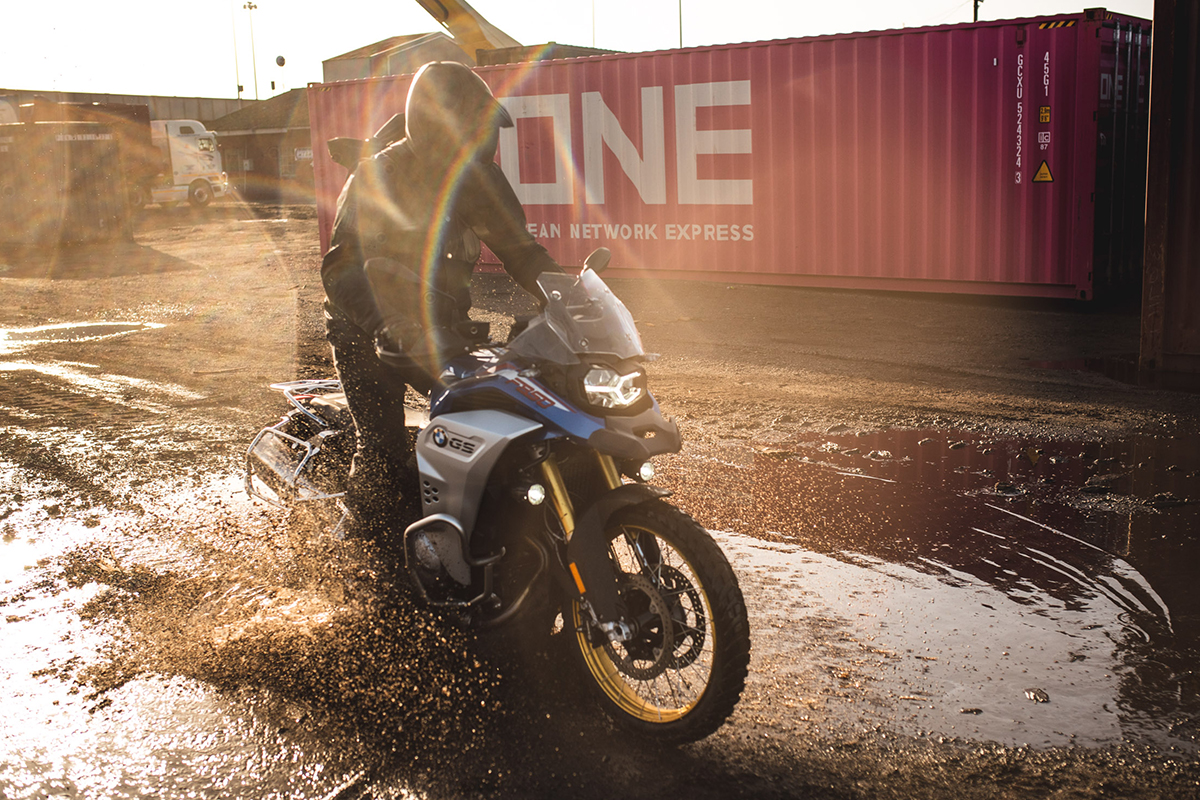 I do have two gripes though. Without the 'Enduro Pro' mode, I had to manually disable ABS and traction control for max fun—and that's a chore. Plus the suspension is just a touch unsprung for the bike's weight, so it doesn't handle really big knocks well.
The R80G/S made a name for itself as a globetrotter back in the day, and the F 850 GS Adventure continues that fine tradition. It's damn comfortable to sit on, carries enough fuel to go all day, and even has cruise control and heated grips. The screen works OK-ish for my 1,86 m frame, and has a really slick two-position adjuster that can be operated with one hand, even at speed.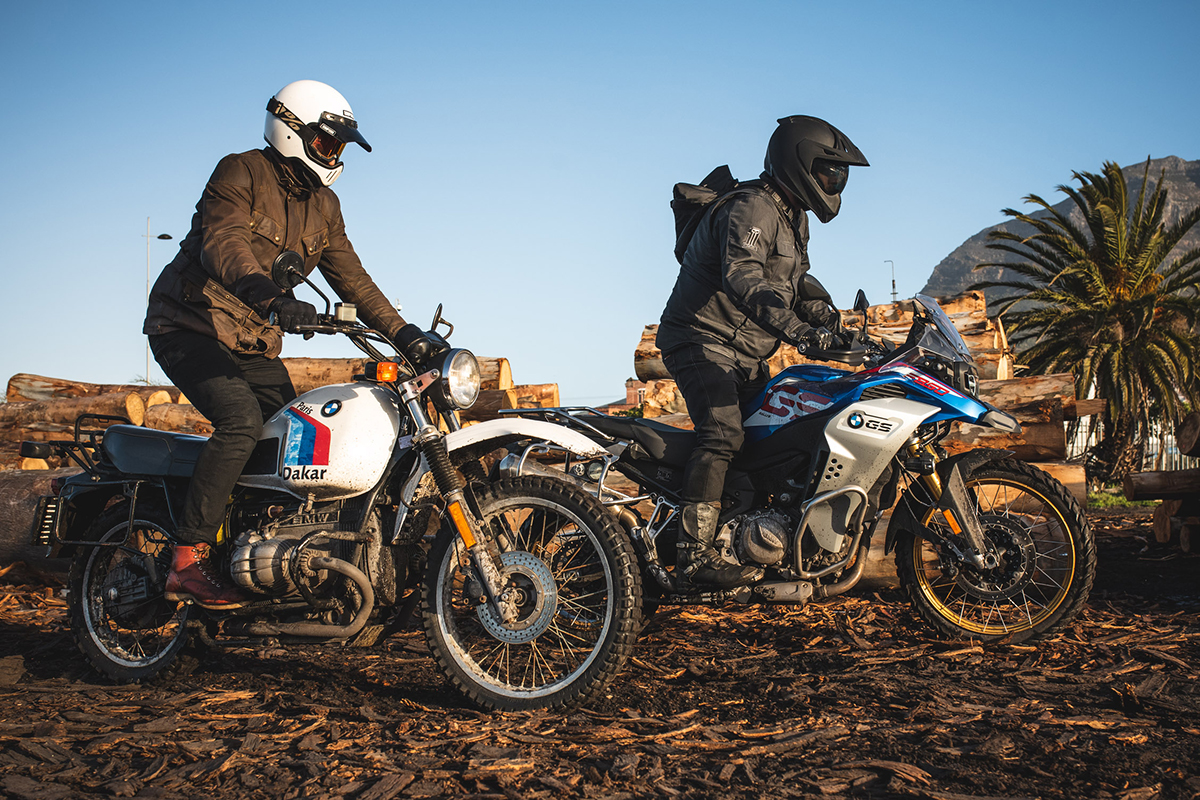 Parked alongside each other, both the R80G/S and F 850 GS Adventure are each striking bikes in their own ways. The 40-year-old G/S has aged well, with a timeless look that's universally adored, and wears both patina and mud well.
The newer GS epitomises the quirky robotic aesthetic you'll find on all modern day BMW adventure bikes—but in my opinion, it's the best looking one of the bunch. It's burly with a great stance, and almost feels like a slightly slimmed-down 1250. And the blue, red and white livery (which has sadly now disappeared from the range) is impossible to ignore, especially with the addition of gold tubeless rims.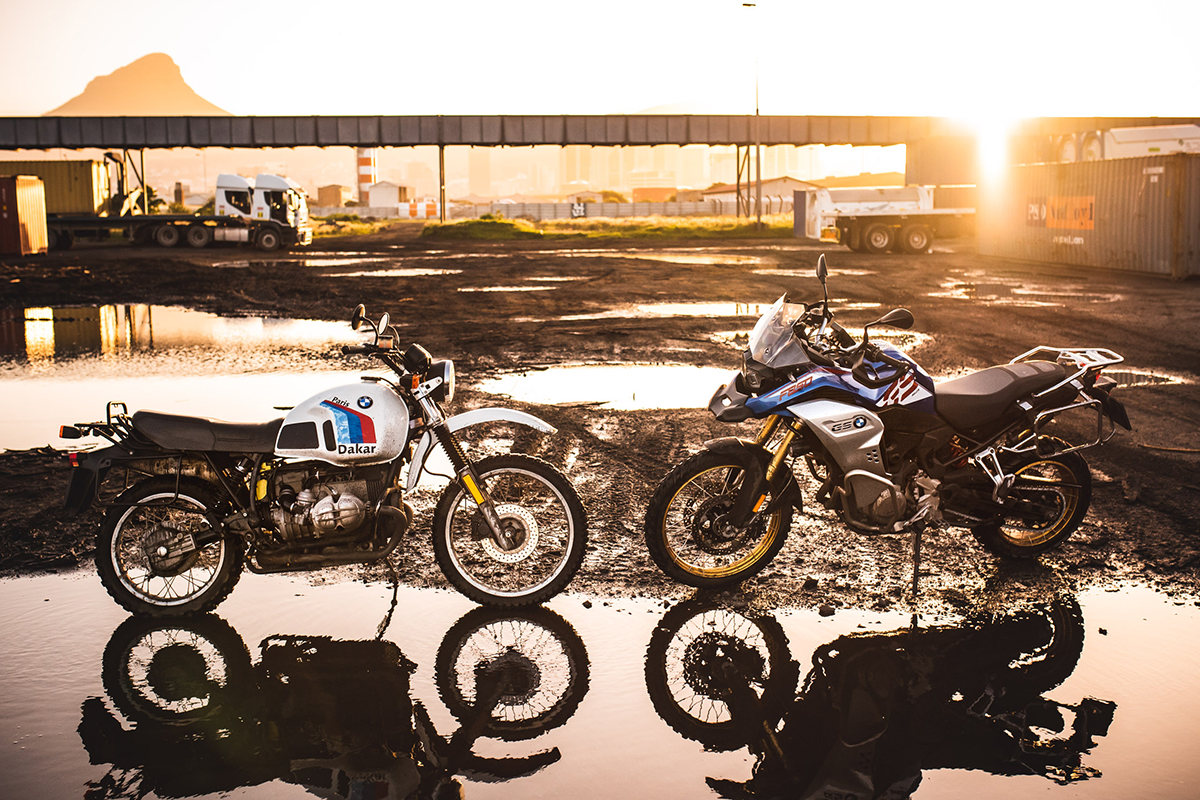 One is the zenith of robust simplicity, and represents a bold move by a traditionally conservative company. The other is proof that that gamble paid off. If I had to pick, I'd much rather just have both in my garage.
A special thanks goes out to BMW Motorrad South Africa, Donford Motorrad Cape Town and Bernard Geldenhuys for making this all possible.
BMW Motorrad F 850 GS Adventure
For more information on the bike that we tested in this article, click on the link below…