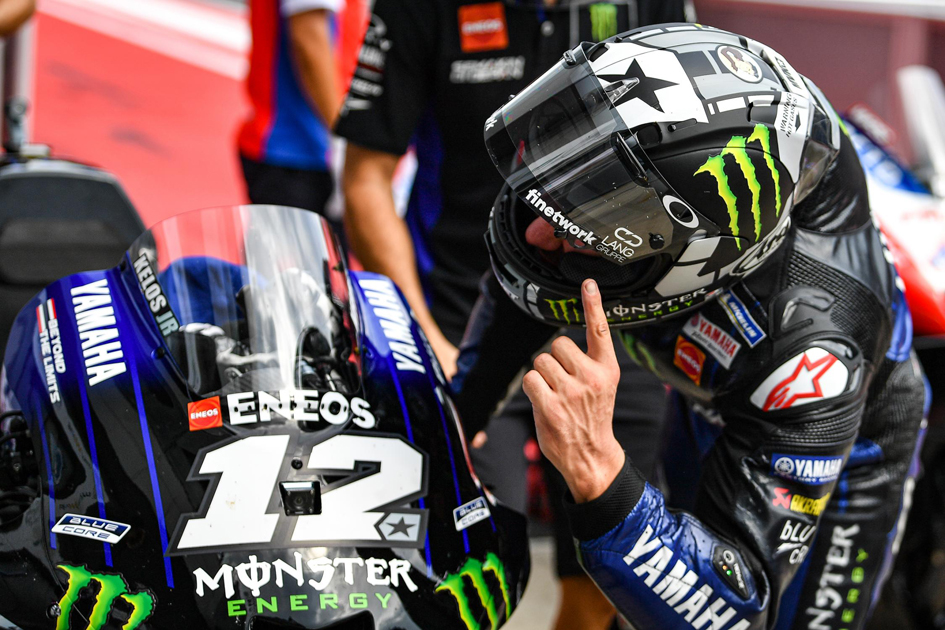 The seventh round of the MotoGP calendar brought us back to Misano, for the Gran Premio TISSOT dell' Emilia Romagna e della Riviera di Rimini. (Try saying that five times fast.) The double-header took some stress off the riders, allowed the teams to get their machines tweaked to near perfection—therefore making lap records easier to beat.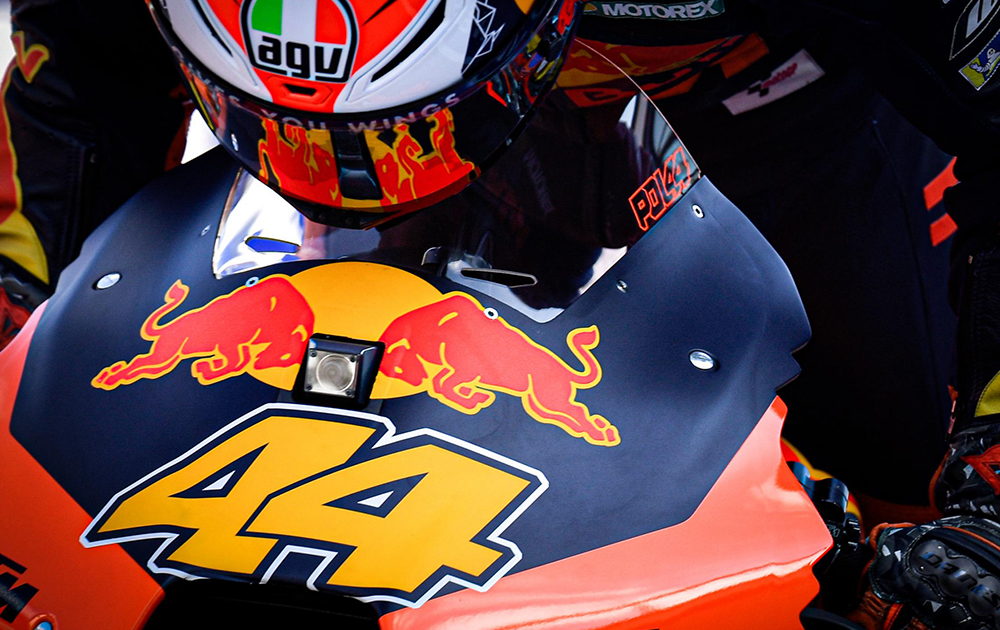 With the championship blown wide open and the double-header providing riders a second shot at victory, who would be leading by the end of it all?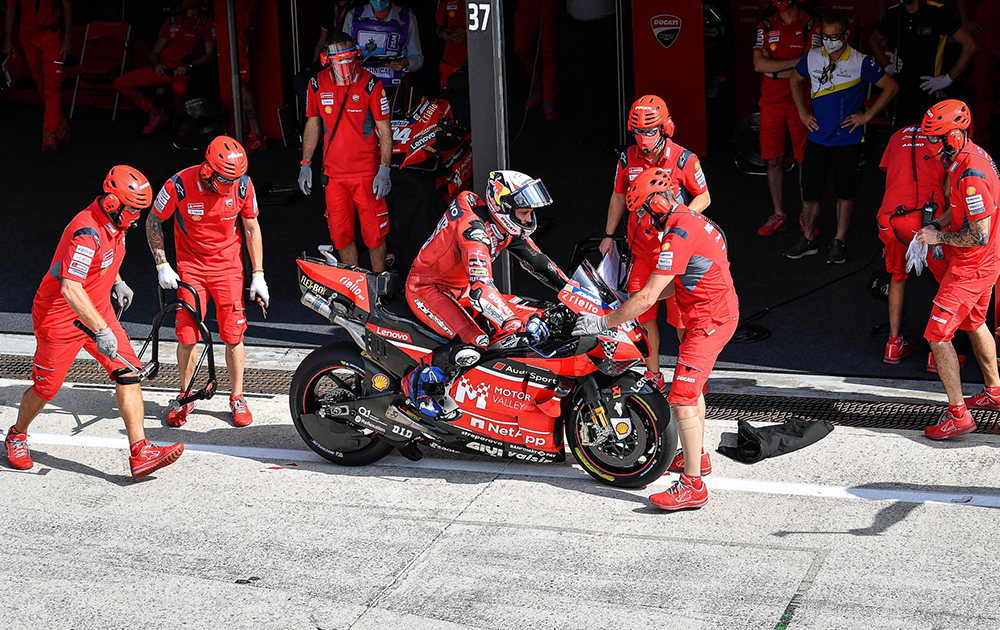 Maverick Viñales rode the wheels off of his Monster Energy Yamaha YZR-M1 in Saturday's qualifying, registering both the fastest lap (1:31.077) around Misano and bagging P1 for Sunday's race. Jack Miller was on the pace and put the Pramac Racing Ducati in second, closely followed by Fabio Quartararo to finish off the front row.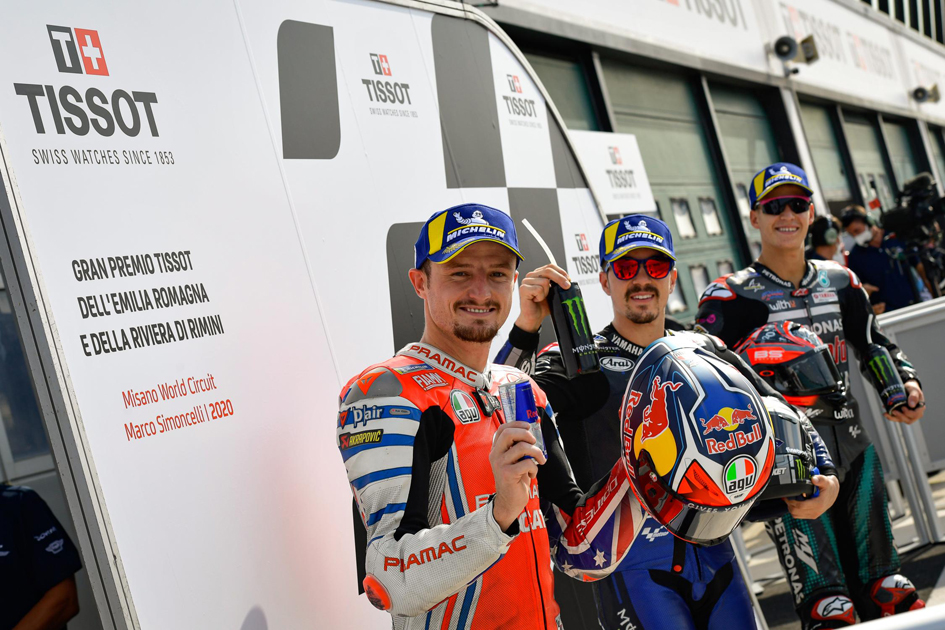 What impressed me most, was that the top six riders all smashed last weekend's lap record set by Viñales (1:31.411) during qualifying. With more feedback coming from the front tyre and more support on the rear allowing them to push harder, Pol Espargaro and Brad Binder posted the 4th and 6th quickest lap-times.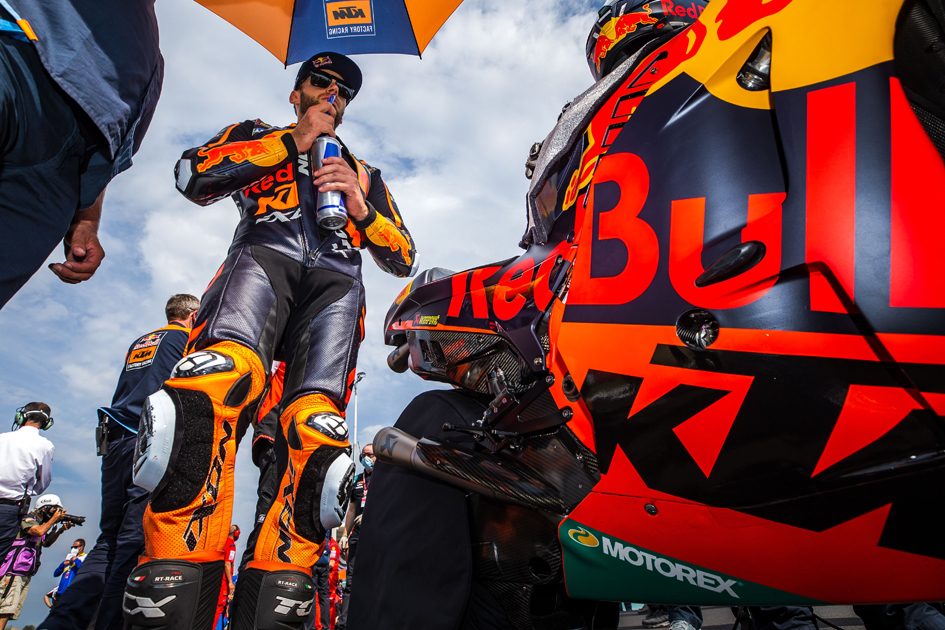 Race day saw riders lining up under the warm Italian sun, trying to get their heads wrapped around which tyres to start the race with. Would it be medium rear or soft? Viñales learnt his lesson from last weekend and opted for the medium rear, while Pol Espargaro and Brad Binder placed their complete trust in Michelin's soft rear.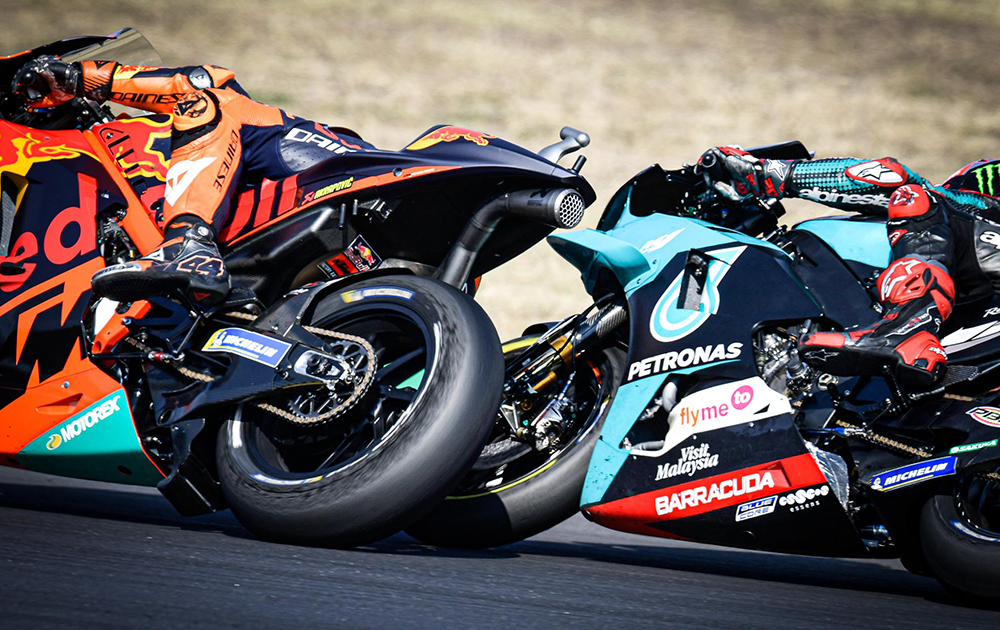 Jack Miller got the holey, with a great launch off the line followed by Viñales slotting into second. Fabio Quartararo held onto 3rd with Pecco Bagnaia making up a place to get past Espargaro. Binder made good progress on the opening lap, and before long our local boy was up into 5th, ahead of his teammate. Viñales had a 0.9 second lead over the line as the riders clocked into the second lap.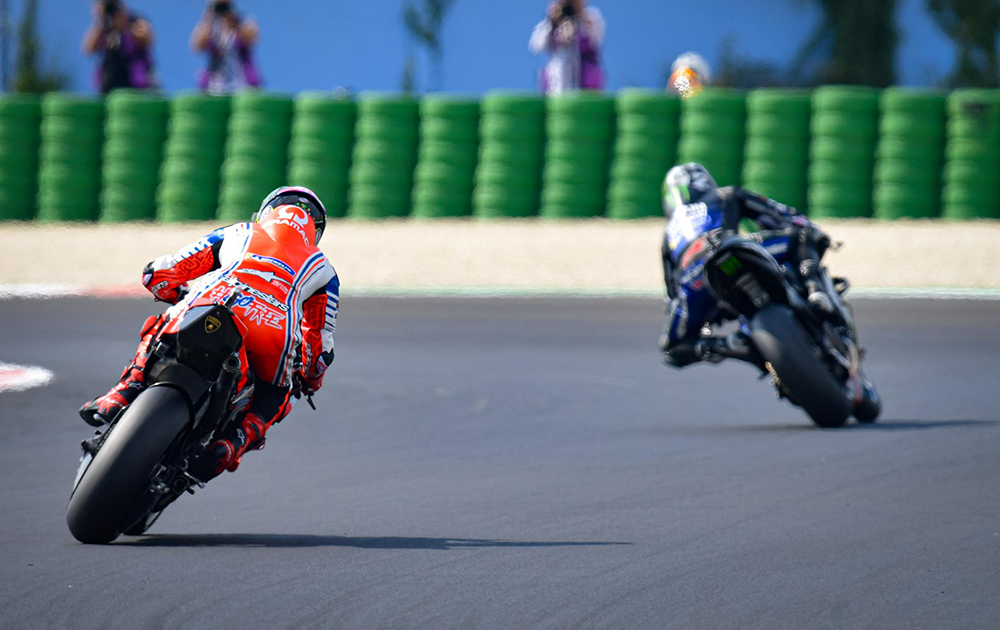 A stroke of bad luck for the local legend Valentino Rossi at turn four saw his 250th Grand Prix with Yamaha tarnished. While that was going on, Bagnaia had got past teammate Miller into second, while Binder took third at turn 10, passing Quartararo like he was standing still.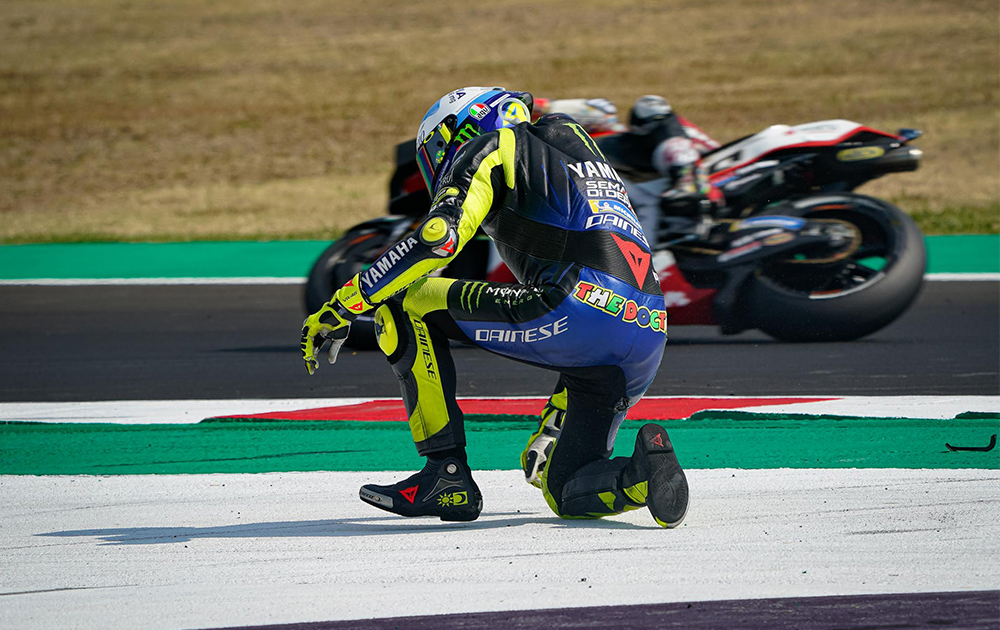 All us Binder fans were on our toes as the rookie lost the front end of his RC16 braking into turn 14. Binder remounted but, binned it once again a few laps down the line before a disappointing retirement.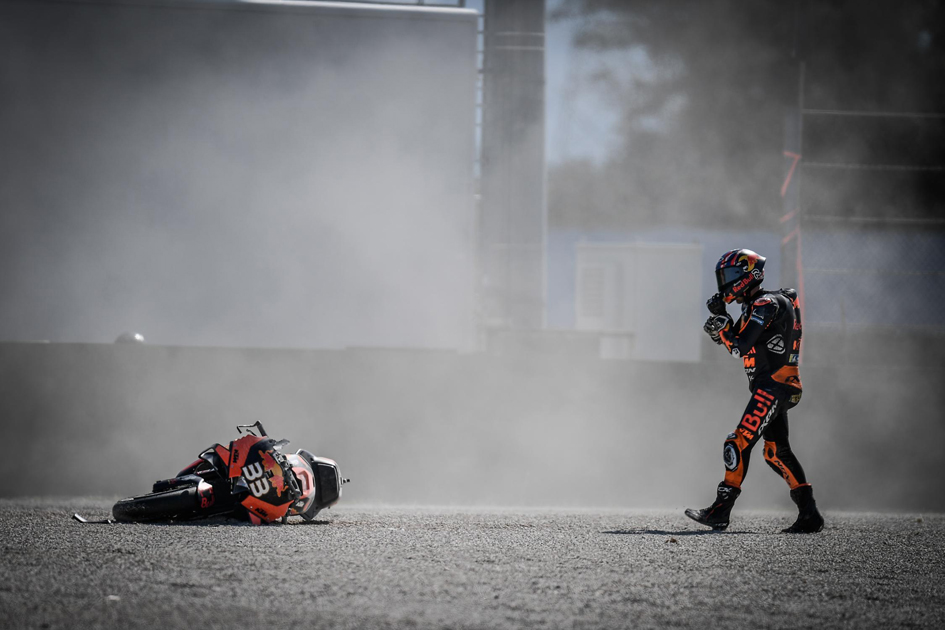 One fastest lap after another saw Bagnaia close down Viñales's lengthy lead, and the duo were slowly pulling away from Esparagro and Quartararo. Then Viñales ran it wide into turn four, leaving the door open for Bagnaia. Further back, Espargaro and Quartararo were quickly being reeled in by Joan Mir's Suzuki.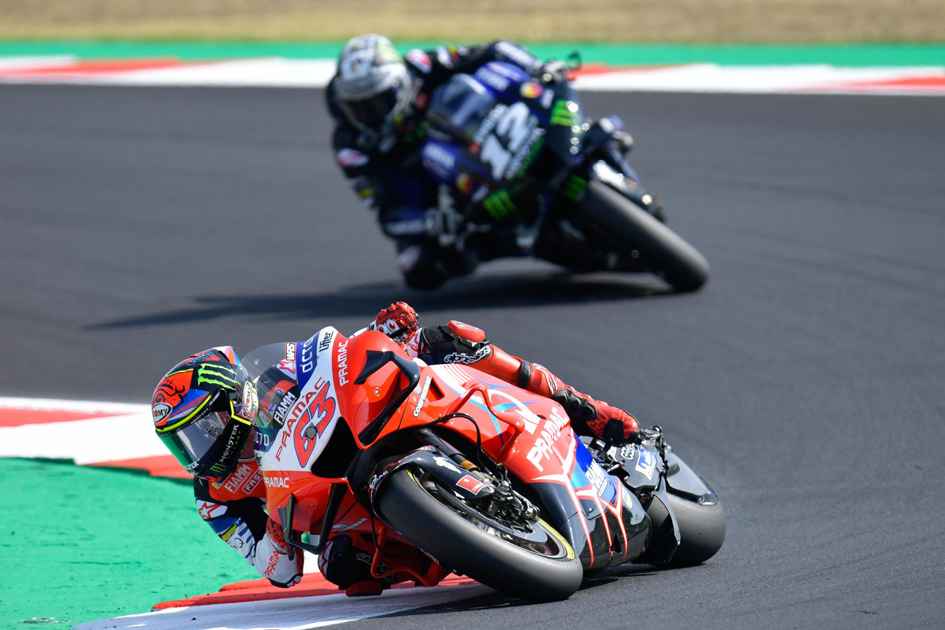 With only seven laps remaining, Bagnaia's 1.4 second lead and his first MotoGP win slipped away as the Italian's front end gave way. With a four second lead, it was now Viñales's race to lose. Espargaro's soft rear tyre had now worn off, and to make matters worse Quartararo and Mir were both ready to order a main course of KTM RC16.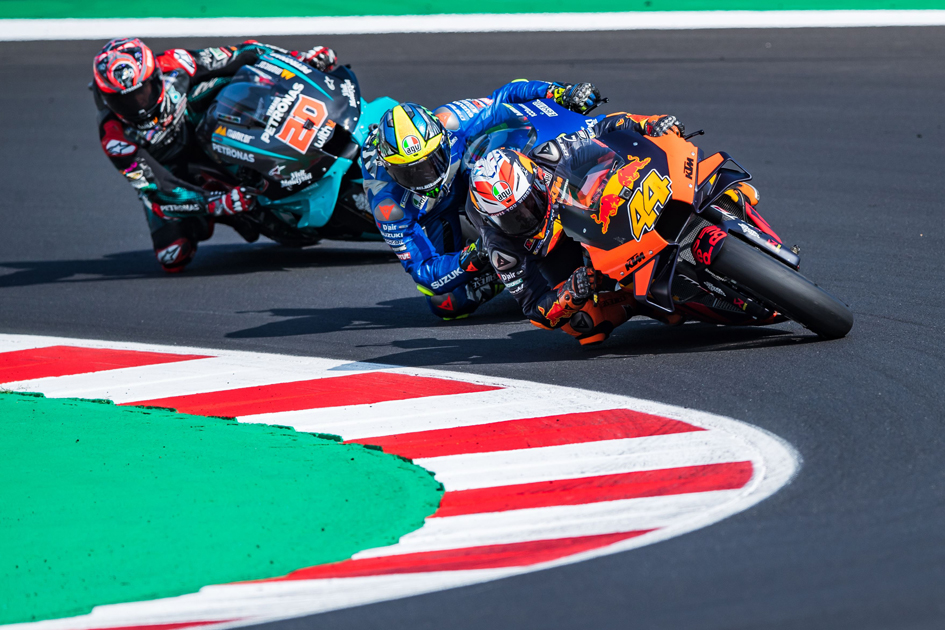 Mir took the first bite heading into turn one, and Quartararo then took the second into turn three as Espargaro went from P2 to P4 in a matter of corners. But there was more drama in store: Quartararo was given a long-lap penalty for exceeding track limits more than once, and his only chance to do it was on the last lap.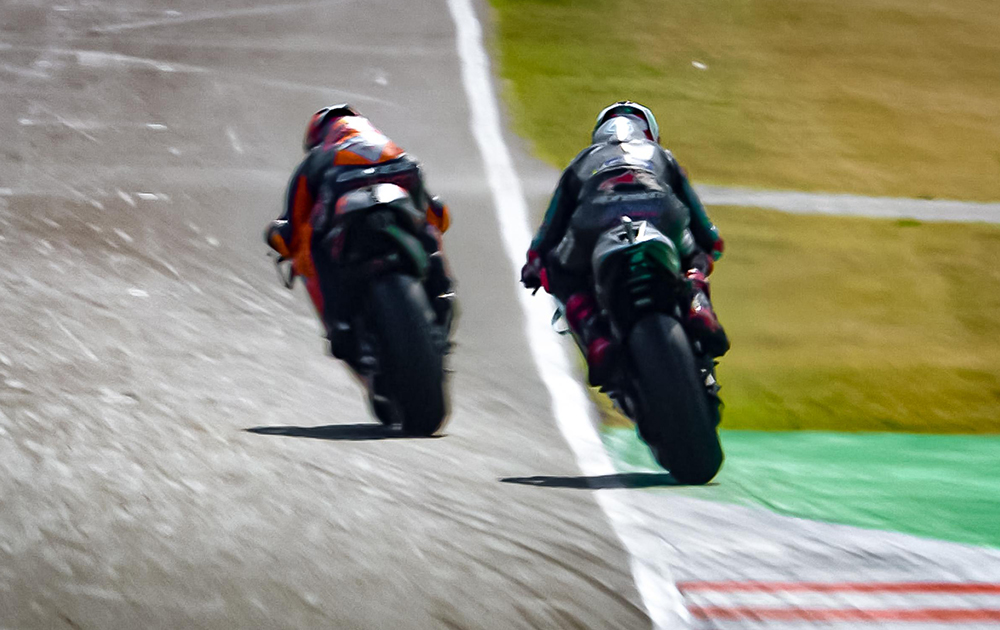 Viñales finally got his well-deserved victory, proving to all the haters that he actually can win. Mir finished second, and Espargaro was promoted to third when Quartararo was handed a three second penalty for not taking the long lap. That demoted him to fourth, just in front of Miguel Oliveira.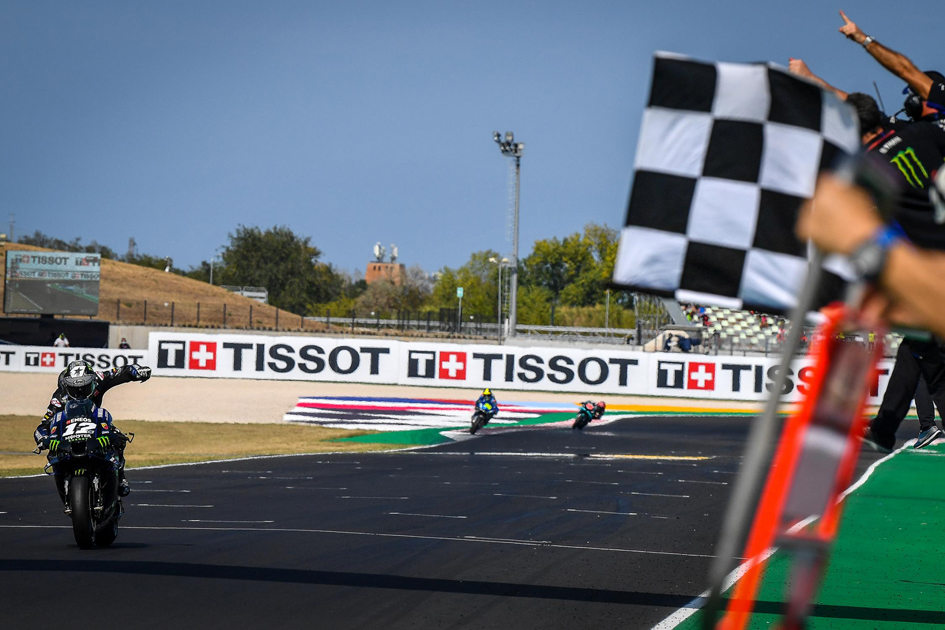 MotoGP has once again produced the goods. We've now got six different winners from seven races, an 'unemployed' Dovi leading the championship, and just four points splitting the top four contenders. 2020 just keeps getting better and we're far from done, with the Catalan GP set to kick-off in less than a week.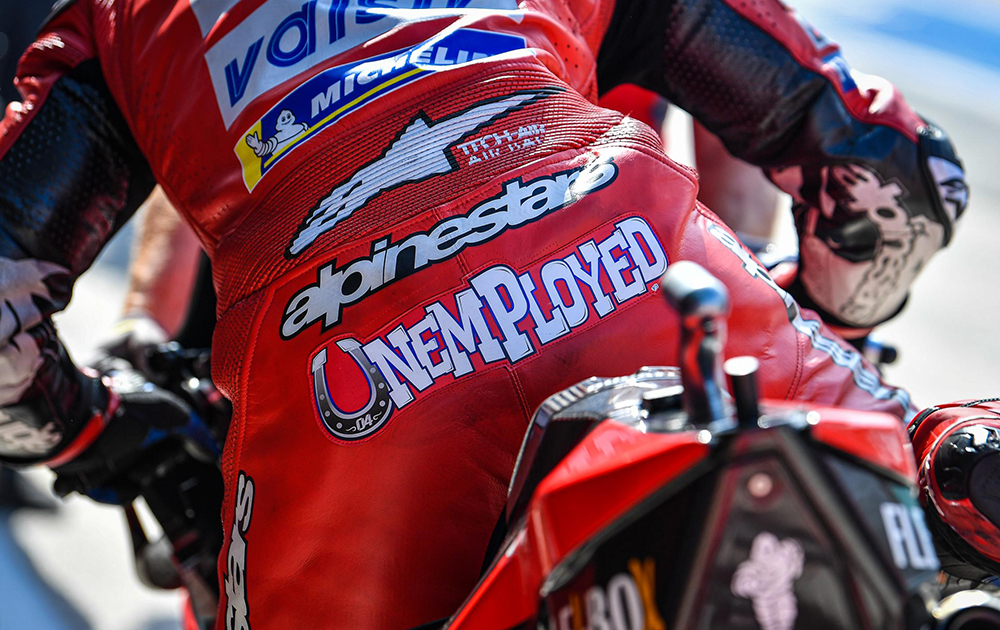 Maverick Viñales: "We did an amazing job this weekend, and we prepared really well for this race. Pecco was very fast, and I was pushing a lot throughout and trying to save a bit of tyre for the last ten laps. Then I started to push at the end, and I thought I was catching up with Pecco. But after he made a mistake, I just focused on keeping the bike with both wheels on the ground, trying to not crash and take the maximum amount of points. It's fantastic! I'm very happy, because my mentality is exactly the same as it was last weekend and during the last races, but we just found a set-up that's a bit better for when we ride with 20 litres at the beginning of the race. I actually made a mistake in turn four. I was pushing a lot in the beginning, trying to open the gap. But when we were with only two riders, it was good. I want to say 'Thank you' to all the people who are supporting me at home. They know we've had some tough times in our team, but it seems like we've passed it, right now we have some good luck, and that's what counts. I'm very happy and appreciate all the work from the team, and we need to continue like that, pushing very hard, because we have a lot more potential."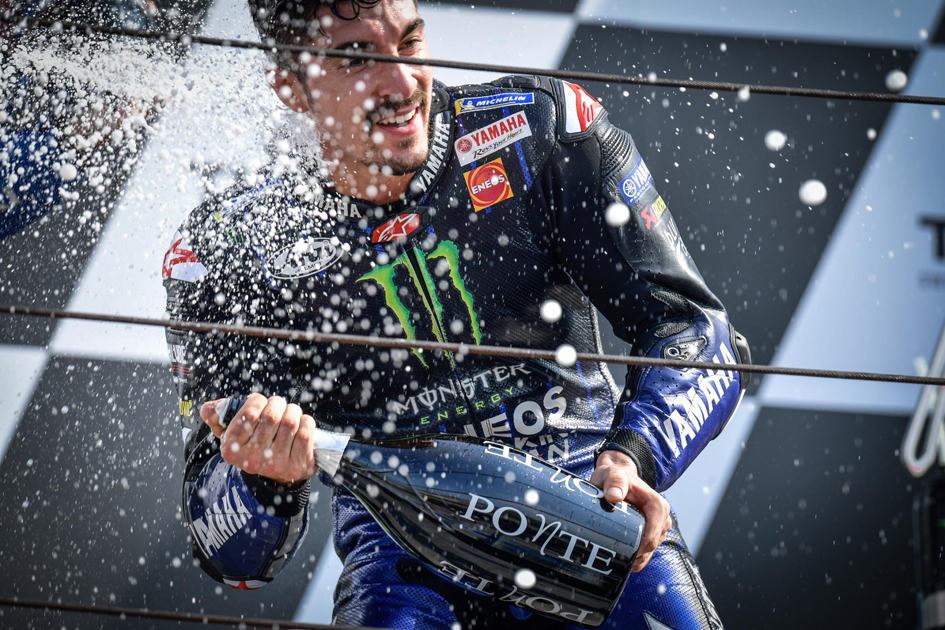 Joan Mir: "It feels so nice to be here on the podium again! I know I need to improve my qualifying results, and that's something we've been trying to work on, but I'm so glad that I was able to fight through for the podium despite starting 11th. I just kept trying to close the gap and stay focused, and it paid off. I'm so happy and I really hope I can enjoy another good result next weekend in Barcelona!"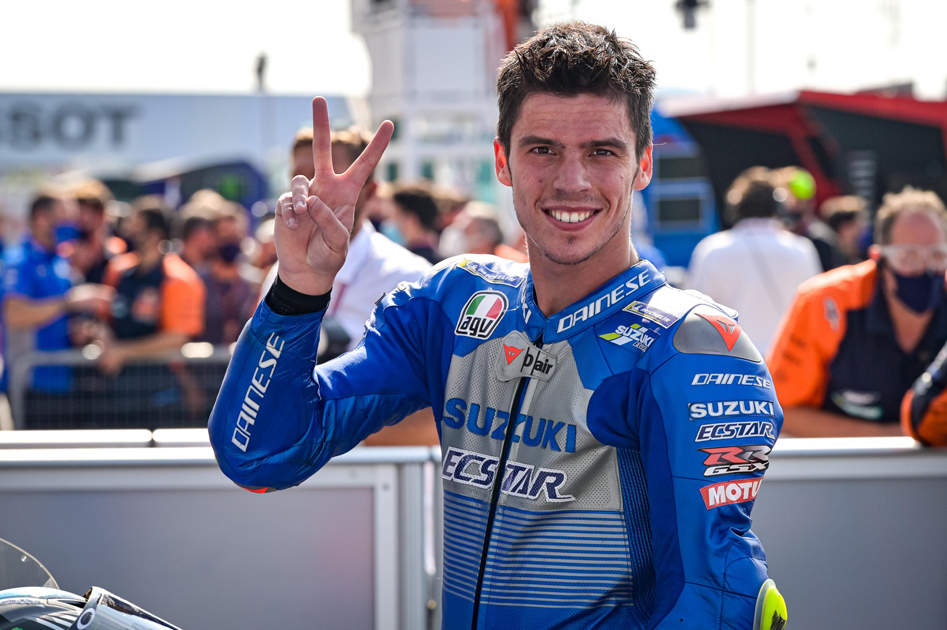 Pol Espargaro: "We knew we were taking a gamble with the rear tire but I wanted to really enjoy the race. I also knew we'd have to deal with some drop-off in performance but that came much earlier than we expected. I was very fast at the beginning—with a bike I love—and I kept pushing and keeping Maverick close for some time. In the end I wanted to keep the others behind me and defend my position: that big effort paid off. With Fabio's penalty we were able can do it… that's why I never give up."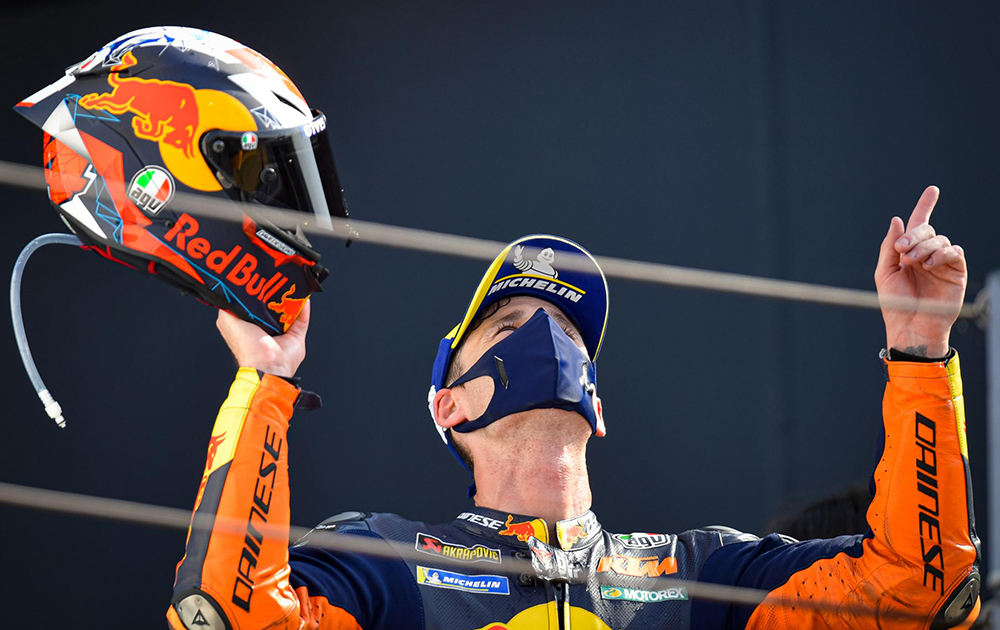 Brad Binder: "I felt really, really good today. I made a decent start but then lost the front into Turn 11 and had a big head shake of the bike. I was thinking 'that was close' but then tucked the front going into Turn 13. I was a little bit wild. I tried to restart but then crashed again. So, not a great race but I'm happy because I had such a good feeling with the bike, and we've worked hard to get to that. Unfortunately we go home with nothing today but we'll try again in Barcelona. We'll need to learn quickly there and if I take one thing from this weekend then it's that a good qualification makes life so much easier! We'll try for that again next weekend."
MotoGP Dell'Emilia Romagna e Riviera di Rimini Race Results
1. Maverick Viñales (SPA) Monster Energy Yamaha MotoGP 41'55.846
2. Joan Mir (SPA) Team Suzuki Ecstar 2.425
3. Pol Espargaro (SPA) Red Bull KTM Factory Racing 4.528
4. Fabio Quartararo (FRA) Petronas Yamaha SRT  6.419
5. Miguel Oliveira (POR) Red Bull KTM Tech 3  7.368
Rider Standings
1. Andrea Dovizioso 4 (ITA) 84 Ducati Team 84pts
2. Maverick Viñales 12 (SPA) 83 Monster Energy Yamaha MotoGP 83pts
3. Fabio Quartararo 20 (FRA) 83 Petronas Yamaha SRT 83pts
4. Joan Mir 36 (SPA) Team Suzuki Ecstar 80pts
5. Franco Morbidelli (ITA) Petronas Yamaha SRT 64pts
***
11. Brad Binder 33 (RSA) Red Bull KTM Factory Racing 53pts