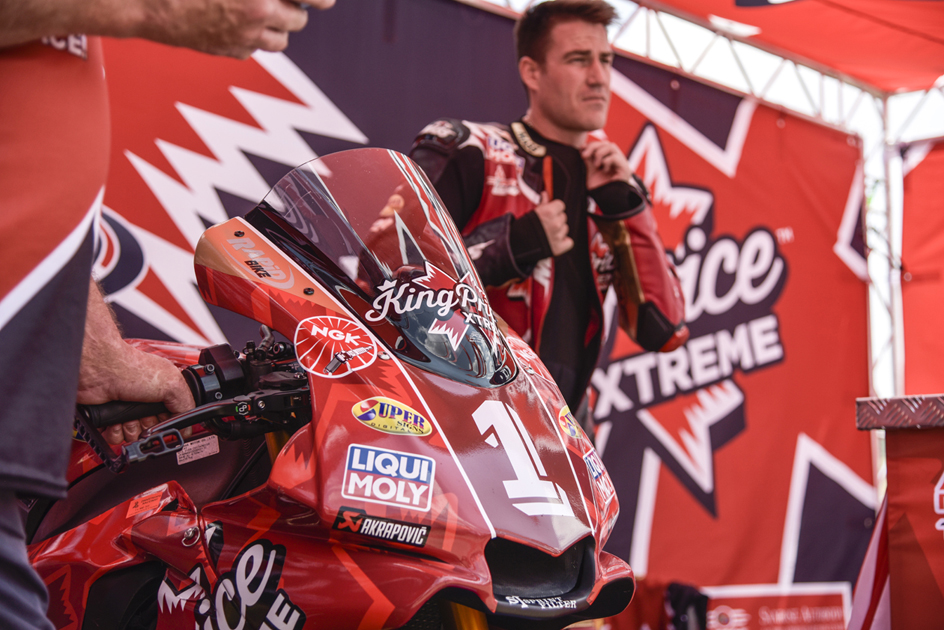 South African motorcycling has suffered the exact same pandemic-related setbacks, calendar reshuffles and crammed race schedules that the international racing scene has. But racing is finally underway—albeit under weird circumstances and with empty stadiums.
That means that our friends in the King Price Xtreme superbike race team have finally returned to the track. They're heading to Red Star Raceway this weekend, with three rounds of what should have been a much longer season already done and dusted.
We last spoke to the team four months ago, deep in the midst of level who-even-remembers of lockdown. Now that racing is underway, we hopped on a video call to catch up with team boss, defending SA Superbike champion and current points leader, Clint Seller, and team racers Dino Iozzo and Sfiso Themba. We spoke about the pressure of campaigning for a title with a shorter calendar, Dino's early season injury, and how Sfiso's adjusted to his new team's dynamic.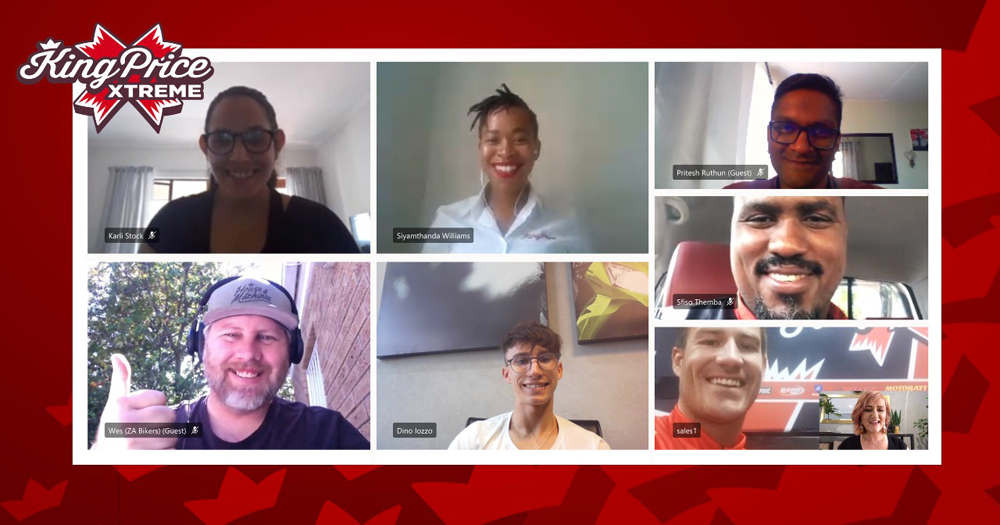 ZA Bikers: Clint, how do you feel heading into round four, with empty grandstands?
Clint Seller: Excited! But unfortunately with no crowd again, it does bring the challenges for us as a team to provide our sponsors (like King Price, Liqui Moly, and Dragon Energy), that use the racing platform to entertain their customers, a chance to showcase their brands. So we've missed that, and from my side, I quite enjoy interacting with people. It lets me talk about the sport that I love, so that provides a bit of extra motivation on the day. But we try to do the best we can—we try do live Facebook feeds and things like that from the team.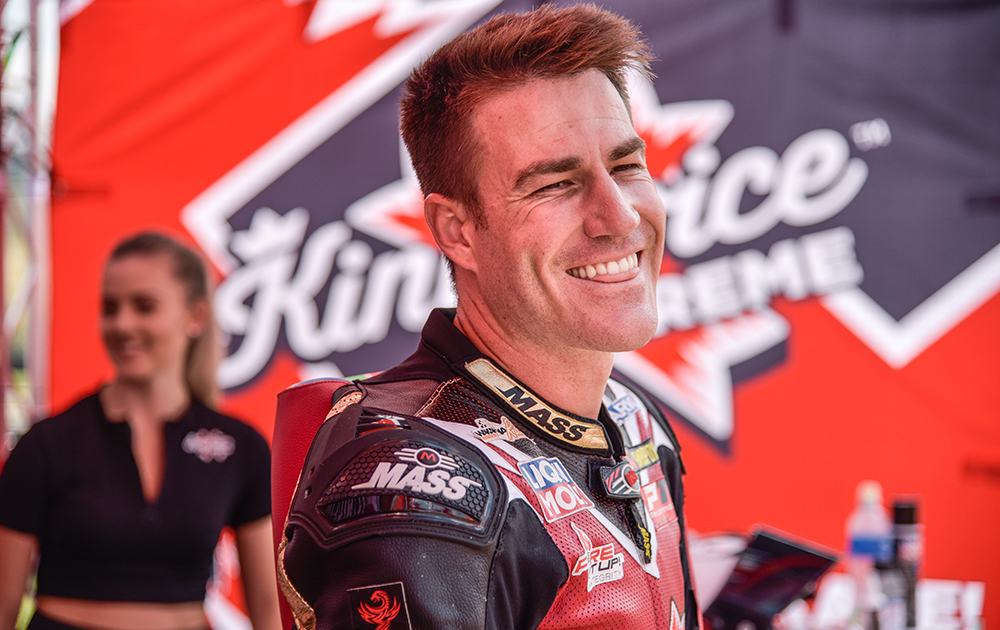 As the visor goes down, I must be honest, whether the crowd's there or not, the focus is 100 % on winning. That's my job and my position in the team, so it's really an absolute must for me to cross the line first.
What's it like adapting to the mindset of racing a shorter season?
CS: That is something I've never ever dealt with before. I always structure a championship over a whole race season, so I know that once or twice, it's motorbike racing, you fall down. Whereas obviously with this condensed season, that actually puts on me (and I'm sure the other riders too) under quite a lot of pressure not to make a mistake.
I had a crash in the first round of the season, in the first heat actually, two laps in, and got a zero points result on that one. Another one with this short year is going to be really difficult to come back from. So there's that aspect. During the race, you're thinking about that… where you've never thought about that before.
How about racing multiple rounds at the same track?
CS: I've got to be honest, Zwartkops on a superbike is not my favourite track. On a 600 it was always an incredible experience, because you get to let the bike get looser, and with less horsepower, it's a bit more fun. So that was a weird thing. Because the first race of the year was going to be Zwartkops, and then we weren't going back there for some time. In my head I was like "man, just get this round out the way."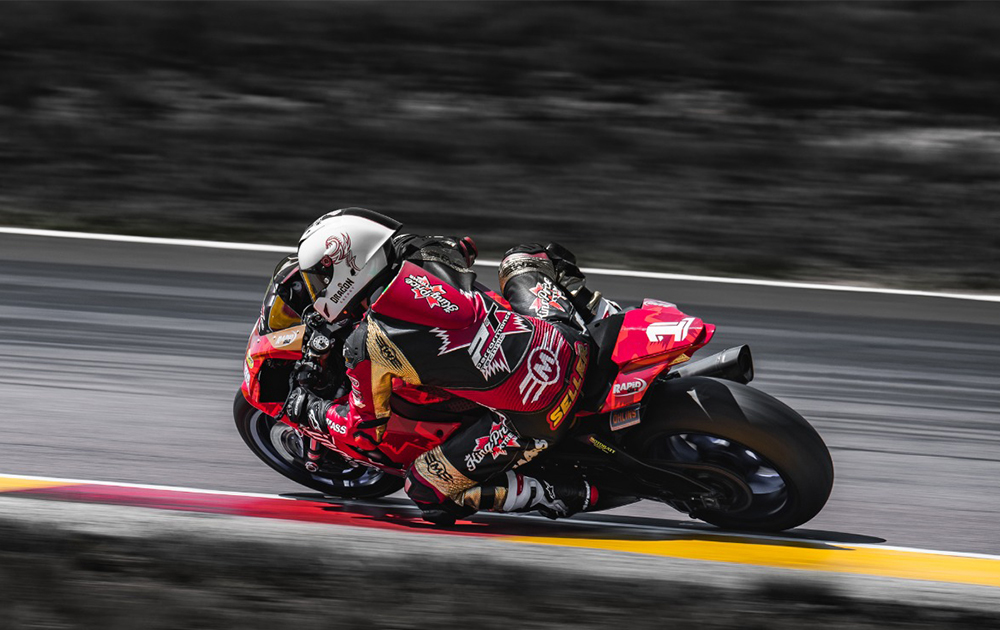 It was my wife who actually said: "you know, Clint, you've gotta get over it!" And it's weird, I've now won four races there, and I don't think I've ever won four races at that track in five or six years! But I'm kinda glad to be going somewhere else, so that we can also show our mettle elsewhere.
You mentioned the lack of exposure for sponsors without spectators at the races. As team leader, have you felt secure in the sponsors you have this year?
CS: Absolutely! When we first heard the president's announcement, I was very fortunate with the sponsors we have. I was able to pick up the phone to all of our sponsors and say: "OK guys, we understand where we are, can we count on your backing? Can we count that you guys are with us when we're back up and going?"
All of us could see that it was going to be a tough time for businesses, and racing motorcycles takes the backing of sponsors. I was quite fortunate that every single one of my sponsors put up their hand and said "Clint, we're there with you. We are going racing and we're looking forward to you guys getting back on track."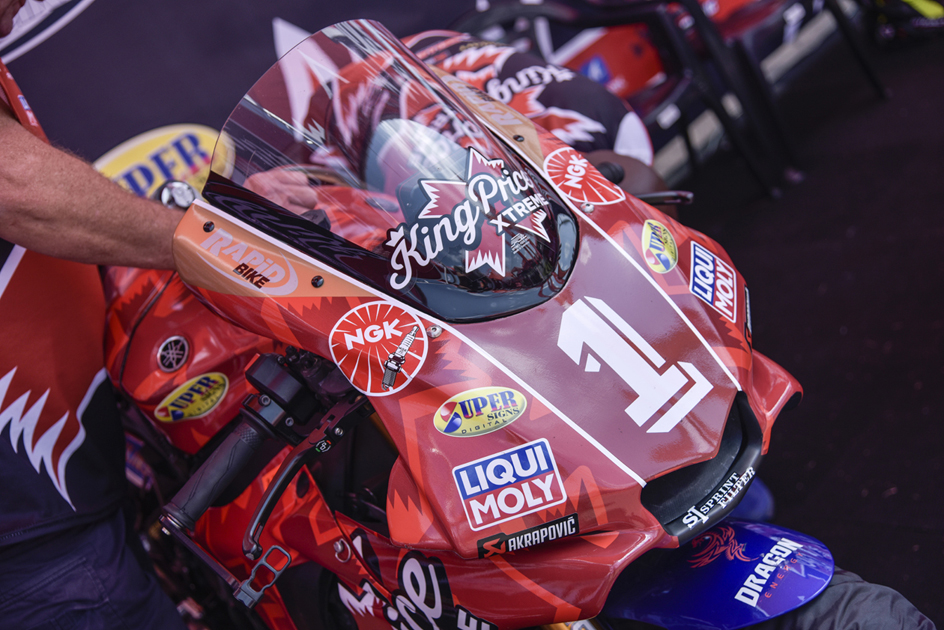 That was very comforting, and very comforting for the other two riders in the team I think—that when MSA and the government said the doors are open for racing and motorsport, we were going to be on track. That was very reassuring for me, as an athlete, because it's really hard to maintain that motivation when you're sitting at home and thinking to yourself "well why should I climb onto the stationary trainer today?" Because, let's be honest, it's not a whole bunch of fun sitting there for an hour and a half, sweating in your garage.
So I was able to keep a bit of the motivation. I was able to try and maintain the fitness from my side, and able to have positive conversations with both Dino and Sfiso. I think Sfiso even lost a few kilos during lockdown… I can't say I did the same.
Dino, how was your season opener at Zwartkops?
Dino Iozzo: I don't mind Zwartkops. As Clint was saying the 600 makes much less power than the 1000's, so Zwartkops is a lot easier than I would think on a 1000, and definitely a lot more fun that way. But unfortunately, we went there just before the race to practice and I actually came short, and ended up breaking my collarbone.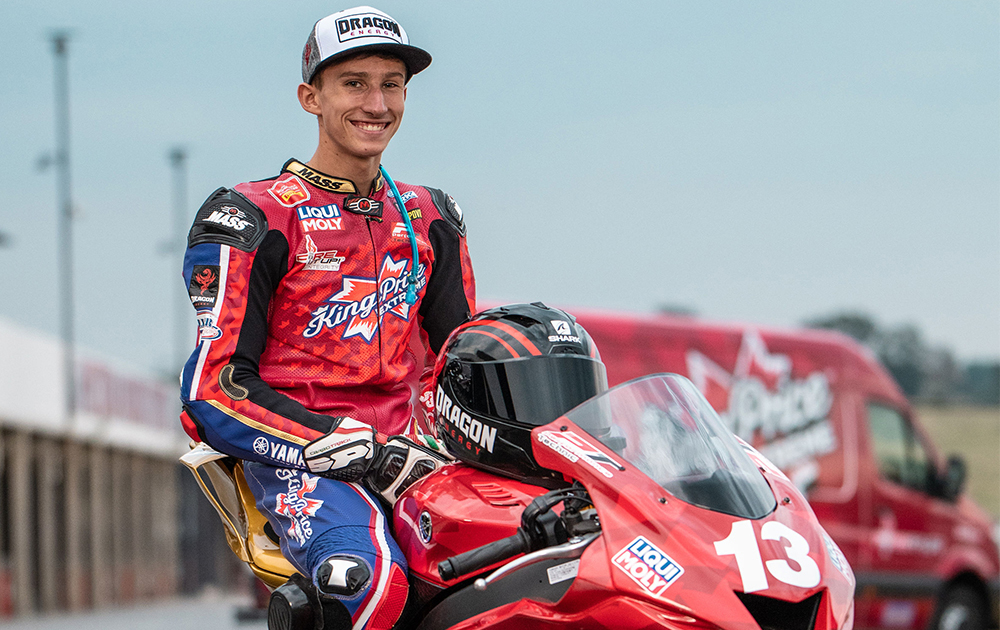 But you're back in action now, right? Looking forward to Red Star?
DI: I'm already back in action, I've already been riding for just over six weeks, and the collarbone is feeling good.
I enjoy Red Star, I would say that Red Star is probably my home track, that's where I've done the most laps. So I'm always confident for a round at Red Star.
Sfiso, how's your season start been?
Sfiso Themba: First of all, it's been a great journey joining the team. I've never ridden for a team before, so they did a great job helping me get ready for the season. I was looking forward to it until COVID happened, so that sort of took away so much planning and racing and all of that. But at least the team has always been supportive, to make sure we are ready and mentally prepared, and always assisting me with the bike.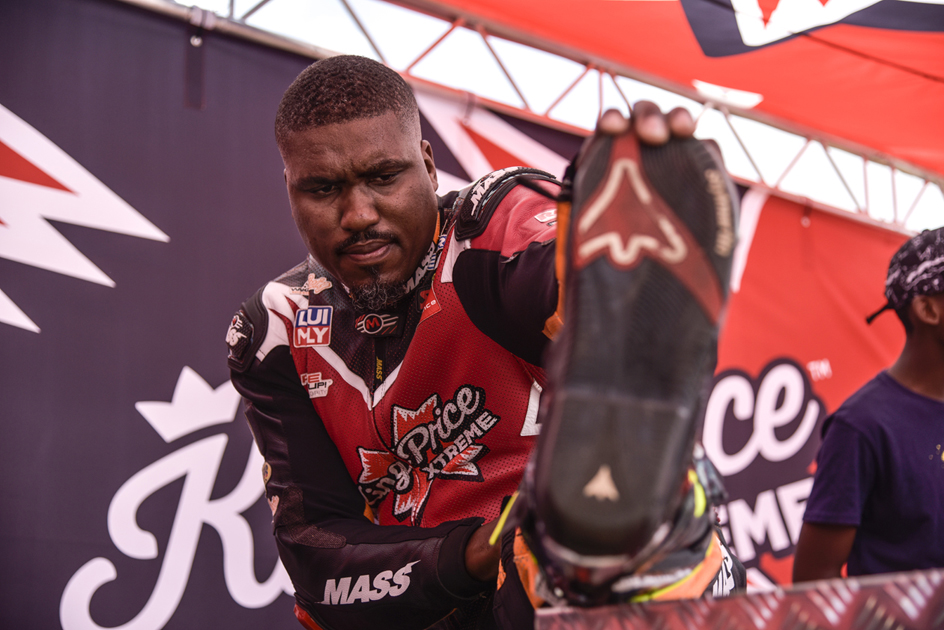 I've learnt so much, even if it was off track, about the bike, how it responds, and the technical setup of it, than before I joined the team. So now we've put ourselves at the races to see what we can do on track.
How do you maintain that team dynamic without any proper interaction?
ST: A lot of calls, a lot of Whatsapp messages, a lot of videos, a lot of encouragement. I'm always bugging Clinton, saying "I'm thinking this, I'm feeling like this, what will we do here, what will we do there?" I must say, he's been really really forward in helping me and giving me all the information.
And these are the fast guys, so there's also a bit of pressure to make sure I deliver. And that also gives me a little bit of a breather to reassess, and set targets that I can achieve and reach, and pace myself for the racing. But ja—we're almost five months off not being racing, so the focus has been to make sure we train, keep fit, keep healthy and just study what we need to do, to make sure the bike is more effective.
How important is social media during this time, for supporters?
ST: We just keep on reminding them we're still racing, we think about them and we hope to see them soon, when the COVID restrictions are more friendly for spectators. It's still a shame now, that they still can't make it to the track. Everyone has been calling and asking that I must let them know when we're racing, because they want to come through. I'm looking forward to when we have a full grandstand of supporters for King Price.
Do you guys think Brad Binder's standout rookie season in MotoGP has generated more interest in racing, on home soil?
DI: I'll definitely say 'yes' on that one. Brad is a huge influence on all our riders, because obviously, that's what our goal is as well. We all want to try to reach the top step in our category, so seeing someone reach it from our home country definitely gives us more hope, and gives us more courage to go out there and try to work harder. It's awesome to watch him as well, it's awesome to support a fellow South African, who we all love.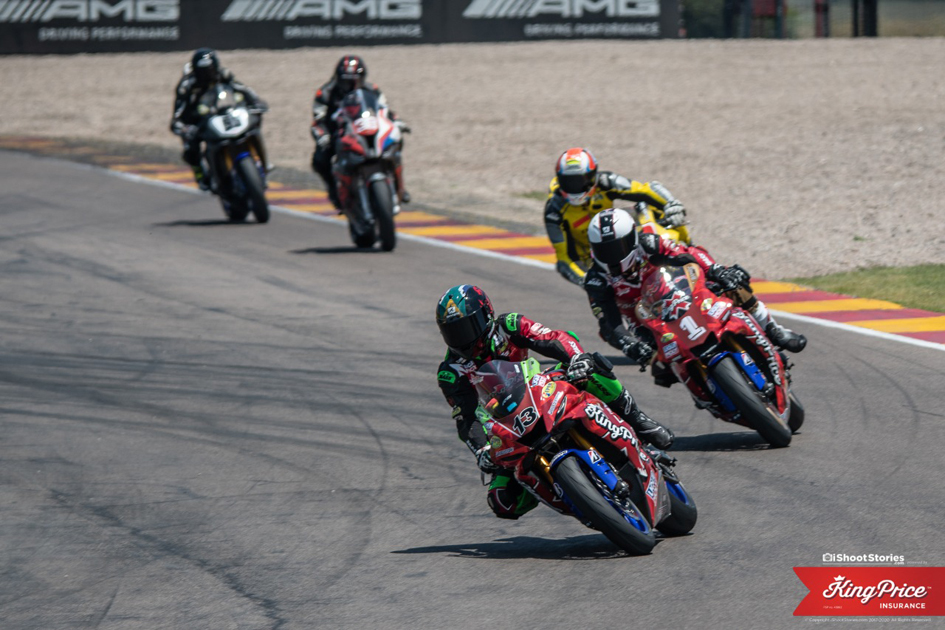 ST: What he's doing is phenomenal, and you can see the influence locally. Now, people are more keen on racing—they see it and now they want to come to the track. So I'm very positive that after the COVID, we're going to see a very good turnout, because the interest is getting better and better with our local hero representing us.
CS: I have a normal job as well, and I've had customers where I've known them for ten years, and this year is the first time where they've had conversations with me about MotoGP. I don't think they have ever watched motorcycle racing in their life, and all of a sudden they saying to me "hey Clint, when is your race? And how can we get involved in your team?"
Guys are out there buying Brad Binder shirts and hats, and they've never watched a motorcycle race before. Now they watch it, and they're busy messaging me and phoning me during the race, and I'm putting it down like, "hey guys, leave me alone," because I'm excited, I'm watching!
All of a sudden I've got people phoning me a week before the race, saying "Clint, are people allowed in? How can we get to the race?" I've had a customer of mine who literally said he's going to take his gazebo, park it next to the highway at Red Star, and watch the racing. That's wild, that wouldn't have happened two years ago. That's a direct result of Brad doing what he's doing.
And then I think guys also realise how unbelievably special it is to be in the league of those riders. I was blown away. To me, if Brad had had one or two top fives in the year, I would have said "what an unbelievable rookie season." But he's finished first. It's incredible, it gives me goosebumps to talk about it now. It's an unbelievable achievement, and I think he's doing incredible things for motorsport, not just motorcycle racing, but motorsport, in South Africa.