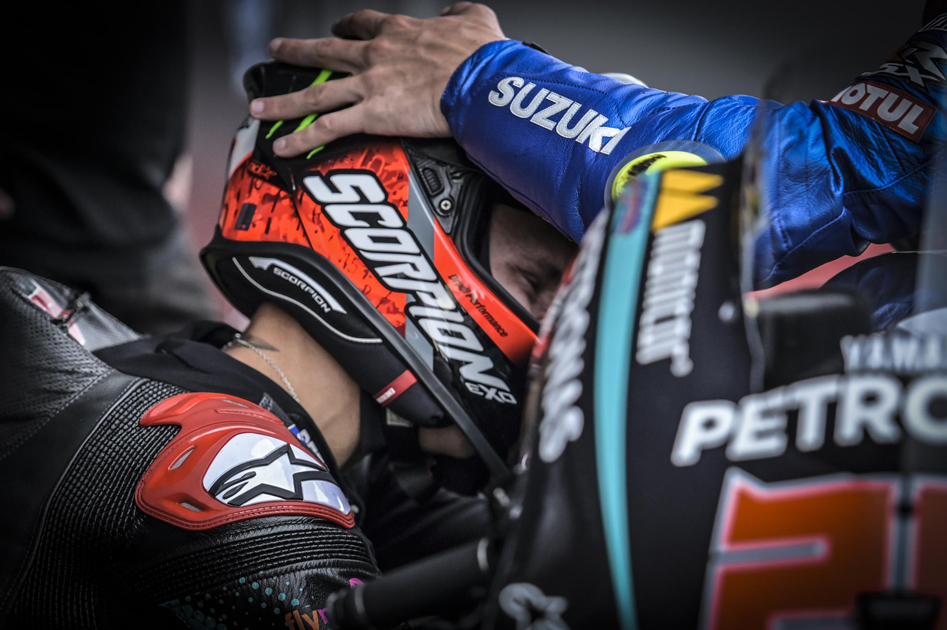 Just four points separated the top four riders heading into Barcelona, for round nine of the MotoGP World Championship. With the Championship so tight and with four possible title chasers in the mix, there's been much to think about.
Would the Championship standing change again? Would Quartararo, Viñales, and Mir take advantage of Dovizioso's 17th place starting position? Or could Dovi pull something out of the hat? Either way, the Catalan GP promised to be another phenomenal race.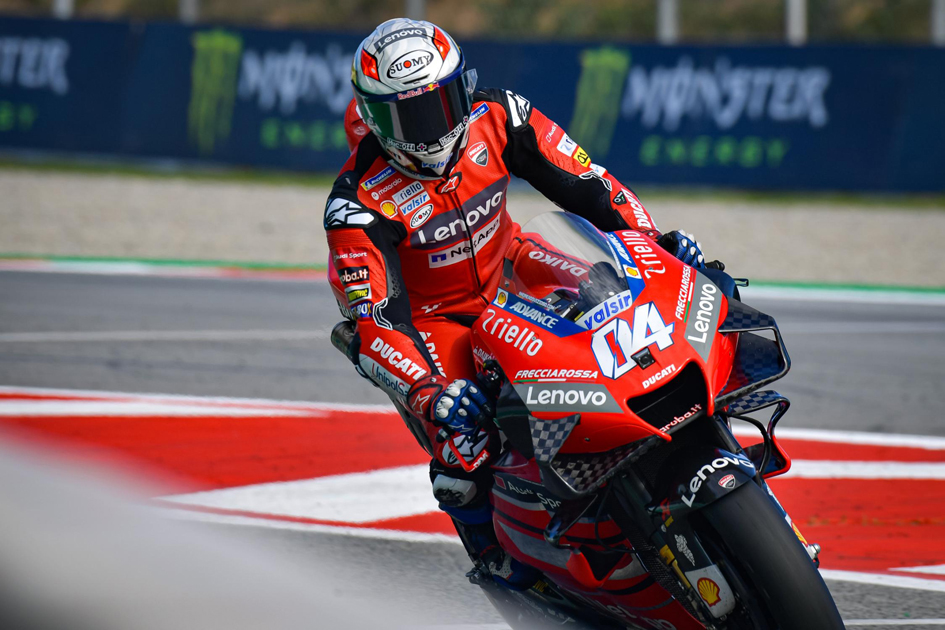 Saturday's qualifying was blue indeed, but not in the order many would have predicted. Franco Morbidelli claimed his first MotoGP pole position with a blitzing 1:38.798, Fabio Quartararo (2nd) lost out to his teammate by two tenths and Valentino Rossi (3rd) celebrated his 2021 contract deal with his first front row since the 2019 British GP.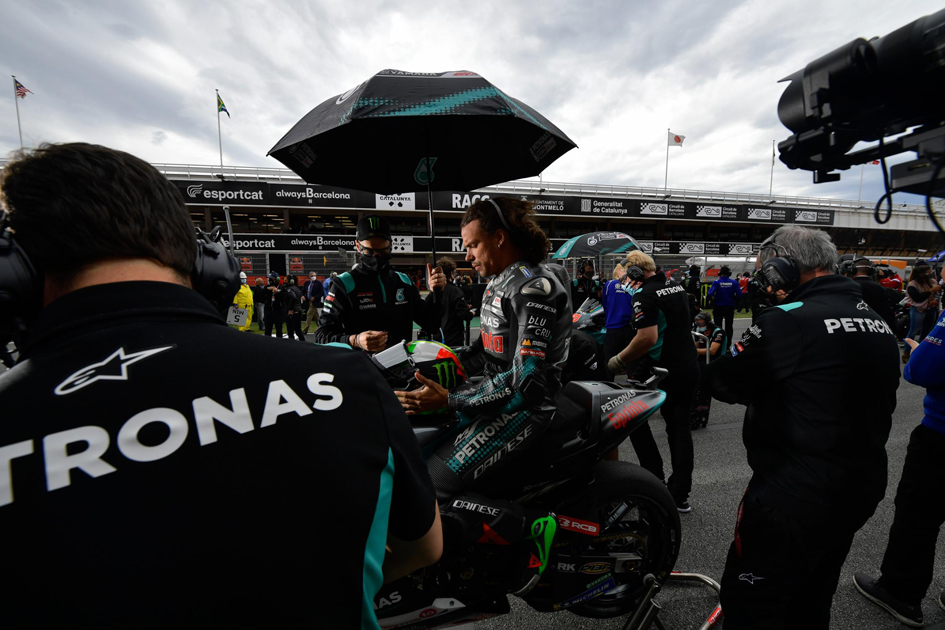 Brad Binder had a tough qualifying, struggling to find front end grip in the cooler conditions, but managed to get a fourth row start in 10th. Pol Espargaro placed his RC16 in 7th position on the starting grid, but felt so-so about his performance because of similar front-end grip problems.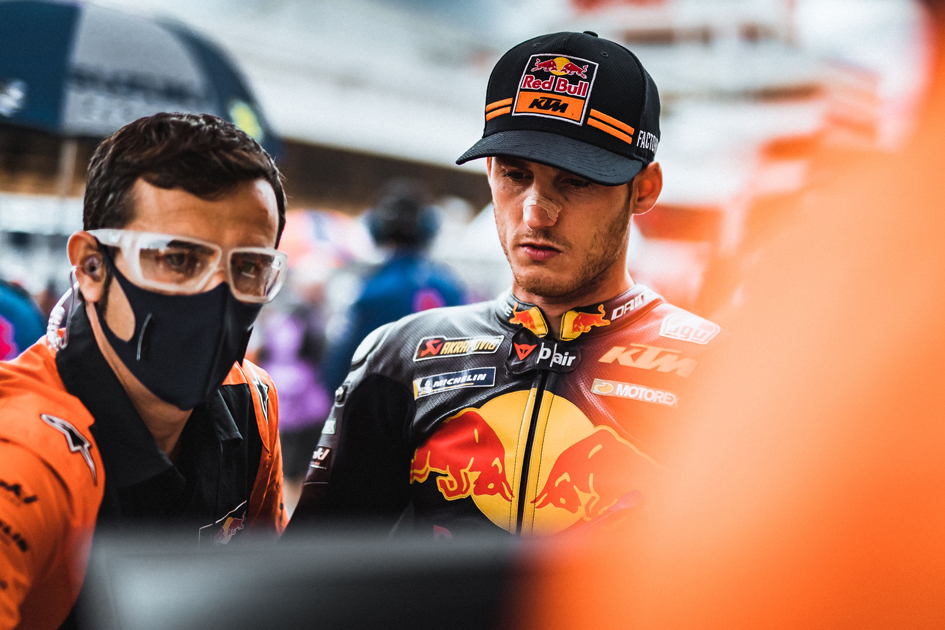 The coolest conditions yet for 2020 graced Catalunya on Sunday, making the slick asphalt a complicated challenge. Teams and riders had to make speedy judgements on tyres in order to find rubber that would last the full race distance, but also offer performance in the opening stages of the Grand Prix.
Franco Morbidelli had a great launch with Jack Miller sliding into second from fourth, and Valentino Rossi and Quartararo falling back. Turn two took a turn for the worst, as Zarco grabbed too much front brake trying to dodge Danilo Petrucci, tucked the front and took Dovi out of the race—and out of the Championship lead.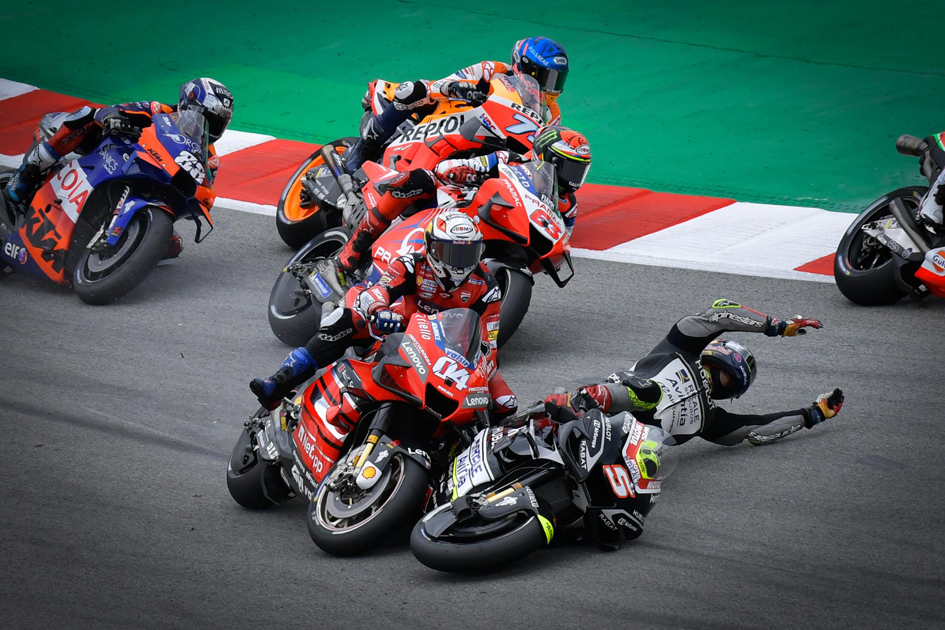 Back at the front, it was a Yamaha one-two-three with Morbidelli in the lead, Rossi overtaking Miller for second, and Quartararo sliding his way into 3rd after Miller ran wide. There was more blue behind the Yamahas, as Miller tried to hold off Joan Mir and Alex Rins for fourth. Maverick Viñales got an awful start, and was running a low pace down in 15th.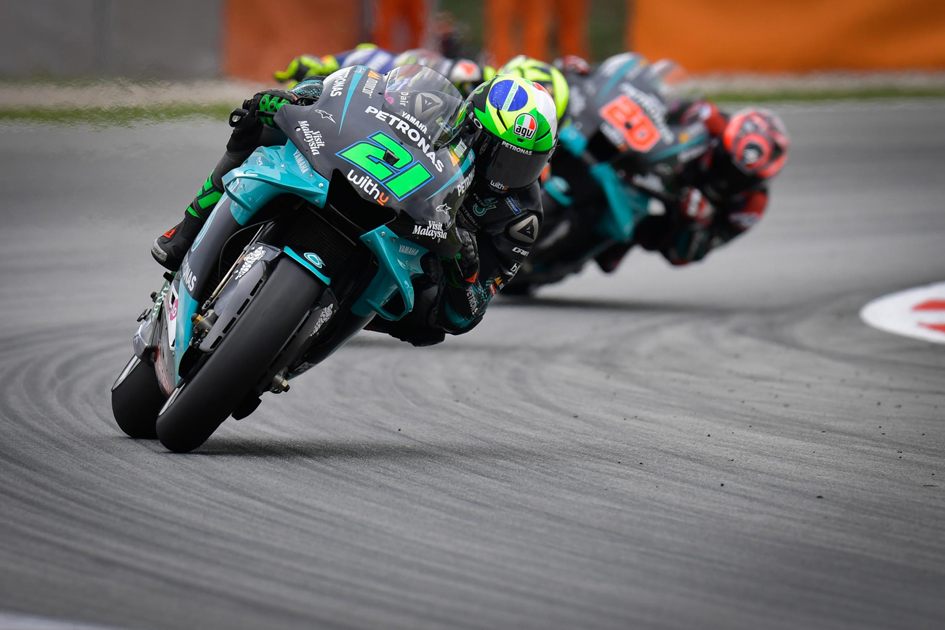 After sneaking past Rossi, Quartararo was hunting down teammate and race leader Morbidelli, with Rossi waiting in the wings; Miller too. Then, at the beginning of lap nine, Quartararo snatched the baton from Morbidelli to lead into turn one, and slowly started to sign out. Meanwhile, Miller was just 0.7 seconds off the podium, with Mir 1.2 seconds behind Miller.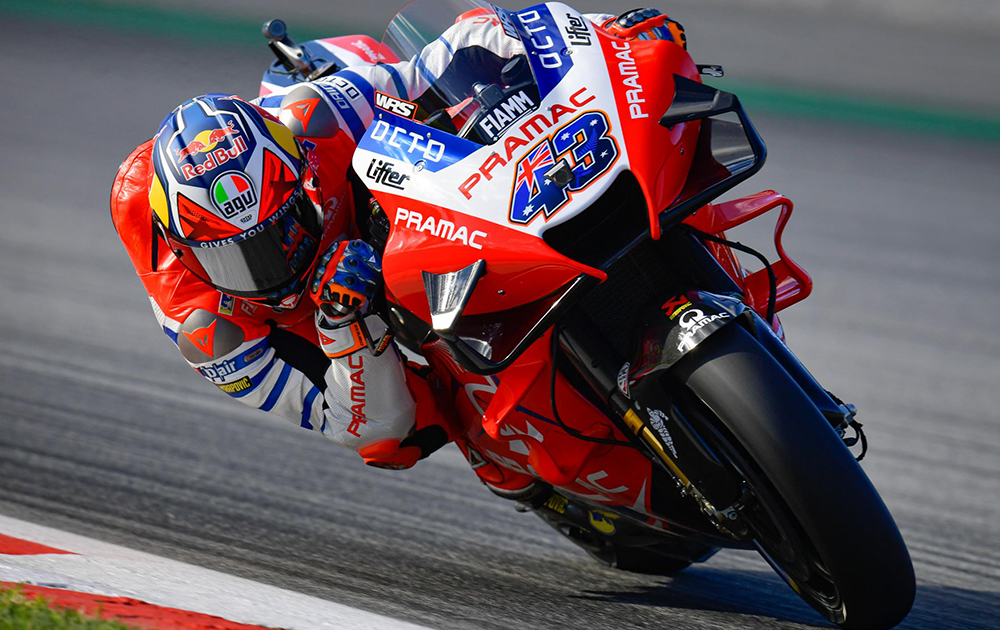 With a few laps to go, the riders were starting to get into tyre degradation territory. Pol Espargaro crashed at turn one with just 12 laps to go, then Morbidelli was nearly down a lap later, allowing Rossi through into second. Lap 16 saw more drama unfold at turn two as the Doctor slid out of contention while tipping into the left-hander. Then, a few laps later, turn two collected its last victim: Miguel Oliveira.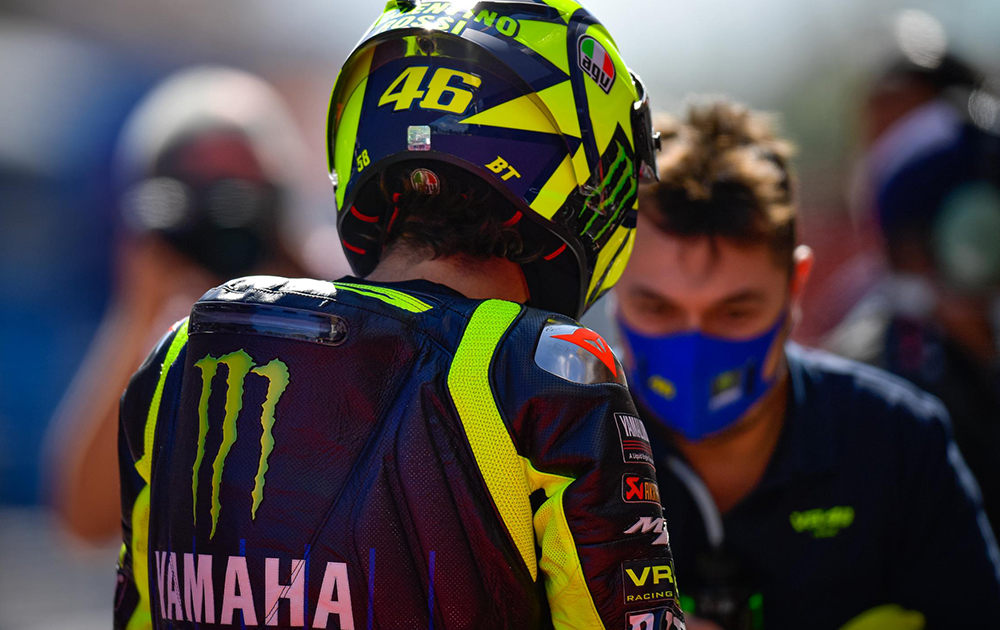 Quartararo was leading the charge with a 2.5 second gap to Morbidelli and the Suzuki man, Mir, in third. On the second last lap, Mir took Morbidelli and left him with a hungry Rins. Mir was immediately off into the distance, and Rins was then up the inside at turn 10 to demote the pole-sitter to 4th.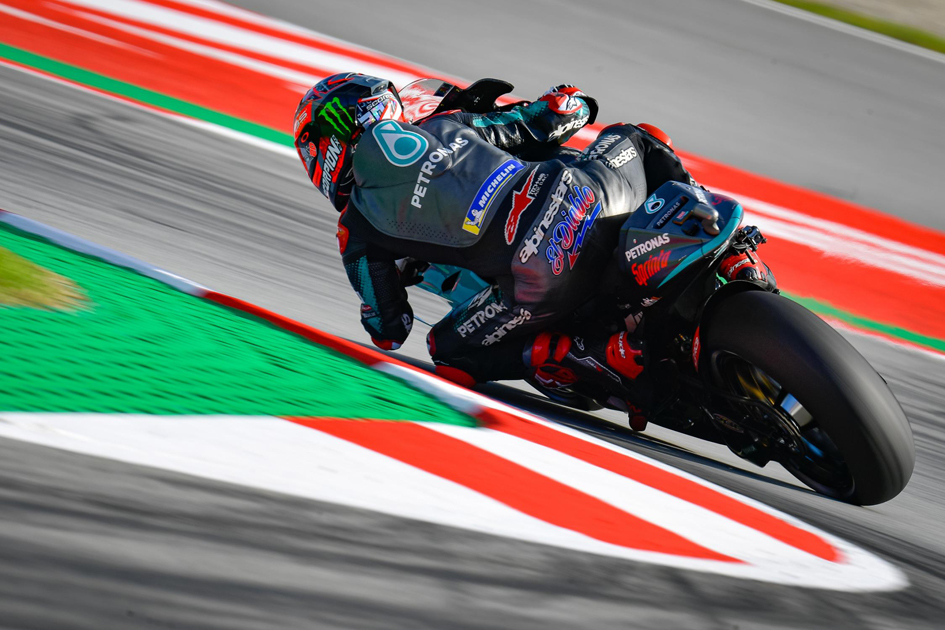 Last lap! Quartararo's lead was starting to shrink (down to 1.8 seconds), Mir was flying and Rins had broken away from Morbidelli, followed by Miller, Francesco Bagnaia, and Takaaki Nakagami. Halfway around the last lap, Mir was now just 1.4 seconds behind, but it was too late for him. With another lap and the number 36 may have bagged the win, but Quartararo turned the final corner to win for the first time since Jerez. Mir brought home second and Rins finished off the podium in third, claiming his first podium of 2020.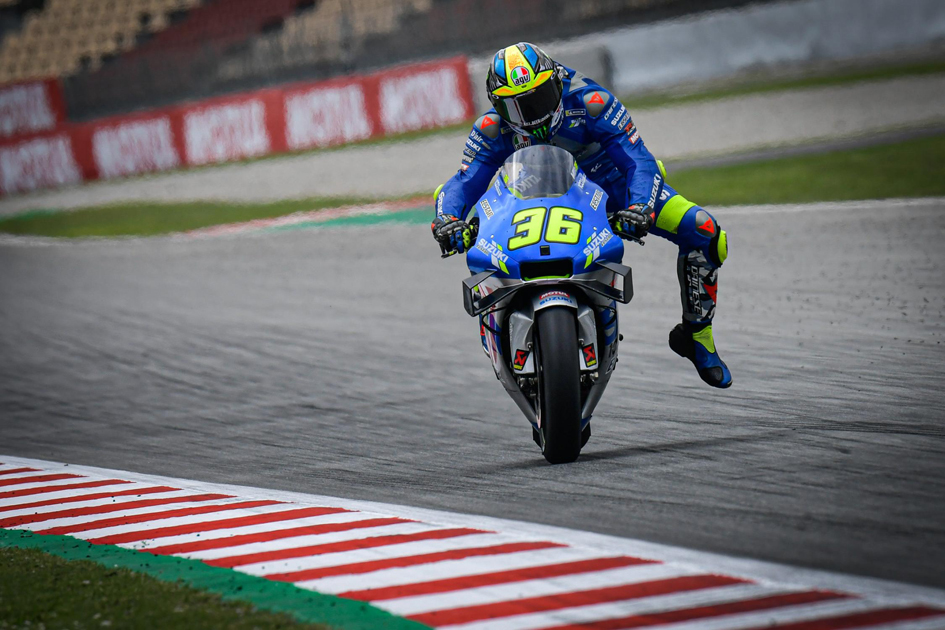 Brad Binder fought the mid-pack all race long, and eventually crossed the line in 11th after experiencing a lack of rear grip in the closing laps.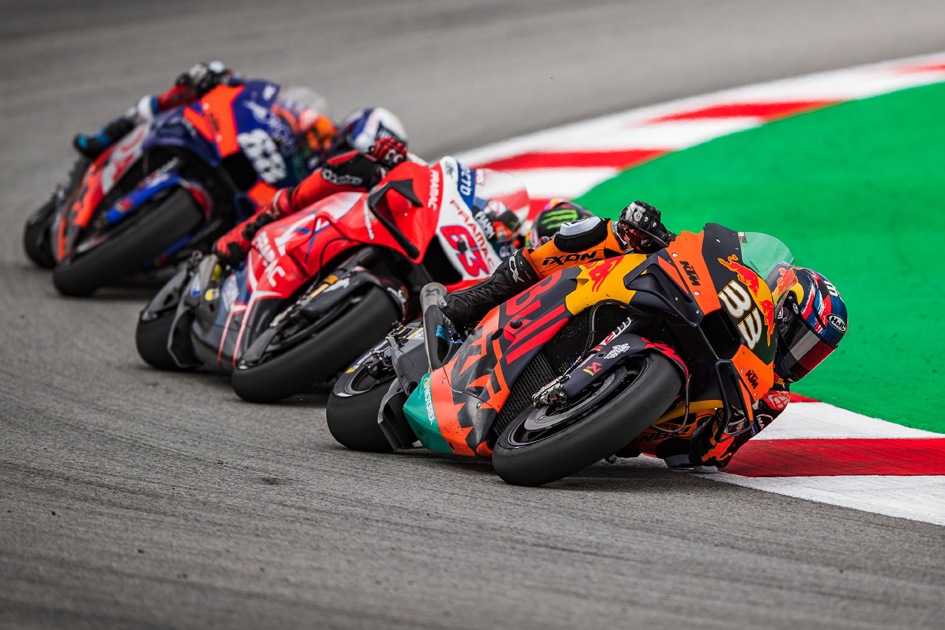 His brother, Darryn, fared much better on the day, taking first place in the Moto3 race. (Can you imagine two Binders on the MotoGP grid a few years from now?)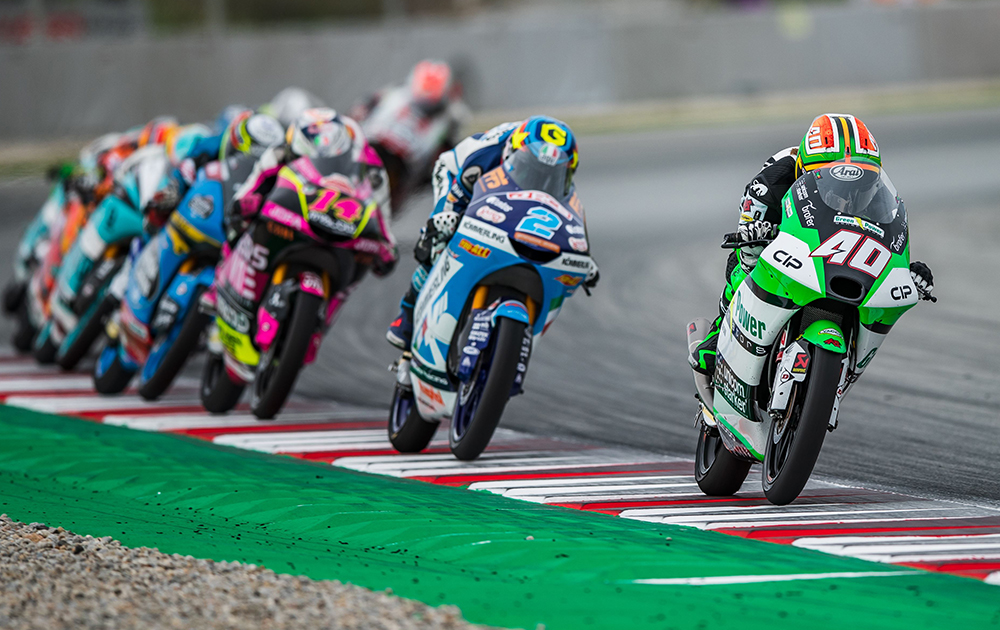 El Diablo returned to his winning ways at the perfect time to silence critics and, more importantly, is now leading the championship again. Mir rode a great race and has proven himself once again by bagging his third consecutive podium. The Spaniard climbs to second overall in the title race, sitting just eight points behind Quartararo heading to Le Mans.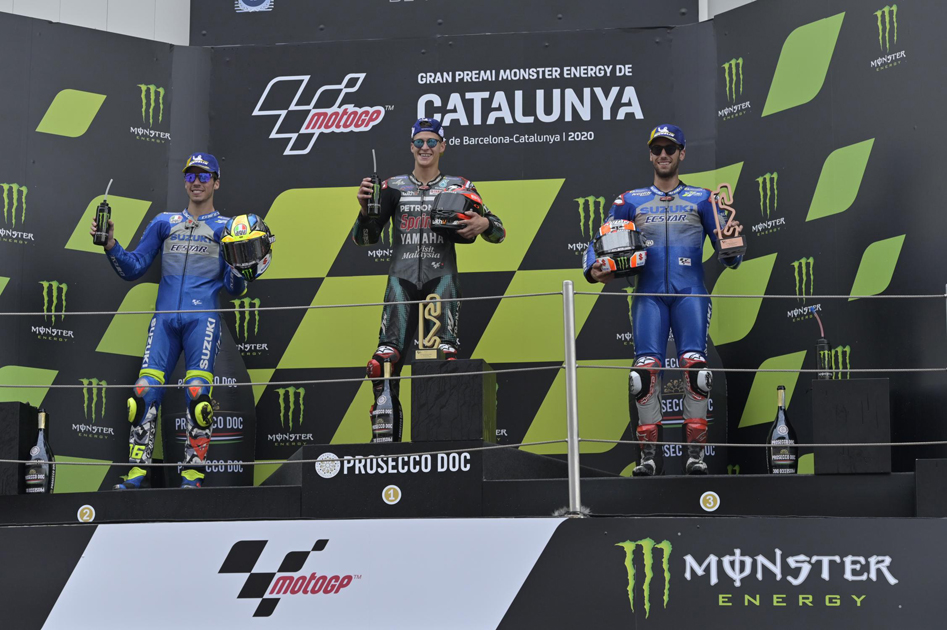 Fabio Quartararo: "This is the best moment that I have had in a long time! We have had some tough times since Jerez, so this actually feels better than those wins. I was not expecting to be so fast in the opening laps, but those two guys [Joan Mir and Alex Rins] were so fast at the end of the race. We need to look at why we are struggling at the end of the race. We know that our bike is better in qualifying, so we need to balance this a bit better, but at the end of the day the race result is the most important thing and we won. It feels so good though to be back on the top step of the podium. I am also so happy that I am able to race at my home GP next, because there are not many races in this season. My thanks to the team because this victory is well deserved."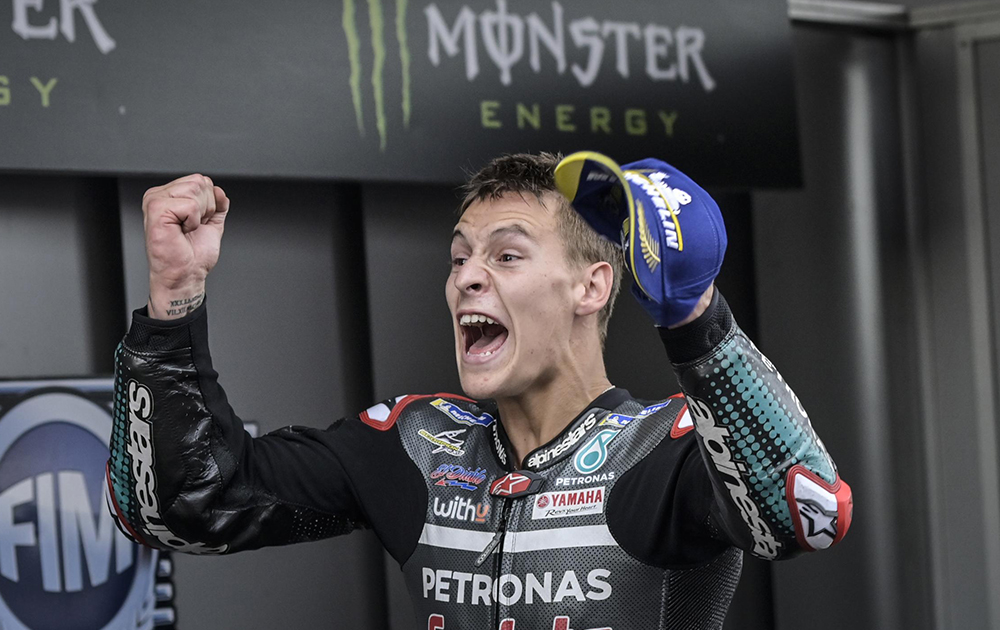 Joan Mir: "It was quite a tough race, especially starting from the third row. It means you have to push in the early laps and it can be a bit risky. I tried to avoid any trouble and keep my head down whilst also over-taking some riders. When I was behind Miller I knew I needed to stick with him and be ready to take advantage. I got close to the victory today, maybe with a couple more laps it could have been possible, but Fabio was managing everything really well and he did a great race. It's so nice for Suzuki to have two riders on the podium after a long time and I'm really pleased with today's work!"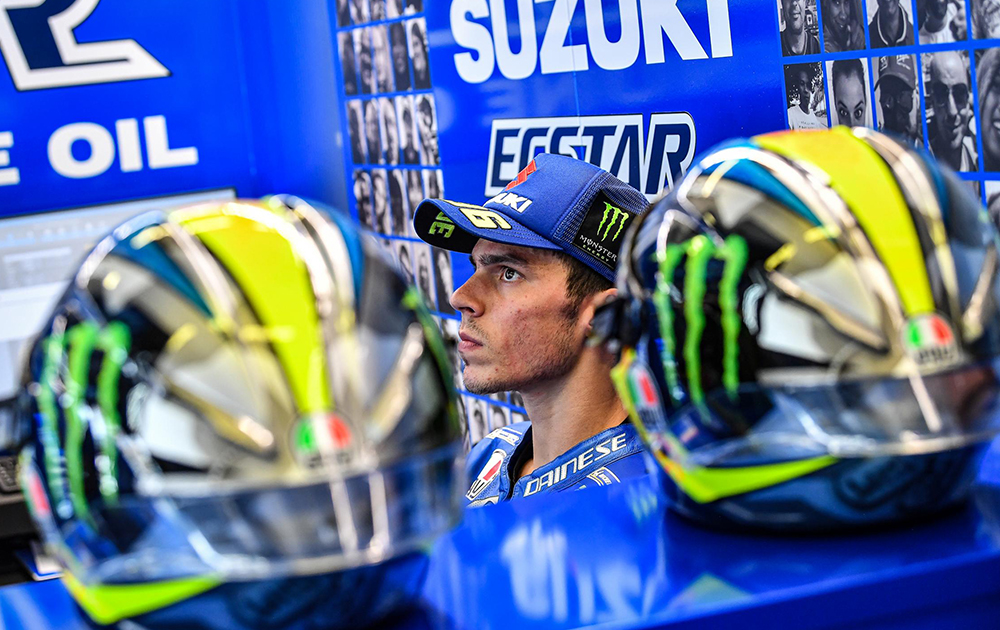 Alex Rins: "I've been struggling a lot in the last weeks, and to take a podium here today at my home race feels fantastic. Since my shoulder injury in Jerez things haven't been easy, and I have found it hard to be physically strong enough to compete at the very front. But I've worked hard off the bike and the team have worked super hard and have supported me a lot, so I want to thank them. I also want to thank the fans for their support and for standing by me in this tricky season. I'm so happy."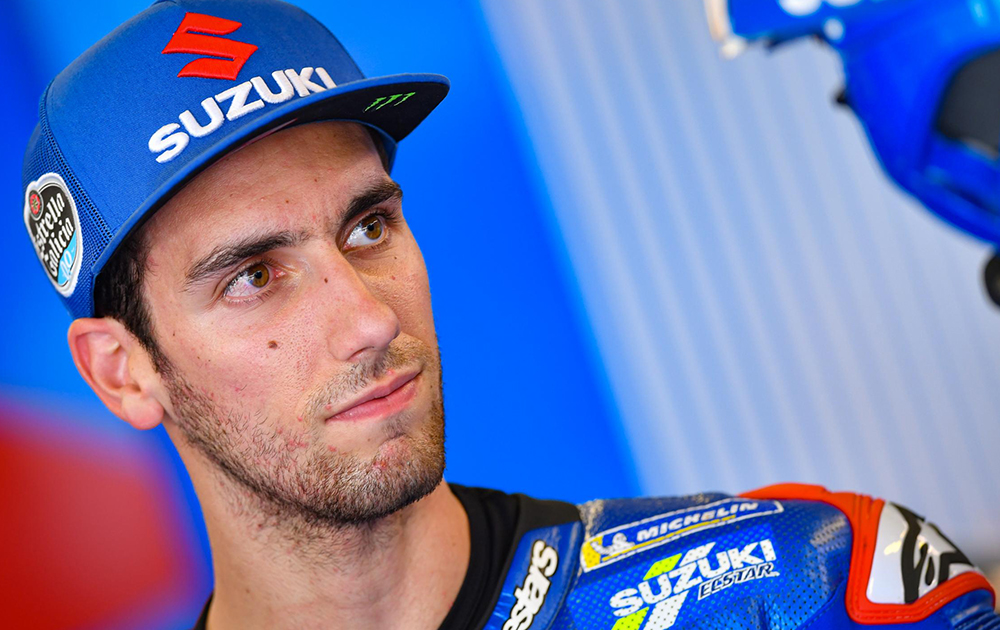 Brad Binder: "Today was a bit different to what I had in mind. Coming into the race my pace seemed really good and I had a good feeling with the bike. In the race it just didn't quite go to plan. I tried my best at the start but when we hit lap sixteen things became a bit more difficult with the rear tire. It was tough, for sure. Not a great result in the end but we'll learn from this and use it for the future. We'll stay focused, look ahead to the next race and try to make things right there."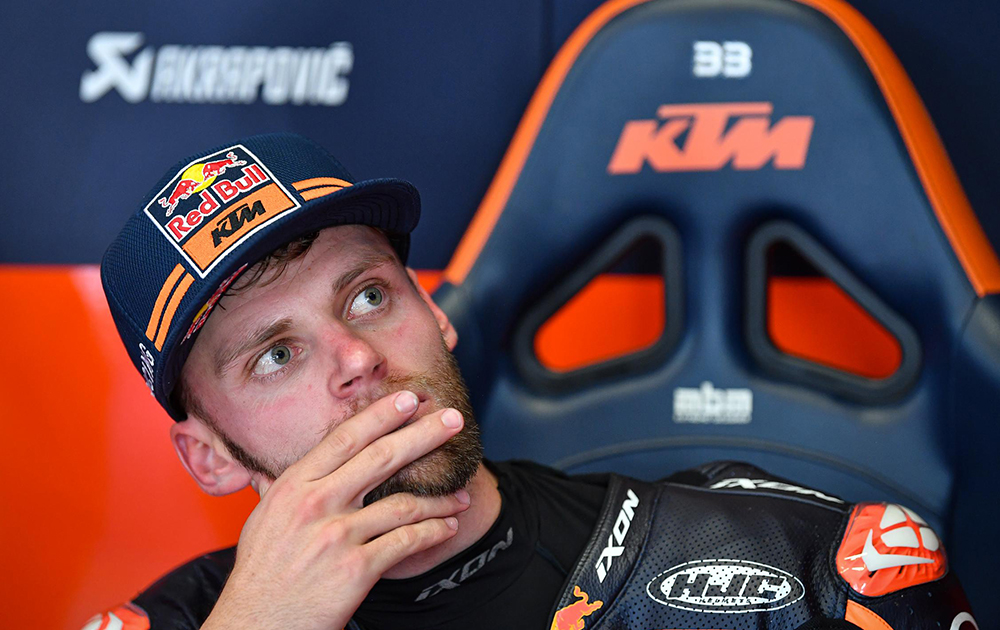 GRAN PREMI MONSTER ENERGY DE CATALUNYA – Race Classification:
1. F. QUARTARARO – Petronas Yamaha SRT – 40:33.176
2. J. MIR – Team SUZUKI ECSTAR – +00.928
3. A. RINS – Team SUZUKI ECSTAR – +01.898
4. F. MORBIDELLI – Petronas Yamaha SRT – +02.846
5. J. MILLER – Pramac Racing – +03.391
6. F. BAGNAIA – Pramac Racing – +03.518
7. T. NAKAGAMI – LCR Honda IDEMITSU – +03.671
8. D. PETRUCCI – Ducati Team – +06.117
9. M. VIÑALES – Monster Energy Yamaha MotoGP – +13.607
10. C. CRUTCHLOW – LCR Honda CASTROL – +14.483
11. B. BINDER – Red Bull KTM Factory Racing – +14.927
MotoGP World Standing 2020 after the Catalan GP:
1. Fabio QUARTARARO – Yamaha FRA 108
2. Joan MIR – Suzuki SPA 100
3. Maverick – VIÑALES Yamaha SPA 90
4. Andrea DOVIZIOSO – Ducati ITA 84
5. Franco MORBIDELLI – Yamaha ITA 77
6. Jack MILLER Ducati – AUS 75
7. Takaaki NAKAGAMI – Honda JPN 72
8. Alex RINS – Suzuki SPA 60
9. Miguel OLIVEIRA – KTM POR 59
10. Brad BINDER – KTM RSA 58