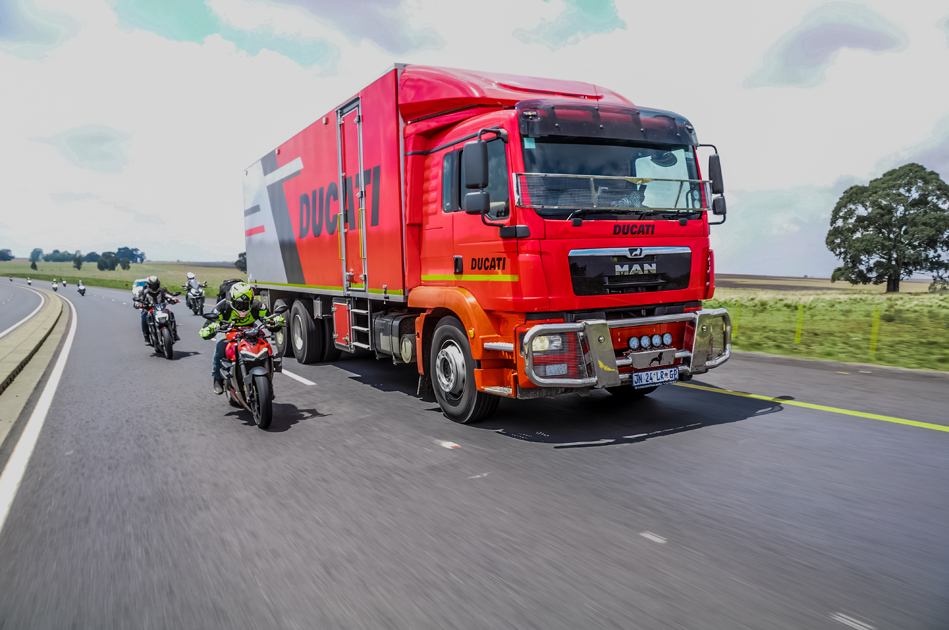 We have seen some significant changes since World of Motorcycles took on the Ducati brand in SA. Under the guidance of Jos Matthysen, the new supremo at Ducati, things are done somewhat differently. Jos is inherently a fun, family guy. In the same vein, motorcycles are a major source of fun and enjoyment to Jos. Since taking on Ducati he has endeavoured to remind the Ducatisti that whilst they are owners of an exotic motorcycle brand with a fabulous history and heritage, they should not keep their bikes just for 'high days and track days' but get them dirty in the real world of do it all motorcycling.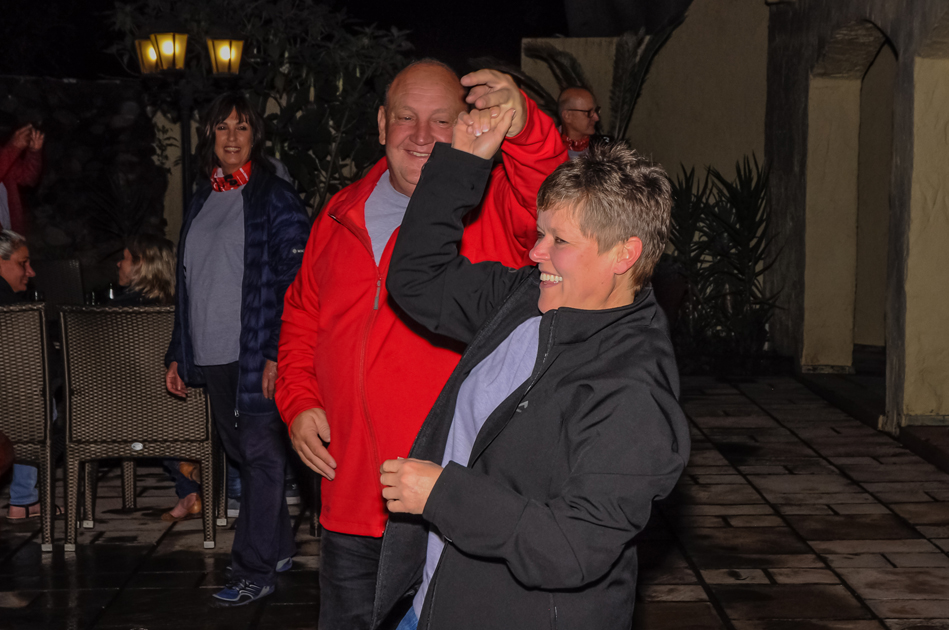 Ducati's no longer come with the slightly 'iffy' finish of days of yore, where you may have found a fly layered into the fibreglass bodywork of your 900 SS (at least, as a fanatical supporter of the iconic brand you would find solace in the fact that it was a genuine Italian fly!). Ducati today stands shoulder to shoulder with the best quality bikes on the planet.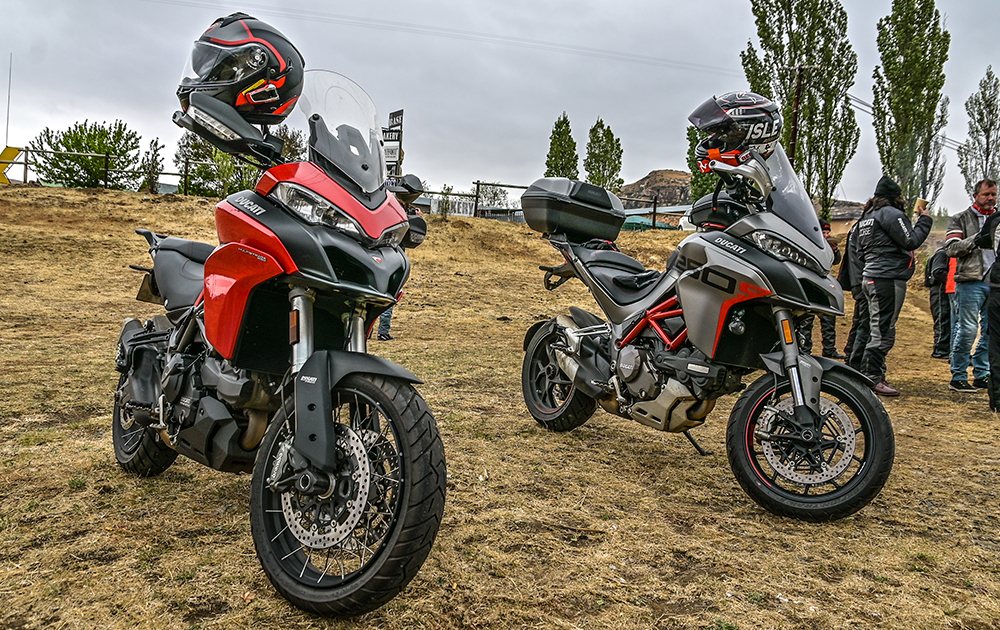 So how do you get this across to current Ducati owners? You invite them on a 'Mystery Tour'. That's what. It works like this. Jos and Jos alone knows the route. This man, in another life, was a Policeman. It should have been the Secret Police because Holy Cow, can he keep a secret! In the weeks leading up to the departure date, Jos dropped the odd clue to the 30 odd riders who had signed up for the Mystery Tour.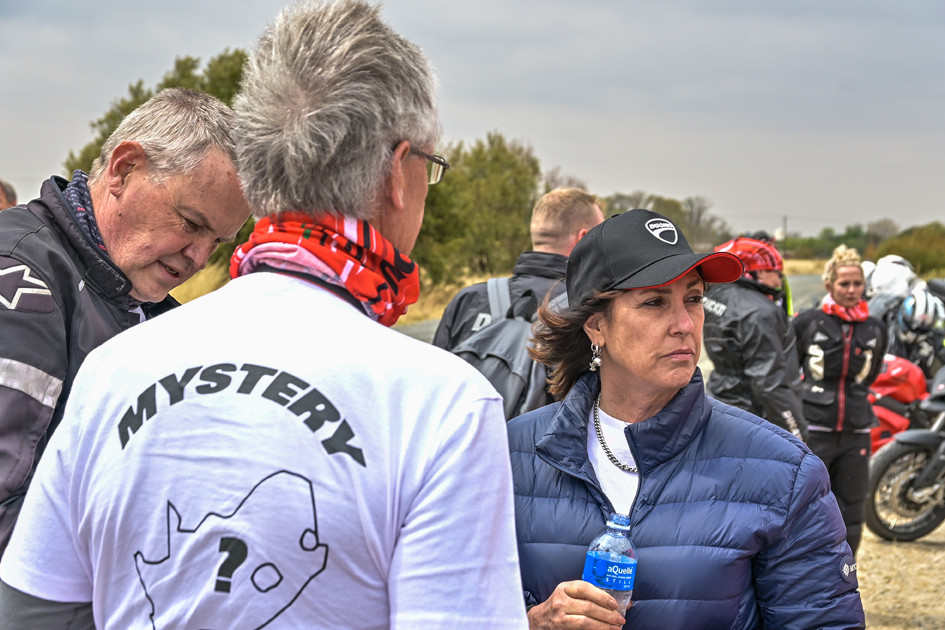 Spot prizes would be awarded at each day's end, to the rider who came the closest to guessing the destination for each day's sleepover. The excitement was tangible as everyone plotted and schemed with only the day's distance to work with. Map books were pored over and studied, distances calculated. Destinations were posted on the tours WhatsApp group. This simply fuelled more speculation and keen anticipation. A pre-tour dinner was arranged for riders to socialize and collect 'goodie bags' in the form of magnificent carry on Ducati travel bags which were chock full of even more goodies. Caps, beanies, jackets, buffs, torches, ID capsules, puncture repair kits and much more…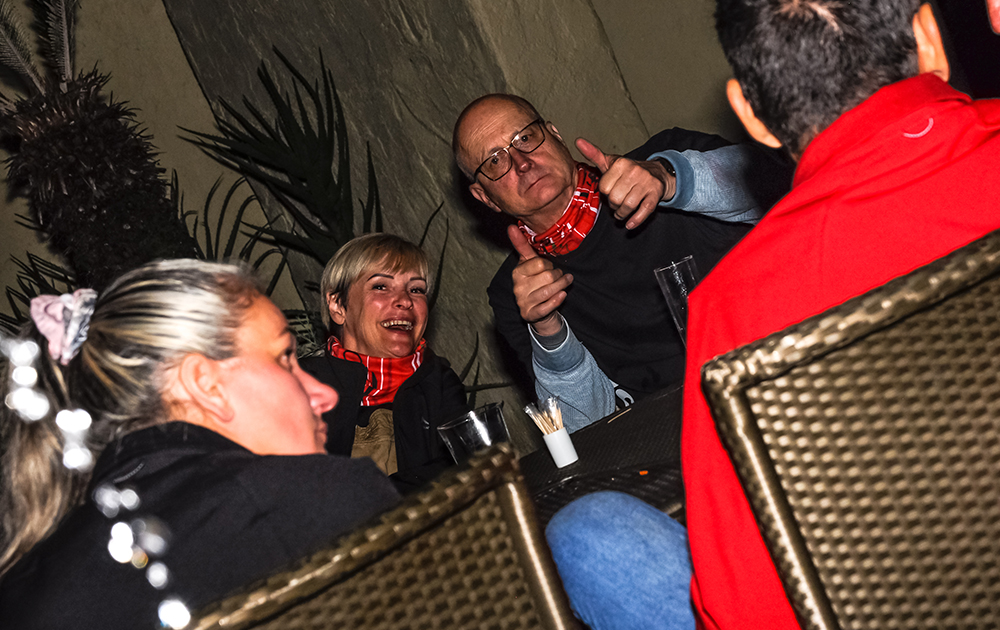 Flip Christmas came early to Mystery Tour participants! Oh, I forgot to mention, wives were welcome too. Their bags had all sorts of thoughtful lady focussed goodies too. Amazing. After a huge amount of fun and good food provided by Jos's lovely wife Lida, we went home even more intrigued. We would get hot and possibly freeze our butt's off. Ride in the early morning to get to our destinations timeously and meet up with the Ducati branded race truck for brekkies along the way.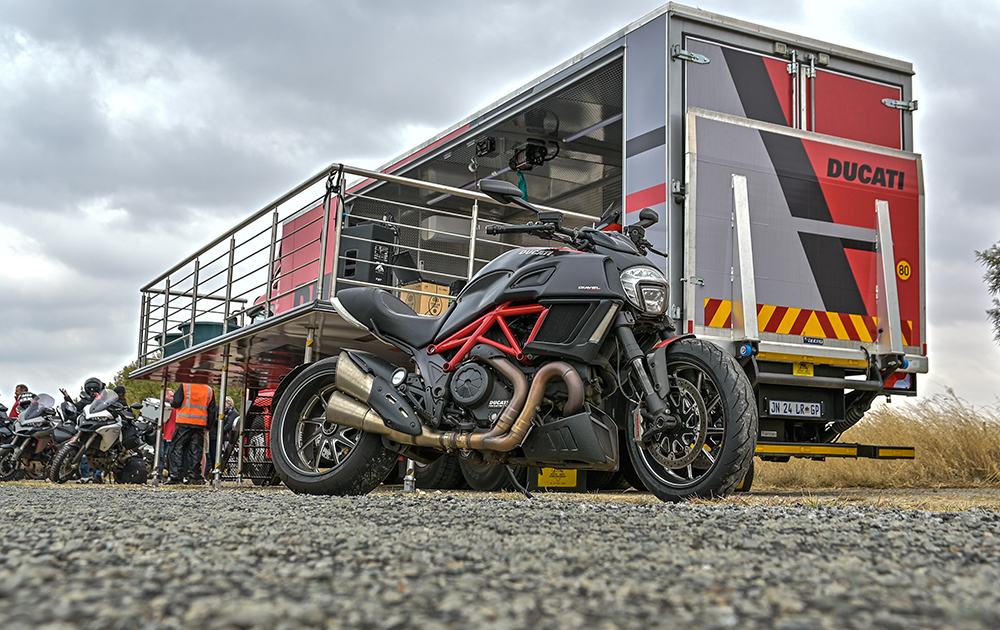 Where were we going? I wondered. Fate threw me a curveball in that Irene and I would be travelling in a backup vehicle, as I had suffered a shoulder dislocation two weeks earlier, in an un-motorcycle related incident and could therefore not ride. Jos graciously suggested that we accompany Gerrit and Anet Olivier in their Ford Everest, which would also tow a 'spare' Scrambler Ducati. Bummed to not be riding, but very grateful to still share in the fun, we counted down the days to departure.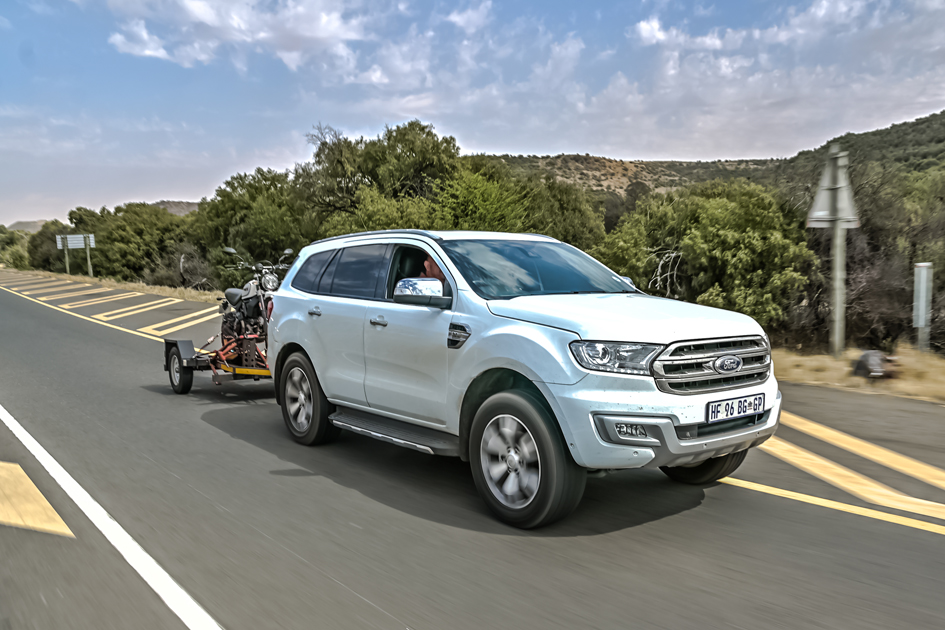 Day one dawned as we all gathered at World Of Motorcycles. Bags were already packed on the truck so it was 37 riders and passengers on 28 bikes that braved very early morning cold and, can you believe it, torrential rain as we ventured out towards only Jos knew where.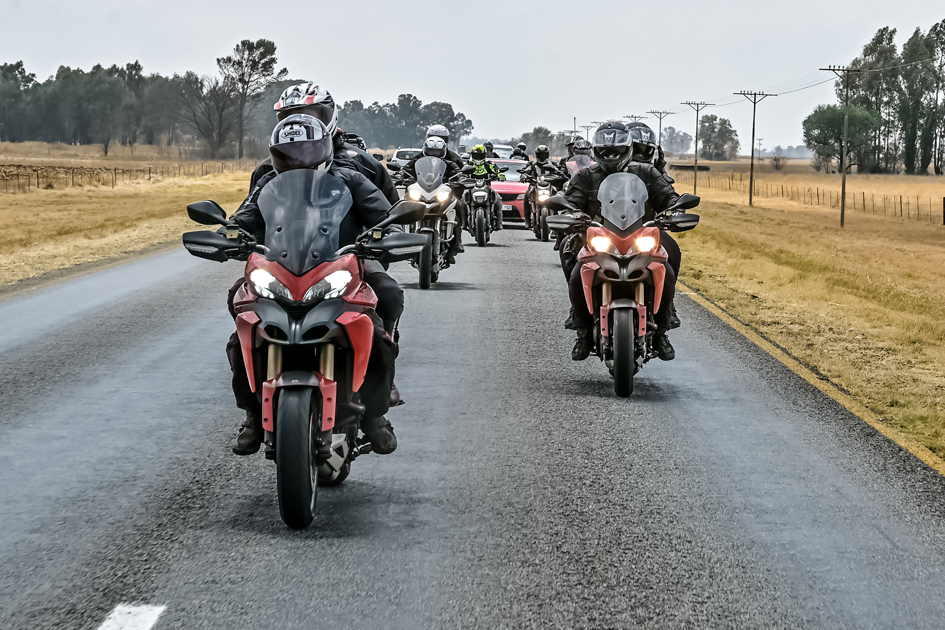 We found ourselves following the bikes, led by Jos, with Lida riding pillion on his Multistrada, through rain and mist onto the Krugersdorp highway riding west. Not being a total masochist, I was grateful for the Everests cosy cabin given the abominable riding conditions.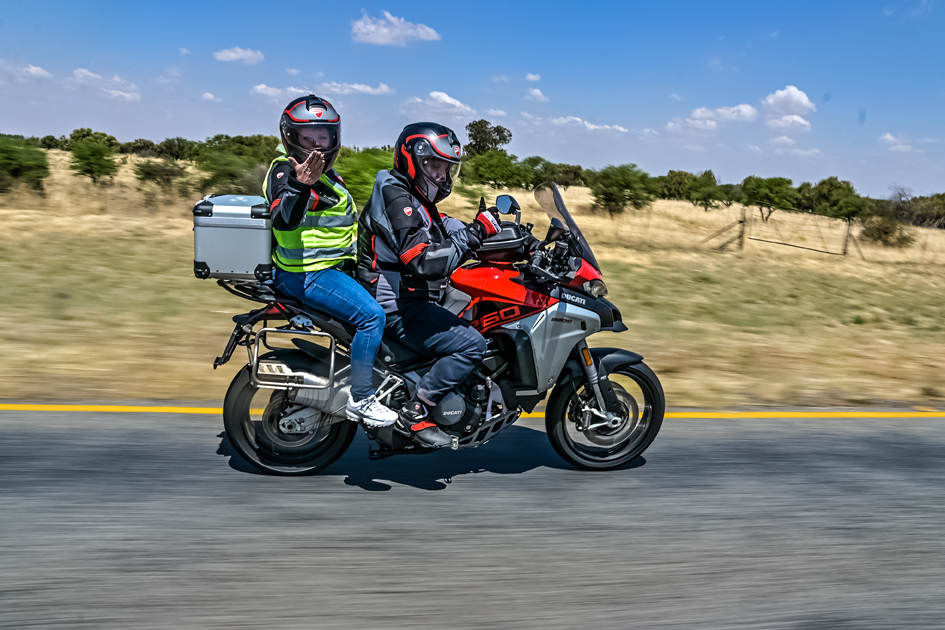 So what bikes went along? You may wonder. Multistrada's, surely… perfect for all roads. No, my friends, we had a V4S Panigale, three Diavels, a brace of 1100 Scramblers, ridden by the Bennet boys (father Glen and son Steve) a solitary Streetfighter and a bunch of Multis of various descriptions. With the mercury at around 8 degrees and bucketing rain, my heart went out to the guys on naked's with nowhere to hide from the evil elements.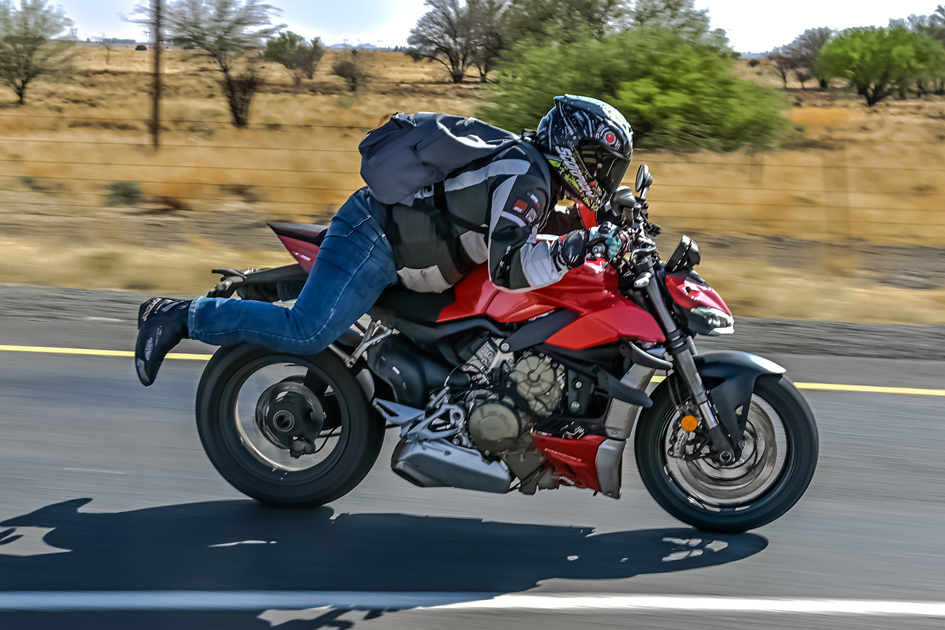 Through the Magaliesberg we went, riding ever west. Thankfully the rain abated but we then hit mist, which made safe overtaking very difficult. Derby, Koster and Lichtenburg all came and went as we sped along. The rain and mist had abated, so Jos turned up the wick and led a train of thundering V-twins across the bleak countryside. Fuel stops had a bunch of cold, but upbeat riders, swapping war stories relating to the challenging conditions. Swigs of OB's helped to put a tad of warmth back into chilly bones.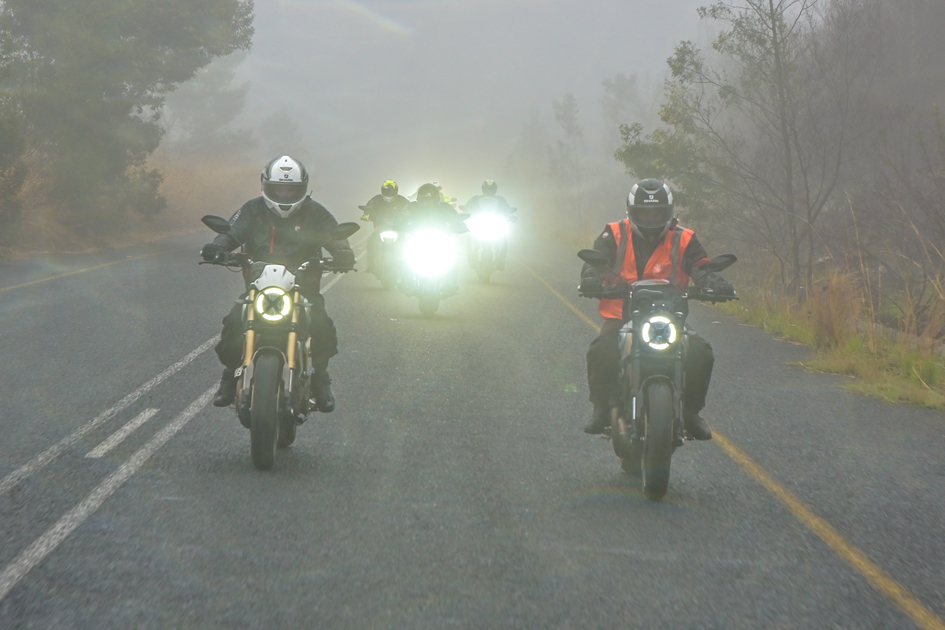 Around mid-morning, between 'nerens en niks', we pulled onto a side road to find the Ducati truck parked, surrounded by farmlands, with the support crew busily getting braais going and preparing the makings for delicious beef and chicken burgers. The troops chilled and chatted as we enjoyed scrumptious nosh. Then it was pack up and hit the road again.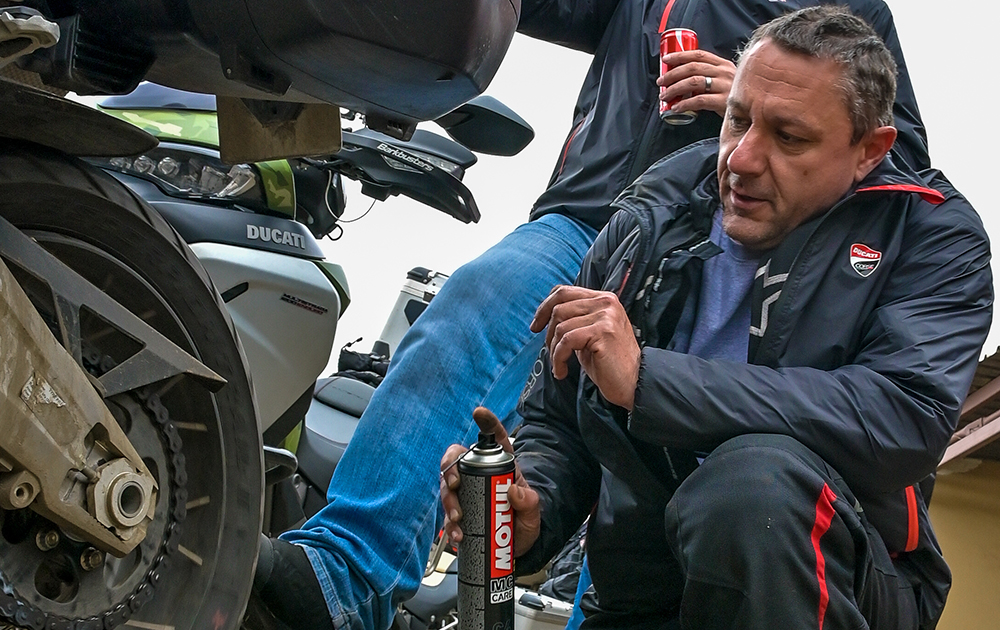 And so we rode, thankfully into some sunshine and warmer weather, but accompanied by a vicious wind from the north, to our eventual destination, the bustling little mining town in the Kalahari, Kathu.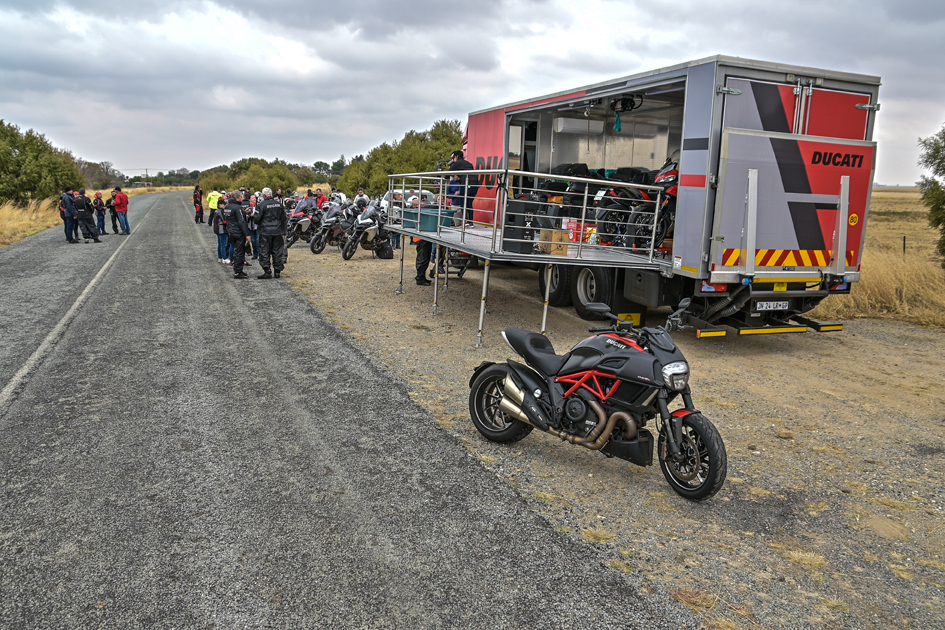 We reached Kathu by mid-afternoon after 645 k's, thanks to our early start. A pleasant stroll for photos on the Country Club golf course preceded an evening braai and 'kuier'. Most of the troops started pulling serious amps after dinner and ambled off to bed, given that we had a 5.30 am start, for what was to be the longest day, at over 850 k's the next day, to our second mystery destination.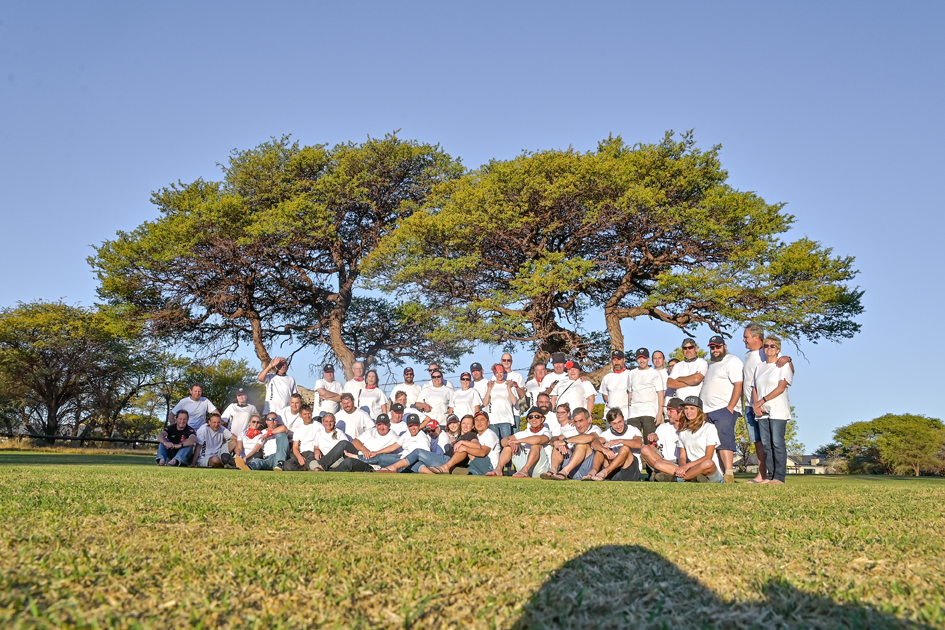 My travelling buddy, Gerrit Olivier was the 'Judge' presiding over the hearing for those who had incurred 'strafdop' penalties for various misdemeanours. He proved to be a bit of a 'hanging Judge' and meted out punishment without mercy. In all fairness, he was not adverse to sharing in the punishment of a few of the guilty parties by downing the odd shot himself. Needless to say, everyone slept rather well.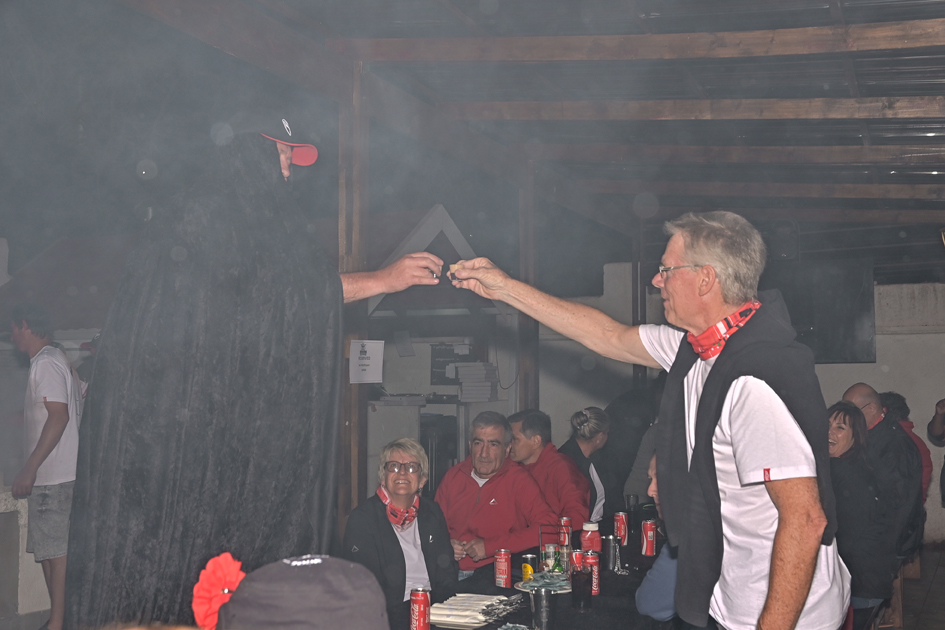 Riding out of Kathu the next morning towards Kimberley, Jos once more jumped on the main jet, cruising at speed towards Kimberley and on to Bloemfontein. The naked's were hanging in there for all they were worth. The prevailing wind was gusting from the left, having swapped sides from the previous day.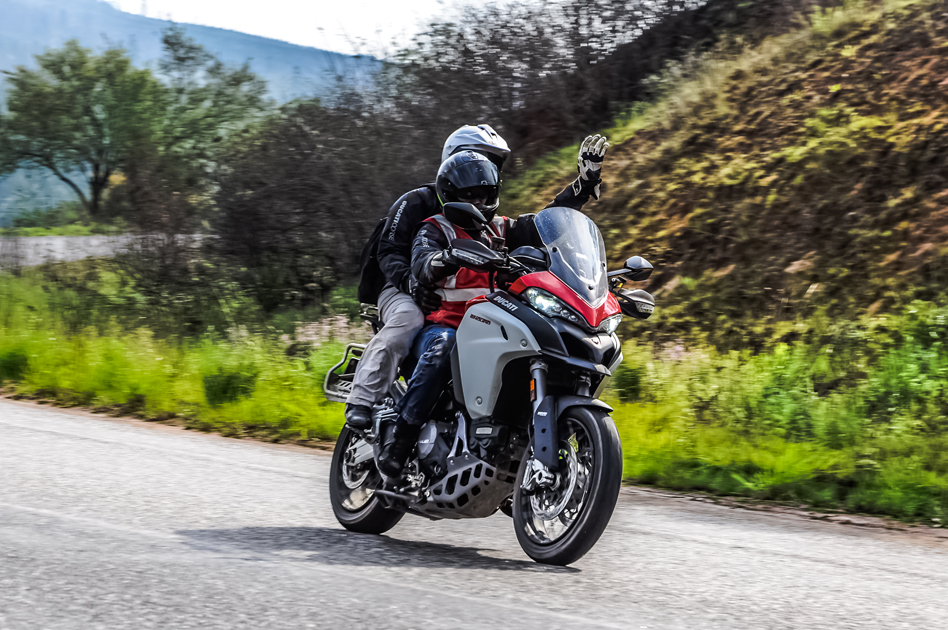 Through Bloem, we raced to Ladybrand and into steadily deteriorating weather. The temperature also dropped steadily after a sharp rain shower before Ficksburg, where the guys sped north to Fouriesburg and then tackled the twisties to Clarens, where a brunch of Boerewors rolls was devoured by some seriously ravenous riders and passengers.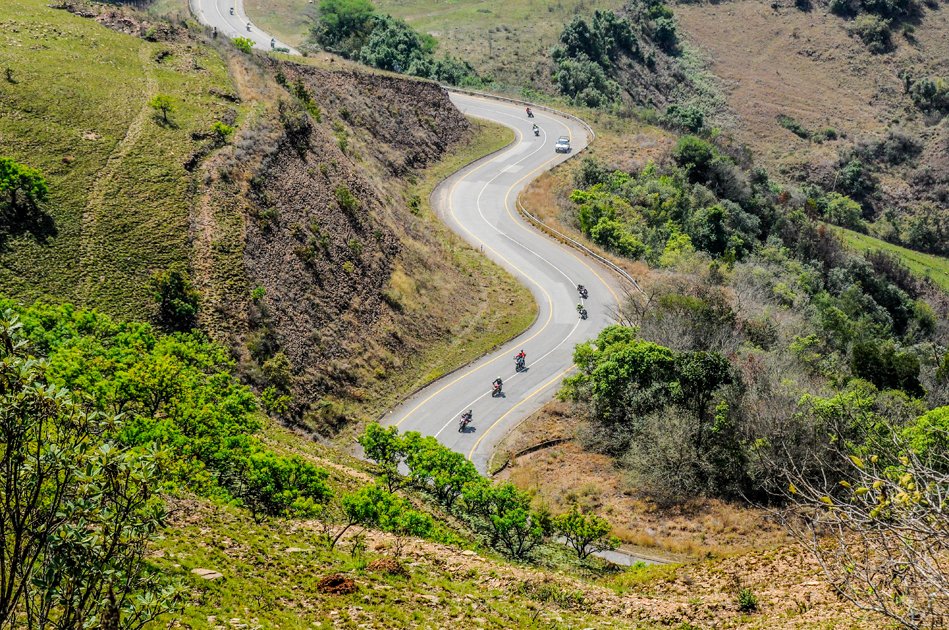 As soon as everyone had filled their faces, Jos stuck up five fingers, prompting a now well trained Rob Portman to shout 'five minutes'!. With bikes and riders refuelled, it was through Golden Gate that we proceeded on sodden roads, through Phuthaditjaba and on to Oliviershoek Pass, where the Ducs were in their element.
Down the pass, we hung a right and cruised to the Alpine Heath Resort in the Drakensberg. 820 k's done and dusted! We booked into our comfortable chalets, then relaxed until dinner in the form of a good old Boma braai. Not even spitting rain could dampen the spirits of the intrepid crew.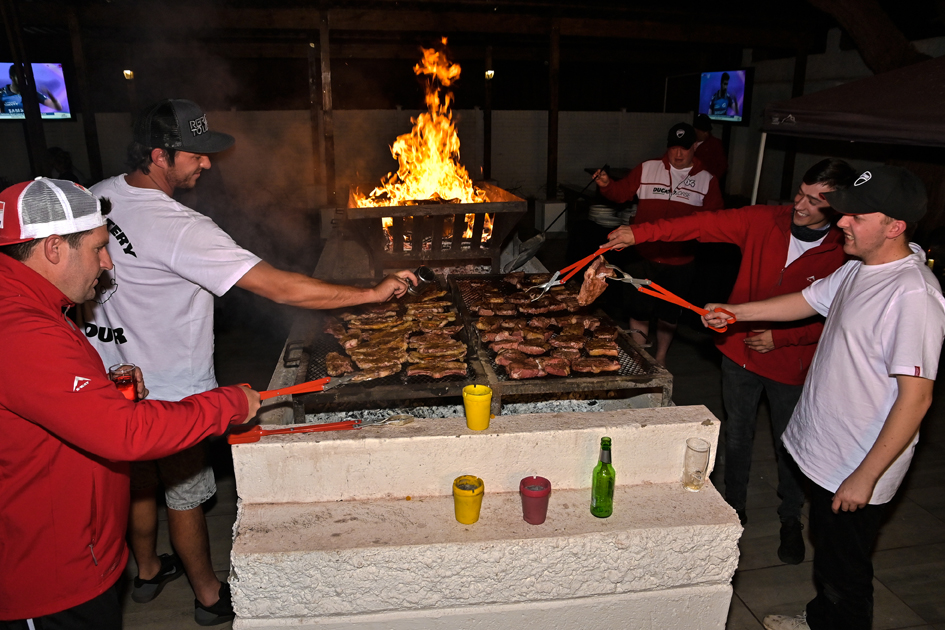 We did feel the need to bolster our spirits with some spirits of a different kind, where Brandon rose to the occasion and demonstrated his considerable Barman skills. Rob (Edeling this time) entertained us with some cool songs and strumming guitar. Back in our chalets after a great evening, we fell asleep, warm and cosy, to the pitter-patter of raindrops. Where to tomorrow, we all wondered?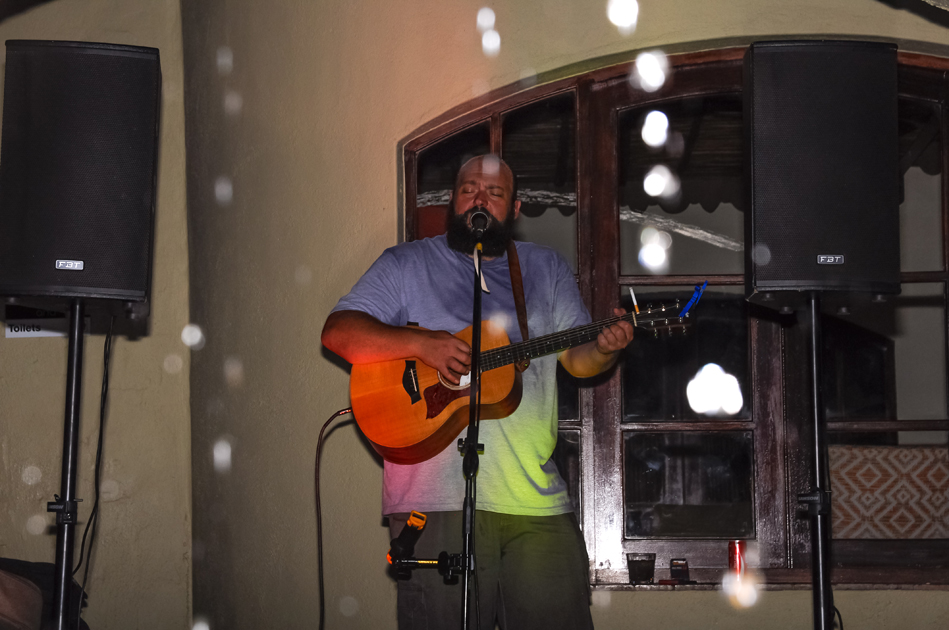 Just after 7 am we were locked and loaded and on the road again. The Drakensburg looked pristine in the early morning light as we refuelled in Bergville before a brisk ride to Ladysmith then up past Bloodriver and on to Piet Retief. On the way, we stopped for cold meat rolls, at a little petrol siding, provided by Bonita and her man, who did an incredible job of keeping us fed at our breakfast stops.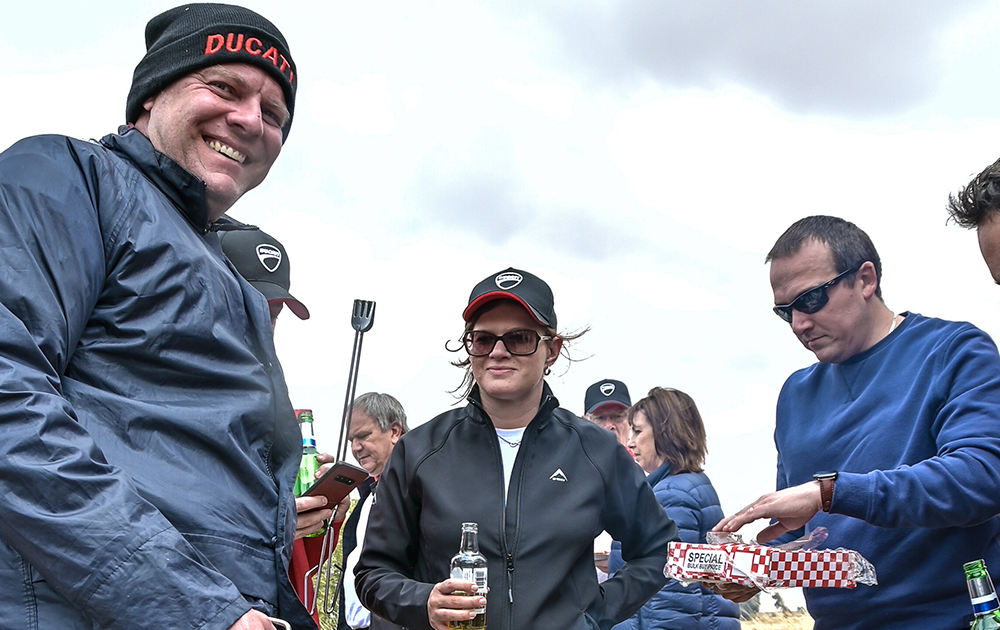 The Ducati convoy was in its element on the mountain roads, despite, on one occasion, testing the quality of their brakes due to the odd dumb bovine walking into the road at the most inopportune moment. We skirted Swaziland and hurtled down the pass to Badplaas and then down the Mkonjwe mountains to refuel on the outskirts of Barberton.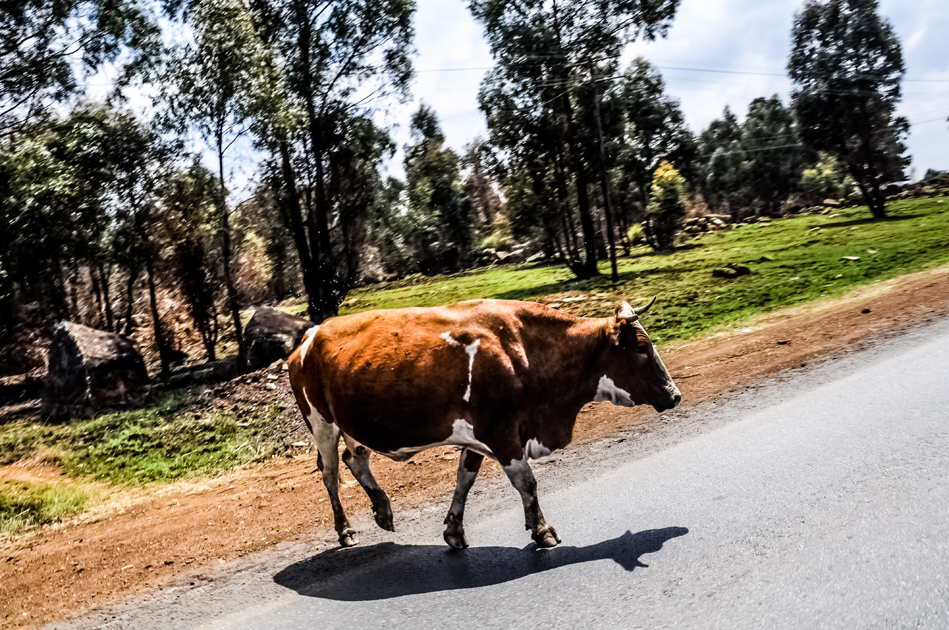 With tanks topped up, it was off to Nelspruit (Mbombela) and through White River, past the Dagama Dam to turn off on the Kiepersol road, a short cut to the famed '22'. At this point, that sod Murphy put in an appearance. Lida's GPS had us turn left onto a minor tar road which then became red gravel. No, correction, red mud.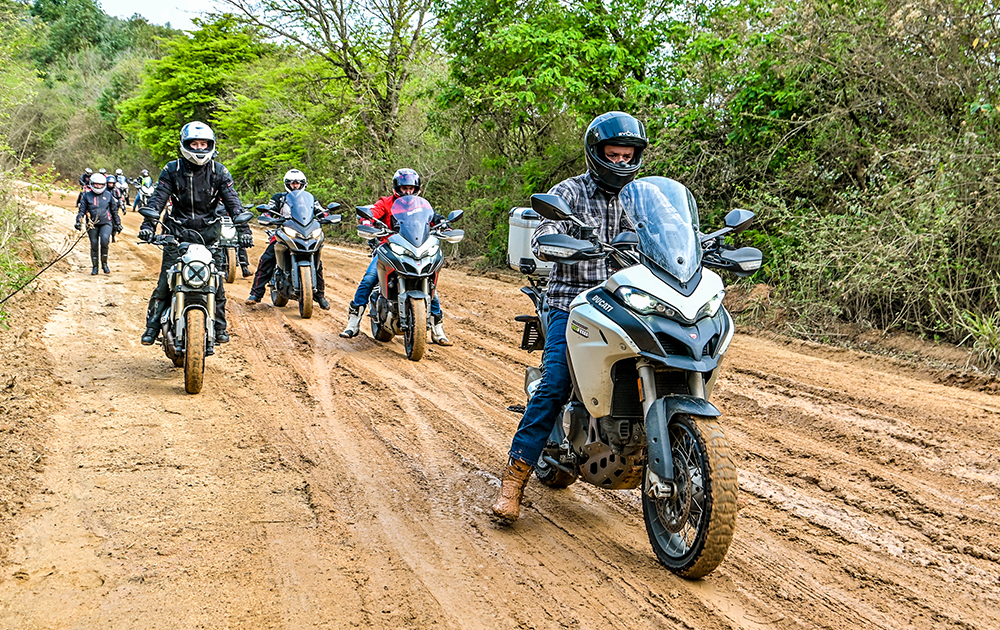 As is the case with early summer rains, the road was incredibly hard and with a good dousing of rain, the surface turned snotty. Like spreading axle grease on concrete, if you get my drift. Although not far, it was extremely slippery and treacherous and claimed about four 'capsize' victims. The only real damage was to ego's and all made it safely to Casa De Sol, our lovely stop for the night. Another 720 odd k's klapped!.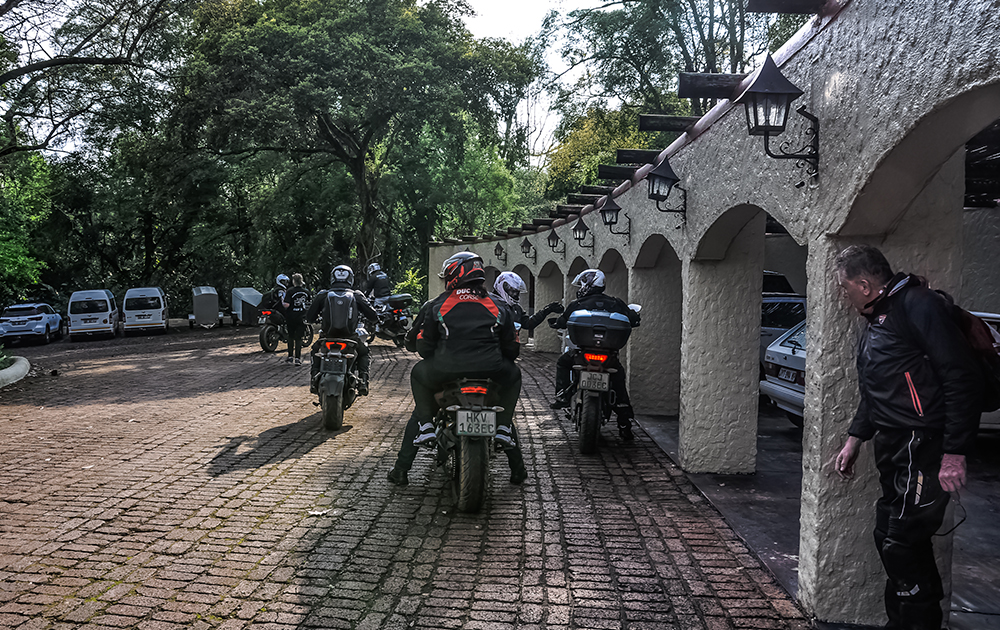 The Lowveld rewarded us with a typically pleasant evening spent dining on a delicious buffet, accompanied by Rob and his guitar, whilst we chewed the fat with tales of slip-sliding away in treacherous mud and others. With only just over 400 k's to get home the next day, we could sleep in a bit for a breakfast and an 8 o'clock departure. Knowing Jos as we do, we knew that part of the route would definitely take in the '22'. With thoughts of riding Ducati heaven, it was some content and satisfied riders that drifted off to some well-earned sleep.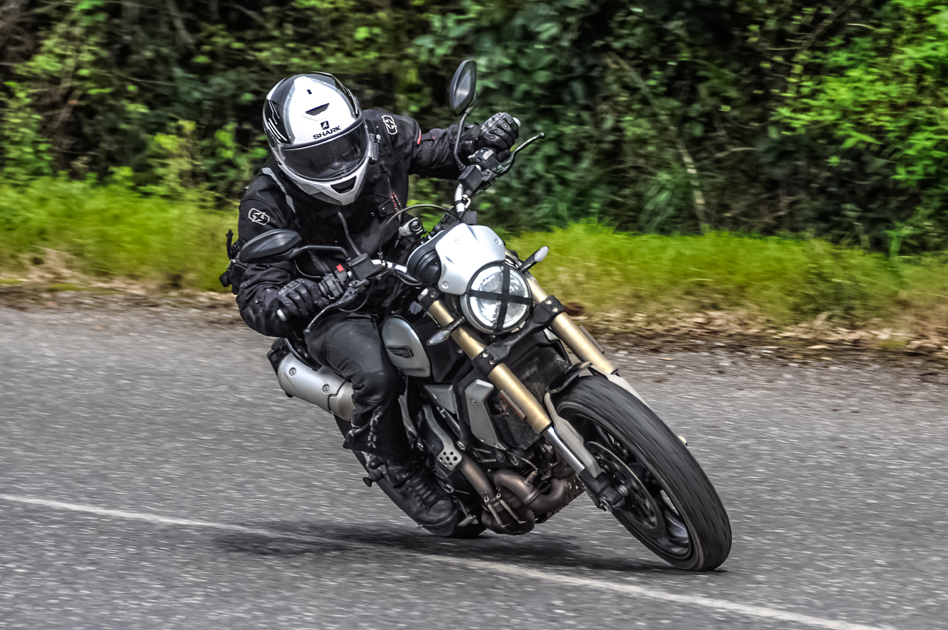 Gerrit had done an incredible job at keeping the bikes in sight for the duration of the trip so far, but with Jos leading the charge on the '22' we had no chance. The bikes were off like a sweaty sock! Luckily we got the drop on them when they refuelled in Sabie and we rolled with the backmarkers to our next pit stop in Pilgrims Rest. After more fun and tomfoolery we were back on the road, up Robbers Pass and then through Lydenburg and on to Dullstroom.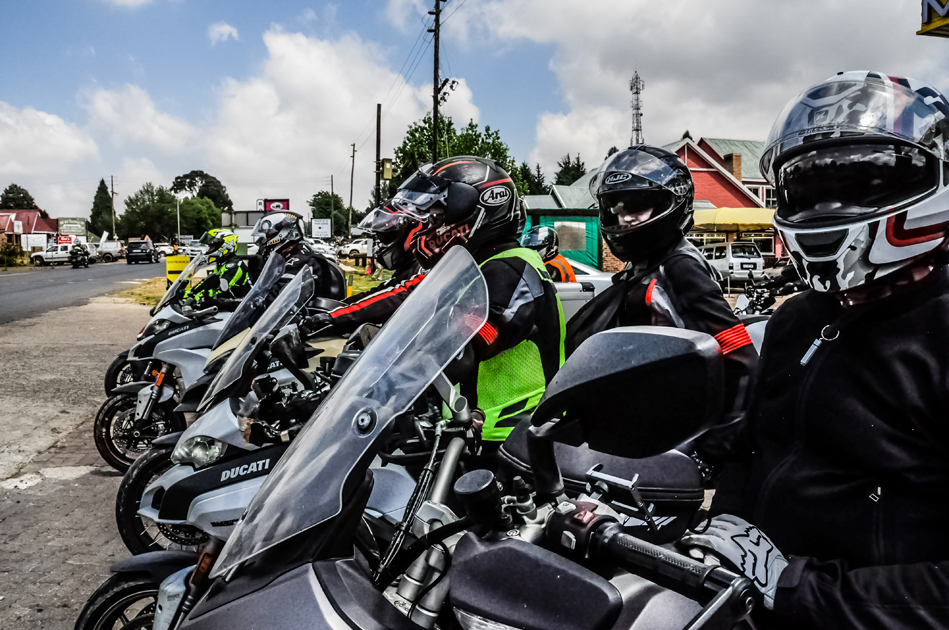 After loading up on fuel (and biltong) we rolled back to Centurion via Belfast and the only piece of highway, other than the initial few k's, of the entire trip. By God's Grace and some skilled riding, we rolled up to World of Motorcycles with everyone safe and sound.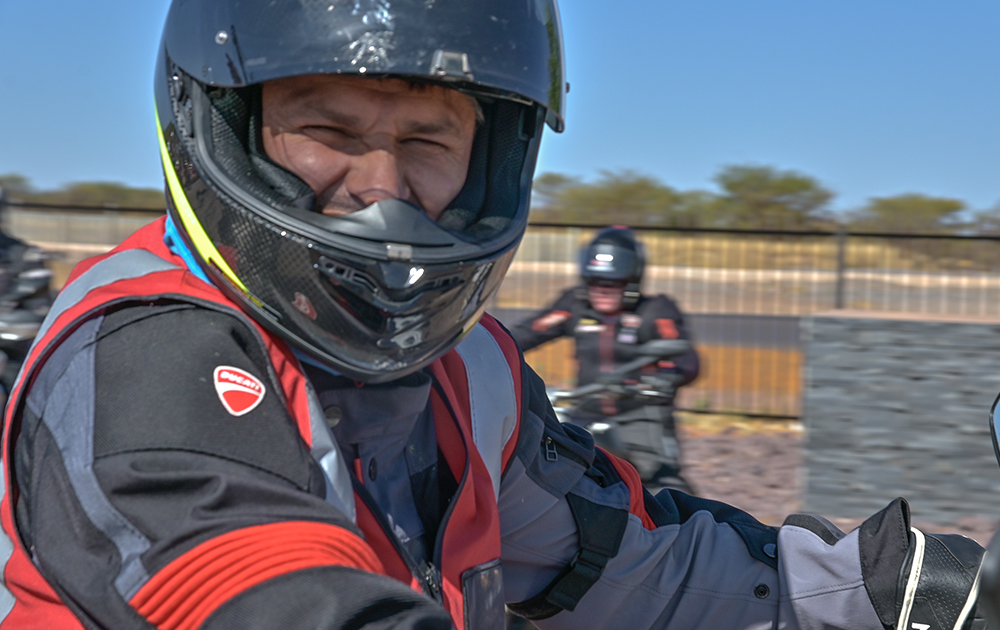 The riders and their magnificent soulful steeds, had taken everything the weather and a variety of road conditions threw at them and triumphed. A band of brothers rolled home. Weary, but clearly, from the posts on the WhatsApp group, totally stoked.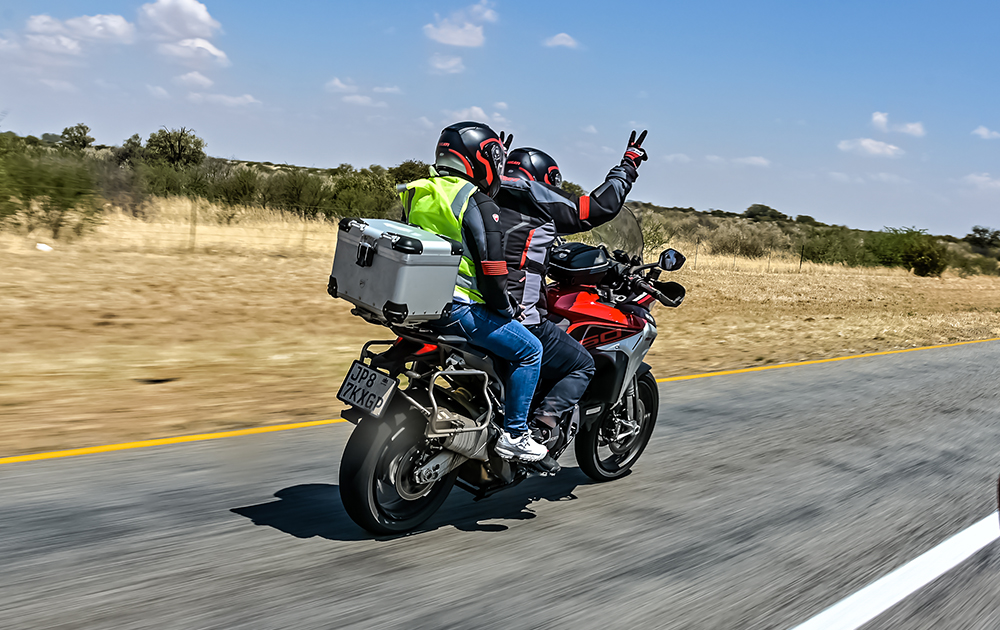 On reflection, I am blown away that Jos never wilted and revealed our destinations to anyone. It was a true Mystery Tour to the end. The logistics too, were amazing. The truck carrying our luggage, rolled up soon after our arrival, after taking the most direct route possible. The ladies who did the whole trip riding pillion are the unsung heroes. You chicks rock! A huge shout out to Jos and his Ducati crew for a truly memorable and enjoyable trip. I am absolutely certain, judging by what I witnessed and experienced on this trip, that the Ducati Familia will grow from strength to strength under your guidance. Well done Sir!
Photo credit: Daniel Lakerby & Gerrit Erasmus / Beam Productions SA