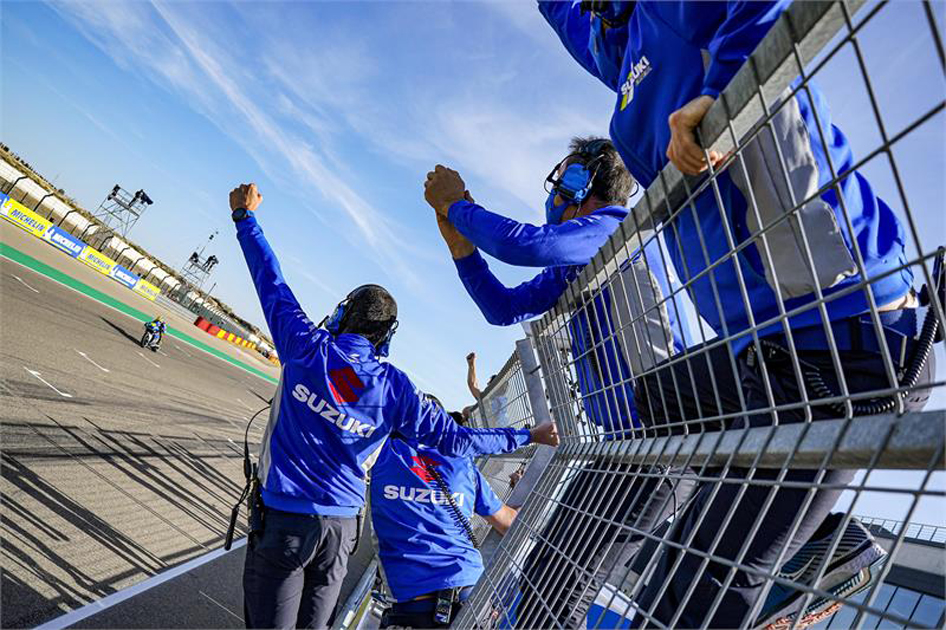 The tenth round of the MotoGP calendar brought riders back to Spain, for the latest back-to-back episode of the 2020 season and the fourth Spanish round this year. MotorLand Aragón is one of my personal favourite circuits to watch both MotoGP and WSBK. Elevations, off-camber braking, slow and sharp hairpins, long full gas corners and the famous 340+ km/h back straight… Aragón has it all.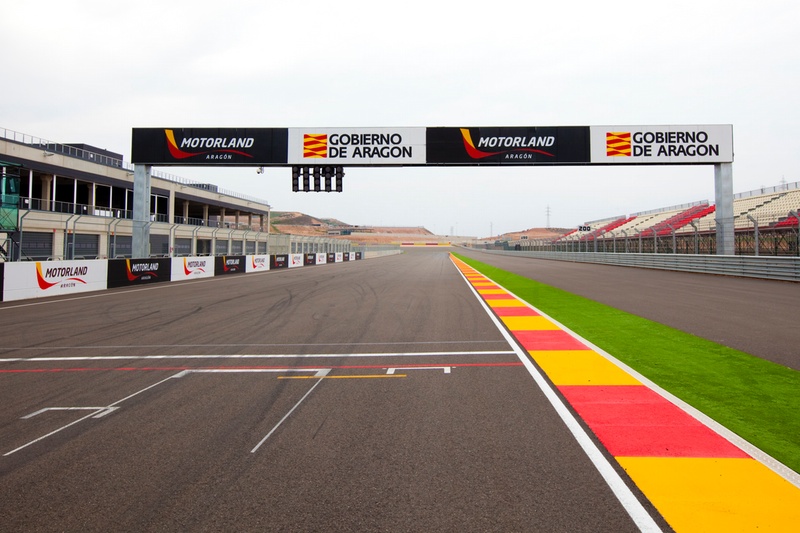 Bad news hit the paddock on Thursday, as the nine-time world champion Valentino Rossi tested positive for Covid-19. Rossi will sit out of next weekend's GP too, but he assures us a return for the double-header in Valencia. The 41-year-old Italian is the second rider to test positive for the Coronavirus; Moto2 rider, Jorge Martin, was forced to sit out of last month's Misano double-header after a positive test.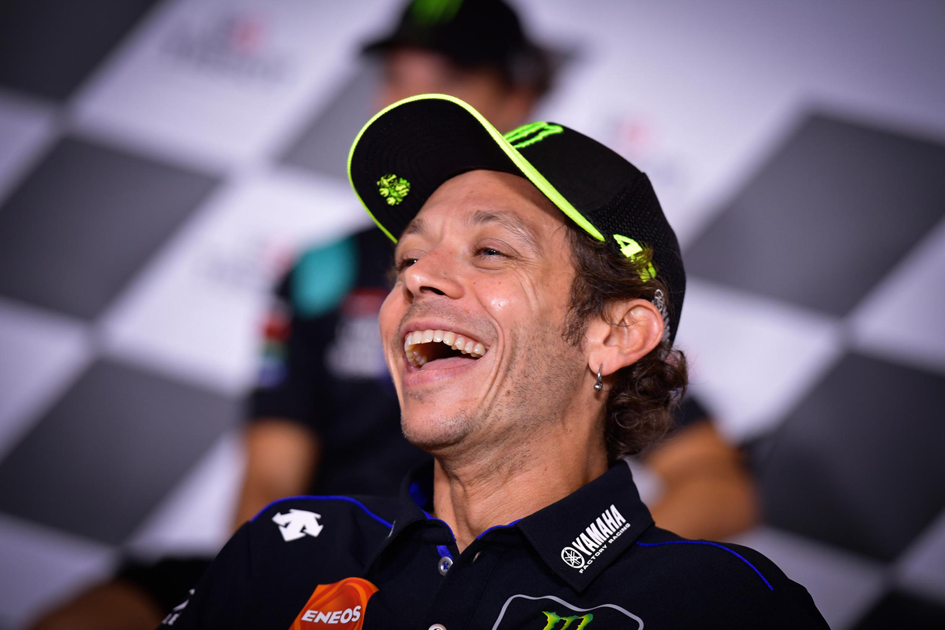 Saturday saw harsh conditions hit MotorLand Aragón, forcing the Grand Prix schedule to be moved later in the day to suit Michelin's optimal temperature range. These chilly conditions made qualifying more of a search for grip, rather than a search for split seconds. Fabio Quartararo made it look easy as usual, by taking pole with a 1'47.076. He was followed by Maverick Viñales in second, with Cal Crutchlow surprising us all with a blitzing third, to round off the front row.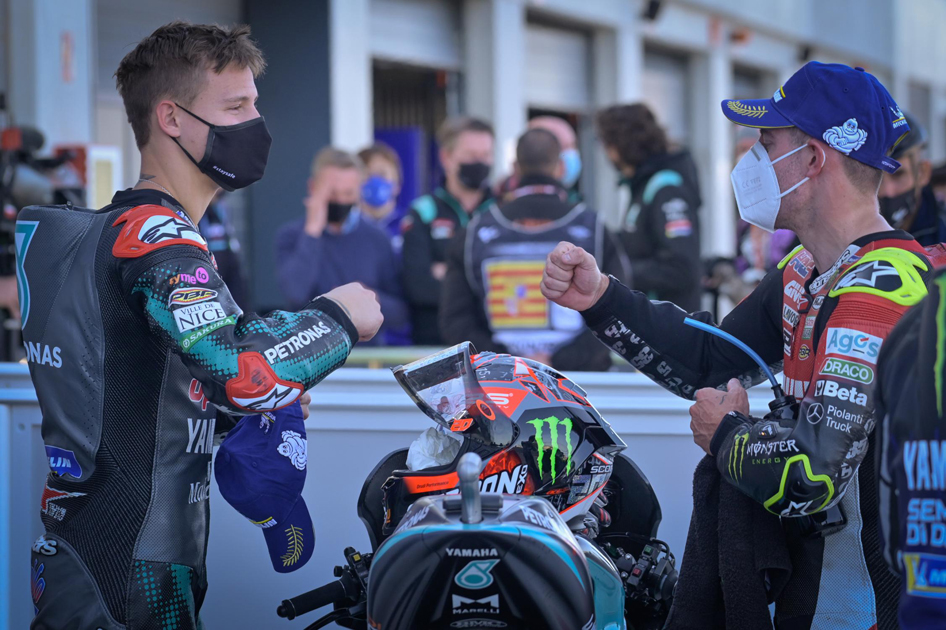 The Honda boys seemed to have things working well this weekend, with Takaaki Nakagami placing his private RC213V in seventh and Alex Marquez placing his Repsol Honda in 11th. The Red Bull KTM boys didn't have the greatest qualifying, but both Pol Espargaro and Brad Binder experimented with Michelin's soft and medium compound rubbers in consideration of Sunday's 23-lapper. Espargaró managed to grasp 12th after running into traffic on his flyer, and Brad managed to just squeeze into the top 14.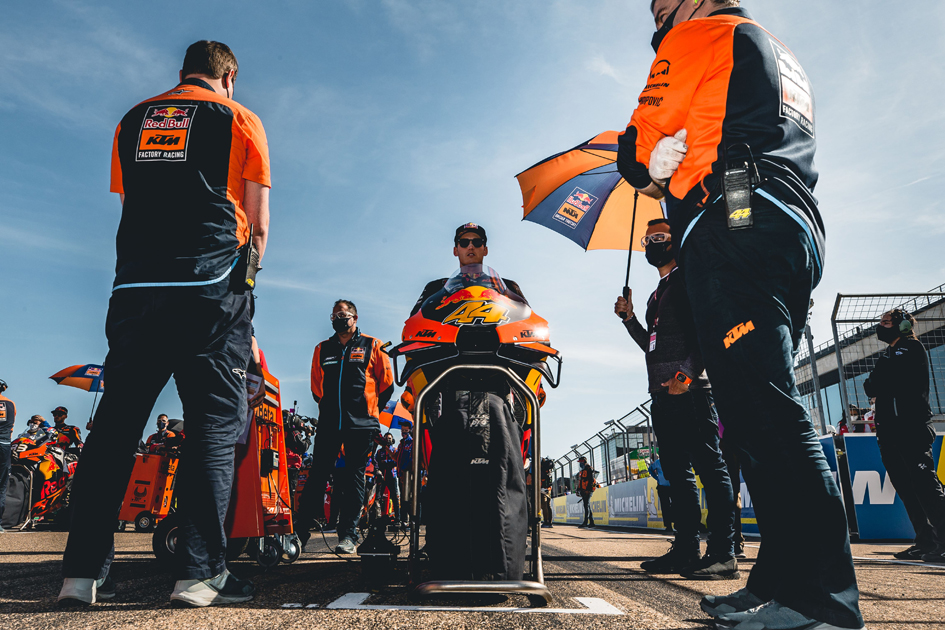 Sunday's Grand Prix was rescheduled for a later start as temperatures were again not meeting Michelin's safe operating range. Just like trying to decide how you like your eggs done (soft or medium), riders were changing their tyre choices on the grid, with minutes to spare. It was a mix and match: Quartararo went with a medium front and soft rear, the Suzukis and factory KTMs went with softs, and the Ducati factory team went with mediums.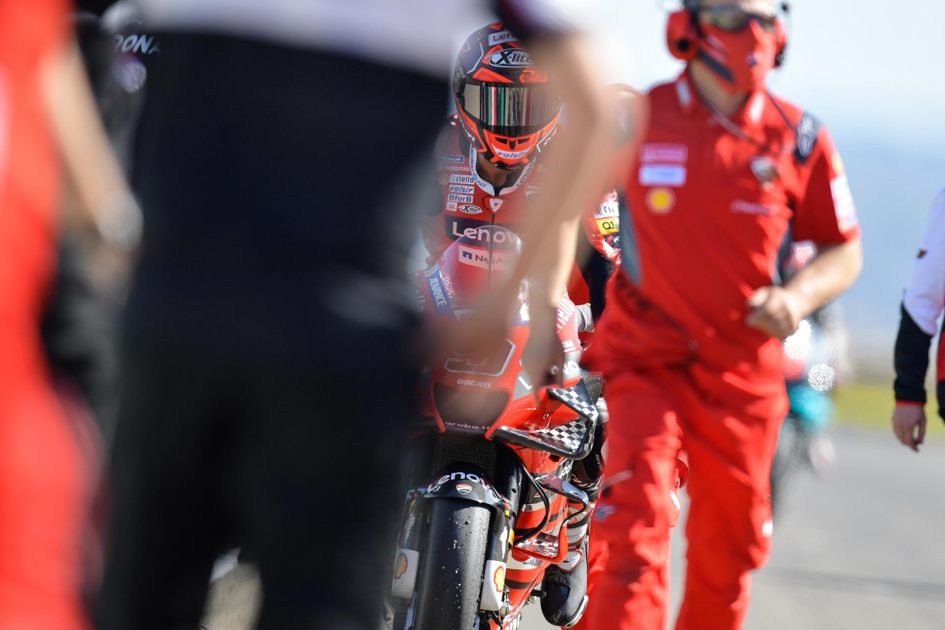 But who and what would stick to the Spanish asphalt the best?
Lights off, and it was Viñales who took the holeshot, followed by Quartararo in 2nd and Alex Rins launching into fourth from the fourth row of the grid (10th). Cal Crutchlow had one of the worst starts, hitting every branch on the way down to 12th after the first lap. Espargaró and teammate Brad held their positions off the line, and were both soon followed by sister team Red Bull KTM Tech3.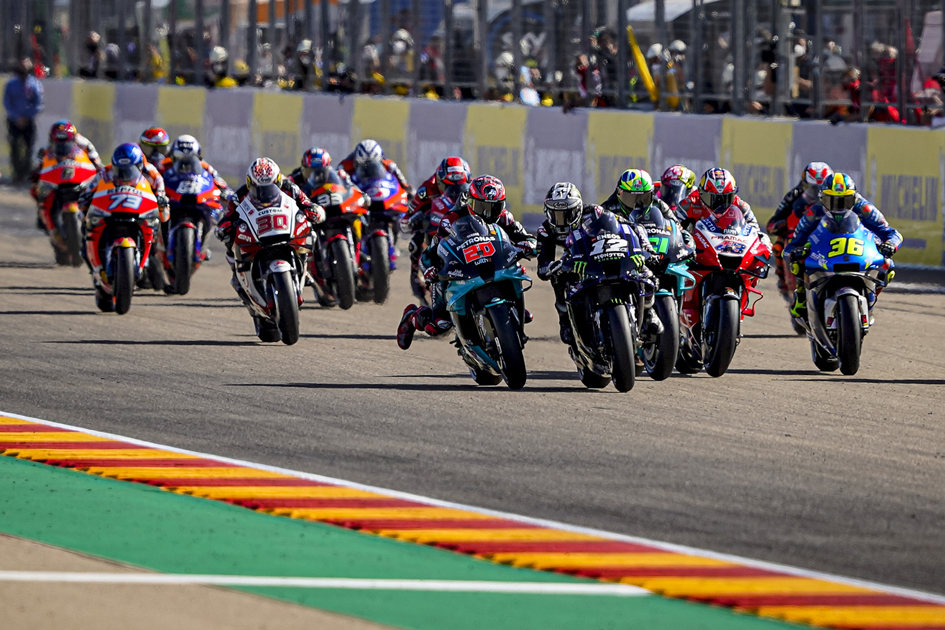 Viñales started to eke out a narrow 0.7 second gap, followed by Quartararo, Rins and Franco Morbidelli. Mir. Rins soon overtook Quartararo on the final bend and started to close in on Viñales—but meanwhile fifth place Mir was the fastest man on circuit. Surprise! Out of nowhere, Alex Marquez had made his way from 11th on the grid, past Jack Miller, and latched himself onto the back of the blue train.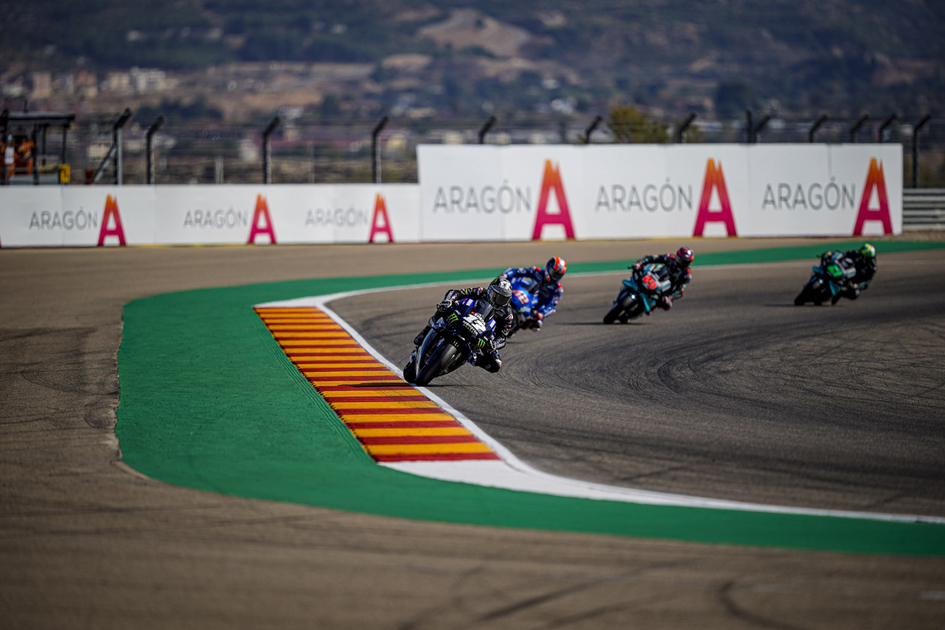 At halfway race distance, Rins took the plunge on Viñales for the race lead. Marquez grabbed 5th off of Quartararo, and then took fourth from Morbidelli. The Repsol Honda man was also the fastest on circuit, 0.2 quicker than Mir, just ahead of him.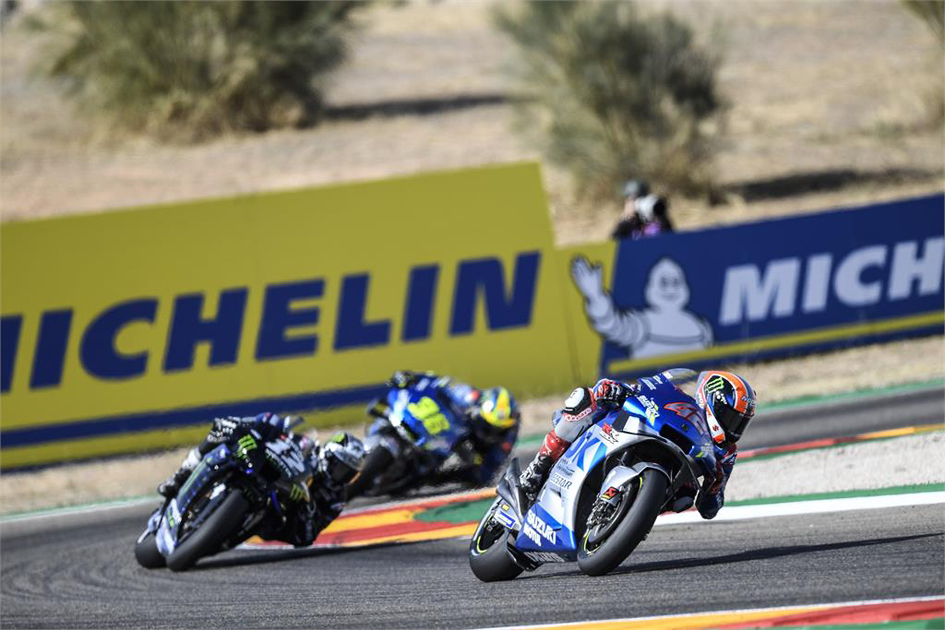 The KTM boys were in their own orange train and were swopping positions between themselves from twelfth to fifteenth. Quartararo started having tyre wear problems, which saw Nakagami, Miller, Andrea Dovisioso and Crutchlow all taking advantage, dropping Quartararo into a vulnerable 9th.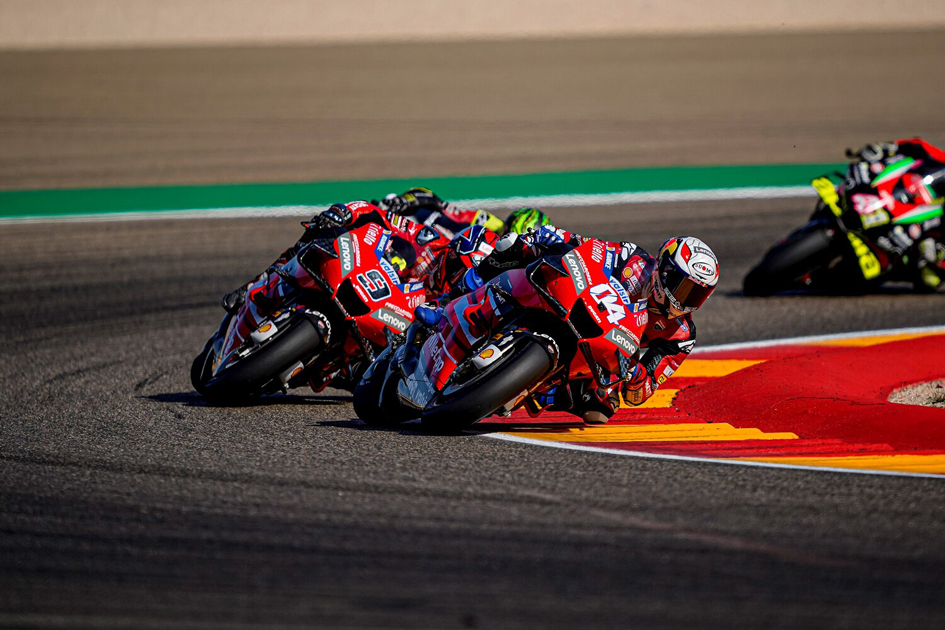 Back up front, Rins was leading by a comfortable gap of 1.2 seconds with Viñales, Mir and Marquez battling it out for the last two steps of the podium. Mir dove through Viñales at turn 16 and Marquez took advantage of the stunned number 12 into turn one. Visually, you could see Marquez had better tyre life left, with tighter lines everywhere and smoother transitions. At this point of the race, you would be silly to bet against Marquez.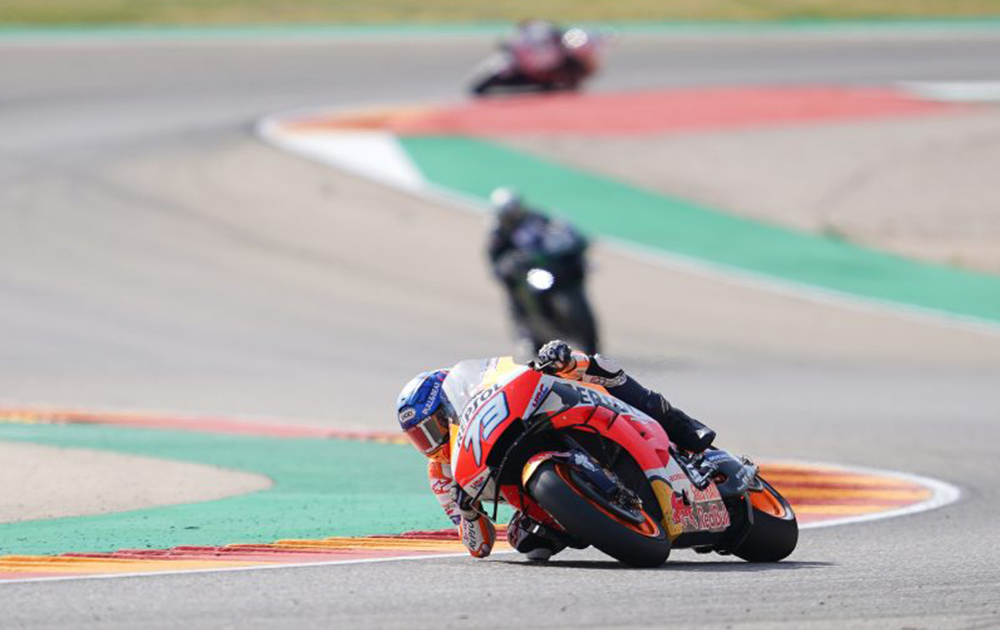 Further back, Quartararo was having a turd of a race as Johann Zarco, Danilo Petrucci, Aleix Espargaró and the Red Bull KTM quartet of Espargaró, Brad, Miguel Oliveira and teammate Iker Lecuona were through. An unbelievable scene, as the championship leader dropped to 18th.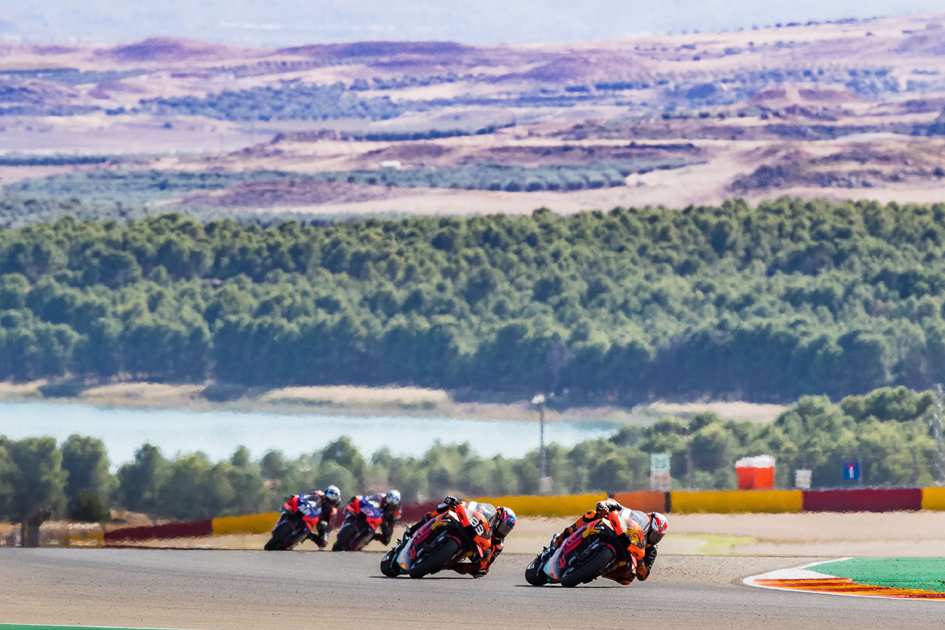 Marquez got through Mir with an awesome pass in the last double apex corner, closed the gap down to just under a second to Rins and showed no signs of slowing down. The last lap was all about the drive down the 1 km back straight, but Rins got his GSX-RR hooked up nicely. With Marquez not close enough to try his line past Rins, they raised over the brow of the hill with Rins taking victory by just 0.2 seconds in another stunning race.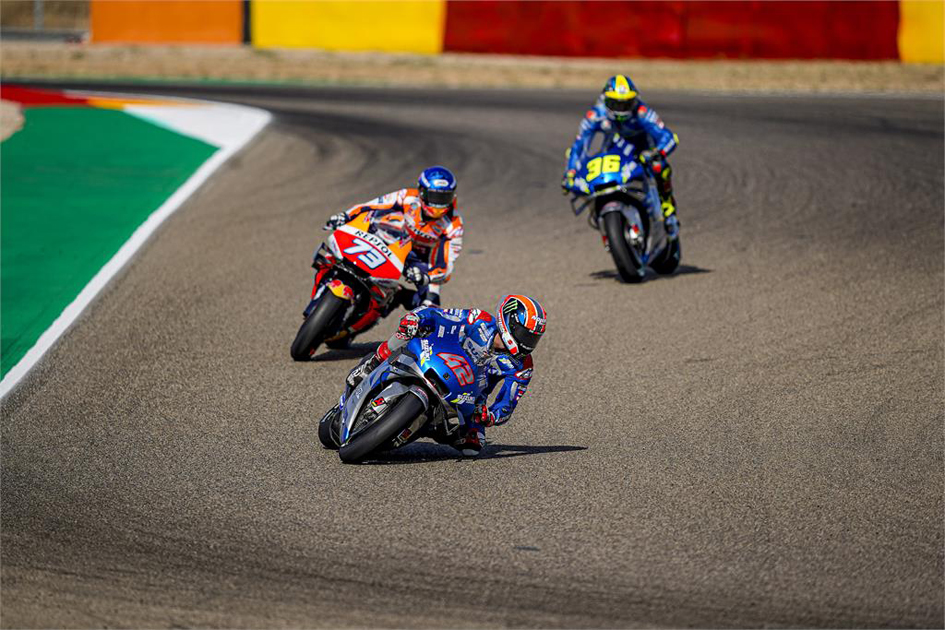 Mir picked up the final podium position, along with the championship lead. Viñales finished in a comfortable fourth, earning himself much needed points for third overall in the championship standings, and Dovi crossed the line in seventh, placing him fourth overall. Espargaro was overtaken by Brad in the final phases, and the South African won the chase to 11th by only three-tenths of a second.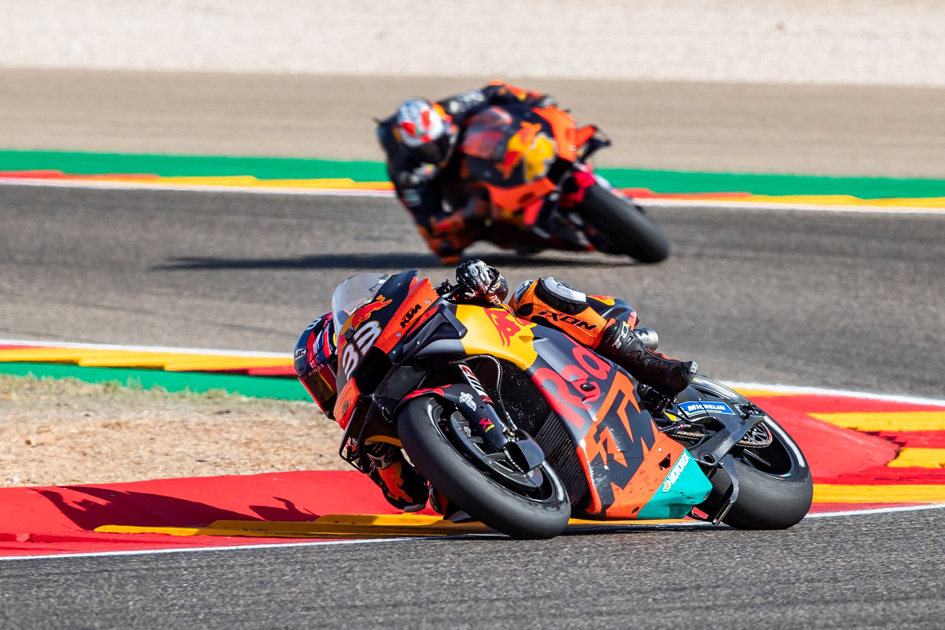 An awesome showdown between the Spanish Musketeers! Rins rode a near-perfect race, Marquez proved his haters wrong and Mir rode consistently, as is the norm. Rins might have won, but the spotlight is on Mir as he becomes the first Hamamatsu factory rider to lead the championship since Kenny Roberts Jr. in 2000.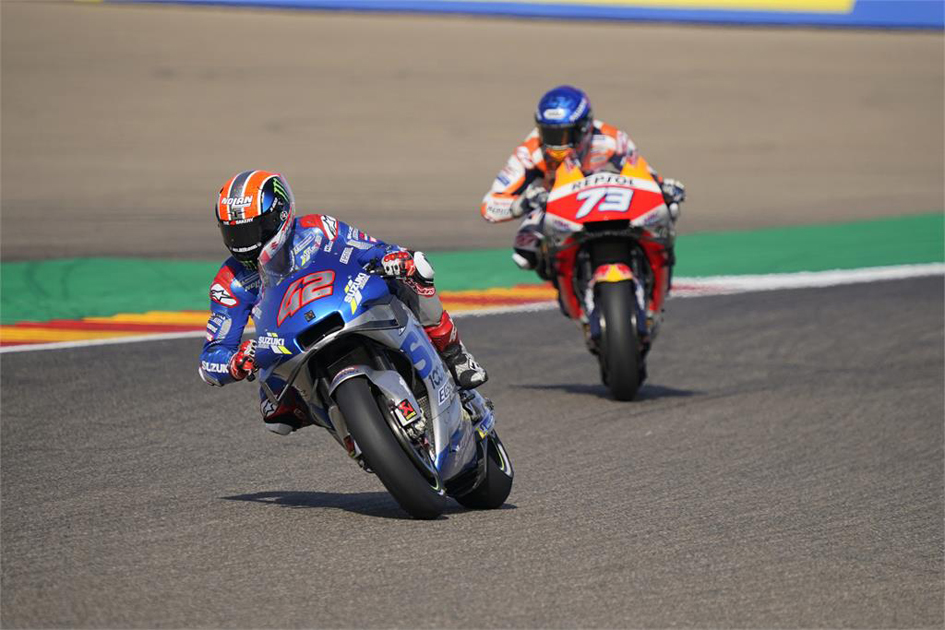 A simply unbelievable MotoGP race gave us the eighth different winner in the last nine races, with 10 races now run. Four are yet to come, and trying to guess who will win them is virtually impossible—let alone trying to predict who will win the title. So get your T-shirts washed and throats cleared for the same thing next weekend at MotorLand Aragón.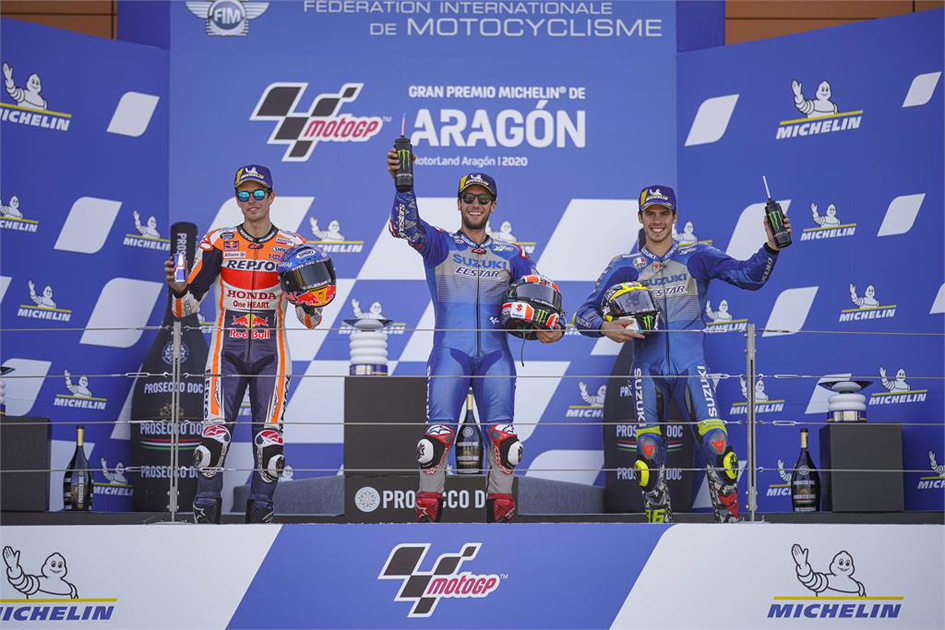 Alex Rins: "I'm full of emotion! At the beginning of the season I really struggled a lot, and since then the team and I have worked so hard, and now we've won and it feels amazing! I was not sure that I could win from 10th on the grid, but I was able to do it! When I was chasing down the riders in front of me I could feel that I had good pace and the bike was working really well. I felt really relaxed despite having Marquez and Joan close behind, and I managed the pressure. It will be tricky to replicate this again next weekend, but for sure I will try my best! It feels super to be back on the top step!"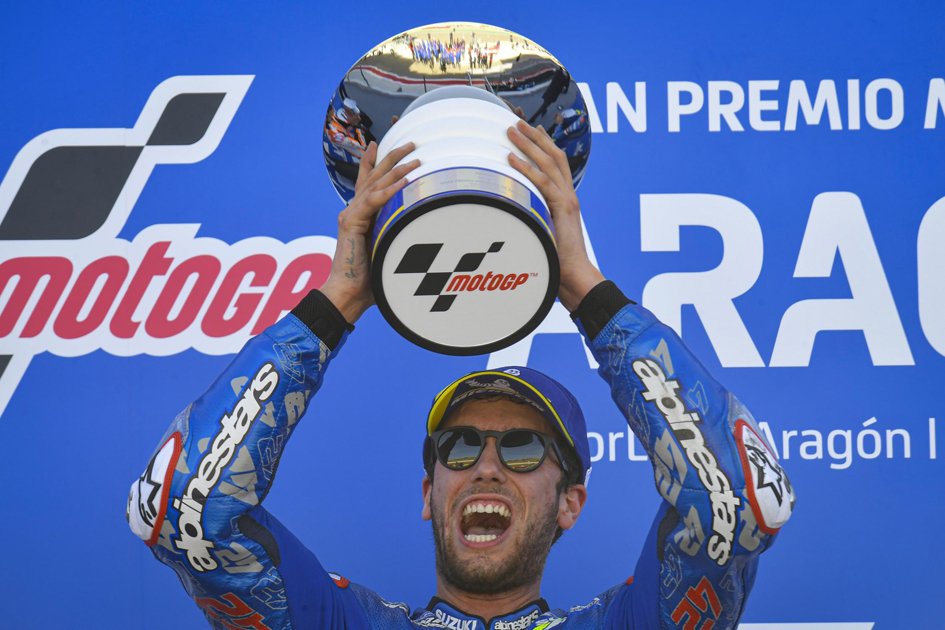 Alex Marquez: "Honestly I didn't expect to get a podium from starting in 11th but I was able to recover well. I found myself in a good position, so we did what we could! I knew I could take quite good care of my tyres for the end of the race. I enjoyed every overtake, but I was really on the limit with the front tyre. Even so, it's great to be back on the podium and to do it in the dry, we really showed our potential all weekend. We still need to work on Qualifying, but we can enjoy what we achieved today. I want to again say thank you to the Repsol Honda Team for believing in me, supporting me, guiding me and never giving up. They gave me an amazing bike and I enjoyed the whole race."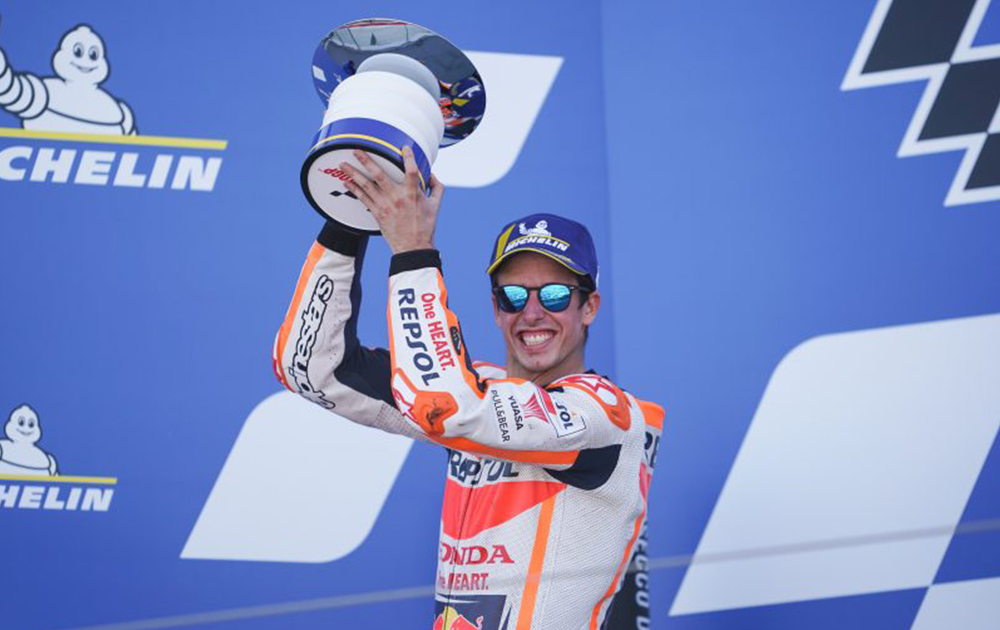 Joan Mir: "I'm really happy! All the effort that we're putting in every race weekend has paid off and I'm now leading the championship. In a way it doesn't mean a lot because there are still four races to go and a lot can still happen, but it's a nice situation to be in at the moment. I actually expected a little bit more from today's race because at the beginning my pace was really good and I maintained everything well, but in the last few laps I started to struggle a bit with the front tyre. I had plenty of grip on the rear tyre but in the end it was better to take third than to take a risk. I'm really looking forward to next weekend and hopefully, I'll be able to get an even better result."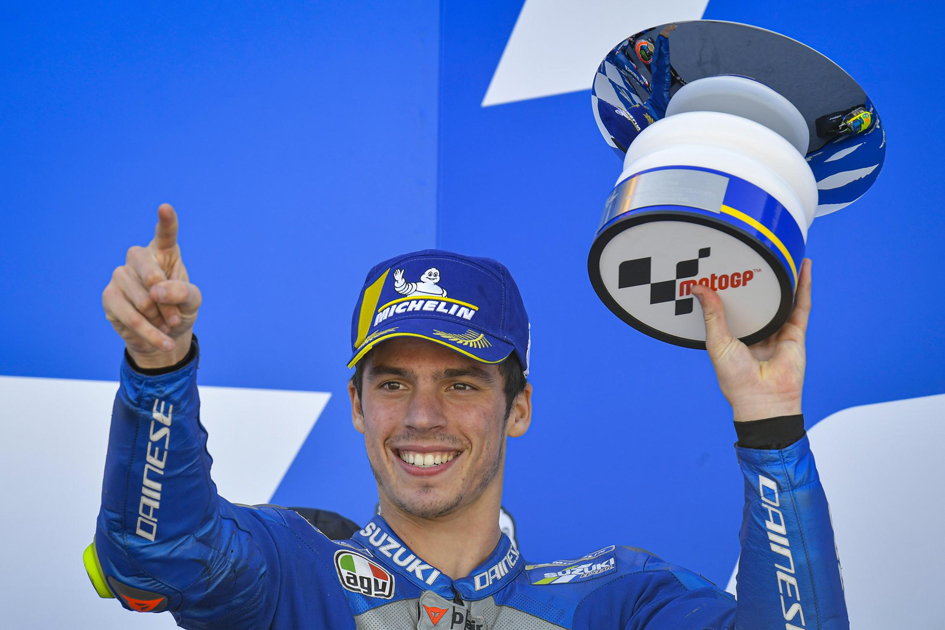 Brad Binder: "A challenging weekend in general. We had some good sessions but also some where it did not really work out for us. The whole team worked really hard and we tried different things but we couldn't find the solution. Today I rode my best and tried my hardest from lap one until the end. It was easy to fold the front end today and we lacked some feeling there. It was hard to stay calm and not over-attack the corners. We've got the whole week to analyze and come back stronger next weekend."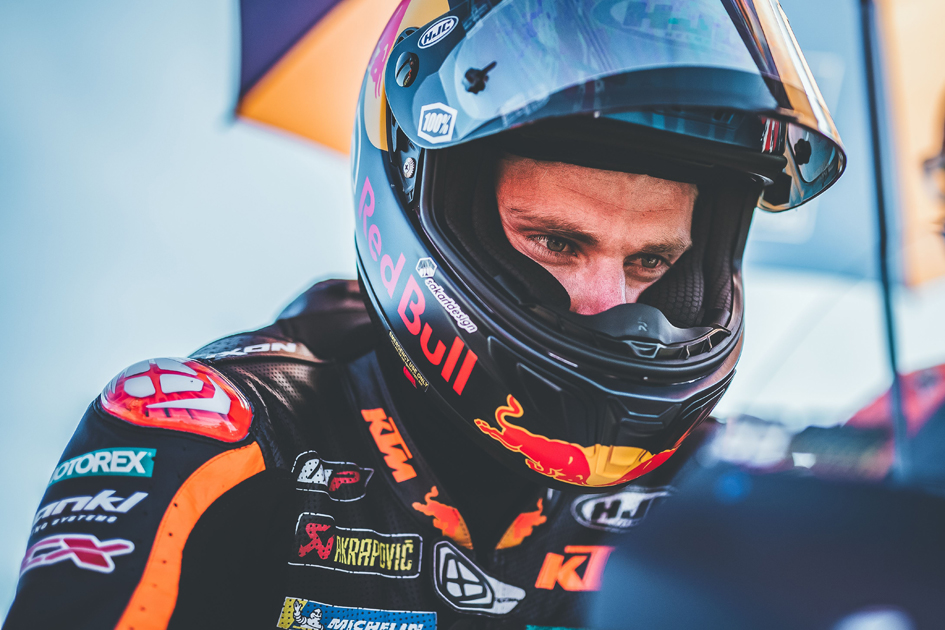 Aragon GP Top 10:
1. Alex Rins (Team Suzuki Ecstar)
2. Alex Marquez (Repsol Honda Team) + 0.263
3. Joan Mir (Team Suzuki Ecstar) + 2.644
4. Maverick Viñales (Monster Energy Yamaha) + 2.880
5. Takaaki Nakagami (LCR Honda) + 4.570
6. Franco Morbidelli (Petronas Yamaha SRT) + 4.756
7. Andrea Dovizioso (Ducati Team) + 8.639
8. Cal Crutchlow (LCR Honda Castrol) + 8.913
9. Jack Miller (Pramac Racing) + 9.390
10. Johann Zarco (Esponsorama Racing) + 9.617
11. Brad Binder (Red Bull KTM Factory Racing) +13.200
Rider Standings
Limited to top 12 results
1. Joan Mir 36 SPA (Team Suzuki Ecstar) pts – 121
2. Fabio Quartararo 20 FRA (Petronas Yamaha SRT) pts – 115
3. Maverick Viñales 12 SPA (Monster Energy Yamaha MotoGP) pts – 109
4. Andrea Dovizioso 4 ITA (Ducati Team) pts – 106 
5. Takaaki Nakagami 30 JPN (LCR Honda) pts – 92
6. Franco Morbidelli 21 ITA (Petronas Yamaha SRT) pts – 87 
7. Alex Rins 42 SPA (Team Suzuki Ecstar) pts – 85
8. Jack Miller 43 AUS (Pramac Racing Ducati) pts – 82 
9. Pol Espargaró 44 SPA (Red Bull KTM Factory Racing) pts – 77 
10. Miguel Oliveira 88 POR (Red Bull KTM Tech 3) pts – 69
11. Alex Marquez 73 SPA (Repsol Honda Team) pts – 67 
12. Brad Binder 33 RSA (Red Bull KTM Factory Racing) pts – 67