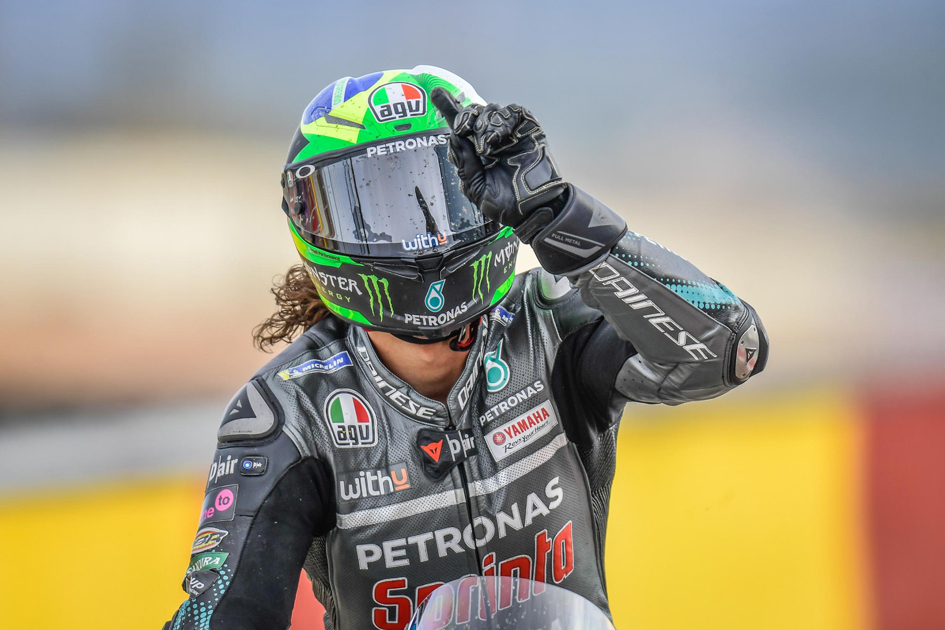 The Gran Premio Liqui Moly de Teruel (named after the province) saw riders return to MotorLand Aragón for the 11th round of the MotoGP calendar. The weekend was ushered in by sunshine and warmer temperatures, making Saturday's qualifying less complicated compared to the cold conditions of the previous week.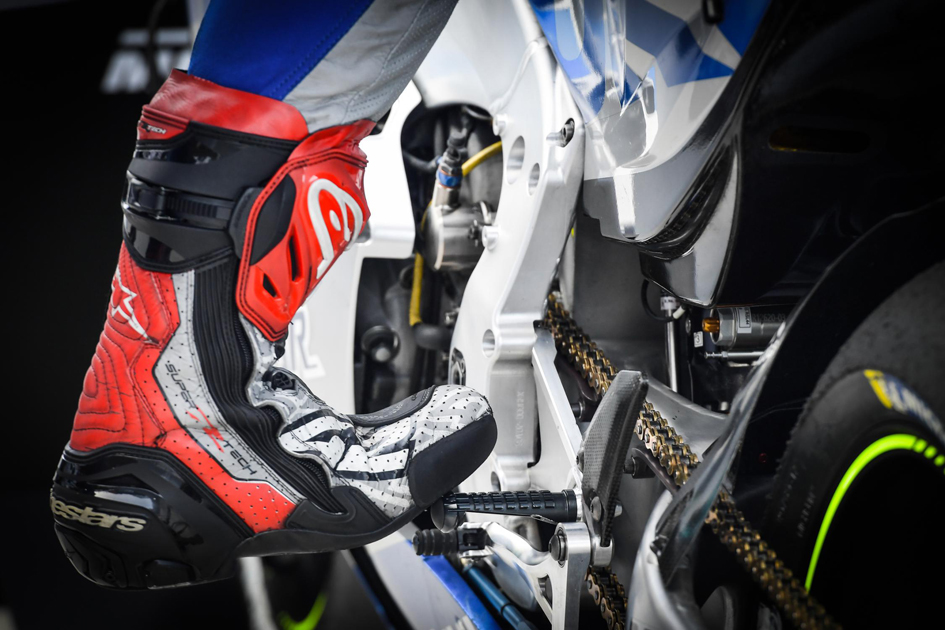 Qualifying was an unexpected affair, to say the least. Takaaki Nakagami blew the competition away on his LCR Honda with an impressive 1'46.882, followed by Franco Morbidelli in second and the smooth Alex Rins finishing off the front row. Fabio Quartararo had no chance at pole this weekend and had to settle for sixth on the grid, after having a few sketchy moments coming out of the final corner.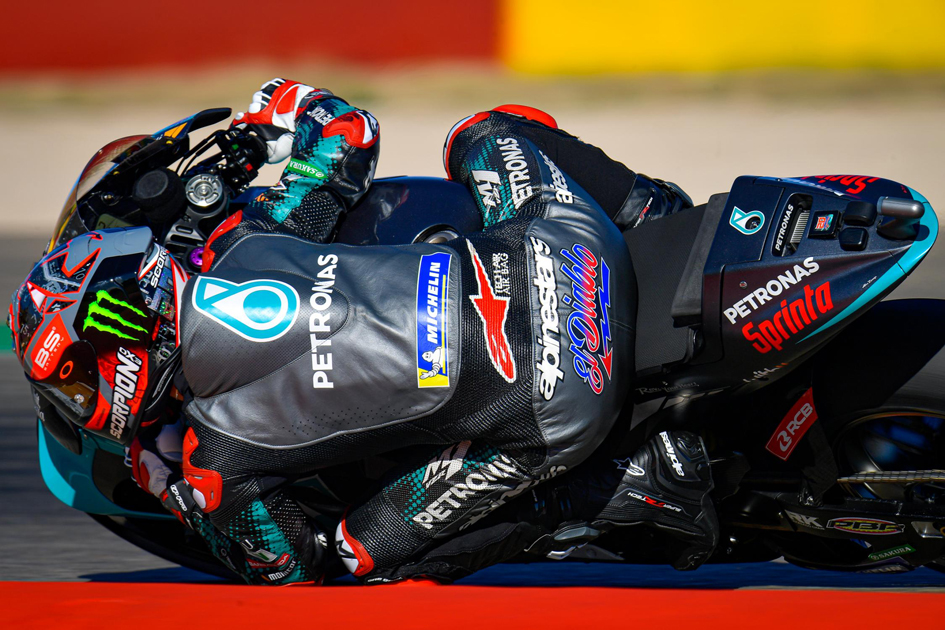 KTM had a great qualifier that saw three of their riders enter the first 11 positions. Miguel Oliveira led the charge in eighth, closely followed by Pol Espargaro in ninth – only one-hundredth of a second separated the two. Iker Lecuona was only a tenth of a second away in 11th, in a session that saw twelve riders split by 0.7 seconds. Brad Binder nearly made it into Q2, but missed out by three-tenths of a second, placing him 15th for Sunday's race.
Sunday had riders, fans and especially the Michelin Man smiling, as weather conditions at MotorLand Aragón hit near perfect. Any bets? Don't even think about it buddy, this is the 2020 MotoGP season—anything can happen.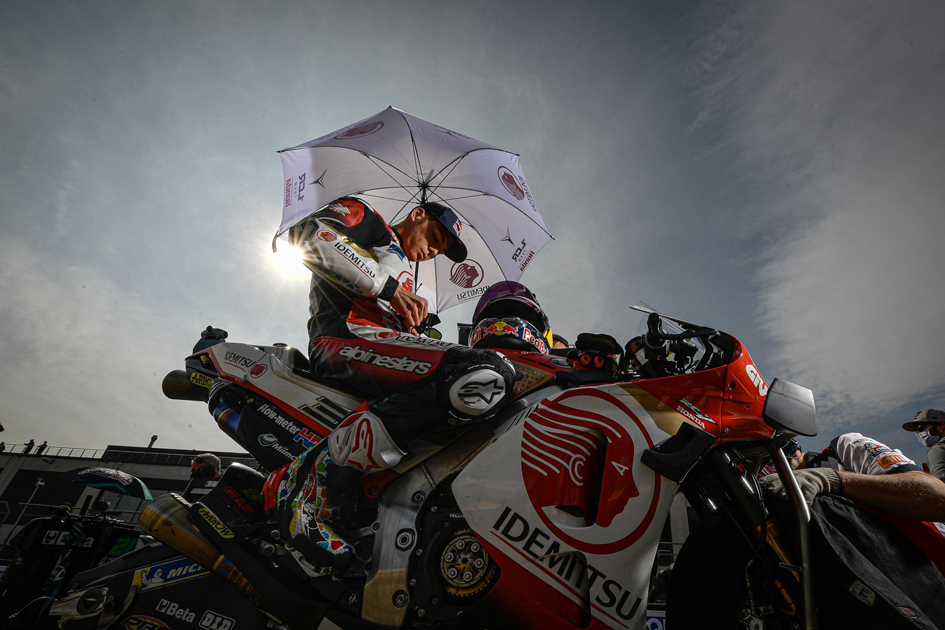 Nakagami had a stellar start, launching himself into the lead followed by front row starters Morbidelli and Rins. Brad accidentally nudged Miller's back wheel into turn two, causing both riders to take a tumble (he's since been handed a long lap penalty at the next race). And then came turn five… Nakagami tucked the front of his RC213V and threw it all away. He walked away from the crash, but it was heartbreaking to watch.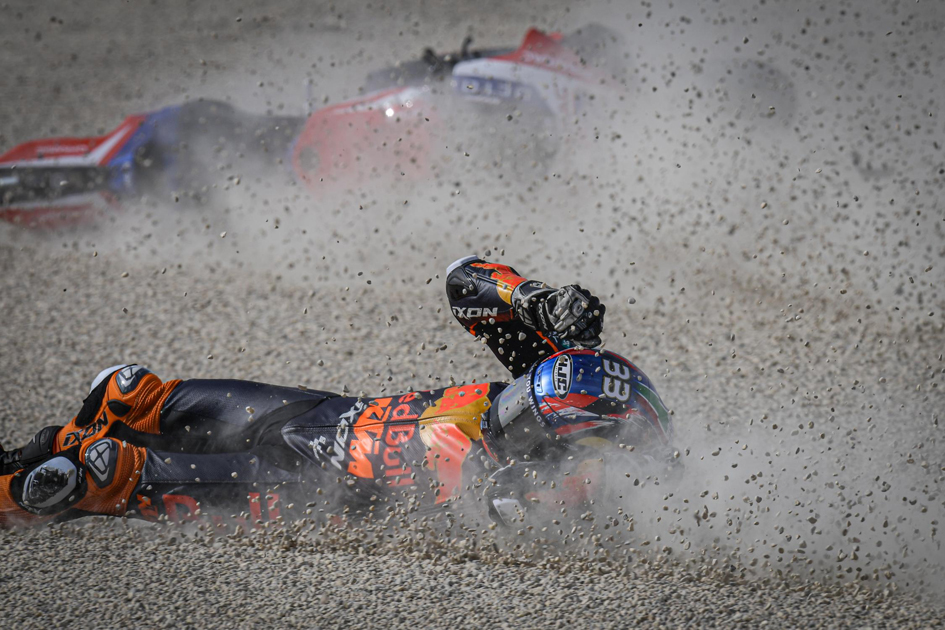 The drama upfront allowed Morbidelli to take the lead, closely followed by Rins, Johann Zarco and Maverick Viñales. Quartararo's medium tyre choice seemed to be his demise, as he soon became Cal Crutchlow's and Alex Marquez's prey. Morbidelli wasted no time upfront and set a 1:48.089 to take the race lap record at MotorLand, while Viñales got gobbled up by both Mir and Marquez.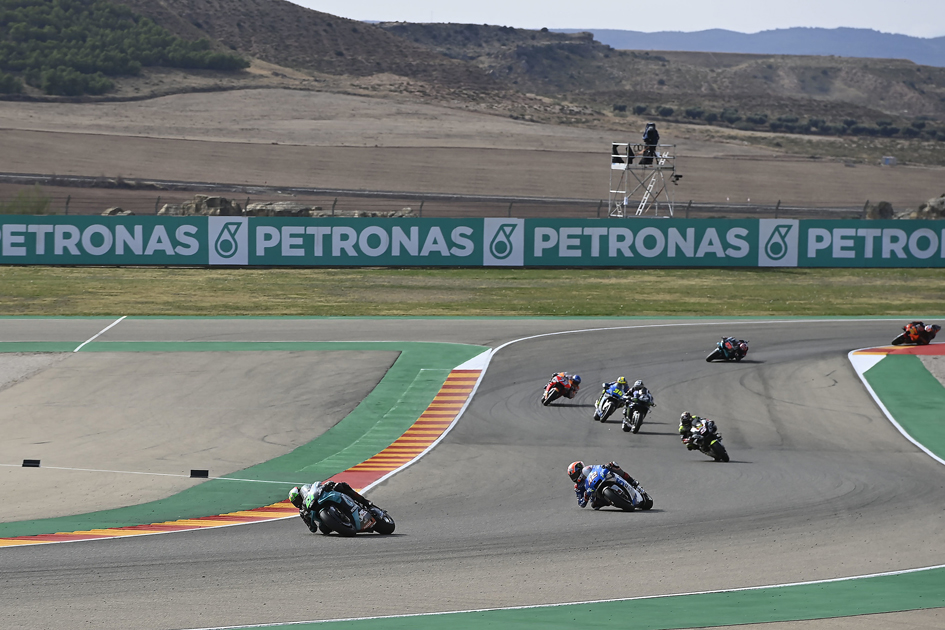 'El Diablo' was sliding further back down the grid as he battled with the medium Michelin rear (funnily enough, Morbidelli had no issues with his medium rear). By lap eight, Morbidelli and Rins were now 1.7 seconds ahead of Zarco; Mir and Marquez had taken a second out of Viñales and could now see Morbidelli and Rins in the distance.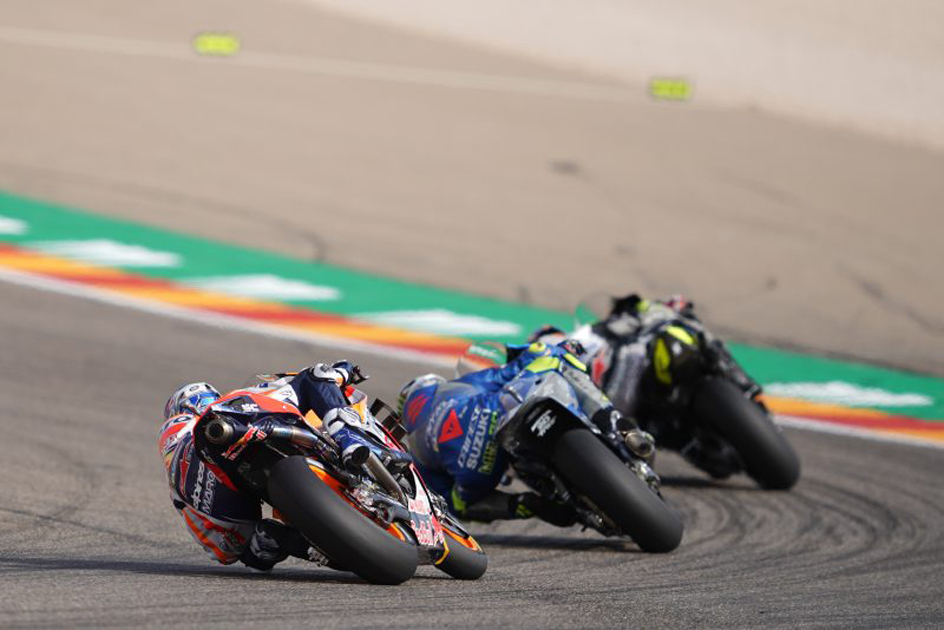 Red Bull KTM riders Pol Espargaro and Oliveira both got past Quartararo and began to reel in Viñales, as the Yamaha boys continued to battle with tyre wear. Further up, Mir pounced on Zarco at turn four narrowing the gap to 2.2 seconds from the leaders. Drama yet again, Marquez fell victim to turn two and missed out on getting his second consecutive podium at MotorLand.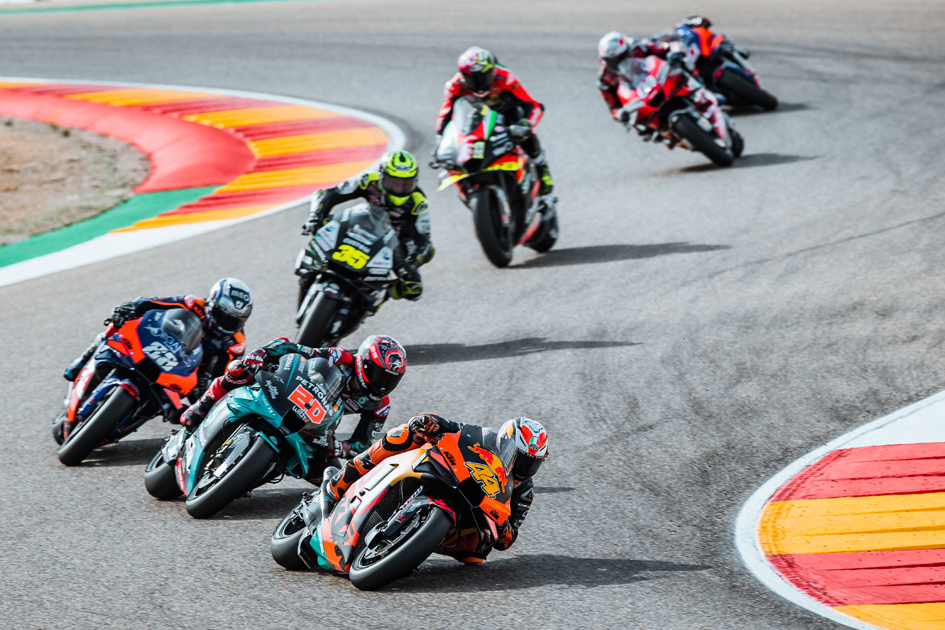 Upfront, Morbidelli's lead over Rins was 0.6 seconds, Mir was 2.6 seconds behind with nine laps to go, Zarco was now in fourth and Pol Espargaro sat in fifth. Oliveira then found himself battling with Quartararo—he made his move and it stuck on Lap 15, with Dovizioso now right behind Quartararo. Incredible scenes!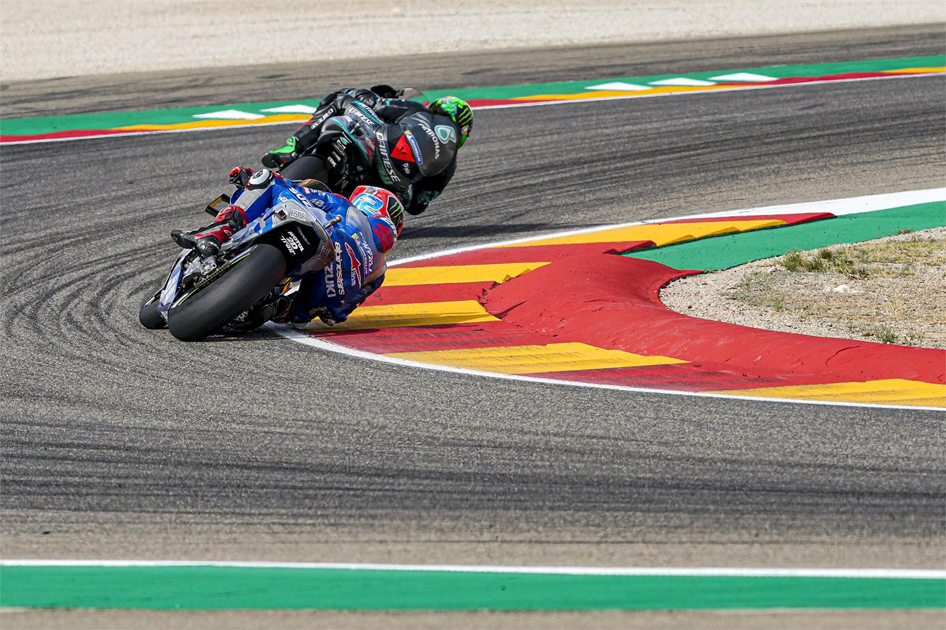 Disaster struck Dovizioso in an already less-than-satisfying race, as Aleix Espargaro made an aggressive move, forcing Dovi wide and causing him to move down into 12th.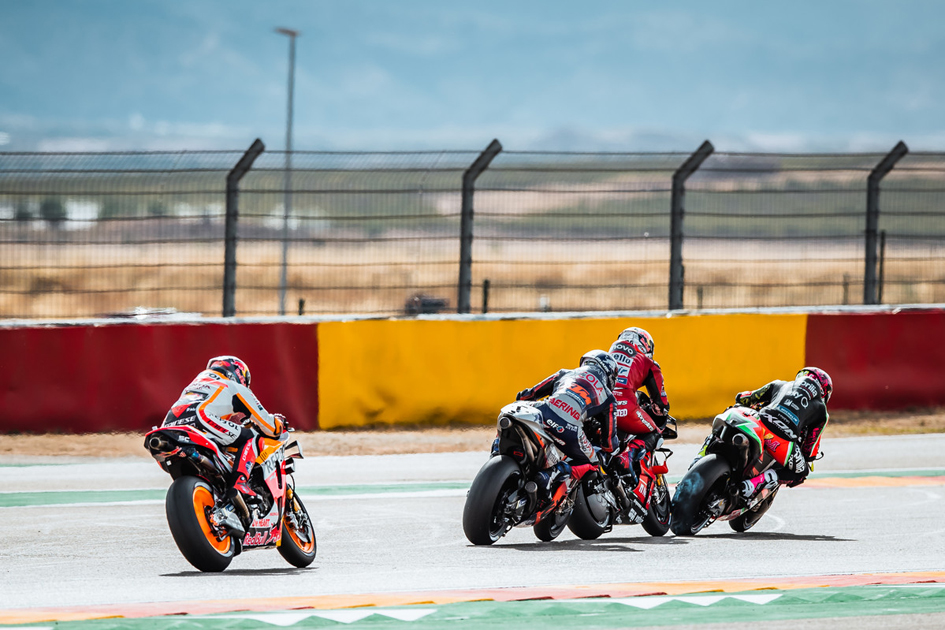 With a mere three laps remaining, Morbidelli's lead rose to 1.2 seconds over Rins, and Mir looked like he wasn't going to have any say in the challenge for victory. The battle for fourth was raging between Pol Espargaro, Zarco and Oliveira. Esparagaro climbed to fourth and Oliveira was soon through too, but Zarco wasn't going to give up that easily, and the Ducati man fought right back at turn 13.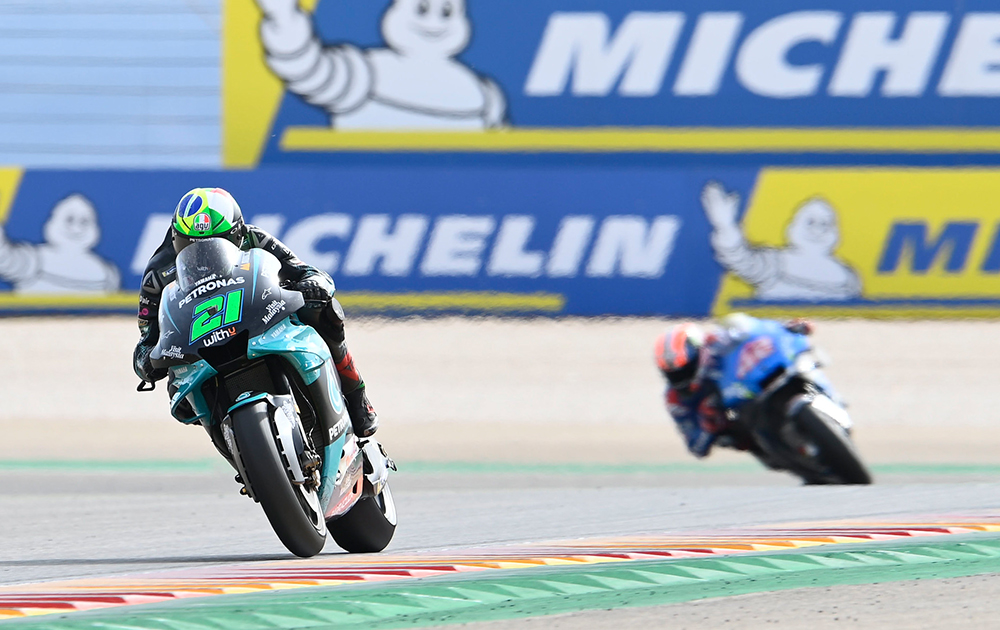 With two to go and a 1.9-second lead, it was Morbidelli's race to lose. Rins was well clear of teammate Mir, with the championship leader in a lonely third. Morbidelli put on a true masterclass of a race as he crossed the line first, becoming the first non-Spanish Aragon winner since Casey Stoner in 2011. Rins finished as runner-up this week but rode a fantastic race earning himself 45 points out of 50 in Aragon, bringing himself right into the title frame.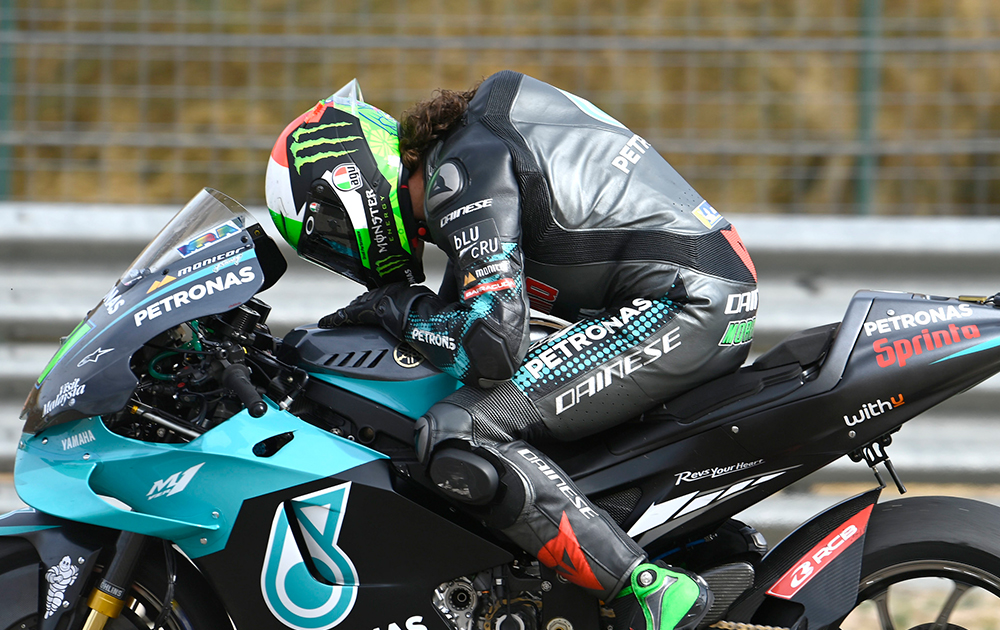 Two thirds at MotorLand sees Mir extend his World Championship lead with three races to go. He's now 14 points ahead of Quartararo, despite not having won a single race this season.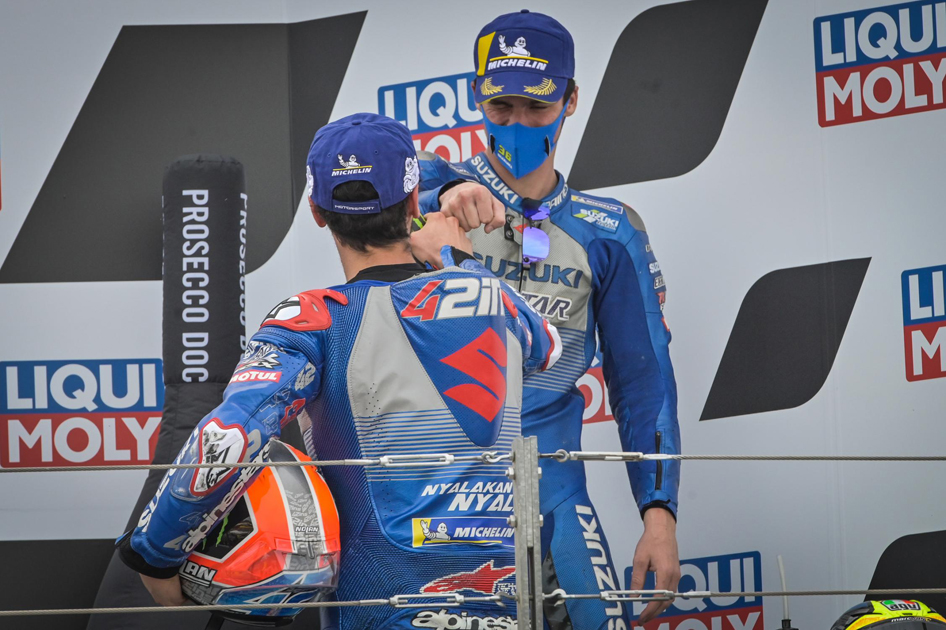 It was a truly unpredictable title race that kept on twisting and turning, and now just 32 points split the top six with three to go. Who will win the 2020 MotoGP World Championship from here? Mir leads the field heading into Valencia, but as we've figured out by now, that can change in the blink of an eye.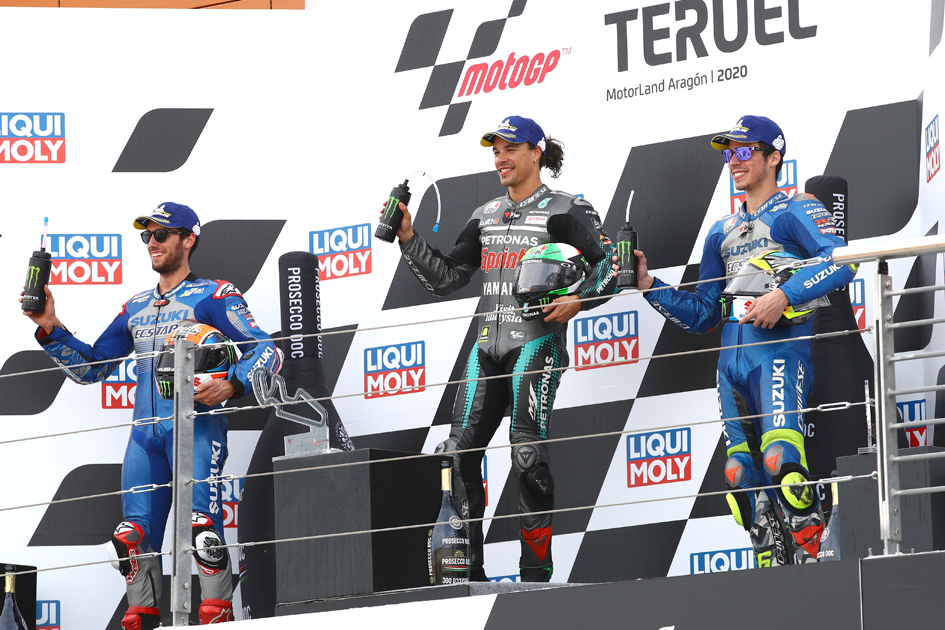 Franco Morbidelli: "I am very happy with this win; it feels a little bit different to when I won in Misano. It comes from the hard work that the crew has put in; they have done an unbelievable job and worked so well together to get this win. The bike was perfect during the race, I was feeling great and I just had to focus on getting the bike to the finish line in the shortest, fastest, time possible. This victory is for them, for my crew. Without their work it would not have been possible. So thank you. Now we are just 25 points from being at the top of the championship standings, which means that it is time to go super aggressive into the final three races of this year."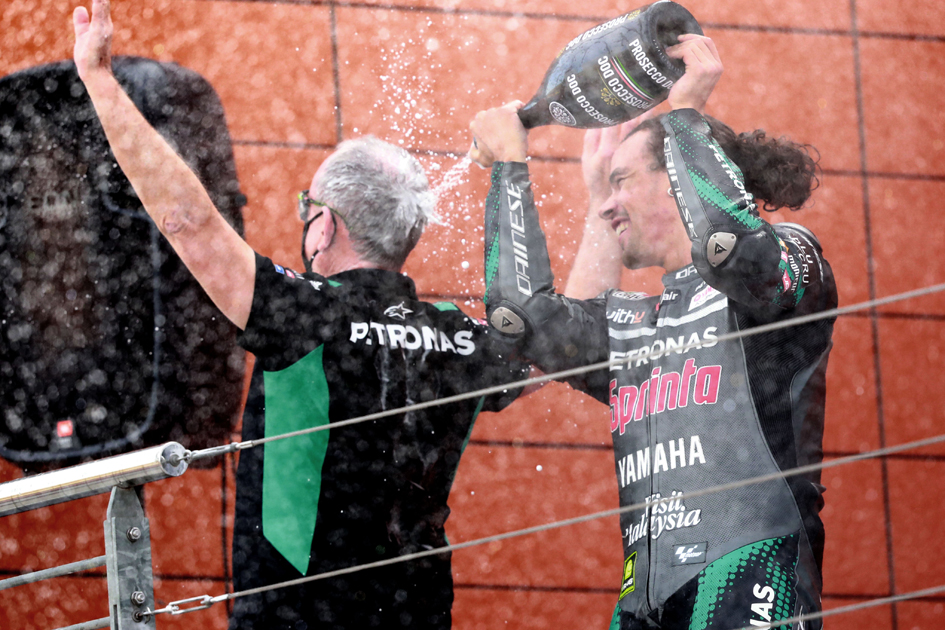 Alex Rins: "Obviously I was hoping to win again today, but another podium is an awesome feeling anyway. It was really hard to do battle with Franco today, he was very strong and he got a good start. I was happy with my tyre choice but I did feel a little bit of drop part way through the race, I knew that I had a decent gap on Joan so I kept things smooth and went for second place. I was really happy to see Joan there in third because it means another great day for Suzuki with both of us on the podium again! Joan is so consistent, but I'm also feeling better every race so let's see what can happen in the next few races. Anyway, I'm really pleased to be on the podium again at MotorLand!"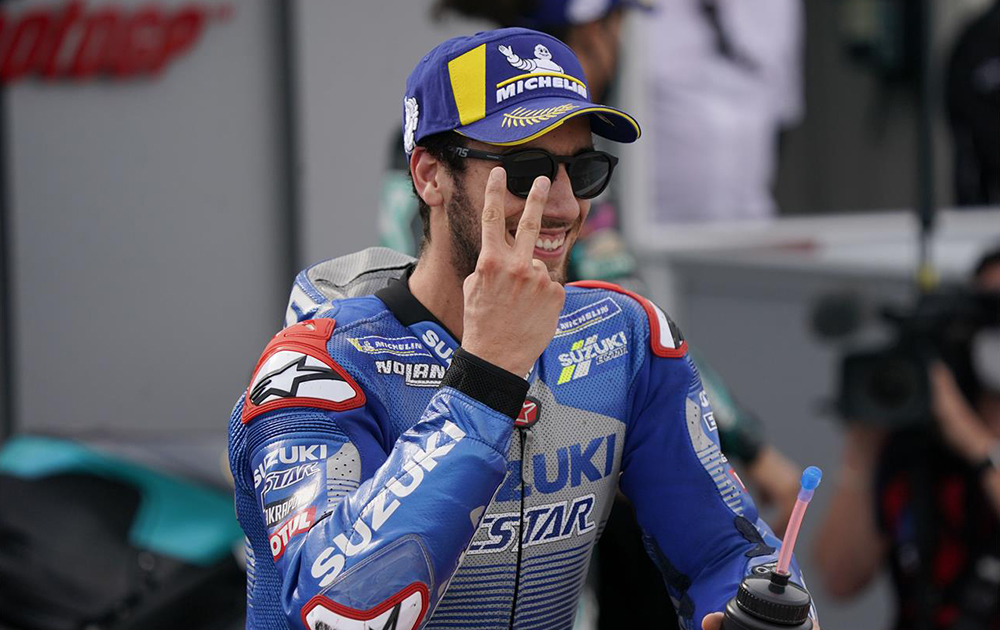 Joan Mir: "My feeling was good today, but on the last laps today I wasn't able to make up the difference – I had the same speed as Alex and Franco but I couldn't manage to go quicker to close the gap. That was a bit of a shame, but it's always hard to start further back on the grid and I lost some time while overtaking other riders. But anyway, I'm glad to have been able to collect points today and I'm satisfied because my target was the podium; I knew that was needed to keep a hold on the championship lead, so I'm happy that I achieved that. I will be giving my best in the next three races."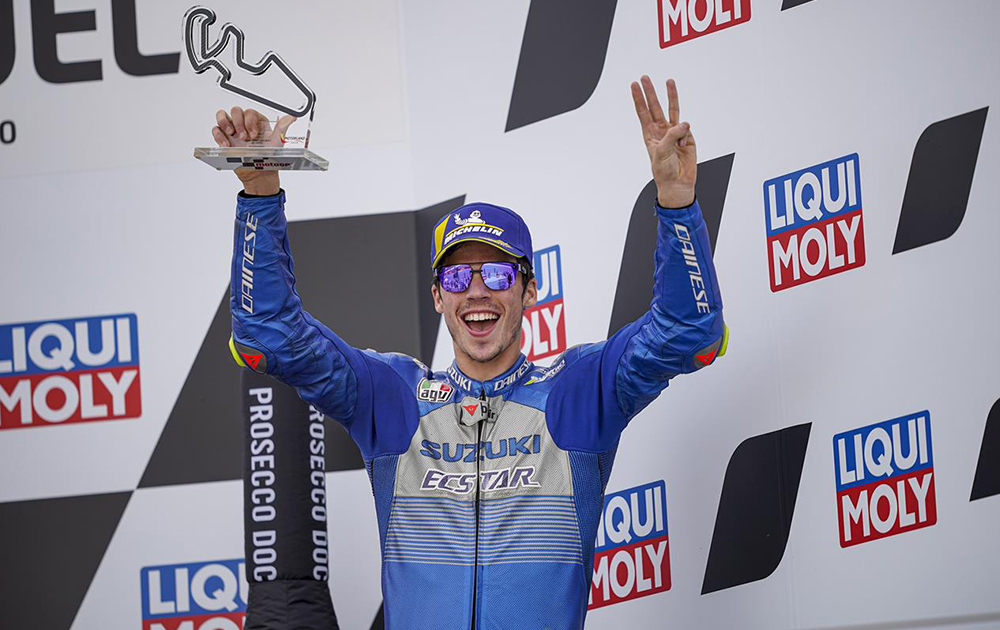 Brad Binder: "I had quite an 'OK' start and as I went up the inside of Turn1 I then changed direction like a regular lap and got bunched up. It was a big mistake on my behalf and I'm so sorry to wipe out Jack's race. I want to apologize not only to my team but also to his. We'll have to restart and go again in Valencia."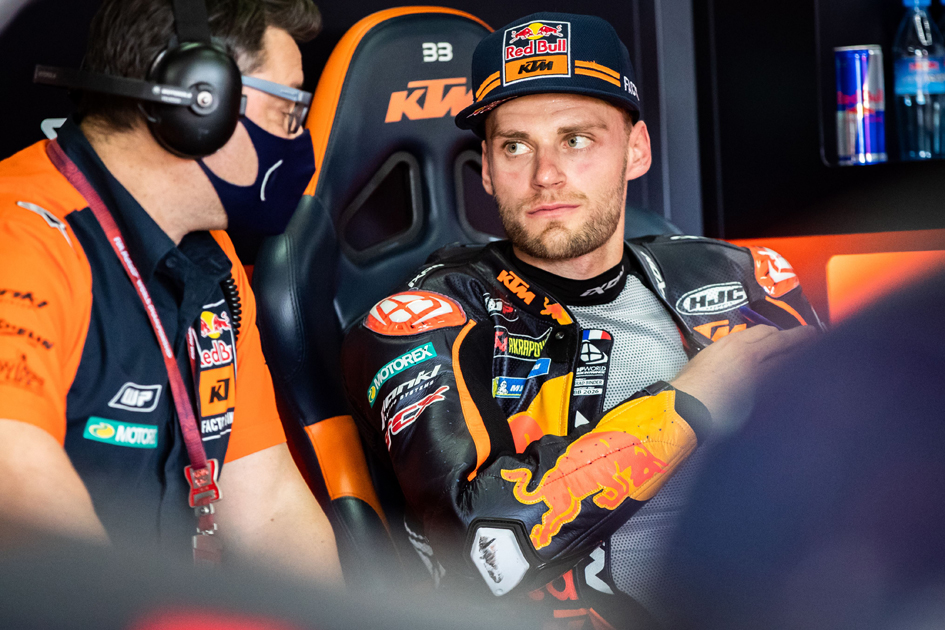 GRAN PREMIO LIQUI MOLY DE TERUEL – Race Classification:
1. F. MORBIDELLI – Petronas Yamaha SRT – 41:47.652
2. A. RINS – Team SUZUKI ECSTAR – +02.205
3. J. MIR – Team SUZUKI ECSTAR – +05.376
4. P. ESPARGARO – Red Bull KTM Factory Racing – +10.299
5. J. ZARCO – Esponsorama Racing – +12.915
6. M. OLIVEIRA – Red Bull KTM Tech 3 – +12.953
7. M. VIÑALES – Monster Energy Yamaha MotoGP – +14.262
8. F. QUARTARARO – Petronas Yamaha SRT – +14.720
9. I. LECUONA – Red Bull KTM Tech 3 – +17.177
10. D. PETRUCCI – Ducati Team – +19.519
11. C. CRUTCHLOW – LCR Honda CASTROL – +19.708
12. S. BRADL – Repsol Honda Team – +20.591
13. A. DOVIZIOSO – Ducati Team – +22.222
14. T. RABAT – Esponsorama Racing – +26.496
15. B. SMITH – Aprilia Racing Team Gresini – +31.816
MotoGP World Championship Classification – RIDER:
1. Joan MIR Suzuki – 137pts
2. Fabio QUARTARARO Yamaha – 123pts
3. Maverick VIÑALES Yamaha – 118pts
4. Franco MORBIDELLI Yamaha – 112pts
5. Andrea DOVIZIOSO Ducati – 109pts
6. Alex RINS Suzuki – 105pts