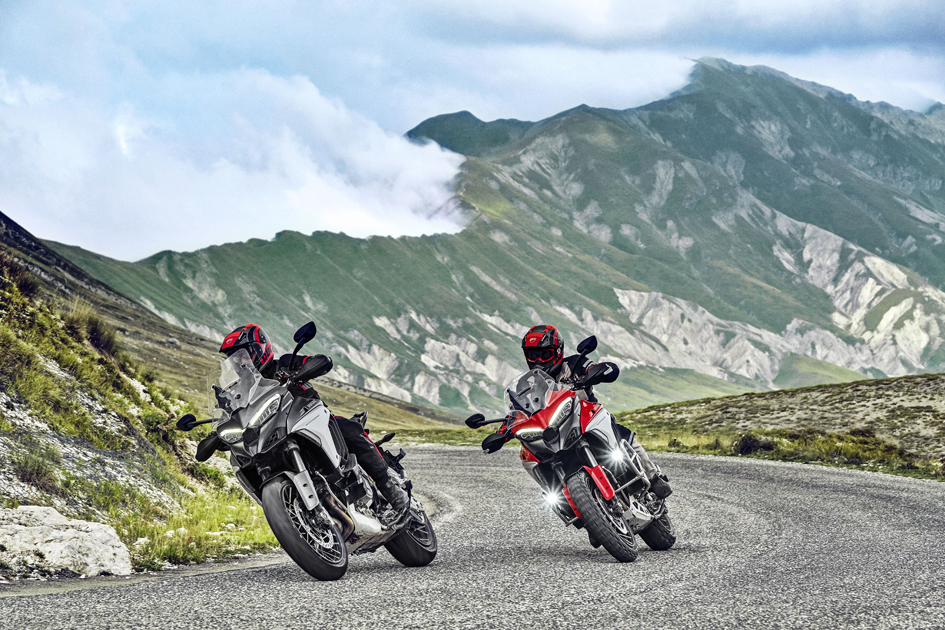 The hotly-anticipated Ducati Multistrada V4 has just broken cover, and it's set to be the most multipurpose Multistrada yet. As expected, it's now powered by a four-cylinder motor (the name sort of gave it away)—but there's a lot of other features that have caught our eye, too.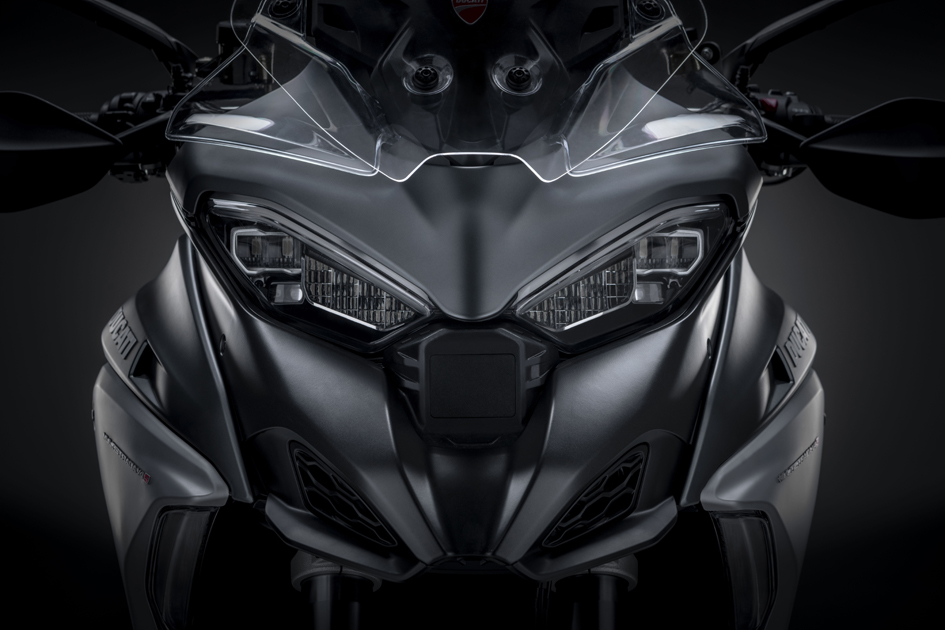 'Multi strada' is Italian for 'many roads,' and Ducati have taken this to heart. When the first Multistrada was launched back in 2003, it was built for many tar roads. Then, more recently, the addition of the dual-sport Multistrada Enduro model added some dirt to the menu. But now, 11,000 units later, Ducati are pitching the Multistrada V4 as a true all purpose machine.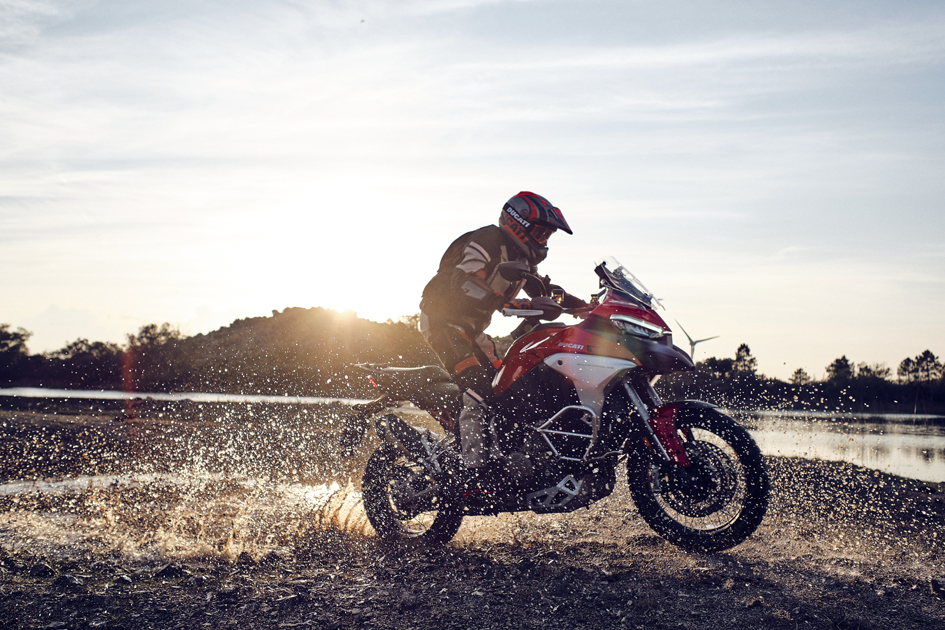 Available in two models—the V4 and better-kitted V4 S—the Multistrada powered by Ducati's new 1,158 cc V4 Granturismo motor, good for 170 hp and 125 Nm. Ducati boast a smooth and progressive torque curve, claiming that the V4 delivers usable power and torque in a variety of situations. The six-speed gearbox has a shorter first gear too—so the whole package is designed to chug along nicely at low revs and scream at high revs equally well. (We'd need to ride it for ourselves, but it looks good on paper.)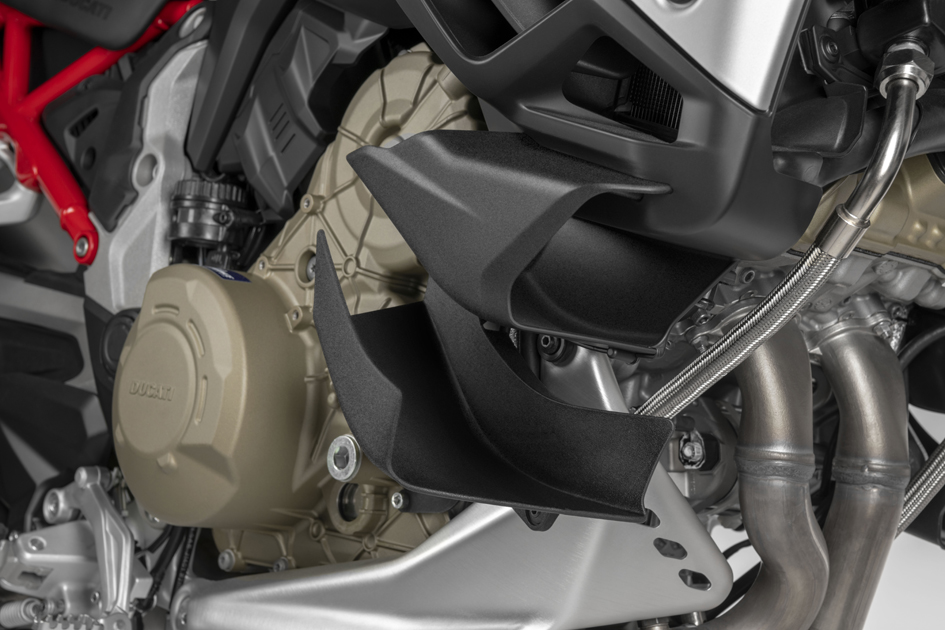 Compact and light, the entire mill weighs just 66.7 kilos. But the big news is that Ducati have dropped their go-to desmodromic system for more traditional spring valve setup. That's had a big effect on service intervals; the Multistrada V4 needs new oil every 15,000 km, but only needs its clearances checked at 60,000 km.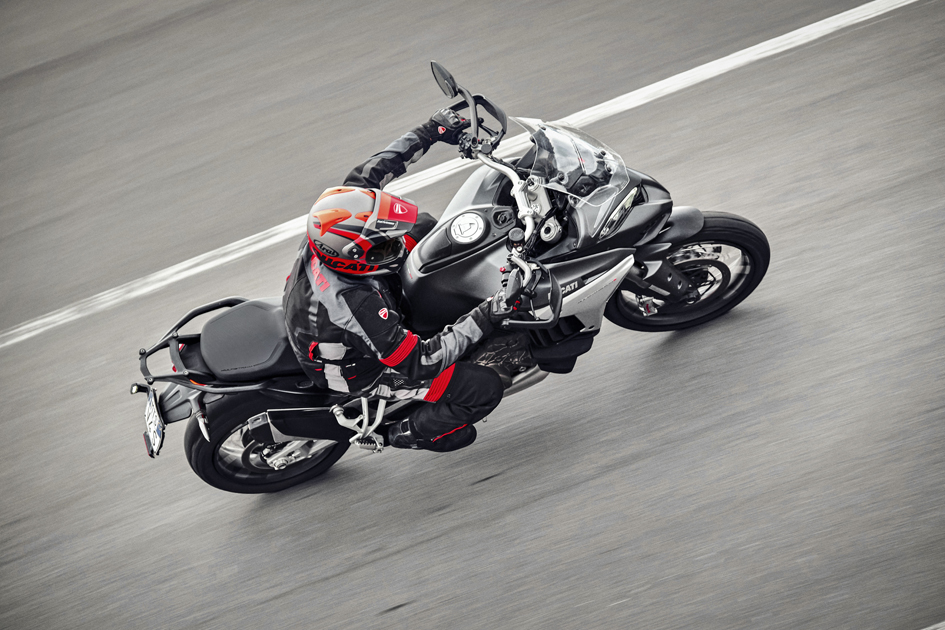 It's jam-packed with electronics too. You get cornering ABS and traction control and wheelie control as standard, and the S also features a hill hold system and adaptive cornering headlights. Both models get TFT displays, but they're different sizes, with the S getting the bigger, 6.5" unit. The Ducati Connect system is included too, which lets you connect your smartphone via Bluetooth to run an array of features—including full on-screen navigation.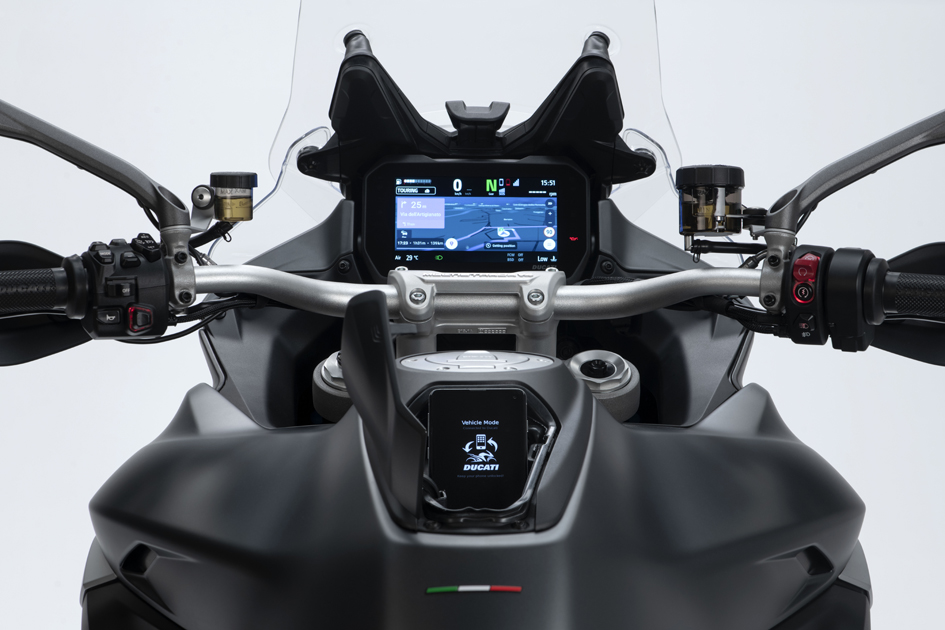 Keeping your phone charged won't be an issue either, because there's a small cubby on top of the tank that has a USB charge port.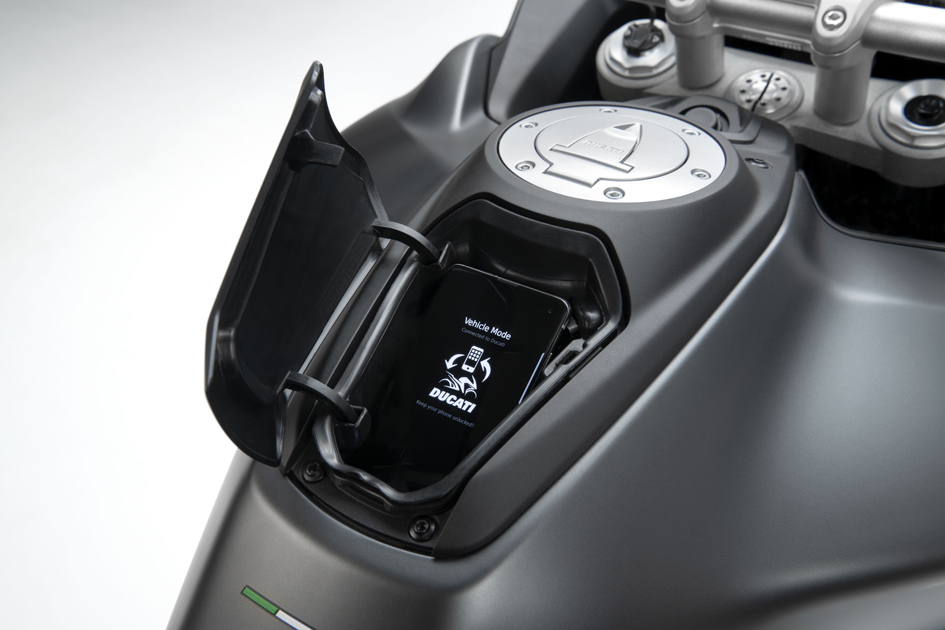 Ducati have also built in a world-first: a radar-based adaptive cruise control and blind spot detection system. It uses front and back Bosch-developed radar units to measure the distance to other vehicles, and gently introduce a little braking if necessary.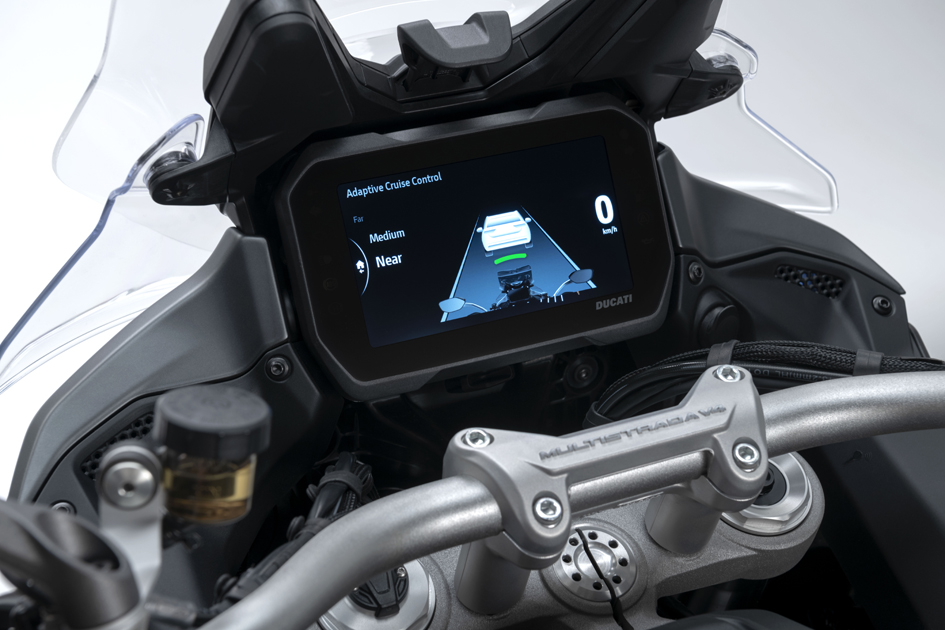 You get four rider modes that reflect the Multistrada's intended usage: Sport, Touring, Urban and Enduro. They seem very well-tailored, with each mode affecting a host of settings from ABS usage to engine maps. Highlights include how Sport mode allows some rear-wheel lift, how Touring mode smooths out the throttle response, or how Urban and Enduro both cut the power to 115 hp.
The Multistrada V4's chassis features an aluminium monocoque main frame, with a trellis subframe and a double-sided swing arm. The focus here was on stiffness and weight saving.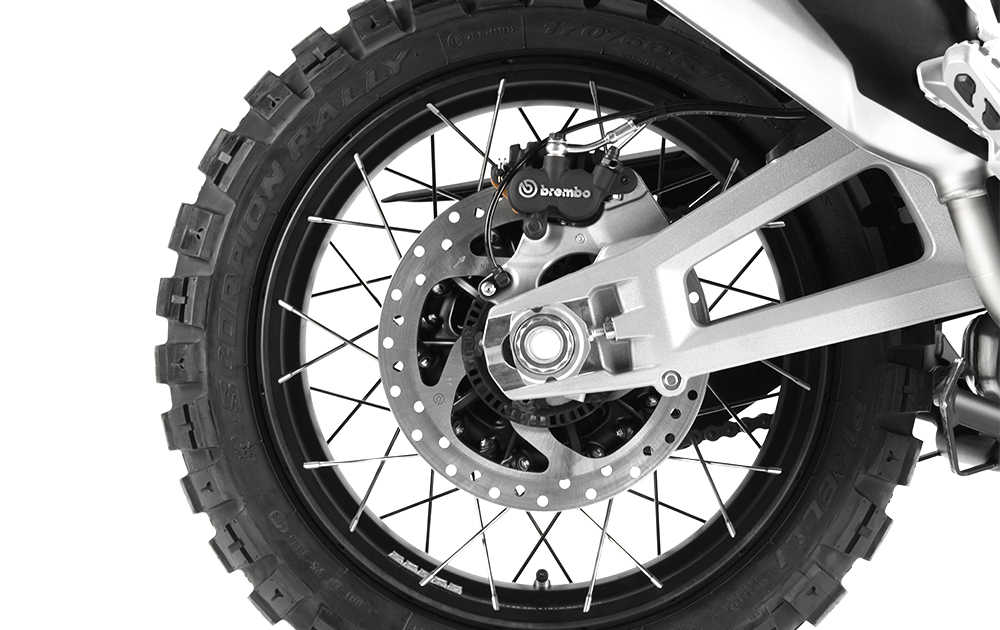 The Multistrada V4 runs on manually adjustable Marzocchi suspension, with 170/180 mm of travel front/back, and a ground clearance of 220 mm. The V4 S has the same amount of travel and clearance, but the suspension is electronically adjustable via Ducati's proprietary 'Skyhook Suspension' system. It's a semi-active system that also adjusts on the fly, depending on the load and road surface.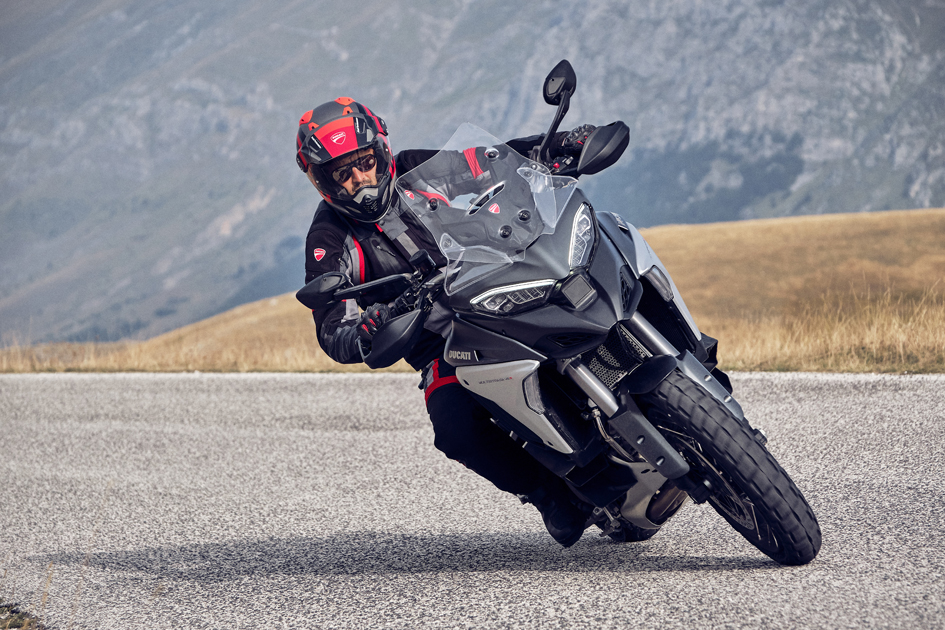 The biggest hint that Ducati have designed the new Multistrada V4 as an all-road machine, is that it now features a 3.00 x 19" front wheel as standard (the rear's a wider 4.5 x 17" unit). Both the V4 and V4 S come with alloy hoops, but you can order the S with spoked wheels from the factory. Braking's handled by Brembo units all round, with twin 320 mm discs on the V4, and twin 330 mm discs with Brembo's Stylema monobloc calipers on the V4 S.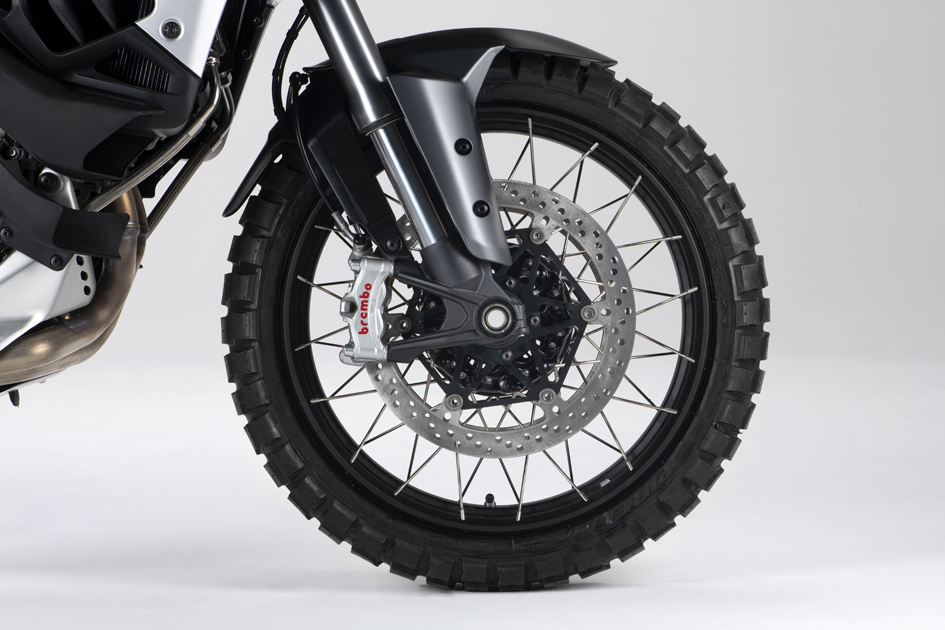 Specs aside, the Multistrada V4 is one damn fine looking machine. Ducati deliberately designed it with a visual imbalance—starting with a muscular front end that wraps around the 22 l tank, and tapering down to the sharp tail section.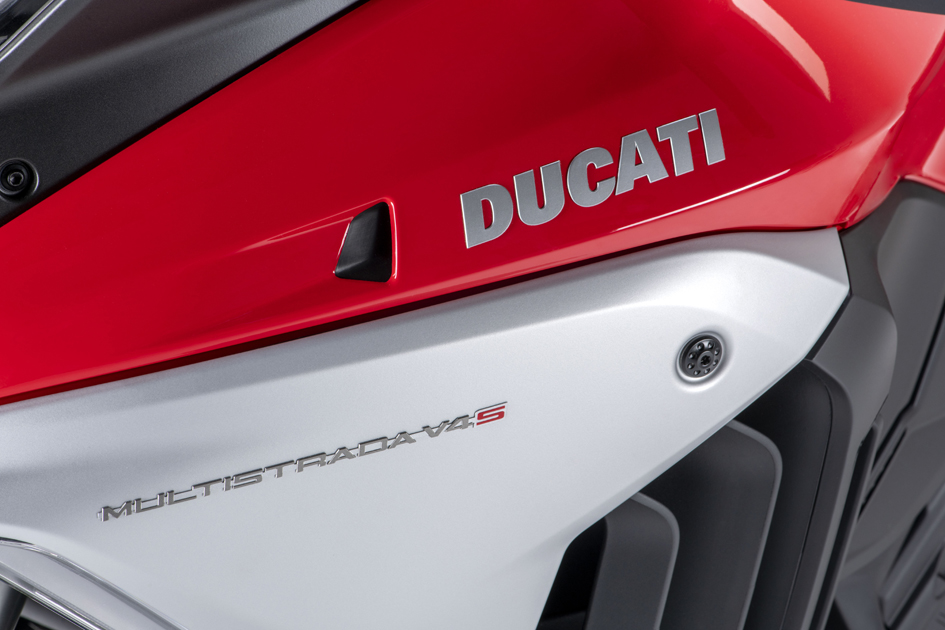 Just like previous Multistradas, the front fairing has a stacked appearance, but here, inspiration for the LED headlights came straight from the Panigale. Everything's designed to not only look as sharp as you'd expect a Ducati to, but also to be as aerodynamic as possible.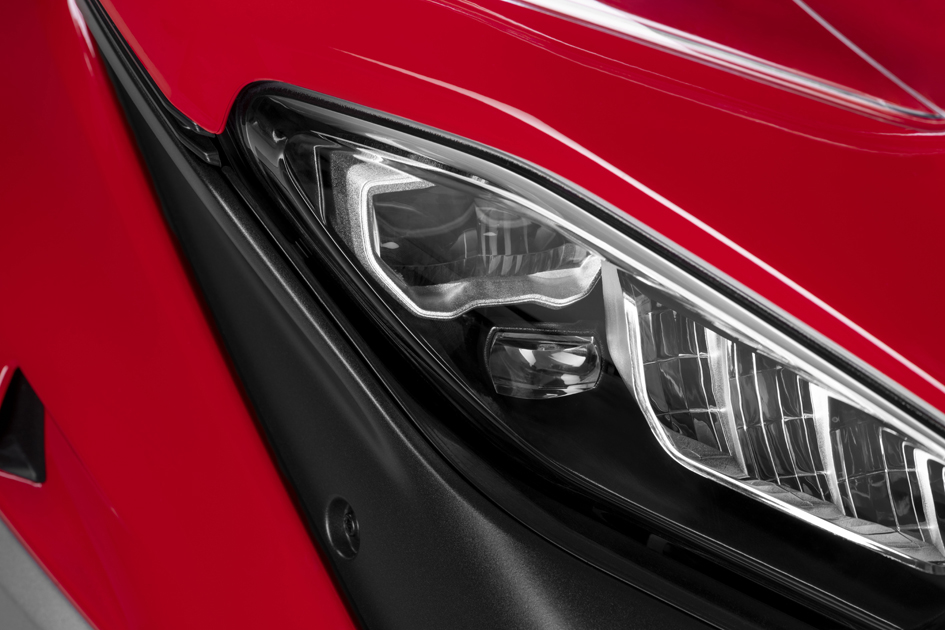 The riding position is upright, with a few adventure riding hits in the wide bars, hand guards and sturdy pegs. The seat height can be adjusted between 840 mm and 860 mm, and there are 810 mm and 875 mm accessory seats available too.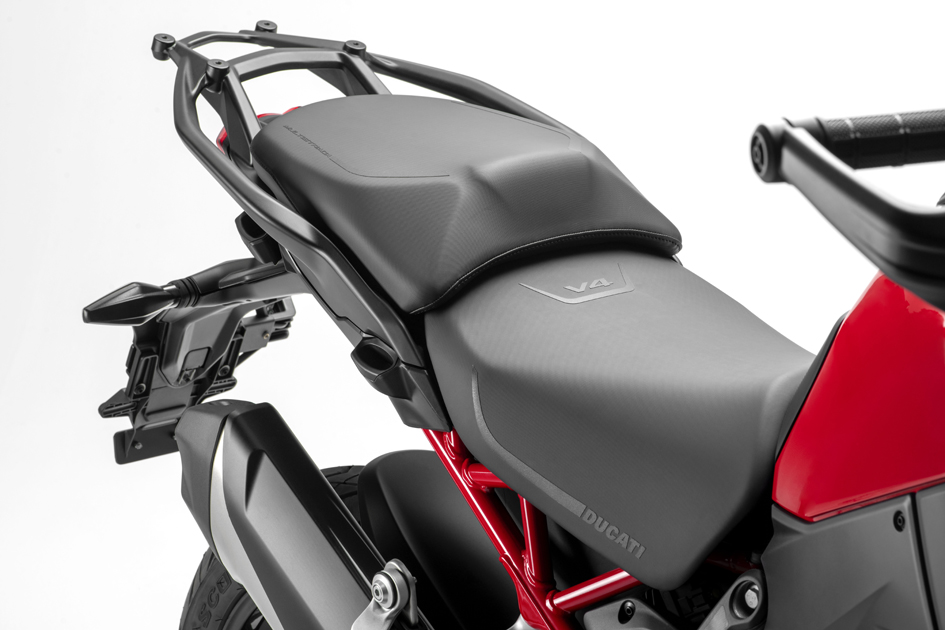 Ducati have thought of the passenger too, so the new pillion seat is larger and less tapered than it was before. There's also a two-position adjustable screen, and a feature where the bike cuts combustion in the rear cylinders at idle, so that the engine doesn't get too hot sitting at a robot.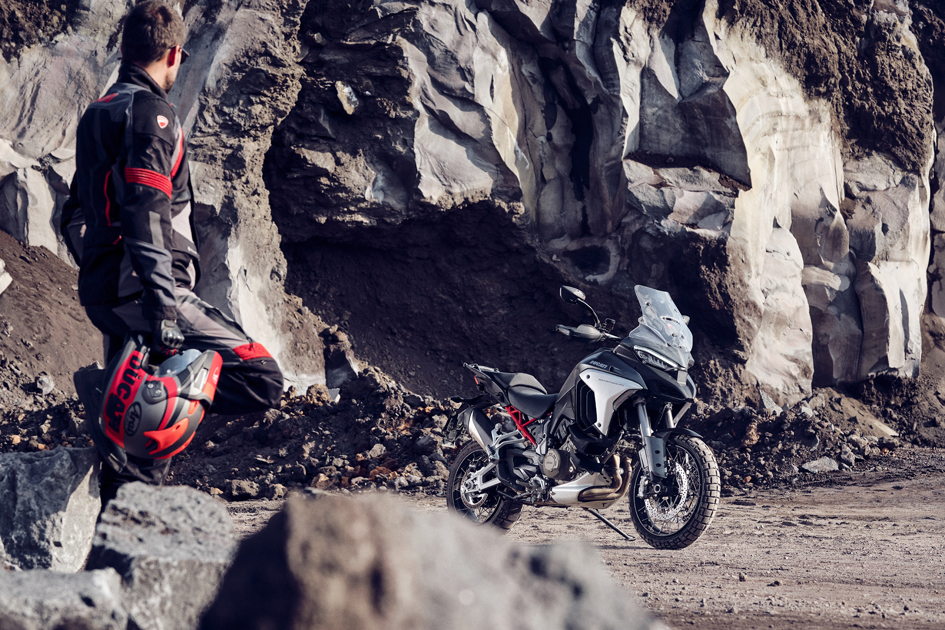 The V4 comes in red, while the V4 S is available in both red and 'Aviator Grey.' There's also a V4 S Sport model, which gets its own livery, a carbon fibre mudguard, and a carbon and titanium Akrapovič silencer. There's a host of accessory and trim 'packs' available for all models.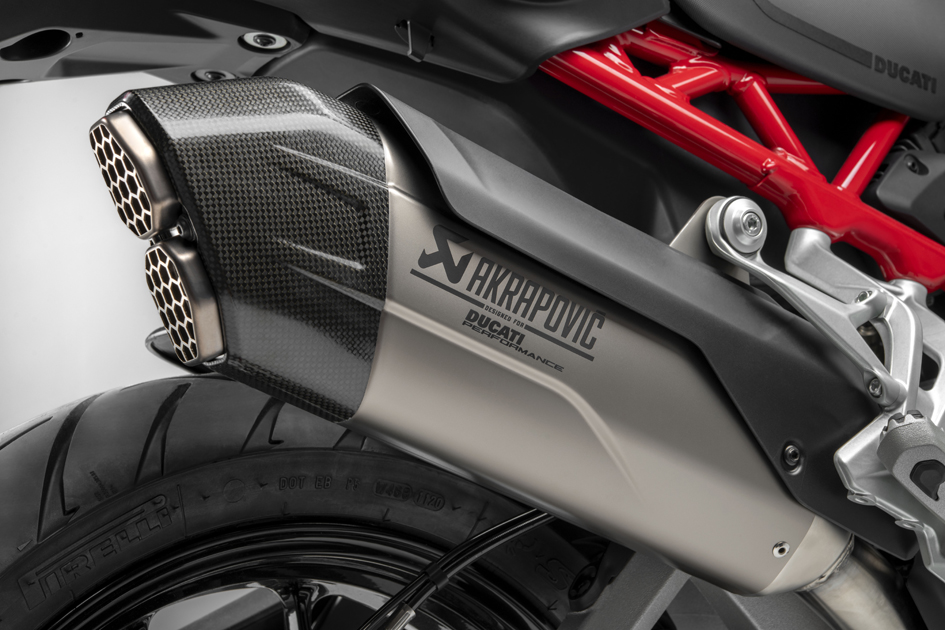 We're not sure when the Multistrada V4 will land in South Africa—or what it'll cost—but we're keen. We've been fans of the Multistrada platform for a while, and the changes Ducati have made tick all the right boxes.