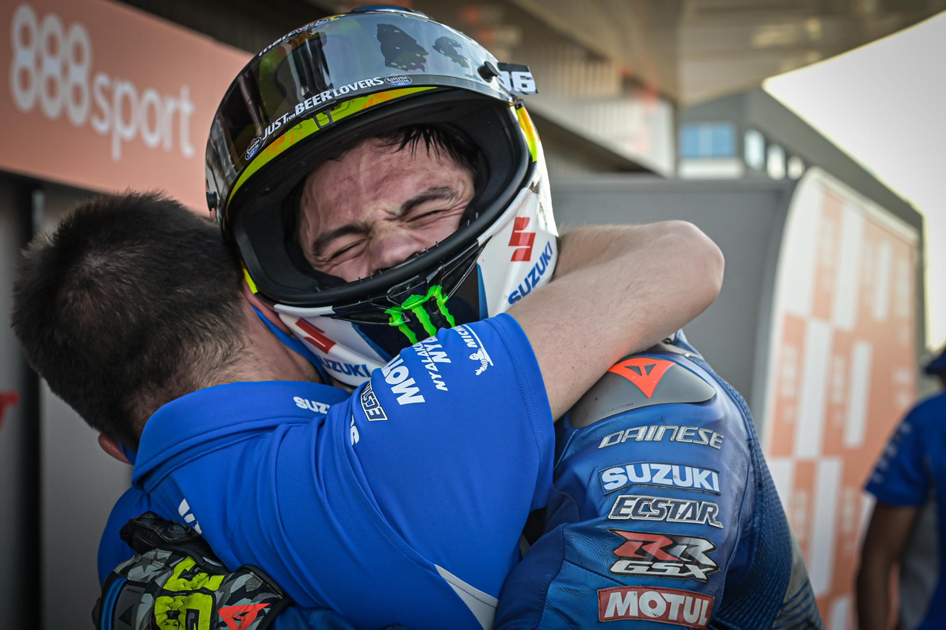 This weekend's GP saw riders, including Valentino Rossi (back from self-quarantine), return to Spain for the 13th round of the MotoGP calendar. But before riders hit the tar on the Ricardo Tormo Circuit, a few riders had to pay their dues after acquiring penalties at the Teruel GP.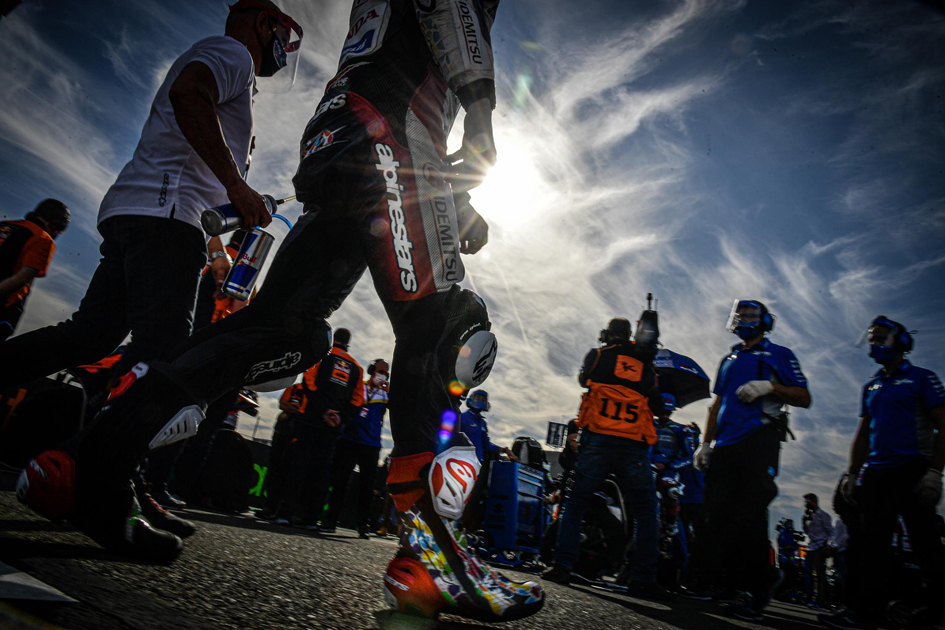 Brad Binder had received a long lap penalty after accidentally nudging Miller's back wheel, causing them both to crash. And Maverick Viñales had to start the race from the pit lane after receiving a penalty for Yamaha's mistake—running an illegal engine in his YZR-M1.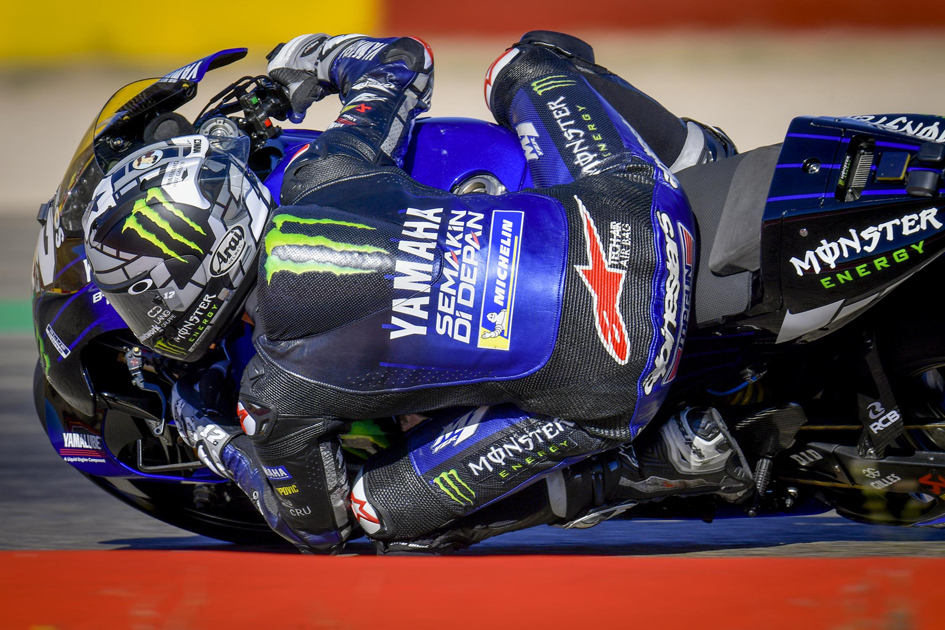 Valencia's flat and twisty circuit was greeted by heavy showers, that created wet and drying track conditions throughout Saturday's free practice and qualifying. The first three positions chopped and changed for the entire fifteen minutes of Q2, with the likes of Alex Rins, Takaaki Nakagami and Johann Zarco showing their cards. Stealthy Pol Espargaro swooped in and took pole with minutes to spare, followed by Alex Rins in second and Nakagami in third.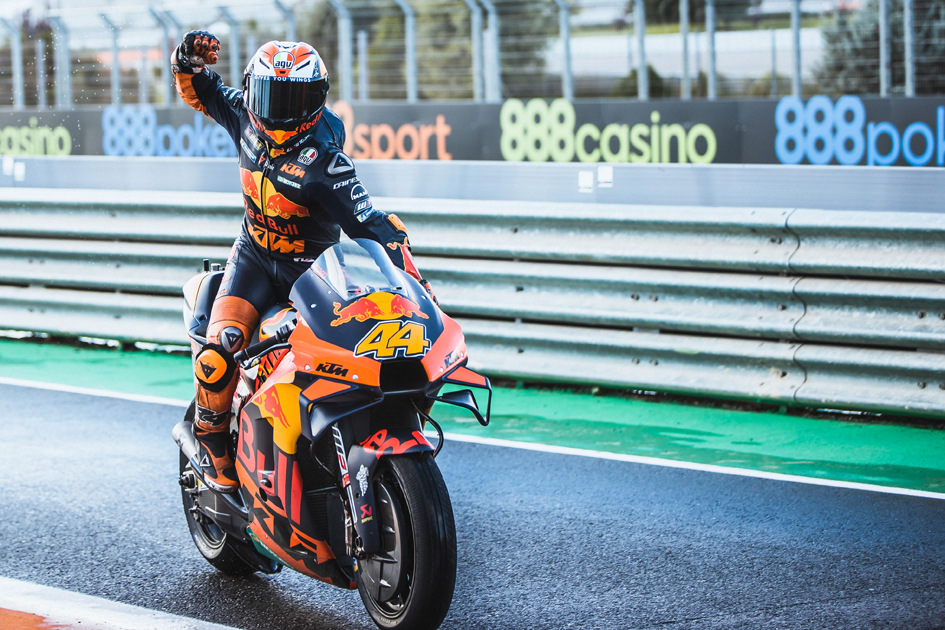 The KTM boys had a great qualifying, seeing all three KTM RC16's place inside the top ten. Brad secured himself a Q2 qualifier on Friday's free practice and showed some good pace in qualifying, landing him a 10th grid start. Miguel Oliveira's fast pace saw him climb into Q2 and earn himself a well-deserved eighth. Unfortunately, Iker Lecuona was forced to miss the Grand Prix due to COVID-19 quarantine regulations, as his brother and personal assistant had tested positive.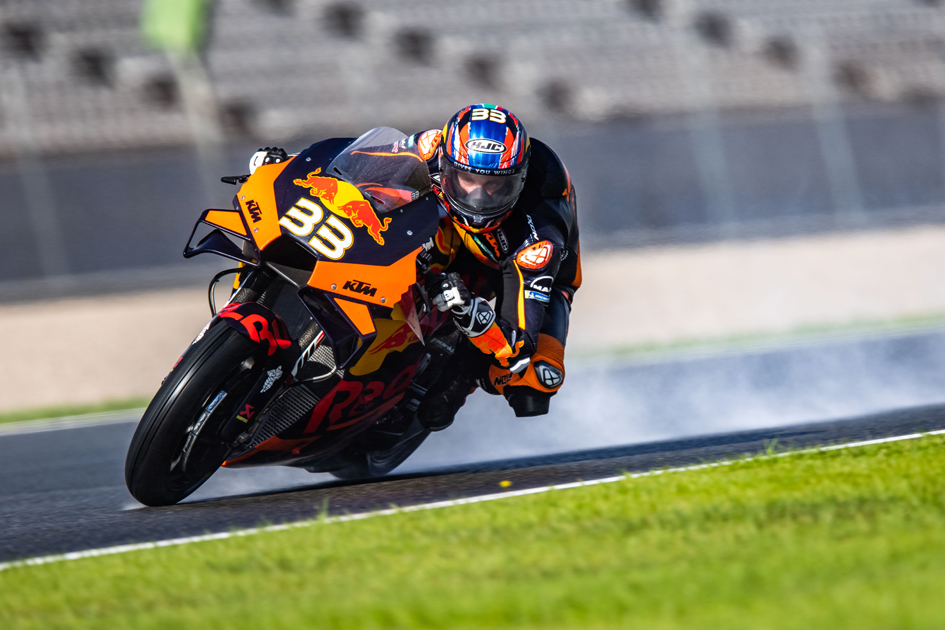 Race day promised to be a dry race, thanks to good weather and the Moto2 boys who spattered those damp patches aside. A dry track is usually good news, but in this case it was unfamiliar territory, as the weekend already had riders used to wet weather tyres and bike setup. With a low track temperature of 20 degrees Celsius and a dry circuit, thirteen riders out of the twenty-one rider field opted for Michelin's new hard compound tyres.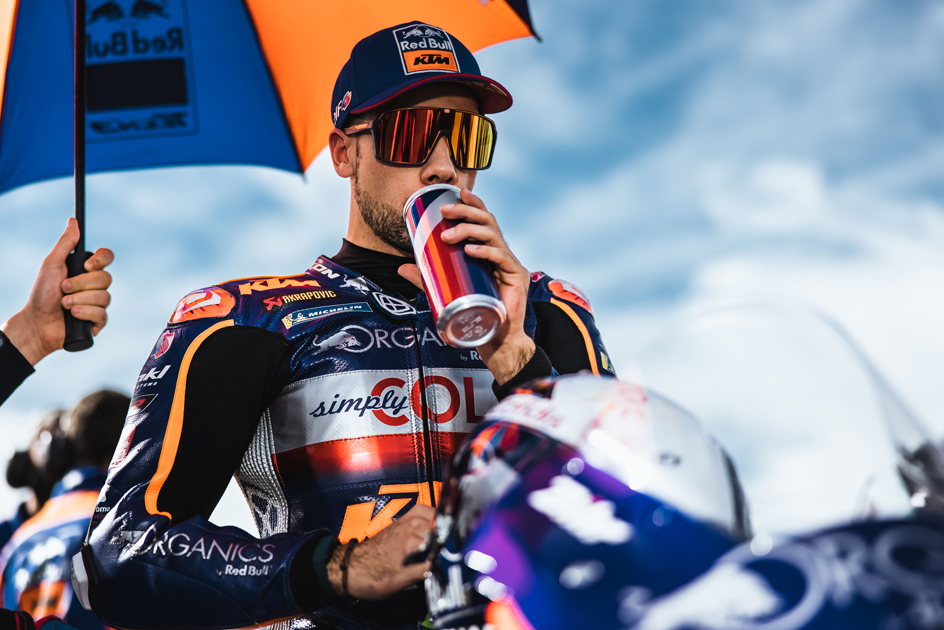 Lights out and the two front runners Rins and Espargaro launched well off the line and led into the first turn, followed by Mir and Nakagami. Drama at turn 8 saw Fabio Quartararo's title hopes vanish as he and Aleix Espargaro simultaneously tucked their front wheels next to each other. Quartararo found enough energy to pick up his bike and continue, but for 'El Diablo' it was too late as he slid into last place.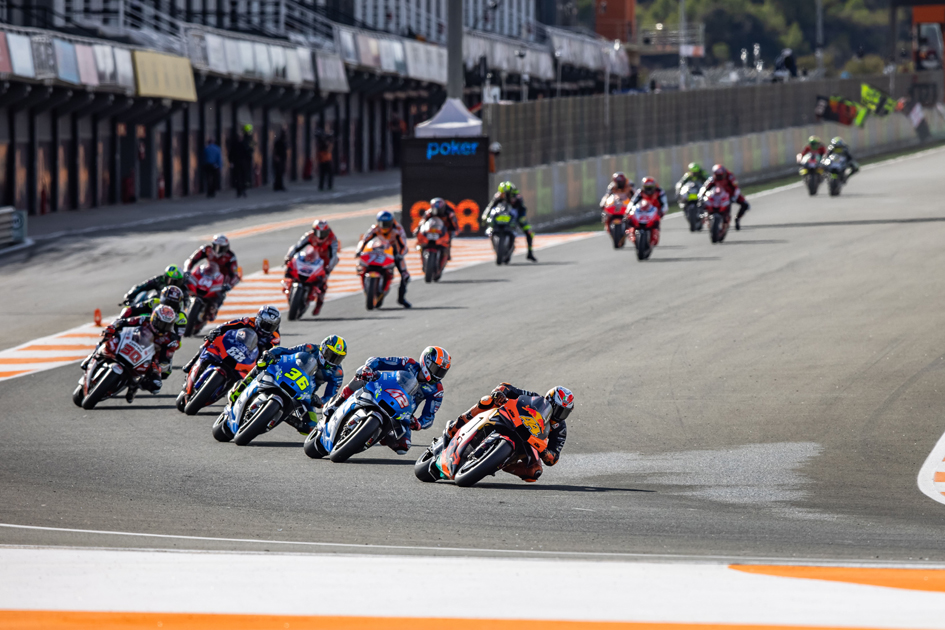 By lap two, both Suzukis had got past Espargaro to lead the Valencia GP; Rins in first, with Mir in second. Further back, Oliveira had now passed Nakagami and was now behind his teammate Espargaro chasing down the 'blue rockets.' Oh, boy… more bad luck for Yamaha as Rossi stopped his YZR-M1 in disappointment—not the return he was looking for. After starting from the pit lane, Viñales had climbed his way up into a respectable 15th.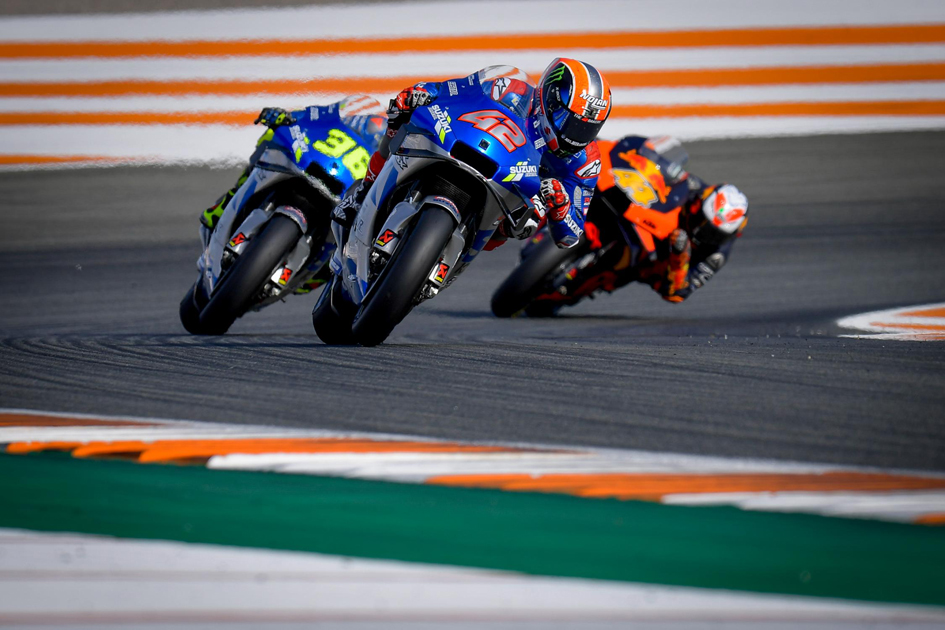 Somewhere towards the middle of the pack, Brad took his long lap penalty and fought back with impressive pace. Upfront, it was still the Suzukis of Rins and Mir, hunted down by the KTMs of Espargaro and Oliveira. Nakagami, Zarco and Jack Miller started to form their own group, and were duking it out for fifth.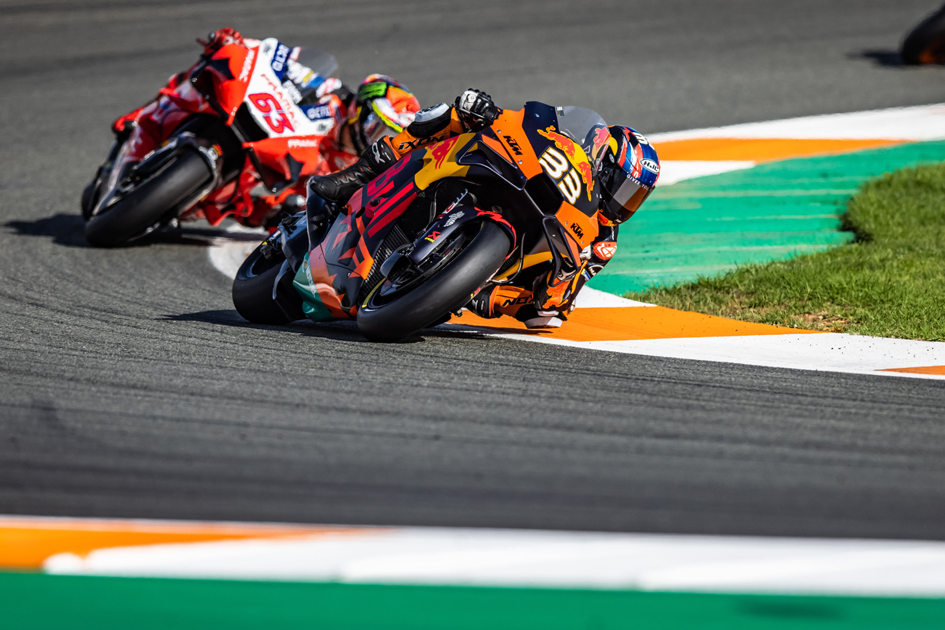 With 12 laps to go, Mir was on his teammate's tailpipes, Espargaro was keeping tabs on the Suzukis, and Nakagami got through Oliveira to grab fourth. Rins ran wide into turn 11, leaving the door wide open for the lime green number 36 to sweep past. As things stood with 10 laps to go, Mir would take a massive 37-point lead into the final two races… could he be stopped?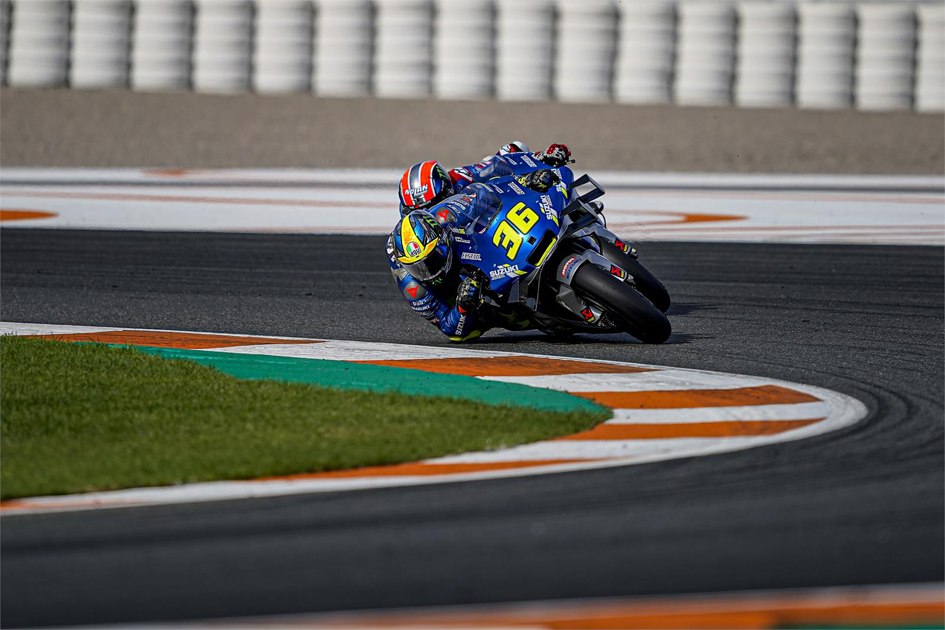 Brad fought his way back and found himself battling Zarco, Dovi and Miller for 7th during the closing laps of the race. Espargaro was beginning to lose touch of the blue rockets and began to settle for the third step of the podium. Mir was hitting 1:31.9s, riding a perfect race and pulled a gap of 1.3 seconds over Rins.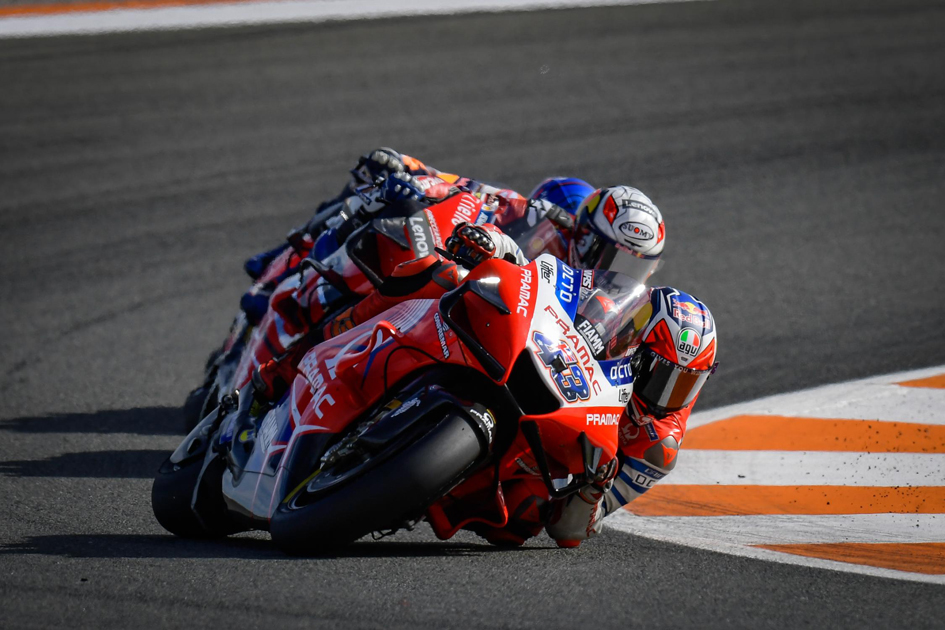 With a lap to go, Suzuki Team Manager Davide Brivio's heart rate monitor was reading upwards of 125bmps—he couldn't watch as Mir crossed the line to start the final lap. Espargaro was pushing his RC16 to the limit as Rins started to come closer into the picture (I nearly though it was possible.) With less than a lap left, it was Mir's race to lose.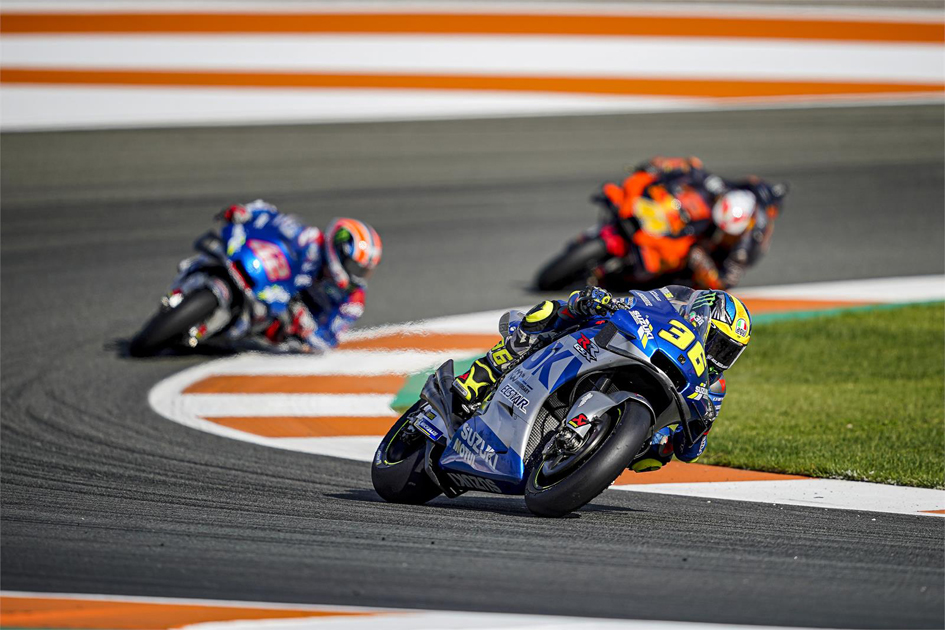 Mir took the flag, while Rins made it Suzukis first 1-2 since 1982 and Espargaro finished off the podium in third. A seriously impressive race by fellow South African Brad Binder, as he clocked the fastest lap of the race with five laps to go, and finished in an astonishing 7th position.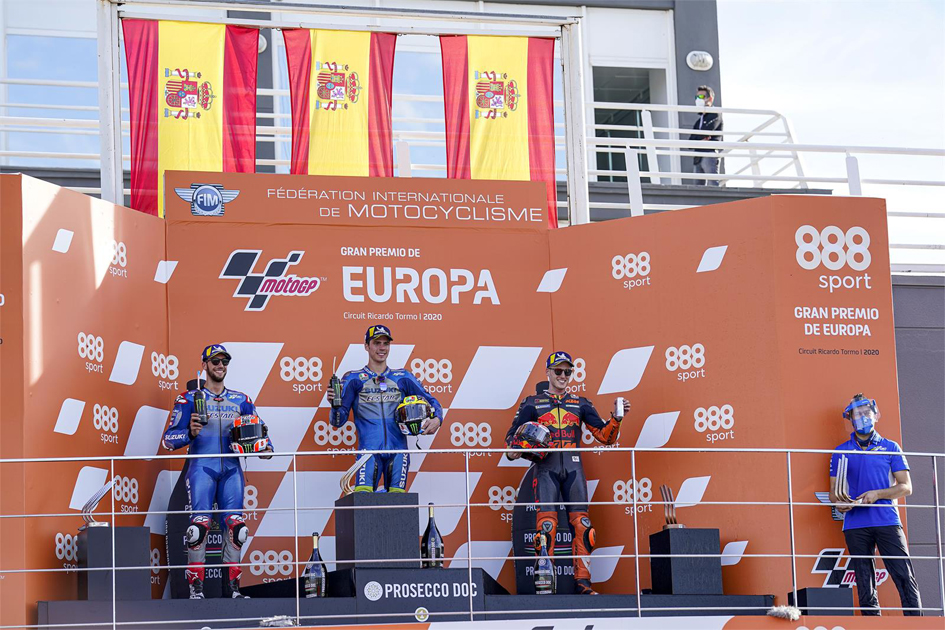 Well done to Mir, he rode a flawless race and I'm happy he put his consistency aside and finally got his first premier class victory. With Mir's 37 point lead, could we perhaps see a new World Champion being crowned next Sunday, as we head back to the Circuit Ricardo Tormo?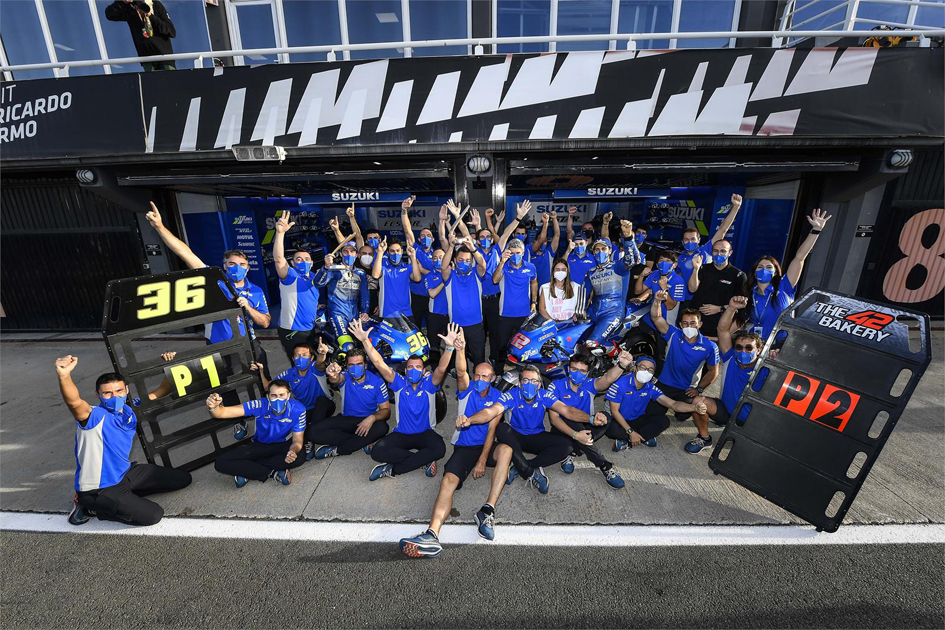 Joan Mir: "I'm just so happy, the Team and I put together a perfect weekend! It's difficult to give 100% when you're fighting for a title, because you always have to be a bit cautious, but today I saw the chance for my debut victory and I had to take it. I knew what I had to do, and I felt really great with my bike. I don't really have words to describe how amazing it feels to be a MotoGP race winner, and it gives me an extra boost, especially after a tricky weekend in terms of conditions. Things are still close at the top, so I need to stay focused and continuing working for next weekend."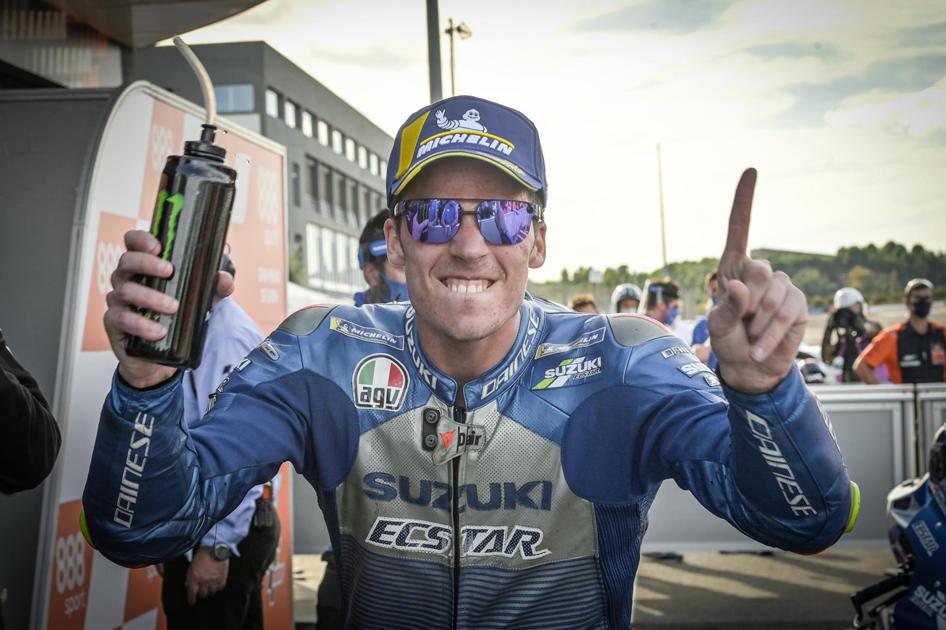 Alex Rins: "I was leading for a large part of the race, and I was hoping to lead from start to finish, but I missed a gear at Turn 11 on the 17th lap, and I went wide and Joan got through. Once he was at the front it was very hard to stay with him, even though I tried, because his pace was really good. But even if the result wasn't perfect for me, it was a fantastic day for the Team. Joan got the victory that he really wanted, Suzuki got a one-two finish, and I got 20 points to add to my championship tally! So, I'm happy! Ready to go again next week and see what I can do, there are still plenty of points on the table."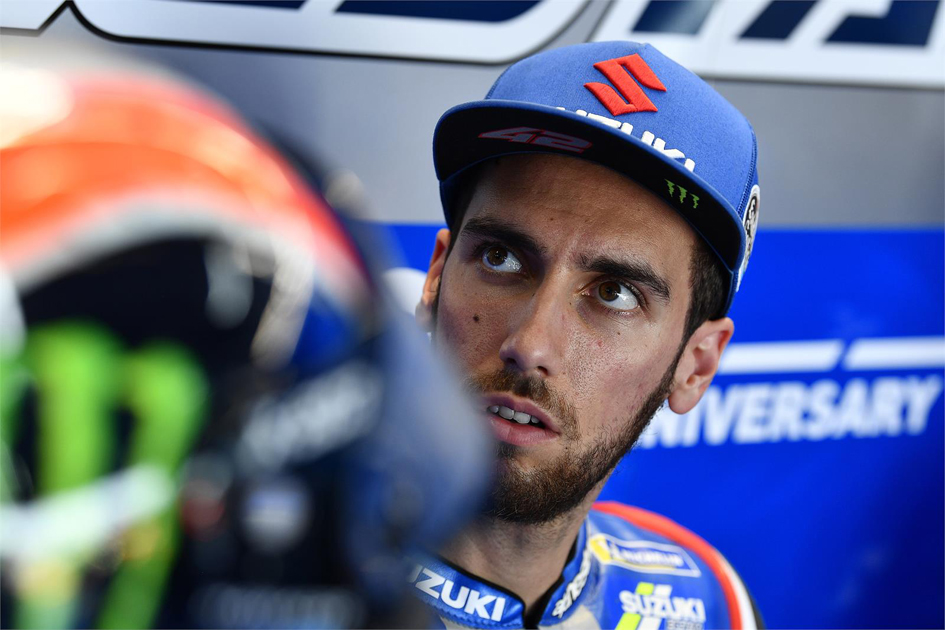 Davide Brivio – Team Manager: "It's been an unbelievable race, I've been dreaming of a Suzuki 1-2 for a long time and today we managed it! Thank you so much to all the Team, and to Joan and Alex of course! We're doing something fantastic this season – we're leading all three championships and our riders are so strong in the races. I would like to have this wonderful feeling forever, but we still have two races to focus on, so we will stay calm and keep our heads down. Let's try to continue in this way!"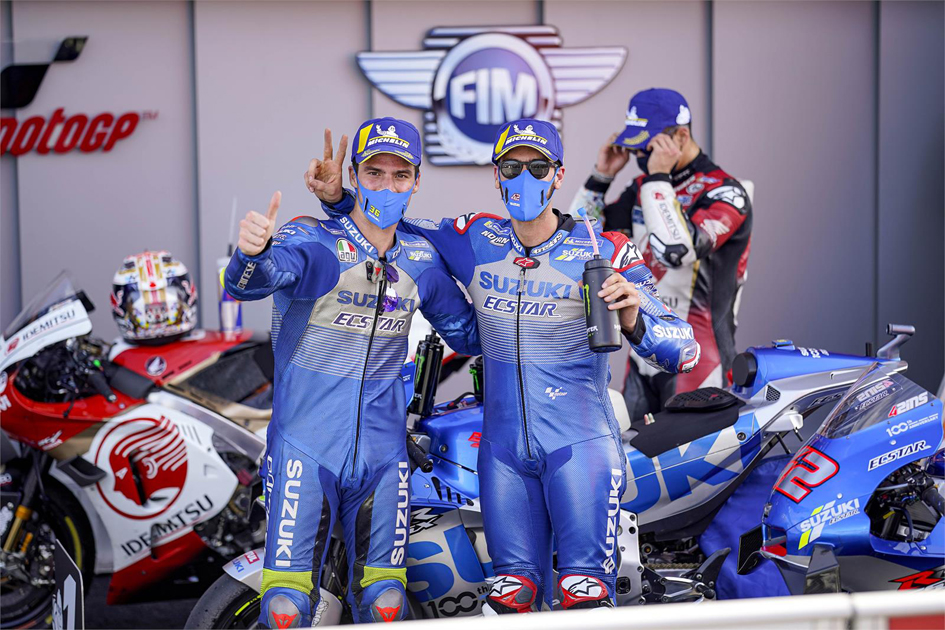 Pol Espargaro: "It was hard, so tough with these guys. They were fast but I was catching back on brakes. I lost a bit of corner speed and through the apex but we went for the hard front and medium rear tires and it was a perfect choice. We had zero data for that selection but we gambled and I was gaining time. I'm really pleased. Another podium for KTM and myself, a great feeling."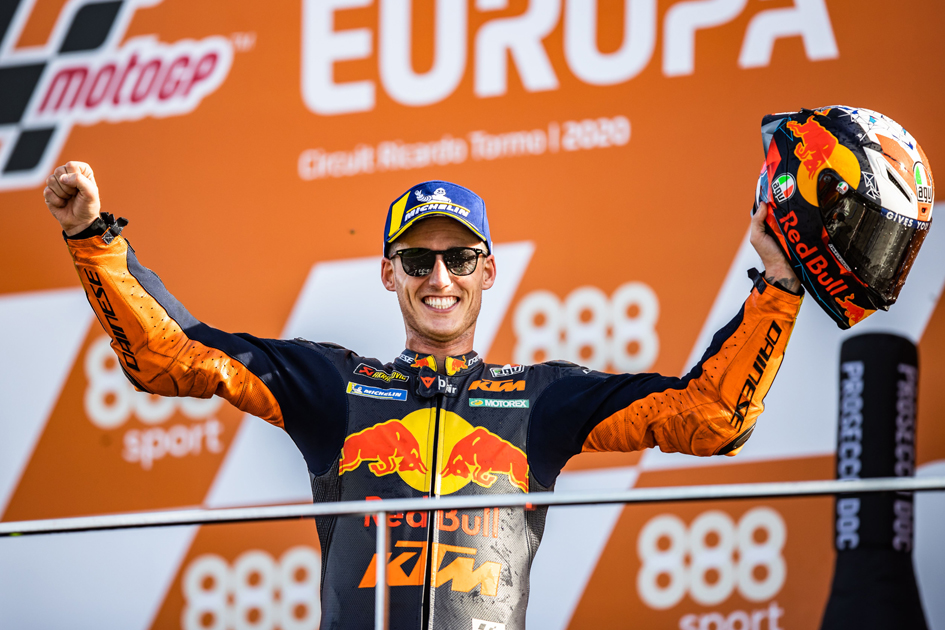 Brad Binder: "The race started OK but I got a bit boxed-in through the first two-three corners. I didn't want to take too much of a risk with the full fuel tank and I knew the Long Lap penalty was coming early on. As soon as I did it I dropped down the order and worked to catch back up but then Cal Crutchlow crashed in front of me and I had to run off the track! I lost a few more seconds that lap. The comeback was not bad. I felt good and the bike worked really well today. Even when the tires were used we could keep the same lap-times. It was a shame about the result because we had the pace for much better but I'm really happy and I think we can do a good job next weekend."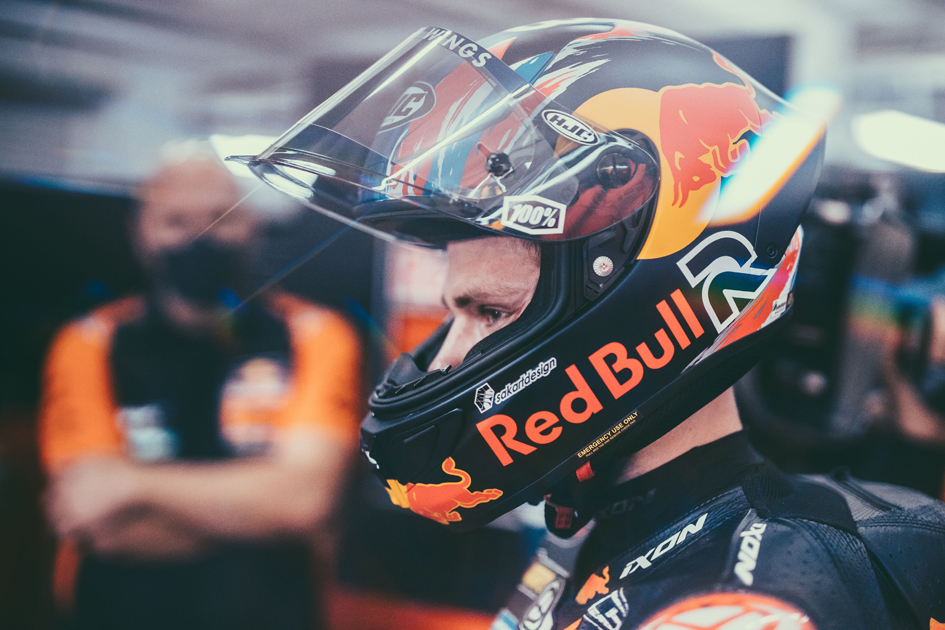 GRAN PREMIO DE EUROPA – Race Classification:
1. J. MIR – Team SUZUKI ECSTAR – 41:37.297
2. A. RINS – Team SUZUKI ECSTAR – +00.651
3. P. ESPARGARO – Red Bull KTM Factory Racing – +01.203
4. T. NAKAGAMI – LCR Honda IDEMITSU – +02.194
5. M. OLIVEIRA – Red Bull KTM Tech 3 – +08.046
6. J. MILLER – Pramac Racing – +08.755
7. B. BINDER – Red Bull KTM Factory Racing – +10.137
2020 MotoGP World Championship Classification – Rider:
1. Joan MIR Suzuki 162
2. Fabio QUARTARARO Yamaha 125
3. Alex RINS Suzuki 125
4. Maverick VIÑALES Yamaha 121
5. Franco MORBIDELLI Yamaha 117
6. Andrea DOVIZIOSO Ducati 117
7. Pol ESPARGARO KTM 106
12. Brad BINDER KTM 76