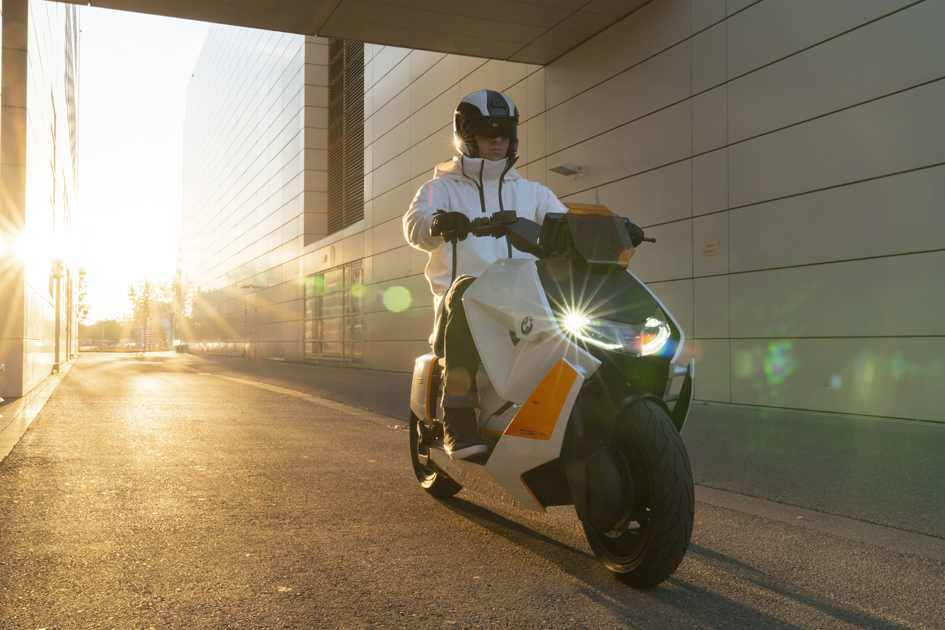 If there's one corner of the motorcycle market where electric propulsion really makes sense, it's urban mobility. Most electric motorcycles are hamstrung by range, and sometimes top speed—but a commuter relies on neither. Take the twist-and-go convenience of a scooter and add an electric drivetrain, with enough juice to run the city by day and charge at night, and you're onto something.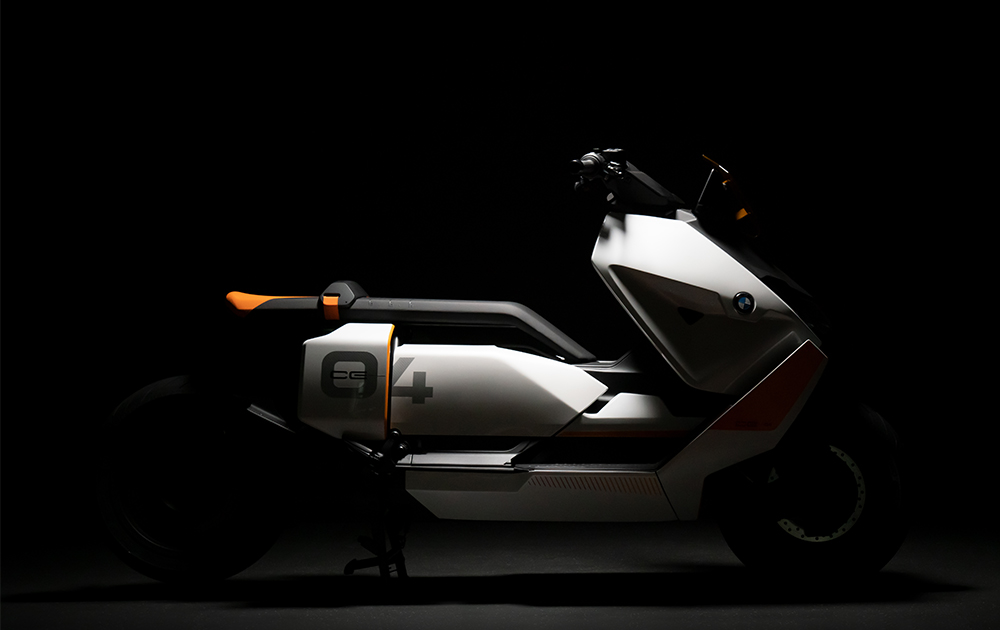 The BMW Group are big on electric mobility, so they've just thrown the wraps off the BMW Motorrad Definition CE 04 electric scooter concept. They're calling it a 'near-series' version of the Concept Link—a near-identical design that they showed off at the prestigious Concorso d'Eleganza in 2017. And that means we might just see it in production soon.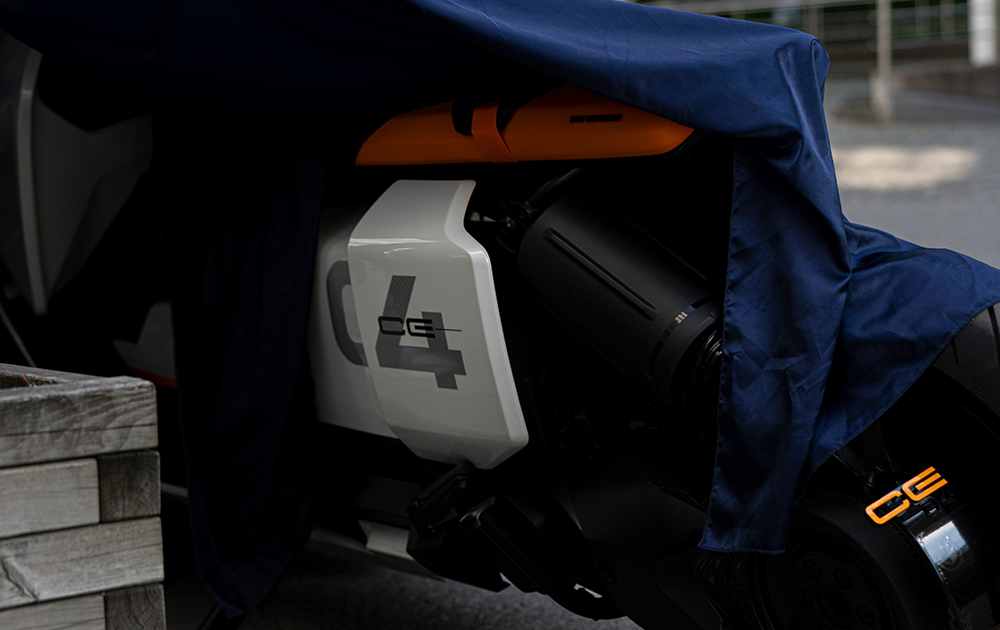 It's not the first time BMW Motorrad have built an electric scooter—the battery-operated C Evolution was released in Europe as far back as 2013. But with the Definition CE 04 the focus is on more than just its electric drivetrain. With it, BMW are exploring a wider range of tech and connectivity options, along with the bold claim that they want to "redefine the scooter segment."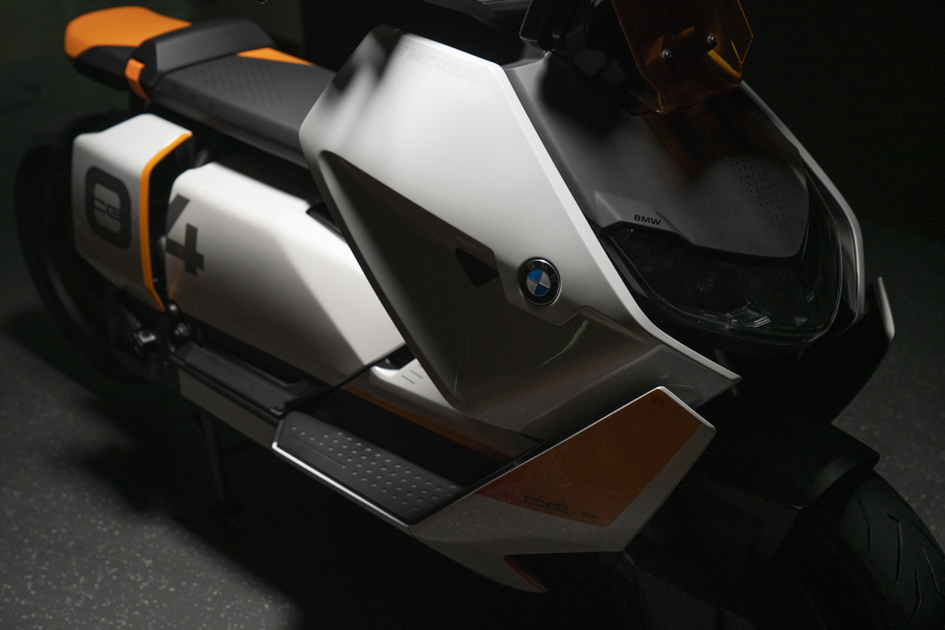 As such, BMW's press release is light on any tech details like range, speed, and exactly what drivetrain they've used. In fact, it's light on anything concrete, but instead teases a few nifty connectivity concepts, and focuses mainly on the Definition CE 04's design.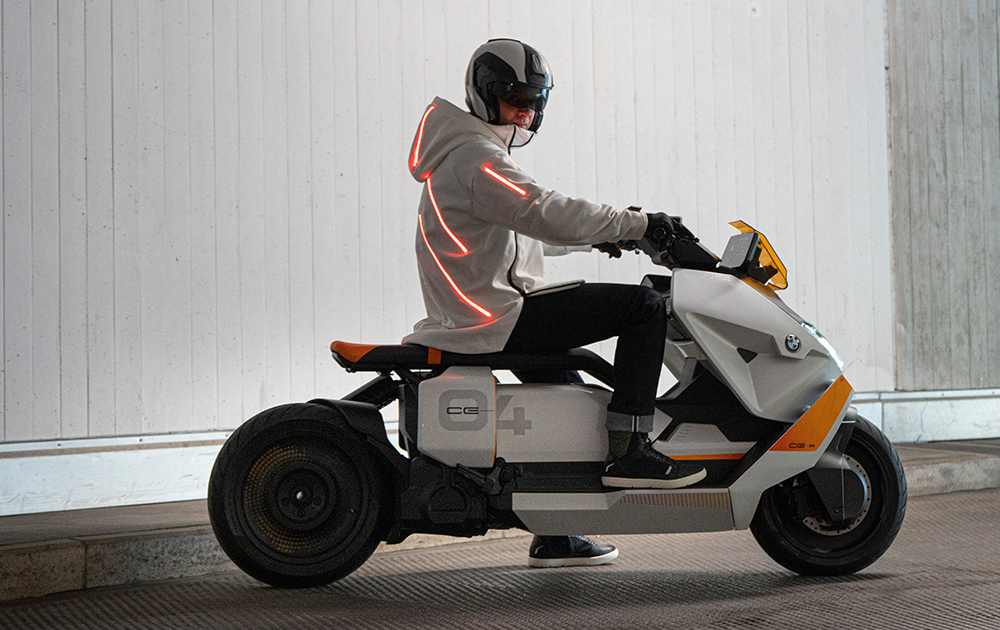 It's a great design too—just futuristic enough to be interesting, but not overcooked. It's a compact scoot, put together in true Tetris style with a compact drivetrain, and flat battery packs integrated into the underfloor area. The setup allows for an innovative side-access storage unit, big enough to take a helmet. And BMW claim that the low battery placement will keep the centre of gravity low too, which should have a positive effect on handling.
BMW have stuck to a crisp colour scheme too. Body panels are white, mechanical parts (or panels that cover mechanical parts) are black, and there are orange accents scattered throughout. Modern LED lighting and a small orange windshield add the final touches.
The seat's pretty basic, but BMW say that, according to their research, their target market with the Definition CE04 (urban commuters) ride no more than 12 km per day. But it's also been designed completely flat, so that you can shift your butt forward or backwards depending on your height.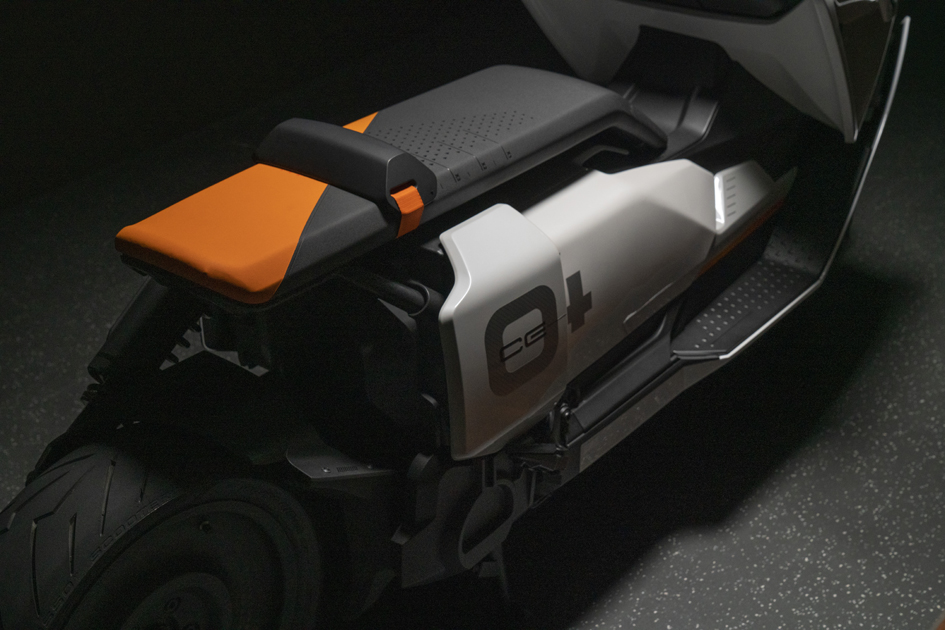 The scooter also comes with a 10.25" TFT display, which is bigger than the displays on some of BMW's bigger bikes. Our guess is that the bigger display will allow BMW to push the capabilities of their already-useful smartphone app even further, similar to what they've done on the new R 1250 RT. That would mean full-screen navigation, and full integration with your in-helmet comms system to run media and calls. But given the electric drivetrain, we're expecting a wider range of data, diagnostics and customisation.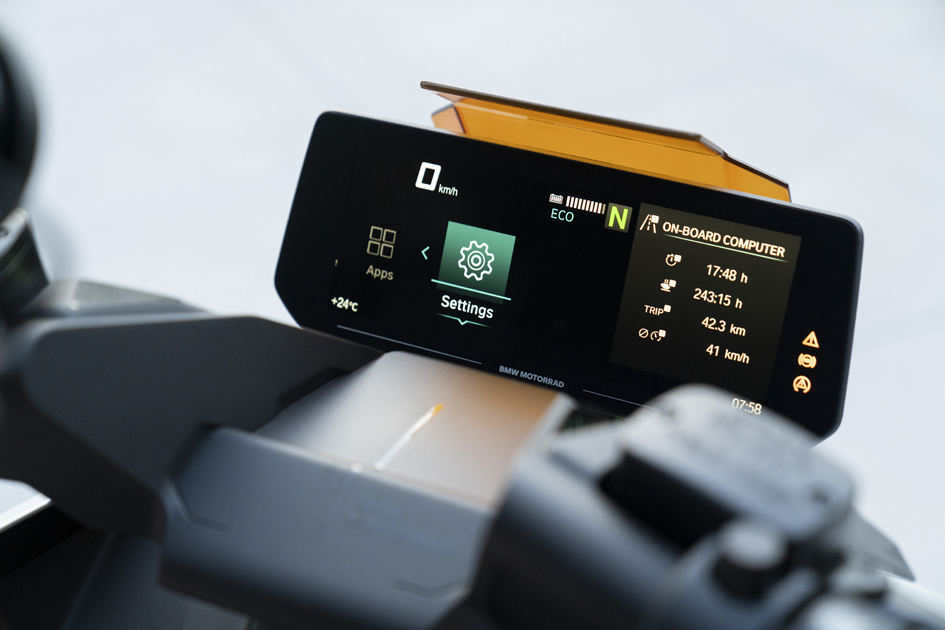 But BMW are looking to take the tech beyond just your phone and your bike, through the creation of intelligent rider gear. So they've designed a protective and waterproof parka with a few added features, like LED lighting for added visibility, and a pocket that acts as a wireless smartphone charger.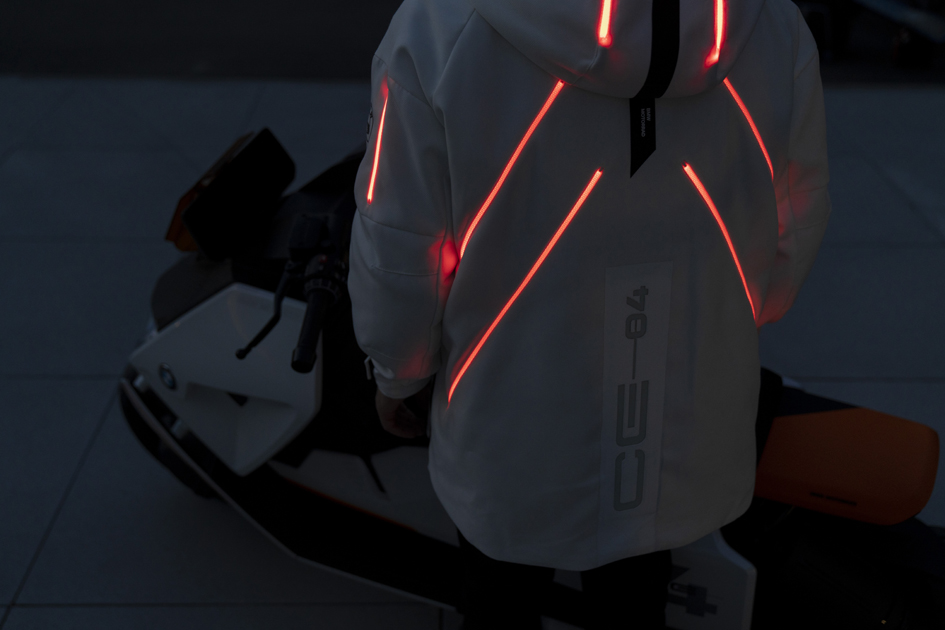 There's no word on how or if any of the gear integrates directly with the Definition CE04, which would be an interesting concept to explore. And a white riding parka definitely isn't going to suit everyone's taste… but it's a clever idea, nonetheless.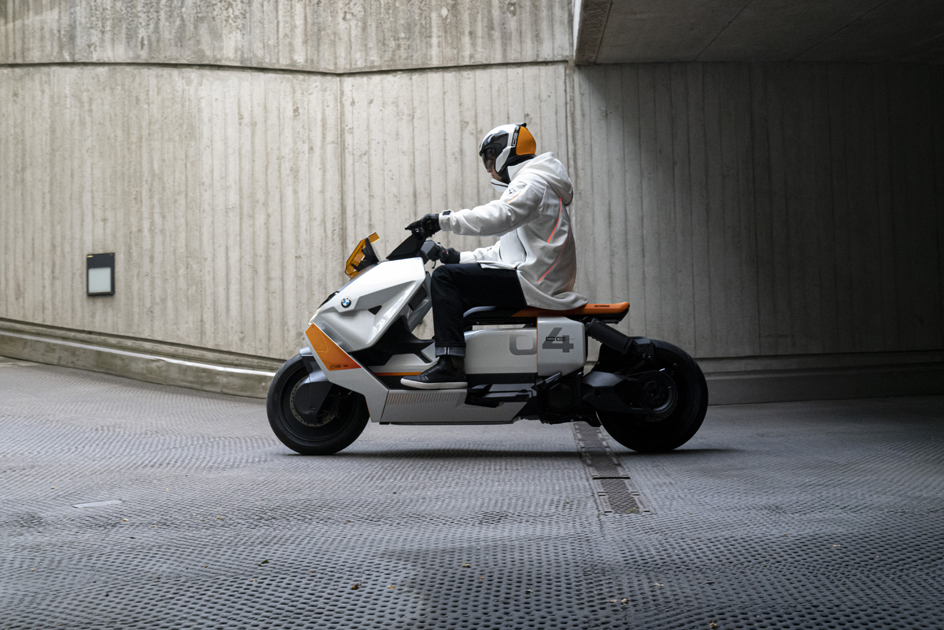 There's no news on when the CE04 will go into production, or what sort of numbers it'll make. But the overall package makes a lot of sense for low-mileage urban commuters, and it looks pretty wild, too. We'll be keeping an eye out for sure.