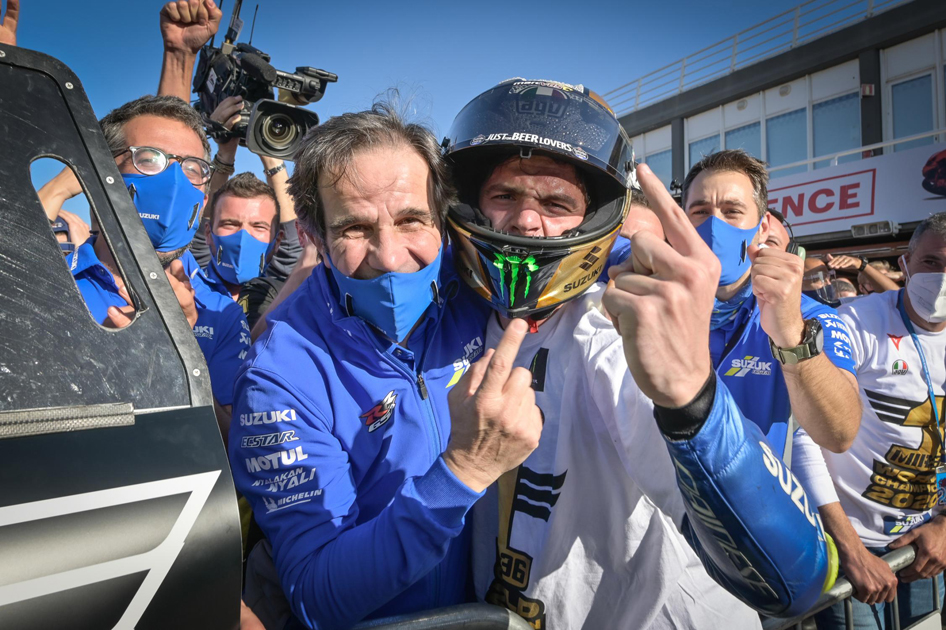 Riders returned to the tight and curvy Ricardo Tormo Circuit in Valencia this weekend, for the fifth and final back-to-back race of this year's MotoGP season. With a commanding lead heading into the season's penultimate race, it was Joan Mir's championship to lose.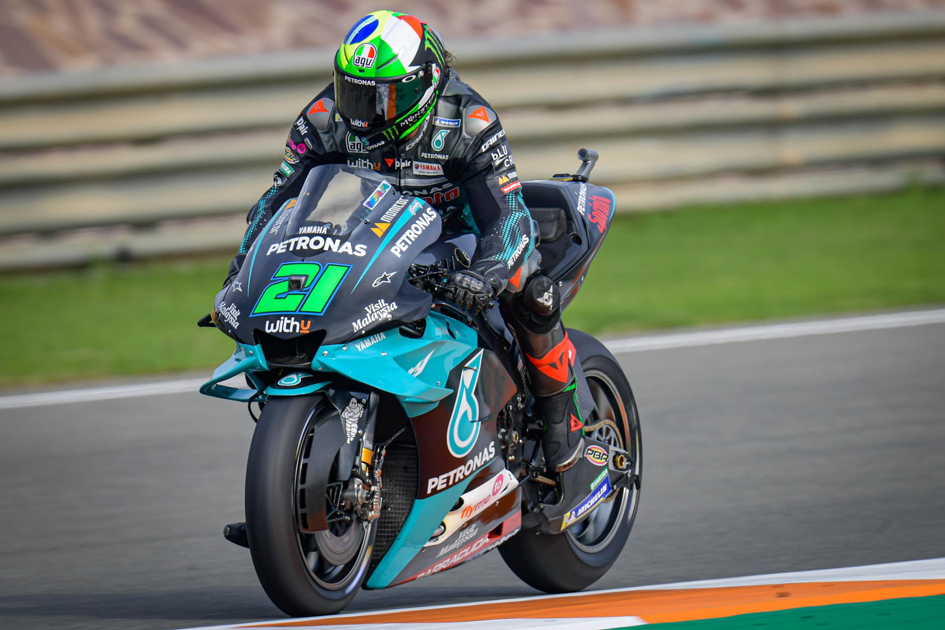 Cloudy skies, brief showers and damp conditions played a big role during Saturday's qualifying, making Q2 very tricky, and unlucky for some. Franco Morbidelli showed impressive pace during qualifying, securing himself pole, followed by Jack Miller in second and Takaaki Nakagami once again in third.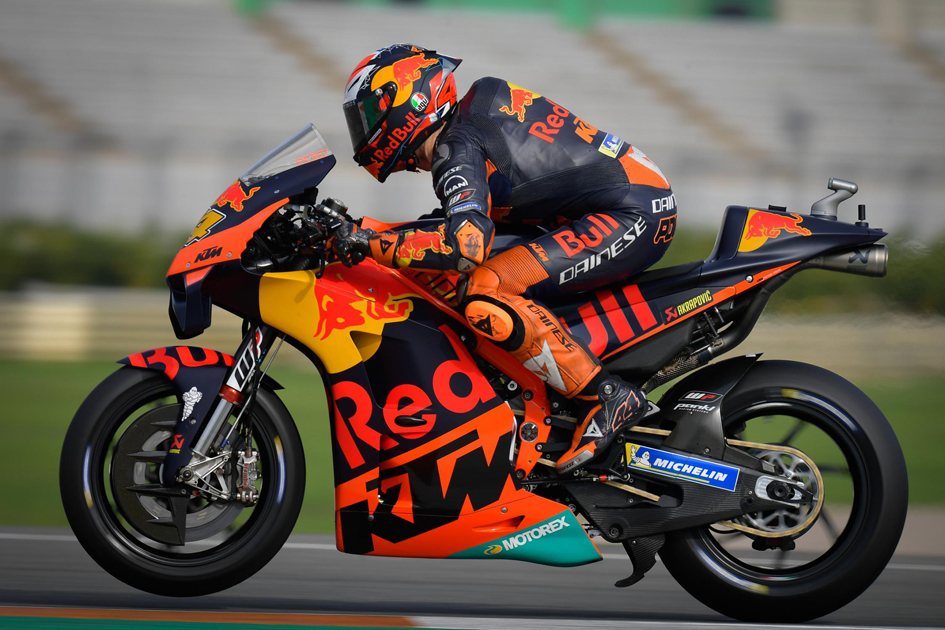 The top three championship contenders found themselves lower down the grid, with Joan Mir in 12th, Fabio Quartararo in 11th and Alex Rins in 14th. For the second week in a row, Red Bull KTM start Sunday's race with three riders in the first ten positions on the grid. Pol Espargaro leads the charge in fifth, with Brad Binder in ninth and Miguel Oliveira in 10th.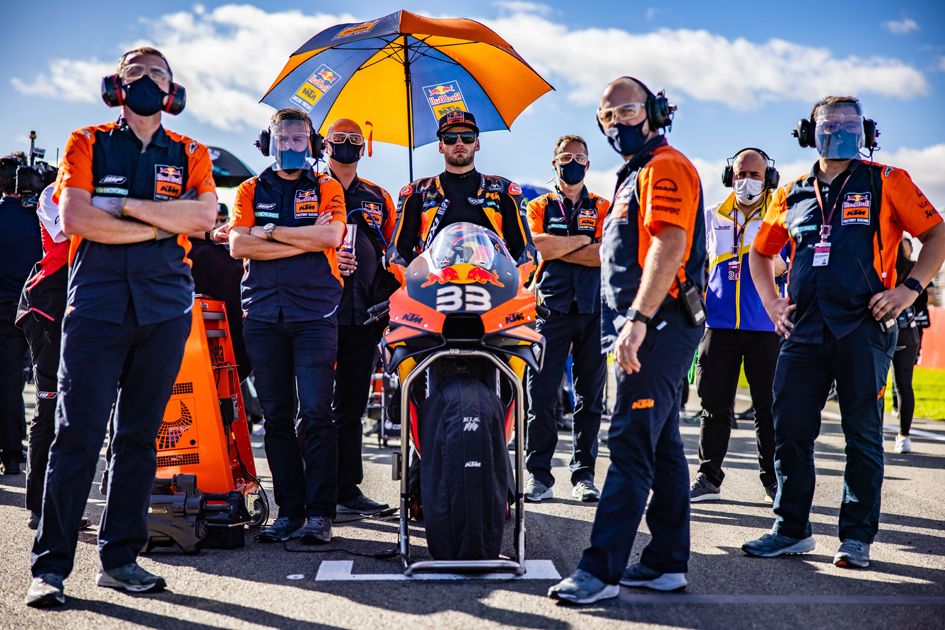 Sunday brought breezy yet sunny conditions to Ricardo Tormo, for what was to be an epic 27-lap GP.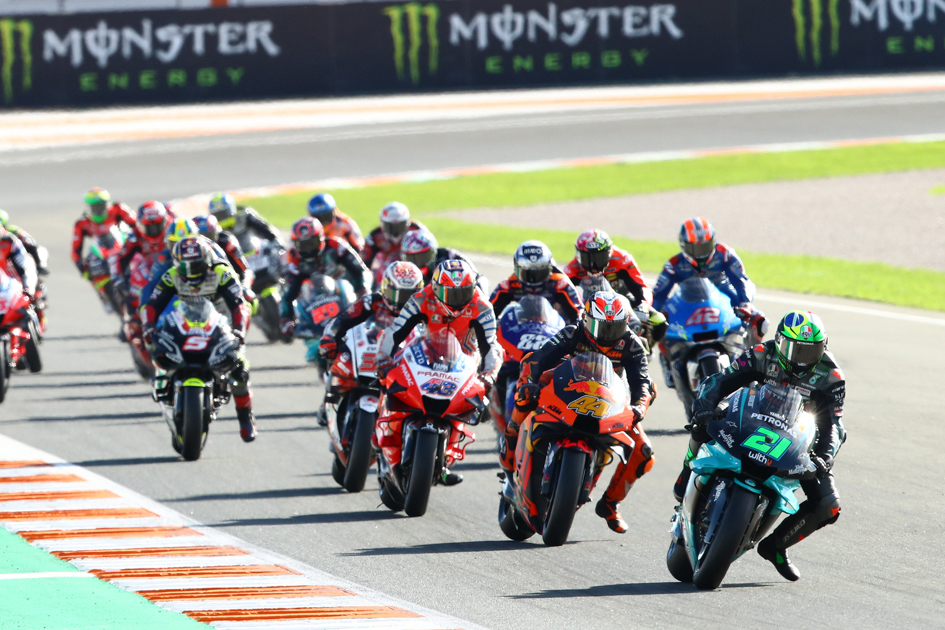 Miller launched his 'Bologna bullet' off the line and ran wide into turn one, allowing Morbidelli to maintain the lead and Pol Espagraro to dive into second. Turn two saw Quartararo miss the braking zone, forcing him to run wide and drop down the order. Quartararo's bad luck later continued as he crashed out for the second time in Valencia—completely ending his championship hopes.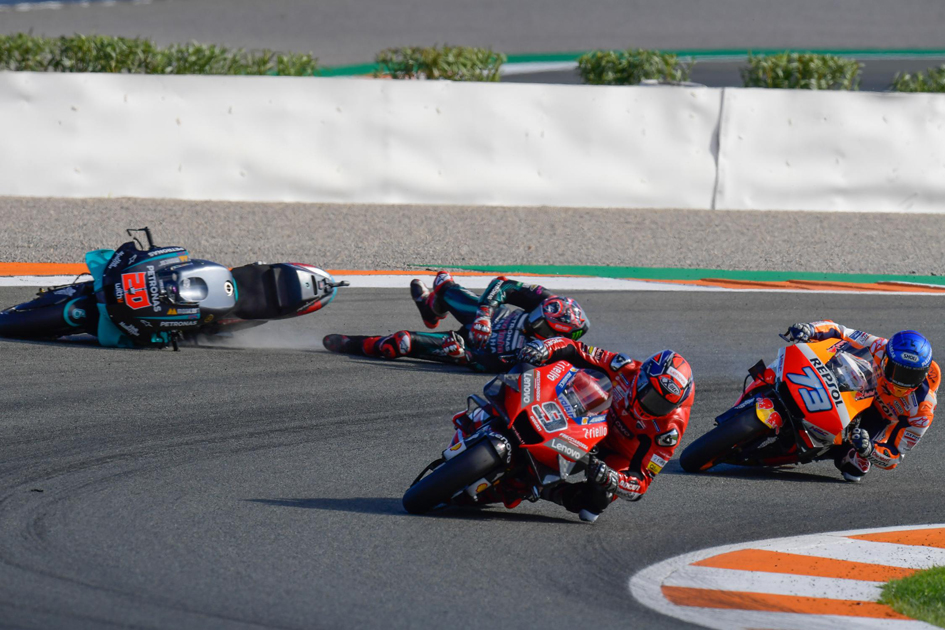 Mir steered himself through the opening lap safely, placing his Suzuki into 10th while team-mate Alex Rins had leapt up from 14th to seventh. Upfront, Morbidelli was setting a supremely consistent pace in the opening laps to quickly build a buffer over the chasing Miller and Espargaro. By lap seven, Morbidelli's lead stood at seven-tenths of a second, steadily growing over to 1.2 seconds by lap thirteen.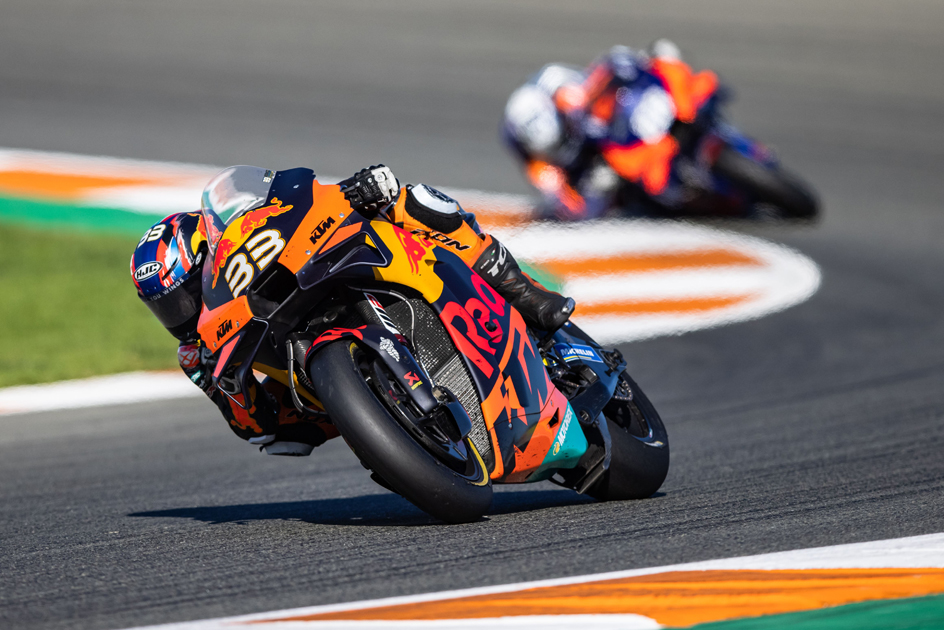 Brad was demonstrating his superb skill in the battle for sixth, with the likes of Mir and Oliveira equally as eager for a good finish. Oliveira was leading the charge with Brad hot on his heels in seventh and Mir looking to get past the duo in eighth. Brad soon took the plunge, got past Oliveira and began to pull away.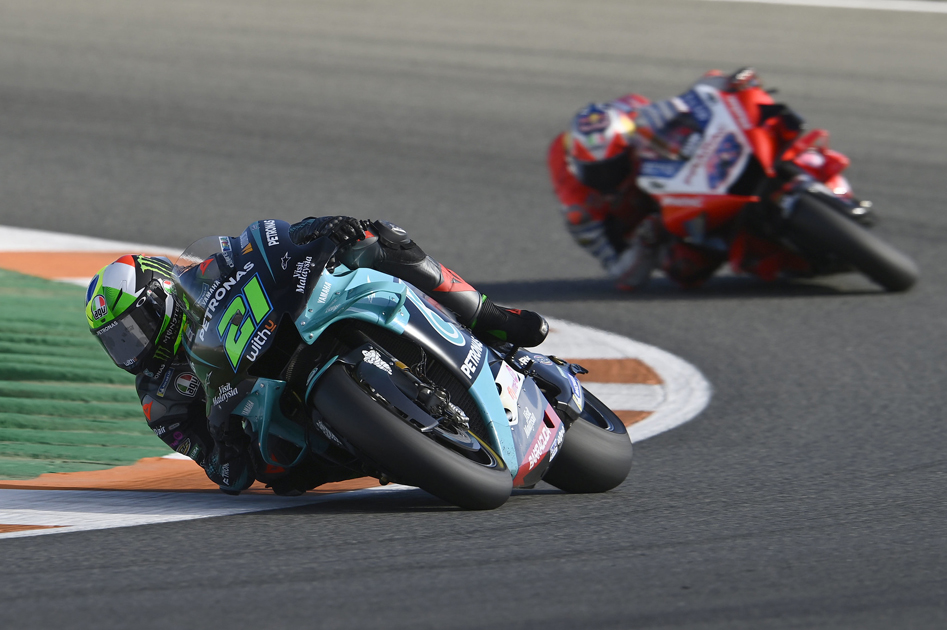 Morbidelli's lead started to come down, with Miller getting to within one second by lap 18, and continuing to eat into Morbidelli's advantage over the next few laps. With five to go, Miller was just three tenths behind Morbidelli, though the Italian responded after seeing his pit board—increasing his lead back up to half a second.
Espargaro had broken away from Rins in fourth, followed by Brad in a comfortable fifth. With a few laps remaining it was difficult to see things changing, although Brad looked strong enough to catch Rins, who was just four-tenths ahead.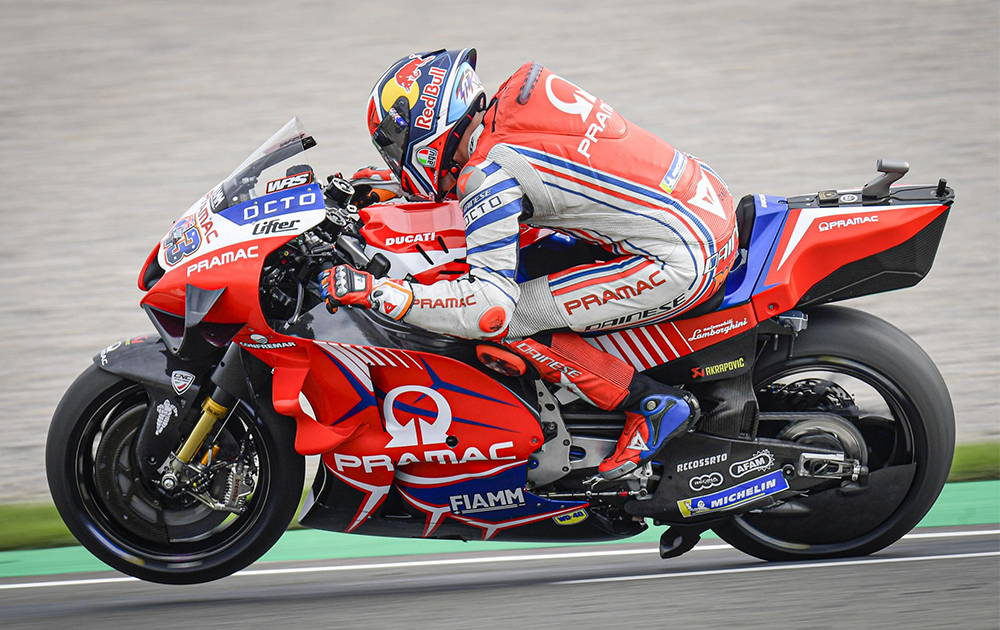 Miller nailed it out of the final corner with the brute power of the Pramac Ducati to pass Morbidelli into the first corner at the start of the final lap, and just about held on despite running wide. Morbidelli threw his Yamaha back up the inside of turn two, with Miller retaliating at the next, and once again countering with a daring raid on the inside of turn five from Morbidelli.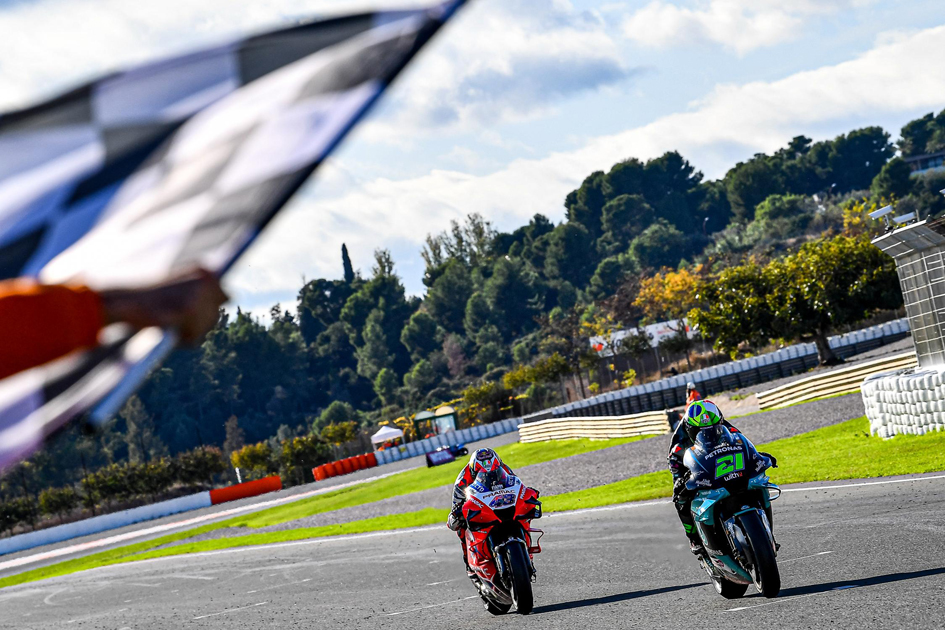 The Italian clung on by 0.093s on the run to the chequered flag—Miller just missing out and clinching second, and Espargaro finishing in a distant third. Rins finished fourth ahead of Brad and Oliveira, but it wasn't enough to delay Mir's coronation. Pipping Dovi for seventh left Mir with enough points to cinch the 2020 championship with one race to spare.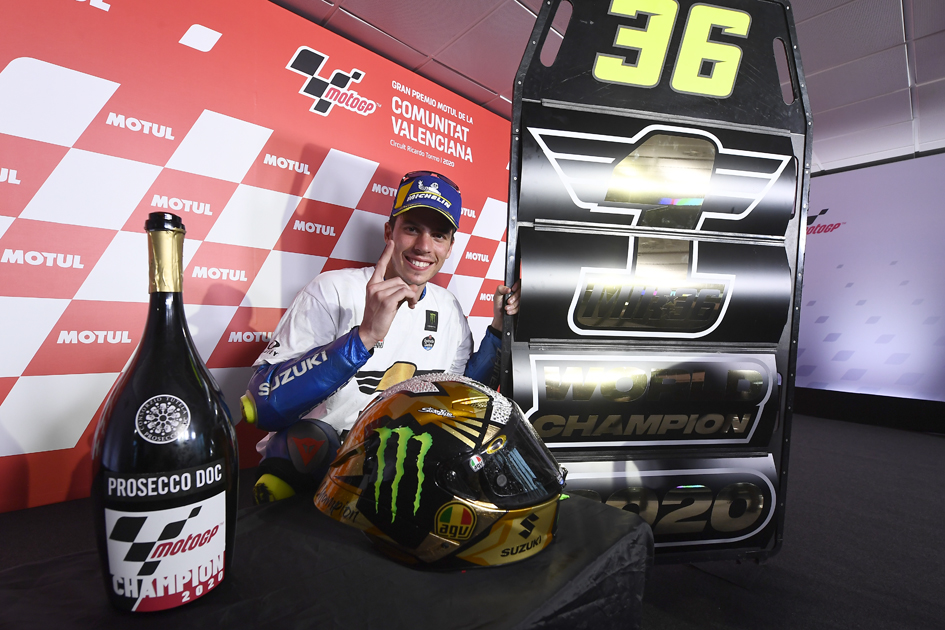 What a last lap and what a consistent race, led by a cool and calm Morbidelli—a truly legendary ending to the Valencia GP. From rookies five years ago to champions today, the headlines will undoubtedly go out to the Suzuki boys and Joan Mir. Mir becomes the first Suzuki rider since Kenny Roberts Jr in 2000 to win the riders' title in the premier class, and just the sixth Suzuki rider in history to be crowned the MotoGP world champion.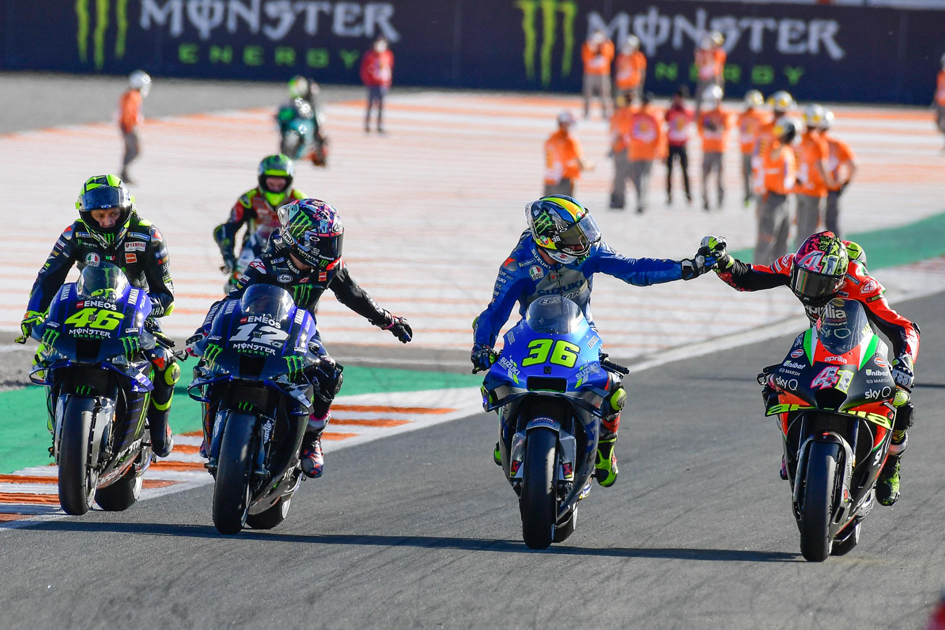 With the pressure off the top riders' shoulders, I can't even imagine what we could expect heading into Portimão next weekend for the grand finale. Will Mir prove his haters wrong by winning the final race, or could Quartarao perhaps keep things on two wheels and win again?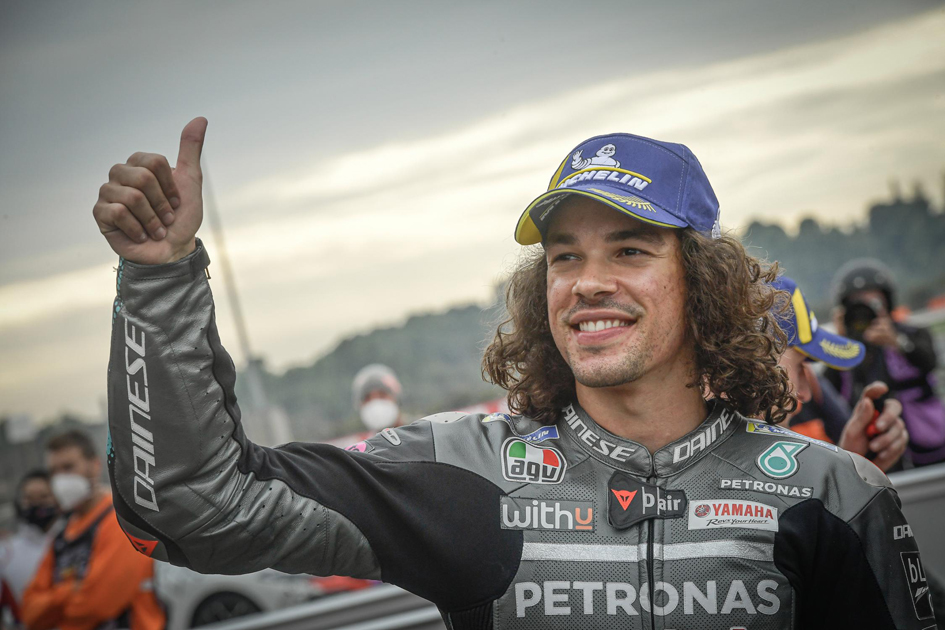 Franco Morbidelli: "It was the best victory of the year, maybe even the best one of my life! It was a complicated race: I felt that we had good potential all weekend, but then we opted for the hard-front tyre in the race and I had to change my riding style slightly. I couldn't pull away from Jack [Miller] like I wanted to, despite trying so hard, and I knew that he would be a strong competitor if he got close to me. It was all about giving more than you have on the last lap and that's what both of us did. We had a really nice, clean fight. I've always liked battling Jack because he is tough but clean in his battles, and he was strong today so congratulations to him. I am so happy with the win today so thank you to the team as well. I also want to say congratulations to Joan [Mir] for winning the title this year; he has been a really strong competitor this year."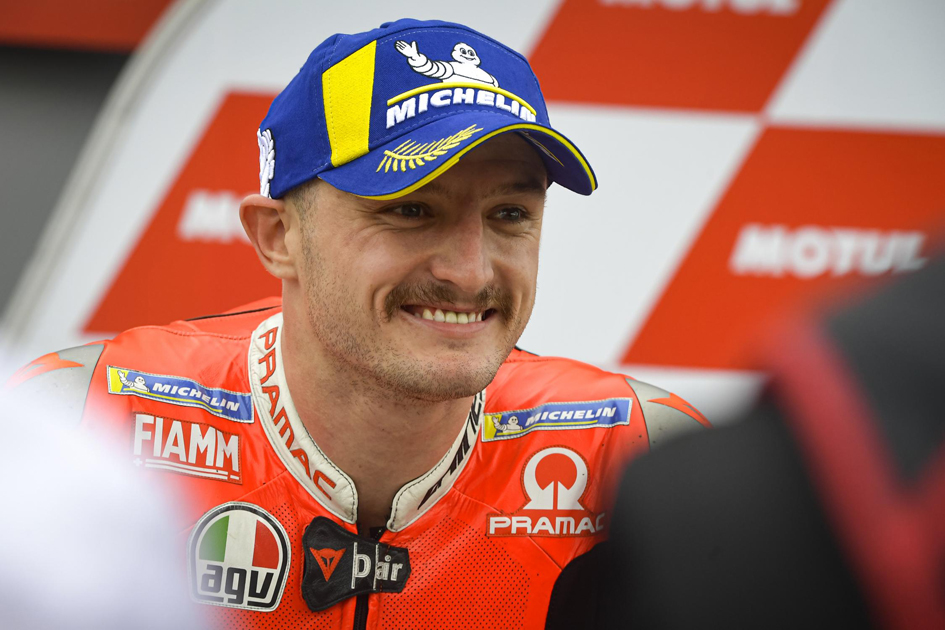 Jack Miller: "I'm very happy, I had fun from the first lap. One of the most beautiful races of my life, it's a shame because at a certain point when I passed Morbidelli I thought I could win, but when you finish fighting a good duel you can only be happy. A special thanks to my team who worked very well."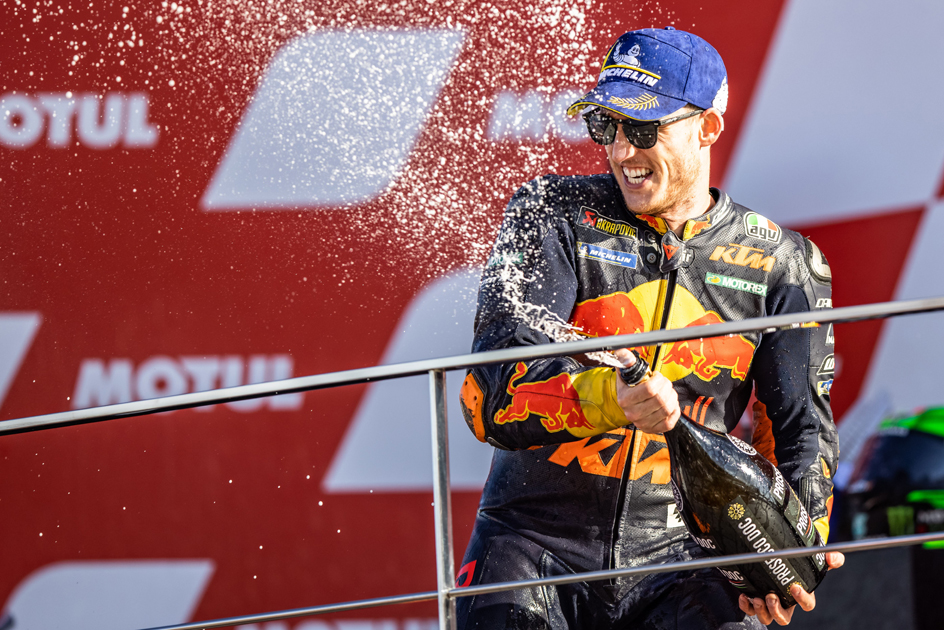 Pol Espargaro: "That was fantastic. I'm super happy. We didn't expect the podium this weekend. We felt that we deserved it but Nakagami was pushing me hard until he crashed. We were great from the beginning until the end and I was on the limit with the pace I could make. No mistakes. We're again on the podium—the fifth of the season—unbelievable."
Brad Binder: "Today was a positive race for us. I didn't get the best of starts but I managed to find good pace, pass a few guys and work my way towards the front. I gave my absolute best today and unfortunately it was not enough to get us into that podium fight. Overall, I'm happy with how we have made steps this weekend; from Friday through to the race. We have a lot of learning to do still but we're looking forward to Portimão already. Thanks to the team and everyone for their hard work. We'll push again next week."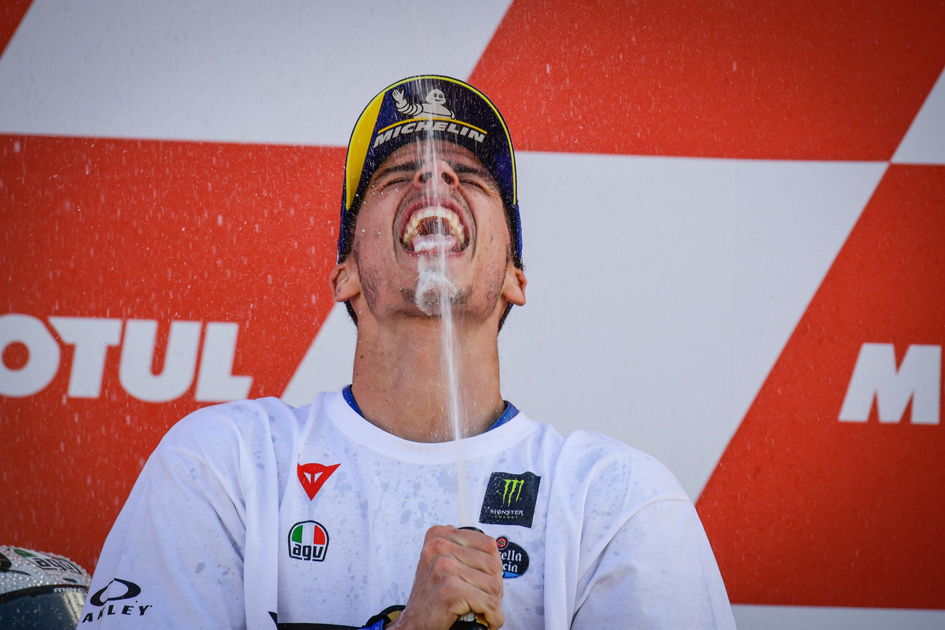 Joan Mir: "World Champion? It sounds amazing! It's really hard to find the words at the moment, but I must say thank you to so many people; to Suzuki for this opportunity, I'm so happy to give them a title! To be the person who brings them another crown after 20 years is an unbelievable feeling and a true honour. The entire team did an incredible job, and I'm just so overjoyed with this championship win. I've come a long way since being a child with hardly any money to go racing, and my family are to thank for this. I worked very hard to get to the top and this reward is amazing. Today's race wasn't easy, but I got the result I needed and I hope to have a great end in Portimão. It's time to celebrate but we must do it responsibly."
GRAN PREMIO DE EUROPA – Race Classification:
1. F. MORBIDELLI – Petronas Yamaha SRT – 41:22.478
2. J. MILLER – Pramac Racing – +00.093
3. P. ESPARGARO – Red Bull KTM Factory Racing – +03.006
4. A. RINS – Team SUZUKI ECSTAR – +03.697
5. B. BINDER – Red Bull KTM Factory Racing – +04.127
6. M. OLIVEIRA – Red Bull KTM Tech 3 – +07.272
7. J. MIR – Team SUZUKI ECSTAR – +08.703
2020 MotoGP World Championship Classification – Rider:
1. J. MIR Team SUZUKI ECSTAR 171pts
2. F. MORBIDELLI Petronas Yamaha SRT 142pts
3. A.RINS Team Suzuki Ecstar 138pts
11. B.BINDER Red Bull KTM Factory Racing 87pts