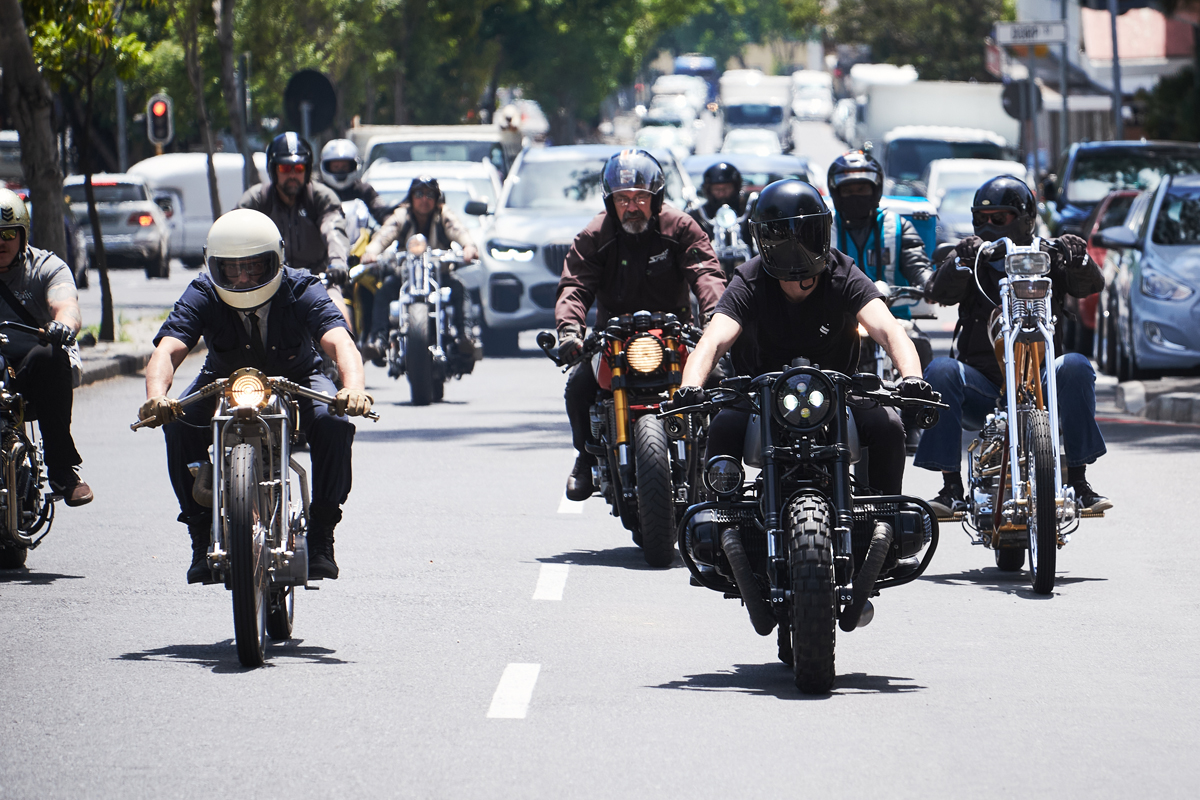 Africa's first winner-takes-all custom motorcycle build-off, the Lightning Bolt, went down this past weekend against the backdrop of Cape Town's city centre. Nine builders battled it out for top honours—but in the end it was an out-of-towner with a vintage Triumph bobber that took home gold, and a giant cheque for R150,000.
Presented by BMW Motorrad South Africa, hosted by The House of Machines, and sponsored by Super Bock and Espolón Tequila, The Lightning Bolt is the regional extension of the US show, the Golden Bolt. So it uses the same formula: bikes need to be unique, good looking and well made and, most importantly, rideable. There are no categories that separate bikes by style, and there are no prizes for second place.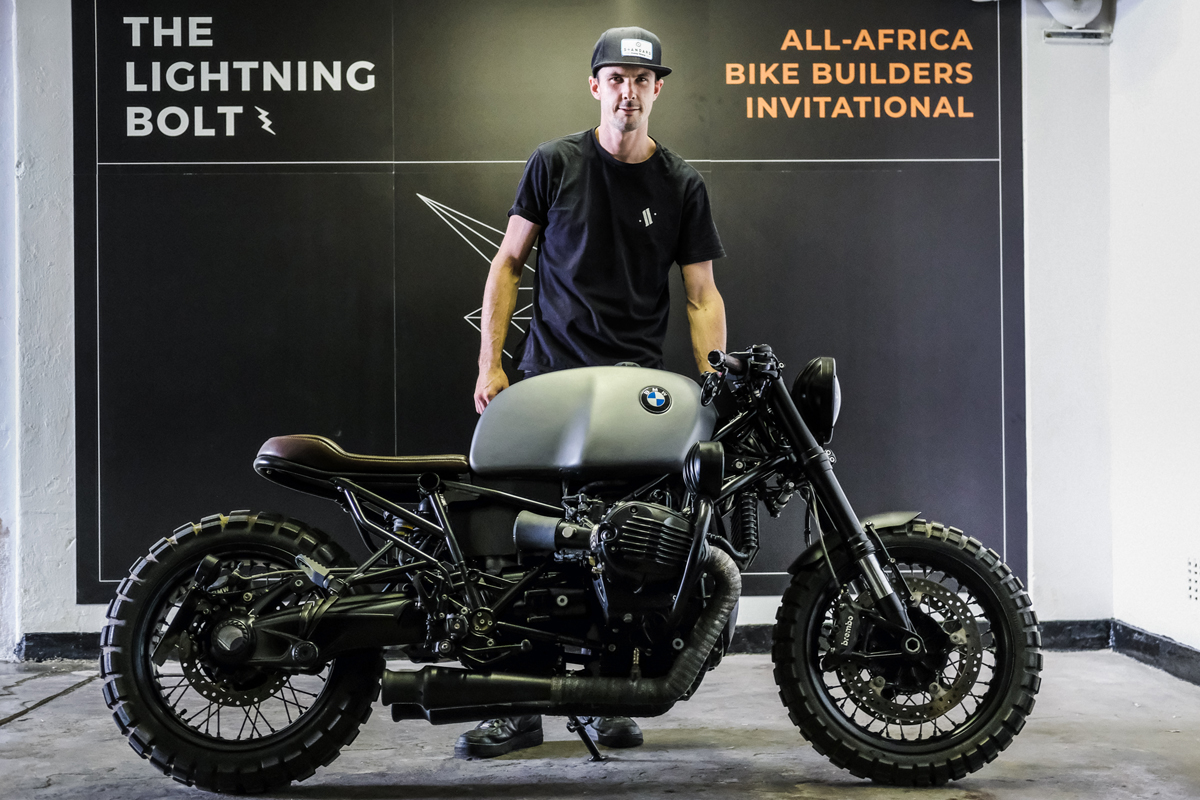 The entries for the inaugural Lightning Bolt were as diverse as they were impressive. Louis Nel sent his Yamaha TW200 street tracker down from Mpumalanga, while local team Stoos Customs entered a modern BMW R nineT sporting a heavily modified vintage BMW fuel tank.
Gavin Collins' entry featured a S&S Cycle motor in a custom gooseneck frame, along with numerous custom parts that were hand-engraved by an artisan in Indonesia.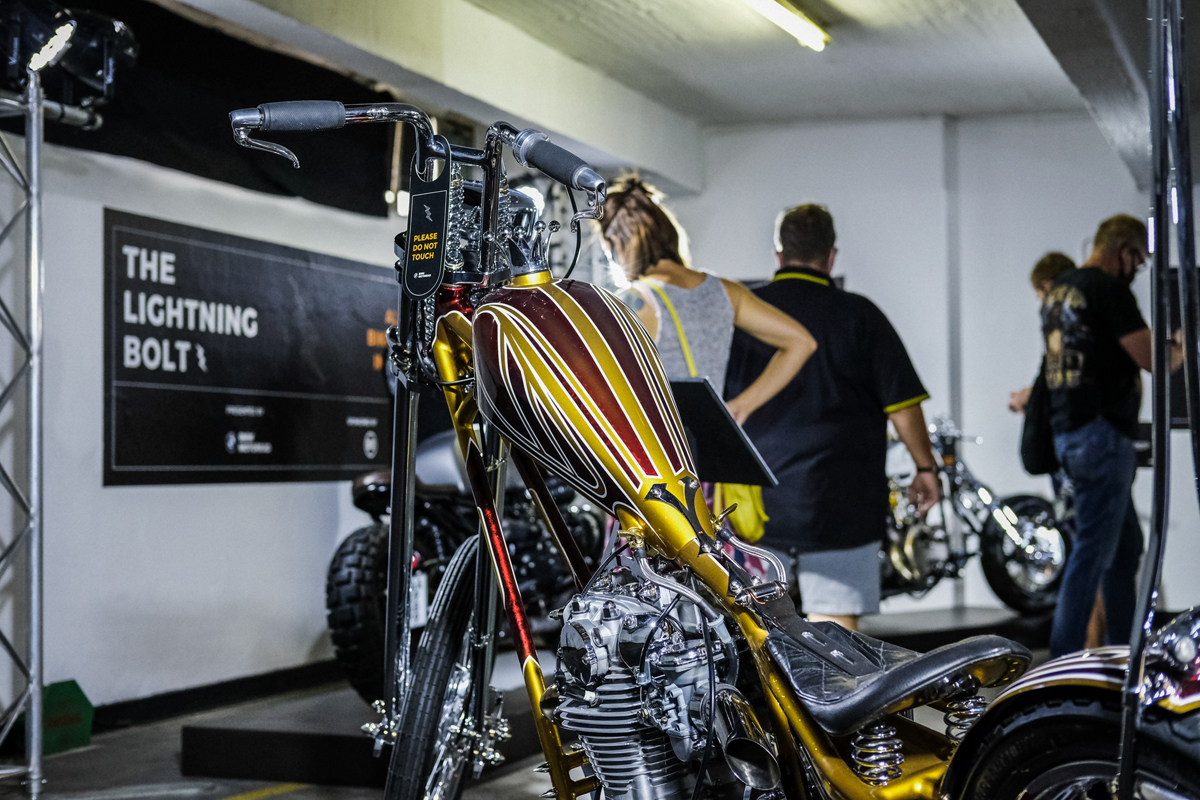 Brett Allan entered a wild chopper, built around a Yamaha XS650 motor with tons of stunning details. Hannes Welthagen's Harley rounded out the choppers, while Ian Ketterer and Mark Johnston represented the cafe racer scene with two immaculate bikes: a Yamaha XJR1300 (Ian) and BMW R100 RT (Mark).
And then there was Warren Strydom of ANVL Kraft's zany Yamaha XT500-based board tracker, loaded with raw fabricated metal.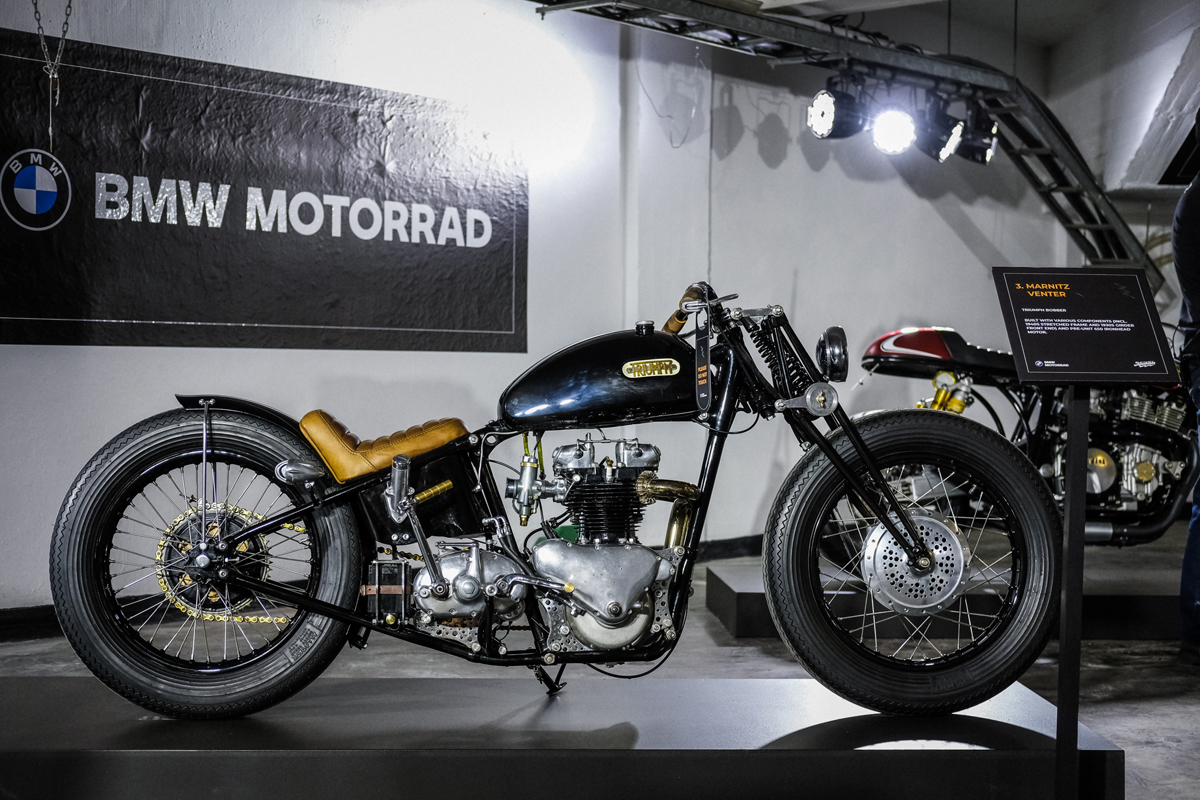 But in the end, the scores fell in favour of Marnitz Venter and his vintage Triumph Bobber. Based around a 1950s iron-head motor, a 1940s hardtail frame, a 1930s girder front end, and an assortment of scavenged and hand-made parts, it's a show-stopper that took him four years to complete, with the help of his friends.
Marnitz looked eerily calm when his name was announced as the winner, but that's only because he was in shock. "I honestly thought the announcers made a mistake and announced the wrong person," he says.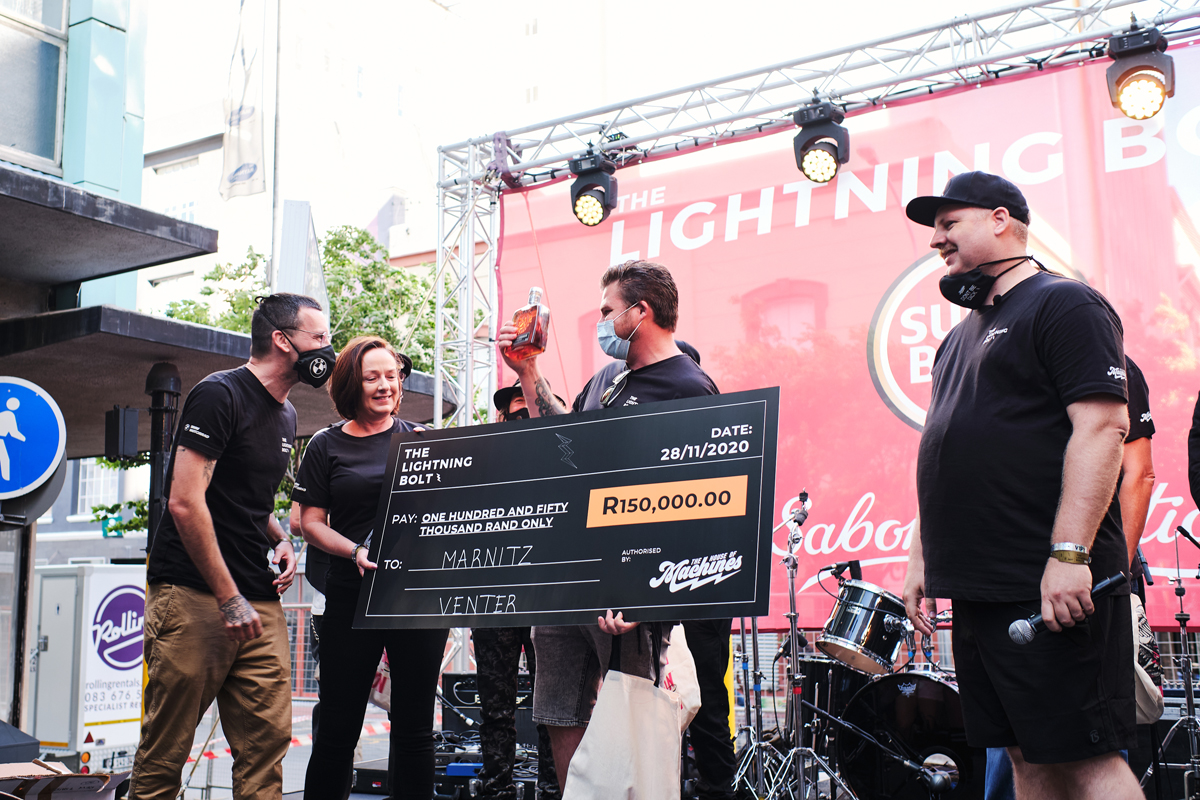 Winning the Lightning Bolt was about more than just the money for Marnitz though—it's validation of a project that's very near to his heart.
"It was a very personal build," he explains. "I lost three close mates during the time of this build—some helped a bit with fabrication and others with knowledge and parts to complete the build. I wish they were here to share the moment with me."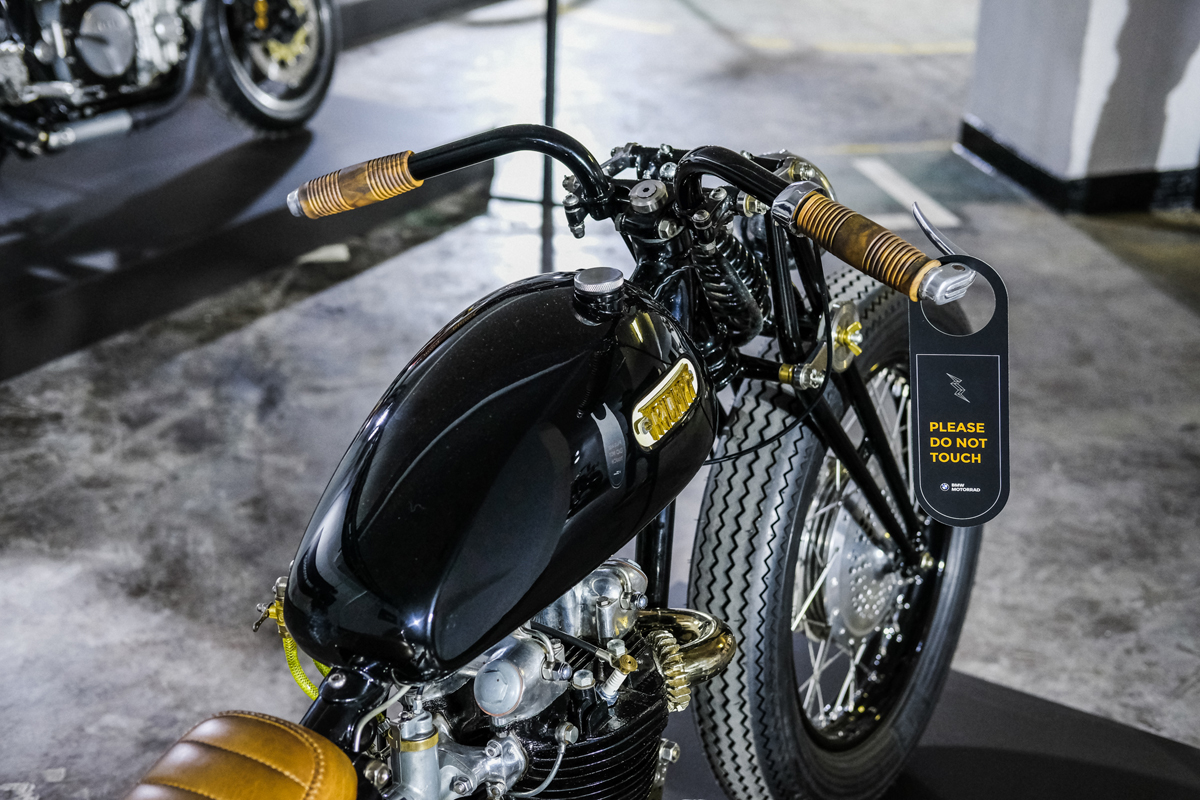 So how exactly did the judges pick Marnitz's bike? The Lightning Bolt is judged using a score-based matrix, where judges need to assign scores for originality, design, paint, fabrication, upholstery and unique details. So it's less about picking favourites, and more about objectively judging each bike on its merits.
Oh, and each bike needs to complete a 25 km ride too, adding to their overall score—so this isn't a competition for show ponies.
This year's judging panel included Kyle Scott of Wolf Moto, BMW restorer Freek De Villiers of FD Classic Worx, and House of Machines founder and all-round tastemaker, Paul van der Spuy (above). Wes Reyneke—ZA Bikers contributing editor and editor of the leading custom motorcycle website, Bike EXIF—acted as head judge.
"Picking a favourite going into the competition was impossible," says Wes. "But the Lighting Bolt's scoring system makes it easy to put preference aside, and score each bike individually. Pretty soon the scores told me who my favourites were!"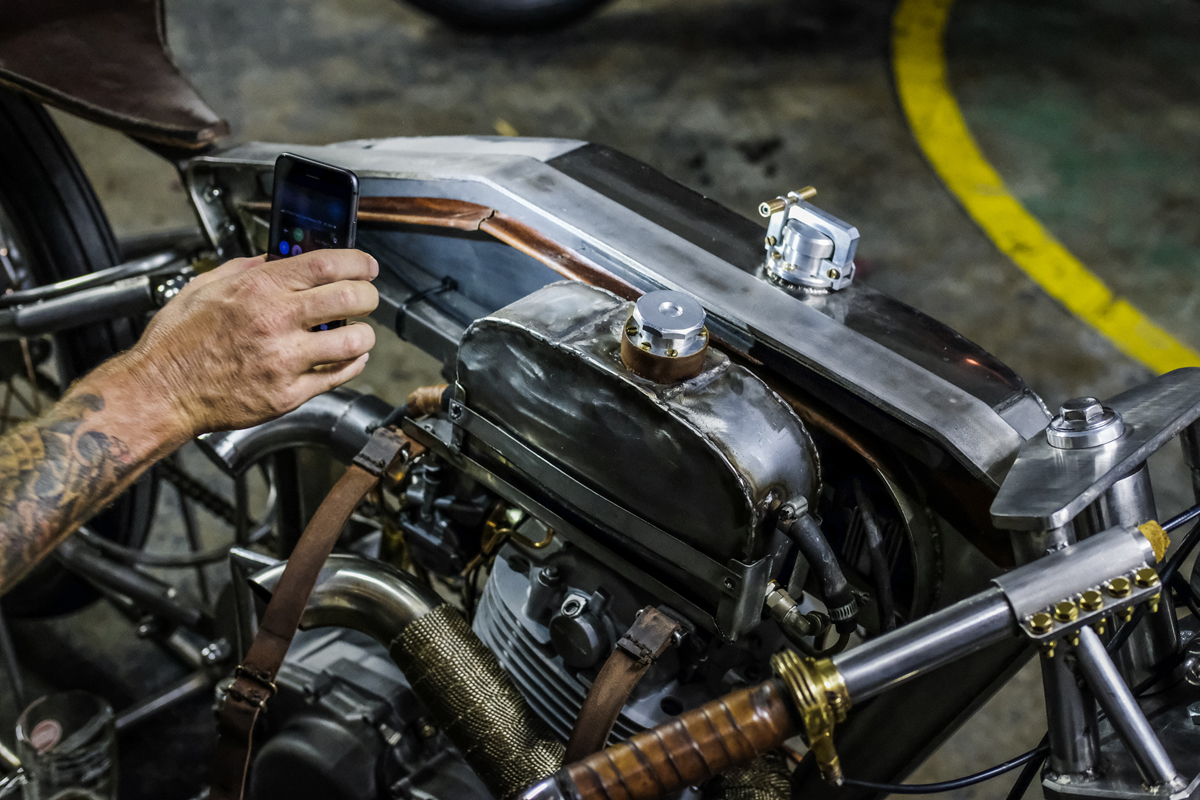 "This method forces you to be honest on every aspect of the build," says Freek, "and not the build as a whole." Kyle adds that "the quality of the builds made judging tough!"
The local judges' scores were added to points from two heavy-hitting international judges: Alan Stulberg from Revival Cycles, and custom builder Kevin Dunworth, who conceived the original Golden Bolt contest. The judged the builds remotely using photos and video, looking only at visual aspects of the builds.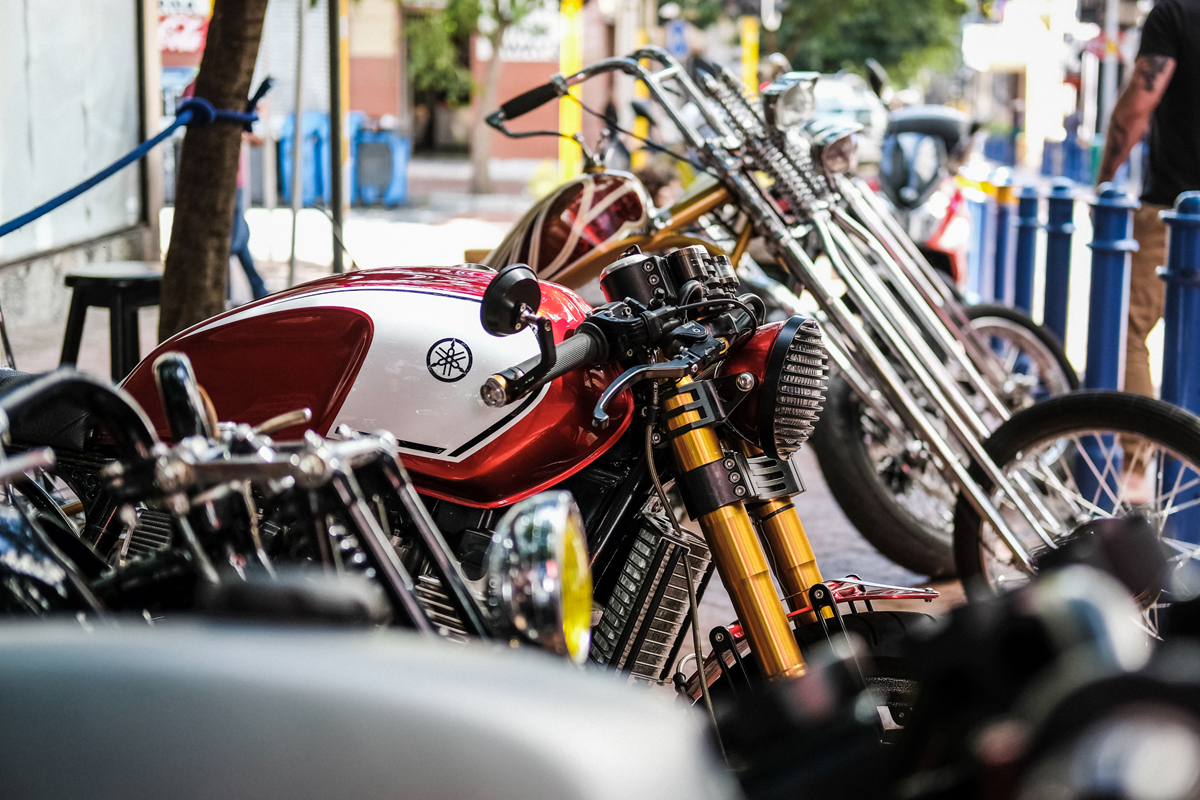 While the Lightning Bolt officially happened on Saturday the 28th of November, the real fun went down the day before. That's when the judges had a private moment to interact with builders before diving into their score sheets. And it's also when the judges and builders joined each other for the 25 km rideability test.
"I think it was the best idea ever," says Ian Ketterer. "No point in having an ornament that is unrideable. And it gives those of us who focus on safety as well as looks a fighting chance!"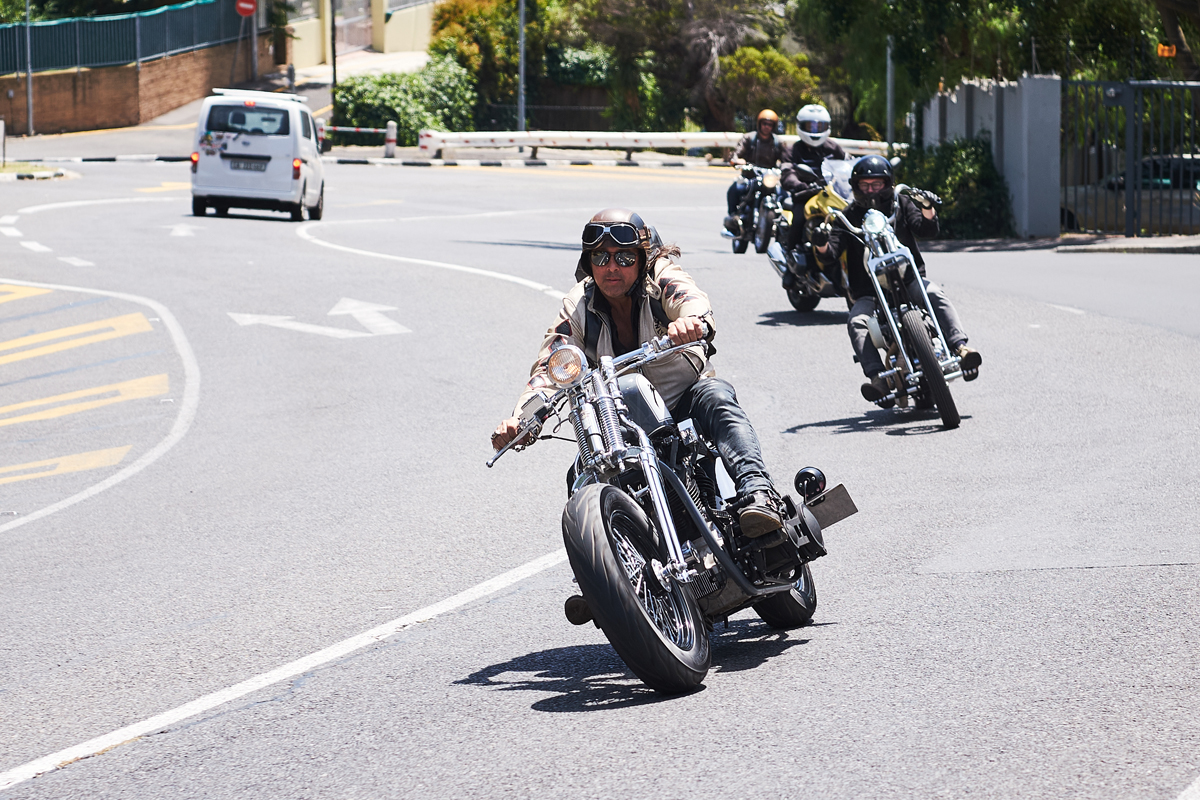 The contestants started off at The House of Machines, battled traffic all the way up Kloof Neck, and then headed out on Victoria road, before turning around. One bike couldn't get started and had to be ditched, another broke down along the way. A third barely made it back.
The hiccups revealed one of the most beautiful aspects of the motorcycle scene: despite the fact that R150,000 was on the line, competitors didn't hesitate to help each other cross the finish line. It was all hands on deck to try start the bike that never made it out the gate, and the one that only just rolled in had a literal push up a hill from a fellow contestant.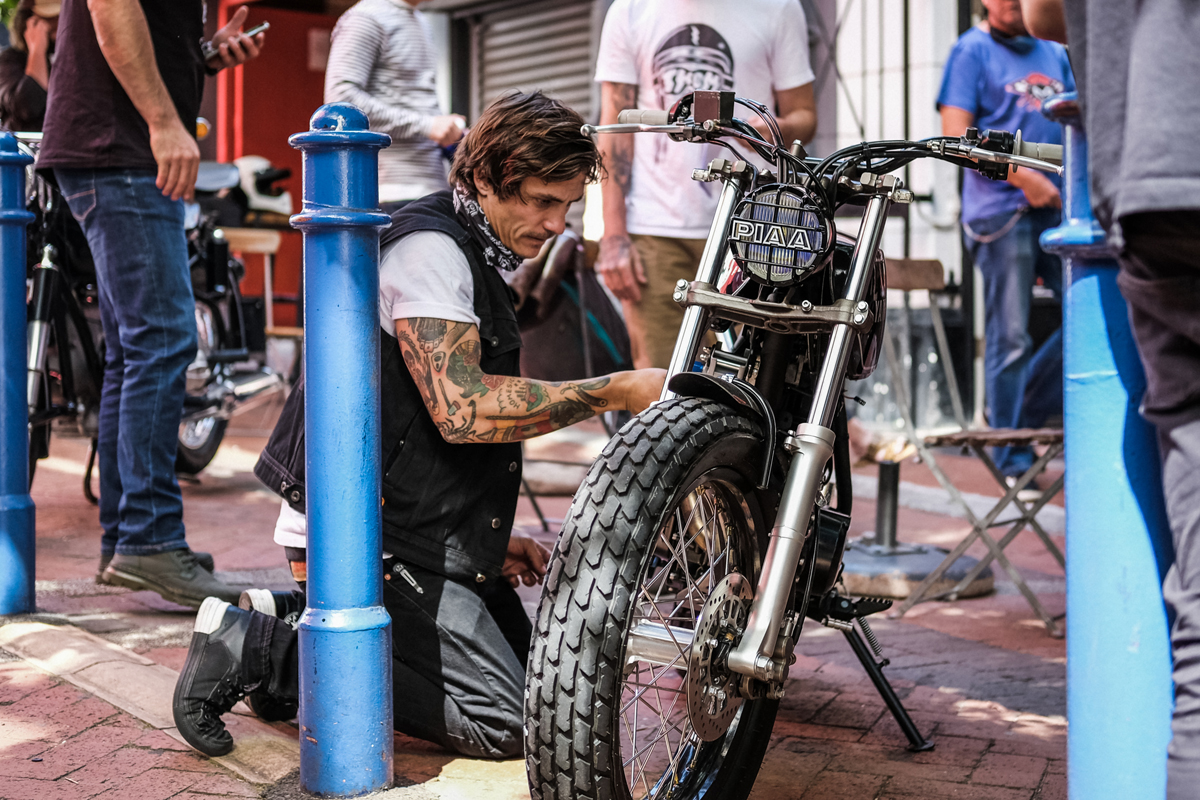 That was the point when Farryl Purkiss, general manager at The House of Machines, knew that they were onto something. "We hope to break the stigma that you need to be part of a club and or enclosed community to be able to be part of the motorbike lifestyle and all that comes from it," he says. "All are welcome, always."
With the bikes judged, the ride done and the winner selected (but not yet announced), the Saturday was all about showing the entries off to the general public. The House of Machines had shut off their section of Shortmarket Street, and part of Bree Street, and loaded it with moto-related entertainment.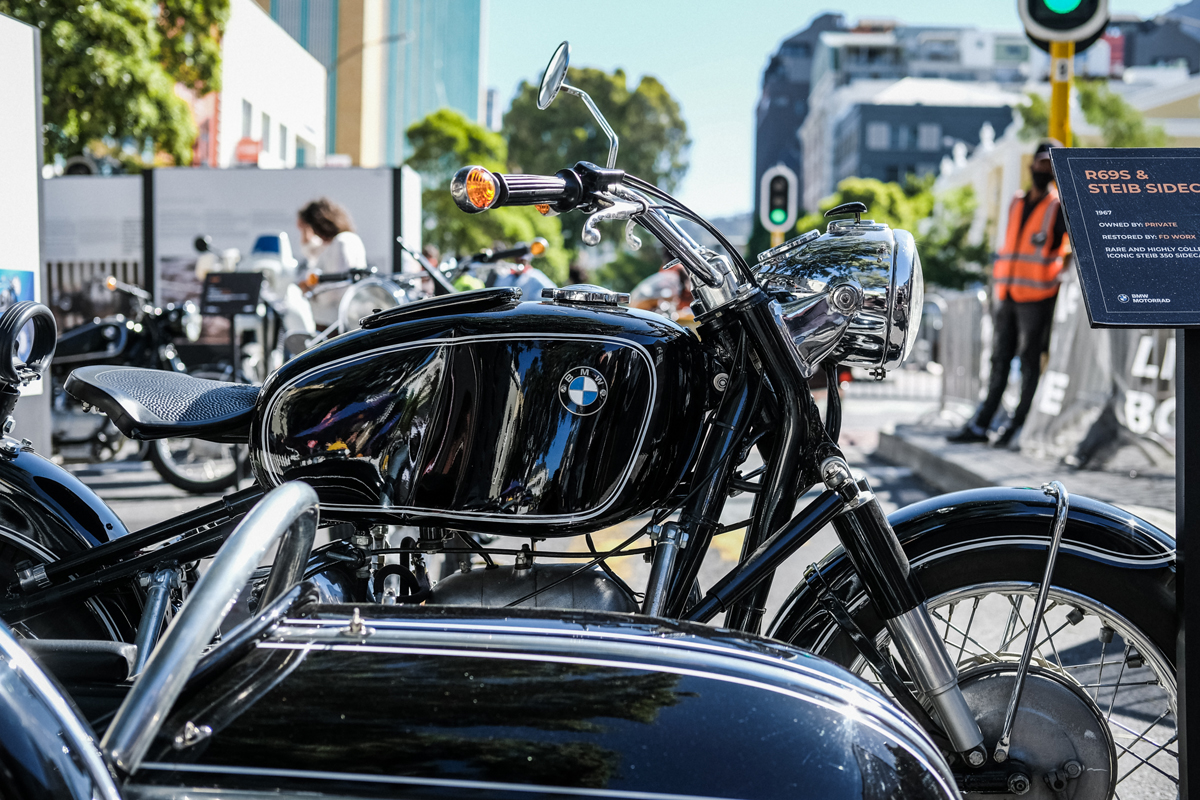 The custom bikes were housed in a surprisingly well-lit underground garage just off Shortmarket street, while outside, BMW Motorrad had created an almost museum-like gallery of classic models. And they had the new R 18 set up on a 'rolling road' for anyone to try, too. (As an added bonus, Judges Freek and Wes even arrived on a BMW R69 with a Steib sidecar.)
Other facilities included a Super Bock beer garden, Frankie Fenner's legendary burgers, treats from Cape Town institution, Jason Bakery, and access to the House of Machines and their signature cocktails.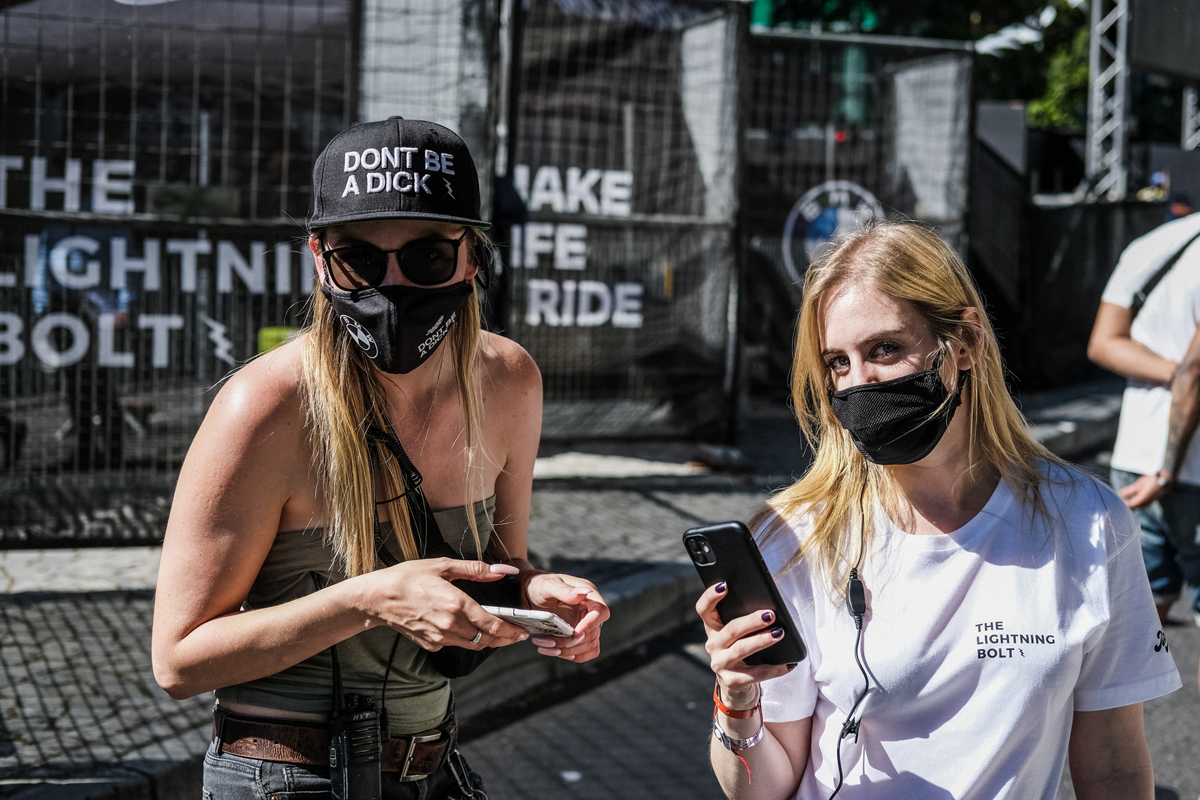 There were strict COVID measures in place too: ticket sales were limited, masks were handed out on entry and there were sanitisation stations all over. There were also controls on how many people entered indoor spaces, and there were even compliance officers walking around and telling people to keep their masks on.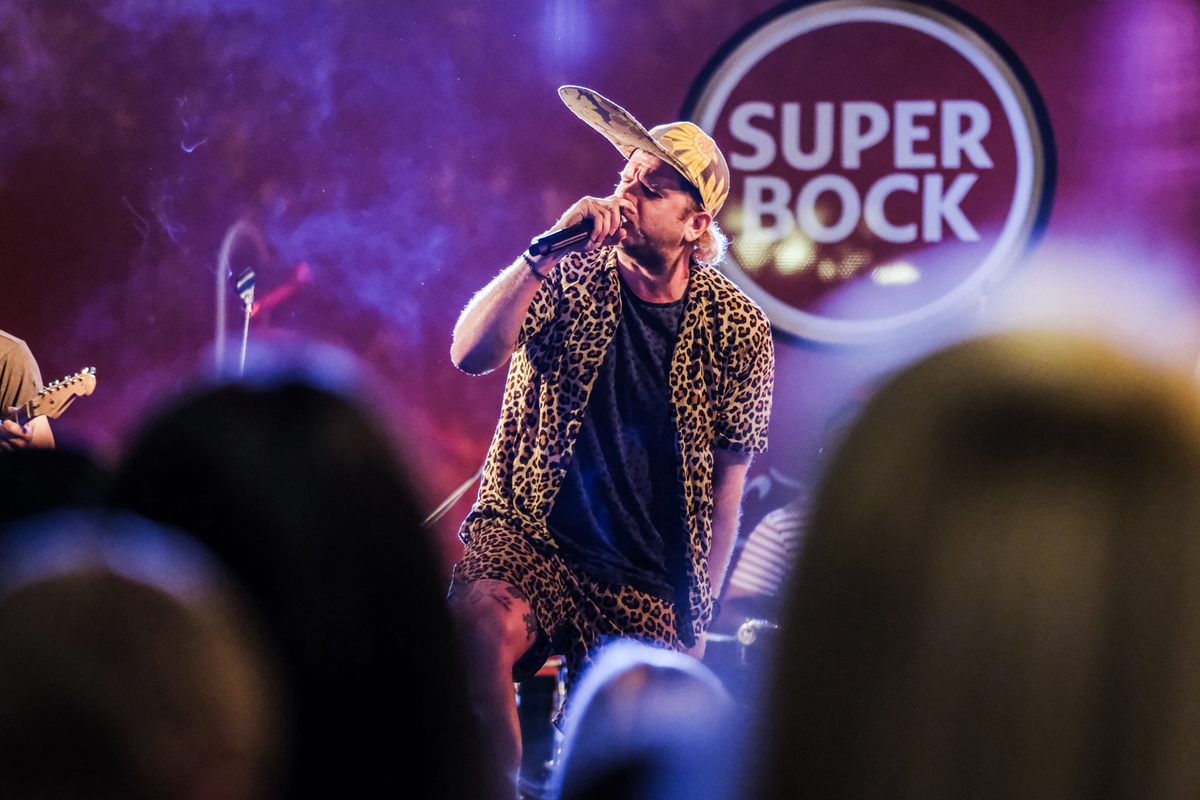 As the day wore on and the winner was announced, the focus shifted from custom motorcycles to live music. Nomadic Orchestra took to the outdoor Shortmarket Street stage, followed by an incendiary performance by Jack Parow. House of Machines local, Jak Tomas, rounded out the night's festivities.
"I think that it was a phenomenal event, and I am impressed with both the turnout and interest, as well as the quality of the bike builds," says Penny Sterley, General Manager of BMW Motorrad South Africa. "For many years, BMW Motorrad has focussed predominantly on the marketing of our GS product range."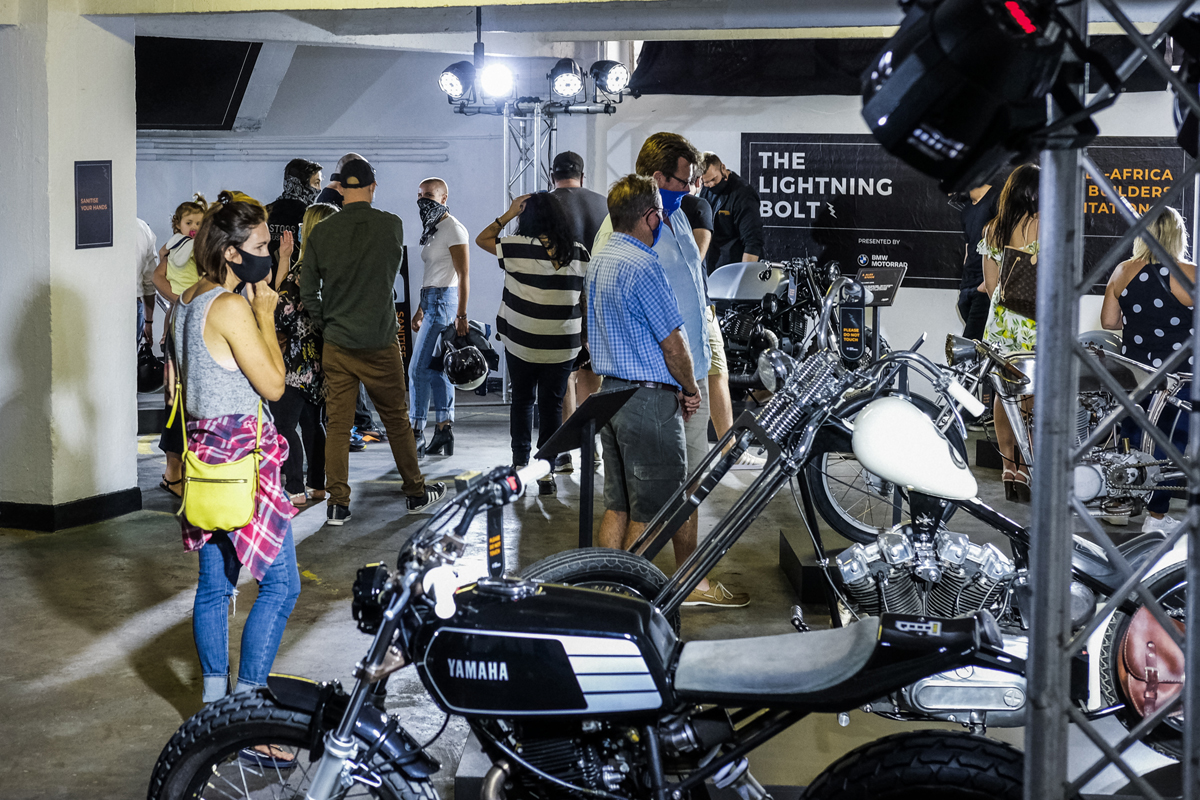 "With a lot of new products in our line up—like the R 18, F 900 XR, F 900 R and S 1000 XR, it is important that we focus on marketing to and attracting various kinds of bikers to our range. It's important that we attract future riders, younger riders and also female riders. We can only do this by expanding our reach as far as possible."
"And congratulations to Marnitz Venter who was the winner of the competition—his build was really amazing."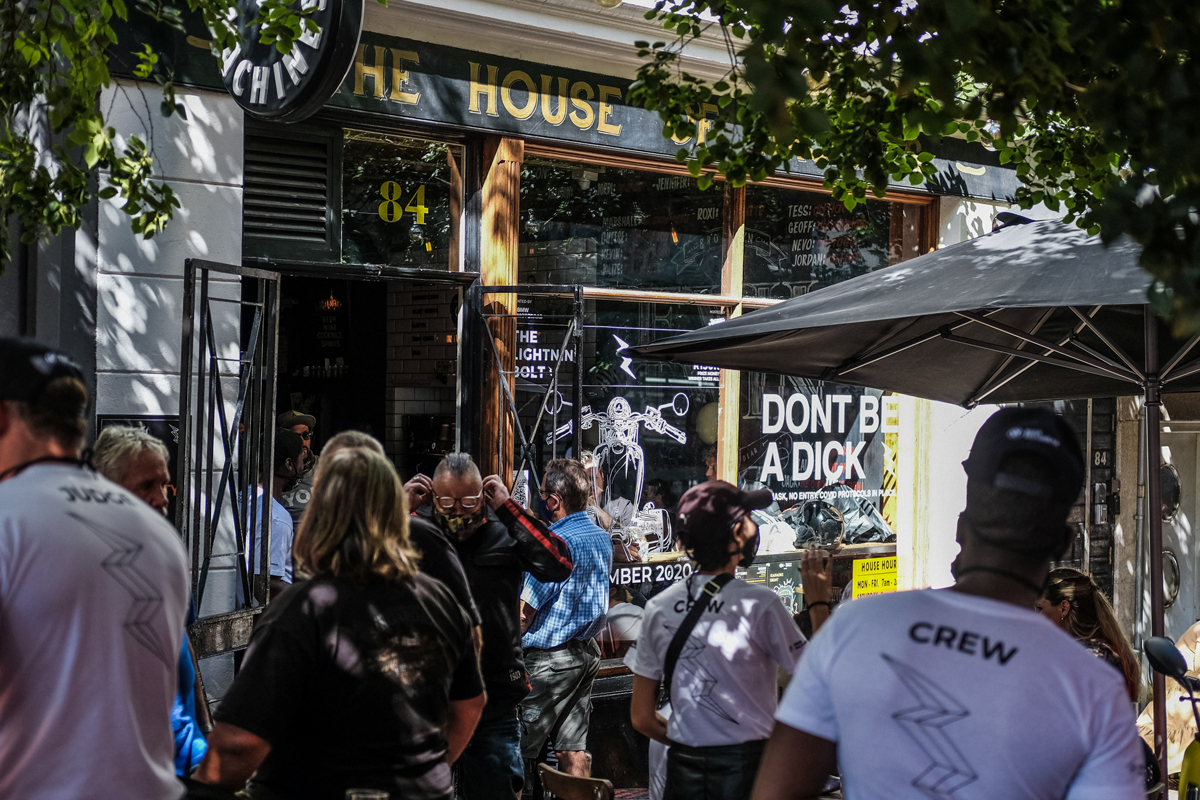 With the first Lightning Bolt now behind us, BMW Motorrad and The House of Machines have already confirmed that it'll be back in 2022. Which means there's just enough time to find a donor bike, get into the garage and start wrenching.
Visit – thelightningbolt.co.za for more.