For those of you who don't know, or may not have heard of Andy Biram, let me introduce you. Andy is a vastly experienced Adventure bike rider, being the man behind The Adventure Academy, a business he started at the beginning of 2016. He identified an opportunity for a company dedicated to hosting Adventure bike Tours all over SA and surrounds. In between tours, he does one on one rider training, both on-road (tar and gravel) and track. What I so like about Andy is his absolute humility and honesty. Some chaps in the training environment tend to carry themselves off on their own shoulders. Andy, on the contrary, is brutally honest and "real". An example of this, is his comment on his wheelie ability. "My desire to wheelie is strong, but it has never overcome my fear of crashing". I got you bud!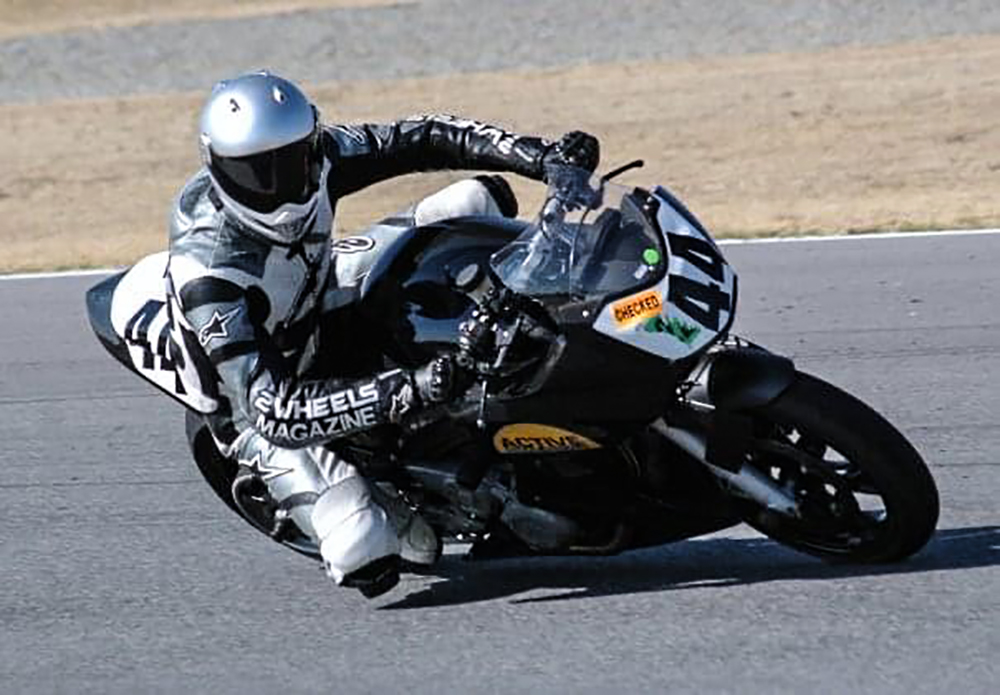 Andy started his motorcycle riding back in 1998 on a Kawasaki ZX-6R, which he binned 5 days later, wearing shorts and a T-shirt. Lesson learnt, he took himself off to his first of many track days. By 2006 he was not riding on the road, as he was finding the roads around Jo'burg boring. The Kawi had morphed into a Honda VTR 1000 SP2, with which he assisted Clinton Pienaar at his track days. Clinton is really to blame for Andy's change from road riding to Adventure biking. Clinton convinced him to join him and some buddies on a ride to witness a lunar eclipse. I suspect it was after a few lemonades because after agreeing, he learnt that this spectacle would be seen somewhere between Libya and Egypt. The SP2 was replaced by an Africa Twin and the rest, as they say in the classics, is history.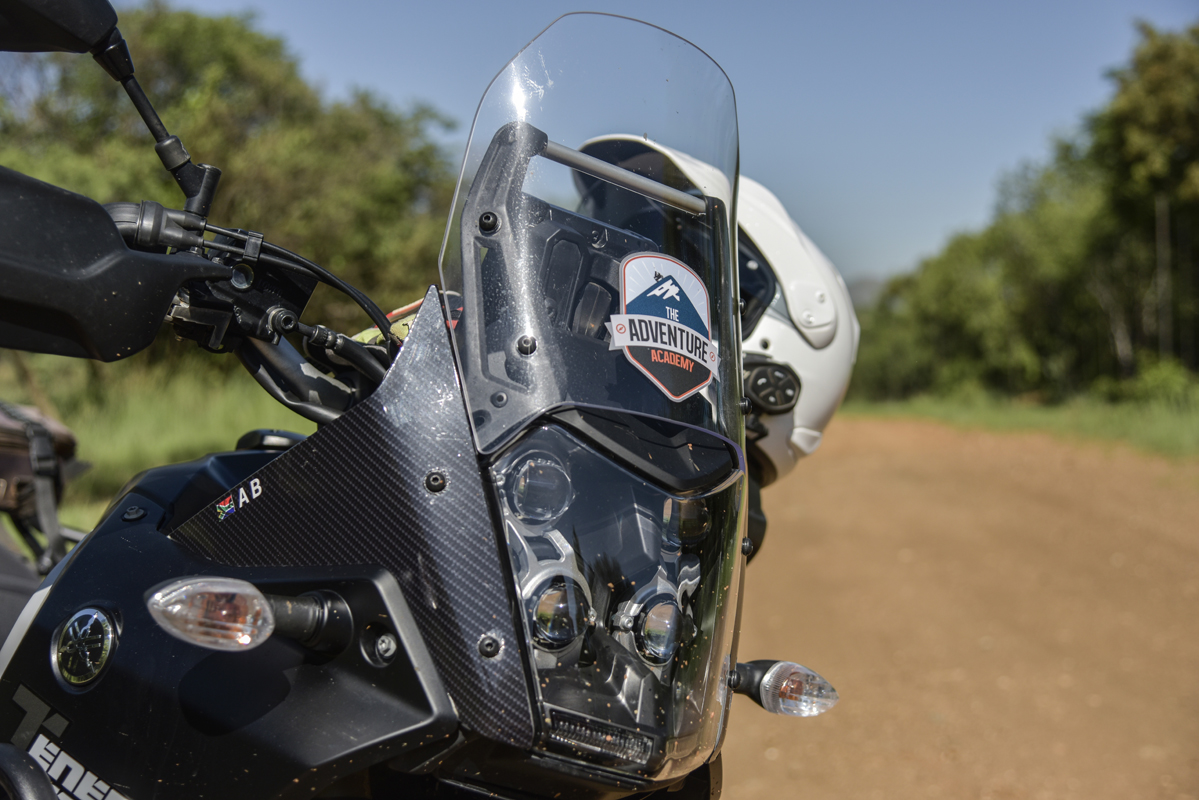 In time, Andy went over to the dark side. He bought a KTM 990 Adventure, lost his job, and spent his accumulated pension money to fund a year of exploring Southern Africa. This opened the door to some gigs hosting adventure tours for RAD Moto KTM, to some of the amazing places he'd discovered during his sabbatical. The trusty 990, and it was indeed trusty, logged up 100,000 odd kay's of gravel travel, before it got sold at the birth of the Adventure Academy, in 2016. The Adventure Academy's success has been built on Andy's knack for matching the route, to the ability of the riders on tour.
It is little wonder then, with this sort of Adventure riding CV, that Linex Yamaha Randburg approached Andy to become a Brand Ambassador for their highly acclaimed new Ténéré 700. As the most anticipated Adventure bike for the last 3 years, the T7 has finally arrived on SA soil. How better to highlight it's talents, than to put them on show with every tour that Andy leads. Let the bike do the talking. I picked up on social media that Andy had hosted his first tour on the T7, so I hooked up with him for a coffee to hear all about it. I knew that I would get it straight, without any sugar-coating, warts, if there are any, and all.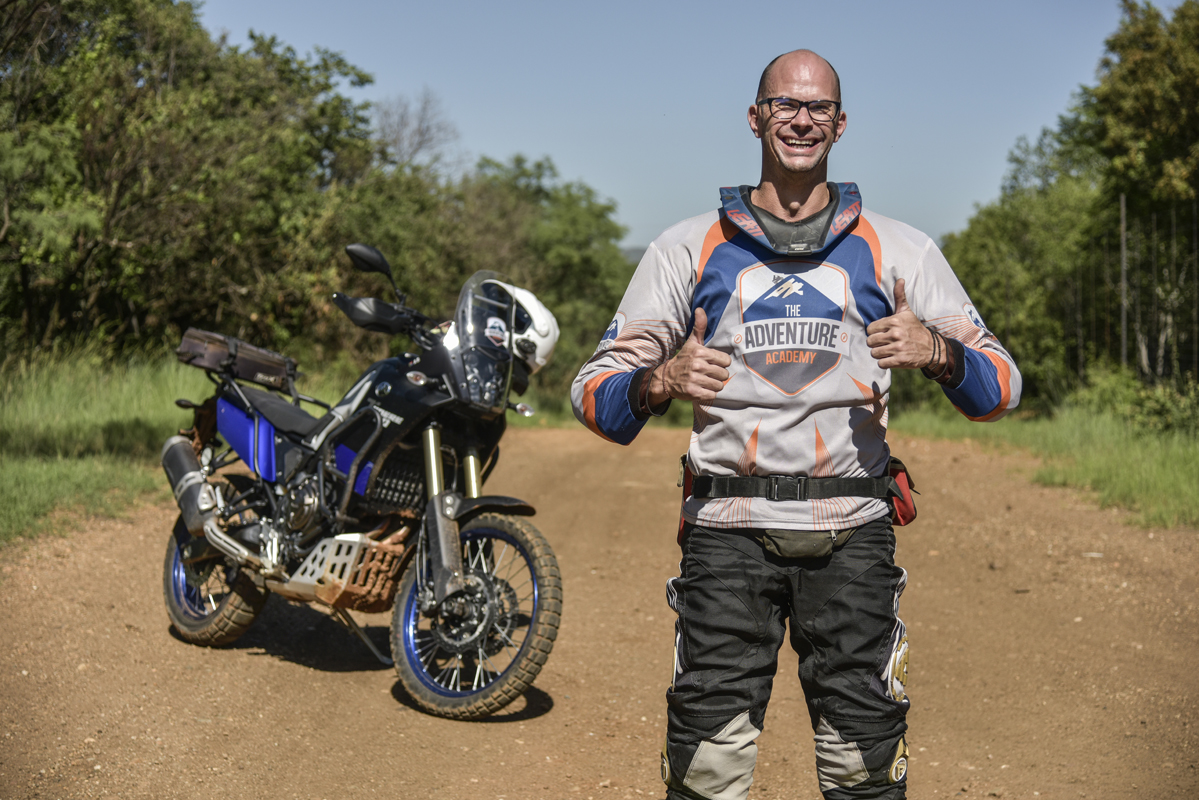 I asked him how it performed on tar. What impressed him immediately was the power delivery. Fueling is perfect, right from off idle. The roll-on ability almost belies the fact that it is "just" a 700. The bike feels light and nimble, yet absolutely planted and stable at all speeds.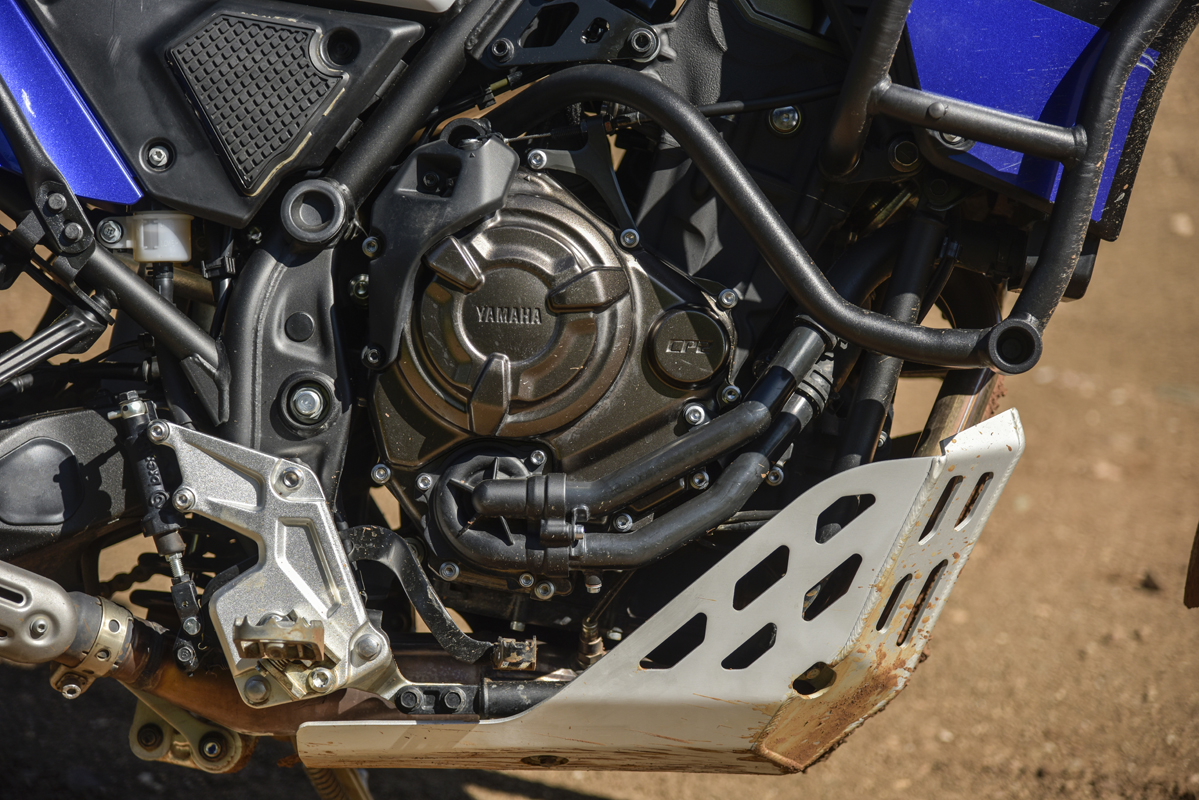 The comfort was also a surprise. The Rally look, almost suggests that the seat would be a bit of a rack. On the contrary, Andy reckons that the first day of their tour, from Jo'burg to Himeville, in the Natal midlands, was a doddle, with both the seat and windshield doing a great job.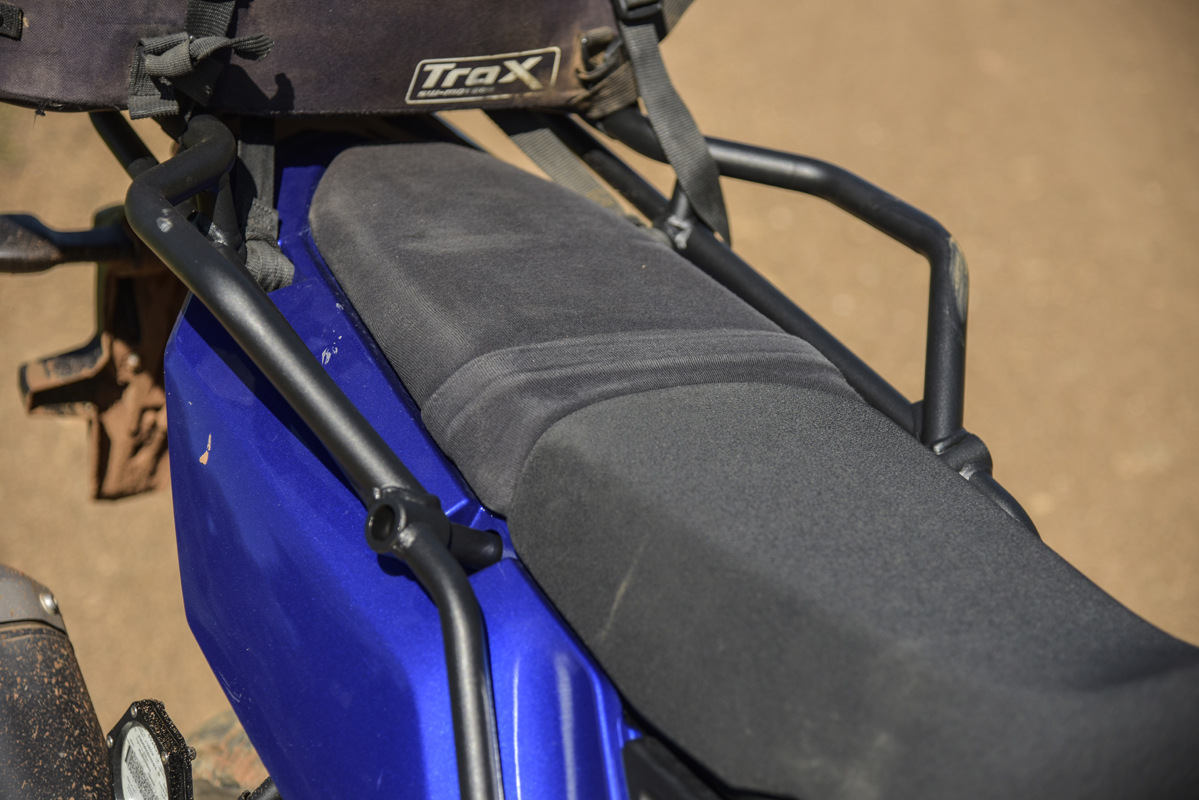 The aerodynamics seem to be spot on as a bit of rain encountered was warded off by the screen particularly well.
The dirt was where it really shone. Yamaha have been fiendishly clever. Rather than throw a basket of electronic trickery at the T7, to hide a multitude of sins, they spent a lot of time making sure that it is fundamentally sound, and as a consequence, it works.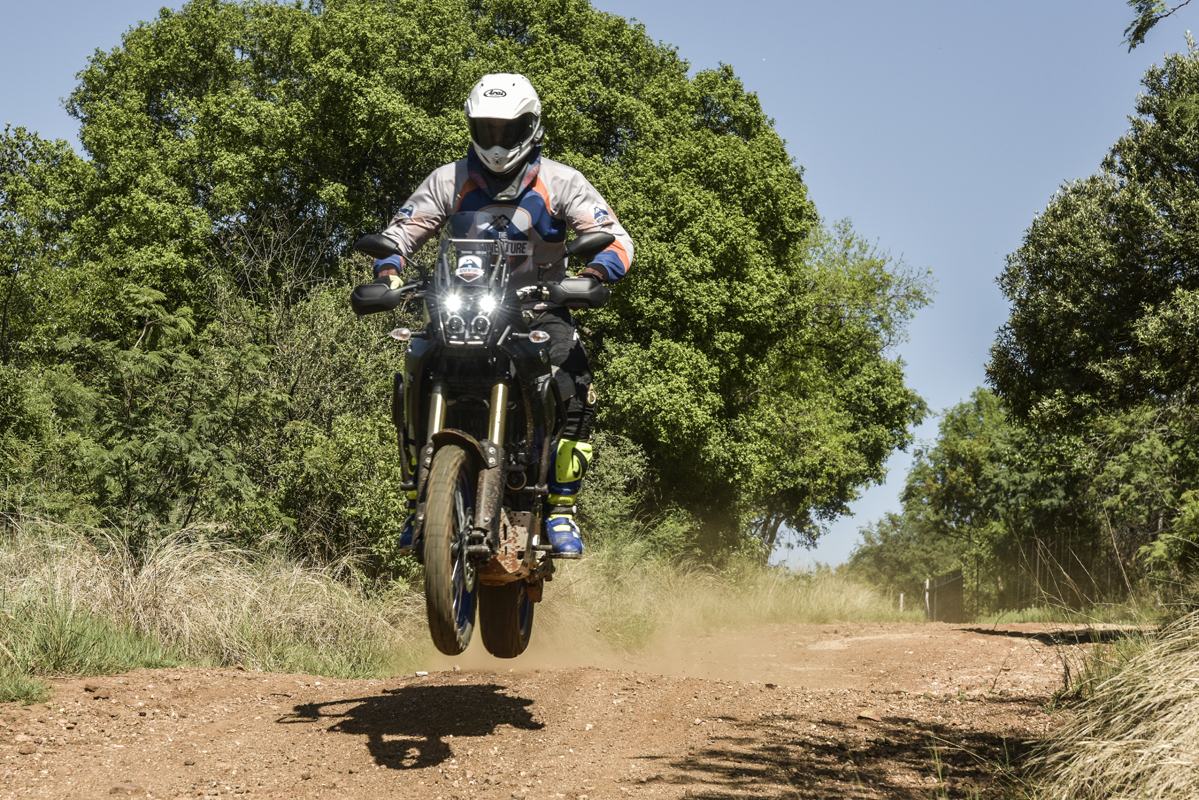 By designing the frame in such a way that the swingarm pivot point and drive sprocket are really close together, the bike hooks up fantastically on the dirt. This negates the need for traction control. The flawless fueling giving the rider control via his right wrist. Just like God intended. Similarly, stability is achieved without the need for a steering damper.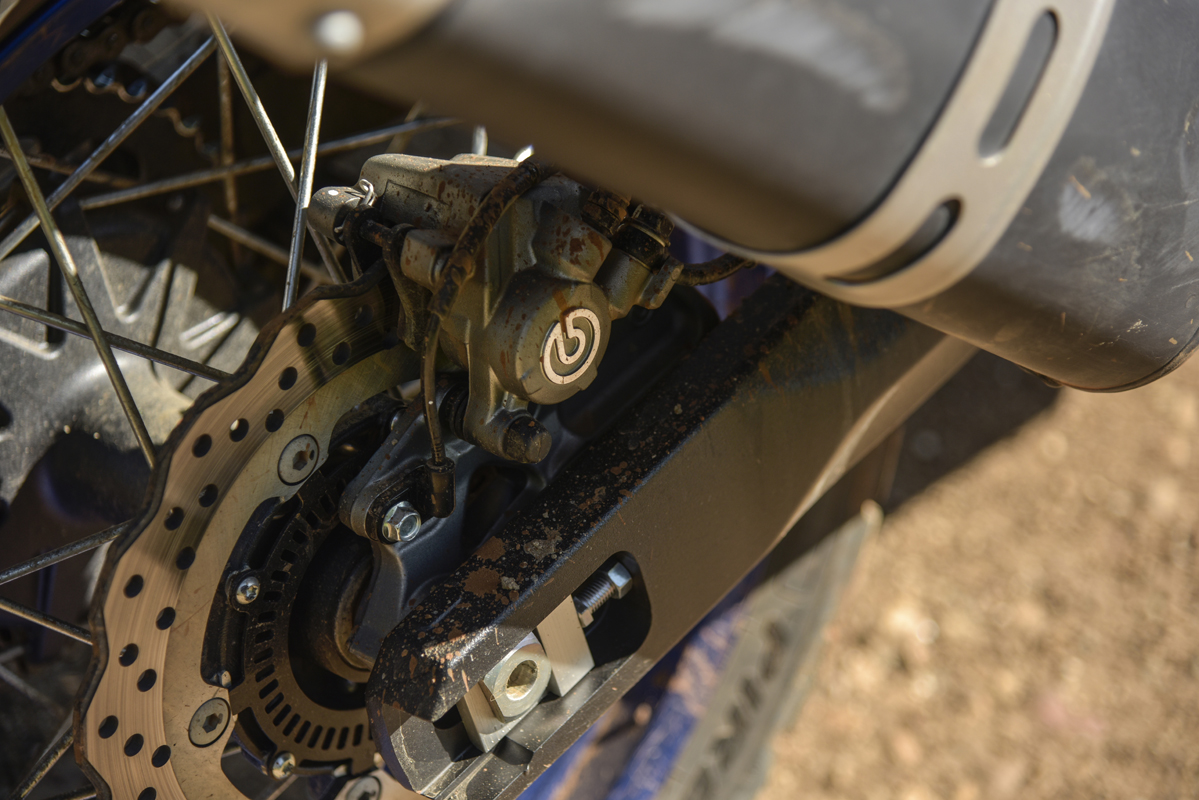 The riding position, both on tar and dirt, both seated or in meerkat mode, is spot on, with everything falling naturally to hand. In Andy's considered opinion, the suspension will suit 95% of riders. Real serious chargers, or fellows in the habit of consuming a few too many burgers, may want a stiffer setup, but for the rest of us, the Yam's suspension is sweet.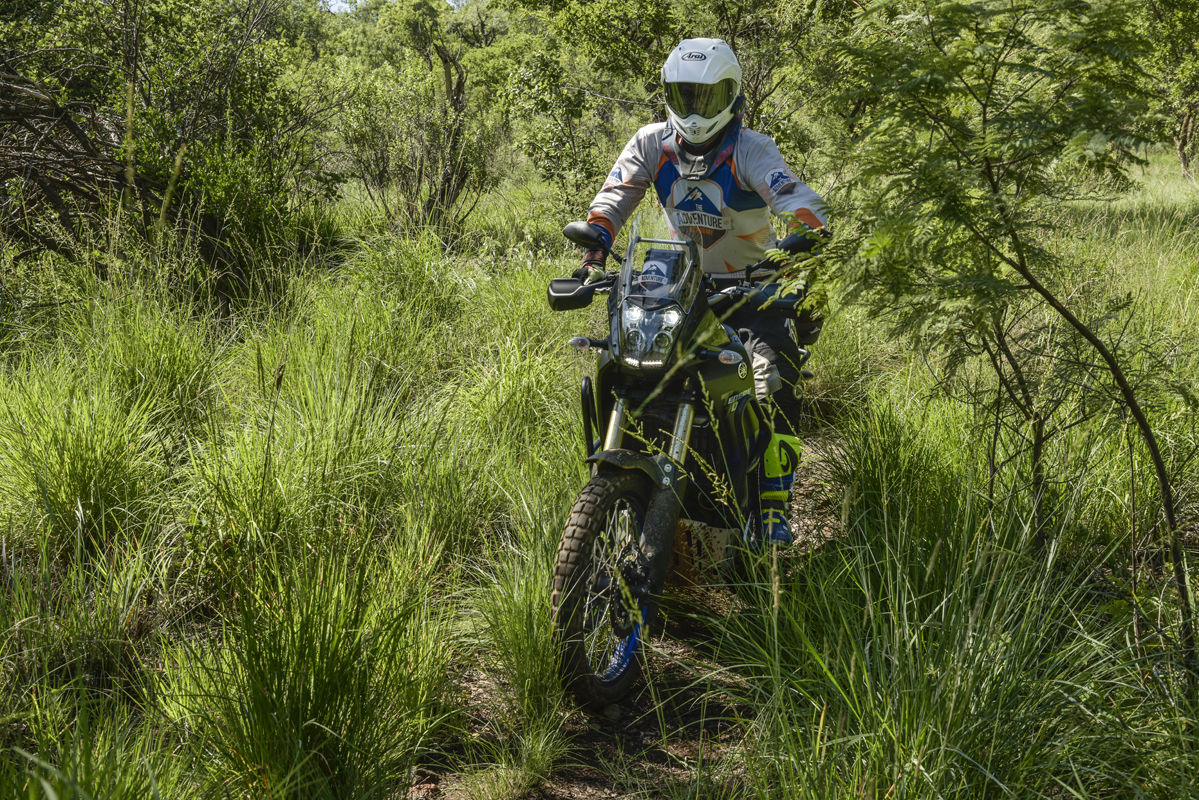 Brakes are perfectly powered for their intended use. Pretty much like baby bears porridge. 16 litres of fuel gives you a range of at least 250 kay's and a lot more, if you are on a bit of an economy run, like travelling to Malawi from Lusaka on the Great North Road, where there is a 320 kay stretch between fuel stops. (Don't ask me how I know).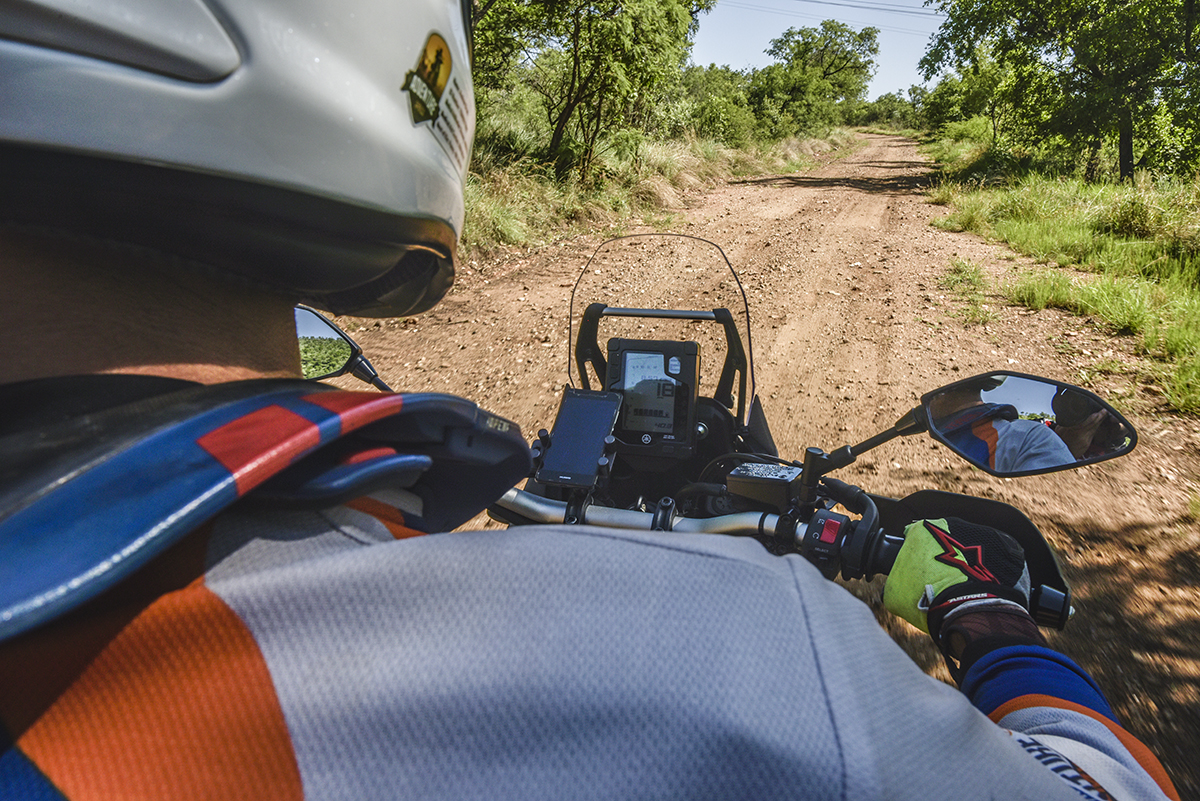 At this point of our chat, it was clear to me that Andy is seriously taken with the T7. "So what is not to like", I asked him. The instrumentation jumps around like a mad thing. This is something that I have read on various forums. Whilst remaining legible, it needs to be anchored better.
Not a criticism, but rather due to the T7's tidy dimensions, is the fact that a stuff bag on the back seat, inhibits your ability to move around as you would like, when riding technical terrain. Andy did say though that now with the new GYTR Luggage plate from Linex Randburg, he's as happy as Larry? His parting shot is that the bike is incredibly "sorted" and easy to ride fast, both on and off the road.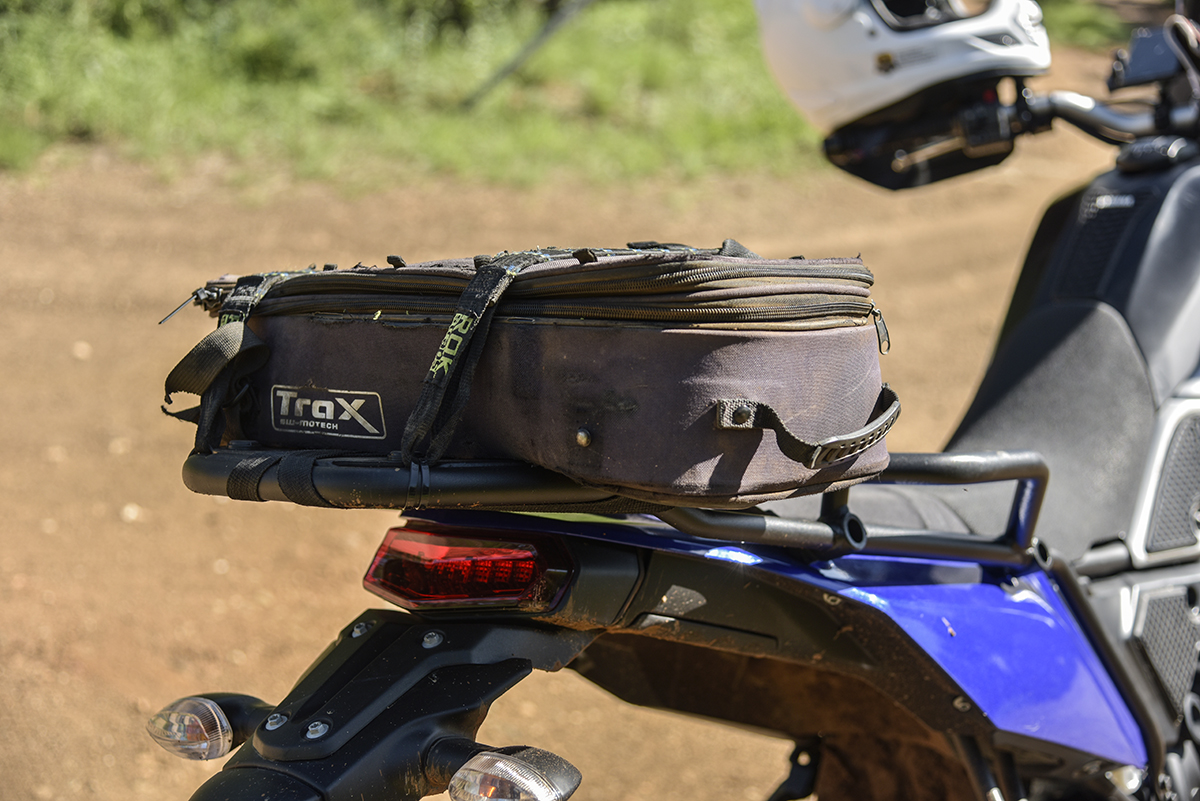 Then the elephant in the room. The fact that the T7 is expensive for SA buyers, relative to what they cost in other markets. That is a fact, however, when you ride the bike, and experience how it is simply more than the sum of all it's parts, then it is a great buy. If you are tired of overweight and perhaps overpowered adventure bikes, that are a real challenge to master off the beaten track, then the T7 may just be the simple, effective and reliable option, that you have always wanted.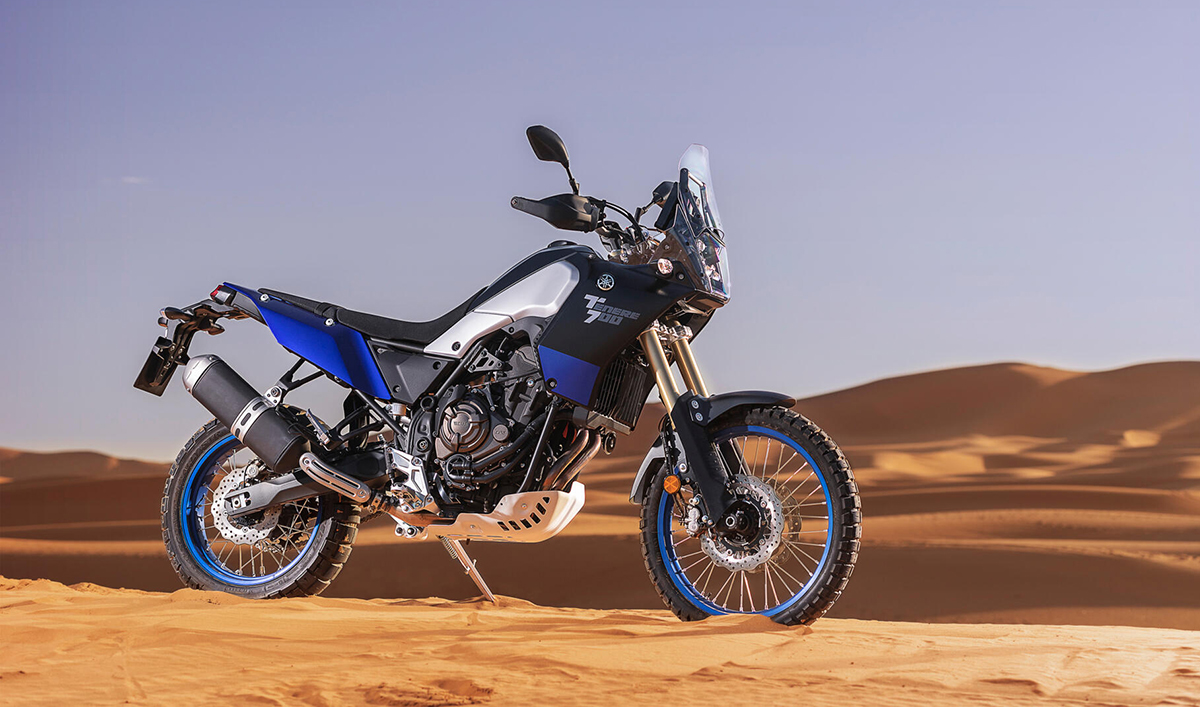 A friend of Andy's, who owns a KTM 790 ADVENTURE R RALLY, rode the T7 up Breedt's Nek and had this to say. "As an everyday Adventure biker, which most of us are. Gravel highways, occasional gnarly climbs and just enjoying riding without effort. This is the bike. The bike is light, and feels it. Very nimble. Power delivery is fantastic at low speed over rough terrain, the bike is really hard to stall as there is so much low down power. The bike is just comfortable". Rare praise indeed.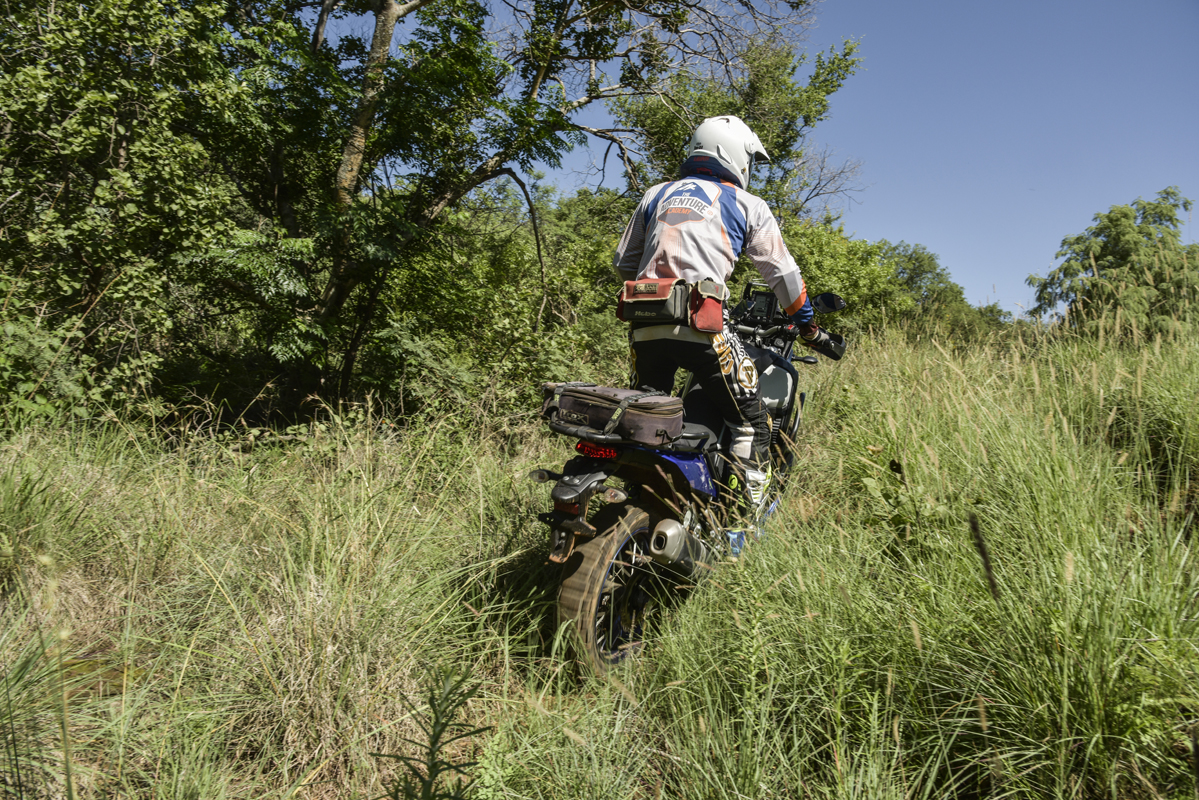 Find out more about Andy's Adventures, here: www.adventureacademy.co.za