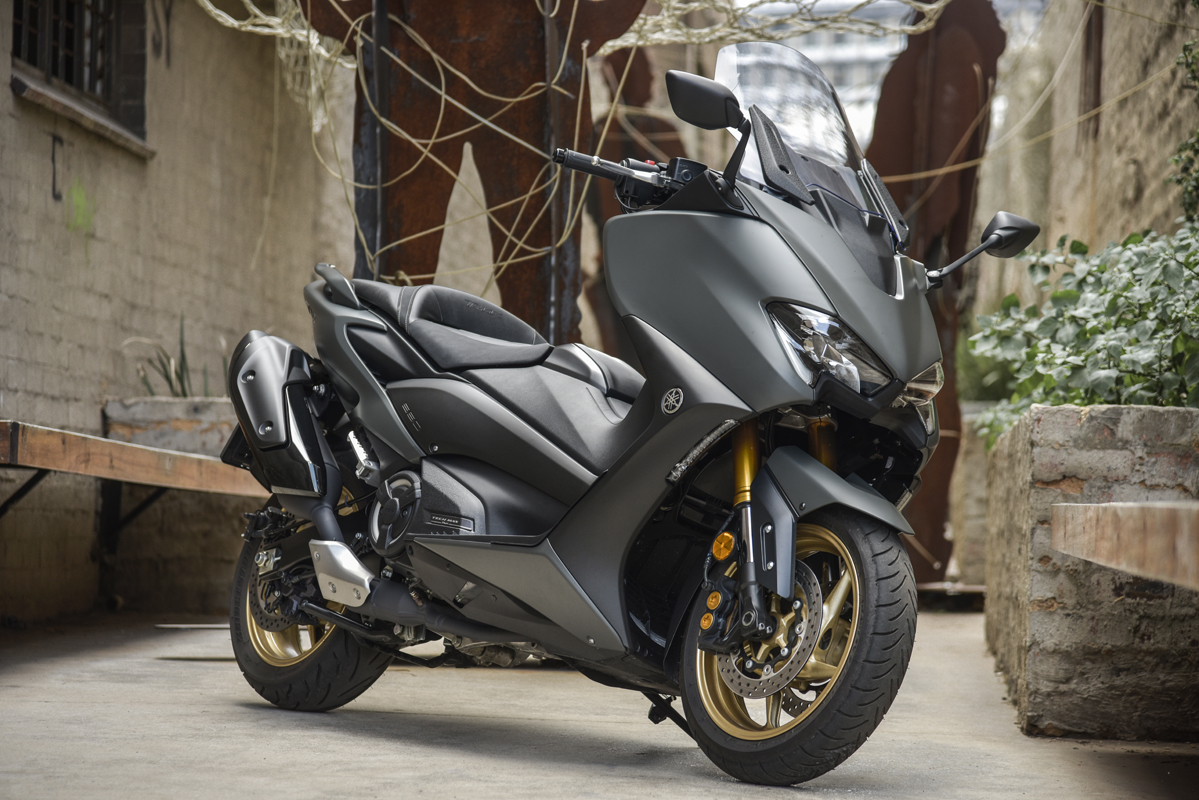 The first Yamaha TMAX rolled out of the factory back in 2001—a 500 cc twist-and-go parallel twin with a sporty edge and practical features. Yes indeed, it was the birth of the very first maxi-scooter. Nearly two decades and over a quarter of a million TMAX's later, it's fair to say that it isn't just a popular scooter, but a rather ground-breaking motorcycle too.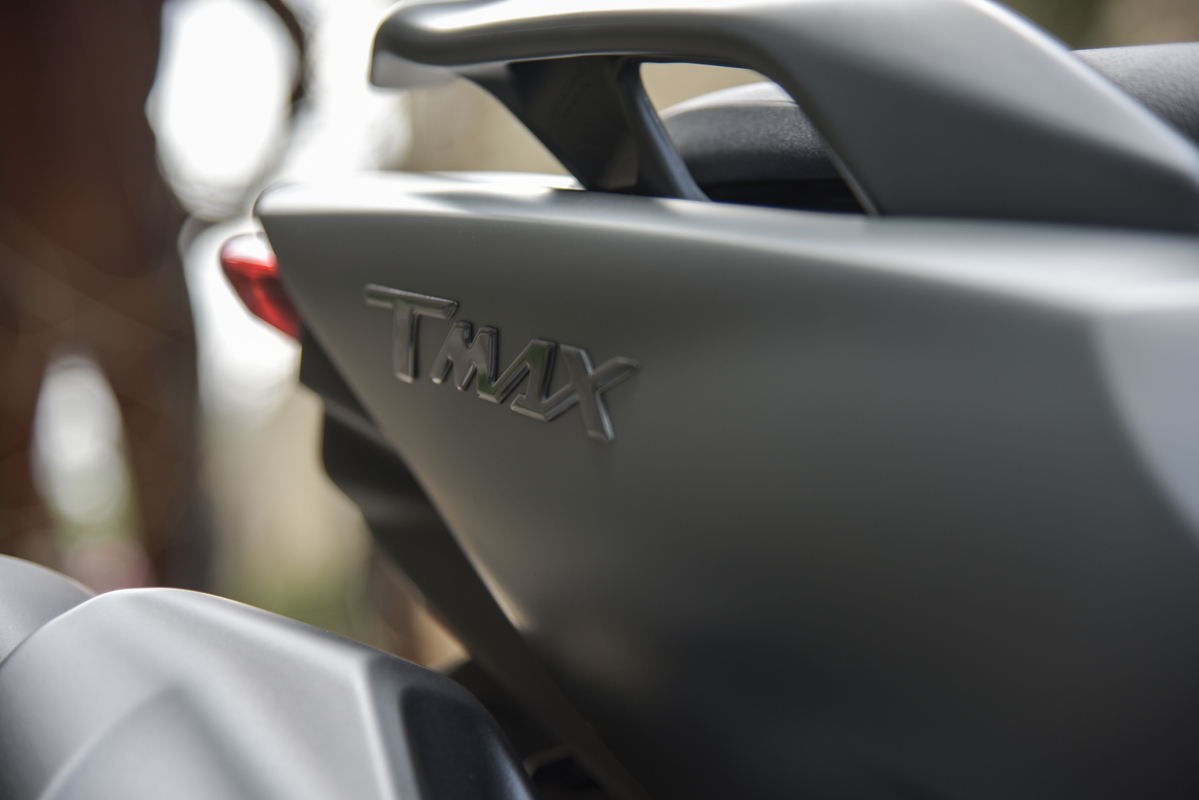 So after countless TMAX lectures over the years from my colleagues Simon and Dave, I've finally swung a leg over this wildly praised motorcycle.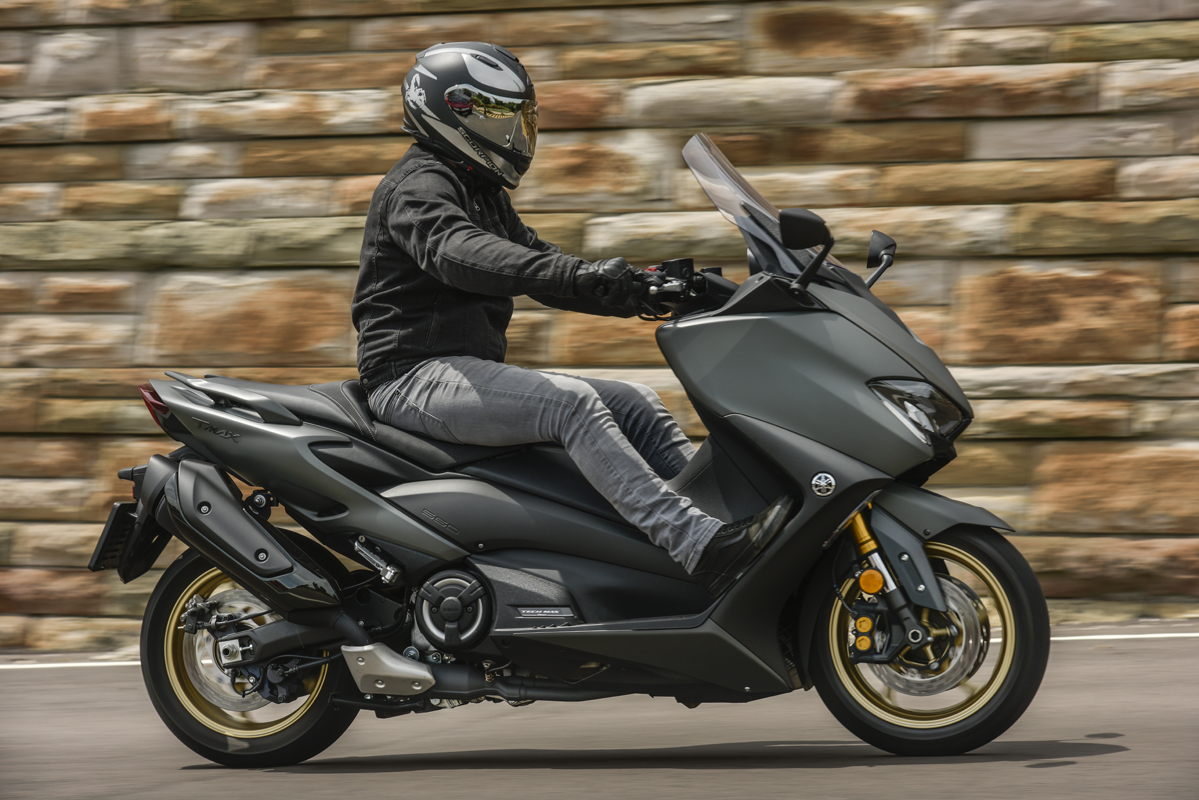 The TMAX got a subtle splash of dynamic design updates this year, as well as the introduction of a new 'Tech MAX' edition. It seems like the design team were handed a blade, because the TMAX has sharp geometric edges everywhere you look—enhancing the dynamic character of the bike.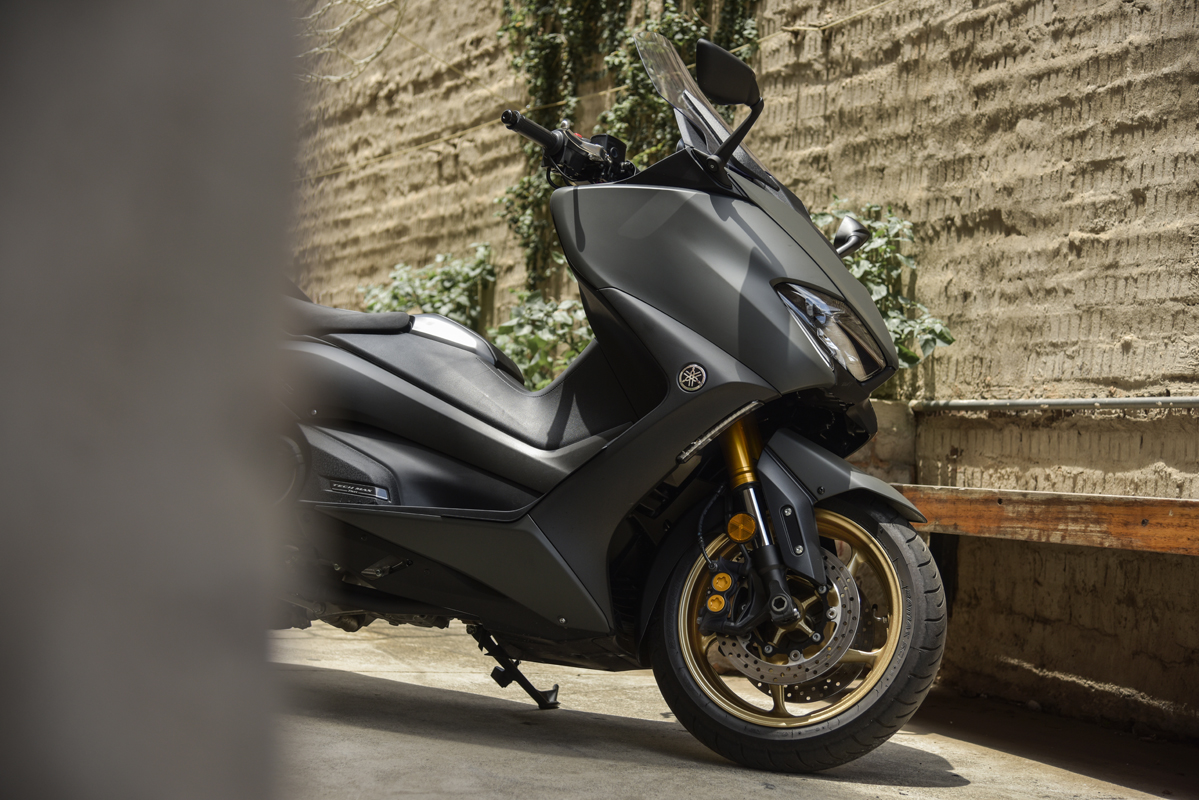 From the sharp signature 'boomerang' side covers, to the fully integrated indicators, all-new T-shaped LED rear light and R6-Esque rims, the TMAX just screams "look at me!" Yamaha SA only imports the flashier of the two TMAX models, the Tech MAX, so that's the one I rode. It's available in 'Tech Kamo' (as pictured here), or in a more subtle grey.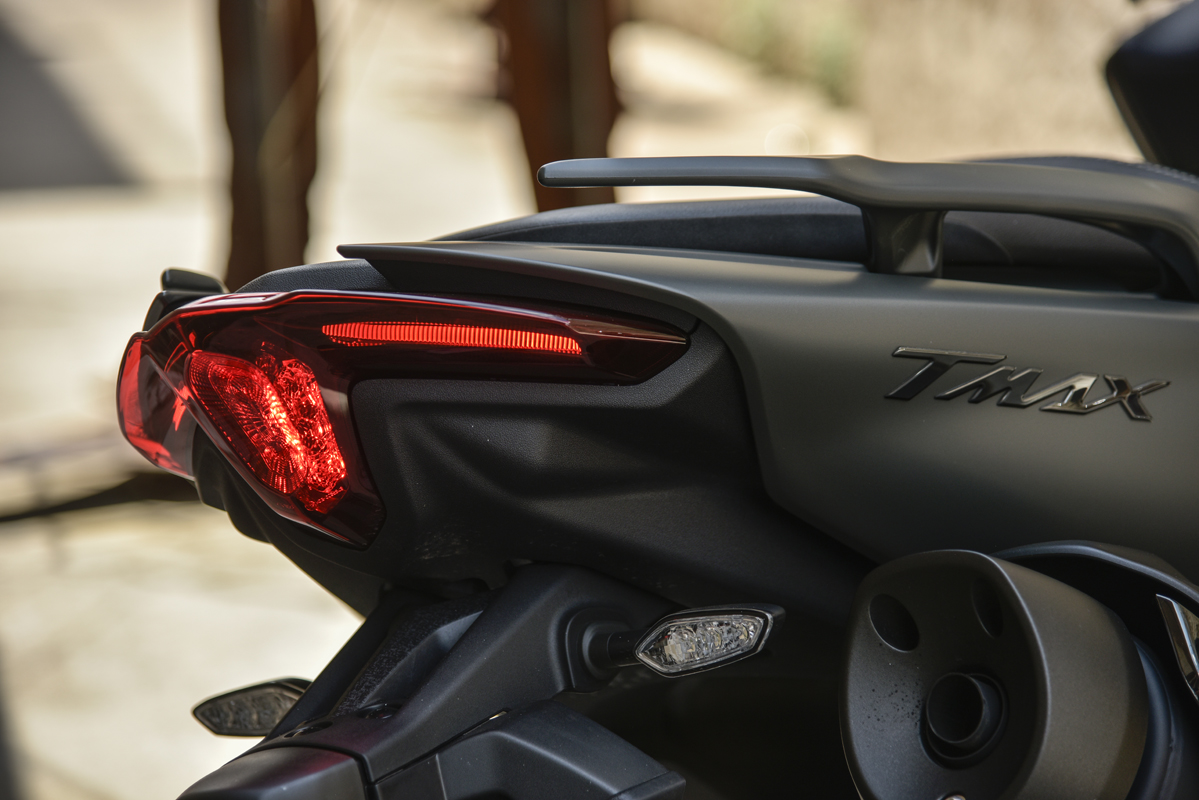 Once you're aboard the TMAX Tech MAX, you are truly spoiled with the latest tech, comfort and ease of use. It comes standard with heated grips, heated seats, a keyless ignition, cruise control, a USB charge port, and an electronically adjustable screen.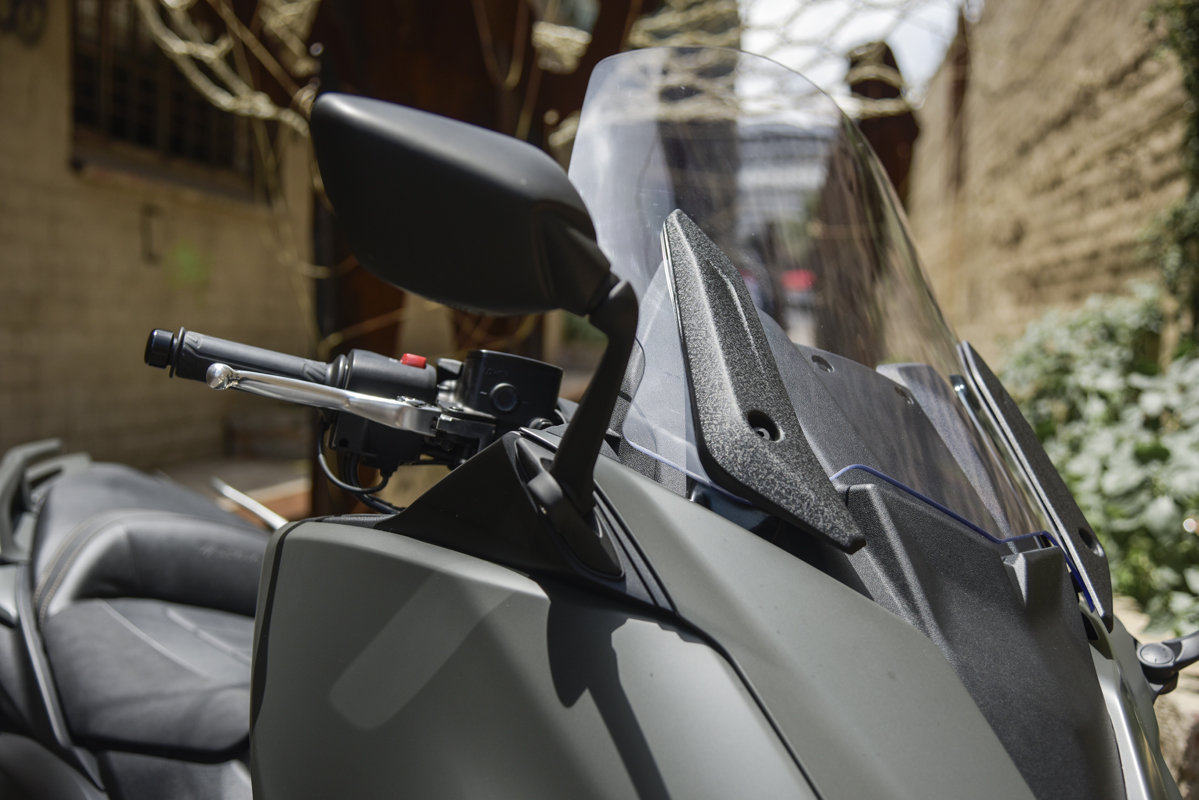 Safety features include ABS, traction control, and a lockable centre stand, and like any respectable scooter, there's storage below the dash and under the seat.
The Tech MAX also comes with connectivity features, via Yamaha's My TMAX Connect app. The app gives riders access to a GPS tracker to locate their TMAX at any time—and if the bike is moved while the engine is off, the rider receives an alert, on their mobile phone. The app also features a geo-fence facility and trip report function, as well as a speed alert, flasher function and low battery alert.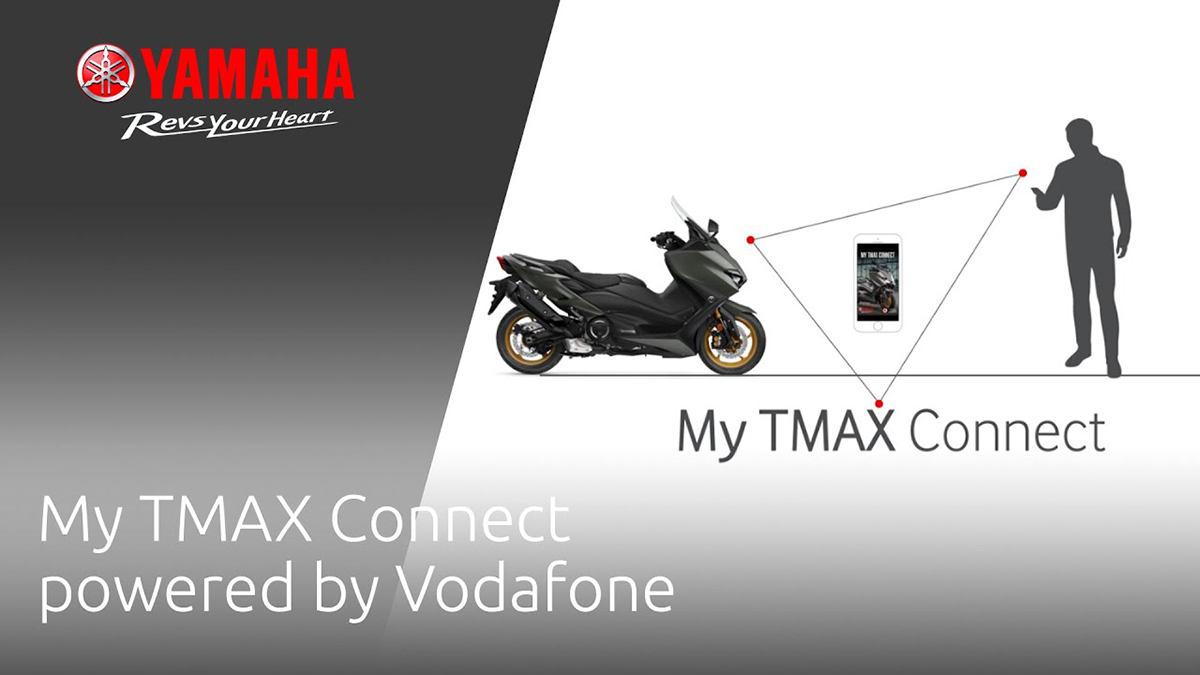 Yamaha have kept things simple by placing two traditional dials, indicating speed and rpm, separated by a monotone TFT display with a wide variety of info and settings. Heating settings, trip metres, temperature, fuel consumption, riding modes and display settings—it's all there.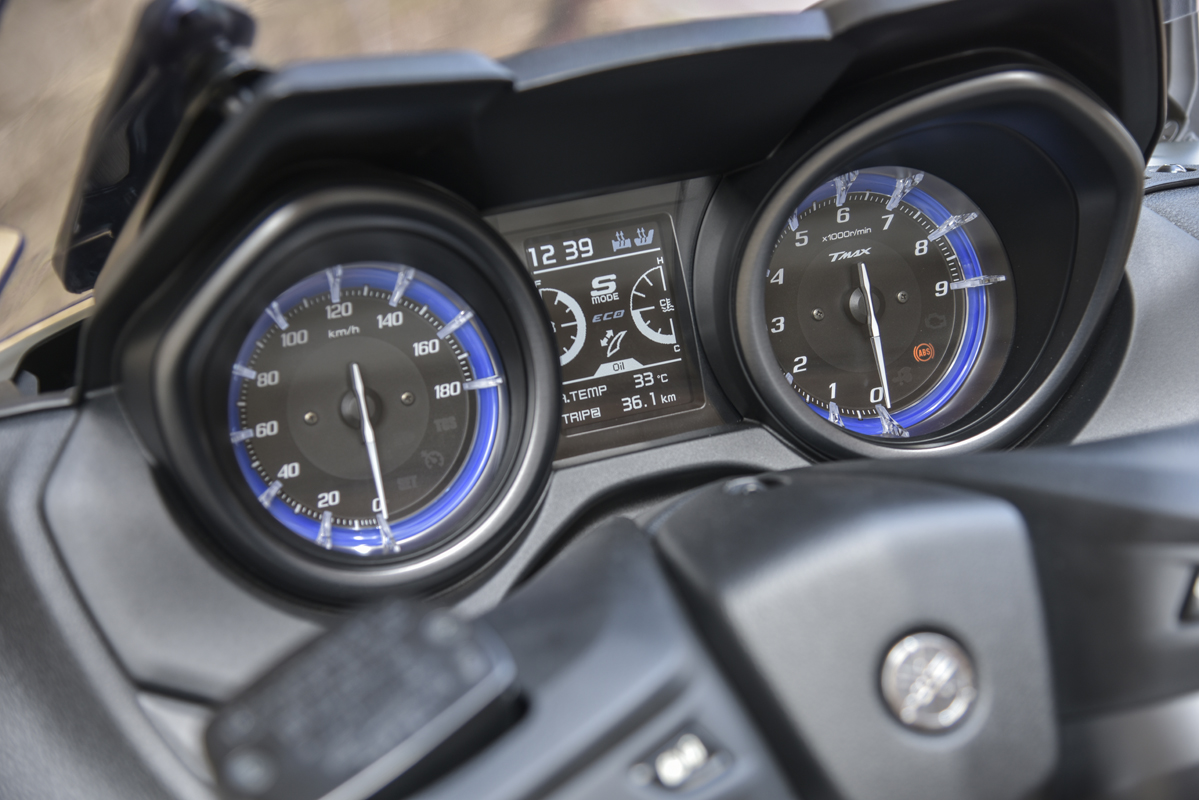 The TMAX packs a bigger punch than before, with a 30 cc increase to 562 cc, pushing the output to 47 hp at 7,500 rpm (4% more) and 55.7 Nm at 5,250 rpm (6% more). The motor's very compliant and easy to use in all riding situations, never needing a crack of the throttle to engage like on most scooters, but responding well to a light roll on. I rode the TMAX in S-mode all of the time, because I preferred the slightly quicker fuelling, as opposed to the lazier response in T-mode.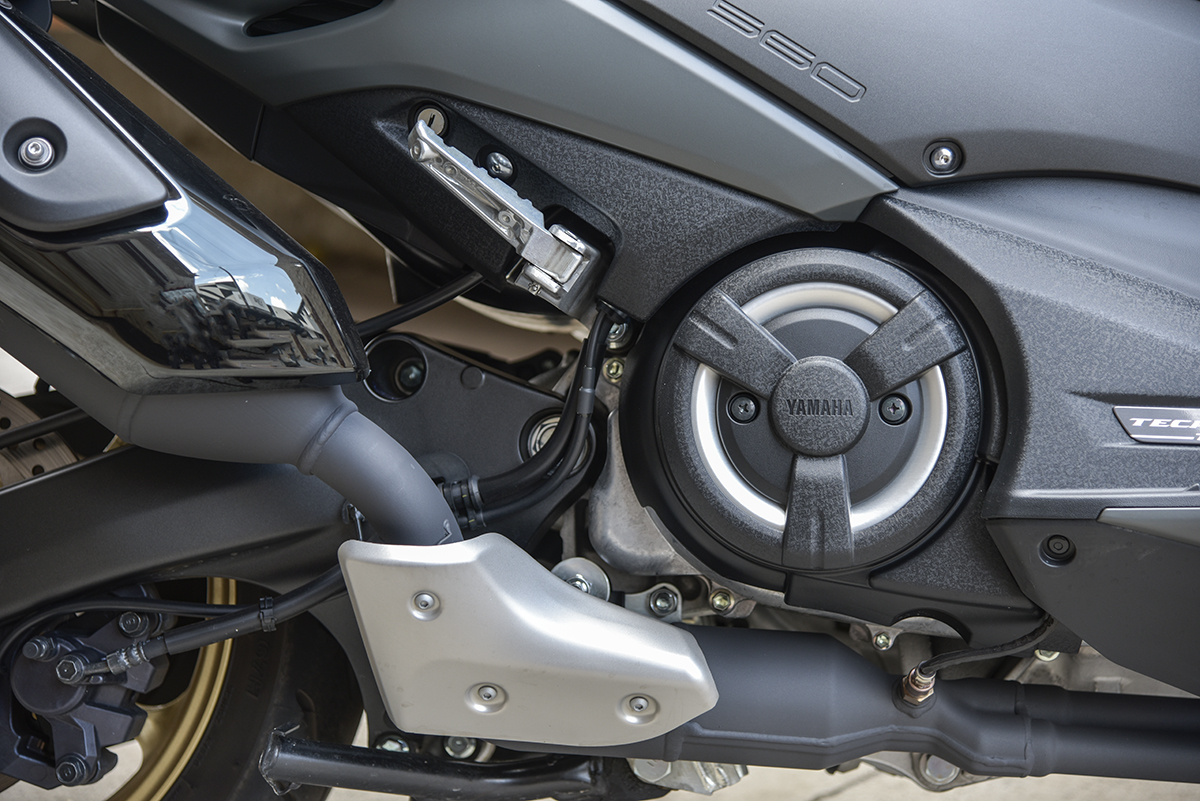 The TMAX cruises at a comfortable 5,500 rpm at highways speeds, with plenty of revs to spare and very little vibration. The TMAX's twist-and-go CVT system is smooth, and even offers some much-needed engine braking on deceleration.
With the TMAX's 15 litre tank and smooth-revving CVT gearbox, I managed to achieve 21 km/L in an all-round commute involving urban and country lanes. So, if you do the math, you could hit a range of 315 km or more—seriously impressive economy in my books.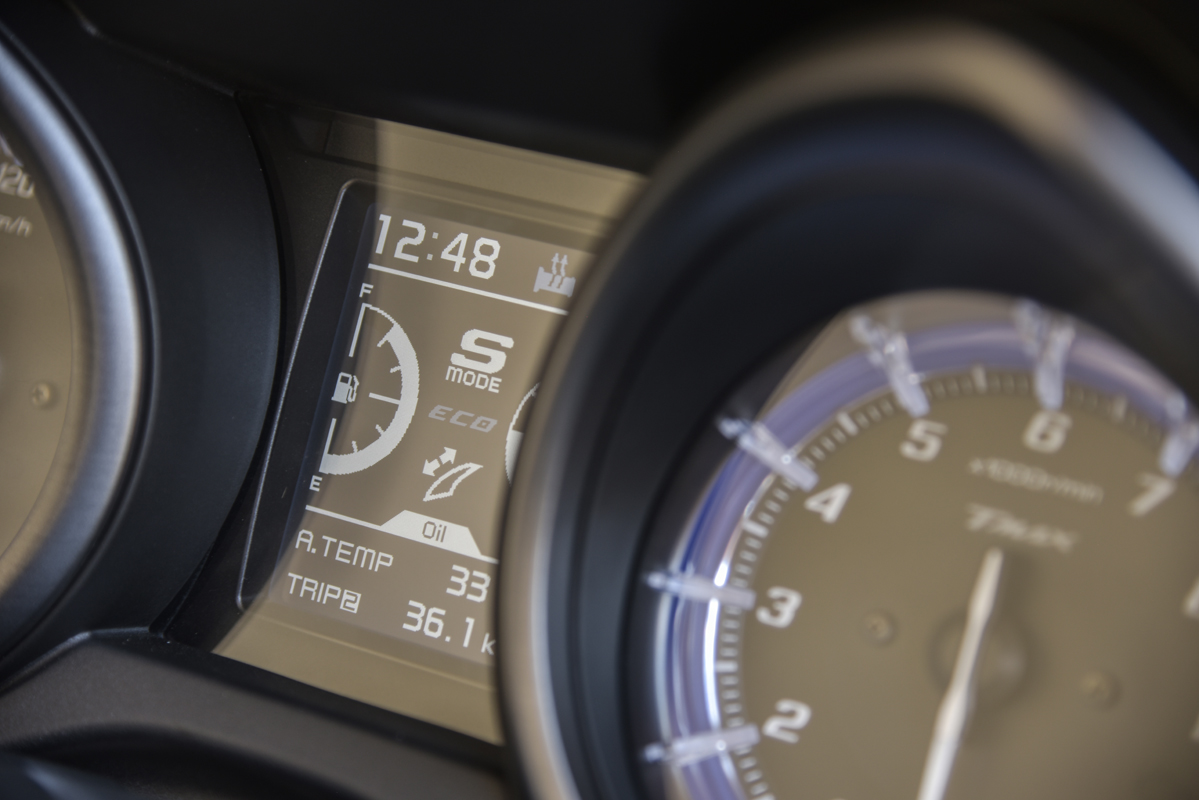 The TMAX doesn't disappoint when the road gets all twisty either, thanks to wide rubber, 41 mm upside-down front forks, a clever rear shock setup and a low centre of gravity. When the going gets fast the TMAX feels stable, and leans predictably through the bends. Grip is never a problem—although ground clearance quickly runs out when the centre stand ruins the party. But other than that, the TMAX is a pleasure to ride on a twisty road.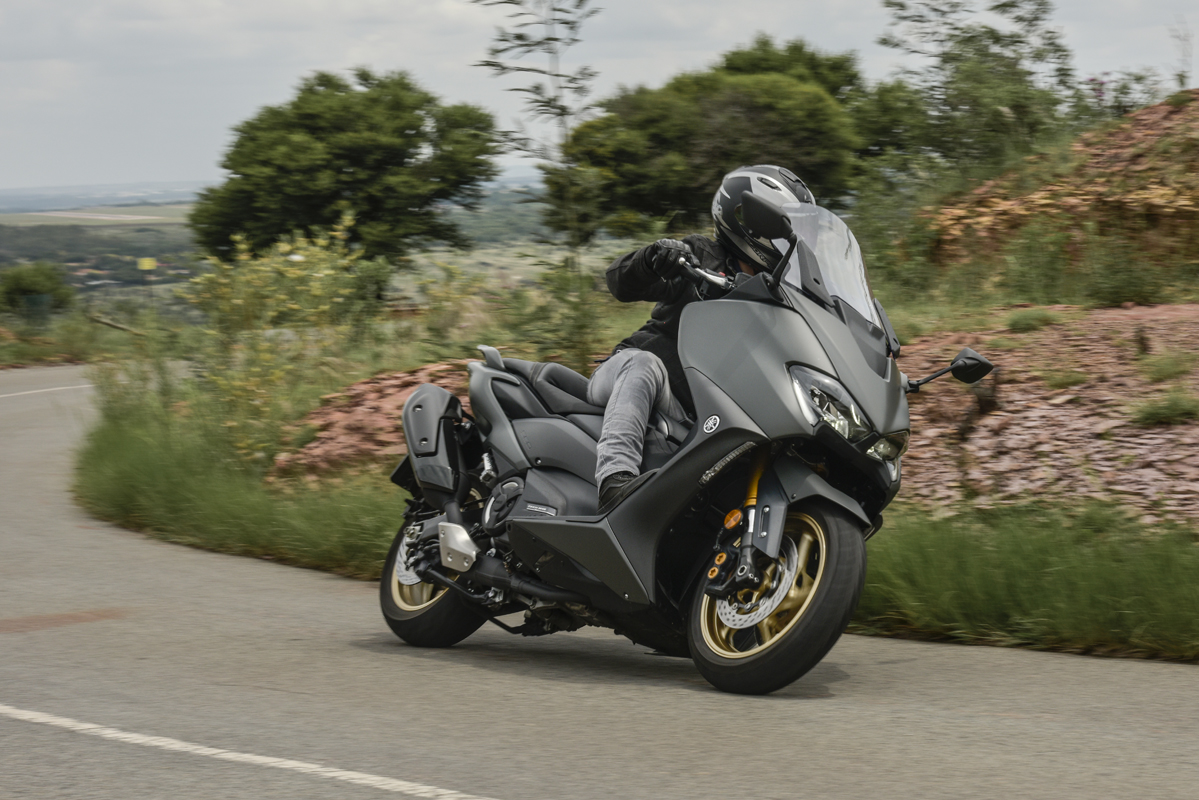 I was especially impressed with the low-speed manoeuvrability during lane splitting and around the usual city commute situations—especially because the TMAX weighs a hefty 218 kg wet. Traction control, along with ABS, was a big help in the wet, and made my commute effortless. On the bumpy stuff, the TMAX's suspension soaked up enough harshness to make it comfortable for myself and a pillion.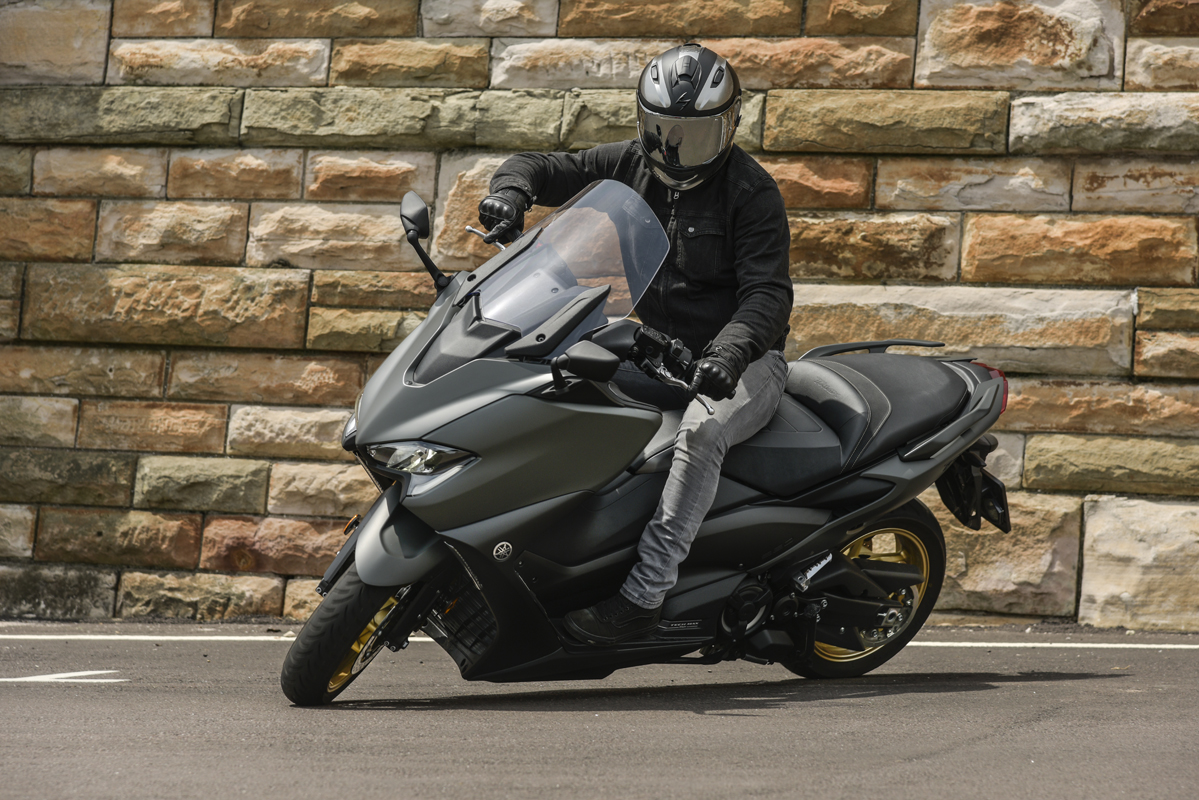 Yamaha have equipped the TMAX with YZF-R1 anchors for brakes, and in a stylish gold finish too. One finger braking is a thing on the TMAX, and I'm happy to report that the ABS isn't too intrusive, but at the same time, does its job when it needs to.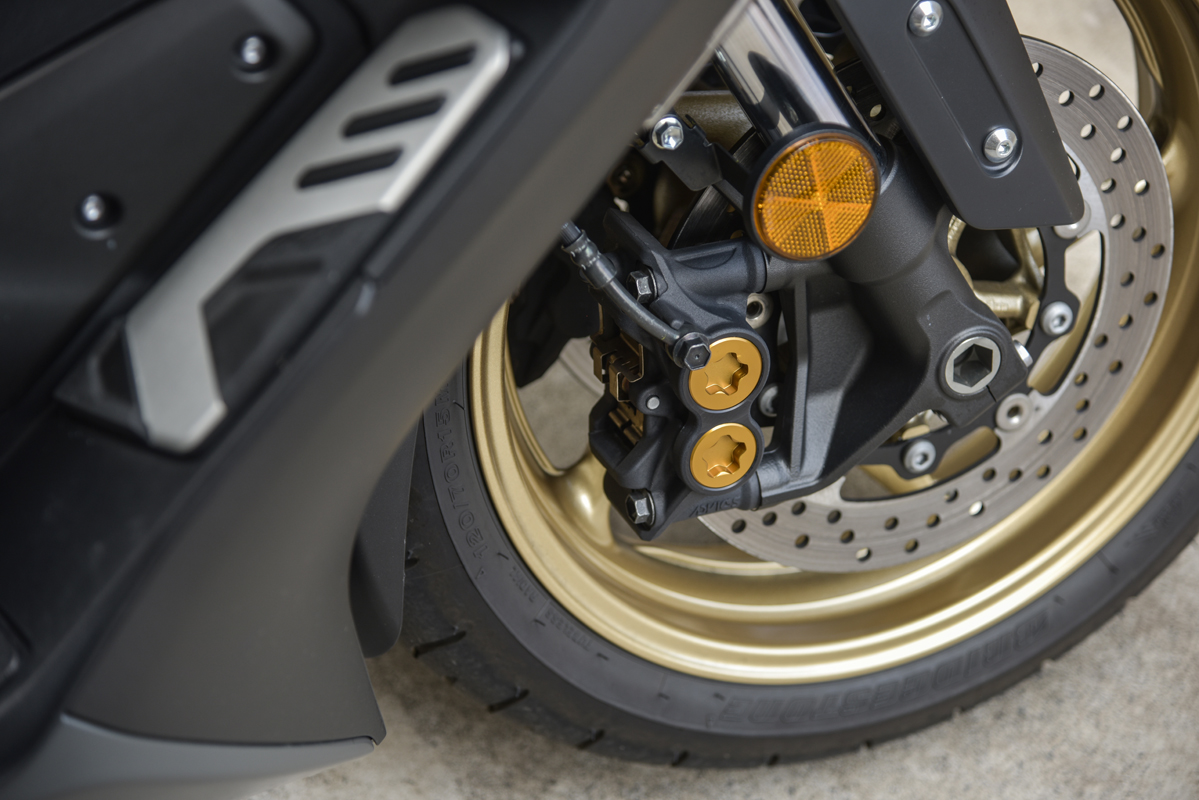 There are always going to be motorcyclists who ignore scooters and think they are 'not proper motorcycles'—but the TMAX shouldn't be ignored. This awesomely practical bike makes for a brilliant and easy-going daily runner, with longer legs than your average scoot.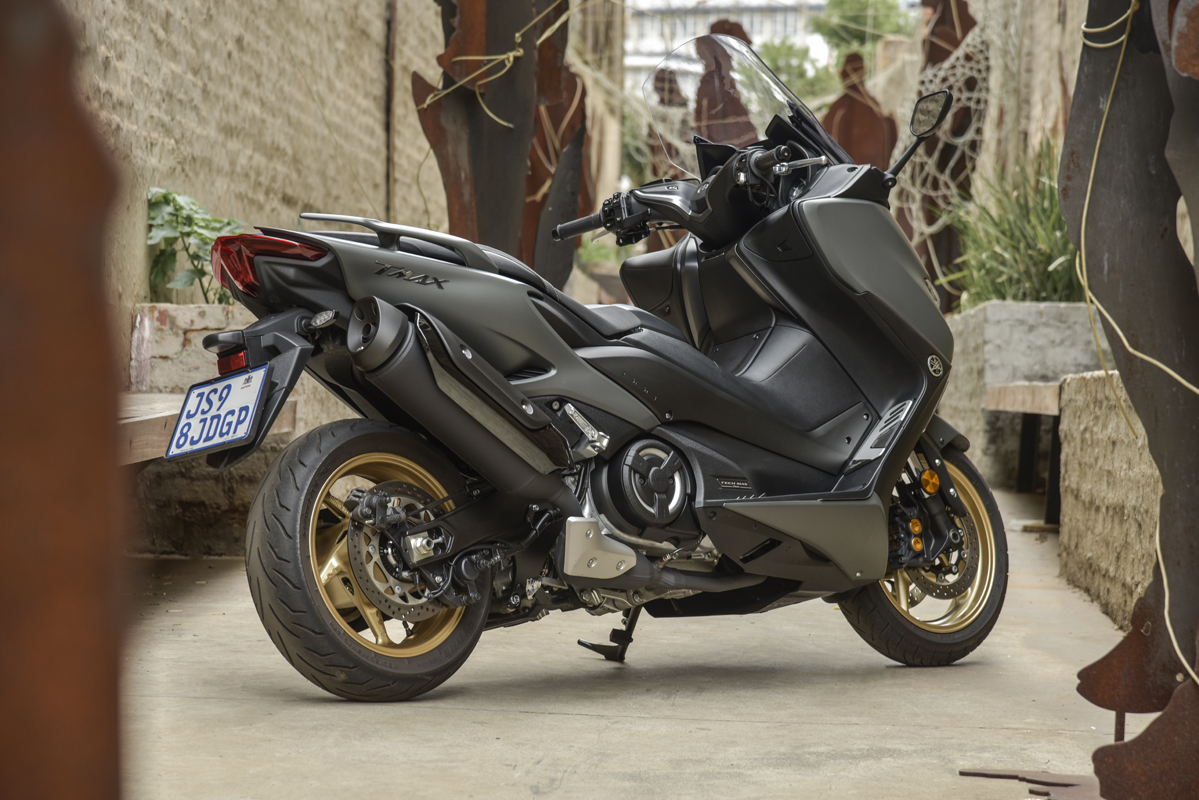 All that tech, performance and convenience comes at a price though; at R214,950, the Yamaha TMAX Tech Max sure ain't cheap. But once you ride it, its excellent handling and high fun factor might just convert you to maxi scooters.
Yamaha T-Max 560
For more information on the bike that we tested in this article, click on the link below…