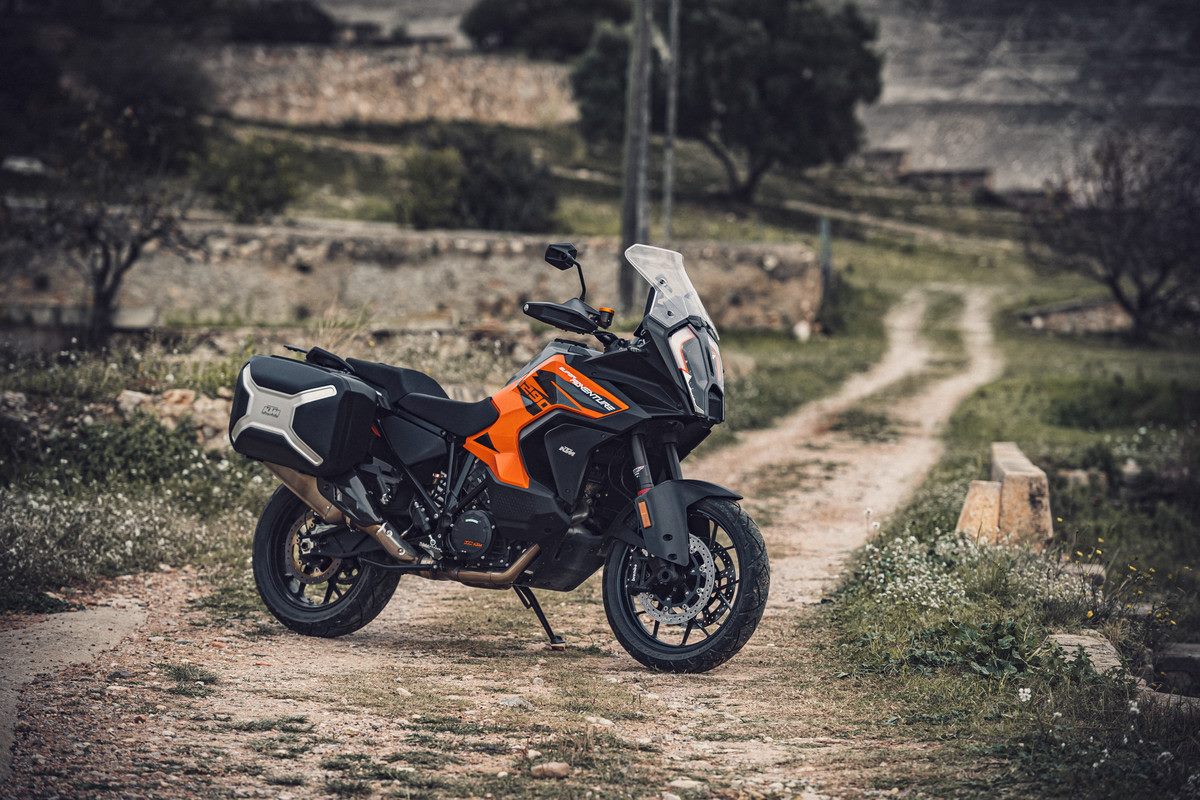 The motor industry speaks of 'Facelifts' when they freshen and update existing models. To call KTM'S new 1290 Adventure S a facelift of the previous model, would do it a huge injustice. What we have in the latest incarnation of this versatile hyper Adventure bike, is a totally re-engineered motorcycle, showcasing KTM's burgeoning technical prowess, no doubt benefitting hugely from their foray into MotoGP. So, what has changed on the new Adventure S? Or perhaps we should rephrase that and ask what hasn't changed. Let's dive right in and see what the re-incarnated 1290 Adventure S is all about.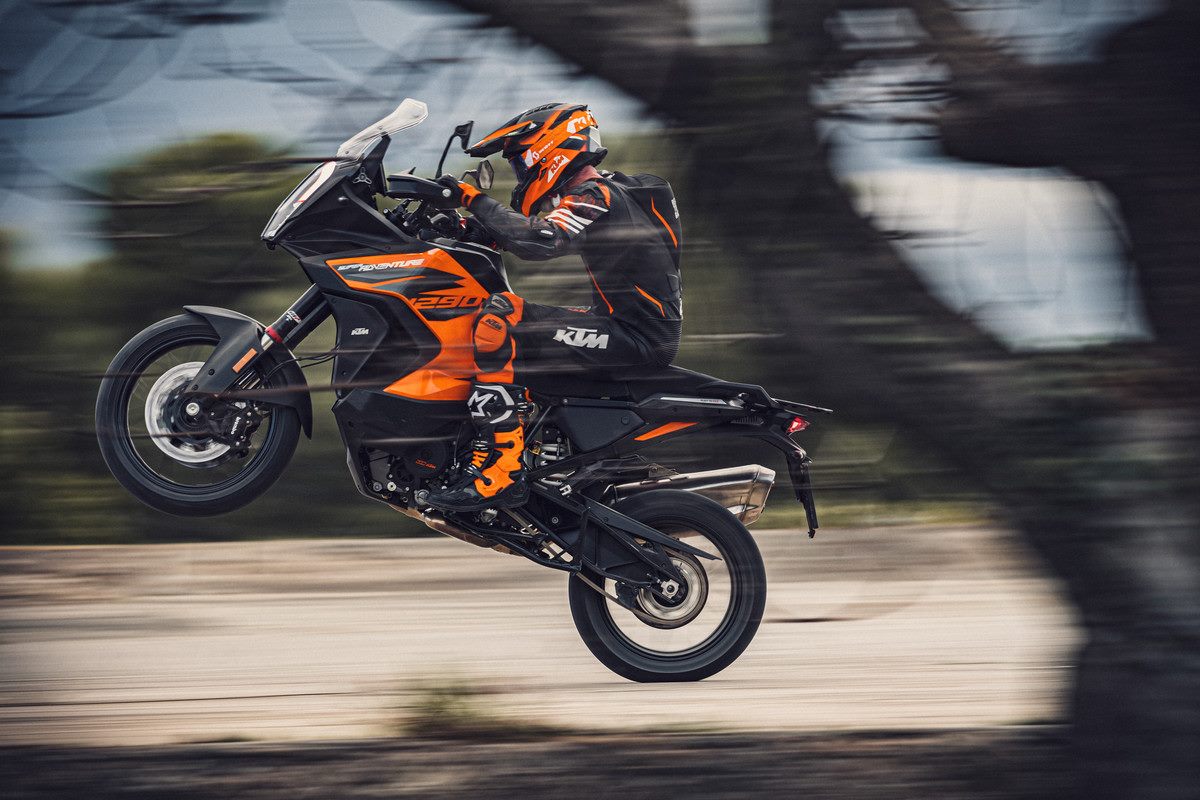 In line with its Sports Touring focus, the 'S' takes adventure sports touring to previously unchartered territory. A new chassis relocates the engine subtly in the frame and moves the steering head back 15 mm with the express purpose of enhancing agility, but, by lengthening the lattice swingarm, not compromising on stability. The subframe is marginally lower to accommodate shorter riders with a lower seat height. Talking seat, it is a two-tiered affair with 20 mm of height adjustment and, together with subtly re-engineered bodywork, all designed for enhanced rider comfort over the long distances that this bike will revel in.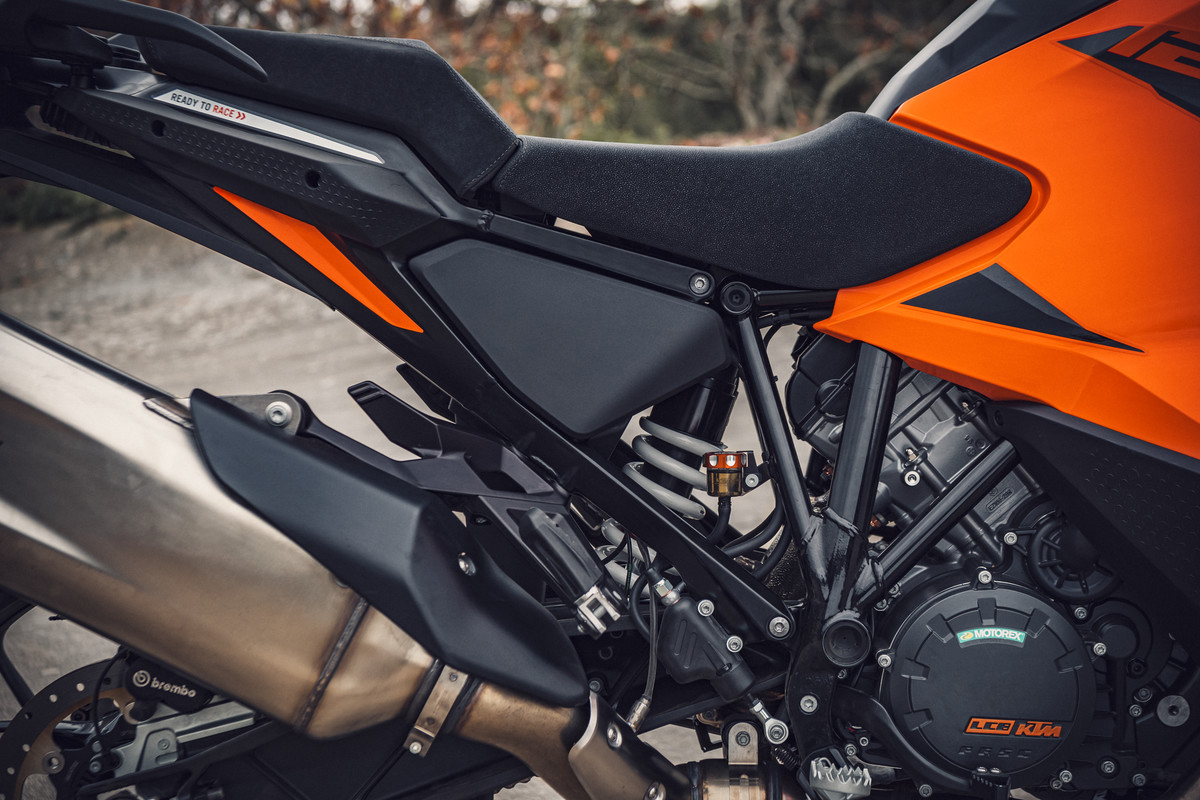 This includes a 23L, keyless fuel-cap tank. A height-adjustable windshield has been wind tunnel tweaked to provide a cockpit, enhanced by an all-new TFT display and adjustable levers into a sweet place to smash huge kays. Agility, cornering feel and comfort combine to create an enhanced and balanced riding experience.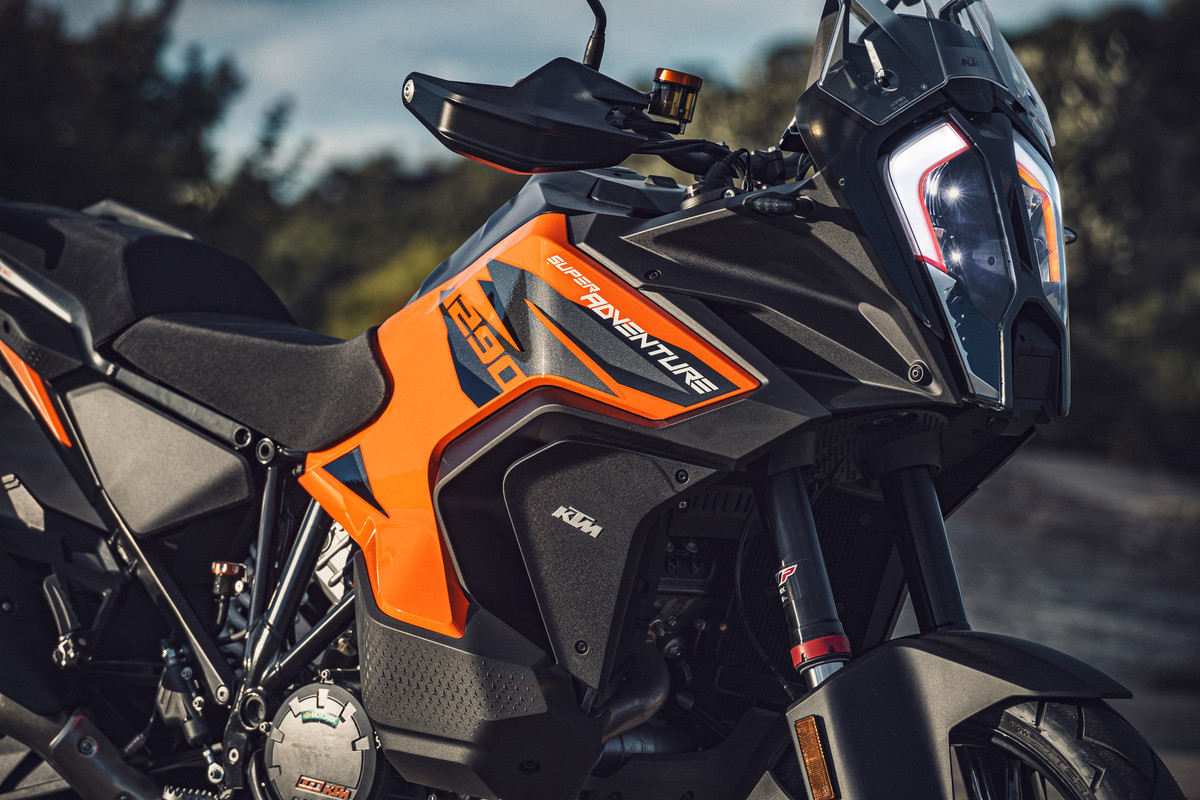 To expand a bit on the aforementioned TFT display. The Connectivity Unit pairs to your smartphone to allow you to interact with the 7" display to stay informed what is going on with the bike. Handlebar switches allow tweaking your info on the move. All this techno-wizardry would come to nought if it wasn't backed up by a kick-ass engine. That, my friends, has never been, and is still not, a problem for KTM.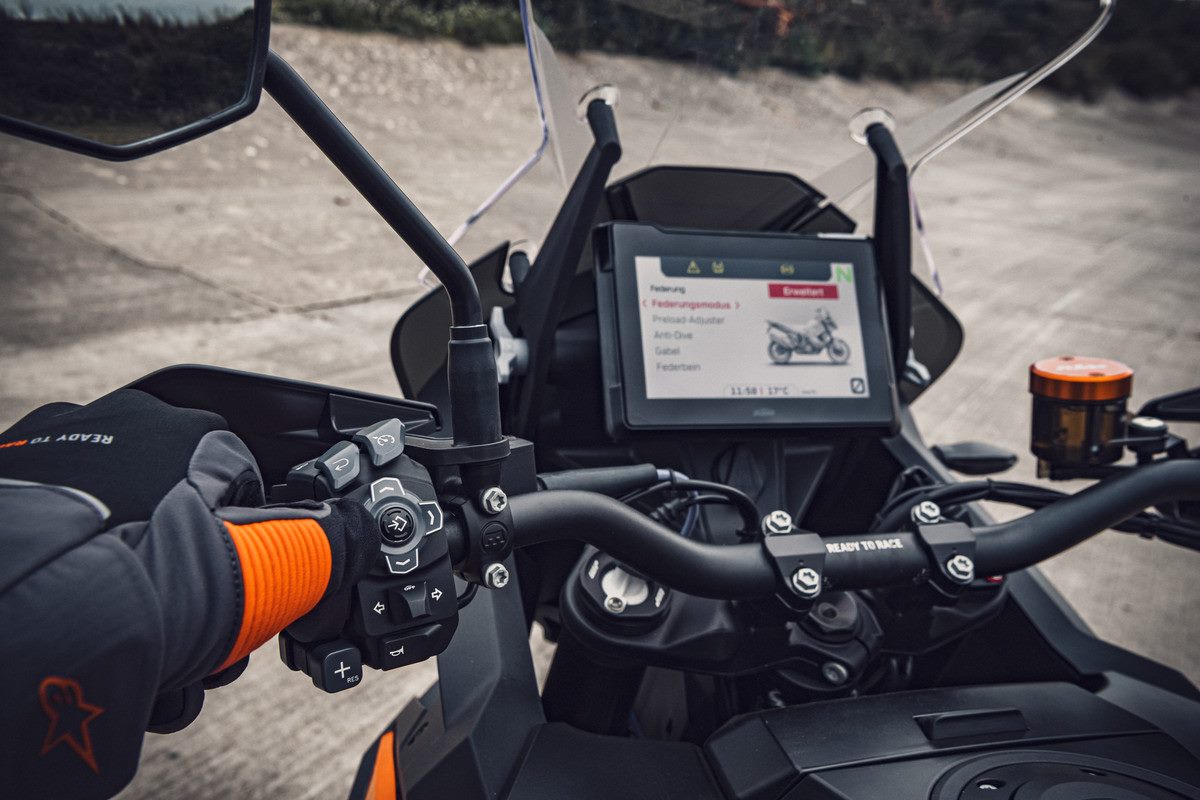 The Euro-5 compliant V-Twin mill pumps out a massive 160 hp and 138 Nm of torque from a completely reworked motor. 1.6 Kg's lighter, courtesy of thinner engine cases and tweaked oil and water circuits, which enhance cooling. KTM's already have industry-leading slick and smooth-shifting transmissions, yet the gear mechanism has been enhanced to be even more compatible with their optional Quickshifter.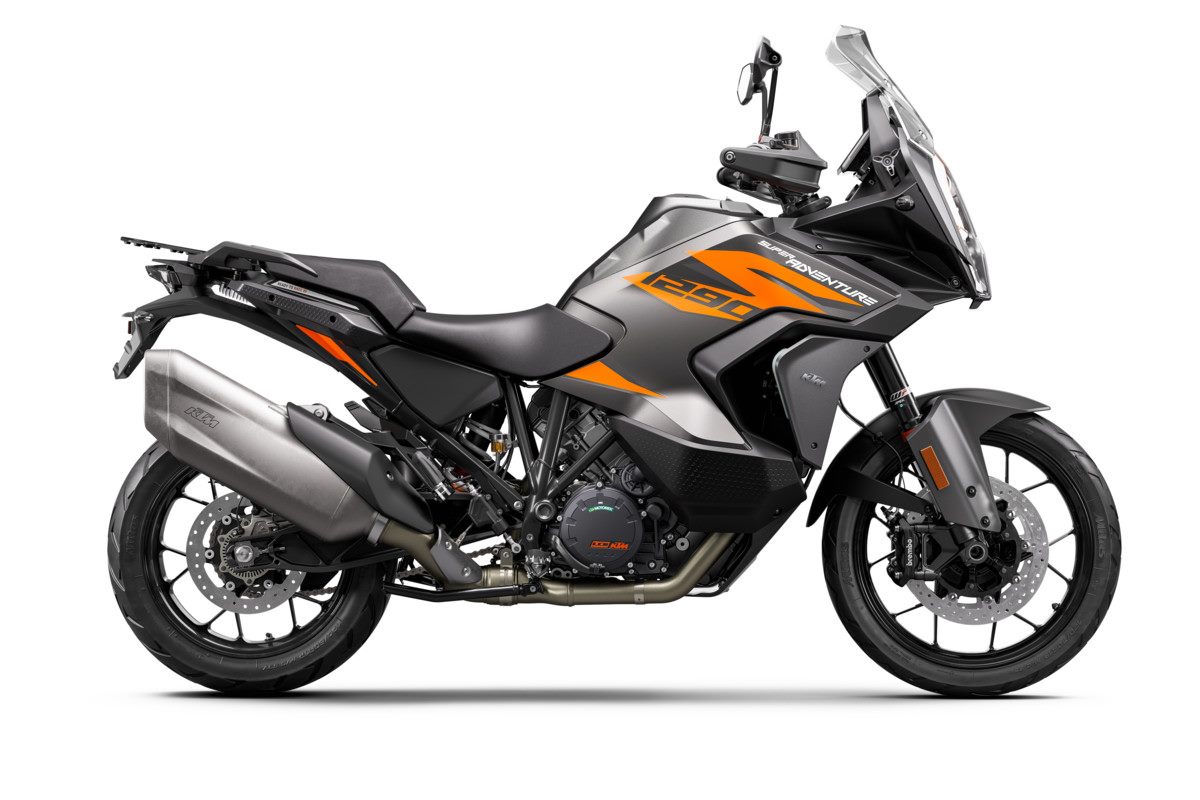 A criticism of these big twins is excessive engine heat washing over-riders. Redesigned bodywork and new twin radiators address this issue. Re-designed pistons further enhance reliability and improve fuel consumption between the impressive 15000 km service intervals. State of the art electronics hangs all the mechanical prowess together. Lean angle sensitive traction control, cornering ABS and Offroad ABS are all made possible through the Bosch Motorcycle Stability Control.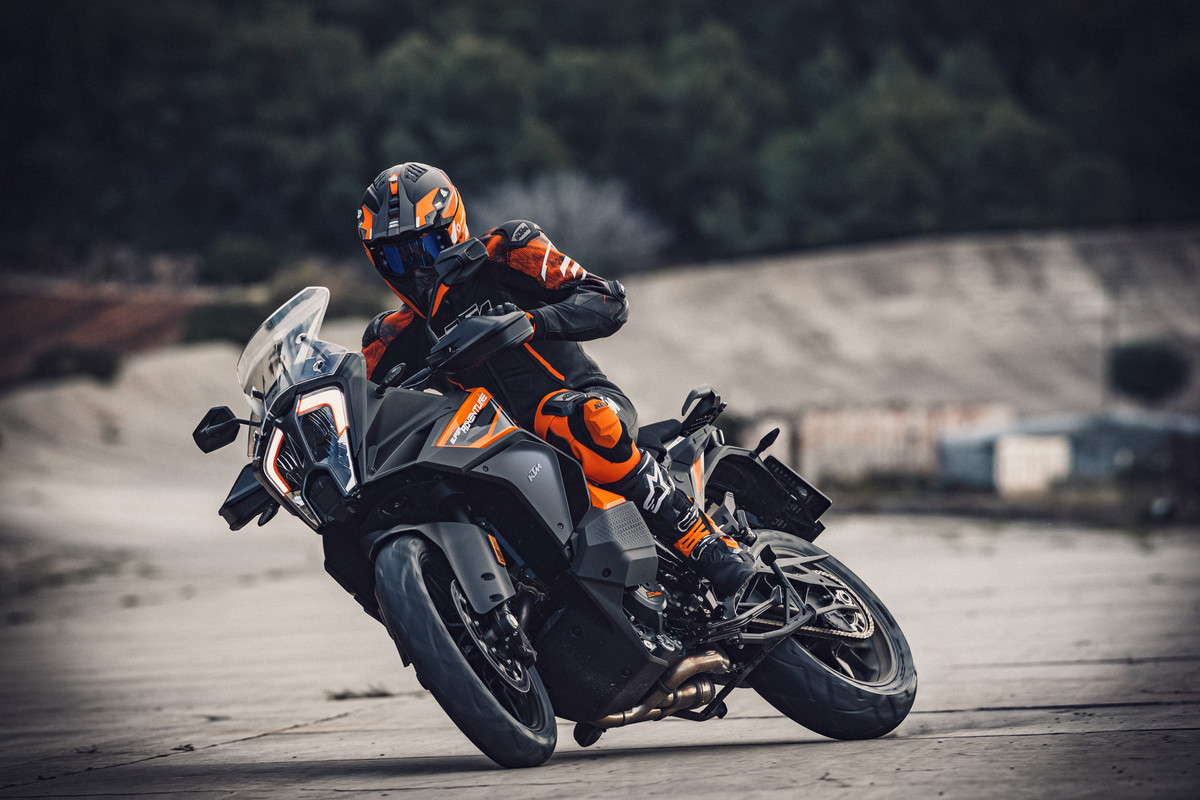 Decent suspension is essential to optimise the performance of a 160 hp motor and KTM's new S does not disappoint. WP's APEX Semi-Active Technology keeps things tidy by tuning damping from rider feedback into the 6d lean angle sensor. Devilishly clever!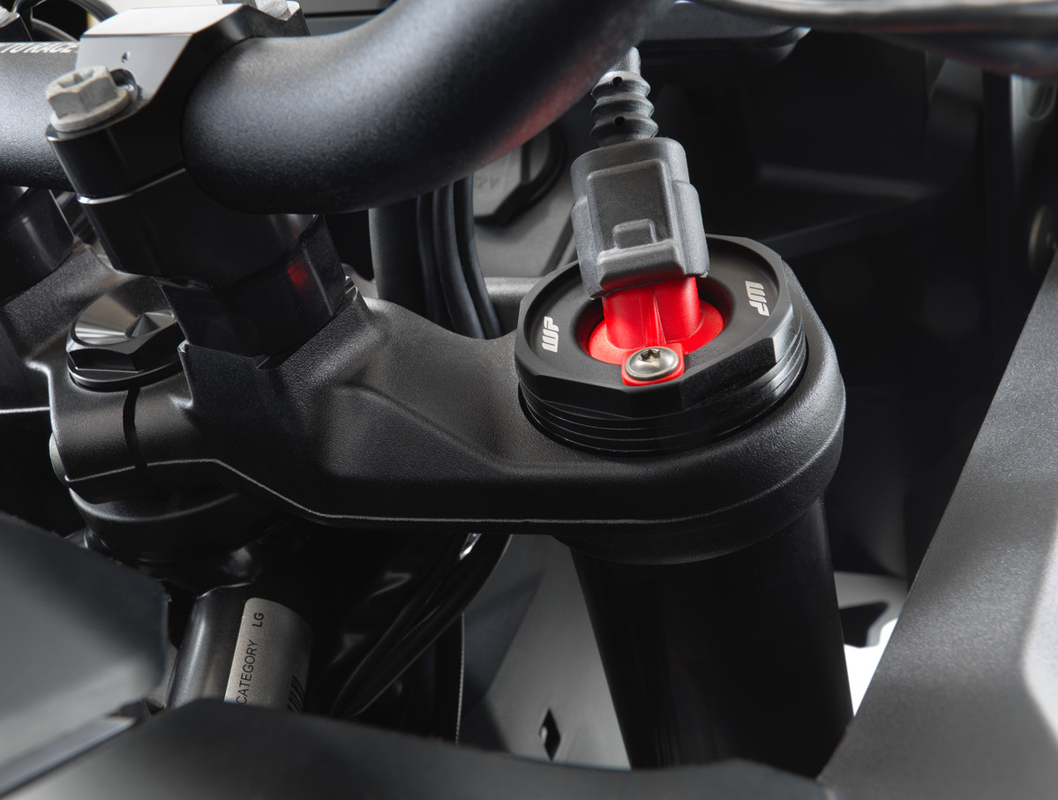 KTM are well known for their incredible Powerparts bits, made model-specific, to enhance the riding experience even further. The 1290 Adventure S has a Suspension Pro package in the Powerparts catalogue that allows individual damping adjustment for the front and back suspension, as well as automatic preload tuning and anti-dive settings. An all-inclusive Tech Pack gives you the Rally Pack with its specific ride mode, Traction control adjustment, hill hold control, Motor Slip Regulation, Quickshifter and even an adaptive Brake Light.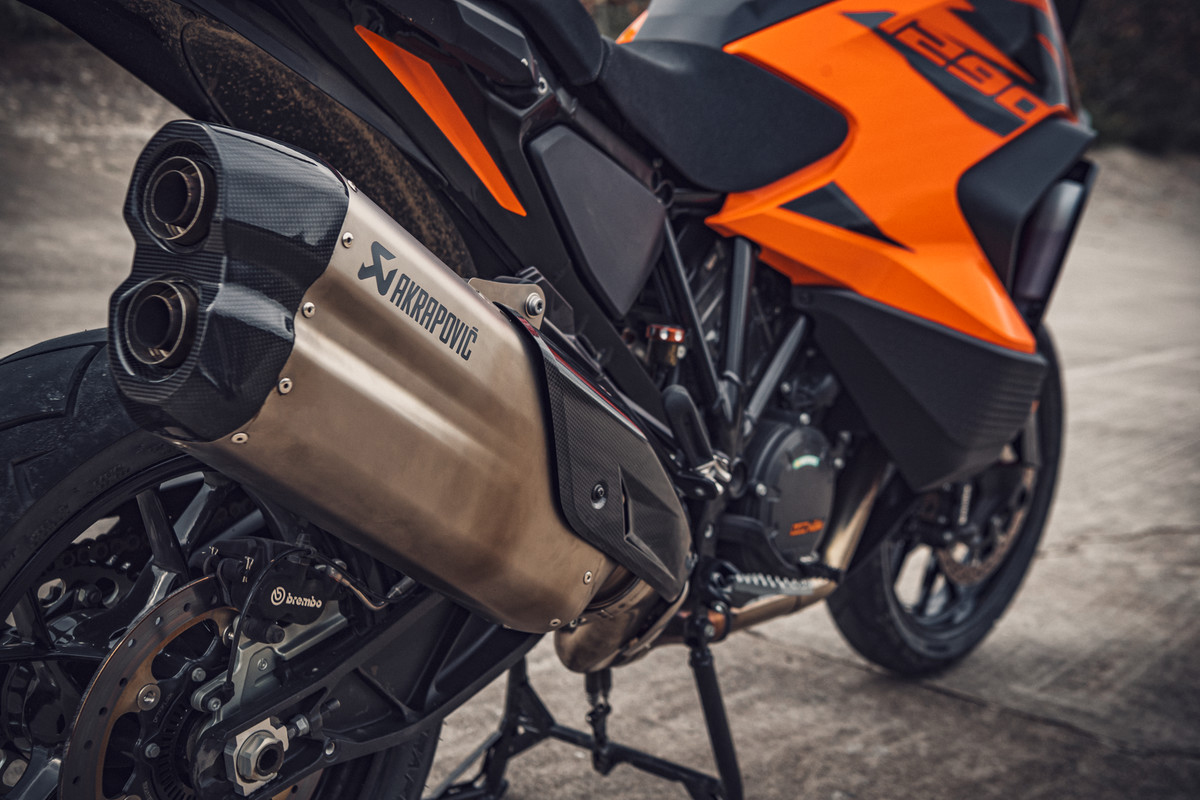 It actually boggles the mind to see how KTM has taken a bike that was totally not broken and 'Fixed' it, in the most astounding fashion. Nothing has escaped the attention of their engineers in building an incredibly refined and complete new package. Surely this will, in time, extend to their super popular R model too. Only time will tell, in the meantime, we will get our jollies on the new S.
For more information visit: www.ktm.com