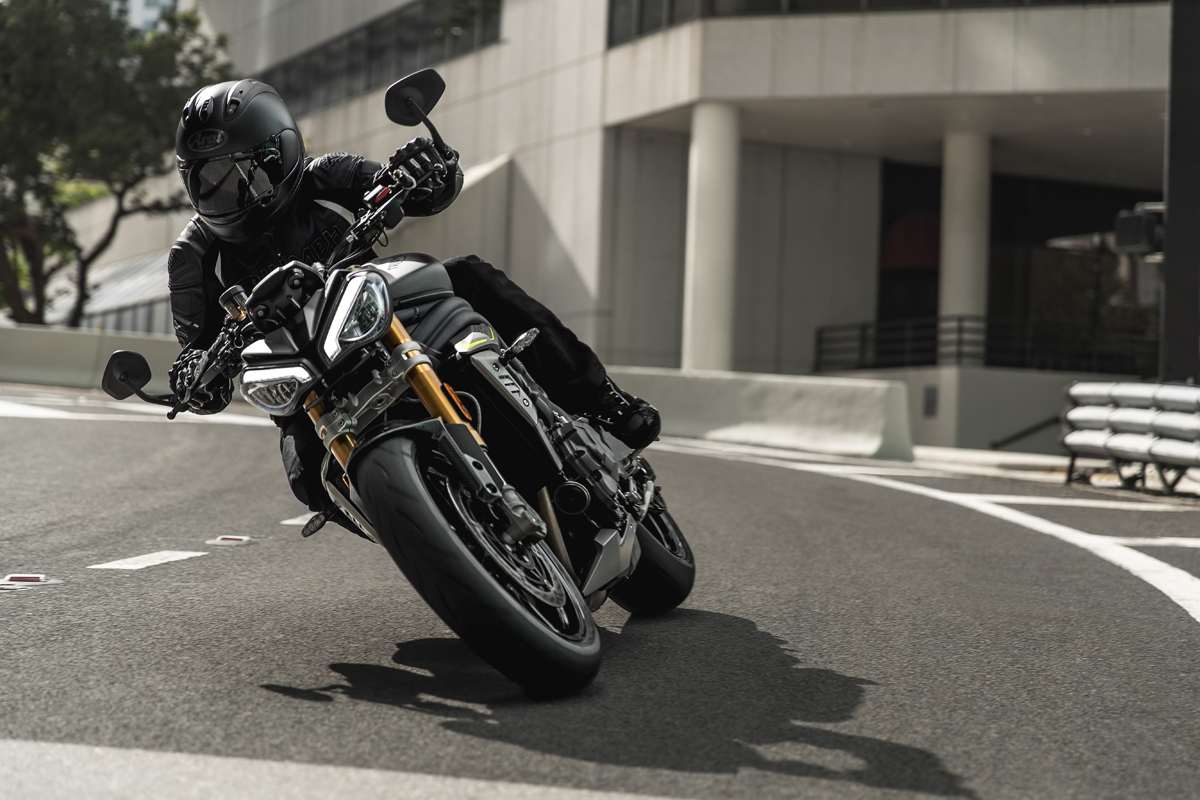 An extra 110 cc, 30 more horsepower, 10 kilos lighter—the new Triumph Speed Triple 1200 RS is here, and it's not messing around. For 2021, Triumph have taken the performance naked recipe that they've been cooking up since 1994, and pushed it one helluva notch up.
The new Speed Triple is a ground-up redesign, and, unsurprisingly, the most powerful one yet. Taking insights from their Moto2 development programme, Triumph have redesigned the Speed Triple's beloved triple-cylinder motor from the ground up. Capacity is up to 1,160 cc, delivering 180 PS (177.5 hp) peak power at 10,750 rpm, and 125 Nm peak torque at 9,000 rpm.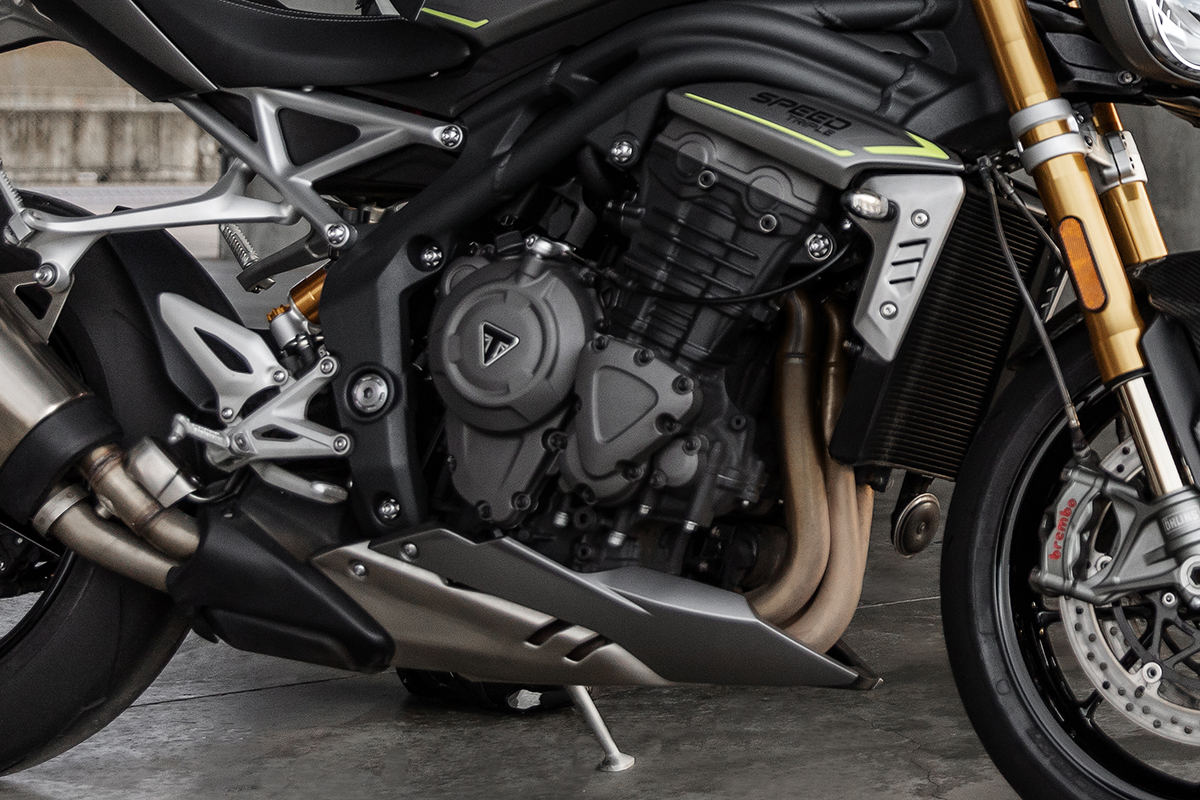 That's 29.5 horses and eight more Newton metres than before, and the redline's been bumped up by a further 650 rpm to 11,150 rpm. Despite the boost, the motor itself is actually more compact than before, and seven kilos lighter, too.
Triumph have made it more responsive too (not that it was a slouch before), with 12% less powertrain inertia for a quicker and sharper pick-up. And with a new intake and exhaust, it even howls better than it did before.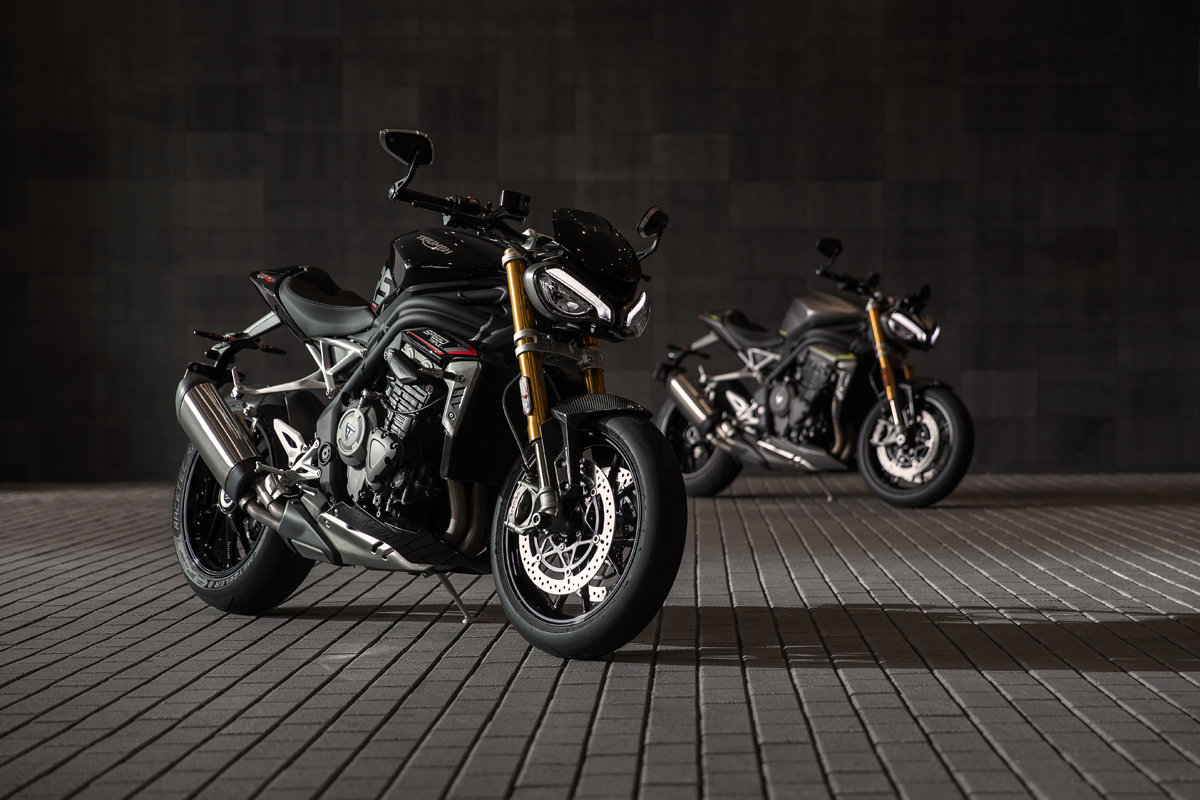 Other performance upgrades include a new and improved slip and assist clutch, that uses a high-tech friction compound to reduce the number of clutch plates—bring the mass down and improving feel. The six-speed box has been revised too, the cooling system's been tweaked, and there's a new ignition system that uses twin-tip spark plugs for better durability.
Triumph didn't just redesign the Speed Triple's motor—they went to town on the chassis, too. This one has a lighter cast aluminium frame with a 17% weight saving, bringing the whole bike down by 10 kilos, to a wet weight of just 198 kg. The result is a power-to-weight ratio that's 25% better than before, and almost double the original 1994 model.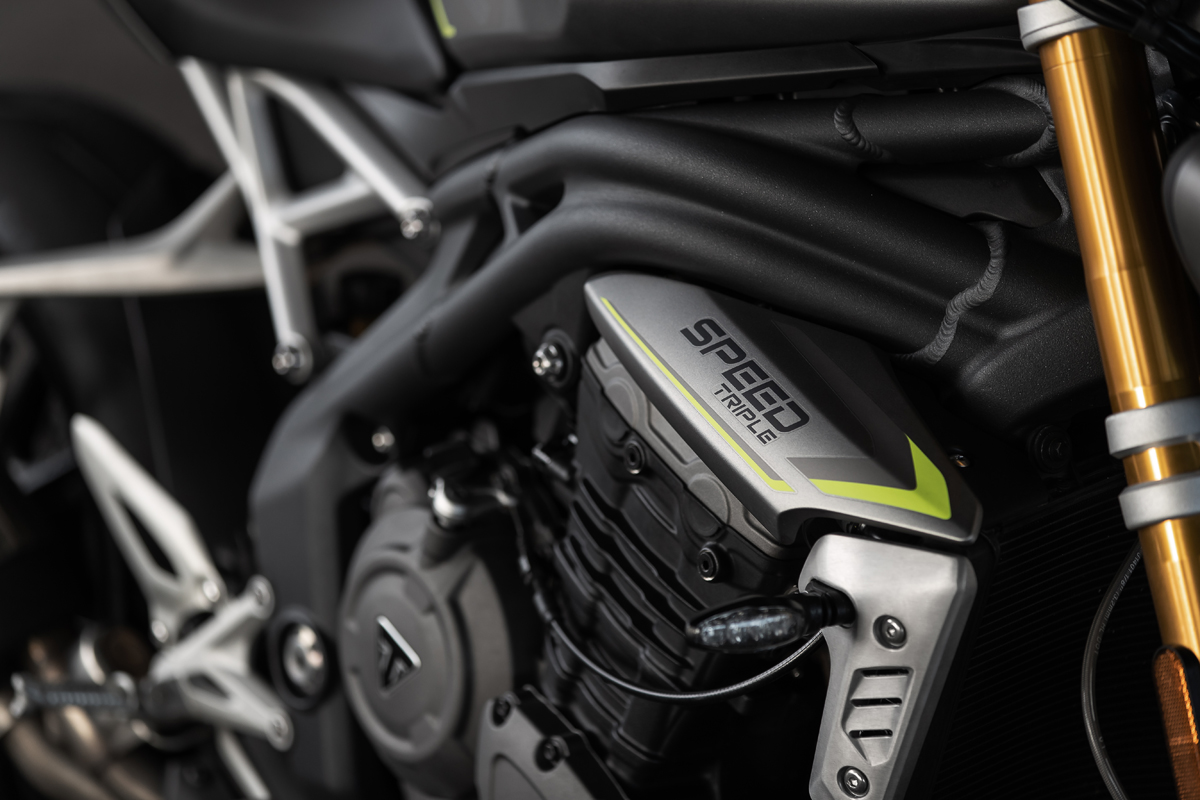 The focus was on making the new Speed Triple not only lighter, but also more agile and dynamic, with its mass more centralised than before. Triumph reworked the ergonomics too, with 13 mm wider handlebars and relocated foot pegs for a more dominant and aggressive rider triangle. The seat's been redone too for comfort, and stands tall at 830 mm.
The 'RS' spec always denotes top-shelf components, and the Speed Triple 1200 RS is no different. It gets fully adjustable Öhlins suspension at both ends, tuned to the bike's lower weight and higher power, and developed to feel equally capable on the road as on the track.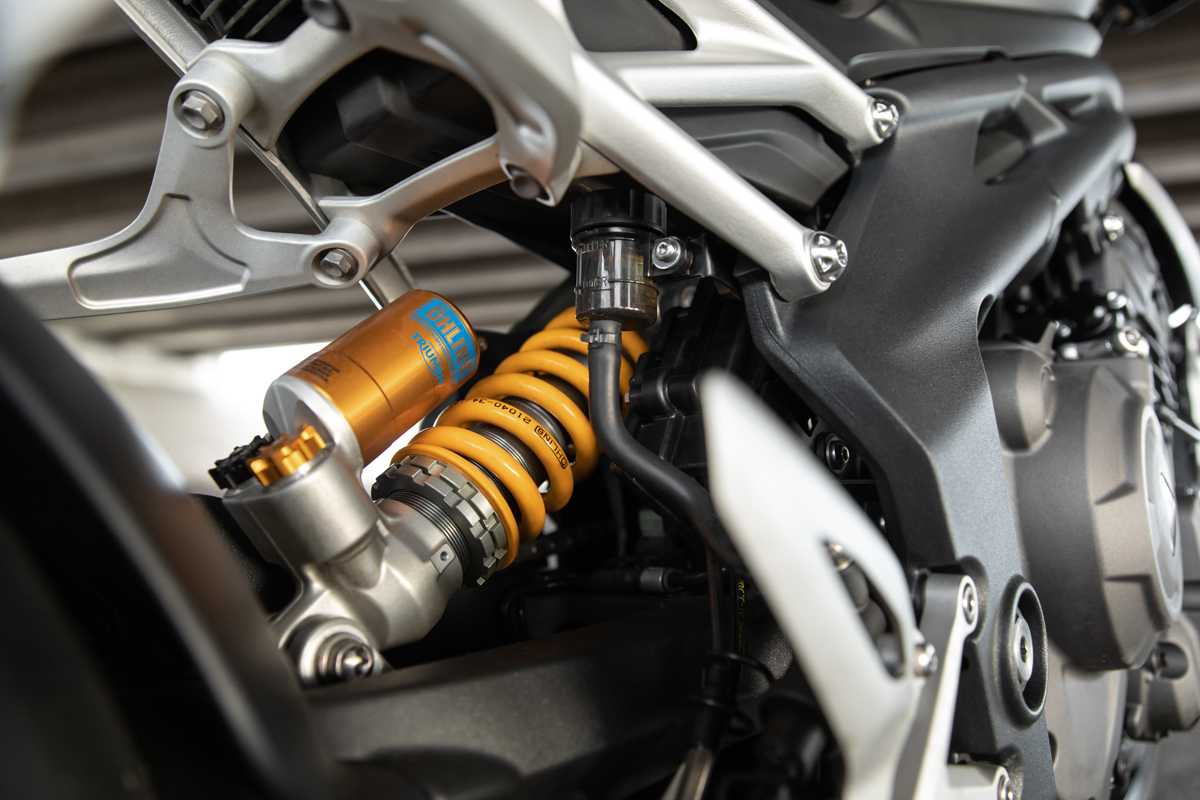 Braking is via Brembo's much-lauded Stylema system, with twin radial monobloc calipers and 320 mm discs up front, and a single twin-piston caliper out back. The front brake's matched to an adjustable Brembo MCS lever up top. Tyres are Metzeler Racetec RRs out the box, with Pirelli Diablo Supercorsa SC2s available as a factory option.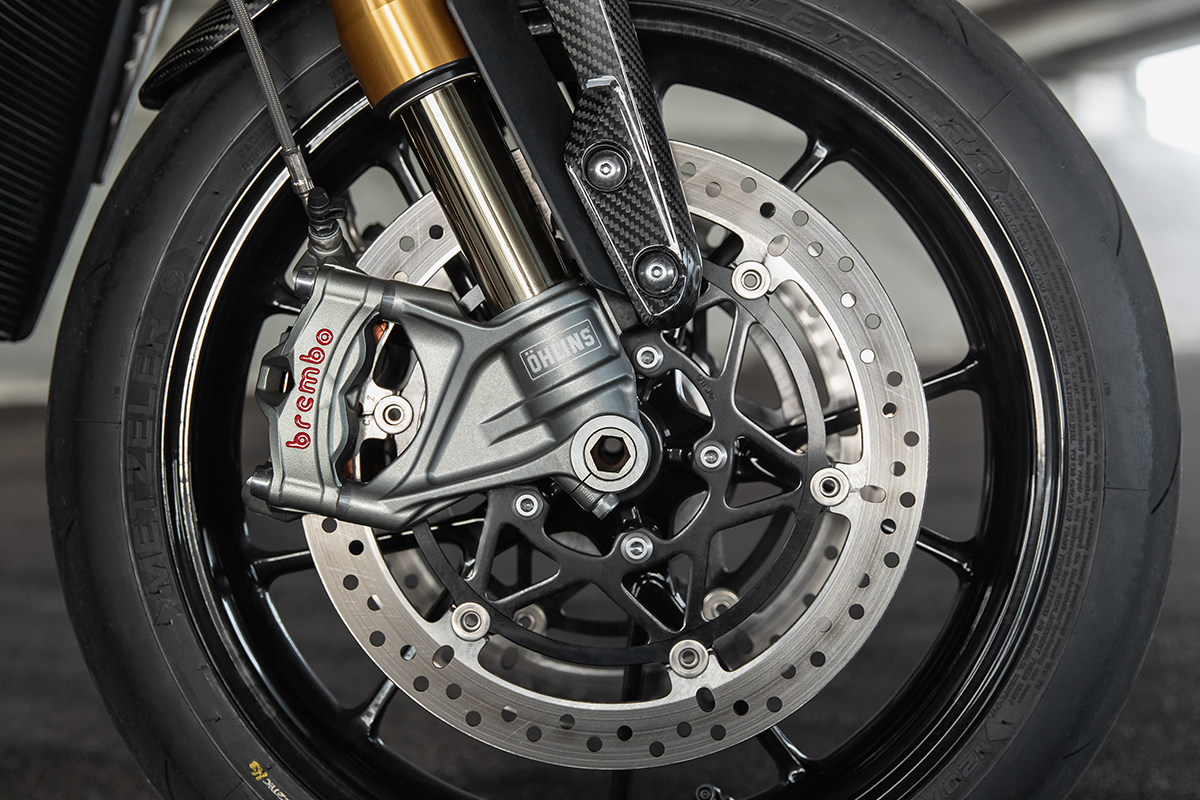 The electronics package is extensive too. A quick-shifter comes standard (new and improved), as does cornering ABS, with a new six-axis inertia measurement unit (IMU) for better control. The IMU also takes care of the Speed Triple's new cornering traction control, which manages the slip rates and torque control at any lean angle. It's also switchable between two levels of intervention: 'Road' and 'Track.'
Rider modes include 'Rain,' 'Road,' 'Sport' and 'Track,' with the option to switch off traction control completely, or adjust it, and ABS, independently from the rider modes. Front wheel lift is baked in too.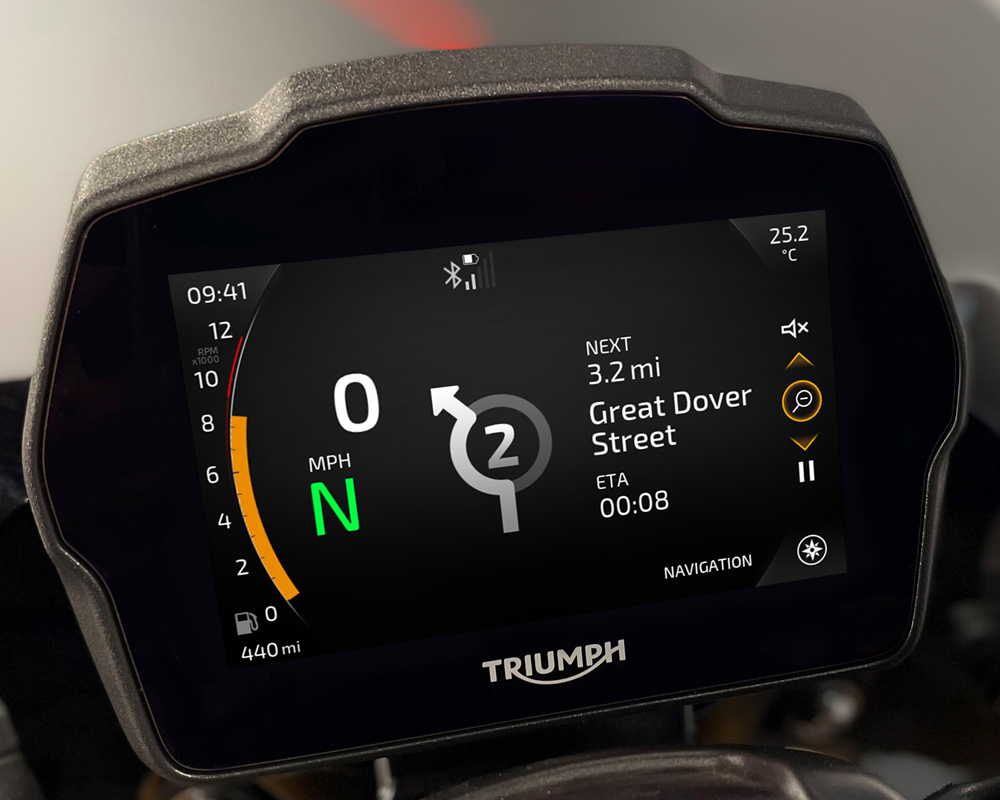 We're fans of Triumph's TFT system and on-board menus, and the Speed Triple RS takes that up a notch, too. The 5" TFT display is a new unit, with a special 'optically bonded' screen that's designed to reduce reflection. Triumph's full Bluetooth connectivity suite is included for interfacing with the My Triumph app, and there's a lap timer too for track use.
The Speed Triple 1200 RS has LED lighting all-round, with a redesigned daytime running light up front, and self-cancelling LED indicators. There's a lightweight Lithium-ion battery under the hood, the ignition is keyless, and cruise control is standard. The switches also feature not only back-lighting, but LEDs inside them to illuminate them.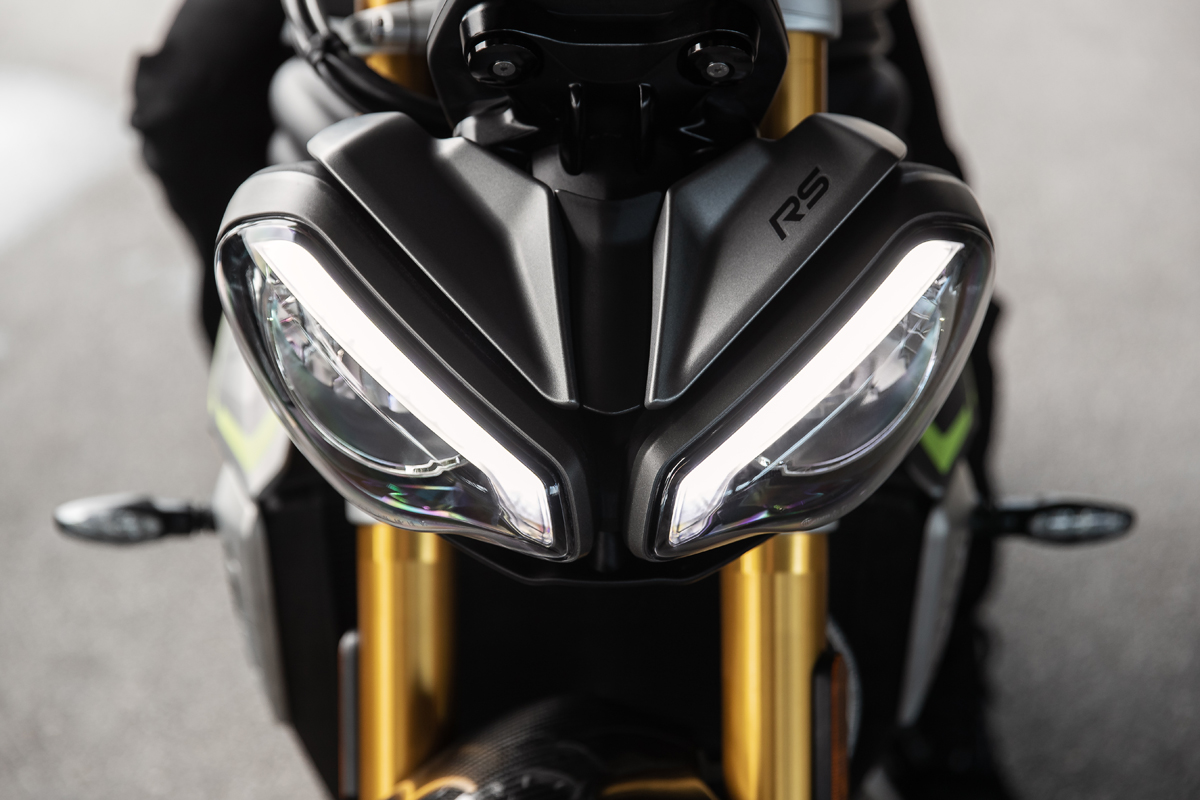 Chefs say that you 'eat with your eyes,' and that's true for motorcyclists too. Thankfully, the Speed Triple is still a looker—somehow more lean, but no less mean. Triumph have kept the Triple's controversial bug-eyed headlights, but they're sharper-looking than before. Look-fast bits include new cast aluminium wheels, a carbon fibre front mudguard and a colour-coded bellypan.
The new bodywork is compact and aggressive. Speed Triple die-hards might lament the lack of under-seat pipes, but we're loving the new low-slung muffler. The Speed Triple 1200 RS is coming in black, with red and silver graphics, or silver, with black, silver and yellow graphics.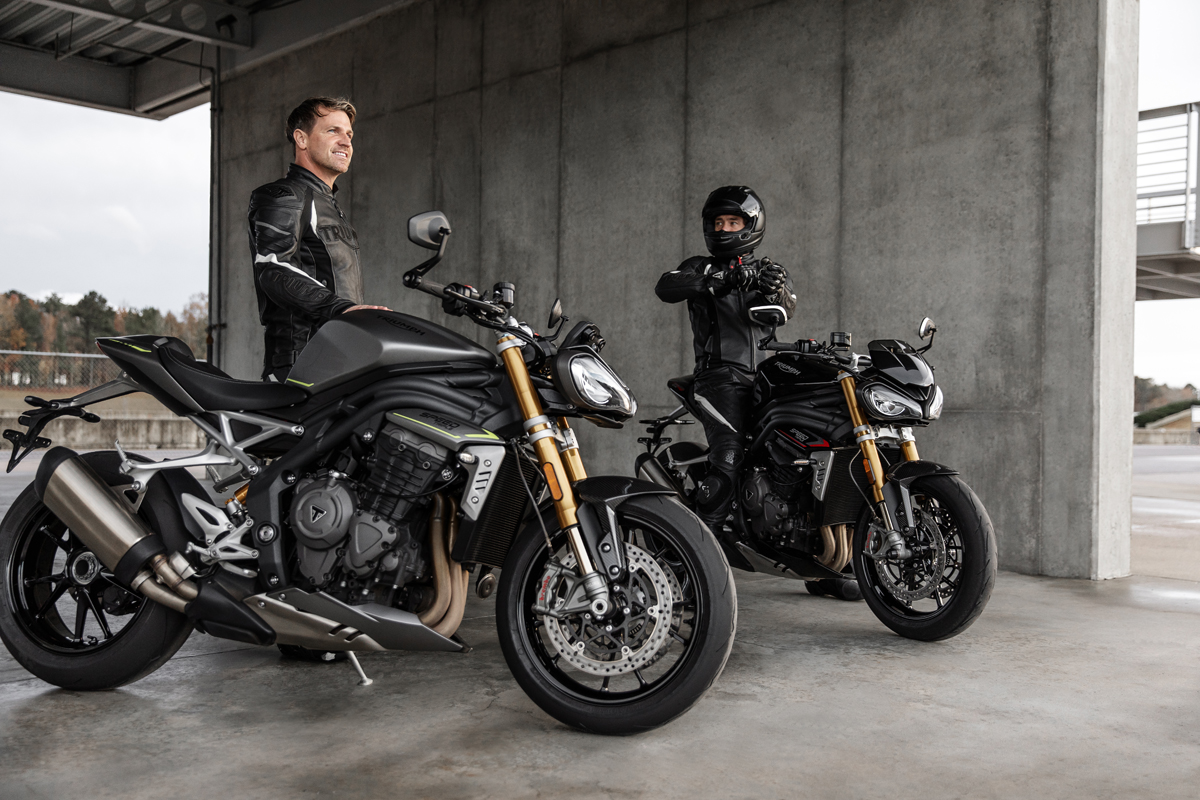 So it looks wild, it sounds savage (as we've gathered from Triumph's video launch), and it pushes the Speed Triple mythos to new levels. But how does it stack up to the competition? Pretty damn well, and better than its predecessor too.
In its category, the Speed Triple's 177.5 hp and 198 kg goes head-to-head with the BMW S 1000 R's 165 hp and 199 kg, and the Ducati Monster 1200 S's 147 hp and 210 kg. As it stands, it's only really outgunned by hyper nakeds like the 200+ hp Kawasaki Z H2 and Ducati Streetfighter V4.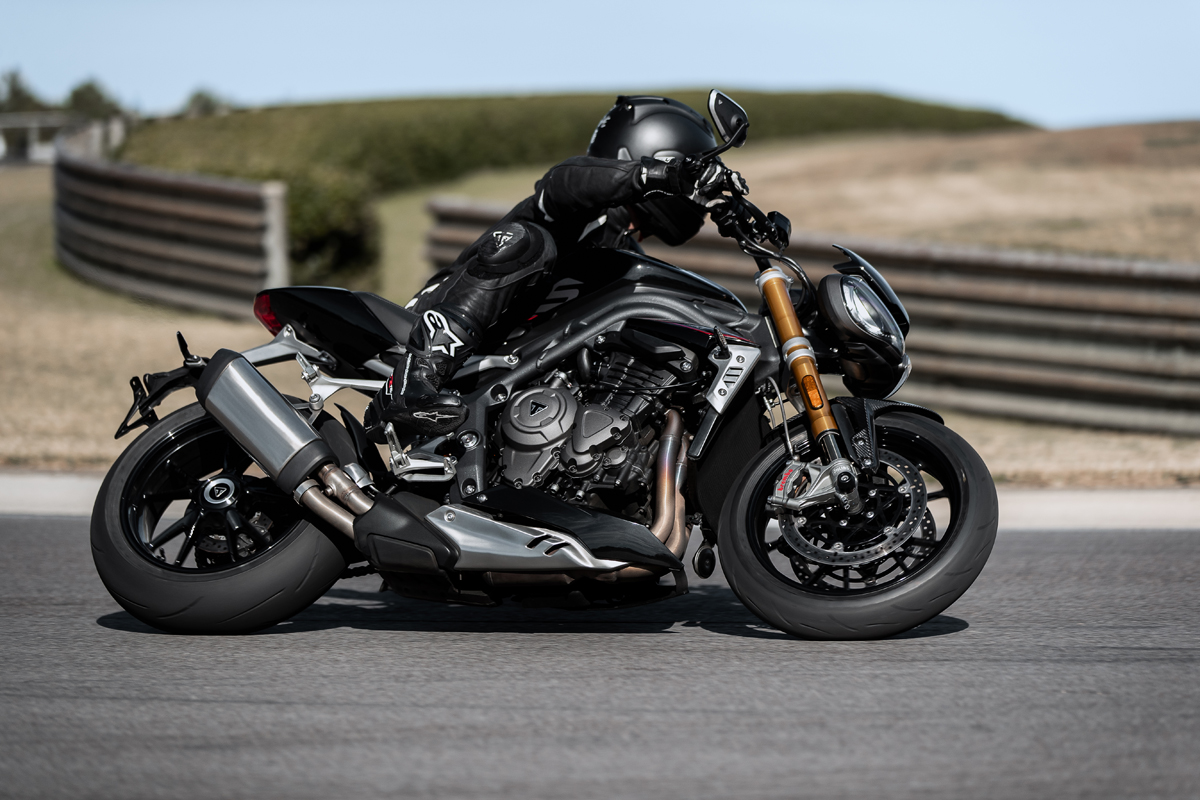 But anyone who's ridden any generation Speed Triple will tell you: it's not just the numbers that make a difference. Triumph's triple-cylinder motors are always a treat to whack open, and if the changes they've made work as well in real life as they look on paper, the 1200 RS should be buckets of fun to ride.
Triumph South Africa are expecting the Speed Triple 1200 RS to land in South Africa around the end of April this year, at R259,000, with a service interval of 16,000 km. Tempted?