The world at large seems to have become besotted with Super Heroes in recent years. I suspect that a wave of this 'besottedness' is about to wash over South Africa. In a typical stroke of what may well be described in years to come as 'genius', Fire It Up's Craig Langton has secured the rights to distribute selected Hero Motocorp Ltd products in SA. The less informed may well ask, 'who is Hero?'. Let me digress for a moment and put you in the picture.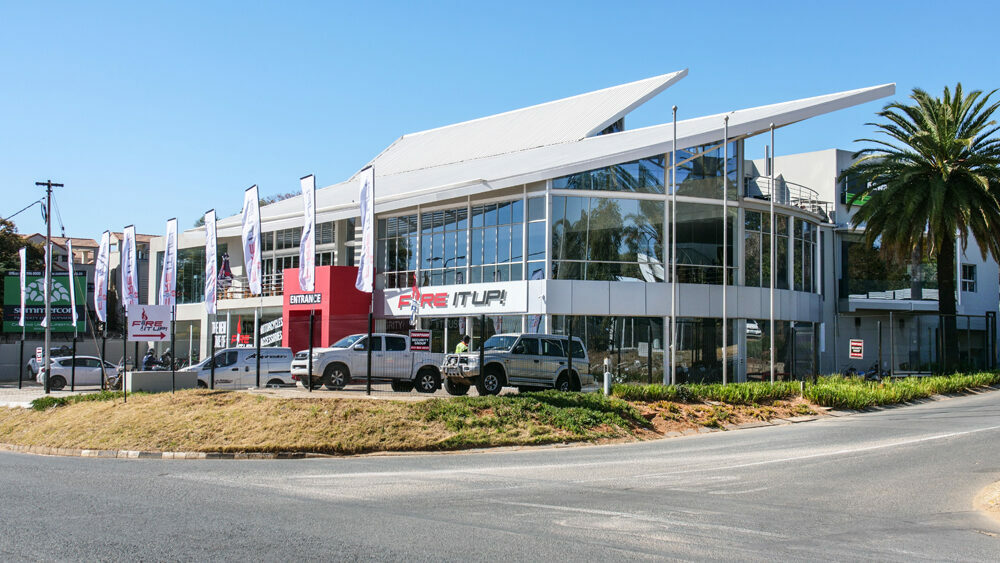 Founded in India in 1984, by the Munjal family, it rose to prominence as Hero Honda, in a joint venture with the Japanese juggernaut. This relationship lasted for 26 years, terminating in 2011, with the formation of the Hero Motocorp Ltd. For 20 years consecutively, Hero has been the top-selling motorcycle on the planet, eclipsing even their old JV partners, Honda. Holy Smoke, so how many bikes do they sell? Get this. Their best month, I think it was February 2018, saw 769,000 Hero motorcycles sold. In three months they sold 2,1 million bikes! To date, they have manufactured over 100 million motorcycles! They have 8 manufacturing plants, capable of building over 9 million motorcycles a year.
In 2019 they sold 7,8 million bikes, mostly in India, where they have a market share that hovers around 50%. Hero have established Centre's of Technology in Jaipur and also in Germany, with the sole purpose of furthering what they call, 'mobility solutions', employing more than 700 engineers.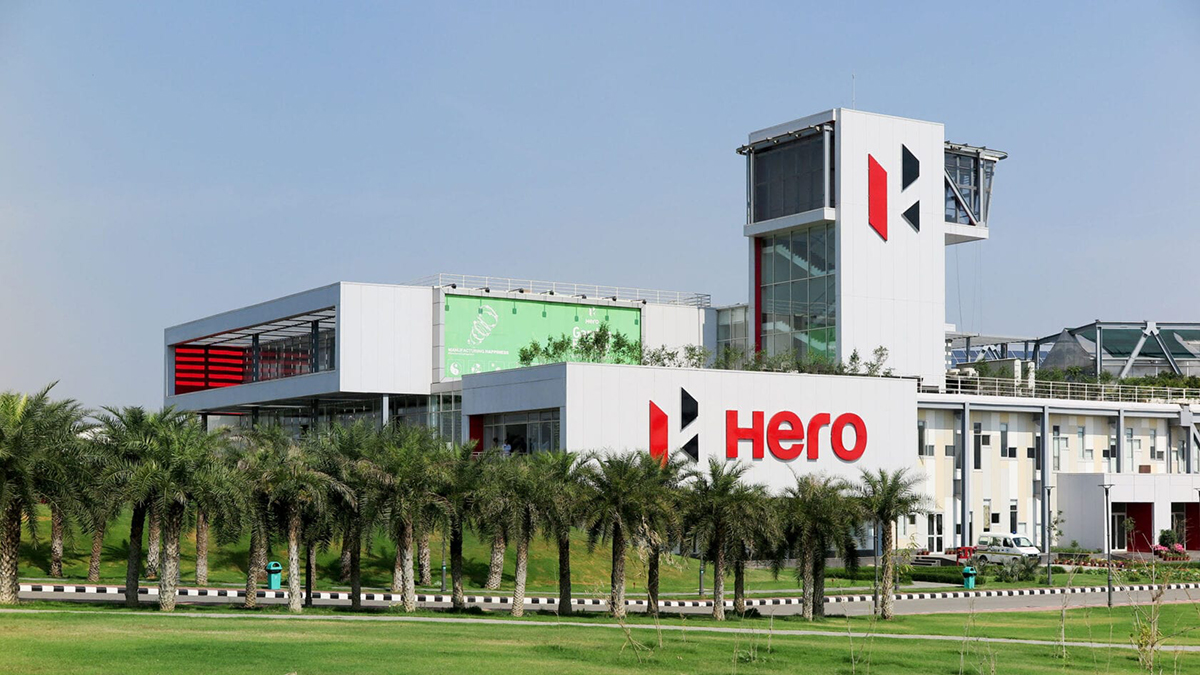 Enough statistics, I think you get the picture. Let me tell you what this means for motorcycling in SA. Apart from the potential to turn the commercial and agricultural motorcycle market on its head with excellent, affordable bikes, they have a bike topping the current range, that got my juices flowing.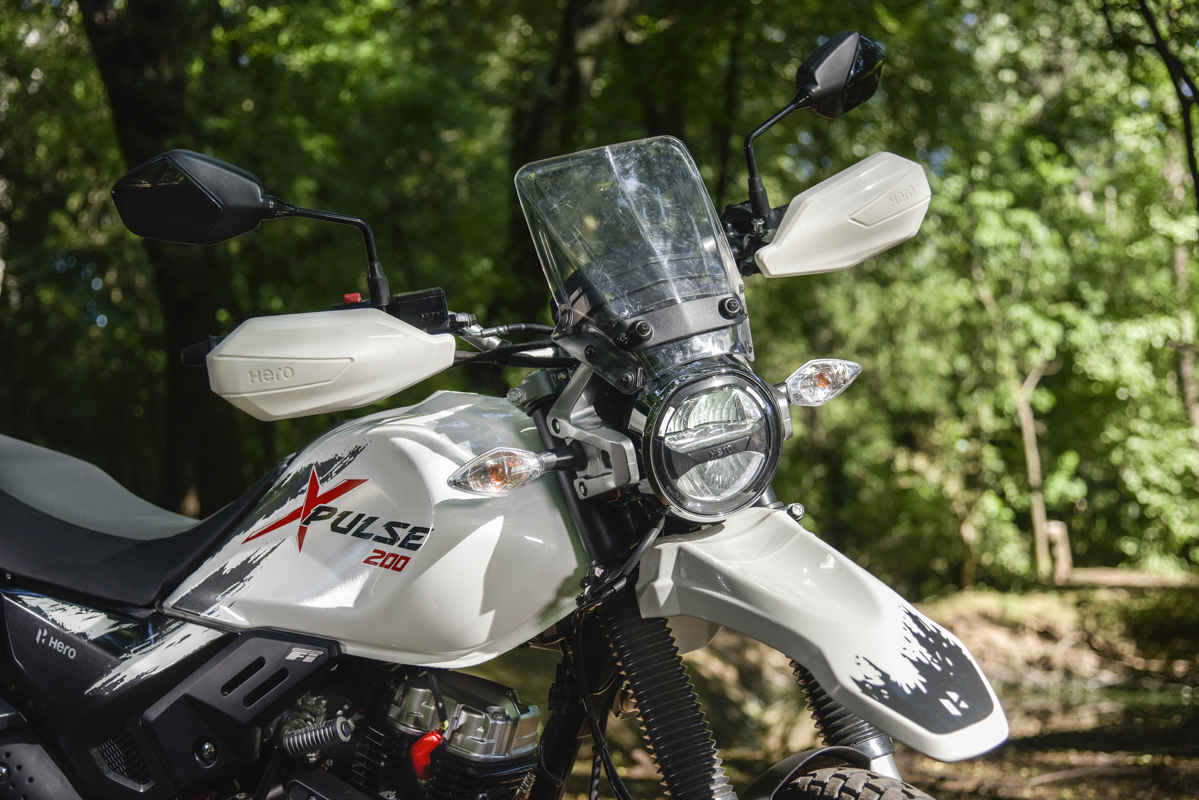 Enter the star of this particular show. The Indian 2020 Bike of the Year, the Hero X-Pulse 200. The X-Pulse comes in two guises. The 'T', which is the street 'Touring' model and the wicked little beast that I tested, being the Adventure variant. I have always been somewhat sceptical about small capacity motorcycles touted as dirt worthy. In honesty, what you get is an Adventure styled road bike. One look at the X-Pulse and it immediately warrants a serious going over.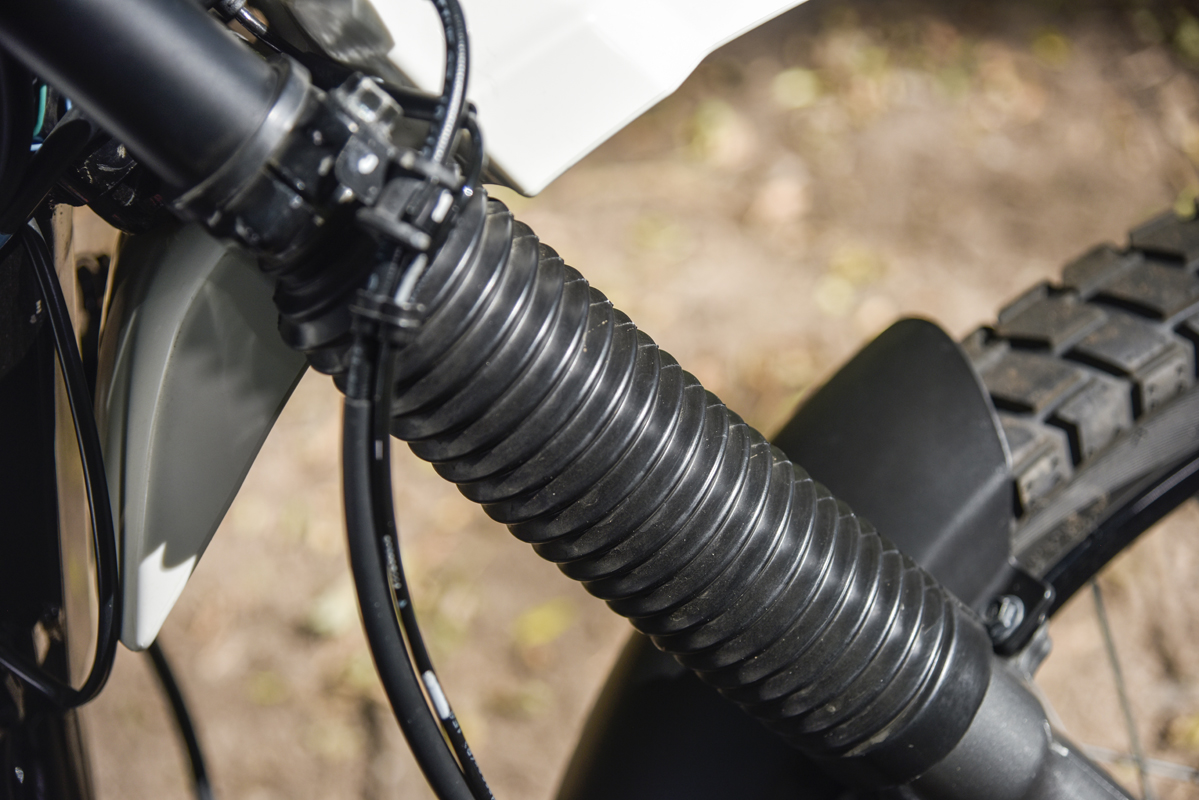 Suspension travel is a healthy 190 mm and, unlike some of the competition, is nice and firm, so it doesn't lose half the travel when you sit on it. The front forks have no adjustment, however, there are ten preload settings on the rear monoshock. Ground clearance is 220 mm, so bring on the rocks. Wheel sizes confirm off-road intent, with an 18×120/80 rear and a 21×90/90, upfront. These sizes give you plenty of serious off-road rubber choices.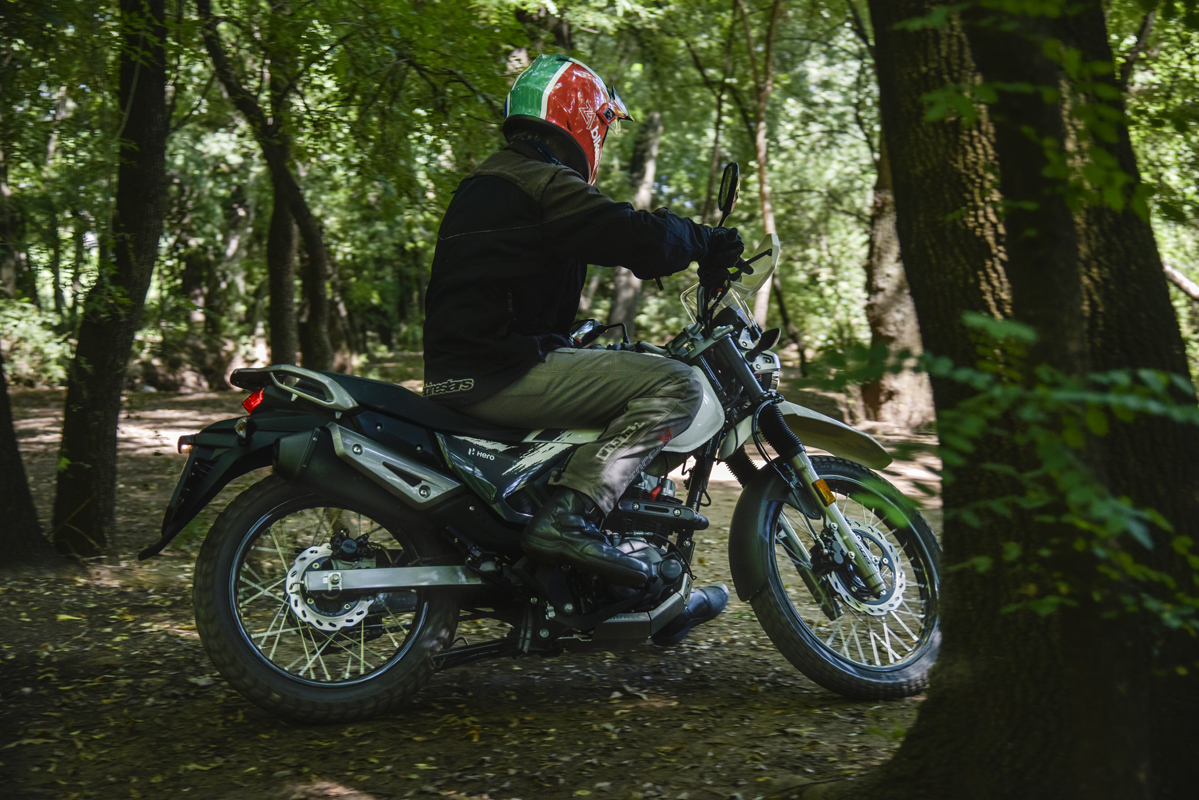 Styling goes along with the dirt worthy specs, and results in a seriously handsome bike. A 13-litre fuel tank, complete with a decent rubber tank protector, provides serious range, given the X's frugal consumption. A high front mudguard is complimented by a dirt containing hugger.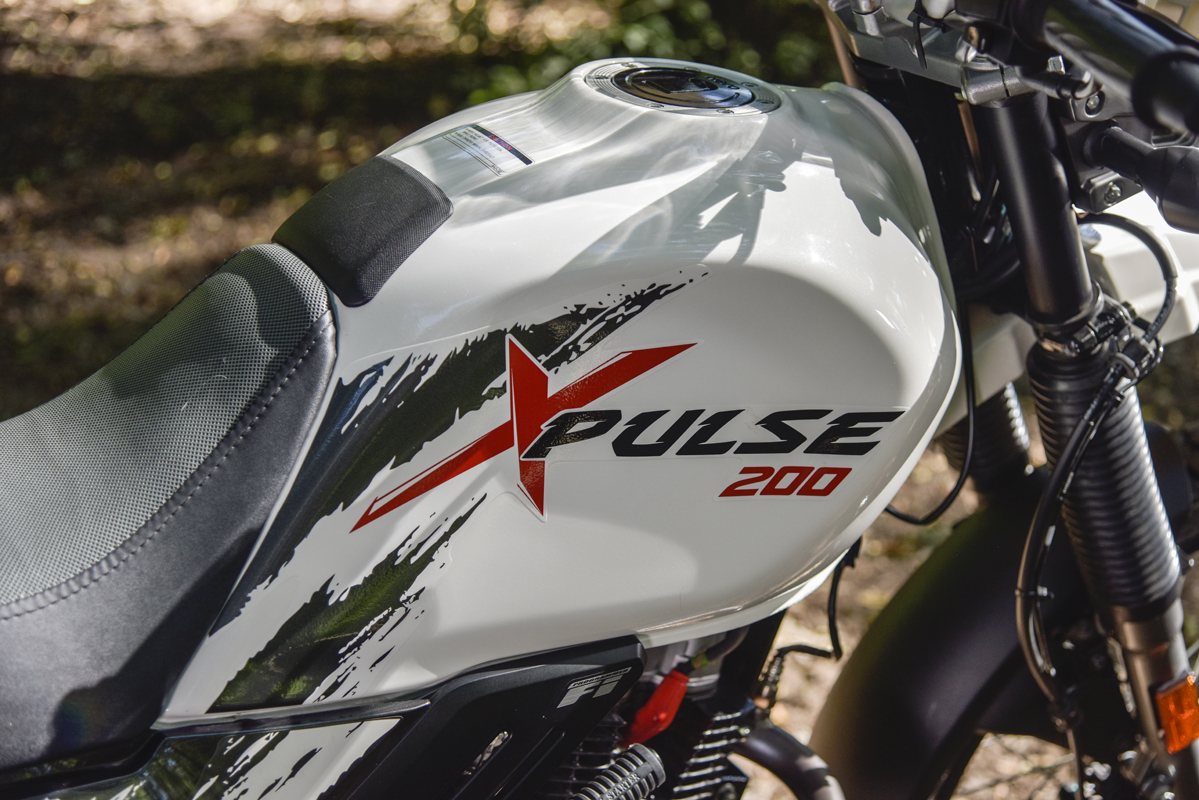 The LED headlight is topped by a small, but incredibly effective clear screen, that in no way intrudes when riding off-road with gusto. Build quality is excellent. You can see that these guys learnt their trade from arguably the best in the build quality business.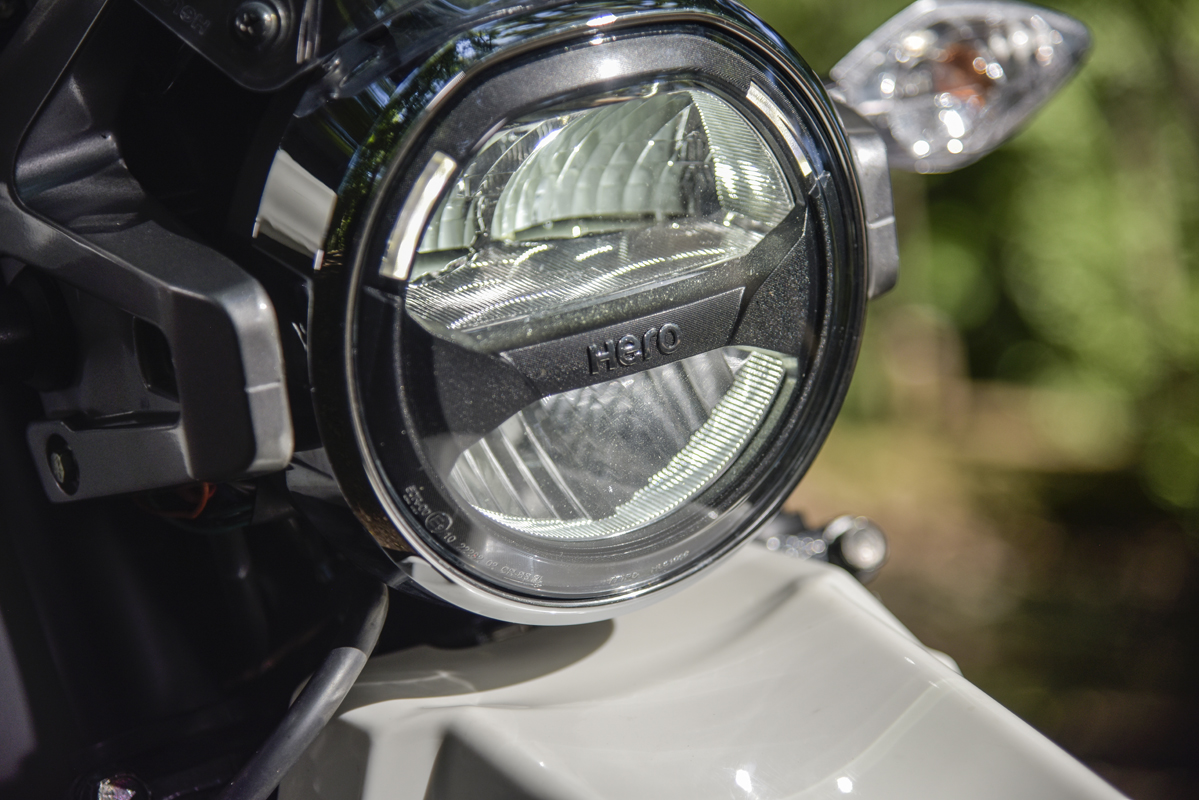 The digital dash is neatly laid out and gives you all the information that you need to know, and then some. Odo, 2x trips, gear indicator, clock, speedo and tacho as per usual PLUS, get this, turn by turn navigation! Sound gimmicky? no way Jose'! download the Hero RideGuide App on your smartphone, switch on the Bluetooth, pair it to your device and off you go. Flippen' brilliant. Simon, our technofundi Editor, was so blown away, that he immediately wanted to take it for a spin. I see a Hero X-Pulse in his future, that's for sure!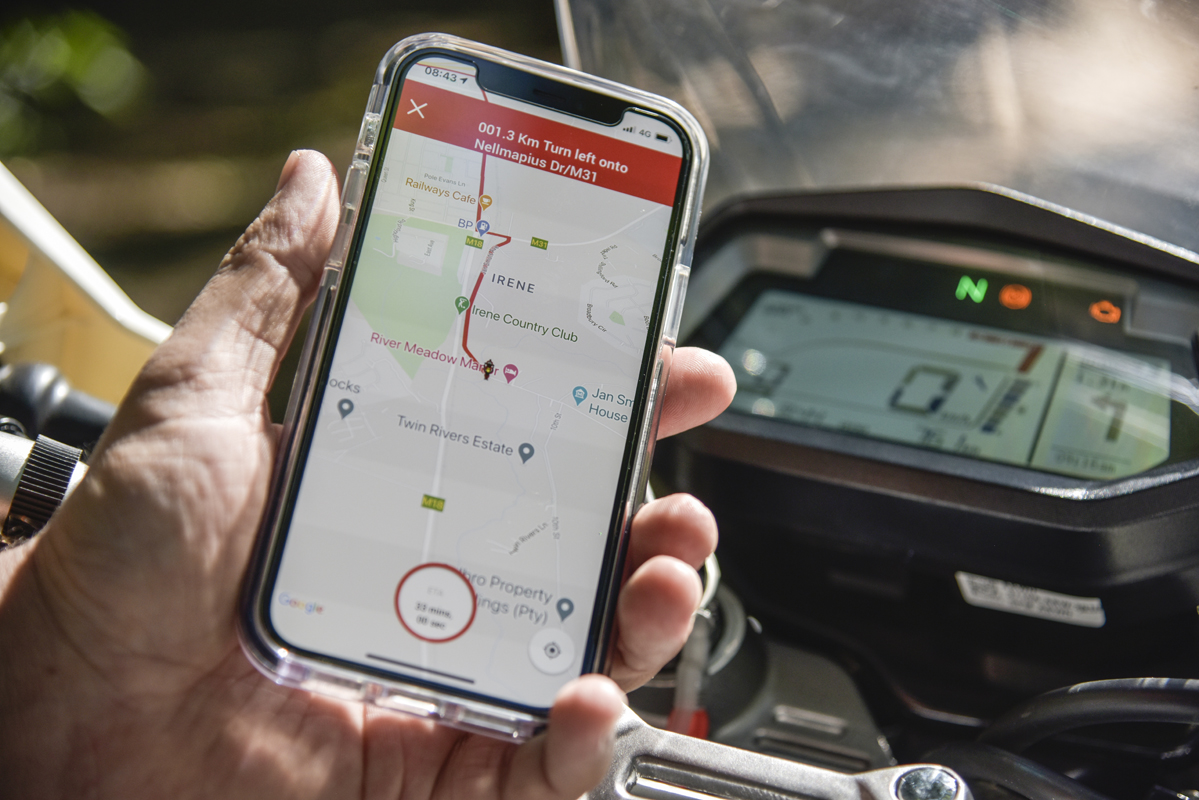 The engine is, once again, the essence of simplicity. A super-smooth, at any revs, fuel-injected, 199.6cc, 2-valve, OHC 4-Stroke single. An over-square bore and stroke makes it quit eager to rev, pumping out a super reliable 17,8 Bhp @ 8,500 rpm and 16,45 Nm of torque @ 6,500 rpm.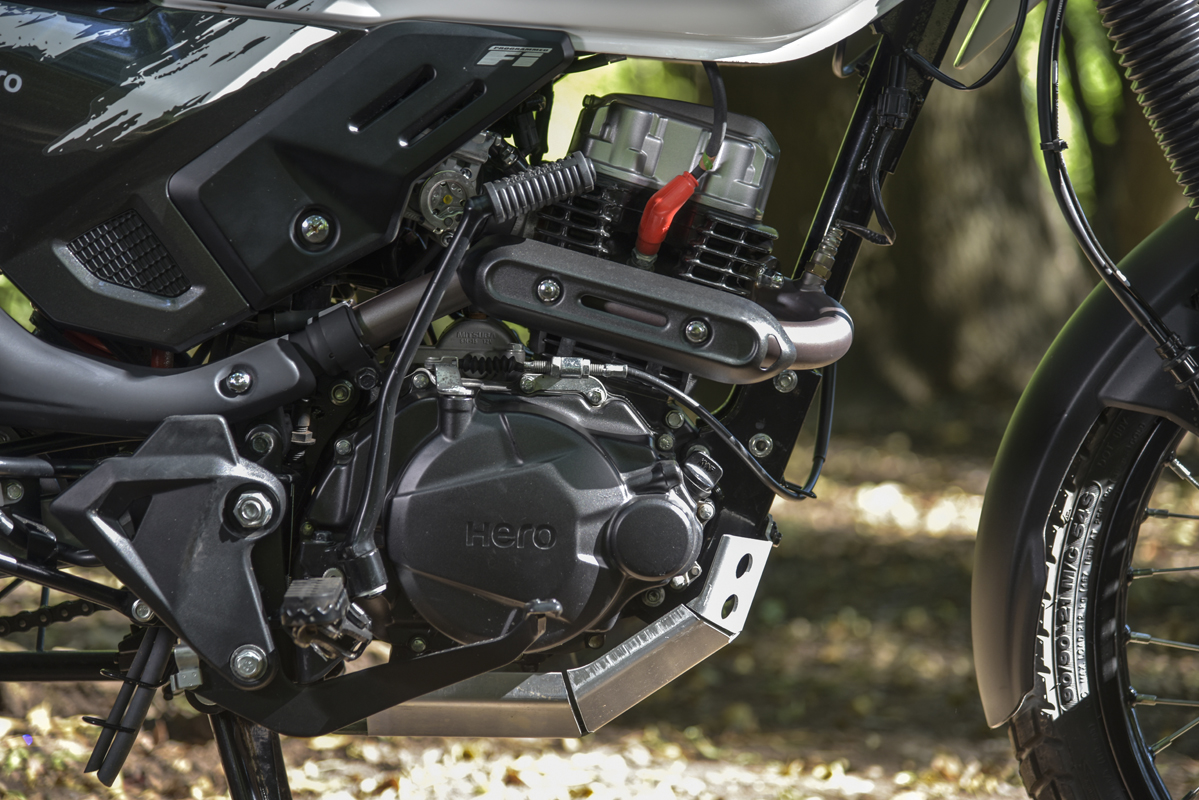 Brakes are 276 mm front and 220 mm rear, discs with Nissin callipers. The seat, at a height of 823 mm, is slightly stepped and comfortable by offroad standards. A small and tidy rear tail carrier, provides a good mounting base for a pukka rack.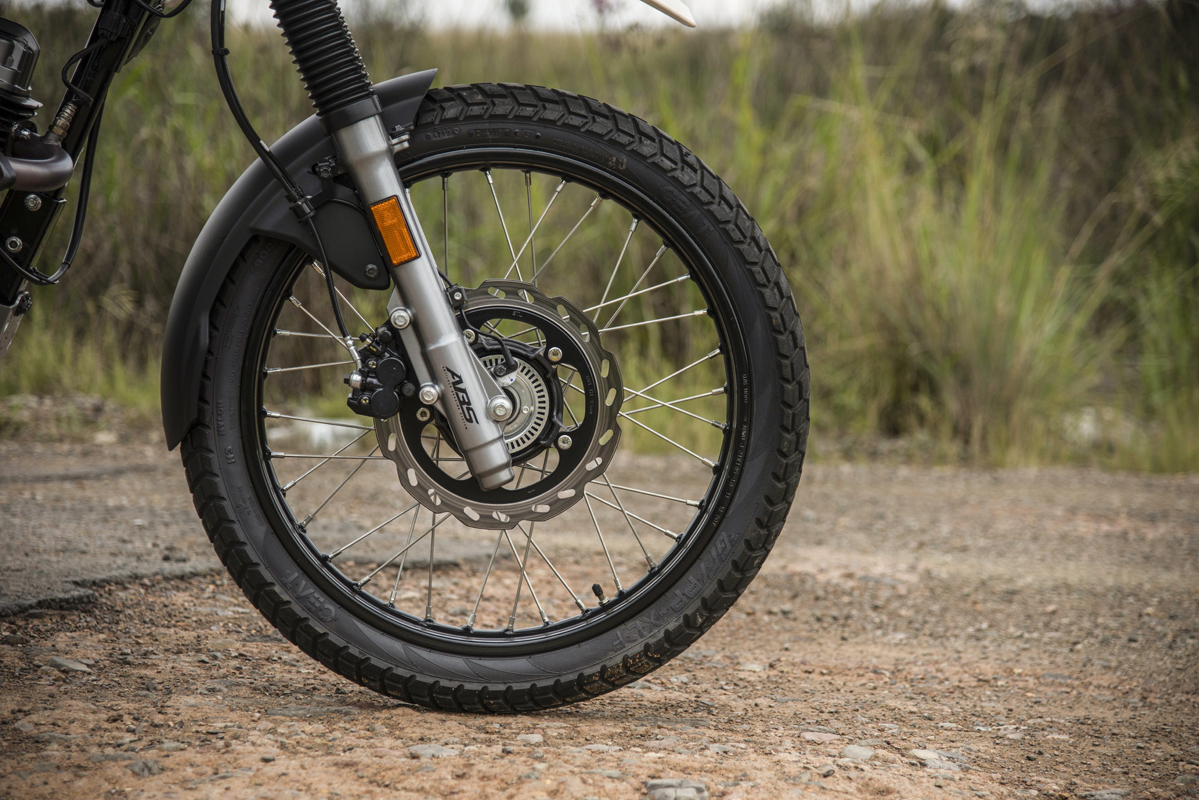 The vulnerable parts of the engine are protected by a proper, robust, aluminium bash plate. Although not fitted to the test bike, the X-Pulse, to the best of my knowledge, also has a crashbar, essential for serious dirt work, fitted as standard. Also standard, are both side and main stands. What a pleasure for wheel and chain maintenance!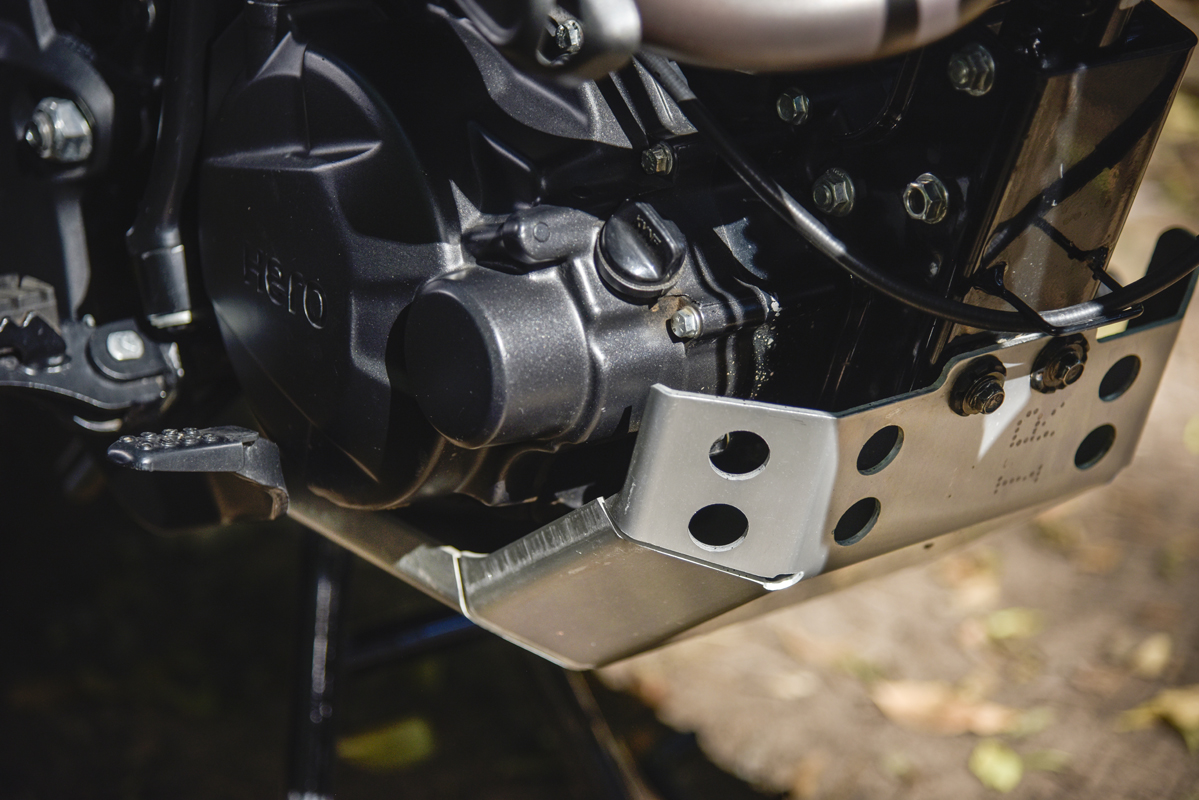 I could not wait to get out on the highways and, more particularly, byways, to put the little Hero through its paces. I have always loved the uncomplicated, lightweight induced, fun factor, of small motorcycles. Probably a throwback to my Honda 50 days. Frankly, I don't need to be blowing my hair back with adrenaline-pumping speed and performance, every time I straddle a bike. On the contrary, some of the best and most memorable trips that I have ever done (check out Apache Raid on Vic Falls and the Delta Dawdle to get my drift) have been on small capacity motorcycles.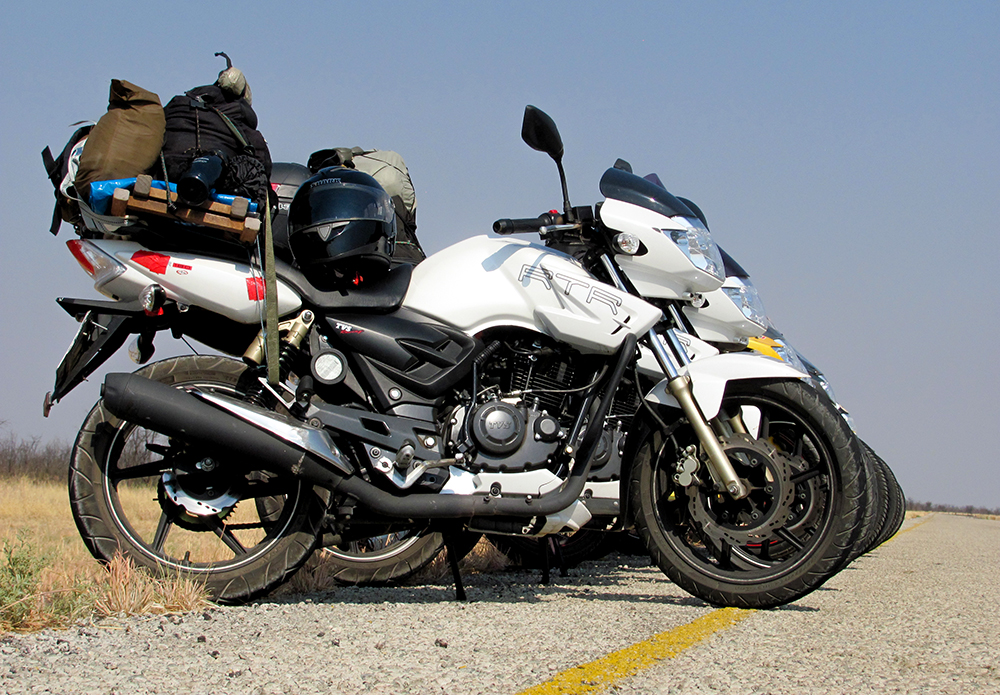 The guys who joined me on these trips experienced the same buzz. We were simply in awe of how honestly these bikes carried us on the most remarkable adventures. Folks in far off places would ignore riders on big typical Adventure motorcycles, to hear where we were from and how far we were going. In awe of the audacious and gutsy little bikes that we were riding. Suddenly our bikes, that cost less than the panniers and top box on the big Adventure bikes, were the stars of the show. Kind of like David must have felt when he floored Goliath!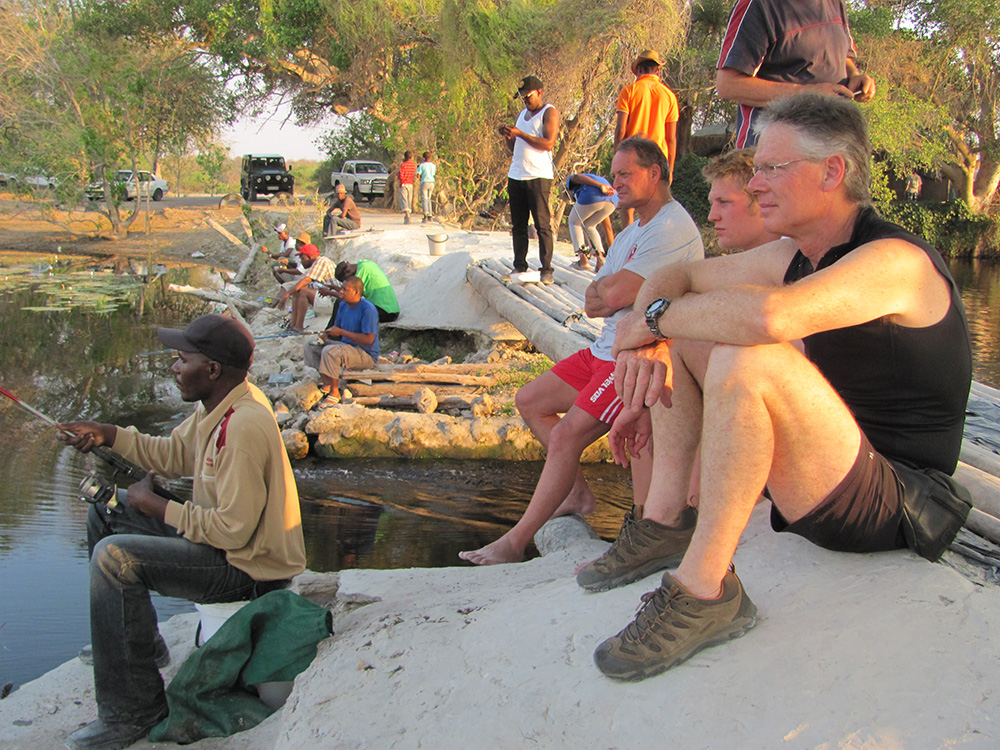 Riding back to Pretoria, it was immediately apparent that the X-Pulse is, typical of all Indian motorcycles, a tad under-geared. The 5 Speed box, perfectly adequate for town and around, has the bike revving too high for sustained speeds of 110 kph or more. 120 kph arrives pretty much on redline. My experience on my long trips with the 180 TVS Apache, was that the bike is transformed by going a tooth bigger in the front sprocket, or losing three off the rear. This would up the cruising speed and drop the motor smack onto its torque peak. Fourth gear becomes usable for overtaking and top gear allows comfortable all day cruising at around 100/110.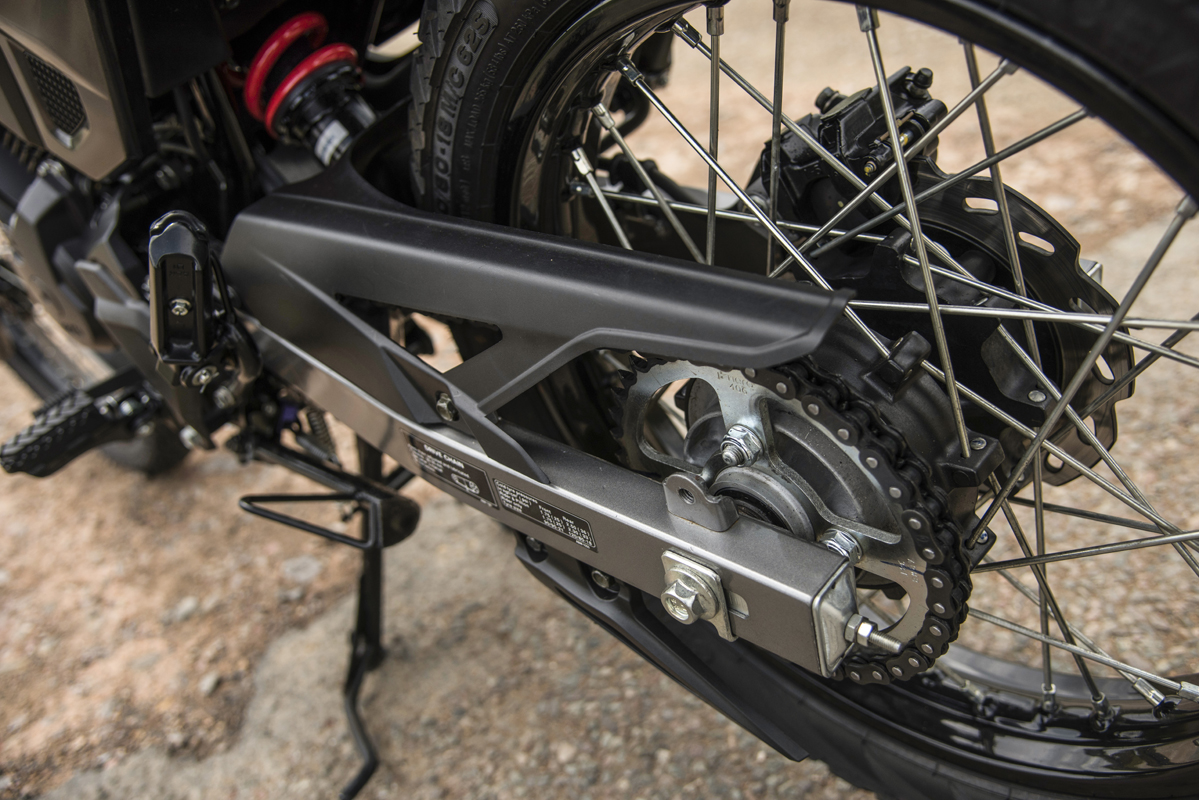 Sound slow Mr GS? Ride through Zambia or Malawi and you will be happy to even get to ride at 100 kph. Road conditions simply don't allow it. True Adventurers also take their time. Land Cruiser and Land Rover Defender owners, will never brag about how fast they go, but rather where they go, get it? Suzuki Jimny drivers get it!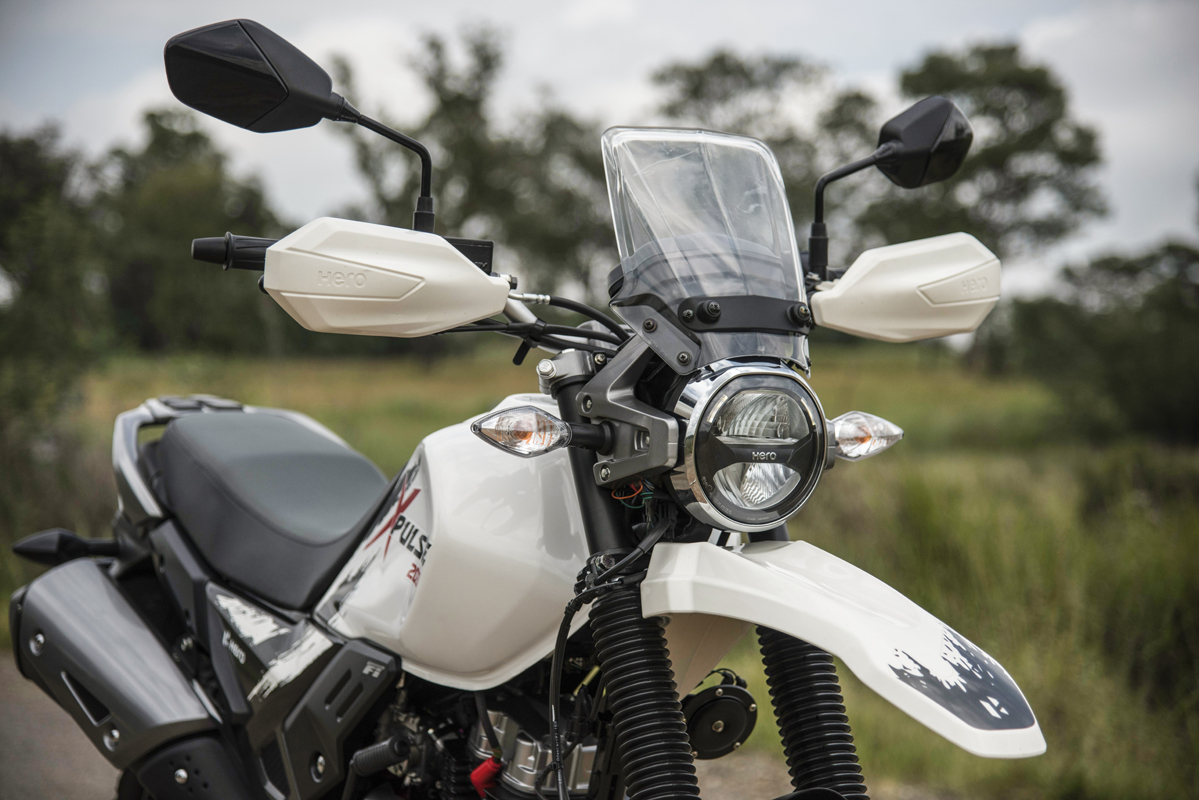 On slower backroads and on the dirt, the X-Pulse comes into its own. We took our photos of the bike with the back wheel on the tar and the front wheel on the dirt for a reason. The X is happy as the day is long, in either environment. It feels more at home and competent in the dirt than any small bike that I have ridden. That is why I am so excited by this new little Hero. It opens up a window, no, a barn door, of adventure, that is genuinely affordable to damn near everyone.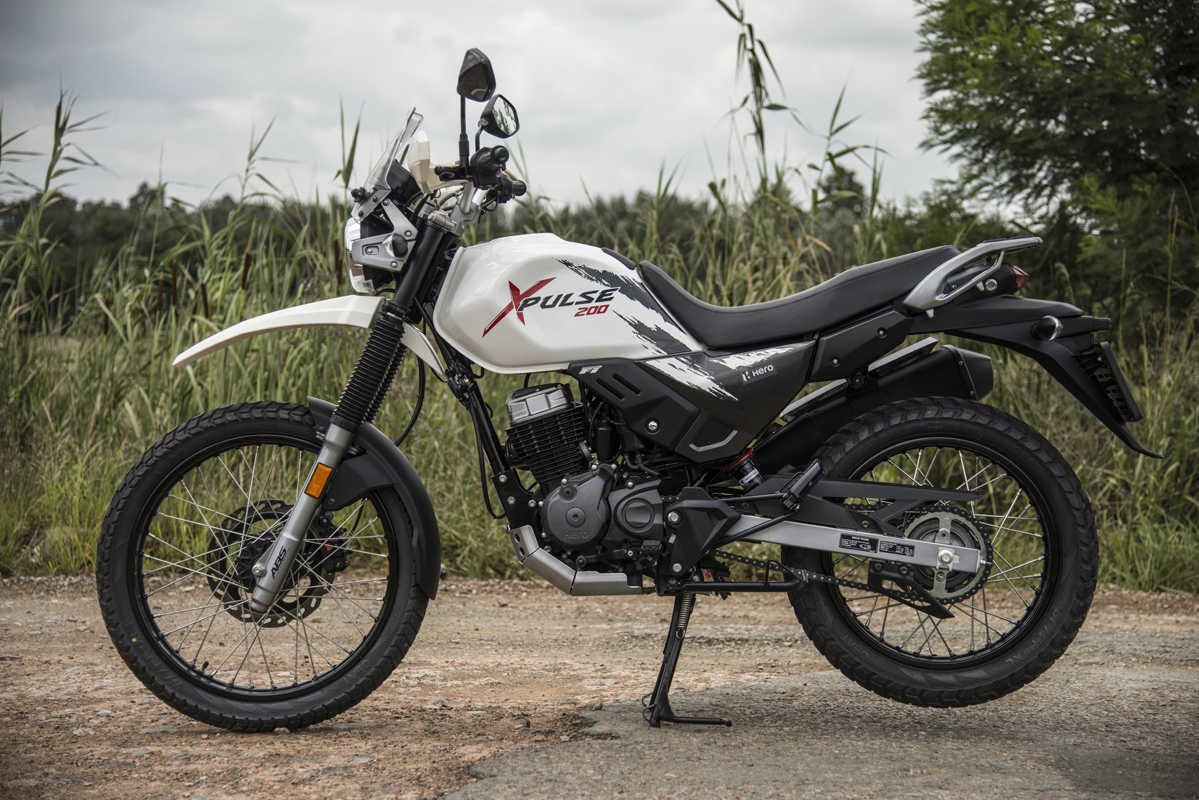 Want to do the Ten Passes but don't want to leave half your big Adventure bike on a distant trail? Enjoy gnarly dirt without having more than R200 grand at stake? It is not if you drop your bike, it's when you drop it! Keep the juggernaut for high speed touring on tar and gravel highways and invest in a Hero for commuting, hooning around town and for the gnarly stuff. A kerb weight of 150 odd Kg's is eminently more manageable over dodgy surfaces and slopes than your 250 to 300 Kg behemoth. Get all your mates to buy them and plan a proper X-Pulse Xpedition. I am going to!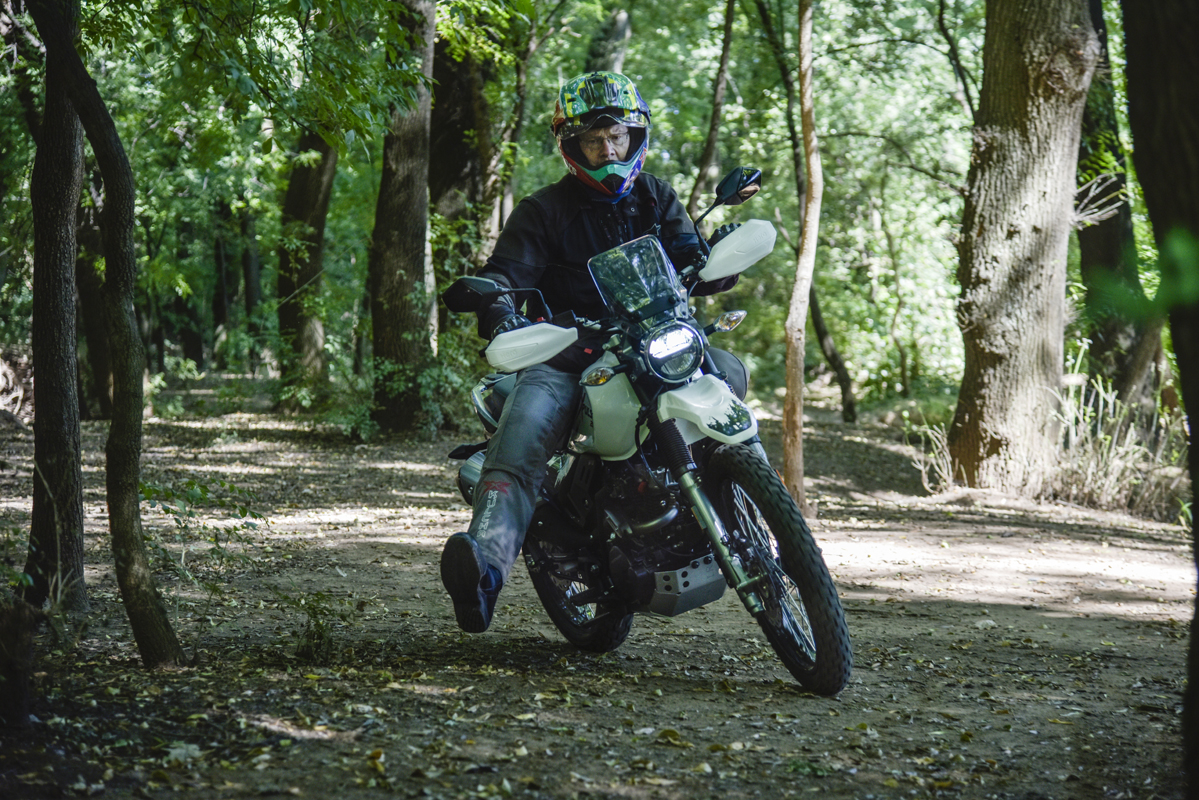 A few years back I traded my big 4×4 SUV for Suzuki's little Jimny and suddenly transformed the Richtersveld into a playground. The Hero X-Pulse has what it takes to do the same. The beauty is, you can keep the big bike, just buy a Hero and open up a whole new world of inexpensive fun. At an asking price of under R40,000, it is easier on your wallet than a medium spec mountain bike, yet can carry you reliably around the world. Our first tank carried us over 400 k's. This will be easily bettered as the motor loosens up and if we can lengthen the gearing.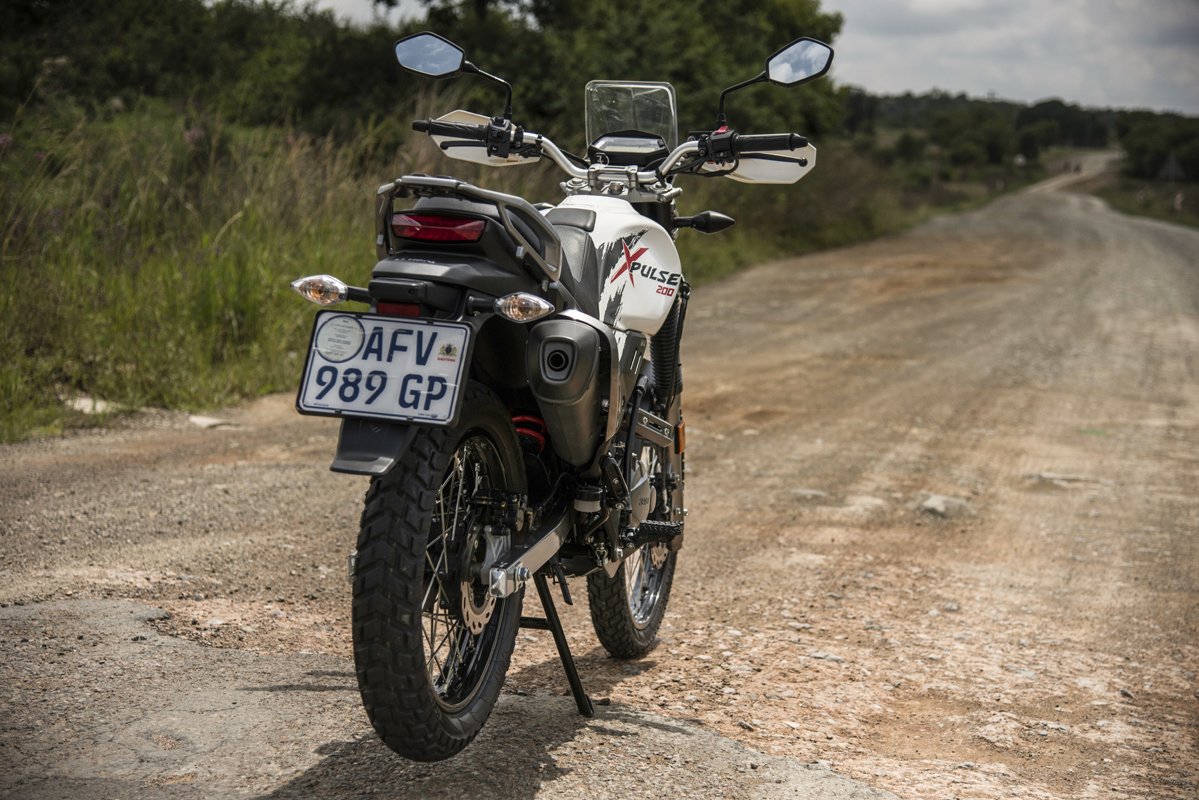 X-Pulse Xpeditions are going to be a reality. Lesotho, Wild Coast, Botswana and Namibia are all on the cards, as well as a couple of genuine trips of a lifetime. Just watch this space. We will talk about bike prep, how and what to pack and a whole lot more. No excuses, guys and gals, the Hero X-Pulse is your passport to adventure! Question is, are you up for it?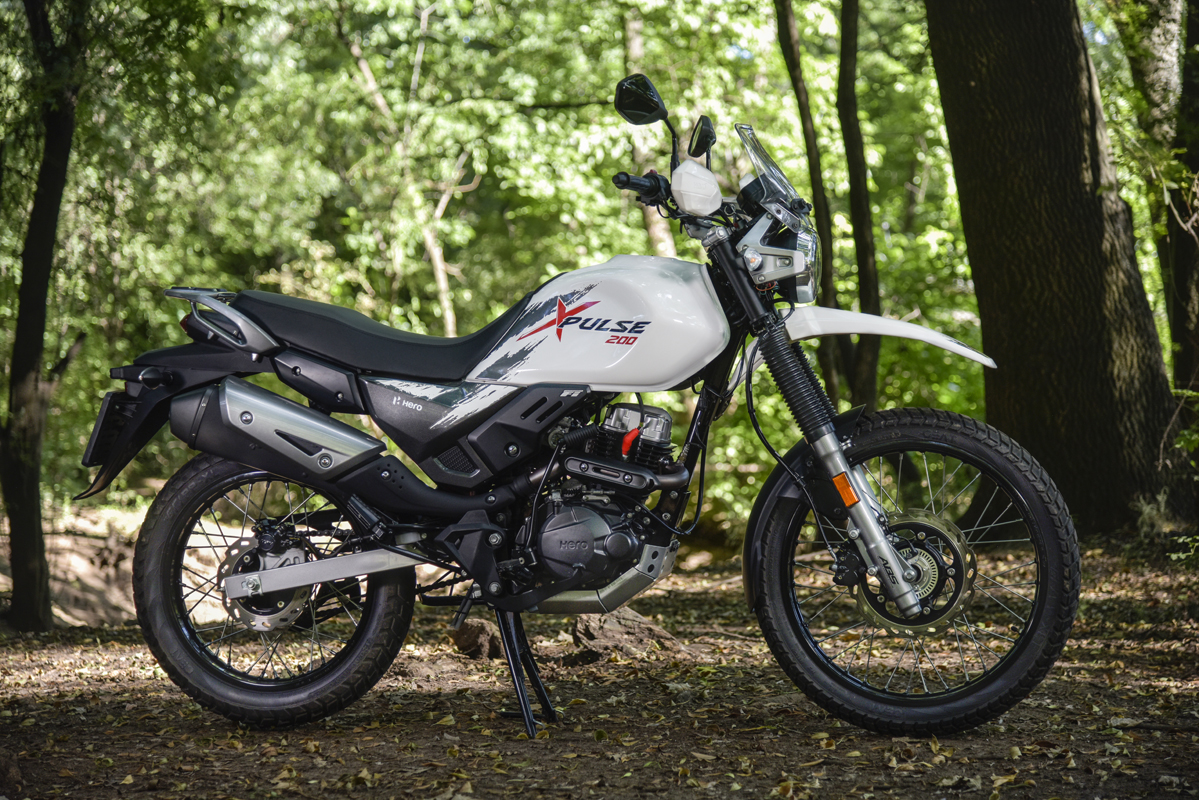 Factory Rally kit for the X-Pulse 200
Hero makes a factory Rally kit for the X-Pulse, comprising of fully adjustable, longer travel front and rear suspension, longer sidestand, MX boot compatible gear lever, Maxxi's tyres, handlebar risers and a flatter seat.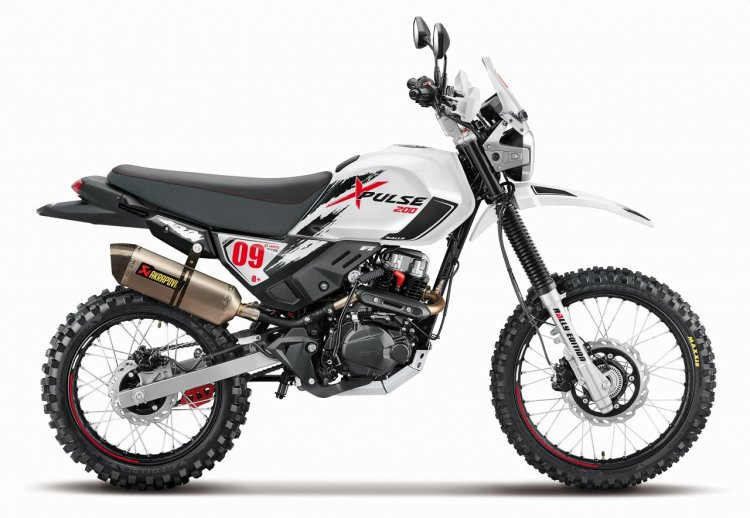 Clearly, they have learnt a lot from competing in Dakar with relative success, over the last few years (7th, 9th and 11th places!) See below YouTube clip of the bike being caned on the dirt, yet staying totally composed. Impressive!
How to Become a Hero Dealer?
If you would like to explore the possibility of becoming a Hero dealer, contact Fire it Up.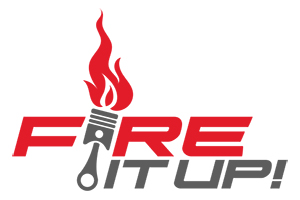 Tel: 011 467 0737
Web: www.fireitup.co.za
ZA Bikers Profile: Fire It Up!
Email: [email protected]
Social: Facebook / Instagram
New address: 1 Halifax Street, Bryanston, Sandton.
HERO XPULSE 200
For more information on the bike that we tested in this article, click on the link below…