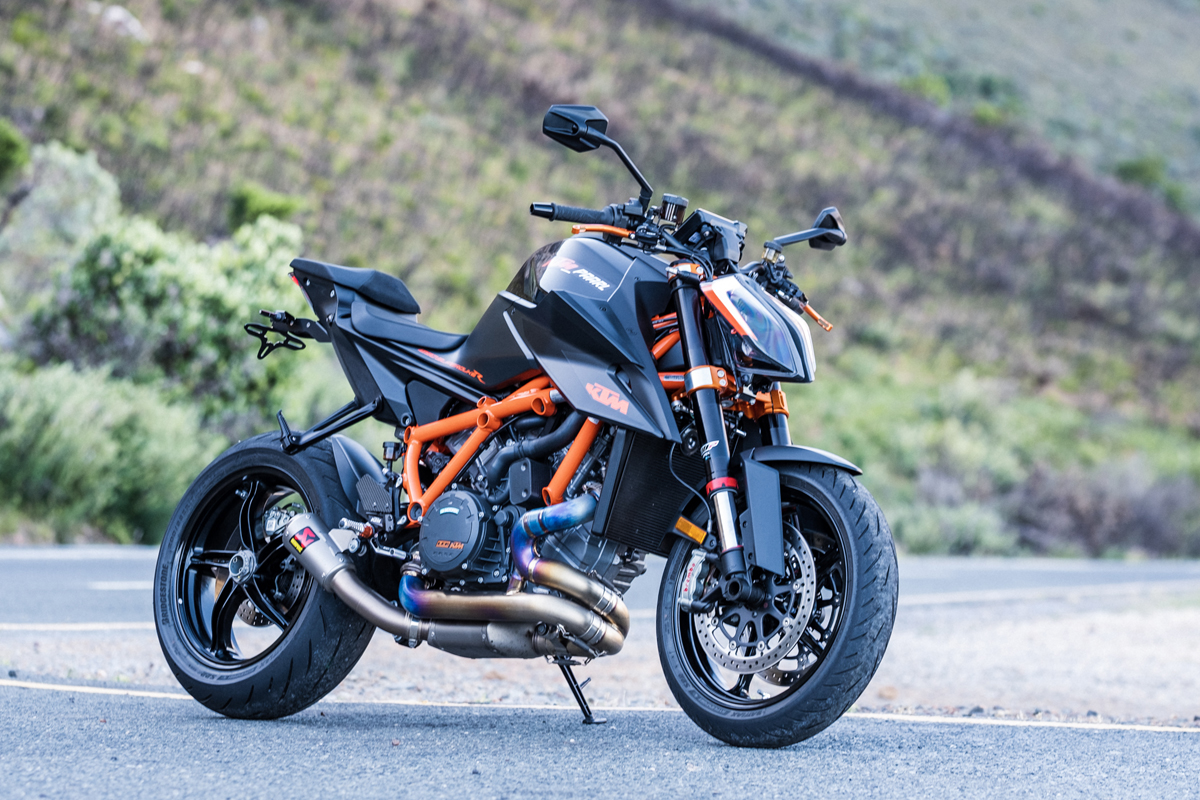 180 hp, 140 Nm and 189 kilos: even in stock form, the KTM 1290 Super Duke R is pure madness. But it's still not mad enough for the crew at the newly-opened KTM Paarl—so they took a 2020-spec Super Duke R, and threw a handful of tasty upgrades at it. Then they invited us to ride it.
Launched by the owners of RAD KTM in Rivonia, KTM Paarl's located in the heart of the Winelands just outside of Paarl, in the Zandwyk Park complex. That puts them in a prime spot to service Cape Town's Northern Suburbs, the Overberg region, and areas like the Northern Cape and Garden Route.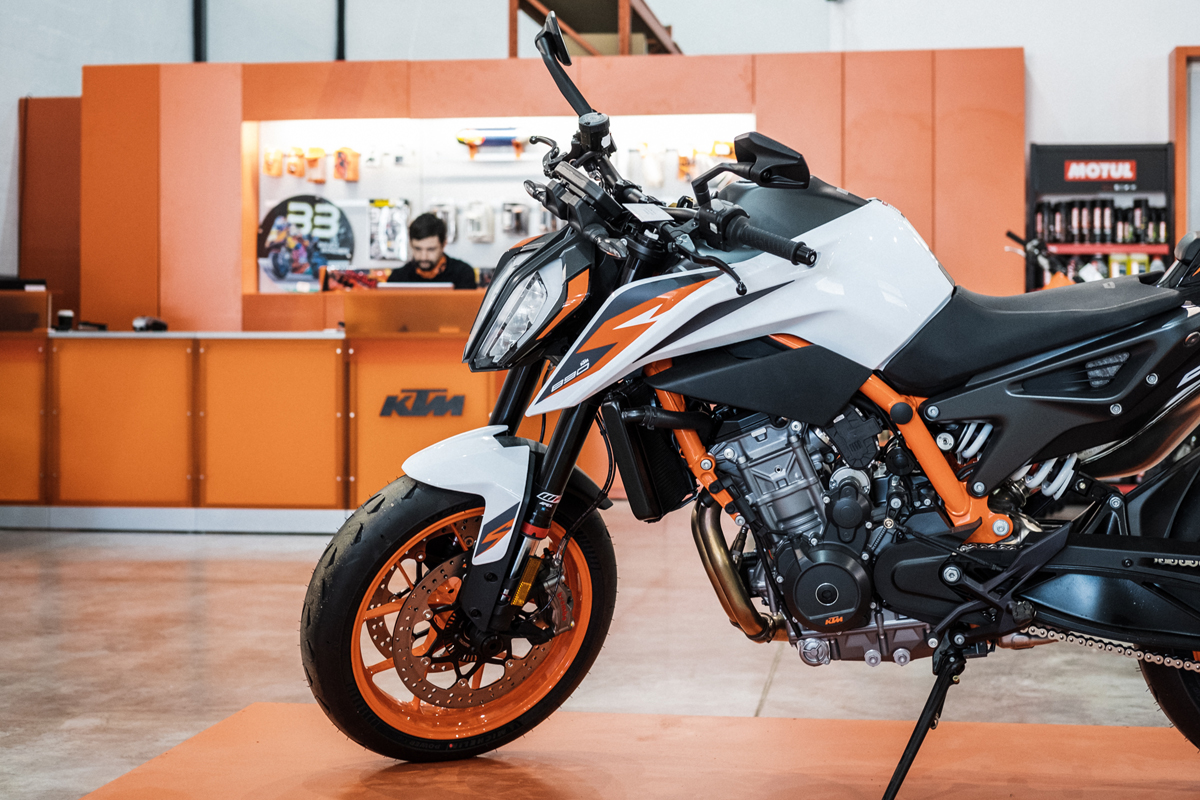 This current location is a temporary setup, while the team waits for construction of the new Paarl Junction complex to finish, just 500 m away. But it doesn't feel like a pop-up shop—it's as kitted a dealership as you'll find, with a full complement of sales and service staff, and a wide range of accessories.
The team's led by our good friend Clinton Pienaar, who, until recently, was the editor of Superbike Magazine South Africa. As a seasoned rider and ex-magazine editor, Clint has a one-track mind when it comes to selling motorcycles: "get bums on bikes." He's already hosted a women-focused demo day at the shop, and believes that the best way to convert riders to the brand, is to let them experience it first hand.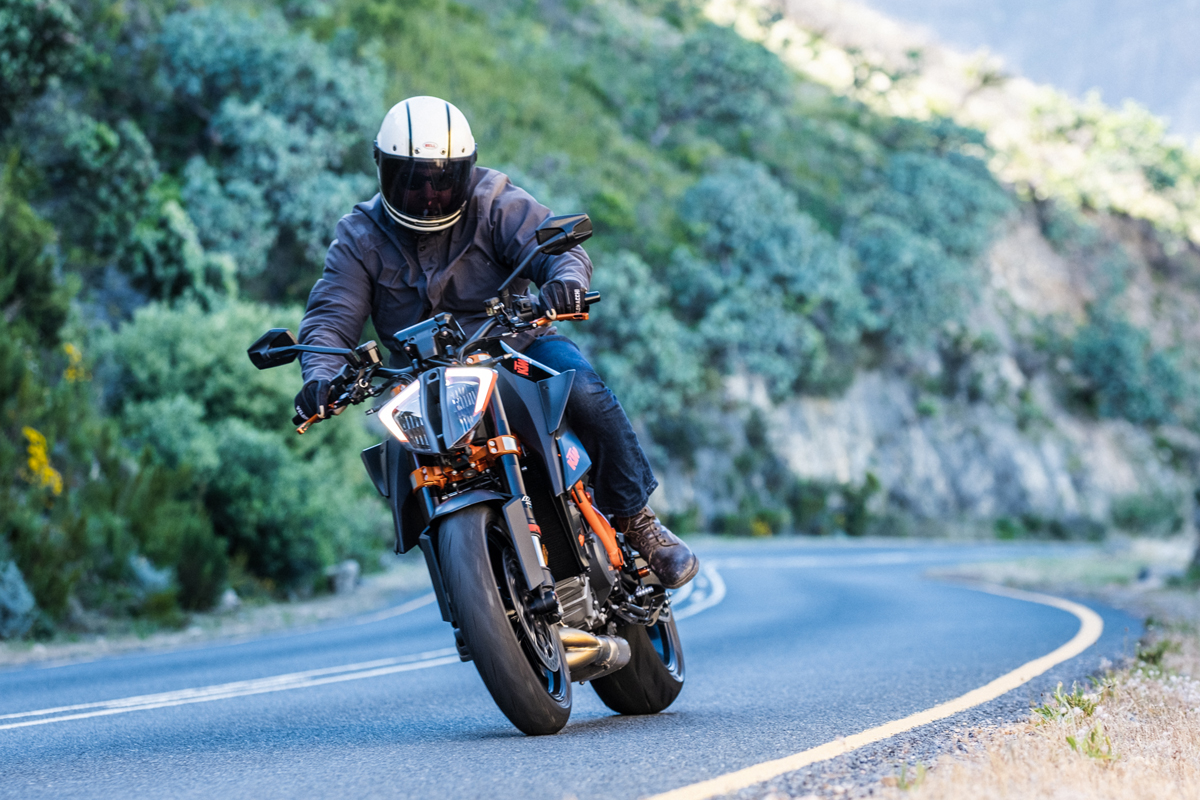 And that's precisely why Clint invited us to ride arguably the scariest motorcycle to pass through our hands. Starting with a stock 1290 Super Duke R, KTM Paarl mechanic Mike Grove (who Clint describes as "arguably the best Orange Technician in SA") dug into the KTM Powerparts catalogue to build the most drool-worthy Super Duke on the street.
The big mod here is KTM's 'Tech Pack,' which is a major software upgrade that 'unlocks' the KTM's onboard quick-shifter, and adds a ton of go-fast electronic functionality. The upgrade also includes the 'Track Pack,' which adds new 'track' and 'performance' riding modes, with the ability to fine tune traction control, throttle response and launch control, and to disable anti-wheelie control.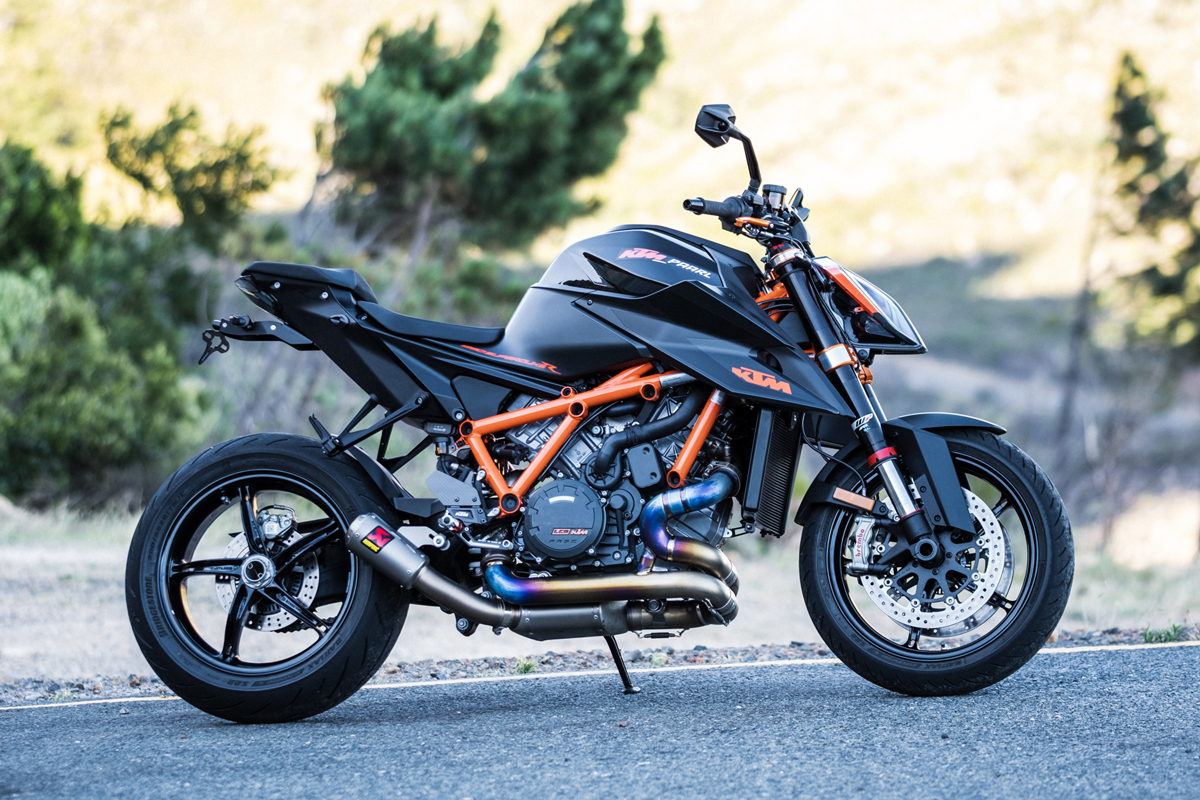 As its name implies, the 'track' riding mode is designed for pure track use, and so switching to it automatically disables the Super Duke's indicators. So Mike got clever, and installed an indicator module to make sure they're always usable.
Another performance boost comes by way of a BMC air filter, and a full titanium Akrapovič Evo exhaust system—which is a feast for the eyes and ears. Mike also added triple clamps, levers and foot controls from KTM's own catalogue, a tail tidy, and Rizoma indicators.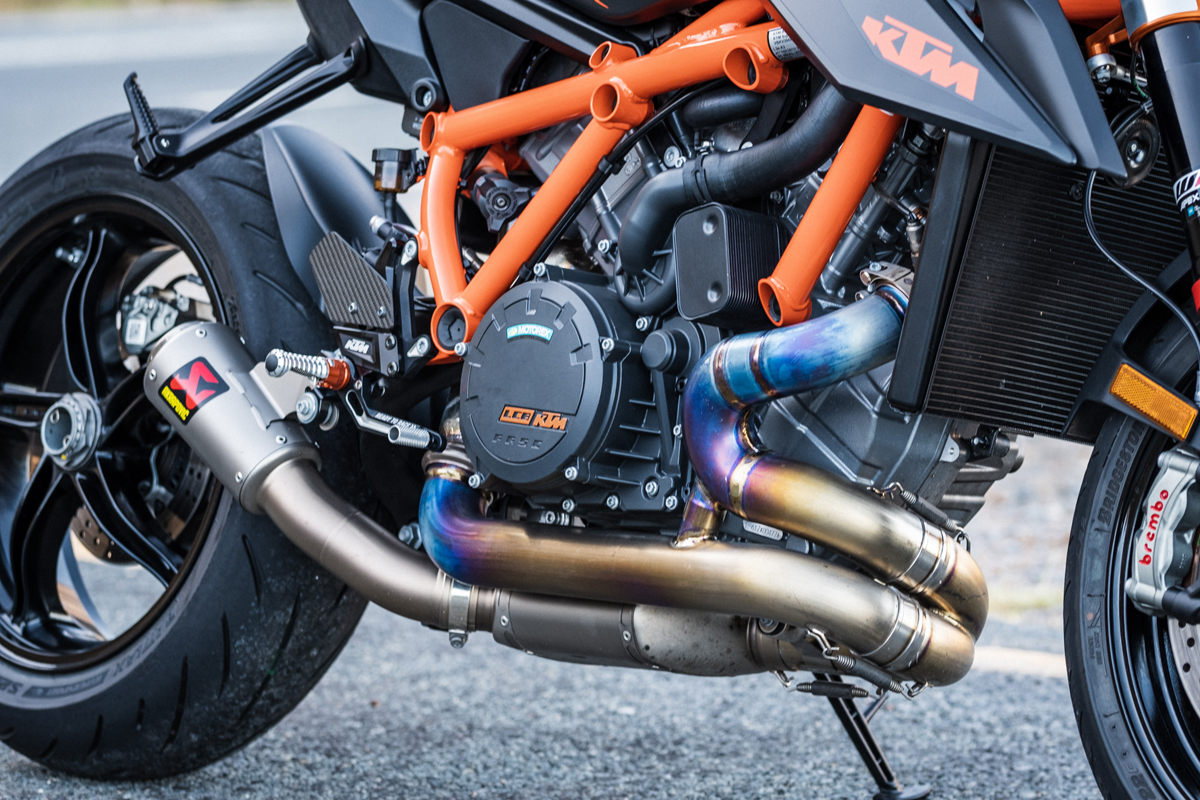 With so much love (and money) sunk into an already desirable machine, I was more than a little trepidatious to put KTM Paarl's pride and joy through its paces. So I took a friend along for moral support, and we spent the ride swapping between the 1290 and the equally wild 890 Duke R.
The 890's a cracking motorcycle in its own right, but at my height and weight (lockdown has not been kind), the 1290 was heaps more comfortable. KTM's big masterstroke here is the Super Duke's ergonomics—it's more comfortable than it looks, but more importantly, the rider triangle creates massive amounts of control. Add to that a lively chassis, and KTM's brilliant in-house WP Apex suspension, and it's a remarkably agile ride.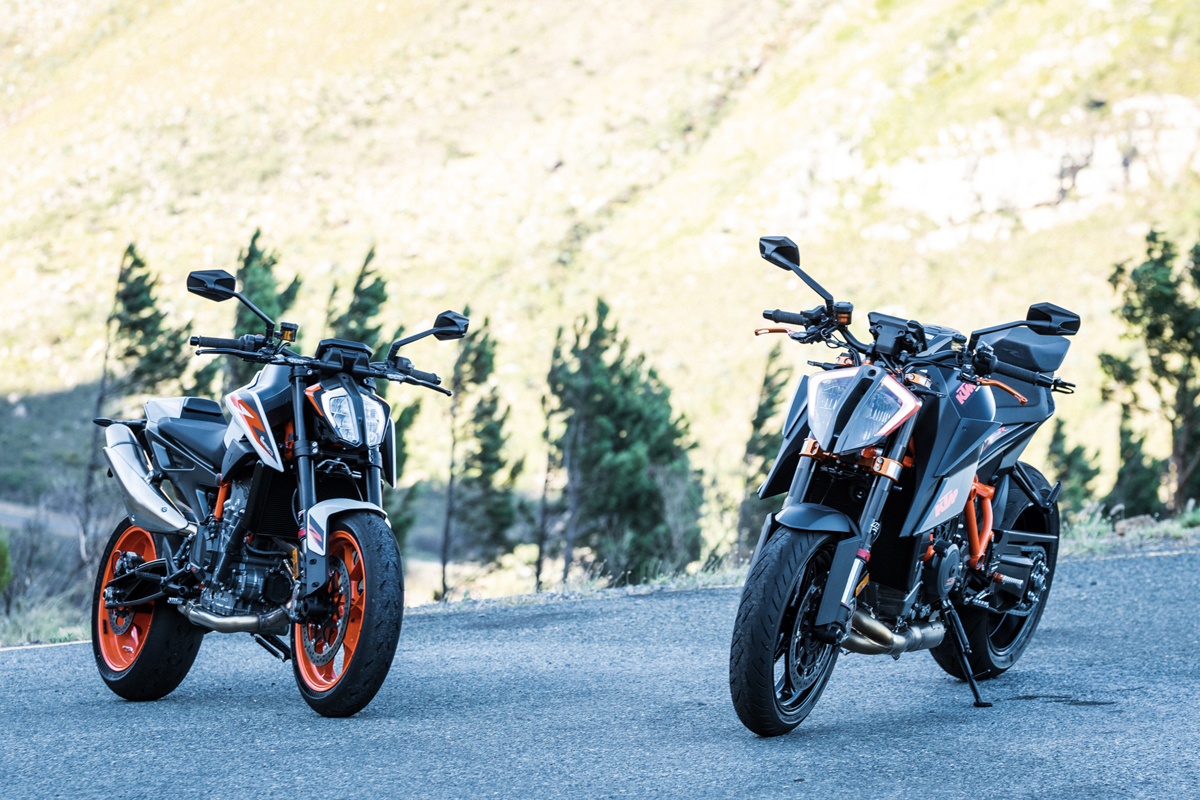 The Super Duke R does require a measure of respect and restraint to ride sensibly. The throttle's super responsive and power rolls on quick, but rider modes help you dial in just how aggressive a ride you're after. And the Brembo Stylema brakes are beyond adequate for reeling the monster back in.
Mild riding doesn't suit the brutish KTM, and as the day wore on I soon realised that the more aggressively I rode it, the better it responded. It loves to be thrown hard into corners, and will hold its line like it's on rails. Before long, it was clear to me that the Super Duke R's true capability far outweighed my own skill… or courage.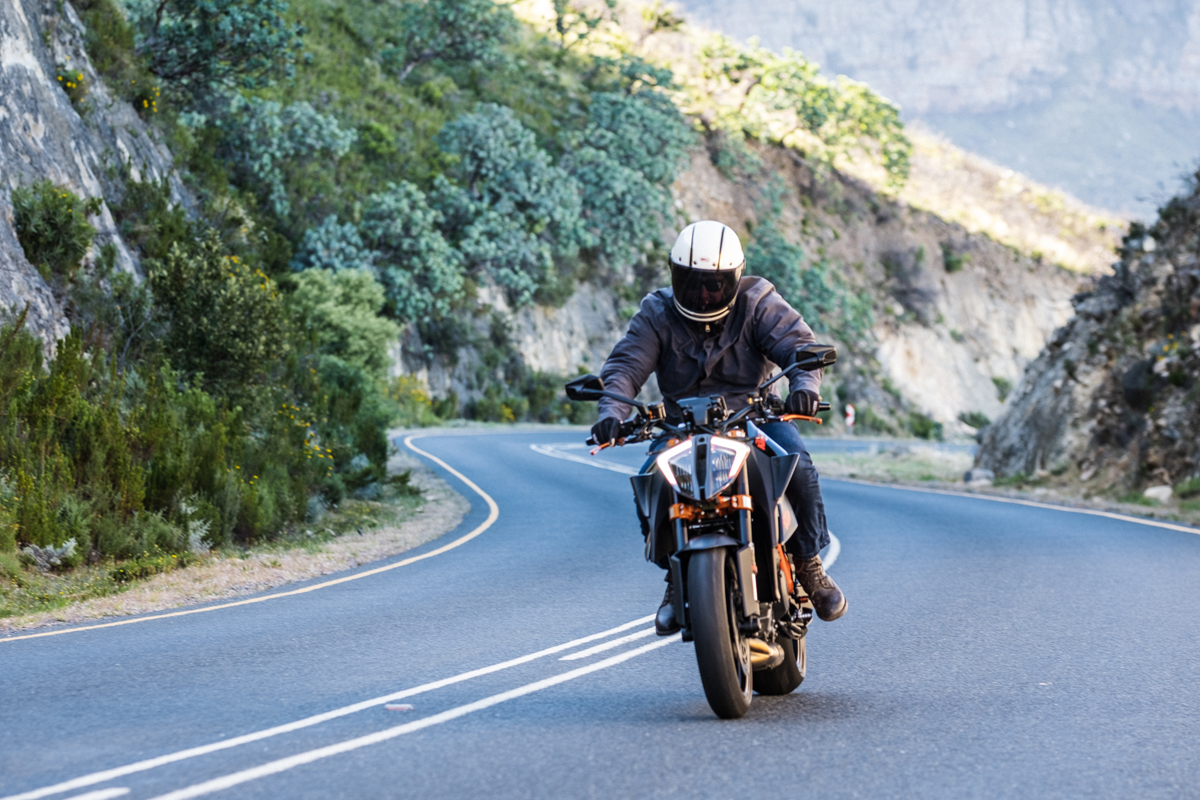 It took me a couple of hours to pluck up the courage to switch off all of the 1290's many electronic interventions—and a couple of minutes to figure out how. KTM's TFT display works well enough, but their switchgear, and the way you use it to navigate the bike's many menus, is unnecessarily complex.
With everything switched off, the 1290 transforms from beastly to outright berserk. The bike fires out of corners with terrifying enthusiasm, the front wheel wants to lift in third gear, and the unrestrained motor's howl through the Akrapovič system is pure visceral bliss. My hands were still shaking when I handed the keys back to Clint.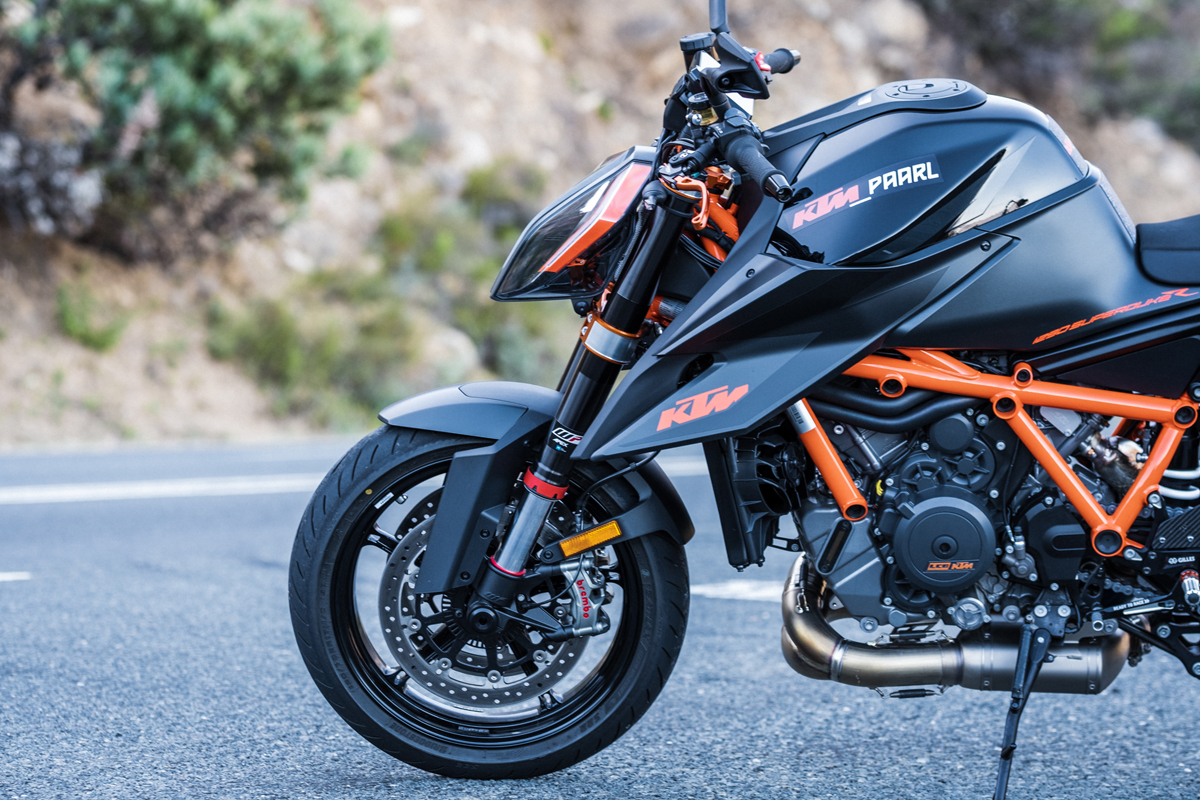 Unsurprisingly, KTM Paarl have already sold that particular bike, but they'll probably build you one just like it—as long as you open your wallet wide enough and ask nicely. But a hopped-up super-naked that takes track-bred performance to the street isn't for everyone. So I already have plans to take Clint up on his offer, and sample some of the other bikes in KTM's stable.
For more information visit: www.ktmpaarl.co.za