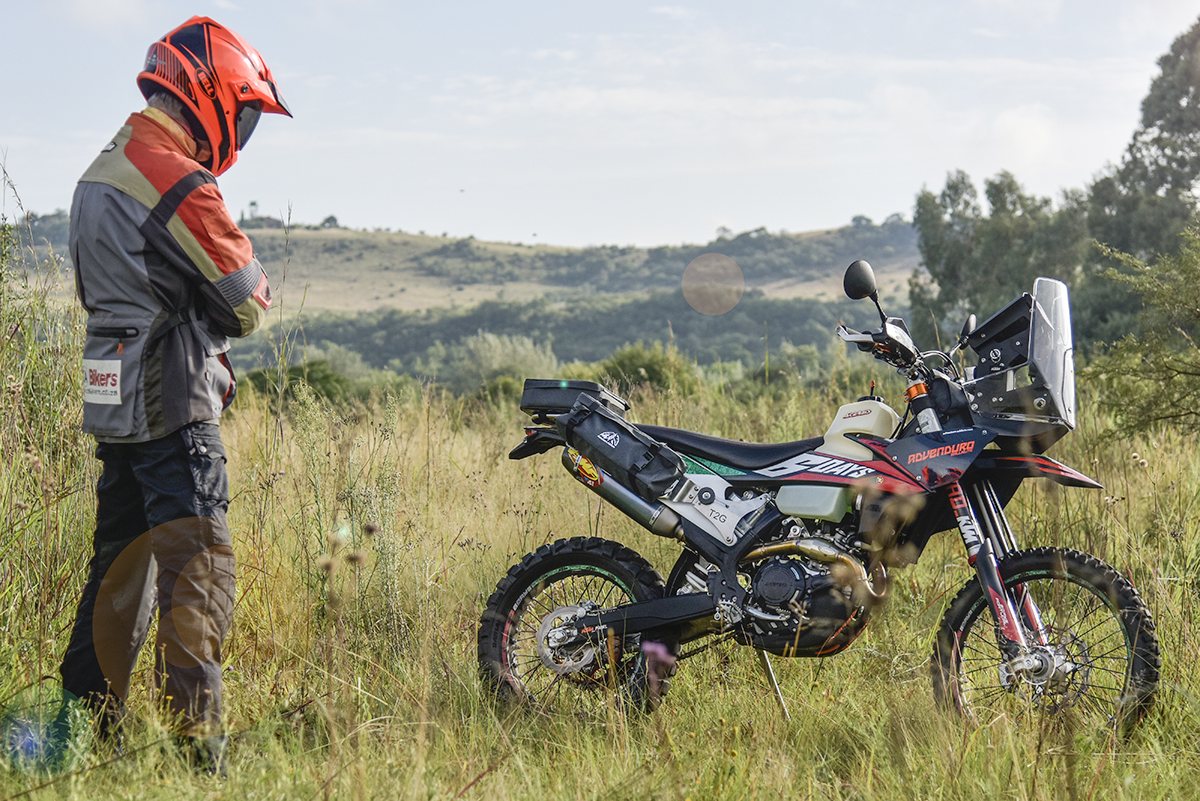 I have been keen on joining Bonafide Moto Co on one of their Sunrise Scramble events for some time now. Problem is, I dislocated my left shoulder in a run-in with some armed robbers in October last year and the re-hab has been slow. I have not felt confident to go off-road with a full-size Adventure bike, as I would not be able to pick it up in the event of capsizing. The planets aligned for me just prior to the most recent event.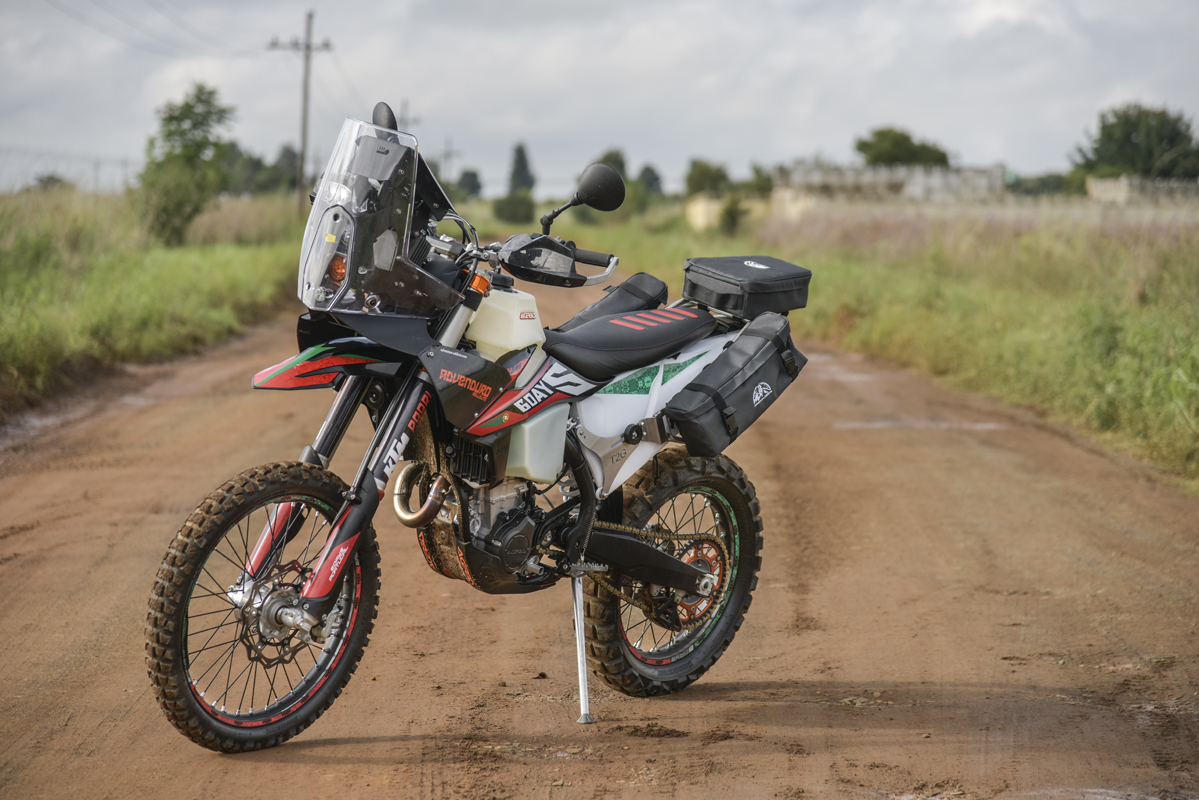 Miguel Lage, boss man at RAD KTM, invited us to ride one of their awesome new creations, a featherlight, Rally inspired, KTM 500 EXC-F. This dual-sport, big-engined KTM, sports a 510.9cc twin-cam single mill, with a six-speed wide-ratio gearbox. It pumps out around 40 rear-wheel horsepower at 8,100 rpm and 35,5 Nm of torque at 5,200.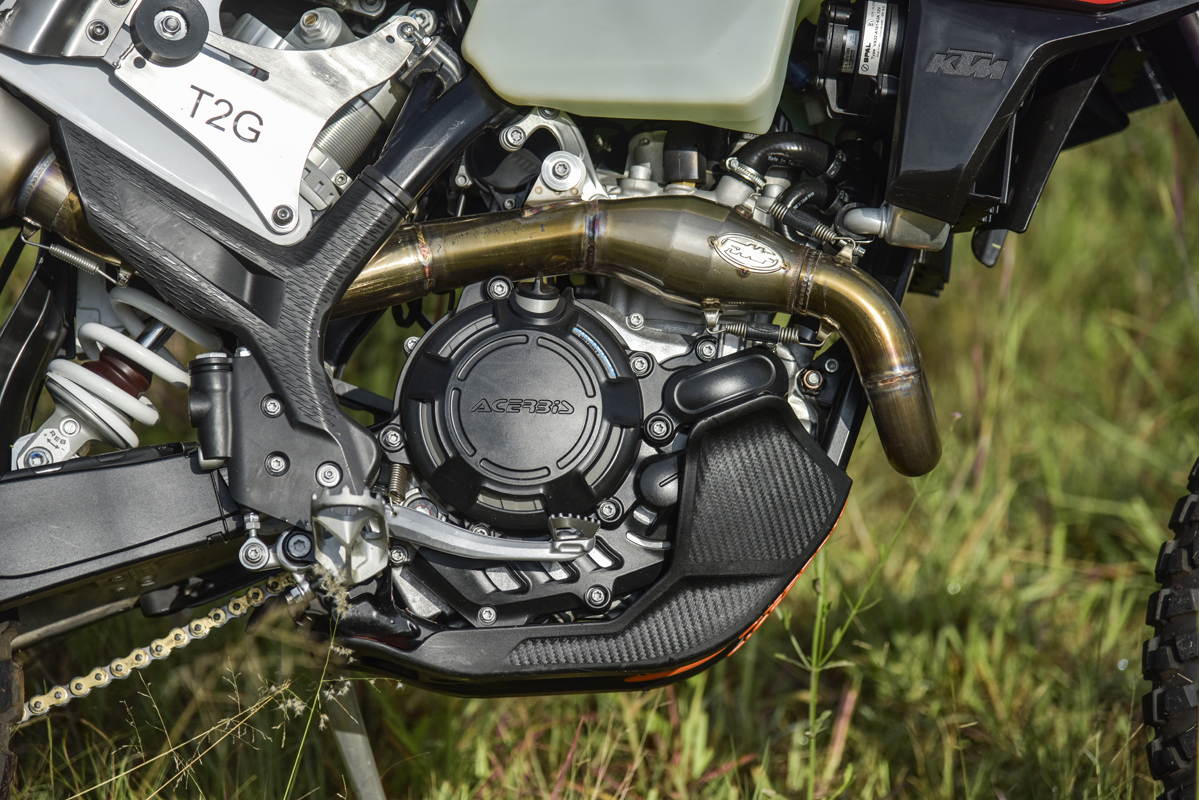 But, get this, in Rally Lite guise, it weighs only 125 odd kg's, fully fueled! It is tall, with 300 mm of suspension travel in its USD WP XPLOR forks, with 310 mm travel in its matching XPLORE shock. This gives you a full 355 mm of ground clearance. The seat height is a towering 960 mm, but is easily overcome by using the left peg as a stepping stone to sling a leg over the beast. Once seated, the suspension sag allows you to get your feet down. At 6'3", I was flat-footed at standstill.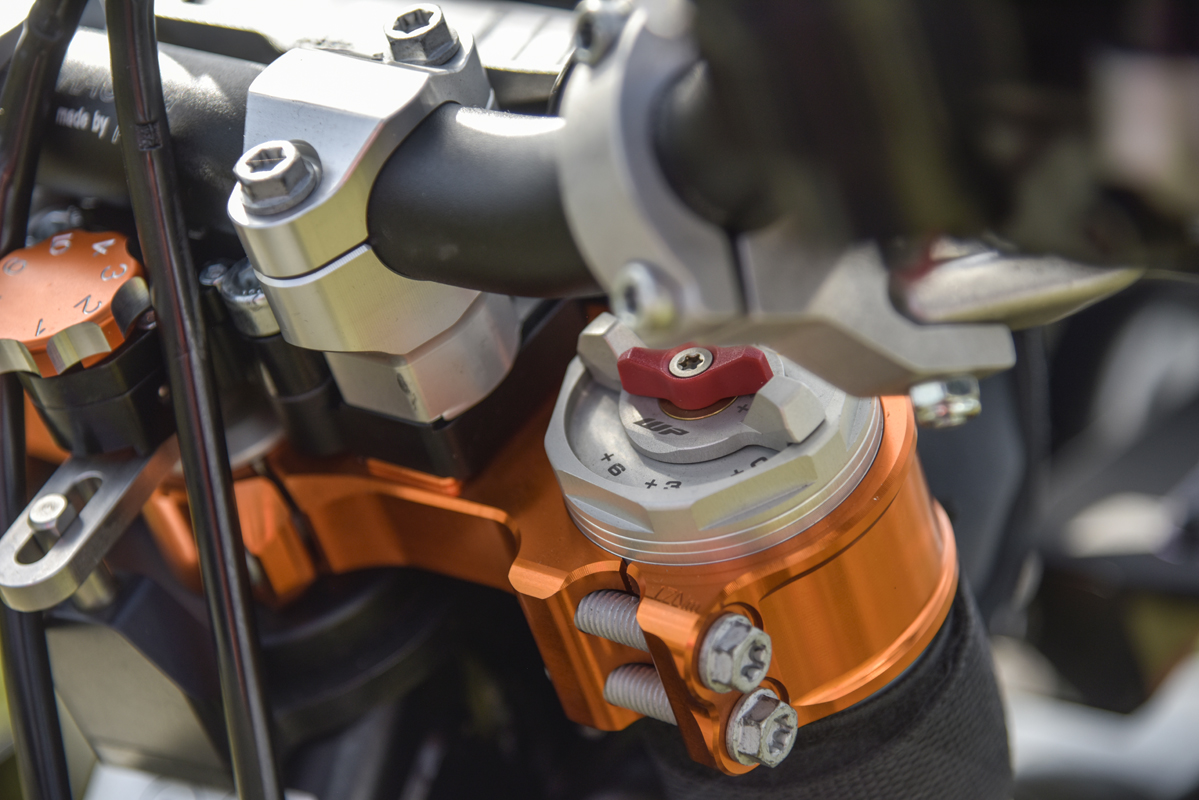 The basic Rally kit consists of a Roadbook tower and screen, with side cowlings integrating into the body panels around a 15 litre Acerbis fuel tank and a comfort seat.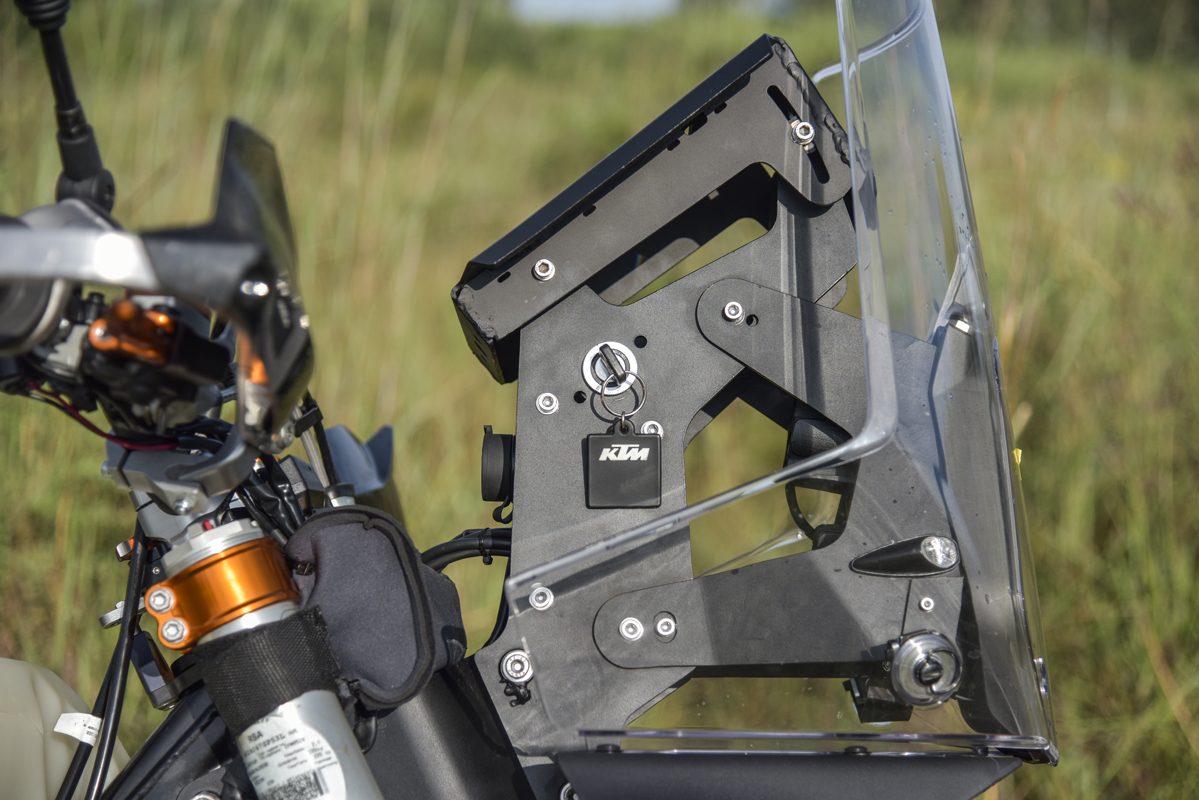 A custom-built stainless steel rack and pannier brackets are fitted with made to measure bags, allowing you to carry essentials with you, but also give you a place to secure a compact travel bag for multi-day trips.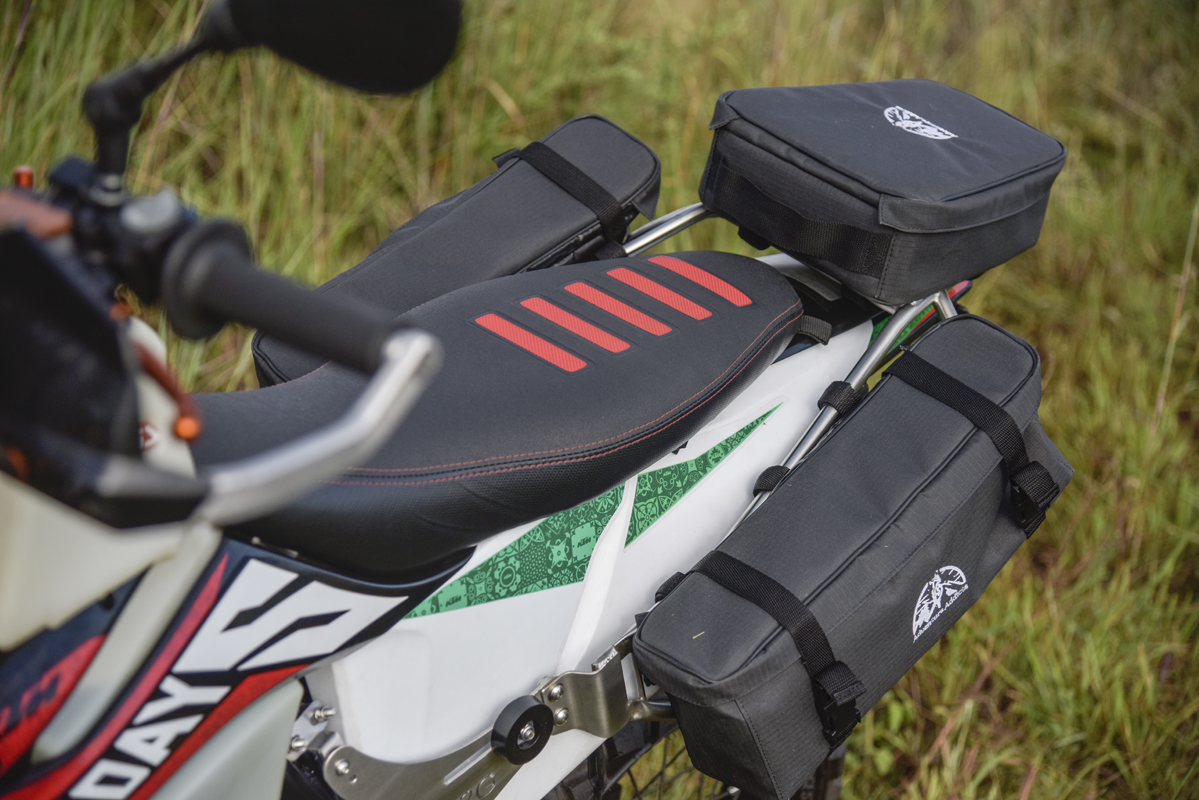 This bike has had the KTM Powerparts catalogue thrown at it as well. Anodized triple clamps and other bits abound, including a steering damper. An FMF Powerbomb full system exhaust completes the picture, adding even more bark and bite to the already manic power. The engine sports upgraded cams and fuel injection as compared to the previous generation 525 (Same 510 cc motor, just different model name).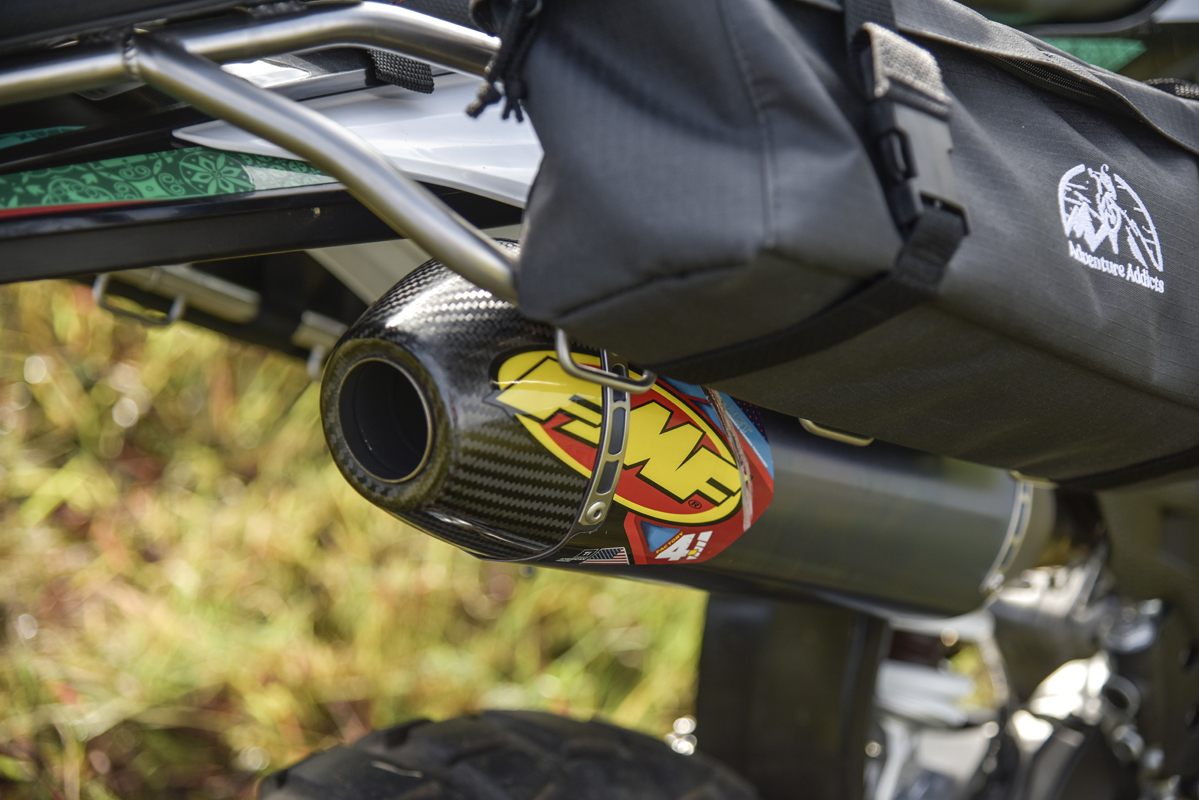 I asked Miguel what his motivation was for building this bike. His answer was quite thought-provoking: "Dave, the Baby Boomer generation that ride big, expensive Adventure motorcycles, are, in my experience, looking for a more economical, lighter option than that available from your typical Adventure bike. As their skill levels and strength diminish, they start to struggle with huge, heavy bikes offroad. When they fall off, as will happen at some point when you ride more technical offroad, they struggle to pick their bikes up". This got him thinking. Why not build a bike that is super competent, working with you in the dirt, light and agile, yet able to cruise at 120 without effort. Enter the RAD Advenduro Rally Lite. It is not meant to replace the awesome all-round abilities of a big Adventure bike, but give you a hardcore second option in your garage. So you are no doubt wondering how it works? Read on…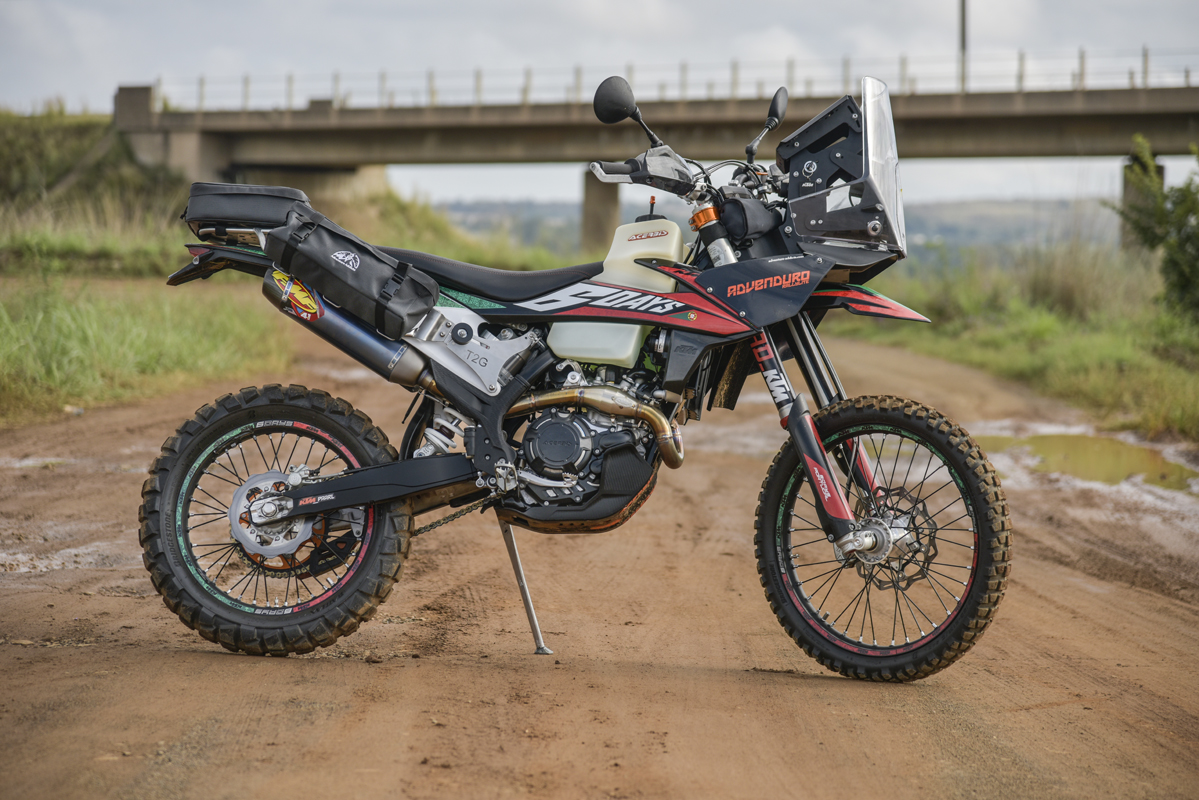 I left home in the dark, to meet up with the Sunrise Scramble crew at a service station in Cyrildene. The headlight low beam is an orange LED and works well as a highly visible day time running light. Hit the high-beam, and it throws a swathe of white light. The lights are mounted in a typical KTM Adventure shaped light, which is integrated into a tower-mounted, KTM factory Rally Screen.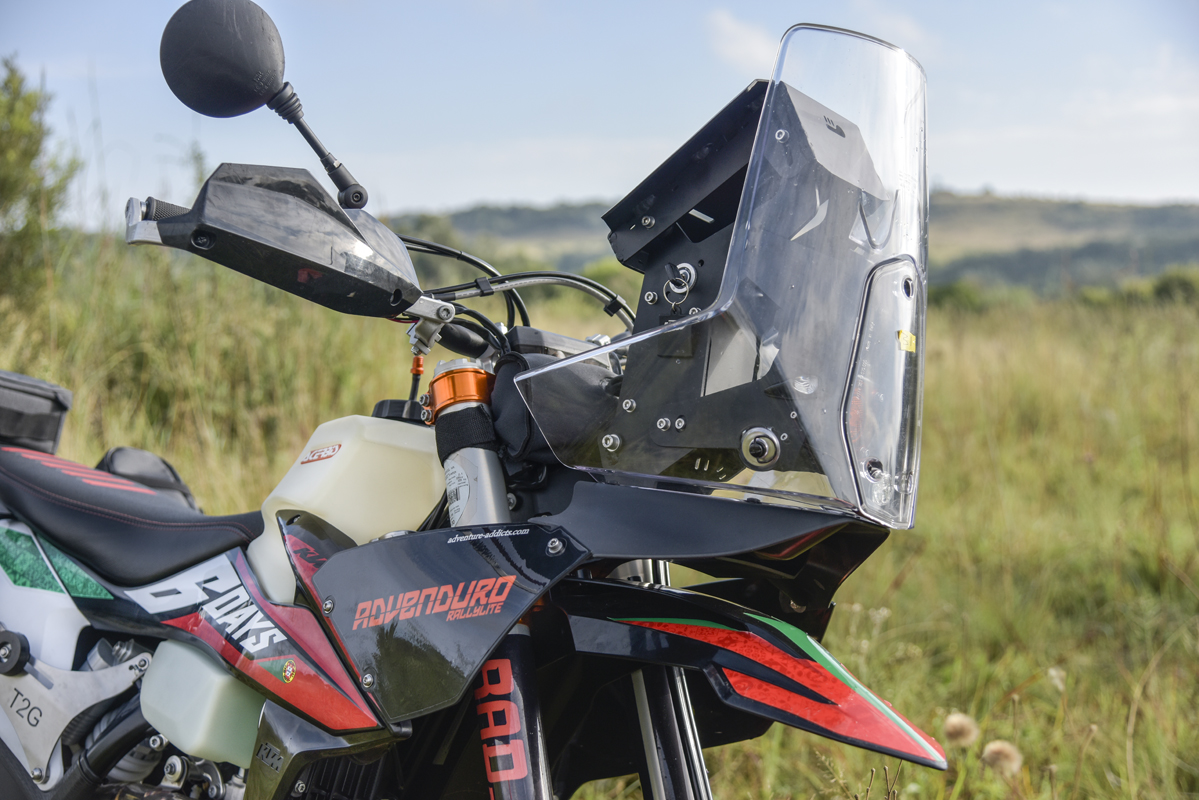 The Acerbis tank is brilliant, carrying the bulk of the 15 litres low, and allowing you to move far forward on the seat, for aggressive cornering. The bike is ridiculously economical. I never did a precise consumption test, but judging by the amount of fuel left in the transparent tank after 250 k's of riding, it is good for way over 350 kilometres.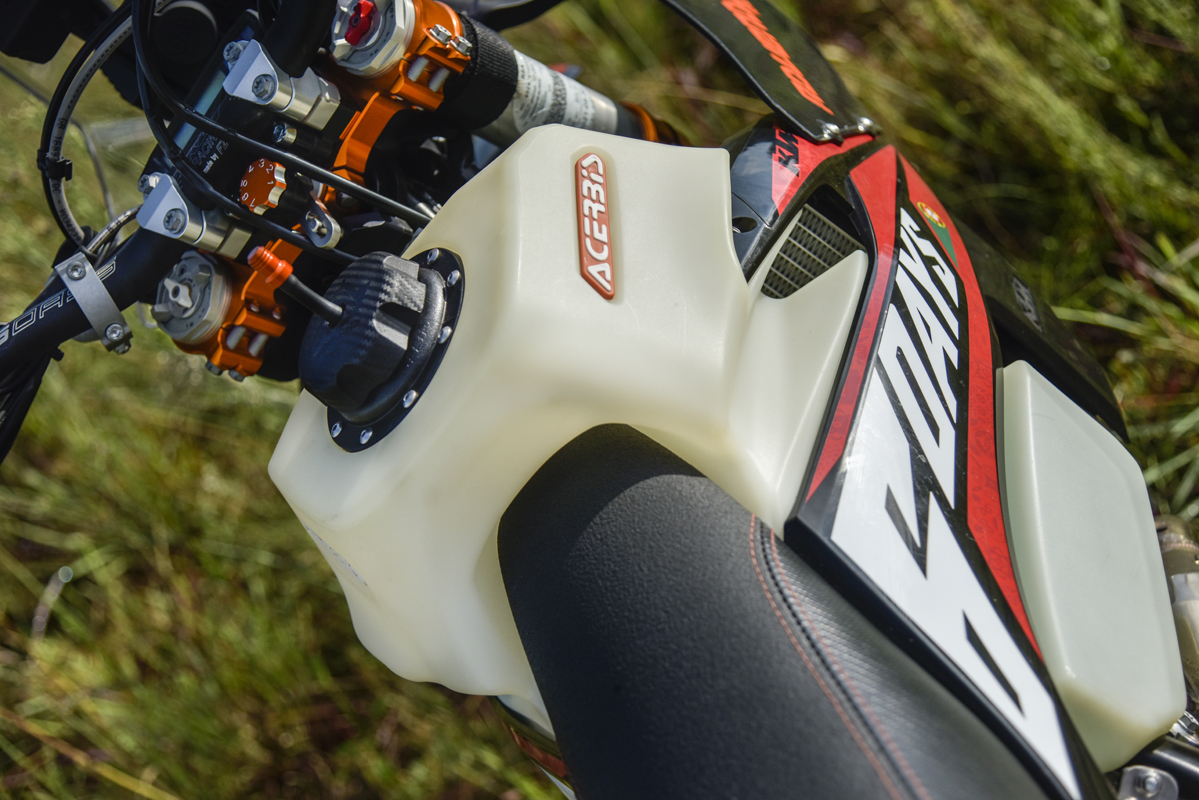 I cruised on the R21 at a relaxed 110\120 with huge reserves of power on tap. Pulling in to the gathering point, the bike caused quite a stir. With its Rally look and barking FMF pipe, it is about as subtle as the gonads on a mastiff!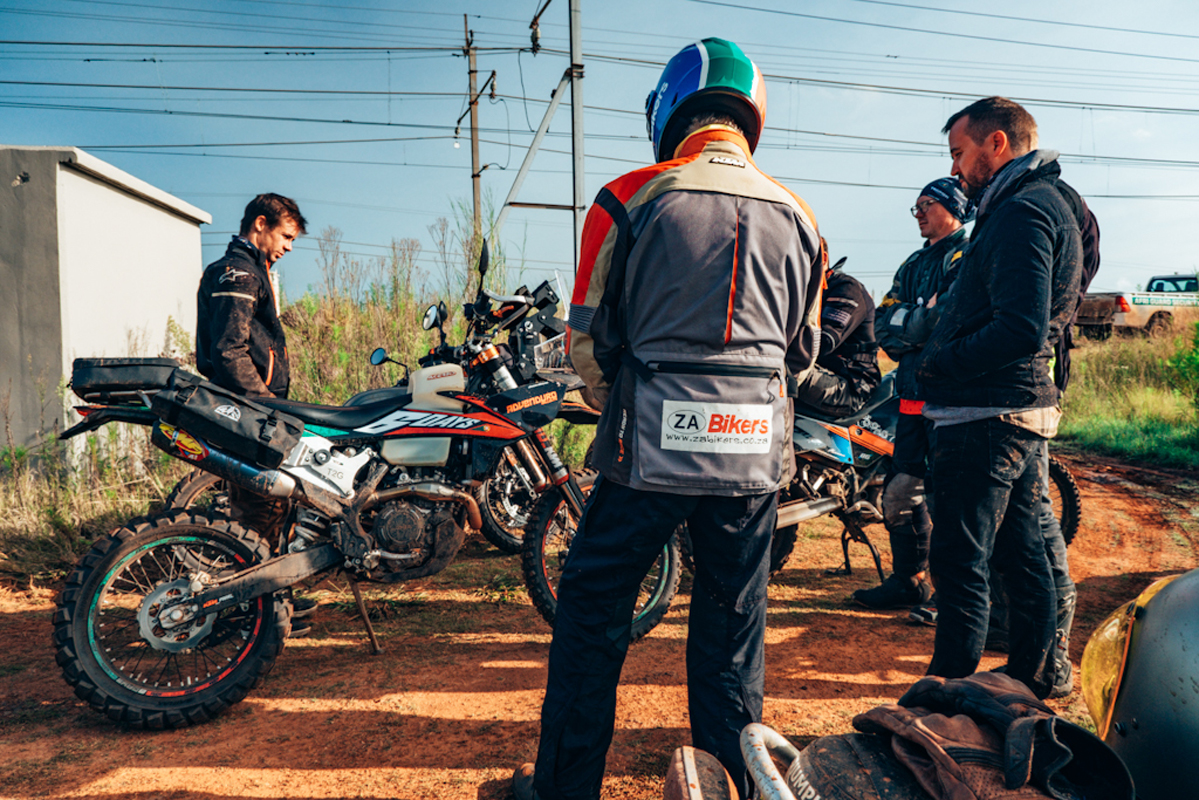 Our route took us on to the Bronkhorstspruit road and then dirt railway service roads almost all the way to Bronkhorstspruit itself. The group comprised some really diverse bikes. Joe Fleming from Bonafide was aboard his beloved Bonneville 1200 Scrambler, leading a contingent of retro bikes. Triumph was particularly well represented with Tiger Rally Pro's, 800s, Explorer 1200s and modern classic 900 and 1200 Scramblers, as was BMW, with R Nine T's and GS's, in both 850, 1200 and 1250 guise. There were three KTM's. A 950, a 690 and 'my' (If only) wicked beast. The route was challenging in places, mainly due to the excessive amounts of water and the resultant mud. There were a few mud induced mishaps, but nothing serious.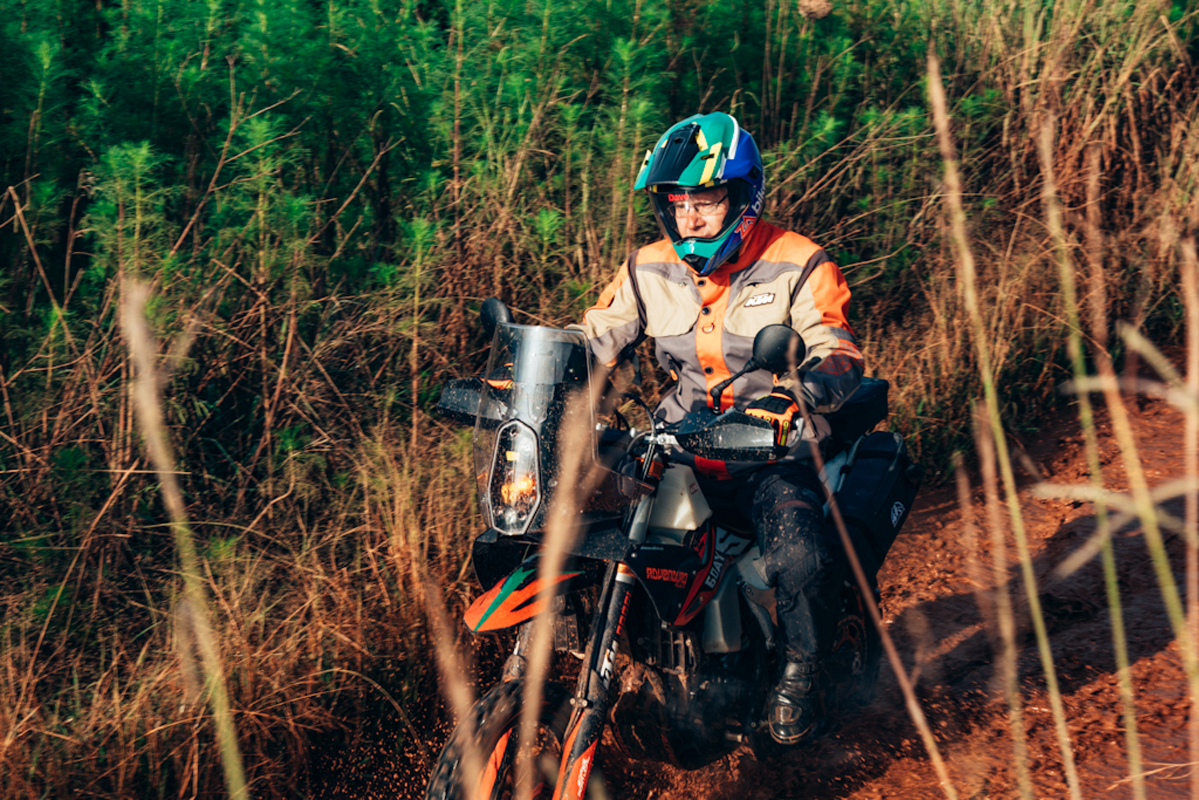 The RAD Advenduro Rally Lite was a revelation. The underpinnings are pure dirt bike, with huge suspension travel, so there were no anxious moments, despite my decidedly average ability. The bike is insanely capable and, despite its huge power, easy to manage through any challenge that comes its way. It has an uncanny ability to find traction. The two-stage traction control obviously plays its part too.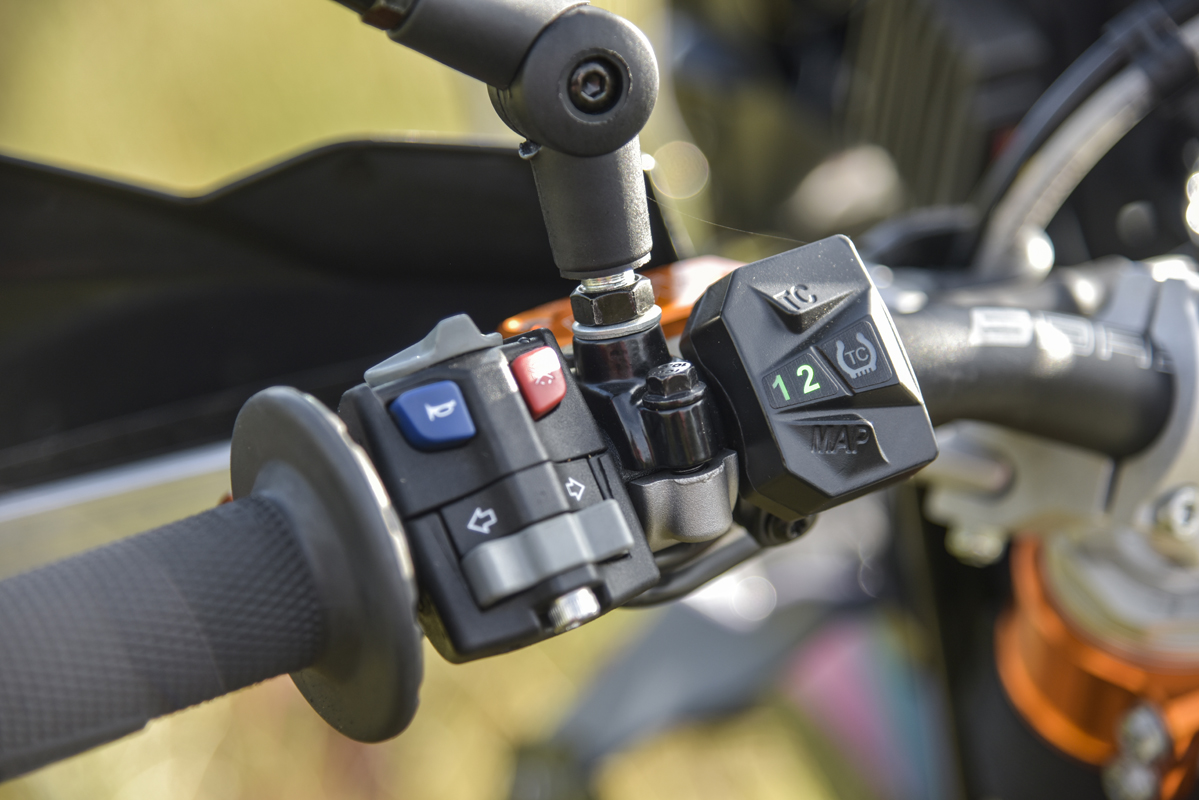 I was enthusiastically rear-wheel steering out of some smooth dirt bends where the bike would not slide on the loamy surface, but find grip and start to loft the front wheel. So there you are, laying the bike down and getting on the gas in the corner and the front wheel lazily lofts out of the bend. So damn cool! You short-shift through the sweetest gearbox and let the wall of torque just launch you down the road.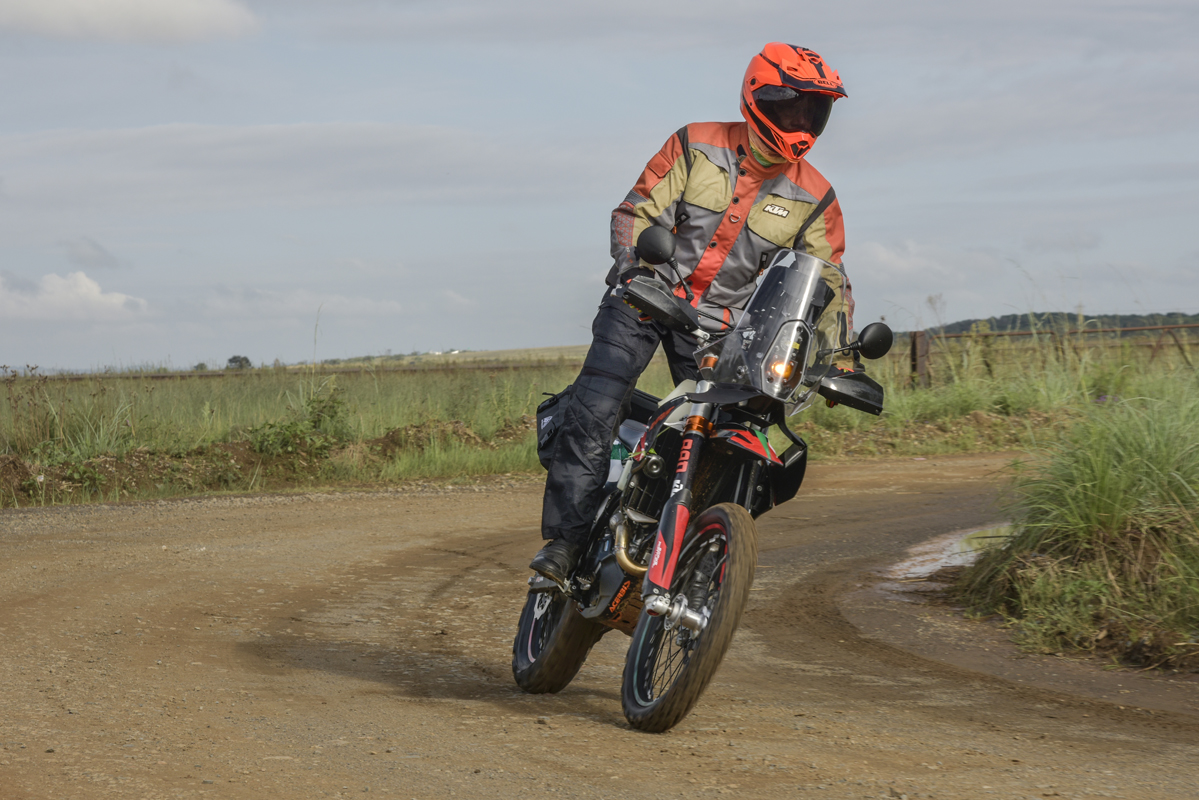 It is obviously insanely fast, but thanks to top-quality Brembo discs, you can keep things tidy. On the open road sections, it runs to crazy speeds for a dirt bike, with the screen doing a fantastic job of keeping you out of the windblast, with no discernible buffeting. That said, as mentioned earlier, I found myself contentedly cruising along at 110, in relative comfort. Deeper padding on the comfort seat definitely made a huge difference too. Being a big single, there is obviously some vibration, but nothing that is a deal-breaker, but rather serves as a reminder that you are on a purpose-built performance machine.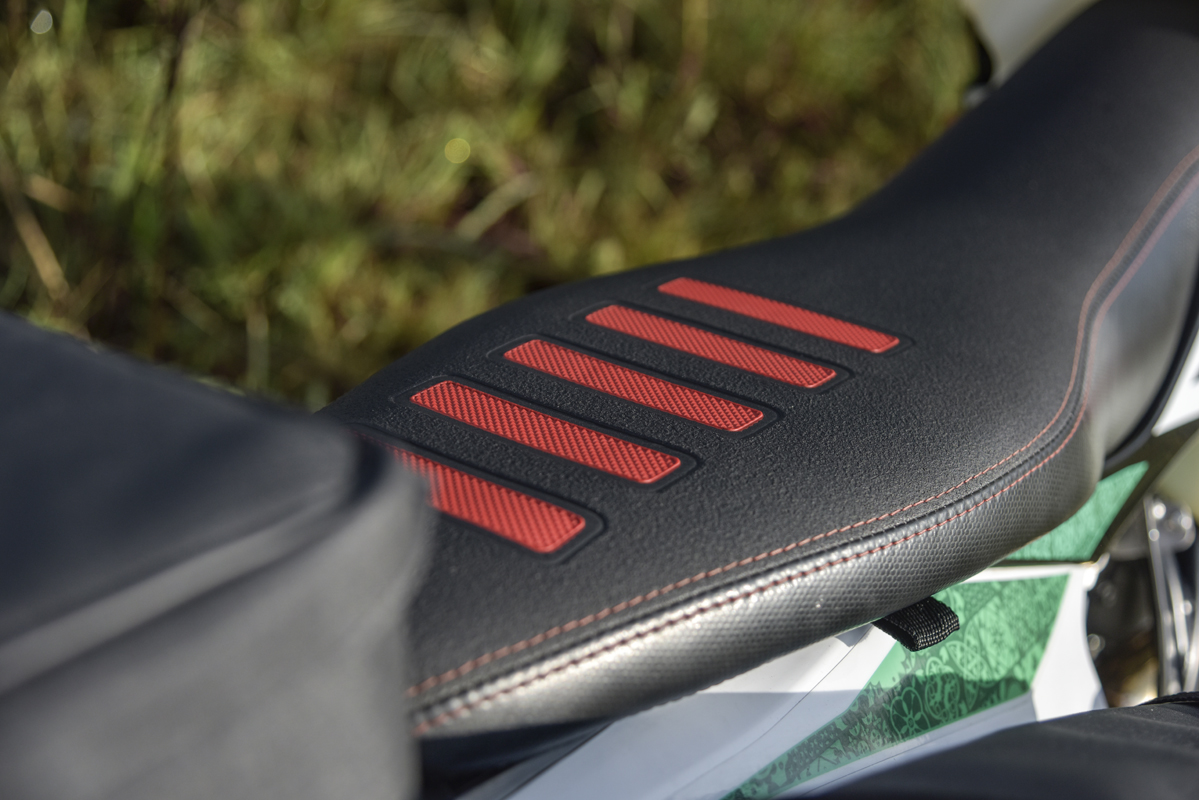 Pondering on what this bike is about I came to the conclusion that it takes Adventure biking to a completely different level. I would call it an 'Expedition Bike'. A bike that can take you places that you may get to on a big Adventure bike if you have serious skill, but never with the fun that you will have doing it on this bike. Granted, it does have more stringent service requirements, but for the discerning dirt donk, that is a small price to pay for unparalleled off-road ability.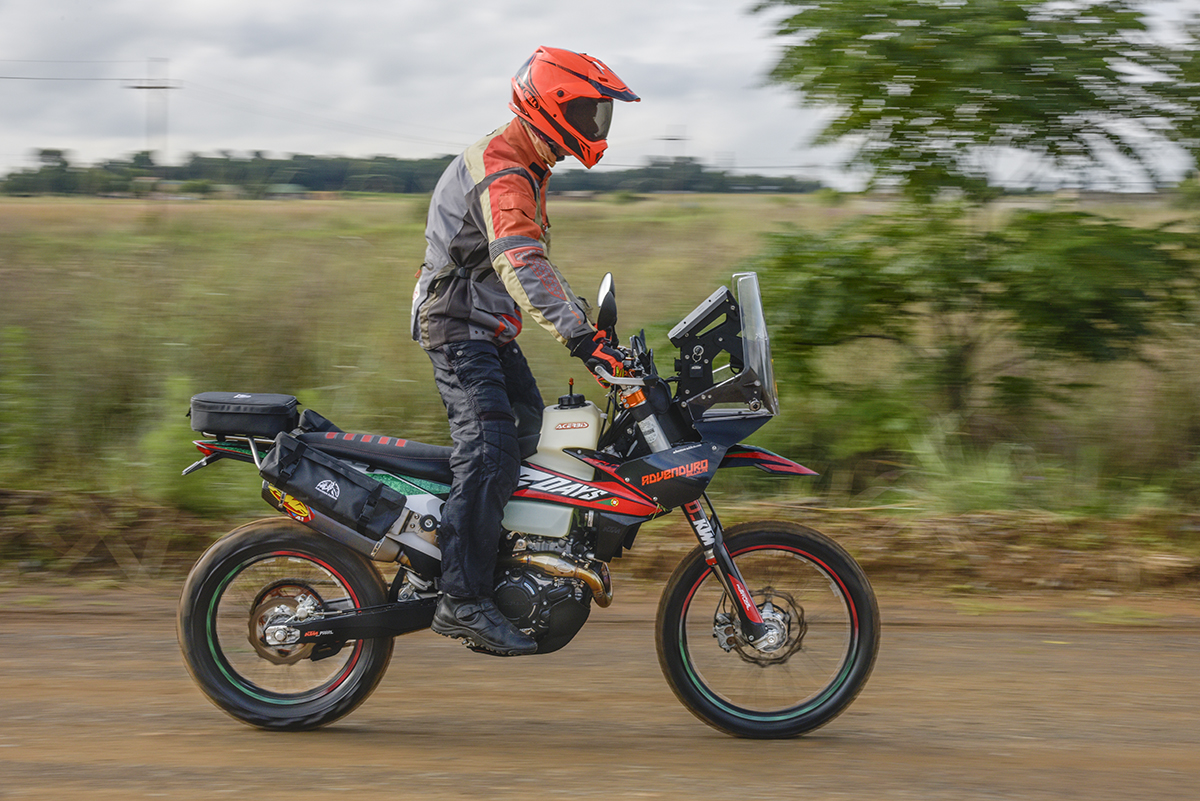 Stick it on a trailer and cruise to Nieu Bethesda. Leave your car there and explore every inch of the Karoo on this bike. Or the Wild Coast. Or Namibia. Oh crap, go just anywhere the fancy takes you, secure in the knowledge that nothing is off-limits for you on this bike. You will have to have your smile surgically removed! For a functional replica of this bike, you will shell out somewhere in the region of R170,000. Speak to Miguel, or the team at RAD KTM, they would love to build you a bike to your specific specifications. I am just wondering whether Irene would notice a radical new Katoom amongst the other bikes in my garage………
A huge thanks to Rad KTM for entrusting me with their special bike. It is hugely appreciated. To Joe and the guys on the Sunrise Scramble, a big shout out. You are all true to Bonafide's mantra of 'don't be a dick'. For me, it was not easy, given the weapon I was riding, but when you read my account, I am sure you will understand.
For more information visit – www.radmoto.co.za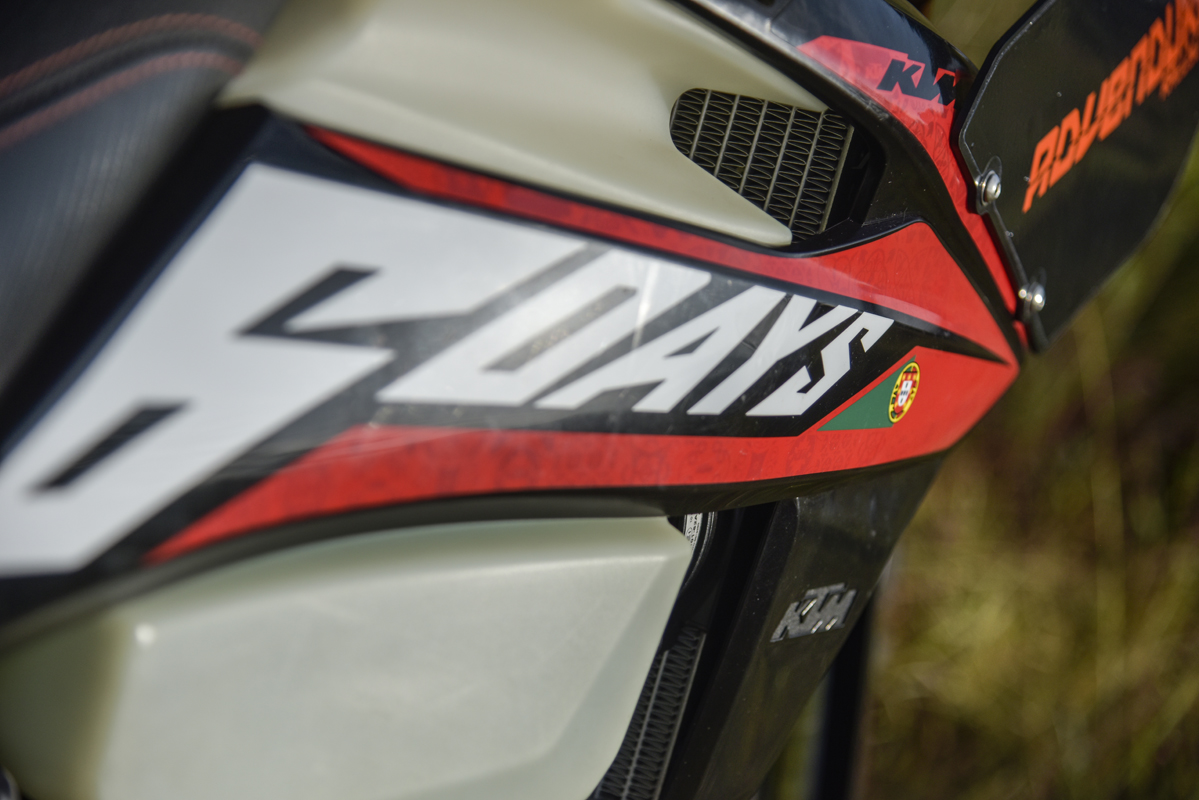 Origins of the Sunset Scramble
Four odd years ago, the two guys behind Bonafide Moto Co, Joe Fleming and Alan Shenton, had this idea of riding to the top of a dirt road to witness the sun rising. The road in mind was Breedt's Nek, a firm favourite for the Adventure bike fraternity. They bounced the idea off some of their Modern Classic riding buds and it was game on. As Joe remembers it, it was winter, and they left Jozi at around 4 am, together with 8 buds, to ride to, and up Breedt's Nek, before sunrise. All went according to plan and after witnessing a sunrise together, Joe served up some rolled oats, which he had prepared, and Alan did a bacon and eggs fry up. Such a good time was enjoyed by all that they pledged to do it again.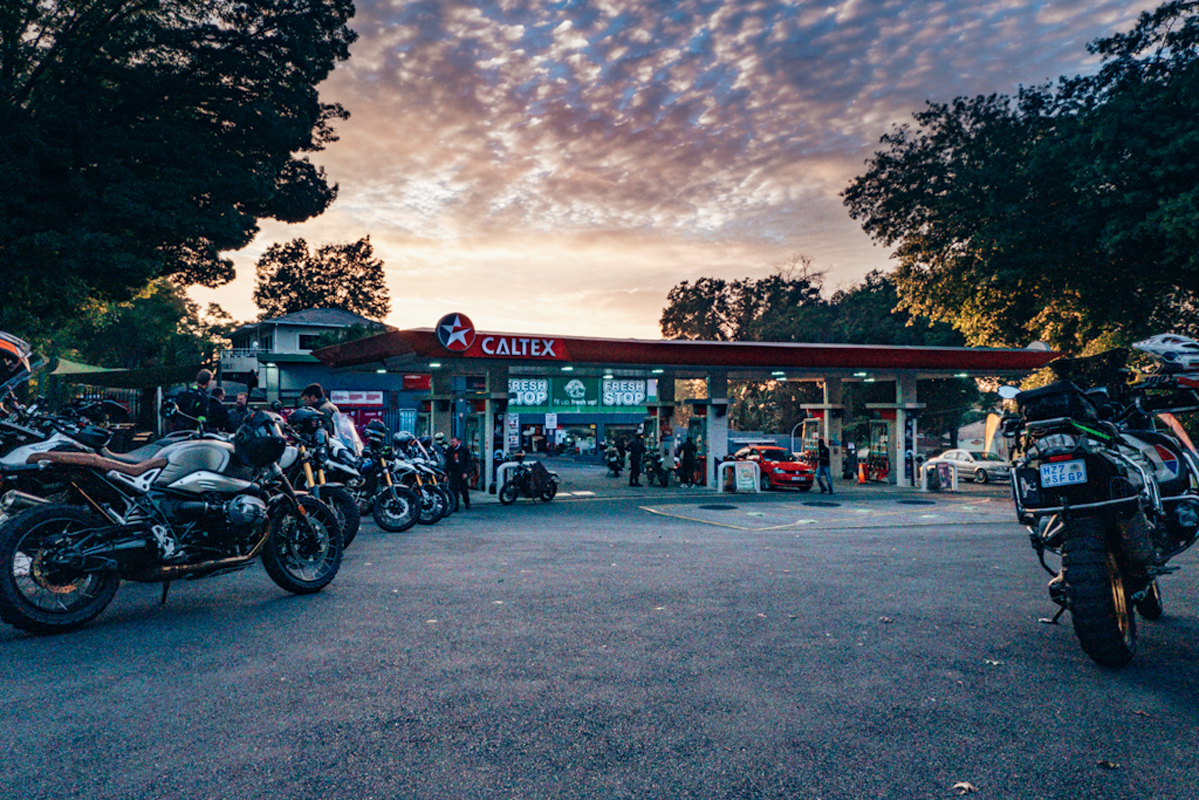 Life happened, and then along came Covid. Like all of us social animals, they were starved of opportunities to hang with like-minded buddies, so in August last year, the Sunrise Scramble concept was resurrected and fine-tuned. On the last Sunday of every month, with the exception of December, the Bonafide boys host a Sunrise Scramble. The brief is simple. Leave your ego at home. Ride at a pace you are cool with and don't be a dick, no one gets left behind and numbers are kept down to preserve a degree of comradery and intimacy. Routes are revealed on the day, to preserve a treasure hunt kind of appeal. The route culminates at a brunch venue, where everyone socialises and tells the inevitable war stories, and, at their leisure, mosey off home. This was my first, but definitely not my last, Sunrise Scramble. Good riding and good times, with good company, is a sure-fire recipe for good times. Just a heads up. If you would like to join up for a ride, book early. These events are epic and fill up quickly after info is posted on Facebook. Get on the Bonafide mailing list to get early notifications of upcoming events.
For more information visit – www.bonafidemotoco.com