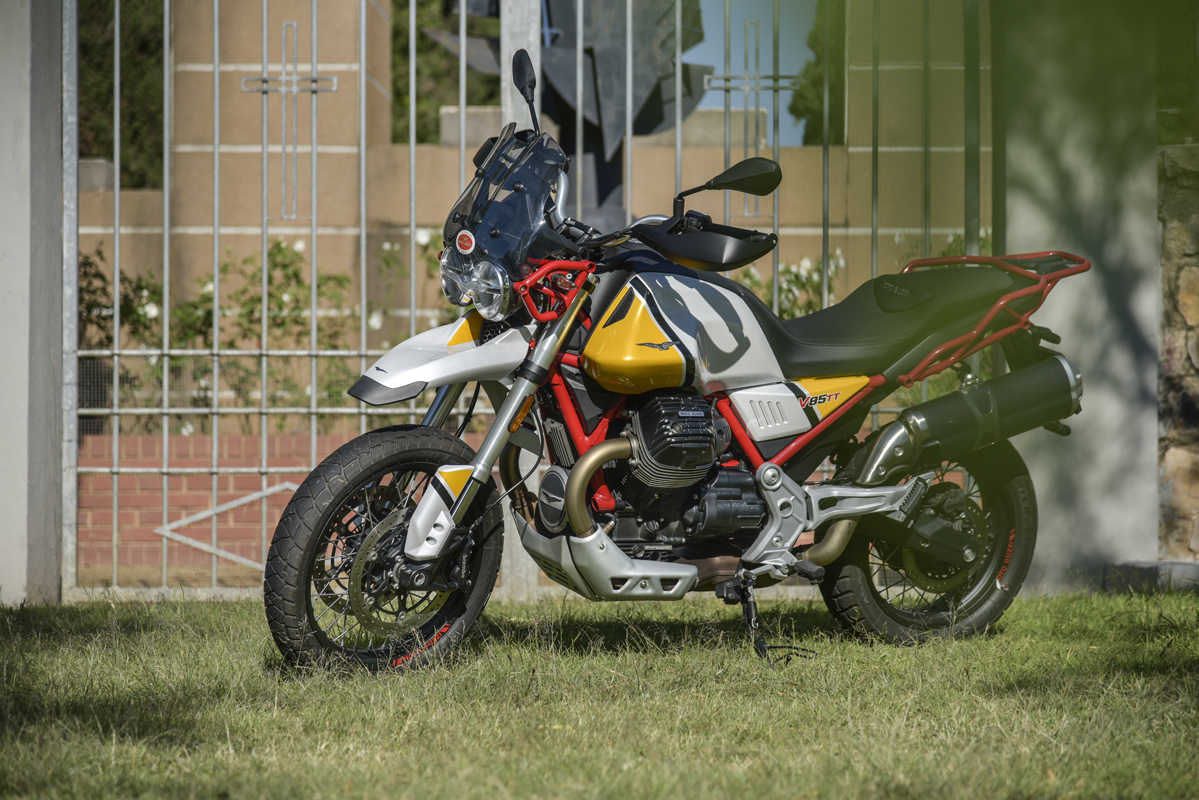 Let's get one thing straight. This is 'Guzzi' like in 'tootsie', not Guzzi as in 'cuzzie'. Mow Tow Gootsie. Ok, now that we have cleared that up once and for all, let me tell you a bit about my time spent riding this piece of Italian motorcycle porn. It all started with a call from Sean, at Italian Motorcycle Importers, in William Nicol Drive, Bryanston, home to Italian brands Aprilia and Moto Guzzi. He just mentioned Moto Guzzi V85 TT, and I was there like a shot. I have been drooling to ride this new offering from Guzzi since seeing photos from the Sardinian launch of the bike.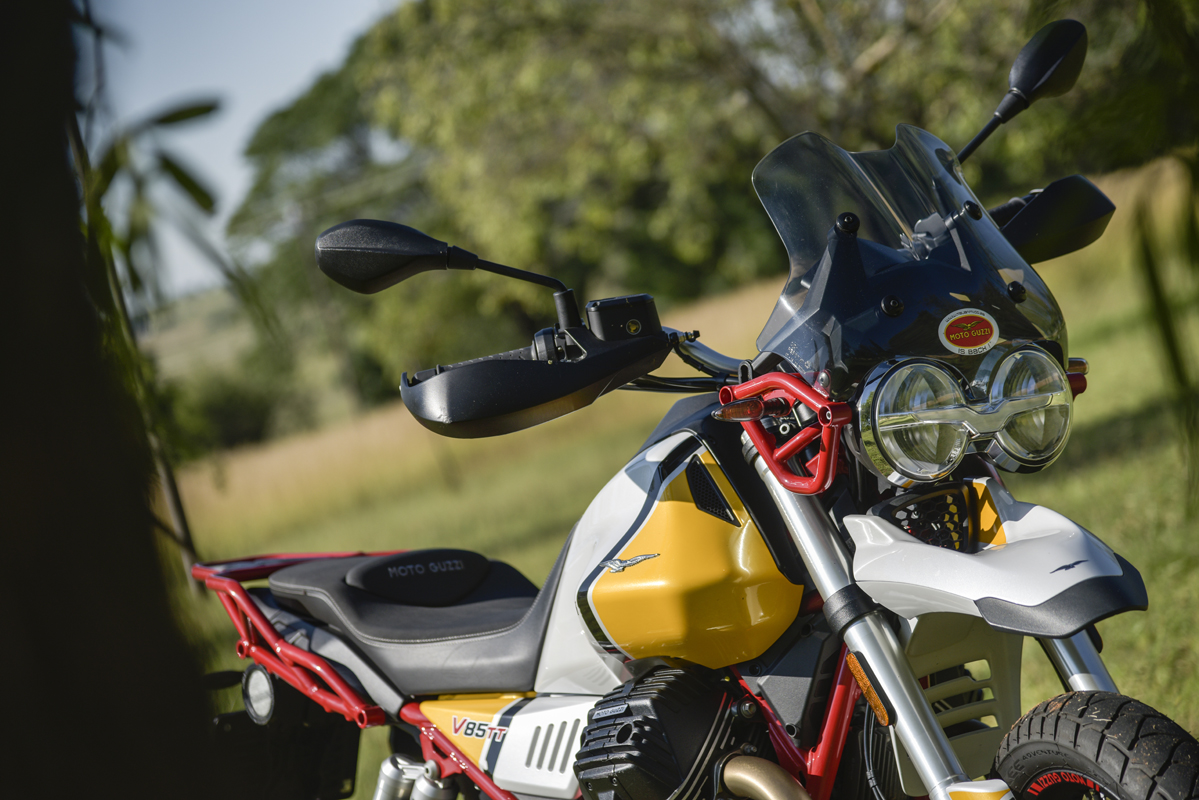 From when my buddy Gerry bought his black and red 850 Le Mans around 1979, I have had a thing for this brand. Used to a diet of high revving 750 Honda's, I loved the long-legged torquey nature of the Guzzi, also the handling was sublime. My Honda's needed a lot of suspension fettling to remove the mild 'hinge in the middle' feeling through long, high-speed sweeps. Out of the box that Guzzi was a weapon on a windy road. The small-block V rumble was also a refreshing change from the banshee wail of a high revving Honda.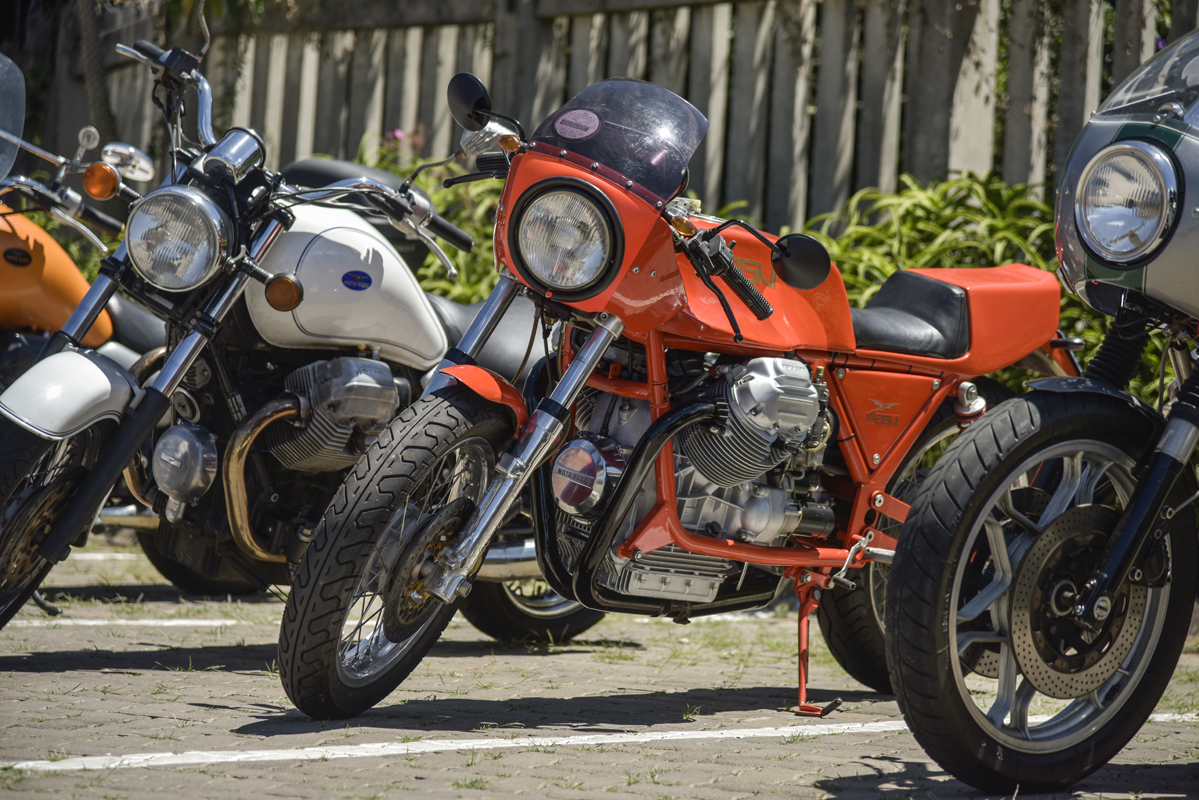 Moto Guzzi is a company with a rich history. Started almost exactly 100 years ago in Italy, they have manufactured bikes continuously ever since, and are a century old this year. By and large, Guzzi's have been built to the same recipe. 90-degree pushrod V–Twins, mounted transversely and shaft drive. Lest you think that suggests a lack of engineering prowess, think again. Way back in 1955, Moto Guzzi built a 500 cc V8, double overhead cam, Grand Prix bike, that was wickedly fast. So fast, in fact, that it was 30 years on before any Grand Prix bike matched the 278 kph top speed of the Guzzi V8. It also sported a wind tunnel tested, 'dustbin' fairing, that contributed to the wild top end. Both V8 motors and full 'dustbin' type fairings got banned as a result of the bitching of rival manufacturers. For road bikes, the 90-degree pushrod V's produced solid usable power.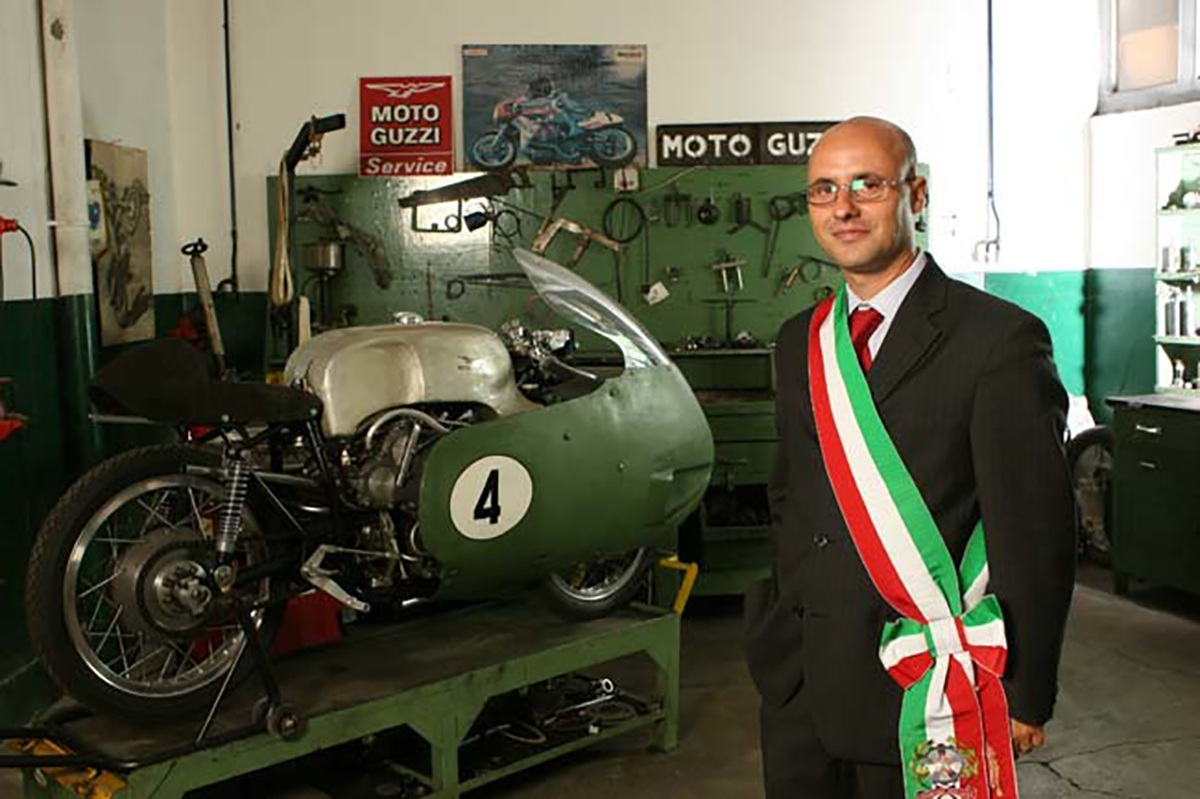 And so it is still today. The V85 TT's motor is a peach. Full of V–Twin character, it is mellow off idle, torquey through the midrange and exploits the almost 80 horsepower up top. Redlined at 7,000 rpm, it is at its most comfortable at around 5000 rpm, equating to a speed of 140/150 kph. There is some vibration felt through the bars and footpegs as the revs rise, however, it is low amplitude and not intrusive or tiring. Really just part of the unique Guzzi character. As with BMW's, there is some crankshaft induced rocking felt when the bike is at idle. This all but disappears as you engage the slightly heavy, but super smooth clutch, to get rolling.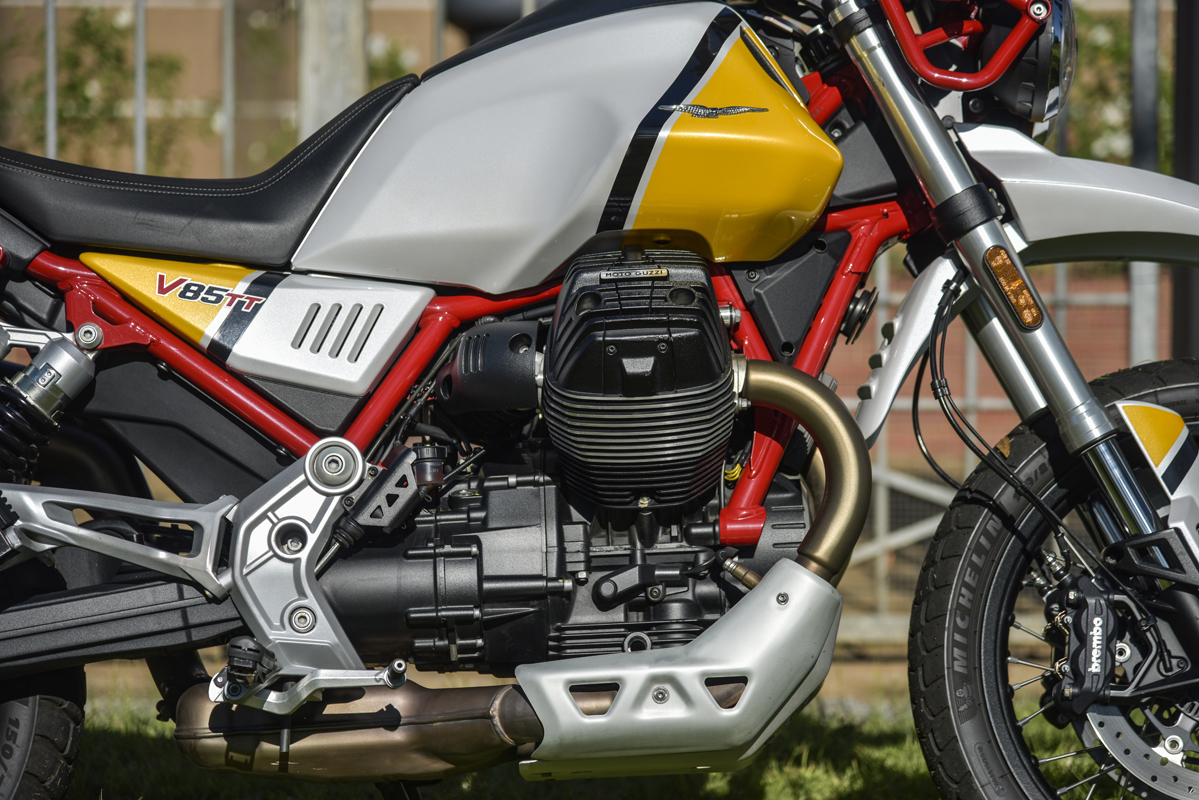 Engine response is soft and mellow at low revs, which makes riding in traffic, or on a dodgy surface, easy at low speeds. As revs rise a strong midrange shove builds, thanks to 78 Nm of torque, allowing short-shifting until 6th gear, where the bike is comfortable at highway speeds. Comfortable in every sense. The seat is nicely shaped, being narrow in the front, allowing two flat feet at standstill, yet moving back onto the body of the seat gives you all-day comfort.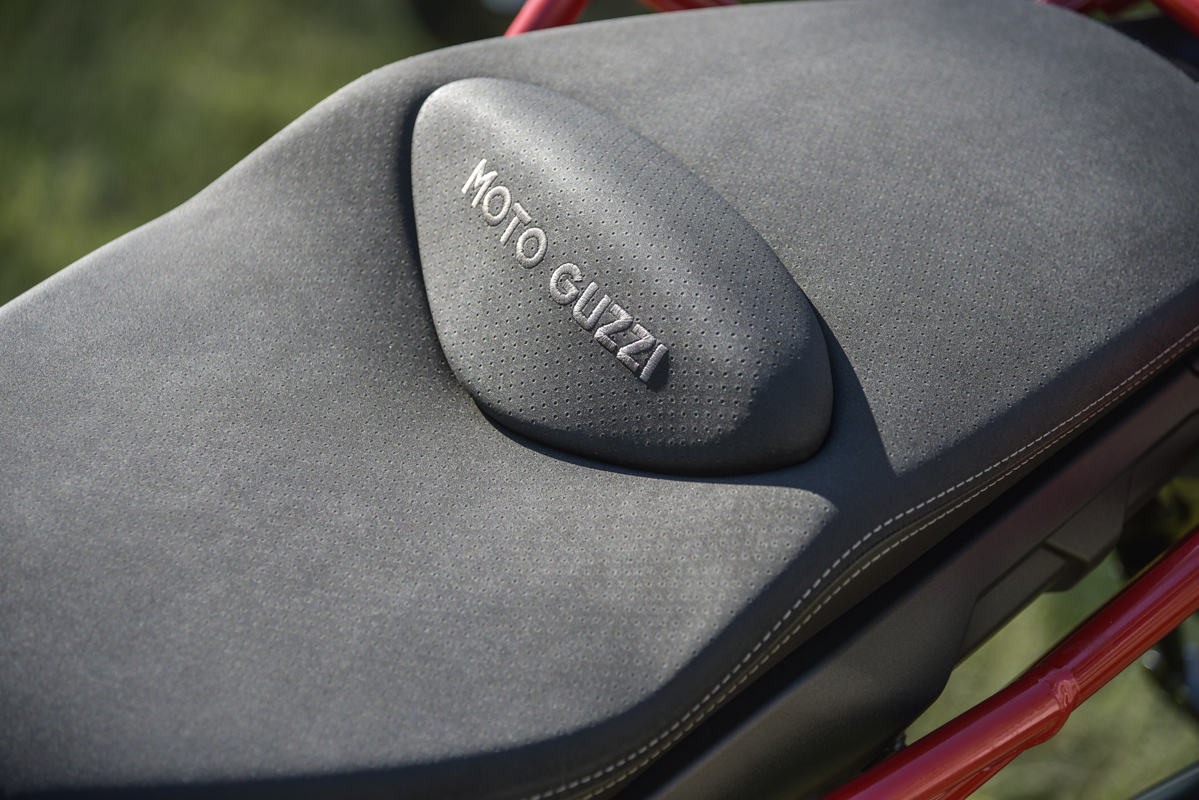 The screen is shortish and adjustable for angle only, yet I found it effective at speed, keeping blast off my body yet leaving my helmet in clean air. Riding the Guzzi elicits a sense of occasion every time you ride it. It looks gorgeous. The finish is as good as it gets and the styling exquisite. The engine, gearbox and shaft are all painted a lustrous flat black which sets off the red steel frame, rack and headlight mounting bracket, spectacularly. Then add the yellow, black and pearl white painted tank and side covers and the overall look is stunning. It attracts looks and comments from all and sundry. This was made particularly evident when parked in Cullinan while we were having a brekkie. A wicked new Ducati Multistrada V4 S was parked right next to the Guzzi, yet everyone just wanted to ogle the gorgeous Guzzi.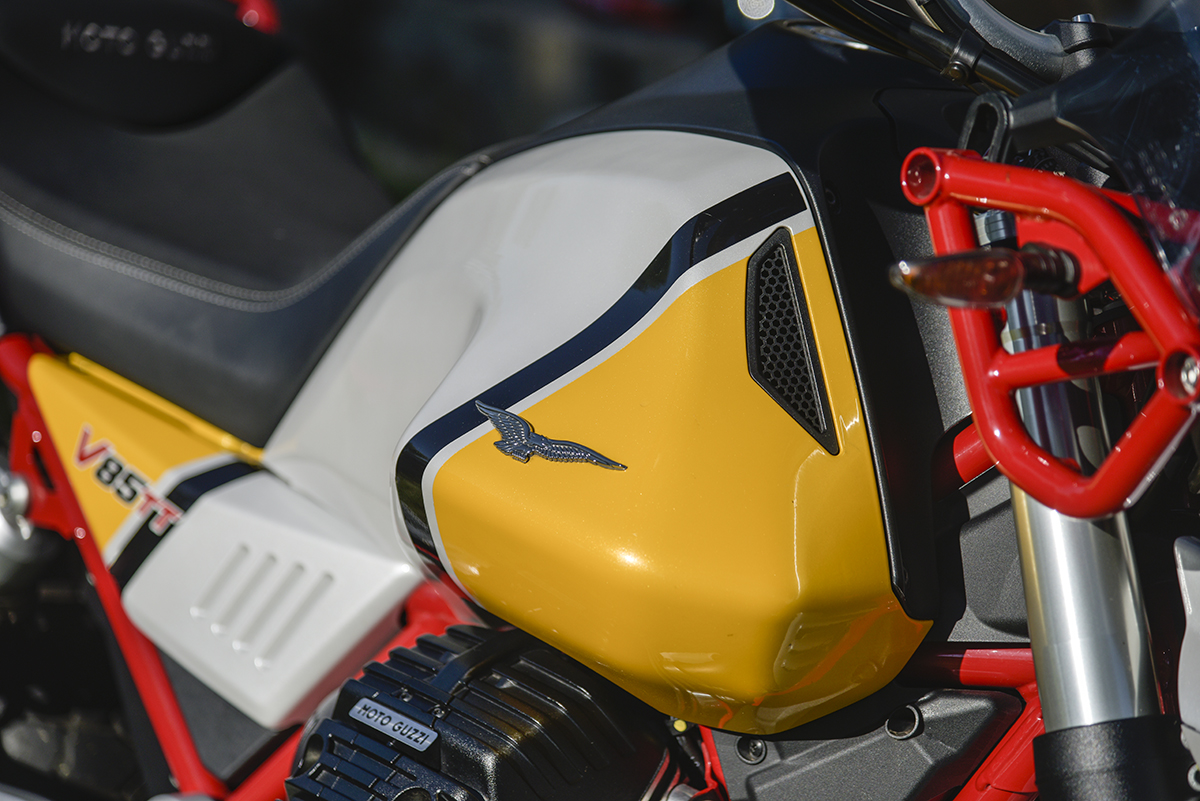 Wheels are a 110/80×19 front and a 150/70×17 rear, spoked and mounted with Michelin Anakee Adventure rubber on alloy tubed rims. Decent tyres for road and gravel travel. To facilitate maximum traction, there are three engine modes, Road, Rain and Off-Road (automatically disables rear ABS). I got caught in a proper summer downpour, yet found the fuelling so friendly, that I didn't feel the need to engage Rain mode.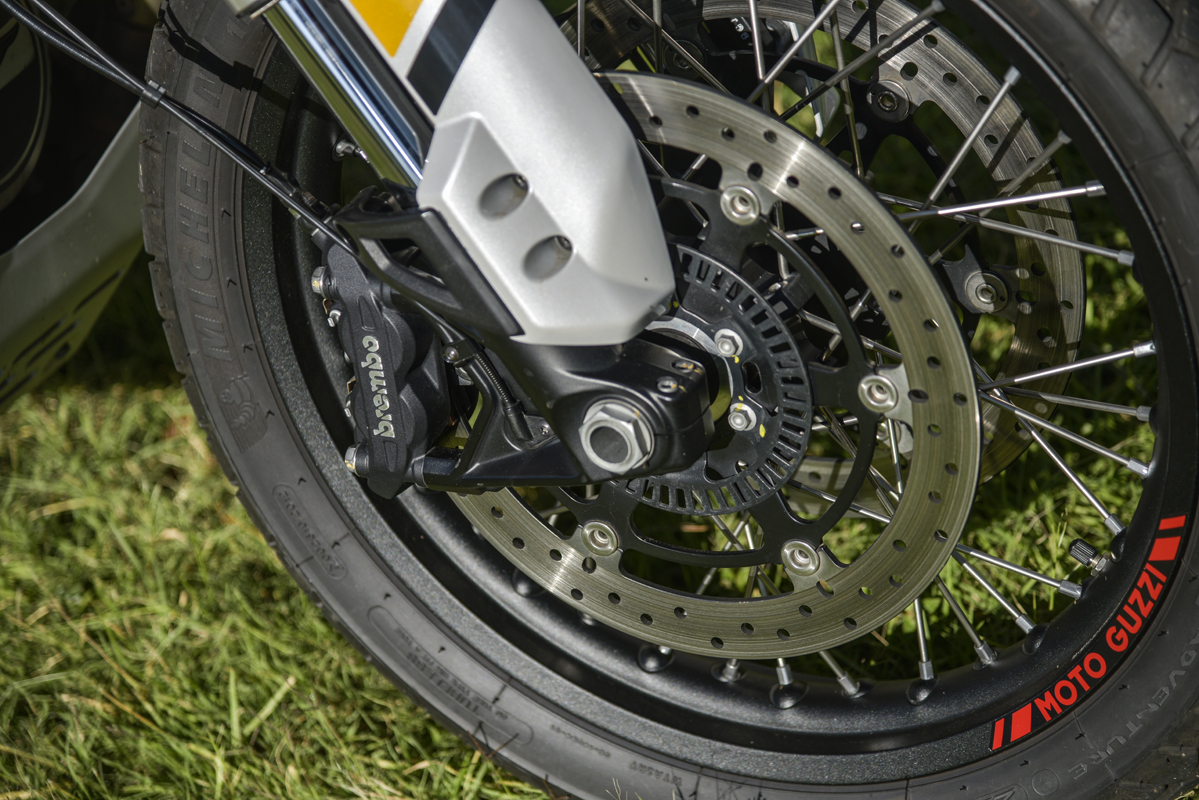 The Guzzi was supremely sure-footed across sodden tar. The bike is not light as such, at 229 kg's, but the weight is carried reasonable low so it never feels ponderous. Suspension is excellent. Preload and rebound adjustable USD front forks are complemented by a single rear shock with similar adjustment. It sits on the right-hand side of the bike, making adjustment a doddle. The ride is well damped and impressively plush over poor surfaces. This also contributes to the bikes solid gravel manners.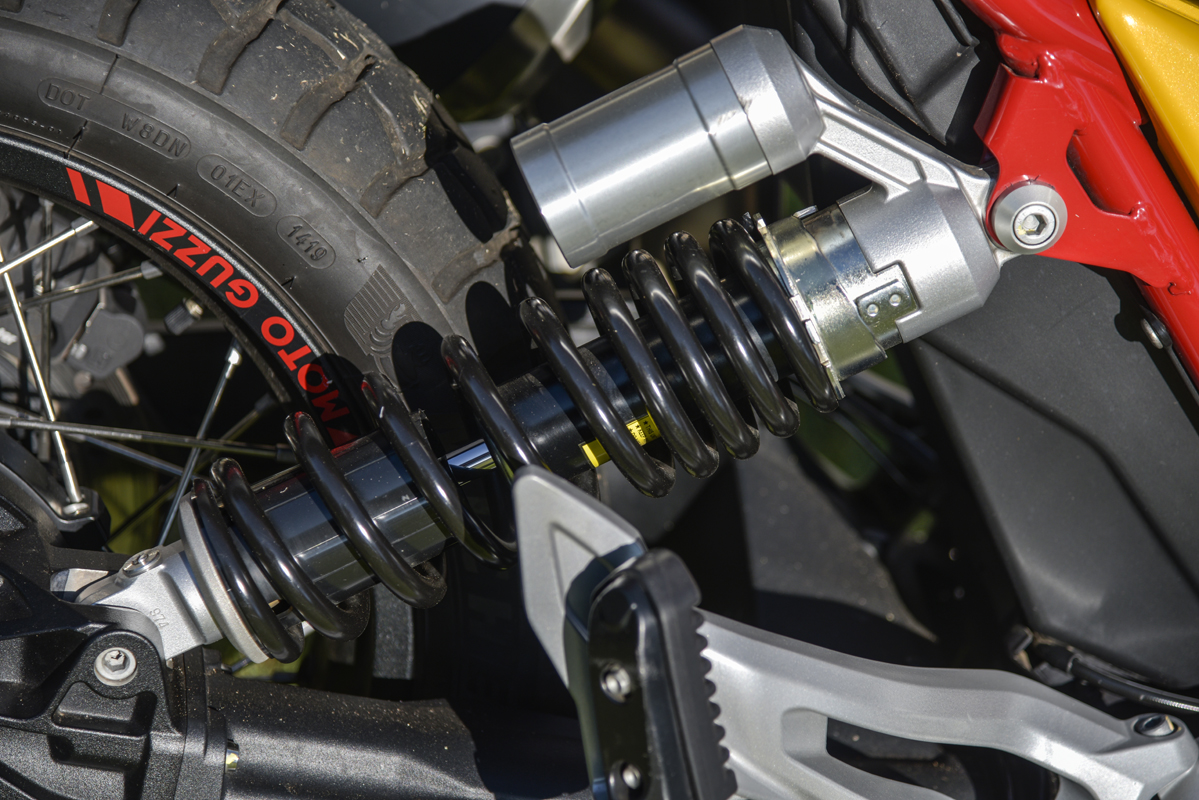 Radially mounted, 4 pot Brembo callipers chomp on 320 mm front discs assisted by a 260 mm rear. As can be expected from this premier brake manufacturer, the braking action is superb. Powerful, with plenty of feel. Whacking the throttle open elicits a honk from the intake and a small block rasp from the exhaust. If it was my beast I would turf the CAT and partially gut the exhaust can. This will probably gain you a horse or two, and create a not too loud aural extravaganza.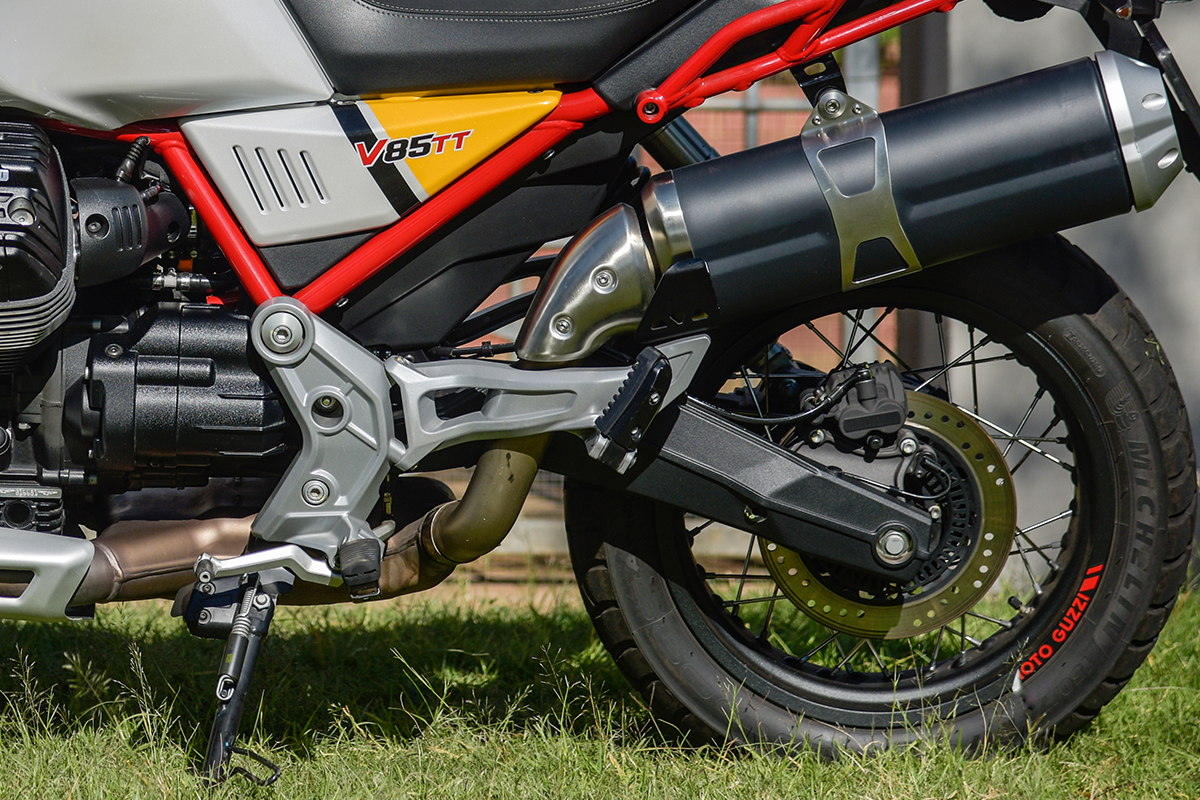 The gearbox is smooth and slick, yet engages with a modern Harley like clunk. The whole ride is sort of manly, with a solid, hewn from billet feel. Except for the hooter, that is. Hitting the hooter button had me howling with mirth. Imagine your Bull Mastiff with a bark like a Pekinese. That kinda sums up the V85 TT's hooter.
Instrumentation is pure class. Switchgear is reminiscent of what you would find in a Maserati or Bugatti. Mode button on the right and cruise control, flickers and funny hooter on the left. The dash is a TFT display, with smartphone app satnav connectivity, and info on all the bikes functions available at the intuitive press of a button. There is a subtle compass face background to the display which I thought was oh so cool. The display adjusts according to ambient light, staying easy to read no matter what. I switched the bike on and off a few times, just to watch the 3d image of the trademark Guzzi eagle fly onto and off the screen. Uber cool!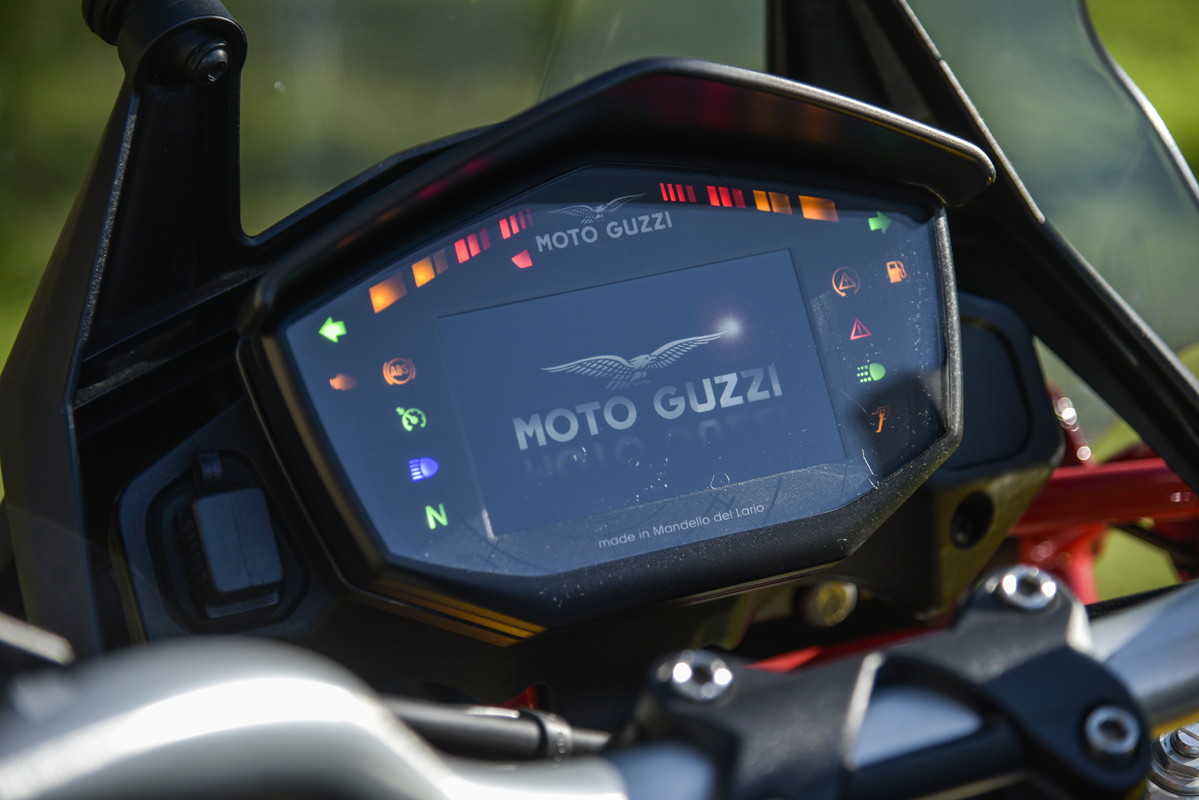 The daytime LED running light extends across the high and low beam, again, with a Guzzi eagle silhouette. Speaking of lights, the low beam throws a nice wide spread of light, however, I would have liked a longer throw on the high beam. A 23-litre fuel tank gives you a range of over 460 k's if you are not too hard on the throttle. Ease off even more and 500 k's is not an impossibility. Good for peace of mind when cruising through Bots or Namibia.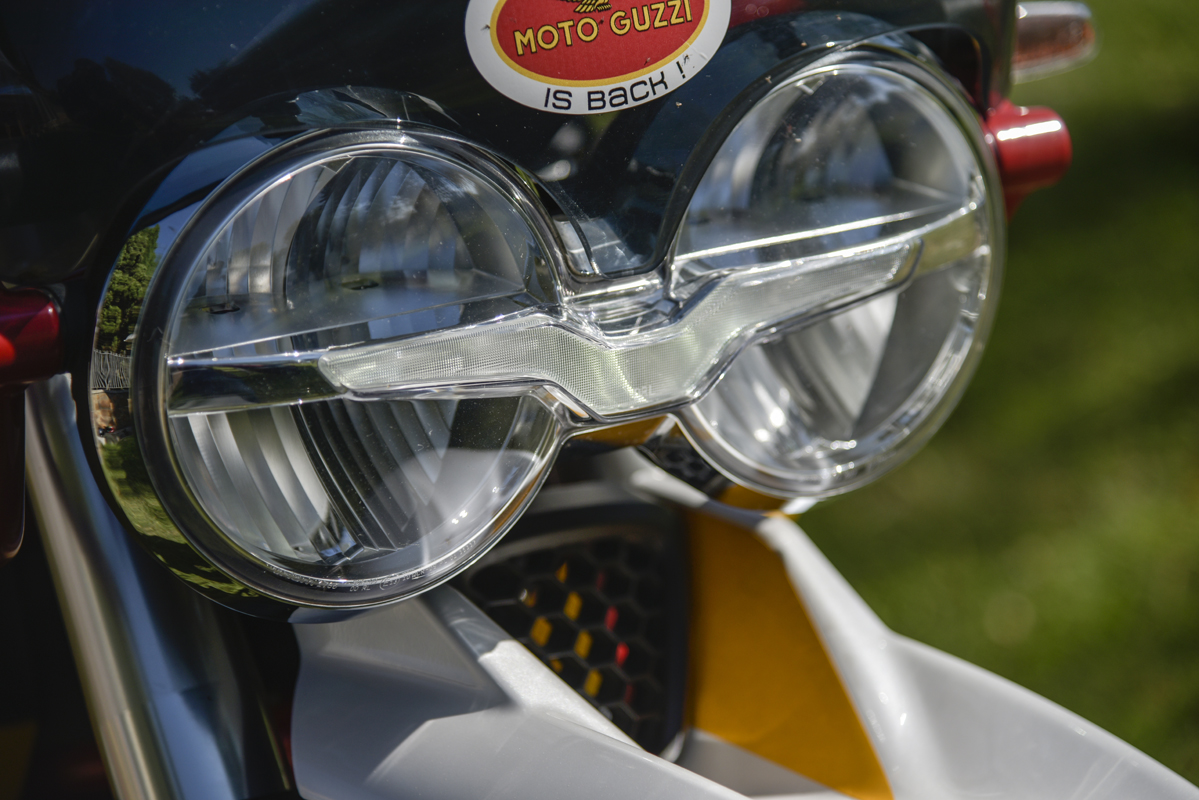 The V85 comes in a slightly more fully specced Travel model too, sporting niceties like heated grips, spotlights, touring screen, main stand, panniers and so on. It is only available in a distinguishable gold, rather than the regular V85's red or yellow colour scheme. If you value all of the extra spec then the R30 odd grand difference in price is a steal.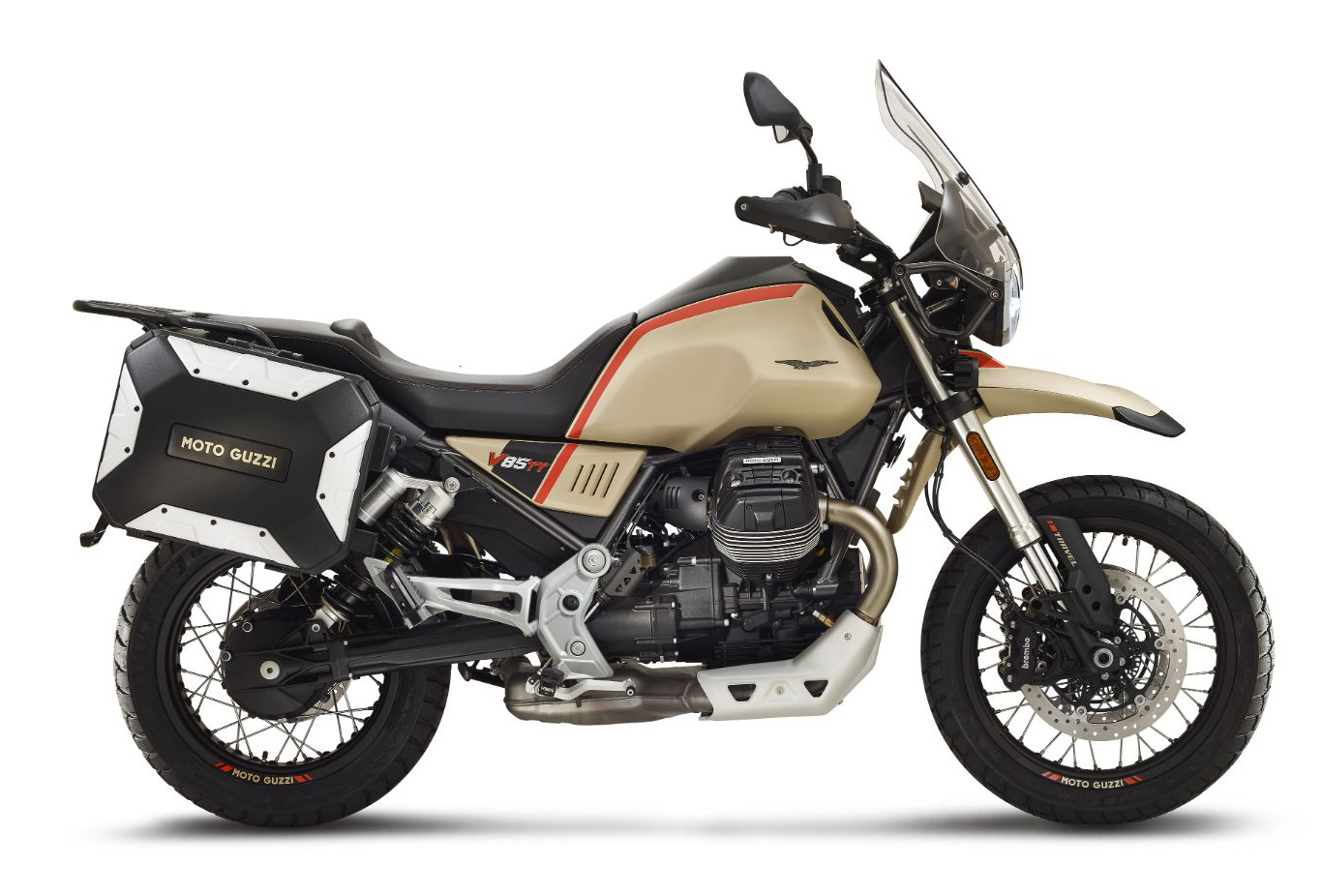 The subject of this test offers decent value at around R235,000. The only spec I really would like included is a mainstand (essential on a bike with tubed tyres). Included in the purchase price, over and above the two-year warranty, is a 3 year, 60,000 km service plan. Now that, my friends, is clever!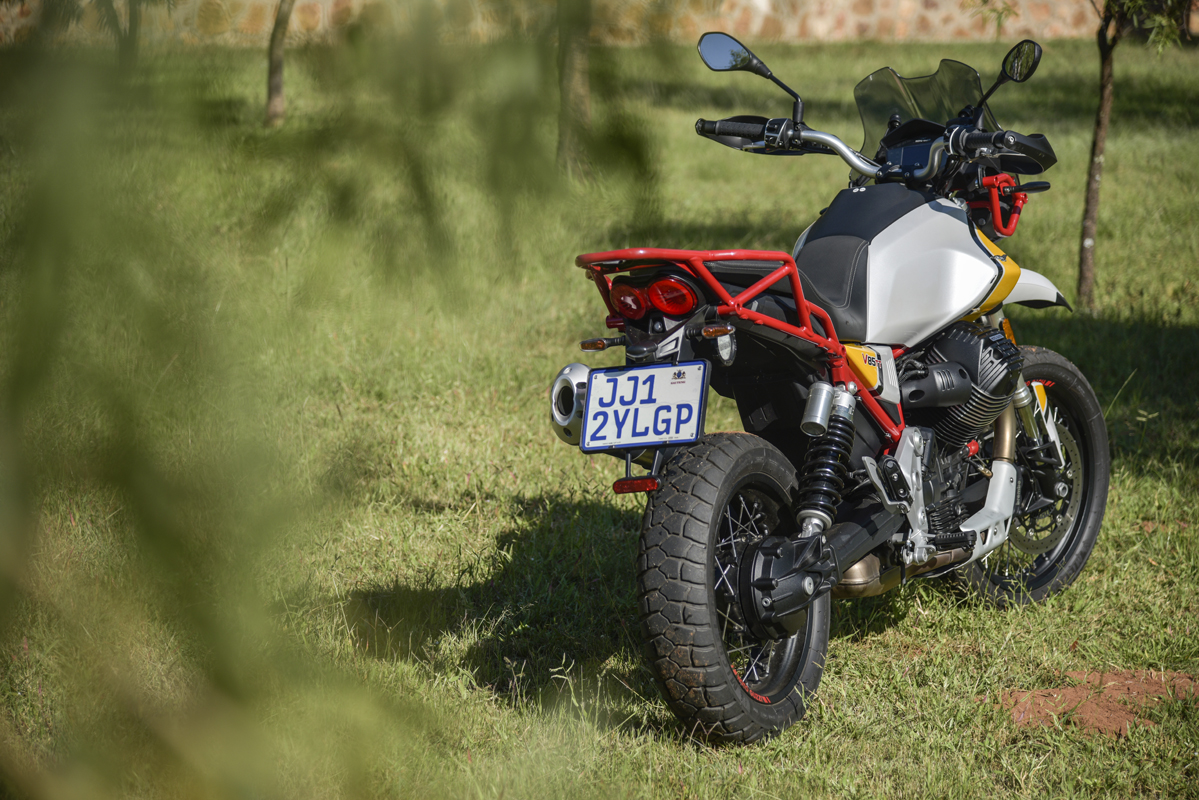 So what do you have at the end of the day if you choose a Moto Guzzi V85 TT? Well, a big dollop of exclusivity. And you are not really paying extra, as is so often the case for that. It is also a functionally good and modern motorcycle dynamically. Thrown in, is the aforementioned sense of occasion when you ride it. And then the looks…really, this is a bike that, when you have finished cleaning it after a trip, you pull up a camp stool, crack a beer and just look at every aspect of it, as you sip on that frosty. Not many bikes have that type of charm. The Moto Guzzi V85 TT has it in bucket loads!
Own a Moto Guzzi V85 TT from R100 a Day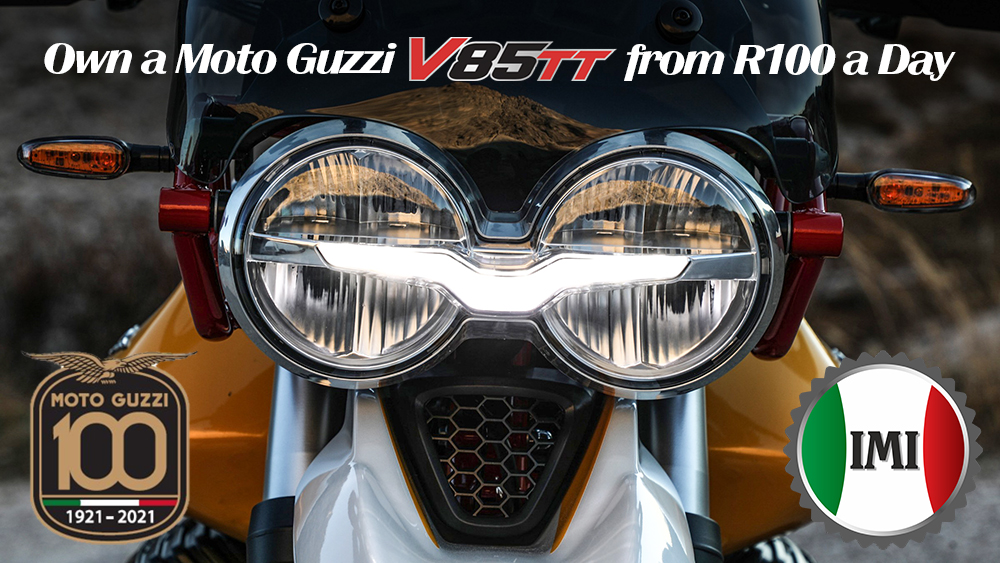 For more information about this incredible 'limited' offering, contact Sean Powell from Italian Motorcycle Importers using the below form…
Moto Guzzi V85 TT Query Form
The Guzzi Famiglia
Fascinating that the word for family is 'Familia' in Spanish, but if you check the Italian spelling, it has a 'G' in it. Famiglia. I got to understand this on Sunday past, when a bunch of Guzzi owners gathered together at the Italian Club in Groenkloof, Pretoria, to break bread and put the 'G' for Guzzi into Familia. The occasion was to celebrate a birthday. The 100th birthday, in fact, of this legendary Italian motorcycle marque. The turnout was decent, with Guzzi's past and present in attendance. I realised that when you ride a Guzzi, you become part of a worldwide family of passionate people. People stirred by history and heritage. People touched by the soul of these iconic V–twins. In the downstairs lobby, there were some fascinating old Guzzi's on display. A workhorse three-wheeler, with a beautiful wooden load bay on the back, as well as two 'tiddlers', probably reminiscent of a time in Italy before scooters ruled as everyday transport for the masses. Needless to say, an absolutely great time was had by all! Bjorn's pictures tell the story.
ITALIAN MOTORCYCLE IMPORTERS
Tel: 011 443 4596
Web: www.italianmi.co.za
ZA Bikers Profile: Italian Motorcycle Importers
Email: [email protected]
Social: Facebook
Address: 2 Bryanston Boulevard, 2985 William Nicol Drive, Bryanston.
Moto Guzzi V85 TT/Travel/Evocative/Centenario
For more information on the bike that we tested in this article, click on the link below…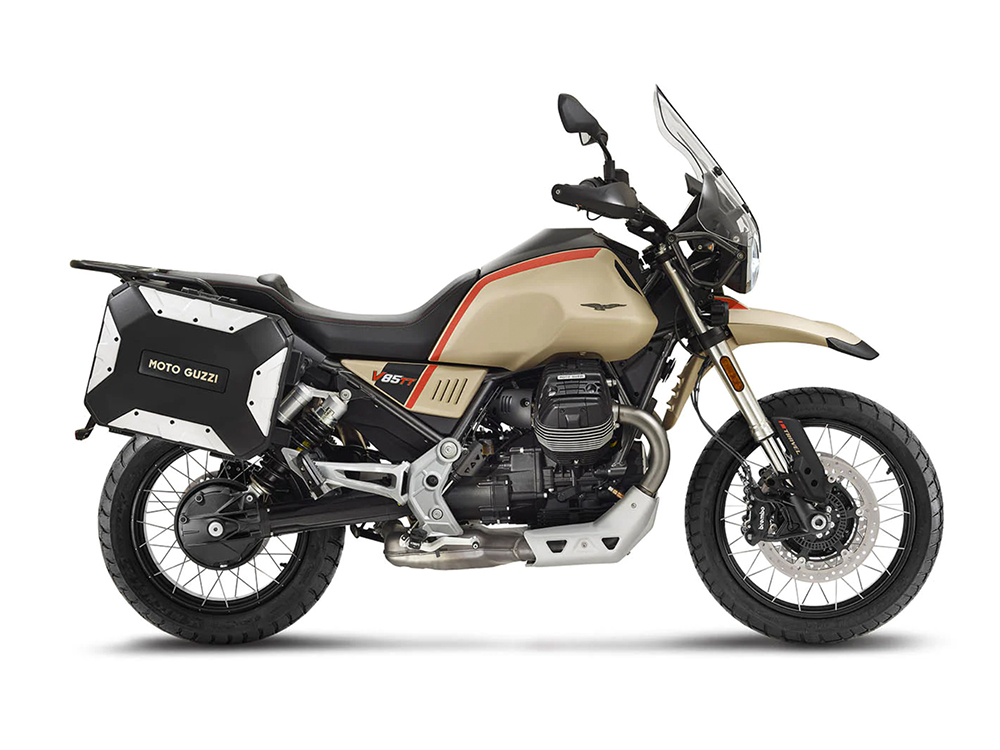 2021
Moto Guzzi V85 TT Travel
Pricing From R279,850 (RRP)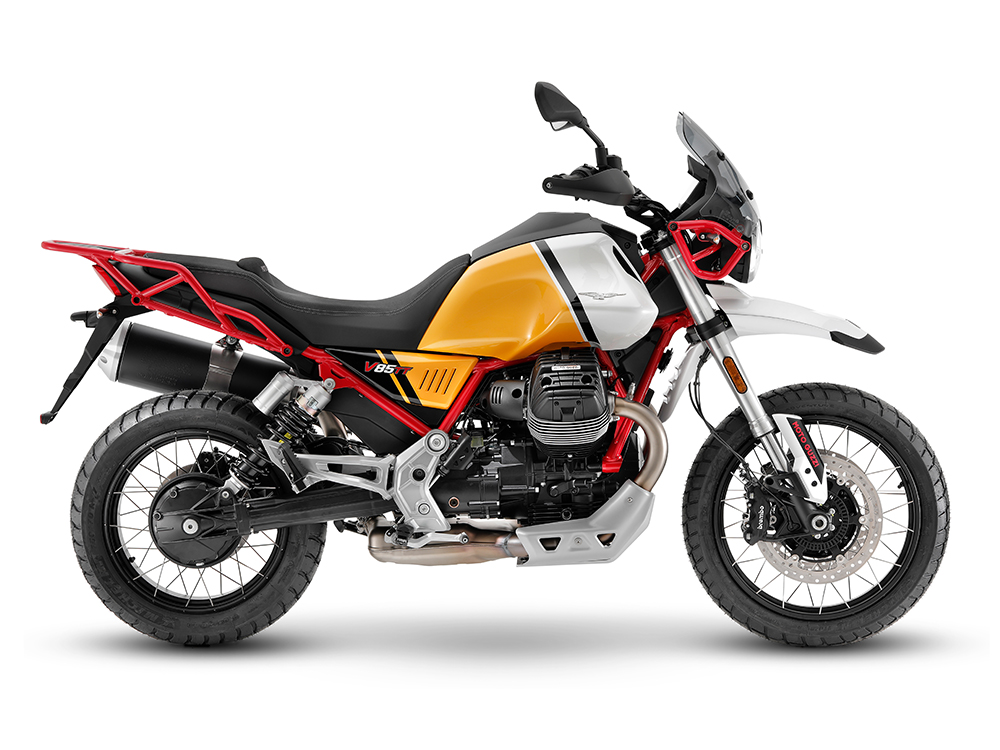 2021
Moto Guzzi V85 TT Evocative
Pricing From R260,850 (RRP)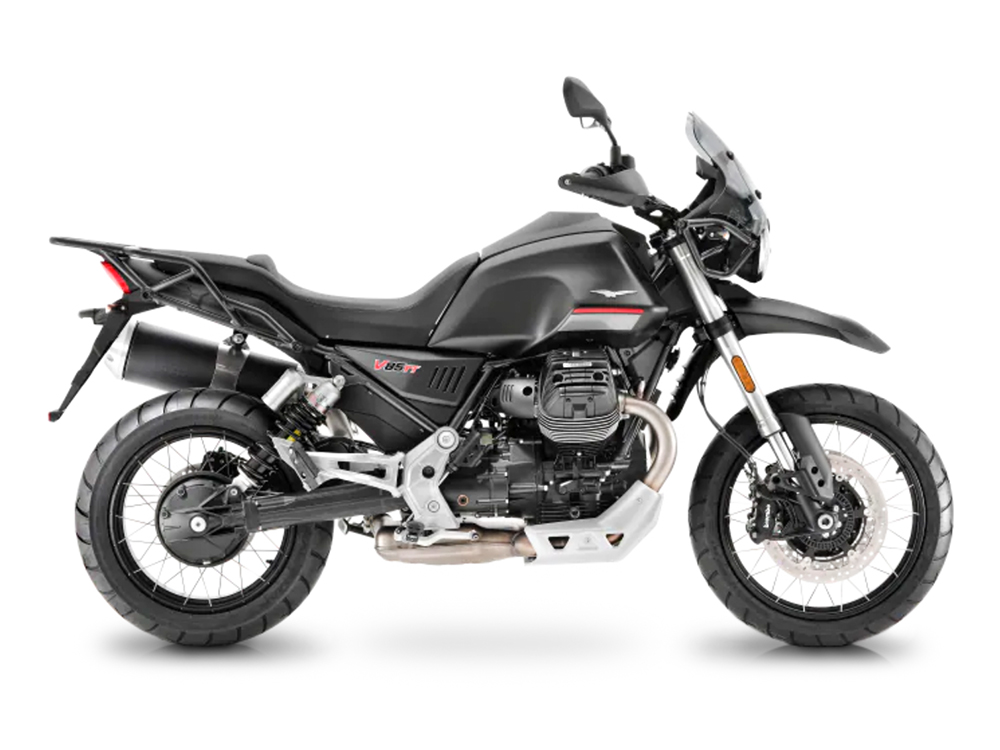 2021
Moto Guzzi V85 TT
Pricing From R255,850 (RRP)