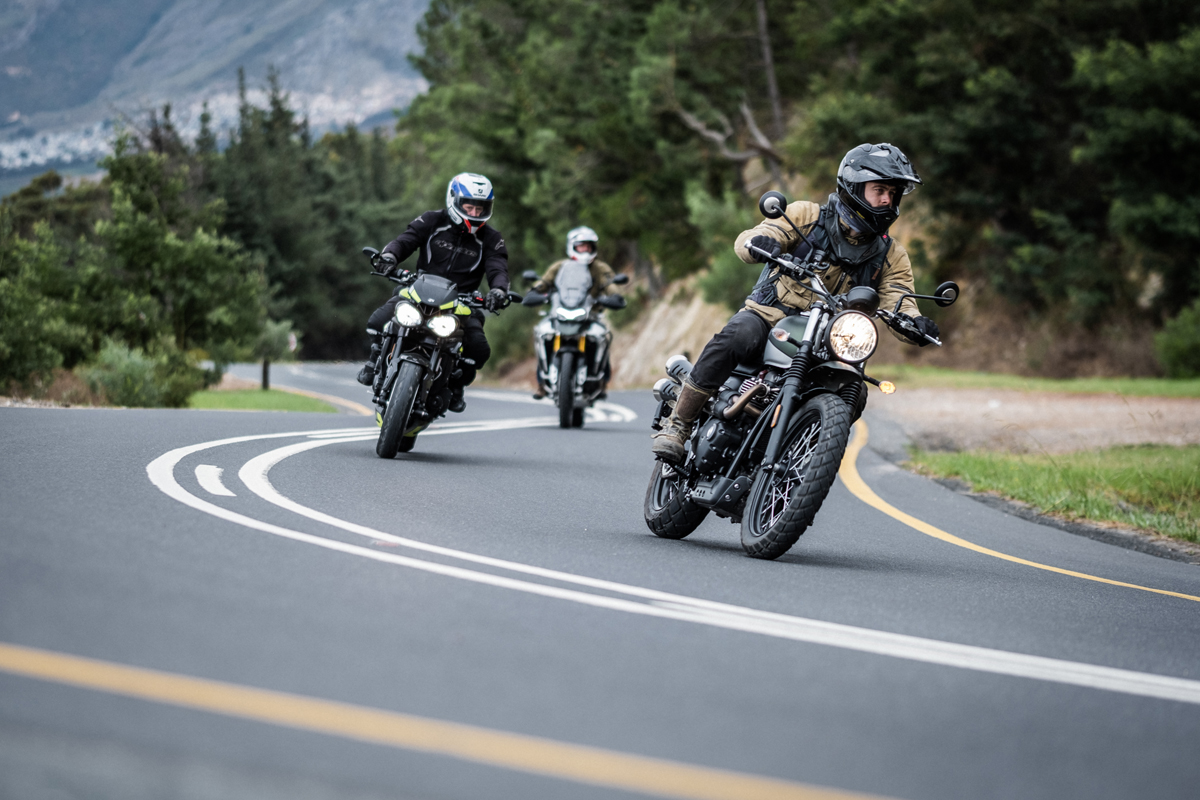 Cape Town is one of the best motorcycling destinations in the world. It's true: any Capetonian will confirm it, and even visitors from up north will lament having to leave after a ride on the Cape's best routes.
Jörg Vogel knows it too. He's originally from Germany, but has lived in Cape Town for 20 years. For the last 16 of those, he's been running his own motorcycle and rental tour company, Cape Bike Travel. And Since August last year, he's been the dealer principal of the relatively fresh Triumph Cape Town dealership.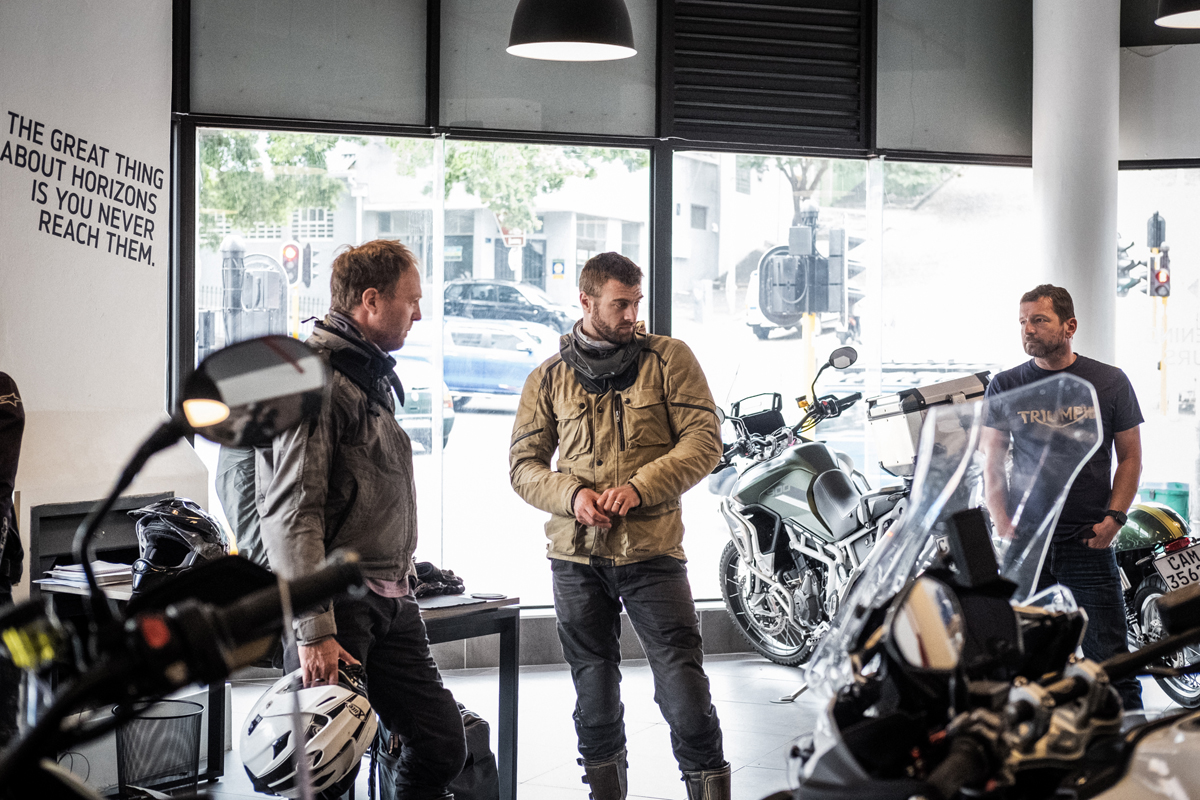 When the Triumph brand in South Africa changed hands in 2018, new CEO Bruce Allen had a mammoth task ahead of him in re-establishing the British marque's local presence. His focus was on Triumph's Johannesburg operation, but opening a new dealership in Cape Town was always on the cards.
So last year, when the time finally came to scratch that itch, Jörg's industry experience and the prime location of his shop were the perfect fit.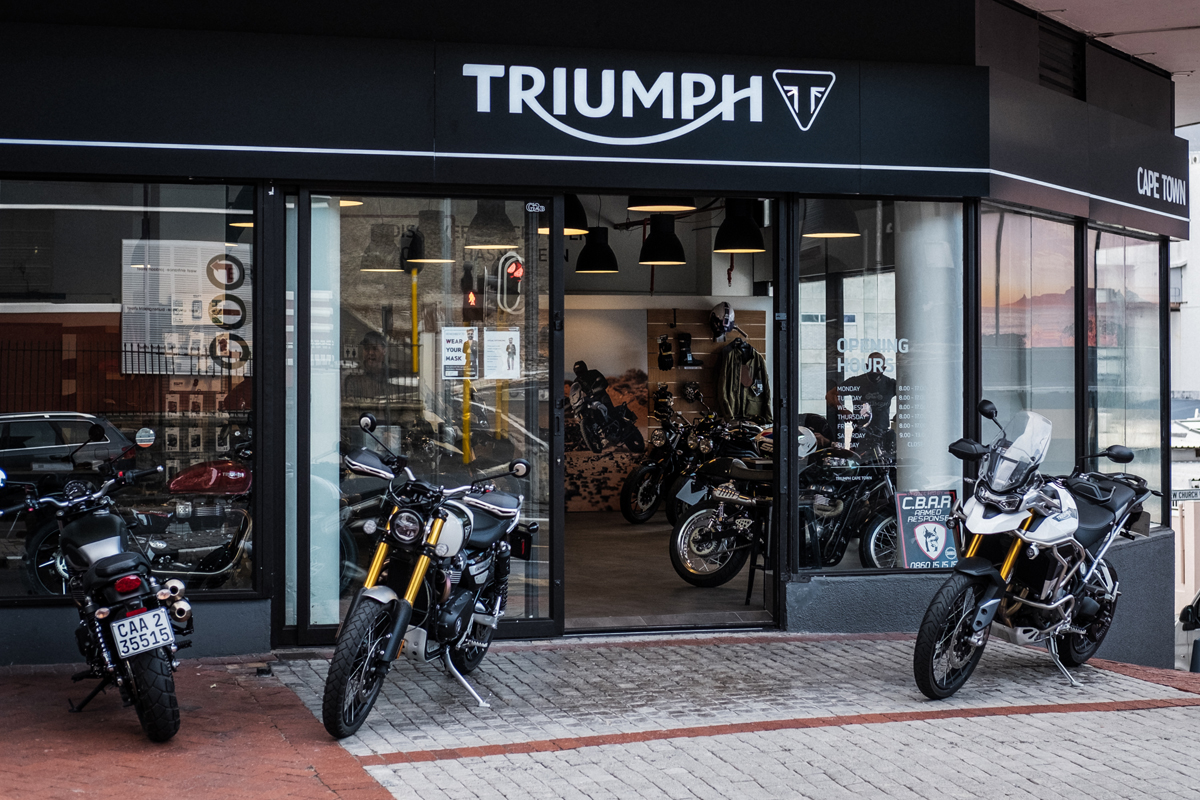 Triumph Cape Town officially opened its doors on the first of August 2020, smack bang in the middle of South Africa's pandemic-related lockdown. Fans of the brand in Cape Town were clearly hungry, because over a hundred people showed up on the first day alone. (Jörg's workshop team ended up having to do crowd control, just to limit the numbers inside the shop at any given time.)
The shop's easy to find: it's at 125c Buitengracht Street, a few blocks from Wale Street and a stone's throw from where you begin the gradual ascent towards Signal Hill. Despite being a modestly-sized location it feels spacious inside—and it's beautifully fitted too, with wall-to-wall Triumph branding, motorcycles, clothing and accessories.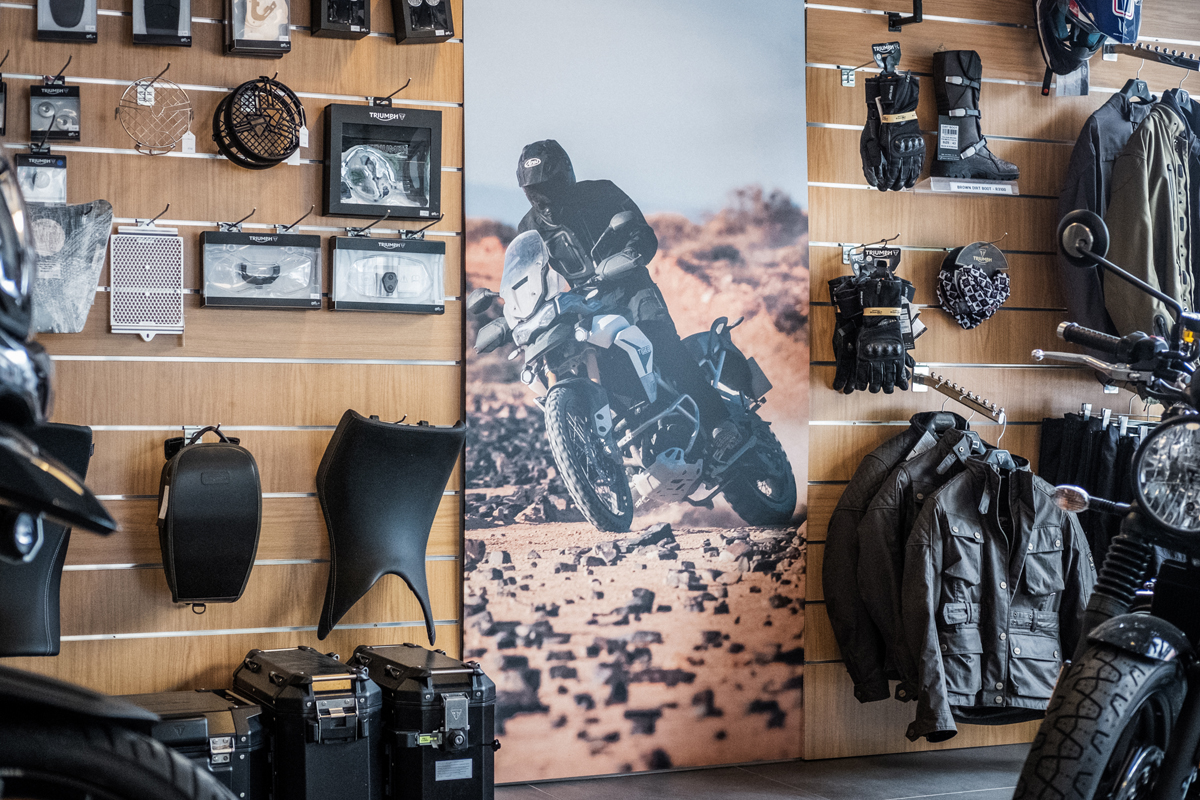 Staffed by a friendly and passionate crew, it operates as a fully functioning dealership; sales, apparel, rider gear, parts, accessories and a workshop, all under one roof.
Jörg's made the most of the space by loading the floor with demo units of Triumph's latest models. (More stock is held upcountry, and shipped down upon purchase within days.) He and Bruce believe that the best way to convince a prospective customer to buy a Triumph, is for them to ride one.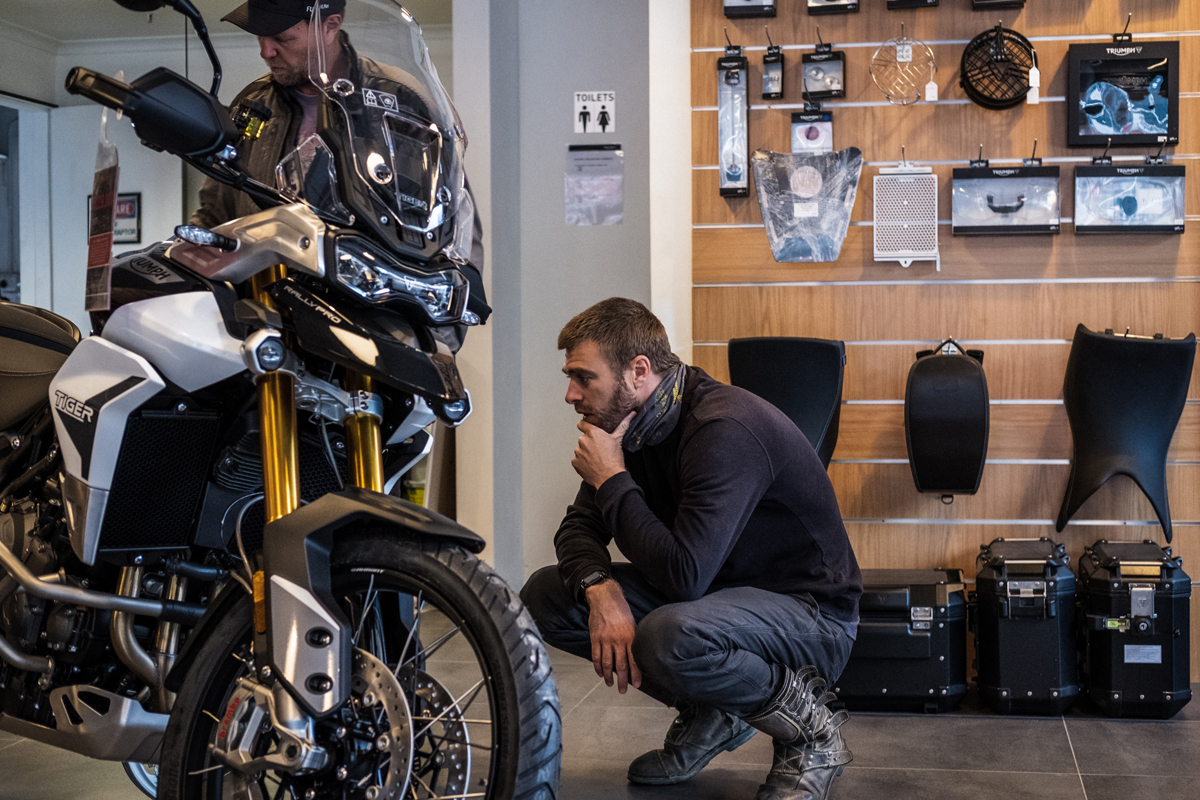 It's a philosophy we can get behind. So, to get to know Triumph Cape Town and their bikes a little better, we twisted Jörg's arm to open the shop on a Sunday so that we could go riding.
Our crew for the day included myself, my friends Devin Paisley and Jonathan Tee, Jörg, and Triumph Cape Town's sales manager, Michael Romeo.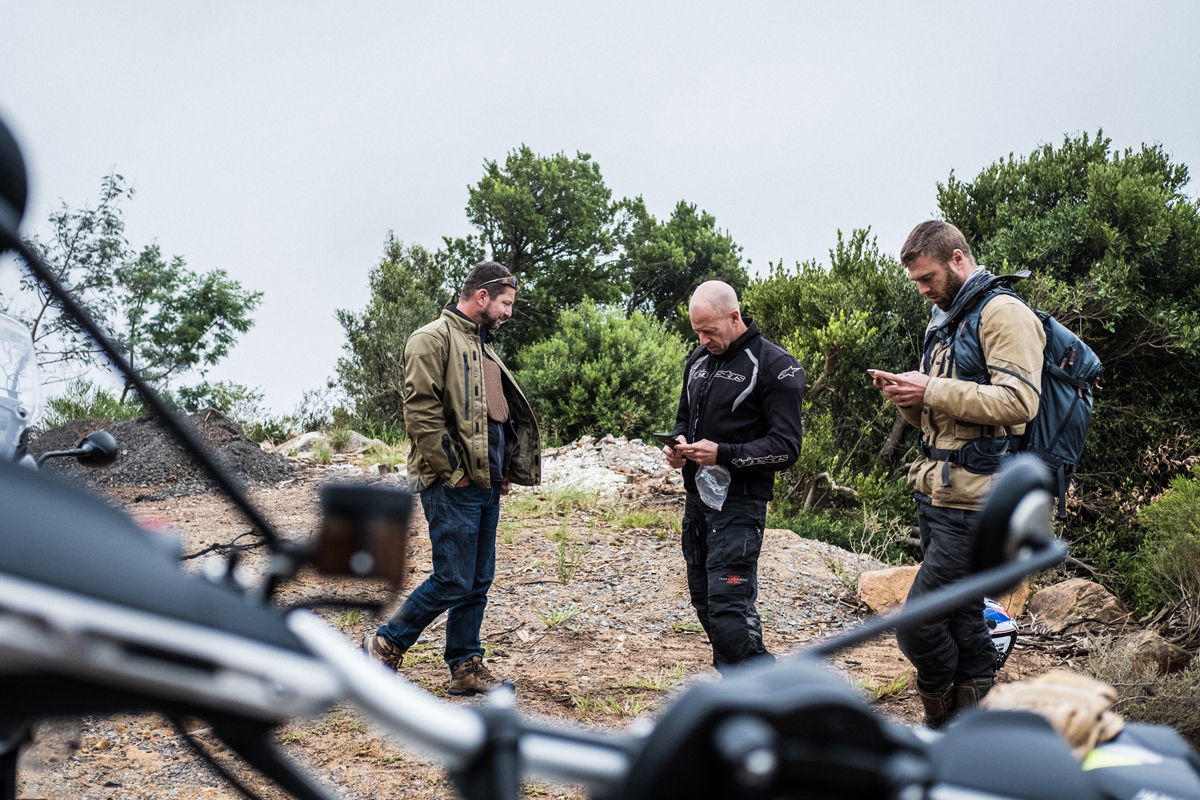 Jörg and Michael had laid out a smorgasbord of two-wheeled treats for us. We'd be taking turns on the Triumph Speed Triple RS, Tiger 900 Rally Pro, Bonneville T120, Scrambler 1200 XE and Street Scrambler.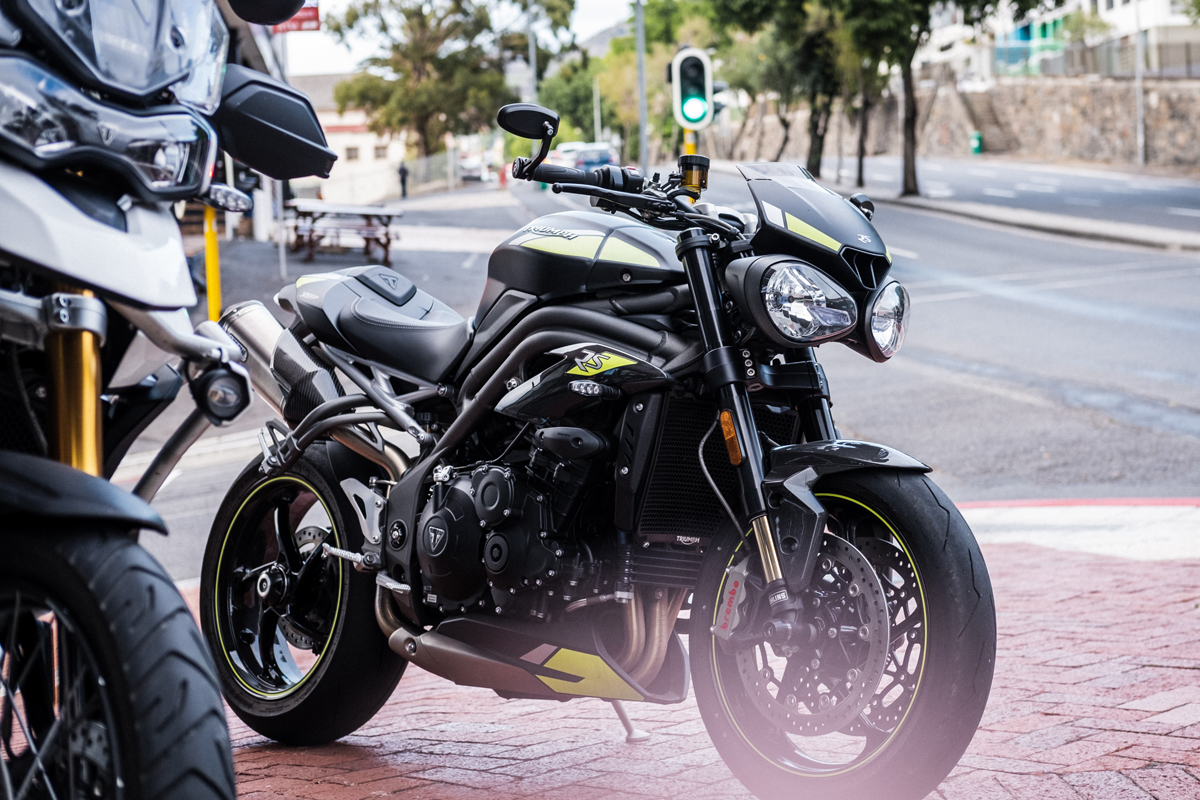 Heading out from Triumph Cape Town after a coffee, and a surprisingly brief debate over who would ride which bike first, we started our ride with a massive slog down the N1. We tackled Du Toitskloof Pass first, gingerly making our way through a heavy mist before emerging into clear air and fast corners. After winding our way down the other side, it was a short blast towards Rawsonville, for breakfast at Ou Meul Bakkery.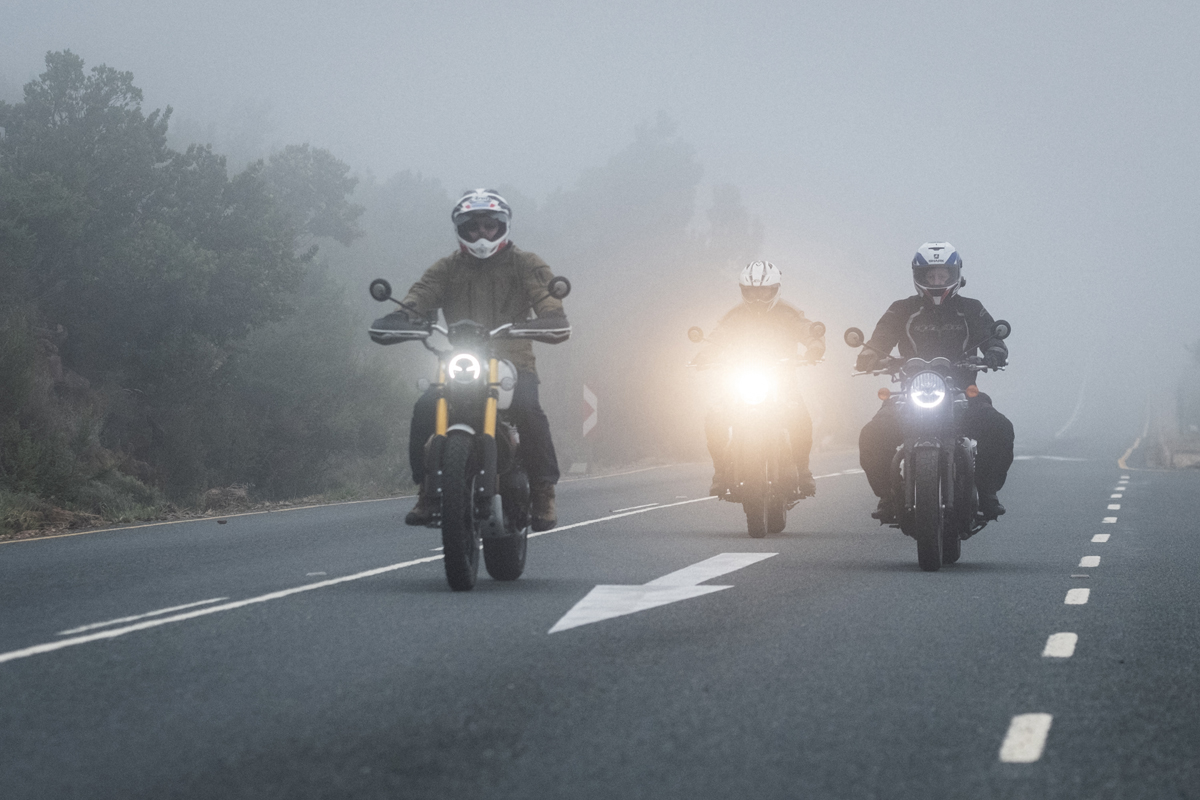 From there, it was miles of backcountry riding to and through Villiersdorp, before hanging a right and sashaying our way over Franschhoek Pass. One last coffee stop at Ou Meul Bakkery in Simondium (they didn't pay for this report, I swear) punctuated our ride, before we made our way back into the city.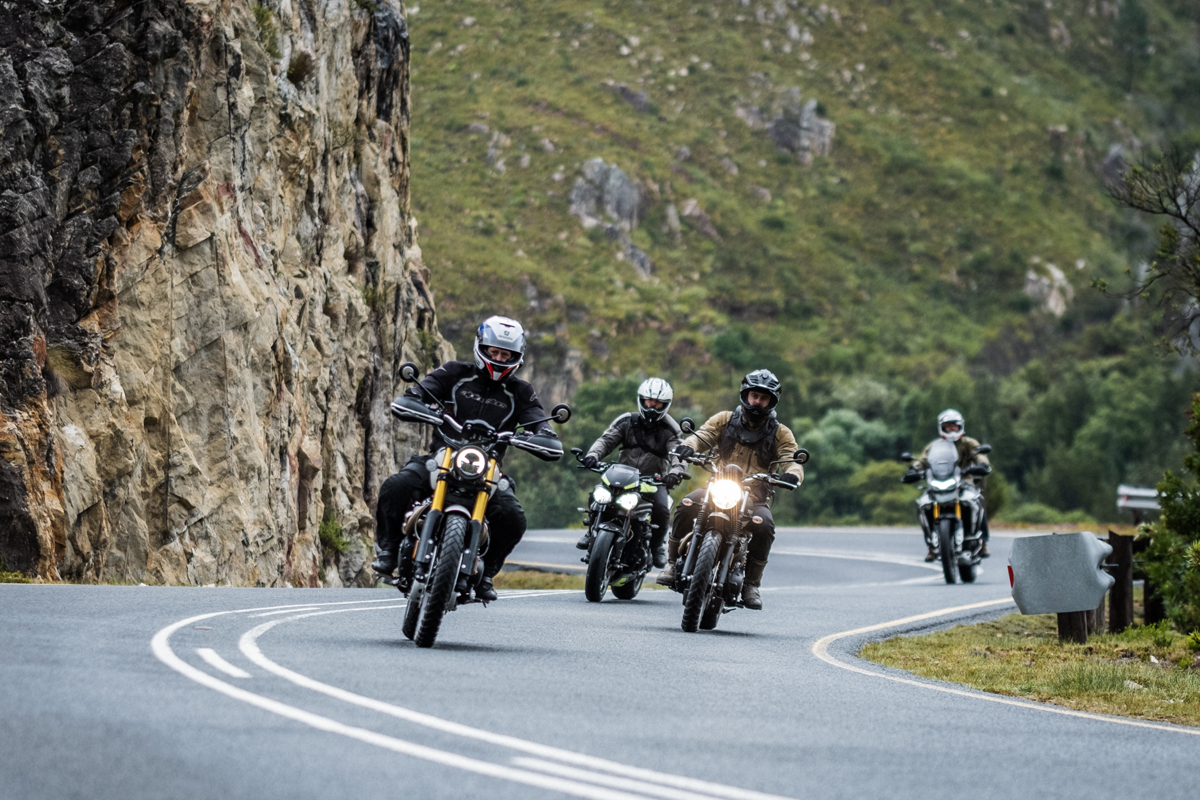 Just like any breakfast run with friends, each stop was an opportunity to compare notes—mainly about the motorcycles we were swapping all day. Our individual thoughts on each bike were pretty aligned: the Speed Triple RS is a surprisingly comfortable beast that corners on rails; the Tiger 900 Rally Pro is an adventure riding tour-de-force; the Scrambler 1200's retro looks belie just how capable it is.
The Bonneville T120 and Street Scrambler don't quite have the flagship status of their stablemates, but we found each one charming in its own way. Both combine easy-going ride characteristics with looks that are impossible to turn away from.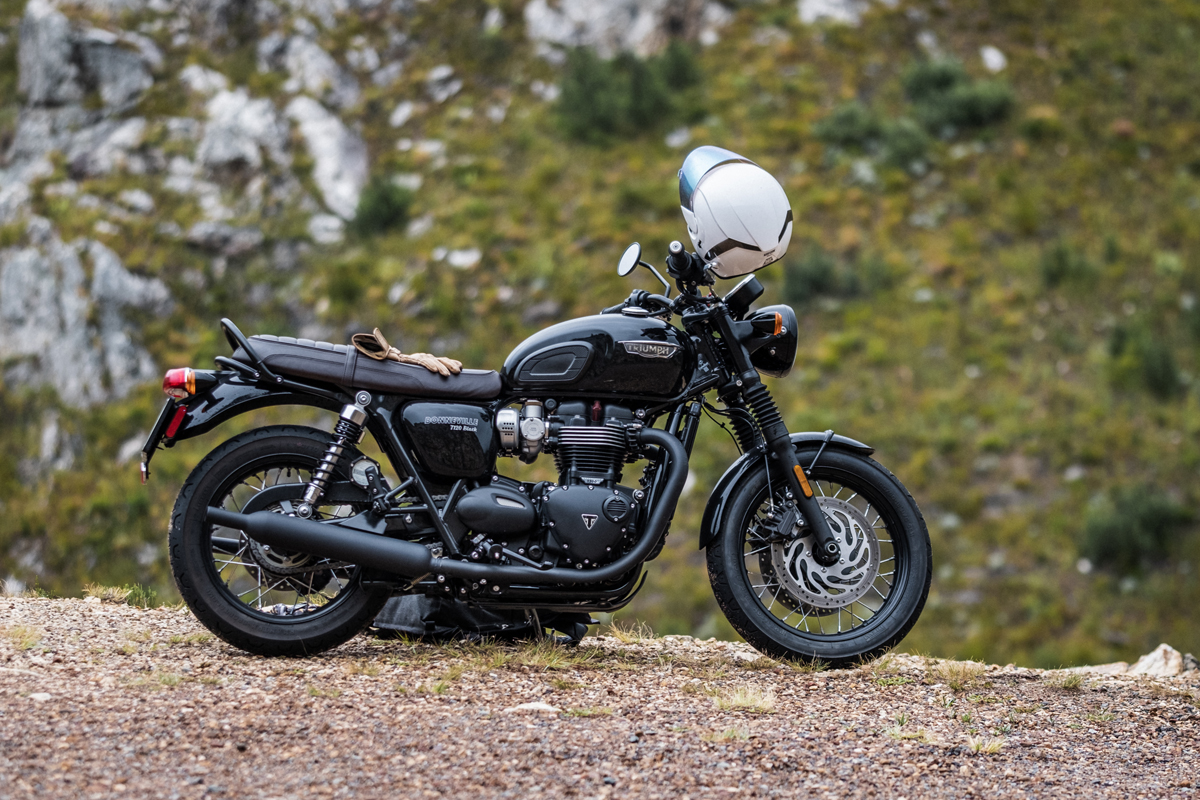 Getting to sample a cross-section of Triumph motorcycles across multiple categories confirmed something that the entire ZA Bikers team has been thinking about for a while: the British marque is on one heck of a roll. From their naked roadsters, to their modern classics and adventure bikes—every model's been carefully considered, and does what it does well.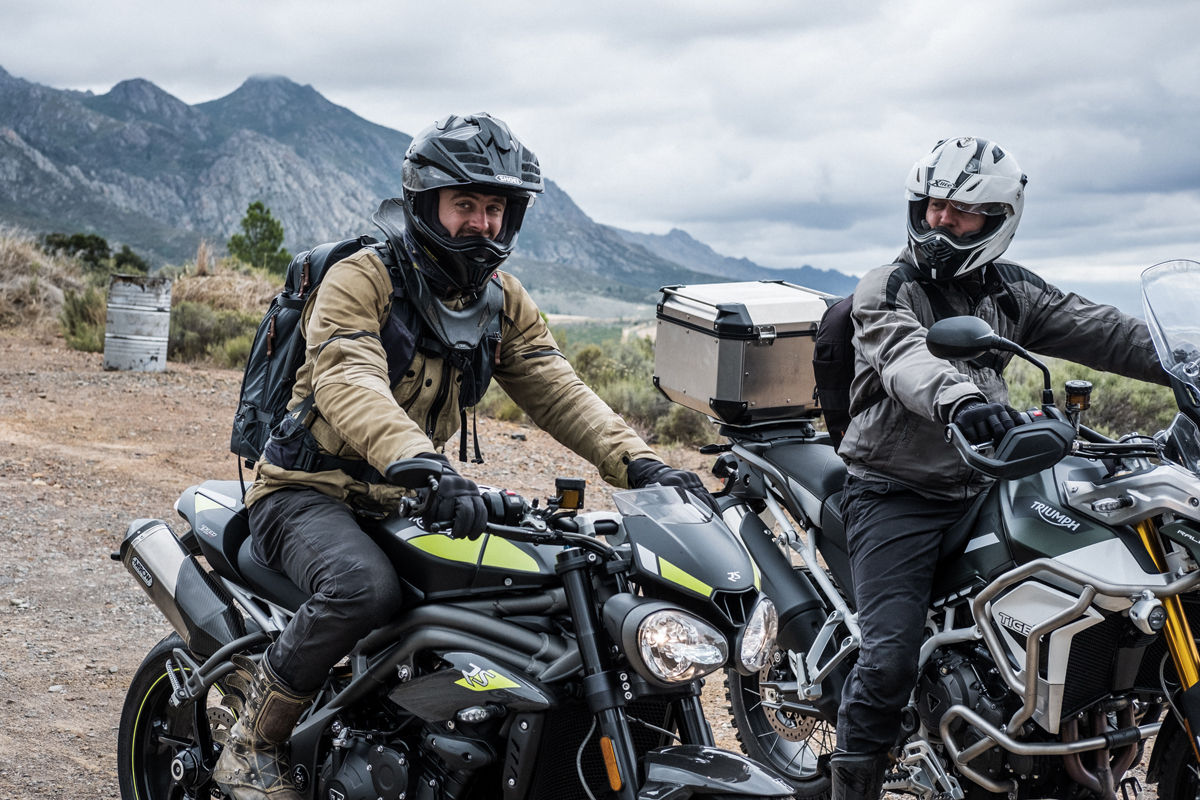 As we parked the bikes back at the shop, our thoughts inevitably turned to the next ride. Jörg is raring to go, too—the pandemic's made it hard for Triumph Cape Town to host big events, but monthly outrides are back on the calendar, as well as off-road training days. And there's a lot more percolating for when restrictions lift.
In the meantime, if you're in Cape Town, pop down the shop for a test ride and tell 'em we sent you.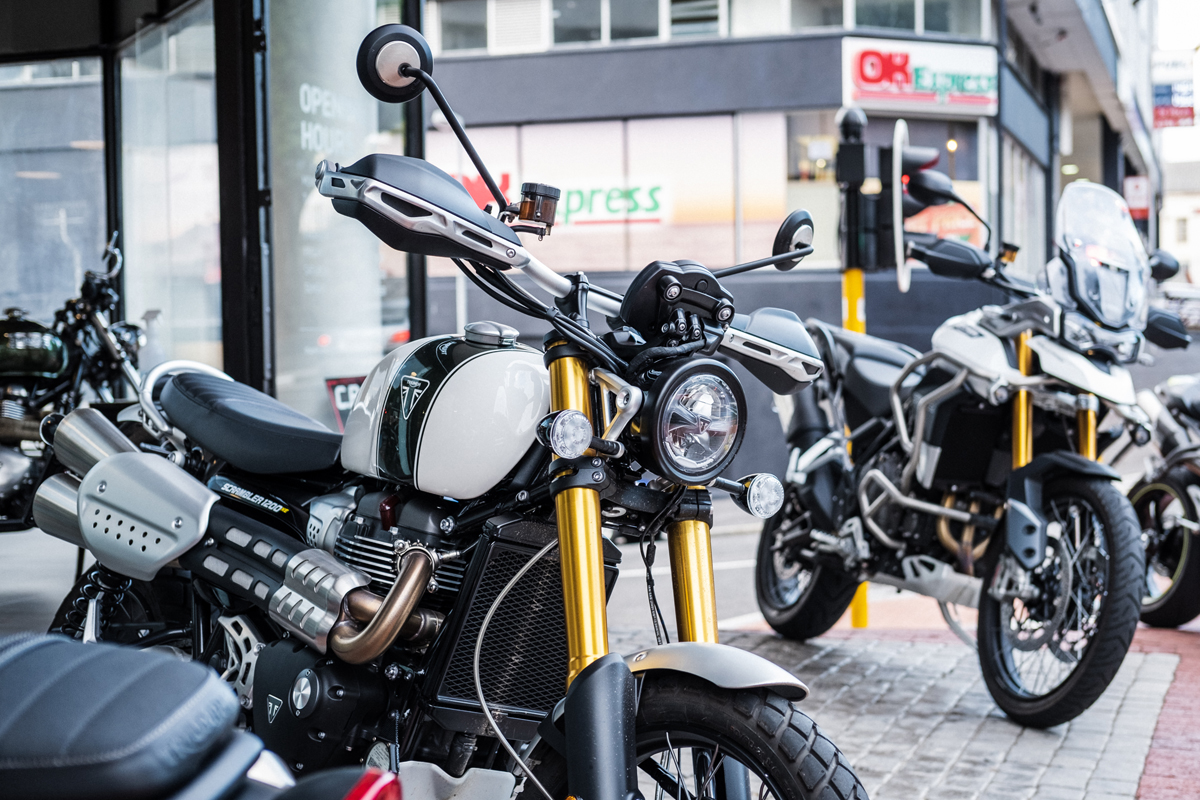 For more information visit: www.triumph-motorcycles.co.za