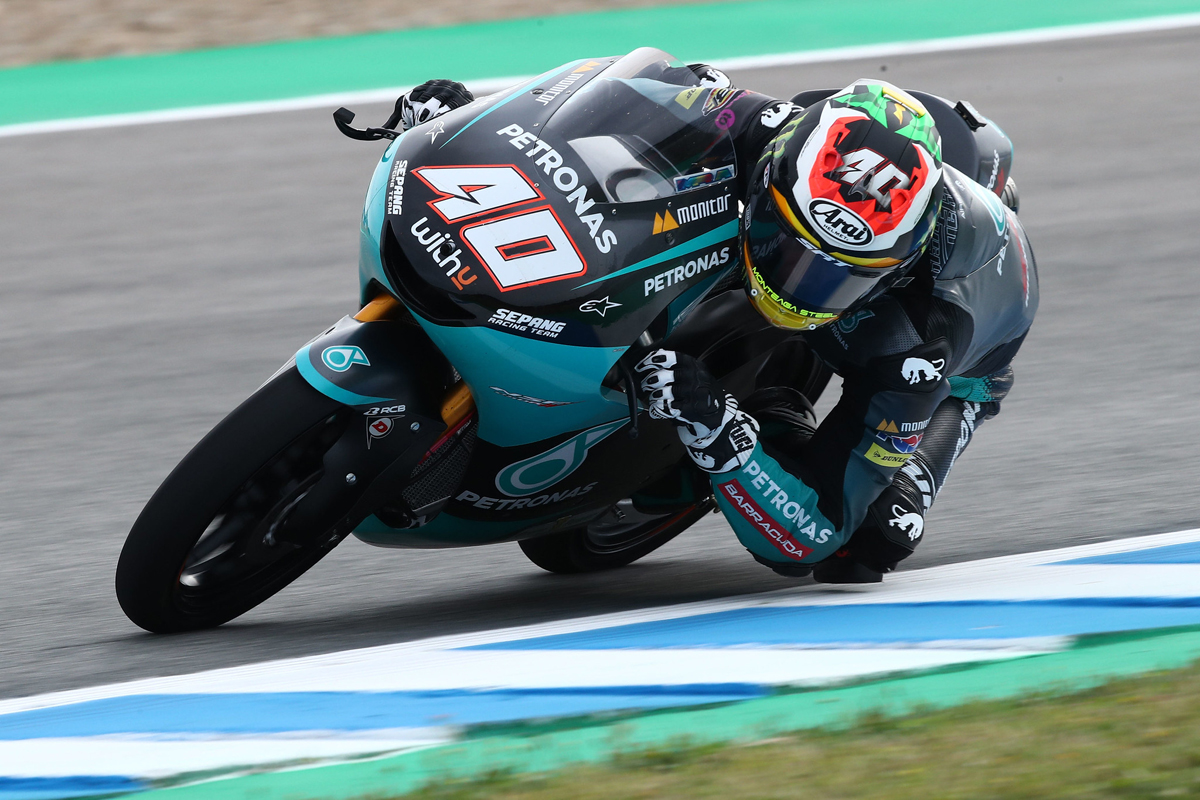 This weekend riders made their way up from Portugal and into Spain for the Red Bull Grand Prix. For the last 40 years, the circuit of Jerez has staged some spectacular MotoGP races, it also draws the 'GP' fans with its iconic VIP box (known as 'the UFO'), its amazing rear-wheel slow-motion slides, through the carpet of yellow flowers at Sito Pons (turn 5) and lastly its final corner dives at Lorenzo (turn 13). With a mix of short, fast and tight corners Jerez was definitely going to make round 4 an intense challenge for the MotoGP grid.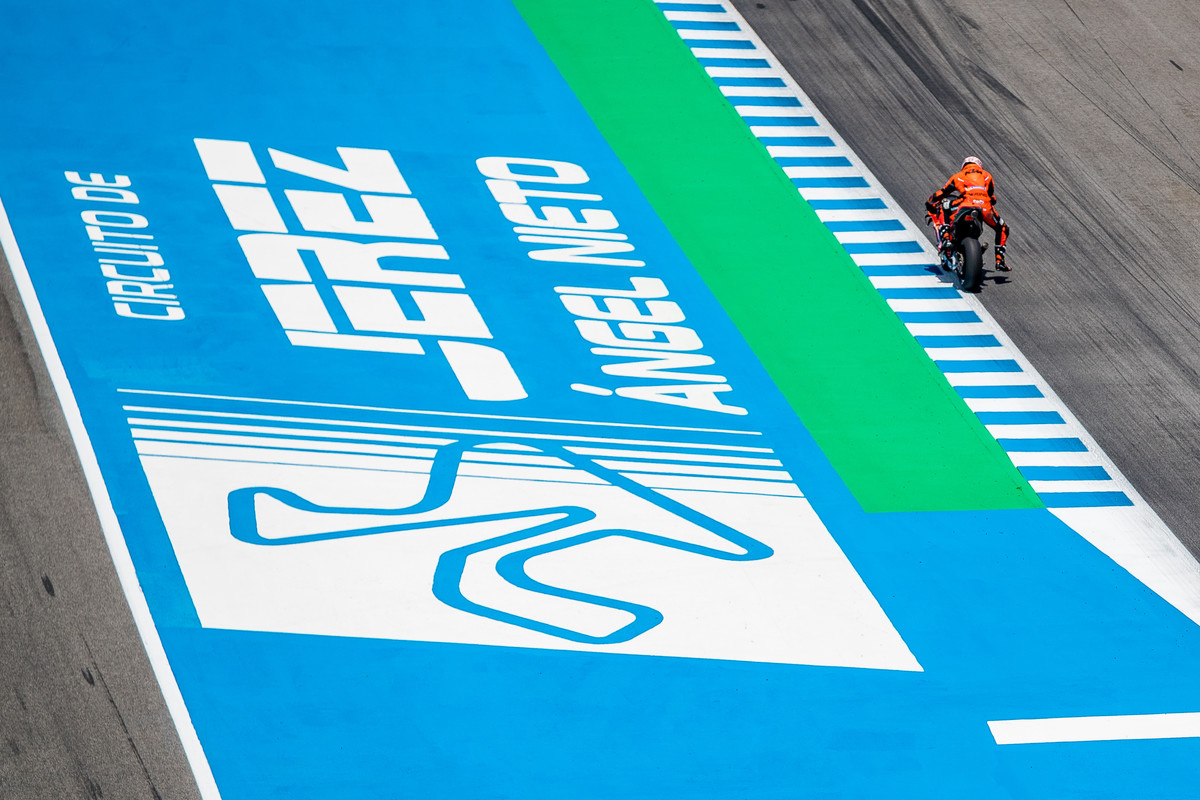 Darryn Binder
Darryn started off his qualifying already in Q2, after an impressive performance on Friday's free practice, claiming fifth in the combined times. Q2 saw the Petronas Sprinta rider cross the line with a 1'45.662, which put him into fourth. Unfortunately, at the halfway mark, a turn 7 high-side brought his session to an early end, but Darryn's time was still good enough for seventh.
Race day saw a very focused and determined Darryn Binder line up on the third row of the grid. Our fellow South African let go of his clutch faster than anyone could off the line, gaining three places and claim fourth before braking into the opening corner. With some good pace, he overtook rider for rider before momentarily taking the lead on lap nine.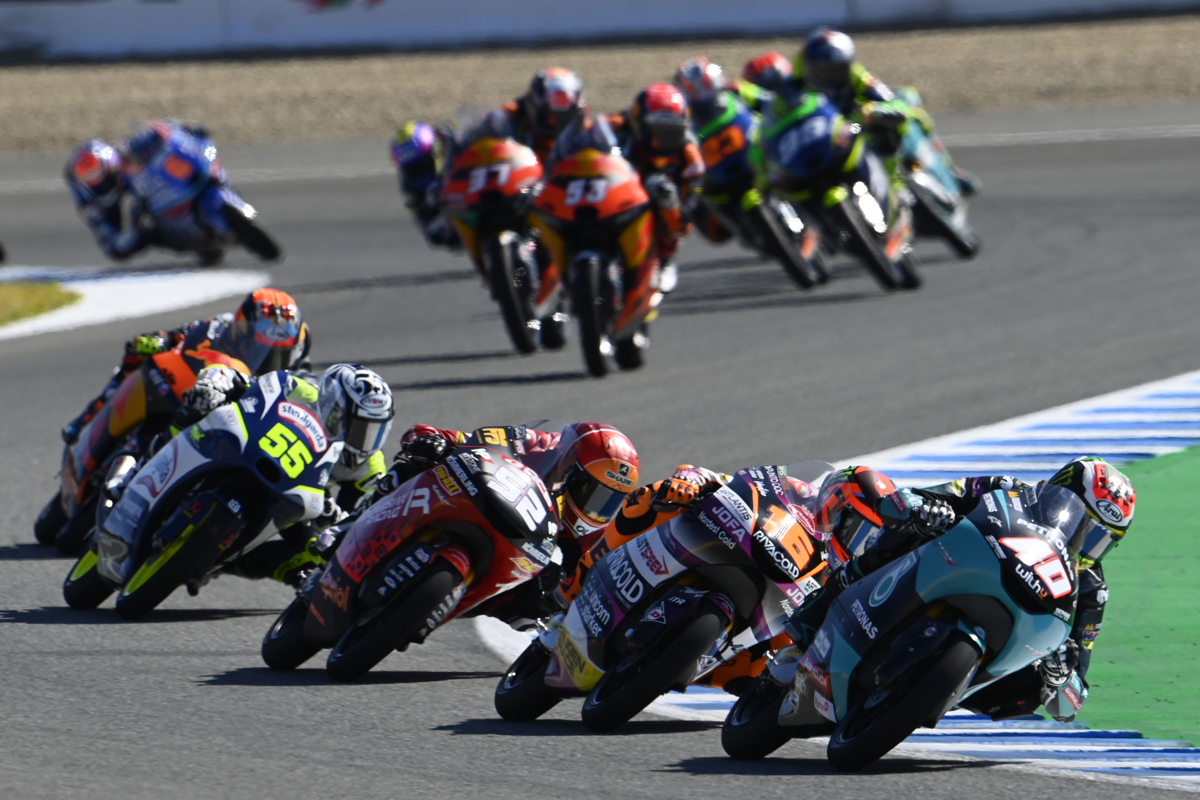 Throughout the entirety of the race, Darryn fought for podium positions and even started to look like a prime contender for the overall win. The second last lap saw Pedro Acosta nearly high-side in front of Darryn, forcing him to get off the gas and lose three positions, placing him in seventh. The last lap saw Darryn close down the gap and take his final lunge into the last corner. He dived down the outside and unfortunately, through no fault of his own, was caught up in another rider's crash at the final corner. Darryn Binder was able to get his bike across the line in 22nd and now sits 6th in the world standings with 36 points.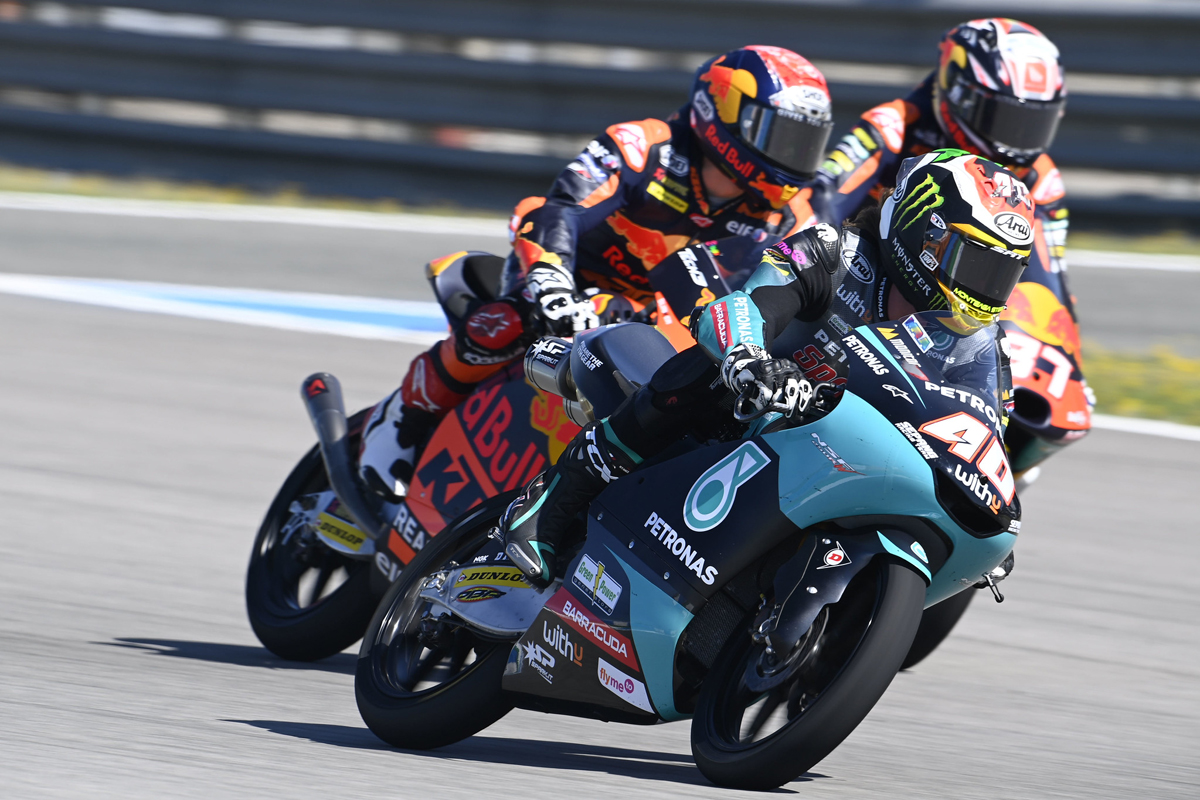 DB: "This morning I still wasn't feeling the best after my crash yesterday, but I had good speed and rhythm so I was feeling positive for the race. It got off to a good start and I was sitting in the lead group, but then I was struggling in the middle part. Physically I was feeling a little uncomfortable, but I was able to regroup towards the end and move towards the front again. As always with Moto3, there were some close calls around me, which interfered a bit with my plan and meant I was further back on the last lap than I would have liked to have been. In the final corner, I just had nowhere to go and was cleaned out by another rider who crashed. I'm so disappointed and there was nothing that I could have done, but at least we have shown that even on rough days we can be strong. Roll on Le Mans".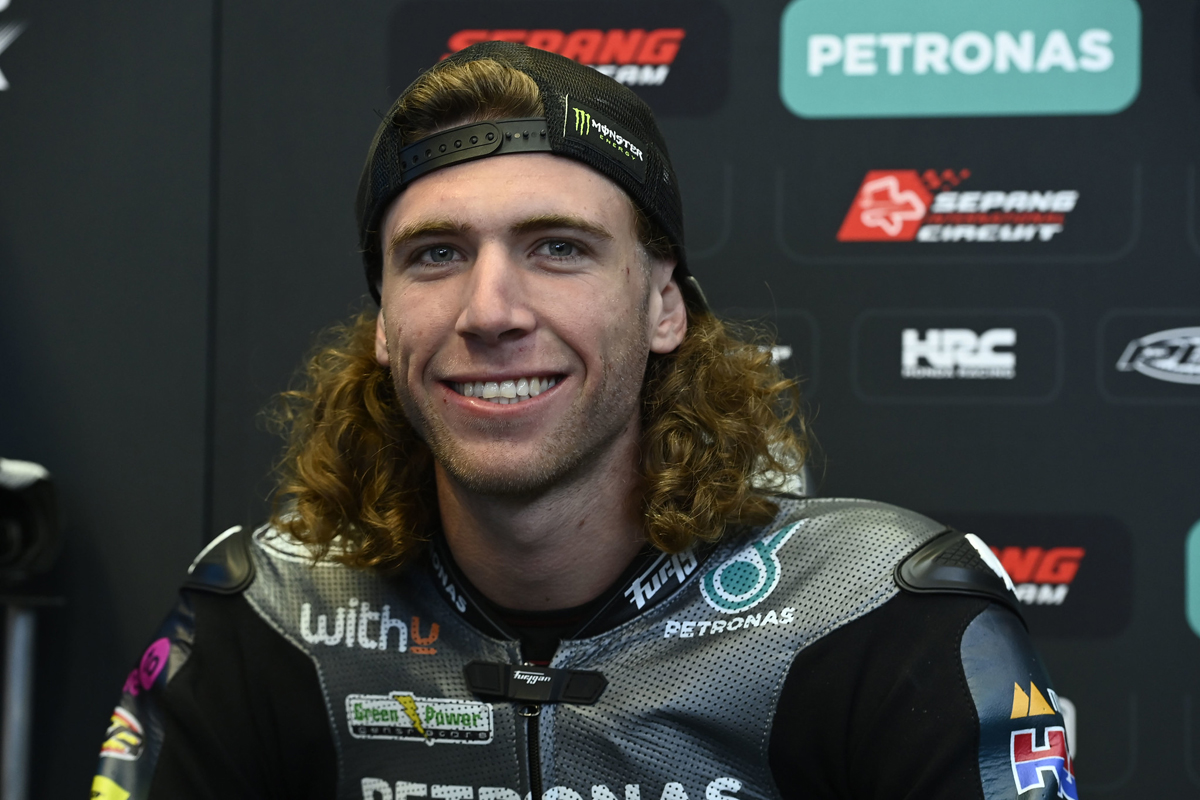 Brad Binder
Like his brother, Brad Binder suffered a gnarly crash this weekend in the entry to Turn 5 during FP3 on Saturday morning. This all meant Brad couldn't improve his time, leaving him with a short 15-min Q1 qualifying session to try and jump into the top 12 of Q2. Warm and wildly windy conditions didn't stop Brad from setting a 1'37.3 on his third attempt, clinching him a Q2 qualifying. Binder ended Saturday's action with 11th, meaning the fourth row and five positions ahead of Oliveira in 16th.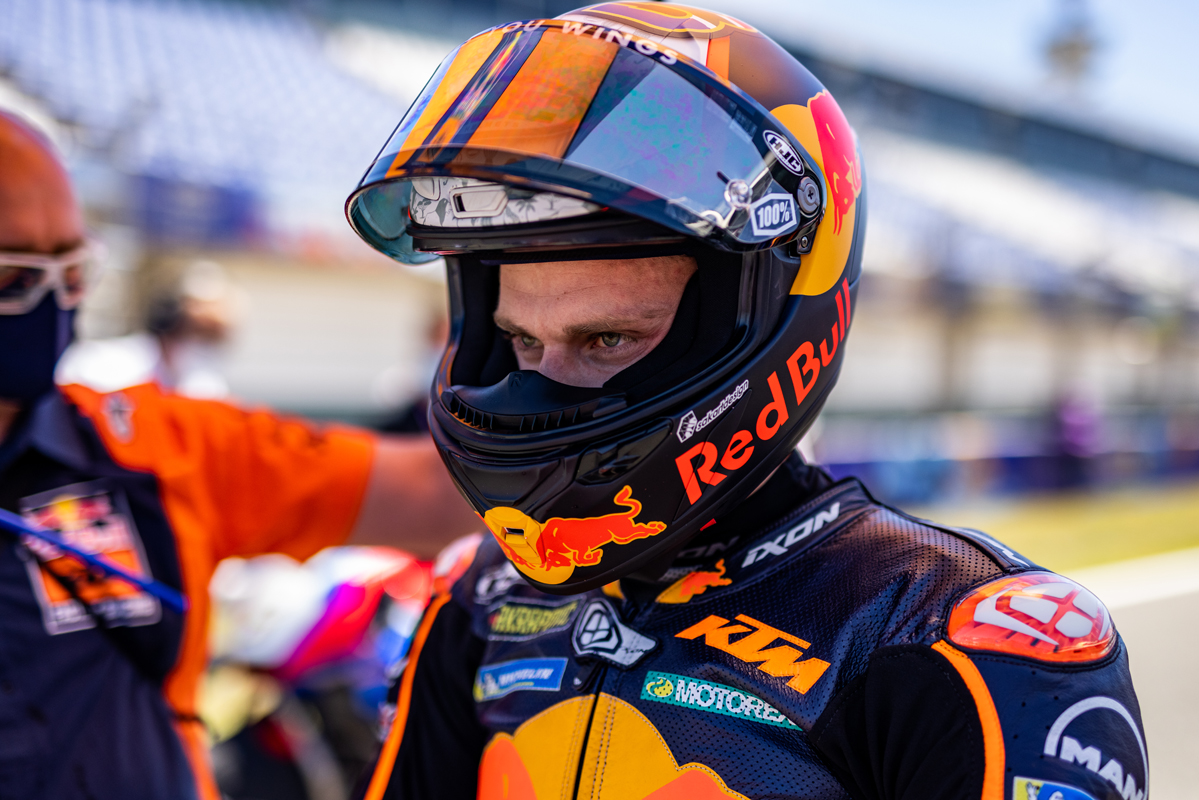 If you guys and girls remember anything about last years race, you'd remember Marc Marquez's nasty fall and some seriously hot conditions. Sunday's GP began with some sunny and warm conditions but in significantly lower temperatures compared to the 40 degrees 'burner' of 2020. With the heat rays rising, Brad rolled onto the fourth row of the grid on his stunning, Factory Red Bull KTM.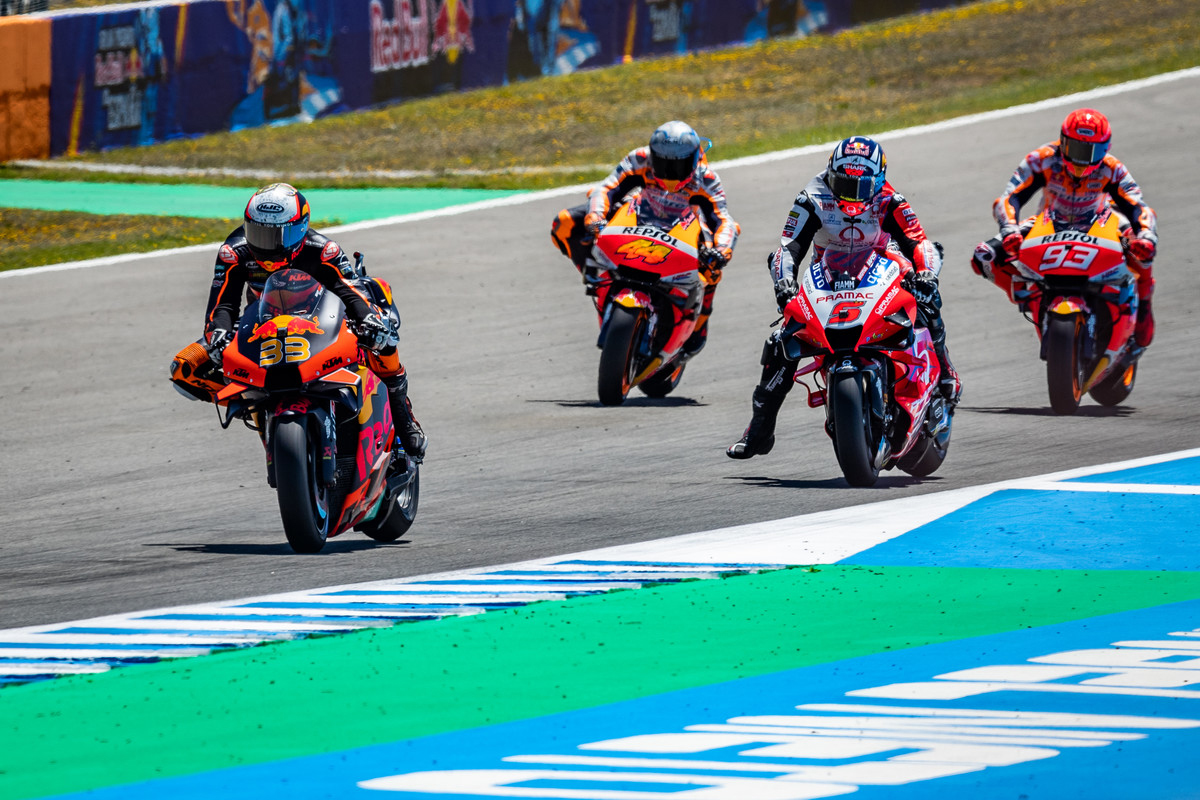 Brad made a good start and held his position well on the first lap around, slowly making his way into the leading group. Brad shocked us all, with a low-side crash into turn 2 on the second lap. He was able to remount and tried to catch the pack in the effort to salvage some points but another slow speed tumble at turn 13 ended his race weekend.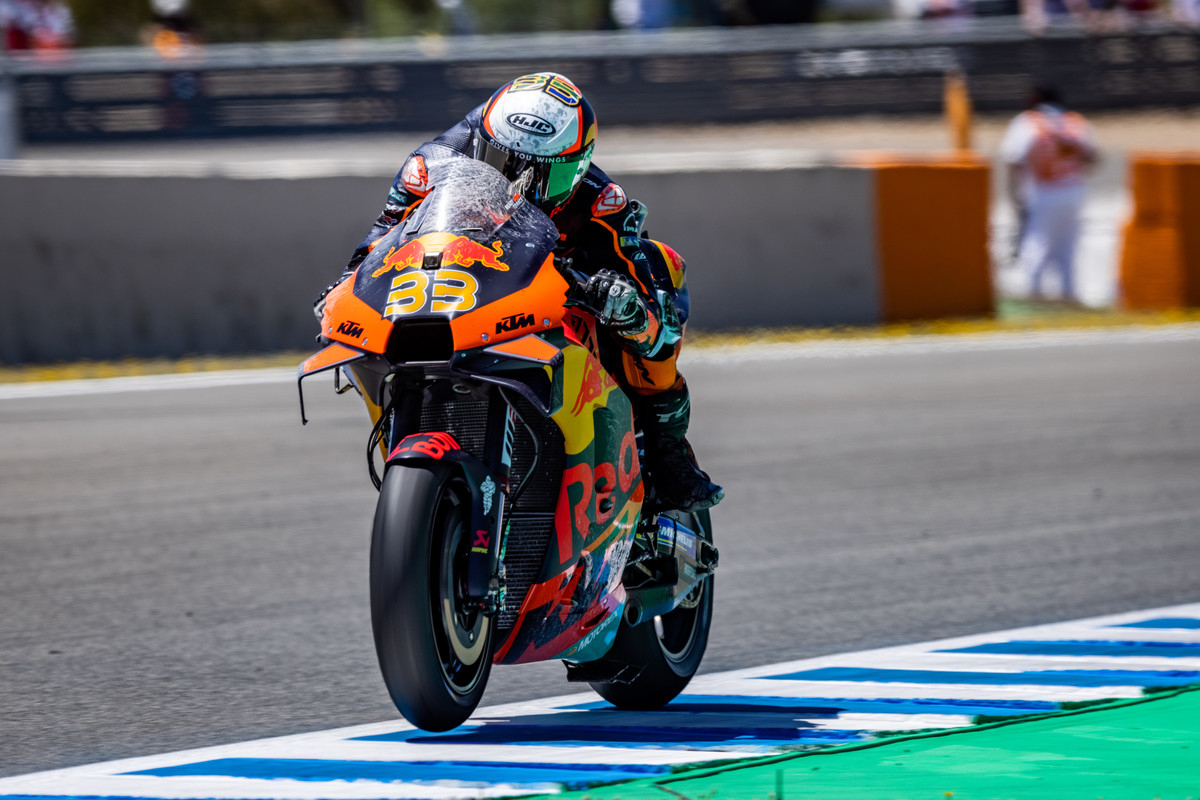 BB: "I felt great in warm-up this morning and then made a good start in the race but unfortunately going into Turn 2 on the second lap it looks like I was a bit too relaxed, got on the brakes at the wrong moment and when I tipped into the corner the front just washed out. It's a good lesson for the future to ignore where you are in the pack and keep your marks. It's also disappointing because I had good pace all weekend and I felt good. We could have done a decent job today. Sorry to the team because they worked well all through the GP and they deserved a result."
A rather strange and frustrating weekend for the Binders in Jerez, with a weekend full of 'could-have-beens', rather than what should have been. On the upside, we saw Marc finish the race that nearly ended his career a year ago and we saw Fabio's winning streak come to an end, due to some arm pump. Miller took his first dry race win and Rossi starting to realise GP just isn't fun anymore, after rolling across the line in 17th.
After this eventful weekend, we just want to fast forward to the 16th of May, for the French GP in Le Mans.