Combine Bullets from Bologna, a bunch of passionate people, perfect weather and some of the most scenic roads in the country, for a sure-fire recipe for a really good time.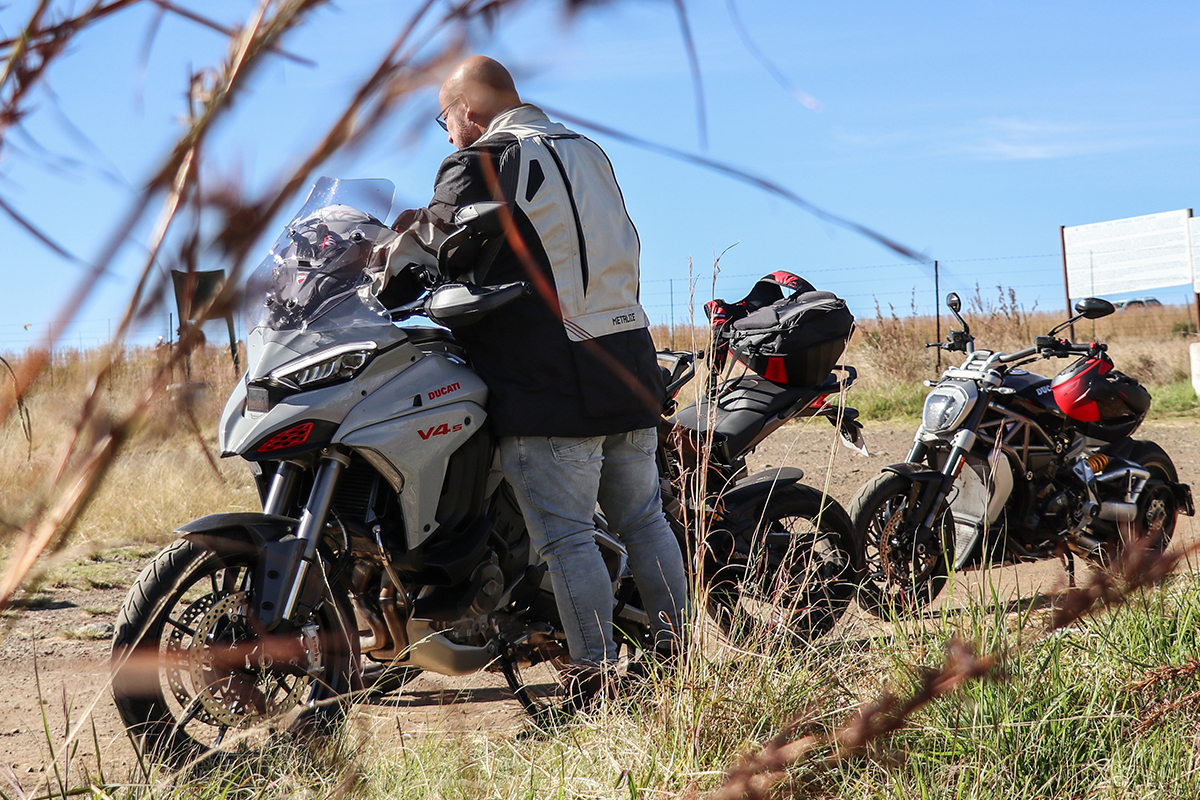 And so it was. The previous Mystery tour, at the end of 2020, was plagued by some really grotty weather. Cold, rain, mist and all. It was still so epic that even more Ducati owners signed up for this tour. Personally, I was really looking forward to the tour, given that I would be riding and not in a backup vehicle as a "sick, lame and lazy", this time around. We arrived at World of Motorcycles to be greeted by the spectacular sight of 40 odd Ducati's lined up and ready to roll.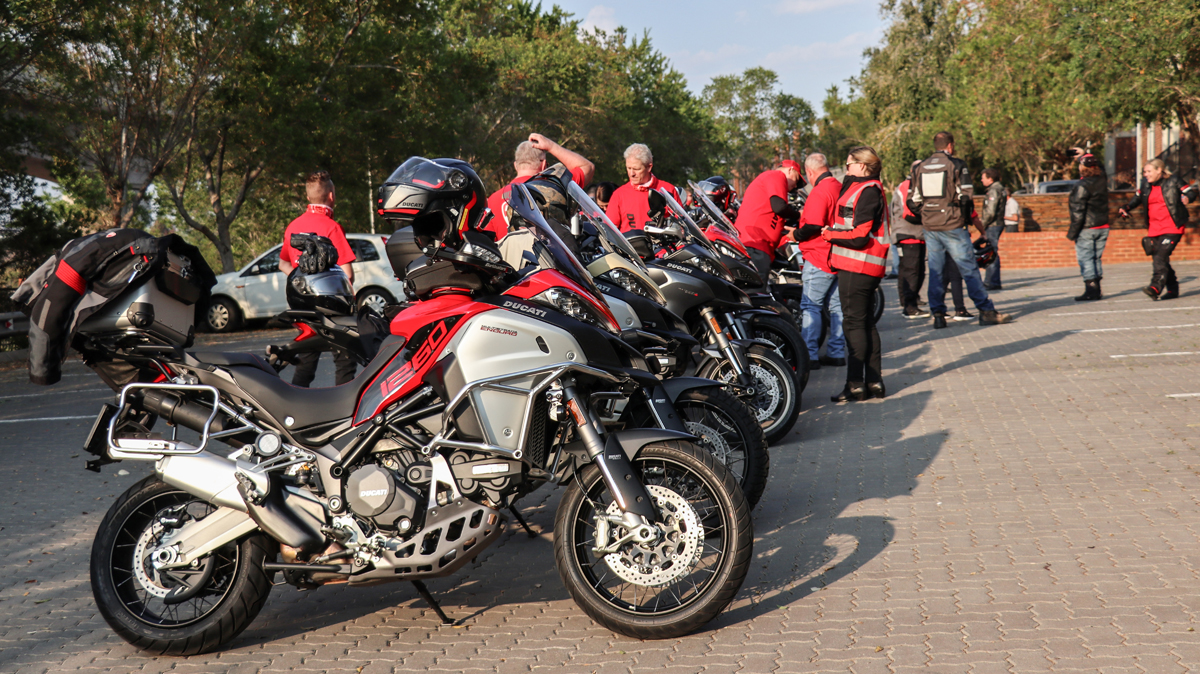 The Ducati truck had already departed with our main luggage, dropped off the previous day, so it was just odds and sods in the top box of the red (it's a Ducati, hello?) Multistrada 1200 S, that was going to be Irene and my ride for the tour. Croissants and coffee were quaffed whilst meeting and greeting all the old cronies and a few new ones to boot, followed by a quick briefing with a prayer, asking the Lord's protection over the group, then the familiar Mystery Tour cry from Ducati bossman, Jos Matthysen, of "vyf minute". Kit up, hop on the bikes and away we went, to only Jos knew where.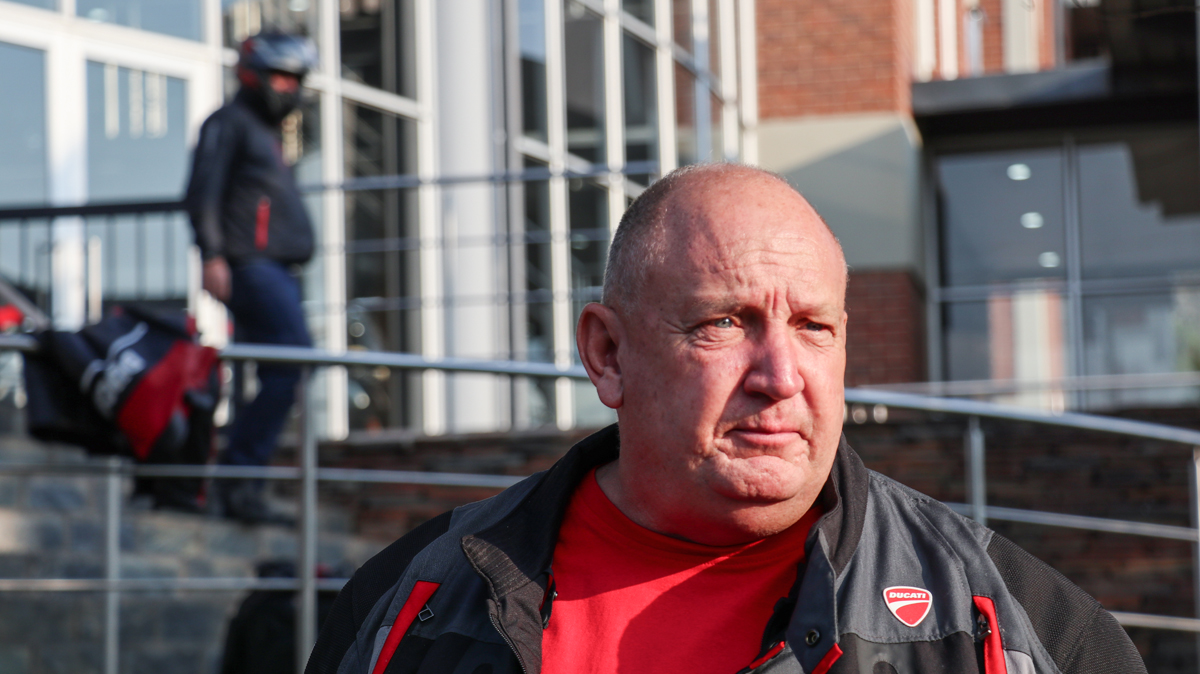 That is why it is called a "Mystery Tour". Participants need to guess each days destination, thereby qualifying for a cool prize for being the closest. Jos posted the distance of each days ride on the group, letting us pore over our maps and check for possible destinations linking a sweet route together. Suffice to say, that by the time we departed, we had the compass covered with guesses in every possible direction and then some. So, different to last year, we rode out in perfect, cool and comfortable riding weather, under a big blue sky. My guess was Lephalale. I was pretty sure we wouldn't follow last years route and 367 k's would take us right there. Also to consider was where you can accommodate a large group of people. Riders, pillions and support crew. It is huge fun plotting and scheming as you go. We rode towards Sun City, then hooked a right, re-fuelled and just out of a settlement, pulled off the road to where the Ducati truck was parked with braai fires going and ice-cold drinks aplenty. We assembled and downed some awesome burgers, enjoying a great brunch.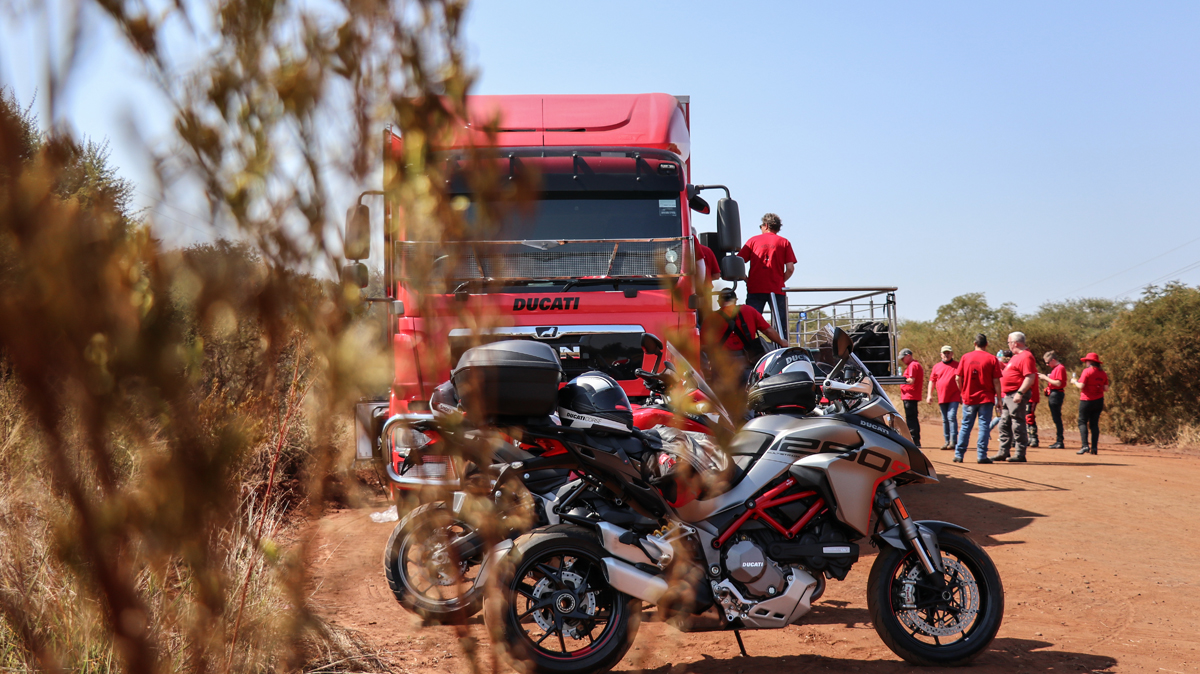 Back on the road, we followed signs to Lephalale and just as I was doing a mental fist pump and savouring my anticipated prize, horror of horrors, Jos turned off towards Brits! It was then left to Bela-Bela and our stop for the night, the beautiful Klein-Kariba resort. Traditionally, this facility has never allowed motorcycles, but we know Jos to be a particularly persuasive fellow. After a chill and clean-up, we gathered together for dinner at a private facility where we could do our own thing, enjoying some cold ones and a tasty braai. With hunger and thirst sorted and after some really good 'kuiering', it was some weary bikers that made their way off to their chalets and beds. Where to tomorrow, we all wondered?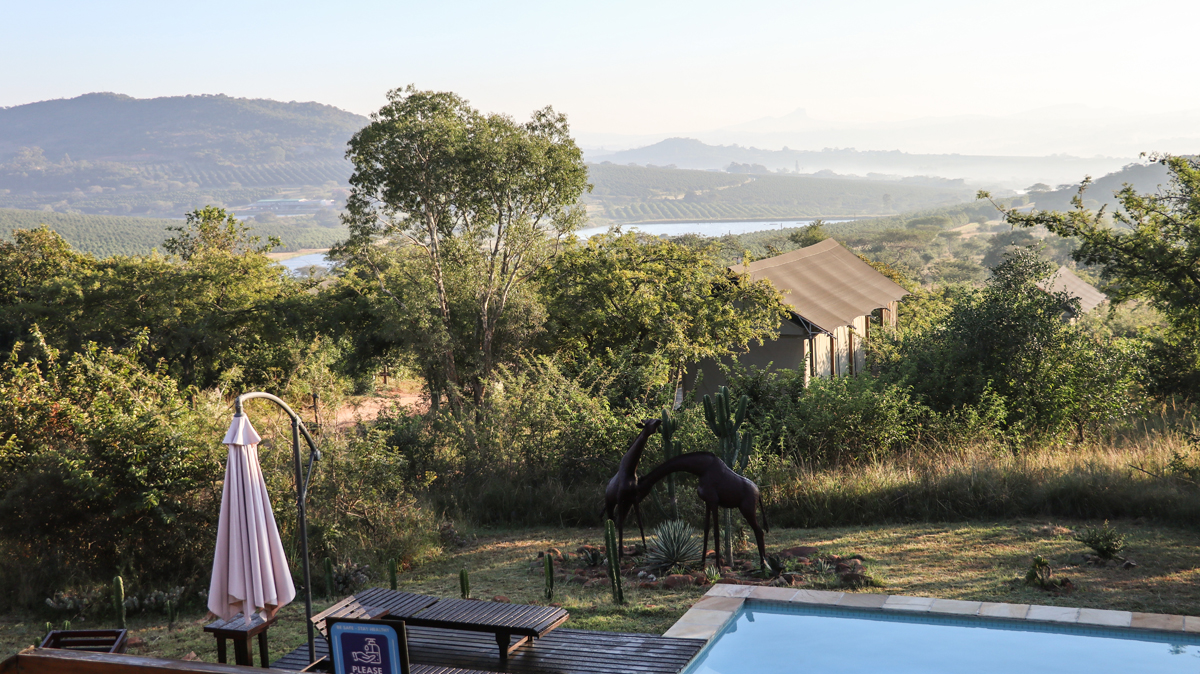 Breakfast done and rolling by 8 am, we headed north on 'B' roads. Did I mention that Jos detests highways? The bushveld is beautiful after the good seasonal rains, making for some great riding on generally good roads. It was an interesting assortment of Ducati's that rolled across the countryside. Mostly super versatile, all road-friendly Multistrada's, 1260 Enduros, S's and a few new magnificent V4's.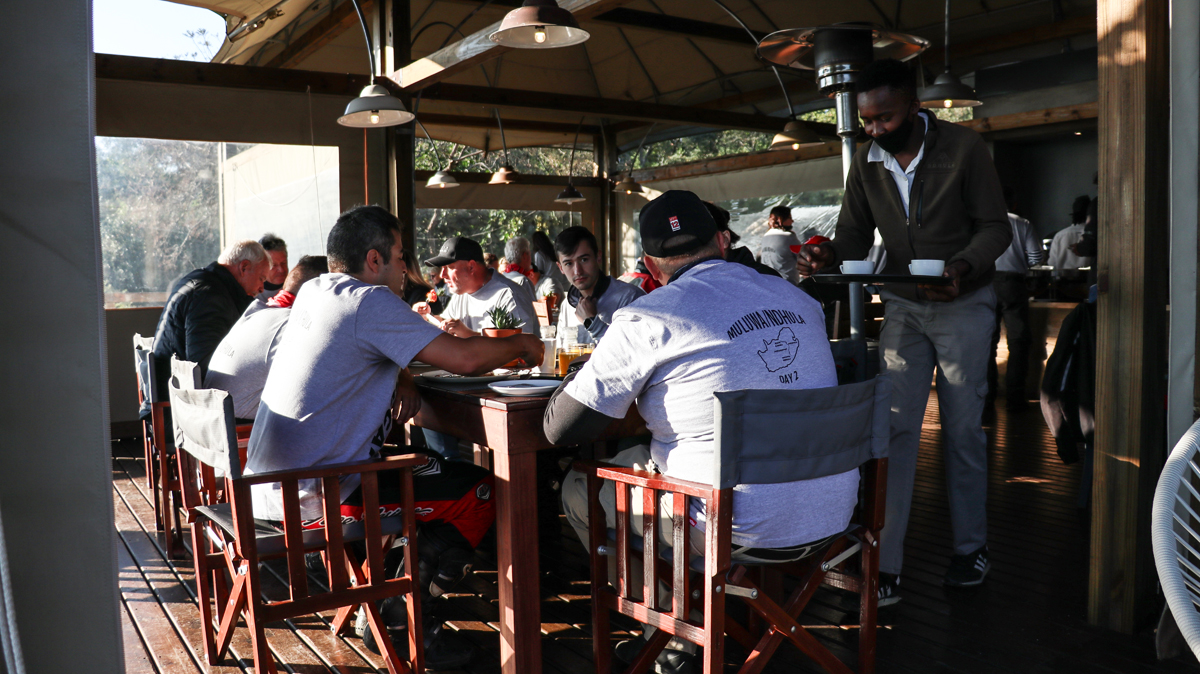 Then we had a few Diavel's, characterised by their distinctive brutal staccato exhaust note and visually dominant, massive gumball back tyres. I took a mental hat off to their riders, who tackled a ride that was always going to be challenging on a power cruiser. These Ducati pilots are a resilient lot, driven by an enduring passion for their magnificent machines. We even had a Panigale, showing that it can tour as well as tear.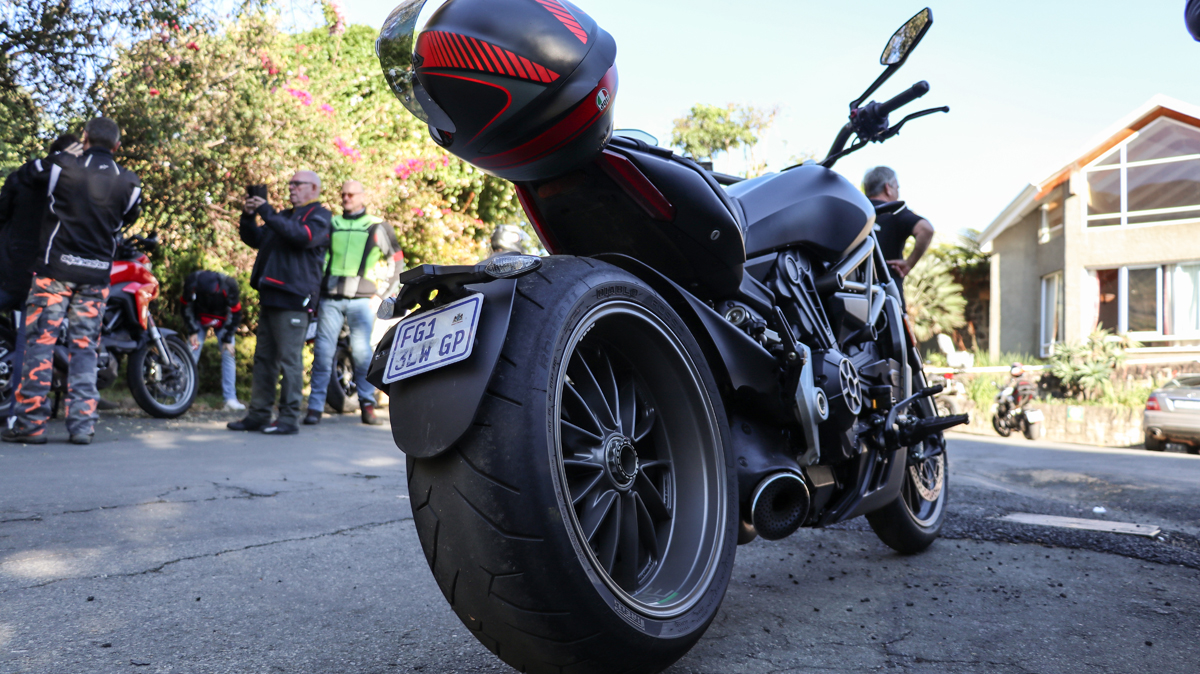 Refuelling in Potgietersrus, my mate Joop asked if I would like to sample his new Multistrada V4 S. Needless to say, I didn't need much time to ponder that one! Faster than you can say 'you betcha', I had swopped key fobs and planted my butt in the plush seat of the V4 S. Now I accept that the 1200 S Multi I was on is a few years old and perhaps even old tech when compared to the latest 1260s, but it remains an impressive motorcycle. Until you ride the new V4, that is. All of a sudden the 1200 S feels rather agricultural. I rode the V4 S on a sweeping and undulating road towards Burgersfort. What a revelation this bike is! It is super plush, with the electronic suspension set to 'Auto'. It makes a mockery of road imperfections, cosseting the rider and pillion on a stable and comfortable platform, all the more able to make the most of the magnificent motor.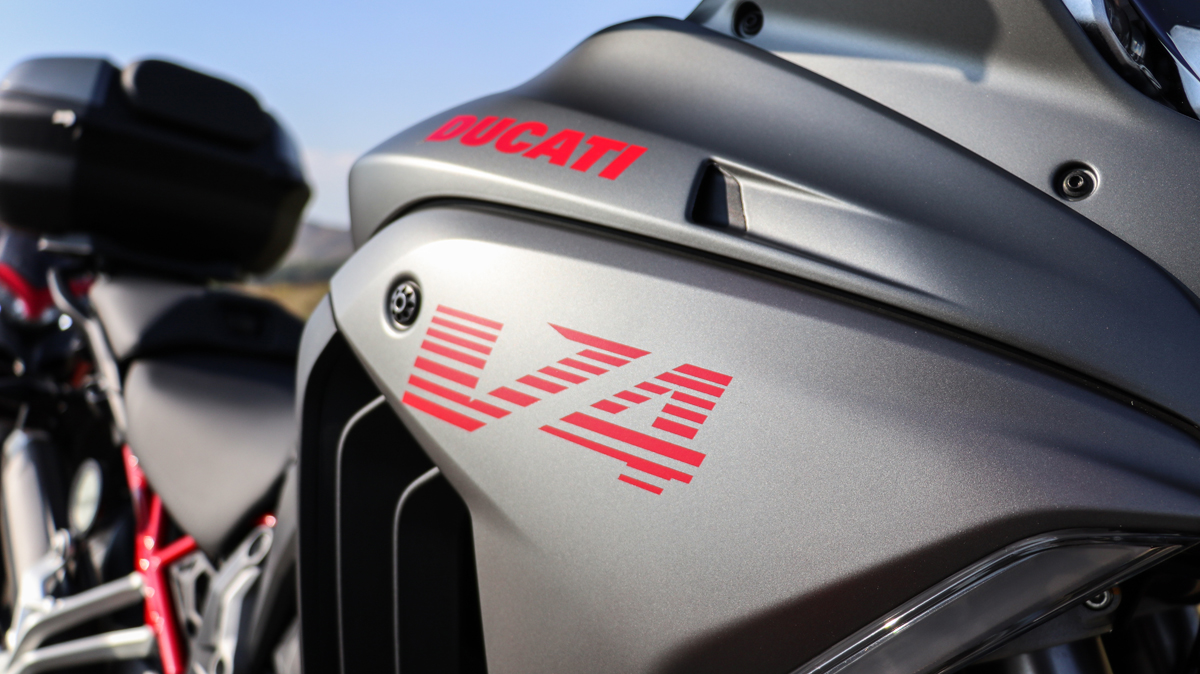 I have always loved V4 motors, having owned Honda V4's of both 800 and 1200 cc's. The Ducati, typical of the brand, manages to inject an air of exotica into the experience. The motor is powerful, smooth and flexible. Accelerate from low speed in 6th gear and there is no chuntering, but rather just smooth progressive shove, which builds in intensity as the revs rise. The gearbox is the best I have experienced on a Ducati. Light and precise and endowed with a superb up and down Quickshifter. The bike runs particularly cool, too. Even when trolling through the end of the month Burgersfort traffic, the bike remained balanced and unruffled.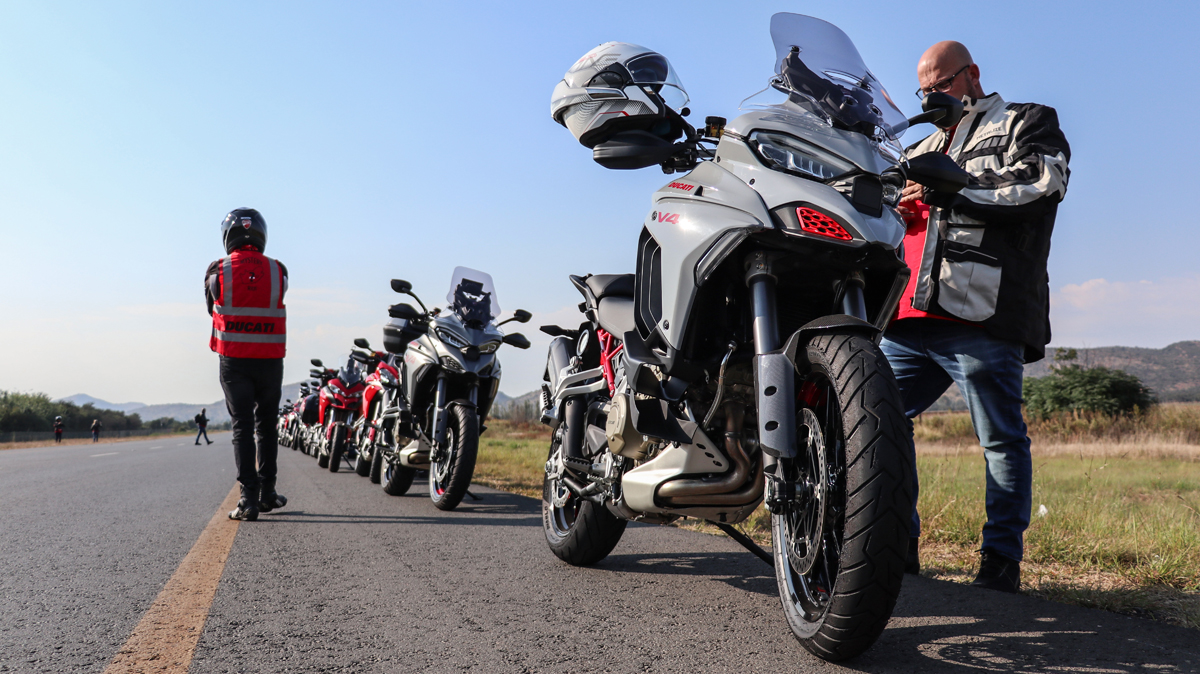 The way the bodywork vents any heat away from the rider is particularly impressive. It was a real test of our friendship when I had to hand the magnificent V4 back to Joop. I was tempted to do a runner, until I realised that whilst I could run and would probably get away, considering the Multistrada V4 S's prowess, I could not hide…. so I grudgingly gave Joop his bike back. Thank you, my friend, sincerely, for trusting me with your magnificent bike!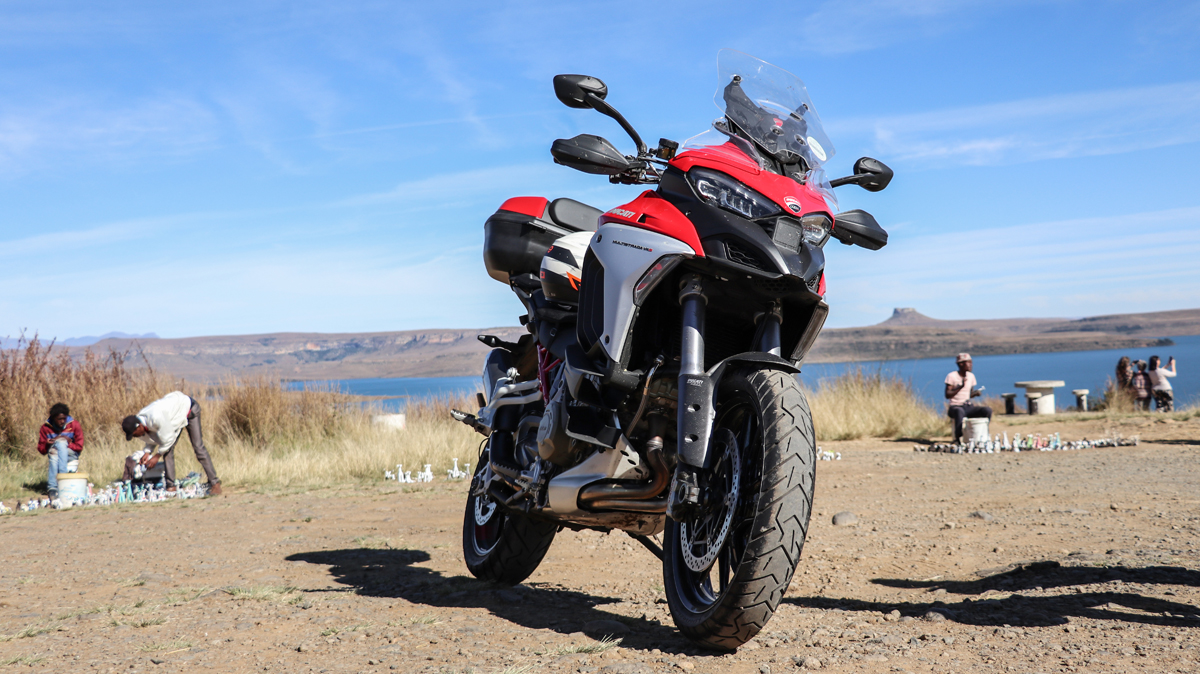 We stopped at a cool pub in a backstreet of Burgersfort, for a very welcome cold one, before proceeding down the mountain to Ohrigstad, then down Robber's Pass to Pilgrims Rest. After a long hot day, we trundled into a superb game Lodge between White River and Nelspruit, for an evening of splendid pampering, in truly World Class surroundings. Jos never fails to amaze and surprise on these Mystery Tours. Surrounded by mountainous roads, we just knew that the next days riding would be spectacular. And so it proved to be.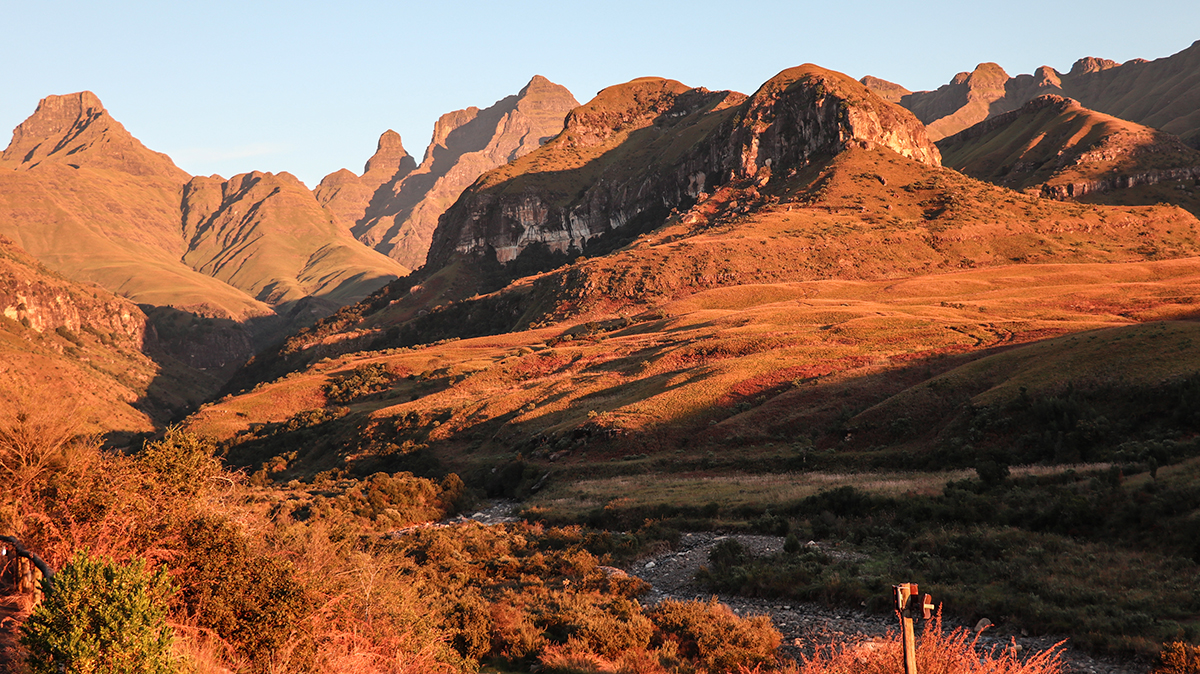 With daytime temperatures in the mid-'20s, it was wonderful riding weather. We descended the tight twisties to Barberton before turning to Badplaas and up the mountain towards Swaziland. Ermelo, Paulpietersburg and beyond. Crossing into Kwa-Zulu Natal, we made our way through Ladysmith, then turned towards Winterton and the magnificent Drakensburg. Just outside town, we turned right and literally followed a road that became progressively tighter and narrower, with increasingly spectacular mountain vistas, before culminating at the wonderful Cathedral Peak hotel. We got settled in and cleaned up, before gathering for pre-dinner drinks and the legendary Cathedral Peak buffet dinner. Being the last night on tour, there was some business to attend to. Jos introduced the Judge Presiding, one Joop Groeneveld, resplendent in his regalia, which, to be honest, was more reminiscent of an Arab Sheik than a judge. Not that I was going to chirp, knowing the powers of liquid retribution which he wielded.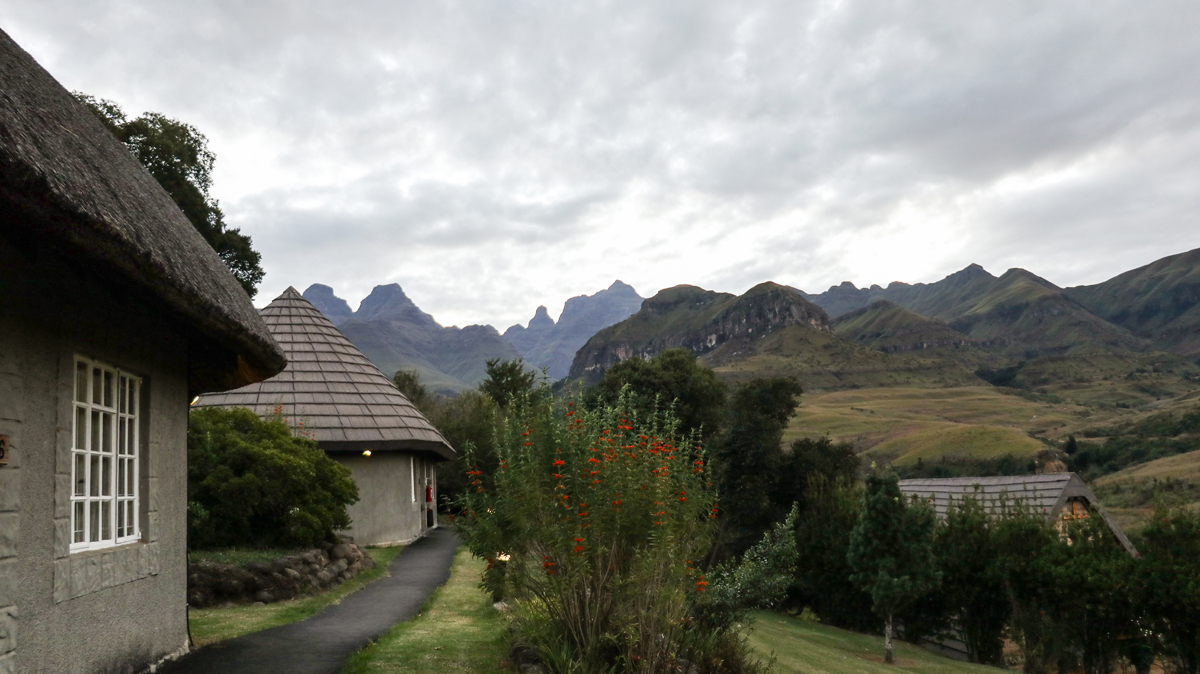 First lambs to the slaughter, were those foolish enough to not wear their cool Ducati shirts. The sentence was a single shot. Rob Portman was lashed with three, for re-naming Robber's Pass, "Rob's Pass". Still feeling aggrieved, I asked the Judge what sentence he would pass on someone who allowed his mate to ride his V4 S and then callously, without due regard for the irreparable damage that it could cause, demand it back. To his eternal credit, he uttered an unrepeatable expletive before sentencing himself to a shot. SA needs more Judges of his ilk, that's for sure! Prosecutors did their job and Judge Joop meted out justice with unwavering resolve. It was thus a well-fed, well 'watered' and suitably chastised bunch of Ducatisti, that wobbled off to bed at the end of a special day's riding and festivities.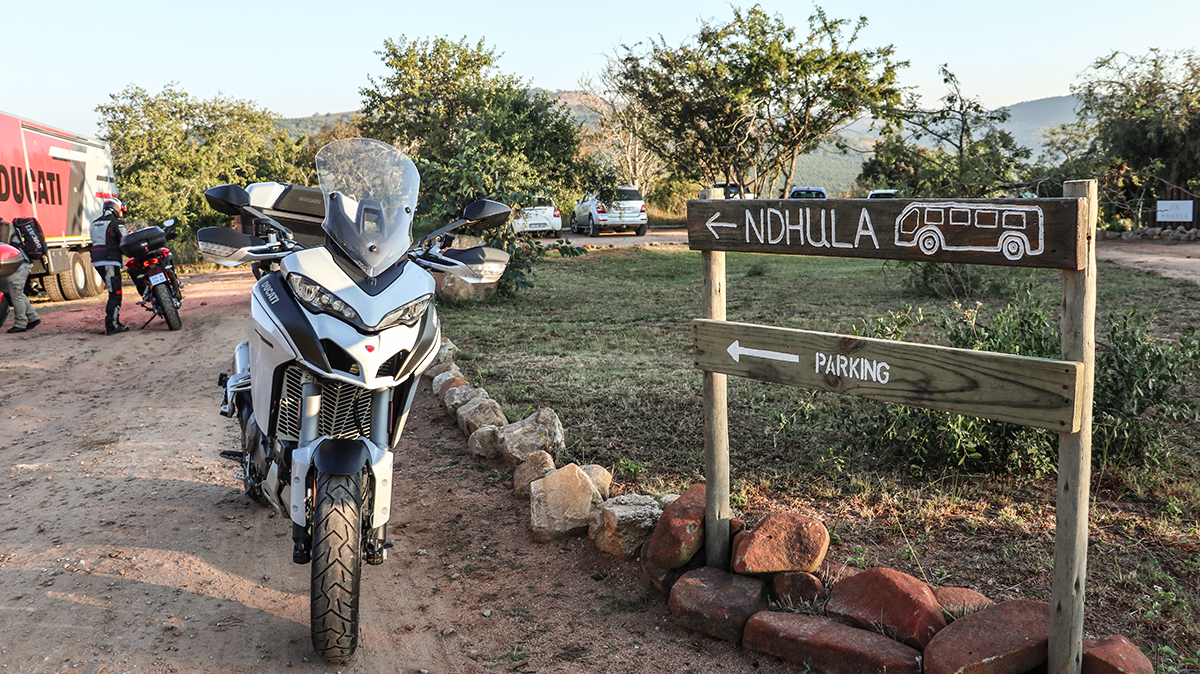 Sunrise at Cathedral Peak is really something special to behold. You know that something is particularly unique, when people, up early to see the sunrise over the mountains, pass each other on the pathways and speak in hushed tones, aware that they are witnessing something amazing. The rising sun streaks the wisps of cloud a wonderful orange and the mountainsides are bathed in a fresh morning glow. You find yourself emotional from the sheer glory of it all. What a splendid way to ease into the last day of our tour.
The end of tour day is always bittersweet. Thoughts do turn to home, whilst also being upset that good times are coming to an end. Jos led us over Oliviershoek Pass, past the Dam and then through Golden Gate, including the beautiful Oribi loop and then on to Clarens for some final refreshments, before heading to Bethlehem, Warden and a final squirt down the only piece of highway of the whole trip, to home. In total, 2,237 kays flew by, under the predominantly red bunch of Bologna Bullets. Reflecting on another Ducati Mystery Tour and soaking up the comments posted by the participants on the group, it is evident that Jos, assisted wholeheartedly by his special wife Lida, is doing something incredibly special with Ducati.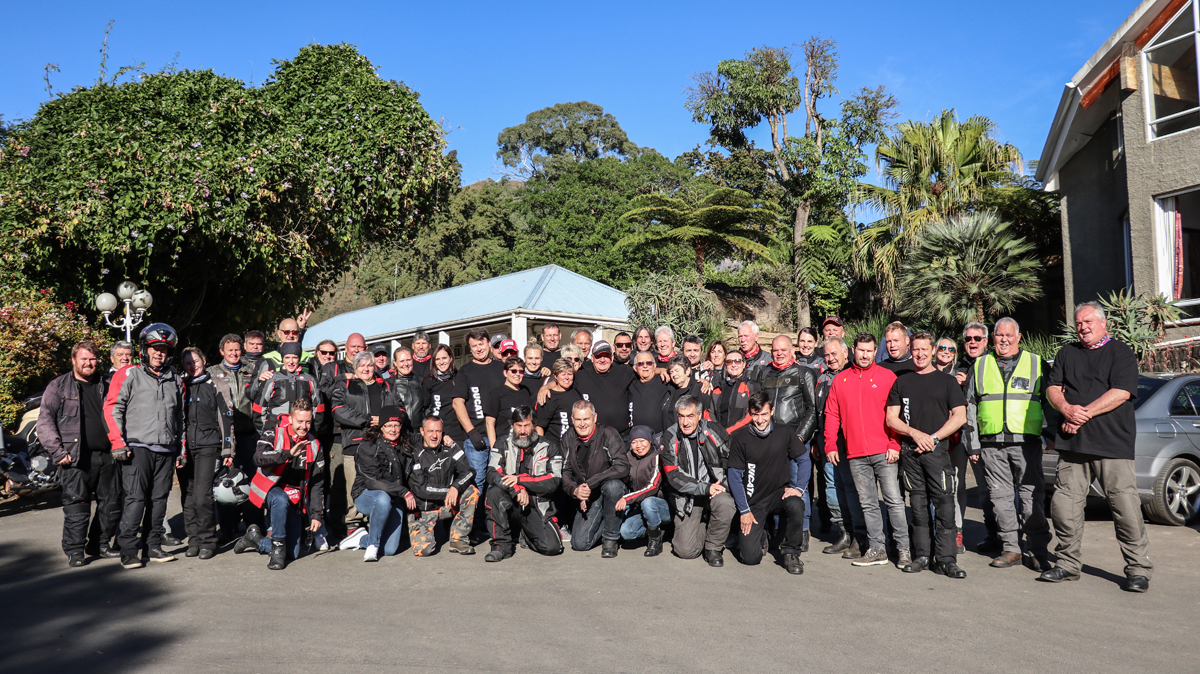 He seems absolutely intent and spares no expense, on ensuring that his customers and friends really enjoy themselves. He is fostering a camaraderie and brand loyalty that is unique and enduring. Huge thanks go out to Jos and the team for a really epic event. When is the next one? Just asking and……Joop, all will be forgiven, if you can't make it, I would be prepared to keep your V4's battery charged and oil circulated…..