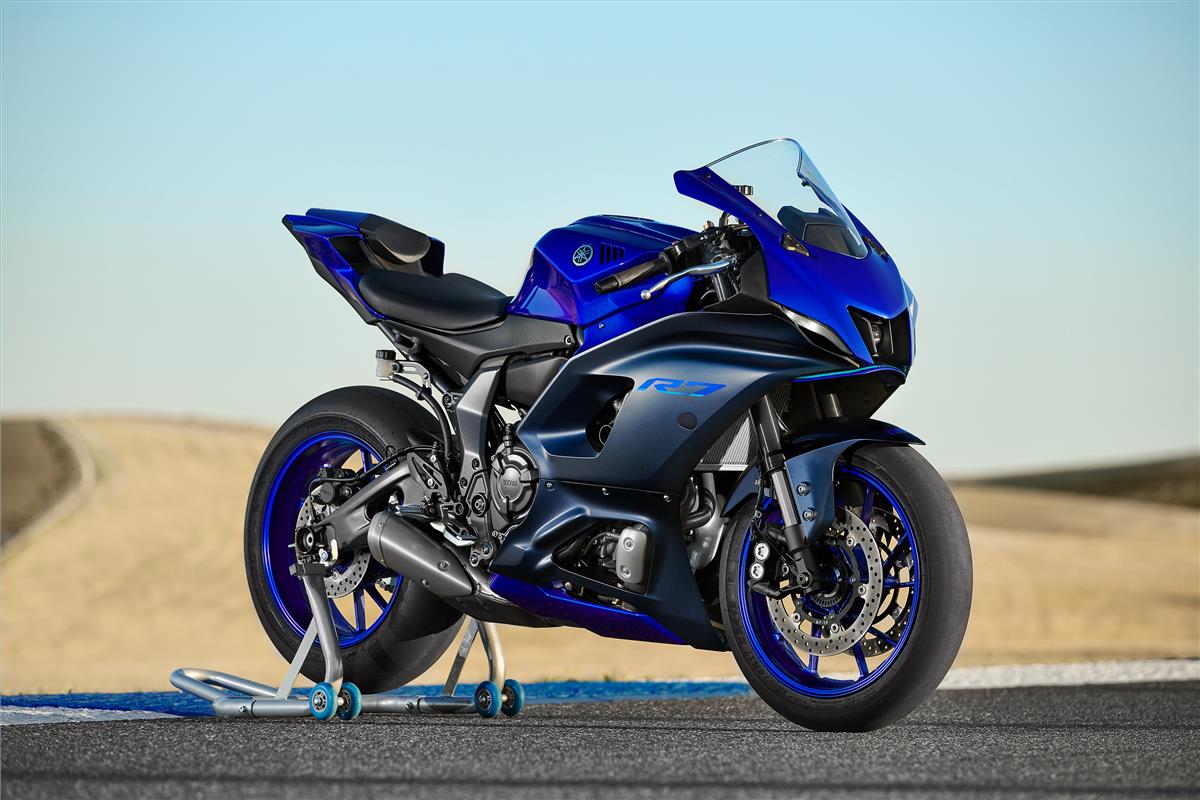 Yamaha's 689 cc twin-cylinder 'CrossPlane' motor will go down in history as one of the company's greatest hits. It's lively without being unruly, and offers up mounds of usable torque for a wide range of applications. But is it fit for a superbike?
We're about to find out, with the release of the much-anticipated Yamaha R7.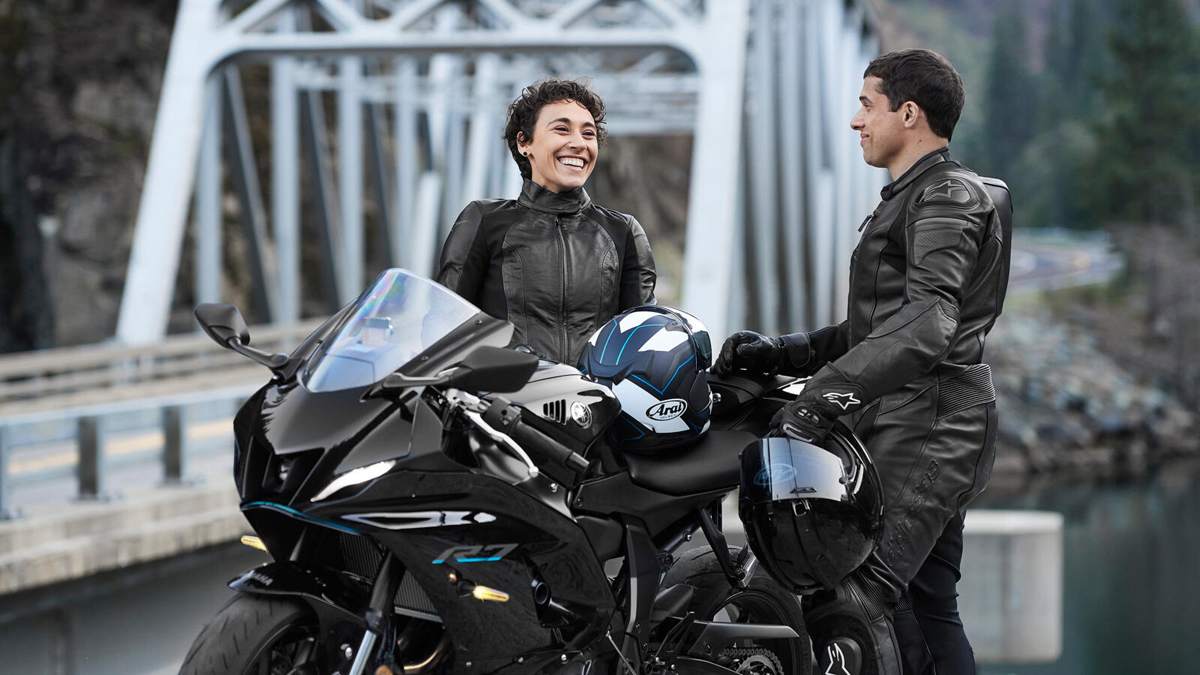 Although this new bike bears the iconic R7 name, it has little in common with the YZF-R7 homologation special that launched in 1999. By popping the 'CP2' engine in a supersport package, Yamaha are pitching the R7 as a middleweight to sit between the R3 and R1, rather than an outright performer. They say they're aiming at younger riders here, but given the popularity of the MT-07, Tracer 700 and Ténéré 700, we'd say the appeal is much wider.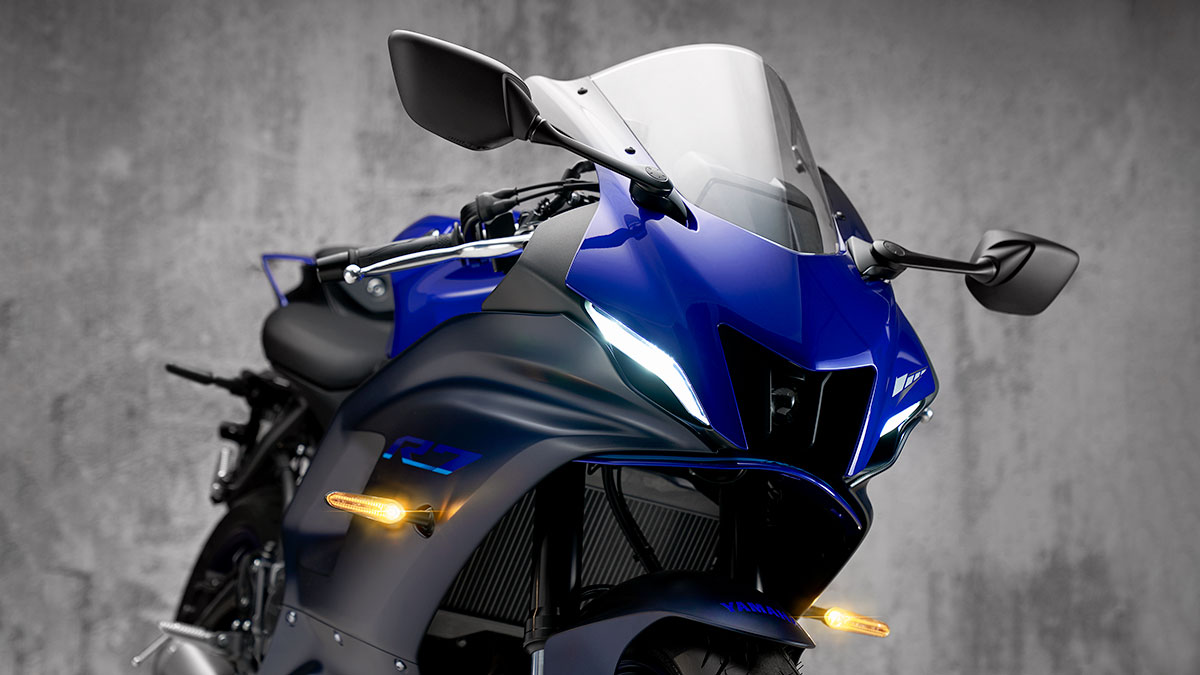 At the heart of the R7 is the same 689 cc parallel twin as the MT-07, along with its 270-degree firing interval. Maximum output is 54 kW at 8,750 rpm and 67 Nm at 6,500 rpm. This motor's now Euro 5 compliant too, thanks to a revised exhaust design, new air intakes and tweaks to the fuel injection. Yamaha also fettled the secondary gear reduction ratio, to give the R7 more poke off the line. Other upgrades include a new assist and slip clutch, and there's an optional quick-shifter too.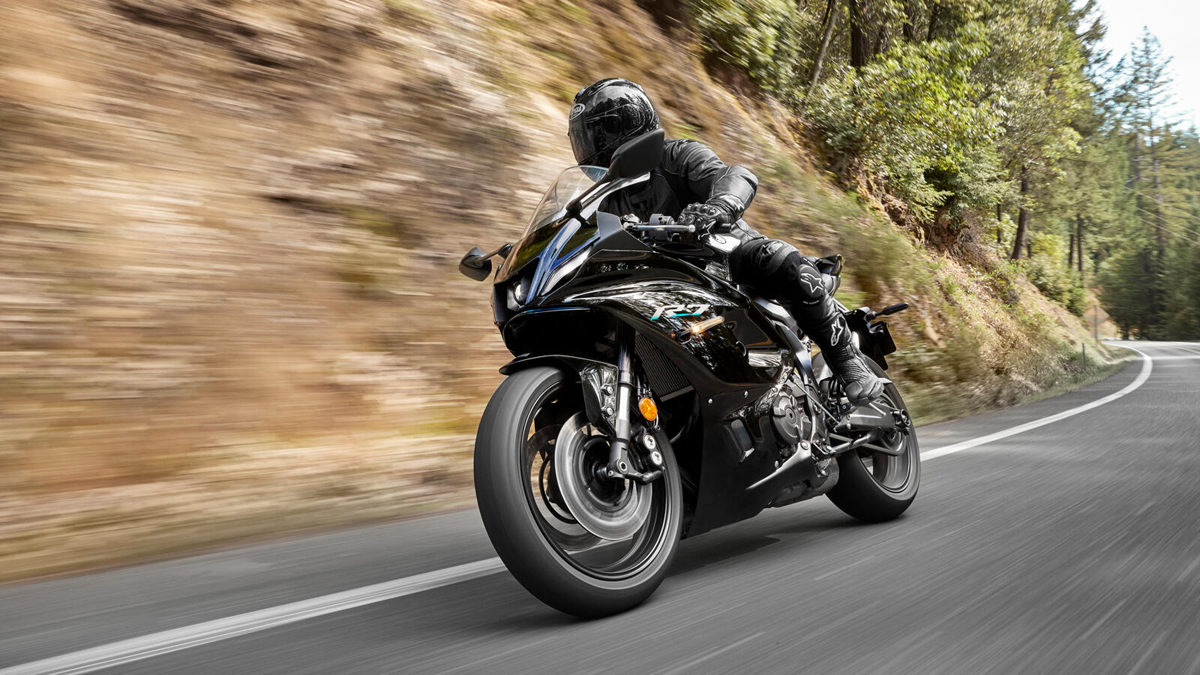 Looking at the chassis and parts spec, it's clear that Yamaha see the R7 being used on the street and track. Everything's packaged into a backbone-style frame, with a rigid-mounted aluminium centre brace. The focus here was on handling, to make the R7 as responsive and agile as possible.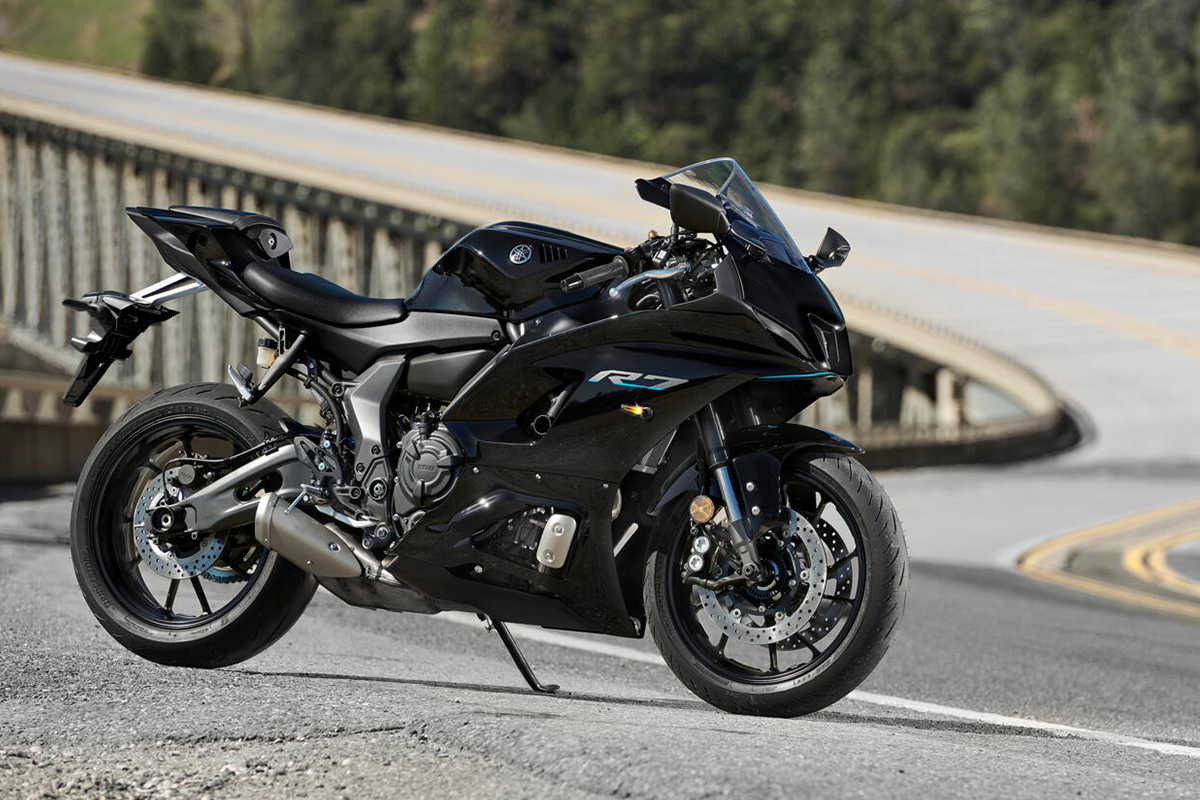 The suspension package includes fully-adjustable 41 mm upside-down KYB forks, and a new linkage-based rear suspension design. It uses a horizontally-mounted shock that's both adjustable for preload and rebound damping.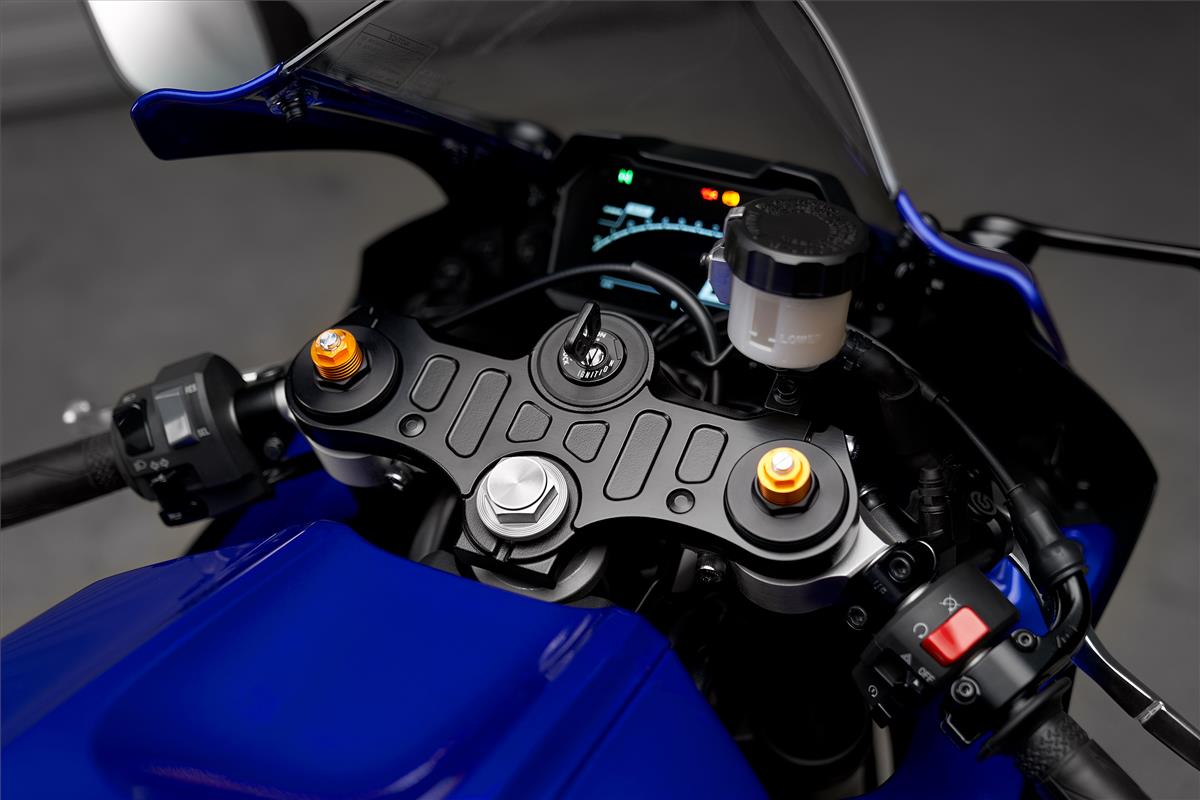 If you want to geek out over geometry, the R7's front end has a steering angle of 23.7 degrees, 90 mm of trail and a 1,395 mm wheelbase. The weight's distribution is 51/49 front to back… in other words, the R7 is built to corner.
The R7's wheels are lightweight 10-spoke alloy units, with a 120/70 R17 tyre up front, and a 180/55 R17 at the back. The front brake setup includes twin four-piston calipers, engaged via a Brembo master cylinder.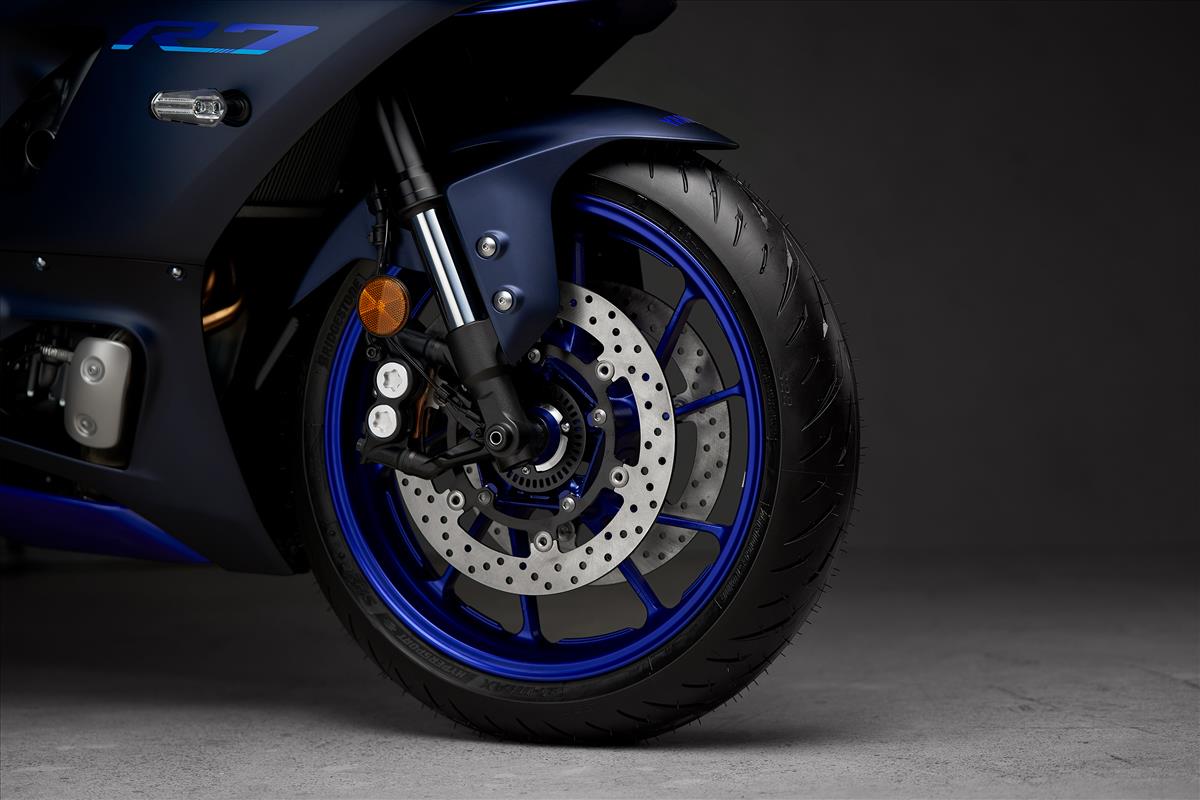 At a glance, there's no denying the R7's intended use. The overall package is compact and aggressive, with a wet weight of 188 kilos and a design that focuses on mass centralisation.
Control points include low-slung clip-ons, rear set foot controls, and a seat that tapers to the front for maximum rider movement and control. Deep indents on the sides of the Yamaha's tank cover mean you can tuck in tight and grip the bike with your knees when you need to. There's a slim pillion seat at the back too, but Yamaha will sell you a rear cowl to cover it if you want a sportier effect.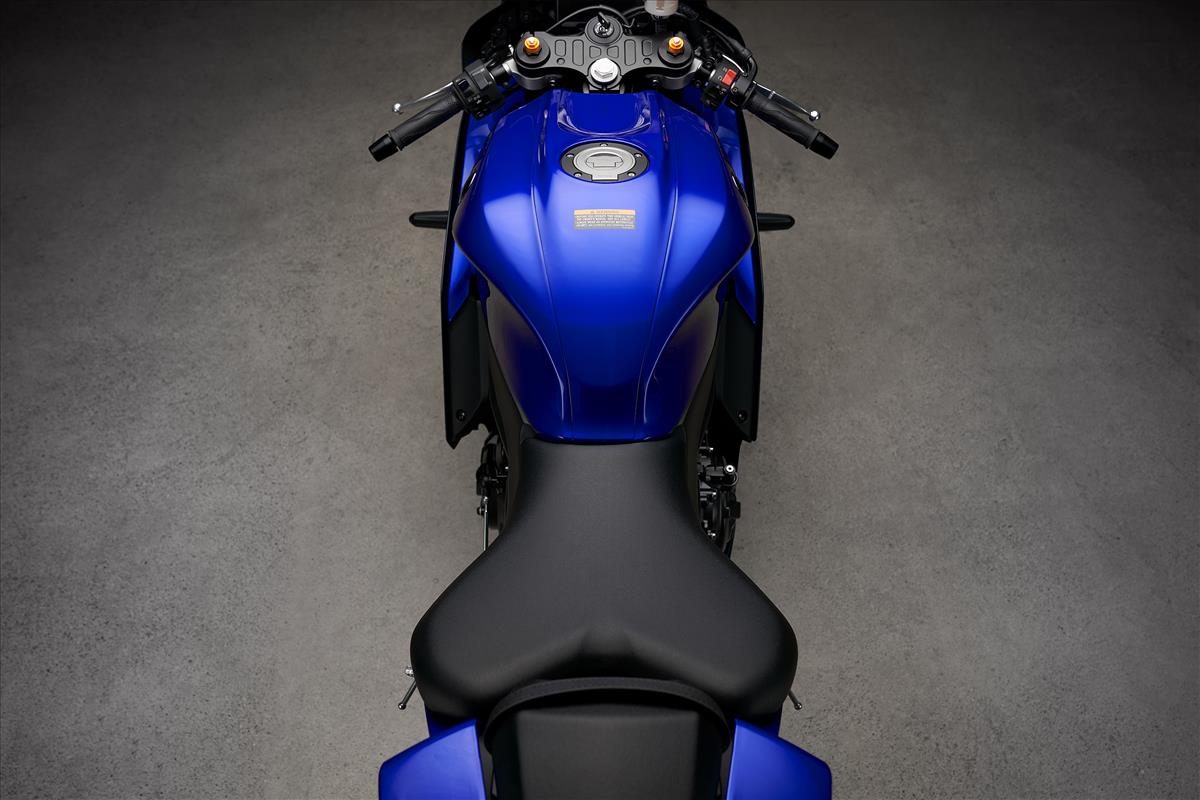 Visually, the R7 looks the business too. Borrowing a ton of aesthetic cues from the R1, the R7 sports a fairing that feels flowy in some spaces, and aggressively sculpted in others. There's a ton of detail upfront—from the MotoGP-style 'M' shaped air intake that hides an LED projector, to the subtle spoiler that's placed just underneath it. Tucked behind the fairing is a digital display, complete with a high-contrast 'negative' mode. Connectivity with Yamaha's MyRide app comes bundled as standard.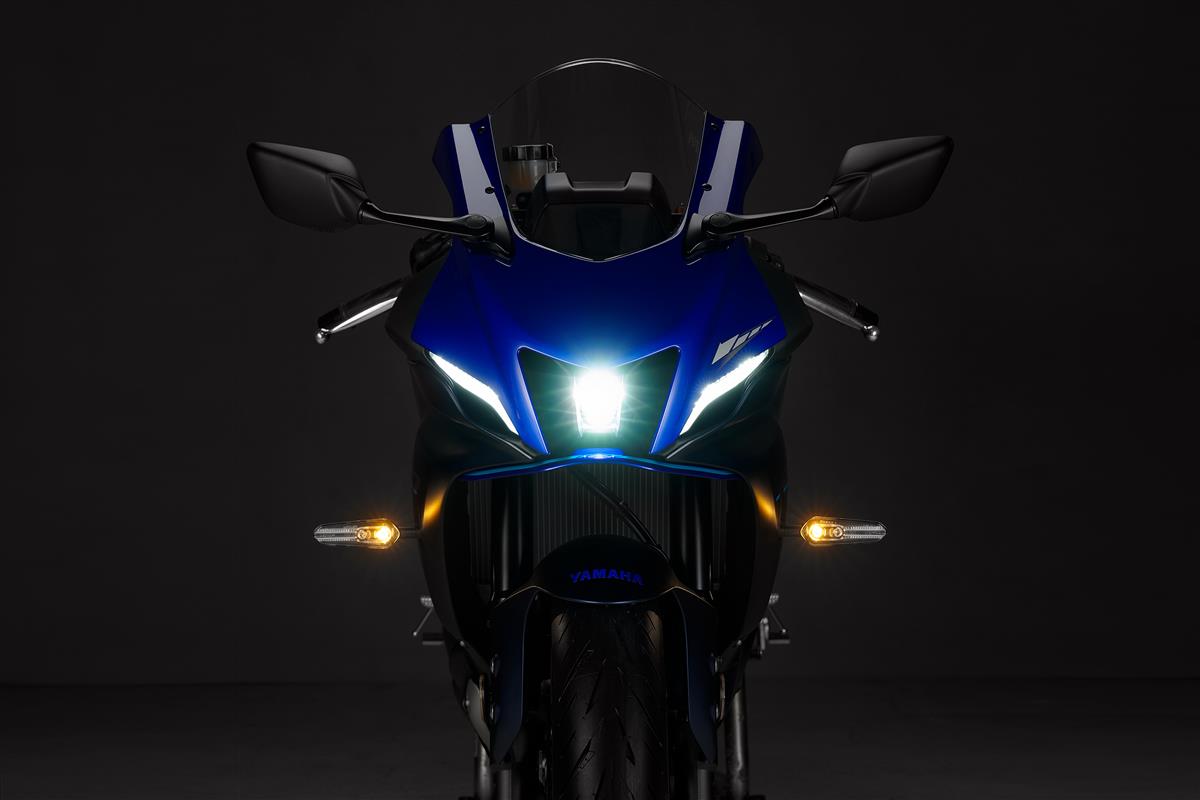 It's impossible to overstate just how slim the R7 is. In fact, Yamaha claim that it's even narrower than the R3 or R125, which makes it the slimmest R-series bike they've ever made.
It's a good looking bike too—especially in the signature Yamaha blue livery, which extends down to the aluminium belly pan and wheels. It's available in black too, with extremely subtle Petronas turquoise accents.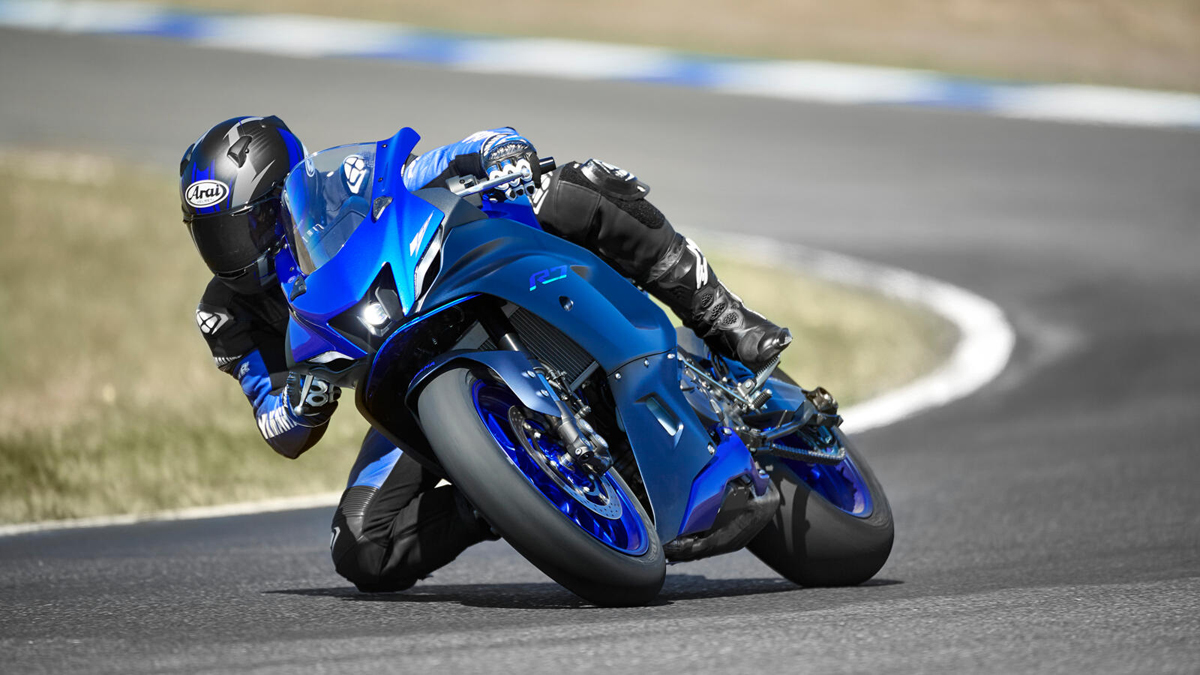 Yamaha are also releasing a line-up of track-focussed parts, including a titanium Akrapovič exhaust system, a billet engine cover kit, and radiator and engine protectors. Road-focussed aftermarket bits include a shorter license plate bracket, LED indicators, tank pads, and a range of billet parts and protectors.
The R7 will be available in Europe from October 2021, but there's no news on if and when it'll land on South African shores. There's also no word on pricing yet, except in the US, where the R7 is listed at $8,999. That's a bit more than the MT-07's $7,699, and less than the $9,999 Ténéré 700, but as we've seen with the Ténéré, it's impossible to predict how those numbers will translate in South African Rands.