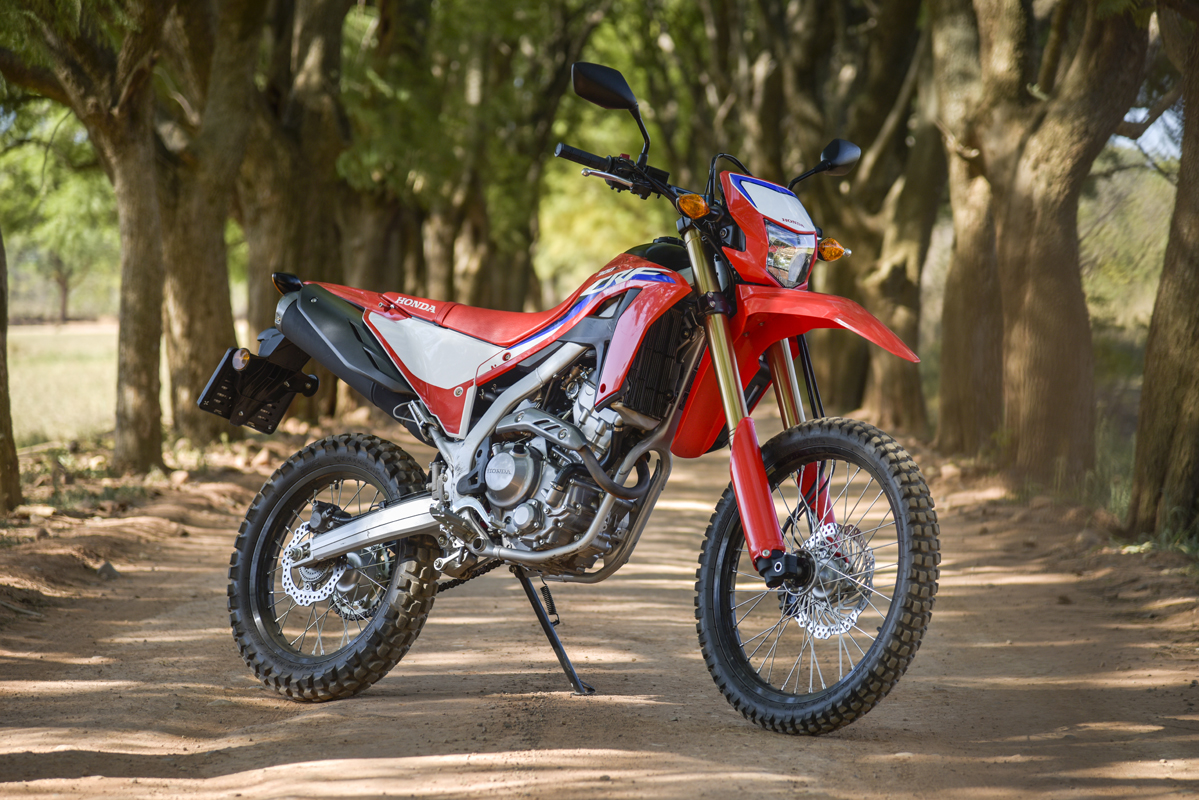 You can't escape Honda's mammoth legacy in the adventure riding genre, and you can't deny that their dual-sport bikes are consistently versatile and reliable. The Honda CRF250L was a testament to that—a pint-sized street-legal dirt bike that, despite being a little underpowered, turned out to be massively popular.
Now Big Red have thrown just the right measure of updates at the CRF, including a capacity bump, to bring us the all-new CRF300L. But how does it stack up? Is it a big enough jump over its predecessor to warrant a look? I rode one to find out.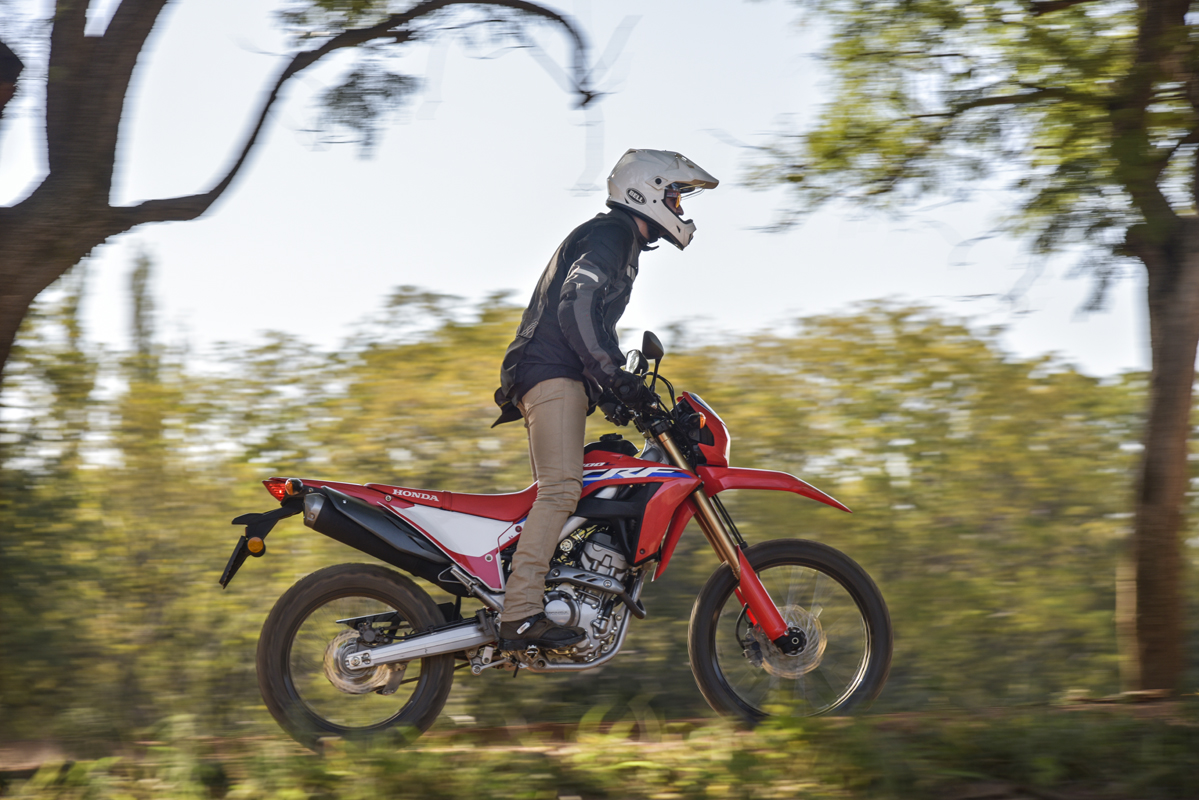 There's no beating around the bush: Honda's CRF250L/Rally weren't perfect, mostly due to soggy suspension and a lack of power. But they had the bones for improvement, and killer looks that always drew my attention. After spending much time on the 250, I was intrigued and seriously excited to get my hands on the new 300.
Honda's brand-new street legal CRF300L has more power, less weight, several chassis upgrades and a bunch of styling improvements compared to its predecessor. The latest L-model seems to have matured all over, but without losing its funky and peppy character.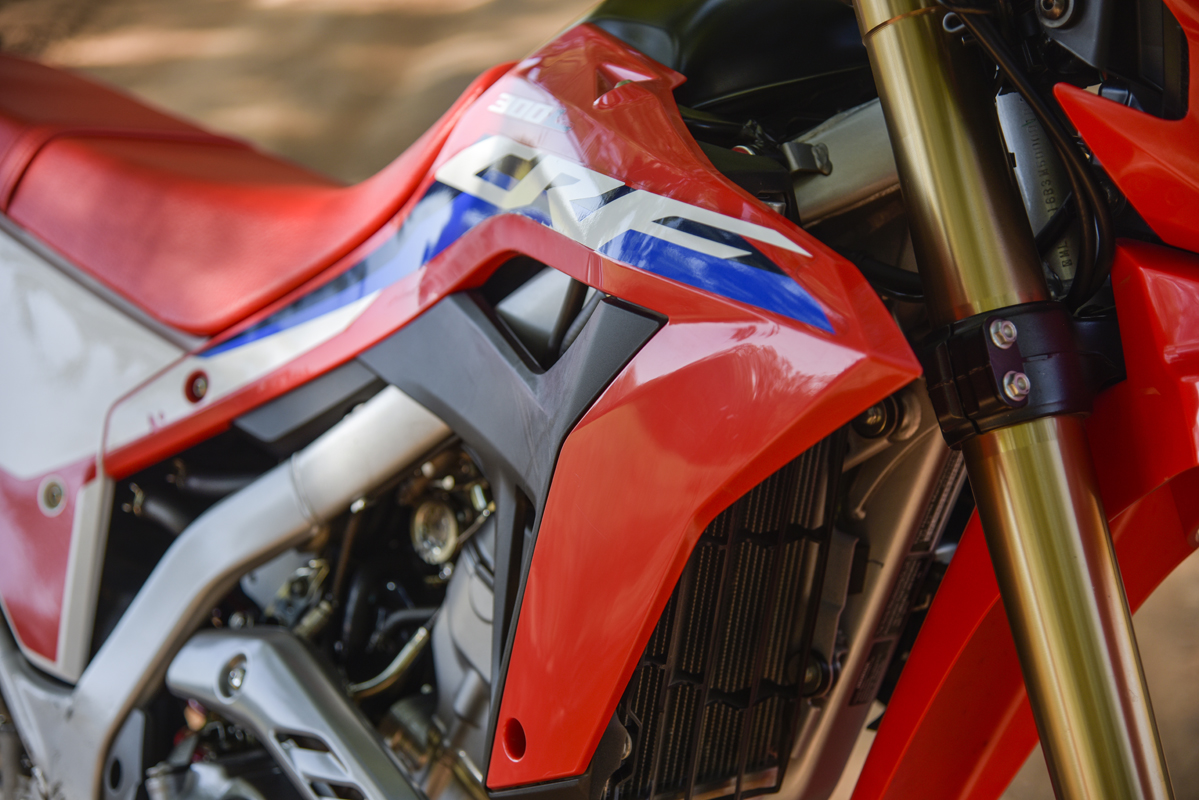 Visually, the CRF300L was love at first sight for me. It's drop dead gorgeous, with some styling brought over from the CFR450L, including a selection of factory racing Honda graphics. I know that white number boards are pointless on a street bike, but boy do they look awesome.
Another nice touch from Honda was finishing the aluminium rims in black, rather than leaving them polished—a detail that made the bike look cheap before. But the CRF300L still comes fitted with a standard bulb headlight, which really is a shame in these modern times.
As far as tech goes, you've got two-channel ABS that can be deactivated, and a neat LCD display. The display shows the usual info, plus a gear indicator, average speed, stopwatch and rev counter. There's also a fuel gauge, and a readout that will show you your consumption—a nifty feature that's usually reserved for more expensive bikes.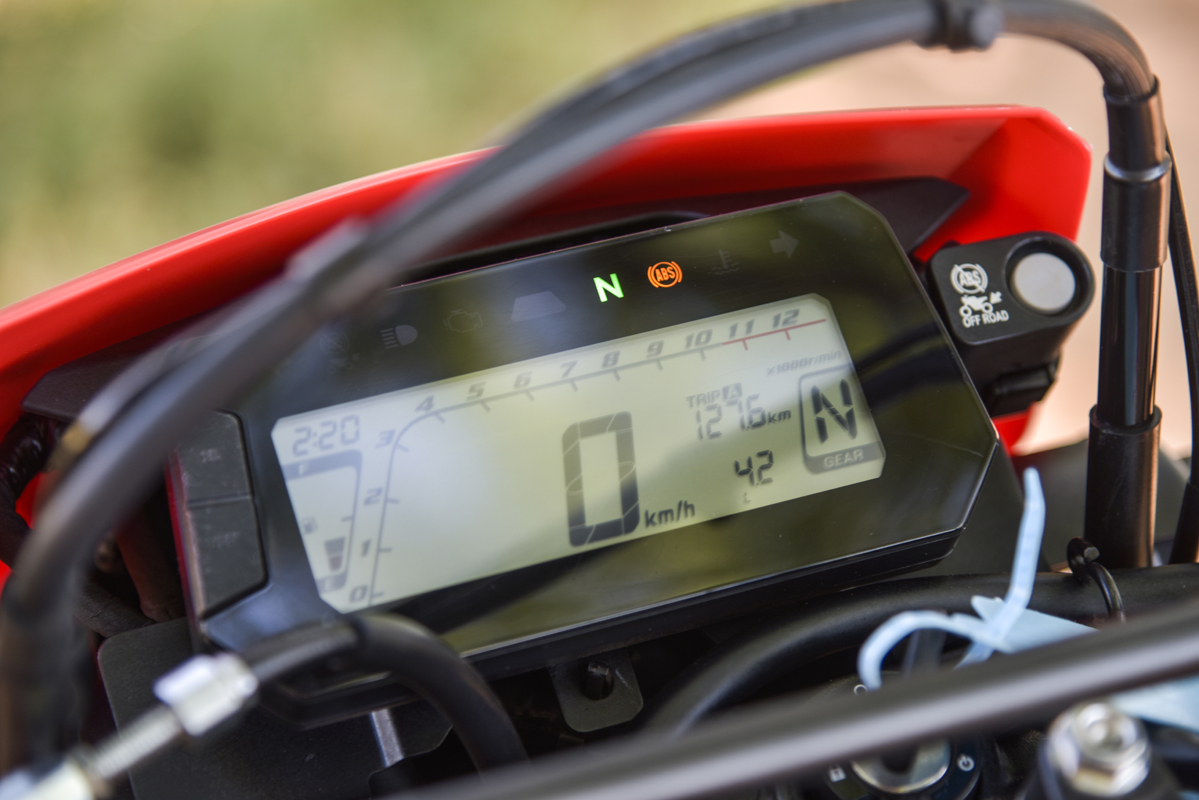 On the go, I immediately felt the difference in top-end pull and low-down torque from the engine's extra 36 cc. Bumping the motor to 286 cc has pushed its power output to 27 hp (20.1kW) at 8,500 rpm, with 26.6 Nm of torque at 6,500 rpm.
That's helped the CRF300L spring to life, but the biggest and most significant change is the new gearing. The gear ratios have been shortened from first to fifth, to help squeeze the full potential from the motor. And once you rev your way past fifth, there's a taller sixth gear to help you utilise the power band to its fullest.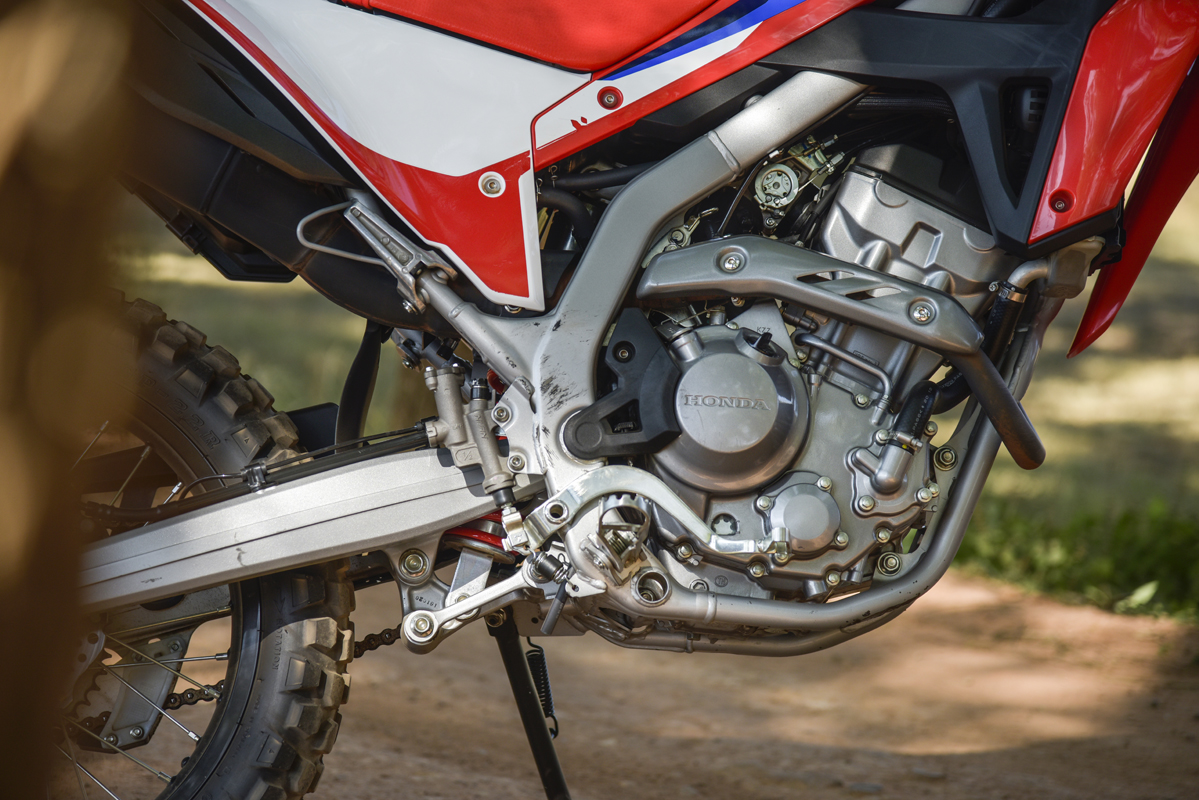 Once you're cruising on the open road and kick up into sixth gear, the motor will rev at a comfy 6,500 rpm at 120 km/h and will rev out just past 8,500 rpm with a top speed of 140 km/h. Although the 300 can do the odd highway stint, it far prefers short-shifting around town. Every time I took a spin through town, all I could think about was ordering a set of motard rims for city shenanigans. (Dear Honda: please make this happen!)
The more time I spent with the bike, the more time I spent riding off-road. Once the ABS is off, the 142-kilo curb weight and remarkably slim ergonomics make it even more manoeuvrable than before. The clutch is 20 percent lighter than before too, and that makes it awesome in the tight stuff, turning everything into an effortless one finger affair. That means it's great for beginner riders, and less tiring on those technical rides.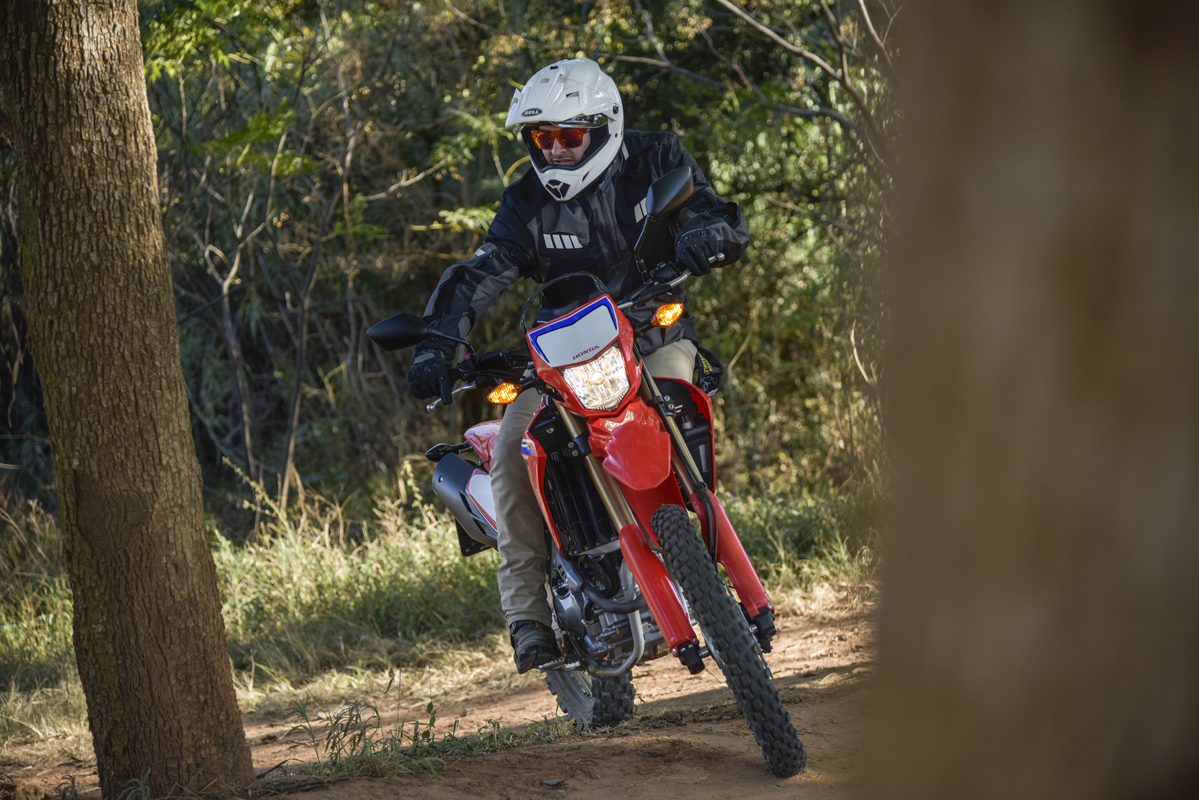 Once the trail broadens and speeds get up there, that's when the budget bike nature of the CRF300L's suspension starts to show. Even for my fully-kitted-up 80 kg weight, the suspension uses far too much sag, and sucks up half the travel from just sitting on the bike. In the slow stuff and around town it's a joy, but when you start pushing it around bends, the back end will break traction and then find it and then lose it again; very unpredictable and unsatisfying.
Up front are non-adjustable 43 mm Showa upside-down forks with 260 mm of travel. I actually enjoyed the feedback from them, and only felt them bottom out on slower, rockier terrain. The only flaw for faster riding is the Pro-Link rear suspension, which actually has some serious travel (260 mm), but fails to impress when pushed hard.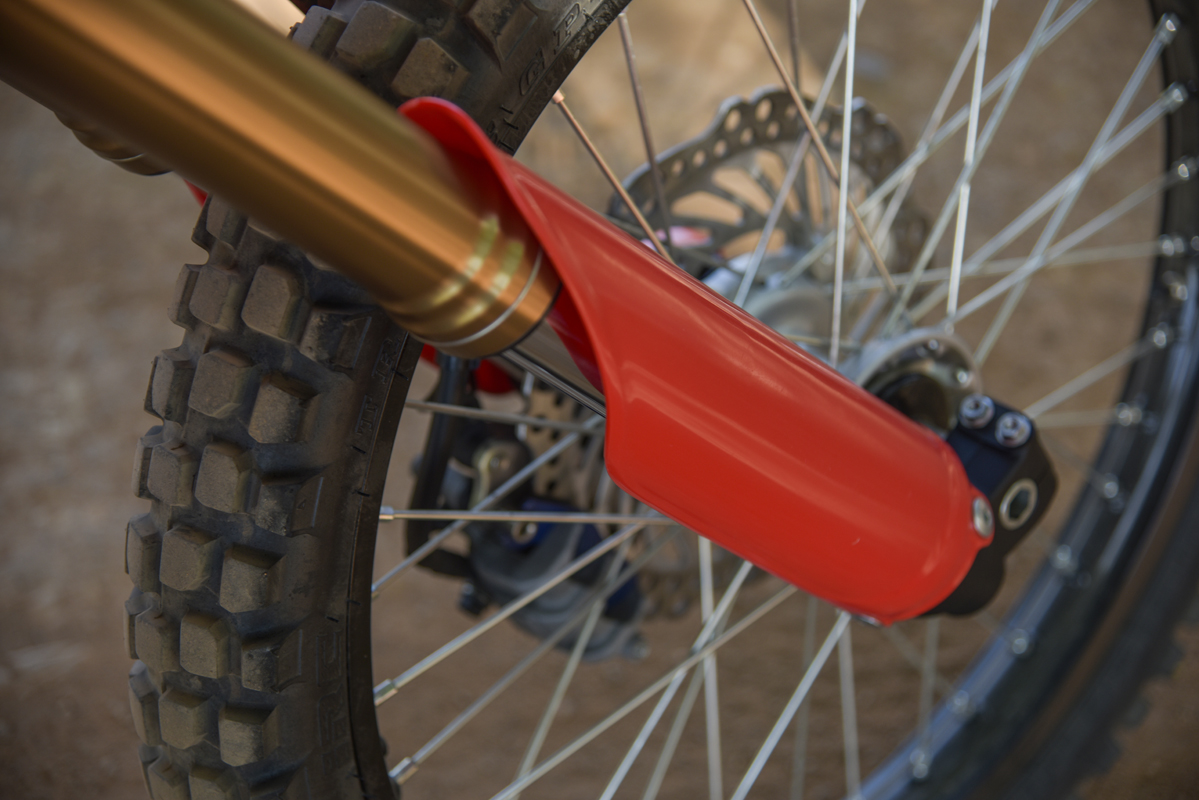 Honda have pushed the 300L's seat height up by 5 mm from the 250L, but it still sits at a reasonable 880 mm. The 300L's seat is more comfortable than the 250L's, with softer materials and a slimmer design. For the adventurer, you'll find a nifty toolbox at the rear of the bike and bungee mounts on the rear mudguard for those light weekend away trips.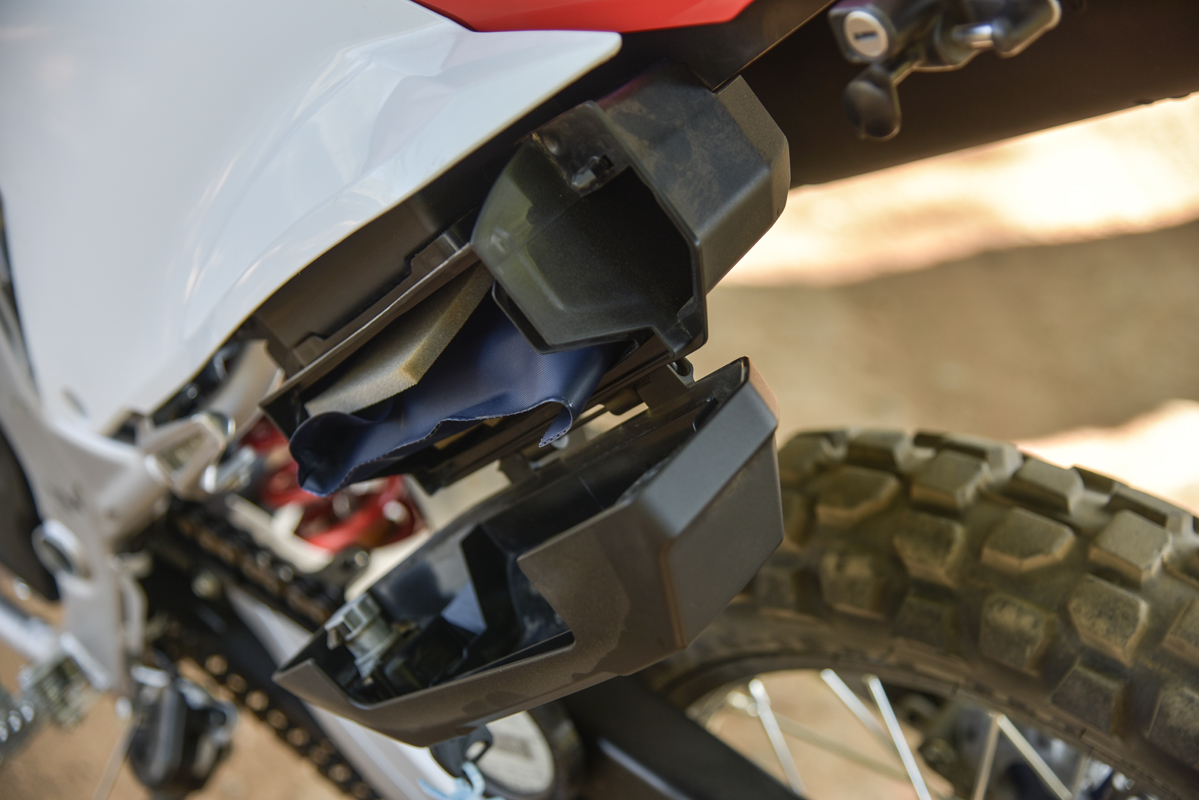 For braking, Honda paired a two-piston Nissin calliper with a 256 mm front disc taken directly from the CRF450R. Between the self-cleaning disc and Honda's two-channel ABS, stopping is a breeze. Deactivating the ABS only disengages the rear, keeping the front hunkered down at all times. I did give the front brake a full squeeze for 'research' purposes, and to my amazement, I think this may just be the best dirt-focused ABS yet.
Despite its small 7.8 L tank, the 300L can ride pretty far. I averaged 31 km/L, which in turn set me up for a comfy 240 km-plus ride. If you go for the 'Rally' model, its 12.8 L tank should do just shy of 400 km. And you'll get extra perks like wind protection, hand guards, a plastic bash plate and oodles of Dakar style. But that's only if Honda South Africa import the Rally—there's no word on it yet.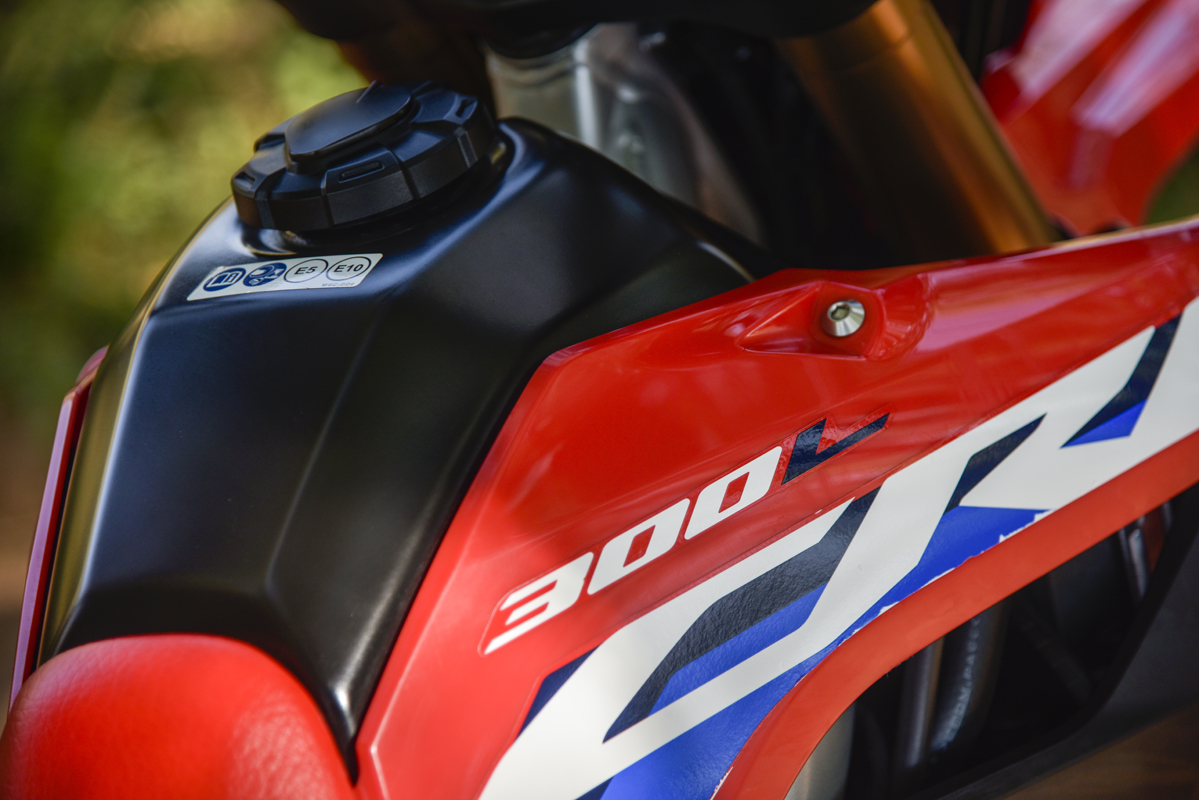 Sure, the CRF300L might not match the 300 cc twin-cylinder bikes like the Kawasaki Versys 300 for highway cruising, but it makes up for it when tar turns to gravel. And at R84,999, with 12,000 km service intervals and free rider training, it's massive value too.
For more information visit: www.honda.co.za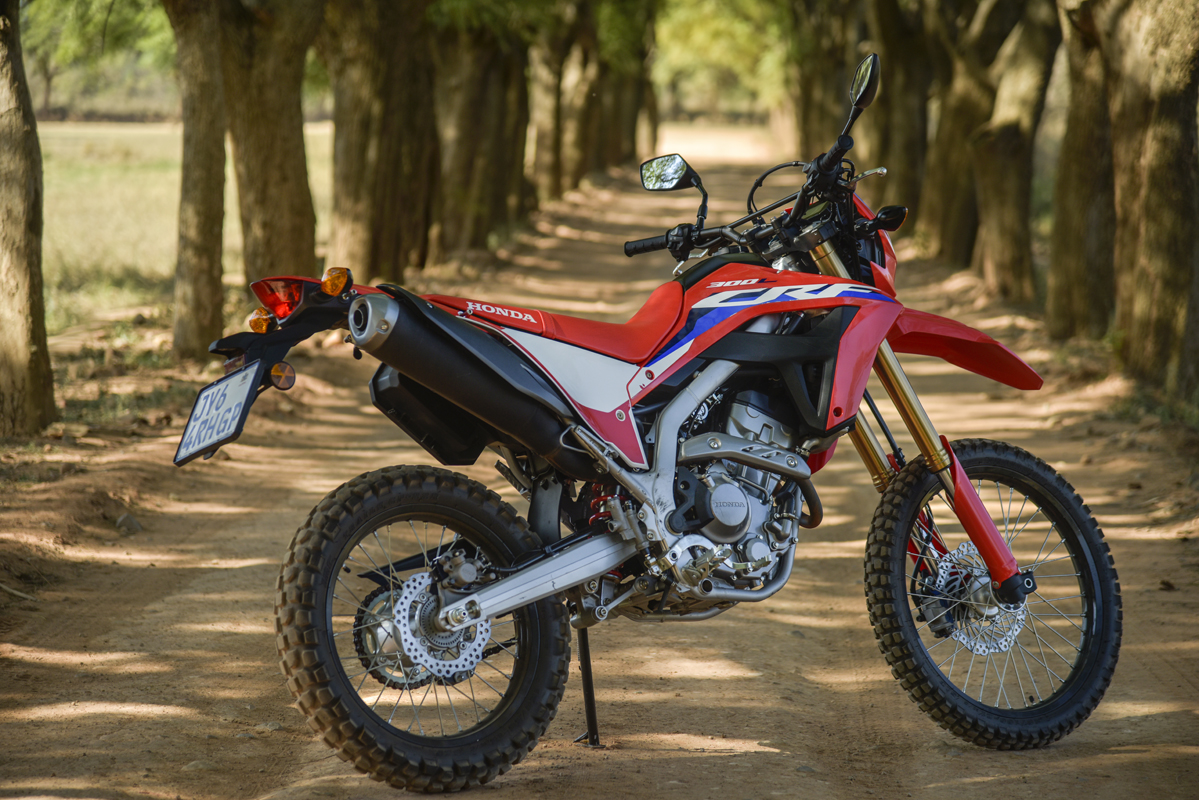 HONDA CRF300L
For more information on the bike that we tested in this article, click on the link below…