Here at ZA Bikers, we've been waiting a long time for the Austrian brand to introduce a new sportbike, and while the RC 8C is designed for track use only, unlike its grandad the KTM 1190 RC8 superbike, we're still excited and applauding KTM's latest track-only missile.
KTM is known for building "Read to Race" machines, bikes that excel at the task placed before them. So, how do you get more KTM than that? Well, you take out an LC8c engine from the KTM 890 DUKE R, fit it into a bespoke, track-ready chassis and wire it up to the best high-end racing componentry you can get your hands on.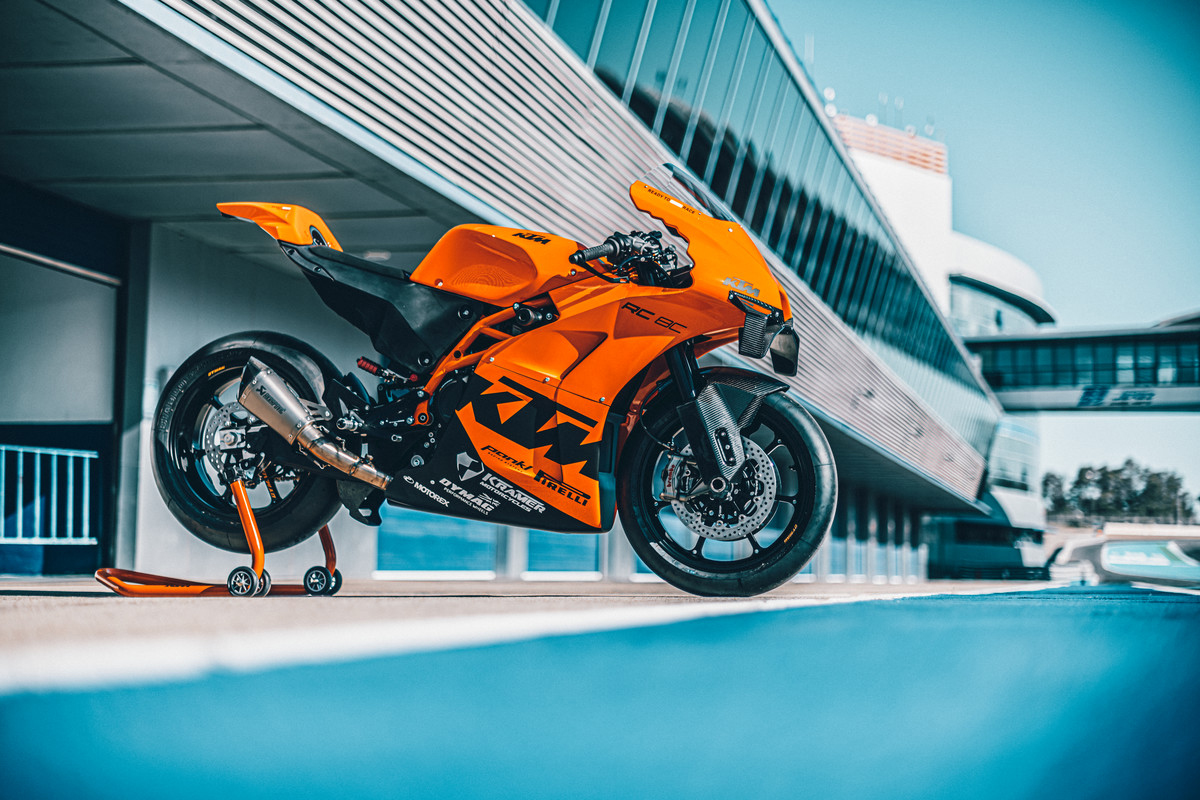 With the task of making the RC 8C a track-bred bike, KTM partnered up with Krämer Motorcycles, a well-known company that builds track-only sportbikes powered by KTM engines. Krämer already had their GP2 prototype powered by the 790 Duke motor back in 2018 and had their production bike running the 890 motor as soon as the 890 DUKE R came out. So, KTM has used the GP2 as the foundation of their RC 8C, offering a track bike with top-shelf components typically found only on factory racing machines.
The RC 8C still has DUKE blood and is in the form of the LC8c engine, meaning you've got a claimed 128 hp and 101 Nm of torque at your disposal. While the engine is unchanged from the Duke, the RC 8C benefits from a new ram-air intake developed by Twin Air. A Krämer designed stainless steel exhaust with stunning welds, connected to an Akrapovič Titanium muffler, puts the cherry on the performance cake.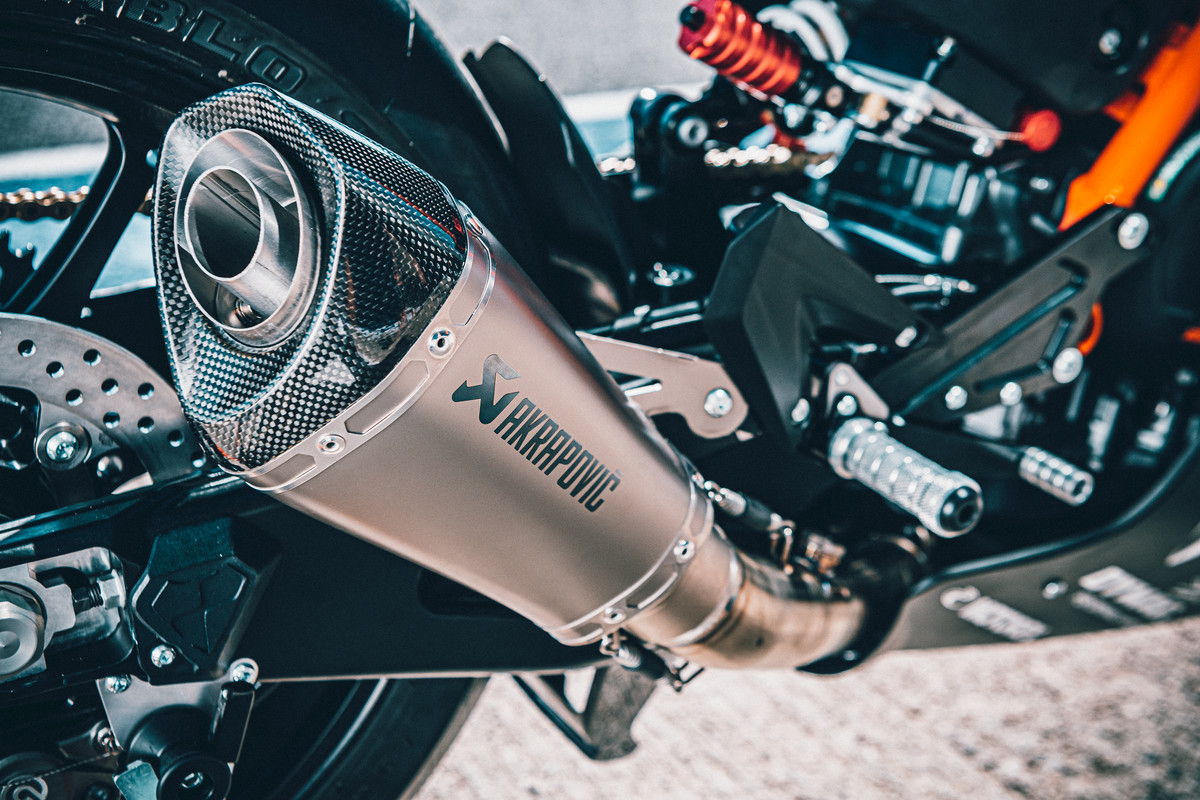 Having the LC8c engine in the RC 8C makes maintenance cheap, service intervals longer than your average exotic race bike and with the RC 8C weighing in at 140kg dry, it's more than enough to raise a smile. You also get 16-litres of fuel under your bum for many laps of full-throttle therapy.
At first glance, the RC 8C can easily be mistaken for KTM's RC16 MotoGP bike, with its striking aerodynamic carbon fibre winglets and its lightweight carbon-Kevlar fairings. The fairings aren't just for show but offer function too, with the body panels designed to be easily removed for fast trackside service and high-speed stability.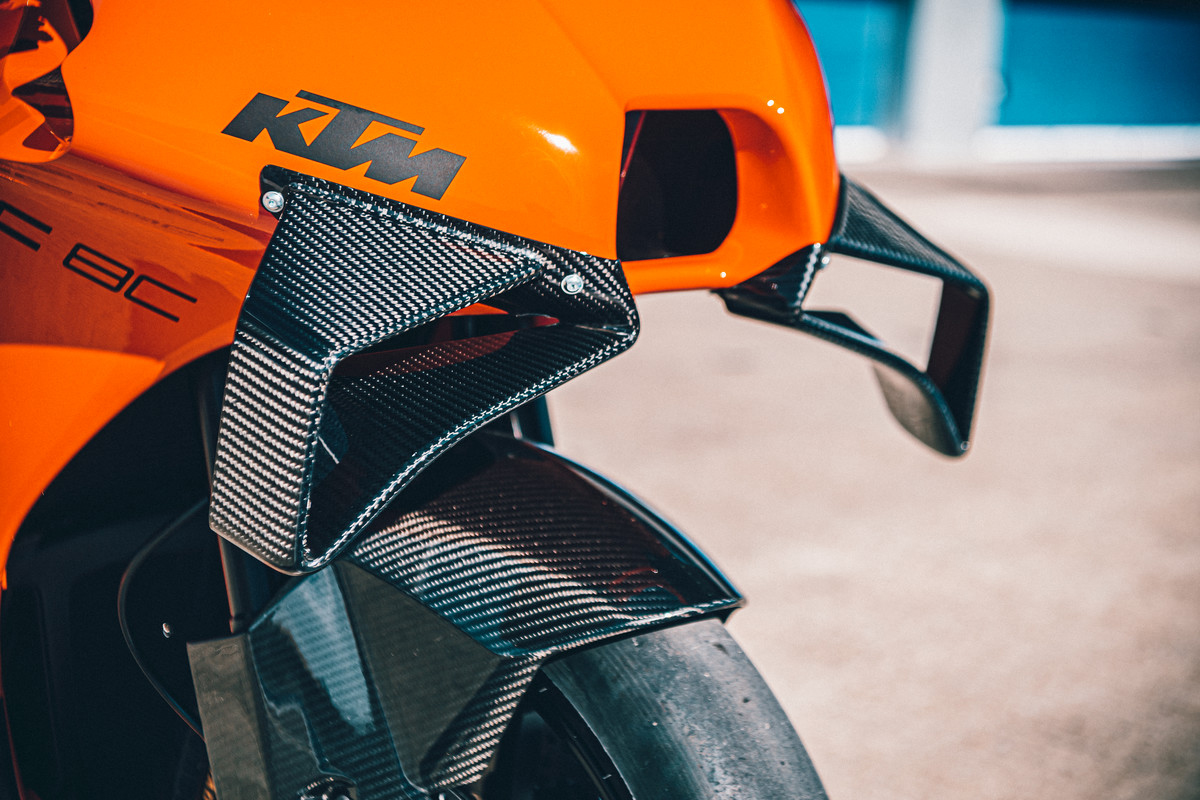 KTM have gone overboard for all you apex-slayers, with fully adjustable WP APEX Pro 7543 closed cartridge forks and a WP APEX PRO 7746 shock—specially tuned on the racetrack. The RC 8C also comes fitted with a WP adjustable APEX PRO 7117 steering damper.
Along with Brembo Stylema callipers, KTM have fitted the MotoGP derived Brembo 19RCS CORSA CORTA radial master brake cylinder upfront—allowing riders to adjust the bite point to their needs. Riders can adjust the bite with an easily accessible selector on the top of the master cylinder itself. The RC 8C also offers adjustable footpegs, handlebars, headstock, fork offset and seat height, letting riders tune the ergonomics to their liking.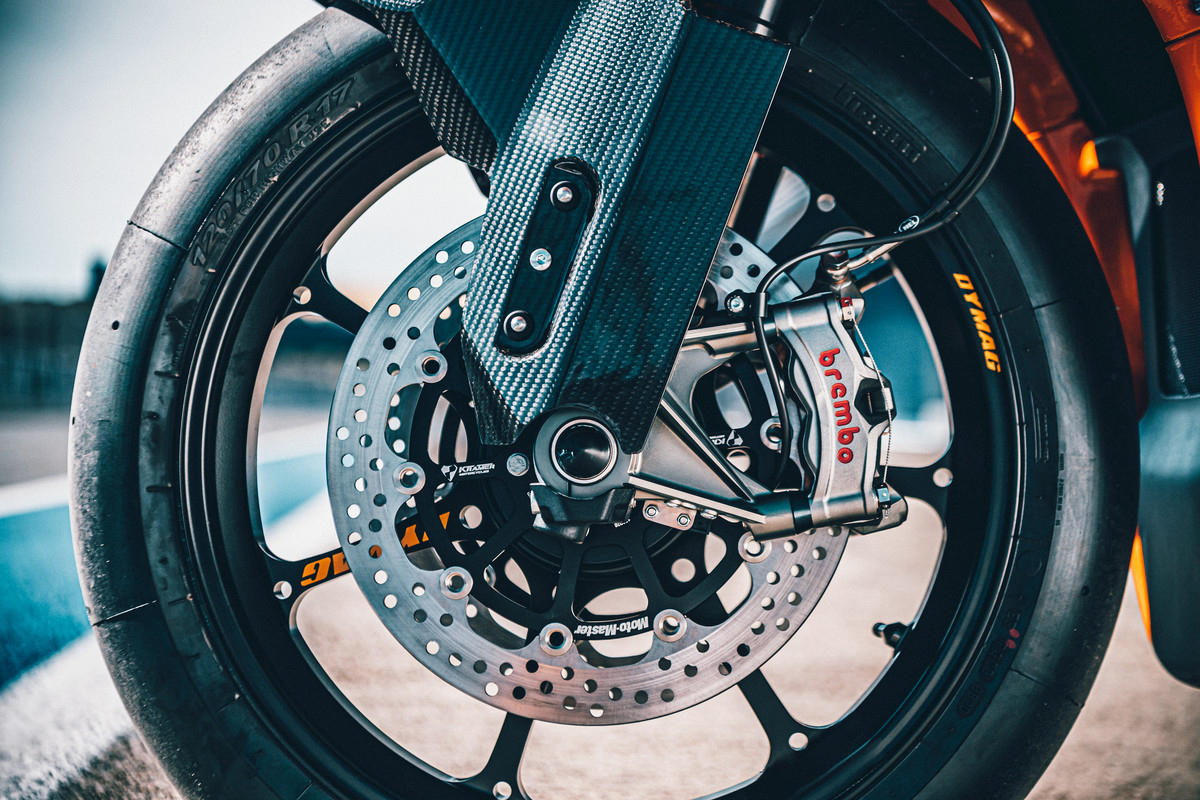 KTM haven't just stuck on their usual TFT interface either, but rather a full-factory AIM MXS 1.2 RACE dashboard with a 5-inch TFT display, integrated GPS function and data logger. The data can be analysed in the AIM RaceStudio software, keeping tabs on track speed, position, throttle position, engine speed, gear, acceleration and deceleration—a racers dream.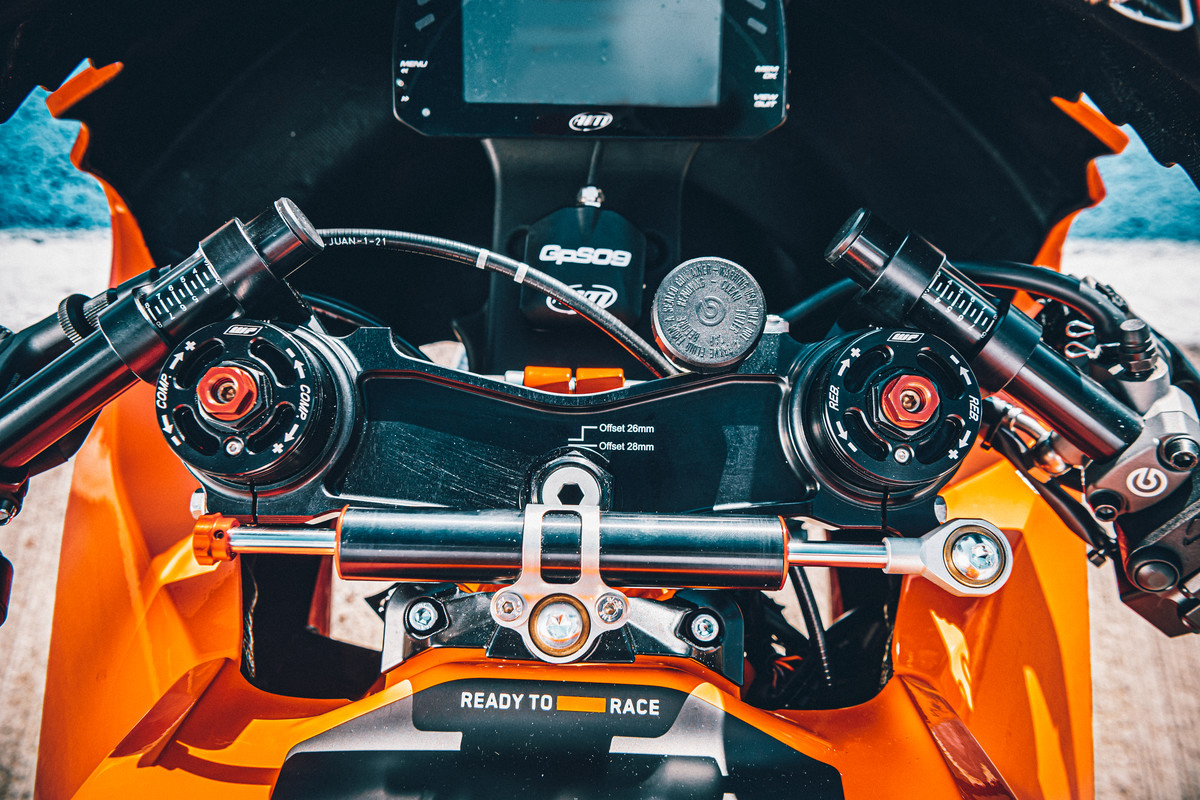 By the time you read this, you may be already too late, with KTM only producing 100 units of the RC 8C. However, for the lucky few customers who have happily paid 'handsomely' for their track weapon, they'll have the chance to take part in a private track day at Circuito de Jerez from Oct. 7-9 with KTM riders Mika Kallio and Dani Pedrosa. KTM will cover the transport expense to ship the RC 8C to Jerez where customers can get personal track setup by WP Suspension technicians. Those 25 customers will also receive a track day package with an extra set of Dymag wheels, brake discs, front and rear paddock stands, tyre warmers, and a KTM Race carpet.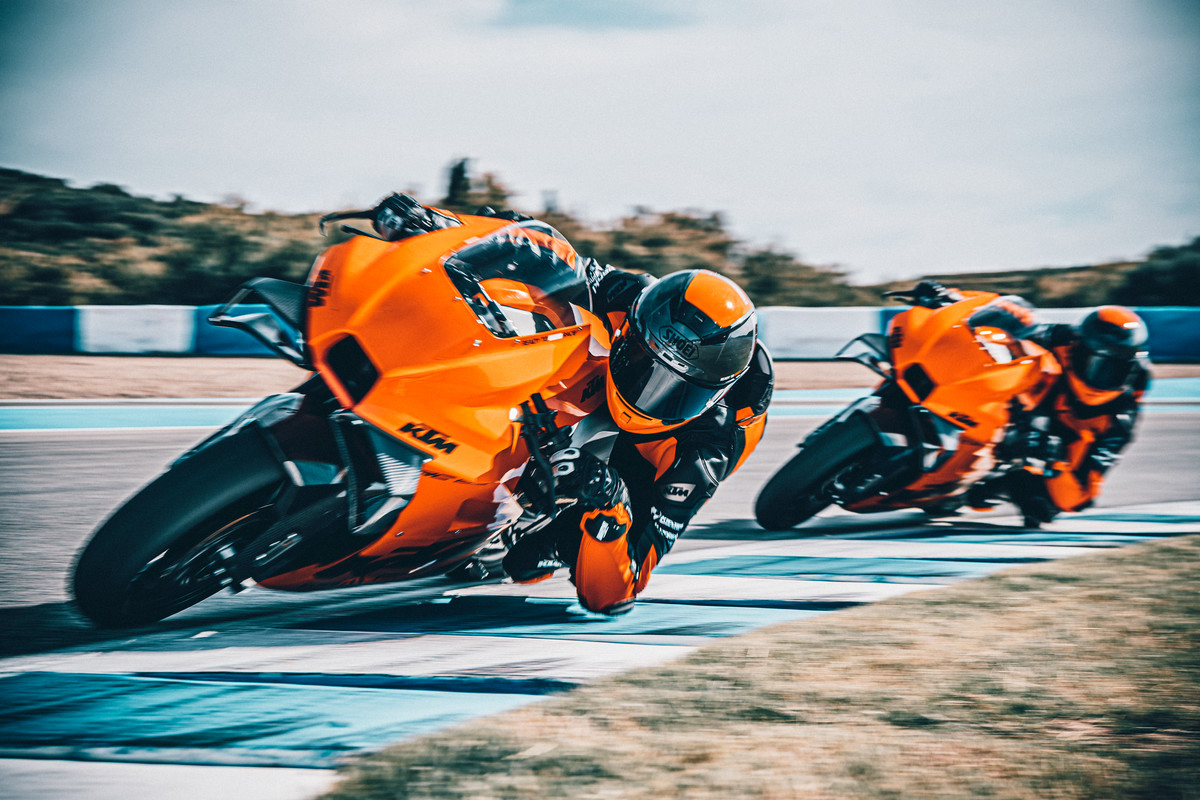 With the RC 8C, KTM haven't just added an exclamation mark behind their "Ready to Race" slogan, but they have rather poured their blood, sweat and passion into this project. What KTM have created is a motorcycle that allows their die-hard customers an opportunity to own a machine that is as close to a Factory race bike as possible—without the drawbacks of needing a specialist race team to maintain it.
For more information visit – www.ktm.com