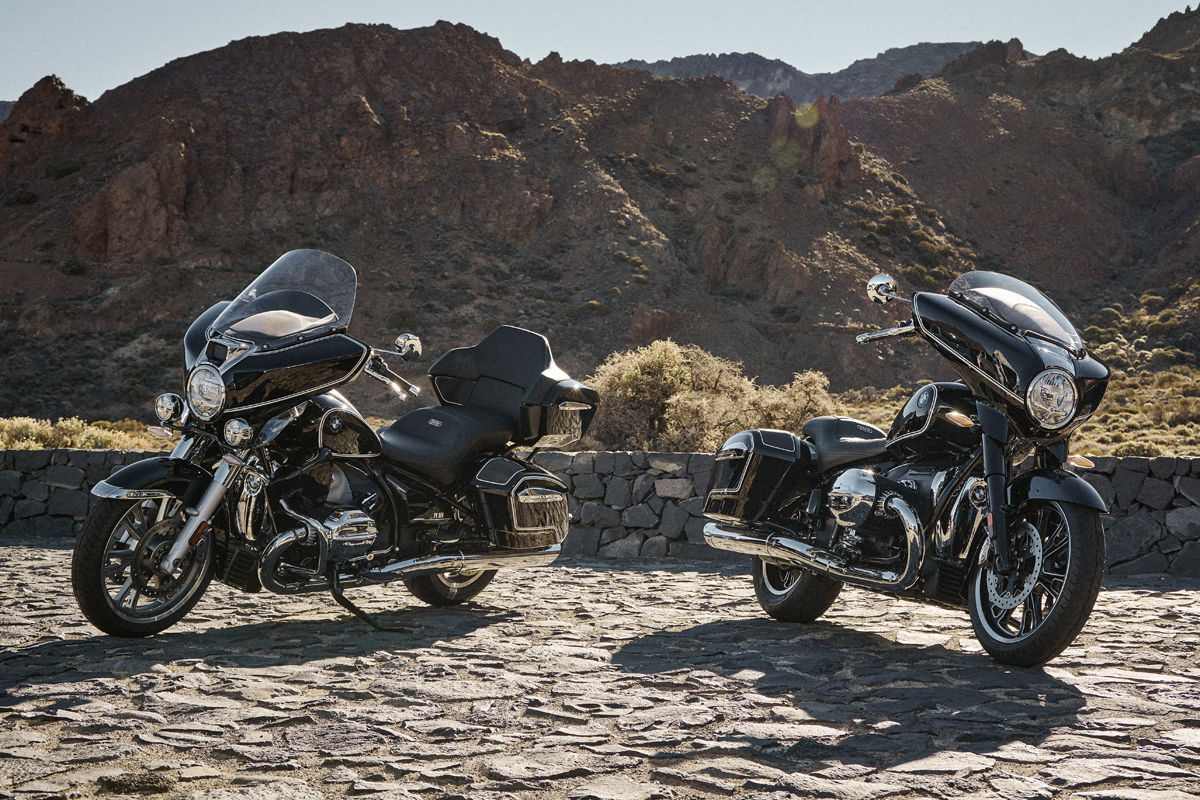 BMW Motorrad has just rolled out the next models in the gradually expanding R18 range: the R18 Transcontinental tourer, and the R18 B bagger. If there was any doubt whether the R18 was a shot across Harley-Davidson's bow, these new bikes should put it to rest.
Both models are based on the existing R18 platform, with the same mammoth 1,802 cc boxer powering them. Output remains 91 hp at 4,750 rpm and 158 Nm of torque at 3,000 rpm, with most of its torque available from 2,000 to 4,000 rpm. They also uses the same double-loop steel frame, hooped swingarm and sleeved forks.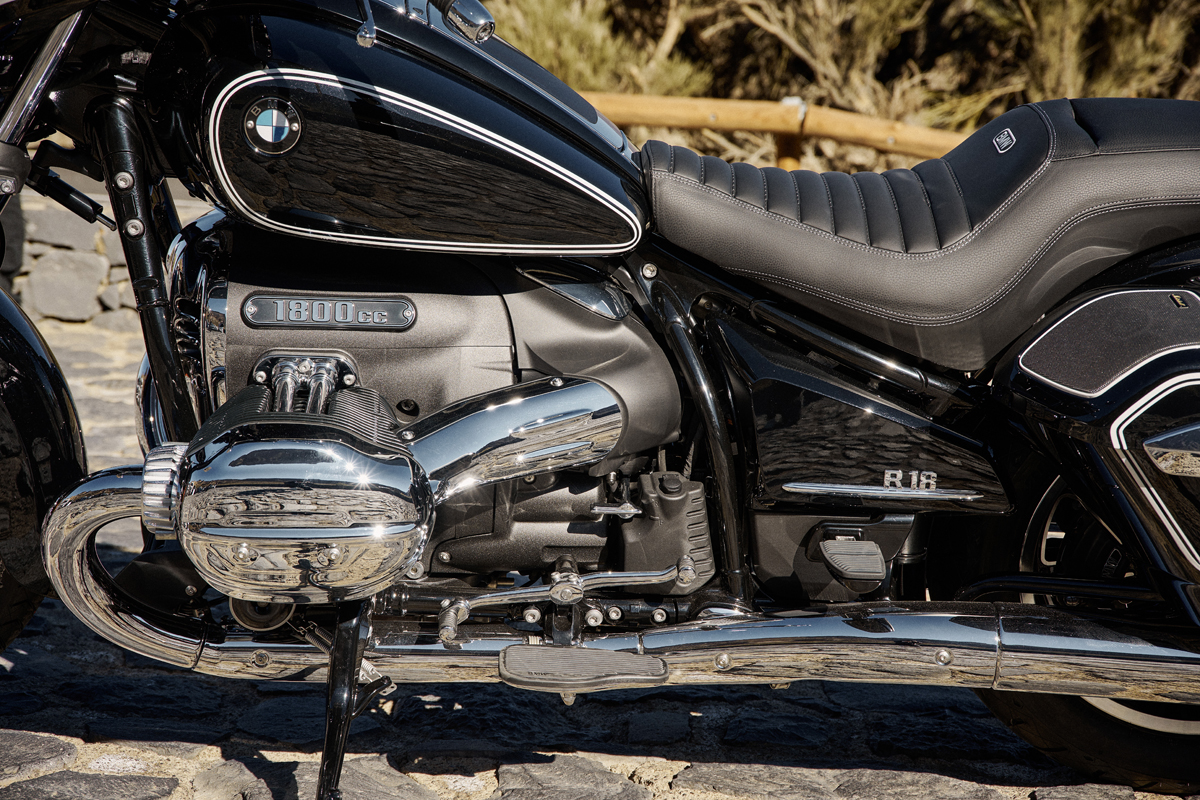 The new R18 Transcontinental and R18 B both get a massive dose of American touring style, with wide batwing fairings, cushy two-up seats and 27l hard panniers. There are subtler differences too—both bikes wear alloy wheels, the same exhausts as the R18 Classic, and elongated rear fenders.
The two models are separated by their level of trim. The R18 B Transcontinental has a larger windshield, with additional running lights and chrome trim up front, and crash bars lower down. The R18 B's shorter screen, slimmer seat and lack of top case give it a leaner bagger vibe.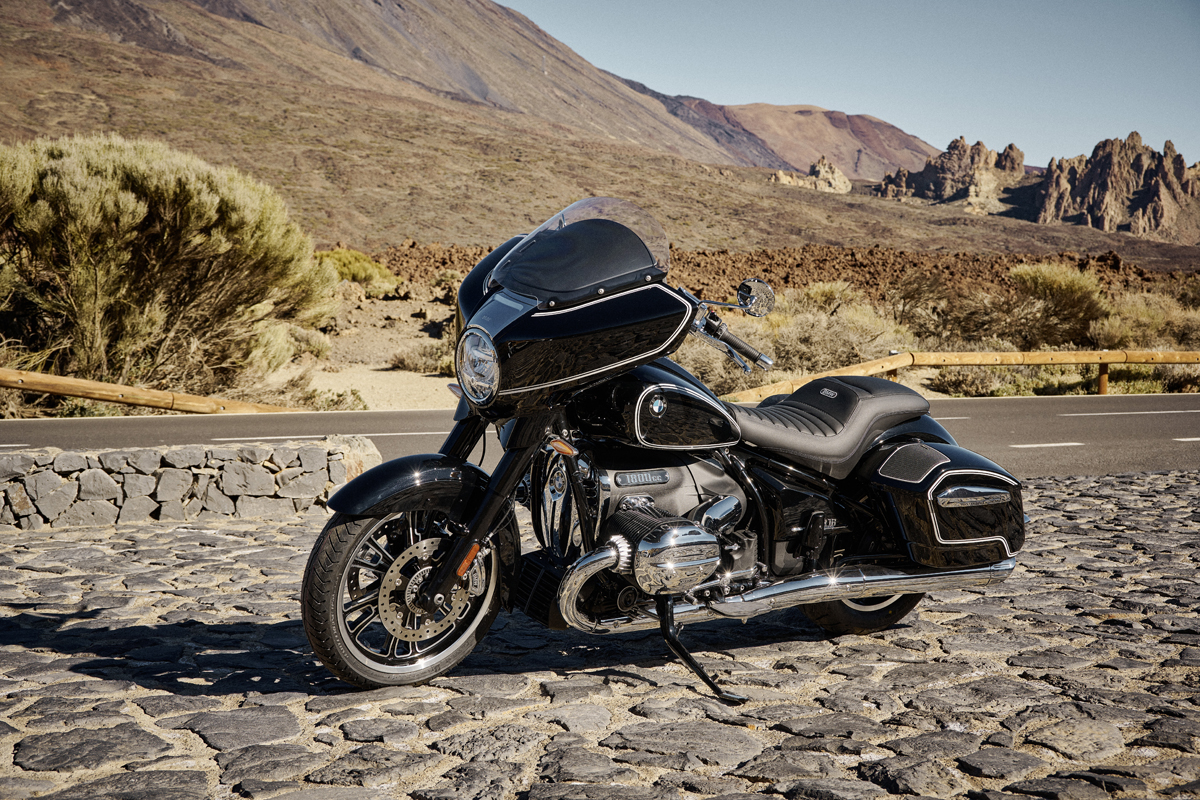 The Transcontinental also gets extra wind deflectors on each side, operable vents in the fairing to control airflow, and foot boards instead of pegs for the rider and passenger. The B's engine block is finished in black, contrasting with the original grey colour of the Transcontinental's motor.
Peak behind both fairings, and the kit is mostly the same. Both bikes feature a setup with traditional dials at the top, and a 10.25" TFT display at the bottom, with black trim on the B and chrome trim on the Transcontinental. Just like on the new BMW R 1250 RT, the display features smartphone connectivity with features like on-screen navigation.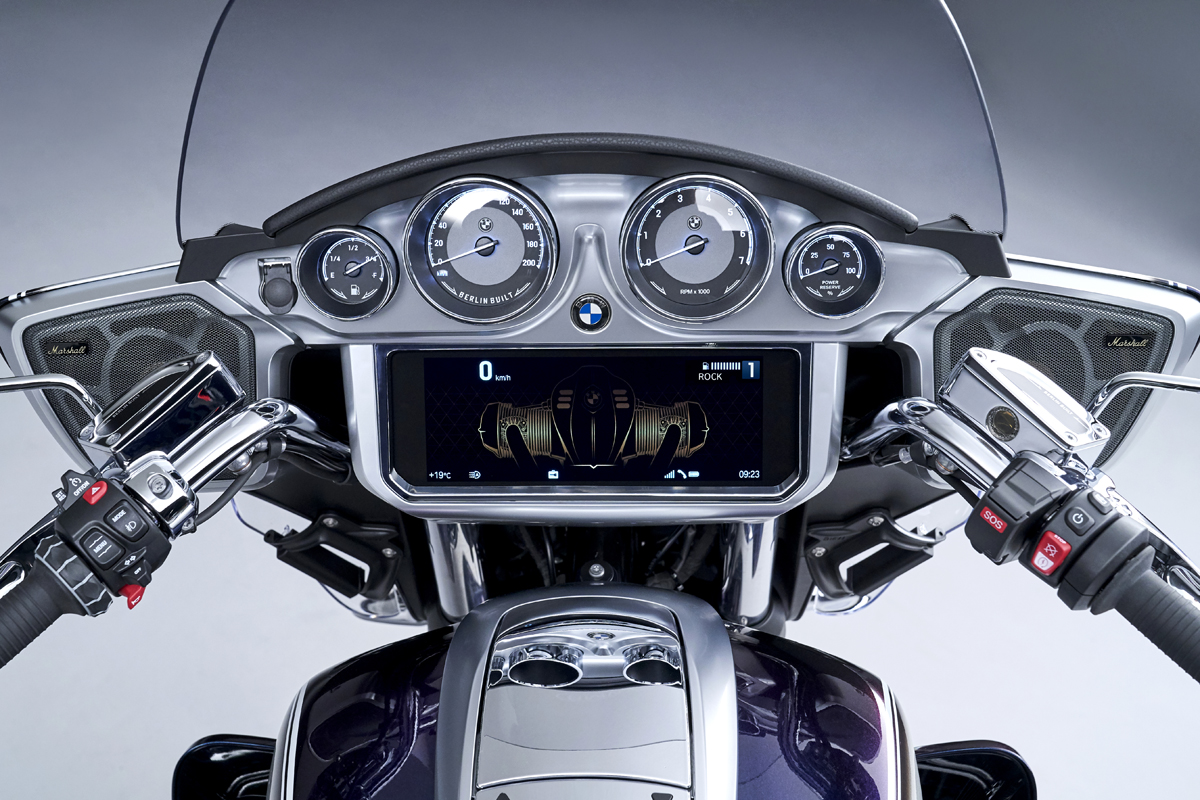 Both bikes are also kitted with a new bike-specific sound system from the UK company Marshall Amplification. The system features two speakers in the fairing—but there are Stage 1 and Stage 2 upgrades that add subwoofers to the panniers. (The Stage 2 system can only be fitted to the Transcontinental though.)
Storage for your phone is provided via a chromed storage compartment on top of the tank, with a pop up cover for the fuel cap just in front of it. The panniers are naturally lockable, and the Transcontinental's top case includes a generous passenger backrest.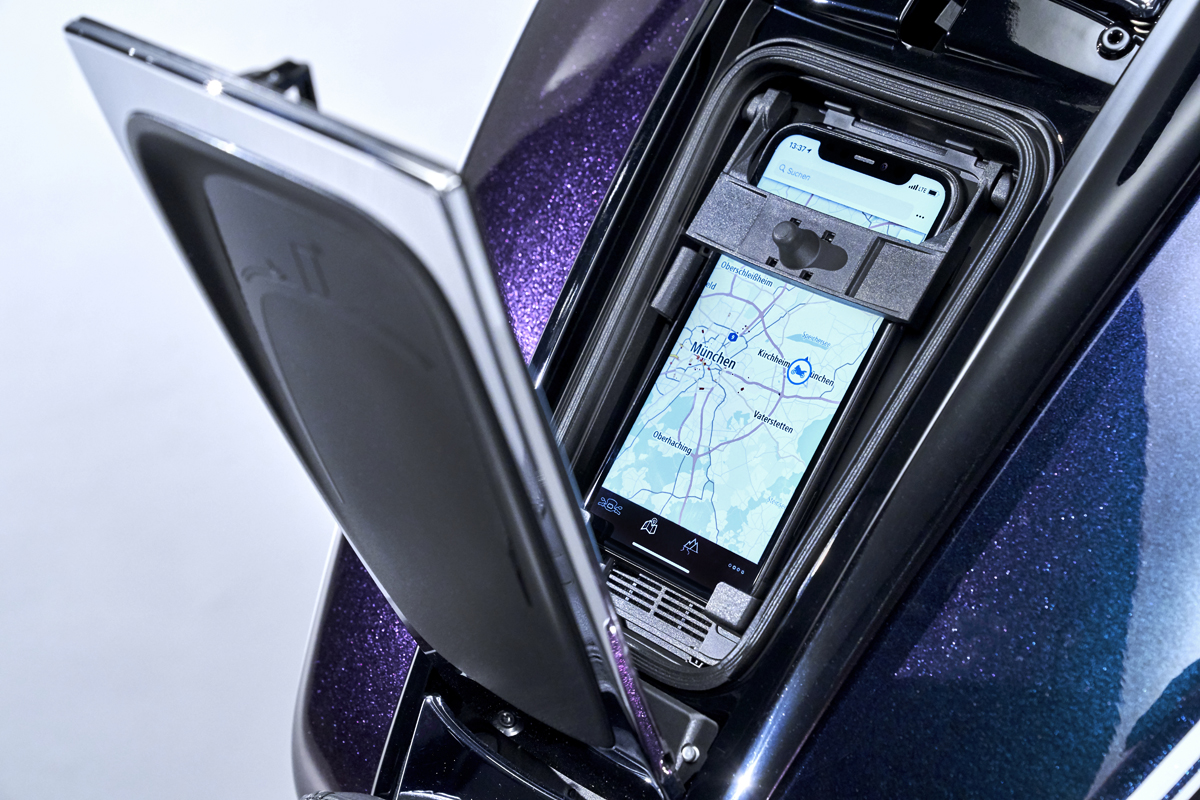 Standard equipment includes the same three rider modes as existing R18 models ('Rain,' 'Rock' and 'Roll'), along with BMW's Automatic Stability Control and engine drag torque control, neither of which are particularly intrusive on the standard R18. Cruise control is standard too, with BMW's new radar-operated active cruise control available as an option.
Other out-the-box upgrades include a keyless ignition, and an adaptive cornering LED headlight. You can also order both bikes with hill hold and reverse functions as ex-works options.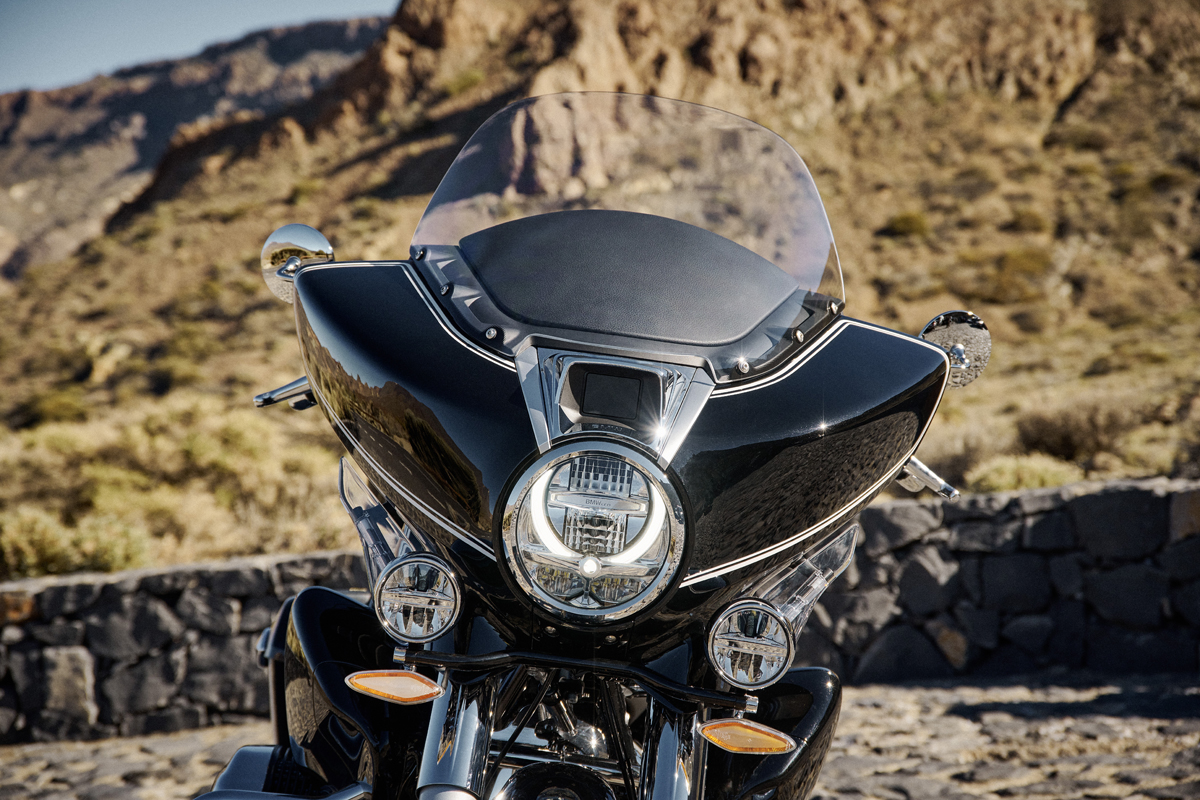 Just like when the R18 first launched, the R18 Transcontinental and R18 B will be available as 'First Edition' models. Those get piano black paint with white pin stripes and extra chrome trim, and an owner's box that includes swappable tank badges with a tiny keyring screwdriver, workshop gloves, a book, a cap and a leather belt.
You can also order both models in BMW's Option 719 Galaxy Dust Metallic flip-flop paint job too, and there's a full set of Option 719 parts, including different seats. In addition to the First Edition and Option 719 schemes, they'll also come out in a 'Manhattan' metallic matte colour.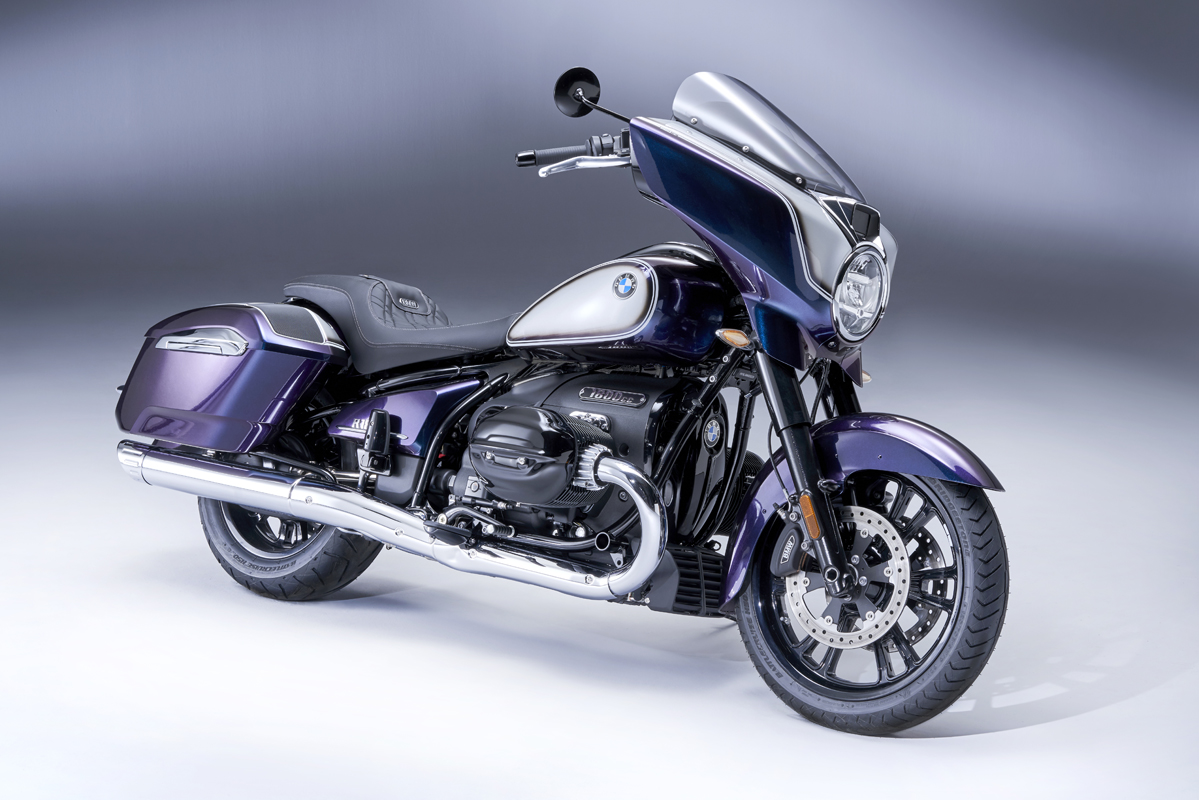 It's tempting to draw comparisons to the uber-popular Harley-Davidson Street Glide here, but I reckon the R18 Transcontinental and R18 B stand on their own merits, aesthetically. The faired touring package looks classy and suits BMW's big boxer, arguably more than the original stripped-down cruiser styling does. It comes with a weight penalty though: the B weighs 398 kilos wet, and the Transcontinental, 427.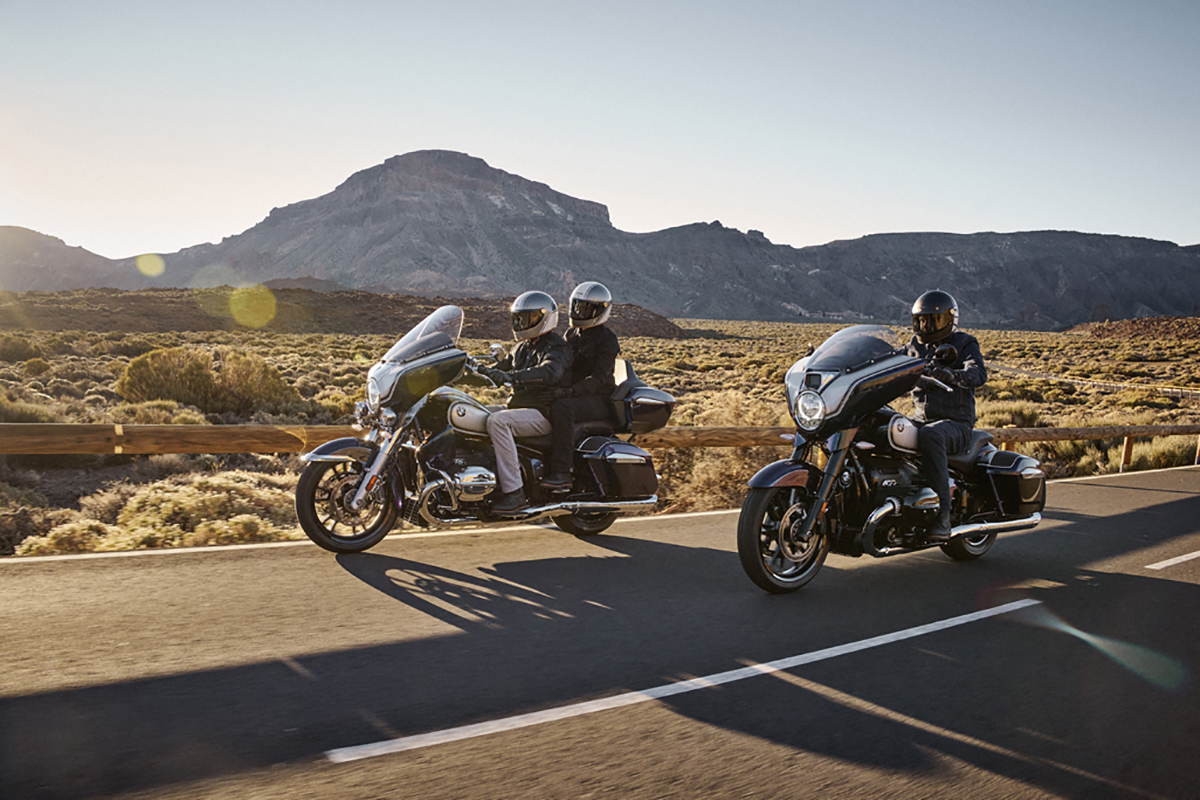 The first R18 impressed everyone that saw it up close with its high level of build quality and finishes, and I fully expect both of these bikes to look just as good up close. There's no word on if and when these will land on our shores, or what they'll cost, just yet.
It also remains to be seen what they'll be like to ride. My biggest gripe with the R18 was its uncomfortable ergonomics—will extra wind protection and a comfier seat make a difference, and turn it into a proper mile muncher? Stay tuned.