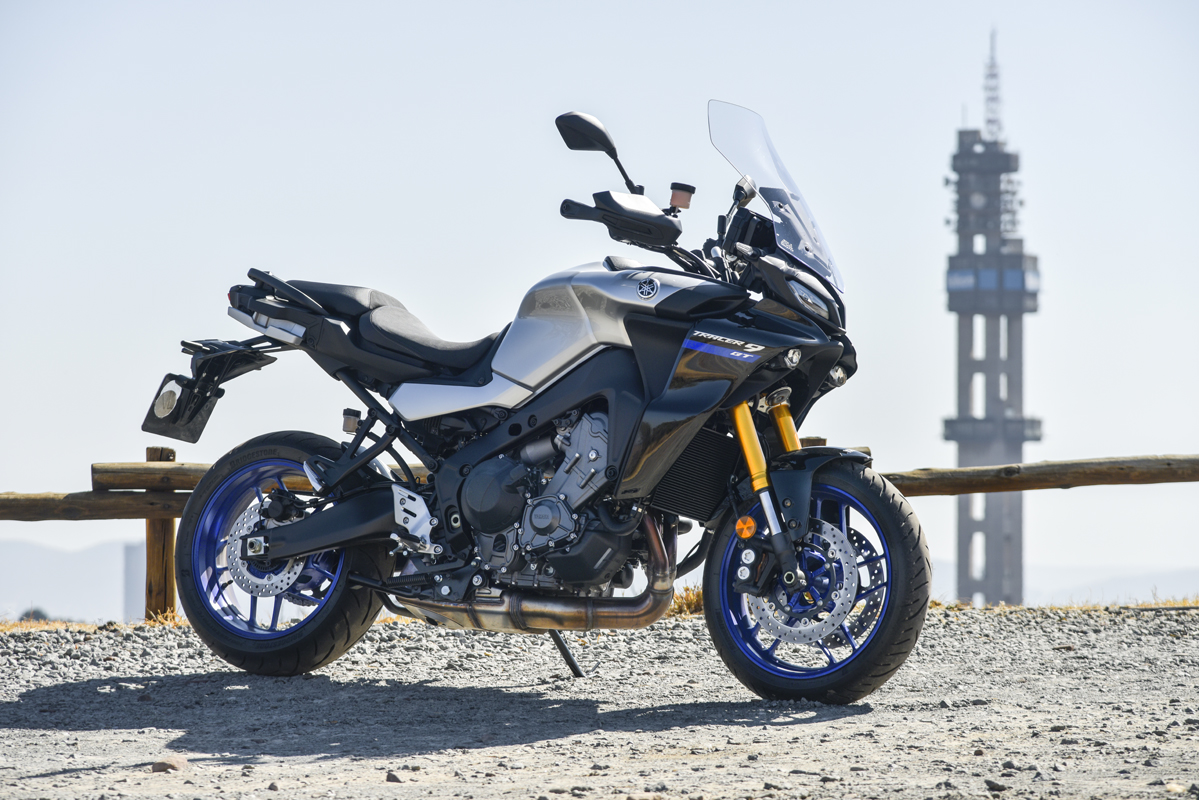 The 'Sports Touring' class is becoming more and more relevant. As technology has advanced, these bikes have become capable of performance that was the preserve of pure sport bikes of a few years back. The difference is, they are easy to live with day-to-day or trundling huge distances with your missus on the back. Sport weapons, on the other hand, are essentially track tools only. They also come at a hell of a price premium.
You now have options like the Tracer GT, BMW F900 XR or Triumph Tiger GT Pro 900 which are huge fun and competent on a track day, yet are versatile for every other kind of riding that you may wish to do on the blacktop. Your best mate does also not have to be a Chiropractor!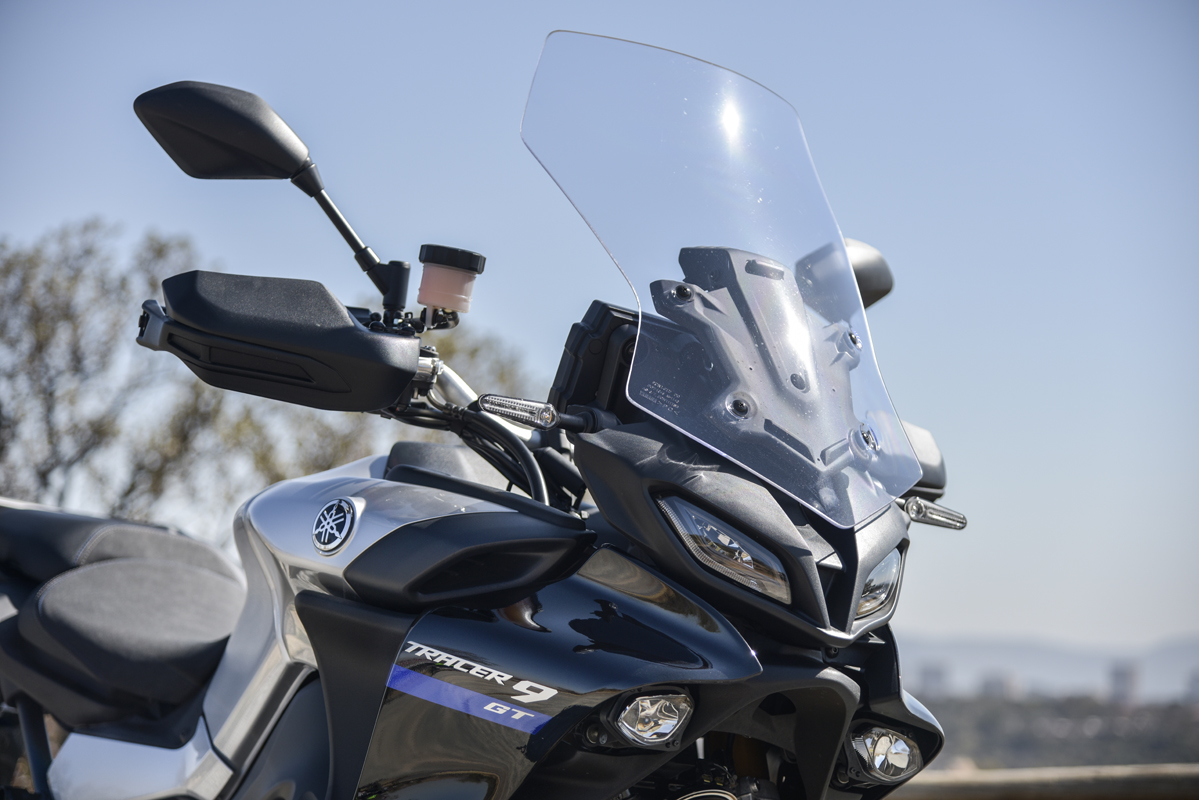 When you can buy a bike this competent in so many roles, for a 100k discount over a typical Sports bike, you have to engage the grey matter a bit. The very essence of a 'Gran Turismo', or GT, is a vehicle capable of traversing long distances at speed, in comfort. When you stick a GT tag on your vehicle you are making some serious claims to phenomenal all-round dynamic ability.
I had the opportunity to spend a couple of days with Yamaha's new, top of the range, Tracer GT 900. At last, Yamaha has spent a huge effort to make the big Tracer the bike it always promised, but never quite managed to be. The bike is literally new from the ground up, with every facet being seriously upgraded. The fresh styling may suggest that this is a face-lift but investigation throws light on a totally new bike. Let's start with the heart of any motorcycle: the engine.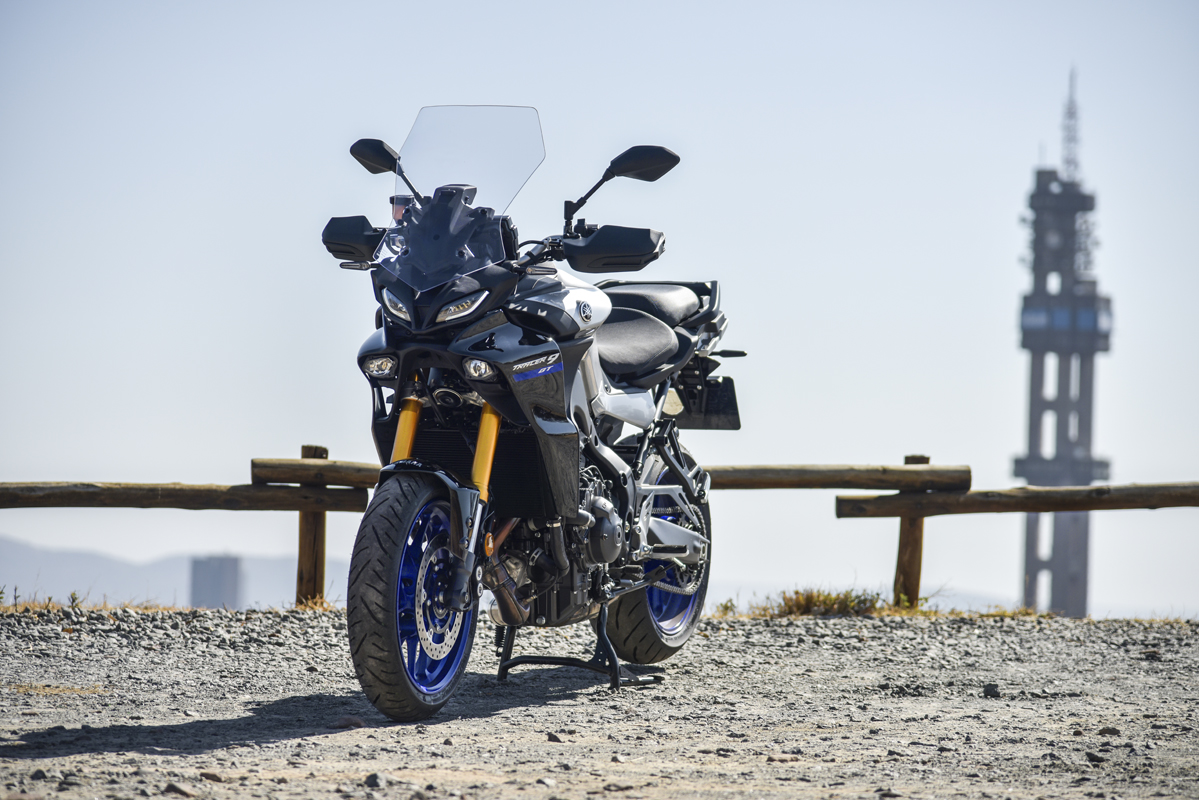 Yamaha's three-cylinder CP3 engine has attained legendary status as one the greatest motorcycle motors ever built. Gruff, raspy and intense, it punches way above its weight and never fails to thrill. In the GT it has a 3 mm longer stroke which sees a gain in engine capacity to 890cc's. This also results in a power hike to 87,5 kW (119 bhp) @ 10,000 rpm and 93 Nm of torque @ 7,000 rpm, significantly produced 1,500 rpm lower than the 87,5 Nm maximum torque of the 'old' motor. The CP3 motor has always felt stronger than the specs suggest and the newest version is no different. Interestingly, Yamaha have achieved this despite reducing the overall engine weight. I think that the latest styling rocks, with subtle hints of R1. Check out Bjorn's pics and tell us what you think.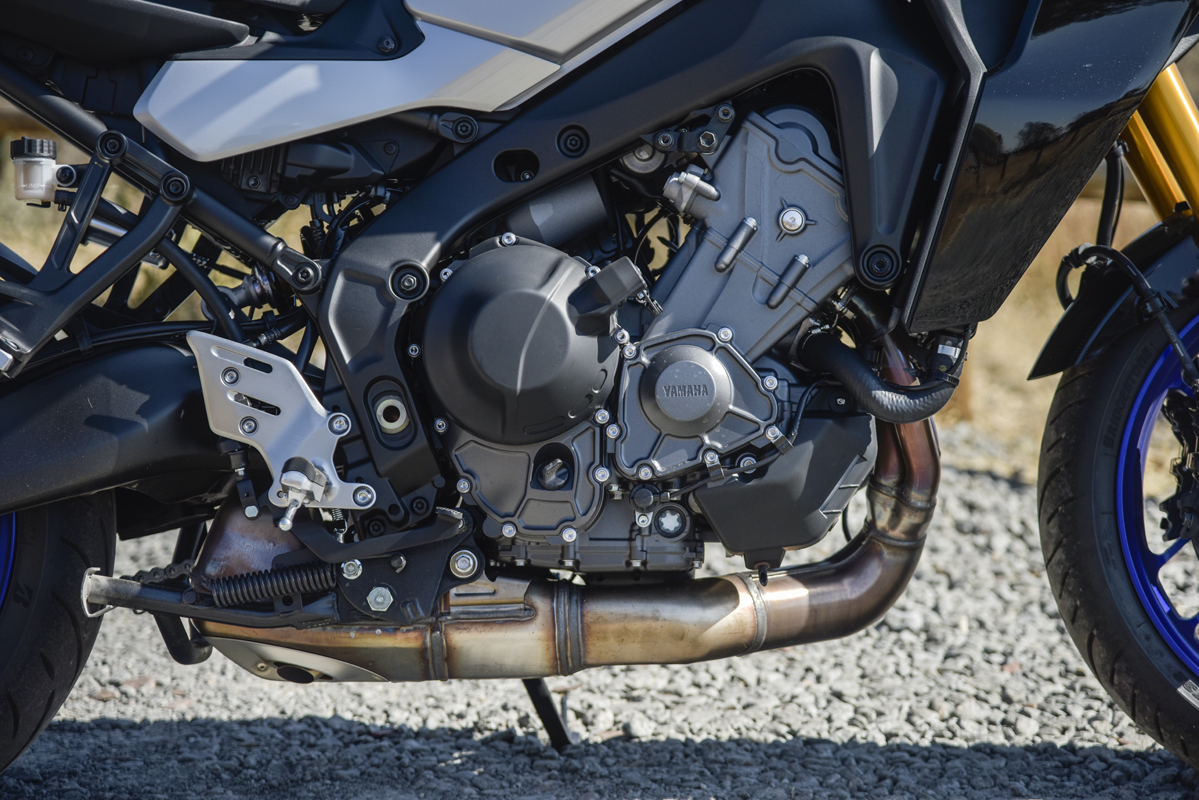 The power flows through a 6-speed gearbox, with an up and down quick shifter. Quick shifters, by my experience, seem to work better on multi-cylinder bikes than on twins. The more pulses of power that feed into the crank the less 'shunt' you feel when changing gear, especially from first to second. On many bikes, I tend to use the clutch for first to second shifts and then revert to the quick shifter thereafter. With the GT, the quick shifter is smooth and seamless at all engine speeds, right through the box. Nice!
Fuelling was an issue with earlier Tracers, especially in the more aggressive engine modes, where it was snatchy and 'on-off', making smooth-riding difficult. You can now match your mood to one of 4 engine modes from 'rain' to 'sport'. Fuelling is crisp, sweet and almost like really good carb-equipped bikes of old. When you ride your bike daily as your preferred mode of transport, as I do, this is a big deal. Crappy fuel injection wears you down over time, like a nagging wife and in both cases can end with a parting of the ways. This new GT is a keeper!
All this engine, gearbox and fuel-injection goodness, can be negated when you are let down by an 'iffy' chassis. This was an issue with previous Tracers. When pushed, they exhibited less than perfect stability, which meant that you could not fully exploit the superb motor. Some called it 'lively' or 'fun' whereas I just felt let down. It did improve with each update over time, but only now do you get a chassis that totally compliments the CP3 unit.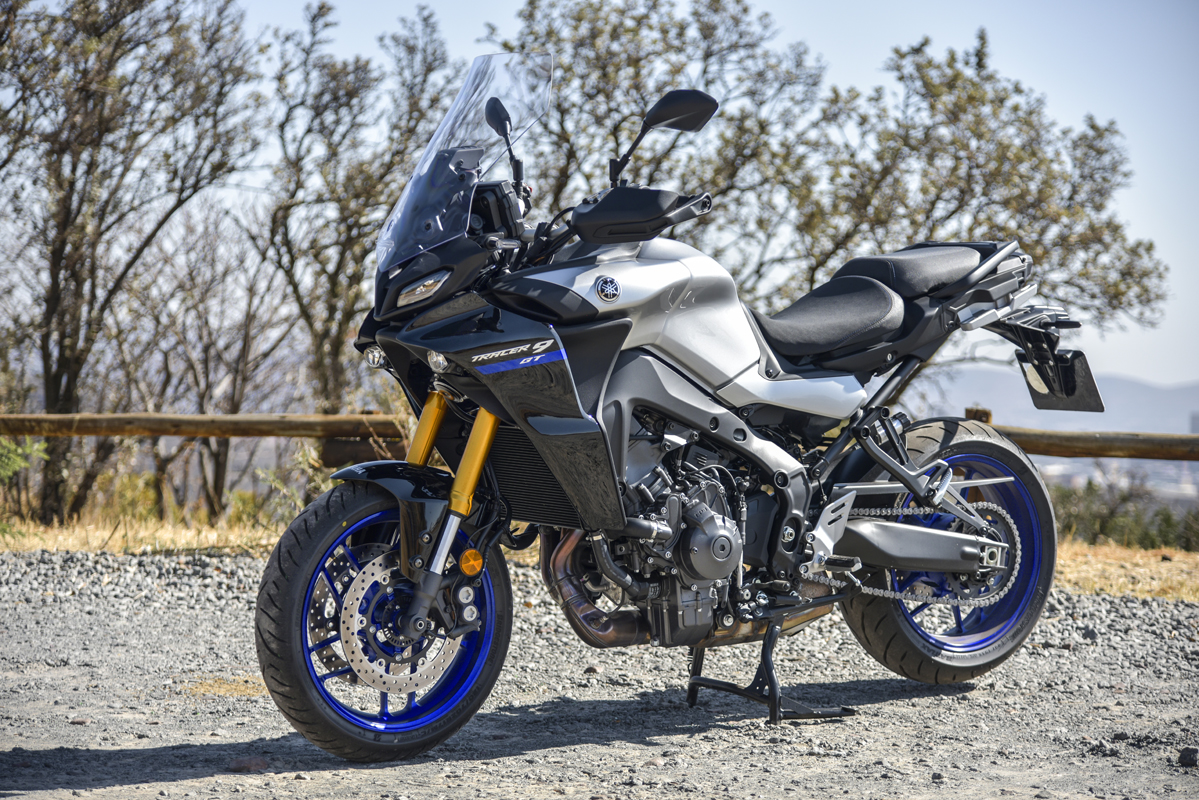 Yamaha has not held back in this regard either. Every facet of the rolling chassis has been assessed and upgraded. The frame is all-new, lighter, yet more rigid where it counts. The swing-arm is 60 mm longer than the hooligan MT-09, fostering high-speed stability. Suspension is Semi-Active KYB units with 130 mm of front and 137 mm of rear travel. Rear preload is adjusted manually, but with an easily accessed remote adjuster. The ride is supple, yet firm and superbly controlled at all speeds. In fact, the high-speed stability is now a strength of this bike.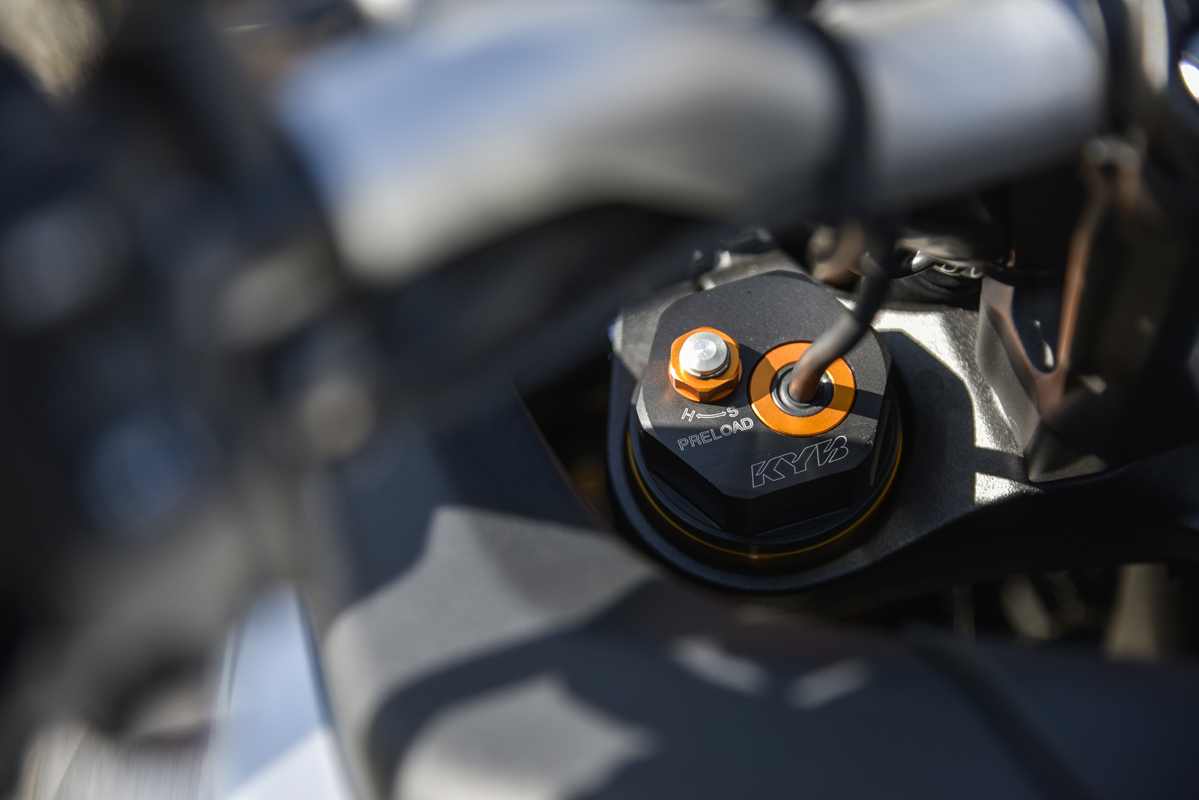 The GT displays exemplary stability at all times, whether threading through traffic or negotiating a 180 kph sweep, where, on exit, the GT kind of chirps "you're a wuss, that was a 200 kph sweep!". The bike steers effortlessly, aided by a 120×17 front and not overly wide 180×17 rear wheel. It turns in effortlessly, yet is always composed. Now, at long last, you can ride the bike really hard, enjoying every moment without wondering if it might just turn and bite you. The seat can be adjusted between 845 and 860 mm in height, with super spacers which fill the gaps at both heights so that you are not left wondering if a part is missing.
The seats (back and front) are wide and supportive. Long days in the saddle will not be endurance events on the GT. The windscreen is easily adjusted through a significant range, allowing you to achieve a sweet spot in a cocoon of smooth air from which you can conduct the magnificent three-cylinder orchestra. Hands can be kept snug on chilly days with heated grips as standard.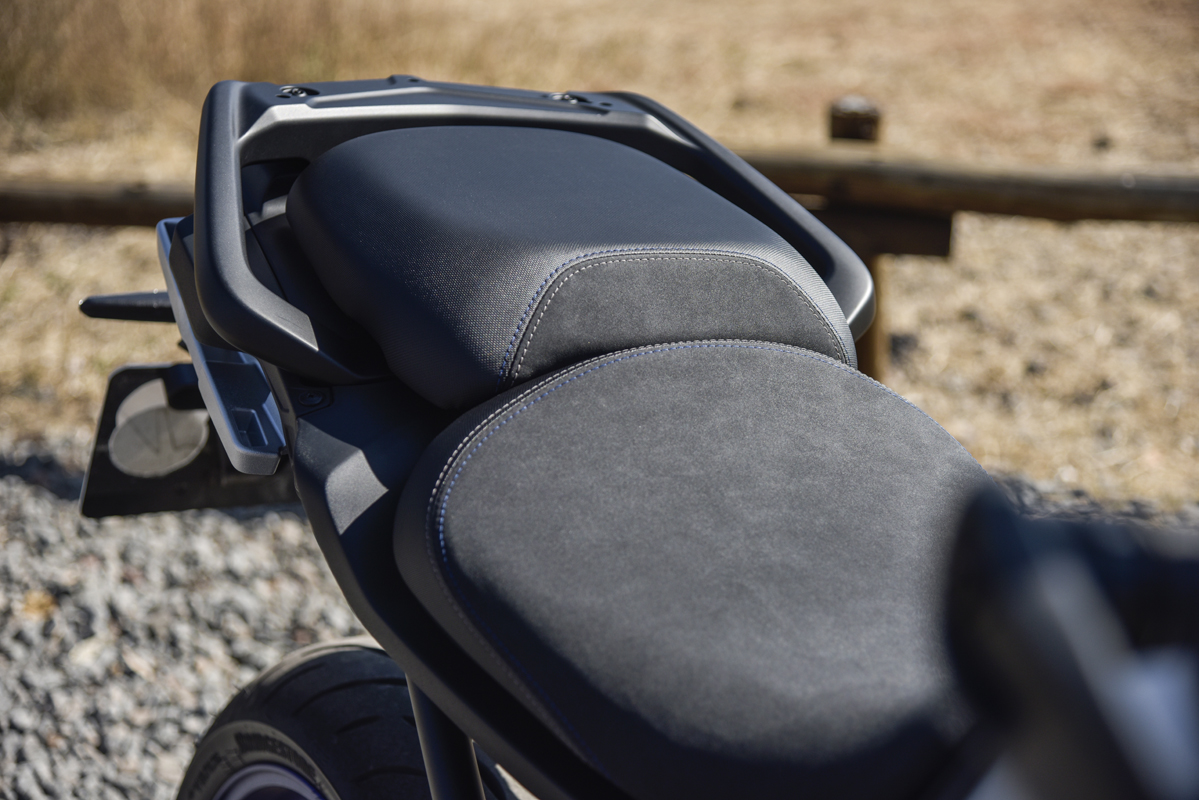 Speaking of adjustment, the footpegs can be raised higher and slightly back, by re-locating four mounting bolts in drilled and tapped holes. So if your thing is scratching down back roads, the GT can be set up totally to suit.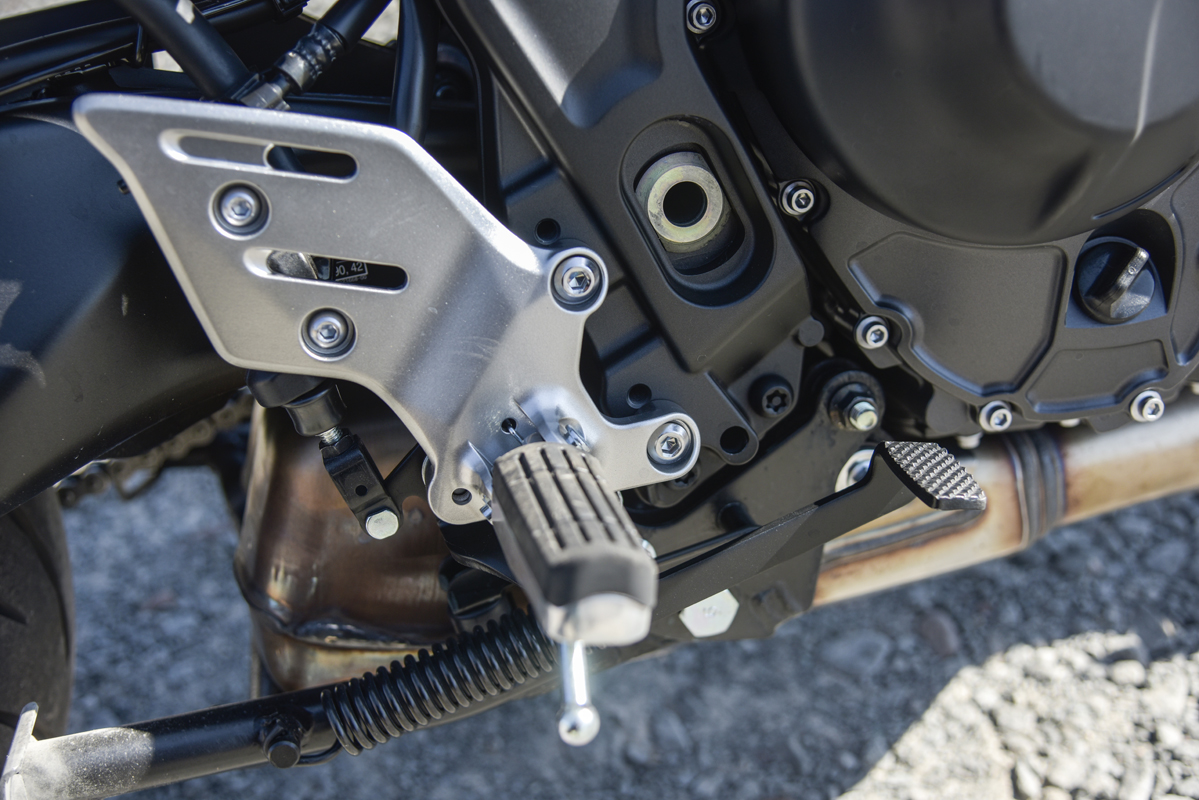 The extent that Yamaha have gone to with the GT is unbelievable. Get a load of this. Those of you who understand chassis dynamics will know that the lighter the wheels on a bike, the better. Just chat to the guys at BST about their lightweight carbon wheels and you will get the picture. The lighter the wheels are, the easier it is to get them rotating and stopped. Think for a moment of a flywheel. The heavier it is the more inertia it has. Similarly with wheels. The heavier your wheels are, the more they want to run straight and upright, due to inertia and centrifugal force. The lighter the wheels, the easier the bike is to accelerate, stop and turn. The GT is endowed with the lightest wheels ever fitted to a Yamaha! They have used a process called "Spin Forging" which allows the wheels to be only 2 mm thick in places, without compromising strength. No wonder this beast turns and steers so effortlessly.
The cockpit of the GT is a great place to be. The ergonomics are spot on. The bars have a lovely bend and allow a perfect riding position for your upper body where you are totally neutral behind the screen. Cruise control takes the pain out of long straight stretches and an 18-litre tank allows decent range between fill-ups, giving reasonable economy (5L/100 @120 kph). Even jumping on the main jet should give you 250 k's range.
Instrumentation is novel in that Yamaha give you all the info at a glance via two 3,5" TFT displays, which angle ever so slightly inwards, making them super readable. Info can be accessed via a knurled knob on the right handlebar cluster. The said knob can then be depressed to access further functions. Not the world's most intuitive setup, but easy to master for a long term rider.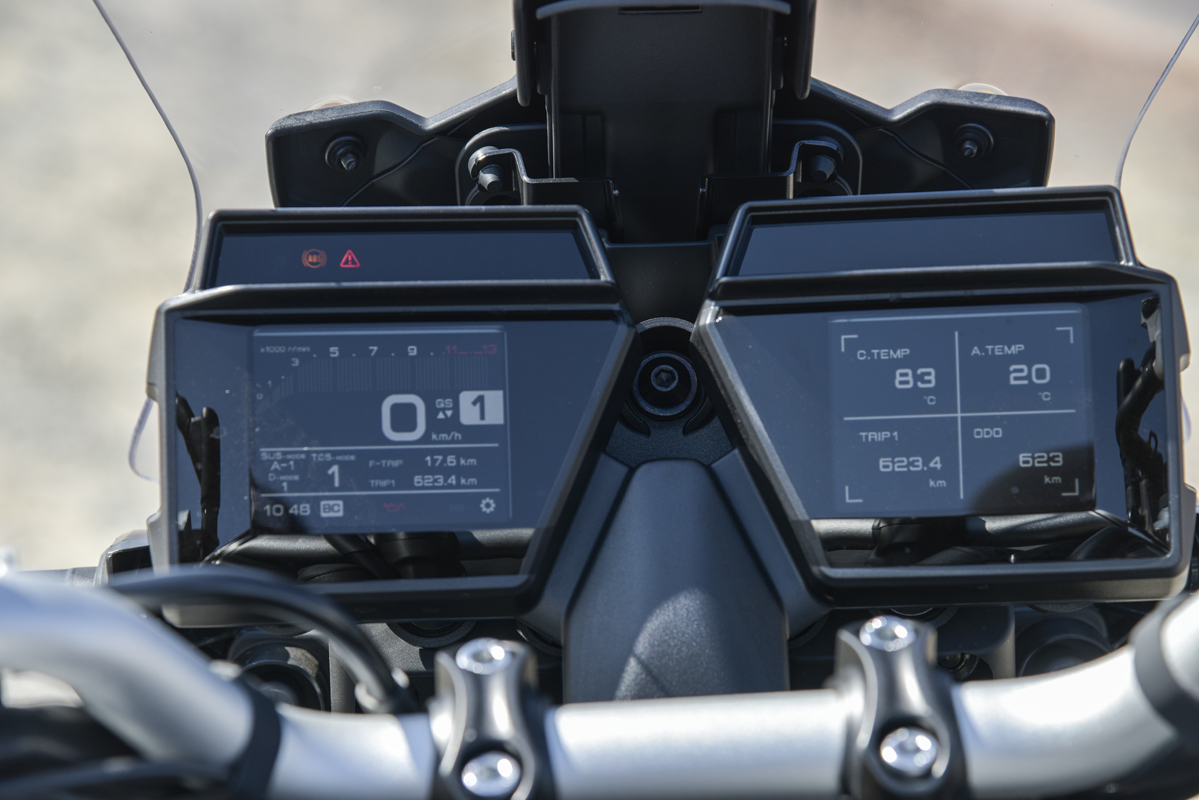 At 220 kg's fully fuelled, the Tracer GT is not at all porky. It has a slightly limited steering lock, however, which does require a little planning when making a U-turn on a narrow road. The reality is, that given its design brief, the Yamaha Tracer GT is a damn near flawless motorcycle. Every issue that the Tracer has ever had has now been properly addressed. Not a band-aid fix, but rather a totally engineered solution. As a Sports Touring motorcycle, it is as good as any and better than most. The brilliant chassis now allows you to enjoy the class CP3 motor to the full.
The suggested retail price of around R229,000, is also spot-on, given the full spec of the bike. Yamaha build quality has had them top-scoring in long term reliability polls for some time now. The GT is properly fast, comfortable, good handling and sweet looking. Optional factory panniers put the cherry on the touring cake.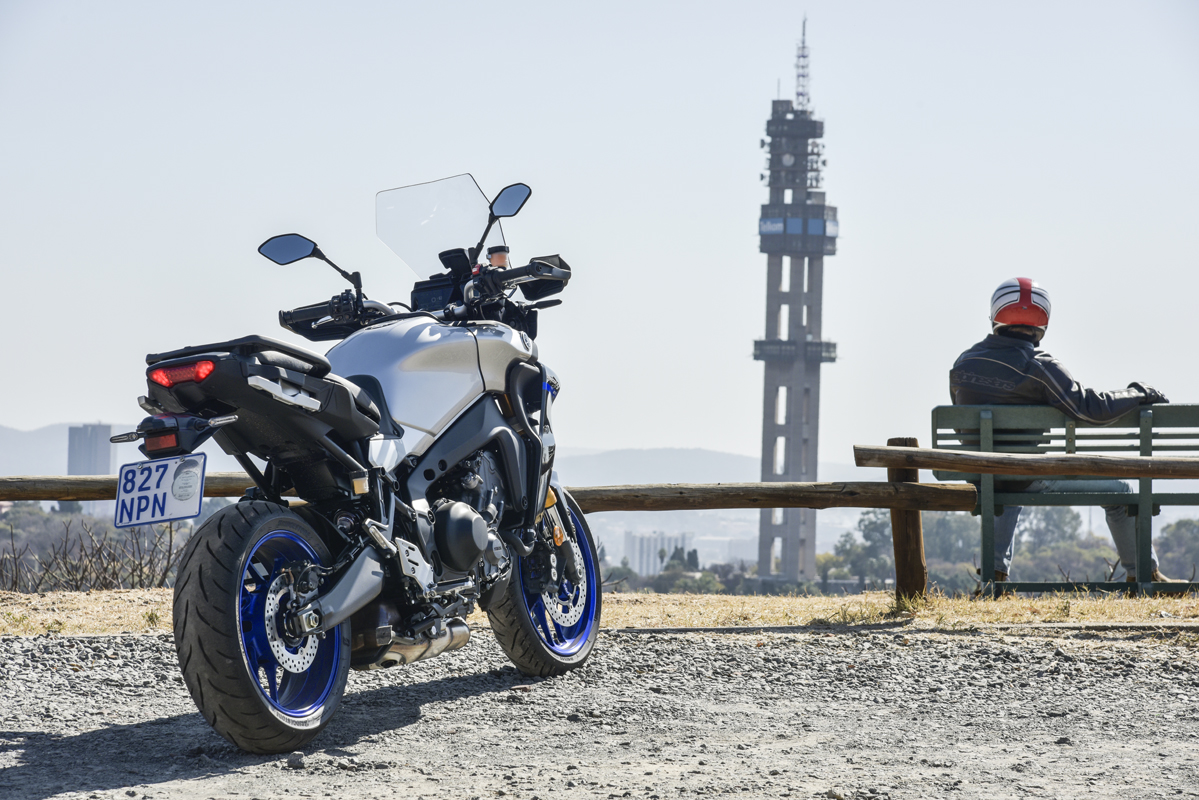 You know that a bike that you are reviewing is really good when the only real criticism is the fact that the indicators aren't self-cancelling! What we have here is another absolutely brilliant bike from the Tuning Fork company!