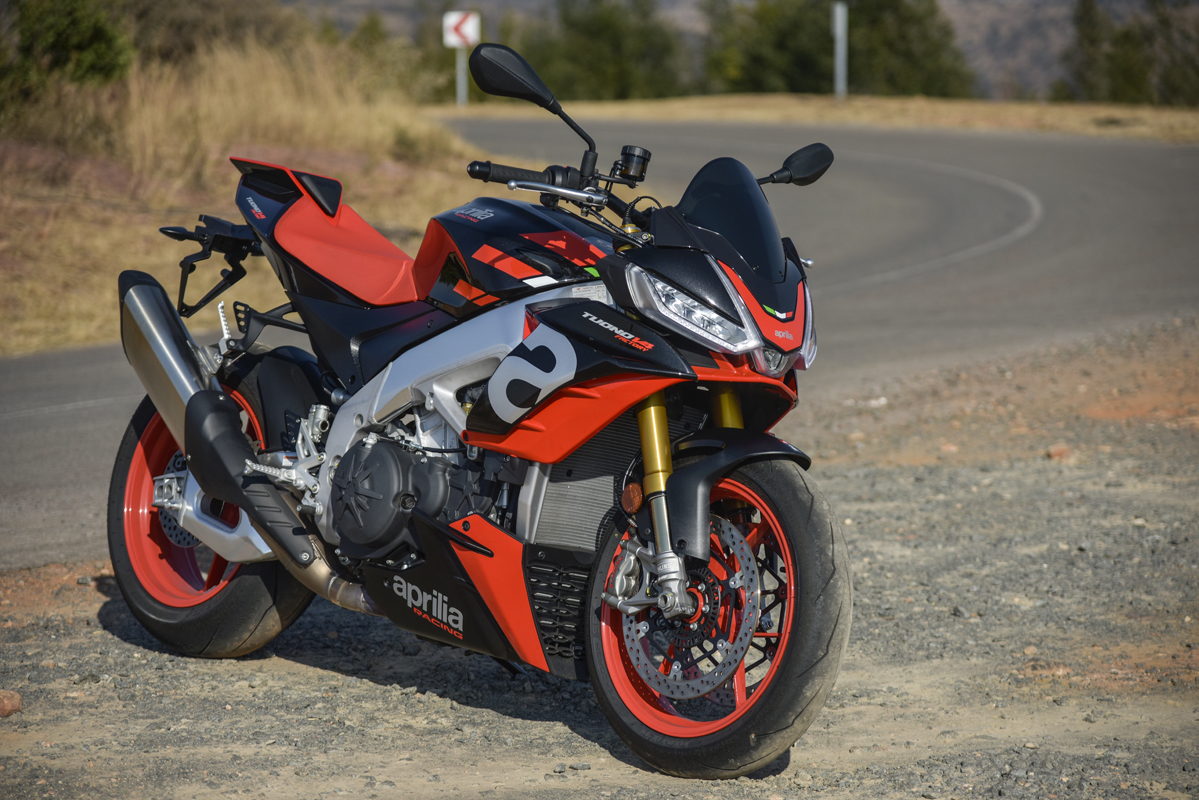 You think I'm joking about the "super commuter" part, don't you? Well, I was seriously chuffed when Sean from Italian Motorcycle Importers asked us to use their Tuono 1100 Factory for a few days and report back on its ability as an 'everyday bike'. Seeing as I habitually use bikes daily as I ply my trade, this was going to be an easy task.
So I was off like a sweaty sock to pick up the Factory. The Tuono oozes Italian flair from every angle, particularly the latest version, which has a Mille' style to the tank, that beautiful polished aluminium frame now complete with a new under braced swingarm. Resplendent in Aprilia livery the bike makes a bold statement. A 'naked' as such, it does sport some side panelling and bodywork, with a surprisingly effective flyscreen.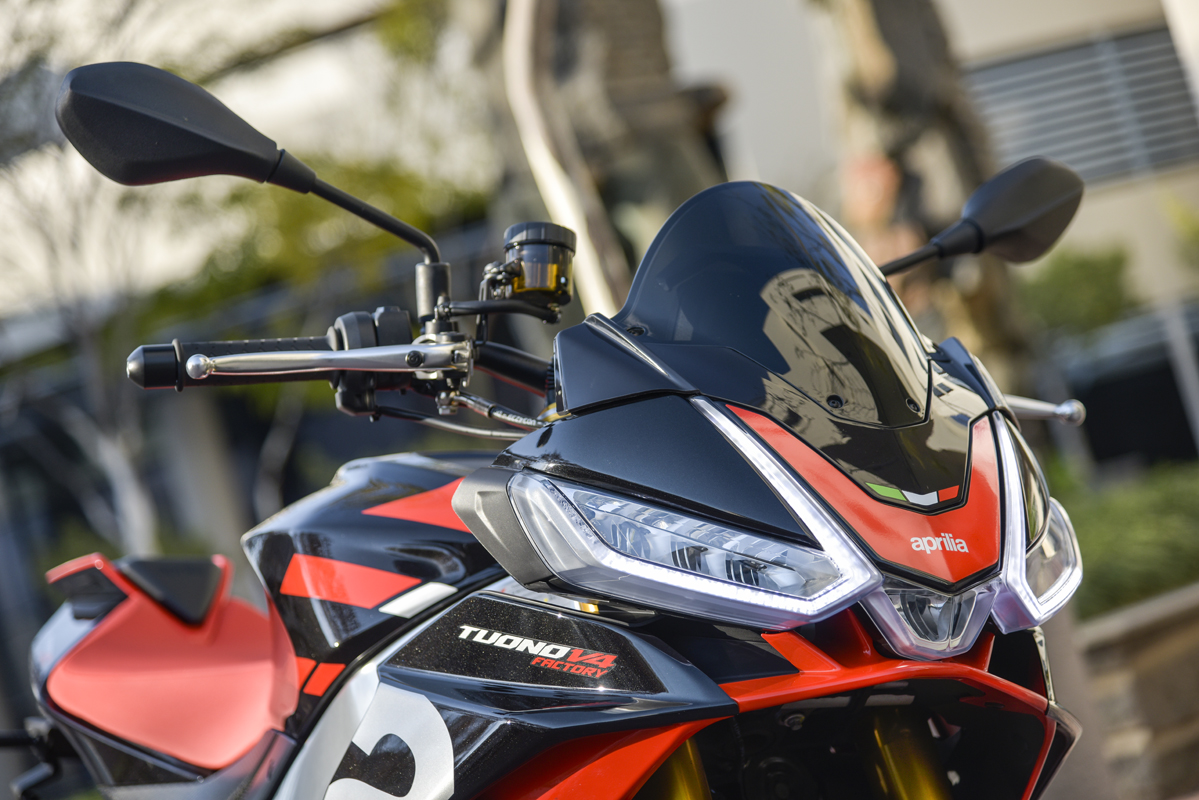 The Factory has engine modes, as do most modern sports motorcycles, however, given that I would be using it as a daily ride I settled on 'Touring' mode for full power delivered in the most linear fashion. The Tuono 1100 plays in the same space as some real heavy hitters like the Ducati Streetfighter, KTM's Super Duke R, Kawasaki's force-fed H2 and Triumph's Speed 1200 Triple RS, to name a few.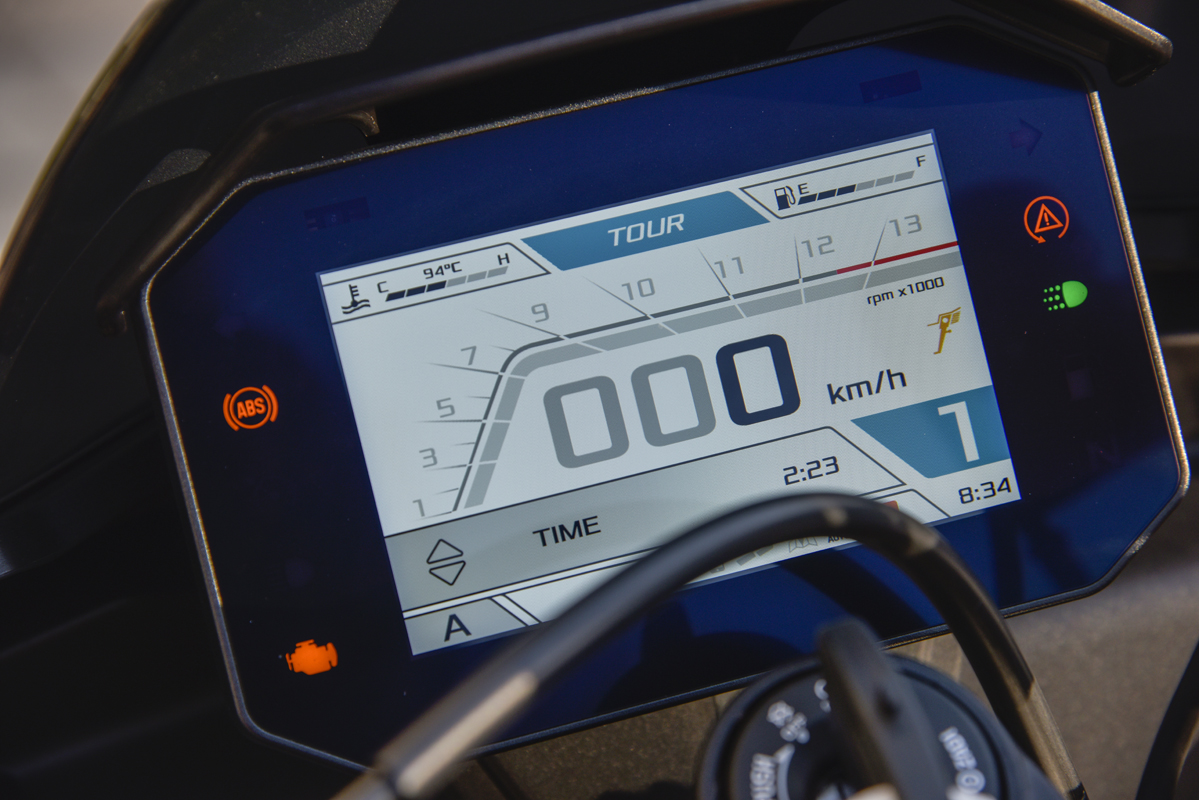 In fact, looking at the specs you may start thinking that the 173 horses produced by the Tuono is somewhat light in the loafers. The likes of the Ducati and Kawasaki churn out 200 odd ponies. So is it outgunned? Not on your Nellie! The RSV4 motor from Aprilia is still arguably the best engine ever slotted into a Sports motorcycle. From off idle it pours out a stream of velvety torque laden power that becomes a gushing torrent as the revs rise to a V4 wailing crescendo. The more peak powered opposition are exactly that. Peaky by comparison.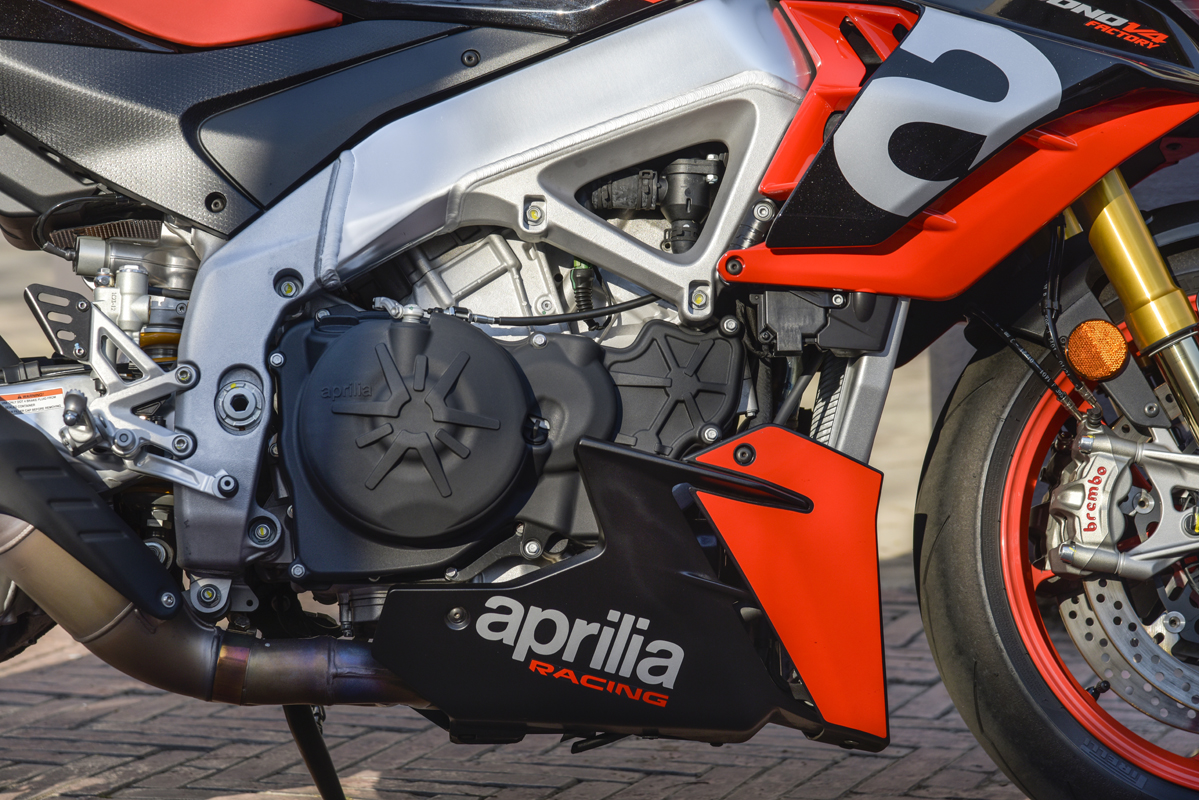 The trump card of this bike is the almost otherworldly balance of the bike as a whole. The magnificent motor is made all the more exploitable by the sublime chassis. Öhlins semi-active suspension produces a ride that is uncannily supple on the road and still manages to be a weapon on a racetrack.
Then we must factor in the riding position. My 6'3'' frame requires no contortionist skills to fit on the Tuono. There is a subtle weighting of the wide and comfortable bars which have your torso comfortably supported by the wind blast. The seat is firm but comfy, for the rider, that is the pillion seat is a pure token to be sure. Probably purposefully done by Aprilia in the knowledge that this is a bike that you will never want to burden with a passenger! Stopping is courtesy of two 330 mm front and a 220mm back disc chomped on by Brembo's state of the art Stylema calipers. 'Nuffsaid!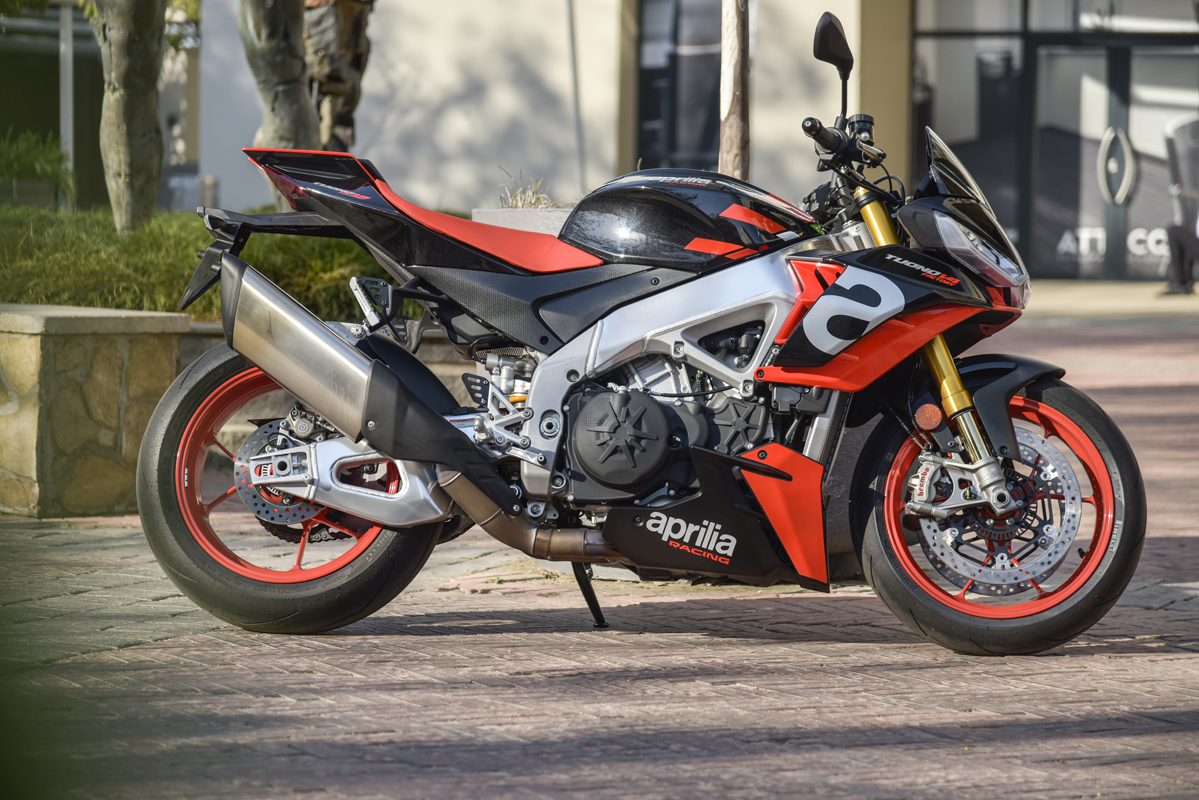 Riding this bike is an absolute revelation. It is so user friendly that you feel at home on it in no time. That is one hell of a statement about a 177 hp cruise missile. It steers intuitively with a stable and front end feel that is nothing short of perfect. On my route home, I negotiate a right-left chicane around some Armco barrier. Approaching it accelerating from a standstill and still in first gear you feather the throttle as you flick it right then immediately go left and climb hard on the throttle to attack the straight piece of road that follows. With a clear road ahead it was business as usual. The transition from right to left is also over some patchy tar which exacerbates any flaws in a chassis set-up.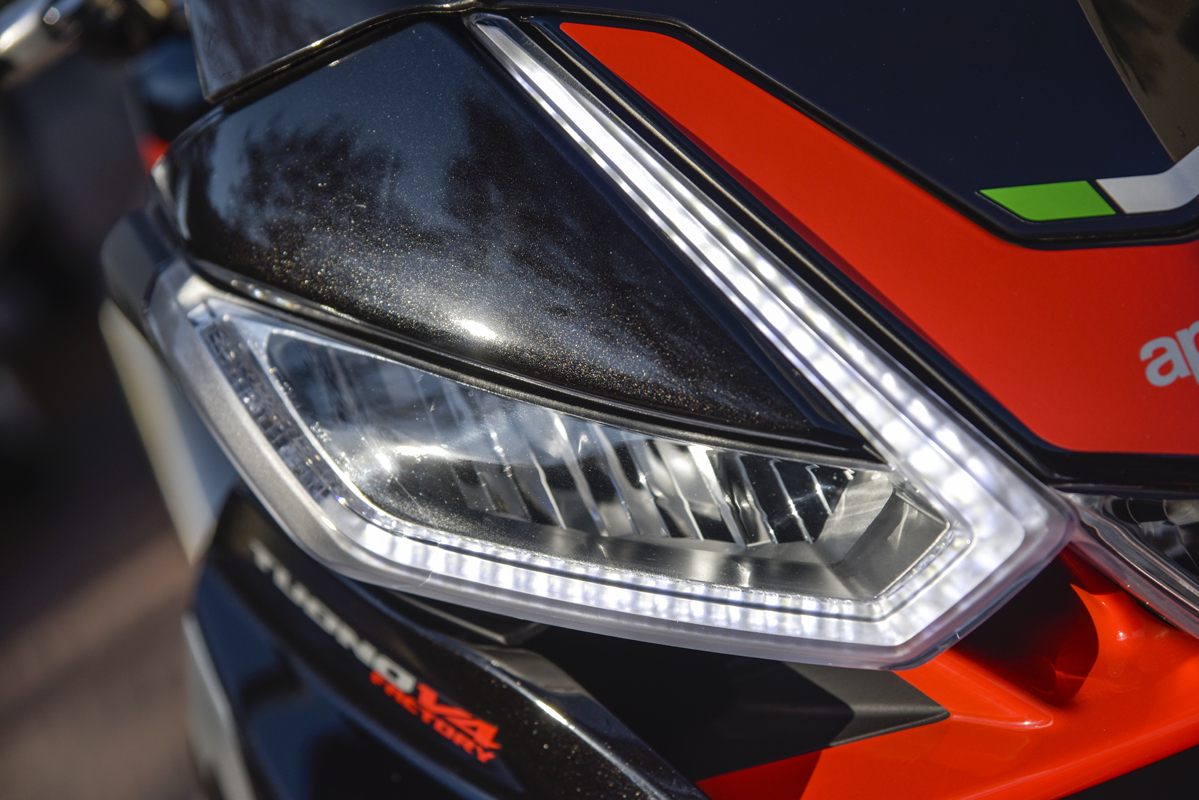 Accelerating out of the chicane on the Tuono V4 1100 Factory revealed the incredible capability of this bike. The perfect fuelling and superb chassis combine to launch the bike forward with a violence that is hard to describe. The bike finds traction in a way that I have never experienced before. I was expecting a power wheelie or wheelspin but the 200 section Pirelli Diablo Super Corsa back tyre just hooked up and rocketed the bike forward as if it was catapulted from a giant slingshot.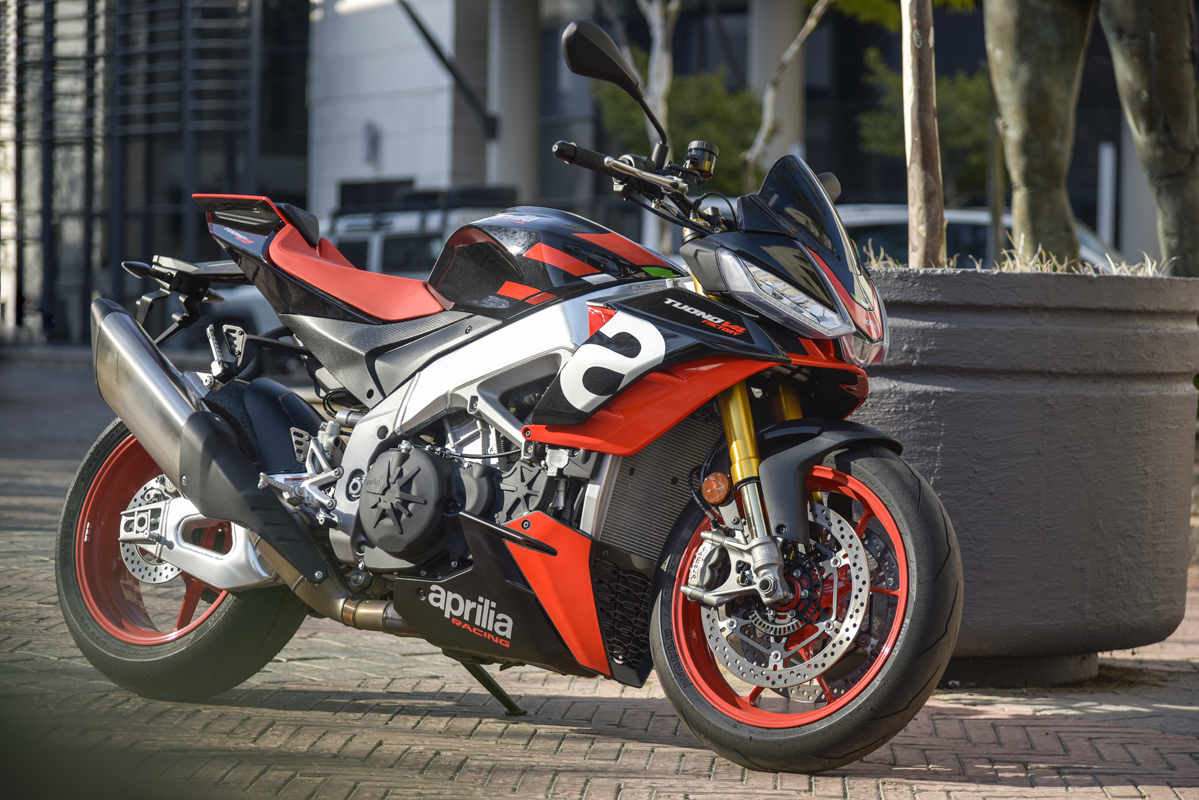 The back tyre on the bike was sporting some damage inflicted by one Robert Portman Esquire at a local racetrack and was really the worse for wear. Despite this, once warmed up, the Aprilia handled impeccably at all speeds. It is the most comfortable engaging Sports motorcycle that I have ever ridden. Bar none. Can you ride it day-to-day? Oh yes, and on weekends too! You probably won't get much better than 13 to 14 k's on a litre, but frankly, you won't care.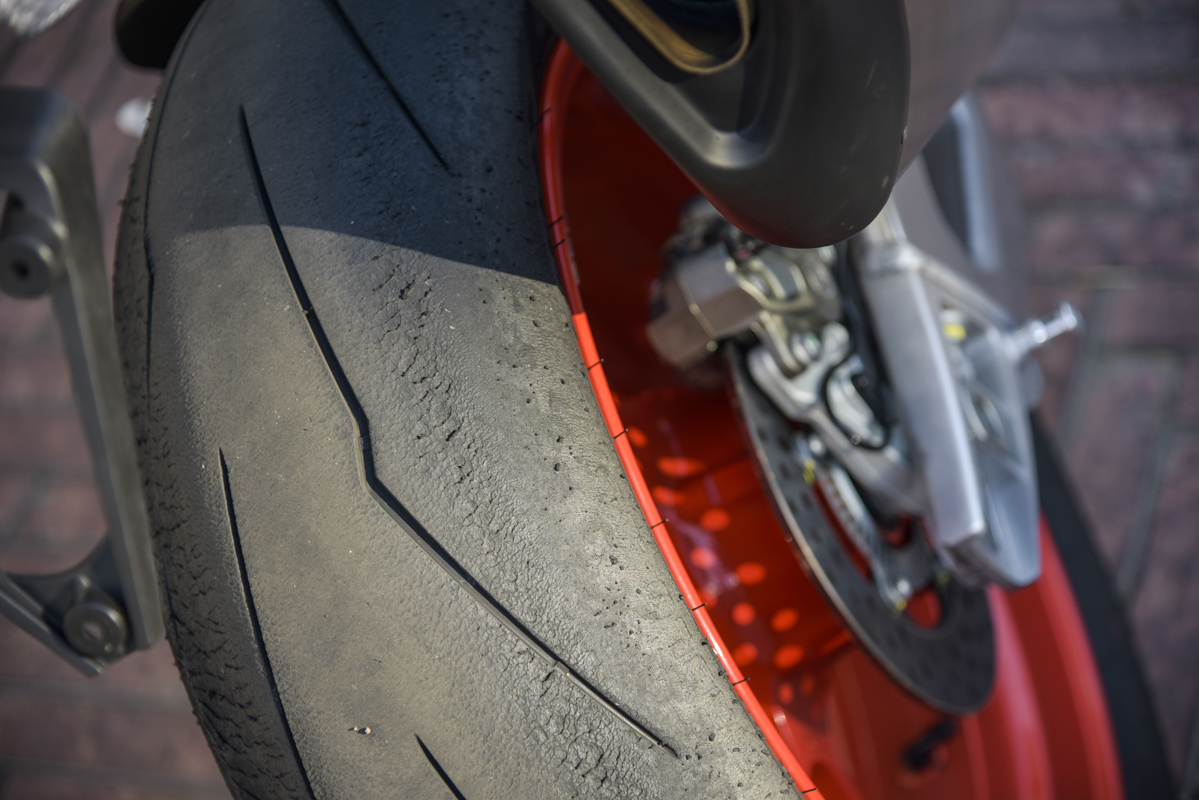 The charm, performance and uncanny ability of Aprilia's iconic naked biggie will blow you away! It even has cruise control, for heaven's sake. The TFT display gives you all the vital information and Bluetooth connectivity and that stuff too. But who cares? All of that fades into insignificance when you have savoured the incomparable riding experience of this bike.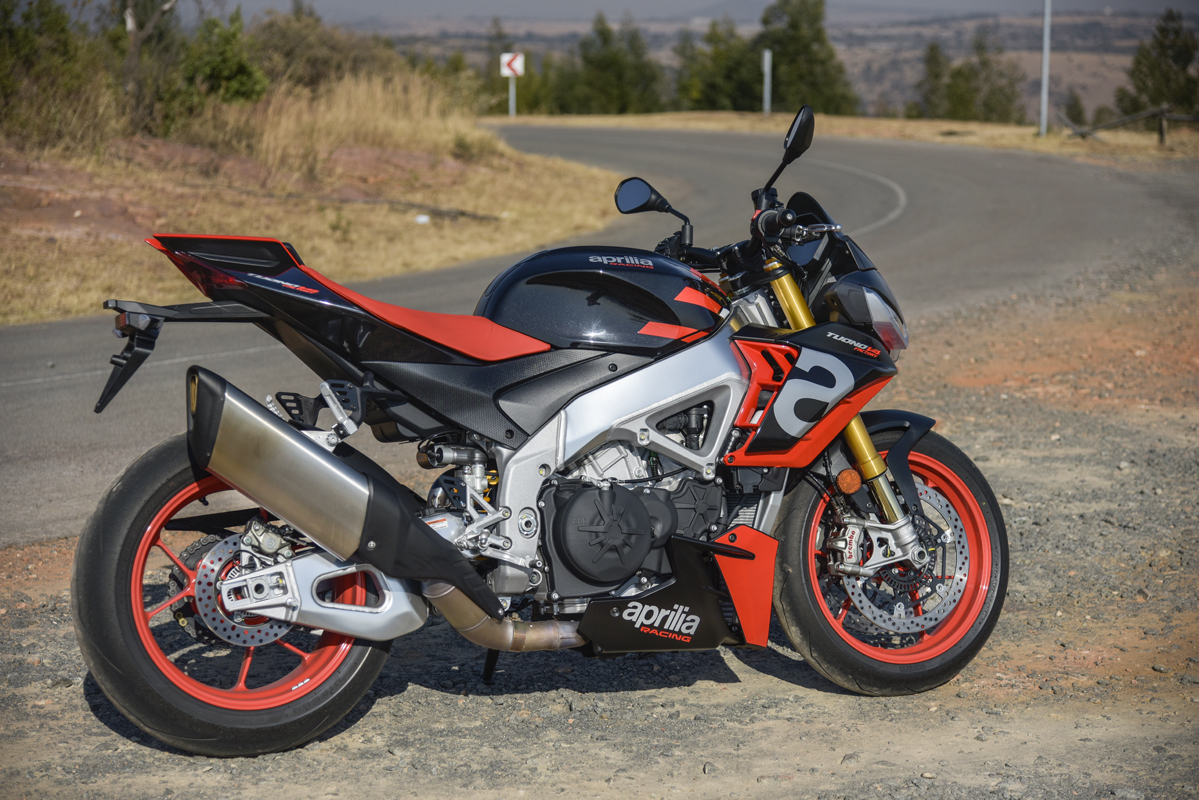 All of this excellence does not come cheap and at R365,000 it is serious shekels. To put it into perspective, pop into your local Specialized bicycle shop or google and check the price on their top-of-the-range full suspension mountain bike. That chap will set you back R220,000! By comparison, the Tuono is a downright steal! It is simply the best-naked Sports bike on the planet and yes, it is a demon commuter too!
Aprilia Tuono V4 1100 Factory
For more information on the bike that we tested in this article, click on the link below…