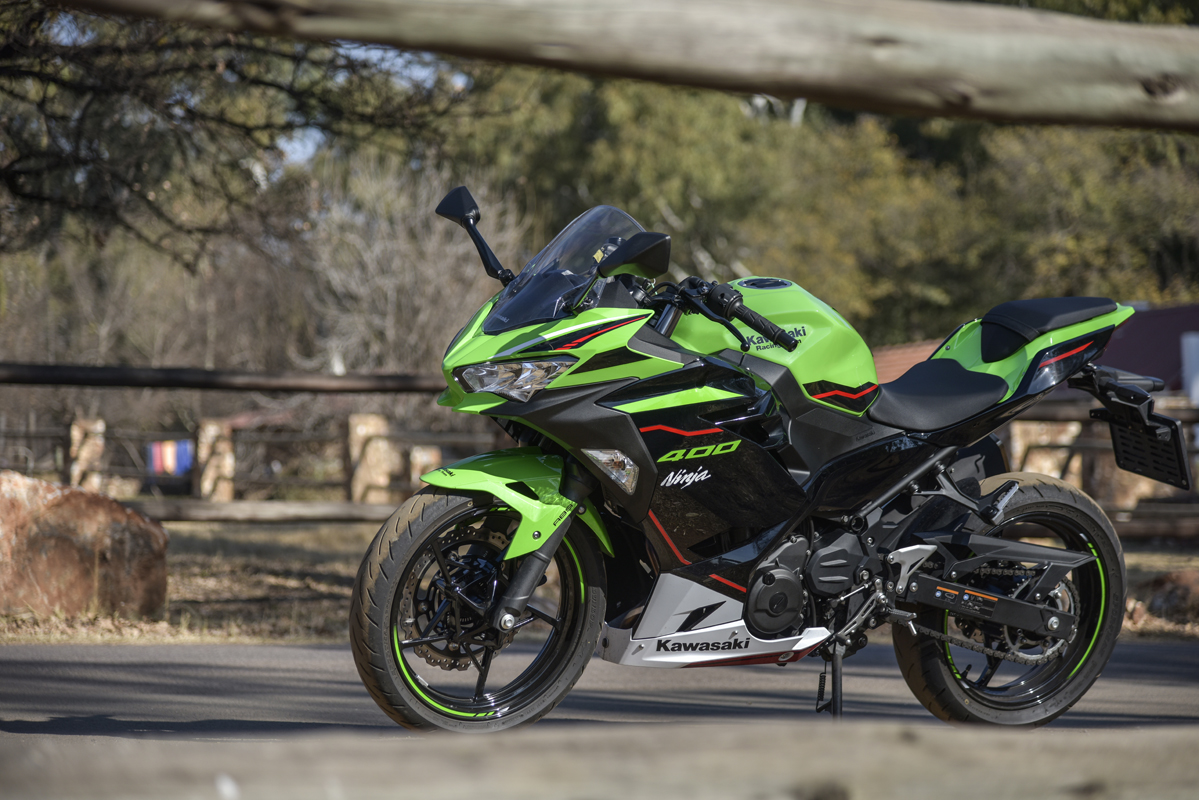 When you hear the name 'Ninja', two words come to mind: green and fast. 37 years down the line, Kawasaki's favourite assassin has grown into a family name—one that describes a rather sporty range of motorcycles. The Ninja's performance is legendary—but in recent years, Kawasaki has carried the Ninja crest onto a select few starter bikes.
Kawasaki's Ninja 250R was one of those bikes—an entry-level sportsbike that got many newbies onto two wheels. Over the years this legendary beginner bike slowly grew in capacity, developing into the race-bred WorldSSP300 championship-winning Ninja 400—unstoppable for the last four years.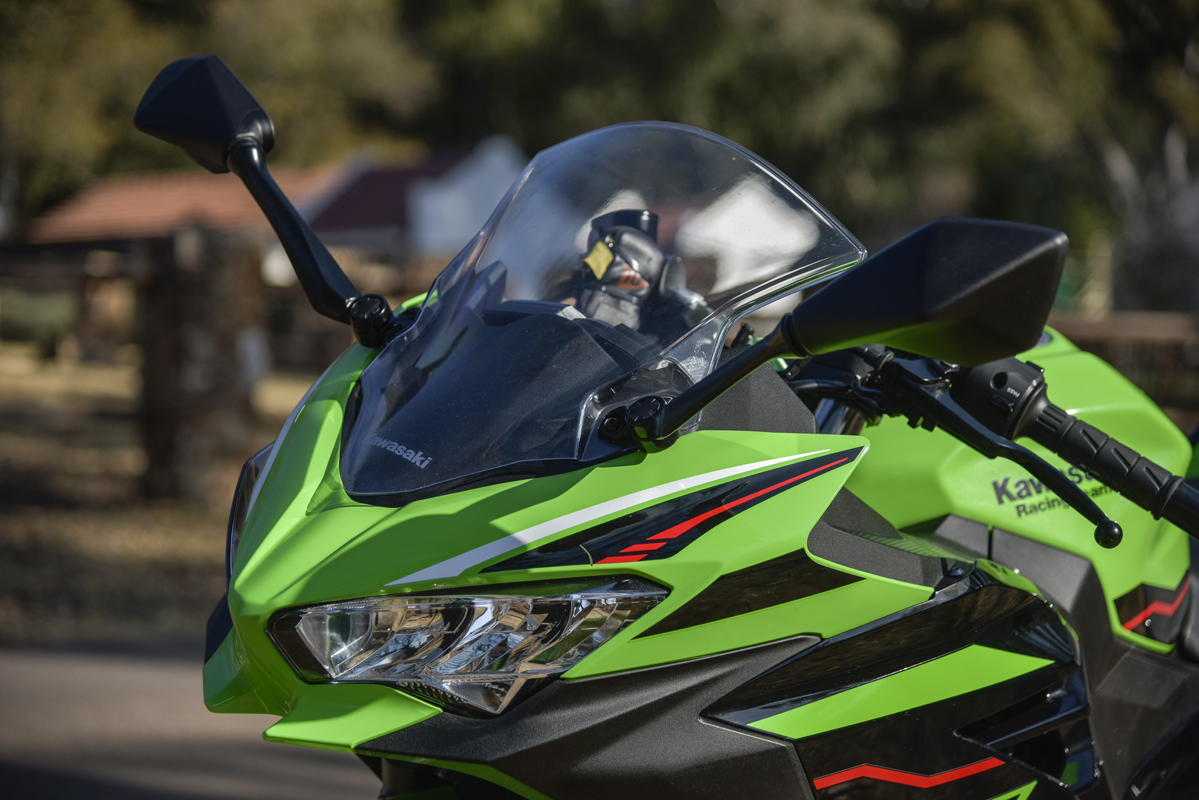 This begs the question: is the Ninja 400 still a viable option for beginners, and is it enough bike for advanced riders?
Right now, the modern sportsbike class is having a bit of an identity crisis. 600 cc inline-fours are dying a slow death, leaving a massive gap between the starter bikes and the fire-breathing superbikes. Many brands are thinking completely outside the box right now, and have started bringing back 600 cc-plus twins. But honestly, I think the Ninja 400 might just slide into this new class of sportsbike too.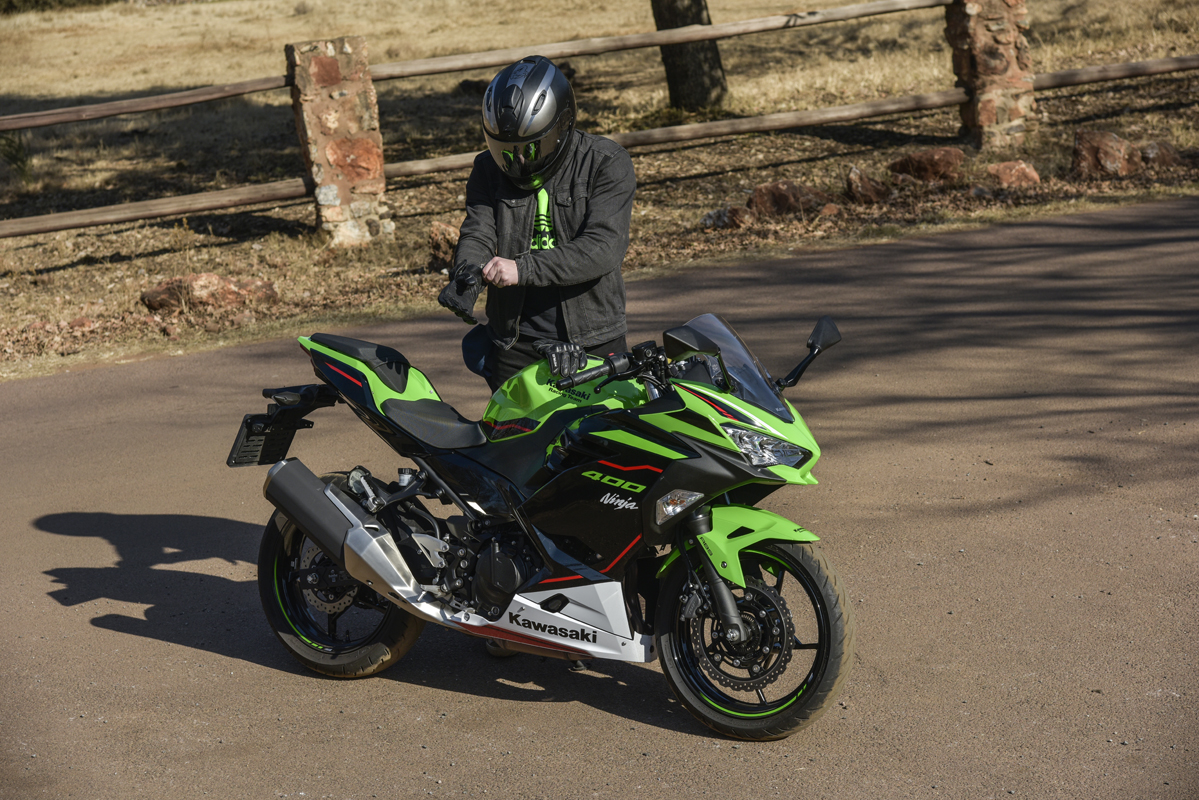 My test bike was the lovely 2021 'SE' model, which comes standard with ABS brakes, and a Johnny Rea WSBK-Esque livery blending green, black and white, with subtle red and green pinstriping. When it comes to looks the Ninja gets a ten out of ten from me—mirroring the H2 and ZX-10 with its pointy fairings, LED lights, sharp tail and trellis frame. Most people can't even tell that it's just a 400 cc bike.
The Ninja's 399 cc parallel-twin is a grunty motor that loves to be revved, with 44.5 hp on tap at 10,000 rpm, and 38 Nm of torque at 8,000 rpm. In town, you can shift under 6,000 rpm with its light slipper clutch and still hustle plenty quick enough, while riding economically off the Ninja's torquey bottom end. If you ride like this, you'll be able to get between 29 to 31 km/L—and with a 14-litre tank, that's just over 400 km in the urban sprawl.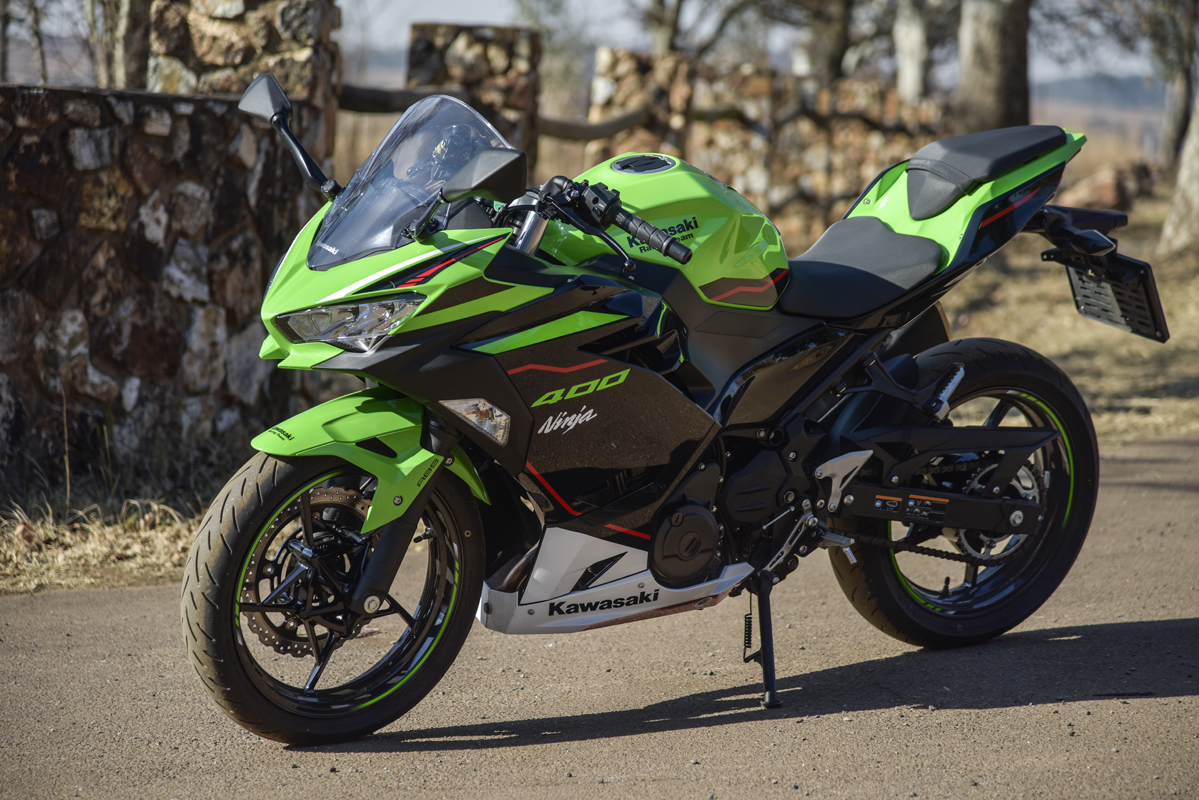 The Ninja has an intoxicating twin-cam growl from 7,500 rpm, and will climb all the way to 12,000 rpm, by which point you'll be doing over 190 km/h. Its high top-end means you can also cruise comfortably at 120 km/h while only sitting at 7,000 rpm—a whole 5,000 rpm from the buzzer. The Ninja's gearing also lends itself to ease of use at lower speeds, allowing the rider to open the throttle to a smooth and linear feed of power. You'll average an easy 23 km/L on your daily sporty commute, which still leaves you with a reasonable range of around 320 km.
I've ridden the Ninja 400 in almost every kind of scenario, except on a long road trip—so that itch needed to get scratched. To test the Ninja's long legs, I decided to hit the open road to Mpumalanga (Sabie specifically) with my buddy Dave on his Honda VFR 800. An 800-odd km single day trip on a 400 cc motorcycle sounds like hell, but the Ninja's high clip-ons, semi-bubble screen, fully-faired sports fairing, well-positioned foot pegs and tall gearing made it all doable. The seat could have been softer though.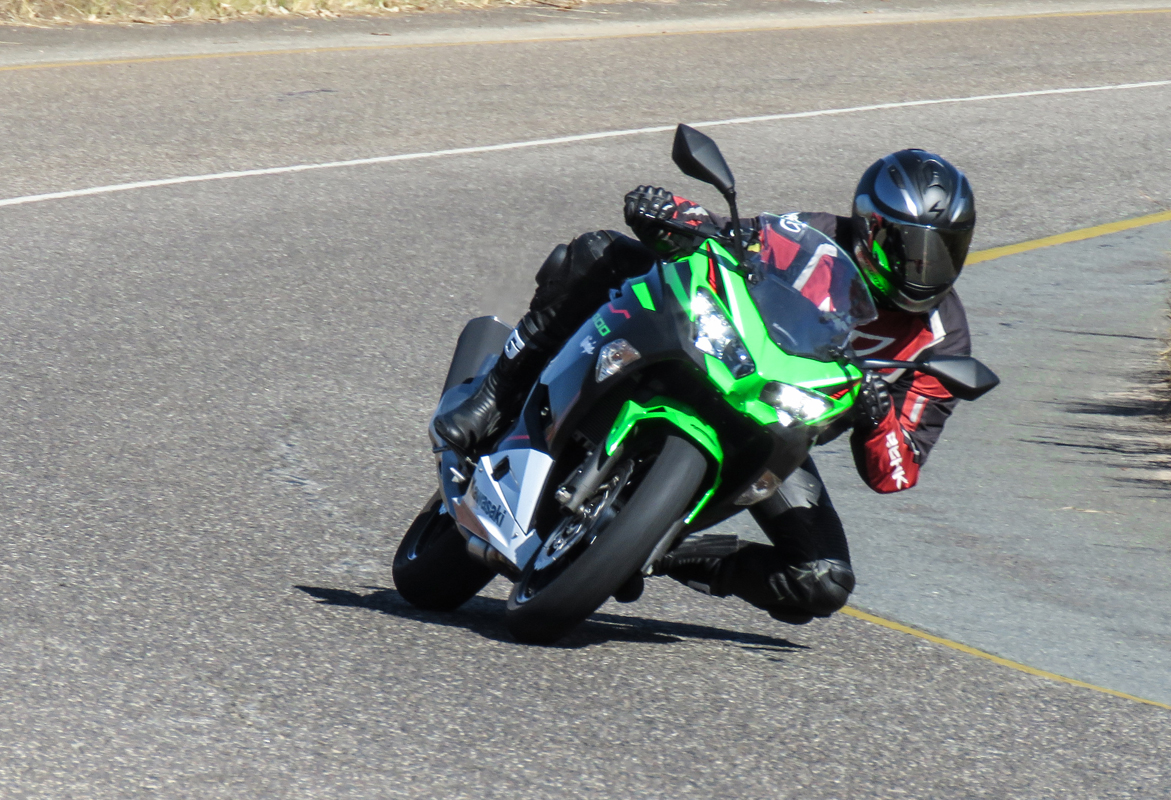 Dave and I were both surprised at how well the Ninja took to touring, and how easily it kept up with the bigger motorcycle. I think it's a big plus that the Ninja can munch big kays—this opens up a whole new world and style of riding that a beginner wouldn't necessarily be exposed to.
On the road, the Ninja's suspension doesn't disappoint. The 41 mm front forks have no adjustment, but are really dialled-in for our slick and dodgy roads. With my 75 kilos on board, the rear preload-adjustable shock worked well, although I wouldn't mind it a tad bit stiffer. The Nissin brake callipers stop the Ninja effortlessly, and I felt like I had good modulation during braking. My only complaint is not having adjustable brake and clutch levers.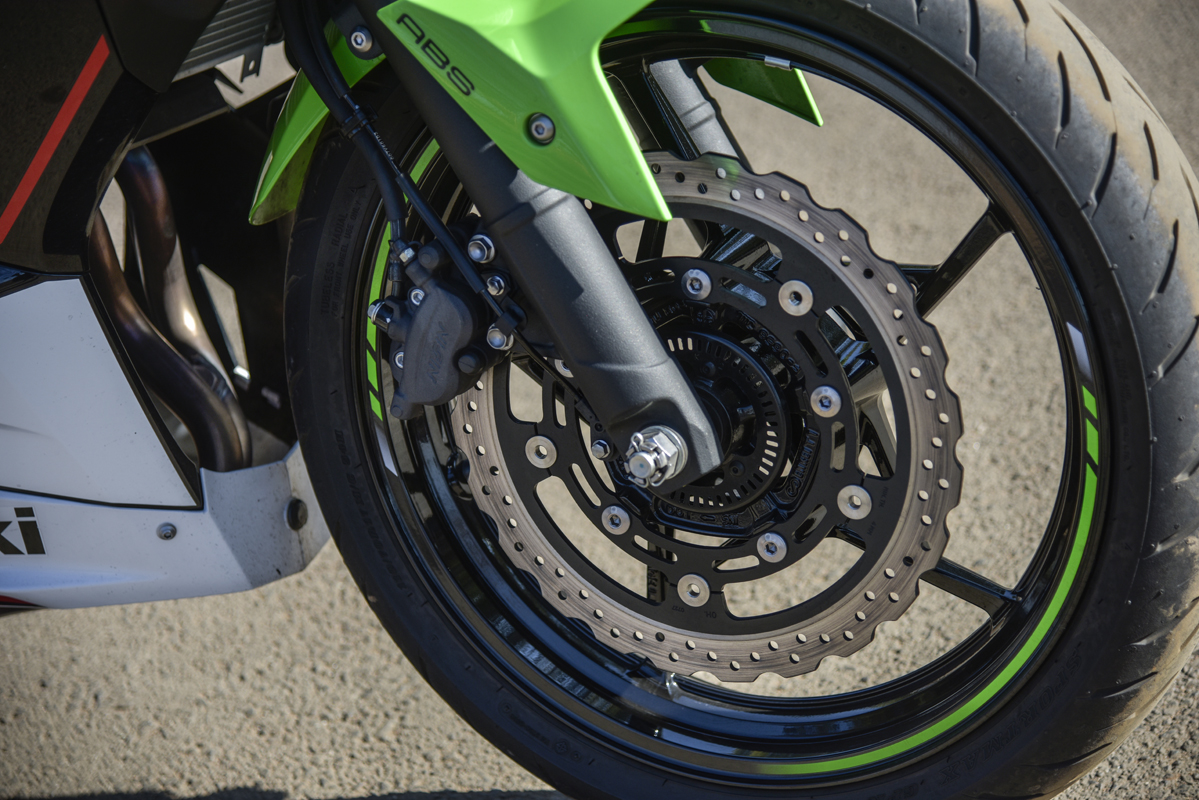 If you wanted to do a track day on the Ninja 400, you'd get a lot out of it in its stock trim. The front forks, although soft, work just fine, and provide good feel through the bends. The rear shock and ground clearance of the pegs will get in the way of setting some really quick laps—but that's an easy and cheap upgrade to make the Ninja a short circuit weapon.
With a seat height of 785 mm the Ninja will accommodate both tall and short riders, with reasonable seat and bar reach too. Besides the motor, my favourite thing about the Ninja is its slipper clutch—making quick down-shifts stable, and pulling in the clutch an almost effortless task.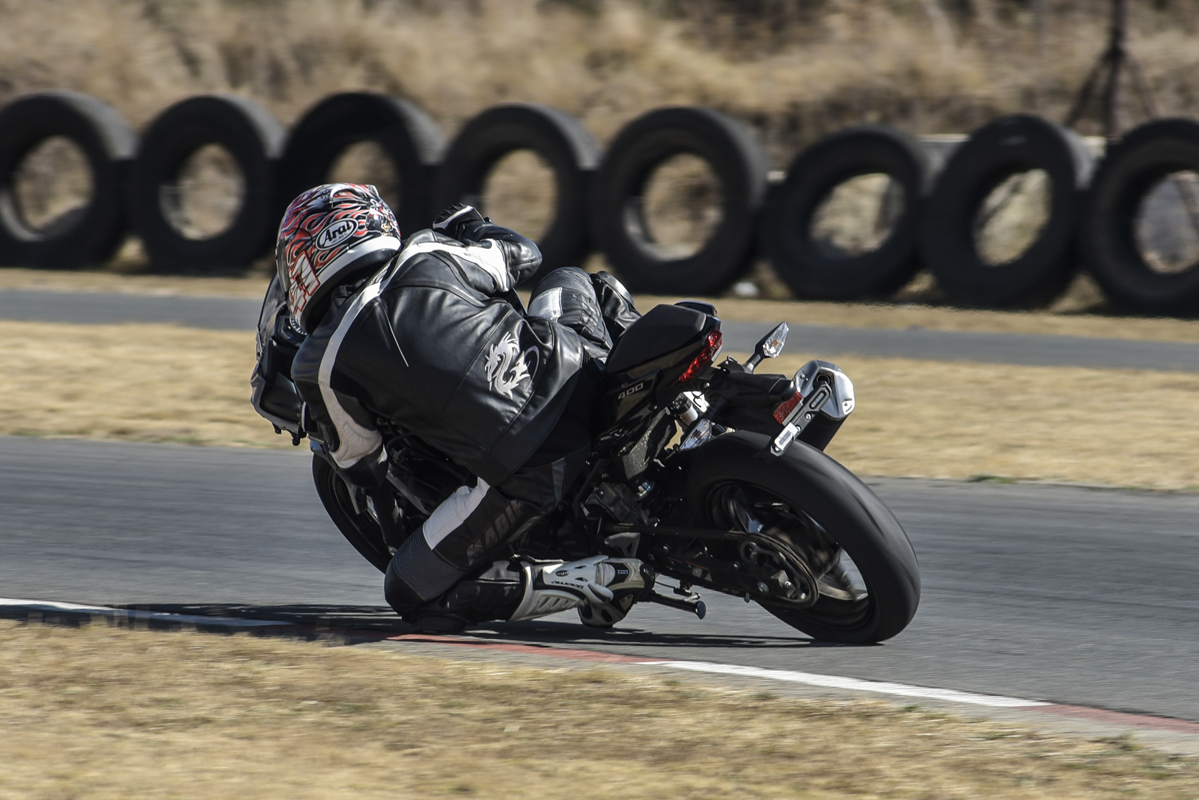 Tech-wise the Ninja is pretty old school. The display is race-like, with a cool-looking analogue rev counter, and a smaller digital display focusing on all the important riding info; trip, averages, time, gear indicator, range, fuel level and odo. Not having a TFT display with all its gadgetry isn't a negative on this bike, as I feel the Ninja is a true rider's bike—built to chase RPMs and apexes. (And besides, it would surely push the price up into big bike territory.)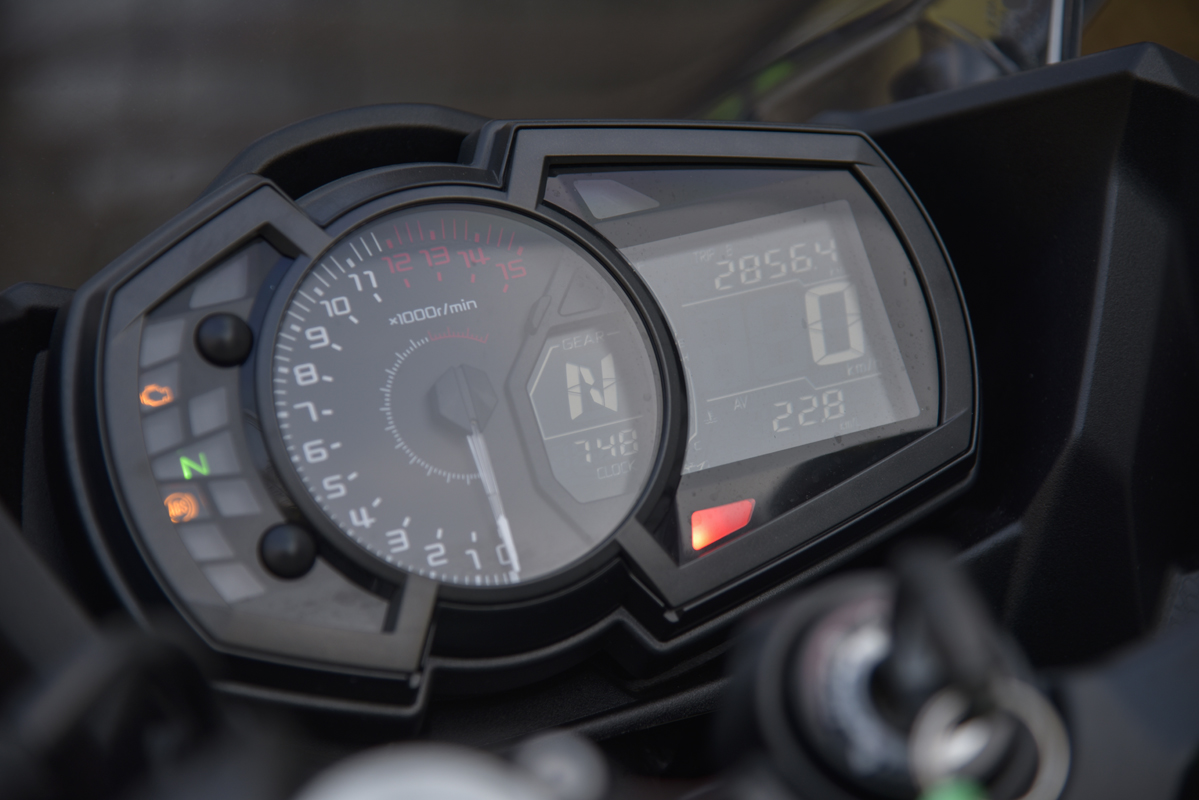 I spent 3000 km on the Ninja on this test, and have racked up a total of almost 8000 km on it over the last few years. And I can still get on the Ninja and have a blast every time. It's really made me realise how much I hate the whole 'growing out of a motorcycle' mentality—something I've honestly never experienced myself on the Ninja. I know more than a handful of riders who are super quick—riders who can ride a Ninja 400 faster than poseurs on bigger, more powerful machines.
In summary, the Ninja 400 is still one of the best entry points into the sportsbike world. And even if sport isn't your thing, you've got an economic, lightweight, long-legged, good looking, comfortable and cheap-to-run motorcycle. The SE will set you back R104,995, and the non-ABS Ninja 400 will set you back R99,995 (it comes in black or grey).
Yes, it costs 100k or more. But we're living in a time where everything has gone up in price… and the Ninja is still competitively priced within its class.
For more information visit: www.kawasaki.co.za
Kawasaki Ninja 400/SE
For more information on the bikes that we tested in this article, click on the links below…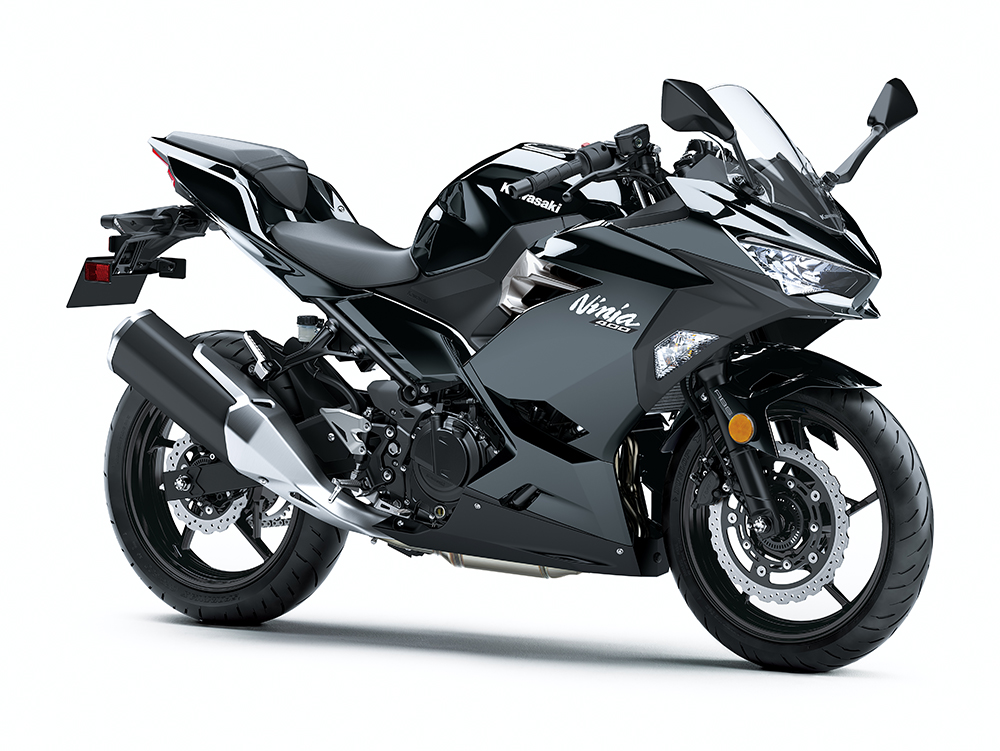 2021
Kawasaki Ninja 400
Pricing From R99,995 (RRP)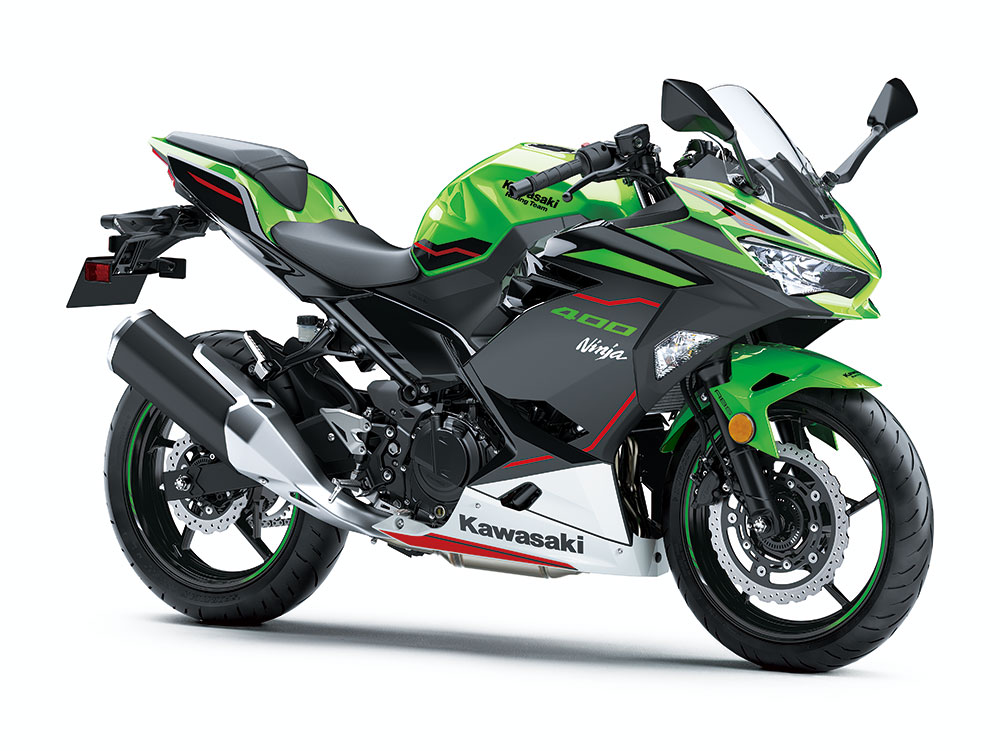 2021
Kawasaki Ninja 400 SE (KRT Edi...
Pricing From R104,995 (RRP)