We have hopefully seen the last throes of what has been a particularly severe winter. Snow in Cape Town! Who would have thought? When we wake up to blue skies and warm weather, riding our bikes takes on a whole new appeal. So, before we hit the road, how do we get our pride and joy looking like new again? We all know that a shiny, sorted bike rides that much sweeter. For a fortunate few that problem just got a whole lot easier.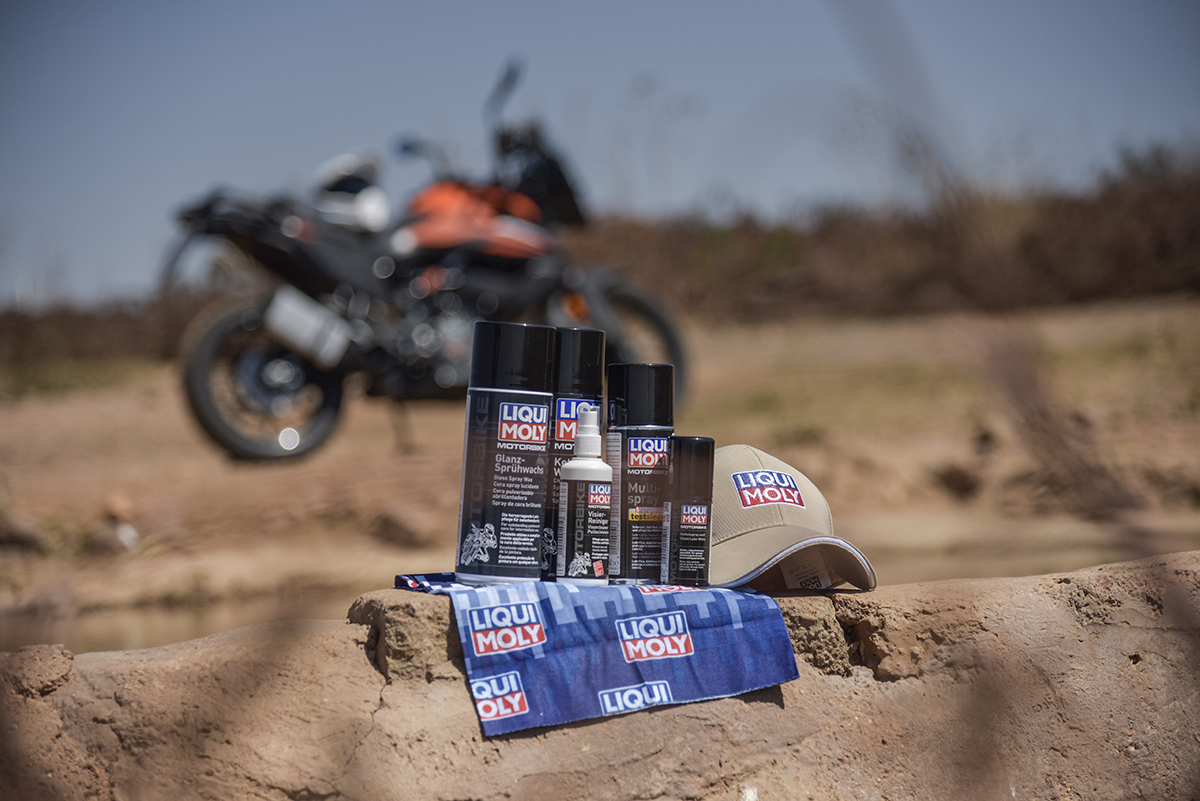 Our friends at LIQUI MOLY have put together five hampers made up of a selection of their superb bike care products. The lucky winners are going to get a cool cap, buff and the following assortment of goodies to get their beasts fit for the summer:
Gloss Spray Wax:
This amazing kit just gets sprayed on and then buffs up to a like-new shine, leaving your bike glossy and protected. Excellent for detailing work after a wash, or just to rid your bike of residual dust without scratching the surfaces.
Chain Spray White:
Now that your chain is spotless, you can give it that 'from the factory' look by applying a coat of this excellent lube that will keep both chain and sprockets as happy as the summer days are long.
Chain and Brake Cleaner:
The perfect and easy way to clean your chain and brakes of a winter's worth of accumulated gunk.
Multi Spray:
This stuff is flippen' amazing! It has myriads of uses, displacing moisture, penetrating and protecting. Brilliant for switchgear, ignition switches, sticky footpegs, side stands and damn near everything else. Even for getting oil stains out of your wife's jeans! I kid you not!
Helmet Interior Cleaner:
Can't ride a spotless bike with a funky smelling helmet. Literally no sweat! The Interior Cleaner will restore your helmets lining to its former, sweet-smelling glory. Spray it on, let the foam do its magic, rub it up and allow it to dry. Done!
Visor Cleaner:
Cleans your visor to perfection and prevents misting up. Your life will never be the same again, it may even alter your murky outlook on life! While you are at it, clean your phone, tablet and computer screens too. Use it on your mirrors for 'perfect hindsight'.
So there you have it folks, everything you and your bike need to attack the summer with gusto! Cleaning and protecting your bike properly has never been this easy!
How to Enter?
Complete the competition form below and answer the question…

*competition ends September 30th 2021 – A representative from LIQUI MOLY will contact the winners directly and arrange shipment of their hampers.