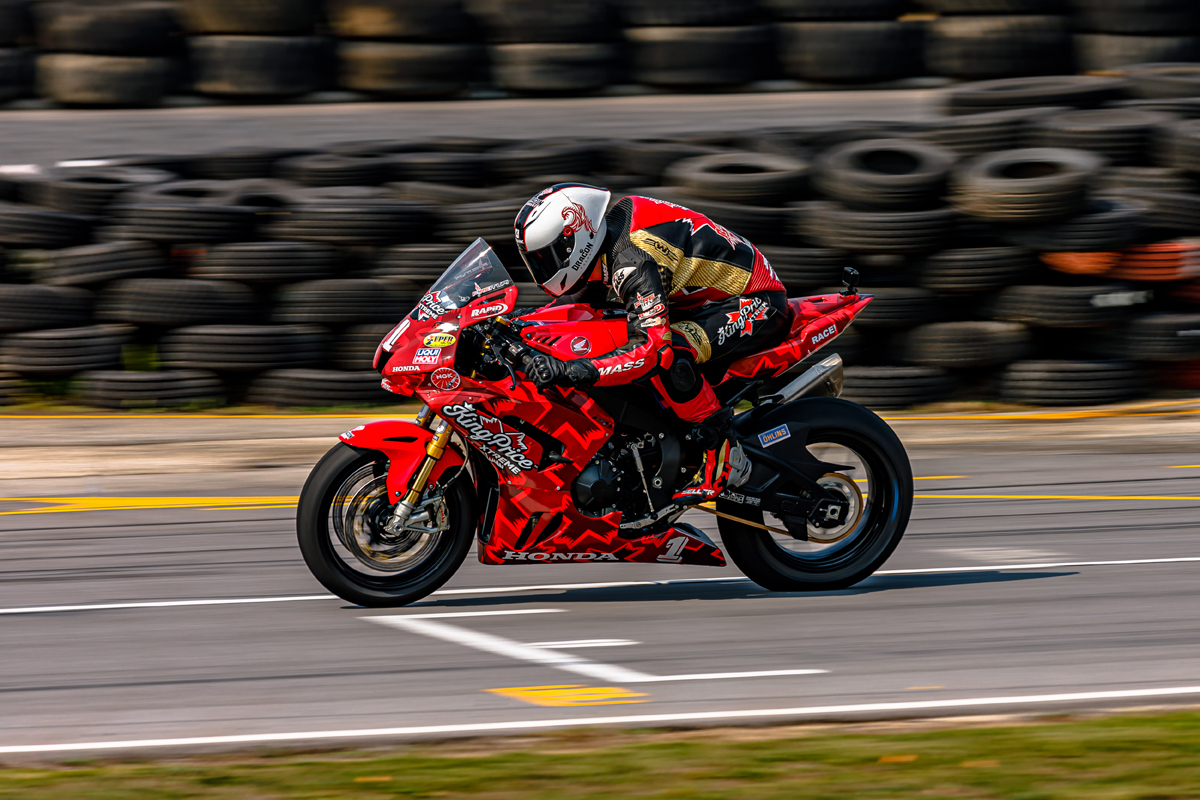 The SA motorcycle racing world was shocked when the South African Superbike Championship was cancelled with little fanfare halfway through the 2021 season.
In truth, it was a merciful end to a series that had, for various reasons, become a shadow of its former self, reduced to grids of just six bikes and offering little or no competition for the top riders, nor spectacle for the dwindling spectators.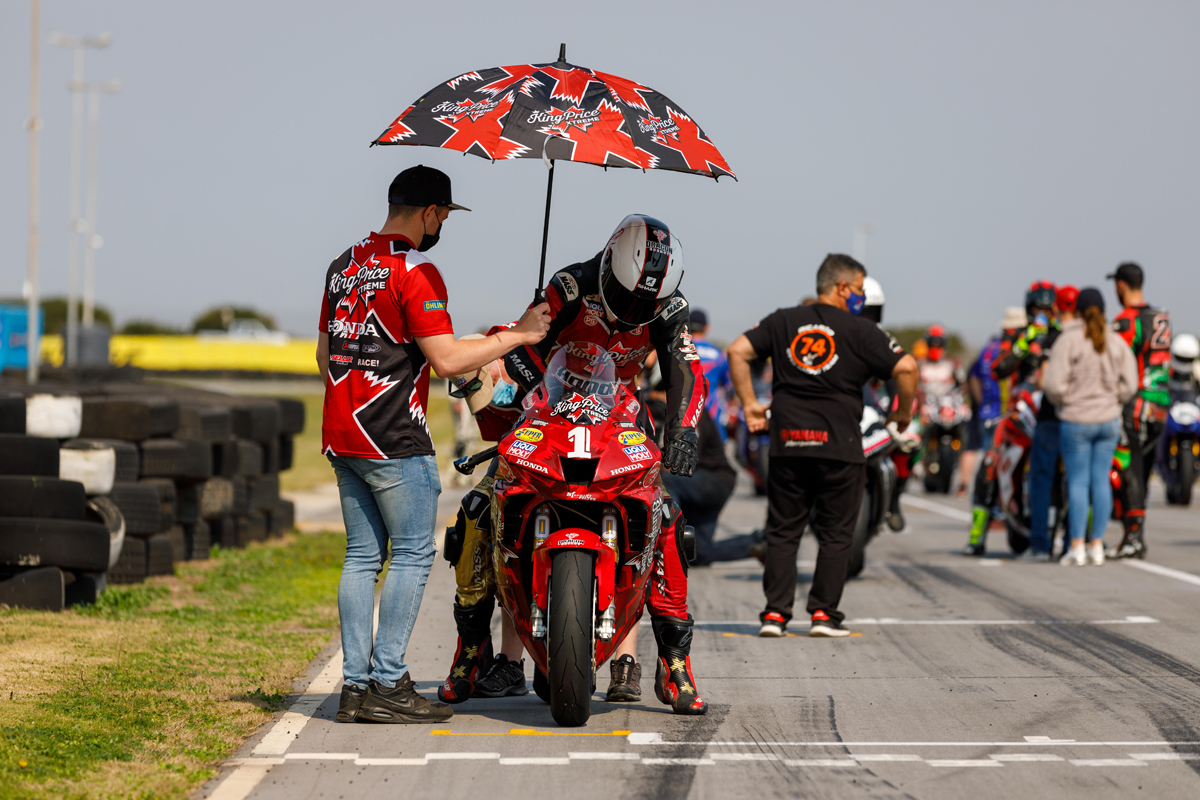 Clinton Seller and his King Price Xtreme Honda team was one of the riders and teams who were impacted. Already a seven-time SA Superbike Champion, his chances of adding an eighth title had been dashed. But, out of the ashes has risen a new and much healthier championship which promises to be a much better measure of a team's and rider's talent than was possible with the old series.
Chatting with Clinton, his enthusiasm for the new series soon became clear, even though, for 2021, it is merely a three-race championship. First, however, there was a need to understand exactly what had happened to the SA Superbike Championship.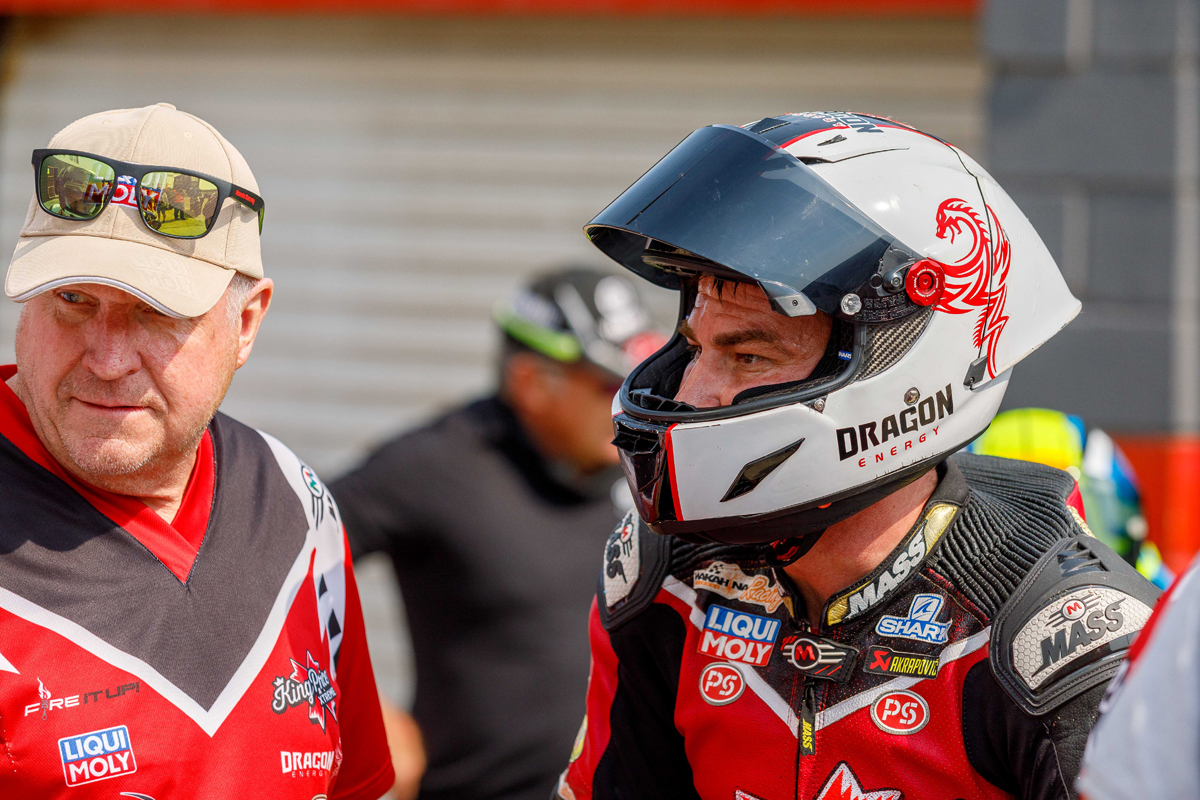 "The rules package and the organisation (of the SA Superbike Championship) excluded a lot of the SA superbike racers so there simply weren't enough riders willing to participate in it," said Clinton. "Grids of six bikes, which incorporated both 1000cc and 600cc competitors, just wasn't good enough.
"So, myself, the organisers of the series and MSA had a very frank discussion where we all asked what the future of the series was and I said I didn't see it as viable for my team to compete anymore and I knew I spoke for the other teams who were competing, few as they were.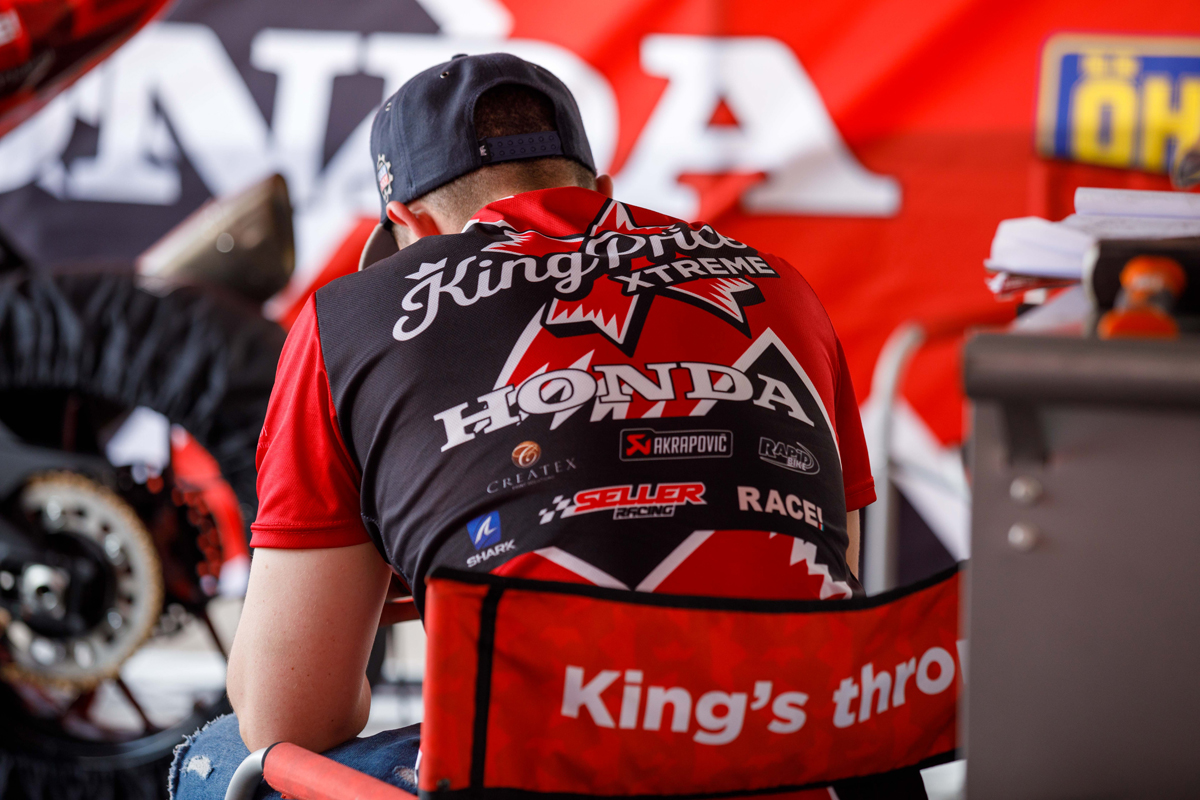 "Covid wasn't necessarily the catalyst for the demise of the series but it certainly didn't help and it brought into focus the failings of the Superbike Championship as it stood."
The new championship is called the NGK Ultimate Superbike Shoot-Out and is being run under the banner of the World Of Motorcycles (WOM) Series, WOM of course, being the home of Ducati South Africa and owner Jos Matthysen has put a huge amount of effort into stimulating motorcycle sport in South Africa.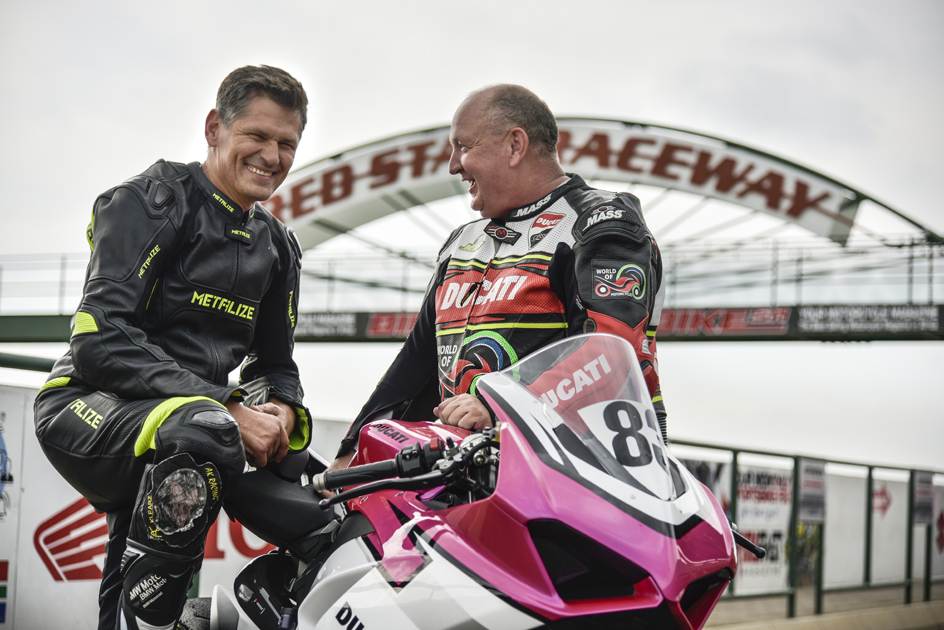 Clinton is by no means the organiser of the series, although he is definitely a driving force behind it and it soon becomes clear that there is a strong personal motivation behind his participation.
"For four years, I've really wanted to have a superbike shoot-out: who is the fastest rider in SA?' he said. "I've won seven SA national titles but the competition I've faced has, in some years, been compromised, usually through MSA not allowing certain bikes to compete, therefore preventing some riders from going against me head-to-head.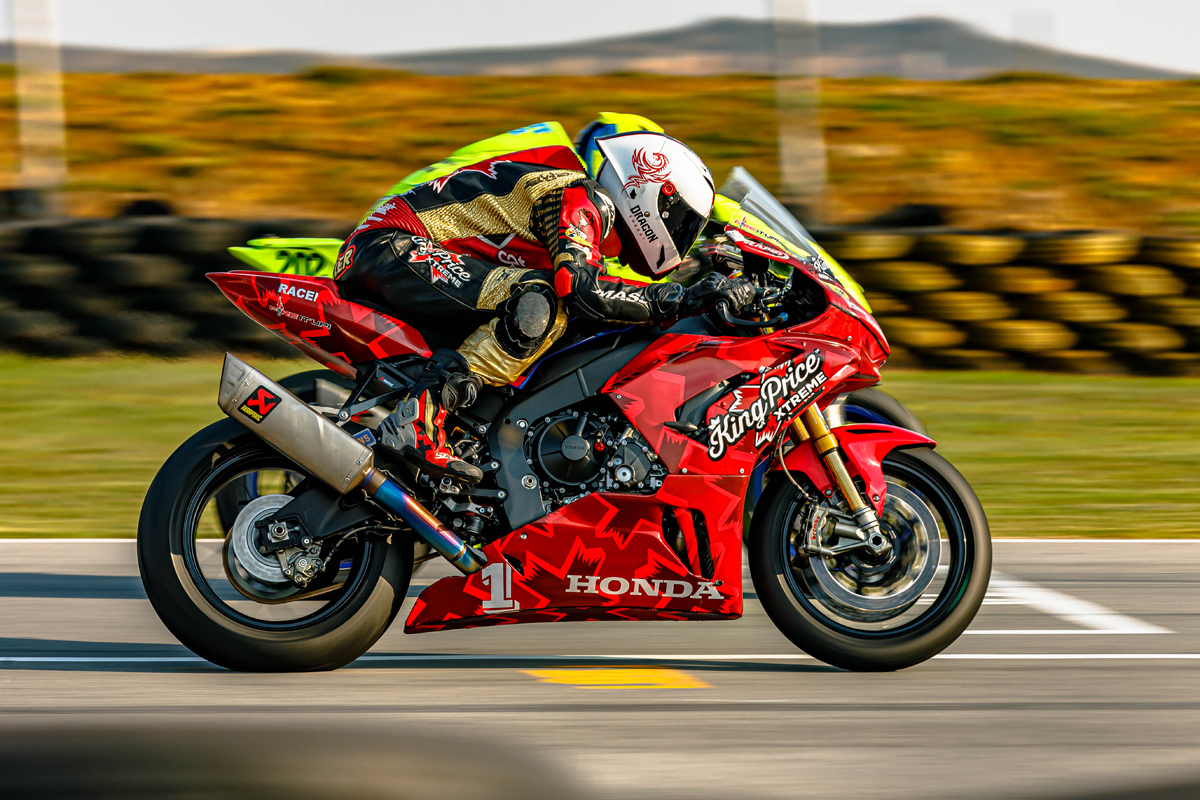 "There's always been an element of, 'well, yes, Clint's fast and he's won seven titles, but….' and it is that 'but' that has always bugged me. The fact that certain riders weren't able or willing to compete due to certain bikes not being allowed to race – the BMW HP4, for example – always gave them the ammunition to devalue my achievements.
"I always wanted to get rid of that 'but' and here is the chance for not only myself to prove what I can do, but for all the talkers to put their money where their mouth is and come and race against me and prove what they can do. If we can, as a result, get good close racing with a definitive result at the end of it, then it's job done, no matter who wins."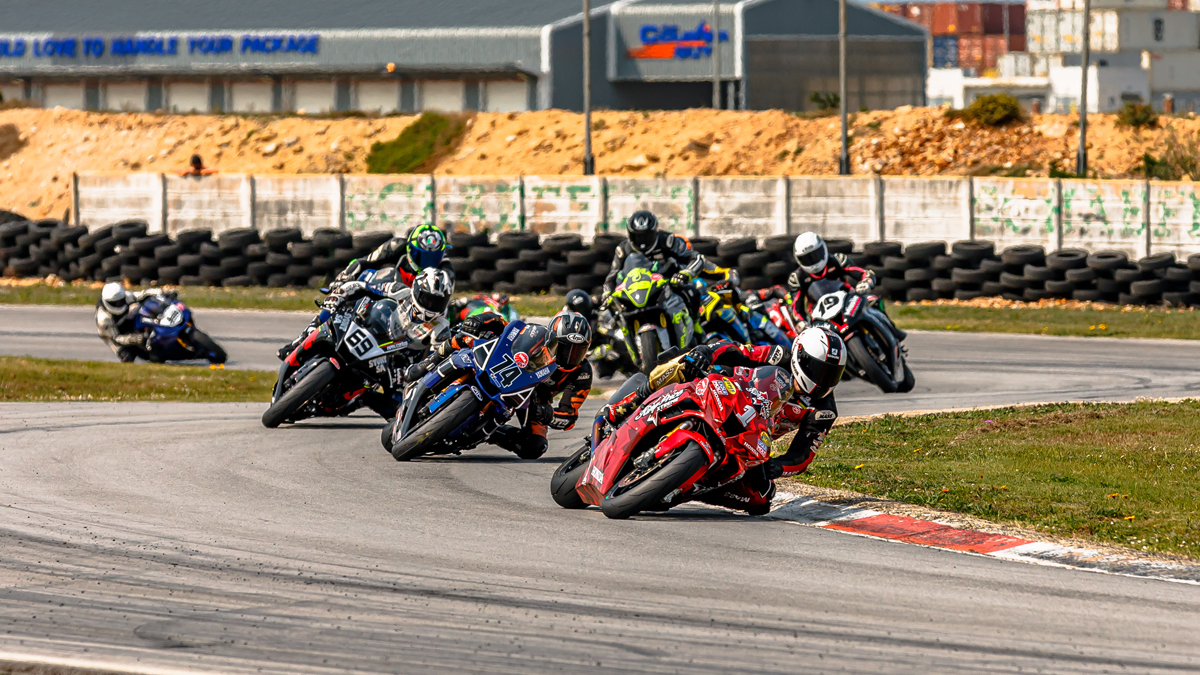 A key element is that there will be no restrictions in terms of what each rider is prepared to spend to be competitive. The feeling is that by making it an open championship, it will encourage more riders to take part. Without the talent, it doesn't matter what you spend and, at the end of the day, the talent will rise to the top and the Ultimate Superbike Shoot-Out Champion will be crowned.
When asked if this free-for-all would reward the wealthy riders and ultimately cause the series to collapse as riders pulled out due to not being able to compete, Clinton firmly denied this. "It's not cheque-book racing at all. We are trying to create something that is so viable that the bike and component suppliers need to be a part of it because, if they're not, their competitors are going to take all the glory. So, not only will the component companies benefit from riders buying their products, they'll also see the value in supporting individual riders and the series overall and the stronger the series gets, the more support is available from manufacturers who want the publicity."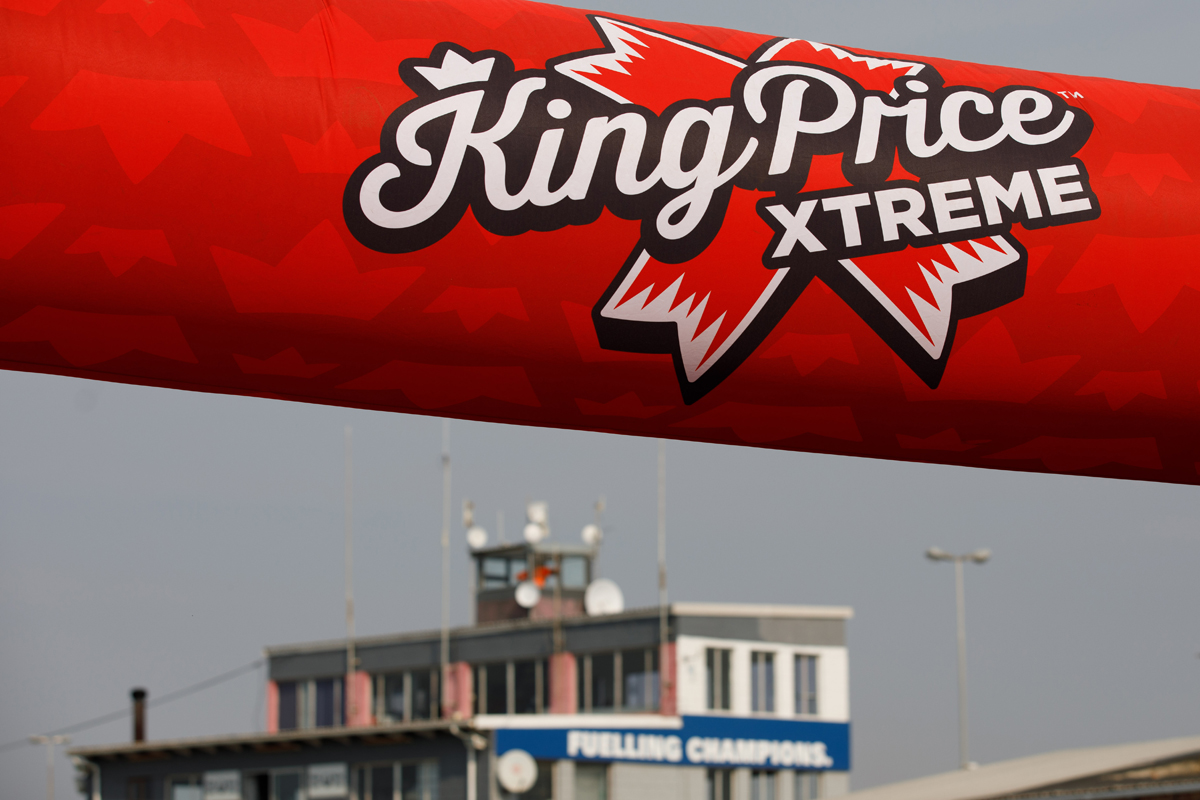 The series kicked off at Aldo Scribante Race Circuit in Port Elizabeth earlier this month, with a further two rounds planned for the remainder of 2021 (dates/venues are TBC).
The differences to the National Superbike Championship were immediately apparent, with 30 riders lining up to take the start in P.E. and the quality of the racing was right up there. Also, a huge depth of talent was on display.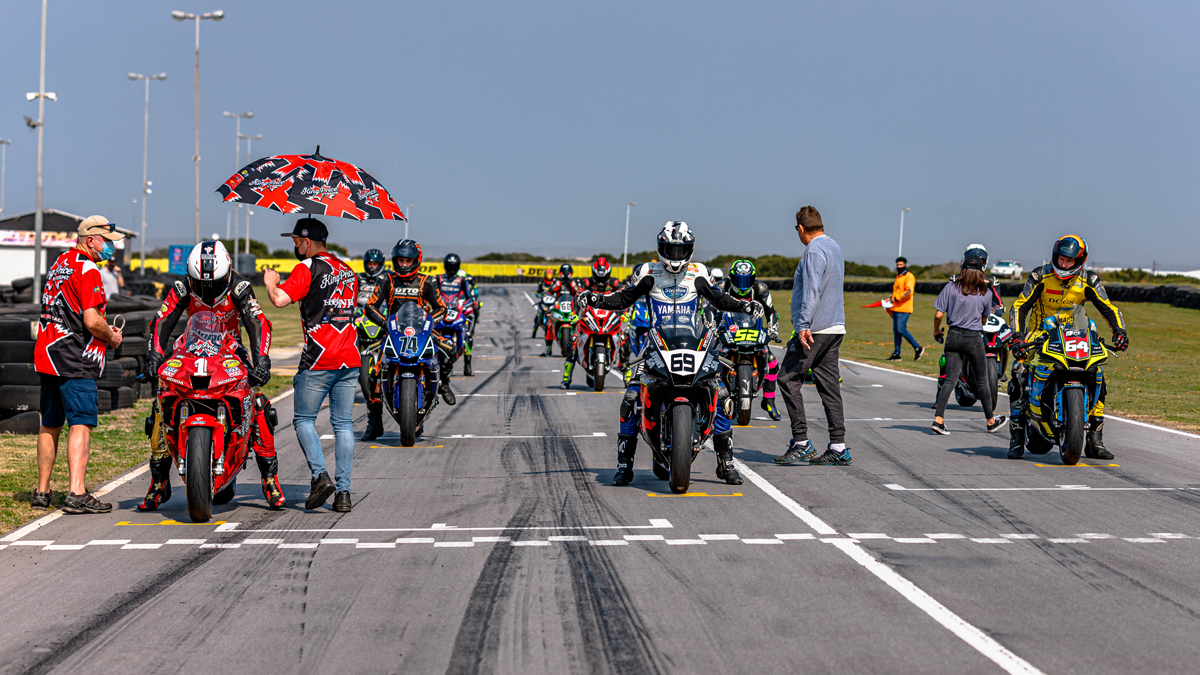 "Saturday night we were talking in the pub,' said Clint, 'and I was asking guys how the weekend was going. One guy told me that he had done his personal best lap time in the race, a very respectable time around 1 minute, 2 seconds, which wasn't much slower than my best. I asked him where he finished and he replied, 'Twelfth!' Now, I know what it takes to do a 1:02 – it's quick! – so to still finish 12th doing that lap time just shows you how many guys we have in South Africa that can go really fast and to give them the opportunity of showing that is brilliant. It means those guys are going to start putting more effort in because they know they have a chance of doing better next time."
Clinton is fortunate to have King Price Insurance as a team sponsor – the full title is King Price Xtreme Honda. "It's hard every year to get the money to go racing but King Price have been really cool and supportive and, above all, massively enthusiastic.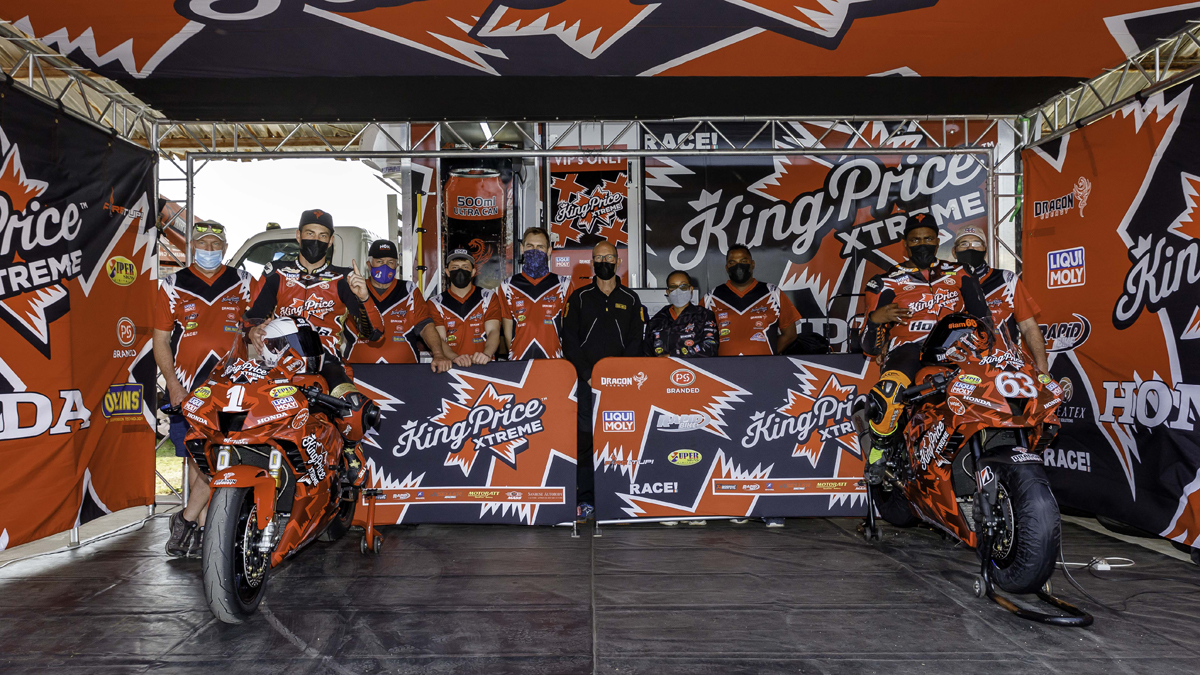 "They get excited about the racing: they get excited when I send them pictures from the weekend and they just think it's such a great thing to be involved in. They see the bigger picture of the sponsorship and that's such a refreshing approach that makes it so much easier for me to do my job properly."
With the new series, there will not only be gains in terms of recognition for the competitors, but also financial reward as well. It is important, feels Clinton, for the series to give back to the people who have put so much into the sport through participating.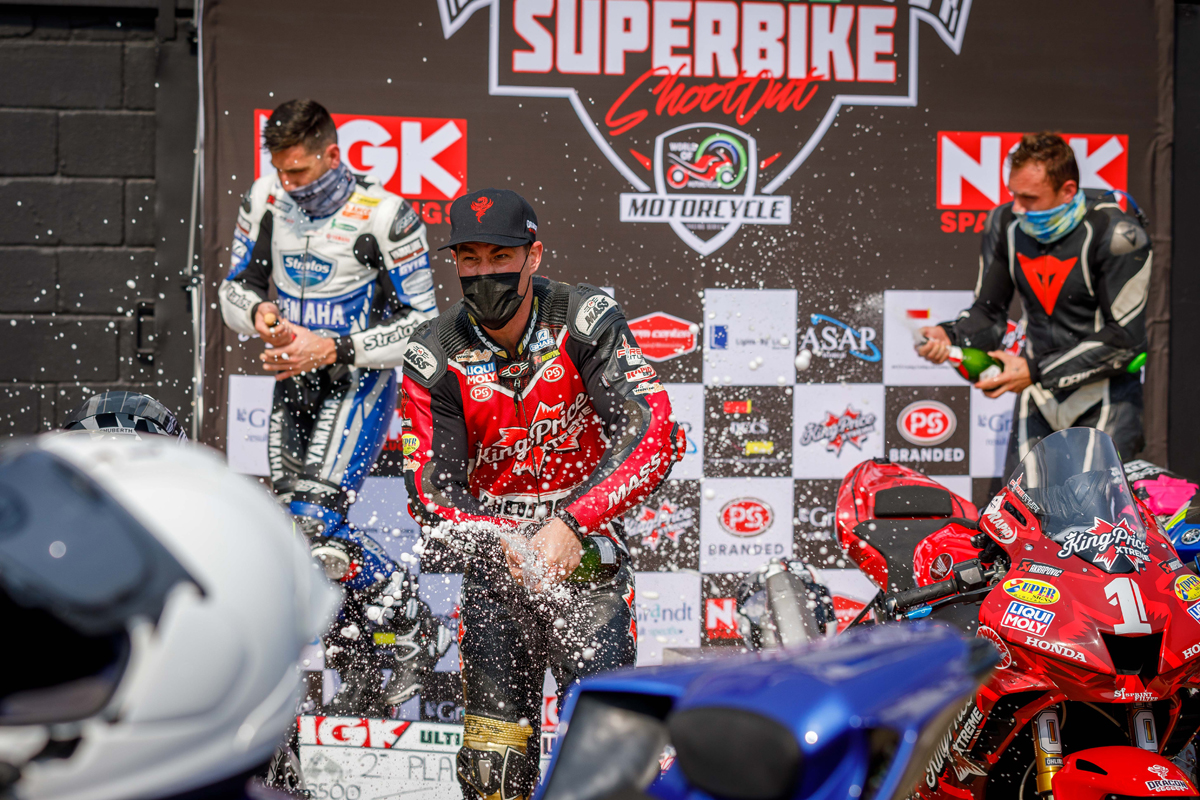 To that end, there is a prize-money fund has been built up through the generous support of sponsors such as King Price, who put in R5,000 per round to the prize fund. Each race has a R20,000 prize fund, with R5,000 going to the winner of the Superbike race, R3,500 to second place and R1,500 to third place. In addition, there is R500 for the pole winner and fastest lap of the race.
In the Supersport (600cc) category, there is R3,500 for first, R2,000 for second and R1000 for third, with the same pole position and fastest lap prizes. There is also, across both classes, R2,000 for Rider of the Day and R1,800 for the Spirit of the Day award. So there are plenty of chances for riders to come out of the weekend with some cash in their pockets.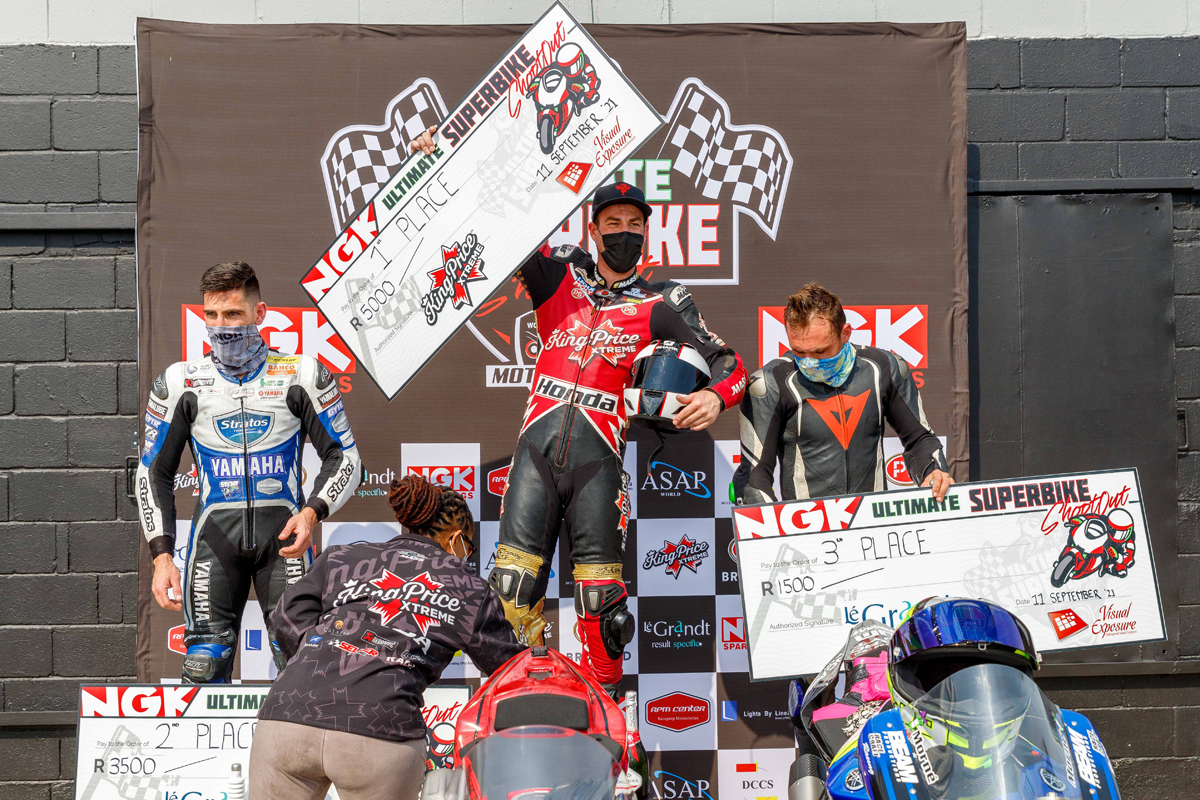 Asked whether the series will continue next year, Clint is realistic: "Small dreams, small dreams! The first dream was the first race and the second dream will be the second race and so on. There are a lot of people who are excited about it and a lot of people who are prepared to put their money where their mouth is to support it so the dream is that it will gain its own momentum and we can run a full series next year. But, for now, it's taking each small step as it happens. The dream was to have a shoot-out and that's happening now. The next big dream is to repeat it next year."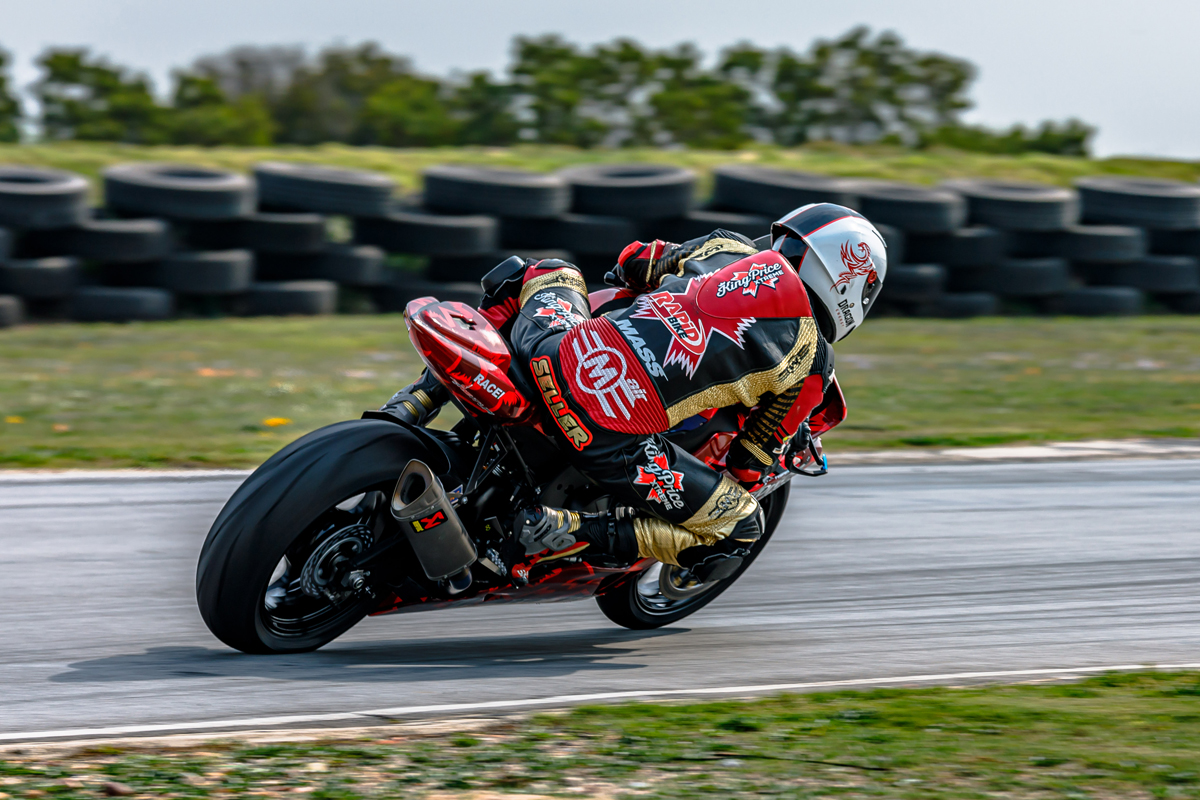 This could just be the shot in the arm that South African racing needs to get it back on its feet. Thanks to the efforts not only of Clint Seller and King Price, but series sponsor NGK, Jos Matthysen of World of Motorcycles and all the participants, this really could be the start of something big. The best thing you can do is to get to the race weekends and support the sponsors, teams, riders and all the other elements that go into making a successful race weekend.
Watch Round 01 highlights video by 2WheelsTV below…