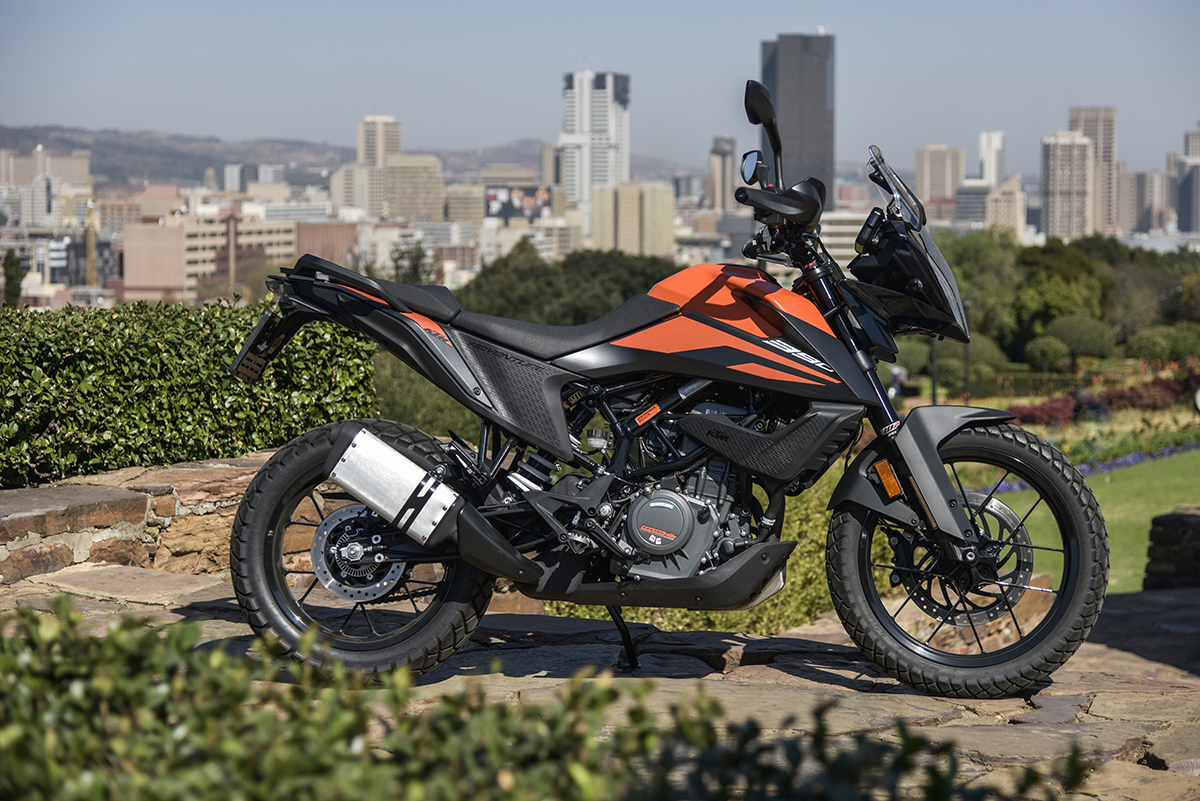 It is interesting to see how the world of motorcycling has developed over time. There was a time where motorcycles were simply an economical, versatile form of transport. To a certain degree, it is still so in some countries. Take India for example. With a crazy number of people, urban congestion is a fact of life. This is true for many Asian and a few African countries too. Factor in a high percentage of the population that has to make do on a moderate income and small motorcycles start to offer a viable and practical solution for urban mobility. They are affordable to buy and cheap as chips to run and maintain. Over time, as technology has progressed, motorcycles have evolved into a unique form of lifestyle vehicle. The World has been conned into thinking that bigger is invariably better and small capacity bikes tend to be scoffed at. Apart from the aforementioned Asian and African countries where they are still incredibly popular.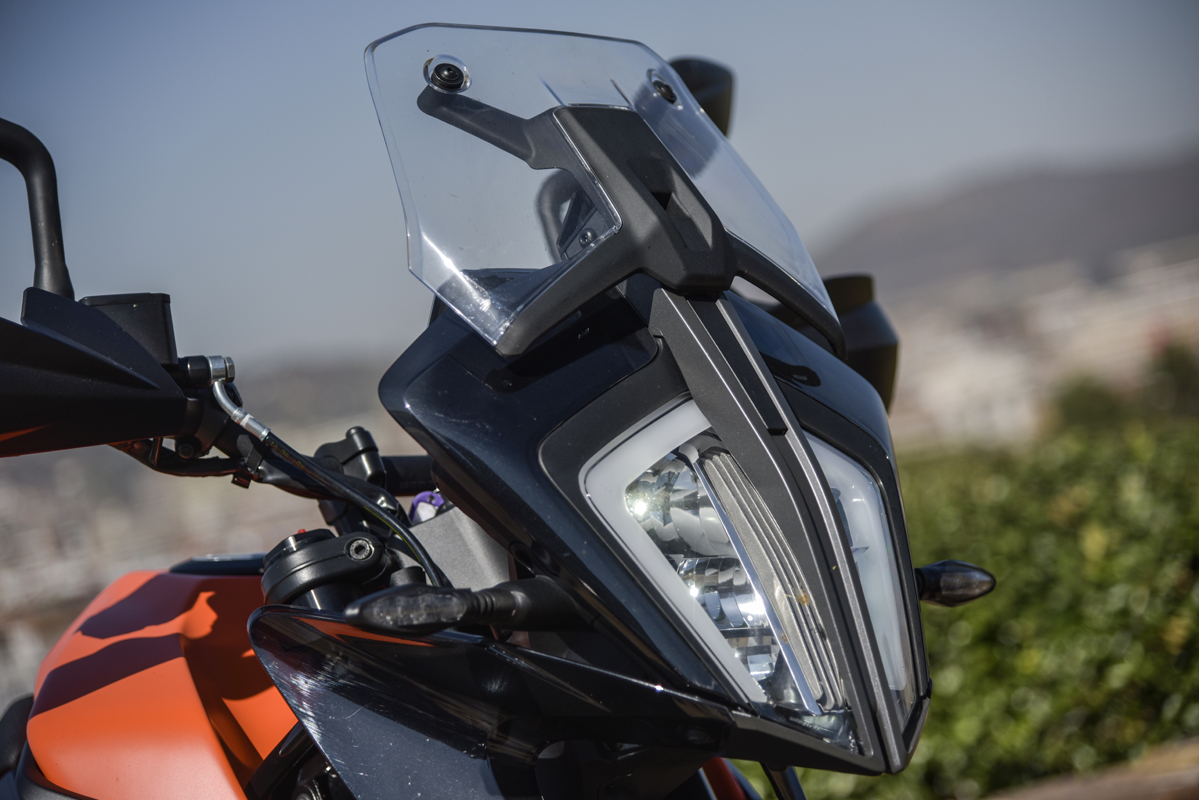 KTM has, for a long while, built what are widely considered to be the most off-road capable adventure bikes around. Large capacity bikes have become extremely complex and technical innovations with companies trying to make them usable for a wide audience. Electronics can tame the crazy performance and make them safer for the less experienced riders out there to use. The penalty is cost, complexity and the nemesis of adventure bikes, weight. Current thinking is aiming at an increasing number of 'middleweight' bikes that are more user friendly, less complex and lighter, making them easier to use. A forgotten fun factor is also re-emerging. Enter KTM's smallest adventure bike, their 390.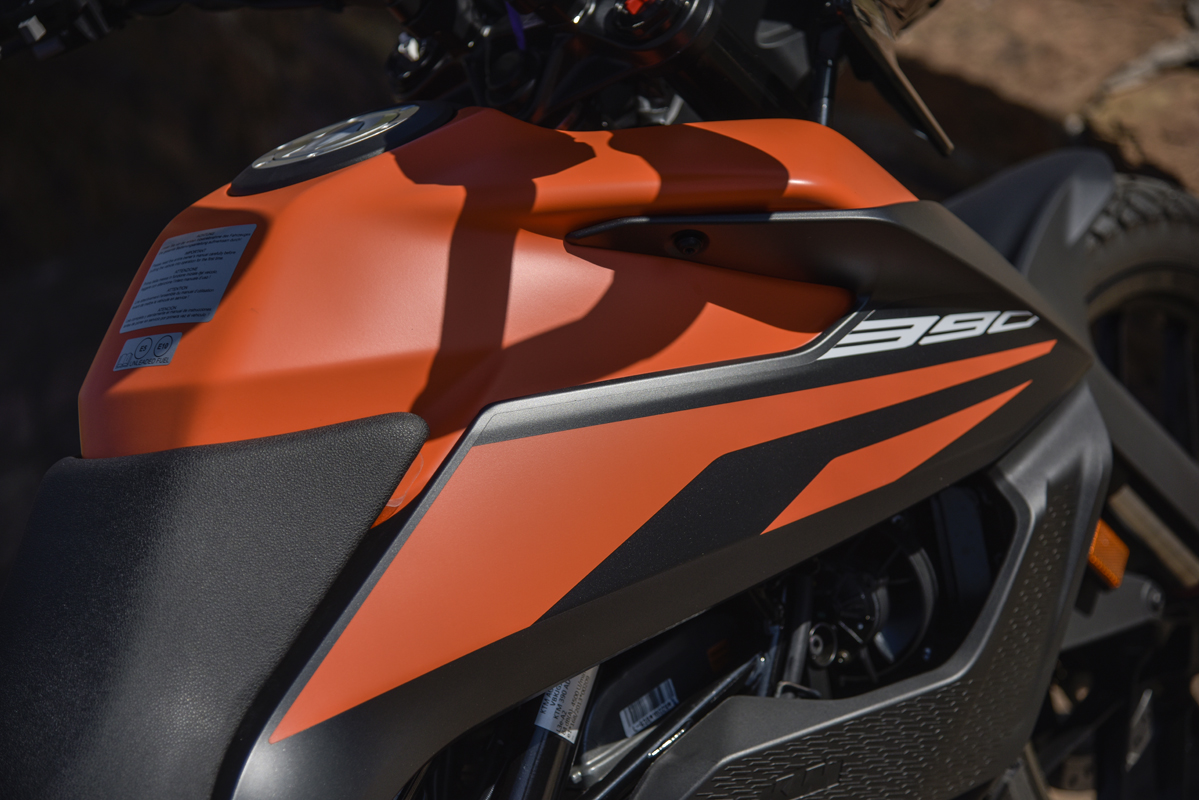 Is this bike up for serious adventure riding and user friendly enough for day to day riding, or is it a window-dressing exercise by the Austrian manufacturer to lure wannabe adventure riders? I convinced KTM to give me two weeks with their little Adventure to find some answers.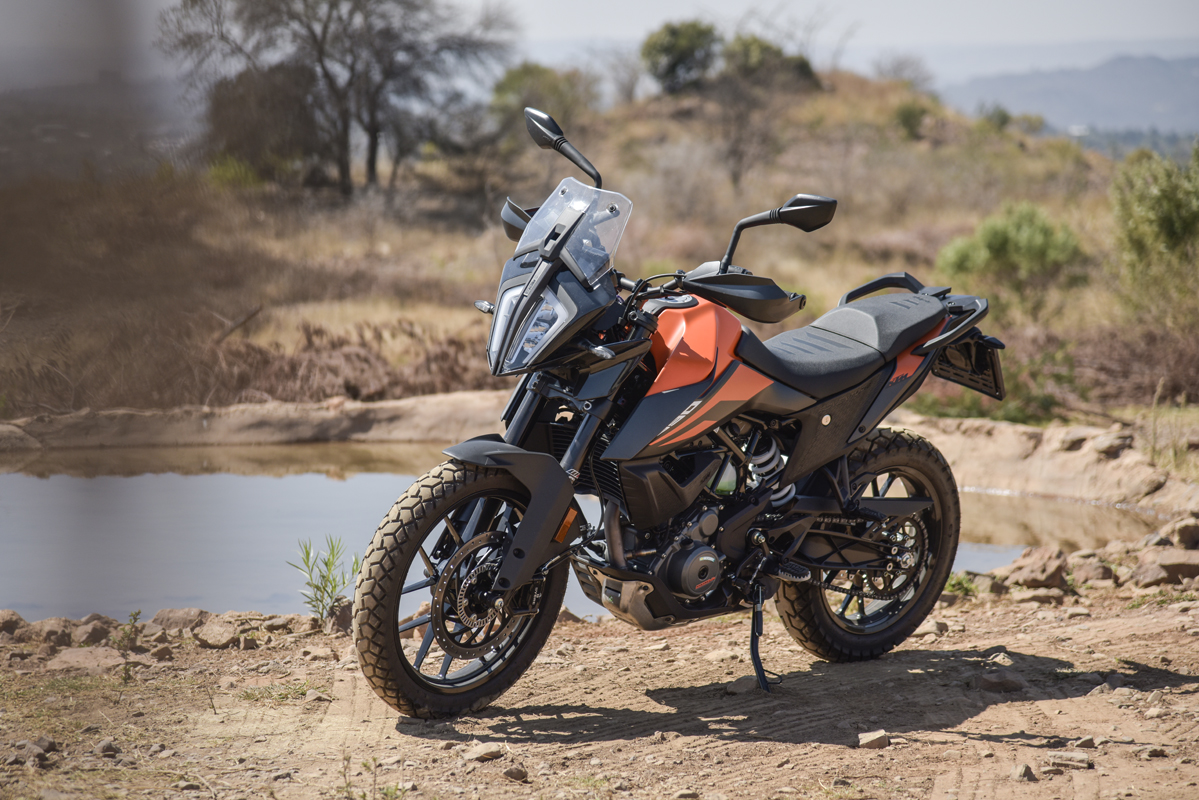 We in South Africa are blessed with amazing weather and endless countryside to explore. Bikes with the ability to traverse varied terrain, therefore, make huge sense. We are also suffering the dire economic effects of a global pandemic. A weak rand has caused our fuel price to soar to over R18 a litre. Filling my Suzuki Vitara's 66-litre tank sets me back a staggering R1200 rand odd. By comparison, my little Datsun 1200 GX cost R12 rand to fill back in 1973. Durban was ¾ of a tank away at a fuel cost of R9! Our cost of living has way outstripped the official quoted inflation rate. How viable is it to consider a motorcycle and dispense with the second family car? I know I'm preaching to the converted, but really guys, do the maths.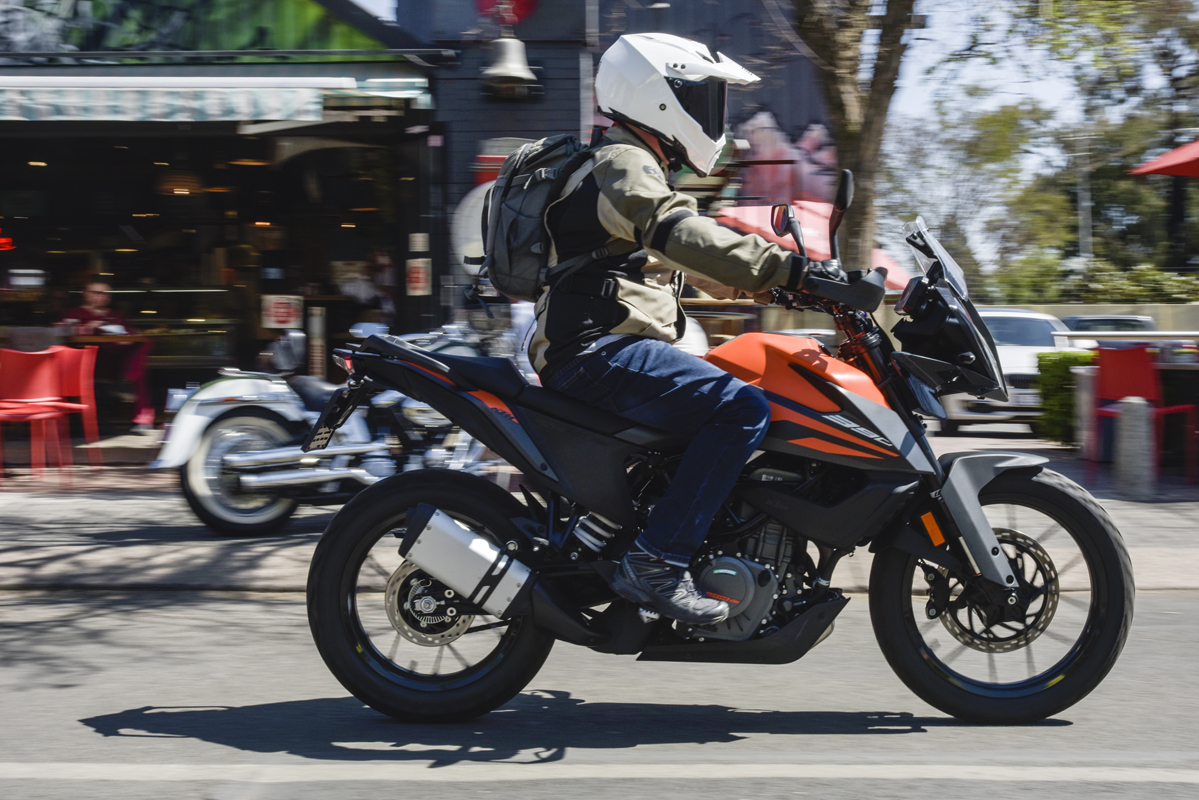 Your average commuter cage will give you around 10 k's to a litre in urban sprawl. During my two weeks with the 390 Adventure, I effortlessly got three times that! The punchy 373cc liquid-cooled, 4–valve Twincam single generates a fit 43,5 horses at 9500 revs and 35,3 Nm of torque at 7,000 rpm. To put that in perspective, the 2022 fuel injected KLR 650 makes 40 horsepower. The much loved Suzuki DR400 makes 37,5 horses. 120 kph has the 390's motor spinning at a smooth 6,500 revs, so if you need to overtake you accelerate right into the meatiest part of the torque curve.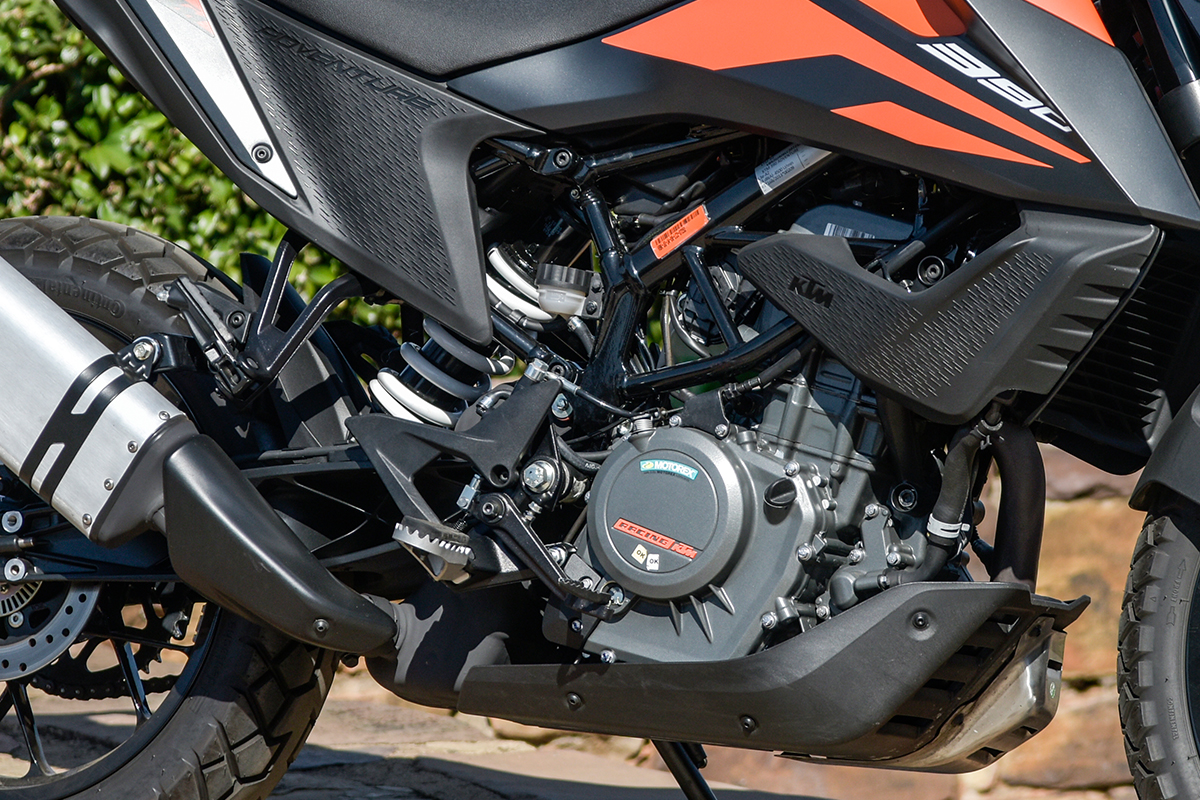 Highway performance is effortless, with the Katoom feeling sweet and unstressed at a 120/130 cruising speed. A 14-litre fuel tank ensures decent range too, in line with your 40 litre tanked small car. Needless to say, traffic congestion is a nasty memory for 390 Adventure commuters. The light and nimble steering and easy handling makes short work of threading through urban snarl. You arrive at work smiling rather than scowling. The screen takes the bulk of the blast-off your chest, leaving your helmet in clean air. The seat could be a tad softer, however, that only becomes an issue on longer rides. More on that later.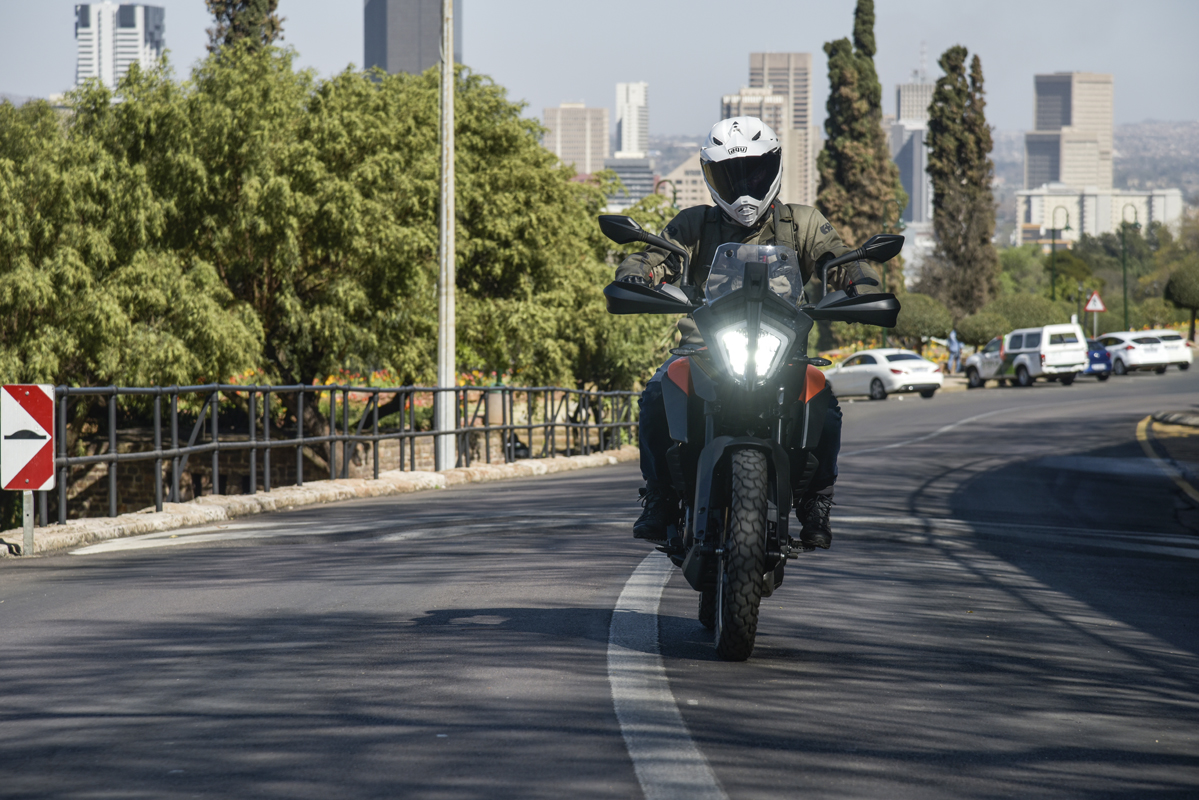 For what has to be considered a 'budget' bike, the 390 is very well specced. The TFT dash gives you all the info at a glance and even offers Bluetooth connectivity for the millennials who consider such stuff relevant. Personally, I love the solitude and 'me time' in my helmet when I ride my bike. Music or phone calls become an irritating, and potentially dangerous distraction.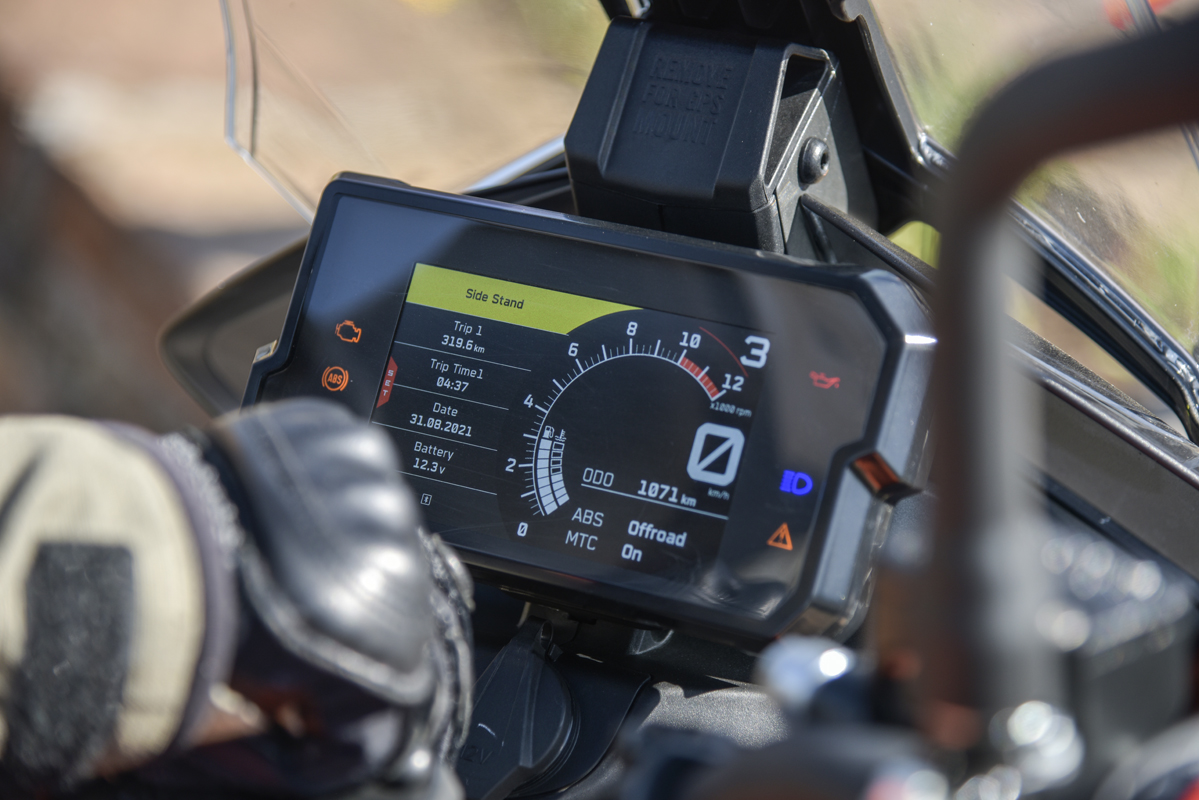 A slick six-speed box keeps the motor in its happy zone and a full 3,000 revs from the redline at 130 kph. A quick-shifter is available as an option for those who feel it necessary. Sloppy downshifts are dealt with by a slipper clutch. A steel trellis frame is adorned with WP Apex suspension fore and aft. Front forks are sturdy 43 mm numbers with both compression and rebound damping adjustment and offering 177 mm of travel. The WP back shock is adjustable for preload and rebound damping.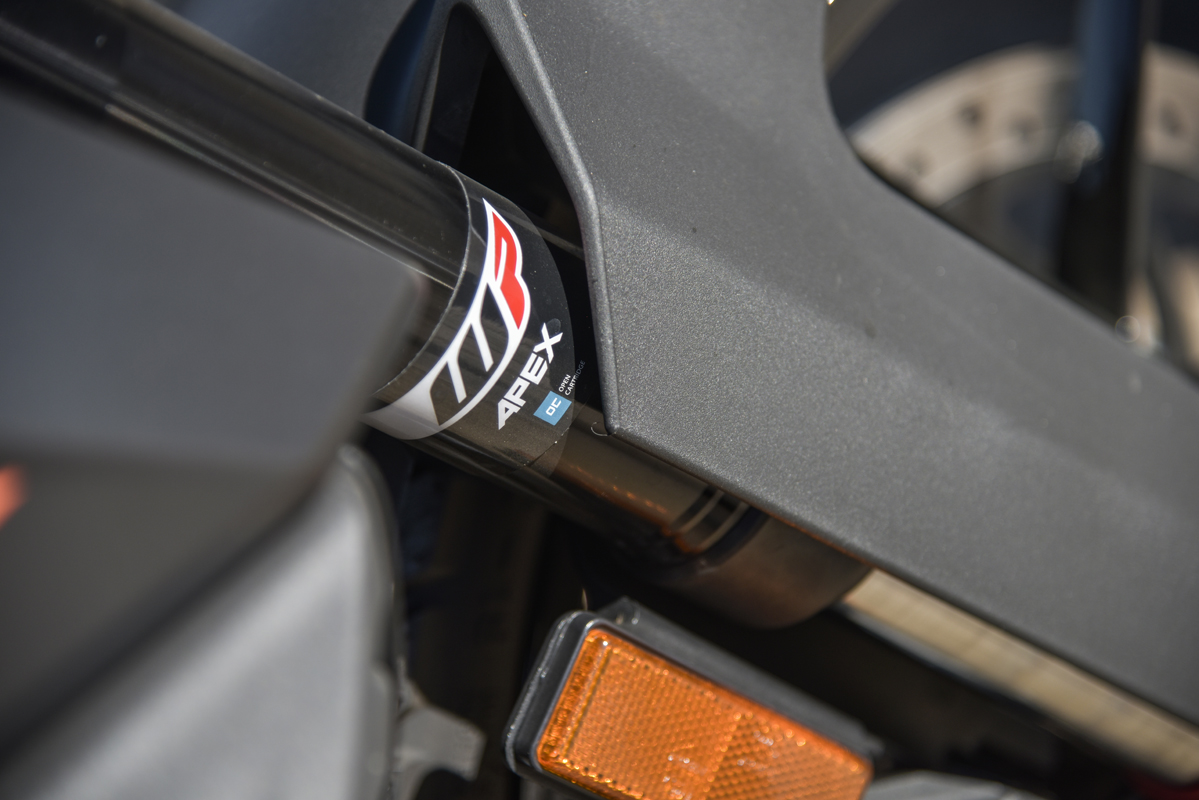 The standard settings are firm unlike some of the wallowy, under sprung and under damped suspension on many other small capacity bikes. I actually found the front forks too firm in the standard damping settings, but 4 clicks off the compression damping sorted things out. The adjusters sit atop the fork legs, making adjustment on the fly a doddle.
Brakes are another area of concern on entry-level bikes. The Bybre 4 piston callipers and 320 mm twin discs up front, and 230 mm 2 piston rear are excellent as regards feel and power. Proper! The spec doesn't end there. The 390 Adventure sports traction control as well as cornering ABS. Both functions can be switched off for off-road riding. Perhaps superfluous for a 43,5 hp bike, but remember this may be an obvious choice for newbies or inexperienced riders who are venturing off the beaten track for the first time.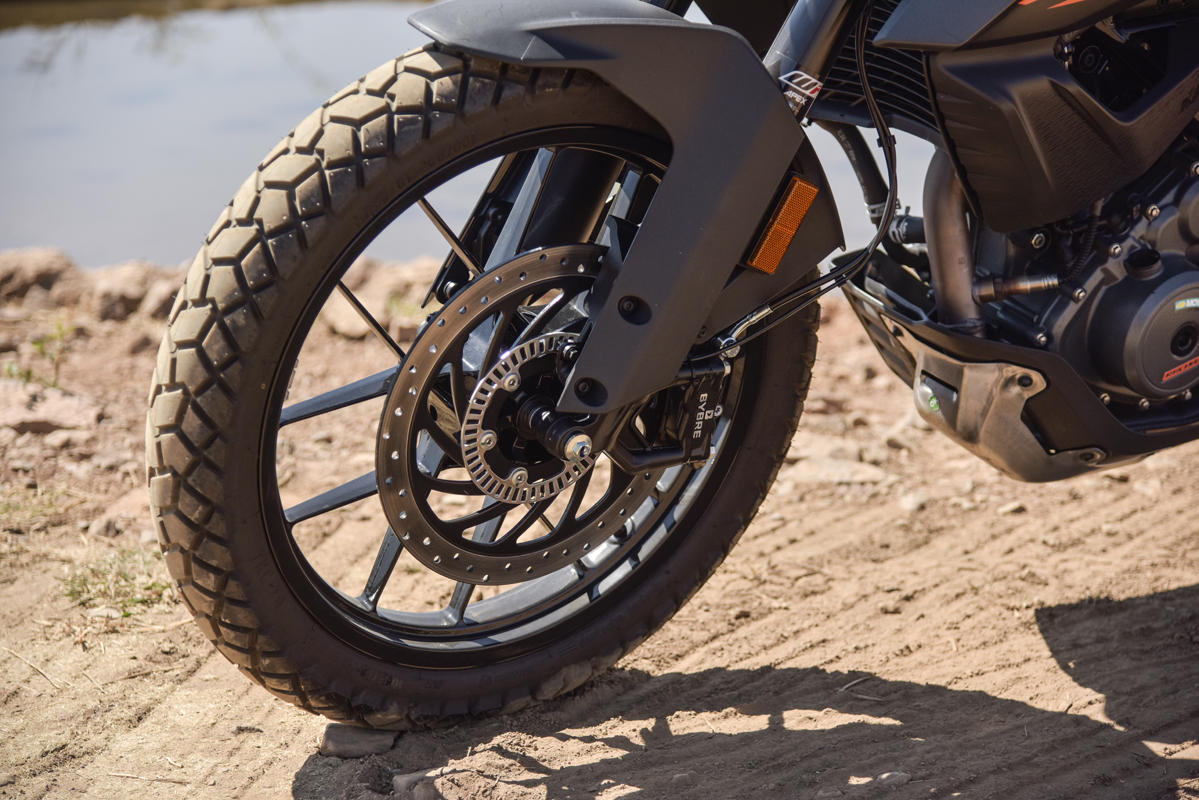 The cast wheels are tubeless, which means punctures are easily repaired when out on the trail and believe me you will have to be a special kind of dumb to buckle one of these rims. The bike weighs around 165 kg's fuelled, so it is not as prone to damaging the wheels as a heavy adventure bike. Front-wheel is a 19", which is the best compromise for tackling tar and doing dirt duty, with a 17" on the rear. The Adventure comes standard with TKC 70 tyres.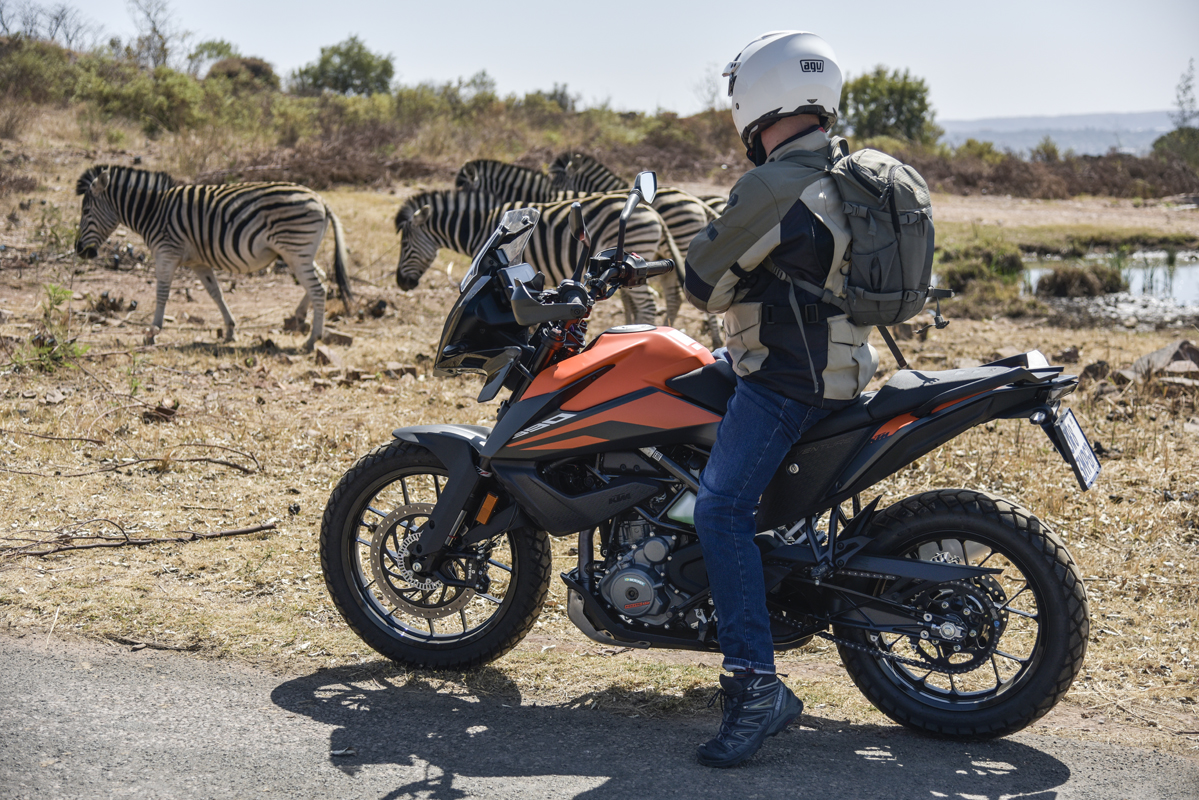 A 1430 mm wheelbase and aggressive (for an adventure bike) head angle provides quick steering which, until you get used to it, may feel slightly twitchy. This is also due to the wide tapered alloy handlebars which provide plenty of leverage for off-road antics. 200 mm of ground clearance is adequate for everything short of rock hopping, which you shouldn't be doing on an adventure bike anyway.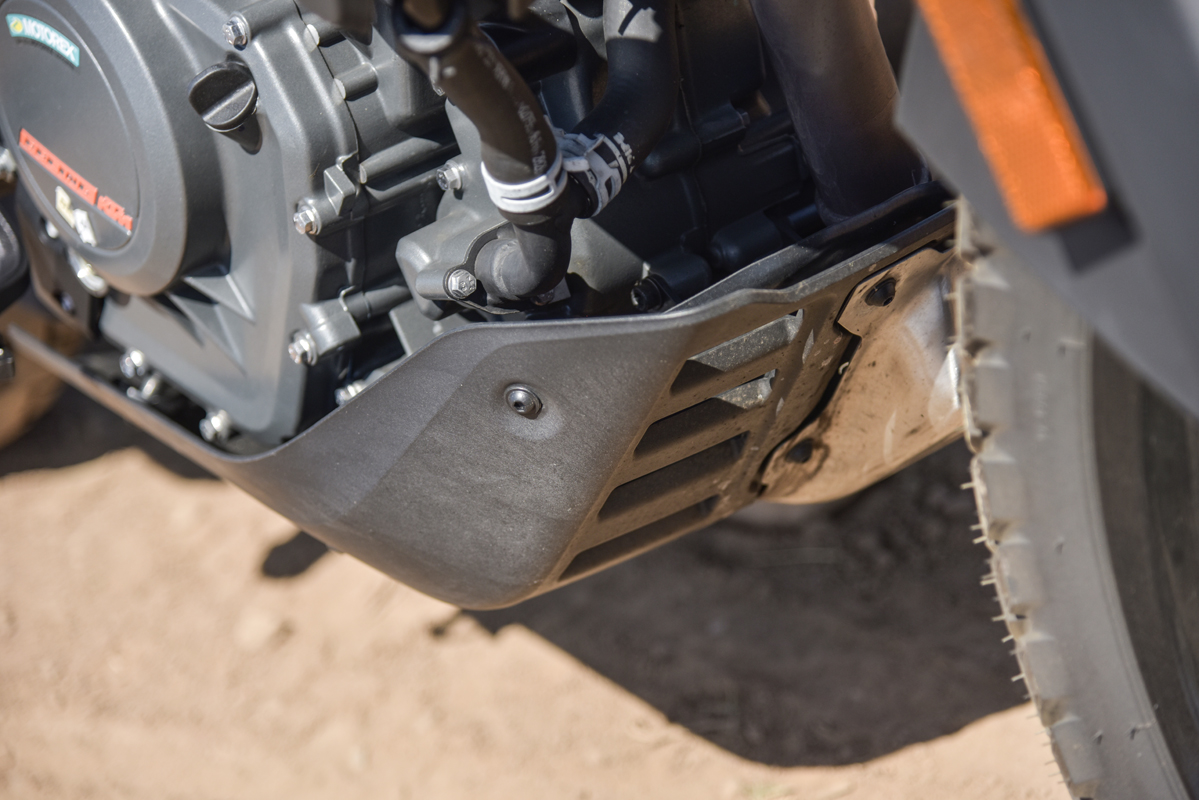 The bike is accessible to most riders, with a seat height of 855 mm. This also allows riders to dab a foot down if necessary, when traversing uneven terrain. Taller riders may need handlebar risers for standing, as bent knees can become a bit of a workout for the thighs. A skid plate and charging port further enhance the general usability of the bike. So here is the thing. You can virtually fund the purchase of your 390 with your fuel savings.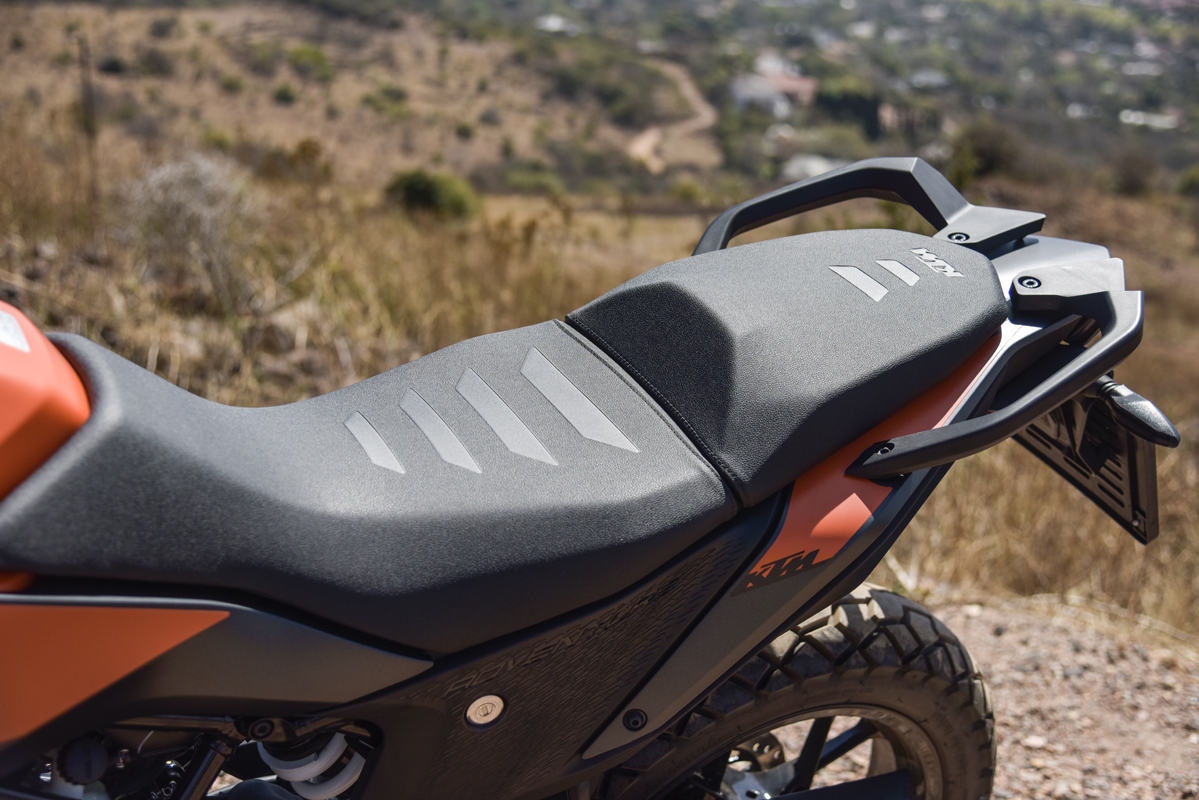 What you get thrown in is a passport to a world of travel and adventure that you cannot imagine. You find yourself poring over a map book, planning trips to weird and wonderful places hitherto unseen. Your mates with their big adventure bikes will be gobsmacked that you cruise along with them and, courtesy of the Quinn Cody (BAJA 1000 winner) developed suspension, have fun in off-road conditions which have your buddies sweating up a storm. Sharing your fuel consumption figures may also result in them sobbing quietly into their beer!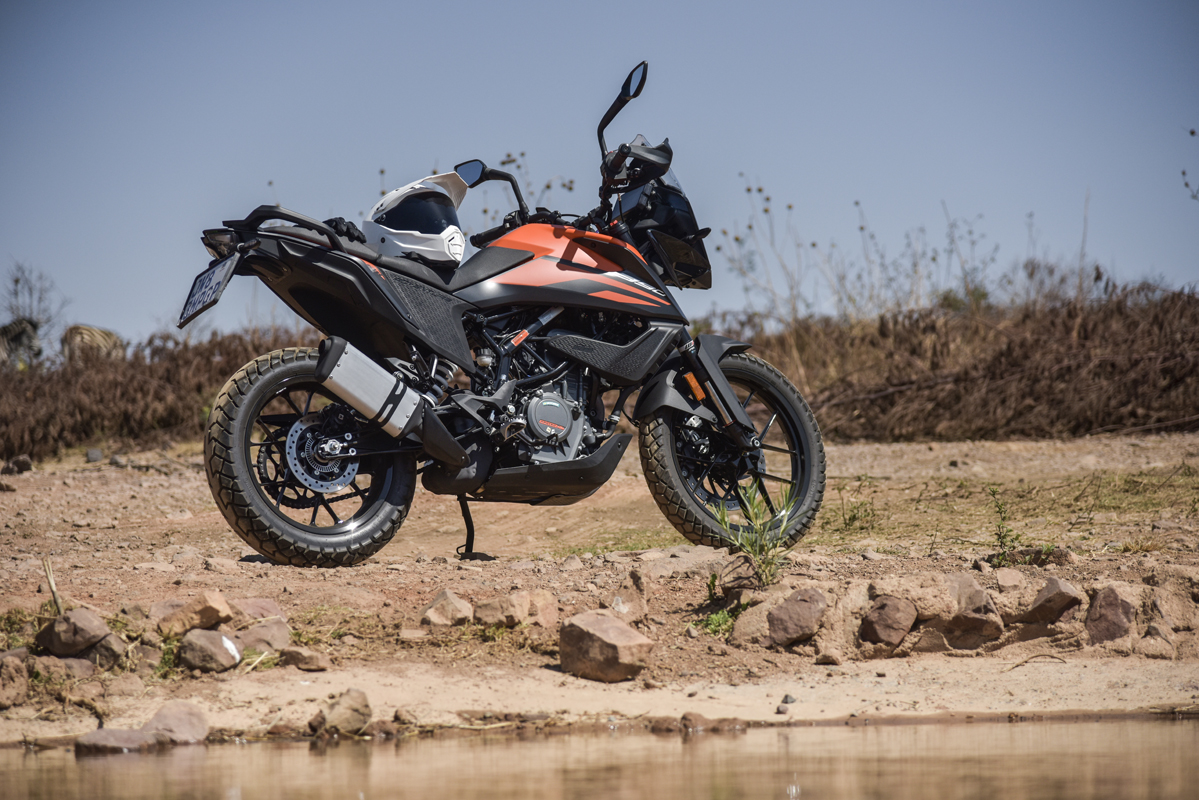 Bigger, when it comes to off-road motorcycle travel, is certainly not better. The incredible commuting qualities of the KTM 390 Adventure make it the ideal day to day ride. Your partner/parents will be way more easily convinced than if you suggest an 890 or 1290. It's only a 'little 390' you say, nudge nudge, wink wink. The economy, versatility and general ability of the 390 make it an absolute steal at just shy of R110 000. It is time that we bury our egos and engage our brains. Fun has never been so accessible!
KTM 390 Adventure
For more information on the bike that we tested in this article, click on the link below…