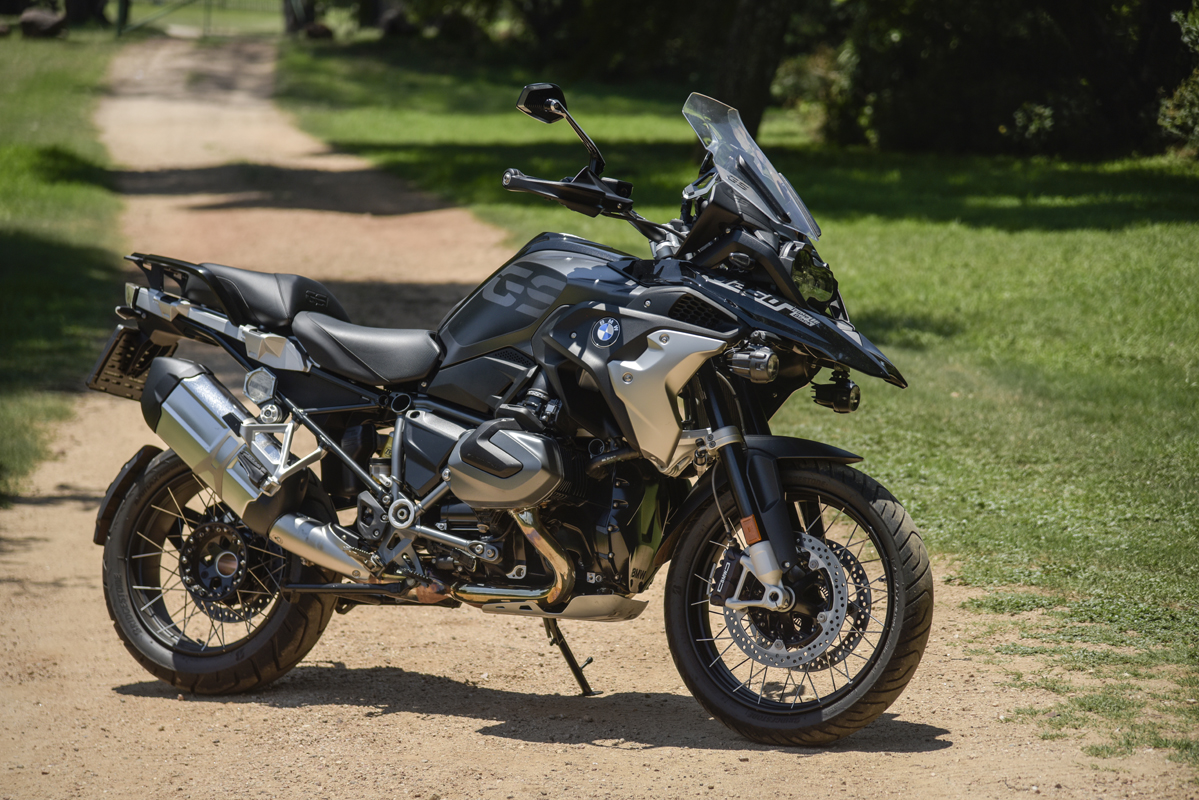 What can you say about Bee Emm's venerable big boxer engined GS's that hasn't been said already? Some people seem to have forgotten that the whole adventure bike genre started when BMW brought the first R80 GS to market in 1980. The bike was cutting edge for 1980. Shaft driven with a single cantilever rear shock, it was unlike anything that the world of motorcycling had ever seen. You would expect a bike that has evolved over a 40 year period to be good, and it is. What surprises me every time I ride the latest-generation GS, is how they manage to actually improve the package from already excellent levels. I was fortunate to spend a week on the BMW R 1250 GS Triple Black and a week on the R 1250 GS Adventure, to really get a feel for what it is like to own a big GS. In truth, I do kinda know, given that I have owned an R 1200 GS LC Adventure for a while now. Let's start by stating the obvious.
The top of the range 1250's are shaft driven and feature a suspension setup unique to BMW. The front suspension has fork sliders with a single shock controlling their movement called 'Telelever'. The rear suspension is configured to the familiar 'Paralever' setup. It is designed to separate steering forces from suspension forces. The result is light steering that makes the bike extremely agile at low speeds without sacrificing high-speed stability. The only trade-off is, slightly less front end 'feel' when the bike is pitched on its ear. Riders of GS's learn to trust it and manage to ride their GS's very rapidly through the twisties. To understand how well it lightens up the steering you need to ride a GS back to back with the lighter R 1250 R which has normal USD front shocks. The GS's feel significantly lighter despite their greater heft.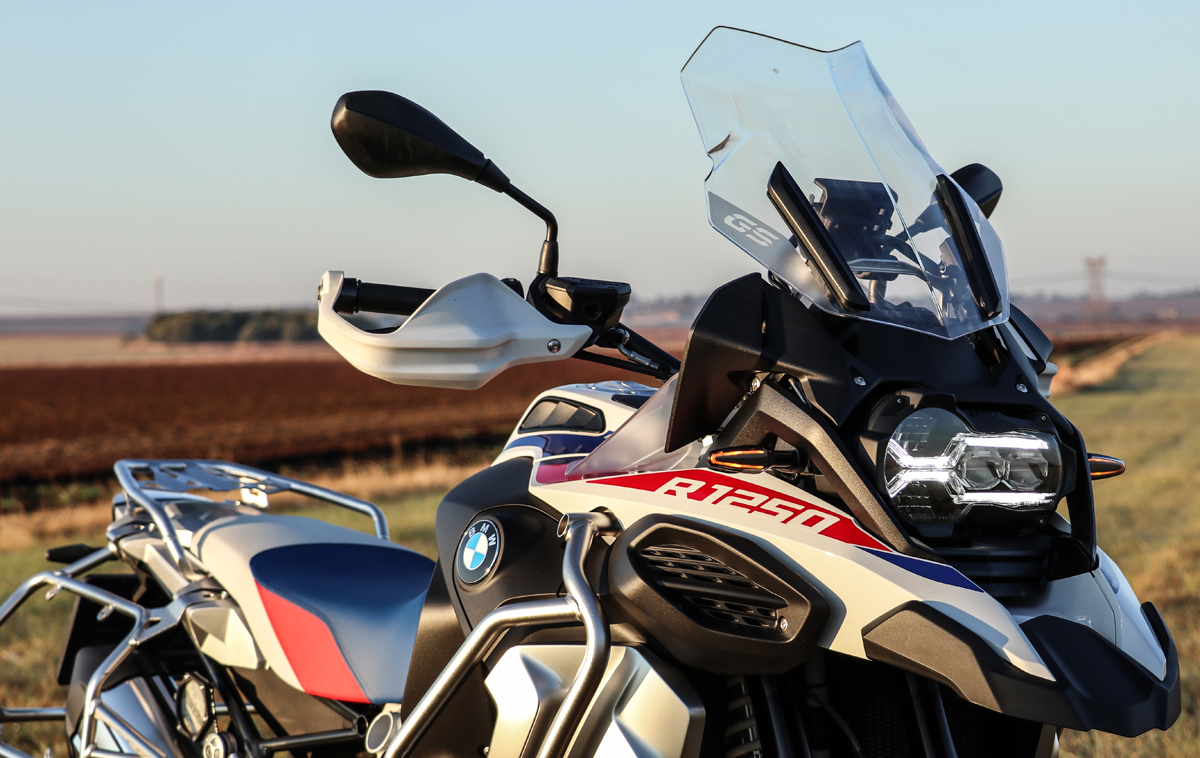 The other feature for which the big GS's are renowned is their hassle-free shaft drive. If you have owned chain drive bikes your whole life, you become so used to chain maintenance that it just becomes a fact of life. You pack your chain lube and chain adjusting spanners and off you go. Cleaning stubborn chain wax of your back rim and elsewhere is just what you do. I did a 1037 kay day on the GS and just rode. No chain lube packed, no thought to chain adjustment and no crud to clean off the bike afterwards. What an absolute pleasure.
With the mechanical sympathy that I have, it bugs me when traversing mud and gravel, or riding distance in rain, as to what is happening to my chain. With the GS's you don't have to give it a thought. Just ride and enjoy. A driveline service when you service your bike may cost you a few extra bucks, but it means you literally never even give the drive to your back wheel a thought. Much like the prop shaft on your car, it just does the job. Weirdly, you only appreciate it when you are relieved of the responsibility of maintaining and cleaning it.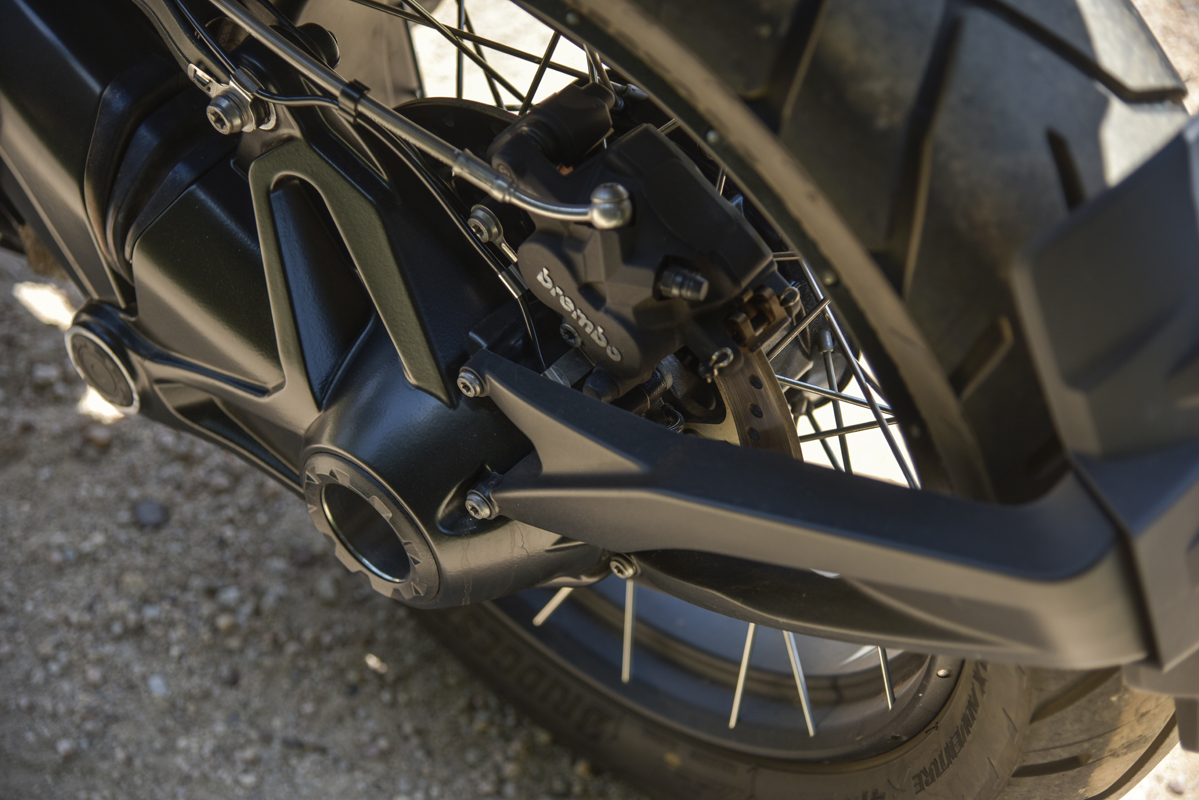 The other standout feature of the GS is the boxer motor. Horizontally opposed flat-twin, transversely mounted. It makes sense on a number of levels. Your cylinders are in the airstream where 'air' circulates around them cooling them to optimum effect. The weight is carried low, contributing to the light feel and low centre of gravity. Noticeable when you ride the bike and, for an adventure bike, when you have to pick it up after capsizing.
The jutting out cylinders don't allow the bike to fall flat on its side, making picking it up a lot easier. It does get in the way when you stick your leg out, but not to really bother you. It also washes warm air over your boots, which is great in winter, yet not really an issue in summer. So there you have it. A unique recipe that is like no other.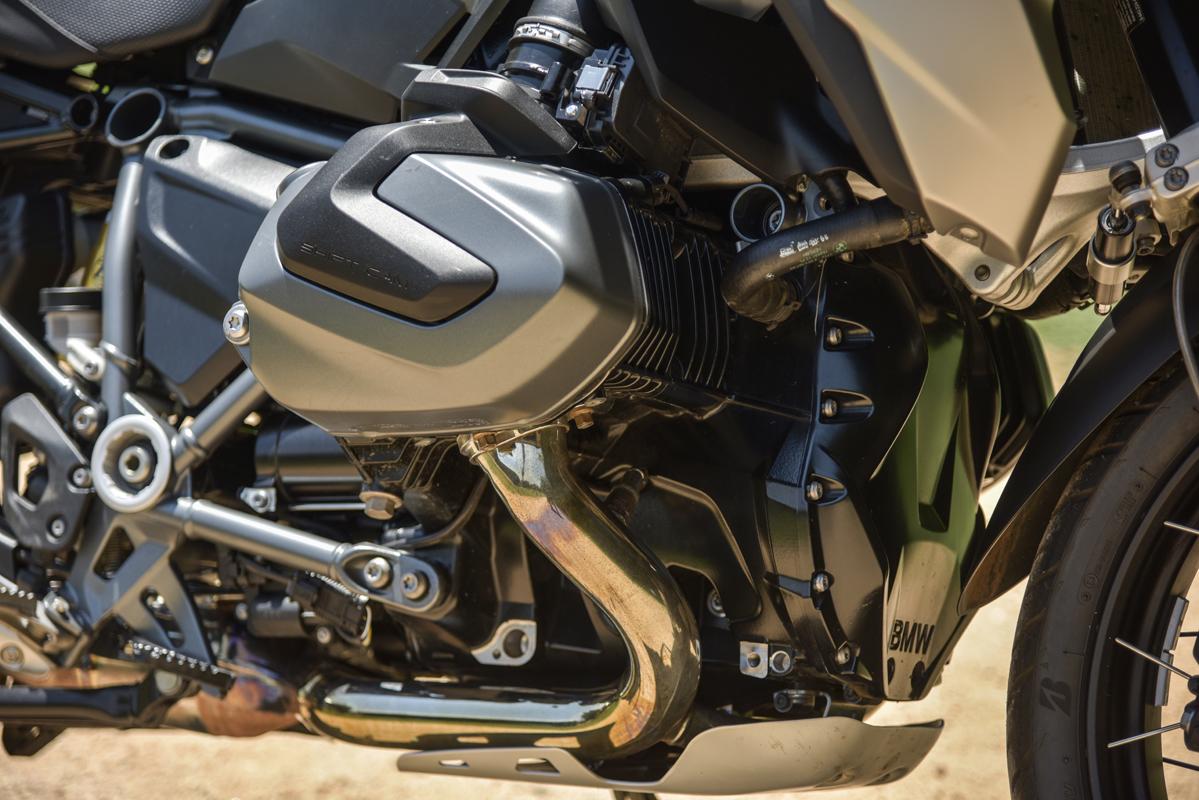 The motor is identical in both the normal GS and the Adventure. It is a simply spectacular unit. It does not develop class-leading power but rather abundant real-world thrust that should satisfy damn near everyone. The 136 horsepower (100Kw) at 7750 rpm gives the bike great top-end hit, but it is the 143 Nm of torque at 6250 rpm that really steals the show. Silky smooth throughout the rev range, the GS bolts forward when you give it some throttle.
The new ShiftCam variable cam timing results in an even more eager engine, which feels raring to go at all times. The Achilles heel of older GS's was the clunky gearbox, made more so by the dry clutch. This wet clutch setup is infinitely better with a smooth, light and positive action. The clutch is smooth as velvet. What doesn't quite match up, is the quick-shifter, which BMW probably rightly call "Shift Assist". It works OK at higher revs, but is not great at lower revs. Not a biggy for me, as "Mr Mechanical Sympathy" likes using the clutch anyway! Definitely room for improvement though.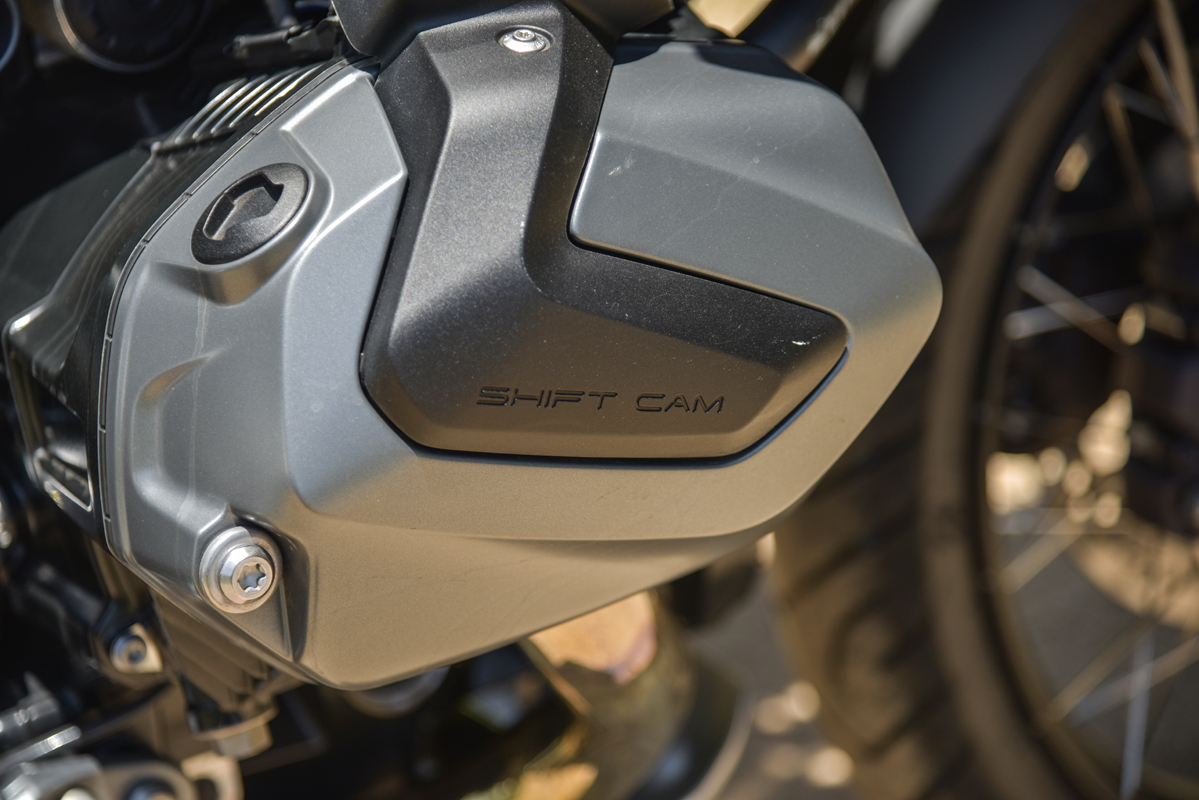 The suspension was a stand out feature of both bikes. Dynamic ESA, or Electronic Suspension Adjustment, was an option selected on both the Triple Black GS and the red, white and blue GS Adventure. The Adventure has 20 mm more travel both back and front, than the 190 mm front, and the 200 mm rear, of the normal GS. What a magic carpet ride you get.
Whatever the application, you can set up the suspension, via the menu on the large colour TFT display, to suit. The end result is a supple and controlled ride, which is probably better and definitely as good, as I have ever felt on any bike. You tense up for lurkers, or a rippled surface, which is then dispensed disdainfully by the GS suspension. Phenomenal. It has an automatic damping and levelling function which equates to a wonderfully controlled ride over all surfaces.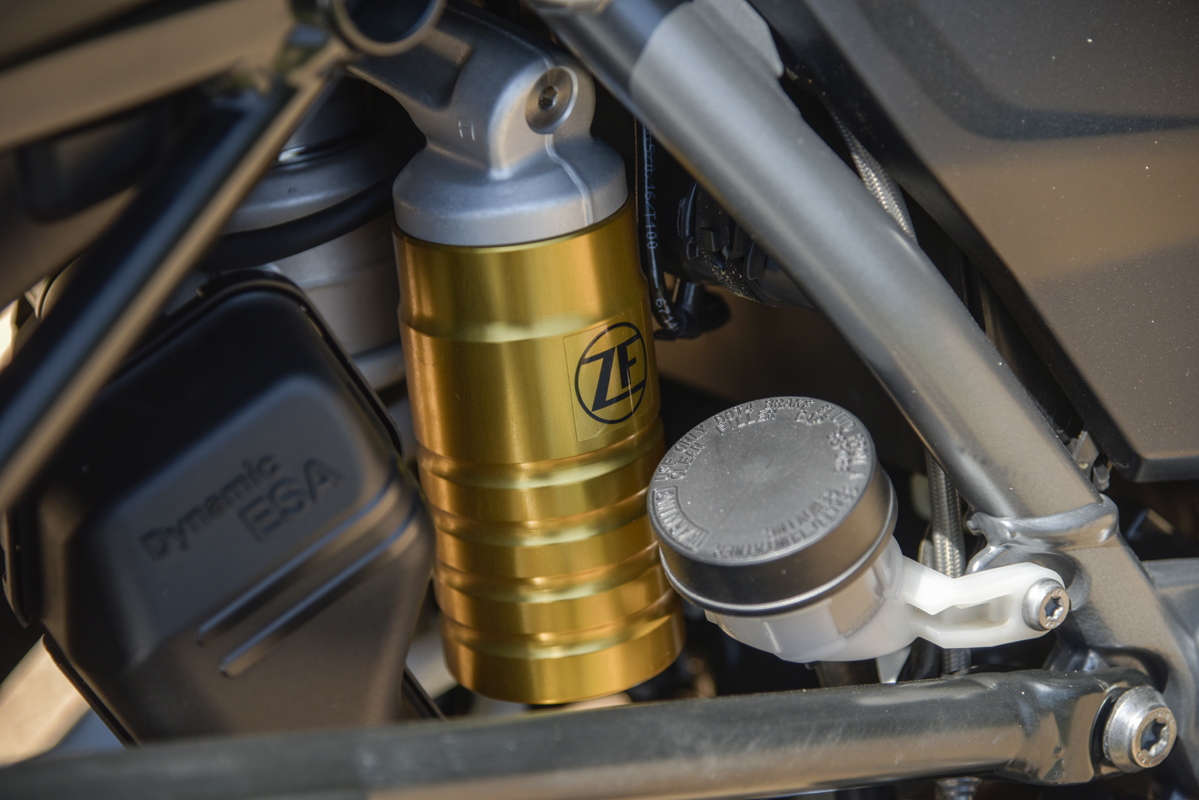 I have been vocal in my criticism of TFT displays primarily because they sometimes make minor issues into major ones. The GS's were delivered without their handbooks, so I couldn't swot up on all the functions. OK then. Let's see how intuitive it all is to someone who is admittedly somewhat BC (Before Computers). Reset the trip meter after filling up. How hard can that be?
Into the menu, RESET, OK, cool, hit the set button and the TFT says something like "default to factory settings"… Sounds overkill, but let's see. Nope, no go. The trip is still not reset. Eventually, I figure it out. Sorted. Ten kay's down the road I notice that my butt is getting seriously warm. What the……? Eventually, with a now medium rare ringpiece, I pull over to try and put off the heated seat inadvertently set on three by factory default. Trial and error gets everything dialled in and I'm back on my way. My point is, all of that gets done by pressing one button on my R1200 RS, then just holding it to reset. Heated handgrips…same issue.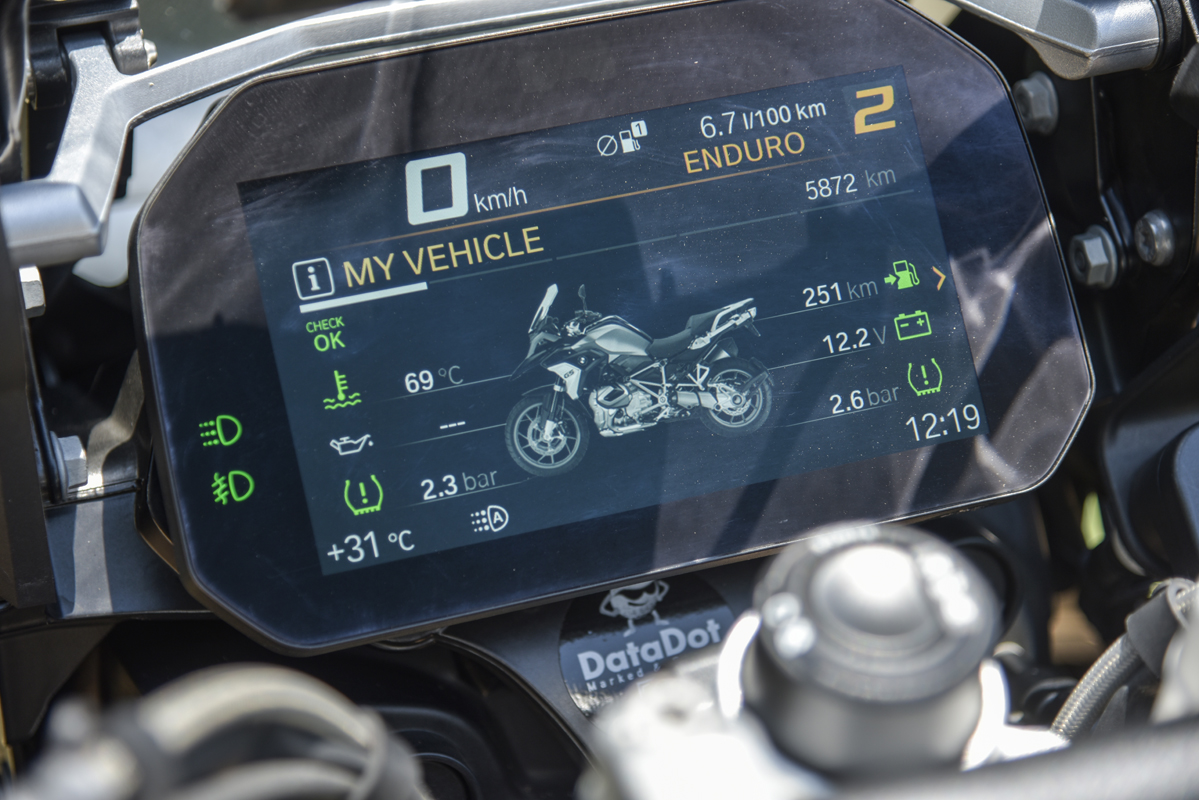 Seriously, all that could have been prevented by reading the manual before the operation, yet the fact remains, what was a simple function, is no longer simple. This is common to ALL manufacturers using these fancy-schmancy TFT dashes. A bit like the world we live in, there ain't nothing simple no more! The TFT displays have brought bikes into the PlayStation generation, with navigation and connectivity that the younger generation demand. Apple or Android devices can all be accommodated.
The GS's have three rider modes, Eco, Rain and Road and an additional four optional modes, Dynamic, Dynamic Pro, Enduro and Enduro Pro. This pretty much caters for however and wherever you wish to ride the bike. Tuneable Traction Control and various ABS settings are all there, as are Hill Start Control and Inclination Assist, all courtesy of a 6–Axis Bosch IMU.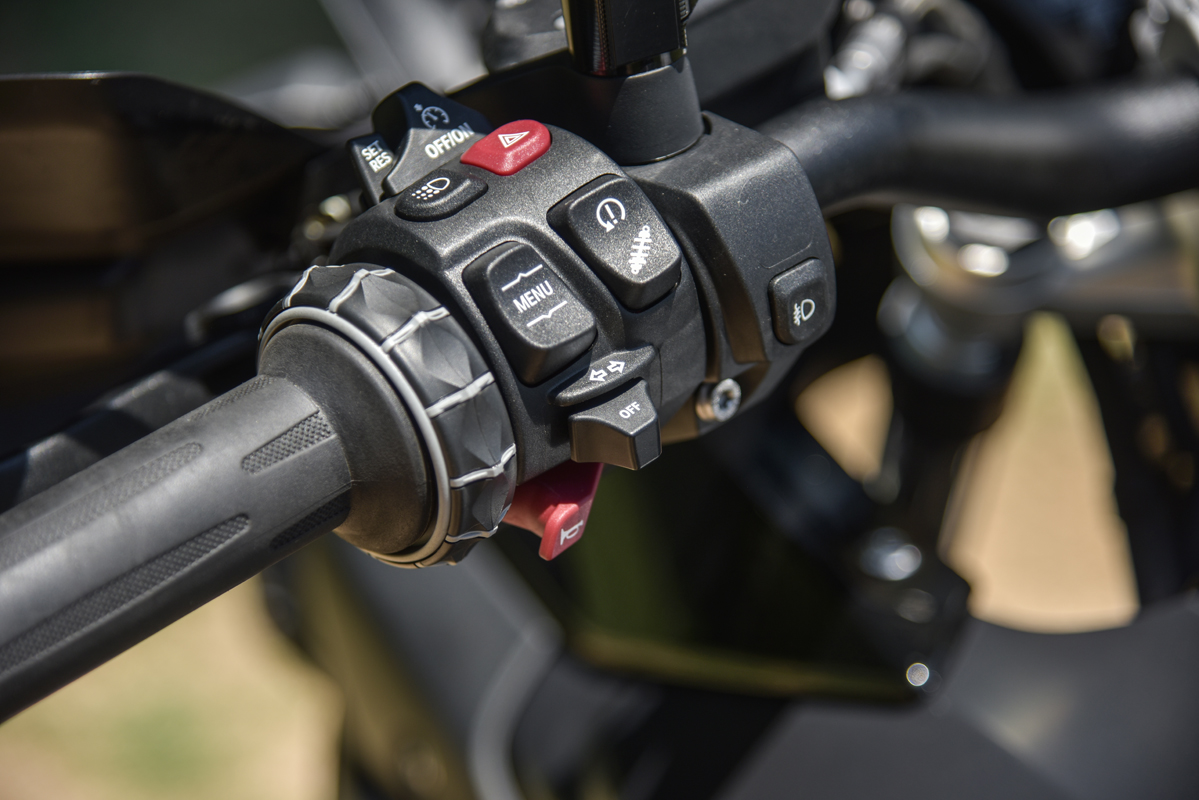 Lighting is LED with a 'cruise' setting for daytime which illuminates the indicators and puts a bright outline of LED lights on the headlight. The bikes were both fitted with factory auxiliary spots as well. No problems with riding in the dark then. Brakes are twin 305 mm discs with 4 pot callipers up front and a single 276 mm rear disc with a 2 piston calliper. They work flawlessly. Powerful, but with good feel. All of this translates into bikes that are superbly refined and capable.
The level of comfort offered by a GS is simply unparalleled. I needed to have some documents signed in Howick, so I hopped on the Triple Black and rode there. 520 kay's no sweat. An hour later I was back in the saddle on the return journey. At the foot of Van Reenen's Pass, it was 38 degrees, yet the GS was totally unfazed. Trucks were passed without fuss, simply rolling open the throttle and letting the abundant torque launch me past. Fuel consumption was 4,9 L/100km going down, and 5,9 L/100km coming back into the mother and father of a headwind. The seat is all-day comfortable and the wind management is superb.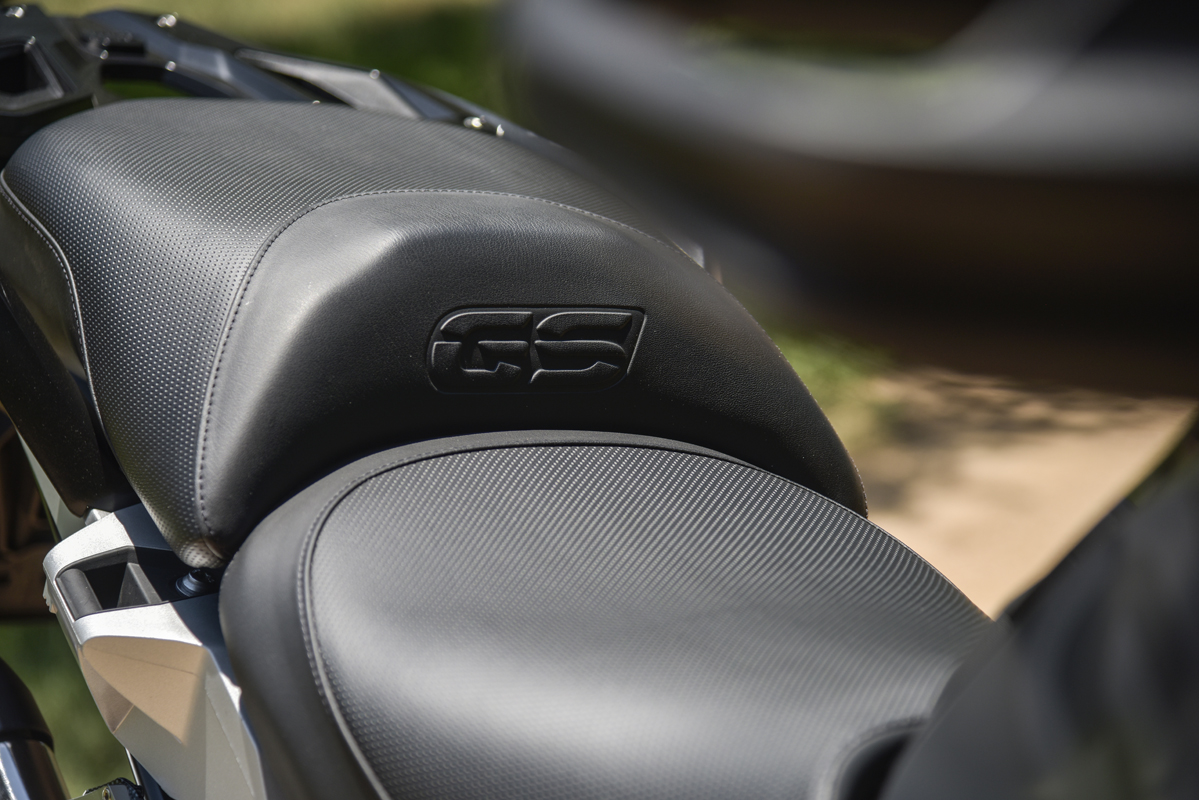 I played a bit of a game, counting the number of trucks passing me in the other direction every minute. The least was 9 and the most was 24, with an average of around 15 trucks a minute. This, folks, is a mind-numbing 900 trucks an hour! Little wonder that our roads are deteriorating at such a rate! The GS rocks in these conditions where you have to, at times, launch past 6 semi's nose-to-tail.
You crack the throttle and fly past, with a fruity boxer burble from the exhaust. This highlighted the universal strength and appeal that has resulted in BMW selling so many GS's. They have never laid claim to being the best at any one motorcycling task, but, Oh my Soul, they are such superb and capable all-rounders. Truly the Jacques Kallis of motorcycles!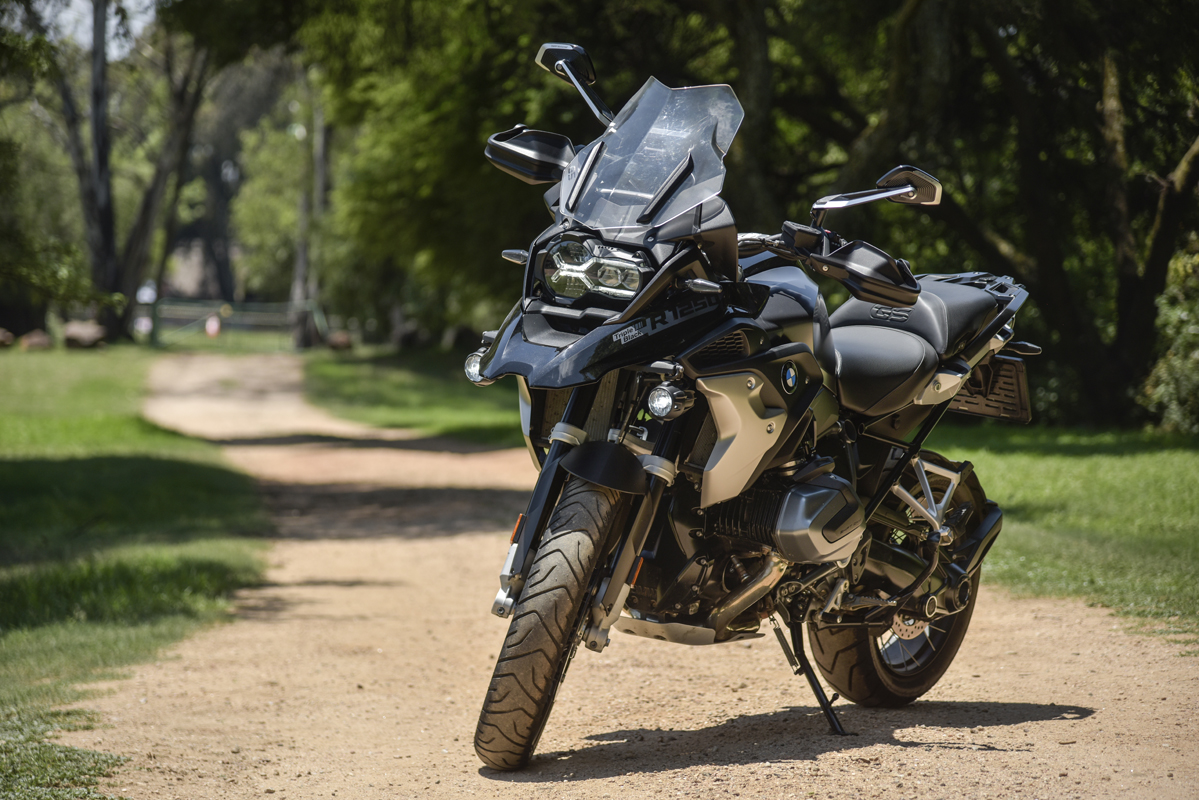 You may be that fellow that is a covert Dakar racer, and adventure riding for you is about how technical and fast you can make it. The truth is, born out by the stats, most riders want to just be able to get there, dependably and in comfort. In many cases, they also want their significant other on the pillion, resplendent in matching riding gear. They want every possible accessory that compliments their bike and a dealer network that delivers on its promises.
If this is you, then the BMW R 1250 GS will be just the ticket to a whole new world of adventure. The only real choice will be in which flavour. Adventure, with its 30-litre tank and beefed-up suspension, or standard, with its lighter weight and better agility. Either way, you will not be disappointed.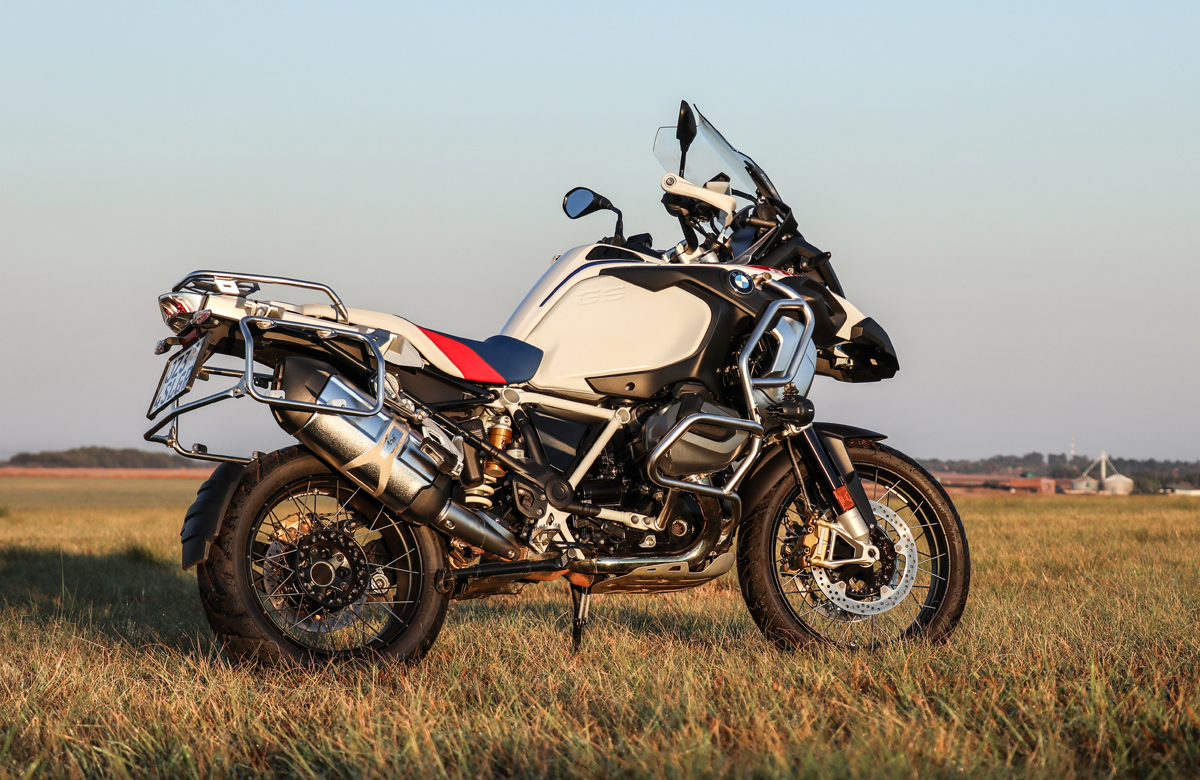 The bike that created a new genre 40 years ago stays at the forefront of that class thanks to cutting edge technology, brilliant build quality and excellent real-world performance.
BMW R 1250 GS / R 1250 GS Adv
For more information on the bikes that we tested in this article, click on the links below…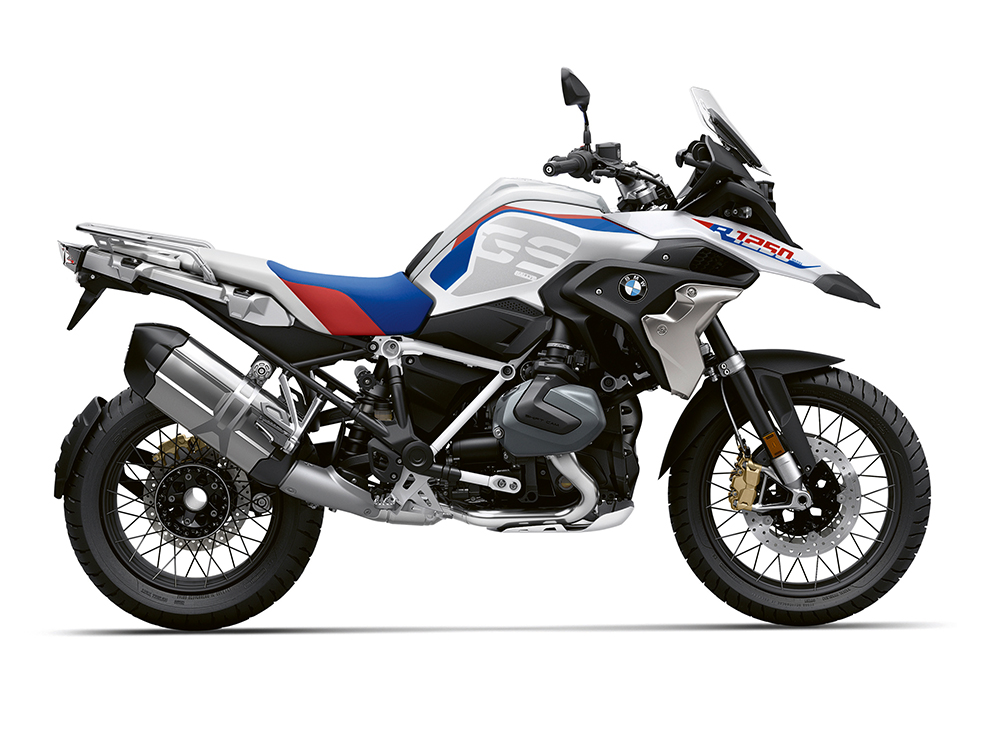 2021
BMW R 1250 GS
Pricing From R314,200 (RRP)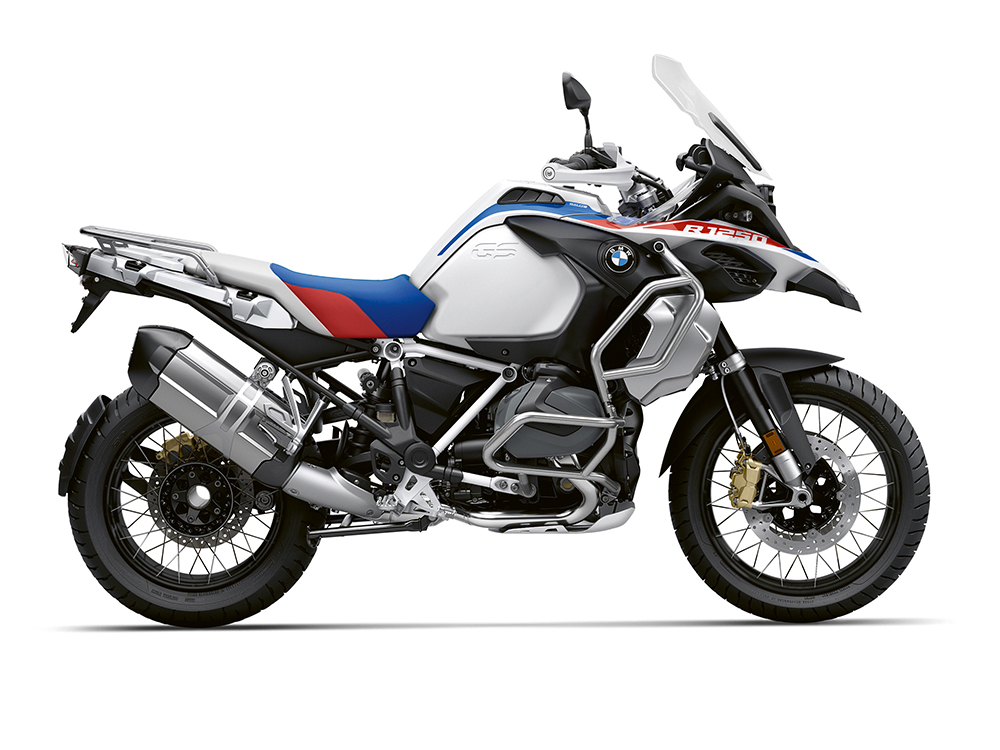 2021
BMW R 1250 GS Adventure
Pricing From R353,400 (RRP)