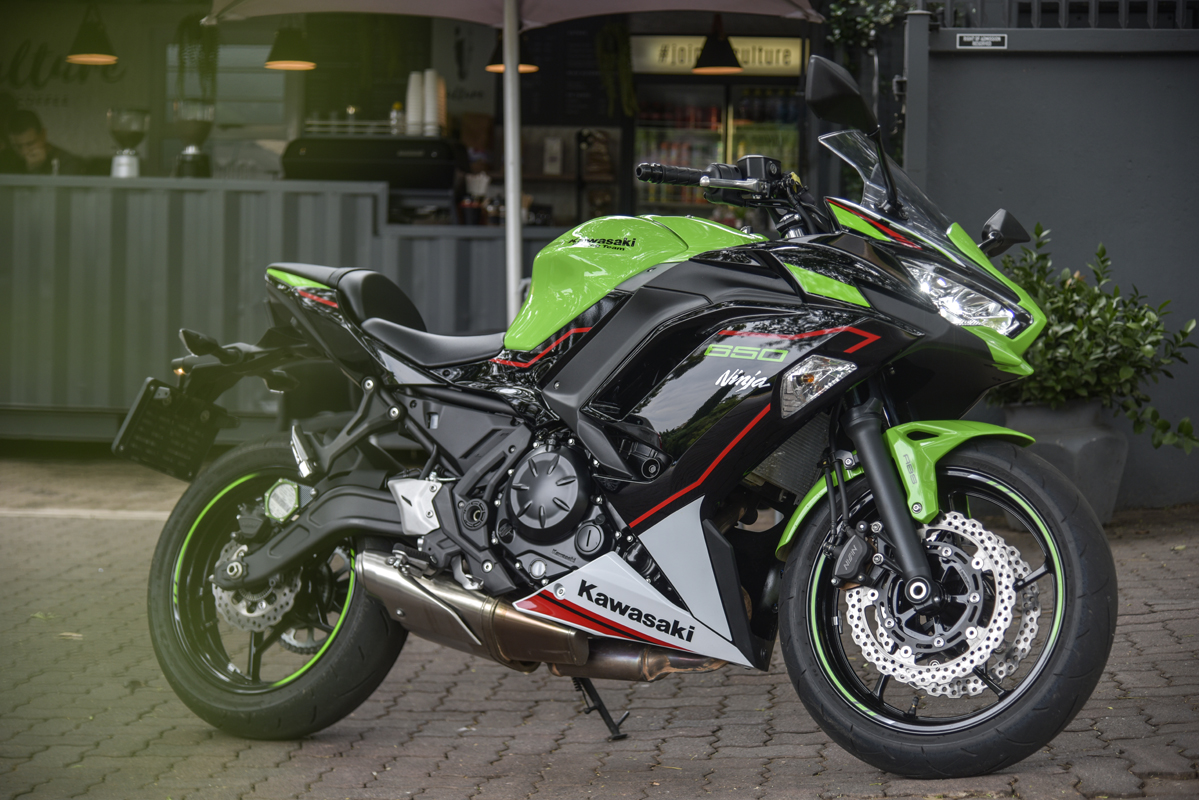 We are so spoilt for choice and inundated with excellent bikes these days, that it is easy to get dismissive of the current crop of middleweight options. The bikes that make up this class, like the Yamaha MT-07, Triumph Trident, Honda NC 750, Suzuki 650's and Kawasaki's 650's, offer very well balanced packages that are really brilliant options for all-round motorcycling.
We are dealing with burgeoning fuel costs and, if you are a city dweller, stupid traffic congestion. Motorcycles alleviate so much stress and strain in the daily commute. This is where the middleweights really shine. Light and nimble, with decent performance, they make short work of negotiating the urban sprawl. The only possible downside is that they can be a trifle bland. This is not something that Kawasaki's Ninja 650 can easily be accused of.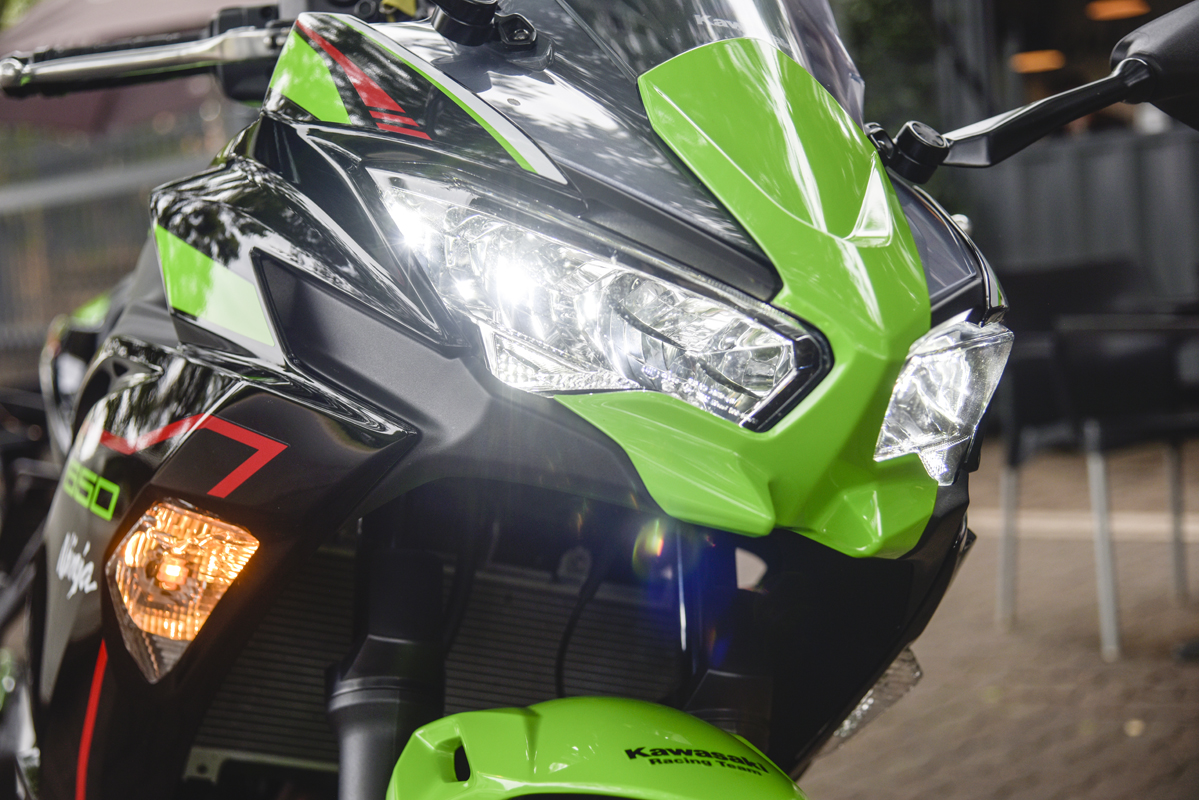 The Ninja 650 has huge street cred courtesy of its absolutely stunning styling. You have to do a double-take to make sure it's not Johnny Rea's race bike. So who is the Ninja aimed at? At R124 995 it is a compelling argument for anyone shopping in this sector. Don't be fooled by the race bike looks as the ergonomics on the Ninja are spot on, with bars that look super classy but don't drag you onto your wrists.
Its tidy dimensions make it really manageable by pretty much everyone. New riders will enjoy a stunning looking bike which is a doddle to ride and enjoy day-to-day. Sports bike riders who are getting long in the tooth and struggling with the power and weight and intimidation factor of modern-day sports bikes will appreciate the dynamic abilities of the Kawa. It can really hustle down a winding road. It is one of those bikes that works better than the sum of its parts.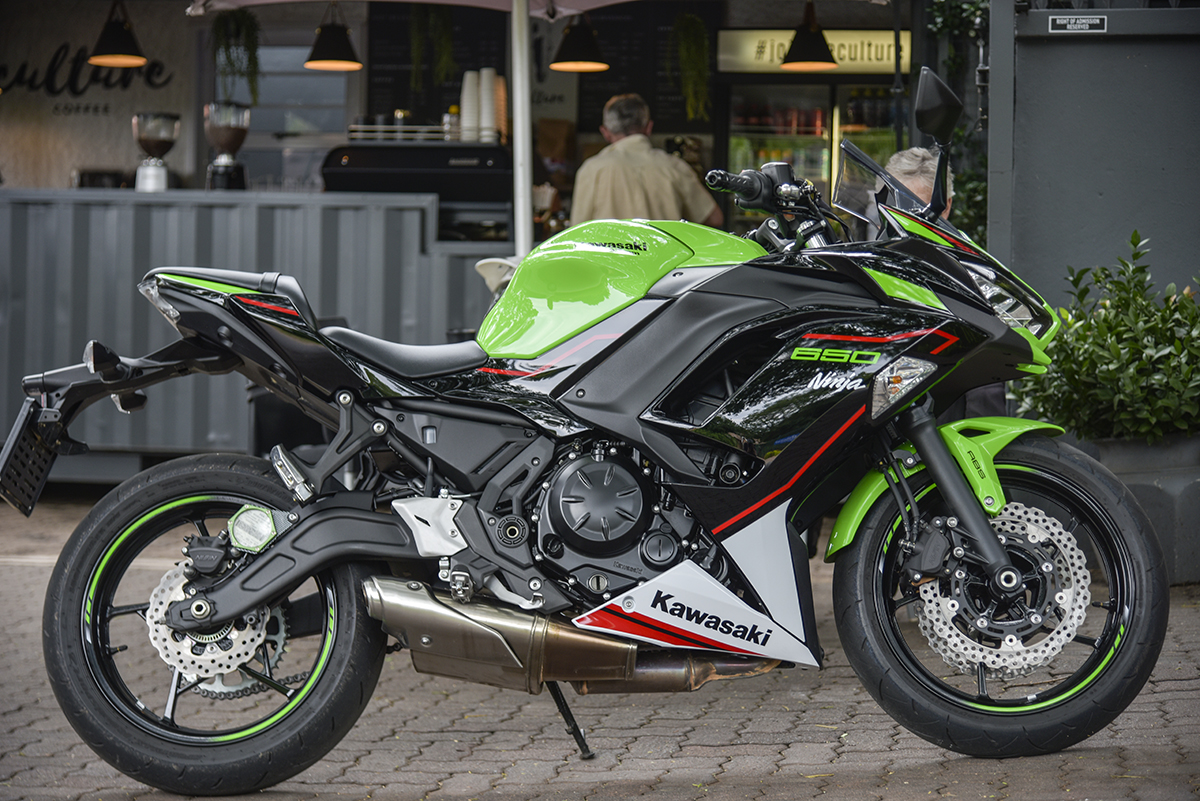 The detailing on the bike is actually quite special for a bike at this price point. The clutch and brake lever are both adjustable for hand size. The handlebar ends are not just the regular tubular jobbies but rather fluted pieces that look really cool. A thick red pinstripe runs the length of the bike, just accentuating the handsome lines. The five-spoke mags are gloss black with green rim tape to make them pop.
A hugger rides on the swing arm keeping crud off the rear shock. The mirrors are handsome and functional, giving you a decent view, which remains blur-free at all engine speeds. The brake discs are wavy too. Even the nut on the rear axle has a rubber cap over it to neaten it up The overall fit and finish on the bike is superb, with surprising attention to detail. The handlebars aren't just regular clip-ons, but a beautiful alloy casting. Well done Kawasaki!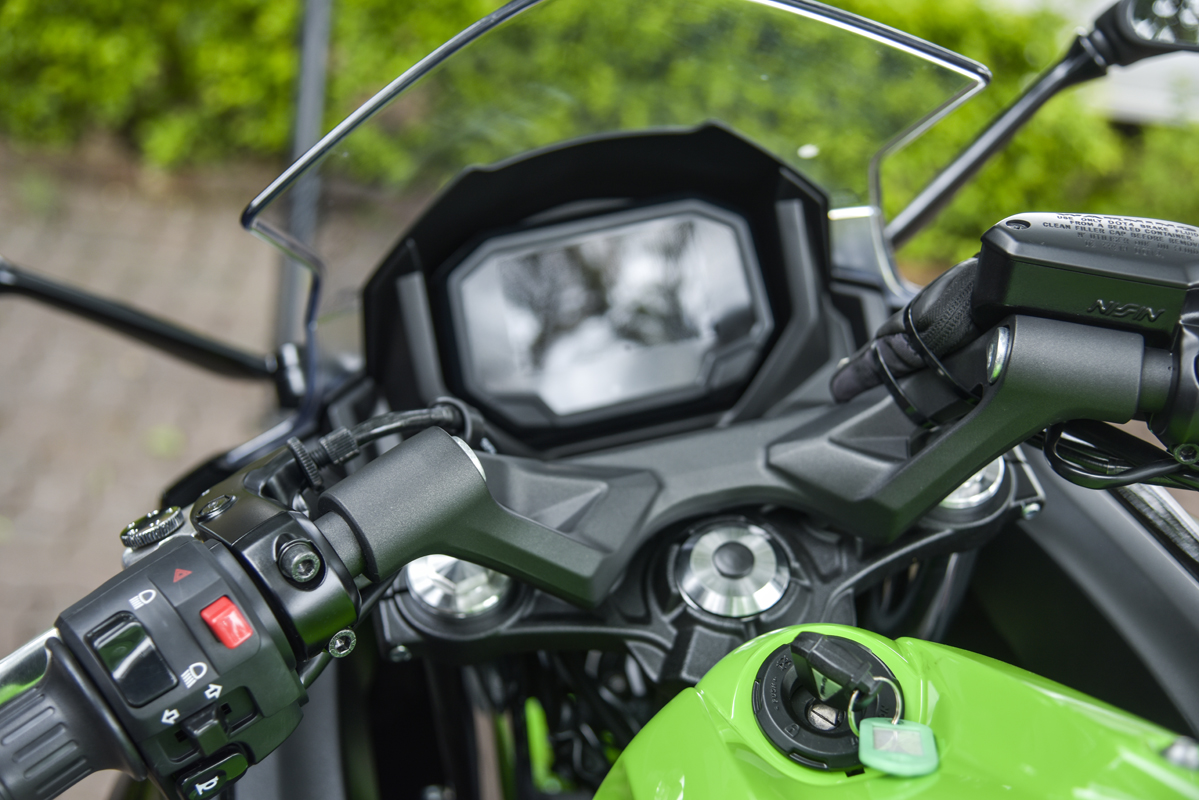 The heart of the Ninja 650 is the familiar Double Overhead Cam, 649 cc, fuel-injected Parallel Twin that has established a formidable rep for reliability and general efficiency. It feeds the power through a slick six-speed gearbox. It is engineered for midrange punch (which is really what you want in the real world) with 50 kW @ 8 000 rpm and a healthy 64 Nm @ 6 700 rpm.
The motor is a stressed member in a tubular 'Diamond' chassis with an aluminium swingarm controlled by a single preload-adjustable shock. Upfront are conventional 'right side up' non– adjustable forks. Wheels are handsome magnesium 17 inches, with a 120/70 front and a 160/60 rear. A slipper clutch caters for ham-fisted downshifts to prevent rear wheel chatter.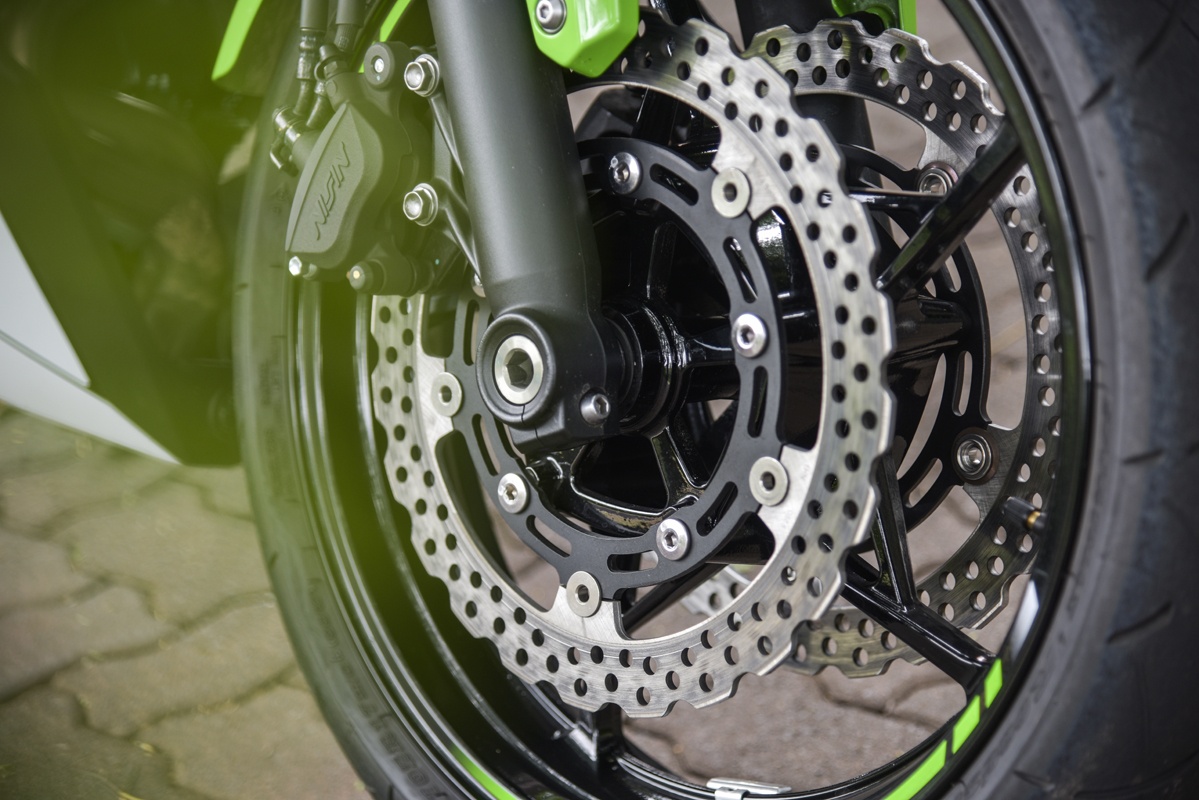 Kawasaki's catchphrase for their Ninja 650 is "Fun, Style, Easy" which sums up the bike in a nutshell. We get so seduced by big horsepower we become like addicts who are permanently in search of a bigger 'fix', no longer satisfied with a balanced life. You can use every smidge of power that the Ninja makes and the twin 320 mm front discs backed up by the 186 mm rear provides powerful backup if you get carried away.
Suspension that feels too soft when you first hop on the bike translates into a decent real-world ride with really good handling. 193 Kg's of all in weight results in light and accurate steering and a decent power to weight ratio. It turns in effortlessly and is perfectly stable through 160 kph plus sweeps. It is one of those bikes that always works with you, maintaining great composure. Kawasaki have done a great job dialling in the 'one size fits all' suspension.
When the weekend rolls up you can venture out into the countryside for some really brisk and rewarding riding. Bungee a stuff bag on the back seat and do some "credit card" touring. The Ninja will be a willing and able accomplice. The 15-litre tank and good economy give you a decent range.
The midrange also means that the bike is more than capable of some two-up riding too. The screen takes a fair amount of wind blast off your chest and your legs tuck in with some protection from the full fairing. The seat is comfortable, although the slight slope tends to settle you in one spot. Luckily it is a comfy spot.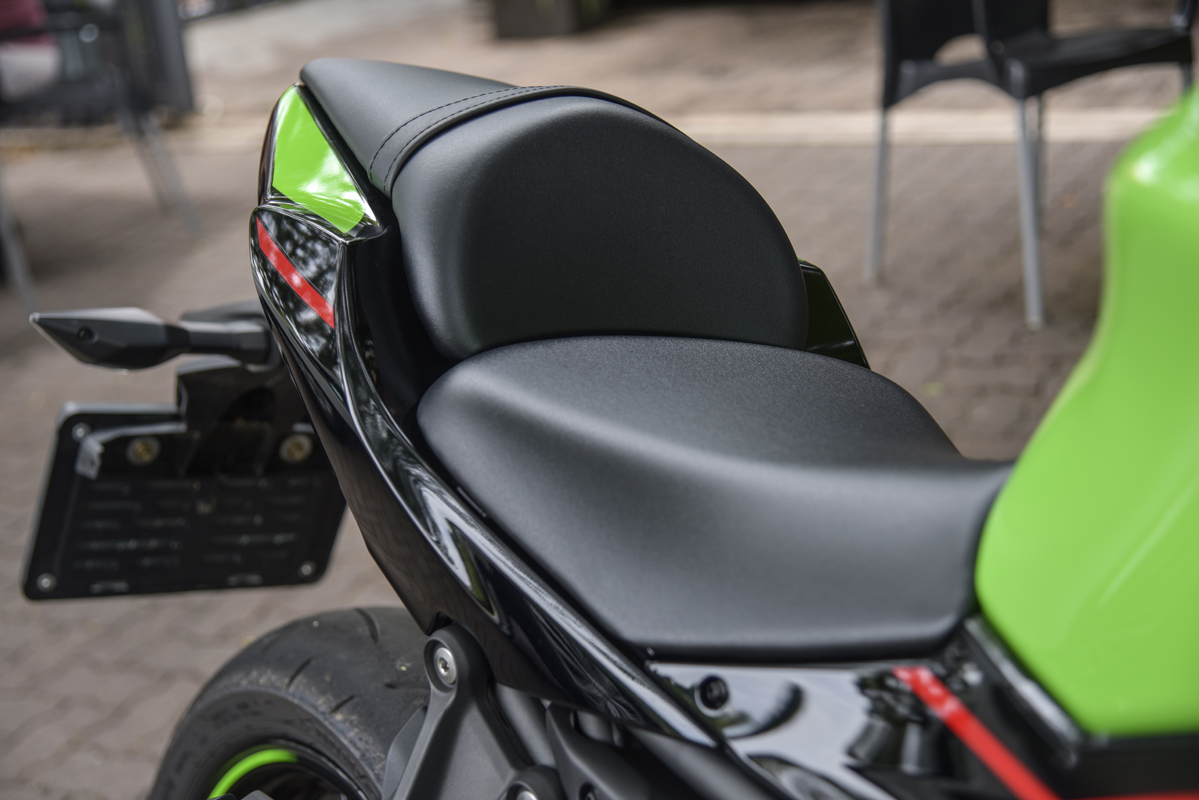 The motor has a gruff character with some intake honk when under hard throttle. A low amplitude vibration, which is not bothersome, is evident through the seat and pegs when you accelerate hard, but smooth's out to almost imperceptible levels when cruising at 120 plus VAT. Kawasaki employs a solution to footpeg vibes, which I last noted on Honda's VFR800. Each footpeg has a counterweight attached to its underside which changes the amplitude of the vibration. This is the same reason weighted bar ends are used. The exhaust note from the neat and tidy underslung exhaust is, typical of Euro 5 compliant bikes, rather muted.
Kawasaki's Ninja 650 offers a solid sporting offering in the middleweight space, at a price that is super competitive. With full LED lighting and a functional TFT display giving you all the vital info that you need, it is a thoroughly modern motorcycle which scores highly in both form and function. A minor issue is that all the info can only be accessed by pushing two buttons on the TFT dash. A remote switch on the bars would be a nice touch.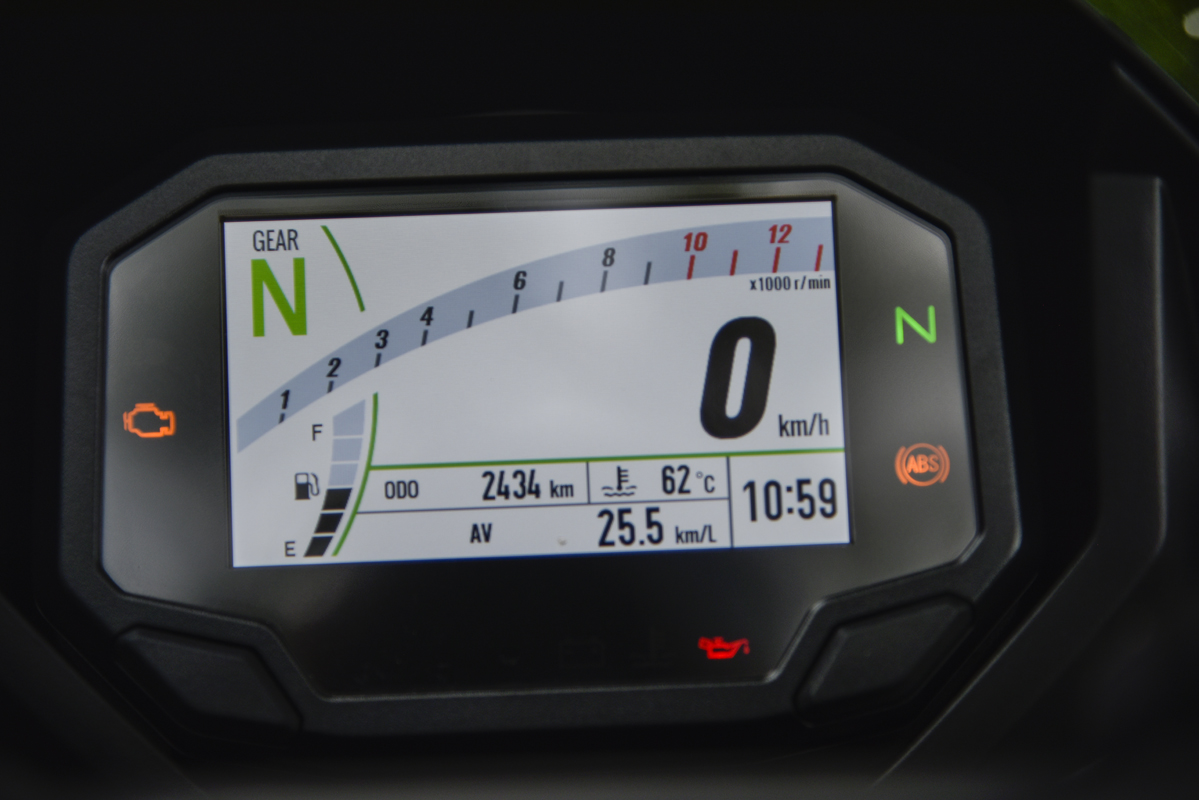 Similarly, self-cancelling indicators should be a standard issue on all bikes in this day and age. The Ninja will perform your weekly commute with aplomb, tour to your heart's delight and work with you to punch way above its weight at your next track day. When compared to its peers, it looks almost 'exotic', thanks to its crackerjack styling. Go ride one. Fun, never looked this good.
Kawasaki Ninja 650
For more information on the bike that we tested in this article, click on the link below…