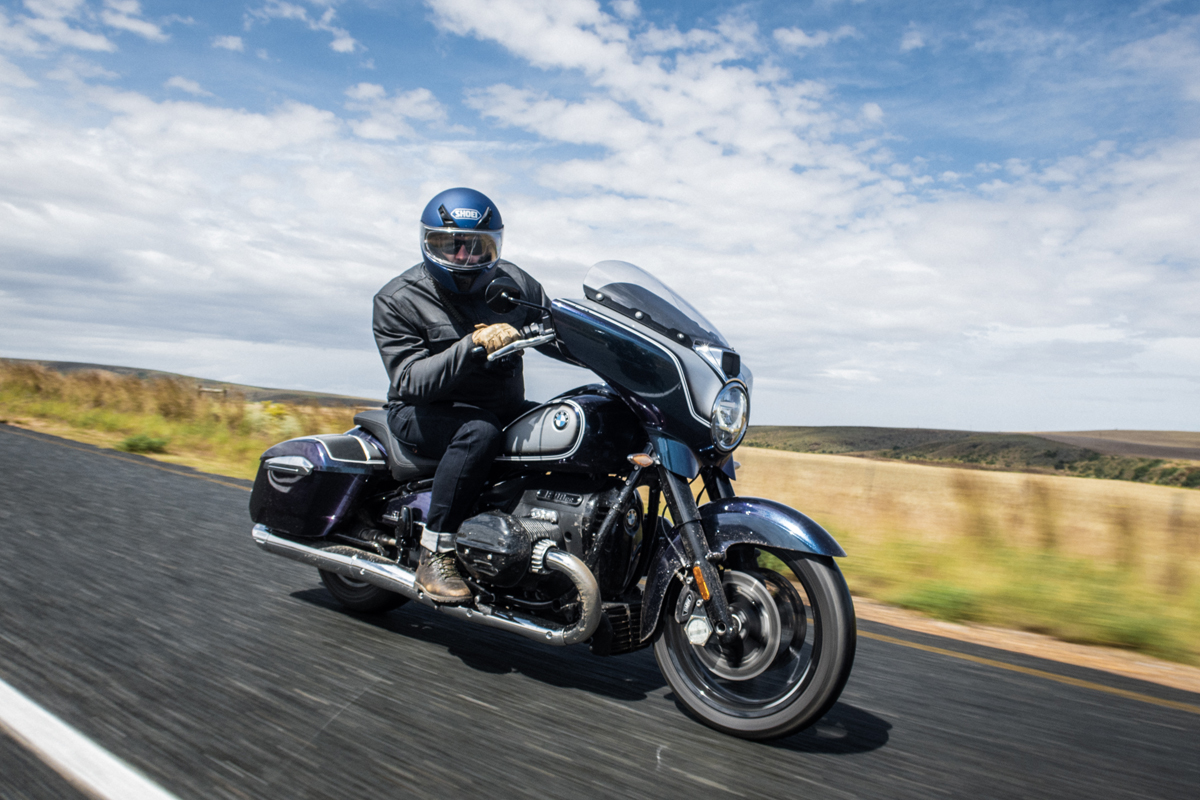 The first time I rode the R 18, it left me lukewarm. By the second and third rides I'd started wrapping my head around it—but I never truly got off the fence.
The R 18 scores high on looks, build quality and the sheer presence of its massive boxer motor. But it's a harsh ride, has very limited cornering clearance, and ultimately struggles to define itself. The cruiser market is a tough nut to crack, after all.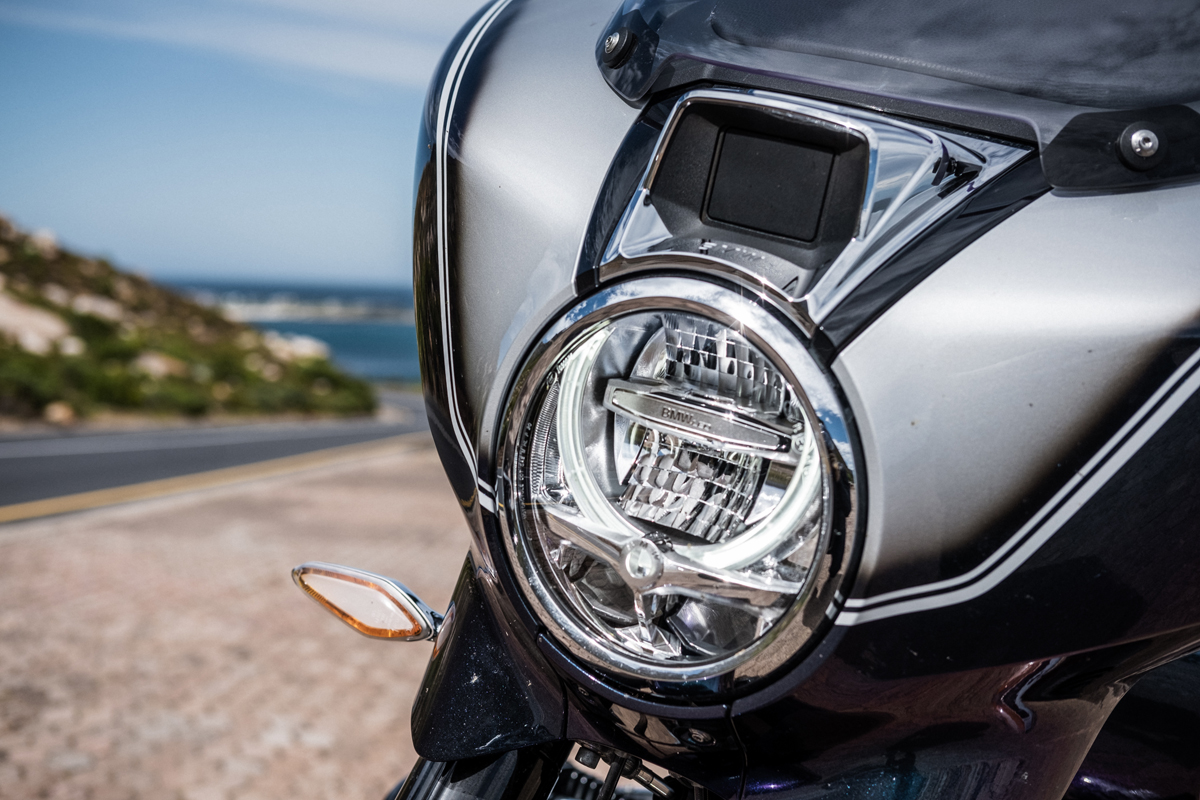 But what if you stuck BMW Motorrad's biggest boxer into a touring-focussed package instead? That's what they've done with the R 18 B and R 18 Transcontinental. And now that I've ridden both, I can confirm that these versions of the R 18 make a lot more sense.
These two tourers are built on the same basic platform and 1,802 cc boxer motor as the rest of the R 18 range. To recap, that means they make 91 hp at 4,750 rpm and 158 Nm of torque at 3,000 rpm, driven to the back wheel via an exposed shaft drive.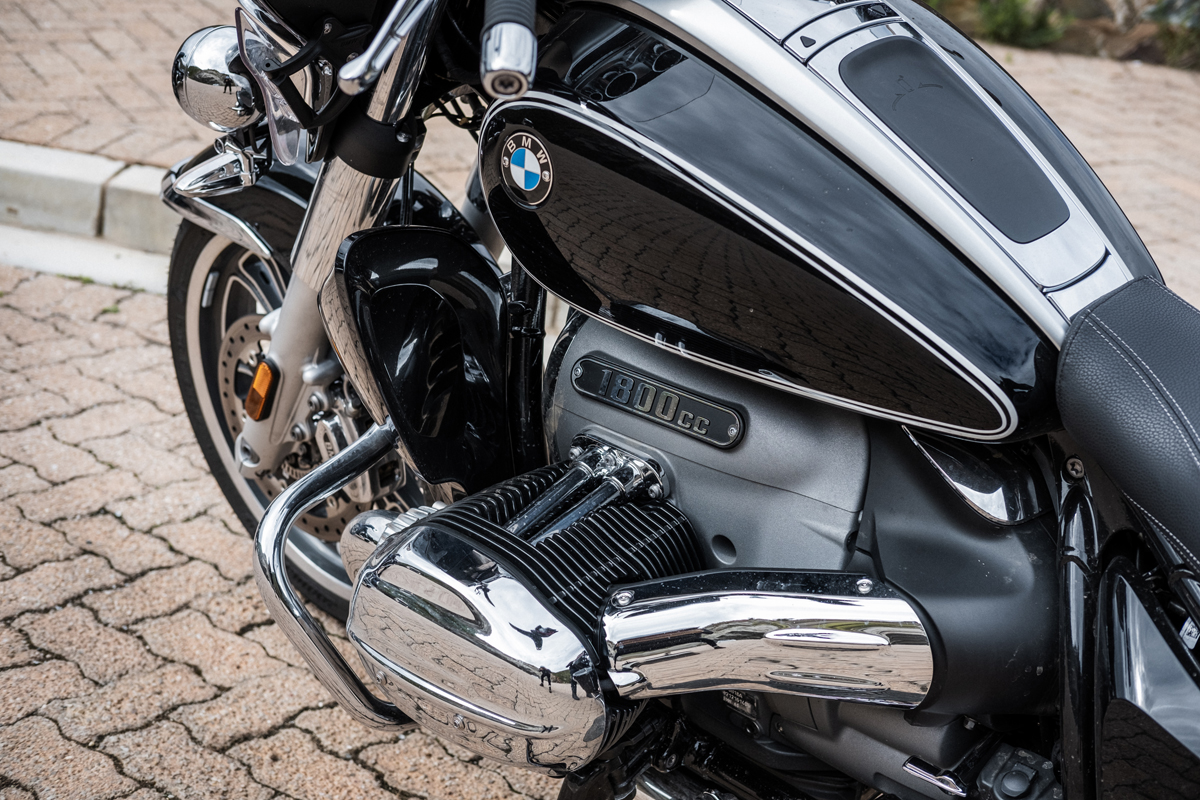 Like the 'base' model R 18 they roll on 19F/16R wheels—but they're cast aluminium items instead of spoked. The Transcontinental and B also have a slightly steeper steering angle and shorter wheelbase, and a little more rear suspension travel. They weigh more too: 398 kilos wet for the B, and 427 for the Transcontinental.
The original R 18 design draws inspiration from BMW's history, but there's no reference material for the Transcontinental and B. This is new ground for the Bavarian marque, and both bikes are dripping with Americana thanks to their batwing fairings, scooped two-up seats, hard panniers and stretched rear fenders.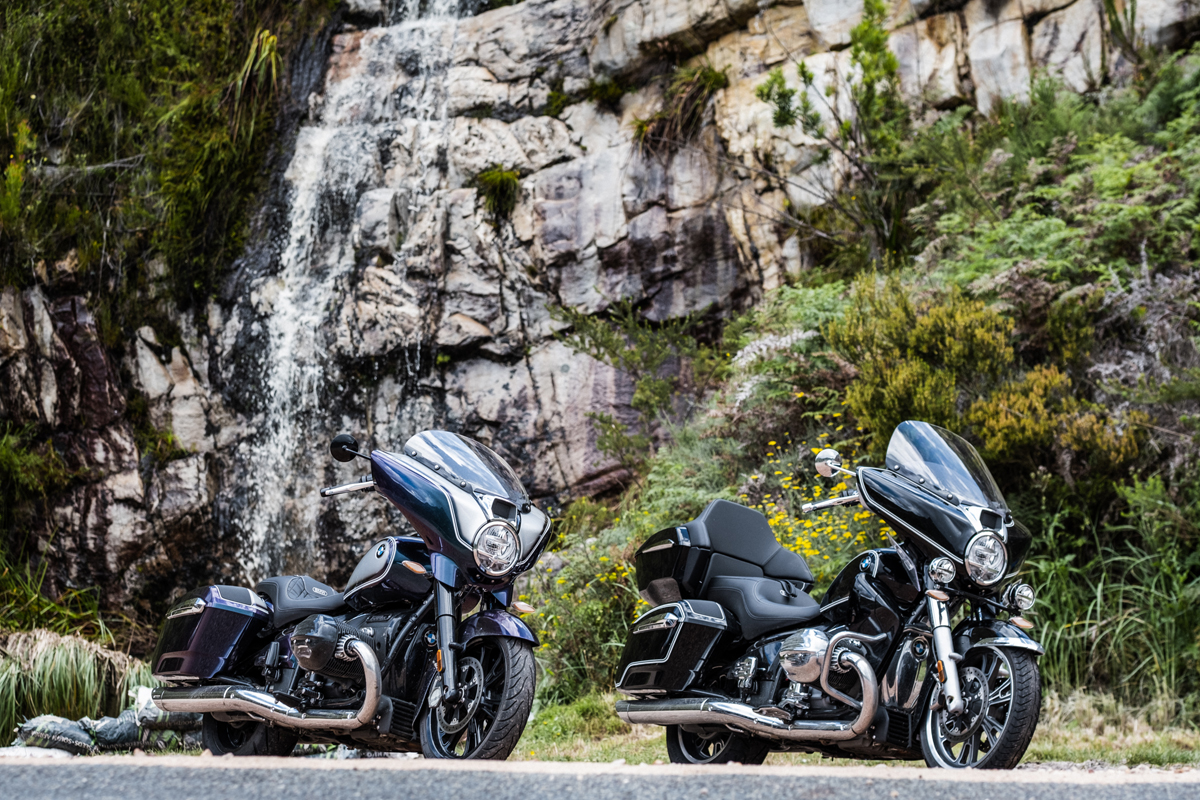 The Transcontinental is a full dress tourer, with a taller windscreen, and a top case with an integrated backrest. The B is a traditional bagger—pared down, with no top case and a shorter windscreen. Both have bigger fuel tanks too (24 litres instead of 16).
Figuring that the only way to properly sample these new tourers would be to actually tour with them, I plotted a slightly relaxed and hella scenic three-day route through the Western Cape. BMW Motorrad South Africa and BMW Motorrad Cape Town supplied the motorcycles, while my good buddy Brian Cheyne supplied the company. Armed with a healthy blend of scepticism and curiosity, we set off.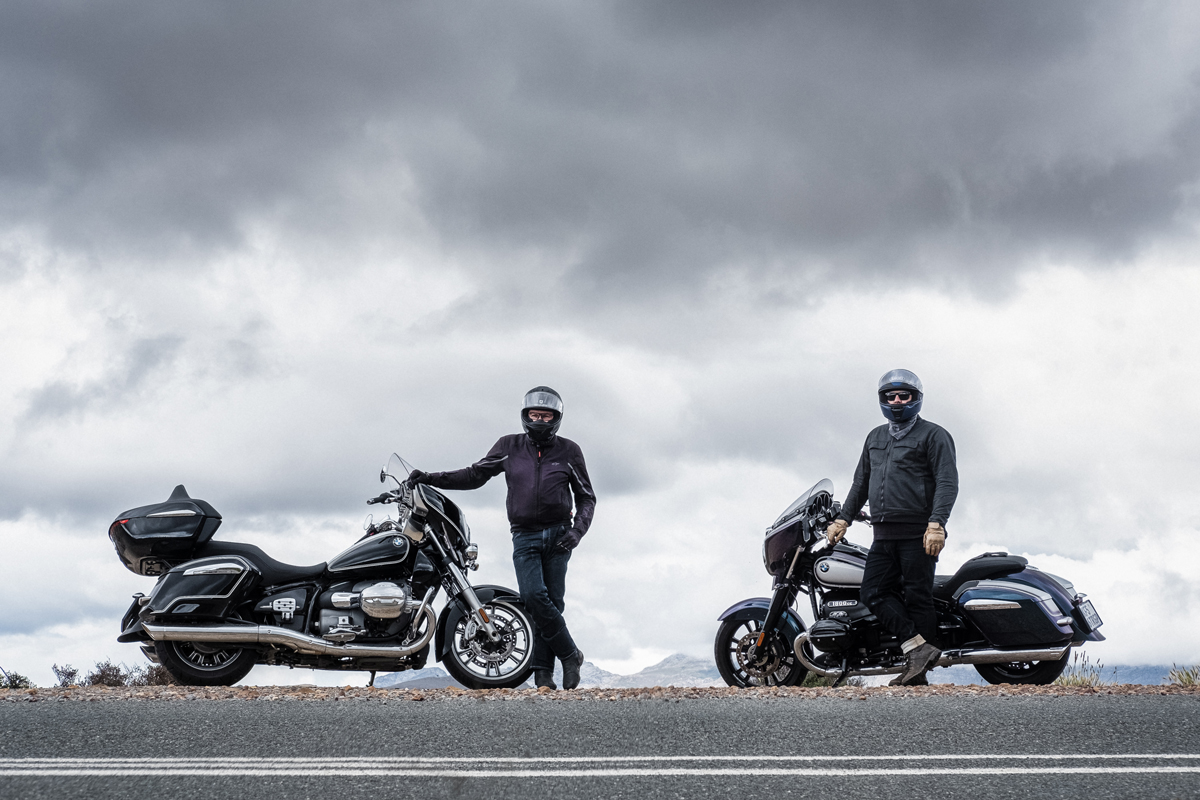 Confession time: I have a thing for baggers. I immediately gravitated towards the R 18 B's tapered lines, and its mesmerizing 'Option 719 Galaxy dust metallic' paint job. It's one of the best liveries I've seen on a production bike, with a metal flake finish that flips between blue and purple depending on how the light hits it. It also has a blacked-out motor, which serves to highlight the sparkly paint even more.
Our Transcontinental came in BMW's 'First Edition' colour scheme—a classic black-with-white-pinstripes design. But Brian picked it for another reason: it has a top box.
BMW's design team did a stellar job of designing slim panniers that blend neatly the R 18's silhouette, but at 27 L a side they're barely adequate. I packed light for the trip, but also brought a rain suit and my camera kit, so I ended up having to stick a couple of small bits in the Transcontinental's box.
So while the more equipped tourer has enough packing space for most trips, if you're taking the B out for a few days you'll need to toss an extra bag on the back.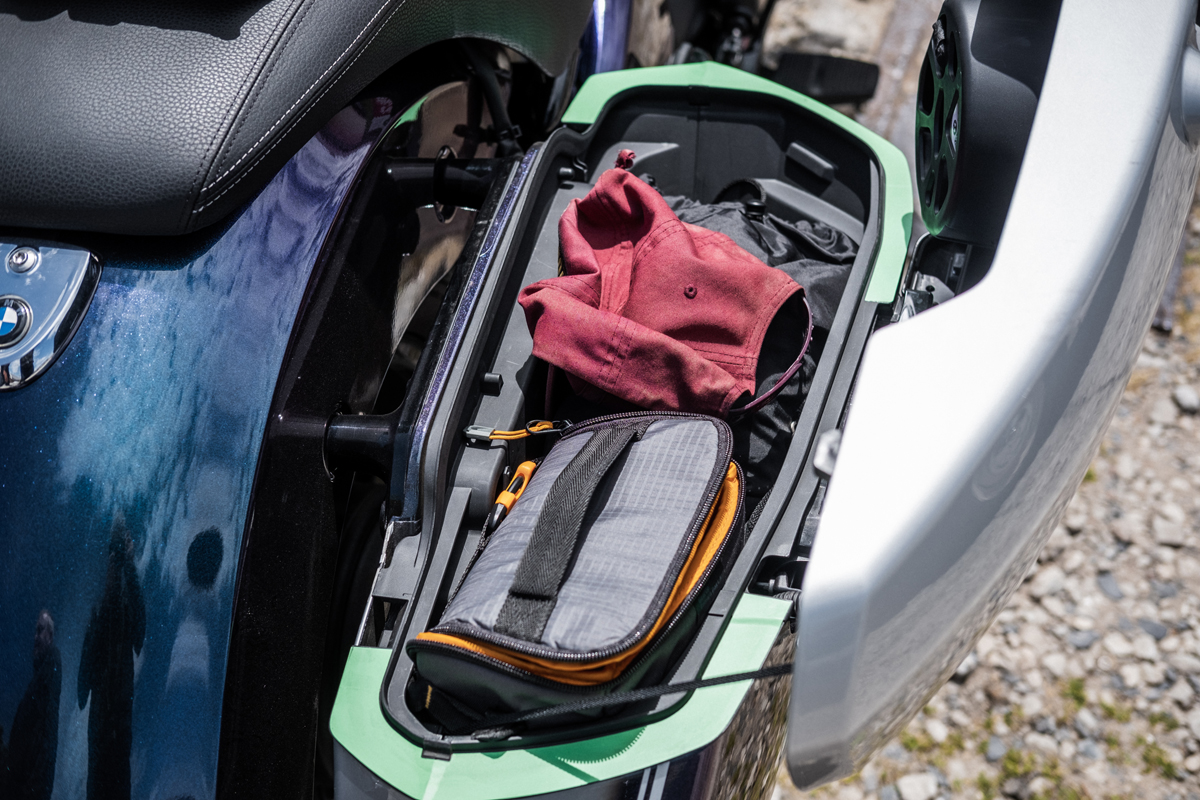 We set off along the only boring slog of our entire trip—the N2 from Cape Town to Somerset West. From there, we diverted to Gordon's Bay and onto the breathtakingly good winding ribbon that is Clarence Drive. Flanked by the ocean on one side and mountains on the other, and pummeled by the wind, I got to terms with the porky bagger's cornering ability.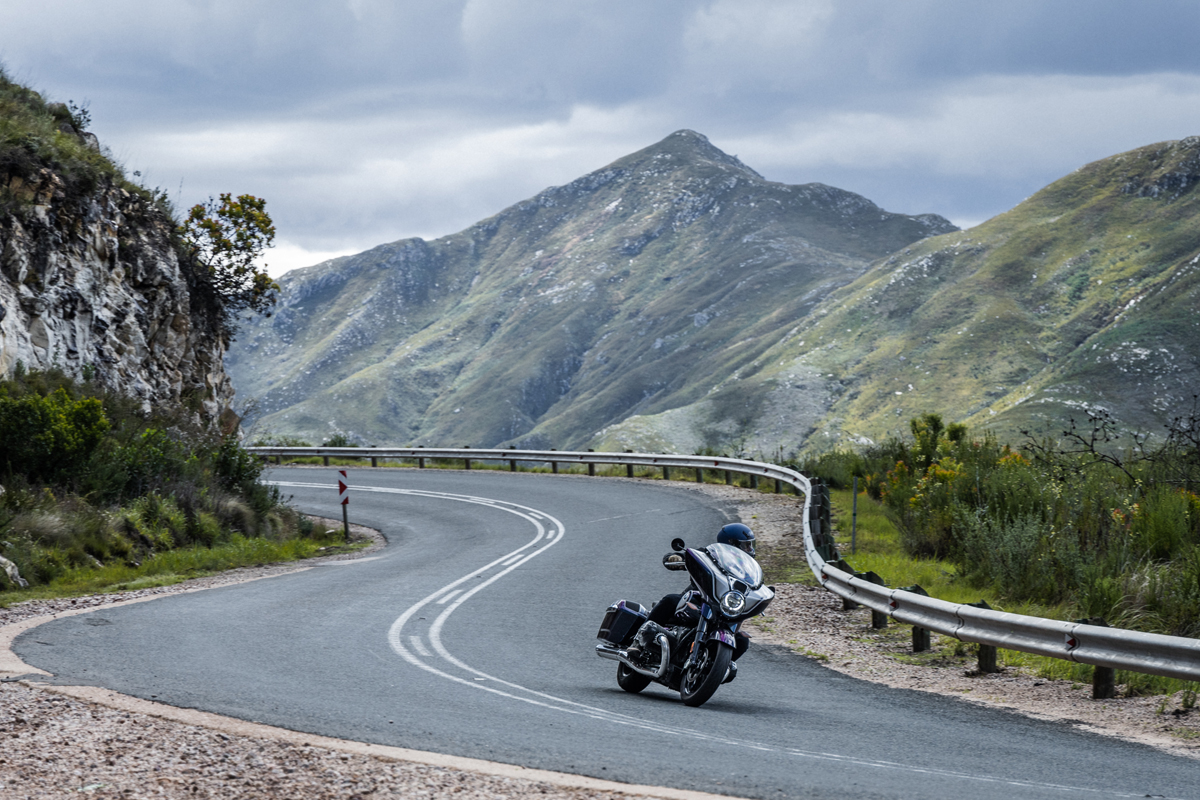 For a bike that weighs two fifths of a ton, the R 18 B handles turns surprisingly well. The base model R 18 has so little clearance that it scrapes its pegs at the mere thought of a corner. But the R 18 B impressed, touching down only a handful of times on the entire trip.
BMW don't list lean angle or ground clearance figures for either bike, but I suspect the bagger has a little more of both than its cruiser sibling. It has slightly revised geometry too, since the frames aren't totally identical. And it has different foot pegs that have more surface area, but a slimmer profile—so perhaps that made a difference too.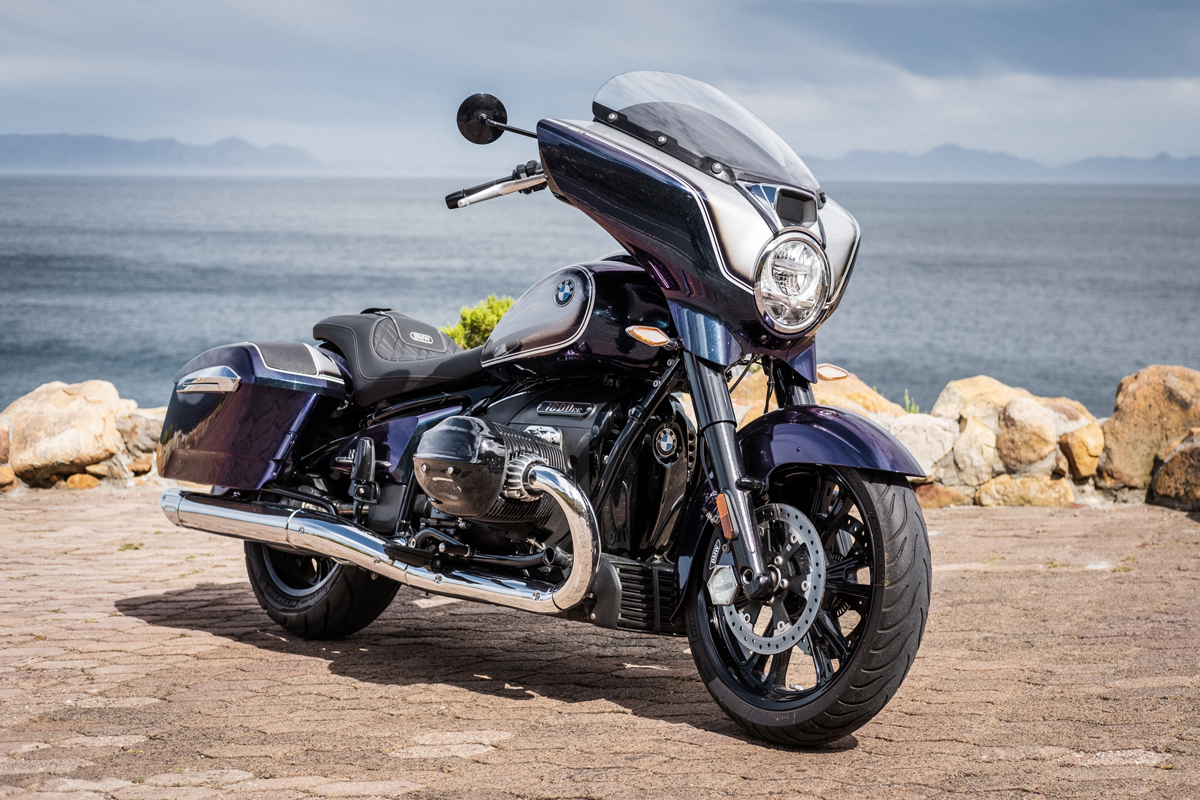 Our first day took us via Pringle Bay for breakfast, then onto Hermanus where we briefly gate crashed a Harley-Davidson rally. Brian's touring pace is the same as mine: take it easy, stop often, eat a lot.
Whenever we stopped, both bikes drew stares, compliments, questions and even photo requests. Both the R 18 B and Transcontinental have massive amounts of presence, and there's a newness to them that seems to draw people in. Even at the Harley rally, Brian and I were inundated with queries about the two BMW's that we'd stuck between all the hogs.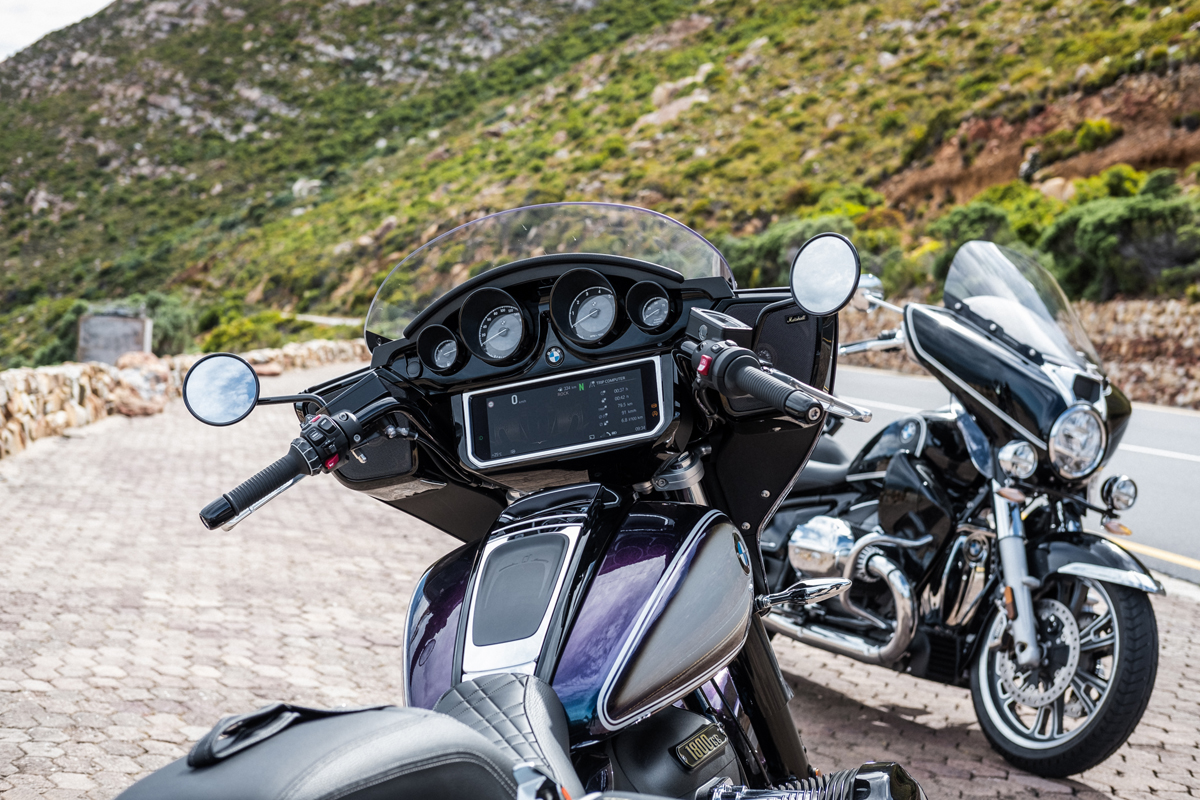 Our last stint on the first day took us via Elim to Bredasdorp, and through some of the gnarliest winds I've ever ridden in. Riding a land yacht makes you a large target for gusts, but the R 18 B's sheer weight kept it planted.
Day two started with a casual meander to Swellendam. After a roosterkoek breakfast at the must-visit Oude Post Bistro at Buffeljagsrivier, Brian and I finally swapped bikes for the first time. By the time we reached Hartenbos, I insisted on swapping back.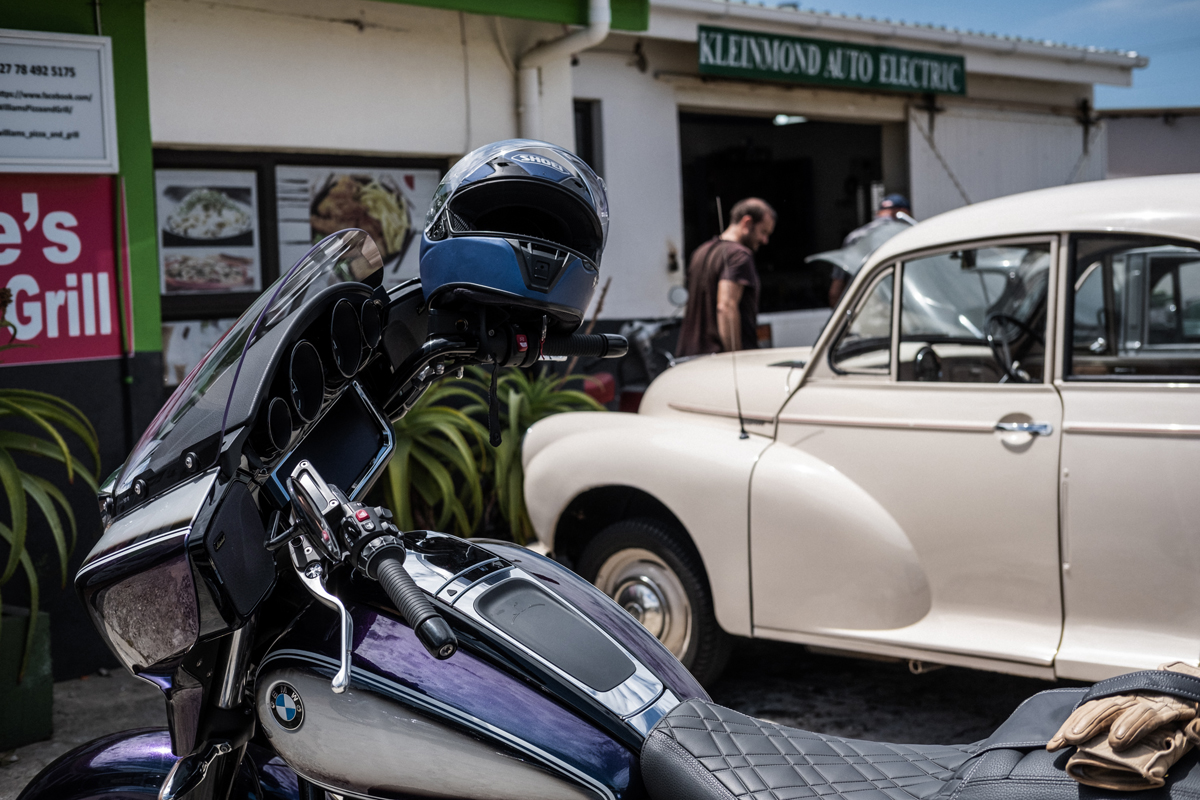 Both bikes fix one major problem with the original R 18: its seat. The Transcontinental's perch is slightly cushier than the B's, but both bikes managed 1,080 km over three days without either of us complaining of a numb butt. But it's their screens and foot pegs that set the two bikes apart for me.
The Transcontinental's taller screen isn't quite tall enough for my 1.86 m frame, so it caused crazy buffeting around my helmet. The B's stubby bagger-style windshield merely kept the wind off my chest—so I got 'clean' air around my helmet, which was totally manageable. An adjustable screen on the Transcontinental would have been great.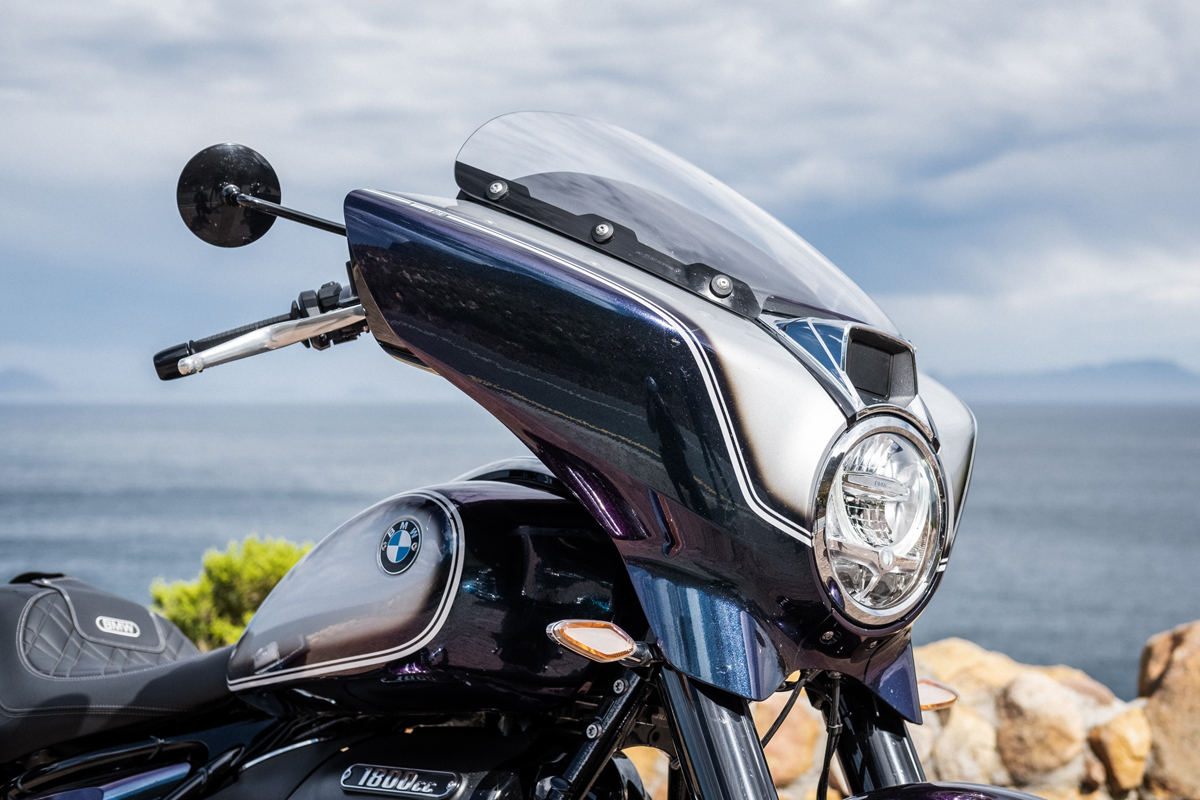 The Transcontinental also comes with floorboards instead of the wide pegs that the B has, and a heel-toe shifter. I'm usually a fan of this arrangement on tourers, but here it locked my feet in a weird position, with the toe end of the shifter hard to get to. Some adjustment of the shifter would no doubt have helped, and ultimately my personal preference skewed towards the B.
Oh, and if you're wondering what it's like to ride a bagger for three days with mid-mounted pegs, the answer is perfectly fine. Although highway pegs are useful, I didn't really pine for them. If there's one major drawback though, it's the vibration from the R 18's behemoth of a motor.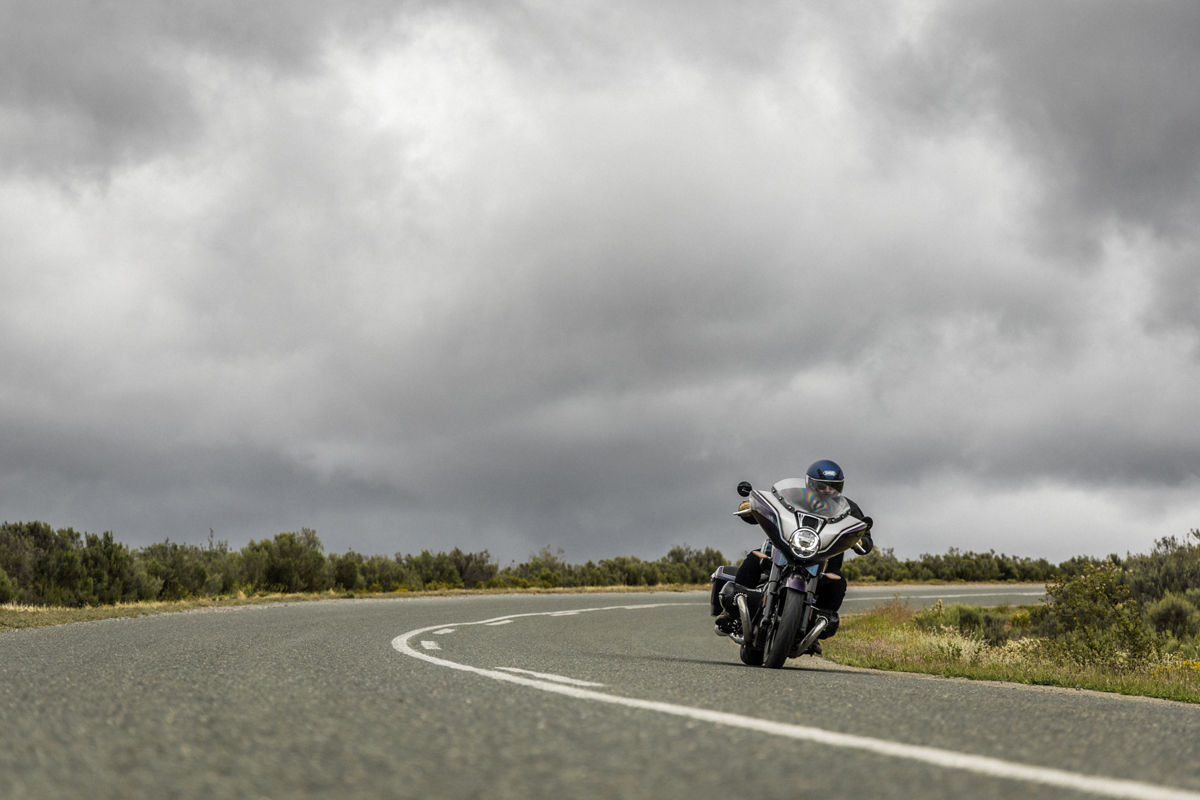 The way the boxer lurches to the left on startup, and the way it shimmies at idle, is great for a giggle. But at anything between 2,500 and 3,000 rpm, the vibration through the bars and pegs is a huge bane. And that's precisely where the revs sit at average highway speeds.
Back on the bagger and with my Spotify road trip playlist spooled up, we left Hartenbos and headed north towards the R62. Connecting a smartphone via the R 18's whopping 10.25" TFT is a cinch, and the sound from the onboard Marshall speakers is decent—at slow speeds. By 100 km/h the wind starts drowning things out, and at 120 and up it becomes barely audible. (The Transcontinental's stereo has a little more kick, thanks to its extra speakers and taller screen.)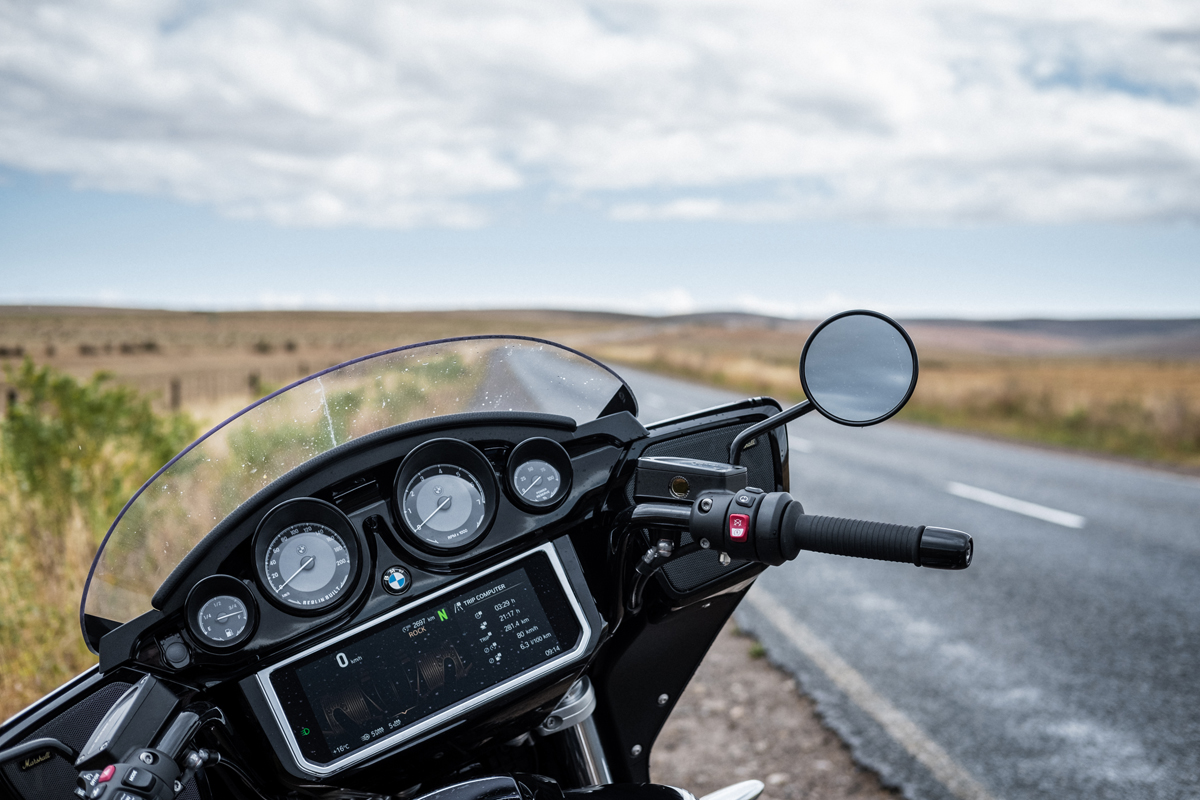 These tourers are nothing if not high-tech. You get the same three riding modes as the basic R 18, plus the option of radar-controlled cruise control (which both of our bikes had). Kudos to BMW here, because the system works extremely well—detecting vehicles well in advance and slowing you down without being jarring.
We also had the luxury of heated grips and seats, and a reverse gear. The R 18's TFT screen and accompanying smartphone app allow for live map navigation too—but the app's a bit fiddly in that particular mode, and could use some refinement. There's also a handy storage space on top of the tank for your phone, but in light of recent reports of iPhone cameras breaking due to vibration, I wasn't going to chance it.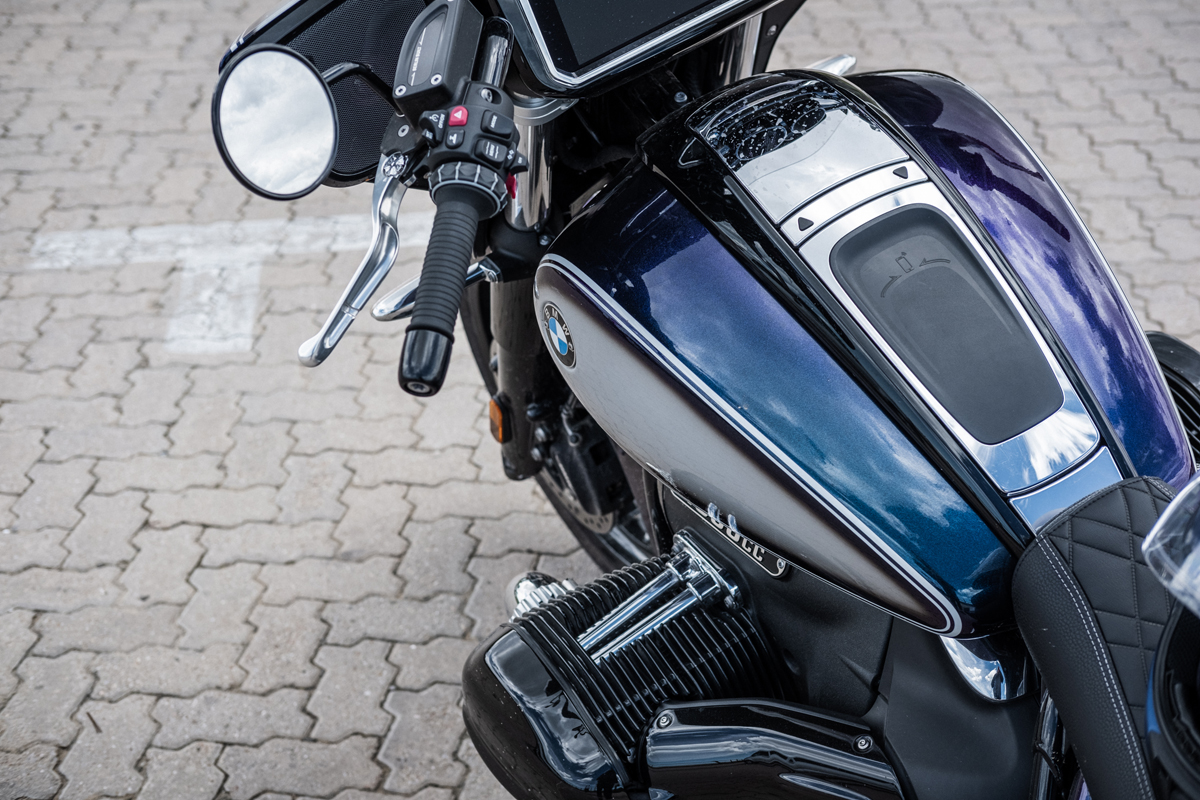 Shortly after leaving Hartenbos, the ominous grey clouds we'd earlier dismissed as innocuous unleashed a downpour on us. I ironically donned my Harley-Davidson rain suit as we pushed on, and by the time we hit the picturesque curves of Robinson Pass, the rain had cleared.
The road from Robinson Pass to Oudsthoorn is a stunning piece of Karoo real estate—a plateau of sorts with sprawling vistas in all directions. Heads down, we pinned it through one more cloud burst, looking back as we reached the R62 at the ominously dark patch that we'd just ridden through. Our second day ended with a final squirt to Calitzdorp.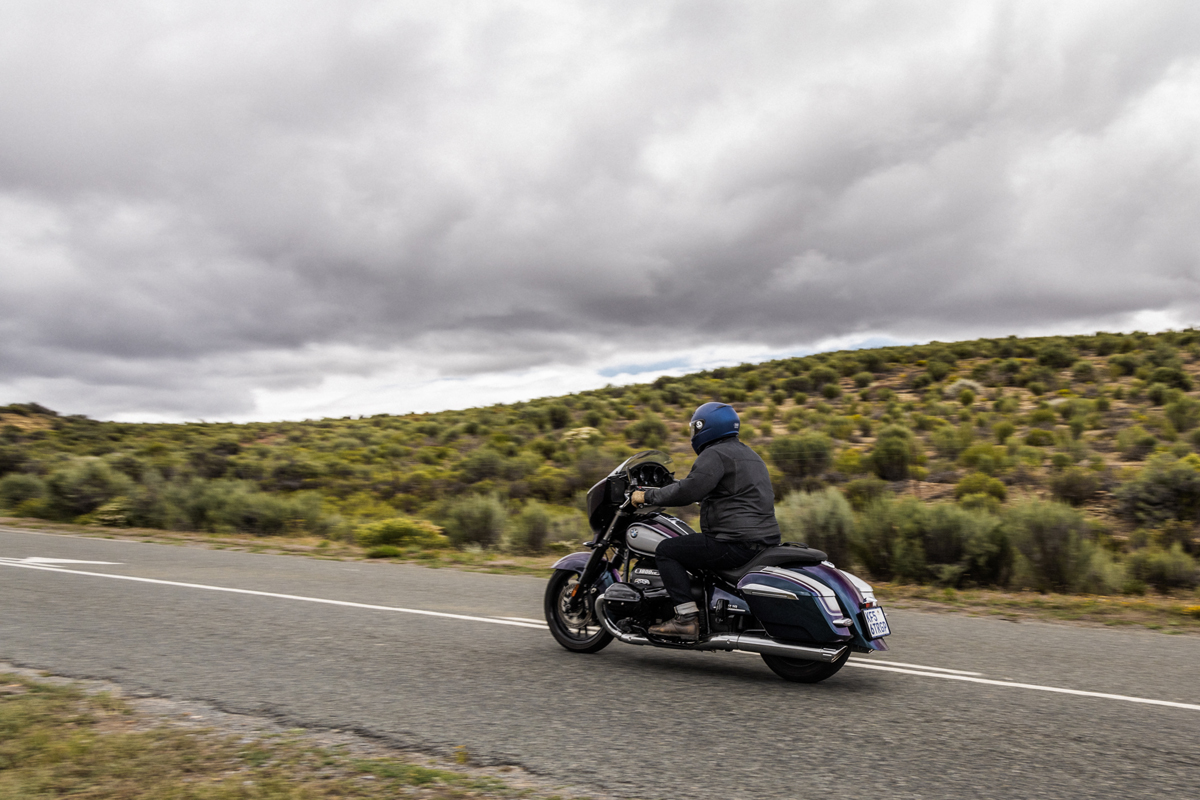 We spent the last day of our tour meandering over Huisrivier Pass, along the R62, and up through the Koo Valley—storm clouds looming over us, but never quite catching us. With three days of perfect riding behind us, we ended with a last push from De Doorns along the N1 home, giving me plenty of time to gather my thoughts.
I'll be the first to admit that writing about motorcycles for a living skews your perception of reality ever so slightly. In standard trim, the B and Transcontinental's prices start at R399,700 and R429,150 respectively. I can't afford either price tag—but my job means that I don't have to in order to experience them.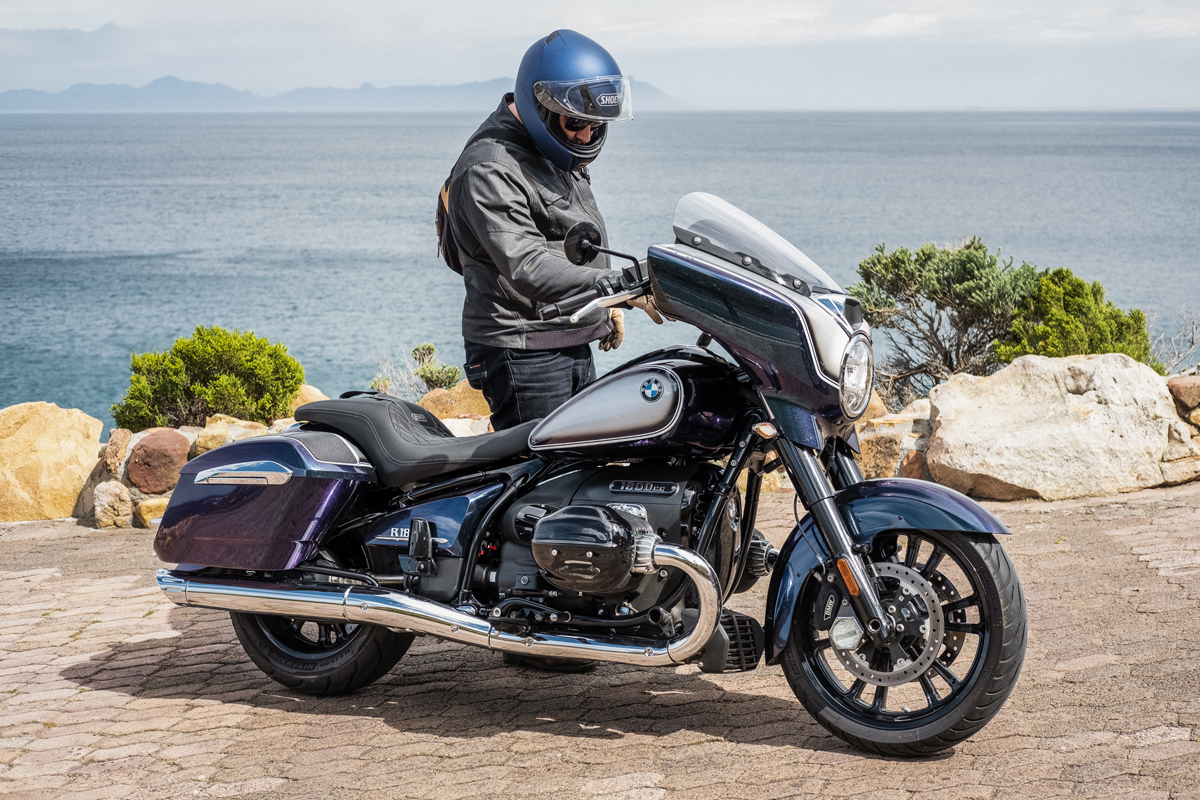 I operate in a world where I can judge a motorcycle on its merits without the hypothetical scenario of actual ownership. And honestly, riding bikes through the best parts of the Western Cape makes it hard to separate what's good about the bike itself, from the sheer pleasure of just riding.
But I managed to figure a few things out—like the fact that I felt way more at home on the B than I did on the Transcontinental. And that while both bikes could use some refinement, they're probably the best versions of the R 18 that BMW has made so far.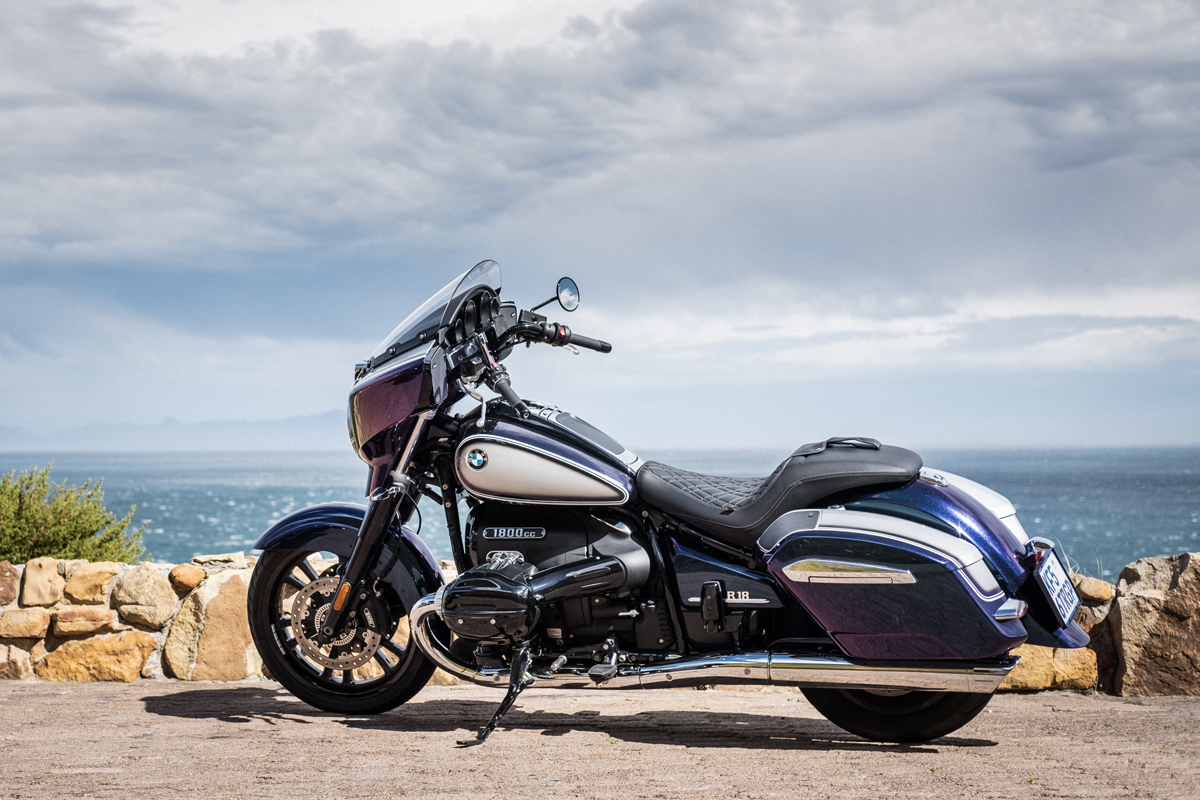 I guess the inevitable question, is whether the R 18 Transcontinental and B will entice potential Harley-Davidson customers away from their Street Glides and Road Glides. But that's not my call to make—that's for the market to decide.
With thanks to Penny Sterley, BMW Motorrad South Africa and BMW Motorrad Cape Town.
BMW R 18 B / R 18 Transcontinental
For more information on the bikes that we tested in this article, click on the links below…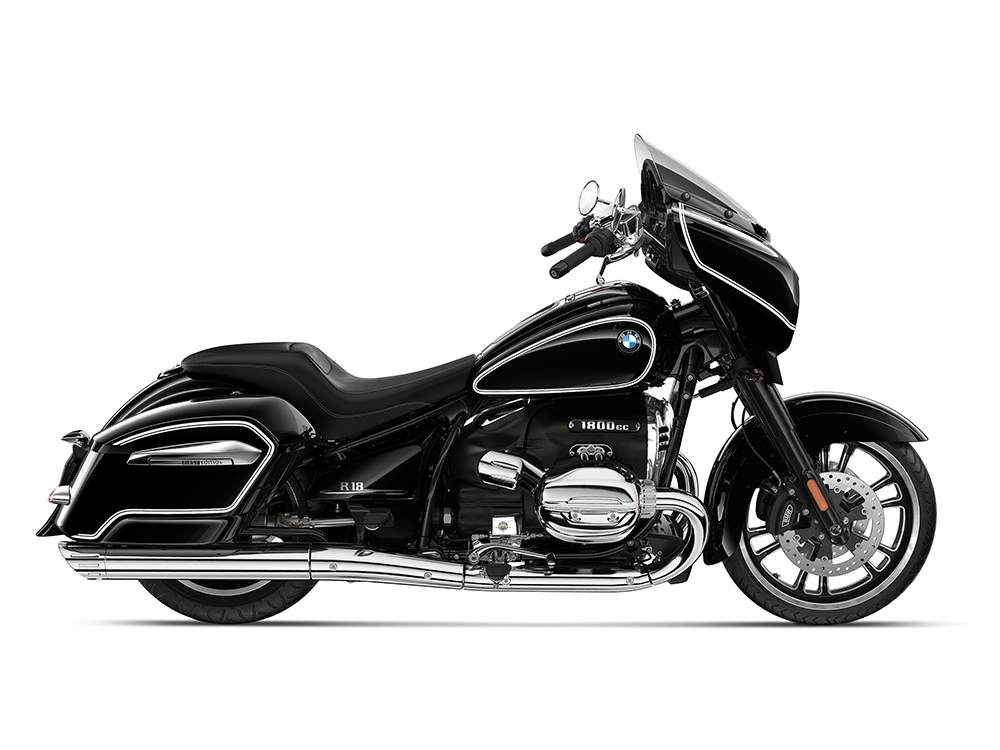 2021
BMW R 18 B
Pricing From R403,759 (RRP)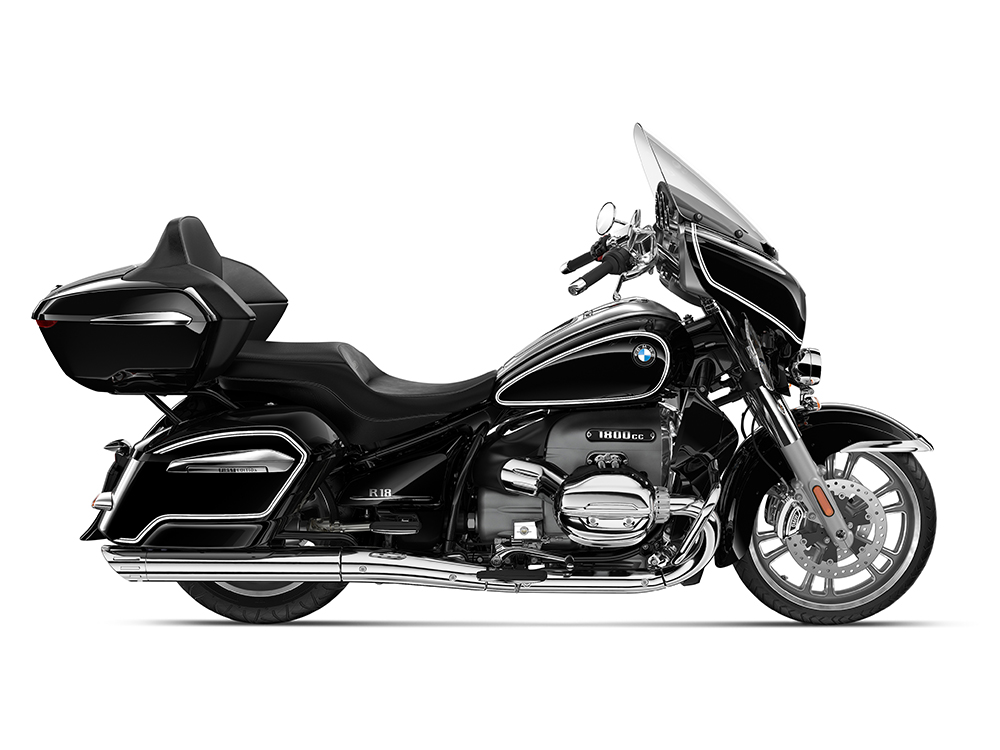 2021
BMW R 18 Transcontinental
Pricing From R433,209 (RRP)