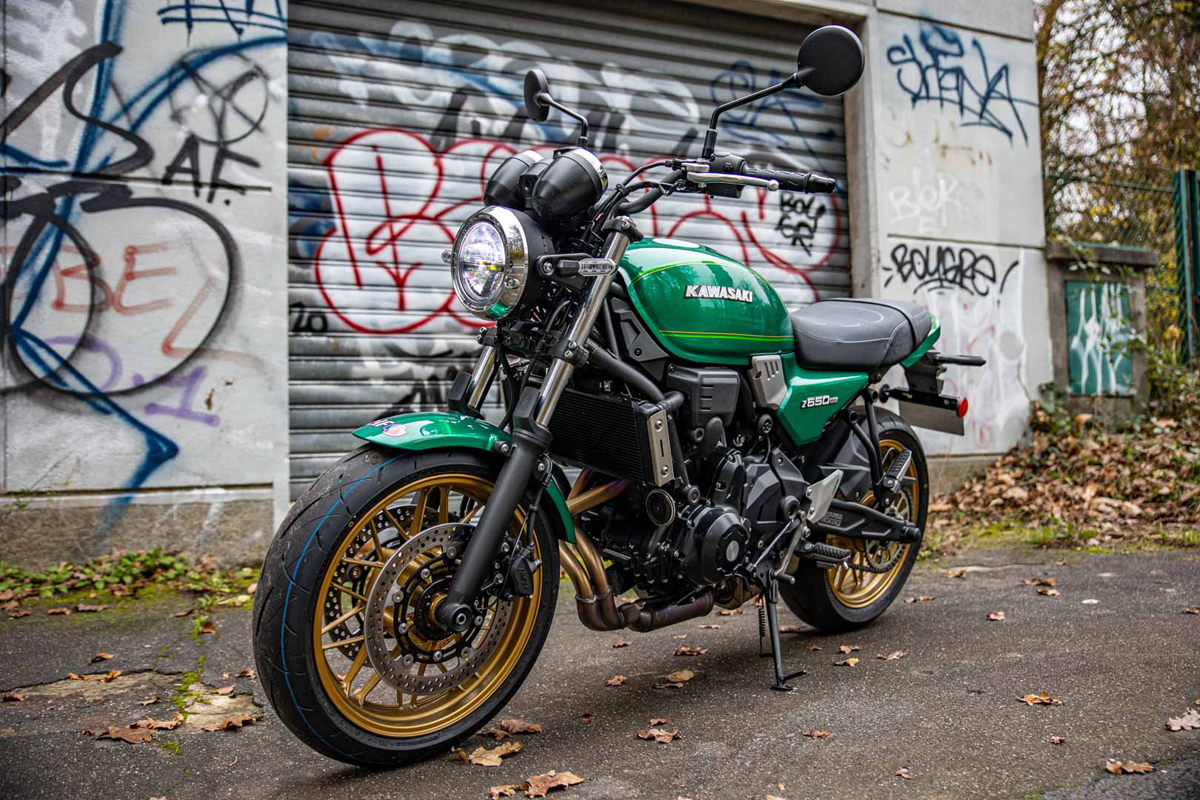 The Z model line has been an incredible success for Kawasaki—but the edgy 'sugomi' design language doesn't appeal to everyone. Bikers that fancy a bit of a retro-style might prefer the Z900RS version. Three years after releasing the Z900RS, Kawasaki have opened the time machine once again with the Z650RS. We had the chance to ride it.
His name was Gyoichi 'Ben' Inamura, and he's credited with designing one of the most iconic Japanese motorcycles of the 70s: the 1972 Kawasaki Z1. It was the first superbike ever, with its rock solid 82 hp in-line four-cylinder engine. A couple of years later, Inamura-san did it again; the 1977 Z650 was a smaller copy of the Z1 and was a great middleweight motorcycle.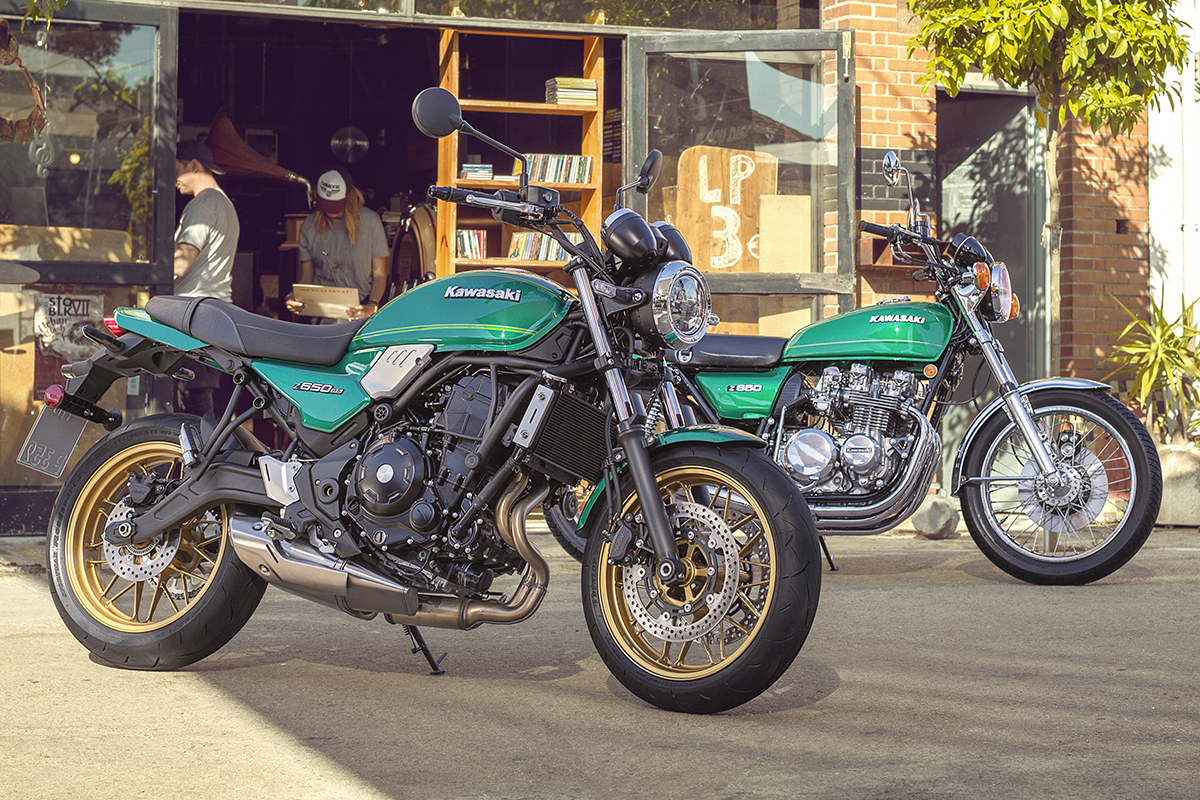 A bit heavy, but with 64 hp on tap, the Z650 was able to clock a solid 190 km/h, and its road holding was more than decent for the time. The bike had quite a long career, getting cast wheels from 1978 and electronic ignition from 1981, a year where the engine also got a black treatment.
The Z650 was a great bike (I had one, a green one with a very loud four-into-one exhaust, when I was a broke student and I loved it), and it's now moving from its status as a cheap bargain to collectable. In Europe, mint samples can now go for nearly ZAR 90,000!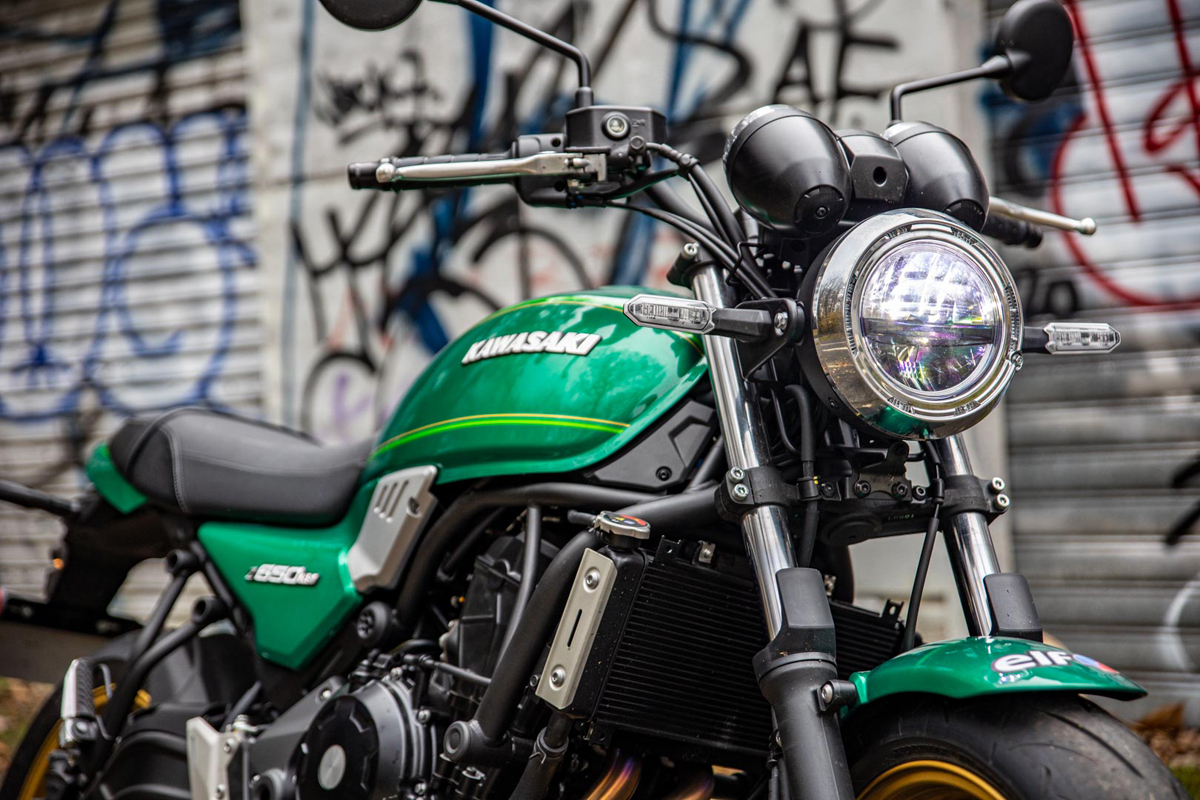 It's amazing how much the brand new Z650RS looks like the 1977 Z650, especially in the green colour scheme. Kawasaki's designers had the talent to transform a standard Z650 into a timeless machine… but how?
The colour, of course, but also the shape of the fuel tank, which echoes Kawasaki's design from the 70s. Its capacity is only 12 litres, but we'll get back to that later. The retro look of the Z650RS is also sustained by its comfy seat, round LED-powered headlight and ducktail rear piece. The tail light is also round, like in the good old days, but if you want grab rails, you'll need to dig into the aftermarket catalogue.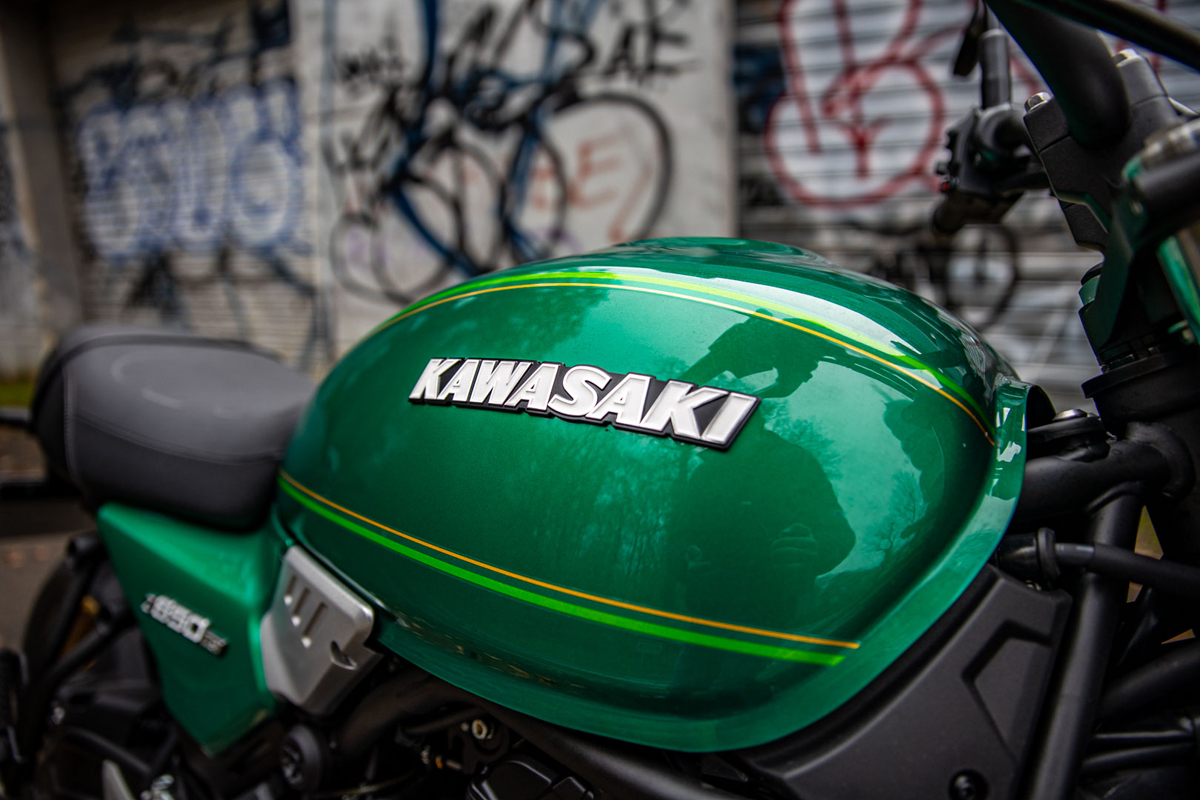 New clothes, same old tech
There's no need to overanalyse it: the Z650RS is basically the well-known Z650, dressed up. The engine is a stressed member of the trellis frame (13,5 kilos), and the 649 cc vertical twin (83 x 60 mm) delivers a bit less power than before, thanks to Euro 5 regulations. It now clocks 68 hp at 8,000 rpm and 64 Nm of torque at 6,500 rpm.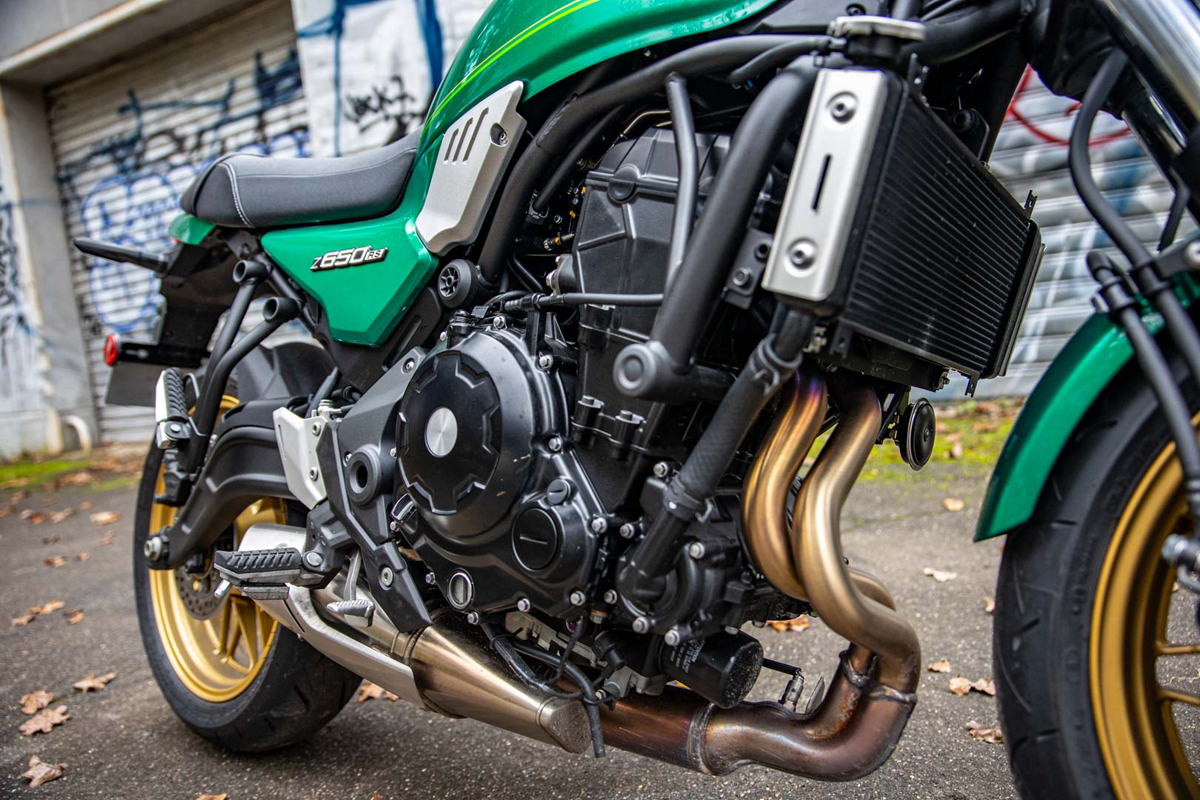 Since 2020, the Z's service intervals have been upgraded to 12,000 kilometres—something that daily commuters will appreciate. The engine remains old school: there is no ride-by-wire throttle, nor any riding modes. But the reality is that we don't really need those on the Z650RS.
The geometry is the same on both versions of the Z. A 1,405 mm wheelbase, 24-degree rake and 100 mm trail make for neutral, yet dynamic, handling. The 20-spoke cast wheels are new to this model too, and the Z650RS weighs just 188 kilos with a fuel tank (as verified by yours truly).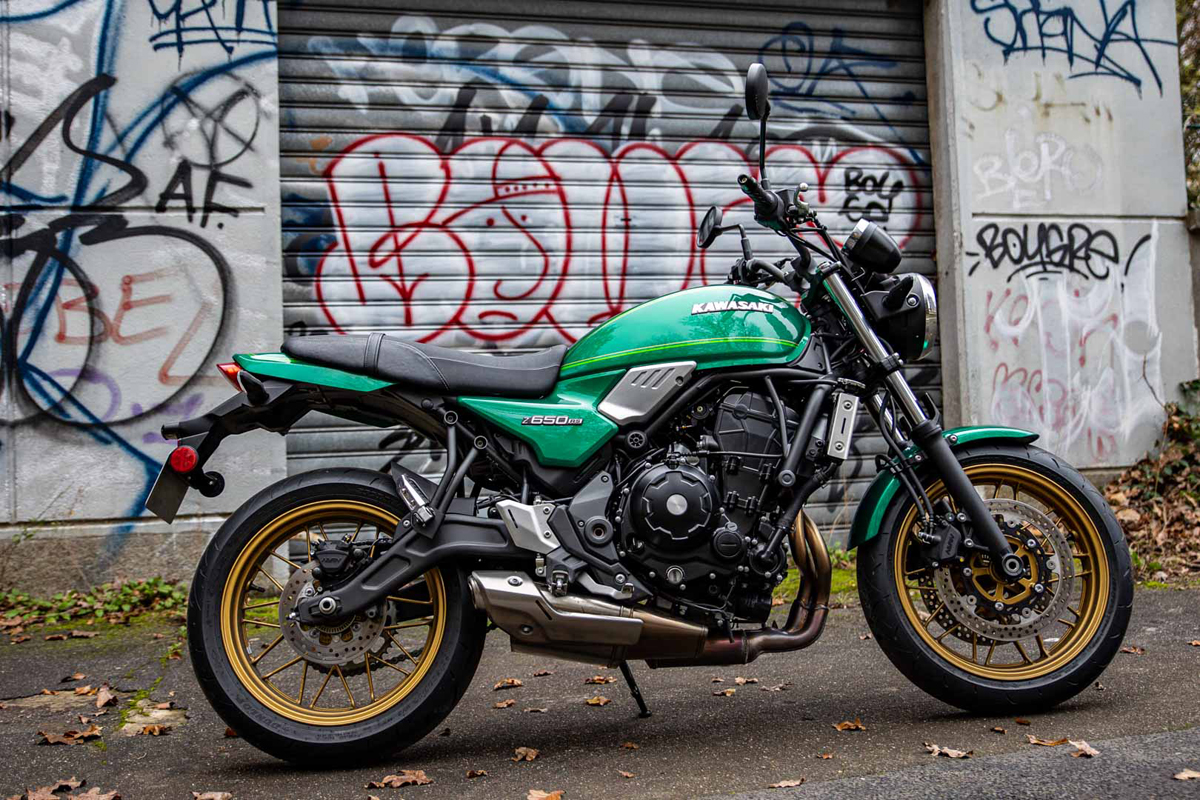 A standard Z650 has a 790 mm seat height and the handlebars are quite narrow. The RS version takes the seat up to 820 mm (an 800 mm seat is available as an optional extra), and the handlebars are 50 mm higher and 30 mm closer. The top triple tree is also 20 mm higher—but those small numbers make a big difference. The old cramped riding position has now given way to a much more natural one, and from the first minute, I felt at ease on board the Z650RS.
Before giving it a go, I took some time to adjust the levers (both have 5-position adjustment), and to get comfortable with the dash, where a small digital screen divides two classic analogue dials (speedo and tacho). That digital display shows you just about all you could ask for; fuel gauge, water temperature, gear indicator, fuel range and more.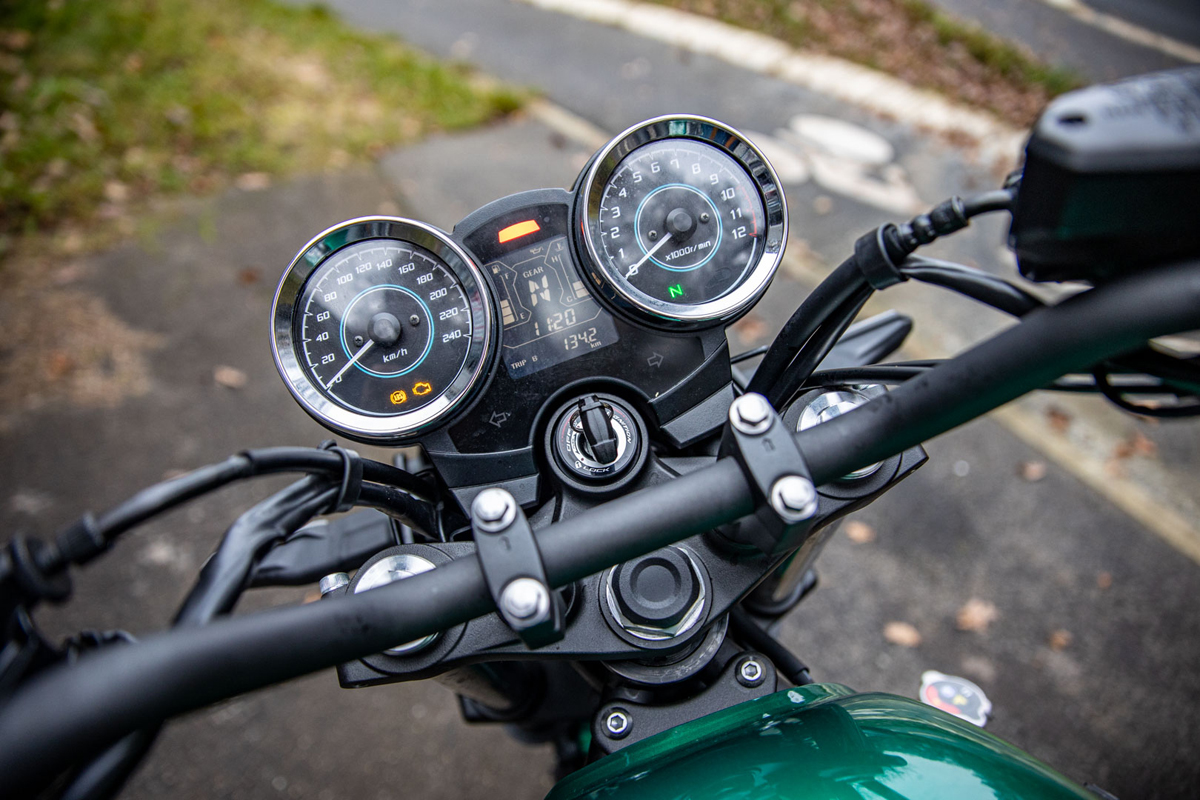 I'm old enough to have been at the launch of the first 2005 Kawasaki ER-6. The bike was fun—a hundred times more fun than the previous generation ER-5—but the vertical twin engine was not very smooth at low revs. Time has passed, and now the Z650RS can cruise city boulevards at 2,000 rpm in fifth gear.
It's truly a peach in town—and also on the open road. The power delivery is decent from 4,000 rpm and consistent from 6,000 rpm. There's no need to keep it near the redline either, as the little Kawa is torquey enough to provide tons of fun on South Africa's plentiful twisties.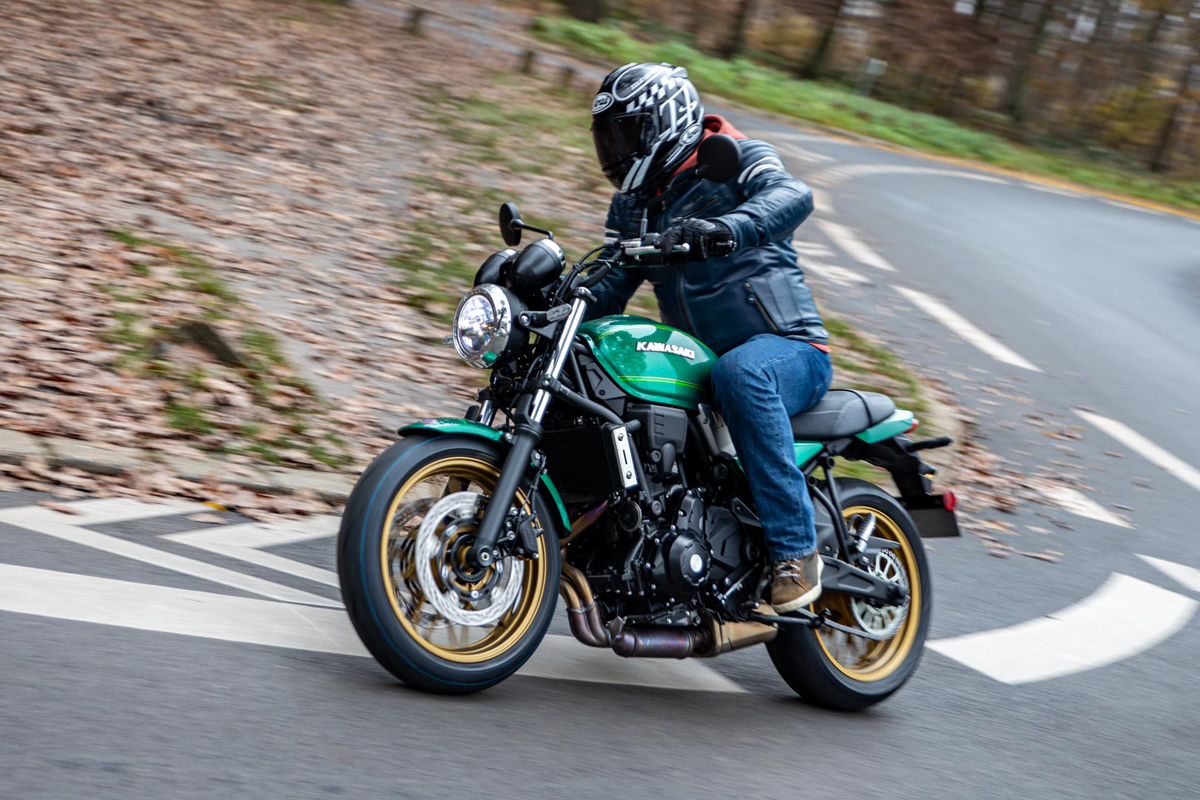 I had a chance to ride this Z650RS alongside a more expensive Triumph Bonneville 900. If you enjoy a bit of dynamic riding, the Kawasaki is definitely for you, with the sort of agility, ground clearance and braking reliability that you'd expect from a Japanese bike. The Dunlop Roadsmart 2 tyres create confidence on dry tar, and the suspension delivers a surprisingly great level of comfort.
Lack of wind protection aside, the Kawasaki can handle several hundred kilometres of highway riding—which I did for this test, without much pain, thanks to the thick seat and plush suspension. At 130 km/h on the speedo, the fuel consumption is around 6 l per 100 km, which doesn't give you much more than a 200-kilometre range. And that might be a little short for some of us who like to munch miles.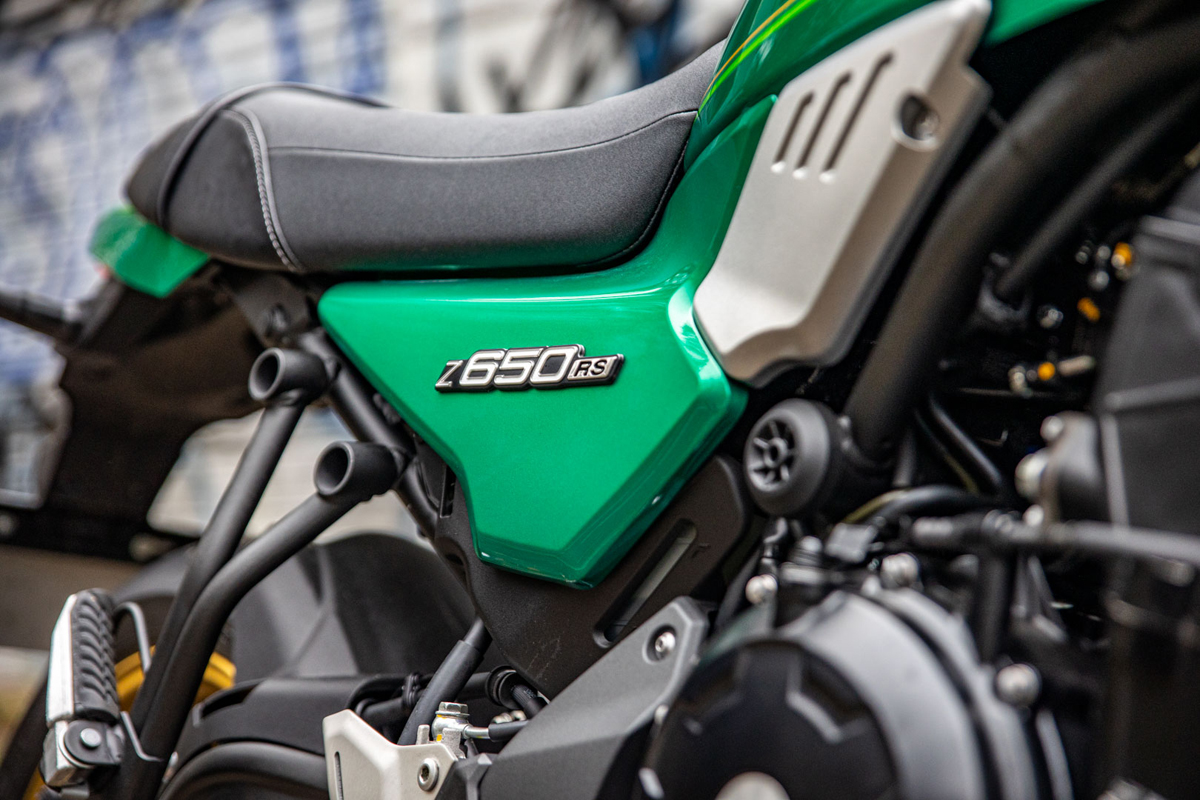 A class of its own
I love the Z900RS, which I almost consider the best Kawasaki of the range (supercharged H2 machines aside). So I rate the Z650RS as another great success from Kawasaki—especially because it doesn't have much competition.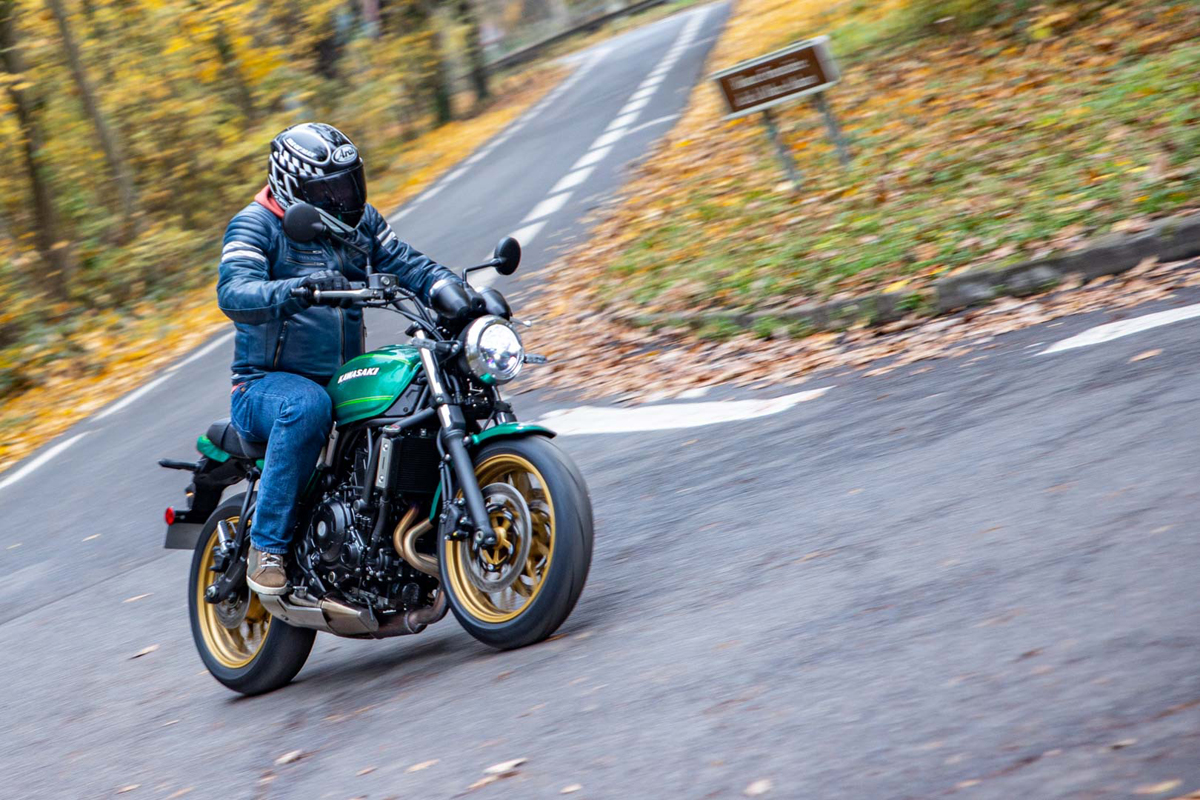 Classic Triumph 900s are more expensive and a bit less fun to ride into corners, the Honda CB650R is not imported in SA (and its four-cylinder motor is a bit peaky), and the Yamaha XSR is less comfortable, and doesn't have the same retro appeal. There's also a Chinese brand on its way called CFMoto. Their 700CL-X Heritage is, ironically enough, powered by a 693 cc vertical twin-engine, which is derived from a made-under-license Kawasaki engine. But it's more peaky and not as smooth as the Kawasaki one.
No doubt: for retro-style commuting and a hassle-free motorcycle experience, the Kawasaki Z650RS is definitely a winner.
You can expect to see the Z650RS in South Africa around July 2022.