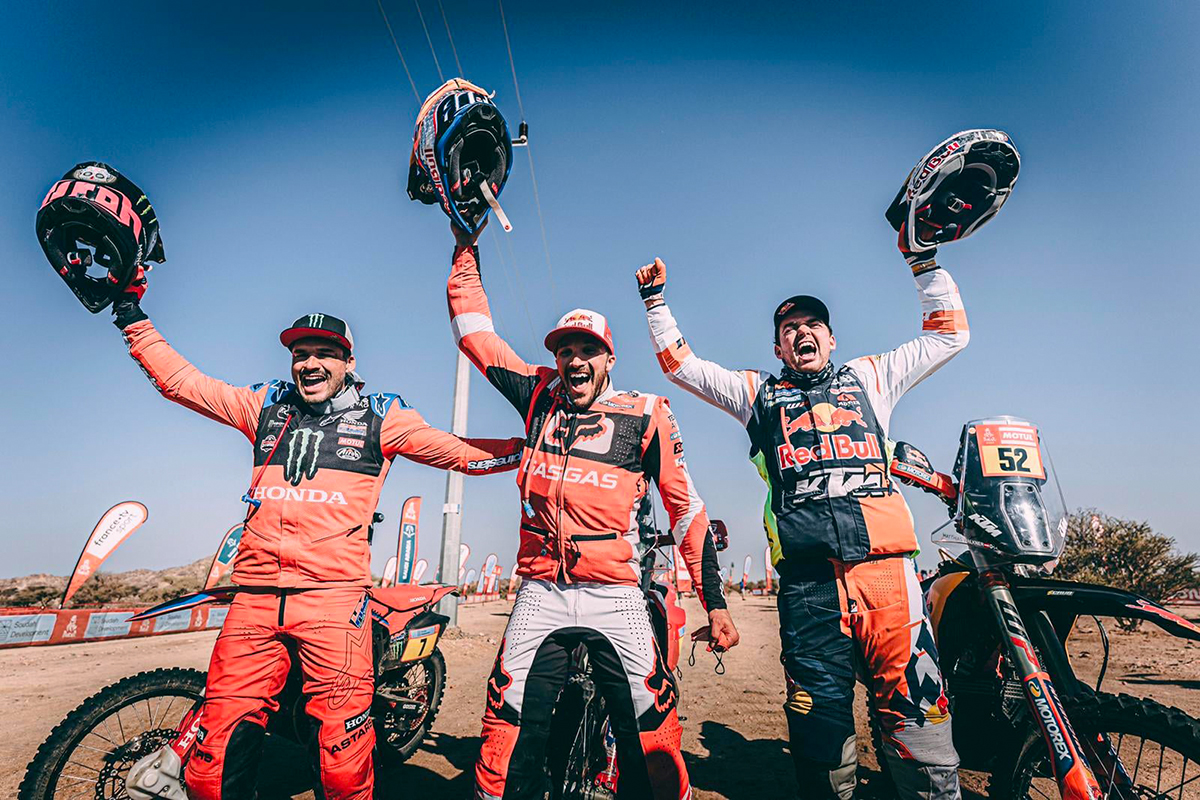 The Dakar is known for fortunes that ebb and flow for competitors, but this year seemed to be especially hectic. All the usual Rally Raid stars were there, but there were a few interesting developments right off the bat. The big news in the pre-season was Kevin Benavides, last years winner on a Honda CRF450 Rally, defecting to KTM. Given the HRC budget, I would imagine that KTM must have made him an eye-watering offer. The other noteworthy entry was the 2017 KTM mounted winner, Sam Sunderland, on a GasGas. The Spanish outfit was bought by Pierer Mobility, KTM's holding company in 2019. Not traditionally Rally bike builders, it would be their third bash at Dakar. They were obviously serious with their signing of Sam as well as promising young Aussie, Daniel Sanders.
Also showing intent were the Indian mega motorcycle manufacturer Hero, with Joaquim Rodrigues, brother in law to Dakar legend Paolo Goncalves, who tragically succumbed to injuries suffered after a crash in the 2020 Dakar, as their top rider. His wingman was Dubai based South African Rally rider Aaron Maré.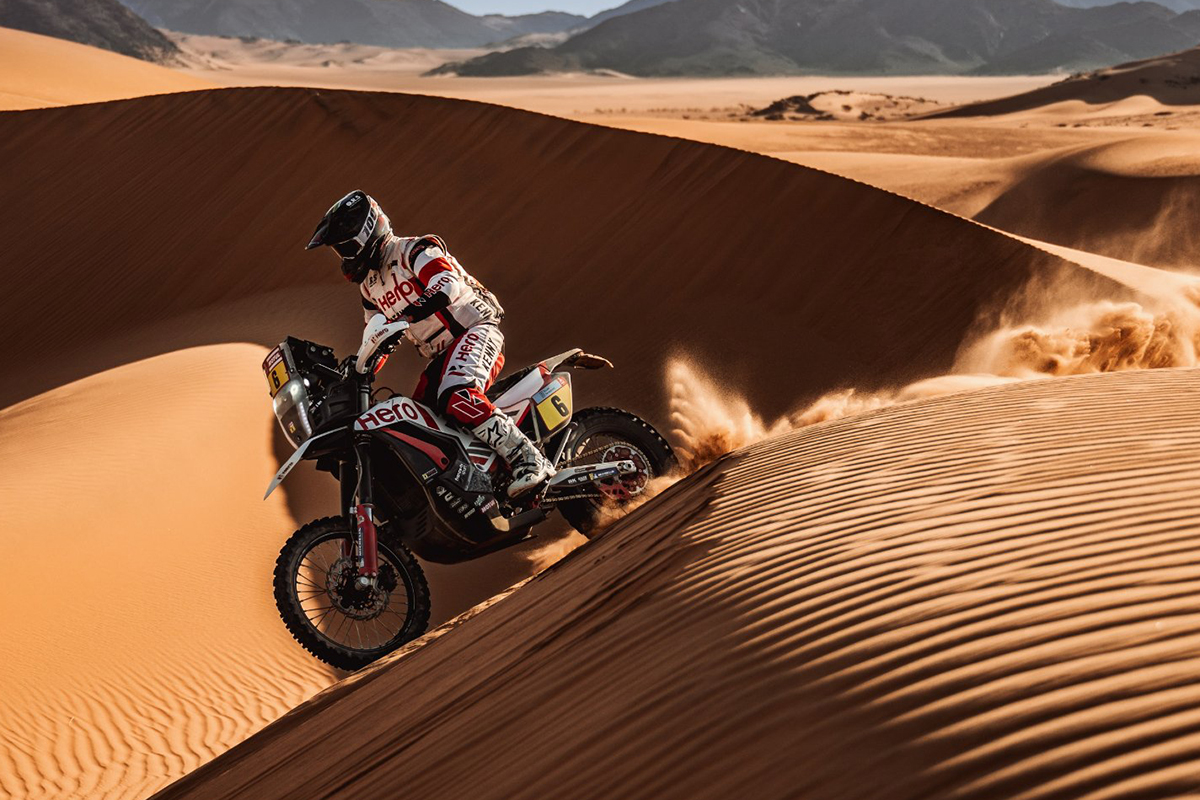 Yamaha strengthened their team with the addition to their ranks of the vastly experienced 39-year-old Andrew Short in 2021. Adrien Van Beveren, Ross Branch, our very own much loved Kalahari Ferrari (OK so he's from Botswana, but that's close enough!) and Short, had unfinished business after their Yamaha's all expired in 2021 from ingesting contaminated fuel. KTM rolled to the line with 2018 winner and reigning 2021 Cross Country World Champion, Matthias Walkner and Aussie stalwart and two times winner Toby Price, shouldering their hopes.
Honda too rolled out their big guns. Ricky Brabec (1st in 2020 and 2nd in 2021), Pablo Quintanilla, lured away from Husqvarna and already with a Dakar 2nd, 3rd and two 4th's to his name. As if that wasn't enough Joan Barreda Bort, the Spaniard with 27 Dakar stage wins and José "Nacho" Cornejo Florima, brought in to replace Paolo Goncalves, were also in HRC colours. Talk about a stars studded cast. With a bit of good fortune (always a Dakar pre-requisite) any of these riders can win Dakar.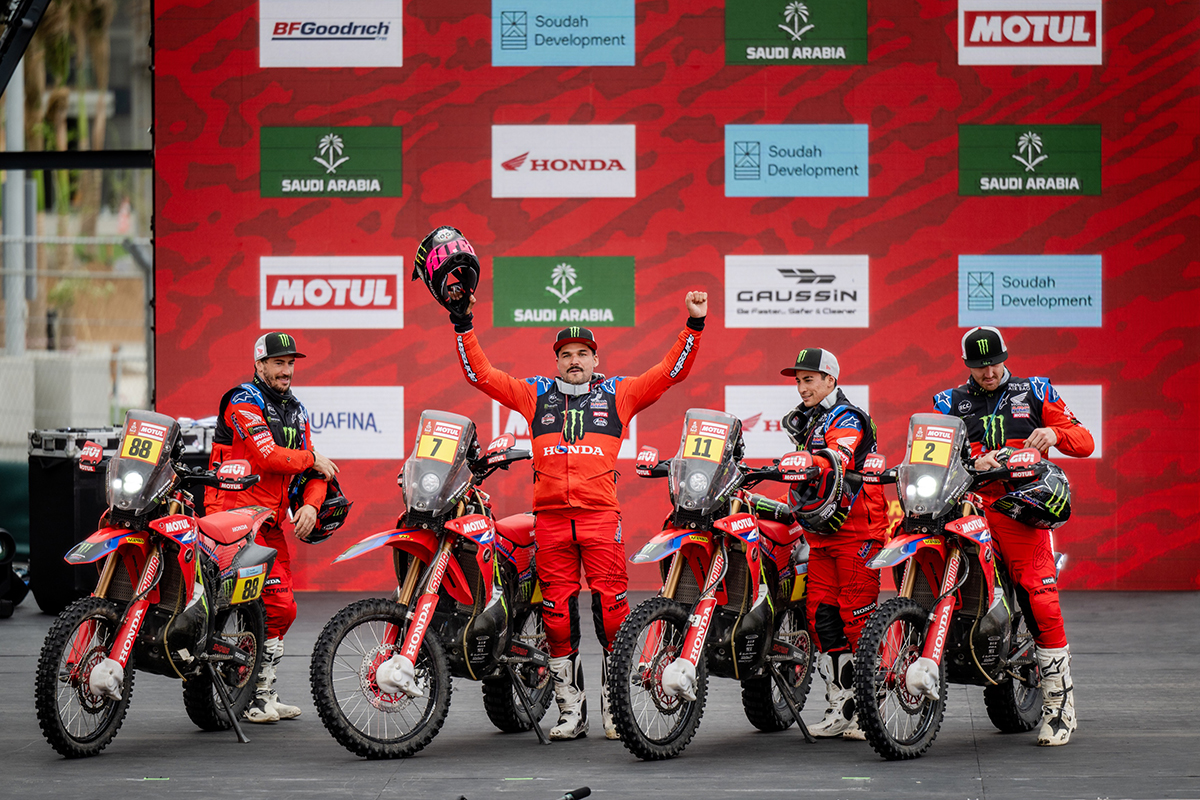 The rest, as they say in the classics, is history. 12 stages later, with the closest winning margin in 34 years, Sam Sunderland, making history for GasGas, stood on the top step of the podium, with runner-up Pablo Quintanilla on his Honda, a mere 3-min 27-sec adrift! Matthias Walkner filled the third spot, also only 3-min 20-sec behind Pablo. The figures don't even begin to tell the story…the first stage was won by Daniel Sanders on his GasGas, showing the capability of the machine in the right hands, right from the get-go.
This stage then set up the drama that was going to unfold for the duration of the race. Some of the big stars had a nightmare with navigation and lost huge amounts of time right up front. Notably, Joan Barreda, Andrew Short, Toby Price, Nacho Cornejo and Ricky Brabec, who ended up between 40-minutes and a full hour behind the leaders. For these riders, the rest of the Rally would be about minimising mistakes and trying to pull back time. They had a mountain to climb in more ways than one.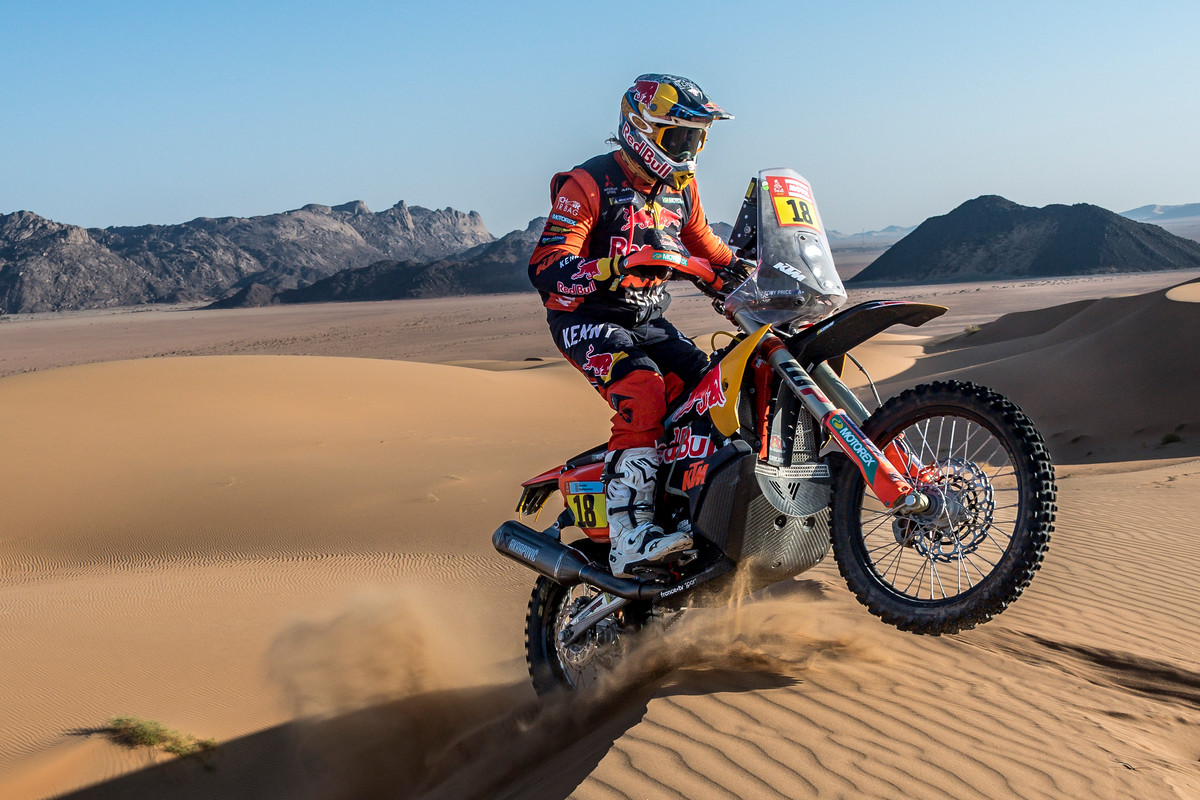 Serving notice, and in the top ten at the end of the stage were Quintanilla (2nd), Walkner (3rd), Van Beveren (4th), Mason Klein, 20-year-old American rookie on a Bas KTM 450 Rally Replica (5th), Sunderland (6th) and our boykie, Ross Branch in 9th. What unfolded over the next 11 stages was something that has emerged as a pattern over the years and doesn't seem fair. You don't want to win a stage at Dakar, because that means that you start first the next day with a huge target on your back. You have to be on point with your navigation and at the same time ride really fast. The fellows following you just jump on the main jet and follow your tracks. You kinda want a top ten, rather than win. This means that you can make up time daily by focussing more on riding and a tad less on navigation. The Honda boys really capitalised on this and started to ride back into contention over the rest of the rally.
Adrien Van Beveren is a case in point. Going into the penultimate stage of the rally he was leading overall by six minutes. A waypoint would not register for him and he saw other riders 'registering' riding the same route as him. It eventually picked him up and now, having lost a lot of time crisscrossing the route to try and get the waypoint to register, he rode, in his own words, at 200% resulting in two crashes. Also running low on fuel he had to cool it to make the end of the stage, losing almost 20-minutes and the rally lead. Such are the highs and lows of the Dakar. He rode himself back into 4th place by the end of the race. He must rank as one of the best riders to have not yet won a Dakar.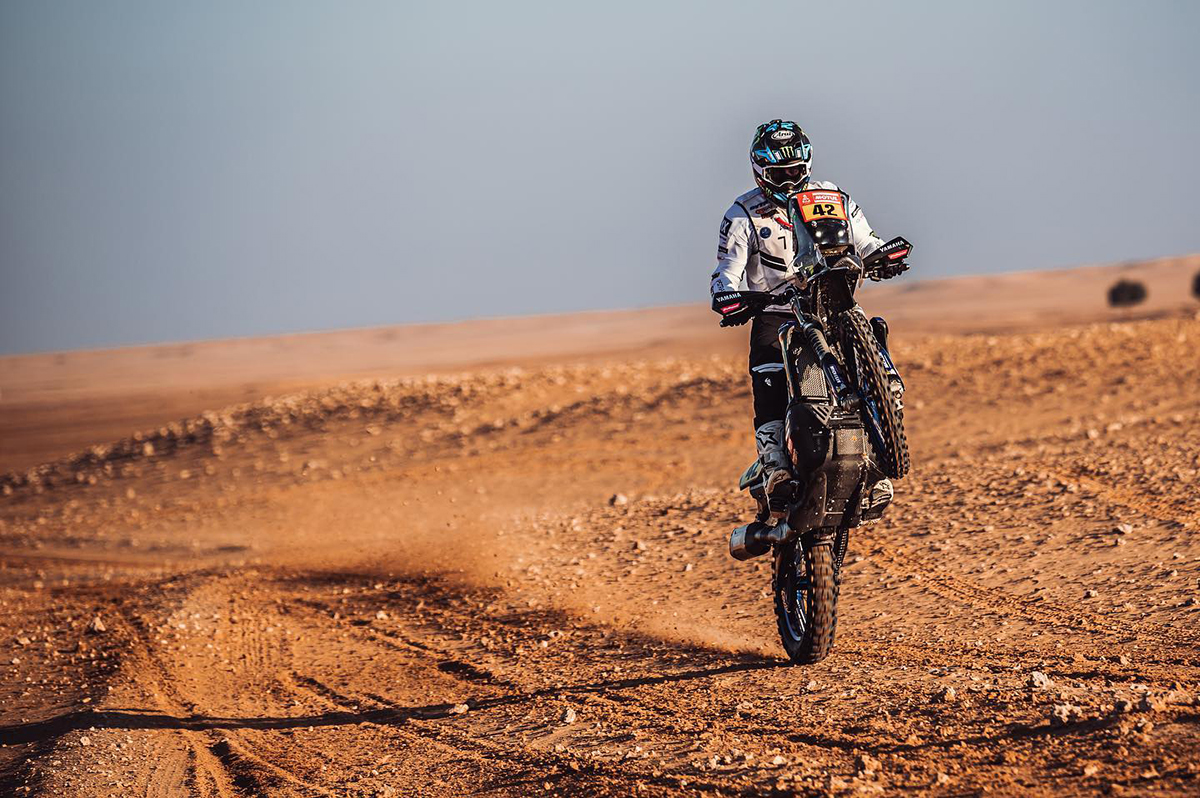 Our Ross Branch rode a brilliant rally up to stage 6. He was one of the leaders coming onto the stage due to an excellent stage 5. The route was over the truck route from the previous day which resulted in such churned up ground that the organisers ultimately deemed it "too dangerous" and shortened the stage to just 100 kilometres. Unfortunately, it had already cost the Kalahari Ferrari his race. He had a huge off, bruising his body so badly that he was forced to withdraw from the race. In true Ross fashion, he tried to continue the next stage.
There is a Facebook clip of him trying to get on his bike which virtually moved me to tears. He is clearly in immense pain, so much so that a fellow competitor has to help him get his leg over the bike. He lost feeling in his one side from nerves pinched from the excessive bruising and had to call it quits. Knowing Ross as I do, to say he was gutted is a huge understatement. If there was an award for guts and determination, he would be the leading contender in my book. He has shown he has the ability to compete with the best. He was running consistently in the top 10. Like a number of other riders, he just needs a small run of good fortune.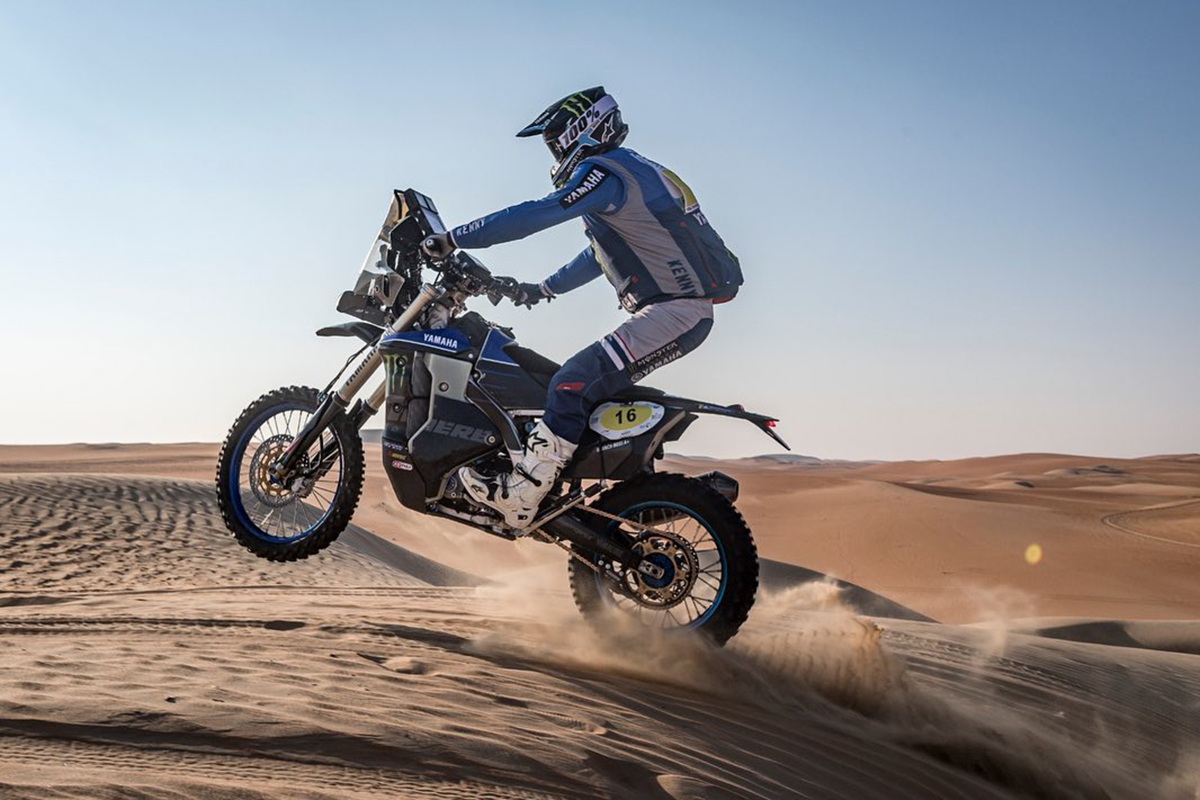 A number of South Africans deserve an honourable mention. Aaron Maré rode a great Dakar, performing consistently and riding his Hero to 16th place. Dakar legend Alfie Cox was supporting his son Bradley, riding his first Dakar. Brad rewarded him with a level headed and excellent result, coming home 25th overall. Charan Moore, riding in the "Original by Motul" class finished a creditable 34th overall. These guys are the unsung heroes of the Dakar. Unsupported, they ride, then have to service and repair their own bikes for the next stage. Supermen!. John Kelly and Stuart Gregory are two such fellows, finishing 46th and 65th respectively.
We cannot mention the Dakar without speaking about MotoGP star Danilo Petrucci. Riding his first Dakar, he was competitive from stage one. His KTM, unfortunately, expired on stage four, forcing his retirement. He continued, albeit just for the experience, winning stage five overall! Frikken unbelievable! As the race drew to an end it was the Hondas which, from a team point of view, impressed. Every day they clawed their way back up the leader board.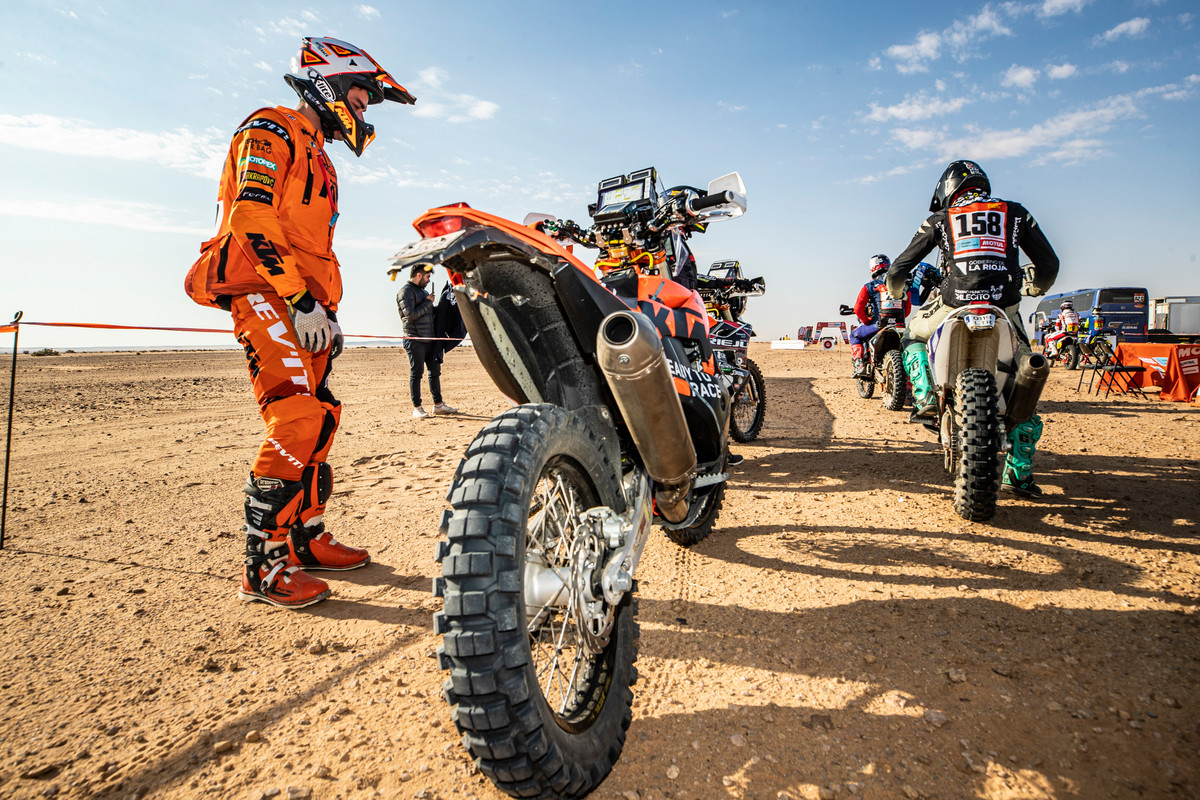 When the checkered flag dropped, all four factory Hondas were in the top ten. Quintanillo pipped into 2nd, Joan Barreda 5th, Naco Cornejo 6th and Ricky Brabec 7th. Adrien Van Beveren, who, in his own words, "regained my desire to take risks", rode into a so well deserved 4th, having led the rally for a number of stages. KTM rookie Mason Klein, who started well, ended well as well, with a fantastic 9th place, just pipping Aussie ace Toby Price, who rounded out the top ten.
Van Beveren, who by the way, is Sam Sunderland's brother-in-law, maybe hit the nail on the head with his quote. No one will win the Dakar without being willing to take risks. The 450 Rally bikes hit speeds of up to 180 kilometres an hour, across some of the roughest and most inhospitable terrains on the planet. To risk life and limb is without equal. To illustrate this, just Google historic results. There is not a single winner who has not had to throw in the towel in a Dakar due to physical or mechanical issues. They simply swallow it up and try again the next year. To every single modern-day gladiator who straddles a bike at Dakar, you are my absolute heroes and I salute you! Bring on 2023…