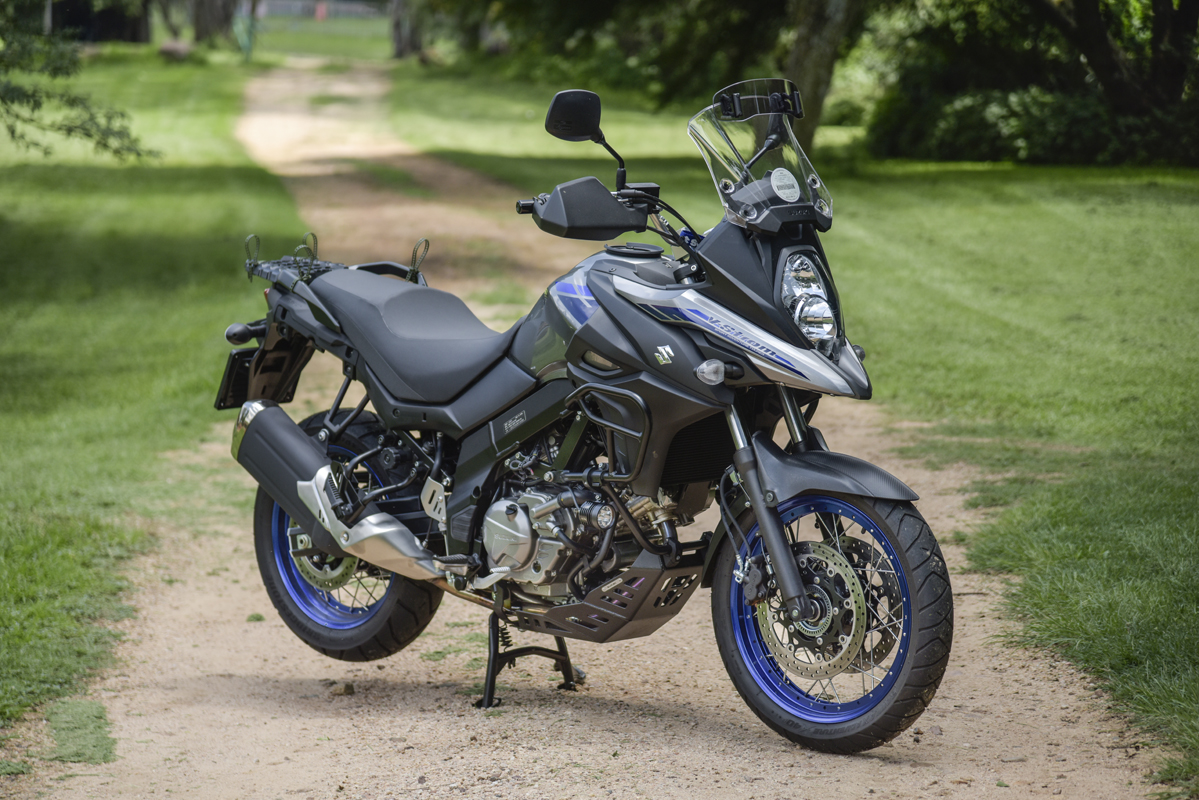 Heeha! I took delivery of my Suzuki V-Strom DL650 XT. I had the perfect opportunity to do some running in towards the end of last year. Nothing better to bond with a new bike than by undertaking a road trip. I have also discovered that you can only learn a certain amount about a bike 'second hand'. Reading reviews and watching YouTube clips, can only reveal certain aspects of owning the bike. To really form a considered opinion you have to plant your butt in the seat and spend some hours in the saddle. Only then is all revealed.
My son, also Dave, on his BMW R 1200 GS Adventure, needed no convincing that he needed a road trip where we could pitch our tents after a long ride, get a fire going and sip on a decent red in front of our 'bushveld TV', whilst contemplating the wonders of life in general and riding motorcycles in particular. We rode north out of Pretoria early on a Friday morning onto an already busy highway. Before Bela-Bela we peeled off onto the old road north. At the best of times, I abhor highways, but especially when traffic is hectic. Wherever I have the option I take to the road less travelled.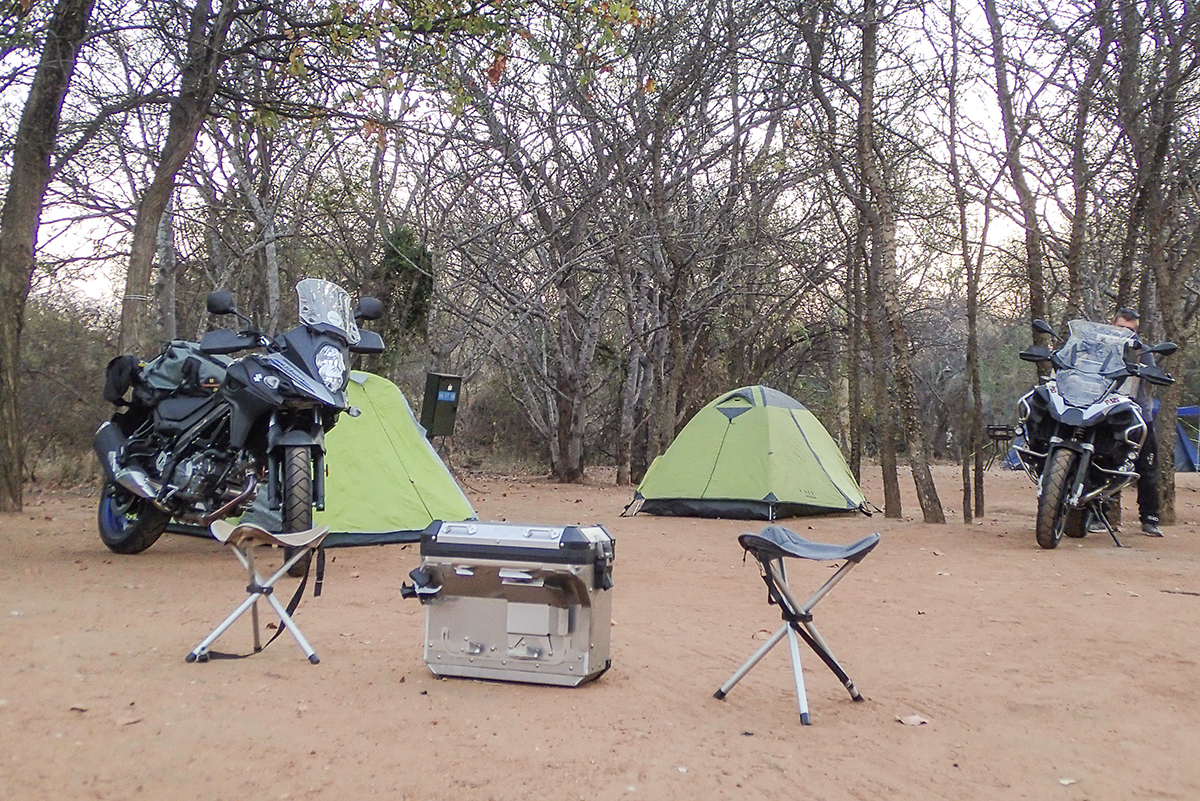 The Suzuki was already winning me over with its smooth and willing motor and general comfort. Keeping the revs under six grand still allowed 130 kph cruising. We stopped for a Wimpy brekkie in Modimolle before continuing on our way to a more scenic old road. Lower traffic volumes have kept the surface in pretty good condition, making for really pleasant riding.
Checking the vital info on the dash of the V-Strom confirmed my opinion that the current crop of TFT displays may tick the box for Generation X, but in terms of functionality, they don't come close to a logical display like that on the DL650 XT. Scrolling through menus and various screens to try and access information or reset readouts is way more work than on a logical display. The Strom has an analogue rev counter with a side screen giving all the information in digital format. A large digital speedo and gear indicator keep you informed and other info is changed by a simple toggle switch on the left handlebar.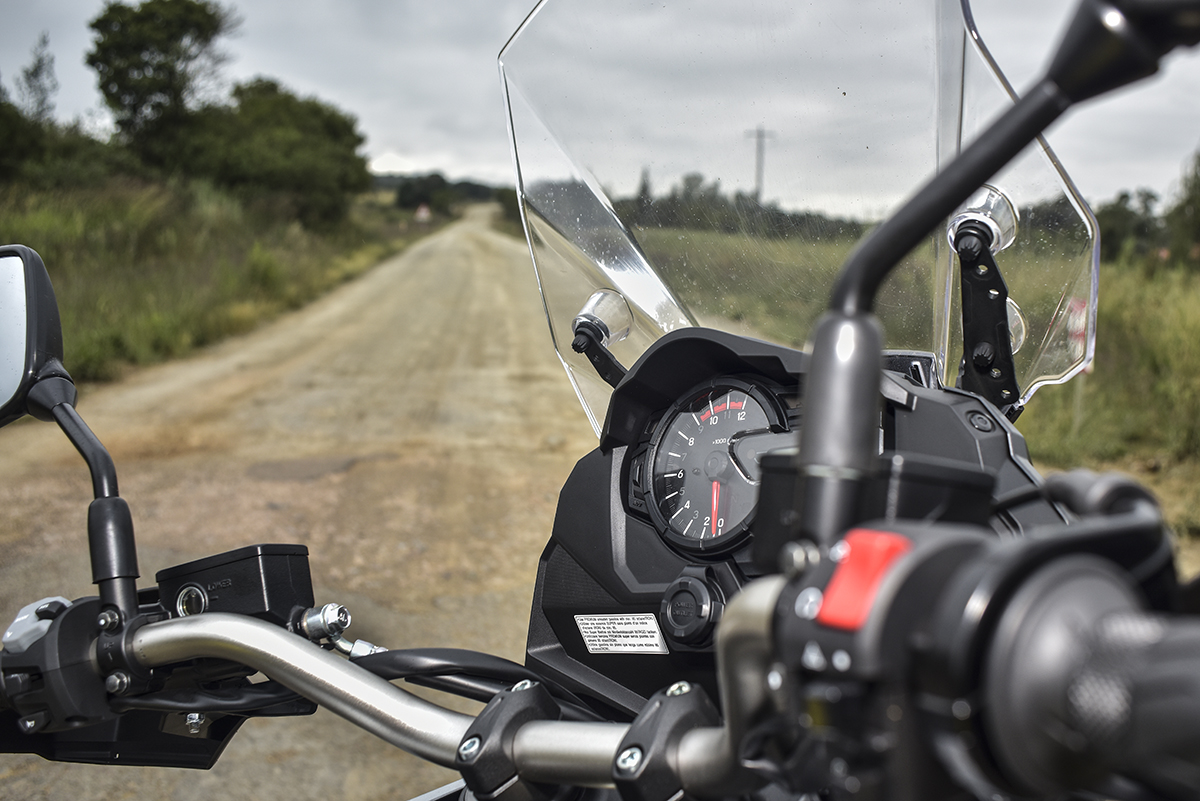 To reset, simply hold the button for a mo. TFT displays distract you for yonks trying to figure out how they work. In theory, we should suss them out before we ride off, however, in practice most riders will try and figure them out on the fly. Guaranteed someone has already become a bumper sticker as a result. We are being conditioned to a future where we just clip our mobiles into a recess on the 'dash' and use the 'app' to turn it into our display. Mark my words.
We hooked a right in Polokwane and rode to Haenertsburg. I had done nothing to adjust preload or damping on the rear shock. The ride is firm yet compliant enough over uneven surfaces. Some reviews I have read suggest the suspension needs upgrading. I am not so sure. The Strom turns beautifully and holds a perfect line through long sweeps. Bumpy bends are despatched without fuss. I have subsequently dialled in a bit more rear preload, easily achieved with the knurled knob, then upped the rebound damping to suit. The back shock is now well controlled and surprisingly good over poor surfaces.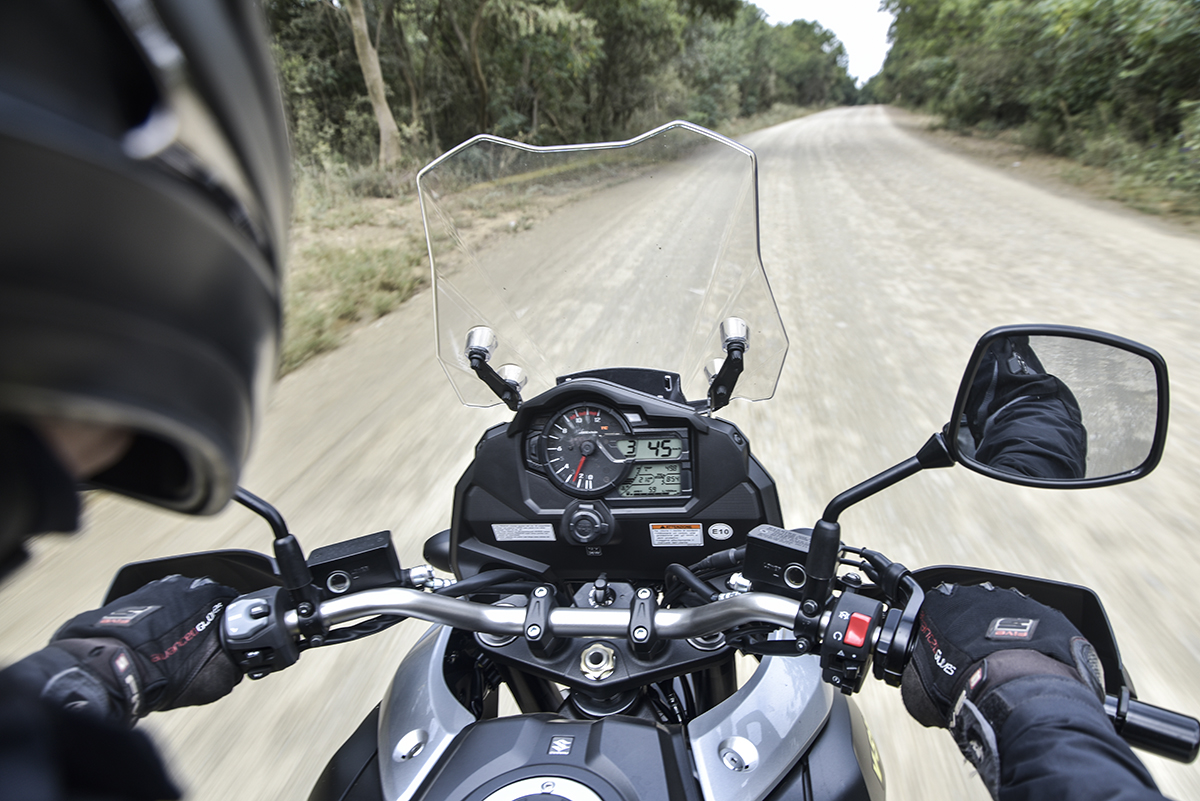 The front is slightly harsh over small bumps but gets better when it receives harder hits. All in all, it is more than adequate and has moved to the… "This year? Next year? Sometime? Never" list. I will let everything settle, then play with the preload and damping with shims and different weight fork oil. I'm pretty sure I'll be able to get it sorted to my liking. I may look at a fork brace too. Bottom line, it is quite acceptable straight out the box.
Haenertsburg has a Swiss chalet type spot on the left as you roll down the hill into the village. Perfect for a tasty chow or, dare I say, an ice-cold draught craft beer on a toasty summers day. We proceeded down Magoebaskloof to Tzaneen. The little 'Strom devoured the tighter bends faster than a dog bolts down biltong! The totally neutral and light steering makes the bike a pleasure in the twisties.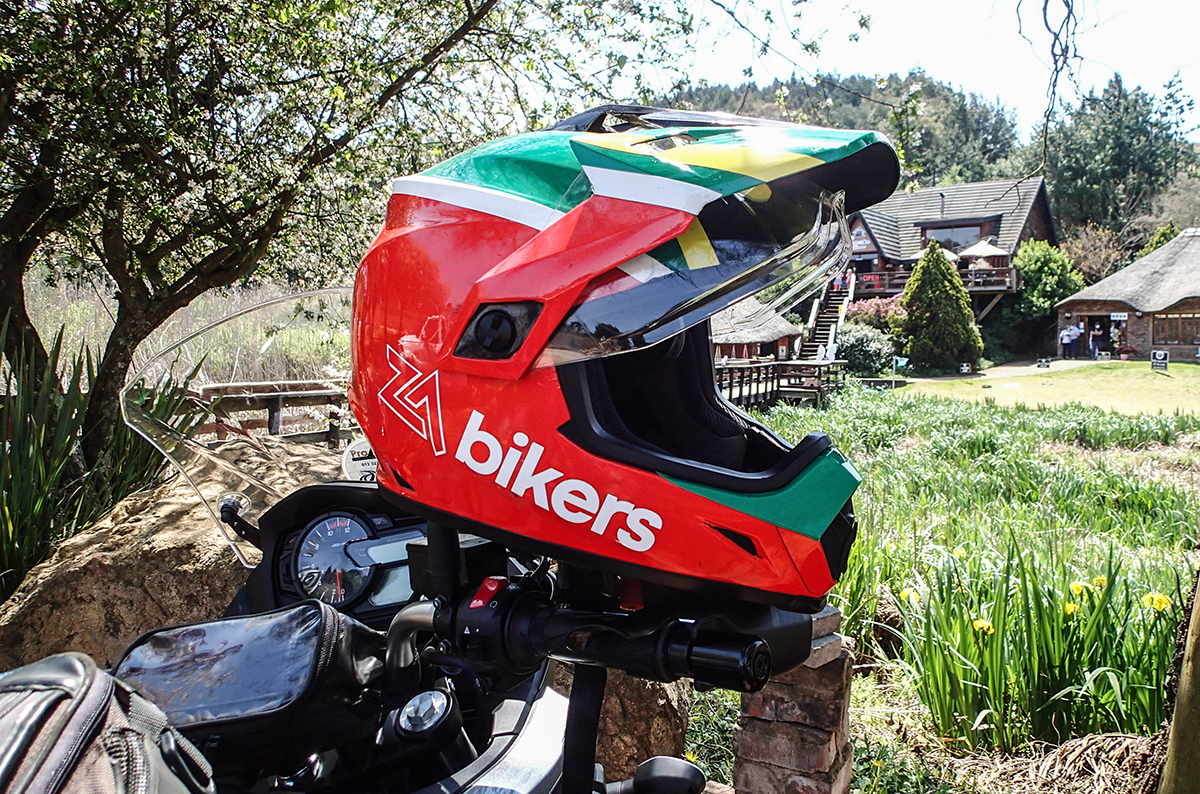 I was shadowed down the mountain by a red Porsche GT3 RS. I managed to use the agility and slim stature of the Suzy to sneak past slower traffic and gap the Porsche. As the road straightened out he flexed the cars considerable muscle and blasted past with a flat-six wail which set my pulse racing. If only I had been on a 'Busa, then it would have been a more fair fight!
It was now early afternoon and properly hot. We refuelled in Gravelotte. The little Suzi had done 422 kays on a little over 18-litres. A 20-litre tank gives it really good range. The screen works really well on its highest setting, taking all the windblast off your chest and head. An MRA screen extender subsequently fitted smoothed the airflow wonderfully. I now have absolutely no turbulence around the helmet. My tip? Don't bother with aftermarket screens. Buy an MRA screen extender and transfer it from bike to bike.
They work on a wing principle, speeding up the air under the extender and smoothing the airflow superbly. You can adjust the height and angle to perfection. With tanks topped up, we rolled into Phalaborwa and set up camp in the Forever Resort bordering on the Kruger National Park. This is uber cool because you get to hear hyena cackling, jackals howling and lions roaring at night. We changed into some cooler kit and strolled across the road to a chilled little boutique hotel where we smashed some cold ones. The beers and subsequent meal that we scoffed went down singing hymns.
We watched the sun turn the bushveld gold, then a burnished bronze, before a gentle darkness enveloped us. I will never tire of these spectacular African sunsets. Back at camp, we got a fire going, simply for the unparalleled ambience as we drew our camp stools nearer and cracked a good bottle of red. Sipping and chatting, we spoke of trips done and those bucket-list ones, God willing, still to do. I sensed the silent 'Strom pricking up its ears, keen to hear what is in store for it.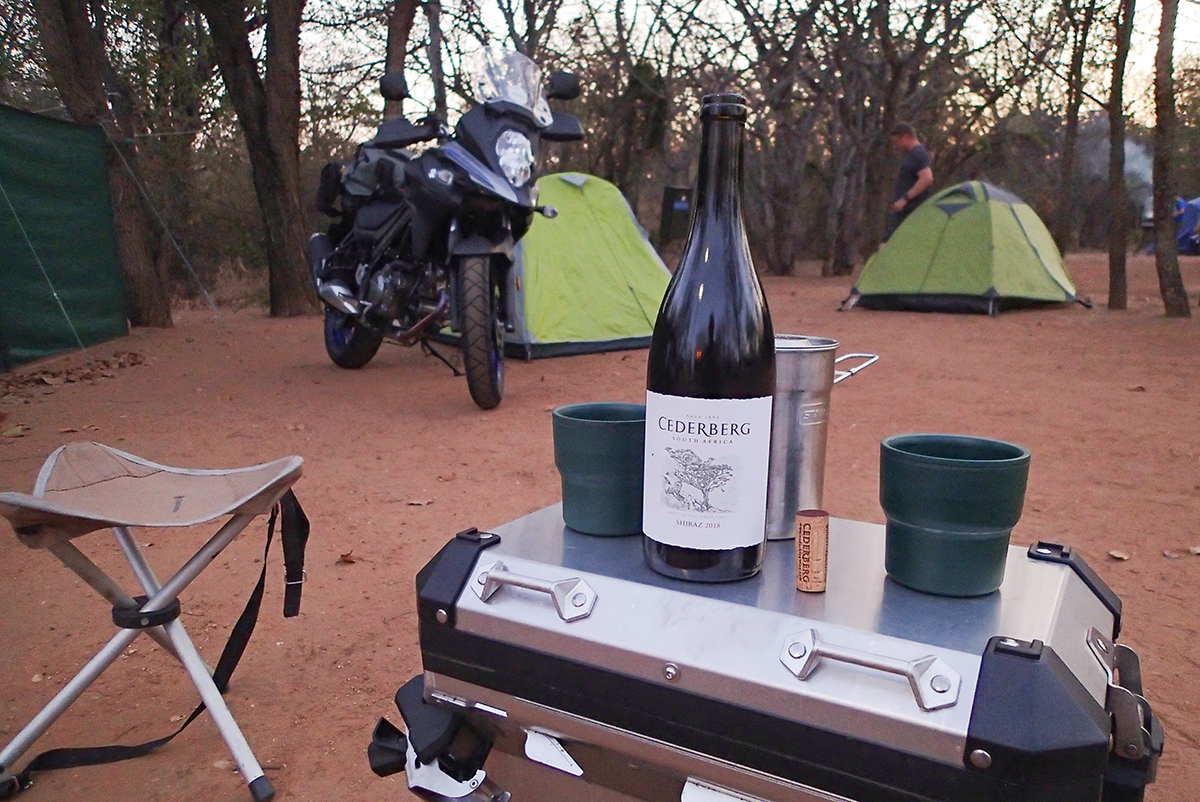 By the time the red was done and the flickering flames had settled into a bed of red coals, we were ready for bed. It was two extremely happy and content campers that settled into their tents. We fell asleep to a cacophony of sound from the Park. As we called quits on a perfect day the night creatures were hitting their straps. What a wonderful place we call home I mused, as sleep overcame me.
The sun rises early when you are this far east. I am pretty much a morning person so I was up at first light, before the sun peeked its fiery head over the horizon. First priority is always coffee, so I fired up my little gas stove and got some water on to boil. Dave and I sipped on a strong brew as the sun appeared as a big red orb through the treeline. Early mornings and late afternoons, what a special time in Africa! The rising sun chases away the shadows of the night and bathes the bush in a glorious golden glow.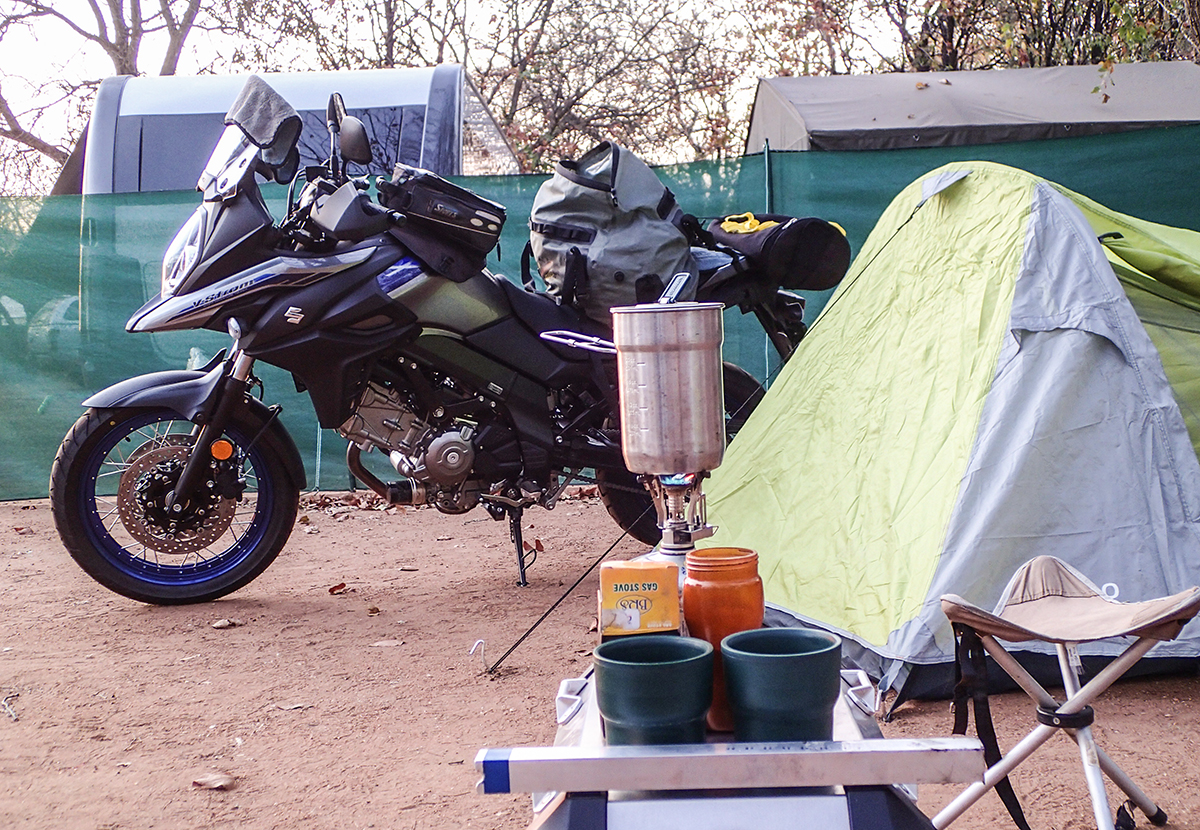 We showered and then broke camp before the heat of the day. Early morning riding is my absolute best. We meandered out of town, riding south to Hoedspruit. The road takes you along the edge of Kruger. The bikes were revelling in the cool morning air. It was one of those rides where you don't even look at your speedo. You are so busy taking in the bushveld splendour that you are literally idling along at less than 100 kph, in a silent, smooth, happy bubble.
Once through Hoedspruit, we had to contend with the urban sprawl that is Bushbuckridge. Luckily traffic was not yet too hectic, so we turned towards Graskop and out of town. The bushveld had made way for wooded mountain vistas and the road swept and undulated across the land, marred only by some potentially disastrous potholes. Having ridden these roads for many years it is so sad to witness the decline of the once amazing infrastructure. As the cynical saying goes, "Africa wins always". Up Kowyns Pass we went and into Graskop.
The early morning cloud had lifted revealing spectacular views of the mountains and valleys. Needless to say, it was to the original Harry's Pancakes we went for breakfast. Our original plan was to sleepover in Graskop, making for a really leisurely day, however, we were enjoying the riding way too much. Fortified by coffee and pancakes we rode towards Sabie enjoying strafing the sweeping roads at a healthy clip. Kaapsehoop was our new destination, so we rode up towards Long Tom Pass and then, before the pass turns proper, we turned left on the road to White River.
This road is not that potholed but it has become particularly bumpy. We then turned towards the Sudwala caves and then left to Montrose. This route was amazing sportbike riding a few years ago. The deteriorating road surfaces are now only really rideable on an adventure bike with longer travel, softer suspension. Taking the road to Waterval Onder, you turn left to Kaapsehoop at Sappi's Ngodwana Paper mill.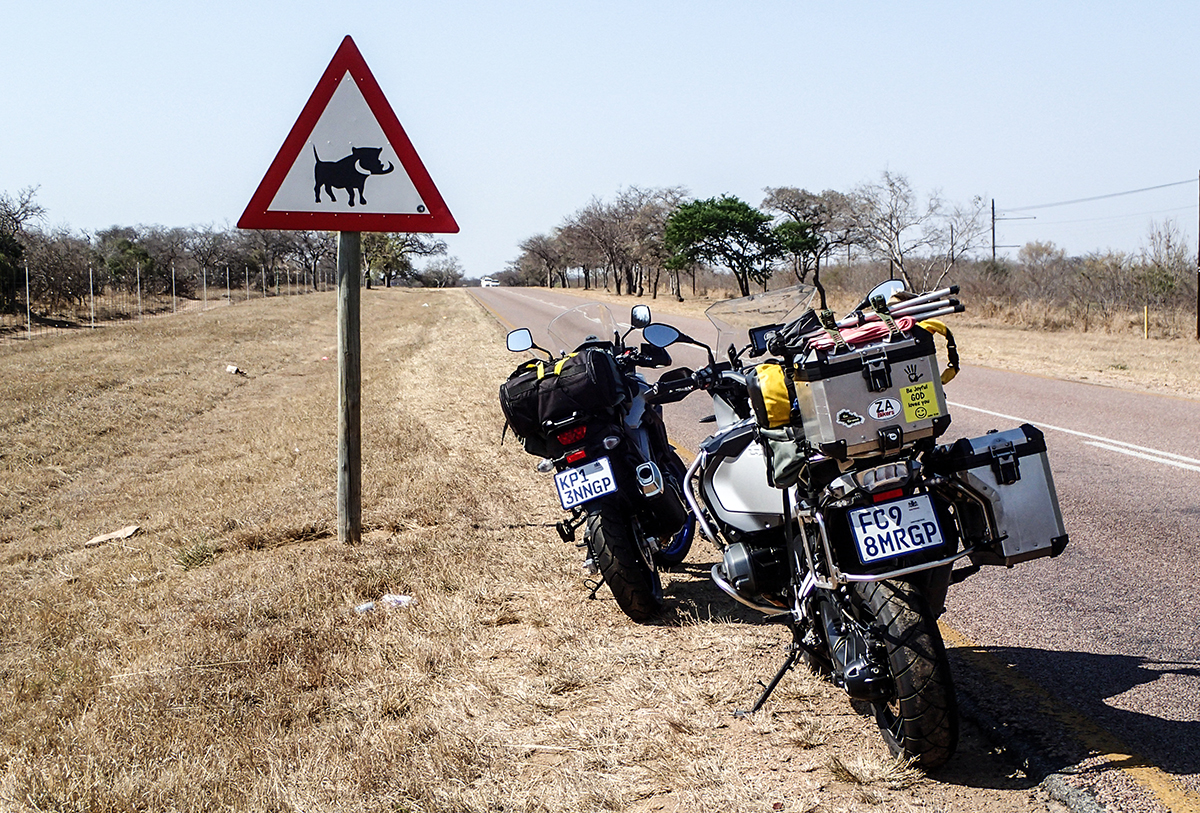 We caught up with a mixed bag of bikes as we started up the hill. GS's, Harley's and who knows what. The guys (and a few lady riders too) were all over the road, so we picked up the pace to dispense with the mobile chicanes. If you haven't been to Kaapsehoop yet you got to go there. It is a bit otherworldly. You ascend the mountain from a hot and humid Lowveld to get to the wonderfully cool little village at the top of the mountain. Gold was discovered here back in the 1800s before the fabulous wealth of the Reef goldfields was discovered. It was a little boomtown till the prospects of wealth in Barberton and Pilgrim's rest lured miners away.
A few of the miner's horses stayed behind and formed the core of the herds of feral horses which graze the hills around the village. They stroll through the village and drink from the decorative fountain. Riding up the mountain you need to keep a lookout for these wild horses on the road. Sipping on a cold one at the downtown pub, we phoned around and secured the last available accommodation in town. The mood in town over the long weekend was particularly festive.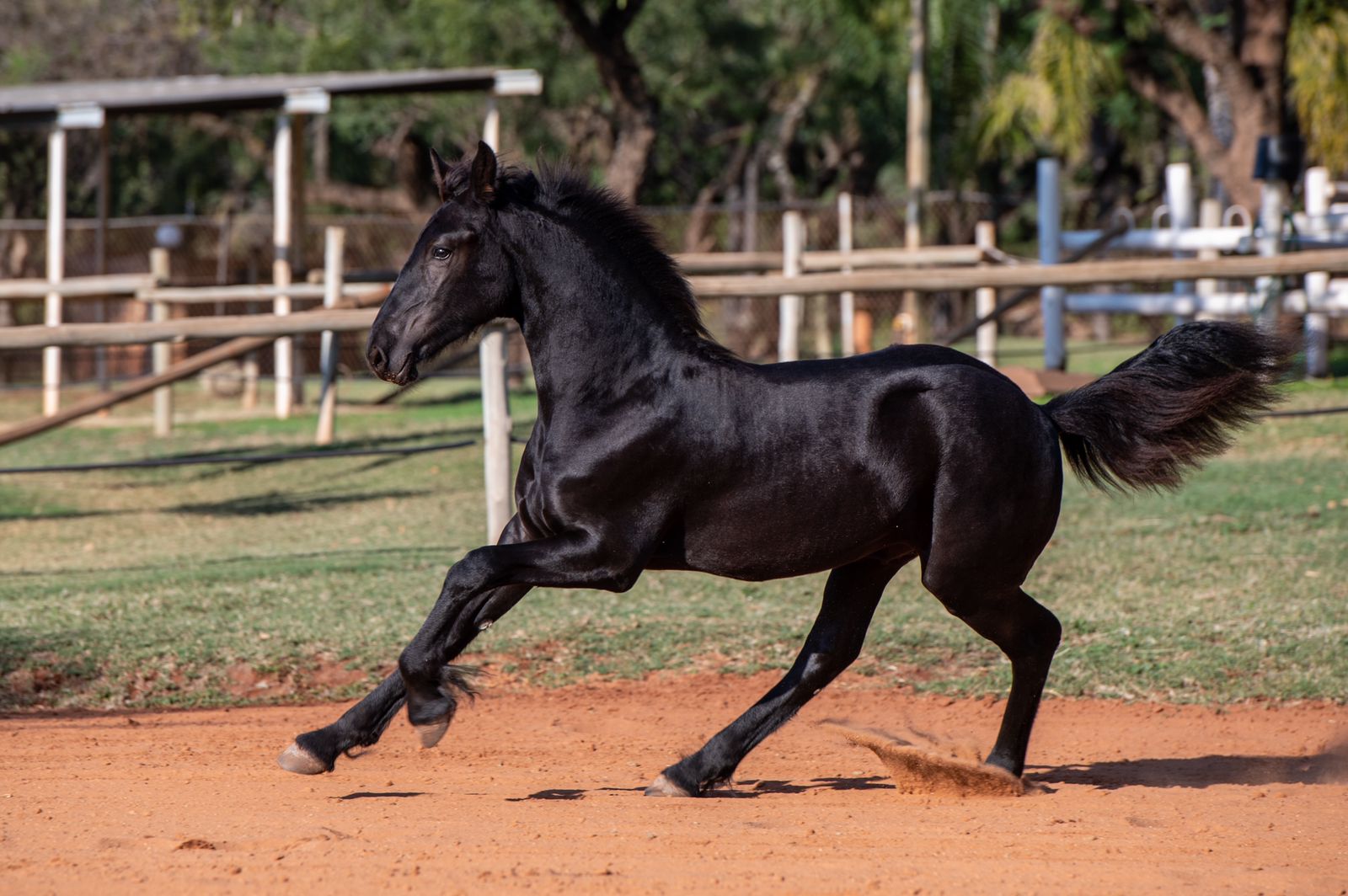 Funny how things turn out. The room we got was at a B+B called Angel Mist, which is on your left as you turn into the town from the main road. It is owned by an affable fellow named Abrie Visser, who has farmed in the Lowveld for most of his life. He takes Enduro and Adventure bike riders on little bespoke rides in the area, tailor-made to the sort of riding that they enjoy. His intimate knowledge of the area will blow you away with some of the sights, generally unknown, that he will show you. He showed us photos of some of the rides. Awesome!
He has ten rooms in his spot, so he can accommodate decent groups. If you would like to enquire further, phone Abrie on 083 359252.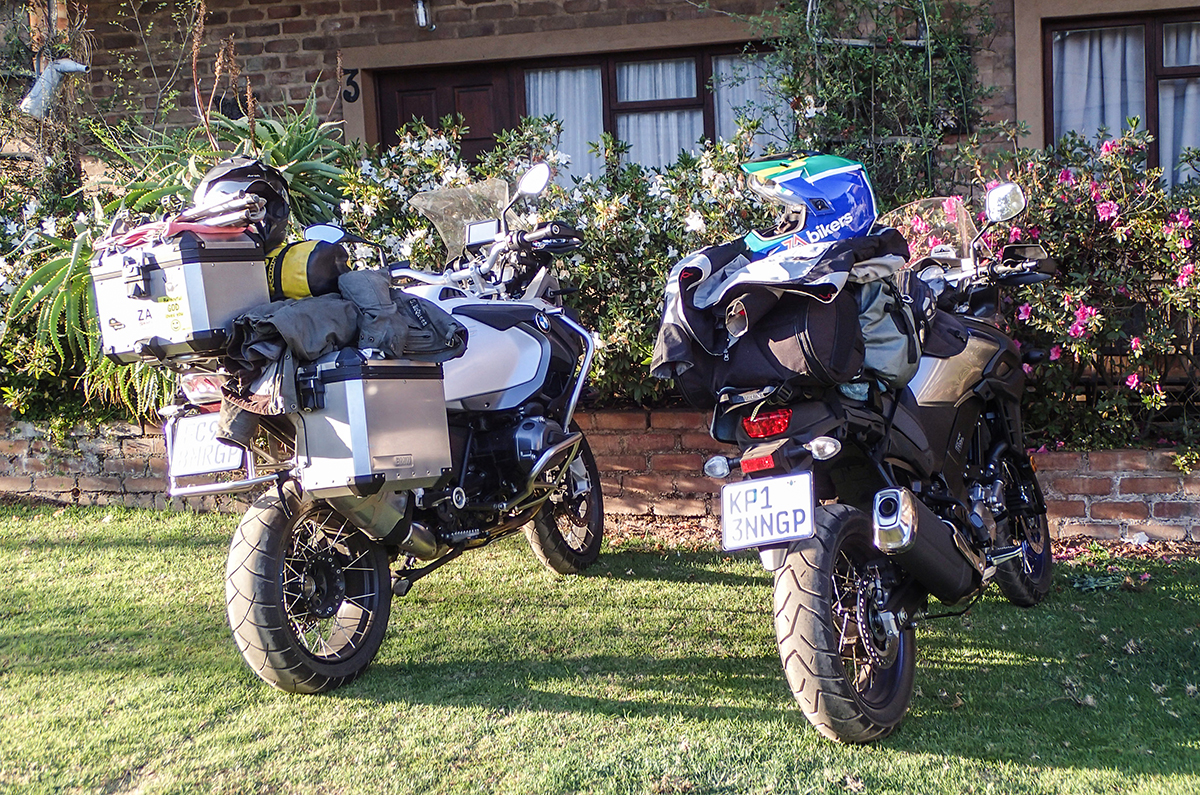 An afternoon snooze set us up for a most pleasant evening. The weather was spectacular for the whole weekend. Kaapsehoop can get chilly at night given its altitude, but the evening was perfect. We washed pizza's down with a couple of cold beers before strolling up into 'bo-dorp' to an intimate little pub run by the ex-editor of the Lowvelder. He has some amazing photos adorning the walls of news events over the last thirty-odd years. We whiled the evening away, shooting the breeze with some locals whilst sipping on some good whisky, before strolling back to our digs.
The next morning we smashed a good breakfast before hopping on the already packed bikes for the ride home. Riding the quiet Waterval-Boven road, with its flawless surface, was truly special. It meanders through a valley bracketed with magnificent mountain views. With the Suzy now having over 700 kays under its belt we kept the revs at 6 grand and got home in no time. Spring is such an amazing time for road-tripping. Warm but seldom wet, it makes for magnificent riding. As always, it is bike wash time when getting back from a trip.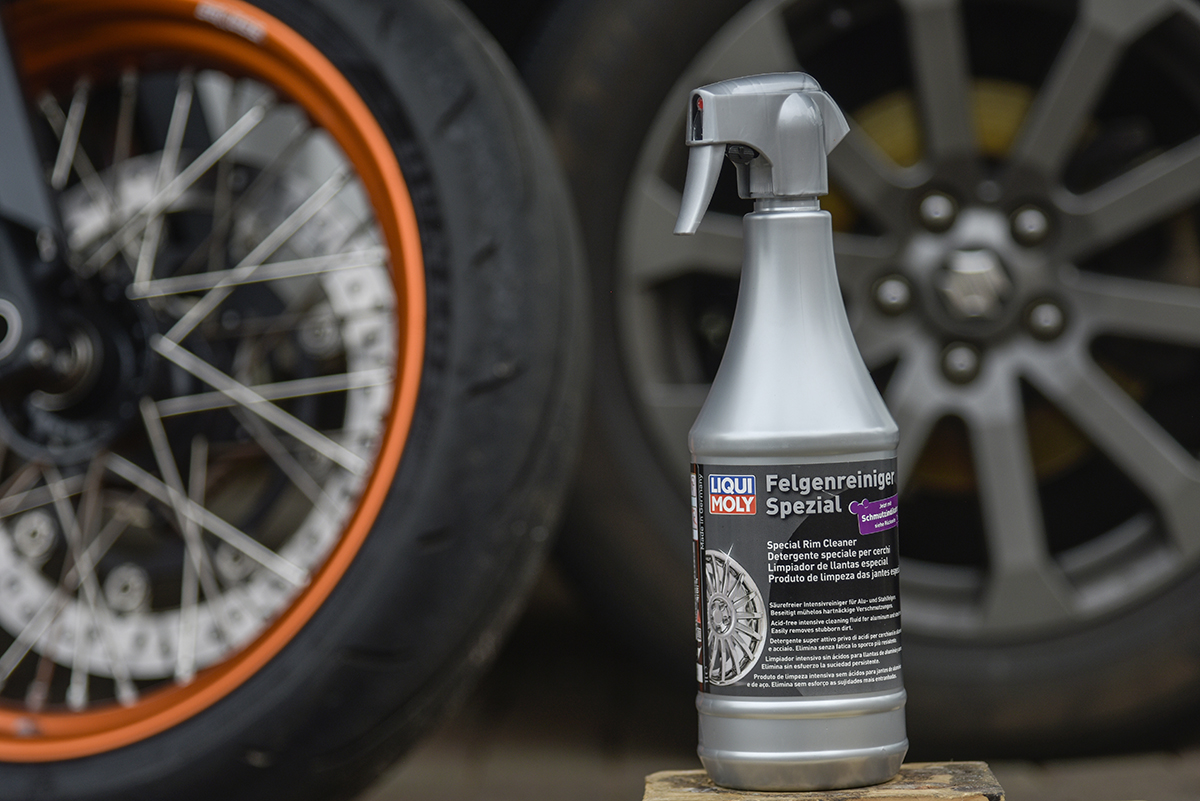 What I am also going to be doing in the "V-Strom Stories" is to share what bike maintenance products I use for cleaning and general maintenance. In this instance, it is going to be Liqui Moly's excellent bike care range. So watch this space. I've got to tell you I'm really looking forwards to riding far and wide on the DL650 XT. The V-Twin has such a relaxed demeanour, it just reels off the kays effortlessly.
From time to time, I'm going to ask Suzuki SA for the loan of their DL1050, to see if, in this day and age, with deteriorating roads, we really need litre bikes. Having said that, if you habitually ride two-up, then the 1050 is definitely the go-to 'Strom. These V-Stroms are Adventure bikes for the real world. Let the games begin…
Suzuki V-Strom DL650XA
For more information on the bike that we used in this article, click on the links below…